Dr. Matthew Walker (@sleepdiplomat) is Professor of Neuroscience and Psychology at the University of California in Berkeley, founder and director of the Center for Human Sleep Science, and author of Why We Sleep: Unlocking the Power of Sleep and Dreams.
"The shorter your sleep, the shorter your life." -Dr. Matthew Walker
What We Discuss with Matthew Walker:
Why you're not lazy if you don't happen to be a morning person (it's genetic).
What it means when you always seem to wake up right before your alarm.
What's going on in your dreams (lucid or otherwise) and what can you learn from them?
How to train yourself to go to sleep at the time that's ideal for you.
Mistakes you're making that keep you from getting optimal results at bedtime.
And much more…
Like this show? Please leave us a review here — even one sentence helps! Consider including your Twitter handle so we can thank you personally!
(Download Episode Here)
(Subscribe to the Podcast Here)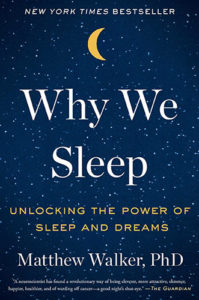 With only so many hours in the day to get things done, sleep often falls by the wayside as something we neglect in our workaholic society of endless hustle — with consequences more dire than most of us understand. So how do we optimize the sleep we get to maximize the effect of our wakeful hours and live longer, healthier lives?
In this episode we talk to Dr. Matthew Walker, scientist and professor of neuroscience and psychology at the University of California in Berkeley and author of international best-seller Why We Sleep: Unlocking the Power of Sleep and Dreams. He'll help us understand how to best harness the time we spend sleeping — whether we're globetrotting entrepreneurs dealing with jet lag or nine-to-fivers in constant battle with our snooze alarms. Listen, learn, and enjoy!
Please Scroll down for Full Show Notes and Featured Resources!
Whether you're a lady or a gent, you don't need to know what MicroModal fabric is to enjoy the comfort of MeUndies; you just need to wear them — support this show (and yourself) with MeUndies at meundies.com/jordan for 15% off and free shipping!
Rocket Mortgage by Quicken Loans. Apply simply. Understand fully. Mortgage confidently. To get started, go to RocketMortgage.com/JORDAN!
Outerknown was founded by pro surfer Kelly Slater for people who want great clothes produced by workers who are paid a living wage in an environmentally conscious way. Go to outerknown.com today and enter code JORDAN at checkout for 25% off your full price order!
Sign up for Six-Minute Networking — our free networking and relationship development mini course — at jordanharbinger.com/course!
THANKS, MATTHEW WALKER!
If you enjoyed this session with Matthew Walker, let him know by clicking on the link below and sending him a quick shout out at Twitter:
Click here to thank Matthew Walker at Twitter!
Click here to let Jordan know about your number one takeaway from this episode!
And if you want us to answer your questions on one of our upcoming weekly Feedback Friday episodes, drop us a line at friday@jordanharbinger.com.
Resources from This Episode:
Download Worksheet for Unlocking the Power of Sleep and Dreams

/wp-content/uploads/2018/11/Worksheet-for-Matthew-Walker-Unlocking-the-Power-of-Sleep-and-Dreams-Episode-126.pdf