Reading Time:
4
minutes
Blake Mycoskie (@BlakeMycoskie) is the philanthropic founder of TOMS Shoes, author of Start Something That Matters, and co-founder of wellness subscription box service Madefor (get 20 percent off by using code MFJORDAN if you feel like checking it out).
What We Discuss with Blake Mycoskie:
What Blake's new Madefor startup can do to make you better (and how you can get 20 percent off by using code MFJORDAN if you feel like checking it out).
Why entrepreneurship is more than just saying "I don't want a boss" — it's seeking to remedy a problem the world needs to have solved.
The benefits of cultivating the "beginner's mind" of a Buddhist.
Why Blake advises founders in the early stages of a startup to bootstrap resources rather than seek investment dollars.
What Blake sees as emerging business trends in a COVID-19 world and beyond.
And much more…
Like this show? Please leave us a review here — even one sentence helps! Consider including your Twitter handle so we can thank you personally!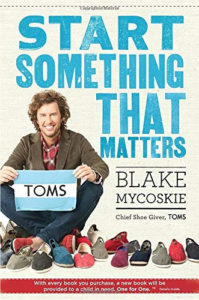 Serial entrepreneur Blake Mycoskie was actually taking a much-needed break from work when, on vacation in Argentina, he happened upon what would become his most profitable idea yet: a company that would give a pair of shoes to children in need (a surprisingly common sight in Argentina) for every pair of shoes it sold. Initially called Shoes for a Better Tomorrow, the company's name would be shortened to TOMS Shoes when the longer logo wouldn't fit on the merchandise, and an iconic brand was born. TOMS Shoes has provided nearly 90 million pairs of shoes to children since 2006, TOMS Eyewear has restored sight to over 600,000 people since 2011, and TOMS Roasting Company has helped provide over 600,000 weeks of safe water since launching in 2014.
It's also ensured that Blake is called "TOM!" when people recognize him in random places around the world. So it goes. Now, Blake's new venture with former Navy SEAL Pat Dossett is a wellness subscription box program called Madefor (get 20 percent off by using code MFJORDAN if you try it out)– "a simple 10-month method created by the very best minds in science and health that transforms you into a person who can achieve anything." On this episode, Blake takes us from his early entrepreneurial aspirations through TOMS and now Madefor, and shares what a lifetime of experience has taught him along the way. If you've ever considered starting your own business, this is a must-listen. And if you've ever made an effort to be better tomorrow than you were yesterday, you've already pressed play! Listen, learn, and enjoy!
Please Scroll Down for Featured Resources and Transcript!
Please note that some of the links on this page (books, movies, music, etc.) lead to affiliate programs for which The Jordan Harbinger Show receives compensation. It's just one of the ways we keep the lights on around here. Thank you for your support!
Sign up for Six-Minute Networking — our free networking and relationship development mini course — at jordanharbinger.com/course!
Mercari is the fast and easy way to sell or buy almost anything. List your item in minutes. Got something you don't use, never used, or just outgrew? Sell it by going to mercari.com and downloading the app!
Current is a mobile bank with a Visa debit card that gets you paid up to two days faster. Download the Current app or go to current.com; the first 10 people who use code Jordan to sign up for Current will be bribed with $10!
Better Help offers affordable, online counseling at your convenience. If you're coping with depression, stress, anxiety, addiction, or any number of issues, you're not alone. Talk with a licensed professional therapist for 10 percent off your first month at betterhelp.com/jordan!
Raycon earbuds start at about half the price of any other premium wireless earbuds on the market — and they sound just as amazing. Find out for yourself and get 15% off your order at buyraycon.com/jhs!
Saving money on your car insurance is easy with Progressive. It's an average savings of $699 a year for customers who switch and save! Get your quote online at Progressive.com and see how much you could be saving today!
Miss the show we did with Adam Carolla — best-selling author, comedian, actor, and host of The Adam Carolla Show? Catch up with episode 69: Adam Carolla | Why You Should Stop Trading Time for Money!
THANKS, BLAKE MYCOSKIE!
If you enjoyed this session with Blake Mycoskie, let him know by clicking on the link below and sending him a quick shout out at Twitter:
Click here to thank Blake Mycoskie at Twitter!
Click here to let Jordan know about your number one takeaway from this episode!
And if you want us to answer your questions on one of our upcoming weekly Feedback Friday episodes, drop us a line at friday@jordanharbinger.com.
Resources from This Episode:
Transcript for Blake Mycoskie | Made for Entrepreneurship (Episode 380)
Jordan Harbinger: [00:00:00] Coming up on The Jordan Harbinger Show. 
Blake Mycoskie: [00:00:02] I really see myself as an artist and business is my canvas and culture and people are the canvas that I love creating with. I just love the beginning. I love the incubation. I love the idea of creation. I love the testing. I mean, seeing in real-time how people were experiencing something that I spent a year and a half creating. So I love the art of the start.
Jordan Harbinger: [00:00:29] Welcome to the show. I'm Jordan Harbinger. On The Jordan Harbinger Show, we decode the stories, secrets, and skills of the world's sharpest minds and most fascinating people and turn their wisdom into practical advice that you can use to impact your own life. And those around you. I want to help you see the Matrix when it comes to how these amazing people think and behave. And our mission here on the show is to make you a better informed, more critical thinker. So you can get a much deeper understanding of how the world works and make sense of what's really happening, even inside your own brain. If you're new with the show, we've got episodes with spies and CEOs, athletes and authors, thinkers and performers, as well as toolboxes for skills like negotiation, body language, persuasion, and more. So if you're smart and you like to learn and improve, you're going to be right at home here with us. And for a selection of featured episodes to get you started or to get your friends started — if you're trying to share the show with others — some of our favorite guests, popular topics are on jordanharbinger.com. Go right there. We'll hook you up. We can even email them to you.
[00:01:24] Now today on the show Blake Mycoskie, founder of Madefor and more famously TOMS Shoes. He originated — him and TOMS shoes that has popularized the One for One giving model where you buy a pair of TOMS shoes. And then the kid in Guatemala gets a pair. You all have heard of that. TOMS expanded the One for One model from shoes to coffee, to bags, to glasses. So this is a guy who just essentially originated the social entrepreneur formula. TOMS has provided like 90 million pairs of shoes to kids from all over the world. So it's amazing. They've restored sight to over 600,000 people. The coffee bean company is cleaning up water and making it safe for people. I mean, he has just really gotten to change the world and it's good for him. On the show today, we discuss the fake-it-till-you-make-it concept as you guys have heard before. I think that's gotten a bit out of hand. Blake and I discussed that and we'll discuss the founding of TOMS, of course, and some close calls that almost put the company out of business several times and what he learned as a result. And we'll discover that there's a time to follow your gut. And there's a time to accept that — Look, you just don't know what the heck you're doing. Follow the established rules. I thought this was a fun entrepreneur based — I thought this was a fun entrepreneur-focused conversation and I've really enjoyed it. So I hope you will as well.
[00:02:34] If you want to know how I managed to book all of these amazing folks — every opportunity that I get, every guest I have — it's through my network. I'm teaching you how to create your own network. It doesn't have to be for podcast guests booking, but it can be for anything in your life, business or personal. Check out our Six-Minute Networking course, which is free. Over at jordanharbinger.com/course. By the way, most of the guests on the show, they subscribe to the course and the newsletter. Come join us, you'll be in smart company where you belong. All right, here's Blake Mycoskie.
[00:03:02] You started early. I mean, you're a serial entrepreneur. This was not — TOMS, Madefor — not your first rodeo, man.
Blake Mycoskie: [00:03:08] No. I started my first company when I was 19 years old, which a lot of people don't realize and it largely was out of necessity. I was a college tennis player at SMU. I had an injury to my Achilles tendon, which put me on crutches and a leg cast. Because of that, I couldn't do my own laundry and I tried to find someone to pick it up and deliver it. No one did. So I started a laundry business. 
Jordan Harbinger: [00:03:29] That's a good way to start a business is solving a problem. You did have some entrepreneurial bugs earlier though, right? Why aren't you selling mom's cookies back in the day?
Blake Mycoskie: [00:03:38] Oh, yeah.
Jordan Harbinger: [00:03:38] I don't know if that counts.
Blake Mycoskie: [00:03:39] I think that, yeah, I mean, I don't know if the lemonade stand or the mom's cookies count. It seems like almost every kid has a version of that whether they become an entrepreneur or not. But yeah, I definitely started early with that type of stuff, but really the laundry business was — it's funny. When I started the laundry business, I didn't know what the word entrepreneur was, and it was about six months into the business that someone said to me on campus, he said, "You're really young to be an entrepreneur." And I literally had to look up what that word meant in the dictionary. And I realized that what had happened in starting a laundry business was very entrepreneurial. 
Jordan Harbinger: [00:04:11] I do wonder what you think of this because now there's like an entrepreneurial culture, but when I started my business in 2006, yeah, late 2006, nobody used that word and if you used it for yourself, you sounded like a massive D-bag.
Blake Mycoskie: [00:04:26] Yeah, totally.
Jordan Harbinger: [00:04:26] And I think people still actually sound a little pretentious when they use that word for themselves. 
Blake Mycoskie: [00:04:30] Yeah. I think a lot of it depends on your resume of businesses. I mean, I think at some point, you are what you are, but one of the things I always say to students — I do a lot of speaking at universities and I love it is I say, "I don't believe that you can choose entrepreneurship as a career path, like a doctor or a lawyer or a teacher, because I think that the best entrepreneurs are not setting out to ever be an entrepreneur, but they become an entrepreneur because they seek to solve a problem in the world." So in my case, it was the fact that a lot of students don't want to do the laundry or can't do the laundry, and let's solve that problem for myself and for others. But, you know, I look at some of the companies I love. I always use the examples of like Quicken and TurboTax or softwares that have changed the way that most Americans do their taxes. And it's only because someone was frustrated and sick of having to pay the accountant and go to someone's office to do their basic taxes and so they created the software. And there are just countless examples of people becoming entrepreneurs for choosing entrepreneurs. And so that's what I always recommend to people is if you have an entrepreneurial inclination start with the problem you want to solve first and not the ideology of being an entrepreneur, 
Jordan Harbinger: [00:05:42] You know, that's interesting. It's a different animal. Someone who says, "I don't know what I want to do, but I just want to run my own business." I guess that makes sense if your parents own a business and you get that bug.
Blake Mycoskie: [00:05:52] Yeah.
Jordan Harbinger: [00:05:52] But it is strange for me to hear someone say, "All I know is I want to start my own business," and this is again, not totally fair to the people who say it but I get a little whiff if the person is young enough, especially, it almost sounds like they're saying, "I just don't want to boss."
Blake Mycoskie: [00:06:07] Yeah, exactly.
Jordan Harbinger: [00:06:09] And I'm like that's not really — I think a lot of the best entrepreneurs have a boss or someone they've learned from where they go, "This is how people who really crush stuff work," not every time, but a lot of the time.
Blake Mycoskie: [00:06:19] Yeah, you know what is interesting as I always really try — and I think other entrepreneurs who I've been around who've had success tried it really, even if you are the boss, try to create environments where you kind of have a pseudo-boss. So whether that's creating a board of your company or an advisory board, strong mentorship. We have a mentor that can really kind of tell you how it is because I am much more effective when I get some really clear direction. Now, I might disagree with it and I might challenge it. But if I don't have that constant kind of direction in my life, like a boss would give you, then I don't think my clarity on my ideas and my leadership is strong enough. 
Jordan Harbinger: [00:06:55] Yeah. I think there's something to that. It's really easy, especially for somebody like you who's got business ideas and world-changing one-to-one giving which we'll get into. Would you agree with the sentiment that it would be pretty easy for you to get off track and then get way off the reservation and stay there? 
Blake Mycoskie: [00:07:10] Totally, totally. Because I mean, you know, as my ex-wife always says, "Like, almost everyone in your life becomes a yes person. Not because they want to be that, but they just want to please the boss or the founder or whatever so much. That they don't have as much ability to give you the clear judgment that having someone that you've appointed to really be the devil's advocate or the critic or the challenger. And that's why I've always tried to have a free strong board of directors.
Jordan Harbinger: [00:07:36] Yeah. I think solving a problem and finding a problem to solve is a different skill set. How did you train yourself or how could you train yourself to spot gaps and opportunities? You may have stumbled onto the laundry thing, but do you see a way where someone can train their mind to find gaps and opportunities.
Blake Mycoskie: [00:07:53] I like that you say, train your mind because we'll get into that with Madefor because I've become a big believer in how much we can actually change and train our mind by working with this neuroscientist, Andrew Huberman at Stanford. A lot of that is factored into why we created Madefor and how he did it. But yes, I think the way to train your mind is just to be curious like to be curious about why things are the way they are in the world. And especially curious, when you experience something that you're not satisfied with or you hear someone — like I started an online driver's education company. 
[00:08:27] It started because I've had a barbecue for another company I was running. There was a 15-year-old boy talking about how much he hated driver's ed and then it was so boring and the teacher's like stinky and dah, dah, dah. And I was like I remember learning to drive is an exciting thing and you're talking about it like it's a chore. And that curiosity of recognizing that there is a service that's not providing an optimal experience for someone and then the curiosity if there are other teenagers that feel the same way. And I found that there were and that ultimately led me to start a driver's education company, where specifically I hired really hot models and actors and actresses to be driver teachers. The biggest problem was that the teachers were not interesting or inspirational so the kids weren't paying attention. And so I thought, what do teenage boys and girls pay attention to? And that's Abercrombie & Fitch models and they all need part-time jobs. 
Jordan Harbinger: [00:09:20] That's right. That's right. Where did you find out of work actors in LA? I don't know where you even look.
Blake Mycoskie: [00:09:23] Yeah, it was amazing. 
Jordan Harbinger: [00:09:25] Yeah. I think everything's at attention once you find the right teacher and it was all online. It was online, right?
Blake Mycoskie: [00:09:31] No, the online part was the classroom, but they actually obviously had to learn to drive in the cars. The models were great teachers in the cars, as everyone was paying attention. 
Jordan Harbinger: [00:09:40] That's really fun — I can imagine other people just getting so nervous that you're like, "All right, get the stinky guy. This kid is going to crash and kill someone. Get the stinky guy back."
Blake Mycoskie: [00:09:50] 
Jordan Harbinger: [00:09:50] I know you've found a couple of really interesting opportunities. Like the Hollywood billboard situation where the whole side of the building was painted and importing that outdoor advertising model to Nashville. How did you know that, that, or why did you think that was going to work? I mean, it's easy to say how did you know 20-20 hindsight. How did you think that was going to work back then? 
Blake Mycoskie: [00:10:09] I think it goes back to spying this opportunity. So I was curious how in LA there are these massive buildings with billboards painted on the side. So it was very cost-efficient because they didn't have them build a billboard. They should be hanging the vinyl on the building that existed. And I noticed that most of them are for big movies and TV shows and kind of in some ways feeding the egos of studio heads and actors and actresses. And at the time, I lived in Nashville and was very much experiencing the country music culture and that there are a lot of egos in country music, probably even more so because it's such a small town. And so the hypothesis that I brought to this idea which turned out to be wildly successful was if I put the Dixie Chicks on the side of a building, then you know, Shanaya Twain is going to want her building because she didn't drive by and see your competition larger than life in her hometown, and same with Garth Brooks and George Strait or whoever. And so I tied up all the sides of the buildings and started putting country Western stars up and really profited on their egos and it worked wonderfully 
Jordan Harbinger: [00:11:15] Go figure. Yeah. You mentioned in some of your other interviews in your book, like "Fake it till you make it" as a young entrepreneur. And we see this a lot, but I think now we almost see it too much, maybe.
Blake Mycoskie: [00:11:25] Yeah, I think so.
Jordan Harbinger: [00:11:26] What are the rules to this?
Blake Mycoskie: [00:11:28] I'm glad you brought that up because I wrote that book in 2010. So it's been 10 years since I wrote that book. And TOMS is what? Three years old. And the "Fake it till you make it" was really well documented in the laundry business because we had no customers, the girls were afraid of giving me their laundry. They didn't want me to see their panties, all these things. So we had to pretend that there were a lot of people using the service and then everyone started using the service because there was a herd mentality. Now, I'm a little bit more cautious with that advice because I think that we live in a society where, unfortunately, truth has been jeopardized and people have fake things and it has been misleading. And then it gets exposed because everything's exposed on the Internet. So I'm a little bit more cautious, but I still think the general premise makes sense in that. You know, when you're starting something, you're not going to have experience and no one is going to work with someone that feels — A, they don't have experience and B, they don't have confidence.
[00:12:25] So I think with the more, the way I did the advice now is if you're going to do something pretend even if you have to, that you're competent enough that you have confidence with people. It's really hard for people to trust a business or a person if they don't feel that that person is confident that they'll deliver what they're getting to deliver. So it's not as much as "Fake it till you make it". It's just really making sure that you let people feel secure in your business with enough confidence because if you don't believe in yourself, they should never believe in yourself. 
Jordan Harbinger: [00:12:53] How do we do this successfully without being scammy though? Because I do see a lot of this, especially young entrepreneurs being scammy intentionally or unintentionally because of their excess confidence, which is often quite unwarranted.
Blake Mycoskie: [00:13:03] Yeah. Yeah. Yeah. I really don't know the answer to that. I mean, I really think that is something that in everyone's gut, they have to feel good about — how do they say this? We have a term here in Jackson because we're all — a lot of skiers and it's like, "Don't get over your skis. Don't bite off too much than you can chew." And so I think, everyone has to kind of know how far are they comfortable leaning over their skis being in a situation where, like you said, it's more misleading than authentically trying to deliver something without experience. 
Jordan Harbinger: [00:13:36] At one point you moved to LA. You did the Amazing Race, which is like a cool travel reality TV show and you didn't win. And I've heard you say, "I'm glad I didn't win because it would have damaged my entrepreneurial drive." Is it because of the money? 
Blake Mycoskie: [00:13:48] I think so, I mean because I was only 25 years old. At 25 years old, if you win a million bucks, you're probably going to take off and chill out for a little bit. I think the experience was great. I had an awesome time on the show, but I think that that much money at that age might have dampened my drive 
Jordan Harbinger: [00:14:05] Has your success with TOMS put a dent in your drive? It doesn't seem like it. 
Blake Mycoskie: [00:14:08] Not necessarily. The drive is different. I was talking about this with someone the other day in the context of Madefor, and I said, "This is the first time in my life that I've started a business or created a program in this case where I don't feel like I care if I make any more money. And I don't need any more money. It's just going to go to charity anyways. And I don't have anything to prove. Like I don't need to be on the cover of Inc magazine again." So to me, it's really fun to actually create a business and a culture and our product when you have literally nothing to prove or even to lose in that regard. And I think it allows you to create things from a really deeply pure state. And so I don't think it's dampened my drive at all. It's just changed the drive, I think.
Jordan Harbinger: [00:14:51] When you had the reality TV channel that you'd created as a result of seeing the inside of the reality TV game, you lost money, the investors lost money, everybody got laid off. How did you get back on the horse? Why didn't that failure break you? 
Blake Mycoskie: [00:15:03] You know, I wouldn't say came close to breaking me, but it definitely got me into a rut for a while. I think the hardest part about that wasn't really losing money but having to fire 40 people. At that time, I was like 27 years old, 28. And so that was a really hard experience. And some of these people had kids and families and mortgages. And I mean, this wasn't like a bunch of young people that I fired. I mean, there were people in their 40s and 50s that I had to let go. And they really believed in me and my vision for the channel. I think ultimately — it's funny. The best way I described it is like sometimes the best way to get over a relationship is to get in another relationship.
Jordan Harbinger: [00:15:42] That's true. It's the sad truth. 
Blake Mycoskie: [00:15:44] Yeah, entrepreneur is the same way.
Jordan Harbinger: [00:15:46] Rebound business.
Blake Mycoskie: [00:15:48] Yeah, I had a rebound. That was the online driver's ed company. 
Jordan Harbinger: [00:15:50] That's funny. I never thought about it like that, but it is true. It's like, "I'm so depressed about this failure. You know what? I'm going to get excited about something else." That's the way to do it.
Blake Mycoskie: [00:15:58] Exactly.
Jordan Harbinger: [00:15:58] There's got to be pitfalls to it. Nothing comes to mind right away. You get really passionate about something that you, later on, don't care about but that's true for any business.
Blake Mycoskie: [00:16:05] Yeah.
Jordan Harbinger: [00:16:05] You'd said, "I've never thought one business would be the rest of my life until I got to TOMS." Obviously, you said that before Madefor happened as well, but did you just think you'd be a serial entrepreneur forever, which turned out to be true, obviously? 
Blake Mycoskie: [00:16:17] Yeah. I think I just love the art of the start. Guy Kawasaki, a great author. I don't know if you read any of his books.
Jordan Harbinger: [00:16:23] Yeah, he has been on the show. Yeah, he's a friend of mine.
Blake Mycoskie: [00:16:25] Great, awesome. So he wrote this book called The Art of the Start, and literally, I recommended it as the most important entrepreneur book anyone should read when they start a business. It really takes you through every aspect of thinking it through. And I realized after reading that book, I'd started maybe two or three companies. Like I love The Art of the Start. I say this with humility, but I really see myself as an artist and business is my canvas and culture and people are the canvas that I love creating with. And so I just love the beginning. I love the incubation. I love the idea of creation. I love the testing. I mean, we had 1,300 people go through the Madefor beta-tests over a year. And that was some of the most fun I've had in years. It's just like seeing in real-time how people were experiencing something that I spent a year and a half creating. So I love the beginning.
[00:17:18] I think with TOMS, the reason I said that was, it was like a soulmate, right?
Jordan Harbinger: [00:17:22] Yeah.
Blake Mycoskie: [00:17:22] And so, you know, it was like all of a sudden, I never imagined in my life that I'd be able to build a business, make money, and help tens of millions of people and have a lot of fun doing it until TOMS. And so everything collided and sort of just seemed like I can't imagine anything better than this. And so the nice thing is all of the same principles of TOMS have been dragged over to Madefor. And it's, I guess, topic of mental health that I'm much more passionate about right now because of what's going on in our country. So, yeah, I feel like maybe you get a couple of soulmates in your life in business 
Jordan Harbinger: [00:17:56] You mentioned TOMS a few times we've talked about it here, but there's going to be somebody who was kind of born under a rock and/or is from another country or — hi, mom — who might not know what TOMS shoes are.
Blake Mycoskie: [00:18:05] Sure.
Jordan Harbinger: [00:18:05] Give us a little brief overview of what this is. Well, kind of dive into the story. 
Blake Mycoskie: [00:18:09] Yeah, so in 2006, I was traveling in Argentina. I met many children who didn't have shoes. I also discovered a really unique canvas shoe that a lot of the farmers and polo players and their girlfriends are wearing called the alpargata. And I had this idea on a farm and it was really simple. I said, "You know, I want to sell these shoes in the US because I've never seen them there. And every time I sell a pair, I also want to give a pair because there are so many children in this country that have already experienced not having shoes and they really need shoes." Not only to protect their feet, but it was a requirement for the school uniform. So the shoes themselves are keeping them possibly out of education, which we all know is critical in developing countries. And so I literally scratched out this idea of what I called One for One — you buy one, we give one. At this point, I had never heard of anyone doing this before. And I really, frankly, wasn't even thinking of it as a business. It was originally called the Shoes for Tomorrow project. We didn't even have a business account or DBA or anything. Until we started selling so many shoes that it had to become a business. And so we started 2006. We are at 96 million children so far have received a pair of shoes. We also expanded into things like sunglasses, where we provide eye saving surgeries to hundreds of thousands of people as well. And so, yeah, so I did that for a decade of my life and moved on now, but it's kind of like a child to me and it will always be part of me.  
Jordan Harbinger: [00:19:35] You're listening to The Jordan Harbinger Show with our guest Blake Mycoskie. We'll be right back.
[00:19:40] This episode is sponsored in part by Mercari. And I've got Jen doing the ad reads here with me today. Everyone's got stuff they don't use lying around the house, clothes we never wear, an old phone in a drawer somewhere. We have a ton of stuff cause we just moved and you know, when you move and you're like, "Oh, I have all these remotes or this keyboard or this computer part lying around." So Jen, tell everyone what you like about Mercari.
Jen Harbinger: [00:20:02] It's super easy to list. So you would just type in, for example, we have Apple magic keyboard that we don't want to use anymore. And once you type in a keyword, it comes up with suggested searches, and then it shows you all these existing listings so you can see what other people are selling for. And then it also shows what people bought the item for. For example, sold one hour ago for $72.
Jordan Harbinger: [00:20:29] It's a fast and easy way to declutter your home and Mercari emails a shipping label. So you stick it on the box. You don't have to remember the address. You don't have to meet anyone. It's great for COVID/anti-social people like me because you don't have to meet up with anyone. There are no hassles. You ship it right from your house and they send you the shipping label. You don't have to figure out how it works. This app has over 700,000 reviews on the App Store That's just a few more than this podcast. And 300,000 items get listed every day on Mercari. 
Jen Harbinger: [00:20:57] Try Mercari and make extra cash, sell and buy almost anything from home on Mercari. Find it on the App Store or mercari.com. That's M-E-R-C-A-R-I. Mercari, America's no meetup marketplace. Download today. 
Jordan Harbinger: [00:21:13] This episode is also sponsored by Current. If you're tired of being mistreated by your old traditional bank and getting hit with hidden fees, minimum balance fees, overdraft fees, you need Current. I think I've probably told the story before about how I left my old bank because they told me I couldn't use the bathroom and that I had to go to Burger King. If you have any story that is even remotely like that, you need this which the Current. Current is a mobile bank with a visa debit card that gets you paid up to two days faster. It gives you overdraft fee protection of up to a hundred bucks, no hidden fees. So when you get paid on Friday, you switch your direct deposit to Current, you get paid on Wednesday. I'm not totally sure how that works but look, you get your money faster, whatever. They have over 55,000 free ATMs you can use as well. You can deposit checks with the camera. You know, just like a grownup bank as well. Like you should be able to. If your bank doesn't do that, switch to Current. It's a real bank account. It's not a prepaid card. So it works with. Apple Pay, Google Pay, Cash App, Venmo, and Current notifies you when you spend. It lets you pause your card instantly in the app. You don't have to call anyone or go through all that hassle. Jen.
Jen Harbinger: [00:22:14] Download Current in the App Store or go to current.com right now. The first 10 people who use our code JORDAN to sign up for current will be sent $10 from us. 
Jordan Harbinger: [00:22:23] And now back to Blake Mycoskie on The Jordan Harbinger Show.
Jordan Harbinger: [00:22:29] There's more to the TOMS' story. You can hear about it in other interviews that you've done and in your book and things like that. I assume everyone thinks your name is Tom, and that's how they got the name. And it actually comes from The Tomorrow's Shoes concept, right?
Blake Mycoskie: [00:22:40] Yeah.
Jordan Harbinger: [00:22:41] Buy a pair of shoes today, give a pair of shoes out tomorrow. You got a ton of orders from this PR Sprint in LA Times, you get like thousands of orders overnight. You're in Vogue, everything explodes. I do wonder though how you got your investors to be cool with you giving away tons of your profit money for what they might've seen as marketing was the key. Did you have investors? 
Blake Mycoskie: [00:23:01] You just said it. The key was I didn't have investors. 
Jordan Harbinger: [00:23:05] There you go. I was like, "These greedy bastards." 
Blake Mycoskie: [00:23:07] I was the only owner and very much that limited us in some regard, but I knew that with this, like I said, I didn't really go into it thinking it was going to be a big business. I just saw it as a project and by the time, it really started taking off, the great thing was most of our sales were online. And so we had a great cash flow because of a DDC business. And we didn't have a lot of infrastructure. We were making the shoes in garages in Argentina. So from very early on, we were able to fund most of the growth with cash flow from online sales. And then once we got to five, $10-million business, we had enough credit to the banks to give us credit. And I never had investors. 
Jordan Harbinger: [00:23:44] I would wonder — look, I don't know anything about manufacturing, but I assume making shoes in garages in Argentina, despite sounding inexpensive is actually much more pricey.
Blake Mycoskie: [00:23:53] Oh yeah. Eventually, we expanded to factories all over the world. Today, TOMS has factories in Kenya, Ethiopia, China, Vietnam, Mexico. You know eventually once we got some scale, we hired some really smart people to help us scale-up manufacturing because it was very — not only expensive but chaotic making it.
Jordan Harbinger: [00:24:12] I mean, you have all these people in this different area, you got to go collect them. They can get robbed, they can get sick. 
Blake Mycoskie: [00:24:18] Oh, yeah, it was not ideal for sure. 
Jordan Harbinger: [00:24:20] And then pack them in a suitcase and fly back with them on American Airlines. I mean, how are you even getting them to the United States?
Blake Mycoskie: [00:24:27] You know we did a lot of it actually. We did a lot of the initial shipping and just big duffle bags and boxes and cargo and paying cargo rates in America. That's true. But eventually, you know, we got to where we were able to ship them and it just took longer on boats. 
[Jordan Harbinger: [00:24:42] So I would imagine you started them with the giving motive first, right? All right, we're going to give a pair whenever anybody buys one. There's not going to be a whole lot of profit leftover necessarily. But then when you scale up, you don't have to lower the price. The profit is that, so your margins increased greatly at that point.
Blake Mycoskie: [00:24:57] It became enormously profitable. I always say to people if there's like a picture of the word karma in the dictionary, it should be a picture of a TOMS shoe because I mean, literally, like I started four companies before TOMS and TOMS is like the one business that I was not really interested or thought possible that could make money. But then once we scaled up, we had all this efficiency. The price is still the same and we became incredibly profitable and you know, TOMS made a lot of money and we helped a lot of people. And that was never the intent from the beginning. So I really do look at it as a good example of karma. 
Jordan Harbinger: [00:25:35] When did you know you were on to something? Yes, you got a spot in Vogue. Yes, you got plenty of attention from media. Was it the woman in the airport, in New York where you were like, "This is a thing." I mean, was there a moment? 
Blake Mycoskie: [00:25:46] I think there are two things. I mean, yeah, I love telling you about this woman in the airport. I've told this story a lot and I wish someday I get to meet her again. I keep waiting for her to like, send me an email.
Jordan Harbinger: [00:25:56] You would think by now, right? 
Blake Mycoskie: [00:25:57] Yeah. But she did not recognize me but I asked her about her shoes. And I noticed that when I asked her about her shoes, rather than just saying they're TOMS, she told me the whole story, the giving story. She told me about my life. She told me about the fact that I lived on a sailboat. It was quite comical actually. And then I told her who I was and she totally freaked out. But what I love about that moment was it made me realize that if we just focused on giving and helping people as a business that was so radical in 2007. Like now it's part of almost every business plan you see, which I am so proud of and excited for the future of the business, whether it's giving or sustainability, environmental, stewardship, whatever. But back then, our story was — I used the word radical. Like it was like, "You're doing what?" Like business is business, charity is charity. And so I recognize that people love telling the story as they became customers. And so if we just focused on doing, we said we were going to do, we wouldn't really have to worry about growth, marketing, and all these things. And that proved out to be true. I mean, we were the fastest-growing shoe company in the world for three years. 
Jordan Harbinger: [00:27:02] You said the hardest part of the business building was making the shoes themselves. Do you still feel that way? 
Blake Mycoskie: [00:27:06] Yeah, I still. I mean, I don't think now. I mean, TOMS has legions of people working on that, but yeah, initially for sure because I had to experience and most of the people that I hired — lots of them off Craigslist — didn't have experience. They're all passionate people who want to help make the world a better place. And that doesn't translate into technical design footwear very well now. So, yeah, that was the hardest part for sure and that caused a tremendous amount of stress that I'd never want to go back to. 
Jordan Harbinger: [00:27:33] Do you think your lack of experience at that time was actually an advantage? I can imagine you saying, "Had I known how hard making shoes was going to be, I would not have made shoes. I would have started off with key chains," or whatever, I don't know. 
Blake Mycoskie: [00:27:44] I think the lack of experience is great in everything. And I think one of the Buddhist concepts that I really prescribed too is the idea of the beginner's mind in all areas of life. And so I feel the more that you can approach everything, even a new relationship with a beginner's mind, almost trying to forget anything that you've learned or anything you've experienced, any potential trauma that you've had in the past allows you to experience each moment in a totally free way. And I think that is apropos to business and in our personal lives, especially 
Jordan Harbinger: [00:28:13] Shaquille O'Neal told me that he met you at a party. And he said, "Hey, those are cool shoes. I like these TOMS. Can you give me a pair? I'm size — I don't know — 28 or something." You said that you're like, "No, I can't. I don't have a mold that big." And he goes, "But I really want them, how much is the mold?" And I don't know, it was like 20 grand or some crazy thing to make it. So he bought — I'm going off memory here — but he bought the mold and then it was like, but the minimum run we can make, Shaq is 400 pairs of shoes or something like that.
Blake Mycoskie: [00:28:42] One hundred.
Jordan Harbinger: [00:28:42] A hundred, so he has a hundred pairs of red TOMS in size 28. 
Blake Mycoskie: [00:28:46] No, not at all red. He has a hundred pairs of every — he has styles that we never even made, leopard print, zebra print. I even think he has some with the Playboy bunny on it. I mean, like, it's crazy. He has the greatest collection of TOMS. And that's so funny that you know that story, very few people do, but yeah. Shout out to Shaq. He's been our best customer.
Jordan Harbinger: [00:29:07] Yeah. He bought a hundred pairs.
Blake Mycoskie: [00:29:08] Yeah, and if you ever see if he's not wearing athletic shoes, he's wearing TOMS.
Jordan Harbinger: [00:29:13] Always.
Blake Mycoskie: [00:29:15] Always.
Jordan Harbinger: [00:29:15] I run into him all the time because we will share a recording studio in Los Angeles. So whenever he's in LA, I've seen him probably a dozen times, you know, last year always a pair of TOMS usually red. So I just assumed he only had red. 
Blake Mycoskie: [00:29:27] No, he has all different colors.
Jordan Harbinger: [00:29:28] That's funny. He's leaving the Playboy bunny ones for a special occasion, maybe I don't know.
Blake Mycoskie: [00:29:32] Yeah, I think so.
Jordan Harbinger: [00:29:33] Your favorite movie I've heard is Rudy that football movie from like the early '90s. I don't know if it's still a case, but that's an underdog flick. Your business's Madefor, TOMS, they're based around helping out the underdog a lot of the times with the charity element, the One for One angle. Or am I reading into this too much? 
Blake Mycoskie: [00:29:50] I mean, look, it's funny, my three favorite movies are actually Rocky IV, Rudy — well four — Shawshank Redemption, and Dead Poets Society. And they're all underdog movies. And I think that that comes from my tennis days. So even though I went to college tennis scholarship and was one of the better players in the country, I was always the underdog. I didn't have the natural talent. I worked so hard. I mean, I was obsessed with tennis as a young kid and always the last man on the team. I always made the team, but I was the last man. I was the one like hoping to get to play. And so I just think that my tennis days really affected my love for those movies. And then I think it does translate into, you know, and especially Madefor now. I mean, the underdog with TOMS, I would say is generous, like we were serving the poorest of the poor and I don't think they had the opportunities that some of the people we're serving Madefor with. And I think with Madefor what I'm really excited about is helping people really live their best life and accomplish things that they didn't even think they could have done and that very much comes from my just love and fascination and I think self-identification with underdogs.
Jordan Harbinger: [00:30:59] I heard you learned by the way to play polo. That seems so dangerous that sport
Blake Mycoskie: [00:31:02] It is. I quit last year actually. I wrote a beautiful letter to the sport of polo and posted it on my Instagram, which a lot of my friends made fun of me for, but I'm so thankful to the sport. I love horses. I had some of the greatest experiences of my life in Argentina playing and I almost killed myself and I said, enough is enough. I still ride horses daily but I stay away from polo just because it is so dangerous. 
Jordan Harbinger: [00:31:26] You think of it as like this sort of tea-sipping, rich guys' sport, but horses — first of all, equestrian, in general, anything on a horseback is 10 times more deadly than even getting hit by an NFL linebacker with protective gear. And then now, you've got mallets. You're trying to turn the horse in all these different directions they're running into each other. So you've got to be able to do that and then knocked and trampled by your teammates. It's like, no, thanks, man. Were there any close calls in your businesses where you thought this is over, we're screwed. I know like manufacturing, you can get 10,000 items in that they're falling apart by the time you're holding them. 
Blake Mycoskie: [00:32:00] No, I mean, definitely we had so many close calls with TOMS and to your point, most of them were manufacturing-based. Some of them are cash flow based. Like a factory didn't send an order. So then we didn't get paid by Nordstrom's. So I would say all the close calls were either financial because I didn't have investors or manufacturing but there were plenty and I never want to go back to those experiences again.
Jordan Harbinger: [00:32:22] Yeah. Yeah. Do you ever have nightmares where you wake up and you don't have a shoe order in your garage?
Blake Mycoskie: [00:32:26] No, I don't have those anymore, but there are many years that I did. I will vicariously live through my children. If they ended up becoming entrepreneurs and watching their close calls, but very happy that that's not a type of level of stress that I'm dealing with these days.
Jordan Harbinger: [00:32:41] Yeah. I feel you, I feel you on that. What lesson did you take from manufacturing that you would — if you were doing it over again? I've heard you say things like, make sure that you know — I'm paraphrasing here and this sounds so general, but it's like, make sure you know who's making your stuff, something along those lines.
Blake Mycoskie: [00:32:55] That's a huge part. I mean, I think that the hard part is, in a global economy, so much of manufacturing is done not where you're operating in. So the best advice I give people is you've got to find someone that you would trust with their kids. And they got to live at the manufacturing plant. Because either you got to be there or someone that you trust that much. Otherwise, there's just too many shady things that happen. 
Jordan Harbinger: [00:33:17] Yeah, hear about even big companies like Apple, which I assume kind of own, or at least dominate that industry. I got friends whose job it is to go to the factory and make sure that they're still making your staff correctly. Because it's like if the cat's away, the mice will play kind of situation with a lot of manufacturing firms. 
Blake Mycoskie: [00:33:33] That's a great analogy. Yep. 
Jordan Harbinger: [00:33:35] When do you follow your gut or your ethos and when do you bend? I mean, I'm referring to the time when you almost got kicked out of Nordstrom. Or did get kicked out of Nordstrom?
Blake Mycoskie: [00:33:43] Yeah, I did get kicked out.
Jordan Harbinger: [00:33:45] Yeah, for being a hard ass about shoe boxes or something like that.
Blake Mycoskie: [00:33:48] Yeah. That's an interesting thing because when I started — a little trivia on TOMS that most people don't know is I really had two big ideas with TOMS. One was I wanted to give a pair for every pair we sold, One for One, which we became famous for. But the other one was that one to limit the environmental waste and the biggest waste in footwear, I thought was shoe boxes. You know, because people, they open it, they throw it away. They usually don't even recycle it. So I tried to do the shoe business without shoe boxes and Nordstrom really fought me on it. And then ultimately Nordstrom is right. It's impossible to do because all of the stock rooms and every department store in the world had been designed to stack shoe boxes. You don't have that. Then your shoes get mixed up and they're mixed up. They can't sell them. And if they don't sell them, you get kicked out. So I think that's an example of when, you know, there are some rules that just aren't meant to be broken. I think that's the art of being an entrepreneur is knowing which ones you can break and which ones you can't.
Jordan Harbinger: [00:34:40] Yeah, do you have a heuristic on where you should try the line and when you need to be more adaptable. 
Blake Mycoskie: [00:34:44] I don't. That's why I think it's an art. I think every single example is unique. 
Jordan Harbinger: [00:34:49] I've heard that in your fund, you sometimes tell founders to bootstrap not raise money. 
Blake Mycoskie: [00:34:54] All the time.
Jordan Harbinger: [00:34:55] Why?
Jordan Harbinger: [00:34:36] Well, I think part of it is my experience at TOMS. I wouldn't have created the personal wealth that I've created and I wouldn't have been able to create wealth for a lot of my employees that I gave stock to in the early days had I had investors because I would have been so diluted. And so I think what's unfortunate is our business media has celebrated raising money more than being profitable. And I think that is a horrific thing for our economy. I think it's horrible for entrepreneur culture. It really kind of frustrates me. There are companies that you know, are written about more in the media that have never made a dollar just because they're really good at raising money. But then the founders, if they ever do make a profitable business, make no money, and last time I checked the purpose of one of the purposes of building a business to make some money. So I tell inventors all the time. I mean, literally, I don't think there's any entrepreneur that you'll find that I haven't talked to or mentor that I have said, "Hey, look, I could invest and I like what you're doing, but give it six more months just bootstrap. And even if you come back and your valuation is higher, still going to invest, but you're going to own more of your company. I think that should always be the goal of the entrepreneur." 
Jordan Harbinger: [00:36:04] Yeah, that's interesting. I think there are so many people that celebrate raising money and look, it's great people believe in your vision or believe in your product. But if you look at it like a loan, how many people will celebrate? "I just took out a huge loan."
Blake Mycoskie: [00:36:16] Exactly, exactly. And it is a loan. It's a fucking high-paying loan. It's the most expensive loan of your life. And not only is it that but it also usually comes with all kinds of restrictions and sometimes it limits your vision. So I'm glad you said that. I think that's a great way to look at it when you're thinking about raising capital, is it really just a big loan? 
Jordan Harbinger: [00:36:36] Yeah. And at that point, you're kind of like, "Oh, maybe I shouldn't take 20 million when I only need five." I mean, you're supposed to raise more than you need, but some people just want to have a press release that says, "Look, how much we raised."
Blake Mycoskie: [00:36:47] It's totally ego-driven. 
Jordan Harbinger: [00:36:48] Yeah, didn't you sell your business and people go, "Wow. A hundred million dollar exit." And you're like, "Yeah, I can finally pay off my college loans and buy a Ford Fusion because that's all I got." Like you can happen multi-six-figure, hey, you hear about it all the time.
Blake Mycoskie: [00:36:59] Yeah.
Jordan Harbinger: [00:36:59] Post-COVID, what are some of the emerging opportunities or trends that you're seeing? You've mentioned some things in other news media, but I'm curious what you see now. 
Blake Mycoskie: [00:37:07] Yeah. I mean, I think not just post-COVID, but just in general, I think is — you know, we have to continually focus on the fact that we have a big issue with climate change and being dependent on fossil fuels. And so I think that more and more, there's going to be opportunities to create cleaner energy sources. And if I was an entrepreneur, like starting off right away and looking fresh at things, I think learning about how technology is going to help us in energy production is really, really exciting. And so that's an area — I think post-COVID, we're really looking at all things of digital learning. Using technology to do video conferences like we're doing now, but even more than that, I mean, I would just have to have a friend who's an entrepreneur. She's doing amazing with her online fitness classes and they're just exploding in terms of the demand and she's reaching people. 
[00:37:59] I mean, it's so funny, my nanny — there's a woman who runs an incredible thing called The Class in New York City. Her name is Taryn and my nanny in Jackson Hole, Wyoming. I asked her, "Hey, what did you do this morning?" She goes, "I did The Class. Have you ever heard of it?" And I was like, "Taryn is a friend of mine." Like, "How do you know about The Class?" It's like, I've only done it in New York City. But because of COVID, she's reaching people in Jackson Hole now. And so, I think any type of business that allows you to be insulated with a situation like quarantine is something to at least be thinking about, because I don't think this is the last time we're going to experience something like this.
Jordan Harbinger: [00:38:33] This is The Jordan Harbinger Show with our guest Blake Mycoskie. We'll be right back.
[00:38:38] This episode is sponsored in part by Better Help. We're in extraordinary times. A lot of people struggle with stress, anxiety, depression, you are not alone. In fact, if you're in my inbox — you're not even alone in my inbox. Better Help offers online licensed professional counselors who are trained to listen and to help. And, of course, relationship conflict is on high right now. Anxiety, depression, loss, trauma — people just feeling alone out there. Securely connect with your counselor and a safe and private online environment. Obviously, everything is confidential, but I'll say it anyway. Fill out a questionnaire. A couple of days later, you get matched with a counselor, video sessions, phone sessions, exchange, unlimited messages. And if you don't like your counselor — because that happens — you can request a new one at any time. No additional charge. So get professional help when you want, wherever you are. And it's affordable. Jen, tell them. 
Jen Harbinger: [00:39:24] Better Help is an affordable option. And our listeners get 10 percent off your first month with the discount code JORDAN. Get started today at betterhelp.com/jordan. That's better-H-E-L-P.com/jordan. Talk to a therapist online and get help. 
Jordan Harbinger: [00:39:40] This episode is also sponsored by Raycon. Whether you're working from home or working on your fitness, or like me outside, working that dad bud, walking around listening to audiobooks, everybody needs a great pair of wireless earbuds, but these things get pricey AF. Raycon earbuds started about half the price of other premium wireless earbuds in the market. They sound just as good. Jen, you paired these up with your phone, it took like two seconds. You were kind of worried it wasn't going to be as good as the name brand if you will. And these everyday E25 earbuds, the best ones, yet six hours of playtime, Bluetooth pairing was easy. More bass. You notice that bass, huh? 
Jen Harbinger: [00:40:17] It's all about that bass. 
Jordan Harbinger: [00:40:18] The company was co-founded by Ray J who, as you probably know, is famous for a sex tape. I'm not sure exactly why they chose to list him first, but Snoop Dogg uses them. Cardi B uses them. Brandy, JR Smith, they're using these Raycons pick up a pair. See what the hype is all about.
Jen Harbinger: [00:40:31] Now is the time to get to the latest and greatest from Raycon. Get 15 percent off your order at buyraycon.com/JHS. That's B-U-Y-raycon.com/JHS for a 15 percent off Raycon wireless earbuds, buyraycon.com/JHS.
[00:40:53] Support for today's episode comes from Progressive insurance. Fun fact, Progressive customers qualify for an average of six discounts when they sign up for Progressive Auto Insurance. Discounts for things like enrolling automatic payments, insuring more than one car, going paperless, and of course, being a safe driver. Plus customers who bundled their auto with home or add renter's insurance, save an average of 12 percent on their auto. There are so many ways to save when you switch. And once you're a customer with Progressive, you get unmatched claims service with 24/7 support online or by phone. It's no wonder why more than 20 million drivers trust Progressive, and why they've recently climbed to the third-largest auto insurer in the country. Get a quote online at progressive.com in as little as five minutes and see how much you could be saving. Auto insurance from Progressive Casualty Insurance Company and affiliates. Home and renter's insurance not available in all States provided and serviced by affiliated and third-party insurance. Discounts vary and are not available in all states and situations.
Jordan Harbinger: [00:41:51] After the show, we've got a preview trailer of our interview with the one and only Adam Carolla. Like you've never heard him before. So stay tuned for that after the close of the show. 
[00:42:00] Thanks for listening and supporting the show. Your support of our advertisers keeps us going and puts gas in the tank in my electric car. To learn more and get links to all the great discounts you've just heard so you can check out the deals for yourself, visit Jordan harbinger.com/deals. Don't forget, of course, we have worksheets for today's episode. The link is in the show notes at jordanharbinger.com/podcast. And now for the rest of our episode with Blake Mycoskie.
[00:42:26] I do think it's weird that the online fitness classes have taken so long to take off because Peloton, right?
Blake Mycoskie: [00:42:31] Yeah.
Jordan Harbinger: [00:42:31] You have this bike in your living room. "Hey, we're going to do a fitness class on the bike live from New York City." And then it was like crickets and every other vector. And you're thinking, how is this not a thing? I thought yoga and everybody would get in. 
Blake Mycoskie: [00:42:43] Yeah, I think it was just the hardware that was so sexy and attractive. And part of it is it's like, once you spend that much money on the bike, you're going to do it. Whereas like a yoga class or a fitness class that you don't need equipment is, you know, you have less vested interests, so who knows? 
Jordan Harbinger: [00:42:57] Yeah. Yeah. Interesting. You're right. Maybe people just needed to be on locked down before they care to jump in. I know you're passionately against gun violence. Who isn't? I hope that most of us can at least agree on whatever your politics. And you put your money where your mouth is with this five-million-dollar check a couple of years ago, but what was even more impressive or as impressive was the TOMS website within four days had made this. I assume you sort of held everyone together and went like, "I know we're really busy, but can you divert all of our resources to making this website where we send printed postcards."
Blake Mycoskie: [00:43:26] Yeah. And it's also during Black Friday, so it wasn't just kind of busy. It was the biggest sales day of the year. Yeah, we've got 750,000 Americans to write a postcard to their congressperson really in favor of background checks. And I think the thing that I was, and still am as passionate about is really taking gun violence and really showing people how it does not need to be a political issue. I am not against the Second Amendment. I'm not against gun ownership. I grew up in Texas hunting myself. But I think that background checks are — it's just crazy that you can buy a gun without having a background check. You can buy a gun if you're a convicted felon. You can buy a gun if you have a record of domestic violence. I mean, you can actually buy a gun if you're on the terrorist watch list. This is just crazy. And this is where, you know, I still believe we have work to be done. And my hope and dream with this is that people will see it not as a political issue, but as a human issue.
[00:44:20] I'm not a political person at all. I obviously follow politics. I vote, but it is not something that I put a tremendous amount of time and energy behind. But this, I felt like I needed to go really big. Largely because people don't see me as a political person. They see me as a humanitarian. They see me as an entrepreneur. They see me as someone who desperately cares about making the world a better place. And so by going so big on this issue, I felt like we could be a voice down the middle and I think that's why we had some effectiveness, but there's still a long way to go. 
Jordan Harbinger: [00:44:50] You got pretty choked up on Jimmy Fallon talking about the company pride.
Blake Mycoskie: [00:44:54] I did.
Jordan Harbinger: [00:44:54] How do you cry on cue like that? It was really impressive.
Blake Mycoskie: [00:44:59] Yeah. I don't think — I don't really cry that much and that. That was so interesting to see. I think part of the reason I broke down on Jimmy was like, I realized the enormity of history at that moment. It was the largest donation in the history of the United States by a company. TOMS is a relatively small company, you know, if you think about it, so that would have made it even bigger and proportionate. And I just got choked up because I realized we were making history in that moment. And I loved reading history and believe history is a really important thing for all of us to understand, especially right now.
Jordan Harbinger: [00:45:32] Yeah.
Blake Mycoskie: [00:45:33] And so that's why I got so emotional. 
Jordan Harbinger: [00:45:34] Did that surprise you?
Blake Mycoskie: [00:45:36]Oh, I blacked out. Yeah, totally blacked out. Like I got off the stage. I will never forget it. And my friends who were there were like, "Oh my God, that's amazing. I can't believe you held it together." And I was like, "I don't remember a thing." Like, literally, the last thing I remember was Jimmy be like, "Blake Mycoskie," and then like so. It was an out-of-body experience. And one that I had to watch several times to kind of remember what I even said. 
Jordan Harbinger: [00:45:59] Yeah, I felt like I wouldn't have been so self-conscious up there in the first place, but crying and then being like, "Okay, I got to turn this off because I'm going—"
Blake Mycoskie: [00:46:07] Yeah, you can keep crying. 
Jordan Harbinger: [00:46:07] Right, you can get emotional, but then there's a peak at which you just start looking a little bit like a lunatic after that. And it's like, I got to— 
Blake Mycoskie: [00:46:13] Yeah. So it just kind of autonomously happened and it was great. And Jimmy was wonderful. And having me back on the show a few months later, and yeah, it was a really special experience. 
Jordan Harbinger: [00:46:25] I know you're very big on morning journaling and you've been doing it for decades now. I don't know.
Blake Mycoskie: [00:46:29] Since I was 15. Yeah.
Jordan Harbinger: [00:46:30] Wow! Why is a 15-year-old would you think, "I got to start writing down everything that happens in my day"? 
Blake Mycoskie: [00:46:35] Well, it goes back to tennis. So I was so obsessed with becoming a better tennis player. And I read some book about athlete training or Olympians, and it was very much that they kept track of every single training that they did, every practice session, so that they could really understand the progress they were making. So all my journaling kind of from 15 to say 20 was oriented around tennis and progress and the mental state of the game. And then that just translated into journaling around business and then relationships and then spirituality and now being a dad, there's a lot of things to write about. But the thing I love about journaling is it's almost like free therapy. It's an option for you to work out your thoughts without having to vomit them on someone else especially before they've really been thought through. And it also gives you something to go back and read later to learn from mistakes and successes. 
Jordan Harbinger: [00:47:25] I started journaling when I was an exchange student. And it was one of the coolest things — just in case we need to sell this a little harder. In the beginning, it was all like, "I'm homesick. I hate it here." And the ending is all in German. Like fluent German.
Blake Mycoskie: [00:47:39] Wow. That's cool
Jordan Harbinger: [00:47:40] I look at it now and I go, "I cannot believe." There are even entries in the middle that are like the beginning parts in German. Then there's like an English word that's more complicated than I just didn't know. 
Blake Mycoskie: [00:47:49] Wow. That's cool. I hadn't heard that before. That's another great reason to do it. 
Jordan Harbinger: [00:47:52] It's just such a cool thing to have because it's easy and you're in your mind to look back on starting a business, learning a language, doing whatever it is, and you sort of smooth everything out, right?
Blake Mycoskie: [00:48:01] Yeah.
Jordan Harbinger: [00:48:02] You smooth everything out and you look over or overlook some of the major hurdles and bumps. And when you're telling someone else about it, it can be really distorted from that angle. And this is a very kind of candid look at how you thought when you were that age and you can't really whitewash anything. You can't smooth anything over there are bumps in it and they're there in your own handwriting.
Blake Mycoskie: [00:48:26] Totally. 
Jordan Harbinger: [00:48:26] What's the process that you use? Do you just wake up in the morning and write? Do you have any prompts? I mean, by now, it's old hat.
Blake Mycoskie: [00:48:32] Yeah, it's an old hat, and a little bit it depends on my day. I have a morning ritual that I like to do before the kids get up, where I make a really special tea and I drink three cups in silence, followed by like a 20 minute kind of breathing exercise, and then I usually journal. Then if the kids haven't woken up, oftentimes that ritual gets interrupted by a five-year-old or a two-year-old. And then I usually find some time after the kids go to bed to journal at the end of the day. I think beginning and end is nice because I think you just sort of more have a reflective mindset. It's hard for me to do it once the day starts.
Jordan Harbinger: [00:49:06] What are you writing about? What are you putting in there? 
Blake Mycoskie: [00:49:08] You know what, it's interesting, it really depends all on the day. I mean, sometimes it's very much doesn't look any different than someone's to-do list. You know, like here's the things that are most important to get done today and this is why. And then, there's a lot of it is reflecting on a learning or a special moment I had with my kids or a special person in my life. And then oftentimes, I find that when I do my meditation, things kind of come to me, kind of like a download, and I am very excited to journal kind of whatever feelings, thoughts, visions I maybe had during my meditation. And kind of see maybe if that's, in some way, some guidance on how I should make on a decision or what I should do during the day. So it really changes every day. And I think that's what keeps it interesting 
Jordan Harbinger: [00:49:52] Now, that you're out of TOMS, you are out of the day today, I assumed. Like, you said, it's a kid, you can't let go.
Blake Mycoskie: [00:49:58] Kid went to college.
Jordan Harbinger: [00:49:58] Kid went to college. Right, you're no longer in control, but you still care a lot. 
Blake Mycoskie: [00:50:01] Yeah, exactly. 
Jordan Harbinger: [00:50:02] Tell me what made for his doing, you mentioned a psychology angle. Of course, we're interested in that. 
Blake Mycoskie: [00:50:07] I think what's interesting is, is that our entire conversation started with a conversation about entrepreneurship. It's often the response of someone having a personal struggle or a dissatisfaction in creating a product. Well, Madefor is exactly that. So in 2016, 17, I'd really been out of TOMS for about two years. And I found myself kind of rudderless, not really with a strong purpose. I've taken up a bunch of activities that really were fun, but weren't giving me long-term meaning. I realized that during TOMS I put a lot of my physical and mental health on the side and just was just so driven-working on work. And so I actually was diagnosed with mild depression and started seeing a therapist for the first time. And realizing, like, I didn't really want to get out of bed a lot of days and like really experiencing some pretty heavy stuff, even though I had done everything that society told me to do to be successful. I've created a great business. I've helped a lot of people. I'd made a lot of money. I had a beautiful child, I got married. I mean, all of these things, but yet I realized that all that was external. And through this process of trying to feel better, I realized that I need to focus on more things that are internal and truly in my control.
[00:51:17] And at that same time, I met this great guy who became my business partner named Pat Dossett. And Pat was a Navy Seal for nine years, then got his MBA at Wharton and was working at Google when I met him, and was very focused on human performance and not just human performance at like a super high-level, but like how do we all live our best lives every day with the challenges and struggles of modern technology and modern culture. And so he, and I really bonded over his passion and my need really. And so we decided that it would be interesting and I was happy to fund this research to go to the top neuroscientists and psychiatrists in the country from Stanford and Harvard and different universities and ask them, what have they been able to prove? So now, like what's the latest trend or fad or whatever, but what has actually been proven in university labs to cause someone to be in a state of flourishing or high wellbeing? And what we found was — and I needed it for myself and it made total sense after we discovered — was actually these basic things that for hundreds of years, people have been talking about and somewhat practicing, but most people haven't a really hard time integrating them into their life in a sustainable way. And so it was things like being properly hydrated, getting a good night's sleep, experiencing gratitude in your life, decluttering your household, like these simple things. But science has shown that it was very hard for people to learn them with all the digital distractions.
[00:52:46] So I decided I was going to take them on and integrate them into my life and see how it affected me. And I found a huge benefit in practicing these things, learning these new habits, and that ultimately became the idea for the Madefor program, which is now a 10-month program where we teach you one habit in practice every month and it's done. And the thing that people find most interesting and kind of surprising is that science clearly showed us that it needed to be taught in a non-digital way. So it's completely analog. So everything that you need to learn, the new habit or practice that month comes to your house in the Madefor kit. And in that kit, you have everything you use to learn it. And so that's what I'm spending all my time doing now is really helping people with their journey on the 10-month Madefor program. 
Jordan Harbinger: [00:53:34] How do you stay competitive? I assume you're very competitive. Because you played tennis collegiate and everything like that growing up.
Blake Mycoskie: [00:53:40] Sure.
Jordan Harbinger: [00:53:41] But not consistently compare yourself to other people who you see as may be more advanced. I mean, if you're hanging out with Navy Seal, MBA, entrepreneurs, and all — how do you not get down on yourself seeing people like that around you all the time? How do you turn that into inspiration instead of depression? 
Blake Mycoskie: [00:53:57] Yeah. Well, I think one of the things that's interesting that I learned about through Madefor that we really teach is we have all the agency and faculty inside of our brain. And it's incredibly for neuroplasticity — I mean, it's totally malleable — really to adopt any mindset that we want. Most people, unfortunately, after the age of 30 are probably some form of a fixed mindset. And if you have a fixed mindset and you meet someone that is technically superior in terms of a learning or an accomplishment, then it's very hard to not have that have a negative effect. But if you have a growth mindset and say, "What can I learn from this person that will increase or enhance my life?" Then it is a totally different experience. There's no competitiveness at all. It's just more opportunistic of what you can learn. And so what ultimately we're trying to do at Madefor is not necessarily teach you 10 new habits and practices that will change your life. That's what it seems like on the surface, but really the science of what we're doing is really trying to help you adopt a growth mindset. So that you really can apply that to any area of your life. 
[00:55:02] So COVID is a great example. You know, the biggest issue with COVID for so many of my friends and family and workers and colleagues was all of the uncertainty and anxiety and lack of control. And so the people who are going through the Madefor program during  COVID, the number one thing we heard from them is, "Gosh, I feel like I have something to ground me. I've some foundational practice to give me a little bit more control of my wellbeing, even though there are so many things that are out of my control." And so that's really what we're trying to do is — yes, these 10 practices are all scientifically backed and individually, they can have incredible benefits on your energy levels and in your mindset and your ability to accomplish things and stick to things and all, but really what's happening is, is we're changing the plasticity of your mind so that you have this growth and you interact with life in a different way. 
Jordan Harbinger: [00:55:51] It sounds a little fluffy in the abstract, but a lot of it is very practical. Like hydration was one of the ones that I'd seen.
Blake Mycoskie: [00:55:57] Yeah, getting a great night's sleep. Really understanding how your breath can regulate your nervous system. I mean, the thing that I find is so most people are surprised with is — and I love these people when they finish the program, the testimonials we get, they're like, "I can't believe the first month. I just paid 70 bucks and you basically helped me drink more water." And it's great, but they're like, "And it changed my life." And the reason is because we all know we should drink more water. But for instance, in the month, we focused on hydration. We not only give you the science to really understand what a one percent decrease in the optimal water has an effect on your brain, your energy level, your ability to get a good night's sleep, et cetera. But then we also give you — we designed a special water bottle that actually keeps track of how much water you're drinking. So you can really optimize how much water for me, based on my diet, my activity level, my climate. And so we take these very basic things, but then help you fine-tune them in a way and create a practice around them. So you continually do it habitually versus having to think about it. And that's what has the biggest effect on our life.
[00:57:04] And so I think in this day and age, where we look for these silver bullets or these big things, especially in mental and physical health, like everyone wants the next big workout or they want the perfect meditation app or whatever. The truth is, is there are no silver bullets. So these basic simple practices that if you have the discipline and you can learn them in a more kind of entertaining, an easier way — that's what Madefor is all about. Then when they integrate into your life, then you see this big change and that really comes from the Seals too.
[00:57:32] I mean, Pat always says that, it was always crawl, walk, run. The idea that you take these very simple, basic steps, and then they have these very big results. And that's how we designed the Madefor program as well. 
Jordan Harbinger: [00:57:45] Blake, Tom, thank you very much for coming on the show today, man.
[00:57:50] Thanks to Blake for coming on the show. The TOMS shoes' legacy really is social entrepreneurship. The Give One, Get One, they essentially popularized that, originated that. I mean that's everywhere now. And I think for the benefit of the rest of the world. And now yes, some people will say, "You know, that whole giving away shoes, giving away glasses thing that disrupts local economies." It's an aid, sort of need-based almost addiction for a lot of countries. I did ask him about that and how giving away aid disrupts local markets and businesses. And, you know, his answer was, I got to respect it. He said, "Look, I think that criticism is largely true." And they actually went about changing the business and the giveaway model in order to help repair that. Like hiring people locally to produce things, producing things in the country. I just wanted to include that because a lot of people have that criticism of TOMS shoes or of any sort of donation where — and he did have a pretty humble answer about it, which was that, you know, they should have thought of that and they corrected the problem. Really, really interesting how open he was about that.
[00:58:48] Links to everything that Blake is doing will be in the show notes. Please use our website links if you buy books from any of the guests on the show. Worksheets for this episode so you can review everything you learned here from Blake. That's going to be linked up in the show notes. Transcripts also in the show notes. And there's a video of this interview on our YouTube channel or there will be soon at jordanharbinger.com/youtube. 
[00:59:09] I'm teaching you how to connect with great people and manage relationships using systems using tiny habits. That's our Six-Minute Networking course. That's free over at jordanharbinger.com/course. Don't postpone this, don't procrastinate on this. The number one mistake people make is trying to do this later when they need to network. You got to dig the well before you get thirsty. Build your network before you need it even if it means starting from scratch and you feel a little uncomfortable, just suck it up and start. These drills are designed to take just a few minutes per day. I wish I knew this stuff 20 years ago, it's not fluff. It's been crucial for me. Find it all for free at jordanharbinger.com/course. A lot of the guests on the show subscribe to the course. Come join us, you'll be in smart company. Speaking of relationships, you can always reach out and follow me on social. I'm at @JordanHarbinger on both Twitter and Instagram. You can add me on LinkedIn. I actually post more there — I post more there than everywhere else right now I think. Yeah, I don't know. It's not a contest.
[01:00:02] This show is created in association with PodcastOne. This episode was produced by Jen Harbinger and engineered by Jay Sanderson, show notes and worksheets by Robert Fogarty, music by Evan Viola. And I'm your host, Jordan Harbinger. Our advice and opinions and those of our guests are their own. And I'm a lawyer but I'm not your lawyer. I'm sure as heck, not a doctor or a therapist. So do your own research before implementing anything you hear on the show. Remember, we rise by lifting others. The fee for the show is that you share it with friends when you find something useful or interesting if you know somebody who's growing a business, starting to manufacture in footwear or any kind of entrepreneur that could use the advice that you heard here today. Hopefully, you do find something great in every episode. So please do share the show with those you love. In the meantime, do your best to apply what you hear on the show, so you can live what you listen, and we'll see you next time.
[01:00:51] As promised, here's our interview trailer with Adam Carolla. 
Adam Carolla: [01:00:55] There's a kind of sad reality of the blue-collar world and mentality, which is you get paid to physically do things. There's a very straight line on how to make money. That world never pauses and goes, "Who are you? And what are your ideas?" And what about all these other people that are composing songs or writing the theme song to the tonight show, and going to the mailbox, and getting a royalty check. Or this guy wrote a movie. At some point, you just buy into that program. "Shut your mouth, pick up that shovel and get going."
Jordan Harbinger: [01:01:35] What sort of triggered that for you? What sort of went, "You know what? Screw this. I'm not trading time for money. I have to figure something else out." 
Adam Carolla: [01:01:42] I sat around and I went, "What are you good at?" And the answer was common.
Jordan Harbinger: [01:01:50] Podcasting is obviously on the way up. How did you spot an opportunity there and go, "You know what? This is a safer or better or more lucrative bet"?
Adam Carolla: [01:01:57] When I was doing morning radio, the program director would go, "We need to get our ratings up in LA. We're fifth in LA," or whatever. And then some other guy would come in and he'd go, "You guys had 16 million minutes of streaming last month." Then the program director came back in and go, "You guys got to get your shit together." And I'd go, "Hey, we have 16 million minutes of streaming." And he'd go like, "So who cares? You're fifth in LA." And he just walked out of the studio and I remember, I just sort of looking around going, I don't know.
Jordan Harbinger: [01:02:33] That seems good.
Adam Carolla: [01:02:34] It seems good. Then I got fired and my buddy said, "Do a podcast." And I was like, "Let's just do it." 
Jordan Harbinger: [01:02:44] For more with Adam Carolla, including why trading time for money is a losing proposition and how we can break the cycle and how to tell if we're doing something for ourselves or doing something based on pressure from others, check out episode 69 right here on The Jordan Harbinger Show.
Sign up to receive email updates
Enter your name and email address below and I'll send you periodic updates about the podcast.