Reading Time:
4
minutes
Brian Brushwood (@shwood) has spent the last 20 years entertaining and teaching people how to harness the deceptive (and self-deceptive) skills of scientists, spies, criminals, and con artists. He is the author of Scam School: Your Guide to Scoring Free Drinks, Doing Magic, and Becoming the Life of the Party. [Note: This is a previously broadcast episode from the vault that we felt deserved a fresh pass through your earholes!]
What We Discuss with Brian Brushwood:
Why being interesting isn't a gift — it's a practice.
How fixed action patterns help us get others to do what we want them to do. (Important note: for good — not evil!)
How to control a conversation by asking the right questions.
The best way to convince someone to help us? By making it their idea.
Why we're all susceptible to being duped in spite of our highly developed human brains — and how practicing magic can train us to be more resistant to the fraudulent.
And so much more…
Like this show? Please leave us a review here — even one sentence helps! Consider including your Twitter handle so we can thank you personally!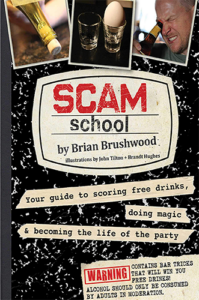 The line between a scam and a magic trick can be pretty thin. They both involve some degree of deception, though the latter use is generally for entertainment rather than depriving the unsuspecting of their life savings.
Luckily, Brian Brushwood of Scam School, The Modern Rogue, and Night Attack only wants you to buy him a drink for sharing what he knows about the fine art of deception. But what he really hopes to do is instill a low-grade alarm in all of us to be on guard for those times when the intentions of our would-be deceivers are a little less benign.
Listen to this episode in its entirety to learn more about how live audiences can be primed to expect (and be rewarded by) an amazing show before even walking into a venue, stories of scams we've witnessed in the wild, how cultural biases can be manipulated, priming behavior in others with fixed action patterns as detailed by previous guest Robert Cialdini, creating social hooks and providing value to others with simple bar tricks, the power of social proof (illustrated by Brian's foray into the realm of erotic fiction), changing our language to shape the response of others, and lots more. Listen, learn, and enjoy! [Note: This is a previously broadcast episode from the vault that we felt deserved a fresh pass through your earholes!]
Please Scroll Down for Featured Resources and Transcript!
Please note that some of the links on this page (books, movies, music, etc.) lead to affiliate programs for which The Jordan Harbinger Show receives compensation. It's just one of the ways we keep the lights on around here. Thank you for your support!
Miss our two-parter with former Westboro Baptist Church spokesperson Megan Phelps-Roper? Make sure to catch up starting with episode 302: Megan Phelps-Roper | Unfollowing Westboro Baptist Church Part One here!
Like true crime tales? The Court Junkie podcast shines a light on the injustices of the judicial system by delving into court documents, attending trials, and interviewing those close to these trials to root out the whole truth. Check out the Court Junkie podcast on PodcastOne here!
Thanks, Brian Brushwood!
If you enjoyed this session with Brian Brushwood, let him know by clicking on the link below and sending him a quick shout out at Twitter:
Click here to thank Brian Brushwood at Twitter!
Click here to let Jordan know about your number one takeaway from this episode!
And if you want us to answer your questions on one of our upcoming weekly Feedback Friday episodes, drop us a line at friday@jordanharbinger.com.
Resources from This Episode: