Reading Time:
5
minutes
Bill Browder (@Billbrowder) pioneered a brand-new market after the fall of The Iron Curtain while making powerful enemies — including Vladimir Putin. He is the author of Red Notice: A True Story of High Finance, Murder, and One Man's Fight for Justice.
"I made a vow on that morning to Sergei Magnitsky's memory, to his family, and to myself, that I was going to go after the people who killed him and make sure that they face justice." -Bill Browder
What We Discuss with Bill Browder:
How someone who grew up in a family of communist academics became one of today's most successful capitalists.
How Bill Browder saw and continues to see and profit from opportunities that others discount as foolish.
How Russian oligarchs rip off and defraud minority and foreign shareholders.
How an Interpol Red Notice could mean arrest and extradition to Russia to face torture.
Who was Sergei Magnitsky, and how is Bill seeking justice for his murder by the Russian state?
And much more…
Like this show? Please leave us a review here — even one sentence helps!
(Download Episode Here)
(Subscribe in iTunes Here)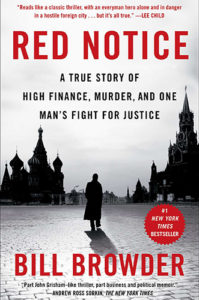 After the fall of The Iron Curtain in the early '90s, Eastern Europe and Russia were ripe for investors poised to take advantage of a communist economy trying to make the jump start to a free market. State industries were privatized for pennies on the dollar, and the opportunity to profit was open to anyone paying attention.
Bill Browder, author of Red Notice: A True Story of High Finance, Murder, and One Man's Fight for Justice, was paying attention. Bill joins us to discuss how he went from a $2,000 investment to making millions — and the cost of disrupting business when organized crime and corruption rule the land. Listen, learn, and enjoy!
Please Scroll Down for Featured Resources and Transcript!
Please note that some of the links on this page (books, movies, music, etc.) lead to affiliate programs for which The Jordan Harbinger Show receives compensation. It's just one of the ways we keep the lights on around here. Thank you for your support!
Sign up for Six-Minute Networking — our free networking and relationship development mini course — at jordanharbinger.com/course!
Wine Access has been America's best kept wine secret…until now. Get $30 off your first purchase of $100 or more by ordering through our special URL: wineaccess.com/jordan!
Learn over 500 subjects (no tests or homework!) at The Great Courses Plus — including Boosting Your Emotional Intelligence. Listeners to this podcast get one month free at thegreatcoursesplus.com/jordan!
Albany Associates leads the way in providing full-spectrum comprehensive communications services in parts of the world others simply cannot reach, including Iraq, Somalia, Sudan, Lebanon, Jordan, Bosnia, and Kosovo — and they helped book Bill for this show. Check out the amazing things Albany Associates does here!
More About This Show
How does a kid who grows up in a family of multi-generational communist academics rebel? If you're Bill Browder, author of Red Notice: A True Story of High Finance, Murder, and One Man's Fight for Justice, you become a hardcore capitalist.
"I finished business school at Stanford in 1989, and that was the year the Berlin Wall came down," says Bill. "And as I was trying to figure out what to do with myself, I came up with this idea that if my grandfather was the biggest communist in America, I'm going to try to become the biggest capitalist in Eastern Europe!"
The path was circuitous, but ultimately successful. By accepting a job in London with an American consulting firm, Bill was sent to Poland on a doomed mission to turn around a failing bus company. But while there, he picked up can't-miss privatization opportunities from the financial pages of a newspaper tucked casually under his interpreter's arm.
"A company cost 80 million dollars, and the previous year they made 160 million dollars," Bill says. "You're buying that company for half of their earnings for one year; all you have to do is stay in business for six months and you've made your money back. I thought to myself, 'Wow. I'm going to buy some of this stuff.' I ended up in the first privatizations investing my entire life savings — which was $2,000. My $2,000 over the next 12 months went up 10 times; I made $20,000…once I had that experience making 10 times more money, I knew exactly what I wanted to do with myself, which was go around and find more of these opportunities in Eastern Europe."
Seeing an opportunity to break into the Russian privatization market, Bill joined the cutthroat Salomon Brothers, the Wall Street investment bank chronicled in Michael Lewis' Liar's Poker. It was 1992, and the government was practically giving away controlling shares in companies in order to make them appealing to people like Bill who were motivated to make them profitable.
"There's a billion dollars worth of ships and you can buy 51 percent for two-and-a-half million dollars," says Bill. "So that made my Polish deal look like nothing!"
The Russian government was trying to jump start its market economy, but the populace had been under communism for generations. So the idea was to turn a nation of communists into capitalists — and quickly.
"Everyone in the country was offered something called a voucher," says Bill. "So 150 million people got vouchers. They were freely exchangeable instruments and they were not registered in anyone's name — kind of like cash. And a secondary market developed for vouchers, so these things traded for about $20 each. And so 150 million times $20 gets you three billion dollars worth of vouchers. And those three billion dollars worth of vouchers were exchangeable for 30 percent of the share capital of all Russian companies, which meant that the market value of the entire country of Russia in 1992 was 10 billion dollars.
"To put this in perspective for you, this is a country where 35 percent of the world's natural gas, 10 percent of all the world's oil, 10 percent of all the world's steel, 10 percent of the world's aluminum, there's banks, there's fertilizer companies, there's timber companies, there's car companies, there's telephone companies, electricity companies — altogether, all in the aggregate of 10 billion dollars. At the time, I think that was like an 80 percent discount to the valuation of Walmart. This is the country of Russia. And there was no restriction — anybody could buy or sell shares. You didn't have to be Russian. Anybody could buy or sell shares, and so that's what set off what became the most phenomenal investment opportunity in the history of the world."
Listen to this episode of The Jordan Harbinger Show in its entirety to learn more about what it took for Bill to convince his colleagues at Salomon Brothers to take the leap into the Russian stock market when everybody else thought he was crazy, how the naysayers suddenly took an interest when he made the company five times its investments, how this put him in a position to give financial advice to the likes of George Soros, how voucher auctions and trading took place in the wild west of post-Soviet Russia, how Russian oligarchs ripped off and defrauded minority and foreign shareholders and what Bill did to work around and against them, the consequences of being a shareholder activist in such a corrupt climate, how many machine gun-toting bodyguards it takes to protect someone in such a position, what happened when Bill's lawyer was arrested and refused to make a false confession, and lots more.
THANKS, BILL BROWDER!
If you enjoyed this session with Bill Browder, let him know by clicking on the link below and sending him a quick shout out at Twitter:
Click here to thank Bill Browder at Twitter!
Click here to let Jordan know about your number one takeaway from this episode!
Resources from This Episode:
Transcript for Bill Browder | Hunted by Putin (Episode 3)
Bill Browder: [00:00:00] It was amazing. When I was going from the office to my home, there was a lead car, a lag car, a side car, three armed guys in my car, and when we got close to home, the lead car would peel off, get there sooner than the rest of us. They would go and scout the rooftops for snipers. They'd look for bombs under the cars parked in front of the building. They'd secure the stairwells and then the rest of them would come and escort me into the apartment. And then I had two guys with automatic weapons sitting in my living room. It was very, very intense. Very scary.
Jordan Harbinger: [00:00:33] Welcome to the Jordan Harbinger Show. I'm Jordan Harbinger. As always, I'm here with my producer Jason DeFillippo. On this episode of the show, we'll be talking with my friend Bill Browder. Man! The theme for today's episode really is courage. Bill Browder was one of the first foreign investors in Eastern Europe and Russia after the fall of The Iron Curtain. However, he didn't just make his millions trading stocks securities. He pioneered a brand new market while fighting against some of the most powerful and shadowy figures in the world, including the former KGB, even Vladimir Putin himself. And today we'll discuss how Bill saw and continues to see opportunities that everyone else thinks are foolish or impossible. We'll discover the mechanisms of fear and how our response to it will either make us or break us and we'll peel back the layers of what defines courage, why having courage only really matters when you need it, and why
[00:01:23] having the courage to stand up for what we know is right is one of the most important things we, as humans, can ever do. And look, Jason, I know I just made this sound a little academic and Pollyanna about courage, but this book Red Notice and this discussion with Bill. This is James Bond-spy-novel-level stuff.
Jason DeFillippo: [0:01:41.5] It is an incredible story. I mean there are guys with machine guns watching, watching over him in his house. This is not academic in any way, shape or form.
Jordan Harbinger: [0:01:50] No, Vladimir Putin kills people or killed people with radiation and this guy's going toe-to-toe with him. Making sure that their sanctions against Russia and people in Russia, like Vladimir Putin specifically because of what happened to his friend. And we'll hear all about that today on this episode of the Jordan Harbinger show. Enjoy this episode with Bill Browder.
[00:02:10] One thing I noticed that we have in common is that I, too, have been detained by inept Soviet era, holdover bureaucrat officials in Ukraine. I was leaving Ukraine. I was going through customs and they said, "Okay, the form's filled out incorrectly." So they took me into an ATM and they made me grab some cash and then they took me in this some back room, went through all my luggage, took all, you know, my Palm Pilot and anything that looked valuable at all and any sort of stuff that I bought in Ukraine that they wanted. And then I got deported.
Bill Browder: Wow!
Jordan Harbinger: At the last minute. Yeah! Yeah!
Bill Browder: [00:02:43] But that's the punishment for going with Palm Pilot, I guess.
Jordan Harbinger: [00:02:46] Yeah, yeah! You got a trail. Get outta here. Don't ever come back. And I remember being on the airplane and telling the woman next to me what happened. And she was really apologetic. She was Ukrainian. And she said, "You know what? It happens to us too. And I lived there. I'm from there. And it happens to us too." And that was really eye opening because it wasn't just opportunistic. Here's a tourist, let's screw with them. These are how this government at that time treated its people.
Bill Browder: [00:03:13] It hasn't changed actually. I mean, this is going on to this day in Russia, in Ukraine, in almost all the post-Soviet States. It's just from top to bottom. And it seems almost intractable now. They can't get rid of this stuff. Everybody seems to survive off of it and it poisons the entire society.
Jordan Harbinger: [00:03:30] The irony that really struck me in the beginning of Red Notice was that your grandfather was the head of the American Communist Party. And so you're this amazing capitalist who's made lots of successful investments, billions of dollars here, and your grandfather was kind of not trying to do that. I mean, he was at least one of the least capitalistic people, I guess, of his day and had that reputation to match.
Bill Browder: [00:03:55 ] Yeah. So I am the direct result of my grandfather. I was brought up in a family of communists and left wing academics. I was unlike everybody else in my family. In addition to them being communists, we also had a family full of child prodigies and geniuses. My father went to university when he was 14 to MIT, had his degree when he was 17 and then had a PhD in math from Princeton by the time he was 21. My brother went to the University of Chicago and Physics at the age of 15. And so I was like, you know, really sort of an odd-man-out black sheep of the family by just being a normal kid. I was looking for some way to distinguish myself and I thought the best way to do that is to rebel from this family was to become a hardcore capitalist. And that did truly create a lot of rifts in my family.
Jordan Harbinger: [00:04:48] To give people a little bit of background, let's tell people what you've done in Eastern Europe, because what it seems like you did is you essentially found out that you can buy companies for pennies on the dollar in Eastern Europe, in the former Soviet Union. It's almost like you found out about Bitcoin in 2009 or something.
Bill Browder: [00:05:04] Well, I've said that to them in my prediction is Bitcoin's going to zero, but yeah, but anyways,
Jordan Harbinger: [00:05:10] Like many Polish companies, from anybody's Soviet companies.
Bill Browder: [00:05:14] Yeah. Well that's entirely true as well. Just to kind of circle back to the family history, so when I finished business school at Stanford in 1989 and that was the year the Berlin wall came down. And as I was trying to figure out what to do with myself. I came up with this idea that if my grandfather was the biggest communist in America, I'm going to try to become the biggest capitalist in Eastern Europe. And so I tried to get to Eastern Europe, which was, there was nothing to do in Eastern Europe at the time. But I ended up in London and my first job in London was with a management American consulting firm, Boston Consulting Group. And, they sent me out to Poland as one of my first assignments. And when I got out to Poland, I was supposed to be working to turn around a failing bus company
[00:05:57] which I have no ability to turn around, but while I was there, I noticed that they were doing the very first privatizations in Poland. I had this interpreter, a guy, his name was Les Shack and he was always with me. I noticed one day he had a newspaper under his arm with a bunch of financial figures on it. And I asked him what those were. He proudly said, "Oh! These are the privatizations." And, I had him explain them to me and we laid out the newspaper on the table. And I said, "What's this number?" He said, "That's the number of shares outstanding." And I said, "What's this number?" And he said, "This is the share price. And I'd multiply the two and it got us to $80 million." That was the market value of the company.[00:06:38] And then I went down below and said, "What's this number?" And he says, "This number says net income." I said, "No, no, no." Read it again. And he says, "Net income." And I said, "That can't possibly be true." He said, "Yes, net income." And the net income for the previous year of that company was $160 million. So just to be clear, so the company costs $80 million in the previous year. They made a $160 million. You're buying that company for half of their earnings for one year. All you have to do is stay in business for six months and you made your money back. And I thought to myself, "Wow! I want to buy some of these stuff." And I ended up in the first privatizations investing my entire life savings, which was $2,000. My $2,000 over the next 12 months went up 10 times. I made $20,000. And there's a line in my book which I'll repeat for you here, which is, in making 10 times your money is the financial equivalent of smoking crack cocaine. And once you do it once, you just want to repeat it over and over and over and over again. Once, once I had that experience of making 10 times my money, I knew exactly what I wanted to do with myself, which was to go around and find more of these opportunities in Eastern Europe. And that's what I set out to do.
Jordan Harbinger: [00:07:50] This is it. It sounds more and more like Bitcoin, the more and more we talk about this. Your money goes up 10 times. You're not quite sure what happened. It seems too good to be true. You get more money and you figure out how to keep doing it. Yeah. It is incredible to see this. And nobody else had spotted this. In a way, It's like you're the reverse Forrest Gump of the financial world in some ways, because then of course you ended up at another bank that's in trouble for manipulating the U.S. treasury market and you just really needed the job. And so they're like, "look, we'll hire you. No one else wants to work here right now." And you're like, "I don't care. I just need something." Right? To continue this process.
Bill Browder: [00:08:25] So that bank was called Solomon Brothers. It doesn't exist anymore. But for anyone who has any memory of the financial world, it was one of the most aggressive doggy dog banks out there. There's a famous book written by Michael Lewis called Liar's Poker about Solomon brothers. They had just gotten busted trying to rig the U.S. treasury bond market and all sorts of people would left. And there was a lot of gaping holes in their team, including one in the East European Division of Solomon. I wanted to get into Eastern Europe properly. And so I joined Solomon Brothers in 1992 and my first assignment at Solomon was to go up and advise a fishing fleet located in Murmansk in Russia, which is a couple of hundred miles North of the Arctic circle.
[00:09:19] And I get on a plane to Murmansk. I get met at the airport by the head of the fishing fleet. He takes me in his car and he says, "Before we go to the office to discuss business, I want to show you one of our boats." So we drive down to the docks and in front of me is this enormous vessel. It's like 300 feet long and it's on a whole bunch of different storeys. On the top storey, they have the nets where they catch the fish and then they put the fish into some shoot and with all the other stuff that comes in the nets. And then they separate it out and it goes down further down the ship and eventually gets down to it, the storey where they have all these canning machines. And effectively this ship is one ocean-going factory.[00:10:01] And it was very impressive looking, very large, very big. I asked the guy, "How much does one of these things cost?" And he said, "They cost $20 million new." And I said, "How many do you have in your fleet?" He said, "a hundred." So I did the math, $20 million times a hundred that gives you the 2 billion. And I said, "What's the average age of your fleet?" And I should point out, I don't know much about ships or fishing, but he said seven years. And so I said, "okay, maybe that makes them half depreciated." So billion dollars worth of ships. And the reason I had been hired and to advise them was that the government had, under the privatization program, offered the management of this company, 51 percent of the share capital of the company from the government. I asked him at what price does the government's selling you 51 percent? And he said, "two and a half million dollars."
Jordan Harbinger: [00:10:48] Oh my gosh!
Bill Browder: [00:10:50] So just let me just repeat the math. So there's $1 billion of the ships and you can buy 51 percent for two and a half million dollars. So, that made my Polish deal look like nothing. I mean that was like much cheaper than Poland. And that was really what got me excited about investing in Russia because they were just giving everything away for free.
Jordan Harbinger: [00:11:10] And this privatization program was so that they could sort of rapidly transition to a market economy. They knew that people didn't have money, so they had to lower it down to a price that somebody might potentially be able to afford at some point just to get things into private hands.
Bill Browder: [00:11:25] Well that was kind of the philosophy. So they said in order to go from communism to capitalism, let's create a country full of capitalists and in some cases they lowered it down to free. And so for example, everybody in the country was offered something called a voucher. And so 150 million people got vouchers. They were freely exchangeable instruments and they were not registered anyone's name, kind of like cash. And they developed their secondary market developed for vouchers. And so these things traded for about $20 each. And so 150 million times $20 gets you to $3 billion for the vouchers. And those $3 billion with the vouchers were exchangeable for 30 percent of the share capital of all Russian companies, which meant that the market value of the entire country of Russia in 1992 was $10 billion. Just to put this in some perspective for you, this is a country with 35 percent of the world's natural gas.
[00:12:21] 10 percent of all the world's oil, 10 percent of the world's steel, 10 percent of the world's aluminum. There're banks, there's fertilizer companies, there's timber companies, there's car companies, there's telephone companies, electricity companies altogether, all in the aggregate $10 billion at the time. I think that you know, that was like, 80 percent discount to the valuation of Walmart and this is the country of Russia and there was no restriction. Anybody could buy or sell shares. You could, you didn't have to be Russian. Anybody could buy and sell the shares. And so that's what set off what became the most phenomenal investment opportunity in the history of the world.
Jordan Harbinger: [00:13:01] And you were in a rough spot because you had to make five times your salary or get fired. That was the rule. So everyone in your bank, everyone there is cut throat, not trying to help anybody else. And you kind of got stuck with, if memory serves, you got stuck with Russia. It wasn't just that you'd sniffed out this great opportunity. It was something nobody else wanted. People weren't going to mess with you inside your bank because you weren't stepping on toes and you arrived to Russia and there's a burned out airplane carcass on the runway and you're thinking, "What did I get myself into?" And then you start doing this back of the napkin math and you think, "Oh my gosh! This is, I'm finding winning lottery tickets in every drawer that I open."
Bill Browder: [00:13:41] It was incredible. So Solomon was, was the most dysfunctional company, I think, that's ever existed. It was just true, true dog eat dog. As you said, you show up on the first day of work and they say, "Here's your desk, here are your business cards. Here's the phone. You got to make five times your salary in the first year or you're fired. Good luck. Get to work." For me, there was no training program, no mentors, no nothing. Every time I tried to do anything that I saw, like where there seems to be any money around, everybody else had such sharp elbow. They sort of elbow me out. And so I ended up sort of declaring myself the investment banker in charge of Russia because nobody else was doing Russia. And nobody seemed to care because there's no money being made in Russia at the time.
[00:14:27] And that's what led me up to Murmansk, which then led me into this unbelievable discovery. And I should point out that when I got back to Solomon's, I discovered this thing and literally like they're just giving free money away on the street. I go in all wide-eyed and I tell the first person I'd see, "Oh my God, you can't imagine what's going on out there. We got to stop everything else we're doing. We've got to invest in Russia." And they looked at me like I was completely out of my mind and I go to the next guy and the same thing. I had no skill in sort of working corporations. And so I just went around to the next person, the next person until I fully discredited myself inside Solomon Brothers to the point where I wasn't making five times my money.[00:15:06] And nobody wanted to have anything to do with me cause I was this crazy guy talking about Russia all the time. And so I was getting close to being fired even though I had probably the best sort of business money making idea that anyone could ever have. But for a long time they didn't see that until finally one of the senior guys in New York had heard about me and called me up and said, "I hear you're having some career difficulties, but you might have something interesting to say about Russia. Can you come to New York and tell me about it. And so I stayed up for three nights in a row doing a PowerPoint presentation on how great the Russian stock market was. Rehearse it in front of the mirror. I rehearse it on the airplane.[00:15:46] I get to New York, I go up to the office, I sit down, I started going through my presentation. I think I'm making progress, but the guy who I'm looking at presenting to, he doesn't give me any feedback. It's no uhuhs or nodding or any of that kind of stuff you get when you think that maybe you're getting through to somebody. And so I'm just sort of doing my thing and I get to about page 21 of the presentation and without saying another word, the guy gets up, leaves the office and leaves me sitting there. And this was like going to be the meeting to save my career. And the guy just like left the room without saying anything.
Jordan Harbinger: [00:16:21] What are you thinking at that point? Because you spent so much time doing this and he just stares at you like he's watching TV and then gets up and leaves.
Bill Browder: [00:16:30] And I'm thinking to myself, "What am I doing wrong? I thought I had it right. I've got to fix this. This is the meeting that's going to save my career. I've got to do something." And 10 minutes goes by and he's still gone. I think, you know, when he comes back here, I'm going to turn this meeting around. I've got it. This is my whole life depends on it. 20 minutes goes by, he's still hasn't come back. I'm getting more and more agitated. 30 minutes still hasn't come. 40 minutes. 52 minutes later, this guy comes back, he wanders on the room and I'm about to blurt something out to like, "can I get the meeting on track?" But before I have him an opportunity to say anything, he says very calmly, he said, "Bill, when you showed me those charts, this is the single most impressive thing I've seen in my investment career, I've just gone to the risk management committee of Solomon brothers and I've got you a $25 million to invest. Stop everything else you're doing and let's get this money to work." And it was like the biggest black cloud had just lifted off my shoulders. And I took that money and we invested it in the Russian stock market in the end of, this was now in, at the end of 1993.
Jordan Harbinger: [00:17:32] Okay but wasn't there a part of you that's like, "Hey man, you couldn't have said that an hour ago. I've been freaking out over here. Come on."
Bill Browder: [00:17:39] You know, I've dealt with a lot of difficult people in my life. You know, I was just happy to have that money and get to it to work. And we got that money to work and then amazingly about seven months later at the economist magazine wrote an article titled Sale of the Century and it just repeated the math that I've just shared with you about the voucher privatization program. All of a sudden because of that article, like 20 American investors decided they wanted to buy Russian stocks and some of them were rich guys, a few hedge funds who invest in banks. I should point out that the Russian stock market was like totally all over the counter, wasn't automated in any way. Totally a thinly traded market and all of a sudden 20 blundering Westerners all show up at once trying to invest.
[00:18:27] And you know, what happens in stock market, it goes up 500 percent in three weeks. 500 percent.
Jordan Harbinger: [0:18:33] And you just owned a bunch of stock as well. So your stock that you got for pennies on the dollar also went up.
Bill Browder: [0:18:40] We had a $25 million portfolio that my guy, Bobby, had allocated to me and it went up to $125 million. I should point out that this is back in the days when $100 million was real money. And so that, so all the people who had been ignoring me and disparaging me during the times when I'd first come off that plane from after my trip to Murmansk in Moscow, all these guys were all hanging around my desk at the first thing in the morning when I'm trying to glean Russian stock tips off of me so they could make five times their money.
[00:19:16] And that was the moment that all some of the older guys started coming around my desk. It's older bankers that's in their forties. And one of them came up to me and said, "Hi. You know, I cover the George Soros account. You know, Bill, I realize that you're real busy and you got a lot of important stuff going on, but is there any chance you could possibly spare an hour for George Soros to explain to him what's going on in Russia? He really liked to meet you. And then the next guy came around. He's covering the Sir John Templeton account. Mr. John Templeton was one of the absolute sort of gurus of investing. Same thing. Julian Robertson, the head of Tiger, Michael Steinhardt, all of the royalty of Wall Street, all wanted to meet me. And so I went around and I went on a world tour of royalty of Wall Street.[00:20:03] And everyone of these guys said to me they didn't have to wait until the end of the meeting, and they were much smarter than my Solomon colleagues and said, "Wow! This is incredible. Can we give you some money to manage?" And I said, I don't know. At the moment we just do this for ourself, but let me go back and ask the bosses, maybe we can do this for you." And so I go back to the trading floor in London and I go to the head of the trading floor and I go to his corner office and I say, "Hey, you know, I was just with George Soros. He wants to give us some money to manage. What do you think?" And he said, "That's a genius idea. Bill, let's form a task force to study it."[00:20:40] And that's why I said, "Okay." So a week later I go to the first task force meeting and I walked into this room and there's 45 people in the room, 40 of them I've never seen before in my life. There was the vice chairman of the firm, senior managing directors, managing directors, senior directors, directors, senior vice presidents, vice presidents, and then me. I was the absolute lowest guy on the totem pole in the room. And while I'm sitting there, a fight breaks out between different groups from Solomon brothers over who is going to get the economic credit for the business. And it's like watching a game of multidimensional tennis and I should point out that each of these groups has the absolute most compelling arguments about why they deserve the economic credit for the business and that the investment bankers have a great capacity to argue for money they don't deserve. And I'm sitting there watching this and I'm very impressed with how smart these guys are arguing their case. And I had no idea who was going to win the argument, but I was 100 percent certain who wasn't going to get any economic credit for this business.
Jordan Harbinger: You!
Bill Browden: And that was going to be me.
Jordan Harbinger: [00:21:53] Yeah! You aren't getting…
Bill Browden: Everything.
Jordan Harbinger: [00:21:57] This episode is sponsored in part by Wine Access. I've been enjoying the wines I got from Wine Access. I love Red Car, Teeter-Totter. I know these are kind of like silly brand names and stuff like that that you've never heard of. And that's the whole point of Wine Access. I learned the story about what makes Wine Access so special by hanging out with their team of Master Sommelier because he really know wine. They've got famous wineries down to a small family owned gems and they only offer you the best. They've got relationships with top wineries that sell to industry insiders, high end restaurants, but rather than spending hundreds of bucks on a bottle of wine, which is just hard to enjoy at that point, especially for me. With Wine Access, you can buy from the same wine makers for 1550 bucks a bottle. And if you don't love the bottle, it's on the house.
[0:22:40] So you can't really, I mean they're going to guarantee that you like the wine. That's kind of amazing, right? So for Jordan Harbinger Show listeners, Wine Access valued supporter of our podcast has now created an incredible but limited time offer for all of our podcast listeners. Get 30 bucks off your purchase of $100 or more, no matter how many bottles within that shipment. But listeners need to go to wineaccess.com/jordan for this special deal and to get full details. So go now while the deal is still available. wineaccess.com/jordan and you know I wasn't really a wine guy at all before this, but I'll tell you, these guys are making me re-examine my ways. This episode is also sponsored by the Great Courses Plus. To be your best professionally, personally, you need to keep yourself challenged and continue learning as much as possible. That's the name of the game over here at the Jordan Harbinger Show.[00:23:29] Of course, one of the ways I do that, watching and listening to the Great Courses Plus. If you haven't signed up for this yet, I would love to know, why not? Get unlimited access to learn from some of the leading professors and experts in the world about anything that interests you. Business, psychology, history, you can learn a new language. You can master some photography, you can learn some chess, whatever. There's over 9,000 lectures. You can watch it anytime or you can listen podcast-style through the Great Courses Plus app and just grab the audio there. I recommend checking out the course, Boosting your Emotional Intelligence. This course led by a professor from UC San Francisco. Lot of great tools to help understand and control our emotions, which is a topic that you've heard me discuss a lot and various outlets and of course this type of emotional awareness, this emotional intelligence can improve our personal relationships.[00:24:15] It can improve our interactions at work, our decision making, even our physical well-being. And I know you'll love the Great Courses Plus as much as I do. And they're giving our listeners a free trial with unlimited access to enjoy all of the lectures. But you'll need to go to our special URL and start exploring today. Sign up at thegreatcoursesplus.com/Jordan. that's thegreatcoursesplus.com/Jordan. I'll remind you all, it's really good time for you to support our advertisers here. Now that we are starting from scratch with the show here. These advertisers are what's keeping the lights on over here. So we got to rebuild and we need your help to do it. And one of the ways you can do that is supporting all of our advertisers here on the show. In addition to spreading the word to all your friends and family about the new Jordan Harbinger Show. So thank you very much for supporting our advertisers and for being a fan of the show. Now let's get back to Bill Browder.
Jordan Harbinger: [00:25:05] This guy, Bobby, out of New York who walks out of the room in the middle of your presentation, he seemed like a Maverick. He seems like a courageous guy inside that organization. I mean you couldn't even get a desk on the trading floor. You basically begged for this meeting and then this guy goes and walks into somebody else's office and says, "Look, I need this. Yes, it's risky. Whatever. I'll sign off on it." He hands you a stack of travel vouchers. It seems like, what do you learn from that? Because he just seems like a guy says, "Look, get it done. Screw the permission. Don't worry about it. The numbers speak for themselves and then we'll worry about protocol later." And that seems almost like a theme that you had to stick with all throughout investing in Eastern Europe and Russia.
Bill Browder: [00:25:51] Yeah, it was basically, it was a very useful lesson. He was a guy who, you know, didn't care about titles and offices and any of that kind of stuff. And the situation which was most dramatic was that, you know, he wanted me to go invest this money in Russia and I was supposed to go out and like get a seat on the trading floor, but he didn't bother to call anyone up to get me a seat on the trading floor. So I go out to the trading floor of Solomon Brothers with no seat and I go and try to find a seat and like nobody wants me to sit anywhere near them. You can't just like show up and ask for a seat on the trading floor. And I call him up in a desperation after like, you know, everybody has turned me down and he says, "I don't care about seats on the trading floor, work from home."
[00:26:30] And I said, "what?" And he said, "You shouldn't be in London anyways. You should be in Russia investing this money." And so I said, well, "How do I get to Russia? And the next day from FedEx, I got a bunch of pre-signed travel authorization slips and we just ignore everything. We just operated outside the normal protocols as he say, and got money invested in. And you're right, that has been, you know, what I've learned about life is that it's not about all the niceties. It's about the substance and it's about, you know, as we learned, we had money to invest and we were looking to buy assets that were trading cheaply. Didn't matter, all this other stuff and that's what we did. And for then on, in all different aspects of my career has always been about just the substance, not the form.
Jordan Harbinger: [00:27:18] I love the idea of the substance instead of the form. And I want to come back to that theme as well throughout the rest of our talk here. Because when I'm reading Red Notice, these voucher auctions where you have to buy things, this isn't show up, have a meeting, signed some documents. There's a series of escrow bank wires. This is duffle bag full of millions of dollars in vouchers for cash. These vouchers are stacked on the table at like some abandoned bus station or something. And meanwhile, this auction that's supposed to be public is not being publicized well because the executives want to take it. There's police roadblocks to keep you from getting there because they know you're coming and that you're going to be able to outbid them. I mean this is Wild West type of corporate dealing. This is not, let's have a fair option and find out who can offer the most to our company. This was already cronyism, right?
Bill Browder: [00:28:12] So the way it worked was, and this is different than any other type of auction that you've ever been to. So once you got your voucher, you can either get your voucher from the government if you're Russian or you could buy a voucher at one of these voucher exchanges where they buy and sell these things, which as you say, we're like the cleared out church halls or bus stations or whatever. And once you got your voucher, then you then were invited at different moments in time to submit your voucher to buy shares of companies. And the way that the voucher options work is that like every week or so, the ministry of privatization would announce a whole bunch of different companies that had different blocks of shares for sale and that they didn't bother telling anyone what these companies did or how big they were or what their financial information was.
[00:28:55] And so, you know, a lot of Russians had no idea like who, what the oil companies were. They were all state secret like six months earlier. And so, so it was this crazy thing where, you know, people all recognize the name of their car. Everyone drove around these cars called Ladas, which were made by a company called AvtoVAZ. And so when people were going to submit their vouchers, they would submit their vouchers for the things they recognize like the car company. But here's how it works. If you showed up with one voucher and you were the only person who showed up with a voucher and they were selling 10 percent of a company, then you can get that 10 percent of the company for one voucher. If a million people showed up with a million vouchers, then they divide up the shares among those million voucher holders.[00:29:37] And so it's the only type of auction I've ever seen in my life where you didn't know the price, you're bidding when you bid and what this created was this incredibly weird set of things where were like the most commonly known companies were overpriced, but almost everything else, which did nobody knew what it was. You bid your vouchers and then five weeks later, you get the results and the result was you'd make 500 percent just in between in those five weeks. And it was just really an odd, odd way of doing it. And as you said, so and so there were people who are like the management of some of these companies or some shady oligarchs or whatever who didn't want, who wanted to buy stuff cheaply. They would do tricks. So for example, there's a company called Surgutneftegas, one of the largest oil companies in the world. Nobody had ever heard of it, but those who had, in order to participate in the voucher auction, you would have to get on a plane to Siberia, to a town called Surgut. And so the management of Surgutneftegas didn't want anyone competing with them to buy their own shares cheaply. And so what do they do the night before the voucher auction? They closed the airport.
Jordan Harbinger: [00:30:48] That's a subtle move, Bill. Hey, how do we keep these people? Oh yeah, we could change the address. No, just literally don't let the plane land.
Bill Browder: [00:30:56 ] There's like no way you can drive to Surgut. It's like driving from like New York to San Francisco. You know, it's like Russia is a big country. There was another one where they blocked the road and put burning tires on the road. And so this is how they played all these games out there and it was completely, absolutely Wild West chaos, gold rush type of situation.
Jordan Harbinger: [00:31:20] And these oligarchs, by the way, for people who don't know the term oligarch, it's essentially some super wealthy robber baron type that would usually what we're talking about here are Russian oligarchs. These are the guys that sort of had a similar game maybe as you, of course, a lot of them would say, "Oh yeah, okay, I'm just going to buy one of the national oil companies because I'm friends with people in the government and I can secure financing from wherever, China or some other thing." And they just sort of strip the assets and things like that. And you're kind of forced to work with these people because now you're in their arena, right? You're starting to own things in Russia. You're starting to become a corporate presence there. What are these people like? What are you doing with these? These people seem dangerous there. They're wealthy because they're gangsters.
Bill Browder: [00:32:06] So first of all, I wasn't working with them. I owned shares of their company. So these guys would own,
Jordan Harbinger: [00:32:14] Yeah, to be clear, you were working around them? Not with them.
Bill Browder: [00:32:17] I ended up working against them. So these guys crooked like 51 percent or 75 percent of these companies. And I owned one or two percent of these companies and I just did the math and I said, "Okay, this is an oil company. It's got so much oil. Here's the market value of this company. If you compare it to BP or Exxon, it trades at a 99.7 percent discount per barrel of reserves. Wow. That's pretty cheap. I want to own those shares." And so I would own the shares and then I would discover that it's cheap, but it's actually cheap for a reason. And the reason is because these oligarchs are a bunch of crooks and they were stealing all the assets and stealing the cashflow out the back door. So I wasn't working with them. I was working against them, trying to stop them from stealing from me and the other shareholders. And I became a shareholder activist in Russia to try to get them to stop doing that.
Jordan Harbinger: [00:33:09] It's unbelievable. You go to war with these guys. You end up essentially embarrassing them and all of these things go public and now you've got bodyguards, right? You went from this kind of annoying guy who's buying stuff that they want showing up. So how did he get here? And now you're kind of on their radar in a much more negative way. And these are people that I, back to the theme of courage, I don't know how many people would've thought, "That's fine, I'll deal with this."
Bill Browder: [00:33:38] So after Solomon Brothers, after that whole incident with task force meeting where everybody was going to take my credit, I ended up leaving Solomon and starting my own business called Hermitage. Then I started the Hermitage fund and I started investing in the Hermitage fund. My fund was just a spectacular success from day one. I made a lot of money for a lot of people. And then one day an oligarch, a guy named Vladimir Potanin, tried to increase the number of shares of a big oil company that I had invested in and do so in an offering where he sold the shares to his cronies at a huge, huge discount to the market value and excluded me and the other minority shareholder.
Jordan Harbinger: [00:34:26] So he's trying to dilute the value of your shares by just printing more, essentially?
Bill Browder: [00:34:30] Printing more then and then giving them to himself for almost nothing. And so I had a position at the time that was worth $100 million before he did this. And basically it was going to be worth $25 million afterwards. The money going to him and his friends. So they're going to take away $75 million from me. That really put me in a difficult spot for a couple of reasons. One, because if I allowed him to do it, then everyone else would say, "Wow! We can do that too. No one's going to — this guy is just a pushover." And two, I had a lot of people's money a lot of investors money that I was looking after and I was responsible for and there he was going to be stealing their money. And three, this being in Russia and starting this business had really been my dream and my dream had come true and I'd become successful and become the one of the biggest players in the Russian market.
[00:35:22] And basically this would have ended my existence. And so I took a decision which nobody had ever taken before, which was to take on one of the oligarchs and challenge him and fight him and stop it from happening. So I ended up going out and I'm taking them on and I ended up with 15 bodyguards. I had 15, 16. It was amazing. I had, when I was going from the office to my home, there was a lead car, a lag car, a sidecar, three armed guys in my car. And when we got close to home, one of the lead car would kill off. Get there soon, get sooner than the rest of us. They would go in and scout the tops, rooftops for snipers. They'd look for bombs under the cars parked in front of the building. They'd secure the stairwells and then the rest of them would come and escort me into the apartment. And then I had two guys with automatic weapons sitting in my living room. It was very, very intense. Very scary.
Jordan Harbinger: [00:36:20] It's scary and hearing it now all at once is completely ridiculous. Like, I'm just envisioning you coming home after they've done a bomb search and they're walking through your stairwell and they're thinking like, "Okay, well we know that, you know, Bill had microwave macaroni and cheese late last night because I'm in his kitchen," and then you're sitting on your couch and there's these two guys picturing these two huge guys with machine guns and you're like, "so, Netflix?" You know, what's going on at your house? You didn't have any privacy, nothing.
Bill Browder: [00:36:50] No, no. There was no privacy. I mean the worst part was getting up in the morning, you know, I mean it had to be sort of almost a military operation getting out, you know. So we said we're leaving at eight o'clock and I was like, not looking like I was going to be ready at eight o'clock, you know, these guys be banging on my bedroom door. Like, come on guy. You know, it's getting close to the time where we're supposed to be leaving. Because you know, once they secured my exit that took them like a good half an hour, big operation. And so you know, it was not, it was not pleasant. Not a pleasant time at all. And I had, you know, some friends thought, "Wow! This is really cool, Bill."
[00:37:27] I just, I told them no, nothing cool about it. There was only one upside to having bodyguards, which was that I'm a regular tennis player and in Moscow they have these big indoor tennis courts and I had a regular tennis time that I would play. And the guys who are playing on the tennis court before me, pre-bodyguard, would always like play over their time. And so, you know, six o'clock I was supposed to be playing and it'd be like, you know, 6:07 and they were still finishing up their set. But by the time when I had my bodyguards, like they were off the court at exactly 5:59, no problem.
Jordan Harbinger: [00:38:03] Yeah. When the guys with machine guns show up, I think we're just going to call the game. How's that sound? Yeah, exactly, man. Where do you think at this point, you were 33 or thereabouts when this is happening and there's a part of me that's like, "Okay, I get it. Young bravado!" It sounds like there's a strategy here knowing if you don't fight back, you're never going to succeed over there because you'll look like a punk, right? "Oh, all I have to do is dilute this guy. Yeah. Just whatever. Let him buy what he wants. We'll print 100 million more shares and then he's just going to lose his shirt and eventually he'll go away." You know this foreign
[00:38:36] punk, right. What was the fear here and how much did the fear even register? Because at 33 you might be thinking, "Yeah! This is great. I got bodyguards. This part's a little inconvenient, but I'm killing it out here. I'm killing it."
Bill Browder: [00:38:50] No, no. I thought I was going to get killed. Not killing it. I realized that, I mean, basically, if I allowed them to get away with it, you know, Russia is like a prison yard and everybody is going around, you know, with puffing up their chests, you know, staring each other down and, you know, if you show weakness, then everyone will jump on you. And that's the end of the story. You'll just end up being, you know, being somebody's bitch. I didn't want to be anyone's bitch and so I was going to make sure that wasn't going to happen. And so it was a horrifying experience. I wouldn't ever want to have to repeat it. And unfortunately I've had to repeat it a number of times, but, you know, being in the line of fire isn't a necessity if you want it to be there at all. And it wasn't like if you had asked me before I ever went to Russia, you know, and said, "Here's a picture of what's about to happen. You want to go to Russia still?" I probably would've said no, but once you're out there, then you have the responsibility that I had. I didn't really feel like I had any choice.
Jordan Harbinger: [00:39:49] How did you learn this type of courage and this ability to stand up under pressure? I mean, I'm looking at your family history, but in preparation for this interview, and I'm thinking your dad must've been pretty courageous and also not quite immune, but at least resilient to outside pressure because his dad, your grandfather was, and this might be too strong a word, but in a way, kind of a reviled figure in American political history. The chief communist in the height of, I guess, McCarthyism, not really a good position to be in.
Bill Browder: [00:40:21] Yeah. My grandfather, Earl Browder, was the General Secretary of the American Communist Party from 1932 to 1945. He ran for president against Roosevelt in 1936 and 1940 on the communist ticket. He was put in jail by Roosevelt in 1941. And then there were demonstrations all over America by African Americans who were big supporters of my grandfather. They eventually pardoned him a year later. Then, he was expelled from the communist party by Stalin in 1945 for being too much of a capitalist. And then he was viciously persecuted by McCarthy, as you mentioned, in the 1950s. And so, you know, I guess I don't know whether it's genetic or, you know, nature or nurture, but somewhere in my family we had that we had all of this outsider stuff going on and fighting the system and my father was a genius mathematician.
[00:41:21] He was, sort of objectively, one of the best mathematicians of all time. And he couldn't get a job in any university in America because of who his father was. He ended up getting drafted into the army and then they said once they got him in the army, they said, "Oh my God! You're a security risk. Look at your father." Made him pump gas for three years, even though he was a genius mathematician from Princeton with a math degree, PhD in math. He eventually found his way out of this mess and became a famous mathematician and won the National Medal of Science under Clinton. But we've had a lot of different types of adversity in our family. And I guess that's probably where it comes from. But who knows how, you know, how one deals with these types of situations. But what I know is that I was not going to let this guy get away with stealing our, my client's money and I fought him. And amazingly, at the end of the fight we won. I got the securities regulator of Russia to cancel the dilutive share issue. A couple of months after the whole process started and I won and my position was made whole.
Jordan Harbinger: [00:42:34] It's just unbelievable. The amount of pressure I think back to times in my life that had a lot of pressure even recent ones where I had what I think is a lot of pressure and just looking at what you've gone through here and thinking this is not the type of courage that you learn just by going, well one day at a time. I mean you had to have gotten this by being raised in a family where the motto was just resilience in every part of your life.
Bill Browder: [00:43:01] It's hard for me to look at it objectively or what I can say is that in my own psychology, I'm not the kind of person who buckles under pressure and in a certain way I almost thrive under pressure and I was able to deal with this situation. It didn't feel good at the time. I can promise you that. I can remember the feeling of absolute visceral relief when I got on a British airways flight and the plane landed in London and I knew that once I was in London, no one was going to blow me up or machine gun me down or do whatever they were going to do and then the horrifying feeling of bracing myself getting back on the plane to Moscow while this was all going on.
Jordan Harbinger: [00:43:48] Unbelievable. Yeah, I can definitely imagine. I don't know if I would be able to set foot back in Russian. Of course they end up getting you in a way in the end because you lose $900 million when the corrupt/inept Russian government defaulted and just sends the ruble into freefall. At this point though, in your life, how did that feel at the time? It's so much money, but then it just seems like a number to those of us outside of this but losing $900 million overnight. I mean, what is going through your mind at that point?
Bill Browder: [00:44:20] Well, let's first put it in perspective. I had $1 billion under management. The Russian government defaulted on their bonds. They devalued their currency by 75 percent and my $1 billion portfolio went down $900 million. I lost 90 percent of my client's money in a very short period of time. So I mean, $900 million of course is a lot of money, but 90 percent. So I was down 90 percent. And for me that was just the worst. For me, the worst part about it all was that I had gone around proselytizing about why people should invest in my fund in Russia, that the Russia was going to do well. This is going to be a great opportunity. You should invest with me. And so people did. Then all of a sudden I lose them 90 percent of their money. And I felt absolutely mortified, ashamed of myself and dedicated to doing whatever I had to do to get their money back for them.
Bill Browder: [00:45:13] And that was on August of 1998. And I thought strangely and naively I thought, okay, well I've lost them all this money, but it's not a lost cause because the companies that I was investing in, these were oil companies, they all sold their oil in dollars and the oil price hadn't gone down and just stayed at the same. Maybe even rose a little bit. But they all paid for their costs. These oil companies pay their workers and pay for equipment and paid for all this stuff in rubles. And the ruble has just devalued by 75 percent and so if you're running a company and your revenues are seeing the same and your costs have just gone down by 75 percent, what does that mean? It means your profits go up dramatically explode. And so I thought, okay, I only have to do with stick it out.
[00:46:02] The devaluation is going to really play to my advantage and I'm going to ride it back up again and everything's going to be all right. And it probably would have been except that the companies were run by these oligarchs and these oligarchs are not nice people. The only thing that had ever kept the oligarchs in check in any small way was the idea that they could get money from Wall Street. That there's all these bankers from Goldman Sachs and Morgan Stanley running around with their hair man's ties and their fancy suits telling these Russian oligarchs, "Hey! We can get you some free money on Wall Street, but don't cheat your minority shareholders." And so the oligarchs think, "Okay, What should I do? I want to steal, but I want that free money on Wall Street."[00:46:49] They say, "Okay, I'm going to get that money from Wall Street and I'll steal later." So that was their sort of plan. Then all of a sudden in 1988 the Russian market collapses. It goes down 90 percent. The bankers on Wall Street with their fancy ties were no longer picking up the phone when their oligarch friends were calling because they didn't want to show their bosses they had anything to do with Russia. And the oligarchs said, "Wait a second, all those promises of free money have just evaporated. So there's no longer any reason not to cheat people. And there's never been any punishments against cheaters in Russia." And so these oligarchs who have no moral boundaries said, well, we might as well just cheat everybody on everything. And so while I was sitting there with my last 10 cents on the dollar, a down 90 percent hoping for a recovery because of this better economic situation with a cheap ruble, and all of a sudden these oligarchs were just stealing all the money for themselves and they were going to steal my last 10 cents on the dollar. And so I had to become a full fledged outright shareholder rights activist in order to protect the last 10 cents on the dollar that I had after the defaults and devaluation.
Jordan Harbinger: [00:47:58] Where did you get the courage to stand up to that type of activity? Because I just feel like this would have broken most people and they'd say, "Look, I'm down to 10 cents on the dollar. These guys are coming after me. I have physical threats to my security. Maybe it's time to call it a day." You said you'd ever been one to buckle under pressure, but where are you getting the strength at this point?
Bill Browder: [00:48:19] The strength came a lot from the feeling of huge shame and responsibility for having lost everybody, everything. And not wanting to be a sort of certified failure by putting my tail between my legs and leaving Russia. I should point out that I had this poker game. I played poker with a bunch of expats and a few Russians every Thursday night in Moscow. There was about 12 or 13 people that sort of filtered in and out of the poker game. By the time after the default and devaluation came, I was the only one left from my poker group in Moscow. Everyone else had left. They'd all gone to greener pastures. I was just sitting there. But I was so, so upset with what I had gotten everybody into. It was really my sense of responsibility for everybody else. And the deep shame that I felt and the disappointment people had in me that I felt like I needed to write this situation. And that's what sort of inspired me to fight back and to try to get this, get everybody out of this mess. And it was very real. And so I did, I fought back big time.
Jordan Harbinger: [00:49:28] Of course, when you're fighting back, the best thing to do is enlist help. But there's a story in Red Notice that made me think that even that is a huge challenge over in Eastern Europe and in Russia because there's this story where you see this man having a seizure in the road and nobody wants to stop. And your driver, even, he didn't want to stop. And it turns out that if you help someone on the side of the road in Russia, somehow the police might come and blame you. Can you take us through this? Because I feel like this story is really indicative of the mindset of folks in a place like Russia. I don't mean ordinary Russians, but it sort of seemed like a microcosm of the environment, especially for you at that time.
Bill Browder: [00:50:12] Yeah. So as I mentioned, I played a lot of tennis and it was late in the afternoon on a Saturday and I was with my girlfriend at the time. We were in the back of my car, we were driving my driver Lexi, it was getting dark. It gets dark really early in the afternoon there. It was a sort of a mushy gray, dark, snowy day and we're coming along towards the tennis court and I noticed ahead some big thing that looks like someone that dropped a big sack, a truck had left a big sack in the middle of the road. And as we're slowing down, and I noticed that it's not a sack, it's a guy. It's a man like laying in the middle of a road. And I should point out that this is like a six lane road, three lanes on each side.
[00:50:59] There's no intermediate thing on the road. It's just a guy in the middle of the road. And cars were just driving fast. It was dark. I was terrified and mortified for this guy. And I was, "Oh my God!" And the light had changed and we were about to start going and I ordered my driver to stop and I said we have to help this guy and he doesn't want to stop. And we have this argument and he stops. I get out of the car to help the guy and my girlfriend comes out and then my driver feels guilty that he's not helping. So he comes out and then we dragged this guy across. He's unconscious. And we dragged him to safety to across the road.[00:51:41] And as we're dragging him, he kind of comes back to life. It turns out that he had an epileptic seizure and we get him to a snow bank and we rest them on the snow bank. He starts coming back and he's very grateful that we helped him. All of a sudden, as we're sort of kind of getting him back into like a proper situation, three police cars come at us like right out of nowhere. Of course, they weren't there to help him when he was in the middle of the road, but they come out of nowhere and, and they immediately that they start shouting at me. They realize I'm a foreigner, so they don't come at me. Then they go after my driver Alexie and they accused him of hitting this guy while driving the car. And the guy who now can talk and he said, "No, that's not what happened.[00:52:25] I'm an epileptic. I had a seizure. They helped me." And the police didn't want to hear any of it and they just kept on going after my driver. It was only fortunate that my driver had formerly been a Colonel in the Moscow traffic police. And so he was able to get out of this mess had he not been, he would've been arrested for a hit and run or drunk driving and all this basically for helping out somebody who is in need. The moral of the story was that in Russia, it's like every man for himself, nobody wants to help because nothing good happens to anybody who does help. I understood after that why he didn't want to stop because he knew that that's what would have happened. It really tells you a lot about the horrific dysfunction of Russian society and that that's how things work out there and good Samaritan gets put in jail.
Jordan Harbinger: [00:53:14] And so what does this type of thing mean for enlisting help with what you're going through? Because if this is what's happening, sort of man on the street, is this mindset pervasive throughout the rest of the country's dealings financially in business? I mean, are you looking at trying to enlist help and people are going, "Oh my, come on man, I'm not doing that." Did you face resistance of that sort?
Bill Browder: [00:53:38] Well, so one of the biggest targets of our anti-corruption campaign was Gazprom the national gas company, which basically was being robbed blind by the management and we started to try to take them on and we encountered a sort of actually two different types of psychologies. One is the one that you've just described where people were both pessimistic and rude and cynical and would say to me all the time, "Why do you think you can change anything, Bill? You know, that's stupid. You're a fool. You know, only fools are thinking this kind of stuff." That was one of the things I had encountered. I also encountered something else, which was very interesting, which was when we were doing our research into how the stealing was going on at Gazprom. I wanted to go in and ask people, I wanted to effectively conduct interviews with people who knew
[00:54:30] that's the story. And I made a list of people to interview and I started organizing his lunches and dinners and breakfasts with these people. The first meeting I discovered the most interesting thing, which is, when I asked the question, "tell me about the stealing," the guy just started spilling his guts to me. The reason he did was that during the Soviet times, the richest person in Russia was maybe six times richer than the poorest person. You might have had a bigger apartment, maybe a dacha, which is like a country house, maybe a driver. But that was about it. By 1999 when we were doing this research into the stealing at Gazprom, the richest person in Russia was 250,000 times richer than the poorest person.
Jordan Harbinger: [00:55:19] 250,000 times from six times richer.
Bill Browder: [00:55:22] From six times to 250,000 times over a 10 year period. It poisoned the psychology of the entire country because almost nobody participated in this. Everyone was basically ripped off by these horrible people and so people were furious about it and somehow needed to like get it off their chest. And so we got a lot, a huge amount of information from these meetings because people were just so angry about what had happened that they were ready to share all this information with us. And so on one hand people are hugely pessimistic, not thinking that there's any chance anyone can do anything or change anything. On the other hand, people are just furious about it and were looking for some way to feel a little bit better. The shit, you know, maybe share some information. Who knows what will happen.
Jordan Harbinger: [00:56:07] The stories in Red Notice, it just gets worse, I mean, not worse but more and more unbelievably incredible. I mean these oligarchs, Putin, it says Game of Thrones. I mean these guys are getting thrown in jail. People are pilfering, they're persecuted politically and you're not by any stretch immune to this. I mean you found out that the FSB a.k.a. kind of KGB reincarnate, they want to strip your assets, they want to strip your properties. They start raiding your offices. And I don't want to get too in the weeds on Russian radar attacks and how companies get stolen and asset stripping and things like that because it's a left turn here, but you are even trying to have meetings with other business contacts and you're wearing a wire because you know there's something crooked going on and you find out they're jamming your signals with state of the art, anti CIA, espionage gear. Even though you were in it before, this must also just be next level because now you're not fighting the mafia. You're fighting it. It's like finding out that somebody who doesn't like you is actually a cover operative for the CIA or something and you're just going a whole different level of conflict.
Bill Browder: [00:57:17] So after this whole Gazprom thing, I was expelled from Russia and declared a threat to national security. After that, my offices were raided by the police. They seized our documents. After that, the documents seized by the police were used to fraudulently re-reregister our investment companies. And after that I hired a young lawyer named Sergei Magnitsky to help me investigate it. He discovered that the purpose of the raid was to try to steal all of my money, which they didn't succeed in doing, but they ended up stealing from using our stolen companies. They ended up stealing $230 million of taxes that we had paid in the previous year from the Russian government. This is where the situation went completely off the rails. I've never seen such a cynical thing that government officials and police officers using our companies that they stole.
[00:58:10] Stole money, $230 million from their own government. And where the story gets so twisted was that we, Sergei and I, exposed the crime. We wrote criminal complaints to every different law enforcement agency in Russia. I went on TV and the radio and explained it all to the world and Sergei then gave sworn testimony to the Russian version of the FBI and instead of going after the people who committed the crime that we had discovered, a crime against the Russian citizens, the same people who Sergei testified against came to his home, arrested him, put him in pre-trial detention and then tortured him to try to get him to withdraw his testimony. They put him in cells with 14 inmates and eight beds and left lights on 24 hours a day to impose sleep deprivation. They put them in cells with no heat, no window panes in December in Moscow, he almost froze to death.[00:59:08] They put them in cells with no toilets, just a hole in the floor where the sewage would bubble up. They moved from cell to cell to cell in the middle of the night. And the purpose of all this was to try to get him to withdraw his testimony against the police officers and then to sign a false confession to say that he stole the $230 million and did so on my instruction. And they thought, "Oh, you know, here's a guy, he buys his Starbucks in the morning. He wears a blue suit and a white shirt and a red tie. And he sits, he works in the tax practice of an American law firm. He'll buckle in a week." And it turns out that they got him wrong completely. He's the most principled guy in the world. For him, the idea of perjuring himself and bearing false witness was much more horrific than whatever physical pain they were inflicting on him.[00:59:53] And he just refused to sign their false confession. So the torture just increased and increased and increased until his health started to break down. After about six months in prison, he ended up with getting terrible pains in his stomach. He end up losing 40 pounds. He was diagnosed as having pancreatitis and gallstones and very, extremely painful affliction and eventually was prescribed an operation which was supposed to happen on the 1st of August, 2009. About a week before his operation, they came to him again, again asked him to sign a false confession. Again, he refused and they abruptly moved him and to a different prison of maximum security prison called Butyrka, which is considered to be one of the harshest toughest prisons in Russia. And at Butyrka, they had no medical facilities and at Butyrka, his health completely broke down. He went into to a horrific, painful downward spiral ear piercing pancreatic pain.[01:00:59] And they refused them all medical attention at Butyrka. He and his lawyers wrote 20 different requests for medical attention. Every one of their requests was either ignored or rejected in writing. Then finally on the night of November 16th, 2009, Sergei Magnitsky went into critical condition. On that night, the Butryka authorities didn't want to have responsibility for him anymore. And so they put him in an ambulance and sent him to a different prison facility. But when he arrived at the different prison, instead of putting him in the emergency room of their medical wing, they put him in an isolation cell. They chained him to a bed and eight riot guards with rubber batons beat Sergei Magnitsky to death. It was November 16th, 2009, eight years and a few months ago, Sergei Magnitsky was 37 years old. He left a wife and two children.
Jordan Harbinger: [01:01:54] This tragic doesn't describe this type of situation at all. He seems like the most courageous man that I've ever heard of. I mean, all he had to do is retract a statement and incriminate himself, but at least maybe he would have survived or had some sort of different outcome for himself and his family, but he did not do that. He's stuck true to his principles in the face of this horrific pain and torture. How did he do that? Do you have any insight into how he was even able to do that?
Bill Browder: [01:02:40] I think, I agree with you that he is truly the bravest was courageous man I've ever, ever met. The decisions that he had to make to overcome this situation to not go along with what they wanted to do or just incredible. He was really a man of steel and it's not, you know, if you looked at him, he's not some type of enormous muscle man or something like that. You know, it's all about his integrity, his principle and he defied all of their expectations. They figure everybody buckles. Everybody capitulates. Everybody compromises. And Sergei has had a character that wouldn't allow him to do that. And I believe that one day in the future when in a different world when Putin is not in power, they will build monuments to Sergei Magnitsky in Russia for his defiance of criminality and corruption, which, you know, he's truly a Saint. This man.
Jordan Harbinger: [01:03:45] It really is unbelievable. Not only what happened to him, but how he withstood that. It's just the details. We just glossed over everything in the interest of course in time, but in Red Notice, there's just so much that goes into him resisting and having the courage to resist making a false confession in the face of this horrific pain. And it's really, it truly is unbelievable. And it's sparked you to become not only an activist in the financial sector in Russia and elsewhere, but now this has morphed your mission at this point. What was going on in your head when this happened? Because now this is, at this point, has transcended the share values in the acquisition of companies and the corporate raiders that are coming after you and even your own physical security at this point. The mission, the vision, the resistance, if you will, just becomes, it doesn't just go up a level. This escalates times a hundred this is so much deeper and bigger now than it was before.
Bill Browder: [01:04:55] Yeah, on the morning of November 17th at 7:45 AM I got the call from Sergei's lawyer that he had been killed in police custody and it was the most horrifying, life-changing, soul-destroying news that I could have ever gotten. It was like a knife going right into my heart. And when I got that call I realized that everything had changed and changed forever. I could not carry on just trying to make money when something so horrific, so evil and so terrible happened to Sergei Magnitsky and happened effectively as my — he was killed as my proxy. He was killed because he was my lawyer and I made a vow on that morning to Sergei Magnitsky's memory, to his family and to myself that I was going to go after the people who killed him and make sure that they face justice. And for the last eight and a half years, that's what I've been doing. I am trying to get justice for Sergei Magnitsky.
Jordan Harbinger: [01:05:56] So you're going to the States to present this to human rights organizations, the Magnitsky Law, which is essentially, but tell us about the Magnitsky Law and how you're going about this. You're letting your business wane a lot at this point because you just can't sleep without justice in this case.
Bill Browder: [1:06:12] I put my business interests aside completely. There's no longer any interest in trying to make money. This was all about trying to get justice at this point. And I tried to originally to get justice inside of Russia, but the Russian authorities completely circled the wagons. They promoted and gave special honors to some of the people who were most complicit in this crime and in the most shocking miscarriage of justice, they put Sergei Magnitsky on trial three years after they murdered him in the first ever trial against a dead man and the history of Russia. And they put me on trial as his co-conspirator and sends me to eight years in absentia. And so it became clear that there was no possibility of getting justice in Russia. And so I said, let's get justice outside of Russia, but how do you get justice outside of Russia?
[01:07:00] There actually weren't any rules of justice that one could rely on. And so I looked at this whole story and I thought to myself, okay, the people who killed Sergei Magnitsky killed him for money. They killed him because he exposed that theft of $230 million, and those people don't keep that money in Russia. They keep that money in the West and we've seen them in New York, we see them in Miami, we see them in London, we see them in the Swiss Alps, we see them in the Côte d'Azur in France. They're everywhere. They're buying properties. They're sending their kids to school. They're sending their parents for medical operations there. They're using the banks. They're using the property. They're buying the yachts. And I came up with this idea, which I took to Washington, of freezing the assets and banning the visas of the people who killed Sergei Magnitsky.[01:07:52] And I took this idea to a Democratic Senator named Benjamin Cardin of Maryland and a Republican Senator, John McCain of Arizona. And I told him the story, which I've just shared with you today. I said, "Can we ban their visas and freeze their assets?" And they said, " Yes." And that was the beginning of the Sergei Magnitsky Act. And they introduced it into Congress in the fall of 2010 and two years later, it went for a vote and it passed the Senate 92 to four. It passed the House of Representatives, 89 percent. And on December 14th, 2012, President Obama signed it into law, the Magnitsky Act. They're now 49 people on the Magnitsky list. Those 49 people can't enter the United States. Their assets in the United States are frozen. Most importantly, they're put on something called the Treasury OFAC Sanctions list, which means that no bank in the world will touch them because no bank wants to be in violation of US treasury sanctions.[01:08:49] I'm proud to say that it didn't stop because campaign didn't stop in the United States. I went to Canada. Canada passed the Magnitsky Act last October. I took it to Britain, Britain passed it last May. I took it to Estonia, Lithuania and Latvia. All three countries have passed it. It's now on the parliamentary books to be voted on in Ukraine, in South Africa, in Gibraltar. I'm now teeing up Sweden, Holland, and France. Let me tell you something, we figured out the perfect tool to go after Putin and his regime because previous sanctions, the sanction policy would penalize the population, but the elite could always like fly in their own jets with caviar and champagne and whatever they needed. But this is does just the opposite. It doesn't touch the population, it just goes after the evil elite and they hate it. They hate it with such a passion that Putin made this single largest foreign policy priority to try and repeal the Magnitsky Act.
Jordan Harbinger: [01:09:49] Talk about taking it straight to the top. I have this, Oh man! I'm not laughing at the situation of course, but I am smiling at the idea that you, this is like fighting a dragon or something. Just this little guy, I mean, granted you had a bunch of funds and things like that that had been decimated, but you're going up against a strong man of one of the superpowers in the world. And you're saying, actually, I'm going to kick you right in the junk. I know how to do it. And you aimed and you did it. I don't know if I would've had the stones, I wouldn't have no, I know I would not have had — most people would not have had the stones to do this because you've got one of the most powerful tyrants in one of the world's major powers and now you are the person that probably is stuck in his cross so deep that he would do anything to get you out.
Bill Browder: [01:10:48] Well, he wants to kill me. I've been threatened with death on numerous occasions. I've been threatened with kidnapping, illegal rendition. The Russians have put me on the Interpol most wanted list to issue Red Notice for me six times the Russians have. I live in London. They've approached the British government 12 times for mutual legal assistance and extradition. I've been sued in numerous courts around the world. I've been surveilled, they make movies about me trying to defame me. There's probably 250 people working inside the Russian government at any given time with the sole project of trying to destroy me every which way they can.
Jordan Harbinger: [01:11:25] Okay, so how does that feel having a family and knowing one of the most powerful tyrants in one of the world's major superpowers is trying to silence you and destroy you? Because the Red Notice of course is so named because of the Interpol red notice, which is an international arrest warrant. This is an arrest warrant that if accepted by Interpol, you could drive into Canada from New York state and they could detain you and send you to Russia where you would certainly perish. And Red Notice, the book has so many people who are intimidated into silence. How are you able to go up against Putin a murderer, one of the most powerful men in the world, without just giving into the intimidation yourself?
Bill Browder: [01:12:07] Well, the moment you give in to the intimidation, that's when you die. You know, to fight it is to stay alive. And to fight it as also an important part of my mission for Sergei. Sergei just remember that Sergei was fighting the same guys in a much, much more precarious situation. He was in their custody when he was fighting them. He was defying them and he died in doing that. And it's my duty to Sergei, and my duty to myself to not, not give in. And I have to say that I'm not unhappy. I'm actually very happy. I feel energized and as much as I have to fear them, they've got a fear of me because I now have many, many people on my side all over the world. Many governments are on my side and most importantly, truth and justice are on my side. And that's a very, very powerful force.
Jordan Harbinger: [01:13:00] So what are you doing now? I mean, the Kremlin spends a lot of time, money, effort, energy to combat the consequences of the entire scandal surrounding Sergei Magnitsky, his murder. But this seems like something that you might never be through. And in Red Notice you say whatever you do in a crisis when it first hits defines it forever. And it seems like this crisis in your life and in the life of, of course, Sergei and his family, this is a crisis that just doesn't seem like it will stop as long as these laws affect these powerful people in Russia that are so firmly entrenched.
Bill Browder: [01:13:38] Well, what I'm doing now is pushing forward further. I want to get every country in the world to pass a Magnitsky Act. I'm also wanting to make sure that any money that these people stole that's kept in the West is frozen and expropriated by law enforcement. And I want to make sure that everybody in the world knows who Sergei Magnitsky was and what sacrifice he made for the good of his country and for truth and justice. That's what I'm doing. And we're succeeding. Laws are being passed. Money's being frozen. The stories being told and this story is defining story for Vladimir Putin because Vladimir Putin wants to pretend he is some type of patriot, some type of nationalist for Russia. But with the story shows is that a real patriot Sergei Magnitsky, who uncovered a massive crime against his country, wasn't rewarded for his work, but was murdered for his work. And the people who stole the money from Russia were promoted, honored, and protected. And that pretty much destroys the whole myth of Vladimir Putin, which is why he hates this thing more than anything else.
Jordan Harbinger: [01:14:44] How can people get involved? How can we get involved without being necessarily a political activist? Is there anything that we're listening right now, what we should keep in mind? It's not just remember Sergei Magnitsky, is there more to it that we can do that we can be aware of?
Bill Browder: [01:14:59] Share the story. This is now at the center of the political debate in America. The Russians showed up, a Russian lawyer showed up in Trump tower on June 9th, 2016, right? Right after Donald Trump was nominated in the Republican nomination. And she came to him, he came to Donald Trump Jr. and said, "We want the Magnitsky Act to be repealed." And so we need to, everybody needs to know about what the Magnitsky Act is, why it's there, and to make sure that if there's any movement whatsoever towards repeal, that everyone's screamed bloody murder. And it's all about awareness. And so I'm glad and grateful for you to have me on your show. I hope that other people who hear this, we'll just keep an eye on that Magnitsky Act and keep an eye on what's going on. So that nothing like that ever happens.
Jordan Harbinger: [01:15:52] Bill, thank you so much for coming on today and sharing your story. It's incredible. And of course the book Red Notice gets into so many other details. Like I said, it reads like a spy thriller half the time. I really appreciate your time and I applaud your efforts at going after this injustice because you really could have just said, my thoughts and prayers are with Sergei Magnitsky. You could've maybe taken care of the family a little bit and then gone on with your life and continue to investing in making money and really put it behind you. And that's not what you did. You decided to sacrifice a lot -a lot — your personal security, everything to make sure that you could sleep at night.
Bill Browder: [01:16:33] Well, I wouldn't have been able to live with myself if I didn't do what I'm doing right now because it was so toxic what they did to Sergei Magnitsky and the only way that I can feel like a decent human being is to fight these guys and fight them right to the end.
Jordan Harbinger: [01:16:49] Thank you so much. Thank you.
Bill Browder: [01:16:50] Thank you.
Jordan Harbinger: [01:16:53] So Jason, I told you this is going to be insane and my mind is so blown out in the book, we left out half more of the things that are happening in the book where they talk about everything that's happening to him. I mean, just the KGB or the FSB's raiding his offices and the people who are prosecuting him are also the police in charge of this. But they're also the investors that are involved in the tax fraud. I mean, the corruption is just so thick and this guy is right in the middle of it. And he's still standing strong going to Washington and going to Europe with Russia chasing him down and he's going right for their economic jugular. It's just incredible.
Jason DeFillippo: [01:17:34] You know when you sent me this book originally, I'm like, "Okay, this is, you know, Jordan's Russia thing. I'll give it a shot though." And oh, my God! What a book! And what a story! And yeah, we've got the Reader's Digest version of, you know, the highlights of the book, but there's so much more depth to his story. And this guy, I mean, hats off to Bill Browder for everything that he's done for his friend. It's incredible.
Jordan Harbinger: [01:17:57] Oh, special thanks to Albany and Associates. Albany has done everything from writing Iraq's media regulatory system to diagnosing social issues to improving stability in Somalia. They promote civil society in Libya post-Arab spring. They helped me book Bill on this show, and this is a company that, Jason kind of sounds like, remember watching MacGyver back in the day and you didn't quite understand what the company did, but you just knew it was bad ass and they had all this kind of intrigue stuff going on? That's Albany and Associates. They do a lot of stability work overseas. They do a lot of design, advising, working in things like media law, grassroots, media outreach. It's just their rap sheet is amazing. Bosnia, Kosovo, Ukraine, Lebanon, Jordan, Syria, Iraq, Yemen. These guys are all over the place. These are guys that I want to have a beer with at some point just to hear the stories that they can't tell and I think that might be a show in and of itself at some point down the line.
[01:18:54] So special thanks to albanyassociates.com is where they're at. Albany and Associates. Unbelievable. I didn't even know companies like this existed, but as we do this show and we are starting to get an inside look at a part of the world I just never knew existed, Jason. Great big thank you to Bill Browder. The book title is Red Notice. It'll be linked up in the show notes and of course if you enjoyed this one, don't forget to thank Bill on Twitter will have that linked in the show notes. I'd love to hear from you via email jordan@jordanharbinger.com or I'm on Instagram @jordanharbinger. That'll all be linked up in the show notes for this episode, which of course soon enough can also be found @jordanharbinger.com. This episode of the Jordan Harbinger Show was produced and edited by Jason DeFillippio. Show notes are by Robert Fogarty, booking back office and last minute miracles by Jen Harbinger.
Jordan Harbinger: [01:19:41] And I'm your host Jordan Harbinger. This is a new show, but as many of you know, I've been around for a long time. I did another show for 11 years and if you know people that are interested in subjects like this, if you know people that listened to our other shows over at the Art of Charm, we would love it if you would share this, bring them over to the new show. We're trying to rebuild the audience from scratch. It's quite a daunting task. And we'd love it if you would rate and review the show in iTunes of course as well. So share the show with those you love and even those you don't. We've got lots more in the pipeline and we're very excited to bring it to you. In the meantime, do your best to apply what you hear on the show so you can live what you listen and we'll see you next time.
Sign up to receive email updates
Enter your name and email address below and I'll send you periodic updates about the podcast.