Reading Time:
4
minutes
Bill Sullivan (@wjsullivan) is a professor of pharmacology and microbiology at the Indiana University School of Medicine in Indianapolis, an award-winning researcher, teacher, science communicator, and author of Pleased to Meet Me: Genes, Germs, and the Curious Forces That Make Us Who We Are.
What We Discuss with Bill Sullivan:
What we're just now learning in the field of epigenetics — the study of how your behaviors and environment can cause changes that affect the way your genes work.
Why twins who are genetically identical look less alike as they age — or if they've been raised apart from one another.
How the overabundance of plastics and other endocrine disruptors in our environment are affecting not only our bodies on a molecular level, but the physical and mental development of generations down the line.
How kids — even the unborn — are epigenetically altered by the social and economic status of their parents.
What we're learning about the role of the teeming millions of microorganisms that live inside of us — collectively known as the microbiome — on our overall mental and physical health.
And much more…
Like this show? Please leave us a review here — even one sentence helps! Consider including your Twitter handle so we can thank you personally!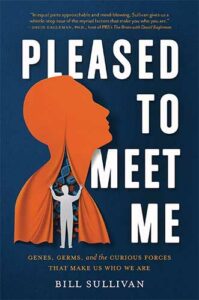 The more we delve into the science of epigenetics, the more we're coming to understand that there are multiple versions of who "you" can be as blueprinted in your genome — but it's your environment and how you navigate that environment that bring out the version you're experiencing today. This is why a pair of identical twins who share the same genetic code may look quite different as they age or if they're raised apart from one another.
On this episode, we're joined by pharmacology and microbiology professor Bill Sullivan to discuss the epigenetic factors that nudge us in ways that diverge from our genetic programming as outlined in his book Pleased to Meet Me: Genes, Germs, and the Curious Forces That Make Us Who We Are. Listen, learn, and enjoy!
Please Scroll Down for Featured Resources and Transcript!
Please note that some of the links on this page (books, movies, music, etc.) lead to affiliate programs for which The Jordan Harbinger Show receives compensation. It's just one of the ways we keep the lights on around here. Thank you for your support!
Miss our interview with Find Your Why, Start with Why, and The Infinite Game author Simon Sinek? Catch up with episode 300: Simon Sinek | How to Play the Infinite Game here!
The Adam Carolla Show is the number one daily downloaded podcast in the World! Get it on as Adam shares his thoughts on current events, relationships, airport security, specialty pizzas, politics, and anything else he can complain about — five days a week on PodcastOne here!
Thanks, Bill Sullivan!
If you enjoyed this session with Bill Sullivan, let him know by clicking on the link below and sending him a quick shout out at Twitter:
Click here to thank Bill Sullivan at Twitter!
Click here to let Jordan know about your number one takeaway from this episode!
And if you want us to answer your questions on one of our upcoming weekly Feedback Friday episodes, drop us a line at friday@jordanharbinger.com.
Resources from This Episode: