Reading Time:
3
minutes
Bob Arno is a comedy pickpocket and criminologist specializing in global street crime, is the co-author of Travel Advisory: How to Avoid Thefts, Cons, and Street Scams While Traveling, and was featured in National Geographic's Pickpocket King documentary. [This is part one of a two-part episode. Make sure to catch part two here!]
What We Discuss with Bob Arno:
How Bob, the son of a judge, got involved in social engineering and pickpocketing for the purpose of entertainment.
Why pickpockets are commonly targeted by terrorist organizations for radicalization efforts.
How diversionary crime like pickpocketing has changed just like every other profession during the COVID-19 pandemic.
How Bob is able to get close to real-life criminal pickpockets and learn their tricks of the trade without winding up in the hospital — or worse.
The psychology of a pickpocket — what they're looking for in an ideal victim and what you can do to ensure you're not that victim.
And much more…
Like this show? Please leave us a review here — even one sentence helps! Consider including your Twitter handle so we can thank you personally!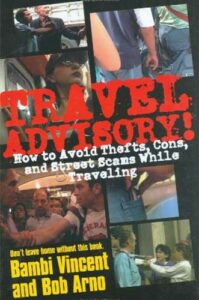 Bob Arno can make you laugh, but he isn't your average comedian. Tickling your funny bone is just a distraction while he steals your watch and wallet — but it's all for a good cause: education. With sleight-of-hand mastery honed by real-life observation and practice in criminal hotspots around the world, Bob uses his talents to show would-be victims how to avoid being robbed. He's the co-author of Travel Advisory: How to Avoid Thefts, Cons, and Street Scams While Traveling, and is featured in Pickpocket King, a National Geographic documentary that shows Bob in action on the streets of Naples, Italy.
In this episode, Bob will teach us how the psychology of pickpocketing actually works; what we can do to avoid being seen as an easy mark; some of the tricks of the trade that he's learned in the wild, and how we can spot, catch, and protect ourselves against thieves, pickpockets, and scam artists at home or abroad. Listen, learn, and enjoy! [This is part one of a two-part episode. Make sure to catch part two here!]
Please Scroll Down for Featured Resources and Transcript!
Please note that some of the links on this page (books, movies, music, etc.) lead to affiliate programs for which The Jordan Harbinger Show receives compensation. It's just one of the ways we keep the lights on around here. Thank you for your support!

Sign up for Six-Minute Networking — our free networking and relationship development mini course — at jordanharbinger.com/course!
This Episode Is Sponsored By:
Canva Pro is an online graphic design tool that gives you everything you and your team need to design like professionals with easy-to-use drag-and-drop features and layouts. Get a free 45-day extended trial when you go to canva.me/jordan!
Better Help offers affordable, online counseling at your convenience. If you're coping with depression, stress, anxiety, addiction, or any number of issues, you're not alone. Talk with a licensed professional therapist for 10 percent off your first month at betterhelp.com/jordan!
Upgrade your shirt game with Cuts! Breathable, wrinkle-free, and buttery soft, Cuts shirts are built for all-day comfort from custom-engineered Pyca fabric. Go to cutsclothing.com/jordan for 15% off the only shirt worth wearing!
The all-new 2022 Tuscon is the defining answer after Hyundai's engineers and designers asked how they could make a great SUV even greater. They added game-changing technology and safety, and now, for the first time, it comes in hybrid and plug-in hybrid models. Learn all about the 2022 Tuscon at hyundai.com!
Saving money on your car insurance is easy with Progressive. It's an average savings of $699 a year for customers who switch and save! Get your quote online at Progressive.com and see how much you could be saving today!
Miss our conversation with controversial film director, producer, veteran, and writer Oliver Stone? Catch up with episode 411: Oliver Stone | Writing, Directing, and Surviving the Movie Game here!
Thanks, Bob Arno!
Click here to let Jordan know about your number one takeaway from this episode!
And if you want us to answer your questions on one of our upcoming weekly Feedback Friday episodes, drop us a line at friday@jordanharbinger.com.
Resources from This Episode:
Bob Arno | Schooled by the Professor of Pickpocketry Part One (Episode 530)
Jordan Harbinger: Coming up next on The Jordan Harbinger Show. 
[00:00:03] Bob Arno: Some of the good pickpockets when they want to find a partner, they go to the train stations and they see who is hanging and they watch people and they say to themselves, "That guy moves too slow. Look at how he's moving from A to B. He's not going to be good for me as a partner. But look at that guy, he has a shorter sprint, a certain mannerism. I'm going to approach them." And then they walk up and say, "Hey, how would you like to work with me to become my partner." And they trained them. So teams of three means that you have one who can distract a little bit, another one who slows it down. The thief picks it, but the pickpocket never holds. So he passes it on to a partner. So if the police catch him two seconds after he's clean, there's nothing on him.
[00:00:52] Jordan Harbinger: Welcome to the show. I'm Jordan Harbinger. On The Jordan Harbinger Show, we decode the stories, secrets, and skills of the world's most fascinating people. We have in-depth conversations with people at the top of their game, astronauts, entrepreneurs, spies, psychologists, even the occasional journalist turned poker champion, legendary Hollywood director, or former Jihadi. Each episode turns our guests' wisdom into practical advice that you can use to build a deeper understanding of how the world works and become a better critical thinker. If you're new to the show or you're looking for a handy way to tell your friends about it, we now have episode starter packs. These are collections of your favorite episodes, organized by popular topics to help new listeners get a taste of everything we do here on the show. Just visit jordanharbinger.com/start to get started there or to help somebody else get started with us, which of course I always appreciate. 
[00:01:40] And today on the show, the professor of pickpocketry, Bob Arno, this guy, he is a character. He works with law enforcement and European intelligence agencies. His act, he comes out as a hoax speaker, like he's going to give a lecture and then he works the room and goes on stage and shows everyone that he stole from them. You know, like your wallet's gone, your pocket book, whatever else has gone. And Bob always wondered if he could do the pickpocket thing, if he could steal on the streets. So I get it right? It's like guys who box or do BJJ, they want to get into it with somebody else on the street just to test their metal. I was like that as a younger guy, I kind of get it right? With any skill, you kind of want to test it out in the real world. So, he travels to Europe and tracks down the realist professional pickpockets by setting himself up as bait. And that is the story that we are going to hear today on the show. Of course, he ends up befriending some of these expert pickpockets, sharing tricks of the trade. It's as wild as it sounds. Of course, we'll also explore the psychology of a pickpocket and what you can do to defend yourself against this type of crime and make yourself more aware of what predators see when they look for a victim like you. This is a two-parter. We did a beast of an episode. I love it. 
[00:02:45] If you're wondering how I managed to book all these great authors, thinkers, and creators every week, it is because of my network. I'm teaching you how to build your network for free over at jordanharbinger.com/course. And by the way, most of the guests you hear on the show, they already subscribed to the course. So come join us, you'll be in smart company where you. Now, here we go with Bob Arno. 
[00:03:06] I wonder how COVID has affected the pickpocketing industry. Have you thought about that at all? Like if there's fewer tourists, who are they robbing? 
[00:03:11] Bob Arno: Enormously. I can tell you that crime around the world. And by that, I mean, diversion theft, that means that grabbing a handbag, focusing on a very expensive watch that some celebrity is wearing in the streets of Paris, going on a tour in Tanzania, being on a bus in Cambodia. Everything around the world has changed because of COVID. Three reasons, A, they're more desperate. So the difference between have, and have nots is larger. Number two, there are fewer opportunities. There aren't as many tourists to rip off from, and the anger — and I should say the technique has changed enormously.
[00:03:54] Jordan Harbinger: When you say anger and technique, do you mean people are more aggressive? 
[00:03:58] Bob Arno: Yes. 
[00:03:58] Jordan Harbinger: Thieves are more aggressive. 
[00:03:59] Bob Arno: Correct. You could say that pickpockets, thieves, if we're going to start with them. And then, you know, we have muggers or guys who go into the hotel rooms, or those who simply are looking at the pin numbers on your credit card in order to match them out later. There are many, many fields here that we can talk about, but pickpockets, yes, they can be put into three or four different categories. The skillful ones that are ashamed or what they're doing before, whatever religious beliefs, but they unfortunately got on this road. Then you have the youngest one who couldn't care less about some moral compass. And then you have the ones who get out of work and some older guy is saying, "Hey, I want you to be part of the team." They weren't thinking of going into crime. So, all of these people behave differently. Some are very aggressive and angry. 
[00:04:53] And others are saying sophisticated pickpockets for the time being are not stealing. They are going to other countries to work in menial, boring jobs, shorting things, tracking boxes and moving them and whatever. For example, inside EU, here in the United States, sophisticated pickpockets, they are going to stop being out on subways and hotel lobbies and so forth, kind of focus on other types of crime, basically over the internet, to scam you one way or the other. 
[00:05:27] Jordan Harbinger: That makes sense. And you pick pockets for a living, but not in the way people might think. Tell me about the stage show that you used to do. You can't do it now, right? Or can you? 
[00:05:37] Bob Arno: Well, obviously, I can do a very short version and I can do a little longer one. The short version is that as a teenager, back in Sweden, that's my action. That's what you hear. 
[00:05:49] Jordan Harbinger: Okay. 
[00:05:50] Bob Arno: I was fascinated with audience participation, comedy, magic pickpocketing. I saw a very good French guy when I was 18 years old. When I say good, I mean, professional on stage. He was my mentor for a while, and that led me into performance. But my family on one side, my father was a judge and shall we say, correct, never jump a line or the queue in order to get first in line for a ticket, always behave just the way you should. My mother on the other hand used, shall we say finesse, slightly in my opinion, morally incorrect ways to move forward. It wasn't stealing. 
[00:06:31] Just to give you an example, I'm six years old and I had to tag along to the market and she's buying strawberries or blueberries. She would look at three boxes if she would take a few rotten tomatoes or strawberries from one box, put them on top of another one, take the box up, give it to the person behind the stand and say, "Look, they're all rotten. Can I get them for one-third? I can still use them for some marmalade or whatever." And the guy would take a look at them and said, yes, but of course, she did this to manipulate the price down. They weren't all rotten, just a few at the top. I was so embarrassed to walk along with her, whether we were doing any kind of shopping or whatever, she would have things over the phone, how to move forward to get the ticket for half the price or four.
[00:07:18] So I learned, shall we say, show social engineering, manipulating of mindset.And I knew on the other side, my father, which was the direct opposite that gave me an insight early as a teenager, the manipulation of minds. So when I came up to Asia as an entertainer and as a photographer, I noticed, and I was hanging with a few bad people, not because of desire, but because the cheap hotels where we were during the Vietnam War, Hong Kong, Saigon, and so forth, that's where these, can we say, con artists were hanging. So when at that time, I was 23, 24. I was pretty good at analyzing bad guys versus the good guys. 
[00:07:59] When I came to Las Vegas to work at that point, I would do little presentations on the side. I was in a casino for a long time, and I did presentations for the police, showing them how pickpockets operate and they loved it and so then when we had 9/11, we had a lot of suspects that the casinos were very concerned about. And when I say suspect, I mean, people who were pickpockets. American pickpockets with, of course, the casinos were concerned with grabbing them as quick as possible. They were very often grabbed by Muslim extremists in prison, turned not into becoming terrorists, but in the thinking process. So American law enforcement were very concerned with figuring and knowing exactly where these individuals in United States that could possibly be turned into extremist due to bombing. 
[00:08:57] Jordan Harbinger: Why were they worried about the pickpockets becoming terrorists as opposed to like a gang member or some other regular criminal? What specifically about pickpockets is radical, could be radicalized? 
[00:09:08] Bob Arno: Well, a very, very, very good question. And unfortunately, it's a long answer. 
[00:09:13] Jordan Harbinger: Okay. 
[00:09:14] Bob Arno: So if you take, for example, most of the bombings in Europe, whether it is in Paris or in Spain or in Rome, the ones that were caught or the ones that died in the incident had prior arrest records very often in diversion theft or in dealing with drugs or breaking into homes. So you are already in prison, the guys who are serving time for the inmates to put their hands or claws into these people and turn them were easier than a regular guy. So for that reason, they suddenly realized that I had a skill set and I'm talking about law enforcement in Las Vegas of talking with this.
[00:09:58] So whenever they arrested a pickpocket in a casino, they would say, "Bob, we have a guy. He's your shop for 24 hours. See if you can find out who is controlling, who is doing this, who doing whatever. This is a long time ago 9/11, of course. So whether or not Miranda Rights were broken or not, we don't know. What we do know is Las Vegas was concerned about finding out where these extremists were going. You know, of course, that the nine guys who were caught all had been in Las Vegas some weeks before the attack. 
[00:10:31] So I became good at talking to these guy, building a trust factor, getting into their headspace so when they were let out and they were going to the mosque, I was sometimes trying to help them find new work. I would be friendly with them in restaurants and building a network. From there, it built and built so that when I work, for example, in Europe for various law enforcement agencies, we have small groups that meet every six months and we try and look at what's the latest deetail. 
[00:11:04] Today, it is not so much about extremism as to seeing the Internet and where they are developing skills that are hard to penetrate. How the hell do they succeed in getting the pin number if they steal a credit card? But should you understand the journey from entertainer into law enforcement? Or do you feel there is a gray area here you don't get it? 
[00:11:31] Jordan Harbinger: No, no, that, that makes sense. I know you did a stage show for a while where you would steal ties and watches or whatever. You told me a long time ago that you can't steal a Rolex at a stage show because you have to break it. 
[00:11:45] Bob Arno: Absolutely correct. 
[00:11:46] Jordan Harbinger: You told me that. 
[00:11:47] Bob Arno: Yeah.  
[00:11:47] Jordan Harbinger: Okay, I do remember. I know for a while you were teaching anti pickpocket techniques on stage in Vegas to travelers. We'll link to some of your stuff in the show notes. And I know you even now, or at least maybe pre-COVID, were training law enforcement and intelligence agencies. 
[00:12:03] Bob Arno: Yup. 
[00:12:04] Jordan Harbinger: I know you can't say a lot about that. 
[00:12:05] Bob Arno: I can go a small amount into it, but I mean, let's separate the two. Teaching law enforcement that can certainly talk about, because of course, the thing is if you are a regular police officer and you're specialized in being out in the street and watching these guys on trains in New York or tube stations or whatever, Metro, for example, you know, you have a superficial knowledge or over the years, you see how they operate but you're not necessarily getting into the headspace. You don't know exactly how they wake up into the morning and who they call up and how they use the diversion and where they sell it and how they manipulate the credit card. 
[00:12:40] So in my case, my strengths is that I have spent 20, 30 years befriending, or getting very, very close into how they work. And I have been able to film them. Now, a police officer, even if he works undercover, is not going to be able to day after day, be out with a small camera and be half a yard away from the hands entering into the handbag and stealing and the technique of it all. He may know that once he grabs the guy and puts the hand behind and takes some over and does the report and so on, his philosophy is "I am law enforcement. I am on this. You are a criminal. You are whatever dirt." So when he talks to the guy, his lingo and his facial reaction and his mannerism is going to be that the thief is very reluctant to talk back to the police officer. Unless, if the police officer says, "Look, you're looking at six years here, you've been arrested before. And if you give me up so and so, I'm going to make sure that the judge understands and you're going to get the lower sentence." So it's not impossible to have communication. 
[00:13:51] But I sit on information and videos that I can teach the police precisely how to catch them, see them early. What is the police interested in? They don't want to catch them when they hear a woman screaming, "Hey, you took my wallet."  
[00:14:08] Jordan Harbinger: Right. 
[00:14:09] Bob Arno: That's too late. 
[00:14:10] Jordan Harbinger: Too late, yeah. 
[00:14:10] Bob Arno: You want to be behind the guy when he's already scanning and glancing. So how do you tell if you take three openings on the doors of the Metro and around each are 30 people who are trying to shove in that five o'clock or like in Barcelona or in Paris and London, where there are hoards of people. How do you know who to track behind? So that when it happens, you can be there and grab his hand. 
[00:14:39] Jordan Harbinger: Right, you're seeing what they look like beforehand. You can see the threat. 
[00:14:43] Bob Arno: That is much more important than anything of this seeing what two fingers are precisely nipping the leather and gradually moving it out so that the victim doesn't feel it. Or how do they know that that particular phone is much more valuable in breaking into versus that phone and what is the market value of that iPhone versus that whatever. So the thieves know these things, because they were kind of brought up with it. That's all they live, that's their world. So for me, the idea is to teach law enforcement how to observe them early, not during the actual incident itself. As far as, intelligence community, of course, there are certain things, you know, whether it is SEAL units or other units that are behaving with certain skill sets and they may be — or you know, you may have a sharpshooter, a hacker, whatever qualification they have inside a unit of 10 guys, 11 or 12 guys, They may not necessarily be superb at certain psychological skills, or if they're sent down to Nairobi or Lusaka or Hong Kong in order to protect someone or to accomplish something with the opponent. An opponent would be for example, an undercover Russian guy. Well, in order to invade the Russian guy, he has been taught how to catch or how to see who is an American intelligence guy. So they both are taught at home, manners, of the types of clothes, how they tilt their heads, how far, how long time they stay up here, how serious are they, are they smiling, who they sit with — there's a million small thing that the criminals are very good at learning, which I know. And so I can to some extent. I am not revealing something here or whatever. If the other side, my opponents, if they're listening to this, they're not going to say, "Aah, he told me gold here." 
[00:16:48] Jordan Harbinger: You're listening to The Jordan Harbinger Show with our guest Bob Arno. We'll be right back. 
[00:16:53] This episode is sponsored in part by Canva. My graphic design experience begins and ends with fake IDs I made when I was 15 or 16 years old. And now that I have Canva Pro, our designs for legitimate purposes, of course, are totally next. Canva Pro is super easy to use. It's a design platform you can use to create professional looking designs. And I emphasize this, it's so easy. You can get started right away. No matter what you're creating, social media posts, YouTube stuff, sleek looking resume, marketing material. Canva Pro has everything you need to use. Tons of stock photos, videos, audio graphics. Our favorite Canva Pro features are the background remover, instant animation, and of course, the templates that are available. Jen from bed created a gender reveal card using the Canva app, found a template, edited the whole thing on her phone, sent it to the printer and then mailed it off to our relatives, all while Jayden was napping right next to her. 
[00:17:45] Jen Harbinger: Design like a pro with Canva Pro. Right now, you can get a free 45-day extended trial when you use our promo code, just go to canva.me/jordan to get your free 45-day extended trial. That's C-A-N-V-A.me/jordan, canva.me/jordan. 
[00:18:02] Jordan Harbinger: This episode is also sponsored by Better Help online therapy. As we begin to see the light at the end of this COVID tunnel, a lot of people are still feeling down and emotionally out of sorts. And I can't blame them. You might not feel depressed or at a total loss, but if you're feeling a little bit off or your relationships are suffering, that could be a sign that you should talk to somebody. Whether you're feeling anxious or you're struggling in your career, or you're having trouble sleeping, online therapy can help. Visit betterhelp.com/jordan. Fill out a questionnaire to help Better Help assess your needs and match you with a professional licensed therapist. You can start communicating in under 48 hours via secure weekly video phone or even live chat sessions with your therapist. Also, if you don't click with your therapist, no worries, it's easy and free to change counselors if you need a better fit. Online therapy is convenient and more affordable than in-person therapy. And I can't recommend it enough. 
[00:18:51] Jen Harbinger: And our listeners get 10 percent off your first month of online therapy at betterhelp.com/jordan. That's better-H-E-L-P.com/jordan. 
[00:19:00] Jordan Harbinger: Now back to Bob Arno on The Jordan Harbinger Show.
[00:19:05] I mean, there's a lot of people that come on and we have intelligence agents or former — it's all sort of like, if you already know it, you know what he's talking about, but if you don't already know it, you can't put it together. That's all right. I understand that it's important to preserve tradecraft as they say it. 
[00:19:19] Bob Arno: Well, ultimately it's a little bit of a chess game. I move a piece, they move a piece. I move a piece, they move a piece. It never is stagnant. It's continuously changing because the power of balance in Europe is changing continuously. Estonia, a certain group, they are going to feel more this way. Ukraine right now, one-fifth of the population is leaning towards one side. All of this is constantly changing, including our own power, meaning, United States, how much money do we have to hire 20 guys to follow just one single guy, without him noticing it on the streets of Paris. It's a question of money. It's a question of will. And what is the final goal and are the two political parties in agreement of what that final goal is.
[00:20:07] Jordan Harbinger: Yeah. It can be a little bit of a cluster. I do want to get back to pickpocketing because y ou mentioned what these people look like. What are you looking for? If you're training law enforcement or even if it's just you out on a hobby run, when you say, okay, I'm not looking for the two fingers in the wallet or in the bag, getting the wallet. That's too late. What are you looking for? What are the signs that these people have? Because obviously, you're looking for them being extra aware of their environment. What else? 
[00:20:33] Bob Arno: You have to understand that there are many, many levels of pickpockets. At the cheapest part, and anyone can recognize it would be some poor female girls, 14, 15, 16 years old from Bulgaria, Romania. They've been lumped together in a group and some criminal gang had gone into this small farm lands in Bulgaria and said, "Can I rent your girl for two years?" 
[00:21:03] Jordan Harbinger: Wow. 
[00:21:04] Bob Arno: And they lumped them together. They train them to be pickpockets. They send them in a Fox logon pass to Paris. Now, you have 60 girls controlled by five different syndicates. And every day they have to go out between this hour and that hour to steal. And they dressed in a certain way. They have a scarf and they look fairly elegant. It's not like 20 years ago when you could instantly recognize them because they look trashy and they always had long skirts and so on. But now they go a little overboard, just a tad, too much makeup, a tad, too much color, and so they stand out just the fraction. How they behave on the platform or let's say around the lube or colosseum in Rome or whatever, they are not going to be quite looking at the building and taking up a phone and saying, "Honey, stand over there. I'll take a picture." They're going to be kind of glancing a little like this at the various handbags, analyzing, "Can I get in there or not? Is that a good victim to go for? Is that person 55 or older and moving a little slower? Is that particular person in a small group of three, and I can invade them somehow?" So depending on whether we are above ground or below ground, meaning at the bus terminal or in the Metro station, those girls are going to behave in a certain way. The police usually can detect them without my help. 
[00:22:36] The next level up guys who are between 19 and 35, who come from poor area, they could have been shipped in from Chile or Peru because they were very good in their home countries. And they were sent over to Paris to work in Barcelona. Sometimes they are there hoping to find another job. Then the employment scenario went down and now in the bars and whatever, some of the good pickpockets when they want to find a partner, they go to the train stations and they see who is hanging and they watch people and they say to themselves, "That guy moves too slow. Look at how he's moving from A to B. He's not going to be good for me as a partner. But look at that guy, he has a shorter sprint, a certain mannerism. I'm going to approach him." And then they walk up and say, "Hey, how would you like to work with me to become a partner?" So they train them. Teams of three means that you have one who can distract a little bit, another one who slows it down, the thief picks it, but pickpocket never holds. So he passes it on to a partner. So if the police catch it two seconds after he's cleaned. There's nothing on him. 
[00:23:48] Jordan Harbinger: So he hands off the wallet or the watch or the whatever. 
[00:23:51] Bob Arno: That particular top level trim are harder for the police to catch. So in my particular case, I look at how serious are they? How often do they smile? How often do they seem to have a purpose for them to meet the five o'clock train? There is a lot of telltale signs in people in general, if you have a purpose or if you are a tourist, smiling, ignorant to everything, dressing a bit silly over the top, you know, the wrong shoes for the area and on and on, so you stand out. As far as tourists, that means I am describing a typical victim here. 
[00:24:25] Jordan Harbinger: Sure. 
[00:24:26] Bob Arno: But for the police, one of the things they want to do is they want to look at the eyes because a thief needs to glance all the time at potential victims. And he cannot afford to glance up and check out cameras because if you have cameras everywhere in a train station, the guys who sit and monitor are going to see, "Look at that guy, he's glancing at the camera." And he calls him to his phone to the undercover cop, "Track him. You've got to follow him a little bit." And if he turns around the tad as many — some criminal just cannot avoid it, stupid as it may seem, to see if there. And so every often they do a little small glance just to see, or they look into the glass in the mirror to see if someone is tracking them behind. 
[00:25:14] A great undercover cop will behave with a bag in his hand, fast and pass thief and have a second one, you know, so it shifts all the time because you don't want to be able to have the thief identified that you are undercover. The very, very good guys are going to work in hotel lobbies or in a train station where you have the restaurant. They're going to isolate people who are higher up on the scale of victim, potentially more money to grab. 
[00:25:48] Jordan Harbinger: What kind of hotel, let somebody hang around in the lobby for a year? Right? Like they can't work that same spot over and over and over, unless they're in on it. 
[00:25:58] Bob Arno: Absolutely true. So, you know, you have a variety of hotel thefts. You have what we call the breakfast thieves, and they will come into hotels that specialized in fairly large group of tourists. For example, cruise passengers are going to be at a certain range, price-wise, of hotels and suddenly you're going to have 60 ignorant tourists. You're not going to have Swiss tourists who've been told on television, "Watch out for your bag all the time. Watch out for your bag all the time." You're going to have people who are jolly and happy, and go up and take a little more cereal and have another glass of juice. And so they leave the bag behind. So the thieves coming in, pretending to be guests there. They are trying to avoid having the waiters saying, "What room are you staying in?" Or, you know, "Do you want coffee or whatever?" They don't want to have eye contact with that. So it looks like they're coming in as if they were looking for someone that they're glancing for, they analyze where. And then they move up shielding so that when that victim moves up to get more, now the guy who's going to steal comes over with the jacket draped over, or he has a hook that slides out from his arm here. It could be something as simple as one of those stems that expands for your iPhone. Are you familiar with what I'm talking about? 
[00:27:29] Jordan Harbinger: Like a selfie stick? 
[00:27:30] Bob Arno: Yeah, exactly. At the end of the selfie sticks there. So what they do, you know, you can say that it works like a hook. So if the police catch him, he's not having a professional tool on them. He's having a selfie stick. It was maybe under the jacket, whatever. Now, if the bag is down on the floor, the thief comes up, has the jacket hanging over his arm. He lets the stick go down, lifts it up under the jacket and moves away. And make sure that the victim, there is someone else blocking the visual view back.
[00:28:04] Jordan Harbinger: Right, so there's somebody waiting behind them for the buffet. Like I'm waiting behind the guy getting oatmeal but my partner's stealing his suitcase or his laptop or his phone. 
[00:28:13] Bob Arno: So that's one type of hotel. Another type of hotel will be the fine restaurant or the lobby. The lobby is, especially when people are checking in or checking out. So, for example, in Las Vegas, checking all time is when security is really on the ball, because suddenly everyone is there with bags while they are standing there around. You know, husband is up paying and she's standing with two bags and on top of one of them is her handbag with either a wallet and credit cards and phone. So whatever, if you can go in there and invade, or especially foreign tourists where, for example, they sit down in the lounge chairs or surrounding where you make your payment. So the wife may be sitting there with two bags and the guy comes up and again, slides it out or puts his arm, you know, the jacket over. So hotel lobby is the typical area 
[00:29:09] Jordan Harbinger: We can include some of your public videos in the show notes for people who are trying to visualize this because you've got some stuff on YouTube that we have. And we can show just how — you know, what's funny? People think this'll never work on me. I would definitely notice somebody coming up and stealing my bag, but like, not really though. 
[00:29:27] Bob Arno: You know what the funniest thing with that is I have so many police officers, friends who are saying, "That's all very cool, Bob, but it's never going to happen to me. Not a chance in hell that can happen to me." 
[00:29:37] Jordan Harbinger: Right. 
[00:29:37] Bob Arno: And then two years later, "You know, I can't understand how this happened. I was on that subway from the airport, and it was crowded. And for a second, I did this and whatever, and it happened." It's very hard when you travel to continue 24 hours to be on super guard and further on you destroy the fun. If you want to sort of say, "Oh my God, what happens around the corner here?" all the time. That takes away a little bit of the fun part of it. 
[00:30:07] Jordan Harbinger: Definitely. 
[00:30:07] Bob Arno: I am not subscribing here. I'm not saying that you should take a wallet with $50 and go to Italy and say, "I'd rather like to go to Italy and see all of the famous things all the way from the south, from Siena to Rome and so on. And I wouldn't mind to lose 50 bucks. I'm not inducing you to do it, but you know, don't be so concerned that it becomes animal about it. 
[00:30:33] Jordan Harbinger: You mentioned, I think this isn't our last interview, you said that pickpockets look for people with really nice shoes, because they know that they have money in their wallet. Do you still hold to that one? 
[00:30:41] Bob Arno: That's a quote from a very famous pickpocket, a friend in Naples. And what's interesting. Some of those guys asked me to come every Christmas and spend time with them and stay in their houses. 
[00:30:54] Jordan Harbinger: Oh, wow. 
[00:30:55] Bob Arno: Weird, weird, weird. Yeah. I mean, I haven't — at one point we went there over New Year and I'm going to the bathroom and it's all gold faucets. And this is a street pickpocket. He's very good, dresses well, but yet he's a street picker. I'm saying I'm coming back off from the bathroom, I said, "What is this gold faucet? What the hell?" He said, "You know, you don't understand, Bob. I'm only staying here. The boss, the real guy, he's in prison and he has a sentence of six years and I'm just making sure nothing happens to his house." So he was told to live there. So it wasn't his house. The big guy, the big mafioso guys there, you know, they make serious money, but a lot of it are from human trafficking, drugs, whatever. 
[00:31:37] But going back to the shoes, I'm going to go out on a limb here and — because I don't think you're going to be able to dispute me quite the way you think first you could. A good shoe that is almost handmade, but half handmade, let's say part of it. And there are very wealthy lawyers and bankers and people who absolutely adore Italian shoes, including the British handmade one. They start at around 1400 a pair and up. 
[00:32:09] Jordan Harbinger: Wow. 
[00:32:09] Bob Arno: A guy who is wearing that you can be damn sure, 95 percent sure, that there's a lot of things to take from that guy who is worthwhile. Is it conceivable that it's some fashion writer who was given the shoes in order to write about it and he has no more in the bank account than you have? Well, that's conceivable, but I'm just giving you the— 
[00:32:32] Jordan Harbinger: Playing in the odds. You can play the odds on that one. 
[00:32:34] Bob Arno: I'm painting a picture for you. 
[00:32:36] Jordan Harbinger: Yeah. Yeah. That makes it — look, I've been given a lot of nice things to review, but I know that they sell more than they give away, or it would be a bad business. So if I were a thief, I wouldn't be thinking, "Ooh, maybe that Schmack looks like he got them for free."
[00:32:50] Bob Arno: So, you know, the point here that we're trying to make here is yes, there are a lot of things about people dress smart and what fashion you follow and how comfortable you are in it, or whether you just trying to show off, and you suddenly got the bonus and you go out and spending $2,000 at Saks, and then you go to Paris and you feel like you're a big shot, but the big picture you can't fool.
[00:33:18] Jordan Harbinger: This is The Jordan Harbinger Show with our guest Bob Arno. We'll be right back. 
[00:33:22] This episode is sponsored in part by Cuts Clothing. Fella's fit is the most important part of your wardrobe obviously. Most clothes are made for an average form using generic measurements. Great if you're sample size, but wearing the wrong fit is kind of like putting a square peg in a round hole. Cuts Clothing offers shirts, polos, hoodies, sweatshirts, Henleys in various cut options, like classic split. Or for you long torsoed fellas, an elongated option. And the material cereal is premium quality with a minimalist aesthetic. They've pretty much accomplished the perfect t-shirt, buttery soft. Don't just take my word for it. Check them out. Cuts Clothing keeps you sharp. Wherever the game takes you, the boardroom, the bar, the gym, or try the wrinkle-free Pyca polo, sounds fancy. It's a design that keeps you fitted for the office, the golf course, at home, or the gym. 
[00:34:04] Jen Harbinger: It's not just the lifestyle. It's not just clothing. It's office, leisure apparel for the sport of business. Get 15 percent off your first order by going to cutsclothing.com/jordan. That's cutsclothing.com/jordan for 15 percent off. The only shirt worth wearing.
[00:34:19] Jordan Harbinger: This episode is also sponsored by Hyundai. Hyundai questioned everything to create the best Tucson ever. Every inch of the way all new Tucson has been completely re-imagined resulting in an SUV loaded with available innovations, both inside and out. From design to technology to safety, every aspect of the new Tucson has been improved upon. Hyundai's digital key allows you to transform your smartphone into a space key. If you're an old fogy like me, you forget where your keys are, it's just one less thing to remember. LED daytime running lights are stylishly hidden within the cascading front grill. Making them invisible when not in use. Set multiple user profiles. So if you share your car like I do, I love that I can hop in and have the seat, mirrors, climate control, radio presets, all personalized for me and a 10.25-inch full touch infotainment screen, and a blind spot view monitor. The SUV has been completely redesigned inside and out to create the best Tucson ever. Learn more at hyundai.com. 
[00:35:10] This episode is also sponsored in part by Progressive. Progressive helps you get rate on car insurance even if it's not with them. They have this nifty comparison tool that puts the rates side by side. So you choose a rate and coverages that work for you. So let's say you're interested in lowering your rate on your car insurance, visit progressive.com to get a quote with all the coverage you want. You'll see Progressive's rate and then their tool will provide options from other companies all lined up and easy to compare so that all you have to do is choose the rate and coverage as you like. Progressive gives you options so you can make the best choice for you. You could be looking forward to saving money in the very near future. More money for say, a pair of noise-canceling headphones, an instant pot, more puzzles, whatever brings you joy. Get a quote today at progressive.com. It's one small step you can do today that can make a big impact on your budget tomorrow.
[00:35:55] Jen Harbinger: Progressive Casualty Insurance Company and affiliates, comparison rates not available in all states or situations. Prices vary based on how you buy. 
[00:36:03] Jordan Harbinger: Thank you for listening to and supporting the show. It means the world to me. By the way, I know a lot of you want to support our sponsors and you asked me for the codes or you can't remember where the code was. We put those all in one place, jordanharbinger.com/deals. So all those special URLs and codes for all the sponsors and products, they're all on that page. jordanharbinger.com/deals. Please consider supporting those who support it. 
[00:36:25] Don't forget many episodes have worksheets, not all, but many, if you want some of the drills and the exercises talked about during the show, those are in one easy place. That link is in the show notes at jordanharbinger.com/podcast. Now for the conclusion of part one with Bob Arno. 
[00:36:41] So you've spent a long time pretending to be a bumbling tourist, allowing the thieves to steal, catching them on camera. And then what? Are you analyzing their techniques and trying to learn them yourself as well?
[00:36:52] Bob Arno: Well, there are a couple of ways here. First of all, if I work intimately, like I did some years ago with certain law enforcement agency, I would buy used clothes, secondhand clothes, for example, in Moscow, St. Petersburg, so I look shabbier than tourists or the local population. I didn't want to stand up because if I'm going to be able to trail or follow behind them or nearby and so on, I didn't want to look like an American tourist, even though I'm tall and all of that, so it's hard to discuss that. But otherwise, when I want to feel an actual theft, I behave exactly like an English or American tourist who is completely unaware of everything that's happening around. And that means my body language and — you know, I've picked up the wallet and I'll buy the tickets and then I put it down and I even let them almost see the wallet if someone stands here when I'm buying the ticket and then putting it back in here. And I will have fake or old credit cards, so when the thieves go there, I'm not going to be missing something. So yes, I do put them up. And then Bambi, my wife, films, or we do it the other way around, but yes, we are definitely becoming the victim.
[00:38:10] And that's another thing of course, that it's very difficult for the police officer to do, which is that I have an extra, shall we say, ability to capture this. However, today my library of incidents is so large that whenever something really good happens in Europe, I got a phone call, two hours later, and some guy in Surrey Street in London saying, you know, police officer, "Hey Bob, we have this, can I send it over? Could you see it in the background? Do you recognize that girl? Does it mean anything to you?" So I will analyze the night. I'll sit on stuff that I could never use. I couldn't show you. I couldn't, you know, give it out. 
[00:38:51] Jordan Harbinger: Sure. 
[00:38:51] Bob Arno: Even if 60 Minutes said, "Bob, we want to do a profile on you." Not going to happen.
[00:38:56] Jordan Harbinger: Right. Because it's law enforcement. It's evidence footage. Yeah. Yeah. That makes sense. 
[00:39:00] Bob Arno: Yeah, of course. 
[00:39:00] Jordan Harbinger: Are pickpockets in all countries different, right? Like, do you have difference in Romanian pickpocket, Spanish pickpocket, French pickpocket, New York pickpocket? It seems like there's got to be. Almost like cultural differences between how they execute this.
[00:39:14] Bob Arno: Absolutely. Absolutely. Absolutely. And you know, sometimes it's very hard not to be fond of them, meaning to be friends. There are some, especially if they have a little bit of what we call itinerant traveler. Now in England, they call them nomads. 20 years ago, we called them gypsies. That's not politically correct anymore. You can't use that label because there's stigma attached to it. But yet you have people who are very unfortunate in a couple of countries, Czech Republic, Romania, Bulgari, and so forth, where you have a large percentage of them living. And after the Second World War, they were not given school education, like the rest of society. You know, it shunted down, less quality and whatever. So they got less of a chance to do something really well in life later on. 
[00:40:05] So they had parents who almost pushed them into this sort of culture. They are very emotional, very warm. They know they're doing something bad, but when you talk to them, they will say, "You know, I show the bag was over there or that person had on that. I am poor. I need that $200 that sits there just as much as he does. So why don't I have the right." It's hard for them to wrap themselves around what is mine and what's yours. So, of course, it's hard for me. When I establish friends, I have to not fool them, meaning I don't want to tell them, "Look, if you befriend me, I promise you, you will never serve any time in jail." I want to be somewhat open. 
[00:40:49] Jordan Harbinger: Yeah. I mean, look, I understand that. It's hard for me to think they don't know the difference between right and wrong, or they can't help themselves, I mean— 
[00:40:57] Bob Arno: No, I'm not. But you know, you asked the question. You asked me really was what's the difference between different continents and different thieves.
[00:41:05] Jordan Harbinger: Right. 
[00:41:05] Bob Arno: I brought this up as the foundation to say there are some cultures where it isn't as we, shall we say, horrible that you're doing this as it is in mine, where I've come from, let's say Finland and Norway, "You steal that package of cigarettes. My God, you took that from me." "What the hell do you mean?" 
[00:41:24] Jordan Harbinger: Right. 
[00:41:25] Bob Arno: Well, if you do that in, let's say, Ankara or in Johannesburg, you're not a big deal. "Well, they were sitting there. I didn't think you may not have thought of—" People from different parts of the world are going to behave different. So the skill set, if you take thieves, for example, in Chile, they are very fast and quick and smooth. It's damn impossible to catch. If you catch them, you can hardly get them to talk because they're controlled by syndicates, so they will hurt their parents. 
[00:41:52] A guy in St. Petersburg, a good thieves, for example, not today, but some years ago when the police were underpaid, there were a couple of gangs that were allowed to work for about an hour around certain famous buildings, where you have banks and so forth, because of that for about 60 minutes, they could steal without the threat of being caught. They developed a skill that bar none. It's just unbelievably good. 
[00:42:20] Jordan Harbinger: Wow. 
[00:42:20] Bob Arno: And if you take the guys down in Naples, they are absolutely sensational because it's been in our culture for sure — not all of Naples. I mean, don't misunderstand me here. But yes, different race, body language, what they were brought up with food, how their parents told them certain things, all of that plays into where they are today on the skill set and the ladder. And you can say that they behave quite different. So if I analyze how they move up and how they remove a wallet, a guy from Italy, or the guy from Romania, or the guy from Caracas, they're going to behave different. 
[00:42:58] Jordan Harbinger: Who are the best in your opinion? 
[00:43:00] Bob Arno: You know, I asked that question to pickpockets. I said, "Who do you really respect? Who do you admire? What do you think is the fab, the guy?" Because I want to meet the guy who was really fantastic. And they say to me, "Bob, you got this all wrong. There is no such thing as the best. The guy who over a period of time walks away with more money than the other guy, he is the best. Not the fact that he slowly trajectory wise, move it out and step on the foot with the left foot, his foot on the victim's foot, then the person fixed over, or like in Russia, they can cross into a person sometime and flap the inside jacket of the victim, so it folds over and lift the wallet in a stroke, just in a slow motion like this. No one stands still, unbelievable, but if there's very little money, he's not the best. So there are two ways to ask this. One, who has certain techniques that are simply fantastic? Or who is very smart at figuring out how to make whatever's in the wallet? 
[00:44:08] Go further, and then you get into credit card fraud, identity theft, and how you observe before the four pin numbers that you used in a bank, or when you bought a ticket. And remember the color of the credit card, but let's assume there are nine credit cards in your wallet and they observed the four numbers. They have two people on either side as she pressed in. So the one on the left sees the two numbers here. They don't even have to see that this is one, two and three. They just see that you hit the top row, the second row, the third row, so they can figure out exactly what you press. So now, they have the combined. They have to remember the color of that credit card. They have to tag on to that person. And half an hour after they leave the bus or the train, they're in an elevator, up into a hotel, and then they got jostled with a bag and they lift a wallet. Now, they can do identity theft. There is not a good pickpocket team in Europe today who are not getting less than 2000 from their wallet. 
[00:45:09] Jordan Harbinger: Oh, because they're tracking me when I eat breakfast and then I pay and then they're following me and then they go in and they mess up my card.
[00:45:16] Bob Arno: Yeah, that's right. 
[00:45:17] Jordan Harbinger: Wow. 
[00:45:17] Bob Arno: Today, you know, who wants to have just 60 euros or $25? It's peanuts. The phone on the other hand, selling the whole phone. Now that's a different story.  
[00:45:29] Jordan Harbinger: This could be big money. I mean, if you get one or two people a day and then you get a phone or two a day, you're making doctor-lawyer money.
[00:45:38] Bob Arno: Yes. Correct. That is if you belong to the operation alone. That's why it's so difficult for me to get these people to stop and say, "Hey, look here, Don't you think you should shift over now? You're 55 years old. Come on, you have a family, you have kids in school, blah, blah, blah. Let me help you to find a regular job. You can have a car mechanical, whatever." And first they said, "Yeah, I want to, I want to," but actually get them to make that leap over— 
[00:46:05] Jordan Harbinger: Right.  
[00:46:05] Bob Arno: Only COVID has helped. 
[00:46:07] Jordan Harbinger: Yeah, I'm sure. You're saying, "Look, it's a better way to live. You'll make 15 percent of what you make now, but it's better for you—" "How is it better? I have a boss yelling at me. I have to get up early every day. He's telling me I'm fired with no warning or I can make five times as much money and get up whenever I want and eat at fancy restaurants and stay at the Ritz-Carlton." 
[00:46:26] Bob Arno: You know, now we're suddenly talking about a moral aspect that applies all over because what about the little firm who imports. Absolutely, they know copyrighted infringed stuff from China and sell it without saying, for example, or the ones who are on the dark Internet selling just cord or credit card numbers. There are so much crime today that isn't simply just lifting a wallet that are on the fringes and that moral compass and figuring out right and wrong. I mean, that is even a bigger issue. People are starting to forget about where this right and wrong is. 
[00:47:10] Jordan Harbinger: Yeah. Oh, I agree with you. That's a whole separate show. 
[00:47:12] Bob Arno: Probably you should hire guys who are really good at that part. Then you get into politics. Pickpocketing is part of politics also. And the reason why is because in Europe, for example, you have different countries that have different measures of sentences or how you apprehend them. And you know, all of that is coming into play. In America, pickpocketing is less today. Let's be realistic here compared with some years ago. You do not have as many guys who are really good pickpockets as we had in the past. We have teams who are coming in from South America at certain conventions, especially now after COVID, and it starts to open up again. But what we do have — and I'm not certain, what do you want to call them pickpockets or not? Big clubs with a lot of, you know, dance and disco type style, their phones are stolen. So a good pickpocket there. Sometimes, when you catch them, they have expandable clothes on them. 
[00:48:13] Jordan Harbinger: Expandable clothes? 
[00:48:14] Bob Arno: Expandable under their pants, and you will find 60 phones on them. Shove down. They're there for two hours and they take that one and that one because everyone is dancing and having a good time. 
[00:48:28] Jordan Harbinger: Wow. 
[00:48:28] Bob Arno: That's a big scene at the same thing, outdoor theaters, where there is some famous group, pop group of whatever, you can imagine just from the behavior. So that scene has not diminished. If anything, it has increased and become bigger. 
[00:48:43] Jordan Harbinger: 60 phones. I mean, now you're talking like five figure returns.
[00:48:48] Bob Arno: You got to remember that not every phone — am I exaggerating here? Well, I just happened to mention one that happened to have that many, but let's assume that they take 25 and then leave the establishment. Well, only half of those phones are going to be of value on the secondary market. They were blocked and stopped up, so you can only sell them for the parts. So it depends on, you know, what is the state of that phone right there? How good when they sell it on and ship them? Sometimes they ship them, lots of them to different other parts of the world where they are abused. 
[00:49:23] Jordan Harbinger: As usual, I've got some thoughts on this one, but first we talked to legendary filmmaker Oliver Stone on why the American media is partially culpable for the state of the war, interviewing Vladimir Putin, and so much more. Here's a quick bite. 
[00:49:37] Oliver Stone: I went to Vietnam because, as I tried to say in the book, partly suicidal. It was a death instinct. It was like, I have no place in the world. I come out of Vietnam and I'm completely zonked. And I'm back in civilian society. I'm free. No one's telling me what to do. I don't know a soul. So I go over to Mexico, get bombed, laid, all that stuff. Get crazy few days, come back and zoned out. And come back at midnight, trying to cross back the border at midnight carrying my Vietnamese grass, which I had smuggled back from Vietnam. Of course, I get stupidly busted. Federal smuggling charged five to 20 years.
[00:50:12] Jordan Harbinger: Oh my God. 
[00:50:13] Oliver Stone: Yeah, serious. 
[00:50:14] Jordan Harbinger: That's a crazy punishment. How much grass are we talking about? 
[00:50:17] Oliver Stone: The two ounces. 
[00:50:18] Jordan Harbinger: That's ridiculous. 
[00:50:18] Oliver Stone: Maybe less. 
[00:50:19] Jordan Harbinger: I heard you once put LSD in your dad's drink at a party. That's a bold move, man. 
[00:50:25] Oliver Stone: Yeah. Why not? Because he needed it. 
[00:50:26] Jordan Harbinger: What do you mean? 
[00:50:28] Oliver Stone: His attitude on the war was f*cked. I put a heavy dose of Orange Sunshine into his scotch, man. I really dumped it in. And he got so f*cking high. He never knew what hit him. 
[00:50:38] Jordan Harbinger: Do you think you could make a movie like Platoon now? Do you think an American studio would touch a movie like that these days? 
[00:50:44] Oliver Stone: Oh, no, no, not with friendly fire and killing civilians. No, it's impossible now. National Security Cinema, read it. He goes into detail on some 800 movies the Pentagon has worked on. You have no idea their influence, how deep they've gotten. What I've said to you at this interview is important. You know, if you think about it, listen to it again, you'll see why the suffocation is an order here. 
[00:51:10] Jordan Harbinger: For more, including the lesson Oliver Stone learned when he was a cab driver prior to becoming a world famous director, check out episode 411 on The Jordan Harbinger Show.
[00:51:21] Like I said, we did a beast of an episode. So this is the end of part one. Part two is coming out in a few days, or already out, depending on when you're listening. So make sure you go ahead and continue on. Links to everything Bob Arno will be in the show notes. Worksheets in the show notes. Transcripts in the show notes. There's a video of the interview going up on our YouTube channel at jordanharbinger.com/youtube. We also have a brand new clips channel with cuts that don't make it to the show or highlights from the interviews you can't see anywhere else. jordanharbinger.com/clips is where you can find that. And I'm at @JordanHarbinger on Twitter and Instagram, or hit me on LinkedIn. 
[00:51:52] I'm teaching you how to connect with amazing people and characters like Bob Arno. My network is vast and broad and crazy deep, and that is what you should be doing. You got to dig that well before you get thirsty, because that's how you succeed in your career and in your personal life. And you don't have to be a skeezebag about it. The course is free. jordanharbinger.com/course is where you'll find it. 
[00:52:11] This show is created in association with PodcastOne. My team is Jen Harbinger, Jase Sanderson, Robert Fogarty, Millie Ocampo, Ian Baird, Josh Ballard, and Gabriel Mizrahi. Remember, we rise by lifting others. The fee for this show is that you share it with friends when he finds something useful or interesting. If you know somebody who's into magic, you know somebody who is into crime, pickpocketing, psychology, sleight of hand stuff, share this episode with them. I think they'll really dig it. Hopefully, you find something great in every episode of the show. Please share the show with those you care about. In the meantime, do your best to apply what you hear on the show, so you can live what you listen, and we'll see you next time.
Sign up to receive email updates
Enter your name and email address below and I'll send you periodic updates about the podcast.