Reading Time:
4
minutes
Oliver Stone (@TheOliverStone) is a film director, producer, and writer known for tackling controversial political issues in films like JFK and Platoon. He is also the author of Chasing the Light: Writing, Directing, and Surviving Platoon, Midnight Express, Scarface, Salvador, and the Movie Game.
What We Discuss with Oliver Stone:
The lesson Oliver learned about humanity — when he was a cab driver prior to becoming a world-famous director — that still rings true for him today.
Why Oliver chose to serve in the infantry during the Vietnam War when a lot of his contemporaries (including several presidents) did all they could do to avoid going.
What happened when Oliver snuck an obscene amount of LSD into his uptight father's scotch one night.
The projects Oliver has had to abandon in recent years, and why some of his earlier films would be impossible to make now.
Oliver's candid thoughts on Vladimir Putin, the CIA, cyberwarfare, and the culpability of the American media in current affairs.
And much more…
Like this show? Please leave us a review here — even one sentence helps! Consider including your Twitter handle so we can thank you personally!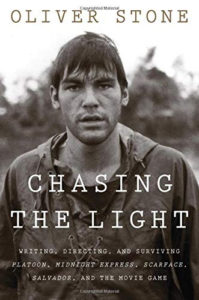 If you like movies, controversy, or at least seeing the world you know through the eyes of someone who doesn't take anything at face value, you'll love this one.
On this episode, we talk to Oliver Stone, the legendary filmmaker who has given us a prolific assortment of classics from Midnight Express to Platoon to JFK to Snowden to Scarface to Natural Born Killers — and that's just a short selection from his body of work. We cover a lot of ground in this one, from Oliver's volunteering to serve in the Vietnam War when a lot of his contemporaries (several presidents included) did their best to avoid going, drug stories, the CIA, why the American media is partially culpable for the state of the world, interviewing Putin, and much more as chronicled in his book Chasing the Light: Writing, Directing, and Surviving Platoon, Midnight Express, Scarface, Salvador, and the Movie Game. Listen, learn, and enjoy!
Please Scroll Down for Featured Resources and Transcript!
Please note that some of the links on this page (books, movies, music, etc.) lead to affiliate programs for which The Jordan Harbinger Show receives compensation. It's just one of the ways we keep the lights on around here. Thank you for your support!
Sign up for Six-Minute Networking — our free networking and relationship development mini course — at jordanharbinger.com/course!
Great protection. Fair prices. Easy to use. SimpliSafe is the right way to protect your home at half the size and double the range — go to SimpliSafe.com/jordan to learn more!
Blue Moon Belgian White is refreshing for the palate of the sophisticated beer aficionado without succumbing to snobbery. Not sure if it's available in your area? get.bluemoonbeer.com allows you to find local stores that carry Blue Moon or have it delivered in under three hours!
HostGator has been around almost as long as the Internet. Does your business have an Internet presence? Save up to a whopping 62% on new webhosting packages with HostGator at hostgator.com/jordan!
Better Help offers affordable, online counseling at your convenience. If you're coping with depression, stress, anxiety, addiction, or any number of issues, you're not alone. Talk with a licensed professional therapist for 10 percent off your first month at betterhelp.com/jordan!
Miss our episode with spooky mentalist Derren Brown? Catch up with episode 150: Derren Brown | Using the Power of Suggestion for Good here!
THANKS, OLIVER STONE!
If you enjoyed this session with Oliver Stone, let him know by clicking on the link below and sending him a quick shout out at Twitter:
Click here to thank Oliver Stone at Twitter!
Click here to let Jordan know about your number one takeaway from this episode!
And if you want us to answer your questions on one of our upcoming weekly Feedback Friday episodes, drop us a line at friday@jordanharbinger.com.
Resources from This Episode:
Transcript for Oliver Stone | Writing, Directing, and Surviving the Movie Game (Episode 411)
Jordan Harbinger: [00:00:00] Coming up on The Jordan Harbinger Show. 
Oliver Stone: [00:00:02] We've been lied to, the public has been lied to, and they created false narratives constantly and false criteria. And on that basis, we've gone to war. This is what's crazy — who's to blame? If our media was honest and asked these questions, we wouldn't have been in these wars and a lot of people would be alive today. We'd be a far healthier country. We'd be dealing with a climate crisis, which is really f*cking important. Instead of dividing ourselves being distracted, not paying any attention to the biggest problem of all, and it can all be dealt with rationally, but they never do this. It's just impossible to be logical here.
Jordan Harbinger: [00:00:40] Welcome to the show. I'm Jordan Harbinger. On The Jordan Harbinger Show, we decode the stories, secrets, and skills of the world's most fascinating people. If you're new to the show, we have in-depth conversations with people at the top of their game, entrepreneurs and astronauts, spies and psychologists, and even the occasional legendary Hollywood director. Each episode turns our guests' wisdom into practical advice that you can use to build a deeper understanding of how the world works and become a better critical thinker today.
[00:01:07] Legendary director Oliver stone is with us. Oliver has directed Midnight Express, Platoon, JFK, Snowden, Scarface, and Natural Born Killers — need I go on. On this episode, we get inside the brain of one of Hollywood's most iconic and controversial directors. We'll also discover some of Oliver's political beliefs, which may even overshadow his film career. And we'll also explore the creative process and some of the side effects of a life lived in Hollywood. Spoiler alert, it involves lots of cocaine. 
[00:01:38] If you're wondering how I managed to book all these great authors, thinkers, and celebrities every single week, it's because of my network. And I'm teaching you how to build your network for free over at jordanharbinger.com/course. And by the way, most of the guests on the show, they subscribe to the course and the newsletter. Come join us, you'll be in smart company. Now, here's Oliver Stone.
[00:02:00] You were a cab driver. And I'm wondering if you learned anything about people doing that job that maybe ended up in your movies. Because I know 18 months after that you win an Oscar for Midnight Express. So it didn't really develop in a vacuum and can be seen as some weird stuff. 
Oliver Stone: [00:02:13] I would say overall, my impression is that people are good. People are honest, people care. I don't get it. Joker's viewpoint of humanity — you know, I get a feeling that people behave. Sure, a few people stiffed me for fares. They take me out to some suburb like Queens or somewhere. And they'd stiff. 
Jordan Harbinger: [00:02:33] Yeah.
Oliver Stone: [00:02:33] But most of the people were pretty good. It was a hard job because I was riding in the daytime, walking back home late at night. It was across town so I couldn't take the bus or subway. It was freezing cold at night. If you live in Paris or London, the streets are curved and all that. So you don't get all the winds that come off the river. And in New York, they go straight geographically down like linear. It's a linear progression. Boy, it's f*cking cold at two in the morning when you're coming back.
[00:02:58] And you know, I was making 35 bucks a day, roughly on a good day, 40 bucks sometimes on New Year's Eve, maybe 45. You know it wasn't big money, but it was good money for that year, 1973, two. We used to beat the cab company as much as we could. Yeah, we would get paid in cash sometimes. You know, we ran it off the meter, but they caught us. They caught me a couple of times.
Jordan Harbinger: [00:03:17] Taking the fare and not reporting it, basically.
Oliver Stone: [00:03:19] They have undercover cars in traffic. So you never knew if you're being — if you didn't have the meter up and you had a customer, you were in trouble. 
Jordan Harbinger: [00:03:26] Oh, I didn't even think about it. They just were trying to match the meter. So they would look in your car and see if you had any — 
Oliver Stone: [00:03:31] No, they tell from outside — the eyes could see.
Jordan Harbinger: [00:03:33] Oh wow.
Oliver Stone: [00:03:34] If you had a customer and you didn't have the flag up, they get you. And I got fined once or twice but — and of course, you have the whole professional cab drivers, like the Peter Boyle character and taxi driver, you know — 
Jordan Harbinger: [00:03:44] Yeah.
Oliver Stone: [00:03:45] You have those kinds of guys and you say, "Oh, I don't want to ever become that. I'm just doing this temporarily." But you get worried sometimes.
[Jordan Harbinger: [00:03:52] Yeah, you're 10, you're thinking, "Is this still my temporary job? Or this is my forever job?" 
Oliver Stone: [00:03:57] Listen, I thought about that a lot. You read those passages. I mean, I love waiters that are good. They really are important to our blood supply. It's important, but I was scared and terrified of becoming a professional waiter.
Jordan Harbinger: [00:04:07] Yeah.
Oliver Stone: [00:04:08] Because a lot of those guys did start as actors or opera singers or whatever, and then over time.
Jordan Harbinger: [00:04:13]It can be scary. And I think there's a whole lot of unmet potential, especially today, given how bad our educational system has failed everyone. I mean, people say like, "Do I have unmet potential? Or is this really my potential?" And I thought, "Oh, you know, it's easy to say, everyone thinks they have unmet potential," but it's kind of true. I mean, there's a lot of people that you can tell have the raw material. I volunteer a lot inside prisons and you can tell that some of those guys if they hadn't been born into absolute squalor and then been essentially devoid of opportunity from day one, they would have been entrepreneurs, business owners, super talented singers, dancers, writers. There's so much talent locked in there. 
Oliver Stone: [00:04:49] I used to feel. When I was younger — I mean, I'm not sure about now that there was no choice in life. If you did not have a scientific-technical education, your choices were very limited. I always felt that though, the soft sciences were not really going to get you jobs. Yeah, you could work your way into something. You can bullsh*t your way into something. You could say you have a degree in social working or something like that. But I really wish I had mathematics. My father was good at mathematics. He was a broker and he really was smart. I knew what smart was. I mean, I was surrounded by a lot of smart people and when I was young, but I didn't have that ability.
[00:05:26] So for me, it was writing. Unfortunately, I didn't have a singing voice. I couldn't play an instrument. If it was riding a bus, you know, that was it — and I knew it kind of after the Vietnam thing and I was writing for those screenplays all those years ago of — what? 10, 12 screenplays. I must have written before I got the Midnight Express. 
Jordan Harbinger: [00:05:46] You had a bit of a tumultuous upbringing. Can you tell me about that? 
Oliver Stone: [00:05:49] You know, it's in the book. 
Jordan Harbinger: [00:05:50] Yeah, well, yeah, a lot of this is in the book. We're trying to sort of get people to get really interested and then go out and buy it. 
Oliver Stone: [00:05:56] The name of it is Chasing The Light and it came out a month ago or so. Well, I had a very good upbringing, very sheltered in New York City. Up until about the age of 15, they sent me to boarding school. I think they knew something was coming, but I didn't. I thought they were happily married. I really was very pleased with my family and they were violently divorced. They were — it was a horrible story, cheating on each other, both sides. It broke apart in my world because I was the only child. So there were only three people in the family when they divorced. And the mother goes back to another place in Europe. Father stays in — she was French. I was really in a sense on my own. I mean, my father was there, but I didn't want to live with him anymore. I was kind of depressed about it all. And I flunked out of Yale, basically. I ended up — first time in Vietnam as a teacher for two terms in high school. And then I went to the Merchant Marine and I traveled around Asia.
[00:06:47] I learned a lot. I wrote a book. It was not successful. It was not accepted for publication. But I had my heart in it and then flunked out a second time and went off to the war, which changed me for good. I mean, I came back from that experience and I was kind of disoriented and numb and alienated. And at the age of 22, I went back into film school at NYU, which was a whole different — a vocational education, but I can't say it was an education in liberal sciences, which I got later in life.
Jordan Harbinger: [00:07:16] Yeah.
Oliver Stone: [00:07:17] Making a thing called Untold History of the United States. I really did study hard with professional historians, the history of the United States.
Jordan Harbinger: [00:07:25] Film school, one of your professors was Martin Scorsese. And what was he like 26 years old or something like that? 
Oliver Stone: [00:07:31] Yeah, he was older than us. He was a star student. He was the celebrity so to speak. People knew that he was going to make it. Because everybody's goal was to make it in the film business and make films. And he'd made one feature and he was about to make Mean Streets, he's about to — very energetic, very strong opinion. He saw film like a religion, you know? And he talked about it like that with great spunk and humor and excitement. The classes were fun. He was teaching sight and sound. He was one of maybe five to 10 professors who were all good. It was a very sharp place in the '60s. It was a new science, a new art form, so to speak. Nobody really had studied film.
[00:08:10] It was ridiculous. We all thought it was sort of — we've seen movies and we get into degree as kind of what's wrong with that. Plus I was getting the GI Bill, which paid for most of the tuition. 
Jordan Harbinger: [00:08:19] You weren't even drafted to go to Vietnam. Right? You wanted to go, which is not the usual story that we hear. We hear people saying, "Oh, I got flatfeet. I couldn't go to Vietnam, even though I was drafted." 
Oliver Stone: [00:08:28] Well, most of my generation, yeah. But the people around me in my schooling, absolutely not. Very few of them went. With that you have to include Bill Clinton, you have to include George W. Bush and Donald Trump. All of those people were my contemporaries. In fact, Bush was in my class at Yale and he went on to be a mediocre student and he got a crazy kind of deferment through his father out of Texas. The Air National Guard, I believe in Alabama or something. He screwed that up too. And they covered all that story up. And when Dan Rather actually revealed something about what happened there, he got fired. So that was a big cover-up in a way. Bush was that very poor student and a poor — strange that these guys always want to go to war. The guys, the chicken hawks, the Dick Cheney's and the George Bush's. At least you could say in Trump's favor that he hasn't actively pursued a war, but he's close sometimes. And Clinton, of course, bombed Yugoslavia and did various things. But didn't seem to think twice about expanding NATO after the Gorbachev Reagan treaty. That was a big deal for me.
[00:09:34] Anyway, uh, I went to Vietnam because as I tried to say in the book, I was partly suicidal. It was a death instinct. It was like, I have no place in the world. What I was saying to you earlier about not really being educated or trained, and that the fact that the book that I'd written, which was finally published in 1997 is A Child's Night Dream. I was a book writer really. I really wanted it to succeed but when they rejected it. I felt like I was overreaching myself and then I was out of line. I had to learn the world, the way the world really works. And I want it to go to the bottom of the barrel. I didn't want to go back to school. I didn't want any special treatment. I wanted to be in the army. I wanted it to be anonymous and I wanted to be infantry. And I wanted to go to Vietnam because I didn't want to get bored to death in Germany or South Korea. I wanted where the action was. I was a young active man. 
[00:10:25] I had a different impression of war from the movies. And of course, from television, American society is very violent. You see it in all the media, even in the '50s. Let's not kid around — with massacres, they weren't as bloody as they are now, but there was always violence. The threat of violence, that was what made movies and TV go — for me. And I went there under that basis, so I don't blame anybody and I didn't bitch about it. I was a fatalist and I ended up serving 15 months. Most of them in a three-combat platoon, one in an auxiliary unit in Saigon for two months, but the rest in the combat — in the field, in the south in the 25th Infantry, in the North in a first Cavalry. 
Jordan Harbinger: [00:11:08] It's amazing that you volunteer and go there. And I heard you started to take photographs, which then led you into film. Or were you interested in film before that and photography was a little detour? 
Oliver Stone: [00:11:18] No, that was at the very end of my tour, the last three months when I sort of knew what I was doing as a soldier. I bought a camera at the PX, a Pentax as I remember. And I took pictures because it was a beautiful country, amazing country. The rainforest, the sense of perspective, the green was amazing when in the monsoon season. And of course, getting things wet was a real problem. So you can't write anything in the field. You can't keep notes. Generally speaking, it dries up and it gets wet. Everything gets wet as a soldier. So I put a camera in a little plastic bag and I hauled it around. I got some great shots. 
Jordan Harbinger: [00:11:52] I know that when you came back, you ended up with a federal smuggling charge for marijuana. Was it just like everybody's smoking grass in Vietnam?
Oliver Stone: [00:11:59] No, no.
Jordan Harbinger: [00:12:00] Was that just — no?
Oliver Stone: [00:12:00] No, no, no, it was very much of a white — a red-blue thing. No, the black soldiers with me were — I mean, not all the black soldiers, but certainly I was hanging out with a bunch of "heads" — they called them back then. And the "juicers" — the "juicers" were the guys who drank booze. There were a lot of white Southern guys. I'm typecasting, but that's sort of true the way it broke down.
[00:12:20] Now, the black guys were really cool and they really helped me get through that war because you know, it wasn't their war. They were cool about it — and fun and the music, they had great music. They had Motown going big back then and jazz and Mongo Santamaria, all that kind of stuff. They were playing in the back in the hooches — their own hooch. We had secret hooches where we smoked. They showed it in Platoon, you know guys dancing together. There was femininity that we missed. We didn't have ladies. So it was this wonderful kind of bond that grew up between us. Sh*t, they didn't owe me anything and I was — I never met black people before my life. I come from New York City — privileged.
[00:13:00] So it was quite an introduction to another group of people. And I thought they were really cool, much cooler than the white guys who most tended to be uptight. It saved my life because it kept me human, kept me human. And that's really hard to do in a situation like that, where you're in a frontline unit. And some of these guys are real assholes. I mean, you have no idea what some of those master sergeants in the army were like. They're lifers and they'd been around a long time and they're all looking for — making extra buck. They're all looking for promotion. They're cracking down on you for every bullsh*t rule they can get you on. So there was a lot of tension and I got an Article 15 stuff like that. 
Jordan Harbinger: [00:13:35] What's the Article 15 again? I've heard of that.
Oliver Stone: [00:13:38] That's a disciplinary action. It's short of a court-martial.
Jordan Harbinger: [00:13:40] Why did you get an Article 15 for? 
Oliver Stone: [00:13:41] You know, it was a stupid thing. Like my boots were not bloused or my clothes were — I was in from the field. I was a combat vet. And at that time, I was posted in Saigon as an auxiliary MP, military police guy, guarding barracks at night, which is a tough job. And they didn't like the way I dressed and the way I looked and my attitude, so they bust you. And I made a deal with them. I said, "Okay, f*ck you. I'm not going to take Article 15," because it's going to lead to some time and they're going to add that time to my time. So I went back to the field, I made a deal and said, "I'll go back to the field and you drop the charges," that kind of thing. People were making deals all the time.
[00:14:17] When I was an auxiliary policeman, I happened to be in the MP headquarters and I saw all the posters for the guys — this is 68 now in January, February — no, February, March 68, all the guys that were wanted on the wanted list. You'd be surprised at the amount of black market sh*t, going on deserters, GIs who had disappeared, and were living in Saigon with their girlfriends and making a bundle of cash. It was all kinds of schemes. It was kind of an interesting subculture.
[00:14:46] There was a black guy that was famous. He'd been out for two years, roaming around the Saigon docks. And he made a fortune in money. You see PX was a big racket in Vietnam. They built a few of them. it was like we built Las Vegas over there. People would go there and they had all kinds of inside deals, especially the master sergeants. They got busted in a major scandal after the war came — it came out. They would buy cars, televisions. They'd buy anything they could from the PX and then they'd sell them, resell them at a profit to all kinds of Vietnamese collaborators who were racketeers, essentially — very smart, the Vietnamese. They saw us as a buck. That's what they saw the US as. We're suckers. We were the guys who were bringing a huge amount of money to the country. They didn't give a sh*t about what was going to happen. They were just trying to score because people were into a short time, survival over there, you know — very smart people.
[00:15:36] They were into these rackets. I mean, we're talking about millions of dollars were sold, millions all over the country. It was a big racket, the whole war. Officers would come over there and they would go there basically to get promoted. They would stay in the rear. They'd be treated like kings. Dine on a white tablecloth, the best of everything for generals in this. But a lot of them weren't, you know, Into some kind of game. They'd get promotions. Those guys were not cheating. They were not trying to steal money because that was a bigger racket for the sergeants and the lower class people. But if you're an officer, you want to get promotions, you want to get battle. You want to get as many medals as you can. they'd phony up the reports. As the whole war was just phony body counts, phony actions. Most of the battle actions were completely exaggerated. The post-battle reports are exaggerated. We killed 152 NVA, bullsh*t. They killed villagers and maybe they had a few NVA in there.
[00:16:28] That's what happened a lot. That's what My Lai was about. My Lai in March '68, 500-plus civilians killed, not one enemy bullet was fired. I researched that. I almost made a movie about it. They wouldn't let me though. They wouldn't finance it. 
Jordan Harbinger: [00:16:41] Who's they? Just the — 
Oliver Stone: [00:16:42] They, they, they — the f*cking financial sh*t. It was 2007, eight, nine. That was My Lai. I did a lot of work on that. It didn't work out 
Jordan Harbinger: [00:16:51] The My Lai massacre. we'll link to that Wikipedia in the show notes for people that aren't sure. Is that where that famous photo is of the little girl walking down the road? 
Oliver Stone: [00:16:59] No, no, no, no, no. That was a bombing somewhere.
Jordan Harbinger: [00:17:03] Okay.
Oliver Stone: [00:17:02] Napalm bomb or something. She got burned or something. 
Jordan Harbinger: [00:17:05] I just remember it's a naked little girl standing in a road, really upset. It's a video actually. And I don't know if it's a photo. 
Oliver Stone: [00:17:11] I don't know I thought it was shot by a wonderful — Nick Ut. I think he shot that unless you told me not.
Jordan Harbinger: [00:17:17] Yeah, I don't know.
Oliver Stone: [00:17:18] He was a Vietnamese war photographer working for the US. 
Jordan Harbinger: [00:17:23] You're listening to The Jordan Harbinger Show with our guest Oliver Stone. We'll be right back.
[00:17:28] This episode is sponsored in part by SimpliSafe. These guys are the kings of the security system. They brought the security system for home security into the 21st century. They've got everything you need to protect your home with none of the drawbacks. You don't need a freaking landline because it's not 1997. They got sensors that go on windows, in rooms, every door — look, keep the whole thing on lockdown down. You don't even know you have to have anybody monitored, but if you want to make sure that nobody just breaks in and makes themselves at home, they've got monitoring starting at 15 bucks a month. No contract, no pushy sales guys, no hidden fees, no fine print. Nobody [00:18:00] has to come to your house to set it up either. You can do it yourself. You basically peel and stick these things right on whatever surface, no technician. You don't have to worry about any of that. If you're going ahead and be in a germaphobe COVID, hide in your house, like everybody else, like I recommend, you don't have to have anybody come in. They just send it to you in a box. 
Jen Harbinger: [00:18:15] Try SimpliSafe today at simplisafe.com/jordan. You get free shipping and a 60-day risk-free trial. There's nothing to lose. That's simplisafe.com/jordan. 
Jordan Harbinger: [00:18:25] This episode is also sponsored by Blue Moon. Do you ever have a drink on a Zoom call or maybe through windows, staring at your neighbors? Because I certainly do. That's as close as I get to socializing these days. Blue Moon is delicious. I've been drinking it since college, as far as you know, that's when I was legally old enough to drink. It's one of those that you can't see through. One of those beers, right? That you can't see through. They put a little orange peel on the side because it makes you look fancy. They've got oats that create a smooth creamy finish, which makes it also kind of breakfasty Right? That's how I like to think about it. It's a full-flavored beer, unlike any other beer. I do really enjoy a Blue Moon when I go for the beer. Blue Moon is a Belgian wit it's a full-flavored beer. And apparently, they named it Blue Moon because there's someone who was tasting the beer, they said, "A beer this good only comes around once in a blue moon." I don't believe that for a second, but that's the story they're sticking with. 
Jen Harbinger: [00:19:12] Next time you're out with friends or just enjoying a night in, reach for a Blue Moon. It's the beer you can enjoy every day. You can have Blue Moon delivered by going to get.bluemoonbeer.com and finding delivery options near you. Blue Moon, reach for the moon. Celebrate responsibly. Blue Moon Brewing Company, Golden Colorado ale. 
Jordan Harbinger: [00:19:31] And now back to Oliver stone On The Jordan Harbinger Show.
[00:19:36] You know, the appetite for drugs, not to belabor the point. I'm just kind of stuck on this. Like the appetite for drugs in the United States. It seems like a lot of people get into it. You said that in friendship with the African-American soldiers saved your life. I mean, it seems like a lot of people are getting into or have been into drugs since they've been invented essentially or discovered in order to fill like a spiritual vacuum or to sort of fulfill something that maybe you had lost before you even got to Vietnam.
Oliver Stone: [00:20:03] No, no, I was pretty innocent. I ain't never really smoked grass. I mean, once or twice. I did it for the first time. I did two things for the first time in Vietnam. I started smoking cigarettes, which stayed with me until I was about 33 and started smoking dope. And I loved it. I kept going with the dope. I stopped a cigarette at 33, but I kept going with the dope. In fact, I got into — not then, but they started to get heavier, the whole scene got heavier. Kool cigarettes. Remember Kools? 
Jordan Harbinger: [00:20:30] Yeah with the K.
Oliver Stone: [00:20:31] They were great. Yeah with a K.
Jordan Harbinger: [00:20:33] Yeah.
Oliver Stone: [00:20:34] Kools were menthol. They were like, for me, the strongest menthol there was, and you do that after a joint and really give you a buzz. That's why Kool was very popular among the black soldiers, very popular. 
Jordan Harbinger: [00:20:45] I think they still are. There's a Dave Chappelle skit where he says, "Why do black people smoke menthol cigarettes?" And the person goes, "I don't know." And he's like, "That's the right answer. I don't know. Why do we do that? It's like a real popular thing."
Oliver Stone: [00:20:57] I don't think Salem is the same thing.
Jordan Harbinger: [00:20:59] No.
Oliver Stone: [00:21:00] But anyway — what was I going to say? Yeah. But then after '69 afterward, really heroin started to come in. Because heroin was around, various versions of it, you know, opium whatever. That started to be more of a problem in '69, '70, '71. And that was when the whole thing started to change — more mutinies, more resistance to the officers. By '71, the Pentagon issued a report that said — very clearly and you can find that report, that the situation in Vietnam of the troops is demoralized and it's reaching a level that resembles the French mutinies of World War I late in the war that was covered in Paths of Glory. I don't know if you ever saw that movie. The mutinies of World War I — the French soldiers who refused to fight sometimes.
Jordan Harbinger: [00:21:44] Wow.
Oliver Stone: [00:21:45] And that was — same thing was going on in Vietnam. Richard Boyle, my co-writer and a friend from Salvador. He wrote Salvador with me. He wrote a whole book called — I forgot the name. I'm sorry, but Richard Boyle's book — he wrote about a mutiny there and there was a lot of them much more than you know. Also, what you don't know about Vietnam and I tried to cover it in the book, I said there were three lies in that war or "friendly fire." Soldiers accidentally killing each other in this complicated war situation — small firefights, big firefights. The jungle is asymmetrical. You don't know who's firing — where, what's coming in, what's going out? I would estimate 15 to 20 percent of the casualties in Vietnam were from "friendly fire." That's from small arms artillery, planes, bombs. I believe my first wound — I was wounded twice — came from "friendly fire." I write about that in the book.
[00:22:34] It's important because the Pentagon always covers that over there. They don't want the parents to know that their little boy died from "friendly fire." Wow. What a waste, right? 
Jordan Harbinger: [00:22:42] Yeah.
Oliver Stone: [00:22:43] But that happens all the time. And it's part of the ridiculousness, the lying. Second thing was the killing of civilians, which I went into. I've talked a bit about it with My Lai. The third thing was — the great big lie of all — was that we're winning this war from the beginning. They were saying we're winning this war. It was all lies — the body counts, the assessments, enemy divisions. CIA was doing all this. They were leading the war. They were leading strategists. They were making a strategy for the war and they did a horrible job as usual. CIA has been involved in every war, we fight every losing war. They didn't have as much to do with World War II, which is kind of interesting. Maybe they should just stay out of it. 
Jordan Harbinger: [00:23:21] Yeah. It might go smoothly. It depends — yeah. I think the nature of intelligence agencies in conflicts is something that's quite interesting for me as well. 
Oliver Stone: [00:23:28] I tell you what the My Lai — I did this research, My Lai, for example, true story. It was investigated by the army itself, which is amazingly honest. Ray Pierce was a three-star general. He never thought anything happened to My Lai. He thought it was all bullsh*t, complaining. And that's the attitude he took into it. He did the investigation and he wrote up the whole thing. It's available — now, they've redacted some of it. And he busted 28 indictments, 26 or 28 indictments against, all the way up to My Lai to the general of the division, Koster. He indicted Koster who was a three-star general also, unbelievable story.
[00:24:03] And of course, they threw out gradually, they threw out all the 27 of the indictments. They got Kelly, the first lieutenant, as the only guy I think ever served time. And he was pardoned by Nixon, dirty story.
Jordan Harbinger: [00:24:16] Yeah.
Oliver Stone: [00:24:16] The point I'm trying to make is that. It's all lie. It was a big lie. And don't tell me it was good intentions like Ken Burns wants to say. It's bullsh*t. It was a lie because that's the basic nature of man is to cover his ass. They said, "This is a crazy war. So what? I'm going to make money, I'm going to survive." These are the ways people think, but you got back — this whole thing started when you asked me about my drug bust.
Jordan Harbinger: [00:24:39] Yeah.
Oliver Stone: [00:24:39] So just to make an innocuous story, but the irony and all that — I come out of Vietnam and I'm completely zonked. Back in civilian society, I'm free. No one's telling me what to do. I don't know a soul. I wander down the coast from Fort Lewis, Washington to Oregon, California. I can't handle the stage. It's just too much for me right now. So I go over to Mexico, carrying my Vietnamese grass, which I'd smuggled back from Vietnam. So I was guilty in that sense that I brought some grass back from Vietnam. Go to Mexico, get bombed, laid all that stuff. Get crazy in a few days. Come back and zoned out. And come back at midnight, trying to cross back the border at midnight, carrying my Vietnamese grass which I smuggled back from Vietnam. Of course, I get stupidly busted. Federal smuggling charges five to 20 years.
Jordan Harbinger: [00:25:22] Oh my God.
Oliver Stone: [00:25:23] Yeah, serious. 
Jordan Harbinger: [00:25:24] That's a crazy punishment. How much grass are we talking about?
Oliver Stone: [00:25:27] Two ounces.
Jordan Harbinger: [00:25:28] That's ridiculous.
Oliver Stone: [00:25:29] Maybe less.
Jordan Harbinger: [00:25:29] Unbelievable.
Oliver Stone: [00:25:30] Of course, it is. Yeah. And that was the beginning of the drug war. They didn't call it that then, but Nixon had just been elected and he was coming into being and he was going to call the drug war. But that prison was filled with — it was supposed to be for 2,000, was for 5,000 Hispanics and black people, mostly in that jail. I've never seen it. These were all young people. They should have been in the military. None of them give a sh*t about that. You know, it was a whole other culture that I saw. It was an America with a K — brutal treatment. Putting these people in jail for nothing. Non-violent crime was the beginning of that system. That's what I was facing. They were going to — you know, wrong judge, I would have gotten five years, probably first time offense. I was a veteran, but I got out because basically, I paid the public assistance lawyer. My father paid for him to come and see me, which he hadn't shown up. He didn't show up for 10 days or eight days. And finally, I got my father on the phone in it. He said, "Where have you been? You got out blah, blah, blah, two weeks ago, three weeks ago. I never heard from you." I said, "I'm happy to be home. It's great. But I'm in trouble. Oh, sh*t." Yeah, exactly, I'm in jail. 
Jordan Harbinger: [00:26:33] Oh yeah. That's a great phone call to get from your kid after he gets back from Vietnam. Right? 
Oliver Stone: [00:26:37] I imagine his face, yeah. 
Jordan Harbinger: [00:26:38] My God. Did you ever experiment with psychedelics? 
Oliver Stone: [00:26:41] Oh, yeah, sure. Starting over there. 
Jordan Harbinger: [00:26:44] Where did he get it over? There was it just acid 
Oliver Stone: [00:26:46] Listen, people are smart everywhere in the world. You know that.
Jordan Harbinger: [00:26:48] Yeah.
Oliver Stone: [00:26:00] So there's some guys who've got something — I actually did it in Australia when I'm with R & R. Australia was a big LSD place. Back then, there was a guru, like Tim Leary type who was leading the Sydney brigade and it was wild. And there was all kinds of stuff happening. It's beyond — people don't know those stories, but they're very interesting. You know, like the story I tell you about being an MP and all the deserters in Saigon. It was a whole underground culture as there is in every war, underground culture. People living differently, nobody conforms all the time to the demands of the army. They mocked it. They go outside and that's the American way. Do you remember The Dirty Dozen? It was more like that.
Jordan Harbinger: [00:27:27] Yeah, of course. Yeah, I remember that. I remember that back when I was little. 
Oliver Stone: [00:27:31] Guys we're schemers who were always doing things, trying to figure out angles. There's always a schemer in the platoon. 
Jordan Harbinger: [00:27:37] I heard you once put LSD in your dad's drink at a party. That's a bold move, man. 
Oliver Stone: [00:27:42] Yeah. Why not? Because he needed it.
Jordan Harbinger: [00:27:45] What do you mean?
Oliver Stone: [00:27:46] His attitude on the war was f*cked. He was a Republican, he was solid. He had been in World War II. He was a Lieutenant Colonel. He thought the war was a good thing at the beginning. And then he realized that it was not. Well, he cracked out to be, but — so I was really pissed at him. We had a lot of fights about everything. And at one point, I was fed up and I put some heavy dose of orange sunshine into his scotch. He loved to drink scotch at night. We're playing chess and I put it in. Man, I really dumped it in and he got so f*cking high. I loved it. It was great to watch. He never knew it was me because we moved on to a dinner party and he took me to, and there was other people at the table. So you never knew what hit him. He did know something had been given to him, but he never blamed me or years later, I think two years later he said he kind of had the feeling. He enjoyed the trip, you know, at the end of it. It was a sex trip for him. He enjoyed it. It broke through certain barriers he had. He had fantasies about black women and he told me all about it.
Jordan Harbinger: [00:28:43] He told you about it during the trip? 
Oliver Stone: [00:28:45] No, no later. 
Jordan Harbinger: [00:28:46] Oh, okay. Okay. I was like, man, that's a little more than you bargained for if your dad's tripping out and he's like, "Let me sit you down and tell you —" 
Oliver Stone: [00:28:51] Well, I wanted to change his thinking but maybe he was going in that direction. Like me, I had gone to Vietnam. I was talking like a black man at that point. I was smoking Kools. I was into my marijuana, hit. 
[00:29:01] Jordan Harbinger: [00:29:01] That's really funny. I mean, it couldn't have been that hard to figure out you're playing chess with one person and you suddenly start tripping on acid.
Oliver Stone: [00:29:07] Not, not right away. You don't up right away.
Jordan Harbinger: [00:29:09] Sure.
Oliver Stone: [00:29:09] It takes you sometimes 30 minutes. 
Jordan Harbinger: [00:29:11] But that's the giveaway, right? "I've been at this dinner party for an hour and now I'm super tripping. Where was I an hour ago? Playing chess with my son and having a glass of whiskey." 
Oliver Stone: [00:29:19] I'm not sure he made that connection because he didn't know the rules of LSD. 
Jordan Harbinger: [00:29:23] Oh yeah, sure. That makes sense.
Oliver Stone: [00:29:24] Also he's been drinking a bit that day, too. It was Saturday. But he was a tough guy. And there are some funny incidents and he started eating Oreo cookies and the girls — the party started, broke up into a dance, and he was watching the dance from — hanging onto a tree. And that's where the black girl fantasy started. They were dancing through drums out of the Congo, he was saying.
Jordan Harbinger: [00:29:47] Yeah, he was definitely — that was a good dose of acid if he saw people dancing out of the jungle or something like that.
Oliver Stone: [00:29:53] Yeah. 
Jordan Harbinger: [00:29:53] Yeah. I heard you kicked your cocaine habit while writing Scarface, but that seems like the opposite time to kick a cocaine habit. I think a lot of people started their cocaine habit after watching Scarface. 
Oliver Stone: [00:30:02] Yeah, I guess I do things backwards. I don't know what it is.
Jordan Harbinger: [00:30:05] Yeah.
Oliver Stone: [00:30:06] You know what? Cocaine, it was not a good drug for me, a bad drug. I started in Hollywood in the '70s. It started to get very hot. A lot of the younger people were doing it. I got sucked in. And after that — basically after Midnight Express was a big hit, I sort of got into the bubbling champagne. I was working, but I was certainly enjoying my life and I didn't really — I was trying to feel it out and I was meeting famous people. I was once being offered deals, screenplays. It was a fantasy. God, you have everything you want. I mean, money, drugs, girls, everything evil. 
Jordan Harbinger: [00:30:40] Yeah. Everything that can corrupt you. Yeah.
Oliver Stone: [00:30:42] Yeah, I enjoyed it. I really did. I enjoyed the sh*t out of it, but I did the drug out of party thinking it was fun. And that's what I thought of it — energy thing, it was a good energy thing. I don't take it any more seriously than that. And then after The Hand, which I wrote and directed, which is an interesting horror film. I think you should go back and see it with Michael Caine, but it didn't work out for me commercially and I was shamed by the so-called official establishment. I'd made a horror film about a severed hand, and I allowed myself to be shamed, which I regret doing because it is a better film than what they made it out to be. But the point was like my second wife and I showed him to do cocaine, but I got addicted and the addiction is terrible. You're not in control. You don't have control over your whole system anymore. And that's the end of your enjoyment as well.
[00:31:32] So it really turned into a nightmare for, I'd say almost a year. And my writing deteriorated, I could tell. I was still sentient enough to tell that my brain cells seemed to be affected. I felt that. And also I had some objective — a producer I was working with, told me that it wasn't as good as a screenplay — I was writing a screenplay for him. It wasn't as good as he thought it should be blah, blah, blah. And of course, I got bailed out in a sense. I was surrounded, my friends were doing it. That's the problem with cocaine or any drug like that, you get surrounded by a million and it's hard to get out of it. But salvation came in a sense that I got a call to go down to Miami from a producer who'd worked with me before Martin Bregman and to work on the research and to write the screenplay for Al Pacino's Scarface. And of course, it was about drugs. So it was no problem for me because I did the research. 
Jordan Harbinger: [00:32:24] I've been researching this exact drug for a really long time. I know a lot about it. 
Oliver Stone: [00:32:28] Yeah. Exactly.
Jordan Harbinger: [00:32:29] Yeah.
Oliver Stone: [00:32:30] I didn't boast about it. 
Jordan Harbinger: [00:32:30] Sure, obviously.
Oliver Stone: [00:32:31] I had a good trip to South America before that and hung out with some heavies down there. Really, they had great coke down there. I mean like, you know, talking about — I forgot how strong it was. It was pure. It was so pure that I would fall asleep on it. That kind of pure. Sometimes the pure stuff really knocks you out. 
Jordan Harbinger: [00:32:49] Did not know that. Didn't see that coming.
Oliver Stone: [00:32:51] I think you can research that one, but — 
Jordan Harbinger: [00:32:54] yeah, I'll have to google it.
Oliver Stone: [00:32:56] Anyway, I really learned a lot and I got into the criminal side of it, which was important, and snorting it with them was part of that. Once I had all the facts, I said, I got to get out of here and I can't write this in Miami. So I thought about going to France, which is where my mother was living as well as my grandmother. It was a wonderful kind of place for me because it was winter there and it was the people were — they were not into coke at all. And I had no friends there who did it and the food was great. So it was a great chance to break the habit and I did with my wife. Although I did it after that I never really was addicted again — ever — which means you need it and you can't say no. I can easily say no and walk away. So I don't claim to be an angel or anything, but — 
Jordan Harbinger: [00:33:43] Yeah, no, of course — I mean, that's what makes the stories interesting, right? And it's also what makes looking at someone's background, like yours, is interesting is because we go, "Oh, okay. This isn't like a guy writing in a vacuum. This is somebody who has — maybe not a giant Scarface pile of cocaine, but it's certainly probably seen something like that at some point." Right?
Oliver Stone: [00:33:59] I saw a lot of people get hurt. Yeah. I saw a lot of people get hurt. The saddest thing, it was to see some beautiful actresses who came to Hollywood with great looks. You know, you'd fall apart on cocaine, their looks would fall off. And that was sad to see. 
Jordan Harbinger: [00:34:11] We hear a lot about China censoring movies these days. In Hollywood, censoring movies, these days, actually for either the US or for China. What do you think of that as a creator? What do you think of that? Is that just part of the game that you've got to appease the Chinese censors, the US financiers? Or what?
Oliver Stone: [00:34:26] Well, in a sense, it's always that. There's always a game. What is currently fashionable? It's all censorship in a way, you know. I was running into problems back in '78. I mean, at the Golden Globes, I was blasting. They were throwing all these cop shows on the air. All the bad guys were colored people, or they were going to jail and the good guys were triumphant and their virtue — virtue signaling, or whatever they call it. And I just was sick of it back then and I got into trouble making a speech at the Golden Globes when I won an award for Midnight Express, blasting that kind of culture. And they threw me off the stage because I was incoherent when I made the speech because I was drunk and coked out. You're always fighting against fashion. I always have my life.
[00:35:10] I've always gone my way and tried to do things with integrity and authenticity. And it has nothing to do with what's in the air right now, whether it's this fashion, that fashion. There's always rules and you have to figure out a way to survive that. I don't remember it being any different. That Chinese are ridiculous. I've been there several times and I worked with Chinese. You're not allowed to even mention Mao. You know Mao? Jesus Christ, their own history, they deny them. You can't even — I had a script about the cultural revolution, beautiful script. I couldn't make it in China, even in the 2000 period when they were a little more liberal. I couldn't make it because they didn't want to know. They want to keep that away from their citizens.
[00:35:49] The cultural evolution is what all this generation — my generation went through in the '60s in China. I couldn't tell a story about it. Bertolucci managed to — a little bit of it very effectively in The Last Emperor, which I love, but it's just not allowed. And then it got worse as 2010 came around. I'll tell you a story. I was — 
Jordan Harbinger: [00:36:07] Yeah.
Oliver Stone: [00:36:07] — hired to do an Olympic game commercial back in — whatever it was. They had the Olympic games in China, 2000 — what? Eight from my commercial idea, I wanted to do 200 Chinese faces from the streets. That's all. It was about the Chinese face and my interpretation of it. I picked out the 200 people from the streets I had gone out and done it all. And one day the censors showed up and they asked me what I planned. And I showed him the pictures of the people that I was going to shoot. I was open about it, and they got upset because they looked at it and they said, "Well, we have to talk about this thing." They came back and they said like, "80 percent of them were canceled because they didn't have the right Chinese face."
Jordan Harbinger: [00:36:45] Oh gosh.
Oliver Stone: [00:36:46] As so I said, "F*ck you." And I walked away. That's typical of the censorship that filmmakers have to go through there. That's their custom. That's the way they are. This is a very tough society. They don't f*ck around. It's a tough society. It's all I can say. And anybody can get a good film made out of it — Bravo! 
Jordan Harbinger: [00:37:05] This is The Jordan Harbinger Show with our guest Oliver Stone. We'll be right back.
[00:37:10] This episode is sponsored in part by HostGator. In the fast-paced and futuristic post-apocalyptic world of 2020, owning your own website is as crucial as indoor plumbing. All right, maybe that's a bit of an exaggeration — but a global market research firm recently concluded that only 25 percent of people searching for you online are going to do so through social media over half are going to look at your website first. So unless you're purposely trying to live off the grid while scratching 35,000-word manifestos on birch bark in a remote Woodland shack, you'll want HostGator's help to ensure your personal professional presence is known to the outside world. Founded in 2002, HostGator's been around the block a few times and it's old enough to legally drive around that block now. That's why we trust HostGator to get you where you want to go with seasoned expertise and service that's unsurpassed. You don't have to know about programming. You can craft your mobile-friendly website. They got a drag-and-drop builder. Hundreds of themes, as anal as you want to be. They've got something that will please you. You can take payments. You can run WordPress. You can throw a PayPal in there. If you've got a tight budget, no worries. As long as you're a new user, you can get a great deal on a HostGator package just for hearing the sound of my voice. And if you're not completely satisfied with everything HostGator has to offer, you have 45 days to cancel for a refund of every last penny. Check out hostgator.com/jordan right now to sign up. That's hostgator.com/jordan.
[00:38:23] This episode is also sponsored by Better Help. A lot of you might be feeling depressed, anxious, stressed, overwhelmed. I get it. I feel you. Better Help offers licensed professional counselors who are trained to listen and help. Everything is private. Everything is online. It's from your phone. It's at your own pace. You got family conflicts, some anger stuff, trauma, loss, difficulty sleeping. I definitely get it. I see a lot of that in the Feedback. Friday inbox. Better Help can give you access to help that might not be affected in your area. You don't have to go to the therapist who's your uncle or something like that. Look, you fill out a questionnaire. Couple of days later, they match you with a counselor, phone sessions, video chat, unlimited, everything you share is confidential. If you don't like your therapist switch at any time, no additional charge. In fact, so many people have been using Better Help, they're currently recruiting additional counselors in all 50 states. 
Jen Harbinger: [00:39:11] Better help, it's an affordable option and our listeners get 10 percent off your first month with the discount code JORDAN. Get started today at betterhelp.com/jordan. That's better-H-E-L-P.com/jordan. Talk to a therapist online and get help.
Jordan Harbinger: [00:39:24] Thanks for listening and supporting the show. Your support of our advertisers keeps us going. To learn more and get links to all the great discounts you've just heard, so you can check out those sponsors for yourself, visit jordanharbinger.com/deals. And don't forget, there's a worksheet for today's episode. That link as always in the show notes at jordanharbinger.com/podcast. And now for the conclusion of our discussion with Oliver Stone.
[00:39:50] Do you think you could make a movie like Platoon now, do you think an American studio would touch a movie like that these days? 
Oliver Stone: [00:39:54] No, not with "friendly fire" and killing civilians. No, it's impossible now. Did you read this book? 2017, Matthew Alford, he's a co-writer, it's called National Security Cinema. Read it. He goes into detail on some 800 movies the Pentagon has worked on. He goes into detail on it. And he goes into detail on the CIA working in Hollywood. You have no idea the influence of how deep they've gotten, partly because, well, the military thing is money. You know, they have big money. They can lend you an enormous amount. They can give you soldiers. They can give you equipment. It saves a lot of money. It can be up to $50 million — they can give you in some of these pictures. 
Jordan Harbinger: [00:40:35] Wow.
Oliver Stone: [00:40:35] And that's important for producers. I mean, you don't have any idea that films were affected by this. The films I made, as well as some other people — not very many — were all outside the Pentagon. They condemned my film. They blasted it. They would never cooperate with it. Same thing with Born on the Fourth of July, same thing with Heaven and Earth. Salvador never earned — no way because — no, these films couldn't be made. Do you understand? This is a very rigid society as bad in its way as China. After 2001, when everybody was suddenly singing the patriotic song, how we've got to fight back and revenge, revenge — we're going to take on the world, all that crap, the George Bush bullsh*t. That was over. That's when they passed the Patriot Act.
Jordan Harbinger: [00:41:15] Oh yeah.
Oliver Stone: [00:41:15] Everybody got on this tin soap opera horn and swords announcing —was wearing. American flags everywhere. Presidents used to wear American flags on there — you're too young to remember. They never — it would be ridiculous. It would be a joke to wear an American flag pin. No world leader wears that. Only in this country when you got a lot of tin-horn patriotism.
Jordan Harbinger: [00:41:34] I never heard that tin-horn patriotism. I guess it makes sense though, right? Like just sort of lip service. Is that what that means? 
Oliver Stone: [00:41:40] Yes. Yes. Lip service.
Jordan Harbinger: [00:41:41] Yeah.
Oliver Stone: [00:41:42] They're the George W. Bush's — talk big and then they f*ck up their national guard commitment completely. They lie and they cheat. And that still goes on a lot. This is what I'm talking about, this is what war is. Don't you think it's going on in Iraq, Afghanistan, right now? Don't you think a lot of people are making money? A lot of people are cheating. It's the standard. Soldiers might be really good. The unit might be really good, but what are they achieving? You know, they're going out killing a few civilians or they're fighting some kind of monster in their head, but they rarely see the enemy. They don't even know who the enemy is half the time.
Jordan Harbinger: [00:42:12] I heard you set the explosives yourself on Platoon. I don't think they'd let you do that anymore either. 
Oliver Stone: [00:42:16] No, that was a special case. It was a very low budget film. We were in the Philippines, nobody cared. It was a B film, considered a B film. We came out of nowhere. We were a six-million-dollar film. You know, they used to make exploitation films in the Philippines. It wasn't not much expected. I had no choice. We had very few limited staff. We had a good special effects crew from England but. They were overstaffed. They were complete — understaffed, rather. They couldn't keep up with the amount of explosions we had to do in this movie. So I blew them because I knew where the actors were going to go. 
Jordan Harbinger: [00:42:44] That sounds incredibly dangerous and incredibly fun.
Oliver Stone: [00:42:47] Well, helicopters are more dangerous. And I write about that in the book. You got to get close to the blades. You got to get in the air, you got the current, you got hit wait on the helicopter. And we almost went down. I described that incident. And actually, a year later, a Chuck Norris film that's one of those same choppers went down because the maintenance is poor. They are good army, but they just don't have money — 
Jordan Harbinger: [00:43:08] Right, yeah.
Oliver Stone: [00:43:09] — to maintain them to the level they need to be managed. And one of those choppers went down and nine or 10 people were killed — 
Jordan Harbinger: [00:43:14] Oh man. 
Oliver Stone: [00:43:15] — in that film unit. It was very scary. 
Jordan Harbinger: [00:43:18] Martin Sheen and Michael Douglas said that you were essentially willing to compromise your relationships with actors in order to make the best film. And I kind of compare that to interviews here on the show. You know, I see a lot of interviewers and journalists, they ask softball questions. They basically try to get their show guests to sort of be like entertaining or be friends instead of having a real conversation. And in my mind, it's about putting the audience first. And I wonder if that's how you think of your films as well. Is it about the audience or is it about the final result being something that you're satisfied with personally? 
Oliver Stone: [00:43:47] Absolutely. You're right. I mean, there's no question. You have to work with your actor — and there's always give and take, you know, compromise. I'm not hardline about anything. As you can see my attitude, I have a sense of humor about it, but I've characterized it often as hardline. No, you just have to get somewhere. And it's a director's job to sort of pace it — to know what's working and what's not working. And if it's not working, you got to solve it. You have no choice. You're on the spot. So how do you solve it? You don't take the hard approach. You take the let's talk approach. You try to reason this out. Try to get the actor to where he needs to go. Sometimes you got to put a little stick in there to give him a little — because an actor can relax. He's in his comfort zone, Michael, especially in Michael Douglas has been a television star, and I guess you get used to a certain level. And I think he himself admitted that he wasn't pushing himself. That script, the Gekko, the Gekko part was extremely complex with long speeches. We put dialogue in there that was very juicy, but it was long. And you had to learn your lines before you got to the set, you had to know them like inside your soul. And he wasn't there right away. So, yeah, I did insist on that. 
Jordan Harbinger: [00:44:57] So this Wall Street, this is him being Gordon Gekko on Wall Street, yeah.
Oliver Stone: [00:45:00] On Martin Sheen, he was very good. I don't remember any issues with Martin. I enjoyed working with him very much as I did with Michael, eventually. 
Jordan Harbinger: [00:45:08] Yeah, I think they were giving you a compliment, or maybe they were thinking about the way that you worked with other actors. I don't think it was meant as sort of a dick.
Oliver Stone: [00:45:15] Well, sometimes it's misunderstood. No question.
Jordan Harbinger: [00:45:16] Yeah.
Oliver Stone: [00:45:17] And sometimes you get killed in the press, you know? Sometimes an actor will go public with his complaints. And I don't think that's right because, you know, you don't snitch on each other. It's like going to a school, you know? 
Jordan Harbinger: [00:45:28] Yeah. Right. Exactly. Yeah. It seems like your goal is to get the thing done.
Oliver Stone: [00:45:31] Yeah.
Jordan Harbinger: [00:45:32] From your book, it seems like getting a movie down is actually a lot harder than most people think.
Oliver Stone: [00:45:36] Yeah. I'm amazed at that. People always say, "Oh, I didn't realize it was so hard," but I respect movies and I really admire them if they're well made. And I understand the difficulty and I don't think people will see that they don't — they think it's easier than it is. And perhaps I think that's common and it's not up to the audience to have to go through the pain we go through. But sometimes the critics who interpret the film, you know, should know better when they tear films apart. 
Jordan Harbinger: [00:46:01] Most of your movies — or many I should say are about like gangsters, war. Do you think we have more to learn from the dark side of human nature than maybe we have to learn from everyday people? 
Oliver Stone: [00:46:12] I think we can learn a lot from the dark side, but I think it's important to show the good side where it exists and where the hope can be. The only film I ever made that was completely black or two films I made that were completely black and without hope where I think Talk Radio, which showed the darkest side of a talk show host who got killed based on the '80s character, Barry, Alan Berg. Another one was you U Turn which was a real film where everybody dies in the end. 
Jordan Harbinger: [00:46:41] You interviewed Vladimir Putin. It's probably in my top-five wishlist.
Oliver Stone: [00:46:46] Okay.
Jordan Harbinger: [00:46:47] I mean, you took a lot of flak for that because people said you didn't push back on any of his assertions. I mean, I guess I understand not pushing back too hard against somebody who's known as a brutal dictator and you're in his house or in his office surrounded by Russian secret service. I assume it took you years to set something like that up.
Oliver Stone: [00:47:01] No.
Jordan Harbinger: [00:47:02] No?
Oliver Stone: [00:47:03] Have you seen the interviews? That's important because a lot of people — 
Jordan Harbinger: [00:47:04] Half.
Oliver Stone: [00:47:05] Oh, good. Have you seen all four hours? 
Jordan Harbinger: [00:47:08] Yeah, I think I have the first three. I don't know if I have all four.
Oliver Stone: [00:47:11] Okay. Well, you should see the fourth one because that then goes to the Donald Trump election and into that — and I think it's the most penetrating interview I've ever seen with Putin. 
Jordan Harbinger: [00:47:20] I think so, yeah. Well, there aren't many, right? 
Oliver Stone: [00:47:22] You just don't see that way now because every American or English interview I've seen, they dubbed him first of all. Do you know what dub? They put a voice — 
Jordan Harbinger: [00:47:30] Yeah, of course.
Oliver Stone: [00:47:30] — who sounds like a gangster or a thug over. The guy who was talking to you and blah, blah, blah. And he sounds like [Groans] mean and nasty.
Jordan Harbinger: [00:47:37] Right.
Oliver Stone: [00:47:37] It's not Putin at all. Putin is technocratic — that's what he was, and very logical and what he said — everything he said, I asked him some provocative questions. He answered it. I even asked him about when he was going to give up power because the presidential election was coming up.
Jordan Harbinger: [00:47:54] Sure.
Oliver Stone: [00:47:54] And I pushed him on that and he got upset. When I see Megyn Kelly — you'll laugh. I mean, so superficial because it's framed as an attack to please the American audiences. Like, "Why did you do this? Why did you beat your wife? Why?" That's the way the American talks to — Mike Wallace's approach gets nowhere because it's only geared for American audiences to hear that the newsman has got a point to make. You don't hear about the guy he's interviewing. It's always like that. And that's what sucks about American media. It stinks. A French interview would be much more balanced in that regard, most interviews, and even English, sometimes. All of the English was a little crazy about the Russians but — so that's very important, I think you have to look at them.
[00:48:34] I think historically they are important. It's an important piece for historians, archivists, anyone who looks at those four hours is going to understand the Russian position from 1999 to now when Putin was in office, it's clear what he's thinking. And America has a lot to answer for, for that period, a lot. And I'm talking, not as a pro-Russia guy or anything like that, I'm talking about as a fair-balanced person. Think about what we did in that period. This is again, part of my life's work as what are we doing? What are we doing about our country? I've always pointed to that effect, whether it's Vietnam, Salvador, or any of our presidency or this issue, which is very dangerous by the way. Very dangerous because we keep assuming the Russians are going to put up with being insulted and trashed and we do it so easily and reflexively.
[00:49:22] when you say a brutal dictator — you know what a brutal dictator means? It's a guy who puts people in dungeons and tortures them and kills them. I don't see that. I don't see that. It's not that way in Russia at all. They still have — the Internet is free. You know, people can do what they want on the Internet. It's just not what you think it is. The opposition to him is legitimate, but it's small people do like him and he's been in office for what? You know they don't have the American presidency system. They don't have a democracy like we have but look at our democracy. It's not exactly working well. It's kind of leaking, you know?
Jordan Harbinger: [00:49:53] Yeah. I agree with you there. I do wonder though like you've said something like, "I hope to one day, see in America where we live in a true democracy." Do you hope that Russia one day wakes up and there's a true democracy or you think a different standard applies? 
Oliver Stone: [00:50:06] I don't think that's the point because they never had it. They're working on — you know, what did they have? They had the czar. Then they had this —
Jordan Harbinger: [00:50:14] Bolshevik revolution.
Oliver Stone: [00:50:14] Communist system up until 1989. And then it was really an '89 when they started to have — and what happened? The first 10 years were a disaster with Yeltsin — a disaster. He was a US puppet. He was our guy. And, "Okay. We're going to free up everything," privatized, privatized, privatized, but all the crooks stole everything they could. The Khodorkovsky — the guy who, what's his name? 
Jordan Harbinger: [00:50:37] Bill Browder. 
Oliver Stone: [00:50:39] Yeah, one of the worst gangsters of all. He stole everything he could. I mean, everybody, who looted Russia. So by '99, it was falling apart and people hated this Yeltsin regime. It was the United States propped up Yeltsin in '96. He was not going to win that election. That was their democracy, American democracy. He was a cheat. We put them in the office. We stuffed him, put money into him, created a balloon candidate. And somehow he got f*cking reelected. Who knows? As fraudulent as it was.
[00:51:05] So when Putin came on, he picked up the pieces and he really did. And you have to study his record again. Take the time — 
Jordan Harbinger: [00:51:12] Oh, I've read every book on Putin. That's out there. 
Oliver Stone: [00:51:15] Oh, well, every book written by a Western hack — 
Jordan Harbinger: [00:51:17] Well it depends.
Oliver Stone: [00:51:17] — is going to repeat the same charges that he kills people and all that.
Jordan Harbinger: [00:51:20] Many of the books I've read are written by Russians and translated into English.
Oliver Stone: [00:51:23] Yeah. A lot of the Russians who appeal to the West can be very — how do you say? They're worse than the Americans in terms of criticism, but there's a lot of issues — Stephen Cohen can answer every one of them for you. But I don't think you have time here to do that. The point is that he has done a remarkable job, a remarkable job, and that's what he's lauded for in Russia, as well as you know, probably two-thirds of the world admires him. I hate to tell you, but I've been everywhere in the Middle East and Asia. People say he's good for Russia. So a democracy, yeah. They have a democracy. If he was unpopular, like says Ceausescu or something in Romania.
Jordan Harbinger: [00:51:58] Ceausescu, yeah.
Oliver Stone: [00:51:59] He would be out by now. Yeah, you don't stay in office if you f*ck up. That's the Russian way. You can last maybe, but it's not in his interest. He wants to serve. And if he feels that he's not serving, we'll see what happens. If he doesn't serve their interest, he'd be out. That's the way it works. There's a pressure system. You know, there's a lot of people around him who want the job. He's got pressure from inside as well as outside. So it's not an easy job to stay there. But I don't think he's a brutal dictator, frankly, unless they tell me he poisons people. 
Jordan Harbinger: [00:52:28] Yeah. That's what they're saying now, of course. I mean, Novichok — there's been multiple people who have been poisoned by that. Do you just think that's not him or —?
Oliver Stone: [00:52:35] No, listen, I think these are dirty stories and each one deserves its own history. You got to trace each one. Going back to the poisonings in London back then in 2000. Litvinenko, what's his name?
Jordan Harbinger: [00:52:47] Skripal — Litvinenko is who you're thinking of. 
Oliver Stone: [00:52:49] No, Skripal, yeah. None of those hold water when you examine — when you listen to the evidence like Sherlock Holmes, it just doesn't hold. It makes sense that MI5 or MI6, British secret service, is much more involved in dirty hands than Russia. You know, for Russia, also the motive is not there. Why would you do this at a time when, "Hey, you're just about to make a better deal for peace?" Whenever there's a chance to make a better deal with Russia, that's when something like that happens, whether it's coming out of Afghanistan and they come up with a bounty story, which is bullsh*t, which has proven to be bullsh*t, like everything else. It's just all these stories come out at the worst possible time and all those poisonings too. Navalny, same kind of sh*t. It seems to me that it's immediate — well, I know I'm getting all the specifics with you, but everything I know just leads not to that — what would be their motive in doing this? And he's been around for years, he's a social media presence. He doesn't have political power. Why, why would you make that kind of mess? Unless you want to screw up the Russian thing and say, look, there's an election. We want to blame it on Trump. We want everyone, everything that goes against Trump, we want to get them out of the office and I understand that drive. So we cannot let the Russians off the hook any more than we can let the coronavirus go away. We have to keep the country locked down and scared because it's better for our chances to get elected. I understand that it's political, but it's very dangerous to play that game, especially with another country as an enemy.
Jordan Harbinger: [00:54:14] You've expressed points like this before with intelligence agencies and having an initial distrust, or I should say implicit distrust of intelligence agencies. Is it mostly the Western intelligence agencies that you distrust or are intelligence agencies and cover-ups in general that you distrust?
Oliver Stone: [00:54:31] It's a tricky question, but I'm not an expert on Russian intelligence agencies. What I've told you about Vietnam alone should make you suspect. Why are the liberals all of a sudden cottoning up to the CIA? That is stunning to most people who think for themselves.
Jordan Harbinger: [00:54:46] Yeah.
Oliver Stone: [00:45:47] Why? When the CIA has been so badly involved. Throughout the 70 years that I've been alive for creating a Cold War, making it worse than it is. The course, the CIA didn't even miss completely the fact that Russia was changing under Gorbachev right there. They had no knowledge that the Russian system was changing. That's a known fact. The Iraq war, the first one to the second one — Afghanistan, Libya — 
Jordan Harbinger: [00:55:10] Syria.
Oliver Stone: [00:55:11] Syria, oh Syria, that's another myth. When you go into any of these wars, you'll find that we've been lied to. The public has been lied to, and they've created false narratives constantly and false criteria. And on that basis, we've gone to war. This is what's crazy. Who's to blame? Is that Russia to blame? Or is it us? If we ask these questions, hardball questions — if our media was honest and asked these questions, we wouldn't have been in these wars and a lot of people would be alive today. We'd be a far healthier country. We have partnerships — partnerships with China. We'd have partnerships with Russia. We'd be dealing with a climate crisis, which is really f*cking important instead of dividing ourselves, being distracted, not paying any attention to the biggest problem of all. This is what is so depressing about my era and depressing to be alive, and it can all be dealt with rationally, but they never do this. The media in this country has been co-opted by the state. I don't know what it is, but it's just impossible to be logical here.
Jordan Harbinger: [00:56:07] Well, on that note, I know that you have — I want to be conscious of your time. I know we've had a little bit of issues.
Oliver Stone: [00:56:11] Yeah, yeah, I have to go.
Jordan Harbinger: [00:56:13] I would love to hear your ideas and everything on Putin in another time, maybe when I come to Los Angeles if you ever have a free moment to talk about this kind of thing.
Oliver Stone: [00:56:19] Yeah, sure.
Jordan Harbinger: [00:56:19] I am interested.
Oliver Stone: [00:56:20] Well, if you want to talk off the record, sure. 
Jordan Harbinger: [00:56:21] Yeah. Off the record, not on a Zoom call — but I wonder in closing — I got to close it with something other than that. Right? Is there anything that you haven't been able to make? Maybe, because you're running into roadblocks, like you did with Snowden or other types of hurdles like you would imagine you would with a movie like Platoon? Is there anything you haven't been able to do? You mentioned My Lai, earlier. 
Oliver Stone: [00:56:40] That was a huge effort. We were two, three weeks from shooting and it fell apart. No, that's heartbreaking. You have no idea. There was the MLK, Martin Luther King's story. I wrote two candid versions of it. I was involved in that twice. And I was dealing with what I knew as a fact, but it's not able to be done. We're a politically correct country. Those two come to mind — but certainly, I've had many stalls. The Snowden affair was ugly. This is an American hero, a legitimate hero. He really did. He was thinking about our country. He is a patriot in the first order, mid of a boy scout, yes, but he's a patriot of the first order. And what he did is shocked us into a realization that few people have still been able to realize it. We're listening to it on everything.
[00:57:24] It's a new world. It's uglier than we thought. Cyber-warfare, he told us — I mean, we figured out a lot more about cyber-warfare. Of course, in our narrative, everyone's just fighting against us. The Chinese are hacking us. The Russians are hacking us. It goes on and on. We never talk about what we're doing. It's part of the problem. So Snowden was impossible to get done. No money from America. I got it from France. I got it from Germany. Then we got back at the very end, we got a small amount from an American small company that distributed very poorly in this country. No studio would touch it.
[00:57:56] Now, that something — here's an American hero and they're scared of it. What? What's going on? Does the NSA call up somebody in Hollywood and say, "Don't touch this." Well, it's something like that could happen. I know that it happened in one case at one of the studios because the guy who was running the studio was wired into the intelligence agencies. You know, that's just the nature of a thing — he's married to somebody who's — the boards are all interlocking. It's very hard to get things made. At MGM, when I tried to do platoon, it was Henry Kissinger and Alexander Haig on the board of MGM. I'm not hiding any of this. This is known. I'll never prove that they stopped the film, but they did kill it. And it was a very sweetheart deal for them, easy deal, but they killed it. They wouldn't touch it for this political — I can't prove it, but I know it. Dino De Laurentiis also knew it.
[00:58:42] Listen, this is a tough game. And they play for keeps and they've gotten very tough now for people like me. So there's other things. I wouldn't even consider going to try to make. In other words, they turn you off by the chilling effect. Why should I try to make that right? Right? 
Jordan Harbinger: [00:58:56] Right. What would you make if you had no chilling effect, whatsoever?
Oliver Stone: [00:59:00] I guess I'm disillusioned enough to say to you that I wouldn't even know anymore. Because it's — what I've said to you at this interview is important. You know, if you think about it, if you listen to it again. You'll see why. Suffocation is an order here. 
Jordan Harbinger: [00:59:18] Oliver, thank you very much. This is really an interesting interview. I went off the rails early on kind of on purpose and I'm glad that I did because I think it was a lot of fun.
Oliver Stone: [00:59:26] What's off the rails mean to you?
Jordan Harbinger: [00:59:28] Ah, just like asking about personal stuff early and going into the drug thing, which I thought maybe I would avoid. But then I was like, "Ah, it's kind of interesting. Why not?" And it was fun. It was interesting — 
Oliver Stone: [00:59:37] I gave you thorough answers.
Jordan Harbinger: [00:59:39] Yeah.
Oliver Stone: [00:59:39] I'm too old to concern myself. I mean, I'm alive. I'm well, you can see I'm not destroyed by drugs, which is what the propaganda would tell you that I'm a nutcase. Long liver marijuana. It got me through that one. 
Jordan Harbinger: [00:59:51] Thank you very much. 
Oliver Stone: [00:59:52] Good luck, Jordan. 
Jordan Harbinger: [00:59:54] I've got some thoughts on this episode, but before I get into that, I wanted to drop you a little taste of my Derren Brown interview. You may recognize him from Netflix's The Push where he convinced everyday people to murder someone or so they think through this crazy escalating series of events. He's one of the most well-known illusionists of our time and mentalist, and he's essentially the UK's answer to David Blaine. His mentalism skills are second to none, and he's really a master of getting inside our heads. Here's a quick bite. 
Derren Brown: [01:00:22] I was walking from one hotel to another, quite late at night. I was in a magic convention in Wales. I was wearing a three-piece velvet suit.
Jordan Harbinger: [01:00:32] Because why not?
Derren Brown: [01:00:32] Because why not? So this guy is, you know, he's really drunk and he is clearly, yeah, looking for a fight and he is with his girlfriend. And it's all his adrenaline's kind of, you know, up here and he starts shouting at me. And he says something like, "What are you looking at? Or what's your problem?" or something. In that situation, you can't respond with, "Oh, I'm not looking at anything," because then you're on the back foot and they've got power. Or, "Yeah, I'm looking at you, what's your problem?" Because either way, you're going to get hit. But you can just not play that game right from the outset. So I said, "The w5all outside my house isn't four foot high." So his reaction to that is a bit of a pause. He is like, "What?" And I said, "The wall outside my house isn't four foot high." When I lived in Spain, the walls there were quite high, but here that tiny. I mean, they're nothing. So he — then he just went off, "F*ck!" and started crying. His girlfriend walked off, and he sat down by the side of the road. I sat down next to him and started asking about what had gone wrong that night. I think his girlfriend had bottled somebody. There'd been some fight. And weird that I'm giving him advice. I was talking to a friend of mine about this thing, and he's an artist. He used to walk home from his studio late at night through a rough bit of London. And there were always these kinds of gangs on one side of the road. So you'd always cross over away from them. Of course, they'd always see that. And there's always this horrible, uncomfortable, intimidating thing. So we spoke about it. And then the next night he crossed over the road to them and said, "Good evening," as he walked past them. And of course, they left him alone because he just seemed strange. 
Jordan Harbinger: [01:02:04] Yeah, I don't trust him, he's crazy.
Derren Brown: [01:02:04] He's just, he's just weird. 
Jordan Harbinger: [01:02:07] Yeah. Who wants to see a magic trick? 
[01:02:11] For an inside, look at the levers in our own brain, alongside Derren Brown, one of the world's most legendary illusionists and mentalists, check out episode 150 of The Jordan Harbinger Show.
[01:02:23] Oliver's got stories for days. There were so many comments I saw online and in articles that were like, "Yeah, a guy came after him with a machete on the set of Seizure." "Oh yeah. That's the one where they ran out of money in the middle." I mean, this is just such a chaotic process. And when you're directing action movies or crazy movies like this, I mean, it just adds another layer. I mean, the guy was setting his own explosives on Platoon. I even read that — and I should have asked him about this, that he directed a porno just to pay the bills, of course. I guess I didn't realize those actually needed directing, but what do I know about the movie business? Oliver told me offline. He said, "I make my films like you're going to die if you miss the next minute. You better not go get popcorn." And he said that the Platoon release was one of the finest moments of his life. 
[01:03:05] You know, I went to Vietnam myself in my '20s. I had a Vietnamese tour guide who just took great joy in telling me how Americans died horribly in tunnels and pits with bamboo growing through them and stuff. And he would get all detailed, then he'd go up to me and go, "Are you having a good time?" And I just thought it was the weirdest experience. I mean, the guy was so damaged. Later on though on the bus ride back to Saigon, he told me that the Vietnamese murdered his family. So he hates them too. And I noticed a lot of people like that. There were a lot of people that were in their '30s and '40s that just had damage and trauma from the war and the families, the country is still healing from those terrible scars. It's really something that you have to see firsthand, I think, and hopefully, nobody here does. War is something that's so damaging and traumatizing that I think the best way to see it is not to see it at all. And to just go and visit a country like that afterwards so we have an appreciation of it, but hopefully never have to deal with it firsthand. 
[01:04:01] Oliver, also told me that he's stopped reading the news. And now I don't agree with his political leanings mostly, but he did have a good point. He said I can't exist in the tyranny of now. And I loved that comment. I seldom read news either other than major events. Such regime changes like what's happening in Belarus right now, where they're in the process of overthrowing the dictator, which to me is super exciting. He told me that he reads deeper and wants to know the causes and effects of why things happen and not just read about the depressing stuff while it's happening. And I wholeheartedly agree with that. That's why I choose books over mass media any day.
[01:04:37] And some of you might be wondering why I didn't push back on his love for authoritarian leaders or countries like Venezuela. I think we can simply read the news, speaking of news, or even talk to a citizen of those countries to just see how those nations, those governments have utterly failed. And if you don't believe me, take a vacation to Cuba or Venezuela, I have done this. Just remember to bring your own food. If you go there and have a will written before you do it because I will tell you some of those places do not have it together. And look, I'm not shaming Cuba or Venezuela as a country, the people there were lovely, but you can't tell me that everything's fine when there's no Internet or you're not allowed to look at certain websites or they've run out of things like meat and coffee. I mean, it just doesn't make sense. That is communism. That is an authoritarian regime that is isolated from the world. And it's not the fault of the people. Communism simply doesn't work. I'm not sure how much I needed to belabor that point. And I thought it would ruin the discussion if we kept going down that road so I opted to simply move on with the conversation.
[01:05:36] On that same note he asked, why would anybody bother poisoning Alexei Navalny, the opposition leader who always runs against Vladimir Putin in Russia. Well, he has been under threat for years. He has more support than ever. There was just no reason for me to keep fighting him on this point. We don't argue that the sky is blue or in the Bay area, this a month orange. We have enough evidence and enough sources here to show that if somebody is poisoned by Novichok, which is exclusively deployed by the Soviet Union and now Russia, it's not a secret. Even Russia is kind of not giving any craps about getting caught for this. I mean the whole world knows it. And Sergei Skripal in the United Kingdom, he was attacked and poisoned in London. A policeman was killed. The agents who did it were caught on camera and when they were interviewed, they said they were on vacation, looking at a church in this small town where Skripal lived. So two FSB agents come all the way from Russia on a direct flight, go to this small town, just to look at a church spire, and then turn around and go home. Okay, I don't think we need to spend too much time arguing this one. Right?
[01:06:34] Anyway, of course, I had a great time with this conversation. I'm very thankful for Oliver Stone for coming on. I just had to note that because I know we have a lot of national security people and foreign affairs people who listened to the show and just news-watchers, and they're going to go, "Jordan, come on, man." So I wanted to throw that note in here. But like I said, big thank you to Oliver Stone. The book is called Chasing The Light. Links to the book and everything he does that we talked about today will be in the show notes on our website. Please use the links on our website if you buy the books or anything from the guests. It all adds up and helps support the show. Worksheets for this episode in the show notes. Transcript for this episode in the show notes. There's a video of this interview on our YouTube channel — or there will be soon — at jordanharbinger.com/youtube. I'm also at @JordanHarbinger on both Twitter and Instagram or hit me on LinkedIn.
[01:07:18] I'm teaching you how to connect with great people and manage relationships using systems, using tiny habits, using software over at our Six-Minute Networking course, which is free over at jordanharbinger.com/course. Dig the well before you get thirsty. Once you need relationships in your life, you're probably too late to make them so get on the horse.
[01:07:37] This show is created in association with PodcastOne and my amazing team, which includes Jen Harbinger, Jase Sanderson, Robert Fogarty, Ian Baird, Millie Ocampo, Josh Ballard, and Gabe Mizrahi. Remember, we rise by lifting others. The fee for this show is that you share it with friends when you find something useful or interesting. If you know somebody who's into film, you know somebody who's into cookie conspiracy theories, maybe they'll like this episode. Hopefully, you find something great in every episode of this show, so please do share the show with those you care about. And in the meantime, do your best to apply what you hear on the show, so you can live what you listen, and we'll see you next time.
Sign up to receive email updates
Enter your name and email address below and I'll send you periodic updates about the podcast.