Derren Brown (@DerrenBrown) is a mentalist, illusionist, magician, artist, photographer, collector of curiosities, and author.
What We Discuss with Derren Brown:
How did Derren Brown make the transition from law student to career hypnotist?
How does psychological manipulation and hypnotic suggestion work to make people operate counter to their own desires?
How does Derren use his own manipulative skills for good?
How do faith healers and psychics ply their trades so convincingly?
What are the limits to hypnotic influence?
And much more…
Like this show? Please leave us a review here — even one sentence helps! Consider including your Twitter handle so we can thank you personally!
(Download Episode Here)
(Subscribe to the Podcast Here)
Worksheet for This Episode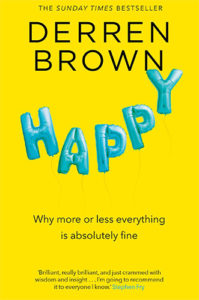 It's hard to classify Derren Brown, because he excels in so many fields it's almost unfair to the rest of us. He's possibly most well known for using psychological manipulation and hypnotic suggestion to get people to take a certain course of action, as witnessed in his Netflix specials The Push and Sacrifice.
Derren is also a world-class photographer and artist (check out his creations at Instagram), and author of several books — the latest is Happy: Why More or Less Everything Is Fine. He's obviously a very busy man, so we're delighted he was able to take the time for this interview in his house of many splendors and surprises. Listen, learn, and enjoy!
Please Scroll down for Full Show Notes and Featured Resources!
If you're only going to take one gluten and dairy-free, keto, paleo, and vegan-friendly supplement to boost energy, balance nutrition, and aid digestion, then Athletic Greens — with its 76 natural ingredients — is what we recommend. The Jordan Harbinger Show listeners get 23 travel packs (valued at $79) with their first purchase at athleticgreens.com/jordan!
Get two months of Skillshare — unlimited access to over 18,000 classes in design, business, technology, photography, entrepreneurship, film, writing, and more — for free at skillshare.com/harbinger!
Need custom graphics, logos, or Web design? Access a community of 600,000+ designers by registering at designcrowd.com/jordan and enjoy up to $100 off with The Jordan Harbinger Show bonus offer!
The One You Feed is a podcast by Eric Zimmer and Chris Forbes that hosts inspiring conversations about creating a life worth living. Check it out here!
Sign up for Six-Minute Networking — our free networking and relationship development mini course — at jordanharbinger.com/course!
More About This Show
After seeing what a good hypnotist could do in front of an audience, Derren Brown was inspired as a young law student to pursue this unusual career path — with some dabbling in stage magic along the way. As someone who confesses to being insecure at this point in his life, he admits that he loved being the center of attention, but there was more to it than simply glorifying himself: he wanted to challenge perspectives.
"I think one of the reasons magicians started off being interesting and after a while become easily lampooned — fun to make fun of — is because you're just sort of posturing and people sense that after a while," says Derren. "There is something interesting about magic, but it certainly isn't the magician pretending to have special powers. What's interesting to me is it taps into the way we tell ourselves stories about what's real and the way we're constantly editing our experience to sustain a narrative for ourselves."
Derren has moved away from being the focus in his latest Netflix specials and allows his unwitting subjects to take center stage like Jim Carrey in the carefully manipulated environment of 1998's The Truman Show. In The Push, an ordinary person is socially pressured to consider murdering a stranger. In Sacrifice, we see if someone can be similarly pressured to save a stranger. An earlier two-part series, Derren Brown's The Apocalypse, follows a man who has been convinced the world has descended into a zombie-infested hellscape.
"After we spent months putting cameras in his house, putting fake news feeds into his phone and his TV. We recorded special episodes of TV shows that he watched that would have news guests on so we could get well-known scientists going on talking about a meteor strike that was going to happen. So we ended the world, but actually the whole thing was a lesson for him in valuing what you have. There's an old stoic lesson about to value what you have and not take it for granted, you should rehearse not having those things."
THANKS, DERREN BROWN!
If you enjoyed this session with Derren Brown, let him know by clicking on the link below and sending him a quick shout out at Twitter:
Click here to thank Derren Brown at Twitter!
Click here to let Jordan know about your number one takeaway from this episode!
And if you want us to answer your questions on one of our upcoming weekly Feedback Friday episodes, drop us a line at friday@jordanharbinger.com.
Resources from This Episode:
Download Worksheet for Using the Power of Suggestion for Good

/wp-content/uploads/2019/01/Worksheet-for-Derren-Brown-Using-the-Power-of-Suggestion-for-Good-Episode-150.pdf