Reading Time:
5
minutes
Cal Newport researches cutting-edge technology and writes about the impact of these innovations on society. He is the New York Times bestselling author of Deep Work, So Good They Can't Ignore You, Digital Minimalism, and his latest, A World without Email: Reimagining Work in an Age of Communication Overload.
What We Discuss with Cal Newport:
What is the hyperactive hive mind, and how did the collaborative nature of email communication give rise to it?
Why checking our email an average of every six minutes is, as Cal puts it, "a terrible way to extract value from human neurons."
How so-called multitasking takes its toll not only on our individual capacity to focus, but on the prosperity of society as a whole.
Why debuzzing the hyperactive hive mind can't be done from the inbox, but by replacing the rules for how we collaborate.
How we can set the rules, guidelines, and systems by which we agree to communicate without succumbing to the collective pull of the hyperactive hive mind.
And much more…
Like this show? Please leave us a review here — even one sentence helps! Consider including your Twitter handle so we can thank you personally!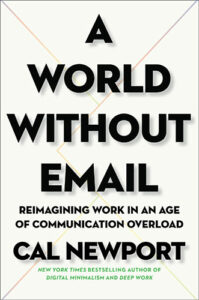 Modern knowledge workers communicate constantly. Our days are defined by a relentless barrage of incoming messages and back-and-forth digital conversations — a state of constant, anxious chatter in which nobody can disconnect, and so nobody has the cognitive bandwidth to perform substantive work. There was a time when tools like email felt cutting edge, but a thorough review of current evidence reveals that the "hyperactive hive mind" workflow they helped create has become a productivity disaster, reducing profitability and perhaps even slowing overall economic growth. Equally worrisome, it makes us miserable. Humans are simply not wired for constant digital communication.
We have become so used to an inbox-driven workday that it's hard to imagine alternatives, but they do exist. Drawing on years of investigative reporting, our guest for this episode — author and computer science professor Cal Newport — makes the case that our current approach to work is broken, then lays out a series of principles and concrete instructions for fixing it. In A World without Email: Reimagining Work in an Age of Communication Overload, he argues for a workplace in which clear processes — not haphazard messaging — define how tasks are identified, assigned, and reviewed. Listen, learn, and enjoy!
Please Scroll Down for Featured Resources and Transcript!
Please note that some of the links on this page (books, movies, music, etc.) lead to affiliate programs for which The Jordan Harbinger Show receives compensation. It's just one of the ways we keep the lights on around here. Thank you for your support!

Sign up for Six-Minute Networking — our free networking and relationship development mini course — at jordanharbinger.com/course!
This Episode Is Sponsored By:
BiOptimizers Magnesium Breakthrough will help you beat stress, get fit, sleep better, and recover faster. Go to magbreakthrough.com/jordan and use code JORDAN10 to try it for 10% off the regular price — it comes with a 100% money back guarantee if you're not satisfied!
Sakara brings life-transforming, plant-rich super meals to your door, ready to eat. Experience the power of food as medicine that's nutritionally designed for results. Superfood-filled, dairy-free, gluten-free, non-GMO. Go to sakara.com/jordan or enter code JORDAN at checkout for 20 percent off your first order!
Ten Thousand makes durable, top-quality training gear developed and tested by core athletes, representing a stoic dedication to continuous improvement and a better, stronger you. Go to tenthousand.cc and enter code JORDAN for 15 percent off your purchase!
Active Skin Repair harnesses the power of the body's immune system to create a product that works on hundreds of different conditions — minor cuts, scrapes, rashes, chafing, burns, and other forms of skin damage — in a simple-to-use formulation. Get 20 percent off your order and free shipping by texting REPAIR to 64000!
Have you ever thought about the fact that where you choose to live directly affects the "you" you become? Apartments.com has the most listings, which means you have the most apartments, townhomes, condos, and houses to choose from. Change your apartment, change the world at Apartments.com here!
Simple Mobile was founded on the idea that there is a better way to do wireless. Unlimited, no-contract plans starting at $25. Just text BYOP to 611611 to see if your phone is compatible, and visit simplemobile.com to find out more!
Miss the show we did with legendary funnyman Howie Mandel? Catch up by listening to episode 210: Howie Mandel | A Conversation About Mental Health, Talent, and Perseverance here!
On the True Underdog podcast, entrepreneur Jayson Waller and his high-profile guests share motivational tips, inspiring stories, and business-building lessons to help each listener grow in their entrepreneurial journey. Listen here or wherever you enjoy podcasts!
Thanks, Cal Newport!
Click here to let Jordan know about your number one takeaway from this episode!
And if you want us to answer your questions on one of our upcoming weekly Feedback Friday episodes, drop us a line at friday@jordanharbinger.com.
Resources from This Episode:
Cal Newport | Reimagining Work in a World without Email (Episode 503)
Jordan Harbinger: Coming up next on The Jordan Harbinger Show, 
[00:00:02] Cal Newport: This ancient social mind, it just doesn't want to be missing communication. It doesn't care about the context. There's someone in my tribe right now tapping me on the shoulder. I'm ignoring them. When there's a famine, they're not going to share their food and I'm going to die, right? That part of the brain is powerful. And those types of instincts don't go away easily.
[00:00:25] Jordan Harbinger: Welcome the show. I'm Jordan Harbinger. On The Jordan Harbinger Show, we decode the stories, secrets, and skills of the world's most fascinating people. We have in-depth conversations with people at the top of their game, spies and psychologists, astronauts and entrepreneurs, even the occasional arms dealer, mafia enforcer, or neuroscientist. Each episode turns our guests' wisdom into practical advice. You can use to build a deeper understanding of how the world works and become a better critical thinker. If you're new to the show or you're looking for a handy way to tell your friends about it, we assembled these episodes starter packs. You can go to jordanharbinger.com/start. It's all organized by popular topics. You can get a taste of everything we do here on the show. Whoever you're referring can get a taste of everything we do here on the show. I love it when you help other people find us. And that is the easiest way to get a little sampler platter. 
[00:01:10] Backed by popular demand today. Cal Newport, author of many amazing books, including So Good They Can't Ignore You, Digital Minimalism, and Deep Work. All of which kind of rocked the world of productivity and focus and all that if there is a world of productivity. Cal's books are the kind of books that I see CEOs and founders passing around to their key team members and each other. I've known Cal for a really long time. The guy is super switched on. I'm not sure anyone spends more time thinking about and studying productivity and focus than Cal Newport does. Today, a world without email, maybe not entirely without, I'm not sure we could survive there, but the future of human work is cognitive. I don't think anyone is going to argue that. We need to maximize that as opposed to the hyperactive hive mind as he calls it, that mindless email productivity. We don't want more things faster. We want to focus on more important things, and that is what Cal and I are going to discuss today. So if you're looking to become more focused and productive at work, so you can do the important stuff, then this episode is for you. 
[00:02:10] And if you're wondering how I managed to book all these superstars on the show, these authors, thinkers, and creators, it's because of my network. I'm teaching you how to build your network for business, personal, career otherwise over at jordanharbinger.com/course. The course is free. Dig the well before you get thirsty. Most of the guests here on the show, they subscribe to the course and support the course. So come join us, you'll be in smart company where you belong. Now, here's Cal Newport. 
[00:02:36] I love the idea of a world without email. I don't hate email though, you know, and I think that's kind of where a lot of people are going to take — is it umbrage? With the book and possibly the titles are going to go, "Hey, look, I don't feel like email's suffocating me or crushing me. Why do we need a world without email?" And I know that's an involved question, but let's start there because frankly it sounds a little bit like a — I'm not a Luddite, right? I get it. I can ignore my phone, but I don't have to discard all the benefits of having email and Internet. You know, I don't have to go back to '95. 
[00:03:09] Cal Newport: Well, that question gets to the heart of it. So it's a good place to start. We have complicated feelings towards email and it's worth untangling these because otherwise we're never going to get a solution to these complicated feelings. Here is the quick story. Emails spread in the office environment in the 1990s. You can basically track it from around 1990 to 1995. That's when it makes its big move. And it spread for a really good reason, which is why we enjoy email. It was replacing fax machines, it was replacing voicemail. It was replacing interoffice memos. It was unambiguously better than those existing modes of communication. This is why we're happy that email exists because the fax machine was a pain and punching in those numbers in the phone is a pain or getting those little yellow or pink pads from a secretary. Who did you miss? So it was solving a real problem and it solved it really well. It was faster, it was cheaper. It had more features. 
[00:03:58] The issue is what followed behind email spread. So as email spread, behind it came a new style of collaboration, which I call the hyperactive hive mind. Now, the style of collaboration is one in which you say, "Look, now that we have this low friction digital communication tool. Why don't we just work out most collaboration with ad hoc, unscheduled messages. Just go back and forth, figure things out. Hey, did you hear about this client? We'd jump on quick, get into a meeting. What's going on over here? What should we do about this? It's actually that hyperactive hive mind workflow. That's what's causing the problem that got out of control. And by the time we get to the early 2000s, the amount of checking of inboxes you had to do. Just to keep up with all this back and forth, unscheduled ad hoc messaging began to really take away from people's ability to get other work done.
[00:04:43] So really the title of this book should have been a world without the hyperactive hive mind workflow. But you know that doesn't exactly roll off the tongue, so I'm glad we could make that distinction right upfront. 
[00:04:53] Jordan Harbinger: Yeah, that makes sense. And the hyperactive hive mind is something you talk about a lot in the book. The phrase shows up a lot in the book and you're right. It's not just email, right? I look at my morning. Let me see what I did this morning or on any casual morning, I look at my calendar, which is a shared calendar. That's pretty useful. It keeps me in line. I'm checking my texts. I check my YouTube comment inbox to make sure there's not a bunch of spam in there, I mean, or a VA does it, right? I like to answer some fan mail. I check my Instagram DMs because there's fan stuff in there. I check my LinkedIn DMs, there's fan stuff in there. I check my Twitter DMs, there's fan stuff in there. I checked my email, there's fan stuff in there. There's also work stuff in there. 
[00:05:28] Come downstairs, play with my kid, who's finally awake. Play with him for 30 minutes, make some breakfast. Look, there's a bunch more email because everybody else who got up later and realized that they needed to send me some. And this is kind of a constant cycle and then sometimes — look, right now we're recording a podcast. This is what real work is for me, like a real fun productive part of my day is. After this though, it's sort of like back to the inbox, back to another spreadsheet, back to making sure that other inboxes aren't full. I'm not going to have to check all the social media stuff, because I've got that systemized and it's never urgent. But there's always kind of a pull and there's probably some calls, right?
[00:06:05] And this is I'm my own boss in theory. I work with very few other people. I live with my wife, who's my chief collaborator and kind of shielded me from a lot of this. So if I'm this busy, I can't really imagine how busy a school administrator is or a person who runs a freaking daycare. 
[00:06:24] Cal Newport: Yeah. 
[00:06:25] Jordan Harbinger: Or somebody who owns a drug store.  They have to be much busier than me because they don't even control their workflow necessarily or their time. They can't say, "Hey, I'm incommunicado today with my head down." And they're like, "What are you talking about? You work for me. You're not doing that," right? 
[00:06:39] Cal Newport: We can quantify, by the way. We can quantify how busy they are. There's this great data set I talked about in the book from rescue time. So they have tens of thousands of people who have the software on their computer that monitors everything they're doing. They hired some data scientists to say, "Well, let's actually crunch some numbers on this data since we all have it in the cloud." And what they found among their users is that they were checking inboxes once every six minutes on average. So that's how we quantify how busy the hyperactive hive mind makes us. Every six minutes as far as I'm concerned means that you have to just effectively speaking constantly be tended inboxes. 
[00:07:09] So it just becomes a parallel track, whatever else you're doing as a pharmacist or as an administrator, as a marketing executive, whatever you have to in parallel, be constantly monitoring those inboxes. Our brain can't handle that. It's a terrible way to try to actually extract value from human neurons.  
[00:07:25] Jordan Harbinger: You mentioned this in some of your previous books as well, but the constant task switching is terrible for focus. And I guess this is just called switching costs. And I know that a lot of people have probably heard that. But this first came to me when I was in law school because people had instant messenger open, and eventually I went, "You know, when this is open, I always lose the professor in class. I never can follow the lecture. There's no way this is good for me." And then when I was studying, I get sucked into it and it'd be three hours and I'd go, "How am I on page 10 of this?" 
[00:07:58] Cal Newport: Yeah. 
[00:07:58] Jordan Harbinger: And that's sort of where this concept started to illustrate, but now it's even more insidious because you go, "Well, I'm working. Look, it's an email inbox. It's our company Slack." It still does the same amount of damage to our focus. Only now we think we're actually working, but we're not doing anything. 
[00:08:12] Cal Newport: Well, I mean, switching costs is the most underestimated, overlooked, crucial scientific principle affecting our ability to work today. And the fact that we're not talking about this constantly, I think is a real crime. Now back book, Deep Work, I hinted at this. I think the switching costs thing is a big deal. There's this notion called attention residue. Maybe that's why we don't get as much done when we are not doing deep work. 
[00:08:35] Well, for the new book, I said, "Well, I'm going to go talk to all of these researchers," right? So I want to actually talk to the neuroscientist and the psychologist. I talked to Sophie Leroy who wrote the original attention residue paper. I talked to Gloria Mark, who really studied the impact of technology and what's happening in the workplace. I talked to a really well-known neuroscientist who really walked me through exactly how the brain works. And the conclusion is worse than I thought. For the human brain to change its attention from one thing to another is a messy process especially if it's a very different context, you're changing your attention to. It can take a while. It can take up the 15 minutes. Free to really inhibit the old networks that were fired up and amplify the new networks.
[00:09:11] The problem with glancing at an inbox is that you're seeing wildly different contexts. You're seeing information from different people about different things. It's from other people so our mind treats it as it's very urgent. As soon as we look into that inbox or that Slack channel, we initiate a sort of drastic context shift in our head. Here's the thing though, we're only looking at this temporarily because it's the hyperactive hive mind. Really what we're doing is just seeing, we're waiting to hear back from, you know, we're trying to schedule a meeting and just say, "Hey, did I get that message back?" That's why we're checking so often.
[00:09:38] So after a minute, we try to then abort, that context shift, and go back to the original thing. And now we're trying to slam the brakes on that and come back to where we were before. And the whole thing creates a cognitive pile up. That is exhausting. That's why we feel so fatigued. It's why you only get through 10 pages, you know, instead of 30, when you're trying to study. 
[00:09:53] Jordan Harbinger: Yeah. 
[00:09:53] Cal Newport: It makes us anxious and we can't think clearly. So it's literally one of the worst things you could do for your brain, if your job is to actually use your brain to think clearly and produce value. And so this is why I'm so down on the hyperactive hive mind is it is an insane way to organize cognitive work. 
[00:10:12] Jordan Harbinger: What if I'm one of those people and I'm not, but what if I'm one of those people who says, "Oh, Cal, that's cute, but I'm great at multitasking. I'm so good at it. Look, how much of it I do." There's a lot of people who think that way. I know you studied this. And what is that? Just a big delusion. 
[00:10:28] Cal Newport: Yeah. I mean, unless you're a cyborg. If you're a cyborg and you're running off a computer chip, sure. Like computer processors are great at this, which by the way, I think it's no coincidence that this mode of hyperactive hive mind working was really influenced originally in Silicon Valley because in Silicon Valley, they're very influenced by tech and how the computer processors work. They're entirely agnostic to what they're executing, right? You give it a command and execute it. It's just a circuit that has an oscillator that gives it a pace, like a clock speed. Right? So just execute, execute, execute, everything takes the same amount of time. 
[00:10:57] So if you're a tech guy and you're thinking about a computer process, you're like, "We just want to make sure there's as much stuff in the queue as possible. So the processor always has a command to execute." The thing we want to avoid is like having downtime. And so then they started to think about the human brain that way. Low friction is good. More information is better. More things to look at better, more things to do better because we're keeping the processor queue. They call it a pipeline of processor design. We're keeping the pipeline full so that we're always executing, but the human brain is not a processor. It is not agnostic. 
[00:11:23] If you want to change from working on a marketing essay to giving an answer to your boss about an upcoming event. You need 10 or 15 minutes. So no, you can't multitask and you can't context switch really quickly. I mean, people delude themselves into thinking they're single-tasking because they don't have the inbox open, but if you're quick checking every six minutes, it's the same damage, right? You're never giving your mind time to actually fully adapt the cognitive context of what you're working on. So no one can do it.
[00:11:47] I mean, you can do a lot of stuff back and forth, but you're doing it poorly. It's just like people say, "Look, I'm good at drunk driving because I do it all the time." Like, look, if I was going to test you, I'm sure you're hitting a lot more cones than you think you are because the brain doesn't function as well when it has a lot of alcohol. Well, you can't think as clearly when you context shift every six minutes. 
[00:12:04] Jordan Harbinger: Right. We just think that we're good at it because we're doing so much of it. And that really does make sense. There's a lot of things, even in this job, look, I read books at night. I talked to smart people. That's the crux of the job, but you know, there's also, "Hey, this advertiser sends some pretty bad copy." Can you go over this and make sure that it sounds like you, and you're not going to be embarrassed when you say it? Yeah. Okay. I really don't want to do this. I've got to rewrite this copy. It's two paragraphs, right? This is a 60-second ad. This is short. I will screw around and avoid doing it by doing quote-unquote other work. And this isn't simple procrastinate — maybe it is simple procrastination, but I can make myself feel like it's work and I can quote-unquote, get other things done, but I can also make a 30-second, 90-second task, take 30 to 90 minutes by shoveling email and other things in there. And it's not like I'm getting to inbox zero. I'm literally just looking at different screens. 
[00:12:55] And I find myself doing this when I am anxious about something else. I'll go, "Oh gosh, I don't want to look at this balance thing or this conversion thing, this isn't working. I wonder if I got an email, okay." And then I go, wait a minute. Not only am I using anxiety or sort of burying anxiety in my email or in other tasks, but these other tasks are creating the anxiety that I have in the first place. And it's this gross icky cycle where I go, "Okay, I'm anxious. I need to answer some of my email because I can feel it piling up." I have like this visible sixth sense, right? That my inbox is filling up while I'm not looking at it and it makes sense edgy. So then I plow through all of it and then I go, "Crap, have you done any real work today? All I've done is email." And then I get more anxious and I find that this is a, not only a self-fulfilling prophecy, but there's nothing I can really do to get rid of it.
[00:13:46] Unfortunately, I can mitigate it somewhat by answering a bunch of email, but I know that that's not the answer because it's basically like taking another hit off the old Gmail crack pipe, and then I'm trying to get back to life and I can't do it because I'm just waiting to get that thirst again, right? 
[00:14:00] Cal Newport: Well, I mean, this is what's happening, is that okay, you start checking email because you have to, it's the hyperactive hive mind that's where stuff is happening. This reduces your ability to think clearly. It gives you mental fatigue and it gives you anxiety. Well, once you get fatigued and anxious, you don't have the cognitive reserves anymore to do the hard thing.
[00:14:15] Jordan Harbinger: Right. 
[00:14:15] Cal Newport: So then you're like, "Well, I guess I'll just go do the easier thing, which is email," which makes it worse, and then you end up at three or four in the afternoon, just like half-heartedly emailing and then what you start interleaving. Well, like some social media, I got to check in on the trade rumors for the baseball. Because now you're just completely toast. It's a terrible way to work. But imagine what the impact here is on the economy. If we have an economy that now is at least half of the workforce is doing cognitive work, office work, where the hyperactive hive mind could be relevant. If we have most of those workers who are basically in those type of cycles, and that means we're getting a fraction of the potential productive output out of a major portion of our workforce. Like this is more than just like individuals, like, "Ah, it tires me out or I'm annoyed by how much I have to check email. We have like a real problem here because we have a giant section of our workforce that is working in a way that makes it impossible for them to get anywhere near the amount of actual value production they could do.
[00:15:09] Jordan Harbinger: A lot of people think that if you're overwhelmed by communication, it's because you need to batch things and turn off notifications. And this is what I've done largely, but that doesn't really address the problem, right? 
[00:15:19] Cal Newport: Yeah, we can't solve this problem in the inbox. And I think that's why it's so important to identify the hive mind is the issue. So if the underlying way that you collaborate is through unscheduled ad hoc messages. That means you actually have to be checking these inboxes because that's actually how decisions are being made. It's how information is moving. It's how progress is being made on projects. So if the hive mind is your underlying workflow, the more time you're not checking, the more problems you're creating, right? That's why it doesn't work to say we'll solve this with individuals tweaking their habits, right? Which is a standard sort of techno instrumentalist type response. 
[00:15:50] Well, all tools are neutral. We have our work and then we have email and just use email smarter. It doesn't work that way, man. If your organization needs you to be moving back and forth real quick in email, which most organizations do, you can't just do the Tim Ferriss auto responder and say, "Yeah, I'll check it at three. Because between now and three, you have put a lot of grit in the gears of your organization. So once you realize that you realize, "Oh, we're not going to solve this with my habits, we're going to solve it by actually taking that underlying workflow and saying let's replace that. Let's find other ways to work together and collaborate that doesn't involve. Just hit me up with a message and I'll bounce it back to you." We got to fix the problem under the inbox. We're never going to fix it in the inbox. 
[00:16:30] Jordan Harbinger: Yeah, this is the sort of velocity of communication speeds up. And then you end up with tools like Slack, where they say, "Hey look, no more CC, BCC, just have channels for everything." And you go, "Great. That does maybe cut down on the number of emails, but it has all of the same underlying problems. Right? 
[00:16:45] Cal Newport: Well, Slack's important. So when the acquisition was announced, when Salesforce was going to acquire Slack for a lot of money, and this was announced in the fall, The New Yorker asked me to write a piece about it. And what I ended up titling that piece is Slack built the right tool for the wrong way to work. And I think that's the right way to understand Slack. Basically what they said is, "Oh, I see we're using the hyperactive hive mind as our main way of collaborating, so ad hoc, unscheduled back and forth messages. Well, email is not the best tool for the hyperactive hive mind. We can build a better tool for the hive mind. Like don't use CCs, let's be on a channel and we need the archive to be searchable. So you don't have to go back through your inbox. And so yes, if you're implementing the hive mind Slack is a better tool than the inbox. So we love Slack because it's better than email for that way we work, but we hate Slack because we hate the way we work. 
[00:17:32] Jordan Harbinger: Right. 
[00:17:33] Cal Newport: And I think that's how we understand our confused relationship with Slack is they didn't solve the underlying problem of the hive mind. They said, "If that's what we're doing, we got a slicker tool for you.
[00:17:41] Jordan Harbinger: Right. So basically it is, as you said, the right tool for the wrong way of working. And so, all right, we know our brains don't parallel process information like processors, like computer processors. So we can't multitask. Attention residue is that the concept of not being able to switch quickly because we're still sort of secondarily focused on the thing we were doing before?
[00:18:00] Cal Newport: Yeah. It's a term from the psychology literature about when you've switched over to something, they've come back the leftover attention from that thing, slowing down your ability to think. And then you can dive into the neuroscience literacy what's actually happening here. It has to do with networks being inhibited or amplified, but from the psychology perspective, which is a layer above the neurons. They don't care about what's actually happening in the brain. They just want to measure it. The term is attention residue. So you can measure like the more this thing is still on your mind, the worse you do at the thing in front of you. 
[00:18:28] Jordan Harbinger: And then being overly responsive to grades our ability to do the heavy lift, the deep work, and then not just our habits, not just batching emails, because that can cause more stress and more unhappiness because now we're basically throwing problems on to other people or messing up the whole organization. And then I assume that we're just pushing the problem off until a later time, but we're not actually creating a better workflow by doing that. Or maybe you're in a nice position like Tim Ferris or you or I could maybe get away with this, but then everyone else in our organization is like, "Well, it really sucks because now I'm stuck waiting for him to check his effing email. And then of course you have the emergencies where your team can just call you. So now your phone's ringing all the time instead of you being able to at least, look at a Slack or an email and it just kind of causes a problem. Unless you're comfortable with everyone moving slower because of you, which is not great for business.
[00:19:16] Cal Newport: Yeah. And I heard a story like this recently, it was like a podcast and was talking about the book and I think it was a software developer who was talking about his company. They finally liked, "We're going to send you to like a resort. So you can be left alone and just work on this and get this system done." And he said he was there for about two hours, like 10:30, the first morning before they started calling him and saying, "Hey, I need you to check your email because I sent you something I need you to respond to." And he's like, "That first hour and a half was the only actual work that I'd actually got done on that weekend."
[00:19:44] And so, yeah, this is the whole problem. We have to replace our rules for how we actually collaborate. And I think this is really important because it explains why we've had so much trouble with this issue. We've known that email overload is a problem since roughly 2003, 2004. That's when you really first start to pick up the threads of people saying, "Whoa, wait a second. This is getting a little out of control." That's when we shifted from Meg Ryan and Tom Hanks in You've Got Mail, where it was like a message and like everyone's excited to David Allen. And you know, "All I do is handle inputs." That was between 1998 and 2004. So by 2004, it became a problem. 
[00:20:18] So we've known it's a problem, but our issue is the way we try to solve it is we just tell people, "Well have better habits." And it's never going to work. So we try things like email-free Fridays. Remember those, right? 
[00:20:28] Jordan Harbinger: Oh, yeah. 
[00:20:28] Cal Newport: No email on Fridays. Why does that never last? Because it is how you get your work done in your organization. So if you say no-email Fridays, you're really just saying Friday is a day off, right? And okay, it turns out that doesn't work out that well. Or we say let's have better response time norms or expectations. Why doesn't that work? Because if back and forth email is how we make decisions and we have to make this decision today, you got to respond right away. 
[00:20:49] Jordan Harbinger: Right. 
[00:20:49] Cal Newport: Because we have to go six and seven back and forth to solve this thing. We have to solve it by EOB or COB or whatever. So none of that stuff works. 
[00:20:57] Jordan Harbinger: It becomes back-to-back meeting Friday. Everyone's got to sit in the same room if we're not using email. 
[00:21:03] Cal Newport: Yeah. 
[00:21:03] Jordan Harbinger: Ugh. 
[00:21:03] Cal Newport: Which might be better. I mean, let's look at that car manufacturing as a useful analogy, right? Like how we got from the way we used to build cars in the early 1900s to the assembly line, which was 10X more effective. We went from 12 hours to 90 minutes or something like this, man hours per car, the Model T Plant at Highland Park. The way we used to build cars was very flexible and convenient and easy. It was called the craft method. It was what you would expect. Let's put a chassis on some saw horses, have a group of craftsmen and they sit around and they build a car. 
[00:21:31] Now, imagine if like, "Oh, we want to do this faster. And our only idea was like, let's run faster. When we go back and forth to get the tools, like let's get the craftsman better shoes so they can move faster without falling. Let's like maybe move the tools a little bit closer to them so they can grab what they need a little bit faster." That makes it a little bit faster, but what made Ford, the largest company in the world and Henry Ford, the richest person in the world at the time, is they said, "No, no, we have to completely change from scratch how we build the cars. And it shouldn't just be on a chassis. We're going to have the chassis move on an assembly line." It was a huge leap, completely different way of thinking about the work.
[00:22:03] Right now, we're doing the craft method and knowledge work, easy, easiest, convenient. We just rock and roll an email. Everyone knows how it works. There's no hard edges. We just kind of figure it out. And then we try to make ourselves more efficient by basically doing the digital equivalent of putting on faster running shoes or moving the tools slightly closer. Like let's get rid of the friction in our email clients so we can autocomplete our tech store. Let's have the interface be really slick so we can move more messages back and forth or AI filters to move our messages around faster. Never realizing the big leap is going to come when we say, "Let's get this chassis off the saw horse in the first place," and change completely how we coordinate. 
[00:22:34] Jordan Harbinger: It's funny that the pull of email, there's an evolutionary reason why I can't just ignore my email. It's like, I'm ignoring my tribe and I'd never thought about this. I thought, "Wow. I really programmed myself to have anxiety around email." What a weird dysfunction I have. But it turns out that at least you're hypothesizing that there is a pull that is built into our DNA, right? This is our like ape monkey brain saying, "Hey, you can't just ignore communication from other people," even if it's a freaking forward with an attachment that is irrelevant to your life.
[00:23:09] Cal Newport: Yeah. I mean, we take social interaction very seriously as a species for obvious reasons. It was key to our survival for hundreds of thousands of years. So the idea of there's communication piling up that, "I'm not responding to right now," makes us anxious. Now, we might answer like, "Yeah, but it's not important communication and we have response time norms," but here's the thing about those ancient instincts. They're not very susceptible to reasoning, right? 
[00:23:31] Like, think about our instinct for hunger. Hunger feels really bad. It's very distressing to feel hungry. Right? You can explain to yourself. We have lunch reservations in 90 minutes, we are not going to starve. We are for sure going to eat. There's no reason for you to be depressed, to have this bad feeling because we know we eat lunch every day. It's not a problem. It doesn't make the hunger go away. Same thing with the social anxiety, you can tell yourself this is not a tribe member that we're ignoring at the fire. It's a forward probably it's okay. No one expects me. We have a rule we wrote down about don't expect a response within four hours, that deeper part of your brain, that prioritizes social interaction, doesn't care. People want us we're ignoring them. And so it gives us this background hum of anxiety, which again, we kind of just treat this stuff as normal.
[00:24:13] But then when you find teams or companies like I profile who have moved away from the hive mind, the terminology they use is it's always relief, happiness, joy. And it's because they're switching to a cognitive environment that is just so much more peaceful and less strainful and less anxiety. They didn't realize how tense they were with the way they were used to working until they actually move into a way where there's not an inbox filling all the time. They don't have to check something every six minutes. Until they moved to that, they don't realize how bad they were feeling with the status quo. 
[00:24:42] Jordan Harbinger: What about those people that never answer anyone? Did you study those people at all? You know, those folks, like I've got a few of them in my life and I they've got like 72 unread text messages and I'm just like, "How are you able—?" I'm both disgusted by it and jealous of it. Like if there were 72 unread texts on my phone, I wouldn't be able to go to bed until I read them. And there are people that get texts all day and they're like, "Eeh," or they get so much email and they're like, "Eeh, I'm just going to mark this unread or delete it, whatever I don't want to deal with it. Are those people wired differently? Or have we broken them with our email culture and they've just given up? What do you think? 
[00:25:18] Cal Newport: I don't know. They're probably the better adapted ones of us, right? They're the next step of evolution. They've moved past that human need to have to do these responses. I should admit I'm kind of one of these people, because I do time block planning. When I'm working on one thing during a certain time of my day, that's what I'm working on, my phone is not there. And often I get to my phone later in the day, and there's all these different text messages on it. I was like, "I don't know how to go through all of these." And so people have just learned, "I probably won't answer because I'll probably have missed it." So I am one of these people and I'm still around, but really the model, the people we should look to, it's not the people that just give up, but the people that are replaced. 
[00:25:54] They say, "Here's the communication that I need to do in my life and in my business, I'm going to actually think through how I want to do it. And here's how it works." And they come up with these processes, these workflows that don't require unsolicited unscheduled messages. So when we shift our attention to the solutions, they all feel like the same type of thing. You put in place alternatives to the hive mind. So they're like, "Here are my rules or guidelines or systems for doing X. Here's my rules and guidelines and systems for doing Y." And the things that these rules, guidelines, and systems are consistently trying to optimize for is less unscheduled communication. That is the killer. 
[00:26:26] If this requires like a message to arrive at some point, I don't know when, but when it does, it needs me to respond. Think of that like productivity poison. And be willing to do a lot more work upfront and be willing to miss some things when there's a problem. Be willing for something to be more complicated if it significantly cuts down the number of unscheduled messages that might arrive, that you are going to have to respond to.
[00:26:44] Jordan Harbinger: You're listening to The Jordan Harbinger Show with our guest Cal Newport. We'll be right back. 
[00:26:52] This episode is sponsored in part by BiOptimizers. If you want to be healthier, one of the best things you can possibly do is get at least seven hours of quality sleep every night. I know it's really hard to get that much sleep because your mind keeps you awake. You can't get comfortable. You wake up early. You can't fall asleep again. But sleep is super important, we all know that. Your body heals itself when you sleep. And if you're not getting enough quality sleep, you also increase your risk of disease. One of the easiest ways to get more quality sleep is to make sure that you're getting enough magnesium. Don't just run to the store and get the first magnesium supplement you find. Most magnesium supplements only use the two cheapest synthetic forms. And since they're not full spectrum, you won't fix your magnesium deficiency or help you sleep better. There are actually seven unique forms of magnesium and you got to get all of them if you want to experience the calming sleep enhancing effects. Magnesium Breakthrough by BiOptimizers has all seven. Simply take two capsules before you go to bed and you'll be amazed at how much better you sleep and how much more rested you feel when you wake up.
[00:27:47] Jen Harbinger: For an exclusive for our listeners, go to magbreakthrough.com/jordan and use Jordan10 during checkout to save 10 percent. 
[00:27:54] Jordan Harbinger: This episode is also sponsored by Sakara. I've been eating five days a week for several weeks now, and it's been an absolute game changer. I would never tell you to put something in your body that I haven't tried myself. So I gave Sakara a try for three days. I got hooked. Now, I'm on their five-day-a-week plan because it not only tastes really good, but it saves a ton of time sourcing and preparing a healthy clean meal. The dishes have fancy ingredients. They tend to be a little bit outside my comfort zone, but I really like it. A lot of orange blossom, cherry infused coconut butter, cassava tortillas, and other unique ingredients that I've never even heard of before. Sakara is ready to eat chef crafted meals delivered anywhere in the US, breakfast, lunch, and dinner, completely customizable. This morning, I had banana protein bread for breakfast. For lunch, I'm having a Sakara earth bowl with hemp, avocados, sprouts, radish, quinoa, lentils topped with a tahini ginger dressing. I can practically feel the hipster Yogi coming right out of me. 
[00:28:48] Jen Harbinger: Along with delicious plant-rich meals, Sakara also offers daily wellness, essentials like supplements and herbal teas to support your nutrition. Experience the transformative power of plants with our best-selling metabolism, super powder. Made with organic raw cacao. It works to boost energy, eliminate bloating, minimized sugar cravings, and reduce fatigue. And right now, Sakara is offering our listeners 20 percent off their first order, when you go to sakara.com/jordan or enter code Jordan at checkout. That's Sakara, S-A-K-A-R-A.com/jordan to get 20 percent off your first order, sakara.com/jordan. 
[00:29:21] Jordan Harbinger: This episode is sponsored in part by Ten Thousand. Ten Thousand makes the highest quality best fitting and ultra comfortable training shorts. I know that might not sound like a big deal, but I hired a personal trainer three times a week because I was getting fat up in this piece. And I used to just wear regular shorts for the workout, but it wasn't really suitable for the type of mobility training, bodyweight stuff that I'm doing. Now, I only wear these Ten Thousand session shorts, which are flyweight short. Best for running, yoga, and mobility training. Tons of features like silver ion for odor protection. I always thought that was kind of BS, but it definitely works. I can — well, I won't go there, but you can tell it works. They're breathable. They're lightweight, shell fabric with stretch. They've got three secure pockets. You can actually fit your phone, keys, and a card in there, and they're not going to fly out when you're doing your workout. There's also an optional liner that is super comfortable, prevents — let's just say chafing. Ten Thousand is consistently iterating their products with a development team of 200 athletes like professional runners and gym owners who just live in the Ten Thousand gear. So they are constantly improving the product free shipping and returns and a lifetime guarantee, almost 10,000 five-star reviews. 
[00:30:24] Jen Harbinger: Ten Thousand is offering our listeners 15 percent off your purchase. Go to tenthousand.cc and enter code Jordan to receive 15 percent off your purchase. That's tenthousand.cc and enter code Jordan. 
[00:30:36] Jordan Harbinger: Now, back to Cal Newport on The Jordan Harbinger Show.
[00:30:41] What about those of us that are in an executive type role where we're making loads of decisions all day? Are those people the exception to this? Why or why not? Because you hear about Jack Dorsey and it's like, "All right, what about this? Cool fire off this text, fire off this Slack message or email," or whatever they use to communicate. And we kind of hear about how CEOs are uniquely positioned in companies to execute and make decisions all day. They're usually not sitting around and making an investor report. That's this assistance job. They should just look at it and go, "This looks right." There's a lot of that in Corporate America and I think a lot of us feel like those people are the exception, or we feel like we are one of those people. Therefore we're the exception. How much of that is even accurate? 
[00:31:24] Cal Newport: Well,  in this book, I break down types of knowledge jobs in three categories. There's the makers, the people who need to give a sustained concentration to things for a long amount of time. Then there's the managers, which is what you're talking about. People who manage teams, executives, et cetera. And then the minders, which is my team for administrative support. So you're an assistant for example, or an IT professional like you're in a support role. My argument is in all of these cases, you want to avoid unscheduled messaging as the main way that you interact with the world, that our mind works best when it's sequential. One thing until you're done, then the next thing. 
[00:31:53] Now, if you're a manager, these things might not take six hours. Whereas if you're a writer, my one thing is I'm going to write all day. If you're a manager, it's like, "No, no, I'm Jack Dorsey. I'm going to make 10 decisions today." You're going to be much better off if those decisions are sequential and each one gets your full attention until you're done, and then you move on to the next. As opposed to, I'm trying to decide on this, but I have to also have an incoming, unpredictable flow of messages that I also have to respond to them. And I give some examples about this in the book.
[00:32:18] First of all, I cited research that shows, if you look at managers, as their email count goes up, their behavior shifts away from leadership activities and towards what they call productivity activities. You shift away from actually making big decisions, getting people what they need, moving your team forward, the type of stuff you need to get ahead and you shift into just, "I'm just trying to keep up with messages." So it makes you worse at what you do. And then as a counterpoint, I tell the story of George Marshall, the first five-star general in the history of US military who basically ran the US armed forces during World War II. So a very busy, complicated job.
[00:32:50] Jordan Harbinger: Yeah. 
[00:32:50] Cal Newport: He came in and said, "Okay, I'm not going to be responsive all day. So he quickly restructured the whole war department. So instead of them being something like 200 people who could directly report to him, it got cut down to a couple dozen and then put in place some pretty strict processes. "Here's how it works. We have these meetings that are set up to maximize my decision making potential. You have to do all the work in advance. You come in. Don't salute that waste time. You sit down, you hit me, you get right to like, here's the crux of it. If you're not prepared, I'm going to yell when you're out of there. I think for a second, I give you my best decision. We move on. I'm huge about delegation." These people handle these things. So he was running World War II and finished work at 5:30 every day. Because he had a heart condition and he thought it was healthy. He didn't want to work out. So he won World War II without working past 5:30. Right? 
[00:33:34] Jordan Harbinger: Yeah. And we're running podcasts and can't finish work by 5:30.  
[00:33:37] Cal Newport: You can't. And Jack Dorsey, by the way. is an interesting example because, you know, I used them in my book, Deep Work as an example of like, what you were saying, "Well, maybe executives have to be more responsive and it's a different type of job." But then I heard after that book came out from one of his early stage investors that said, "Oh, that's not a valid way to think about what Jack is doing here. It's actually very sequential and very deep." We actually set up his day because he only has to go between Stripe and Twitter. We actually set up his day really rigorously. Like you're going to come here and you're going to meet with these people. Make a decision. We're going to move you here. Talk to these people, make the decision. And so what he does is cognitively very exhausting. He's not on his phone answering emails. He's being moved from place to place, team to team like George Marshall. "Give me what I need to know. All right, think. Here's my decision. All right, let's move us on to the next." 
[00:34:21] So the key thing I want to emphasize here, sequentiality. Concentrate on this thing completely, finish it, move on to the next thing. If we can set up our work to do that, whether we're in a VA or a CEO or a computer programmer, that's going to be the best way to work even if how long these things are vastly different, sequentiality is key. Having to tend to unscheduled messages at the same time is going to hurt your ability to perform no matter what type of work you're doing. 
[00:34:45] Jordan Harbinger: I took this from the book here, this is a paraphrase, email reduces friction for us to delegate work to others or have it delegated to us which actually decreases efficiency because of switching costs and overwhelmed. And this is counterintuitive actually, because it seems like it would be more efficient for me or for anyone to be able to delegate things faster. But at the end of the day, when I look at this, I'm kind of just pouring sand into somebody else's underwear instead of my own, right? I'm going, "Ugh, I don't want to deal with this. Jen! Fire this off into somebody else." So instead of being an umbrella for my team to do their work and sort of protecting them from this, all I'm doing is funneling disturbances to specific people — myself. 
[00:35:25] Cal Newport: Who just bounced it around? I call it obligation hot potato. So once you get overwhelmed with there's so much stuff going to my inbox, I can't keep up with it. Now, it's just everything I see here, every obligation on my plate is a source of pain. If I can take it off my plate, even if temporarily I get a little bit of relief. So then what do we do? We send the nonsense email — we know that, you know, thoughts, question mark, or, "Hey, did you see this?" They're just going to send this right back, but you know what, in the moment it's off our plate. And you get that little bit of relief, right? And then the email that's like, "I don't know, what do you think about this?" And like, "I don't want to deal with this." And you're like, "Let me just forward it." "Yeah, Bob didn't you take a look at this before sending," you know that hot potato right there. He's going to throw it back to you. So then we take each of these things and we bounce them around and we generate dozens of back and forth interruptions and emails.
[00:36:11] There's this story I tell in the book that was really interesting about a guy who hated how much his boss bothered him with email, urgent email passed during this period every week where you had to set up a lab, it was an R & D company. And he got interrupted, it will take him a long time to finish because he kept having to go respond to these questions that his boss would bother him with. Then this researcher named Gloria Mark and her team from UC Irvine came and said, "We're going to run this experiment at your company where we're going to take some people. We're going to take them off email for a week and we're not going to plan. We're just going to do it and see what happens." so this guy who was setting up the lab was one of the people they took off email. His boss stopped bothering him during that week. And Gloria was telling me about this. It's not in the paper. She was just telling me about it, you know, after the fact she said, what was really eye catching about this is that his boss's office was two doors down.
[00:36:55] So the friction, increasing the friction from pressing send to walking 10 feet and opening the door and saying, "Hey, can you do this?" drastically reduce the amount of things that the boss put on this guy's plate, which shows that this notion that this is all critical and this all needs to be done is really inflated. When you take the friction out of the system, we send a lot more stuff to people. We put a lot more stuff on people's plates, the amount of work we do, the amount of work we delegate it all spirals out of control. When you take friction out of systems, weird things happen. 
[00:37:23] Jordan Harbinger: All right. So if I'm telling myself this story here, it's, hey, maybe you don't want somebody to be able to fire things off to you really quickly, because for a lot of these things in this guy's case, especially it never needed to get done. So it wasn't something where it was like, "Oh, this is so great. I can hand things to Cal right away." It's, "Well, I'm not allowed to send this to Cal with two keystrokes, I'd have to get up out of my chair and go tell them about it. It's not important enough for me to do that." 
[00:37:48] Cal Newport: Not that important. 
[00:37:49] Jordan Harbinger: So we kind of want to increase friction at least a little bit. Look, I don't want to have to fax you something that's 58 pages. That's a pain, especially if you just need to skim it. So we don't want that kind of friction, but we do want enough friction where I say, "Maybe he doesn't need to skim this." I'm just going to call him, read him the relevant part and say, "Does that sound right to you?" And if it is then we're done with this whole thing, no meeting, he doesn't even have to read it. We want to have the right kind of friction in place. 
[00:38:14] Cal Newport: An easy example of how to do this is a notion from Jason Fried's company Basecamp has office hours. They have the subject matter experts there. People are always bothering them with questions. They said, "Well, here's how we're going to do it. There's office hours. These are the times each week when these people are available, it's mainly a remote company. So I hit them up on Zoom. They'll be there. No appointment needed. Ask me any questions you have. But if you have a question in between, you have to wait the wait until their office hours." And you know what the important questions still get answered, but you have drastically improved the cognitive environment of those experts, but also the number of questions goes down a lot because it's a little bit more friction.
[00:38:47] Like, yes, you can definitely ask Jordan this question, he's here to help. You got to wait till Thursday morning. And then you're like, "All right, maybe I will," or, "Maybe I will." But you get to do it all at once and it's not constantly interrupting you. So yeah, I think friction is great. I wrote a blog post recently, too, when we were recording this about this notion of reverse meetings. What if instead of you being able to gather five or six people together, so you're taking an hour of all of their time to come together so that you can get their feedback and make a decision on something. What if we reverse this and said, "No, everyone has office hours. You have to go to each of their office hours, one by one and ask them and get their opinion," right? So yet you have to spend much more time than the other people. That would cut down on a lot of meetings. But the meetings that do happen, the overall number of man hours, costed would be significantly less because now I'm talking to five people for 10 minutes each, as opposed to having five people that have to sit there for one hour and you're getting a three to four time reduction there in the end, depending on how many people were involved with. So I like adding friction. You don't want to make things prohibitive, but you don't necessarily want to make things easy. 
[00:39:45] Jordan Harbinger: Right. But you kind of do want to make certain things prohibitive, right? Like I don't want it to be easy for people to send — I have a small company, so this doesn't really apply as much, but I don't want people to be able to send, "What does everybody want on their pizza for lunch?" It's like, there should be enough friction where that just doesn't ever happen, right? People should on Mondays or in the beginning of the freaking year, put into a spreadsheet at some point during the day, what they are allergic to. And then everything else is on the table, right? For the pizza on Friday, there should not be a circulating email where people say, "Ooh, no green peppers of this week. I'm not feeling it." And we'd laugh about these examples. And yet when I worked in Corporate America, how many of those exact type of — does everybody like coconut flakes on their cake for Tim's birthday? Good Lord. Why am I doing this instead of billing a client? Why does this exist? And it's because somebody who had five free minutes literally had to fill those five free minutes with some sort of anxiety-inducing thing. And then they pass the virus on to the other 300 people in the office. 
[00:40:47] Cal Newport: And I like asymmetry and cost is another thing I think is important. You need to make the cost higher in general for the person who is about to commandeer attention than it is for the people whose attention is commandeered. These asymmetries are very good and regulating the systems. So another Corporate America example is you have all of these administrative units in large companies, and they tend to just think like, what's going to be easiest for our unit, right? Like what's going to make it easiest for us in the HR department to get what we need. The file compliance forms or something. But that could be at odds with what's going to help this company produce the most value because now you have the frontline executives having to answer these emails. 
[00:41:21] So you could imagine it, for example, a world where no, you cannot directly mass email employees. "You need to fill out this form. We want to tell you about this new initiative. We kept—" because every single administrative unit is just like, "It's convenient for us. If we can just send this to everyone, because we care about this." Like imagine a world where like, no, there's some sort of attention for each of these different teams or whatever. And you got to work with them and they put together a weekly digest, almost like a newspaper of all the announcements, things that people need to do. Here's what's happening from the administrative units. You got to work with them. And here's what we need in there and it all gets put together. And once a week, this one thing as part of a weekly status meeting, this thing gets sent to everyone. And there's a quick review of like, look at this thing, there's 15 announcements and three requests in there. And look at there's two things in there you really have to do. You only see this once a week, right? Hey, it's more of a pain for the HR department, but who cares? I mean, your company doesn't grow because the HR department is efficient. It grows because you produce the things that produce value. So also this notion of asymmetry and costs, I think is critical. If it gets way out of sync, if in five minutes I can commandeer 50 or 100 overall minutes of attention, that type of asymmetries, where you really begin to get problems. 
[00:42:27] Jordan Harbinger: I think about this with this podcast sometimes as well, not so much in the administrative sense, but I've trashed episodes before where I go, "Ugh, I just can't release this." And I'm sure you have done that as well. And people go, "Oh, why not? I mean, you never know. Some people might like it. It can't be that bad. You're just being hard on yourself." And I think, well, okay, If I waste an hour of my time recording a show and I wasted four hours of my time or 10 hours of my time preparing that show. That's a long time. Let's say it's a 15-hour or 10-hour long show to prep. But then I send that out to 200,000 people and half of them just half listen and waste an hour of their time. I've wasted a hundred thousand-man hours of people's time. 
[00:43:09] Cal Newport: Yep. 
[00:43:09] Jordan Harbinger: Now, maybe they were working out and running at the same time, but in theory, I've wasted a hundred thousand hours of like decent cognitive cycles in global humanity. That's a war crime, right? There's a Geneva convention amendment waiting to happen where it says, "What the hell were you thinking don't ever do that again? You've just burned trust with all these people. And also like, we're all dumber for having heard this episode of The Jordan Harbinger Show. How dare you?" 
[00:43:35] Cal Newport: Yeah. 
[00:43:35] Jordan Harbinger: So you think about it like that, but at work we're more than happy to go, "Hey, we made this really annoying spreadsheet. That's going to tell everyone whether or not you can eat coconut flakes for Jim's birthday cake." And it's like, "Send that to everyone." 
[00:43:46] Cal Newport: Well, let's do an extreme case study, right? Let's imagine we're in a company. There's a team of 20. I don't want to keep beating up on HR, but you work in whatever, right? In an administrative unit. And you're like, "You know, what's going to make my life easy. I need to get this information from everyone. So I can fill out these federal forms. And you send out this confusing spreadsheet and no one even knows what half the terms mean. And you're like, you just email it to the 20 people. "Hey, everyone, I need this information and it would make my life easier if you could just fill this out and figure it out. And it would make it easier for me to fill out the form." So you have 20 people now that you're taking up a non-trivial amount of their time and attention.
[00:44:17] The flip side of this would be like, that's so expensive. Imagine we did the opposite. Imagine that person who sent out the form instead went to all of these offices and hung out for a day and kind of waited until he saw someone was in between something. And then came in, was like, "Okay, I see, like, you're going to grab some coffee. Let me just chat with you real quick and kind of figure out, I'll fill this out for you. Like, let me just talk to you because you don't even know what all these terms mean. Let me just ask you some questions. I'll fill this out for you. That guy spends all day, right. Minimal impact on each individual person. He has a really hard day, right? That's probably way, way better. 
[00:44:47] But we don't think that way, that guy is like, "I don't want to spend a really hard day. Are you kidding me? I have a Google form that if people would just take a couple hours and figure this out, it makes my life easier." Why do we want your life to be easier? If these 20 people are computer programmers, I'd rather have them not waste an hour of code production, right? So even if you push this thing to an extreme, I think especially administrative facing units should think about like, how can we minimize our impact on people's time—
[00:45:12] Jordan Harbinger: Right. 
[00:45:12] Cal Newport: Even if it takes a lot of effort on our part, there should be a lot more invisible UI, a lot more like, "Let me just do this for you, walk you through it." A lot less of these interfaces that make their job easier, they should be thinking how can I sacrifice some more of my time and attention to make sure whatever the frontline value producers, time and attention that could be more spent on this. That's actually what everyone's job probably should be but we tend to focus instead on just a personal, like what's easy in the moment— 
[00:45:36] Jordan Harbinger: Right. 
[00:45:36] Cal Newport: —for me. 
[00:45:37] Jordan Harbinger: You know, that totally makes since there was a, I remember again, when I worked on Wall Street, corporate environment, obviously, you'd get an email from HR that would say, "We made it like a video training for you to figure out how to use our healthcare reimbursement HSA whatever system." And so every lawyer, bear in mind an hour of my time as a first year associate was like 300 bucks or something to a client or 250, let's say. So all of us, the whole firm, is watching these stupid ass videos and sometimes the video wouldn't play, but then you watch the video, you got to pay attention to it. Then you have to log into the system. You're setting this thing up. And I remember finally one of the partners came in and knocked on our doors. And you know, when a partner comes in, you're like, "Oh-oh." 
[00:46:17] Cal Newport: Yep. 
[00:46:17] Jordan Harbinger: And he goes, "Don't bother with this. We're going to find a different way to deal with this." And a different way to deal with this — and I'll never forget because I remember thinking like, "Oh, I got to make a note of this." The different way to deal with this was we all don't do it. And someone from HR will have to come to the real estate finance department and go, "Was there a problem?" And then the partner's plan I think, was to go, "Can you just do this for everyone? Because we're really busy." And that's what happened. That's exactly what happened.  
[00:46:41] Cal Newport: Which makes complete economic sense, right? It makes complete — why should someone who's billing out if $500 or $600 an hour spend two hours to make the HR department's life — I don't want to keep saying HR, but I just don't know. I'm not from Corporate America so I don't know. 
[00:46:57] Jordan Harbinger: We only know three positions, HR, me and my secretary who did all the real work. 
[00:47:02] Cal Newport: But there's an underlying point here, which is like, we should be much more innovative and radical in thinking about our underlying workflows. Like, okay, here's the type of work we do. Let's start from scratch. Like, how do we want to do this? And these are the examples I try to give, like a lot of in the book for some things, they might be very automatable like podcast, episode production. Hey, we can coordinate the entire team, getting from the raw video to this posted everywhere needs to be posted without anyone ever having to send an email and Slack. If we can get a pipeline of shared folders and a spreadsheet that controls it all. And maybe we have some Airtable. Zapier, magic going on. I don't know, right? But like, we could get this so that you — all right sometimes it's not automatable, but it's like, okay, we're going to have these really set, highly structured status meetings. We're going to use task boards. Everything's clear. Who's working on what? How much should you be working on? Let's go. We'll meet back in 48 hours. Like we should be willing to think radically. 
[00:47:51] Like when I was working on this book tour, I've experimented with different processes for working with my publicist. And what I landed on for scheduling interviews was I don't want her to email me about everything because I can't do a hyperactive hive mind. Like what about this? Well, what about these times? I'll ask them. I know publicists do that. I can't do that. And I tried before in a prior launch, just giving my publicist access to my calendar and just scheduling things for it. Because like, I don't like that either, because I want to have a say when things are scheduled, because otherwise she doesn't know all the other stuff going on in my life and you'd have terrible days and it wouldn't make sense. And so we had a workaround. Like, okay, we have a shared document and you update this there's sections in and you update it with like here's pending interviews and here's the link to schedule it or here's the times they can do it. I check it twice a week. I come back in and respond to these things. Then she puts all the final details at another section of the document. A little more overhead, a little bit more pain, sometimes creates an issue when we need to do a quick turnaround, but she just calls me in those cases. And I don't have to check an inbox all day to schedule interviews and I still maintain control over my calendar. It's like we should constantly be thinking not what's the easiest way to do this, but how do I actually want to implement this system? How do I want to implement that system? So that I'm not a slave to these attention-grabbing unscheduled messages. 
[00:48:59] Jordan Harbinger: Right. Because it's hard to fix a broken workflow, especially if it's nobody's job to make sure that the system is actually working. As knowledge workers, we have autonomy, which means we just have to figure this crap out generally. That feels the hyperactive hive mind. And I think in the book you call this the autonomy trap, right?
[00:49:15] Cal Newport: Yeah. I think it's a really important argument. I hadn't heard it before. I mean, I sort of feel like I broke this story and I also wrote a big New Yorker piece about this called The Rise and Fall of Getting Things Done, which is where I sort of debuted the story but it's also in the book. As far as I can tell, basically, because of one individual. Peter Drucker, the management theorist who coined the term knowledge work in the 1950s and really helped the whole sector take shape. And he really helped the managers understand how do we do knowledge work. He had this really clear idea, autonomy, autonomy, autonomy. Knowledge work is different than industrial work. You can't break down knowledge work into steps. You can't run ad copywriting like an assembly line. You've got to give knowledge workers autonomy to figure out how to do their own work. And so he introduced them notion of management by objectives, which of course dominates the world of knowledge work right now. Like, what's my OKR? What's my wild ambitious goal or whatever, right? Like here's our clear goals but you figure it out how to execute it. 
[00:50:06] This has caused a side effect, which is, okay, we'll leave it up to the worker to figure out how they get their work done. But if all productivity is personal, where are you going to end up? You're going to end up in the lowest common denominator. The thing that's most easy in the moment, most flexible, most convenient because no one individual can push a whole organization to a more complex way of working. And so we end up stuck with the hive mind. And so that's why I call it the autonomy trap. I absolutely believe that the execution of knowledge work needs to be left autonomous. We can't break it down into steps, but the organization of knowledge works, right? How do we actually organize who's working on what? How is this going and get the information people need? Like that we should optimize the hell out of it. That needs to be an organizational level thing. We can't ask individuals to figure out how information flows or tasks are assigned because they don't have any control over that. So I think this autonomy trap is why we've stayed stuck in this bad way of working longer than we probably should have.
[00:50:54] Jordan Harbinger: There's a lot of other interesting psychological concepts in the book that were maybe not super surprising, but it was cool to see science behind this. For example, there was a study that you had written about where you took people's phones away and you said, "Ignore it. There's nothing critical coming in. Just focus on this task." And then I guess they called the phone and people just like, could not focus. And the idea behind this was — I'm guilty of this as well. We think I'm focused on something, but we're kind of not because just having your phone screen light up or be in the same room or having all of these systems that are kind of broken, even if we're just trying to ignore them. We're still using precious cognitive bandwidth to focus on something because the distraction still exists because the system is still broken. 
[00:51:36] Cal Newport: Yeah. And we have this modern mind of the ancient mind. And that was what was interesting about that experiment is that the subjects in the experiment had put their phone on silent mode. So they knew like could be coming in and I'm okay with the fact I'm not answering them because I put it in silent mode. And what they did in this experiment is they had a confederate come and be like, "Aah, your phone is messing with the equipment. We got to move it away from—" They hadn't hooked up the heart rate monitor, the stuff you need to measure stress, which is what they say to them was very clever. They go, "It's messing up the Bluetooth. So we got to move it across the room." They would only do this experiment with people with iPhones, because iPhones has to switch on the outside for silent mode. As they move the phone across the room, the assistant would flip it back to non-silent mode. And then they would text the phone, you know, while the person was now across the room and couldn't reach it. 
[00:52:24] And so even though they were like rationally very okay with the fact that like the mode was silent, they might be missing stuff. When they actually heard something they were missing while they were hooked up the galvanometers, they were hooked up to heart rate monitors. They could just measure the stress response that just jumped off the chart, which I thought was evidence of like this ancient social mind. It just doesn't want to be missing communication. It doesn't care about the context. It doesn't care that it's an experiment. It doesn't care that, you know, technically speaking, you were in silent mode before, so you could have been missing things, just like there's someone in my tribe right now tapping me on the shoulder. I'm ignoring them. When there's a famine, they're not going to share their food and I'm going to die. Right? 
[00:52:59] Jordan Harbinger: Yeah.  
[00:52:59] Cal Newport: That part of the brain is powerful. And those types of instincts don't go away easily. 
[00:53:06] Jordan Harbinger: This is The Jordan Harbinger Show with our guest, Cal Newport. We'll be right back. 
[00:53:10] This episode is sponsored in part by Active Skin Repair. Did you know we've been using the same antibiotic ointment for the last like 7 years in this country. It contains harmful ingredients that can irritate your skin. Now, there's a better way to repair your skin. Wouldn't it be great if there was an all-in-one solution that could help support the natural healing process and keep your skin clean? Active Skin Repair is a multi-functional all natural clinically proven skin repair product. You can use it for cuts, rashes, sunburns, insect bites, athlete's foot. It's so safe. We use it on Jayden's butt, frankly, for his diaper rash, it's like a freaking panacea. You can use it on acne. It's non-toxic and there's no sting and it's safe around your eyes, ears, mouth. Perfect for your little kid if you got one. I had an open cut on my hand that I noticed right as I was getting into the shower. Once I got out, I sprayed on Active Skin Repair right away. I reapplied it in the morning and then the evening. Within a couple of days, a sore that usually takes like four days to close and had healed. Anyway, don't just take it from me, check out there thousands of five-star Amazon reviews. 
[00:54:09] Jen Harbinger: Get 20 percent off your order and free shipping by texting REPAIR to 64000. To get 20 percent off and free shipping, text REPAIR to 64000. That's REPAIR to 64000. Message and data rates may apply. 
[00:54:22] Jordan Harbinger: Who needs a change of scenery right now? Everyone in the world. So it's good that apartments.com has the most listings anywhere. We're not just talking about apartments, but houses, townhomes, condos, and all matter of domiciles from the oh-so-cozy to the did-I-just-hear-an-echo-in-here. And with 3D virtual tours, you can search for your special somewhere from anywhere like while pretending to pay attention on a conference call. So stretch those fingers across the keyboard and change your scenery on apartments.com. The most popular place to find a place. 
[00:54:52] This episode is sponsored by Simple Mobile. At Simple Mobile, you get the no contract advantage. Those other mobile companies make you think you're in control, but you're really not. They lure you in with shiny new phones and then lock you into long-term contracts. But Simple Mobile is different. You can get a 30-day plan starting at 25 bucks. You can also get the latest smartphones, or if you have a compatible phone you love, you can bring it. Just text BYOP to 611611 to see if your phone is compatible. It's the reliability you need when you need it. All on a powerful nationwide 5G network with no mystery fees, no activation fees, and no contract ever. All for less money and no contract ever. 5G capable device and SIM required. Actual availability, coverage, and speed may vary. 5G network not available in all areas. 5G upload speed, not yet available message and data rates may apply. Visit simplemobile.com/privacypolicy for you guess it, the privacy policy. Service plan required for activation. Terms at simplemobile.com. Simple Mobile, out with the old in with the simple. 
[00:55:49] Thanks so much for listening to the show. I love conversations like this. I wish I could do them for free, but I can't. I'm not asking you for money. I get that money from the sponsors, but they only renew if you all buy some underwear or mattress or something. All of the discount codes, all those URLs, we put them in one place. So if you're jogging, lifting weights, whatever, you don't have to write anything down. Just go to jordanharbinger.com/deals. Please consider supporting those who support us. Don't we've got a worksheet for today's episode. If you want the drills, exercises, and major takeaways talked about during the show, they're all in one easy place. That's in the worksheets. And that link is in the show notes at jordanharbinger.com/podcast.
[00:56:25] And now for the conclusion of our episode with Cal Newport. 
[00:56:30] I can't focus on a lot of things if my kid is in the other room, especially if he's like, "Daddy, Daddy." I can't do anything. So I have to leave the house and go for walks to make calls because I can feel that — we've already debunked the lizard brain on this show, but I'll say it anyway. I can feel my lizard brain just pulling me in that direction because my kid's calling me. It's like the highest possible priority that a human has. Meanwhile, I'm trying to chat with somebody on the phone or I'm texting or I'm recording something. It just doesn't work. And that leads to a different question here because we talked about attention capital, maybe not in so many words, but you've sort of discussed the attention capital here on the show, but asynchronous communications, it seems like that would be more efficient. Right? I can leave a message for you and you get it later. And the night when I'm checking it again, it seems like that's more efficient. But according to your book here, it's actually less efficient than synchronized communication. So is it actually better to just meet and do calls? Because that sounds horrible. And yet I know that that's not really what you're saying. We're almost trapped in between these two things from the look of it.
[00:57:32] Cal Newport: Yeah. Here's a trade-off right. So synchronous communication has more upfront overhead because we have to be participating at the same time. That's the definition of synchronous. So like you have to be on the other side of the phone or we have to be in the same room. So it's, it's more of a pain to set up. Asynchronous communication is much easier to initiate. I can just shoot off the message whenever. But asynchronous communication requires more total messages and more complex messages to get to the same decision. So in the moment it's easier to initiate asynchronous communication, but overall you might actually cause a higher cost. 
[00:58:03] Let's just think very simply about like scheduling a meeting or something like this, right? To go and find you or to get you on the phone, there's a real pain there potentially. But once we're on the phone together, we can set up a meeting time in about two minutes. A lot of back and forth. "That's not going to work. What about this? Let's do that." It's much quicker to get started. Just send you an email and be like, "Hey, we should have a meeting." However, this may require now seven or eight back and forth messages before we arrive at a time that works for both of us. And because we're trying to do this in a timely fashion, we're probably going to keep checking our inbox while we're waiting for the next message. So if I have to receive four of those messages and I'm checking my inbox 10 times for each I've now generated 40 inbox checks each with a corresponding context shift, that's going to slow down my mind and fatigue me. It makes me anxious. 
[00:58:44] And now that cost of getting you on the phone, made that five minutes kind of a pain. But I'm comparing that the 40 cognitive context shifts throughout the entire day, maybe not as bad as we think. Now, on the other hand, if we're just constantly on the phone or constantly in meetings, that's not going to work either. So this is why I come back to, for each of the things that you repeatedly do in your work, and I call these processes, you have to actually think, what is our rules? What is our systems? What is our guys for how we do this type of work? And then you can deploy things like synchronous communication, but in a very structured and intentional way. 
[00:59:14] And so maybe it turns out — well, I don't want to just call all people all the time, but what we do is we have these like daily check-in meetings. They take 15 minutes. So we can get through a lot of these all at once and okay, that's going to be more efficient or have these office hours. So instead of trying to set up these meetings in the first place, you always just come grab me in the office hours. Because they're Tuesday and Thursday, so you're never more than one work day away from them. Right? So once we get intentional about how we do each of these things and then we can get pretty innovative. And that's when the difference between synchronous and asynchronous, like, "Oh, I see what's going on here." "Yeah. I don't want this to be an asynchronous thing. I want to just call you at any time anyway. So let's figure out something that works." And that's what we start to get the big wins. 
[00:59:47] Jordan Harbinger: Yeah. Also email and asynchronous comms, they miss things like tone and cues and that can lead to further inefficiency. Like, "Oh, I think, Cal is mad at me because he sent me a one-word reply." "Well, no, I don't think he's mad at you." Not that I would normally go down that way of thinking, but it can definitely happen. I've definitely gotten one-word or two-word replies and gone like, "Oh, what's this person's problem." The problem is they're answering a thousand emails and they're in a meeting. 
[01:00:10] Cal Newport: Yeah. 
[01:00:11] Jordan Harbinger: So they're distracted. They're not upset. It doesn't really add to efficiency, to have people wondering what's going through your head. It's easier to be misunderstood. You can think that somebody, once they say, "Sure, go ahead and do that," is actually wanting you to go ahead and do it but really they were being sarcastic because it's a terrible freaking idea.
[01:00:27] Cal Newport: Yeah. 
[01:00:27] Jordan Harbinger: So then you start making steps towards executing something and they go, "I thought we decided that that was stupid," you know? And you might say, "Don't be sarcastic in an email. I can't tell. There's no context." And they're wrong for doing that but it's also like, well, maybe you should communicate in ways where the context is not completely lost.
[01:00:42] Cal Newport: Well, we're bad. 
[01:00:44] Jordan Harbinger: Yeah. 
[01:00:44] Cal Newport: Well, so we're really bad at linguistic-only communication. I cited a lot of studies about this. Written text is a very impoverished form of interaction and we're very bad at it. We have a very tough time actually conveying emotional context just with written words. And when I say this, sometimes people like, "Well, what are you talking about?" Like letter writing is great. Think about all the great letter writers of time's passed. And George Bernard Shaw wrote these letters and Darwin had on these conversations with these great thinkers. And you say, yeah, but have you ever read those letters from a past time when people primarily communicated by letter, they're really long and when you read them, they seem really florid, right? Like you go on for paragraphs, but because it was very hard to actually try to establish. Like how do I feel? What's my tone? What am I trying to communicate? You'd have to go on for pages just to do this. 
[01:01:30] You know, we make fun of young kids because like, look at all these emojis, but you know what, because they're so text bound, young kids, they have actually evolved this very complex use of these icons to try to make a more sophisticated way of trying to deliver emotional context to linguistic-only communication. So yeah, we're terrible at linguistic-only communication. We should be very wary about it. We're getting a fraction of the information stream we get when like you and I right now can see each other and hear each other is a order of magnitude more information is going back and forth right now than if we were typing back and forth on a Slack channel. And so, yeah, that's another issue with, we'll just figure things out over texts. Humans are bad at communicating with texts. 
[01:02:09] Jordan Harbinger: Right, yeah, that's a good point. I've made a really dumb joke the other day with a friend of mine. And I knew it was a dumb joke. He knew it was dumb joke. We were all in on this dumb joke. And so I put an upside down smiley face emoji and I went, you know, it's funny how this doesn't mean anything. You're never upside down smiling at someone. You can't turn your face around or your head around, but everyone knew this is Jordan's emoji for we're all in on this really dumb, stupid dad joke, pun, whatever that he sent by text. And that got me thinking, wow, this emojis are kind of more efficient than me having written a paragraph about how that joke was done, but we all knew it was dumb. And that's, it's funny. 
[01:02:45] Cal Newport: Yeah. But if you were just telling that joke to me right now, no further explanation would be needed. 
[01:02:49] Jordan Harbinger: Right. 
[01:02:50] Cal Newport: I'd be like, yeah, he's joking.
[01:02:51] Jordan Harbinger: Yeah. 
[01:02:51] Cal Newport: It would just be clear because of your tonality, your body language, the context of the conversation. 
[01:02:55] Jordan Harbinger: Yeah. It would have been obvious. 
[01:02:56] Cal Newport: And I cited a study that I found was funny because they were measuring the sender and receiver of emails and it's not only do the receivers have a hard time understanding emails. The senders are way too optimistic about how clear they are. So when you're sending it, this is where it really gets in trouble. "Oh, for sure, they're going to understand it." And we are wildly off on how well we at people are going to understand what we write. So it's not even like we're sending this out. And like, I don't know if anyone's going to get this. This is a bad communication form. In our mind we're Shaw, like this is brilliant and witty and everyone knows exactly what I'm doing. And on the other side, they're like, "What the hell is Jordan talking to you about? What the hell is Jordan talking about?" 
[01:03:29] Jordan Harbinger: Pretty much. 
[01:03:29] Cal Newport: Yeah. I do not understand this. 
[01:03:31] Jordan Harbinger: I'm guilty of that. My wife will look at an email that she's CC'd on and she'll go, "You're such a bad communicator." And I go, "What? I wrote exactly what I said." And she's like, "Yeah, but they don't know if you mean now, you mean tomorrow. They don't know if you're talking about your company or their company," and I'll go, "Oh yeah, that's true." it only seems obvious to me because we were just talking about their company. And also, because we were talking about this thing that's going on tomorrow, none of which was in the email. And this is me, like I'm decent at this. And yet my wife's still like, "Oh my God." So she has to add two paragraphs of clarification to it, which just illustrates your point perfectly. All of that should have been just present in the conversation. And if I had had a 13-second phone call with somebody, it would have replaced all of that. So it does make sense. 
[01:04:12] I'd love to hear why you think the Tim Ferriss auto-responder thing — not that we're picking on Tim, you know, nice enough guy, but why that doesn't really work and I've always hated this. I never used it — well, you know, for more than the obligatory five minutes when it sounded like the greatest idea ever. And anyone who tried to do that with me, for inside my own company, they got a couple of warnings and I've actually removed people years ago from company for using it. And we used to make a joke about terminating them, saying that they transitioned to a four-hour workweek, e.g. got fired because it didn't really make sense. And all it did was slow down everyone else in the company and were like, "You're the bottom of the totem pole. You don't get to dictate the pace of communication and workflow." Like, if I want to do that as the boss, I can. And I tried that and it screwed up everybody else too. 
[01:04:55] Cal Newport: Yeah. So to give Tim credit, first of all, like an interesting story about the 4-hour Workweek is if we think about it, now we think about the lifestyle design stuff, et cetera. But if you go back and actually look at how that book took off in 2007, which, you know, he gave a talk at South by Southwest, right? When it came out that April and then the book got really pushed by a bunch of Silicon Valley types that had met him at South by Southwest. If you look at the talk and the original interviews they did with him, it was all about email. That was the thing in his talk that actually made that book take off was him saying, "Clearly, this is crazy easy. We can't work this way." He was like the first person to really say that. So it's actually a really important data point when we're trying to go from 1990, there's no email. 1995, it's pretty widely spread. By 2007, you know, he's been hailed is a hero for being one of the first people that really stand up and say, "Clearly, this is crazy." 
[01:05:45] So the autoresponder solution, that's a standard engineering response. Like it's very logical, right? You're like, well, the problem is I'm checking email too much. So I should check it less often. And if I just explain how logical that is to everyone else, of course, how could they possibly argue? Because I'm being so logical about it, I can work better. What it was ignoring was human social dynamics. People do not like you explaining how you're going to work, if how you're going to work is going to make their life harder. And so one of the points I make in the book is that in 99% of the cases, better to don't explain yourself. If you're making a change, don't explain the change to other people, just do it. And if it generates issues, then you can get into it and try to accommodate those. But instead of giving everyone a reason to be upset at you, wait to see the small number of people who actually are, you know, and just deal with them.
[01:06:32] But then there's the broader reach that's social dynamics, right? So if you're going to start working on some of these processes, just on your own, I just recommend just do it and don't make a big deal about it. Just do it. Don't explain to people what you're doing. But the underlying point here that you made is even more important, which is the auto responding — whether you do an autoresponder or not, the batching approach doesn't work if the underline workflows the hyperactive hive mind. Because if you wait until two to check your inbox, that's four hours of back and forth messages, I really needed you to respond to. Right? So that goes back to that issue of like, just changing, how you interact with your inbox is never going to be enough to really solve the problem.
[01:07:06] Jordan Harbinger: Right. So let's say that I work in an organization, or even as a self-employed entrepreneur, whatever you want to call it, if we're asking for forgiveness and explaining why I'm never available. It kind of just makes me bad. But if I'm not necessarily available, first thing in the morning and somebody asks, "How come you were slow to respond?" But I've hit every single project target over the past year or so, it seems like then they're less likely to mess with the recipe. So the antidote to this could be just perform really well, which might require you to not check email every five minutes. And then when you're doing that, and someone says, "You don't respond to your email within a few minutes." You go, "Here are my sales targets and here is my performance. You know, it's much better than my targets." Nobody else is really doing that. Or I'm consistently crushing my goals. Does it matter that my response— ? And then you can maybe get some buy-in from your superior that says, "All right. I know Jordan's not going to chime in on this thread right away, but he's our top sales person. So I'm not going to sit here and make him check Google sheets or make him check Slack on his phone because he's performing." So the key is instead of asking for forgiveness or permission here, just accomplish what you're supposed to accomplish. And then when people try and mess with your recipe, you say, 'The reason I'm able to be at the top of the game is because I'm not doing the hive mind thing."
[01:08:17] Cal Newport: And I think that's a key idea. Adam Grant calls that the idiosyncrasy credits. So I've earned credits to be idiosyncratic about things like how I respond, because I'm nailing it. I'm really delivering what I need to deliver. The other strategy here is to use clarity as a substitute for accessibility. This especially works with client communication. So often when you're in a situation where people are demanding quick responses like accessibility, it's because they have no other real way of interacting with you. And so if you're a client and you have a question, you're like, "I don't want to keep track of this. Like, let me just send it. And I don't want to remember. If I can answer back right away, I don't have to worry about this anymore. Because there's no other way that these questions get resolved and I'd rather just have them answered when I need them. If you come in and say, okay, here is our system for doing client questions. If it's really clear and they trust it and it gets the job done often they're happy. Like, great. I don't need accessibility anymore because I have this. The key thing is the questions get answered and you don't have to worry about them. 
[01:09:10] And so one example I like is a company that was just so overwhelmed by Slack requests from clients that they were like, "We're going to take a risk. If we lose all our clients, we lose all of our clients. We can't do this anymore. We can't be on Slack all the time with them." And they said, "Once a week, we have a call scheduled and we are going to write down that call a summary of everything we talked about." And importantly, this is the key psychological trick, "Everything we committed to in the call. I'm going to write it down. We're going to send that to you right after the call." The client said, "Great. I don't need to be on Slack with you all the time. Well, we know we have this call on Monday, whatever the things are that are coming up. Great. We'll tell it to you on Monday. And because it's written down in black and white and we see the commitments, I don't have to bother you about it all to be like, Hey, what about this? Hey, remember that? I now can trust us getting done. I have a paper trail." And they went from being bothered all day on Slack to, they have this one-hour conversation once a week and the clients were fine because clarity substitutes for accessibility. If you don't give the substitution, you're in trouble. 
[01:10:01] Jordan Harbinger: Right. 
[01:10:01] Cal Newport: If there is no clarity about how you interact with people, don't trust you to get things done. If you drop the ball a lot, and then you say, "Stop bothering me so much in order to serve you better. I will only be checking emails at 10 and two." Well, then people are going to get really upset. But if you're like, "Look, you often have questions about this project. I'm crushing it. And I think we should throw the questions in the base camp. And I check it every day and it gets done." People are like, "Great, whatever." The point is, the ball is not being dropped. I don't have to worry about it. It's off my plate. I don't care how you want to do it. So accessibility can often be traded for this clarity.
[01:10:30] Jordan Harbinger: This is a great point. I've had a rule in the past and I still do that. I never hired digital nomads for anything. Digital nomads, if you don't know, are these people that sort of like travel all over the world, work remotely. They're usually almost always freelancers that do things. And I had so much bad luck with them because I noticed they make a ton of systems and they keep talking about those systems, but they really seem to have almost no control over their time. They're just sort of perpetually on vacation. And they're almost trying not to do any actual work, which is a nice gig if you can get it. But I don't want that person in my organization saying, "Hey, I don't have Internet this weekend," because they're BnB, "That I'm in Vietnam." It turns out they actually don't have working Wi-Fi. "So I can't download any of the videos and edit all any of them." And I'm like, "Ugh, this person sucks." 
[01:11:13] But my video editor now, he is a digital nomad and he does a great job and he's very good at communicating expectations. He makes sure that everything is done. He never drops the ball. So I am understanding of him losing Internet for a few days while traveling, because often he will say in advance, "Hey, I'm going to Vietnam. I'm supposed to have Internet, but you never know. It's monsoon season. Please send me everything you can by tomorrow, end of day. And I will get to work on all of that because I'm going to download it before I leave my hotel in Sweden." But if I'm hiring somebody else and they tell me they live a digital nomad lifestyle, I literally throw their resume in the garbage immediately because I don't want somebody who's more concerned with getting laid in Ukraine than they are about getting their work done.
[01:11:54] Cal Newport: Yeah. I'm with you, so clarity systems. This is what can really drop like general accessibility or this or that. So yeah, I really get that, but it's also a good warning. That systems are only as good as your actual commitment to executing them as well. And you know, it's difficult. It's hard to figure these things out. Like here's our workflow for podcast editing and production. Like it's a pain to get it right. You know, here's our workflow for comments on our web development projects from our clients. I tell the story that I ran a web development company when I was a teenager in the '90s. And so I was running a web development company where we have like reasonable contracts, right? Like $30,000 contracts, which was a lot for me as a teenager when I was in high school and I was doing sports. And this was before cell phones, before laptops. Right? So like we had to figure out how to run a company in a notoriously sort of demanding interactive industry with basically zero accessibility outside of the occasional phone call.
[01:12:46] And it was like a huge pain, right. We had to build this client extranet and had calendars. We had to do, we figured out what the key thing was by the way, work blog. If they could see what was being done, that was 98% of why they wanted you to be accessible because they didn't trust you or they're getting their money's worth so they could see it like, all right, the work is getting done. And then just some clear processes where we consolidated the decisions to meetings and then a memo would be written and they'd have to sign off on the memo. And then you would post the signed memo in the client extranet. And like, okay, we've had a creative brief, you could see deadlines. Like it was a pain, it was a pain, it was hard to get right. But once we got it right, we could run a business without actually having the ability to communicate with people basically at all during most of the working day. 
[01:13:26] And the interesting story about web development is I've talked to some developers about this. That was the norm in the '90s when like people didn't have cell phones, et cetera. It kind of went away when the hive mind took over. 
[01:13:36] Jordan Harbinger: Right. 
[01:13:36] Cal Newport: And a lot of web developers today, lament it to like, "Yeah, I remember that was standard. You'd have these client portals and extranets and the communication was very structured." And by the time that email was very ubiquitous by the early 2000s, it was just easier to be like, "You know what? Let's just rock and roll. Just like go back and forth all day." 
[01:13:52] Jordan Harbinger: Yeah, just BCC everyone. Yeah. 
[01:13:54] Cal Newport: And it made life much, much harder and made web developers. So we know, like in that instance we could do this, we used to do it, but the hive mind sort of snuck in and destabilized it. 
[01:14:05] Jordan Harbinger: Cal Newport. Thank you very much. There's a lot more in the books, specific strategies, boundaries, how to draw them, how to change up the workflow using task boards. I didn't get into all that here because you can really get in the weeds on how-to's, but I love the psychology behind this as always, of course, that's what the show focuses on. And it's going to be a tough habit or set of habits to break, but there's a lot of ideas in the book where I go, "Okay, I'm doing that." I'm definitely going to stop. Responsibility shifting a.k.a. Email hot potato. I'm definitely going to carve out boundaries and stick to those. And I'm an to my team to do the same. And in fact, we've done a pretty good job, right? We have no meetings. In fact, we just started doing a quarterly meeting just because we literally never see each other and it's good to build some comradery, but the meeting is just catching up, chatting. It's more fun than anything. And you know, I'm pretty proud of that lack of garbage that goes around among the organization, but there's like seven of us. Right? So the trick is when there's 700, that's when it becomes like a magical kind of art. And it, I think organizations can and should do this because I can imagine how many hundreds slash thousands of hours each month you get back if you don't just keep the hive mind going. So thank you so much for your work here. 
[01:15:14] Cal Newport: Yeah. Well, thank you. And I like this pitch. Buy this book, so you can be more like Jordan. 
[01:15:18] Jordan Harbinger: That's right. Yeah. 
[01:15:19] Cal Newport: That's the tagline of the book. We should've got a blurb from you. 
[01:15:22] Jordan Harbinger: Yeah. 
[01:15:23] Cal Newport: But I love, I love your setup. This stuff is not just about being less bothered. It's not about being, you know, a little bit happier at work. You're going to make more money and your company's going to make more money. And if you deploy these ideas, you're going to be more successful. So this is why, by the way, I'm optimistic that I'm not trying to change people's minds here. This is Kami. There's just too much money on the table. Companies are going to be so much more effective as they get more advanced about how they think about these things. I'm just trying to give a few people a head start. So I think that's the right way to think about it. A world without email is inevitable. Just a matter of whether you're going to get to that late or early. And if you want to get there early, that's what I'm trying to help people do. 
[01:15:55] Jordan Harbinger: Right, it's going to be one of those things where a couple of tech companies start off, everyone thinks they're nuts. Then some other companies start doing it. Then there's consulting firms going, "Hey, you know what, look at what Stripe did. And they doubled their productivity. And then in 10 years, Ford Motor Company is going to be like, "No more email, we've got this other thing now." 
[01:16:12] Cal Newport: Hundred percent. Yep, exactly. 
[01:16:13] Jordan Harbinger: And then back to one car every hour. 
[01:16:15] Cal Newport: By 1925, everyone, every car company was using the assembly line, but Ford was first and it made them the largest car company in the world. So everyone is going to be getting more sophisticated about how they work. But if you're one of the first to do it, you could reap those benefits. 
[01:16:27] Jordan Harbinger: Good call. Well, thanks, Cal. Always fun. 
[01:16:29] Cal Newport: All right. Thanks Jordan. 
[01:16:31] Jordan Harbinger: We've got a trailer of our interview with Howie Mandel, one of the most iconic comedians of our day and a judge on America's Got Talent. Howie spent some time with us being especially candid about his anxiety and about how he turned being impulsive into a superpower and more check out episode 210 here on The Jordan Harbinger Show.
[01:16:50] Howie Mandel: So what happened was we were doing — not unlike we're doing now where you're doing an interview and he says, "Thank you and we'll probably go to a commercial and thank you, Howie." And I got up and I started walking to the door and I thought he was like, wrapping it up and going to commercial. And then I just said to somebody really quietly, "Can you grab the door?" And he goes, "What are you afraid of the door?" And then he goes, "Just open the door." And I go, "I can't open the door." He goes, "Just open the door." And then what happened is I started getting a panic attack and I started breathing heavy and I just turned to him and thinking that he had already thrown the commercial because he was just talking to me, "Howard, please. This is really serious. I go to therapy for this. I have something called obsessive-compulsive disorder. I'm about to pass out. If you don't open the door for me now, you'll be calling 911 and taking me to the hospital." This whole thing was on national radio. I thought, "Oh my God!" That was probably the darkest space I've ever been. And I'm walking through the lobby toward the door out into these teeming streets of Manhattan. I might as well just continue walking and walk right into traffic. And I stopped just outside the door. You know, millions of people are on the street, but I felt very alone. And some guy came into my periphery and said to me, "Are you Howie Mandel?" And I just nodded affirmatively. And he said, "I just heard you on Stern." And my heart dropped him in my stomach. And right before I could take off in the traffic, he said two words, which means something very different today, but they changed my life and he went, "Me too." 
[01:18:17] Jordan Harbinger: For more with Howie Mandel including some pretty awkward moments of my own making check out episode 210 here on The Jordan Harbinger Show. 
[01:18:27] Always interesting to wrap here with Cal. Some of the practicals that are from the book create specific boundaries so that people are more likely to follow them. An example of this is instead of saying, "I don't know if I can review your paper. I'm really busy right now." You might say something like, "I've hit my quota of paper reviews for this quarter." So in order to argue a point that's a specific boundary, people would have to argue the merits of your rule or boundary instead of just insisting their request was important. And so this is going to be far more effective, right? If somebody says, "Hey, I just need a moment of your time." You can say something like, "I've booked up all my phone time for this week on Monday, but I haven't opened next Monday. I'd love to talk to you then." They would have to say, "No, I'm so important. We have to talk before then." Or they would have to say, "You don't need a boundary," right? It's a really tough argument for them to make. So if you're specific, you create those specific boundaries, people are more likely to follow them, less likely to argue. 
[01:19:19] Some of the concepts in the book are kind of funny to responsibility shifting. It's a fancy way of saying email hot potato, right? You get an email. You're not sure what to do with it. So you fire off a reply asking for some clarification, just to get it off your plate. I definitely used to do this. Now, I flag things for later because nobody can give me anything urgent by design. And they're just not possible really — except for Jen, she can always do that. But if I can't figure out what to do with it or where it goes, I just say no, and it's so liberating. "Hey, I don't know what to do with this. It's going to require — you know what, I'm just going to not do it." Can't deal with it right now, not doing it. The goal here is to spend less time talking about work and more time doing the important work, getting things done. 
[01:19:58] And the book includes good case studies of highly optimized workflows if people are interested. It goes into using task boards and automating what you can automate and then worrying about what remains. When we have too many tasks, we don't have enough space to actually reform the workflow to become more efficient. So we have to work on the systems so that we can get our deep work done, not just do endless amounts of busy work. And I love Cal for bringing this to our attention and showing us a better way. 
[01:20:24] Big, thank you to him for coming on the show. The book title is A World Without Email. We will link to that and his other books in the show notes. Links to all that stuff's going to be on the website. Please use our website links if you buy books from the show, from any guest. Yes, they work in Canada. Yes, they work in Germany. Yes, they work in the UK. Just use our freaking links, all right. Worksheets for the episode in the show notes. Transcripts for the episode in the show notes. There's a video of this interview going up on our YouTube channel at jordanharbinger.com/youtube. I'm at @JordanHarbinger on both Twitter and Instagram, or just hit me on LinkedIn. I love hearing from you there. 
[01:20:56] I'm teaching you how to connect with great people and manage relationships using the same systems, software, and tiny habits. All the same stuff I use to get great guests like this on the show. That's at our Six-Minute Networking course, which is free over at jordanharbinger.com/course. I'm teaching you how to dig the well before you get thirsty. And most of the guests on the show, they subscribe to the course. Come join us, you'll be in smart company where you belong. 
[01:21:19] This show is created in association with PodcastOne. My team is Jen Harbinger, Jase Sanderson, Robert Fogarty, Millie Ocampo, Ian Baird, Josh Ballard, and Gabriel Mizrahi. I couldn't make the show without them. Remember, we rise by lifting others. The fee for the show is that you share it with friends when you find something useful or interesting. If you know somebody who needs better productivity, or you want to give your boss a little hint, hint, share this episode with them. Hopefully, you find something great. In every episode of this show, please do share The Jordan Harbinger Show with those you care about. In the meantime, do your best to apply what you hear on the show, so you can live what you listen, and we'll see you next time.
[01:22:01] Jayson Waller: Jayson Waller here, host of the True Underdog Podcast and YouTube channel. This is what we've got in store on our episodes. I'm going to tell stories of me growing up, being trailer parked, high school dropout, teen dad, to opening three businesses that were successful. The latest business winning Inc 500 three out of four years, entrepreneur of the year, and it's a billion-dollar company. That's right. I'm going to give you tips, strategies, how to overcome adversity, how to be better, how to not stay in the mud. On top of that, on this show on the full episodes, we're going to have interviews with people who have overcome adversity, people that have been successful, but started with things in their way, things they had to overcome and struggle with. How did they get there? Check us out on iHeartRadio, Spotify, or Apple Podcasts. You can go to trueunderdog.com. Subscribe to everything, or go to YouTube at the True Underdog Podcast. 
Sign up to receive email updates
Enter your name and email address below and I'll send you periodic updates about the podcast.