Reading Time:
4
minutes
Cal Newport researches cutting-edge technology and writes about the impact of these innovations on society. He is the New York Times bestselling author of Deep Work, So Good They Can't Ignore You, Digital Minimalism, and his latest, A World without Email: Reimagining Work in an Age of Communication Overload.
What We Discuss with Cal Newport:
What is the hyperactive hive mind, and how did the collaborative nature of email communication give rise to it?
Why checking our email an average of every six minutes is, as Cal puts it, "a terrible way to extract value from human neurons."
How so-called multitasking takes its toll not only on our individual capacity to focus, but on the prosperity of society as a whole.
Why debuzzing the hyperactive hive mind can't be done from the inbox, but by replacing the rules for how we collaborate.
How we can set the rules, guidelines, and systems by which we agree to communicate without succumbing to the collective pull of the hyperactive hive mind.
And much more…
Like this show? Please leave us a review here — even one sentence helps! Consider including your Twitter handle so we can thank you personally!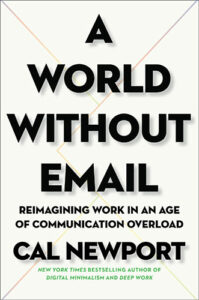 Modern knowledge workers communicate constantly. Our days are defined by a relentless barrage of incoming messages and back-and-forth digital conversations — a state of constant, anxious chatter in which nobody can disconnect, and so nobody has the cognitive bandwidth to perform substantive work. There was a time when tools like email felt cutting edge, but a thorough review of current evidence reveals that the "hyperactive hive mind" workflow they helped create has become a productivity disaster, reducing profitability and perhaps even slowing overall economic growth. Equally worrisome, it makes us miserable. Humans are simply not wired for constant digital communication.
We have become so used to an inbox-driven workday that it's hard to imagine alternatives, but they do exist. Drawing on years of investigative reporting, our guest for this episode — author and computer science professor Cal Newport — makes the case that our current approach to work is broken, then lays out a series of principles and concrete instructions for fixing it. In A World without Email: Reimagining Work in an Age of Communication Overload, he argues for a workplace in which clear processes — not haphazard messaging — define how tasks are identified, assigned, and reviewed. Listen, learn, and enjoy!
Please Scroll Down for Featured Resources and Transcript!
Sign up for Six-Minute Networking — our free networking and relationship development mini course — at jordanharbinger.com/course!
BiOptimizers Magnesium Breakthrough will help you beat stress, get fit, sleep better, and recover faster. Go to magbreakthrough.com/jordan and use code JORDAN10 to try it for 10% off the regular price — it comes with a 100% money back guarantee if you're not satisfied!
Sakara brings life-transforming, plant-rich super meals to your door, ready to eat. Experience the power of food as medicine that's nutritionally designed for results. Superfood-filled, dairy-free, gluten-free, non-GMO. Go to sakara.com/jordan or enter code JORDAN at checkout for 20 percent off your first order!
Ten Thousand makes durable, top-quality training gear developed and tested by core athletes, representing a stoic dedication to continuous improvement and a better, stronger you. Go to tenthousand.cc and enter code JORDAN for 15 percent off your purchase!
Active Skin Repair harnesses the power of the body's immune system to create a product that works on hundreds of different conditions — minor cuts, scrapes, rashes, chafing, burns, and other forms of skin damage — in a simple-to-use formulation. Get 20 percent off your order and free shipping by texting REPAIR to 64000!
Have you ever thought about the fact that where you choose to live directly affects the "you" you become? Apartments.com has the most listings, which means you have the most apartments, townhomes, condos, and houses to choose from. Change your apartment, change the world at Apartments.com here!
Simple Mobile was founded on the idea that there is a better way to do wireless. Unlimited, no-contract plans starting at $25. Just text BYOP to 611611 to see if your phone is compatible, and visit simplemobile.com to find out more!
Miss the show we did with legendary funnyman Howie Mandel? Catch up by listening to episode 210: Howie Mandel | A Conversation About Mental Health, Talent, and Perseverance here!
On the True Underdog podcast, entrepreneur Jayson Waller and his high-profile guests share motivational tips, inspiring stories, and business-building lessons to help each listener grow in their entrepreneurial journey. Listen here or wherever you enjoy podcasts!
Thanks, Cal Newport!
Click here to let Jordan know about your number one takeaway from this episode!
And if you want us to answer your questions on one of our upcoming weekly Feedback Friday episodes, drop us a line at friday@jordanharbinger.com.
Resources from This Episode: