Howie Mandel (@howiemandel) is a comedian, actor, host of Deal or No Deal, judge on NBC's America's Got Talent, and coauthor of Here's the Deal: Don't Touch Me.
[Featured photo by Ryan Hartford of Ecliptic Media]
What We Discuss with Howie Mandel:
Why Howie believes it's important for us to be open about our struggles no matter what they are.
How being impulsive helped Howie understand the power of "now" and set him on his current career path.
Why Howie believes more of us would be ahead and happier if we learned to live in the moment instead of fretting over consequences.
What Richard Pryor taught Howie about honing an act and controlling an audience like a conductor — not always going for laughs, but impact.
The real secret to staying married for 40 years.
And much more…
Like this show? Please leave us a review here — even one sentence helps! Consider including your Twitter handle so we can thank you personally!
(Download Episode Here)
(Subscribe to the Podcast Here)
Worksheet for this Episode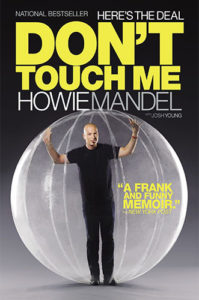 One of the hardest working men in comedy, America's Got Talent judge, Deal or No Deal host, and Here's the Deal: Don't Touch Me coauthor Howie Mandel accidentally outed himself as a germaphobe suffering from OCD on The Howard Stern Show. Instead of this incident ruining his life and career, it allowed him to become the voice of the disorder in many ways, and he's used it as a lens with which to study human nature, forming the foundation of his comedy.
This episode is so fun, so interesting, and so all over the place that it has quickly become one of my most favorite interviews I've done in the history of the show. I've got a few fun notes and stories for after the show as well, but in the meantime, please enjoy this episode with one of the most prolific comedians of the day!
Please Scroll down for Full Show Notes and Featured Resources!
Sign up for Six-Minute Networking — our free networking and relationship development mini course — at jordanharbinger.com/course!
Are you trying to hire the right person for your business, but the best candidates keep slipping away? Let ZipRecruiter — the fastest way to hire great people — help you screen only the best at ziprecruiter.com/jordan!
Need custom graphics, logos, or Web design? Access a community of 600,000+ designers by registering at designcrowd.com/jordan and enjoy up to $100 off with The Jordan Harbinger Show bonus offer!
Luminary is a podcast streaming platform that gives you access to 500k+ shows, when and where you want. Sign up for Luminary Premium at luminary.link/jordan and access your first two months of premium content for free!
Have you ever thought about the fact that where you choose to live directly affects the "you" you become? Apartments.com has the most listings, which means you have the most apartments, townhomes, condos, and houses to choose from. Change your apartment, change the world at Apartments.com here!
Brother INKvestment Tank all-in-one inkjet printers keep your business running by delivering up to one year of printing without the need to replace ink cartridges! Until June 15th, get up to $50 off select INKvestment Tank models by going to inksaleradio.com!
Happier with Gretchen Rubin is a lively, thought-provoking podcast in which the best-selling author and her cohost (and sister) Elizabeth Craft share practical, manageable advice about happiness and good habits. Lend it your ears here!
More About This Show
In his earliest days as a comedian, America's Got Talent judge, Deal or No Deal host, and Here's the Deal: Don't Touch Me coauthor Howie Mandel literally made up his act on the spot in front of a live audience — and it was all set in motion by a dare. Before that, he was a color-blind carpet salesman during a time when wildly clashing hues were more forgivable than they might be today. These two career paths were informed by one character trait that some might consider a flaw, but Howie proudly owns: impulsiveness.
Instead of overthinking and saying "coulda, shoulda, woulda" after the fact, Howie thinks more of us would be ahead and happier if we lived in the moment — as long as we're not hurting anybody.
"You shouldn't spend a moment thinking about what you don't have and what you want. You've got to think about 'How do I make this moment — this second — the most fun, the most interesting, and the most exciting?' Because that's all you have, and that's all I do every minute of the day. And I fight for that — I don't achieve that, but that's what I fight to do."
Listen to this episode in its entirety to learn more about Howie's outrageous ability to gleefully springboard himself out of his comfort zone in order to experience new things and make connections with interesting strangers, how he realized it was okay to talk openly about his struggles with OCD and mysophobia after an embarrassing public gaffe that worked in his favor, what Richard Pryor taught Howie about the virtues of fearlessness and the art of controlling an audience like a world-class conductor, the
real
secret to staying happily married for 40 years, and much more.
THANKS, HOWIE MANDEL!
If you enjoyed this session with Howie Mandel, let him know by clicking on the link below and sending him a quick shout out at Twitter:
Click here to thank Howie Mandel at Twitter!
Click here to let Jordan know about your number one takeaway from this episode!
And if you want us to answer your questions on one of our upcoming weekly Feedback Friday episodes, drop us a line at friday@jordanharbinger.com.
Resources from This Episode:
Download Worksheet for A Conversation About Mental Health, Talent, and Perseverance

/wp-content/uploads/2019/06/Worksheet-for-Howie-Mandel-A-Conversation-About-Mental-Health-Talent-and-Perseverance-Episode-210.pdf