Reading Time:
3
minutes
David Buss (@ProfDavidBuss) is a professor of psychology at the University of Texas at Austin. He is considered the world's leading scientific expert on strategies of human mating, and his most recent book is — appropriately enough — The Evolution of Desire: Strategies of Human Mating. [Note: This is a previously broadcast episode from the vault that we felt deserved a fresh pass through your earholes!]
What We Discuss with David Buss:
Why does mating matter?
The mating crisis among educated women.
How to select a good long-term mate.
What leads to mating disasters.
What we can do to become better long-term mates.
And much more…
Like this show? Please leave us a review here — even one sentence helps! Consider including your Twitter handle so we can thank you personally!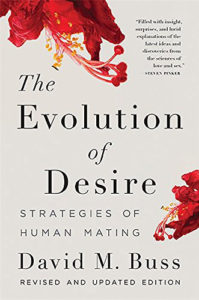 Nearly everyone alive has faced problems of mate selection, mate attraction, mate retention, and conflict between the sexes. Good mating decisions create life's most glorious highs; bad ones sink us into the depths of despair. Everyone should know what modern science tells us about human mating and what we can do to understand how it affects our every move — so the choices we make are conscious and not simply enslaved to the fickle whims of biology.
Our guest today is David Buss, who has been cited as one of the thirty most influential living psychologists in the world. The new edition of his book, The Evolution of Desire: Strategies of Human Mating, provides the most up-to-date scientific information that can be used to understand other members of our species — and ourselves — from an evolutionary and biological standpoint.
Listen to this episode in its entirety to learn more about what people want in a mate; successful tactics of mate attraction; causes of conflict between the sexes; motivations for cheating or infidelity; why mating seems so difficult in the modern world of Internet dating, pornography, and the mating crisis among educated women; the problems of mate value discrepancy and how both low self-esteem and narcissism skew expectations; how we can find our appropriate mating market; how to pinpoint the important qualities we really desire in a long-term mate (as opposed to what we think we desire); how to become long-term potential mate material; hallmarks of narcissism and emotional instability; the dark triad, and lots more. Listen, learn, and enjoy! [Note: This is a previously broadcast episode from the vault that we felt deserved a fresh pass through your earholes!]
Please Scroll Down for Featured Resources and Transcript!
Please note that some of the links on this page (books, movies, music, etc.) lead to affiliate programs for which The Jordan Harbinger Show receives compensation. It's just one of the ways we keep the lights on around here. Thank you for your support!
Sign up for Six-Minute Networking — our free networking and relationship development mini course — at jordanharbinger.com/course!
This Episode Is Sponsored By:
Missed our conversation with Daniel Pink in which we discussed the psychology, biology, and economics behind scheduling for optimal effect (including sleep) — and why your ideal time to get something done may widely differ from someone else's? Catch up with episode 63: Daniel Pink | When Is the Best Time to Get Things Done?
Thanks, David Buss!
If you enjoyed this session with David Buss, let him know by clicking on the link below and sending him a quick shout out at Twitter:
Click here to thank David Buss at Twitter!
Click here to let Jordan know about your number one takeaway from this episode!
And if you want us to answer your questions on one of our upcoming weekly Feedback Friday episodes, drop us a line at friday@jordanharbinger.com.
Resources from This Episode:
758: David Buss | The Evolution of Desire
[00:00:00] Jordan Harbinger: Special thanks to Nebula Genomics for sponsoring this episode of The Jordan Harbinger Show.
[00:00:05] This episode is sponsored in part by Peloton. It's the time of year where we start thinking about what next year will bring. We make New Year's resolutions to exercise more, but let's face it, will you actually stick with it? It's been proven that you're more likely to stick to a routine if it's something you enjoy, which is why so many people stick with Peloton. The instructors are so fun. It's like working out with a friend. There's a very strong Peloton community. Also, I'm all about data, and Peloton tracks your metrics so you can keep tabs on your performance over time. And right now, Peloton's got a gift for you. Get up to 200 bucks off accessories like cycling shoes, heart rate monitors — both of which I have and use regularly — and more when you purchase a Peloton Bike. Bike+, or Tread, and up to a hundred dollars off accessories with the purchase of a Peloton guide, which will turn your TV into an AI-powered personal trainer. Make this the first step toward achieving your fitness goals in the new year. Choose from Peloton cycling to scenic runs, boot camps to power walks. A huge variety of classes that work for you, taught by world-class instructors who know exactly how to get the best out of you. So don't wait, get this offer before it ends on December 25th. Visit onepeloton.com. All-access membership separate, offer ends December 25th, cannot be combined with other offers. See additional terms at onepeloton.com.
[00:01:12] Coming up next on The Jordan Harbinger Show.
[00:01:14] David Buss: One of the things about narcissism is that at least many have this, what's called oscillating self-esteem. They oscillate between thinking they're the greatest person in the world and then thinking they're really shallow and a piece of sh*t. That fragile self-esteem is really problematic as well. Those are two things I would actually advise most people, if you're looking at personality characteristics, to avoid or to select, avoid emotional instability, and avoid narcissism and potential mates.
[00:01:49] Jordan Harbinger: Welcome to the show. I'm Jordan Harbinger. On The Jordan Harbinger Show, we decode the stories, secrets, and skills of the world's most fascinating people. We have in-depth conversations with scientists, entrepreneurs, spies, psychologists, even the occasional four-star general, organized crime figure, Russian spy, or rocket scientist. And each episode turns our guest's wisdom into practical advice that you can use to build a deeper understanding of how the world works and become a better thinker.
[00:02:15] If you're new to the show or you want to tell your friends about the show — and of course, I do appreciate it when you do that — I suggest our episode starter packs as a place to begin. These are collections of some of our favorite episodes organized by topic. That'll help new listeners get a taste of everything that we do here on this show — topics like persuasion and influence, disinformation and cyber warfare, abnormal psychology, crime, and cults and more, just visit jordanharbinger.com/start or search for us in your Spotify app to get started.
[00:02:44] One from the vault today, we're talking with my friend Dr. David Buss. He's a professor of psychology at the University of Texas at Austin. This episode centers around one of my favorite topics anywhere, evolutionary psychology. David Buss has more than 300 scientific publications, which sounds almost impossible. Obviously, this guy does a lot of writing and a lot of researching, mostly on human mating strategies. Such a typical guy just thinks about sex and mating all day long. He's been cited as one of the 30 most influential living psychologists.
[00:03:13] I think everyone should know what modern science tells us about human mating. Mating matters, surprise, surprise, because the decisions we make about it and around it, they affect nearly all aspects of our lives, even if we're not conscious of it. These include social status, the esteem in which we are held, the esteem in which we hold ourselves, the health outcomes we attain or try to attain, how long we live, the quality of our lives day-to-day. Think about it. We'll discuss a lot of it during the show as well. We'll also discuss the mating crisis among educated women. A lot of female show fans have sent me messages asking to cover this topic, and I was going to do a special show about it, but honestly, we covered it quite in-depth here. We'll also explore how to select a good long-term mate and what leads to good long-term mate selection, as well as what leads to disasters, which I mean, you all have heard Feedback Friday. Those are candidly the most fun, at least for me. All right, here we go with Dr. David Buss.
[00:04:08] There's so many good places to start here because mating, dating, being with a significant other for a long period of time is something that people struggle with before they get there and struggle with during the relationship, struggle throughout pretty much every phase. And I say struggle because that might be too dramatic of a spin on it, but I feel like people who are doing it right and people who are doing it wrong are always putting an energy into their relationships, and that's just kind of how it works. There's really no getting around it.
[00:04:36] David Buss: Yes, that's right. And I would add that the same people get it right sometimes and get it wrong sometimes, or it's right for five years and then turns bad. You know, I think one of the myths is that somehow we're supposed to meet the one and only when we're at a very young age, and live perfectly happily ever after for the next 50 years with no bumps in the road. And I think that's just naive. I think that person who's an ideal mate for you when you're in, let's say high school or college might be different from the ideal mate for you when you're 30 or 40. So I think we have to keep those complexities in mind when dealing with your point about the travails and troubles and good things about mating as we go through the process.
[00:05:23] Jordan Harbinger: Every single person that I know, I think everyone alive, alive or dead for that matter, has faced problems of mate selection, attraction, retention. There's always conflict between the sexes in relationships, both good and bad. And I'm sure there's a lot of good tension as well as bad. And of course, people write songs, poems, there's art about great and terrible relationships, both of which seem to be in many ways equally popular depending on where the consumer of that art is in their life and in their relationships. So there's a lot of stuff here.
[00:05:52] And of course, I think the mating crisis among educated women is a great place to start because this also greatly affects men because of simply how this works, men and women, sort of the default, stereotypical relationship, the mating crisis among educated women affects both men and women in different ways.
[00:06:09] David Buss: Yes, absolutely. So first thing, maybe just describe what that crisis is. What's happened is that there's been a sex ratio imbalance, meaning that there's a much larger percentage of women compared to men who are getting higher education, who are going to college and also getting higher degrees, but especially pronounced the college level at the moment. I mean, estimates vary. It depends on what college you go to but I teach at the University of Texas at Austin, we have about 54 percent women, about 46 percent men. You go up the road to Texas Christian University, it's about 60 percent women, 40 percent men, but this is occurring through sex ratio imbalance. It's occurring throughout the United States and Western Europe, with some exceptions. And the exceptions tend to be the engineering schools like MIT or Caltech. But in the vast majority of colleges and universities, there's sex ratio imbalance.
[00:07:04] So that's point A. Point B is the reason that this creates crisis is women have very strong mate preferences such that they don't mate with guys who are less intelligent, less educated, and less professionally successful than they are. Women have stronger mate preferences on those variables. And so what that means is that there aren't enough highly educated, intelligent, successful men in these settings that women would like. So that's one effect that it has, but the other effect that it has, the sex ratio imbalance is that it creates a context for a dramatic increase in casual sex or hooking up.
[00:07:46] I talked recently to a guy who's actually very professionally successful who got his undergraduate degree at Texas Christian University. And as he's recalling the times, there's this kind of glaze that comes over his eyes as he remembers that he had such high mate value there because there was just a surplus of women. And when there's a surplus of women, basically the rarer sex, in this case, men have an advantage because they're higher in mate value.
[00:08:15] And so the way the TCU people describe it to me is a guy who's normally a five in any other context could be an eight at Texas Christian University during that period of time. When you add into the mix, what happen is that males have a greater desire for sexual variety as part of our evolved sexual psychology. And when men are in that position, they can tip the balance in their favor. And so you get more hooking up, less stable relationships, more dissatisfaction because one of the things that we know in scientific studies of hookup culture is that women typically feel less good about it emotionally afterwards.
[00:08:58] So I'll give you one example. One study ask people who were engaged in hooking up, "Well, what is your ideal outcome of a hookup?" Women say, "Well, ideal outcome is that this will lead to a relationship." Men are more likely to say, "Well I hope this hookup leads to more hookups. Perhaps, this woman will continue hooking up with me, or perhaps she'll introduce me to her friends." And so these conflicts come up in part because men and women have overlapping mating psychologies but in some domains dramatically different mating psychologies. It's become fashionable to try to argue that men and women are really identical in their mating psychologies and their sexual psychologies, but they're not. I think it's one of these kind of ideologically driven agendas and we know scientifically that the areas in which they differ.
[00:09:46] Jordan Harbinger: Right. That makes a lot of sense. Of course, we can try to create sociological constructs around what we'd like society to look like, but we really can't say, "All right, biology, you got to follow suit because you're being pretty inconvenient right now." We have to follow our biology in many ways, or at least our bodies want to do that regardless of what society wants to do in any given decade or set of decades.
[00:10:09] Color me a little bit surprised that if you want to hook up as a guy, that you go to a private Christian university where there's a lot of women because that will increase your odds. That part is a little surprising. So if we're in a culture or a society, a microcosm of society such as that university where there's a bunch of women, I'm a guy there, and I'm more rare. So the women are then beginning to act more promiscuously, which is what you've implied, right? Am I correct so far?
[00:10:34] David Buss: Yeah. In order to attract a guy, they have to offer up sex sooner and with less investment on his part than they really like.
[00:10:44] Jordan Harbinger: Okay. And so once I get out of that environment as a guy, let's say I'm in a relationship with somebody that I met there, I'm probably going to be able to punch a little bit above my weight, right? I might be able to select somebody who normally might not want to date me given a 50/50 ratio or given a larger pool of people. And so I'm punching above my weight at this university, and then I leave that university and enter the, quote-unquote, "real world." How will that affect my relationship?
[00:11:12] David Buss: Well, there are a couple of possibilities. Once they're in a relationship, people tend to invest in their relationship and there's this, what I call this mutual ratcheting up process of investment. And so it might be that the relationship is just fine outside of that context, but it also might be the case that the woman perceives, she has perhaps more options and the guy finds that his mate value has dropped. This gets to a really core issue of what I call a mate value discrepancy.
[00:11:41] When there's a value discrepancy, so like if an eight mated to a six, then this creates problems for both the eight and the six because the eight feels that they can do better on the mating market, and the six is worried that the eight will defect from the relationship or be sexually unfaithful. And so people don't like mate value discrepancies. One of the things people do is they try to influence their partner's perceptions of their mate value in various manipulative ways to try to smooth out that discrepancy or eliminate that perception of a discrepancy.
[00:12:18] Jordan Harbinger: What are some of those ways? I'd love to hear about that.
[00:12:20] David Buss: Well, some of them are pretty uncomfortable, I must say. So one of them is that the lower value person sometimes tries to undermine the self-esteem of the higher mate value person, and this can be done in a variety of different ways. There's pretty good evidence that our self-esteem, how good we feel about ourselves is in part a reflection of our mate value, our self-perceived mate value, and self-perception of mate value and other perception of mate value, that's what the all-important thing is.
[00:12:50] Jordan, I'm sure you've encountered this perhaps, is some women who are really fantastic. You know, they're stunning, they're smart, they have a dazzling personality, but they feel that they have low self-esteem. And so they underestimate their mate value or see all the flaws in themselves rather than reveling in their mate value. And I think this is similar as true with guys. So in general, people are roughly accurate in tracking their value, but sometimes people are off. I mean, you also get the other end of the spectrum. So some people who are high in narcissism, the personality trait narcissism, tend to overestimate their mate value. If they're a seven, they think they're a nine, and so that can create problems in and of itself.
[00:13:35] Jordan Harbinger: I like this idea here because this is super creepy and cringeworthy. There's a lot of people listening right now, especially women who have been in relationships and they're probably thinking, "Wait a second. That's why this guy treated me like garbage because he was afraid I might leave," right? So if I'm a average guy or below average guy, and I manage to somehow date someone who's much more in my perception, attractive than me, and could theoretically do a lot better, my gut instinct may be to knock them down a couple of pegs by treating them like crap in order to keep them around and manipulate them into staying with me longer.
[00:14:10] David Buss: Yes, that's right. Now, of course, the two basic classes of influence strategies that I've studied, this is the first one that we just talked about is a cost infliction. So a guy might insult a woman's appearance or point out flaws or asymmetries or you know, ask her if she's having a bad hair day or whatever. But they're also another class which is a little warmer and fuzzier and nicer, which is benefit-bestowing strategies. And so another set of strategies, so let's say a guy is a six and he's with a woman who's an eight, he might up his game. So, in other words, more fully embody the qualities that women typically desire. So, invest more heavily in her, increase his status, you know, work harder to increase income, et cetera. So there'd benefit bestowing strategies and cost-inflicting strategies. And we're a mixed species and we use both sets.
[00:15:04] Jordan Harbinger: Yeah, that seems to be the case for a lot of folks. I mean, every guy kind of instinctively, before listening to anything along these lines knows that if you want to get somebody who is very desirable, then doing that does not just depend on having six-pack abs, or especially if we're in our 30s and 40s, we're working and focusing much more on career, and a lot of guys lament that, but I think a lot of guys also realize that that's a great way to increase our value, our status is men. And it doesn't always have to be that way. I mean, you could also be well known or have high status in a certain environment, right, as well.
[00:15:40] I remember when I worked at a movie theater when I was younger, and I was probably 17, I became a team leader, which is like, you know, roughly equates to supervisor. And again, I'm 17 years old at this point and suddenly a lot of the women that I was working with were kind of competing for attention and things like that. And I thought, "Wow, this is pretty cool. You know, I got this team leader position, I'm making an extra 75 cents an hour, and I'm a hotter commodity." And it's kind of a joke because in the scheme of things, a 17-year-old sub-supervisor at a movie theater who no longer has to clean the sticky gummy bears but can delegate that to somebody else, not exactly the same thing as becoming a pro of basketball player or winning the lottery, right? But it's all relative to the context in which this happens, I would imagine.
[00:16:24] David Buss: A woman, friend and colleague of mine, said she went to a conference and she found herself very attracted to the organizer of the conference. And the reason, of course, is he had high status and then she met him six months later and he was just a participant at the conference and she didn't find him attractive. She wondered like, "What was she thinking?" Status, the esteem in which a guy is held by other people is extremely important in women's mating psychology. And part of that is determined by the attention structure. As you point out, it's absolutely context that matters, but the attention structure is basically the high status person tends to be the person to whom the most people pay the most attention. And that's going to vary very across contexts.
[00:17:09] This is one of the weird things about our modern mating environment is that — I just thought I'll give you one personal anecdote. So I'm an evolutionary psychologist and I'm very well known in my scientific communities. So if I go to a conference, especially evolutionary psychology conference, I have extremely high status, but I also ride motorcycles. In my motorcycle group, I don't have the hottest motorcycle. I'm not the most experienced motorcyclist, and if my motorcycle breaks down, I don't have a clue about what to do. So in that context, my status is very low. And so males, especially males, experience dramatic fluctuations in their mate value, in their status, and hence mate value as they move from one context to another. Women much less so.
[00:17:55] Jordan Harbinger: Why is that? I mean, the answer seems somewhat obvious, but let's spell it out.
[00:18:00] David Buss: Well, the obvious answer is that a woman's physical appearance, how physically attractive she's, it's important for both sexes, but it's a more important component of women's mate value than it's of men's mate value. Like if you see, just as an example, a hot woman with a guy who's kind of dumpy looking, people automatically assume and they're correct, that he must have high status and high resources, and almost invariably does. The attractive women, the eights, the nines, and the tens, they are not going out with guys who are flipping burgers at McDonald's.
[00:18:36] Jordan Harbinger: Right. Typically. That could probably be different though, right? Because what if she got out of a relationship or was raised in such a way where her sense of self-worth was pegged as lower regardless of her physical appearance, right? Then she may actually choose to go after somebody like that, thinking that's what she deserves.
[00:18:52] David Buss: Yes. I think you're right. There is some critical period in adolescence where our self-perception and mate value do become somewhat crystallized, but it's also sensitive to change. Like there are lots of cases where let's say a woman is gawky and tall and gangly, preadolescent and maybe made fun of, but then blossoms into a beautiful woman. Or similarly, a guy who's, let's say, I don't know, might be nerdy, not terribly athletic, not popular with women in high school, but then becomes very professionally successful. So mate values change over time. It would be astonishing if we didn't have an evolved psychology that was sensitive to those changes, you know, if we were totally pegged to what our self-perceptions were when we were in 10th grade.
[00:19:42] Jordan Harbinger: Yeah, of course, those things would and should evolve. And I'd love to discuss some potential or possible solutions to this because there's a lot of people sitting at home right now listening to this thinking, "Okay, this is really kind of a bummer. What can I do about any of this?" Especially if you're an educated female and you're thinking, "Oh shoot, that's my problem. I thought it was just this particular context. What are my options now?"
[00:20:03] David Buss: Well, there are a couple of different possible options for a woman in that position, and it's being a professor and you know, a lot of my female friends are also professors and highly educated, and so I talk to them quite extensively. And so I know from personal experience what they go through. But one thing has to do with changing the context. So getting out of a mating pool that's disadvantageous. And there are different mating pools. And so I mentioned earlier places like MIT or Caltech, there are places where there's a surplus of men and there are other places that are just disastrous for a lot of women.
[00:20:39] So for example — and so it's not just in university, so like Manhattan, there's a huge sex ratio imbalance where there are a ton of attractive single, often successful, professionally successful women and surplus of them compared to the men in Manhattan. So that's another context, so moving into a different context. But the is that women, I think another strategy would be to widen the pool of potential mates she considers.
[00:21:06] I know this one colleague, female friend of mine, she's a professor. She has these really exacting criteria. Like she wants a mate who speaks at least three languages, knows Russian literature in depth so she can have these interesting conversations about Russian literature with this guy. It's an absurdly specific set of criteria. Weirdly, most academics are, so majority tend to lean left politically. What's interesting is that she finds herself most attracted to guys like Republican bankers. And so there's this really interesting mismatch between what she thinks she wants and who she's really attracted to. And so I think that one thing women can do is take stock of their mate preferences.
[00:21:51] Actually just yesterday I had a drink with a woman who's a professional matchmaker and she said that her clients, female clients, they come in with this long list of like 53 things that they must have in the potential mate. And I think it's important to, for women to take stock at that — well, what are the necessities and what are the luxuries? What are things ideally you would like to have, but what are you willing to compromise on? What are you willing to trade off on? Because no one is going to get the perfect thing — mate, who embodies all 53 qualities that they ideally want.
[00:22:27] Jordan Harbinger: You're listening to The Jordan Harbinger Show with our guest David Buss. We'll be right back.
[00:22:31] This episode is sponsored in part by Innovation Refunds. If you own a business, pay attention. You could be eligible to receive a payroll tax rebate of up to 26,000 bucks per employee. Your business has to have five or more employees. It's not a loan. I always feel we are doing this ad read, because it sounds like, have you been injured in a slip and fall accident? But this is really just a refund of your taxes. It's your money. You've already given to the government. Potentially you can get some of it back. To see if you qualify, go to getrefunds.com/jordan. My friend started this company. A lot of you have emailed me asking about Innovation Refunds. "Hey, this sounds too good to be true. What's the deal here?" Again, my friend runs it. 4.9 stars out of five on Trustpilot or whatever. Trustpilot has dots. So how does it work? How do you get your refund money? Go to getrefunds.com/jordan. They've got a team of tax attorneys that are highly trained in this payroll tax refund program. They've returned over a billion with a B dollars to businesses. They can potentially help you as well. They do all the work. You don't pay anything upfront. They simply take a percentage of the cash they get for you. You'd never do this yourself. The process is a huge pain in the neck. I've asked about this. It's annoying AF. That's why they have a team of people doing it and they take a chunk of it when you get your refund. But businesses of all types can qualify. It doesn't matter if you got a PPP loan. It doesn't matter if you're a non-profit. It doesn't matter if you have an increase in sales, good for you if you did, and if you're a nonprofit and you took the loan, whatever. It doesn't matter. All these companies are potentially qualified for this. So definitely look into it. Don't leave that money on the table.
[00:23:54] Jen Harbinger: To find out if your business qualifies, just go to getrefunds.com/jordan. Click on Qualify Me and answer a few questions. This payroll tax refund is only available for a limited amount of time. Don't miss out. Go to getrefunds.com/jordan. That's getrefunds.com/jordan.
[00:24:14] Jordan Harbinger: This episode is also sponsored by Nebula Genomics. If you can't think of what to gift your friend or family member that has everything, an interesting and unique idea is a home DNA test. A lot of DNA kits, the ones you've heard of, probably only analyze as little as 0.02 percent of the human genome. There's a lot of information there, but Nebula Genomics offers a genetic testing kit that decodes a hundred percent of your DNA, so you get the most complete and accurate picture of your genetic makeup, even rare gene mutations. And of course, that means it's sort of future-proof so that when they figure out what the heck a lot of the other DNA does, you've already got it sequenced and decoded. The reporting is detailed, includes links to the scientific studies, so it's not just like, "Hey, you probably have red hair," one of those things, which you already know theoretically. I've been digging deeper into my genealogy because I wanted to find out where I was from and it turned out that we — it turns out my family has no freaking idea where we were from and they lied to me either on purpose or by accident my entire life. And I'm Ukrainian/Russian/probably got some Genghis Khan in there because there's a tribe called Yakut that I've never even heard of that's in there. So, getting my DNA analyzed with Nebula will help provide much more detail from my family and myself. It's not a tribe, it's an ethnicity. I don't know what's wrong with me. You can hear that I'm a little under the weather. Maybe my DNA would've predicted that. Customer privacy is guaranteed. They take privacy very seriously. So if you're stuck for a gift this Christmas, this is definitely one you can look into and it's as easy as spitting in a jar.
[00:25:41] Jen Harbinger: Go to nebula.org, that's N-E-B-U-L-A.O-R-G, and use promo code JORDAN to give the gift of whole genome sequencing for an unprecedented additional 15 percent off their current holiday promotion rate. Plus free shipping. Nebula, the future of health is in your DNA.
[00:25:58] Jordan Harbinger: If you're wondering how I book all these folks for the show, it is about my network and I know the word network and networking is kind of gross, schmoozy, dirty. I'm teaching you how to build your network for free in a non-gross, non-cringe way over at jordanharbinger.com/course. No awkward strategies, no cheesy tactics, just practical exercises that are going to make you a better connector, a better colleague, a better friend, a better peer. Less than six minutes a day, five-minute networking was taken. What can I say? That is all it takes, and by the way, many of the guests on the show already subscribe and contribute to the same course. Come join us, you'll be in smart company. Again, you can find the course at jordanharbinger.com/course.
[00:26:36] Now, back to David Buss.
[00:26:40] Humans are typically pretty bad at preferences. We're really, really bad at thinking about things that we want and differentiating between things that we think we want and things that we actually want and that we actually need. We're really bad as humans, preferences and long-term thinking. Is that correct?
[00:26:58] David Buss: I wouldn't say we're disastrously bad. I think that there are problems with it though, both in mating and outside of mating. Yeah, so sometimes people think, "Boy, if only I could get that hot girl then I would really be happy." They find sometimes they get the hot girl and no, she's either not that bright or they have to be constantly vigilant because there are mate poachers around, guys who are always hitting up on her. So they constantly have to be doing mate guarding. Our predictions of what is going to make us happy are known to be off base. Yeah, some self-reflection — what are necessities? What are deal breakers? And then what things can you live without?
[00:27:39] Jordan Harbinger: If you're a female or a male for that matter, and you find yourself in a particular context or situation in which you would be at a dating disadvantage. So for example, if you're a guy, you're going to an engineering school, there's three women in your class of 60, or whatever the ratio ends up being, the timing is probably pretty poor for you to be selecting or to present yourself to be selected if we're going to use the evolutionary psychology terminology here, the timing is bad for you to lock something down. You should maybe wait or consider waiting until you are in a more advantageous position. So, if you graduate from that school, you take a job in New York City, that's a better time for you to put yourself out there and indulge in the dating pool because your odds are going to be much higher that you're going to get something that you're satisfied with long term. Is that correct?
[00:28:25] David Buss: Yeah, that is absolutely correct. I mean, it's one of the reasons that I think guys tend to delay committed long-term mating for longer than women do. So the average age difference is like two and a half to three years for marriage, guys marry older and their career. And part of the reason for that is because the arc of their career and status trajectory is different so that most 20-year-olds don't have the highest status. You know, if they're on an upward trajectory, you want to wait because you're going to be able to attract a higher mate value person, in the long run, closer to the peak of your arc.
[00:29:00] Jordan Harbinger: Right. So it's better for guys short term to wait until they're really in the peak of their career and then date somebody who's significantly younger. Sort of problems with personalities and age gap aside, that would be the biological win, if that's the only factor we're taking into consideration.
[00:29:18] David Buss: Yeah, you want to be able to ideally — this is how our mating psychology is built — you want to be able to attract the highest value person you can, all else equal, but also someone that you can retain. So I'm talking about long term now. So if you're a six, it does you no good to attract an eight in hopes that you're going to be able to hold on to her because these mate value discrepancies, which we mentioned earlier, they are predictive of infidelity and breakups. And so you want to be able to attract the highest mate value person that you can successfully retain. So mate retention is just as important as initial mate attraction.
[00:29:57] Jordan Harbinger: There's something that I think a lot of people don't think about, whether or not they're looking for shorter term relationships — here's looking at you every guy ever — or just not thinking about it because you can't see the forest of the trees or you're just trying for a quick win. I would love to discuss the mate retention stuff as well because I think that concept is of greater utility for people over a longer period of time. You know, most of us at some point get into a long-term relationship where we get married and this stuff stays in play, whereas many of us have left or are leaving the dating stuff behind maybe forever.
[00:30:31] David Buss: Yes, that's right. Sometimes people pay a lot of attention to the mate attraction process and not enough attention to the mate retention process.
[00:30:40] Jordan Harbinger: So let's talk about online dating. How has Internet dating, which has risen dramatically over the past decade, how has that sort of been messing with our evolved mating psychology, which has been growing over not just the past decade, but the past a hundred thousand plus years and change, right?
[00:30:58] David Buss: Yes. It's a great question, and what we need to do is contrast the ancestral environments in which our mating psychology evolved with the modern context. So we evolved in the context of small group living. So groups of perhaps 50 to 150, maybe as many as 200. So in small group living, pretty much everyone knows one another. But here's the key thing, the number of potential mates that you would come across in your lifetime maybe would've been a few dozen, a relatively small number. In the modern environment, due to Internet dating in large urban city living, we have thousands, potentially millions of possible mates for us out there.
[00:31:42] And so what this does, I think is it has some positive effects and some negative effects. So one positive effect is that, well, it probably increases the chances that it dramatically increases the pool of potential mates that you have access to. So in small group living in the past, you wouldn't have access to group of potential mates that lived 50 miles away. They'd just be geographically too far away. They'd be isolated. You wouldn't even know about them. So that's one good thing. But the bad thing is it gives us this illusion that we can find that mate who fulfills 53 of the things, that we want in an ideal mate. And so what that means is that especially women, so I know this one woman, she went on a, an Internet dating site, she's fairly attractive and she got within, I don't know, a week or so, 500 responses from guys. She was very, very picky. And so she actually went out on a date with only one of those guys and within the first five minutes found something wrong with him. And so it gives people the illusion that there is that perfect mate out there for us.
[00:32:45] And then second thing that it does, and this is especially some dating sites more than others, so Tinder, more than let's say, I don't know, OkCupid or eHarmony, that physical appearance takes on an overwhelmingly disproportionate importance compared to what is should be. So physical appearance is important. It's important for men, it's important for women. Physical attractiveness is a sign of good health, it's a sign of good genes. And it's somewhat more important for women's mate value than men's mate value, as I mentioned earlier, but it's important for both sexes. But it's just one thing.
[00:33:20] In long-term mating, you know you want someone who has other qualities. You want someone, for example, who is kind, emphatic, has good social skills. And also, this is something I think is overlooked a lot, is you want someone who is within your intelligence range. If there's too large discrepancy in intelligence, basically the smarter person always feels like they have to dumb down what they're saying and the less smart person is always struggling to understand what the smarter person is saying. So you want to be with someone within your intelligence range. Of course, this is important for short-term matings. If you're interested one night stand or a casual hookup, it doesn't matter. But in the long run, you want some compatibility on those things as well as other things.
[00:34:06] So things like values and political orientations, religious orientations, those things are extremely important. I think most people know that. You know, do find the occasional Democrat and Republican who work successfully. So like James Carville, Mary Matalin, she's a Republican, he's a Democrat. They seem to have very successful marriage, but if you're too discrepant in general, generalization on political views on religious orientation, then it creates conflict in a relationship.
[00:34:37] So just to sum that up, I think the key points are giving us the illusion that we can find someone who fulfills everything that we want and then also increases the importance the online dating sites create physical appearance as like an overwhelming variable that tends to obscure all these other important variables.
[00:34:58] Jordan Harbinger: So what can we do about that? Because men and women everywhere are lamenting the fact that you can get swiped or not swiped, and now you're out of luck. And that the disparity in effectiveness for online dating between men and women, many guys can't get enough matches. Many women are getting so many that they just, they're overwhelmed by it because most of them are not a fit. How do we start to fix this problem? Or is online dating just so broken it's not worth doing?
[00:35:25] David Buss: Well, I don't know. I mean, I think there's a way in which the online dating is still kind of in its infancy. I mean, there are new sites that crop up all the time, and people are just trying to figure out what works and what doesn't work. And of course, it depends on your mating goals. Are you into it just for short-term mating? So Tinder, for example, tends to be more of a short-term mating app. In fact, I read a statistic recently that percent of the guys who are on Tinder are actually married. They're just looking for something on the side. Other dating sites tend to be more oriented toward long-term relationships. If you're a woman looking for short-term mating, then Tinder's great and people do sometimes find long-term mates on Tinder, but I would advise women who are looking for a long-term mate, Tinder's probably not your best bet.
[00:36:10] The other thing is — and this gets to the issue and one of the cardinal aspects of our mating psychology is what's called in the business female choice. Women have evolved to be very, very choosy and part of what that means is in an environment they perceive that there are these millions of potential guys out there. They feel that they can be really, really picky. And so I've heard many accounts where women, they'll diss a guy after a first date, they'll have coffee or drink with a guy and maybe he's a little nervous or something and they'll totally discount him. You know, sometimes on the second date he relaxes a little and his true personality comes out. And on these first date, people know they're being evaluated critically. It's like going on like a high stakes job interview. I guess I would encourage women to give guys a second chance.
[00:36:59] Guys, also, I guess I would encourage them not to focus solely on physical attractiveness. I think guys, you know, probably including me, I think guys tend to overvalue. It's part of our evolved psychology. We're very attentive to physical attractiveness in women because they're accused of fertility, they're accused of health. But for a long-term relationship to work, there's this old cliche, you know, don't marry a pretty face or don't marry solely a pretty face. You need so many other qualities in a long-term mate.
[00:37:31] Jordan Harbinger: I want to challenge you on something. So if guys are supposed to not look at just another pretty face and women are supposed to give guys a second chance, aren't we kind of just telling people, again what we talked about in the beginning of the show, which was, "Hey look, you can't fight biology. We can't have these sociological constructs that say everything is going to be the same. We got to listen to our biology." And now we're saying, "Well, actually maybe don't just listen to your biology because the online world is skewing that perception so much." Where's the balance? Because it seems like we just recommended people to not worry about that.
[00:38:03] David Buss: I don't see a contradiction there. First of all, call it our evolved psychology. So it's really the evolved psychology and yeah, our bodies and minds and brains that we're dealing with. But here's the thing, we have many competing desires that are part of our evolved biology, our evolved psychology. You can say, to take it into a slightly different context, you know, we have evolved food desires for things that are rich in sugar, fat, salt, and protein. But we can say, "Ok, I'm not going to eat that, you know, Big Mac and have a tub of ice cream even though it tastes really good because I have other goals. I want to be healthy, I want to be fit, I don't want to get fat. So many of our evolved goals are in conflict with each other, and so we can choose to override some of them in the service of others.
[00:38:55] Biology is not destiny in the sense that social input has no effect. Of course, social input has effect, and we've been talking this whole time about social input like sex-ratio imbalances. You know, number of competitors in the mating pool changes in mate value over time as a function of status, so things change just as we can overcome our food preferences. This is another perfect example. Food preferences evolved in a context where things like fat and sugar were in scarce supply, and so it made very good sense the hunger after these things, and also to pack on weight when we came across abundant resources. And so now we live in this weird, modern world where they take these evolved food preferences and exploit them by, you know, making them widely available in concentrated packets on every street corner. And so as consequence, we as a society, we're fatter, we're having problems with type two diabetes et cetera, but we can choose to override these things because have other evolved goals.
[00:39:58] And I think the same is true in mating. You can't tell a guy not to be attracted to a woman who's physically attractive. There's much more consensus about how attractive a woman is than there is about how attractive a man is. Men's attractiveness tends to be more contingent on context, as we mentioned earlier, context like his status in the local environment. So anyway, I don't think there's any contradiction between saying that yes, we have these evolved desires, but we have many of them and we can choose to plump up some and dampen down others. And so what I'm suggesting is that you're not going to eliminate men's sexual attraction to attractive women, just as you're not going to eliminate the sensation of sweetness if you put sugar on your tongue. But you can say this is only one variable, and in long-term mating, that's especially important. It's fine. In short-term mating, all this is much less consequential.
[00:40:54] But here's one other element in which it's consequential. A lot of the make competition among men tends to be focused on physically attractive women. The eights and the nines, sometimes tens, although sometimes women who are 10, there's a little bit of a drop off because are too intimidated to approach the tens sometimes. But let's say the eights and the nines, there's huge competition for those. And so a woman who looks like an eight or a nine on an Internet dating site, she gets a ton of interest from guys. But if you're a guy, sometimes much better off competing, not where the competition is fiercest. You know, you have much better odds competing where there's a bit less competition. And so that's a piece of mating advice that I would just urge guys not to get too overwhelmed by a physical appearance. So a woman, of course, has to be attractive enough. As one friend of mine said, "Over threshold."
[00:41:48] Jordan Harbinger: I think it's important to realize this as a guy. For me, going back to your original question for me, which was how did I meet and decide on Jenny as my wife was that there was the over threshold to put it as in sort of a Beautiful Mind kind of way, the John Nash kind of way. I think he mentioned that in that movie, the over threshold. But it's very easy, especially in a city like Los Angeles where we met to get caught up on the next best thing or the bigger better deal or something like that. I identified deal breakers. I identified what I wanted, what I thought I wanted, and then tested those assumptions. Okay, here's what I think I want, date a bunch of people who have those. Hmm, maybe I don't really want that because I tested that and this doesn't really mesh well with me. It's just something I thought I needed.
[00:42:35] So once you get those things out of your system, I whittled away at the things I thought I wanted instead, ended up with a deeper list or a more accurate list of deeper qualities I should say, that I actually did want. And those ended up being what we would call deal breakers, where it's like, okay, this person cares about others. That's important to me. I've tested that. It doesn't work when they only care about me or only care about themselves. They have to be kind, they have to be nurturing and all these other things that I'd put in there. And I also got rid of other things I thought I needed, such as types. Typically, my girlfriends have been tall, blonde women. It's not because I liked tall, blonde women. It's just something that started when I was in high school and sort of went all the way through college and then afterwards. And it's just something that those are the women that were attracted to me and those are the women I decided to date.
[00:43:23] Jenny's Asian, I never dated anyone Asian, or I should even say mostly my girlfriends have been white Caucasian. And I got rid of that thinking, well, I can be more open about it. It's not a deal breaker for me. I don't really care. It's just a habitual thing that I've dated Caucasian women. So once I got rid of that stereotype, or the wish desire for that stereotype or the classic Caucasian woman like I'd grown up dating in Michigan, that opened up a whole bunch of other areas that I never really thought about, which caused me to be more open-minded in general, which actually I think long-term so far has made me much happier. Because instead of marrying somebody that had everything I thought I wanted, I tested those assumptions, refined that list pretty greatly, and married somebody who fit an entirely different set of characteristics that I might not have thought I wanted a few years ago and that I hadn't tested before.
[00:44:14] David Buss: Yeah. Well, so I'm curious. So in addition to the physical appearance, what other qualities did you decide were critical and which did you decide you could dispense with or that were not true once you tested them?
[00:44:31] Jordan Harbinger: This is The Jordan Harbinger Show with our guest David Buss. We'll be right back.
[00:44:35] This episode is sponsored in part by TheFire.org. Did you know that only one in three Americans believe we can fully exercise our free speech rights? That's why Fire is stepping up to protect freedom of expression for all Americans no matter where you're from or what you believe. The Foundation for Individual Rights and Expression or Fire knows free speech, makes free people. Fire will always be a principled, nonpartisan, non-profit defender of your rights. Join the fight for free speech at www.thefire.org.
[00:45:09] This episode is also sponsored by Progressive. Let's face it, sometimes multitasking can be overwhelming. Like when your favorite podcast is playing, the person next to you is talking, your car fan is blasting, all while you're just trying to find the perfect parking spot. But then again, sometimes multitasking is easy, like quoting with Progressive insurance. They do the hard work of comparing rates so you can find a great rate that works for you, even if it's not with them. Give their comparison tool a try, and you might just find getting the rate and coverage you deserve is easy. All you need to do is visit Progressive's website to get a quote with all the coverages you want, like comprehensive and collision coverage or personal injury protection. Then you'll see Progressive's direct rate and their tool will provide options from other companies all lined up and ready to compare. So it's simple to choose the rate and coverages you like. Press play on comparing auto rates, quote at progressive.com to join the over 27 million drivers who trust Progressive.
[00:45:58] Jen Harbinger: Progressive Casualty Insurance Company and affiliates. Comparison rates not available in all states or situations. Prices vary based on how you buy.
[00:46:05] Jordan Harbinger: This episode is also sponsored in part by Murdaugh Murders. For nearly a hundred years, one family traded influence and held power in the South Carolina low country until a fatal boat crash involving an allegedly intoxicated heir-apparent shed sunlight on a true crime saga like no-other. Award-winning journalist, Mandy Matney, of FITSNews has been investigating the Murdaugh family since that fateful night in 2019. The now-infamous Murdaugh family is surrounded by seven criminal investigations into insurance fraud, drugs, obstruction of justice, the 2021 double homicides of Paul and his mother, Maggie Murdaugh, the 2015 murder of young Stephen Smith, and the suicide-for-hire plot of — you heard me right — a family patriarch and disgrace attorney Alex Murdaugh. This family is a frigging mess, just crazy. Matney's podcast provides unmatched insight into the botched death investigations and newly uncovered crimes that are all interconnected. Follow along with Matney's reporting in real time from South Carolina as her exclusive sources guide listeners on a journey to expose the truth wherever it leads. Listen on any streaming service or visit murdaughmurderspodcast.com to learn more.
[00:47:07] Hey all, if you like this episode of the show, and I hope you do, I invite you to do what other smart and considerate listeners do, which is take a moment and support our sponsors to learn more and get links to all the discounts, all the codes, they're all in one place, a place that works on your phone and is searchable, jordanharbinger.com/deals, and there's a search box on the homepage at jordanharbinger.com. You can almost always search for a sponsor using that search box as well, and the code should pop right up. Thank you so much for supporting those who support us. It does keep things going. I love creating these episodes for you week after week, and the sponsors are the ones that help make this happen.
[00:47:41] Now, for the rest of my conversation with David Buss.
[00:47:45] I thought I wanted somebody who was really sophisticated in certain ways, really well traveled and knew a lot about all these different parts of the world, and not that Jenny's not sophisticated, but she's definitely traveled a lot less than me, and I decided that it's okay. I'm just as happy teaching somebody about things that they don't know as I am learning from that person about international things or traveler, et cetera. Jenny teaches me other areas that she's more experienced in. So that whole thing, I thought for sure I need somebody who's grown up abroad, maybe even in Europe or spent lots of time there and spent a lot of time studying foreign languages or foreign relations or something like that. None of that turned out to be that important. None of it did.
[00:48:26] Something that I didn't know that I needed, that I ended up really wanting was somebody who was very positive. I can get caught in negative thought loops and things like that, or, you know, get down on or beat myself up about something, especially when it comes to the business. And I needed somebody who was going to force me to look on the bright side. And a lot of the women that I was dating would either indulge the negativity that I had at that point, or they would just ignore it until it went away. But I really like the fact that Jenny is bubbly and fun and positive. And when I feel a little bit down, she's like, "Oh, let's go for a walk. Let's go get some ice cream," or something like that. Or, let's go to the gym, or some measure of that. She's very good at pulling me out of that funk. I haven't had that before. And when I found that, I thought, wow, this is something that I never actually knew that I needed. And I'd seen hints of that from other women that I dated, but she's definitely the best at it, and it really, really sticks out.
[00:49:21] David Buss: That's very cool. I'm happy for you. That's a really important part of the learning process. In my case, two qualities that I have changed in how important they are, one is emotional stability. Earlier in my life, I was involved with woman. She was drop-dead gorgeous, she was intelligent, had a fascinating personality. She was lively, she was sort of everything, you know, that I thought I wanted, but she had this one other quality that undermine everything and that's that she was high neuroticism emotional instability. And I didn't realize that at the time, I didn't realize how important that was at the time. After that break, I really elevated the importance I attached to emotionally stable women.
[00:50:05] So that was one, and then the other is narcissism. And this is some of my scientific research kind of supports also my personal experiences. If you're mated long-term with someone who's high on narcissism, it's problematic because they feel entitled to more than their fair share of things, and that includes sexual infidelity. So living with a narcissist can be a real nightmare, at least depending on the type of narcissism. Some people do just fine with it. Narcissists admire themselves and they're mating with someone who admires them. But if that admiration, you know, shows any cracks, then the narcissist will get very angry. One of the things about narcissism is that at least many have this, what's called oscillating self-esteem. They oscillate between thinking they're the greatest person in the world and then thinking they're really shallow and a piece of sh*t. That fragile self-esteem is really problematic as well.
[00:51:03] Those are two things I would actually advise most people if you're looking at personality characteristics to avoid or to select. Avoid emotional instability and avoid narcissism in potential mates.
[00:51:16] Jordan Harbinger: I think most people know to do that. I think the problem is they get caught up in that anyway for some other reason. Would you agree there? I don't think anyone's like, look man, I just need to date a narcissist because that's what I'm into. I mean, maybe there's some, but it seems rare.
[00:51:30] David Buss: Well, yeah, a narcissist can be very charming initially. That's part of the catch. And so as a general rule, men tend to be a bit higher on narcissism than women. And so a guy can be very charming and a woman thinks this is such a great guy. He's so charming, he's so sophisticated, he's showering with attention, flowers and everything. But's good in the short term sometimes is not so good in the long term. And that's part of the reason people don't say, "Okay, I'm going to marry after 10 days." A few do. That happens occasionally, typically ends in disaster.
[00:52:04] Jordan Harbinger: Yeah, that seems like it. It would be a disaster. And I think a lot of men and women will look at things like, "Oh, well, I really love somebody who acts this way." But like you said, it is a short-term mating strategy. Obviously, we now know a great deal about what leads to good long-term mate selection and what leads to disasters.
[00:52:23] So narcissism, things like that, leads to disaster. Is there anything else that's kind of a direct link? Somebody who's very charming isn't always narcissistic, but it's a fairly good indicator. How do we know if somebody's just very charming versus narcissistic early enough to go—? Because there's people listening right now who are going, "Yeah, I like that, and I always seem to end up with a narcissist. Does that mean I have to date somebody who is kind of a putz in order to not end up with a narcissist yet again?" There have to be other factors, right?
[00:52:51] David Buss: So I do talk about this in my book, The Evolution of Desire, and what some of the hallmarks are, and there are basically seven hallmarks that you look for. One thing is to look at how people treat not just you but how they treat other people. So some of the hallmarks, just to mention a couple, and then people can explore further. I also have an article published that people can download free from my website specifically on narcissism and its hallmarks, but one is one I mentioned earlier, a sense of entitlement and so a sense of entitlement is kind of hard to conceal if you are with someone for any length of time. The second is a sense of grandiosity, so overinflation of their status, their abilities, or their looks. Self-centeredness is another hallmark. And this is also disastrous for relationships. You have to have a balance, between we are all selfish to some degree. We have to do things for ourselves. We have to eat, we have to go to the gym, we have to work on our own careers. But in a relationship, you want someone who has what I call a good welfare trade-off ratio.
[00:54:00] That is someone who values your welfare, at least in proportion to their own. It doesn't have what I call a selfishly skewed welfare trade-off ratio. And that's what narcissists have is a selfishly skewed welfare trade-off ratio. They think that they deserve the biggest piece of the pie, the privileged place, the best seat in the house as opposed to the other person. And they expect their mate to make all the sacrifices in the relationship. Those are a few of the hallmarks and I think a keen observer. I think you can train yourself to pick up on these signs, or tells of narcissism over time, if you're aware of what indicates it.
[00:54:43] And so the same with emotional stability. So one of the hallmarks of emotional instability is as we go through, like we all experience stresses and strains, bumps in the road, setbacks, problems, difficult people we have to deal with. One of the hallmarks of emotionally unstable people, they get thrown out of balance or out of whack more easily by these bumps in the road, and it takes a longer period of time before they return to baseline. Latency of return to baseline is another hallmark people can to for the emotional stability, instability dimension.
[00:55:16] Jordan Harbinger: Something you mentioned earlier on the show, personality characteristics. For example, people who are more likely to cheat, who's more likely to leave, and who is more likely to be a good partner through thick and thin. You're hinting at this right now, but what are some characteristics we can look at for that? We already talked about mate value discrepancy. For example, if you've got somebody because of context who might be, again, you're punching above your weight, that person is more likely to cheat or leave you. Who's more likely to be a good partner through thick and thin? Are there other factors that might illustrate who's more likely to cheat and leave?
[00:55:49] David Buss: Yes, there are two. One is conscientiousness. So this is one of the factors, I'm sure many people have heard the big five. So people talk about the big five personality characteristics and one of them is conscientiousness. So there's people who are dependable, reliable, tend to be punctual, tend to be hardworking, industrious, as opposed to impulsive or undependable, might show up, might not show up, might forget to call, you might forget to text, whatever. And so that dimension is critical. So people who are more impulsive and lower conscientiousness are more likely to cheat. And then also low agreeableness is another one. There's a new body of research that talks about the dark triad and the dark triad is also more likely to cheat. Dark triad is high narcissism, high Machiavellianism, and high psychopathy. People, both men and women who are high on these dimensions are much more likely to cheat. You want to avoid those in a long-term mate for sure.
[00:56:51] The other one is kind of tricky, and this is where I was going to introduce another complexity to this and that is that there are individual differences in what's going to work for someone. And one of those has to do with the fifth factor on the big five, which is openness to experience. And this is an individual difference variable. Some people are open to new experiences. They like to try new foods, new restaurants, new countries, new cultures. They'd like to expose themselves to new stuff. And then some people don't. And I think it's important to be in the ballpark of being well matched on those.
[00:57:25] And so in my case, I'm fairly high on that. I like to experience a wide variety of things. And so I like to be with someone who also is that because then that person exposes me to, you know, new experiences themselves. It is also the case that if someone is too high on openness, then that means they're sometimes high on openness to other sexual relationships.
[00:57:47] Jordan Harbinger: Mm-hmm.
[00:57:48] David Buss: But it's the combination of high openness and low conscientiousness that predicts statistically infidelity in relationships.
[00:57:56] Jordan Harbinger: So what are some practical ways in which we can actually enhance our ability to select somebody who's going to be great for us long term?
[00:58:03] David Buss: One thing, yeah, is to write an essay in which you describe in as much detail as you can, your best mating experiences, that is what has worked in the past and also your worst. And then analyze what qualities they were. Like what is it that caused the relationship to work? What is it that caused relationship to fail? And so I think that kind of gaining self-insight through your own experiences can be helpful. Now, I do this professionally. That's why I have a professional curiosity about, well, your marriage and what led to your mating experiences, but I talked to people about mating all time, and I learned something practically every day from people.
[00:58:43] So as I mentioned, I talked to this professional matchmaker yesterday, she related a number of experiences that she's had. So I think talking to other people is another useful strategy for increasing your — we call it, mating intelligence, for lack of a better phrase.
[00:59:00] Jordan Harbinger: So when we write this essay detailing our best and worst mating experiences, how do we know our perceptions here are accurate? Or does that not matter?
[00:59:08] David Buss: Yeah, I don't think it matters for the exercise. I mean, perceptions are extremely important in and of itself, in and of themselves, whether they're accurate or not, and our perceptions of how attractive to take something that you could maybe objectively measure, how attractive a particular person is, even physical attractiveness, there are individual differences in that. And so the man perceives his partner to be attractive. That is the best predictor of how happy he's in the relationship. It's also a good predictor of his sex life, by the way. It's another topic we might get into at some point. It doesn't matter if you had a panel of a hundred judges and they say, "Well, actually no, she's only a four," but this guy thinks she's a nine. It's the fact that he perceives her to be a nine that's what's driving it as opposed to "objective reality" on it. I think perceptions are important in and of themselves to be analyzed, and that also might lead to issues like, "Well, was I miscalibrated? Are my perceptions accurate? Was I mistaken? Did I think this person was charming?" And it turned out they were a narcissist. So I think perceptions are absolutely fine. Another thing I would add is add emotion words to the essay. That is, how did you feel when these different things in the relationship unfolded, both the good ones and the bad ones?
[01:00:29] Jordan Harbinger: Right. Because then we can decide whether or not we want to repeat those particular feelings or not, right?
[01:00:34] David Buss: Yeah. I think there's something, there is what I call emotional wisdom. People don't pay enough attention to that is, you know, our gut feelings about things. I mean, people sometimes have a gut feeling now this is wrong, but they then do it anyway because objectively on some objective list, this person fulfills all the qualities, but they have a gut feeling it's not going to work. And those guts, I think, should be listened to. Our emotions, of course, are evolved emotions. The way we feel about things is an important guide. That's why I would encourage people in their essay to add emotion terms. How did they feel? Not just what were their perceptions? How did they feel about these things that they unfolded?
[01:01:15] Jordan Harbinger: I think that homework is pretty important. I strongly advise everyone to actually do this because creating this type of written record and putting it to paper, not just thinking about it is actually really important. This made a huge difference for me personally when looking at things I thought were maybe important and what weren't important to me, and then testing these particular assumptions inside and outside of my relationships and my dating life at that time was extremely valuable. Is this something that we can do if we're already married? Is this useful inside the context of marriage?
[01:01:49] David Buss: I think it is. Journaling, in general, is a good thing, both in marriage and throughout your life about different things, among other things. I mean there's actually pretty good scientific research on things like bad experiences or traumas, traumatic experiences. When people write about them, it really helps them to both kind of organize those experiences in a kind of a coherent narrative and also to get some closure on it. And so there's evidence that just the act of writing about these things helps people both in terms of their physical health and their psychological health. And I think the same thing can be said writing about the positive stuff hasn't been looked at as much in the psychological research, but I think it's just as important.
[01:02:33] Jordan Harbinger: David, thank you so much. Is there anything that I have not asked you that you want to make sure you deliver to the audience?
[01:02:39] David Buss: Two last things, one would be personality is really important and their individual differences, both in what we want and what we seek and who's going to be a good partner for us. But the other is you have to be reasonably accurate about your mate value. If you're off in your self-perceptions of mate value, you're going to be going after the wrong pool partners in both directions. If you think you're hotter than you really are, you're be going after people that even if you succeed in attracting, you're not going to succeed in retaining. Or if you underestimate your mate value, you're going to be going after people who are lower in mate value than you really deserve.
[01:03:16] Jordan Harbinger: And that has implications for us working on ourselves and our self-esteem as it grows through working on ourselves. For example, if we're in our 40s and we decide, "You know what? I'm going to learn a new language and I'm going to get in shape." And then you do that and then maybe you quit your job and you start a business or you get promoted, your social status changes inside your relationship. That could be good and bad, I suppose.
[01:03:38] David Buss: Yes, that's right. That can close a mate value discrepancy or it can open up a mate value discrepancy that wasn't there.
[01:03:45] Jordan Harbinger: Well, yikes. I don't think any of us really want to eject from our relationships just because we got promoted and got in shape, right? So it might be worth focusing on what to do in those contexts. And I have some inkling of how to do that, but I'd rather open that can next time we talk.
[01:03:59] David Buss: Sounds great.
[01:04:00] Jordan Harbinger: Thank you so much for your time. This has been super enlightening. I wanted to take the opportunity to thank you both for coming on the show and for helping found and expand this area of science, which I think is greatly important to humanity, in general, because the more we understand these, the happier we can be inside our relationships and I think that itself is price.
[01:04:18] David Buss: Yes. Well, thank you. It's been really fun and delightful talking to you, and it's really, from my perspective, really enjoyable to talk to someone who's sophisticated about our underlying mating psychology. We can have a much more interesting conversation as a result.
[01:04:35] Jordan Harbinger: We've got a preview trailer of our interview with Dan Pink on why some of us are morning people and some of us are evening people, and why science says we're more racist in the afternoon.
[01:04:45] Daniel Pink: People were more likely to get parole early in the day and immediately after the judge had a break. If you came before the judge's break, you had a 10 percent chance. If you came right after the judges' break, you had about a 70 percent chance.
[01:04:58] They had two groups of jurors. Every group had the same set of facts. One person had a defendant named Robert Garner. The other person had a defendant named Roberto Garcia, but on the same set of facts. Then they had another group that deliberated in the afternoon. Same deal when jurors deliberated in the morning. They rendered the same verdict for Garner and Garcia because it's the same set of facts. But when they deliberated in the afternoon, they were more likely to exonerate Garner and convict Garcia. Racial bias increases during that time.
[01:05:28] I would love to be the kind of badass who gets up at four o'clock in the morning, works out, reads three newspapers in three different languages, and is like at the office at 6:15 before the cleaning crew. But you know what? That's not me. So the idea that everybody can just get up earlier, that's easier said than done. It's not very sustainable.
[01:05:47] Jordan Harbinger: I know there's a ton of fellow entrepreneurs and just regular folks out there that have trouble getting up early and think, "Oh, I'm lazy."
[01:05:54] Daniel Pink: About 15 percent of us are very strong morning people, larks, about 20 percent of us are very strong evening people, owls. Two-thirds of us are going to be in between. We are, in some ways walking timepieces. We have time and timing literally imbued in our physiology.
[01:06:13] Jordan Harbinger: For more with Dan Pink, including how to match your schedule to your body's peak times for rest, recovery, and optimal focus, check out episode 63 here on The Jordan Harbinger Show.
[01:06:25] Big thank you to David Buss. I had a hard time capping this at even the hour that we talked here. There's definitely going to be more David Buss on the show. We do have other episodes with him, an earlier one, which was episode 573. That one was actually pretty controversial, especially among the angry red-pill dudes on the Internet crowd. That one really got a strong reaction because it blamed a lot of, let's say a lot of cheating and mating strategy, was aimed at guys not being as good as they could be to retain a mate. And man, that community does not like that message.
[01:06:56] This really does have to be one of my favorite subjects. Everything that we talk about here with David is just so fascinating. It's really incredible looking at selecting long-term mates with actual science behind long-term mate selection. What leads to benefits? What leads to disasters, the crisis among educated women? There's just so many topics in his book. We didn't even get to half the notes that I took, which is always a great sign. Of course, I'd like to think that seven years on, or however long it's been since this one, I'm a more efficient interviewer in any case.
[01:07:26] Links to all things. David will be in the show notes at jordanharbinger.com. Transcripts in the show notes, videos on YouTube. Advertisers, deals, and discount codes, all those ways to support our sponsors, those are at jordanharbinger.com/deals. Please consider supporting those who support this show. I'm at @JordanHarbinger on both Twitter and Instagram. Feel free to connect with me on LinkedIn as well.
[01:07:47] Our course on how to connect with great people and manage relationships is free, and it will be free for as long as I'm breathing. jordanharbinger.com/course is where you can find it. I'm teaching you how to dig that well before you get thirsty and create those relationships before you need them. Many of the guests on the show subscribe and contribute to that course. Come join us, you'll be in smart company.
[01:08:08] This show is created in association with Podcast one. My team is Jen Harbinger, Jase Sanderson, Robert Fogerty, Millie Ocampo, Ian Baird, Josh Ballard, and Gabriel Mizrahi. Remember, we rise by lifting others. The fee for this show is you share it with friends when you find something useful or interesting. If you know somebody who is really interested in evolutionary psychology, mating, I would love it if you share this episode with them. The greatest compliment you can give us is to share the show with those you care about. In the meantime, do your best to apply what you hear on this show, so you can live what you listen, and we'll see you next time.
Sign up to receive email updates
Enter your name and email address below and I'll send you periodic updates about the podcast.