Reading Time:
3
minutes
David Epstein (@DavidEpstein) has worked as an investigative reporter for ProPublica and a senior writer for Sports Illustrated. He is the author of the number-one New York Times bestseller Range: Why Generalists Triumph in a Specialized World.
What We Discuss with David Epstein:
What are the pros and cons of specialization and generalization?
Why sacrificing depth for breadth in the learning process might be an advantage.
How struggling to generate an answer — even a wrong one — enhances subsequent learning.
The end of history illusion and the hazards of choosing to specialize between ages 18-29.
Why self-taught people tend to experiment more and come to unique solutions for problems that specialists overlook.
And much more…
Like this show? Please leave us a review here — even one sentence helps! Consider including your Twitter handle so we can thank you personally!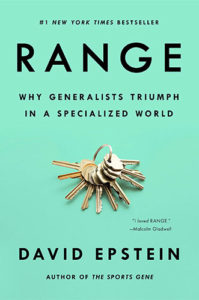 For years we've been led to believe that picking a specific field of study as early as possible — and sticking with it — is the key to becoming a high-performer in our field. But what if the key to becoming great in a specific field was not to start narrowing our practices down as early as possible, but instead to study a wide breadth of seemingly unrelated fields entirely?
On this episode, we're joined by David Epstein, author of Range: Why Generalists Triumph in a Specialized World to uncover new research that shows that not only do head starts in life often fade away, but many times they can actually be detrimental to deep learning. These days, more than ever, we're seeing that often it's the outsider that has the advantage, not only in disrupting established fields, but also in pushing the limits of human performance entirely. Listen, learn, and enjoy!
Please Scroll Down for Featured Resources and Transcript!
Please note that some of the links on this page (books, movies, music, etc.) lead to affiliate programs for which The Jordan Harbinger Show receives compensation. It's just one of the ways we keep the lights on around here. Thank you for your support!
Sign up for Six-Minute Networking — our free networking and relationship development mini course — at jordanharbinger.com/course!
The Art of Manliness Podcast is a podcast that aims to help men become better men; host Brett McKay explores how to live a life of both contemplation and action while having some fun along the way. Do yourself a favor and check out The Art of Manliness Podcast here!
THANKS, DAVID EPSTEIN!
If you enjoyed this session with David Epstein, let him know by clicking on the link below and sending him a quick shout out at Twitter:
Click here to thank David Epstein at Twitter!
Click here to let Jordan know about your number one takeaway from this episode!
And if you want us to answer your questions on one of our upcoming weekly Feedback Friday episodes, drop us a line at friday@jordanharbinger.com.
Resources from This Episode:
Transcript for David Epstein | Why Generalists Triumph in a Specialized World (Episode 342)
Jordan Harbinger: [00:00:03] Welcome to the show. I'm Jordan Harbinger. As always, I'm here with producer Jason DeFillippo. On The Jordan Harbinger Show, we decode the stories, secrets, and skills of the world's most brilliant people, and turn their wisdom into practical advice that you can use to impact your own life and those around you. We want to help you see the Matrix when it comes to how these amazing people think and behave. We want you to become a better thinker. If you're new to the show, we've got episodes with spies and CEOs, athletes and authors, thinkers and performers, as well as toolboxes for skills like negotiation, body language, persuasion, and more. So if you're smart and you like to learn and improve, you'll be right at home here with us.
[00:00:40] Today on the show, David Epstein, author of Range: Why Generalists Triumph in a Specialized World. For years, we've been led to believe that picking a specific field of study as early as possible and sticking with it was the key to becoming a high performer in our field. But what if the key to becoming great in a specific field was not to start narrowing our practices down as early as possible, but instead to study a wide breadth of seemingly unrelated fields entirely. He joins us to uncover some new research that shows that not only do head starts in life often fade away. But many times they can actually be detrimental to deep learning these days more than ever. We're seeing that it's often the outsider that has an advantage, not only in disrupting established fields, but also in pushing the limits of human performance entirely.
[00:01:26] If you want to know how we managed to book all these great people, it's all about the network. It's all about developing and maintaining relationships, using systems and tiny habits so it doesn't feel like work. Check out our Six-Minute Networking course, which is free over at jordanharbinger.com/course. And by the way, most of the guests on the show, they actually subscribe to the course and the newsletter. So come join us and you'll be in great company. Now, here's David Epstein.
[00:01:56] In the book, the thesis seems to be that often by specializing, we're sacrificing true understanding or true performance. Can you take us through that a little bit? Because the whole idea is counterintuitive. I mean, I want a brain surgeon to be adept at brain surgery, but you know, why are you telling me that I also need them to play the violin? What's going on here?
David Epstein: [00:02:14] Well, I'm not saying that the brain surgeon has to play the violin, although it does so happen that Nobel laureates are 22 times more likely to have an aesthetic hobby than our typical scientist. So that his wide range of interest, sometimes it's a proxy for a number of other things.
[00:02:27] But let's take surgery, specifically since you brought it up, there is no question that specialized surgeons have fewer complications than non-specialized surgeons. That's true even if you control for the number of times someone has done the procedure. So something about just being specialized on top of your experience with the procedure, it means you have fewer complications. At the same time, specialized surgeons are a lot more likely to do a procedure that has been shown to be ineffective or dangerous. So the specialization becomes a double-edged sword where you're a lot less likely to have complications for a surgery you may not have needed in the first place.
[00:03:04] So for example, a few years ago, the most common surgery in the world for knee pain was tested in a placebo-controlled trial where some patients got what's called sham surgery, where the surgeons make an incision, they bang around like they're doing something, they sew the patient back up, and that did just as well as the real surgery. And yet specialists continue to do the procedure by the millions. So there's this sort of double-edged sword of specialization. I think it has to do with what I call in the book -- I mean, these are not my terms -- but kind versus wicked learning environments.
[00:03:32] So in kind learning environments, specialization works really well. Those are terms created by the psychologist, Robin Hogarth, and a kind learning environment is one where the next steps and goals are well understood. The rules are clear and don't change quickly. When you do something, you get feedback that's quick and accurate and work next year will largely look like work last year. On the other end of the spectrum are what Hogan called wicked learning environments where the next steps and goals may not be clear. Rules may change when you may or may not get feedback all the time. It may be delayed and may be inaccurate and work next year may not look like work last year.
[00:04:07] So the actual physical part of doing surgery is maybe more on the kinder end of the spectrum in a lot of ways where it's known procedures that you want to do with as little error as possible, but in terms of evaluating the full organism and when somebody actually needs that, and the delayed response of how someone does long after surgery, that's much more on the wicked end. And that's where you need to have this broader view and these multiple methods for learning. And so I think surgery is actually sort of a  good place to discuss it. I've been talking to a lot of surgeons because of that because it requires this kind of incredible, almost unique mix in some ways of specialization on the one hand of certain skills, but a broader view if you really want good outcomes as opposed to just like doing lots of procedures.
Jordan Harbinger: [00:04:48] And we'll get into why that is in a little bit here. But it seems like the most effective learning is often inefficient or slower somehow. I think, unfortunately, a lot of people are trying to do the opposite, right? We want effective but quick learning and therefore we cut out all of what might look like fluff to the uneducated observer here, like, "Hey, don't worry about anything other than ear, nose, and throat. Let's just focus on that. You have 10 years anyway. Why are we going to educate you about all these other systems in the body? Let's specialize as early as possible." Does that ring true from your research?
David Epstein: [00:05:23] I think that definitely rings true. I think it's understandable. It seems efficient, right? It's the well-meaning drive for a head start. But I think you mentioned medicine again specifically, I think people are starting to recognize that that is actually sometimes problematic. There's no question that specialization in medicine has been both inevitable and beneficial. I think people are increasingly realizing some of the drawbacks when you kind of take out people who have a view on the bigger picture. So again, in medicine, as people get increasingly specialized, they all work based off of what's called surrogate markers, which means nobody's looking at the whole body, they're all looking at some little proxy that they're assuming is a proxy for the whole body -- sorry, it's some little factor.
[00:06:02] So like someone who specializes in some aspect of the heart might do something that lowers blood pressure numbers and say, "Oh great, we did something." And then you'll find that people die of heart attack and stroke at the exact same rate just with better blood pressure numbers. There's a ton of stuff going on like that. And so you also want someone who sort of has this zoomed-out view. In fact, in the, in the last chapter of the book, one of the guys who's very prominent right now, because he is maybe the most prominent immunologist in the world, and so he's being a Twitter celebrity right now during the coronavirus, Arturo Casadevall.
Jordan Harbinger: [00:06:32] Sure.
David Epstein: [00:06:32] He took over the microbiology and immunology department at the Johns Hopkins School of Public Health, probably the most prominent one in the world, and is despecializing training. Starting future doctors and scientists and public health professionals with training in what constitutes evidence and things like that instead of the normal anatomy and physiology where you jump right into kind of the reductionist picture of the body. Looking more at like social systems and public health and how do you even evaluate claims and what are the different levels of evidence that prove whether something works or not. So he's doing this despecialization and his feeling is we never teach people that. And all that didactic information, that sort of technical stuff they need to know, that's the easier stuff to teach them later on once they have this general scaffolding of sort of how to think. I think in that well-meaning drive for a head start, we often sort of short circuit learning, even like whatever the material is.
[00:07:24] So take a study that came out in 2019 that randomized seventh-grade math classrooms to different types of learning. Some of these classrooms, it was about 60 classrooms, so quite a lot for education studies. Some of these classrooms got randomized to what's called blocked practice. That's like you give the kids problem type AAA, followed by BBB, and so on. They make progress fast. They're happy. They rate their learning highly. They rate their teacher highly. Everything's great. Other classrooms got randomized to what's called interleaved practice. That's like if you took all those problem types and threw them in a hat and drew them out at random, so it can be like A, D, C, B, B, whatever progress is slower kids, more frustrated, rate their teacher worse, but instead of learning how to execute procedures. They're learning how to match a strategy to a type of problem and when the test came around, the interleave group blew the block practice group away. The effect size was if you took the 50th percentile, move it to the 80th percentile. Studying the same stuff just in a way that made it slower and more frustrating, and this is what psychologists call desirable difficulties. These are things that slow down learning and just feel like frustration, but actually allow you to make more flexible and more memorable knowledge in the long term. So I think that's sort of a fundamental concept in a lot of stuff in range.
Jordan Harbinger: [00:08:34] So interleaving is that just a fancy way of saying: figure out the type of problem and then figure out a strategy to solve that problem?
David Epstein: [00:08:41] Interleaving refers to the mixing up of the types of problems so that you don't know what type of problem is coming next. So you're constantly, instead of practicing a procedure over and over, you're constantly being forced to try to diagnose the structure of the problem. So some people call this mixed or variable practice, so it's basically shuffling the challenges a lot instead of studying the same thing over and over.
Jordan Harbinger: [00:09:01] Oh, okay. So like when I took the LSAT, which is the, I guess, entrance exam for law school in the United States, there's a section called Games, which is this logic games section. They're not nearly as fun as it sounds, and they're all of these really hard logic problems that are frustrating. It's kind of the proverbial if a train leaves Chicago at this time and heads to Easton, but it's much, much more complicated than that. You have to keep like 10 variables in your head and they all change. And there's ways to diagram them. And basically, if you know how to diagram and think about these problems, you're going to kill it. But if you just try to wing it, you're totally screwed. And so I was doing fine in all the other sections of LSAT and I just drilled Games like crazy and my performance actually went down over time, which was incredibly frustrating.
[00:09:45] And then when I just started taking the entire LSAT practice exams, I was doing fine. Or when I just started taking random questions of any section on the LSAT and just running through it as a study, my performance actually went back up, which is again, kind of a mystery back then, but now totally makes sense because I wasn't looking at a problem and going, "All right, this is a logic game. Let me start the same way as I always do." I would look at it and go, "Oh, this is not a verbal problem," or, "This is a verbal problem. Let me solve it in this different way entirely." I'm starting from a step back instead of taking assumptions with me, I guess.
David Epstein: [00:10:18] Yeah, no, I think that makes a lot of sense. I mean, I remember actually you just reminded me of those Games, like I took the GRE and there was something like that, probably less complicated.
Jordan Harbinger: [00:10:24] Sure.
David Epstein: [00:10:25] That's one of the huge tricks. It's like it's fine for someone to do just the quick repetitive practice if they're going to continue facing the same problems. So I think our whole education system, it's kind of built out of Taylorism, which is like the science of management efficiency, which made a ton of sense when we were largely an industrial economy and most people did face the same types of problems from one year to the next. So they could have a discrete period of training for specific skills and then a discrete period of working for the rest of their life. That's for most people gone by the wayside. We can't just have like one period of learning in our life followed by training. And so we're more in this world where we have to take the knowledge and do what psychologists call a transfer, which is you take the concepts you've learned, and you're going to have to apply them to stuff you've never quite seen before. There are similarities, but you haven't seen this exact thing before. And so I think that's part of what I was seeing in the research, this increasing benefits accruing to people with breadth and conceptual knowledge as we've moved more into a knowledge economy where people can't count on work next year, looking like work last year, basically.
Jordan Harbinger: [00:11:26] So how do we create practices like this in our own lives? Is there anything where you've come across just in your daily life or at your job day-to-day, which is, I mean, you're a writer and a thinker, so maybe it's a little different for most people, but how do you implement this? You know, if I'm not studying for an exam and I'm working on the craft of interviewing, how do I start applying this? Or if I'm a doctor or a teacher, how do I start applying this to my own life?
David Epstein: [00:11:50] Yeah. I think, if one way, so if you're a teacher, I mean you should start by using desirable difficulties, like just interleaving all the stuff you were going to do anyway, mix the order up and things like that. So let me ground this in the research that sort of influenced the way that I go about this, which is I spent some time with a woman named Dedre Gentner at Northwestern University, who is one of the world's experts in what's called analogical problem-solving. That's like when you're facing a problem that you've never seen before, a really useful way to generate possible solutions is to draw on analogies because you don't have the exact knowledge you need. So you have to look for structurally similar problems from elsewhere. And she came up with this test that gauges how well people do that, and she gave it to students at Northwestern. And students tended to do well at solving problems in their major and then poorly at solving problems outside of their major, even if it was basically the same problem just with different window dressing essentially.
[00:12:36] But the students who did well inside and outside their major were these ones in this program called the integrated science program, where they don't even have a major. They just dabble in a whole bunch of different disciplines and they ended up being really good at drawing different analogies from all these different kinds of mental models that they've been exposed to when they have to face novel problems. And the interesting thing was though, when I went around to her colleagues, they would say, "Oh, we don't like that program. Those kids are getting behind." I'm like, "You have the world's expert saying, 'These are the kids who were the best problem solvers,' and you're saying like they're falling behind because they're not specializing early enough," which I thought was pretty ironic.
[00:13:08] So for me, when I think about interviewing, I want to sort of expand my database of analogies I can draw on. So I'll go and look in other fields. You know, I've had a lot of exposure to journalists doing interviews, but what about how doctors interview patients or they interview people at debriefings in special forces groups? And basically I'll start by looking for domains that I wouldn't run into normally and trying to find what do they do similarly and what do they do differently. And you start to find things that you can apply and build these sort of general models of things that work in different situations as opposed to just things I'm used to that work in these sort of standard situations that I've seen before.
Jordan Harbinger: [00:13:47] So it seems like there's an almost epidemic issue in academia or just in career training in general, especially here in the United States, where we sacrifice what's actually going to work long term or result in career success by forcing people to specialize early. And one of the examples you gave in the book, which is near and dear to my heart, having married into an Asian family is the whole Tiger Mom scenario. I live in Silicon Valley, there are kids that are, I think like two or three years old, that are holding violins and trying to play on the violin because their parents are just so concerned that they're already behind compared to their cousins over in China or whatever that already played the piano and the violin. It's just ridiculous. And I can't imagine that's a set up for a happy life for a child. But that's kind of the philosophy they're going with, right? The earlier we get this thing into this kid's hands, literally, the better off they're going to be long term.
David Epstein: [00:14:39] That's right. And I don't actually think there's anything wrong with early exposure. It's sort of a question of when they're that young, it's probably really all the parent's motivation, right? And they're drilling and all this stuff. And so even like the Suzuki School that people think of starting kids famously early, that is true. But Shinichi Suzuki, he actually modeled it on language learning where he said they shouldn't be drilling early on. They should be listening and just like messing with the instruments. And he was saying like, you don't teach the kids grammar first when they're doing language, you allow them to develop an ear and immerse themselves in and screw up and all that stuff. And so I think if the exposure's in that way, it can be great when it's more of the story that The Tiger Mom told.
First of all, it's odd that so many people I think are so rabid about classical music, particularly given that it's fairly niche in a lot of ways at this point in society compared to a lot of other things they could be doing. You know, on the first page of the Battle Hymn of the Tiger Mother, the author recounts assigning her daughter violin and has her practice five, six hours a day. And this is so-called deliberate practice. This is coaching error correction, focused practice, not like trying to improve your way through things. That really struck a chord, but people don't seem to remember the part in the book later where her daughter says, "You picked it, not me," and quits. And that's totally in line with what the research finds is that the musicians who are likely to stick and to have a high practice volume later are the ones who go through a sampling period early on where they get to try a number of different instruments first.
[00:16:03] And that's true even for musicians, we think of as famously precocious, like, Yo-Yo Ma, he went through his sampling period faster than most musicians for sure. But he tried two instruments. First, he didn't really like them. He took a little break, came back, then he found a cello, and then it exploded. But we never really tell that story even though he's maybe the most well-known modern classical player in the world. For some reason, we don't hear those stories. We only hear The Tiger Mom's stories.
Jordan Harbinger: [00:16:27] Yeah. That is interesting. Even when I heard that Yo-Yo Ma switched instruments early on, I thought, "Oh, well, you know, he's clearly super talented --
David Epstein: [00:16:34] No question.
Jordan Harbinger: [00:16:35] -- and he's got 10,000-plus hours, so he can maybe play all of them." But it turns out that a lot of, even athletes do this, right? I mean, you give the example of Tiger Woods versus Roger Federer, which I think is pretty illustrative as well. Can you explain that?
David Epstein: [00:16:48] Yeah, so the Tiger Woods' story, I think probably people even just by sort of being alive, I think even if you don't know the details of the Tiger Woods' story, you've probably kind of absorbed the gist by cultural osmosis. So when he was seven months old, his father famously gave him a putter. At 10 months old, he started imitating his father's swing. At two, you can actually go on YouTube and see him on national television. At three, he starts saying, "I'm going to be the next Jack Nicklaus. I'm going to be the next great golfer." He's famous as a teenager. Fast forward to age 21, greatest golfer in the world. So it's kind of that quintessential early start, 10,000 hours sort of story.
[00:17:21] On the other hand. Roger Federer played some tennis early, certainly early exposure. He swam, wrestled. Mother was a tennis coach, and declined to coach him because he didn't return balls normally he wouldn't do kind of the deliberate practice stuff. He kept trying other sports, you know, volleyball, basketball, soccer, and he didn't want to move up to a level with higher play with older boys when his coaches wanted him to, because he just wanted to talk about pro-wrestling with his friends after practice and he went on a dabble in like a dozen sports, like rugby, handball, skateboarding, all this stuff. And he was very much not focused as a young guy on being the next great. In fact, when he got good enough to warrant an interview with his local newspaper, the reporter asked him if he ever became a pro, what would he buy with his first hypothetical paycheck. And he said, "A Mercedes." His mother was appalled and ask the reporter if she could listen to the interviewer recording and the reporter obliged. And it turned out Roger had said, "Mehr CDs," in Swiss German. He just wanted more CDs, not a Mercedes.
[00:18:17] So he was sort of the opposite of the Tiger path. And the interesting thing, I think is they're equally famous as adults but we only ever hear the Tigers. Even rabid tennis fans don't usually know Roger's story, even though according to a huge body of research, his story is absolutely the norm and the Tiger one is the outlier. So it's almost like we really elevate these outlier stories, and also golf happens to be like in many ways, a uniquely horrible model of almost everything else that humans want to learn. It's like the epitome of the kind learning environment. So I think the idea of extrapolating that Tiger story in every other aspect of life is a real mistake.
Jordan Harbinger: [00:18:49] What do you mean the epitome of the kind of learning environment? What does that mean?
David Epstein: [00:18:52] So to go back to the kind learning environments is this term coined by a psychologist, Robin Hogarth, meaning it's relatively low on moving pieces. You don't have to deal with a lot of human behavior. The rules are totally clear and they will literally never change. You have everything that you're supposed to be trying to do, completely laid out for you. Like there are no unknown questions you have to come up with. When you do something, you get feedback from what you just did that is immediate or very quick. And in golf, it's immediate and very accurate. And the task will always look the same. So like the principles of good performance are known. They can be coached. You get the feedback immediately. In those situations, you tend to just from doing it, you get better.
[00:19:31] Those situations in most of the areas that most of us work in are nothing like that. They are much more like Hogarth's wicked learning environments where nobody is handing you the rules. They're not telling you all the important questions or the goals and next steps. The rules might change. You're not always getting feedback. Feedback might be inaccurate sometimes and it might teach you the wrong things. And you can't count on the work looking the same from one year to the next. So I think golf, it's been kind of an unfortunate story that people have extrapolated to all these other aspects of the world.
Jordan Harbinger: [00:20:02] Why is it that sometimes the more we practice something, the worse our performance gets over time? Like why was it that when I was practicing on the Game section of the LSAT that my performance went down over time? Why does that happen?
David Epstein: [00:20:14] Well, it's hard to know exactly what was going on with you.
Jordan Harbinger: [00:20:18] You can't diagnose what I was doing 20 years ago in the privacy of a dorm room. I understand.
David Epstein: [00:20:23] I mean if it went down in the short term that could actually be a good thing, right? If you're doing too well, too quickly, frustration is not a sign that you're not learning. But ease is definitely a sign that you're not learning. If something is too easy, you're doing too well, too quickly, you're not learning. So that means it's not hard enough. You should be getting at least 15 percent of the trials you're doing whenever you're studying wrong or else you're not optimizing your learning, for sure. It's not hard enough.
[00:20:44] So if you were just doing poorly in the short term, that's fine because you were probably putting yourself through some difficulty if it was getting worse over the long term, either you weren't forming the conceptual models that you needed to diagnose, like the structure of problems, or you were getting a kind of feedback that was teaching you the wrong lessons basically. And I think that was very likely part of it. I mean, I don't know exactly what you were doing after you were doing these or how you were thinking about them, but my guess is that the feedback you were getting was either not helpful or maybe even harmful until you found the strategy of diagramming basically.
Jordan Harbinger: [00:21:15] I think there's also some sort of weird blindness that comes with doing things that look repetitive but really are not the same thing over and over. So you know, you're bringing in an assumption like, "Oh, I guess I just have to start with these three things, and it doesn't really work for all the problems." You see this again in medicine where people see like 10,000 common colds and then someone comes in with coronavirus or something and they're like, "Yeah, you just have a cold." "Well, are you sure? Because -- " "Yeah, you just have a cold. I see this all day. I'm not going to do the extra five minutes or five steps or whatever it is to test this, because all of the models and all of the experience I have says you have exactly what everyone else is walking in with," so you get misdiagnosed.
David Epstein: [00:21:54] Yeah. That's an interesting point. And most of the time, that doctor would be right. But the consequences when they're not right outweigh all those times they were right, basically.
Jordan Harbinger: [00:22:01] Like, "Sorry you died because I wanted to go to lunch early because I assumed you were one of the other 10,000 people that walked through with a cold this month."
David Epstein: [00:22:07] Yeah. And not even that they just needed to speed to lunch necessarily, but it's just they've seen these patterns and in certain things, like again, in golf or in like chess, for example, another kind of learning environment, the Grandmasters' advantage is largely based on knowledge of recurring patterns. So if you're a competitive chess player, but you didn't start studying those patterns by age 12, your chances of reaching International Master status go down from one in four to one in 55 International Master status, one down from Grandmaster. So you need to study those patterns, and it's good to be able to recognize those patterns. Also why it's so easy to automate, by the way. So in areas where that pattern recognition works really well, humans may not have a ton more to add for much longer.
Jordan Harbinger: [00:22:45] Sure.
David Epstein: [00:22:46] But the problem is when we get into that sort of pattern recognition mode, even when it isn't like chess, where you're seeing these things over and over and over and over again, right? And so we'll lapse into this pattern mode even when it's not necessarily what we should do. And so there's a huge body of research and experts in things like predicting geopolitical and economic trends, admissions officers predicting how people will do in their college, judges predicting recidivism rates, all these things where they learn these patterns overtime that allows them to think that they've developed good judgment. But in fact, the data show that they often get worse or don't get better while becoming more confident. And so that's kind of a really bad mixture.
Jordan Harbinger: [00:23:29] Yeah, that's horrible. So confidence goes up, but ability goes down.
David Epstein: [00:23:33] Or stays static and they get more confident, which is also bad.
Jordan Harbinger: [00:23:35] Yeah. Yeah. It's almost like the same thing. Well, we can all see the obvious consequences or potential consequences of something like that.
David Epstein: [00:23:42] You know, if people are familiar with Thinking, Fast and Slow in Daniel Kahneman's work that won the Nobel prize for illuminating a lot of human cognitive biases, the way he sort of got started in that -- I spent some time with him before I started writing the book -- and he got interested in that body of research that was showing particularly that like psychologists and doctors and psychiatrists with experience were thinking that they were better at predicting, like how patients would do. And they were sure that they were better, but they weren't actually getting better. And then Kahneman had this experience in the Israeli Army where he was tasked with watching this really hard exercise. It is really hard physical team exercises where people have to get up on a telephone pole, like a team of a group of guys, a telephone pole over a wooden wall without any person or the telephone pole touching the wall. So it's really hard. And you could see like leaders emerge and sort of people who would get frustrated.
[00:24:32] And there was this group, people like him who were supposed to rate these individuals and say, "These are the future leaders, these are the people who should be trained as officers," and all these things. And it seemed obvious because he'd say, "Oh, this person showed this kind of leadership in this exercise." And then they would get the results back and continually find that it was random. Their accuracy, they might as well have just been throwing darts. And what he was surprised at was that even though they saw that over and over and over, his colleagues never stop to say, "Gosh, we're not getting any better at this. We're no good, and we're not getting better." And that's sort of what kickstarted his life's work of illuminating cognitive bias and seeing that this experience did not lead to -- he described it as it led to the feeling of skill, but not actual skill.
Jason DeFillippo: [00:25:16] You're listening to The Jordan Harbinger Show. We'll be right back.
Jordan Harbinger: [00:25:19] This episode is sponsored in part by BiOptimizers. Magnesium is one of the body's master minerals, which helps power over 300 critical reactions, including in part digestion, which is also influenced by the presence of magnesium. And there's a lot of research on this and over a hundred clinical studies about magnesium itself as a mineral. But there are some big problems with it. Namely, a lot of us are deficient here and many supplements that contain magnesium. They've got one or two forms when in reality, there are at least seven that your body needs and benefits from. Jason, I know you take magnesium for sleep and things like that, right?
Jason DeFillippo: [00:25:53] I take it every night before I go to bed, knocks me out like a baby and I sleep through the night. It's fantastic.
Jordan Harbinger: [00:25:58] I'm always like, okay, is the mineral going to actually help you? But you've always been kind of an insomniac.
Jason DeFillippo: [00:26:04] Yeah. If I don't take it, I can't sleep. I stay up for hours. When I take magnesium before I go to bed, I am out in 20 minutes and I sleep for at least four hours straight. I used to sleep for maybe two, so at least doubles my downtime.
Jordan Harbinger: [00:26:17] Fair. Okay. This supplement even includes trace amounts of something called monatomic magnesium, which is supposed to help make all the other forms of magnesium more bioavailable. BiOptimizers call this product Magnesium Breakthrough, and they've got a promotion for us. Jason, tell them about where to go get the Magnesium Breakthrough so they too can double the amount of sleep each night, potentially.
Jason DeFillippo: [00:26:40] That's right. They can go to magbreakthrough.com/jordan. That's M-A-G-B-R-E-A-K-T-H-R-O-U-G-H.com/jordan. You can get an additional 10 percent off from the normal package price with coupon code JORDAN10 and here's the deal. The guys who make it are so confident that you're going to like it, that they'll give you all your money back if you don't. It makes sure you go to our special URL, which is the only way you can access this discount. And this promotion is only available while quantities last. Go to magbreakthrough.com/jordan and use coupon code JORDAN10 for an additional 10 percent off the normal price.
Jordan Harbinger: [00:27:13] This episode is also sponsored by Blue Moon. So clearly when this campaign was launched, Jason, they weren't counting on a massive pandemic. So all of the places where you would normally go out and get a Blue Moon. Well, they might be closed, but I will say there's a brewery right across the street from me and they're doing take-out beer. What are they called? They're called growlers. I was going to say Grindr. That's something else.
Jason DeFillippo: [00:27:37] That's something completely different.
Jordan Harbinger: [00:27:39] They're growlers, Growlers.
Jason DeFillippo: [00:27:42] You use Grindr after you finish your growlers.
Jordan Harbinger: [00:27:44] Yeah. It depends how many growlers I have, I guess. Blue Moon, I've been drinking this for a while, of course, only legally, you know, since college. And it's that nice sort of provides it's worth like you can't see through it. So it's that opaque beer. It's got that little orange garnish that they throw on there. They'll have a hazy color to it. And now when you're home with your family -- so the thing is people are going, "Oh, it's weird. Don't tell them to drink by yourself." I mean, you could have a beer alone, but let's be honest, if you're not alone right now, you probably need beer more than anyone else.
Jason DeFillippo: [00:28:16] More than ever.
Jordan Harbinger: [00:28:16] Yeah, more than ever. You need to deserve to relax on occasion where you can enjoy a Blue Moon, a Zoom happy hour, or a Zoom party, or just anything that you could put the word Zoom in front of, which is pretty much everything right now, and you can have a Blue Moon with it.
[00:28:30] Jason, I know they can get Blue Moon delivered, which is also very apt right now. How do they do that?
Jason DeFillippo: [00:28:35] That's right. You can have Blue Moon delivered by going to get.bluemoonbeer.com and finding delivery options near you. Blue Moon reached for the moon or hide in the bathroom and have a Blue Moon while avoiding your spouse. Celebrate responsibly. Blue Moon Brewing Company, Golden Colorado Ale.
[00:28:51] Thanks for listening and supporting the show. And to learn more and get links to all the great discounts you just heard from our amazing sponsors, visit jordanharbinger.com/deals. Don't forget we have a worksheet for today's episode so you can make sure you solidify your understanding of the key takeaways. That link is in the show notes at jordanharbinger.com/podcast. If you'd like some tips on how to subscribe to the show, just go to jordanharbinger.com/subscribe. Subscribing to the show is absolutely free. It just means that you get all of the latest episodes downloaded automatically to your podcast player so you don't miss a single thing. And now back to the show.
Jordan Harbinger: [00:29:26] Let's talk about the concept of chunking. Athletes seem to have these superhuman fast reflexes or reactions, but your work has shown that once we take them out of their sporting environment, these advantages actually disappear. That's fascinating because we do look at athletes and we go, "Wow, this person is just absolutely superhuman." It must've been an interesting test to then throw them into a pool or an unfamiliar environment and watch them do exactly what "normal athletic" or fit humans would do.
David Epstein: [00:29:55] Totally. And you don't even have to change the scenario that much. One of the famous examples of this was the softball pitcher, Jennie Finch, who was one of the best softball pitchers in the world. And she would go around to Major League Baseball teams and pitch to their best hitters. And okay, these guys hit a hundred-mile-per-hour fastballs, you know, mid-90s fastballs. Jennie throws 60 to 65 but from a 43-foot mound, but the ball is so much slower. That if the transit time is actually longer than what they're used to and the balls bigger, so naturally they all thought they were going to crush it. Because they have reflexes fast enough to hit a Major League fastball. Of course, they're going to hit 67 miles per hour softball. And what actually happened was, I think, one guy hit like a foul ball and everyone else never even had a foul ball off of her.
[00:30:39] And when she faced Barry Bonds, she had a cameraman there and he made the cameraman and put the camera down. So he got like 45 minutes of the dirt in his feet because Barry couldn't even make a foul ball, so he didn't want the guy to film. And it's kind of explicable if they have reflexes fast enough to hit a hundred-mile-per-hour fastball, why they can't hit the softball. But then it turns out they actually don't have reflexes fast enough to hit a hundred-mile-per-hour fastball. So the minimum reaction time of a Major League Gators 200 milliseconds. And it's actually the same for teachers, doctors, lawyers, Major Leaguers. That's a fifth of a second. That's the time it takes just to see an object in front of you for that information to cross the synapse to the back of your brain and to initiate muscular action just to initiate it. That's half the total flight time of the pitch, so it's way too slow if you're actually reacting. And we don't even have a visual system capable of tracking an object is its angular position changes really fast because it's close to our face.
[00:31:28] So the advice that we give our kids, "Keep your eye on the ball." Just not possible. If they could close their eyes on the ball, we're halfway in. If it weren't psychologically upsetting, it wouldn't make any difference to performance. So the way that these hitters have learned to basically overcome their biological limitations is they've learned to pick up on cues from the body of the pitcher, like the rotation of the torso, movements of the shoulder, the flicker of the pitch, which is the flashing pattern that the seams on the ball make as the ball spins. And they group it into what scientists call a chunk, which is like one signal of all these pieces together that as soon as the ball is released, it says the ball is going here or there in the future, swing or you don't swing. And that's it.
[00:32:04] So really what looks like these superhuman reflexes is them picking up on these body cues that they've learned to very specific types of practice. So they need this very large amount of specialized practice that becomes really, really effective and allows them to surmount, otherwise, limited biology. But then if you change the situation just a little -- where you have the softball pitcher who's throwing underhand, rotation of the torso and the shoulder totally different, spin of the ball different -- they're totally stripped of that expertise that allowed them to do things that are otherwise kind of biologically impossible. So there you see sort of the power of a type of specialized practice and also its fragility when anything changes.
Jordan Harbinger: [00:32:44] That's fascinating. So we're not actually reacting to the ball itself. They're looking at all these different signals, but this I assume is happening subconsciously. They're not going, "Okay. The rotation of the arm and this or that." It's just happening through practice and years of experience. They're not able to sort of breakdown what they're looking at, which makes me wonder how the hell they even figured that out in the first place.
David Epstein: [00:33:06] That's right. So in fact, sometimes if you tell them what they're looking at, they'll do worse for us. So there's one of the sports scientists I was talking to is he made this joke. He said, "You know, if you want your partner playing tennis to do worse, you should just go up to them and say like, 'Gosh, you know, the way you angled your forearm on that a stroke was really great.'" What you want to do is get them thinking about it because these processes have to take place in sort of your unconscious mind or they'll be too slow. So, yeah, so they don't know at all. And in fact, those Major League hitters thought that they were going to hit softball pitchers. Like they were as surprised as anyone that they couldn't hit softball pitchers.
[00:33:36] So the way this was figured out was through what's called occlusion studies, where you block parts of a pitcher's body, or you can give someone glasses where they go dark at a certain time, and it's all sorts of different types of simulations you can do. You can run different simulations or different real-life experiments to figure out what information, what visual information do you have to pull away for the person to become a novice, essentially. And one of the interesting things they came from this is that when the hitters say what it is. Like when they do something well and they're asked like, why did that work, and they tell you they're often wrong. And the scientists can sometimes prove it to them. They'll say, "I saw this and that's why I knew the ball was going here and hit it." They can show them eye-tracking data and so they didn't see that. Or they can take that information away and show that it makes no difference to their performance. And so there's this interesting aspect of types of expertise that works subconsciously. The performer is often not well-equipped to explain how it actually works.
Jordan Harbinger: [00:34:32] Yeah. We've talked about this on the show before and I'm trying to figure out where and when it was, I'm trying to remember this, but there's a whole lot of science that shows that our brains will kind of just rationalize and figure out a reason why we did something. That's not the reason at all, and we're convinced that it is because our brains like, well, I can't really explain to you since it's a subconscious process, what's going on and why you did all this. So we're just going to say that you saw a gun and you're like convinced that that's the case. You're not lying. Your brain's telling you saw a weapon or your brain's telling you that this certain thing happened and that's why you reacted in a certain way and you're convinced that that's reality, but it's just because there's no other way for your brain to kind of communicate that to your conscious mind. And so you rationalize your actions in a certain way. It's not that you're making up a story or anything. Your brain is doing it to you. You're fooling yourself.
David Epstein: [00:35:20] Yeah. I mean, people don't know why they do what they do is a massive theme of a lot of modern psychological research.
Jordan Harbinger: [00:35:27] Yeah. I find that whole field or that whole idea fascinating because of course. It has spillovers into marketing, sales, dating. I mean, there's a whole lot of reasons that we can't predict our own behavior and science can, and that kind of as the crux of the whole thing. And that to me is fascinating because it means that you can program humans to do certain things and they will have no idea why. And they will think it's because of a totally different reason that you could also give them.
David Epstein: [00:35:55] Totally. And sometimes the things that we think we want, we don't even -- you mentioned marketing, there's this famous paradox of choice by Barry Schwartz where if you ask them how many choices of whatever cereal or jeans or whatever they want, they say a ton. They'll say a high number, like more choices, always better. And then if you give them all those choices, they are less happy with their experience and less likely to buy something. Whereas if you pair it down to like six choices, and they're going through the cereal aisle and there's only six instead of 40 they're much more likely to buy something to make a decision quickly and report being happier about it. So sometimes the things we think we want, I think we actually don't because our logical brain and sort of our unconscious brain aren't always on the exact same page.
Jordan Harbinger: [00:36:39] You mentioned before that Nobel laureates and other scientists are 22 times more likely to engage in totally unrelated fields, like singing, acting fiction writing. There's a famous example of Steve Jobs taking a calligraphy class or something like that, and that's why the Mac had different fonts. Creative achievers often have broad interests, but how do we know that this isn't one of those correlation versus causation situations? Like maybe this is something brilliant people happen to do because they're virtuosos, not that they're brilliant because they do all of these different things. How do you know it's one and not the other?
David Epstein: [00:37:11] No, I'm sure there is some correlation in there as well. So the first thing I think that it shows is that -- let's say that's not time on task, so to speak for them, it shows that that doesn't preclude them from becoming world-changing people, right? So that's the first thing you can say, whether it's correlation or not, it doesn't preclude them from doing this groundbreaking work. But then I think there's a body of other evidence that suggests that it's at least partly causal. So one angle, for example, is that people who have hobbies unrelated to their work have increased self-efficacy. They feel more competent, capable in their work. And people who have hobbies related to their work have decreased self-efficacy where they feel less competent and capable in their work. So that's sort of one angle.
[00:37:47] There's another area of research that tried to match scientists, essentially engineers in technological fields, mainly tried to match them for credentials and test scores and all those sorts of things, and then look at their contributions and look at all other factors about them. And one of the things that jumped out was the people that made creative contributions also had a bunch of hobbies outside of work. It's not that it can't be perfect, but it was an attempt to sort of match people for other things. And a lot of people without hobbies had achieved really high things. They were tenured professors at fancy places, but they had not made the creative contributions of some of their colleagues who had these wide array of interests.
[00:38:20] And that that holds as well in the work of Abbie Griffin who studies the so-called serial innovators, who are people who make repeated creative contributions to their organizations and the way she describes them, like some of the phrases that appear in your work are wide range of interests read more and more widely than their peers have a need to learn across multiple domains, have a need to communicate with people with expertise outside of their own domain, tend to flit among them ideas, which doesn't usually sound like a compliment, repurpose disparate information in new ways, and use things that are already available in new ways. All these things that kind of sounded bad sometimes, like they're just flighty, but I think it falls in line with what these other areas of research show. And I think the research suggests that by picking up a hobby, I don't think you say, "Oh, go take a hobby, and that turns you into one of those serial innovators." The way I read the evidence is that it's hard to create those people under any circumstances, but it's really easy to stifle them by not allowing them to pursue these multiple interests. So I think the best you can do is kind of allow the fertile soil and so that you don't stifle those people and hope that you get some of them.
Jordan Harbinger: [00:39:21] What's the main difference between these people and people who just aren't really good at any one thing. I don't want people to think, "Great. I'm not good at anything now, that's an advantage. Thanks, Jordan. I appreciate that."
David Epstein: [00:39:31] No, that's a great question. Like the dilettante basically, and this reminds me of some of the research I wrote about on 3M, which has 7,000 inventors, and they have a goal that they usually make of making like a quarter of their profits from products that didn't even exist five years ago. So you have to be really innovative. They did some interesting research looking at who succeeds at that innovating over and over and over. And they classified people as generalists and specialists based on the number of different technological classes they had ever worked in as categorized by the US Patent Office in their career. And they saw that there were generalists and specialists. Generalists had worked in a whole bunch of different technological classes. Specialists had worked in one or two over and over and over. Then there were dilettantes who hadn't worked in that many and hadn't gone that deep in anyone. And then there were polymaths who either came in with sort of one area and then sacrificed more depth for breadth or went the opposite. That came in really broad and then sort of honed in on one area.
[00:40:25] And what they found was that the generalist and specialist both made contributions separately. The dilettantes tended not to, right? So the people who had not gone very broad or very deep, just tended not to make contributions. And the very best contributions came from the polymath who didn't matter which direction they did it. But at some point they sacrificed increasing depth for breadth, but also had kind of an area or two that they could grab onto. So it's sort of that combination that we're the people that really made the organization changing and in few cases, world-changing impacts.
Jordan Harbinger: [00:40:55] One of the reasons this is so concerning is most students, and this includes me and I went to school 20-plus years ago now when I started college, most students are getting narrow job training for a career that not only they won't ever have, but like no one will ever have. I mean, I took a ton of courses on things like anthropology, and I'm not saying they were a complete waste of time, but they sure seemed like it then and honestly, they kind of seem like it now. And most students, something like 90 percent don't get a job in their major. Look, I have a law degree and I'm a broadcaster, so I feel like I'm qualified to say how ridiculous that is.
David Epstein: [00:41:30] I mean, I was in grad school for geology and then it became like a sports writer. As the economist Bryan Caplan has said, most kids in college, they're actually getting vocational training, but for a job that almost none of them will have, which is like being a professor of some really specialized thing. And I think the education system just hasn't necessarily caught up, even though with how rapid the transition to an information economy in a knowledge economy and creativity economy was so rapid, I think it's not a big surprise that the various levels of education weren't able to turn on a dime and catch up with that. The way that some areas of industry were. So we're still sort of stuck in preparing people for certain jobs. When I think the thinking has to more become how do we prepare people for an uncertain work world, basically so they can be adaptable. And I think in some ways we're going in the wrong direction.
[00:42:21] So the president, for example, issued an executive order saying that we should expand our apprenticeship programs to become more like Germany. But Eric Hanushek at Stanford and then a group of international researchers, actually, they looked at a dozen different countries. Okay, this was really impressive research. They matched people for their parents' education, their test scores, and their own years of education in various countries. The difference was did they get career-focused education or like so vocational or apprenticeship or did they get broader general education. And the pattern was that people who got the career-focused education were more likely to be hired right out of training, more likely to make more money right away, but so much less adaptable in a changing work world that they spend so much less time in the workforce overall that they win in the short term and lose in the long run.
[00:43:06] And the biggest advantage for general education was in Germany where they have the big apprenticeship program. So there's this real tradeoff between short-term and long-term benefit when you have this really rapidly changing work world. So I think we need to think about what are the kind of critical skills that allow people to adapt to a changing work environment as opposed to, again, that sort of vocational training for a job that nobody's actually going to have.
Jordan Harbinger: [00:43:29] You've written that breadth of training predicts breadth of transfers. So I'd like to discuss that because I think that relates really well to one, it's very anti-Tiger Mom. But learners become better at applying concepts to something new that they've never seen before. If you've got, I guess, what is it, a wide range of mental models that you use across various disciplines?
David Epstein: [00:43:48] Yeah, and so that saying, it's sort of a summary of some classic findings in psychology, "Breadth of training predicts breadth of transfer." What that basically means is that transfer is taking the knowledge that you have and applying it to problems that you have not quite seen before. Again, if your job is basically the same thing every day and year after year, the transfer is not that important for you in your work. But that's not the case for, I think, most of us and an increasing portion of us. And so the breadth of training, like the diversity of the problems you face -- and by the way, this goes for physical and cognitive skills. So the breadth of problems you face in training predicts your ability to take those knowledge or skills and apply them to situations you haven't seen.
[00:44:26] So if you think of the sports context, one of the reasons I think, like if you go to Brazil or Argentina or wherever you see the kids, they're not playing soccer like on full fields in a way American kids are. They are playing futsal, which is this game that's like a small ball stays on the ground. They're playing on cobblestones one day, sand the next day, in an alley, whatever. And so they're all tightly grouped around each other because it's a small space and it's like a different playing surface and area all the time. Within the game, they're facing this incredible diversity of problems. And so I don't think it's a big surprise that like basically all of the greatest players grew up playing that because they had this incredibly broad training for that type of problem solving early that makes you creative later on. And that's held in research in military responding to various types of scenarios to just learning math. And that seems to hold in a whole host of areas where you want to diversify the problems you've faced and it forces you instead of relying on known procedures to build these conceptual models that you can then apply and mold to situations going forward.
Jordan Harbinger: [00:45:30] We see something like this or akin to this, and I'm not sure exactly what the word I am looking for is, but musicians who can't read music but are self-taught, many of these amazing folks learn to read music later. But what's that musician's joke? Like, "Can you read music?" "No, not enough to hurt my playing." Just like a jazz musician joke. So they can't produce a specific note on command because they're just playing by ear. But the takeaway here can't just be, don't learn the specifics of your craft. So what sort of component are we looking at here?
David Epstein: [00:45:59] Yeah, I think it's a question of the way that you learn it. And so one of the interesting things about jazz musicians is it turns out -- in a lot of the teachers I talked to -- that it's a lot easier to teach a jazz player to play classical than to teach a classical player to play jazz. And so I think this is one of those areas where some scientists call it learning like a baby is a good thing, where instead of trying to teach the grammar first, you know, like the reading first and the technique first. You've let someone develop their ear and sort of be immersed and let them try to problem-solve with her ear, and that's very slow, right? It's really slow. They're not going to progress as fast as someone who has a teacher who just says, do it this way and this and this and this, and just tells you the steps. But it sets them up in a way to be incredibly flexible. They're still learning those skills. They're just not learning them in the same way. They're having a desirable difficulty. They're being thrown in and they have to struggle and try to learn instead of being told what the answer is and repeating it over and over and over. And so like, think of the way that you learned your native language compared to the way you might've learned a foreign language, assuming it wasn't immersion. Somebody starts teaching you the grammar first and you're like trying to think how to apply it instead of getting an ear for it and speaking first. And so I think that kind of holds in the music realm as well. The problem is it's slow. Again, it slows you down to learn that way, even though it gives you some powers that you won't have otherwise.
Jordan Harbinger: [00:47:14] It seems a little bit counterintuitive here because if you're starting something new, shouldn't you get a coach that shows you the basics and helps you avoid big mistakes? Or is it better to self-teach? Now I'm confused between these two methods.
David Epstein: [00:47:27] I think it depends what it is. Again, if it's something like golf, that's sort of pretty static endeavor for the most part. That is largely based on doing the same thing over and over without deviation and in known ways to do it. I think technical coaching there. You need it, absolutely. In situations that are more improvisational and more creative, where you're going to need to think on the fly and you're going to need to come up with things that the coach can't just tell you. That's where I think it's much more up to the coach to set up situations that kind of force you to do self-teaching. So it's not that they're just totally hands off, although I think a lot of unstructured activity or learner led activity is a good thing, but I think they help you set up a scenario, whereas you're forced to do some of that self-teaching.
Jordan Harbinger: [00:48:11] I know that when you're self-taught, you experiment more. And my producer has been able, for example, to solve some complex audio problems that audio engineers I've asked to solve those same problems can't seem to solve.
David Epstein: [00:48:22] That's interesting.
Jordan Harbinger: [00:48:22] And he solved it through running different plugins on the audio that were for horn instruments. He just ran a bunch of them. And he was like, "Oh, this sounds better, right?" And I was like, "Yeah, what is this?" And he's like, "It's a saxophone plugin or something." And I was just like, "Wait, what?" And the audio engineers that I had hired to try and solve this, they were really confused. They were like, "Hey, this is probably the best it's going to get. I ran all these vocal plugins on it and changed this and that in the other thing." So they went for a really complex solution that didn't sound as good as another producer of mine just mucking around with it. And that I thought illustrates this point really well. When you're self-taught, you experiment more. But again, if something's more kind of a matter of artistic perception, which listening really is. You know, does this sound clearer or not, is not something most of us would be able to measure without just listening. So maybe it works for things like that, but yeah, probably wouldn't work for chess, right?
David Epstein: [00:49:17] Yeah. No, chess, there are, I don't know, 1718 something like that Grandmasters, I think under the age of like 15 or 16 ever. And the oldest one is probably like 40 or something like that. I'm estimating here. So that's a very much a modern phenomenon. And that's because of the rise of computer chess, which allows this pattern study much earlier. And it shows you was this right or was this wrong, basically. And again, that's also the reason why a free app on your iPhone can beat the best chess player in the world is because it's so much based on known pattern recognition. And so you know, for things that are like that, that are really amenable to that, you probably don't want to be a human -- that are the most amenable, this kind of early specialization where you'd do the same thing over and over, you probably don't want to be in that area that much longer because there'll be automated.
[00:50:02] With respect to your audio engineer, my prediction would be that he could learn the technical stuff that the more formally trained audio engineers learned easier than they could learn to do what he's doing. Because they sort of have to undo some of it, because they probably learned the tools are used in certain ways now. Whereas he's been a tinkerer. And so for him, tools are used for problem-solving, not only in certain ways. I bet he'd be able to learn what they do easier than they'd be able to learn what he does.
Jordan Harbinger: [00:50:28] So these short-term struggles plus long-term gains, that's sort of the deep learning formula. We even have something called the generation effect where struggling to generate an answer, even if it's a wrong answer, enhances subsequent learning. This sounds a lot like law school where they just ask you a question that's going to not yield the correct answer because you don't know or nobody knows. And you're, the whole class is just spending the next 45 minutes making educated guesses and you come away with a better understanding of the concept. Is that kind of what's going on here?
David Epstein: [00:50:56] Yeah. Yeah. And I mean also like, you know, Socratic teaching and stuff like that. So the generation effect does this, and the reason it's called the generation effect is because the effort of trying to generate an answer, no matter what it is, primes your brain essentially to retain the information when you do learn it. And in fact, if you're really confident of a wrong answer, you're even more likely to then retain the right answer. It's called the hypercorrection effect when you learn the right answer. So really what we should do when we're studying something, for example, instead of just going over it or highlighting it or whatever, even if you are going to get everything wrong, you should quiz yourself on it and like actually try to come up with an answer. That's like not a very fun thing to do to jump in and test yourself when you're clearly not ready and actually try. It's a little painful, but it might feel counterproductive, but actually, it really primes you for retention.
Jason DeFillippo: [00:51:46] You're listening to The Jordan Harbinger Show. We'll be right back after this.
Jordan Harbinger: [00:51:50] This episode is sponsored in part by Manscaped. Well, let's just say you've got a lot of time on your hands right now. Maybe it's time to go ahead and trim down under. Lawn Mower 3.0 from Manscaped. This is surprisingly well-crafted ball trimmers. In fact, it's nicer than the things that I use to actually cut my hair. It's like a really, really nice grooming kit. We actually ended up buying these grooming kits for everyone on the team, so there's no excuse, Jason, for an unshorn -- I don't know what the opposite of shorn is -- scrotum area, okay.
Jason DeFillippo: [00:52:22] The Burt Reynolds look. We call that the Burt Reynolds.
Jordan Harbinger: [00:52:25] Is it? I don't want to know the etymology of that. But if you're looking for a new thing to do at home manscaping can become part of your routine. You know, there's got to be a portmanteau for quarantine and manscaping or quarantining and shaving down low. I don't know, I don't want to put the thought into it right now. Maybe we'll come up with it later. But the Perfect Package, 3.0 kit comes with the Lawn Mower 3.0 which is cordless by the way, which is always nice. You can take it in the shower with you. Third generation trimmer, ceramic cutting blade to prevent manscaping accidents. See, people think sharp blades caused accidents, but it's the dull blades that cause accidents. And I'll just let your imagination run wild with why that is. SkinSafe technology is going to make sure you don't have to worry about that. So go ahead, sit on the couch with your hand on your junk anyway. You might as well keep them smooth as eggs and smelling nice and fresh. Tell them where they can get Manscaped, Jay.
Jason DeFillippo: [00:53:15] For a limited time, subscribers get not one, but two free gifts -- the Shed travel bag and the patented high-performance, anti-chafing Manscaped boxer briefs. This is the perfect package for your perfect package. Get 20 percent off plus free shipping with code JORDAN  at manscaped.com, Do yourself a favor and always use the right tools for the job. So again, get 20 percent off and free shipping with the code JORDAN at manscaped.com. That's 20 percent off with free shipping@manscaped.com with the code JORDAN. Make playing with your balls the best part of your day. Thanks, Manscaped.
Jordan Harbinger: [00:53:46] This episode is also sponsored by NetSuite. This is a brilliant idea. If you run a business, even if you don't run an online eCommerce business, but you run any business, you probably have 17 different dashboards for everything, HR, accounting, sales. Ring, Hint, Tecovas all use NetSuite, and I'm telling you, small businesses use this too. We looked into this before as well for our business and successful companies know that in order to grow faster, you've got to have the right tools. If you're scaling from two million to 10 million, 10 million to hundreds of millions, NetSuite by Oracle will give you everything you need to know. A full picture of your business, finance, inventory, HR, customers in one place. Yes, it works on your phone, so you can do it in a freaking car on the way to the airport if you need to. NetSuite customers are growing faster. This is kind of like a startup secret weapon as well as an enterprise level secret weapon. It's the number one cloud business system. 20,000-plus companies are using it. It's the last system you'll ever need. It's really configurable as well. This thing is kind of an impressive beast, honestly. Jason, tell them where they can get a guide about profitability from NetSuite.
Jason DeFillippo: [00:54:48] They can also schedule their free product tour right now, and then they'll receive their free guide to Six Ways to Run a More Profitable Business at netsuite.com/jordan. That's netsuite.com/jordan. One more time netsuite.com/jordan.
Jordan Harbinger: [00:55:02] This episode is also sponsored in part by Progressive Insurance. Fun fact, Progressive customers qualify for an average of six discounts when they sign up for Progressive auto insurance. Discounts for things like enrolling and automatic payments, ensuring more than one car going paperless, and of course, being a safe driver. Plus customers who bundle their auto with home or add renter's insurance save an average of 12 percent on their auto. There are so many ways to save when you switch, and once you're a customer with Progressive, you get unmatched claim service with 24/7 support online or by phone. It's no wonder why more than 20 million drivers trust Progressive and why they've recently climbed to the third-largest auto insurer in the country. Get a quote online at progressive.com in as little as five minutes and see how much you could be saving.
Jason DeFillippo: [00:55:44] Auto insurance from Progressive Casualty Insurance Company and affiliates, home and renter's insurance, not available in all states, provided and serviced by affiliated and third-party insurers. Discounts vary and are not available in all states and situations.
[00:55:57] Thank you for listening and supporting the show. Your support of our advertisers keeps us on the air. To learn more and get links to all the great discounts you just heard, so you can check out those amazing sponsors, visit jordanharbinger.com/deals. And don't forget the worksheet for today's episode. That link is in the show notes at jordanharbinger.com/podcast. If you're listening to us on the Overcast player, please click that little star next to the episode where you really appreciate it. And now back to the show.
Jordan Harbinger: [00:56:25] One of the ways this was studied was these monkeys were getting hints, which decreased their performance on memorization tests over time. I've got to stop here and say, I'm just impressed that monkeys can take tests that involve requesting hints. That's amazing. What the hell is that? What's going on here? That alone was mind-blowing. The results be damned. I don't care. How a monkey is requesting hints on a memorization test.
David Epstein: [00:56:46] I know, I watched some videos. This is pretty impressive. So this was the studies in rhesus macaques, which are relatively close to the ancestors of humans, where they were being trained to memorize lists and order. And it would be like all these random pictures, you know, like a tulip in a goldfish and a Halle Berry and some clouds or whatever. And they would come up on this digital screen, and they would touch it. It was a touchscreen. And so they were supposed to learn the order that these things should come up within a whole bunch of different lists. And there was an area that they could hit. That would show them what was next if they couldn't figure it out, if they wanted to get a hint. And sometimes when they were training, they could take hints whenever they wanted if they were stuck and they couldn't get the next one right. They could take a hint whenever they want it. Others, they were forced to take hints a lot of the time. And others, they only were allowed to take hints about half the time. Then others, they weren't allowed to take hints at all, so they just had to start hitting stuff by trial and error to figure out what the right order was and then try to remember it basically.
[00:57:40] And so basically the pattern of results was -- so they did this over and over and over and over like hundreds of times on these various lists. And then they had kind of test time came around. And the pattern in practice was the fewer hints they had, the worst they did. And then when the test came around, where there were no hints allowed in the test, it was completely reversed. The lists that they had totally flopped on in practice where they had no hints they did by far the best on the test. And the list where they had tons of hints where learning was easier, they totally flopped that on the test.
[00:58:12] And so this was just, I thought, a fun example of something that's been shown the same in humans, which is that excessive hint giving. We like to -- and I think we often don't even think about it -- our teachers often give us excessive hints or we find ways to give ourselves hints instead of kind of really struggling going forward, it really undermines your learning. In some of the research I talk about in that chapter in Range is really in American classrooms or in classrooms around the world but I sort of focused on American classrooms that look at how students in pursuit of right answers in class often lead their teacher. I was almost going to say trick, but they're not doing it on purpose. They lead their teacher to give them hints in a way that undermines the learning. And so that's a real problem. So we need to have methods of teaching where the teachers are aware of what's going on such that they don't give hints that undermine the learning process.
Jordan Harbinger: [00:59:03] Oh, that's interesting. I never really thought about that, but now that you mentioned it, I think, half of the classroom discussions are sort of spent probing the teacher to correct you on something.
David Epstein: [00:59:12] Exactly.
Jordan Harbinger: [00:59:12] Because you don't want to be wrong in front of 90 people, especially in law school because it's kind of a hypercompetitive environment in the first place. So you don't want to say something that's wild out of left field. So you either hide and don't participate or you spend a lot of time asking clarifying questions, which are just sort of like Hail Mary's to try to get the teacher to say something that prompts you to get the right answers and you look smart.
David Epstein: [00:59:36] I mean, once I started, I was watching a video of this in classrooms with someone who researches this. And you know, once he told me about it and I started seeing it everywhere, you realize groups of students are incredibly adept at working together just spontaneously to get hints from a teacher in one way or another. And in a way that can totally undermine the learning process. They're just trying to get to the right answer, right? They're just being expedient about trying to get to the right answer, but it has this effect of undermining the learning. If the teacher doesn't sort of know these principles.
Jordan Harbinger: [01:00:07] Yeah. That's fascinating. I find that a lot of schools can be gamed, which is not necessarily to the advantage of the student, but also almost has to be done because I think smart students are going to game any system. Like that's kind of the point, right? Maybe not the point, but that's going to happen no matter what. You really have to be careful with that. So you're right, training a teacher to spot that and not given. Because it's not even that these students are being crafty and trying to hack the process and be tricky, it's just some sort of human nature to not want to look bad and therefore try to get as whatever advantage you can.
[01:00:40] And also it's the fact that we have this cognitive bias where fluent learning or learning that feels to us like we're just making rapid progress and coasting. We rate that as good learning and we rate that if we feel like the learning is easy. We think our teacher is good and we think that we're learning a lot, and it turns out to be the opposite. It's that feeling of ease is just a feeling of ease and it tends to be inversely correlated with how good the teacher is and how much you're actually learning. So I think part of it is just this, we're pursuing something that feels like good learning. It just turns out that. It's not.
[01:01:13] One of the examples in the book is J. K. Rowling, who was this epic failure kind of broke teacher on welfare and really feeling unfulfilled, and she makes the switch to novelist, writes Harry Potter and is, I think, like a billionaire now, which is pretty reassuring for those of us who feel stuck in our career or a dead-end job. But how do we know when to switch? There's this pick and stick mentality, and it's not necessarily the best way, even if it's trendy, but leaving something behind isn't always a lack of grit. Can you speak to that? Because grit is trendy. Pick and stick is trendy, and now you're saying, "Hey, don't specialize too early," which is kind of the opposite. Or it seems like it might be the opposite of those concepts.
David Epstein: [01:01:54] Let me give a study that sort of gives an example of this, which is an economist who found a natural experiment in the higher ed systems of England and Scotland. What he saw was that the systems were really similar in the period he studied. The difference was the English students had to specialize in their mid-teen years to apply to a specific course of study. Scottish students could keep sampling stuff throughout university if they wanted to do it, and his question was who wins the tradeoff, the early or the late specializers. And what he saw was the early specializers jump out to an income lead because they have more domain-specific skills. The late specializers get to try more different things, and when they do pick, they have a better fit or what economists call match quality. That's the degree of fit between your interests and abilities in the work that you do. It turns out to be super important for your sense of fulfillment in your performance and your persistence. And so they had faster growth rates.
[01:02:40] So by six years out, they fly past the early specializers. Meanwhile, the early specializers start quitting their career tracks in much higher numbers because basically they were made to choose so early that they more often made poor choices. The late specializers lost in the short term, but the one in the very long run. And I think that is emblematic of certain results that are relevant to grit. Because a lot of the grit research has been done on people who were already selected for a certain short term goal basically. So finding the right thing to be doing isn't part of the study.
[01:03:09] So the most famous grid study -- so grit, just quick refresher, psychological construct based on a 12-question survey. Half the points are given for persistence of effort and the other half of the points for consistency of interest. So, you know, I overcome setbacks on the one hand, and I don't change my interests or I don't ever leave something before I finish it. And the most famous study was in West Point where it found the grit survey was a better predictor, which West Point cadets would get through what's called Beast Barracks, which is like the six-week very rigorous orientation at the US Military Academy. That's great. That's a good thing to know. Grit also helps predict who will graduate. But the point of West Point isn't to get the survivors, it's to get the future leaders of the US Army. And since about the mid-1990s about half of those gritty cadets had been quitting the army on like the day that they are allowed.
[01:03:52] So what happened? Did they lose their grit all of a sudden? That's initially what some high-ranking officers say, "Well, they've developed a millennial grit problem overnight. Too much avocado toast, not enough mortgages or something." But these people had scored in the highest percentiles of grit. The problem turned out to be when they studied it, that the army still had this very strict up-or-out. You're signed to a career track and get up-or-out career structure and in the transition to a knowledge economy. Now, we prize people who can engage in knowledge creation, problem-solving, and so they have tremendous lateral mobility that you didn't have when we were a more specialized economy where people faced more repetitive challenges.
[01:04:26] And so these young people would learn stuff about themselves in their early 20s and realize they have no agency over career matching in the army, so they would go outside. So the army, at first they started throwing money at people for retention bonuses and the people are going to stay anyway, took it and the ones that were going to leave anyway with a half-billion-dollar taxpayer money didn't change retention at all. Then, they started programs like one called talent-based branching. Well, instead of saying, "Here's your career track, get up-or-out." They'd say, "We're going to pair you with a coach-like mentor. You try this one career track, reflect on how it fits your interests and abilities with your coach. You keep track of that in an online portal. Then try this other one and these three others. You'll try five, six, dip your toes in different careers."
[01:05:02] As the cadets went through this, they were often surprised about what their strengths or weaknesses are. They were tracked in research. 90 percent of them who went through talent-based branching changed one of their top two career preferences, 90 percent of them. Because you don't know before you get to try stuff. Or my favorite quote in Range, "We learn who we are in practice, not in theory." You actually have to do stuff and then reflect on it. And it improves retention because as one researcher told me, when you get fit, it looks like grit. If you get someone in work that fits them well, that has high match quality, they will display characteristics of grit, like hard work and persistence, even if they didn't before. And so I think we often undervalue. The impact on performance and fulfillment of getting a good fit, and the only way to do that is to be allowed to try some stuff and learn about yourself. Because otherwise, your insight into yourself and your options is constrained by your previous experiences. So I think we need to balance our fervor for grit with systems that help people find fit.
Jordan Harbinger: [01:05:56] This speaks to me because I always feel like a late bloomer, right? It's like I went to school. And then I went to college and then I went to law school and then I quit that and I started a podcast and I started this other company and now I'm doing the interview-based podcast, and I'm like, "Aw man, I'm 40 now. Like what if I had started this when I was 17?" Which is unrealistic, or you know, also just probably everybody thinks that about everything that they're doing right now. And then in 10 years, I'll be like, "What if I had started that when I was 40." You know, who knows? But if we treated careers like dating, few of us would settle down so early in life, and yet here we are. No one's like, "Hey, you should get married. You're 17; you've got to pick a partner and get after it and start having kids." I guess, there are some, maybe, religious cults that do that.
David Epstein: [01:06:39] Works for some people, but not for most people.
Jordan Harbinger: [01:06:41] Just not for most people. Right, exactly. People who feel fulfilled often pursue a long-term goal, but they only do so after a period of discovery. And that's a study, I think, from your work as well. So it's risky then to commit early to a law degree or to medicine because it's so expensive, both financially and in terms of time. And you've done none of the discovery that you really need to do, most likely. Unless you spent your entire childhood working with your dad and grandpa in their medical office or their law office or something like that, and you're just like, "I was born for this." Right? But few of us have seen the inside of a law firm before we're graduating from law school.
David Epstein: [01:07:20] And usually you'll find out that you're not born for it. That's what happened with me when I went into science.  I was hoping to find out that this was what I want to work in the lab for the rest of my life. And I found out that that wasn't what I wanted to do. You know what I found out when I was living up in a tent in the Arctic that I started asking myself, am I the type of person who wants to spend my whole life learning one or two things new to the world that are pretty esoteric or much smaller spends of time learning things new to me and kind of synthesizing them and sharing them. And I realized I was the latter. And I didn't realize that until I kind of had a chance to try those things.
[01:07:49] And so I think what you were just saying was very eloquently basically summarizing what's called the Dark Horse Project by these two researchers at Harvard that studied people who found fulfillment in their work. A lot of these people were very materially successful also, but the dependent variable was fulfillment. But they often were also very successful in objective ways and what these people sort of had in common. The reason it's called the Dark Horse Project -- it wasn't called that at first -- was it in their informational interviews, people would come in and these were like piano tuners, animal trainers, pro-athletes, writers, ran the gamut of different occupations. They would come in and say, "Well, don't tell people to do what I did because I kind of started in med school and that wasn't for me. And I left and I did this other thing in finance and I really didn't like that. And so I bounced around. I had eventually had to start my own thing. And so, you know, I really came out of nowhere." And not everyone, there were some people who followed a linear trajectory, but the large majority of the people in the study saw themselves as outliers because they didn't follow a linear path. That's why they called it the Dark Horse Project, because all these people who thought like they were the oddball, right, who had done something and didn't stick with the first thing they did, but that actually turns out to be the norm for people who find high match quality in their work.
Jordan Harbinger: [01:08:58] I believe you mentioned this in the book as well, which I find fascinating. This is such a great way to phrase this too. There's so much personality change between the ages of 18 to 29 that if you specialize early, what you're actually doing is trying to match a career path with a person who doesn't actually exist yet. And that is the life story of probably almost everybody in my law school for sure. And possibly just every university grad who trained for any sort of career before the age of 23 or whatever, however old we were at that time.
David Epstein: [01:09:27] Yeah. It's kind of interesting that finding you're referring to is called the end of history illusion. So it's this finding that at every time point in life, we all recognize that we've changed a lot based on our past experiences. But then, we think, "But now I'm pretty much who I am. I'm not going to change that much in the future." And we're wrong at every point in life. We always underestimate future change and the fastest period of personality changes at 18 and in the late 20s and that's the period when we're usually pressuring people to figure out exactly who they are and what they should be doing. It's not to say they don't have to do something right, but I think we should be more open about it and view it as this evolutionary process over their life. Because if you recognize the personality, and this goes for everything. This goes for your values, the way you like to spend your time, what you look for in your friends, how you want the world to be, what you think your strengths and weaknesses are, like all these fundamental things about yourself that people think are fixed turned out to change a tremendous amount and most rapidly in late teens and 20s.
[01:10:22] And so I think we just need to think about the path as something where we should be continually zigging and zagging in search of better fit as opposed to looking for the one thing where the light bulb is going to turn on. And you know, that's it, this is my thing for the rest of my life. That may happen organically and if it does, great. I think don't force it. That's what I think.
Jordan Harbinger: [01:10:41] Now take small risks, take small bets, test things. Don't just pick some romantic grand plan. Easier said than done because we're sort of telling kids that they need to pick what they want to do. Pick a major, what do you want to be when you grow up? And then of course your data's like, actually don't even worry about that. Maybe just do some experimentation. So you don't have what I guess would be termed premature optimization. But the message from society is the total opposite, unfortunately.
David Epstein: [01:11:07] Yeah. I mean, setting up these experiments, and that's an idea I should give, it wasn't my idea from a woman named Herminia Ibarra who studies how people change careers and find good career fits. People don't, they don't tend to stick to this very long term. The longer term the goal, the less likely they are to stick with it and the less likely they are to be happy with it as time goes on anyway because they change. So their goals get adjusted. And so what she suggests is setting up these experiments, like, "Here's something I want to learn. Here's something I want to see if I'm really interested in. I want to see if I feel like I'm good at." And so you should set up these specific experiments, like take a class, meet someone in another field, whatever. Go to something where you think you'll be uncomfortable. And be like a scientist of yourself. You know, what's your hypothesis? I'll be good or bad at this. I'll like her, won't like that. And then find a way to go test those things. And so have that self-knowledge as you go forward, I think is a good way to progress.
[01:11:56] And by the way, some of these things we've been talking about, I think show up sort of naturally in some people who have really successful career progressions. Like LinkedIn, they shared some data with me. And also they have these incredible databases obviously. They did research on a half million members and found that the most powerful predictor of who was going to go on to become an executive was the number of different job functions that someone had worked across in their career, the number of different job functions. So the main advice from the principal economist at LinkedIn was for those of you who want to become executives, work across a lot of different job functions during your career, especially earlier in your career. But we don't really usually tell people -- I mean, I guess the chief economist of LinkedIn is, but we don't, we don't usually tell people to do that. Like, "Get out there and work across a lot of job functions." No, it's like, "Find your little specialty and drill deeply down into it." So one of the things I've found is that the people who take this message, the easiest, our executives, because they tended to get there that way anyway. So they sort of are like, "Oh yeah, well, yeah, of course."
Jordan Harbinger: [01:12:53] So don't specialize too early. Don't believe the hype, right? If anyone's asking you, 'What do you want to be when you grow up?" You know, you can say whatever you want, but when you think grow up, you should be thinking, what, 30-plus? How do we outline this plan for ourselves? If you had to do it all over again, what would you do? What would you recommend for your own kids?
David Epstein: [01:13:11] I would definitely go to geology grad school again, then become a sports writer. No, I'm just kidding. I think the way that I would -- and I'm a new parent actually -- approach this is like something we talked about earlier, like the Army's Talent-Based Branching process. I know it doesn't sound good to link my parenting strategy to the army, but I mean, I view myself as sort of in that role of the coach-like mentor in that process where I'm going to expose my kid to a variety of different things. So it's always a limited menu for anyone. And then instead of forcing them to pick something, I'm going to try to help him get the maximum amount of signal of what he's good at and what his options are as he tries those things. To get the max amount of learning out of each of those steps. We've got self-regulatory learning by the way, which is the people who do sort of the best learning and get off plateaus, they spend a lot of time in reflection about their strengths and weaknesses and what they learned or didn't from an experience.
[01:13:58] So I think that's really the best thing I can do is facilitate opportunities, make sure the maximum learning comes from those things, and just keep helping my kid do what that great quote from Herminia Ibarra, "We learn who we are in practice, not in theory." you can't sit around and introspect. Like there's this whole industry of self-help stuff that suggests you can take a quiz or just introspect and think of what you should do and go forth and do it. But in fact, the reality is all the research shows that you actually have to go try stuff. It might not work out. Then you reflect on that. So you do and then think instead of the other way around. And you keep doing that and you keep increasingly triangulating a better place for yourself.
Jordan Harbinger: [01:14:36] David Epstein, thank you so much for doing the show, especially given that you had to travel somewhere in the midst of all this coronavirus craziness. I really appreciate your time and it is interesting and it's a nice relief, I think, for a lot of folks to not have to specialize early, or if you're 29 and you don't have your entire career passion path laid out before you already that you're not really late.
David Epstein: [01:14:58] And your skills are never wasted. It didn't occur to me, but again, when I came from geology grad school, then I ended up at Sports Illustrated as a temp fact-checker. I'm six years older probably than the people that I was doing like menial work for. And then pretty quickly realized, but it was that science background that actually set me apart. So it took something that was ordinary in one context. Then you move it to a context where suddenly it's extraordinary and it becomes an advantage. So don't think of your prior experiences as wasted, even though you're always setback in certain ways when you make a transition, but your growth rates can become faster.
Jordan Harbinger: [01:15:28] Thank you very much.
David Epstein: [01:15:29] Thanks for having me.
Jordan Harbinger: [01:15:32] Big thank you to David for coming on today. His book is called Range: Why Generalists Triumph in a Specialized World. Of course, there'll be links to that in the show notes. And please if you do buy the book, use the links on the website at jordanharbinger.com because it does help support the show. There are also worksheets for each episode, so you can review what you've learned today here from David Epstein. We also now have transcripts for each episode and those can be found in the show notes as well.
[01:15:58] I'm teaching you how to connect with great people and manage relationships using systems and tiny habits over at our Six-Minute Networking course, which is free over at jordanharbinger.com/course. Dig the well before you get thirsty. The number one mistake I see people making is not digging that well, not making those relationships until they need them. Build your network before you need it even if you think it means starting from scratch. The drills take just a few minutes per day. Find it all for free at jordanharbinger.com/course. And by the way, most of the guests on the show, they subscribed to the course and the newsletter. So come join us, you'll be in smart company.
[01:16:34] In fact, why not reach out to David and tell him you enjoyed this episode of the show? Show guests do love hearing from you, and you never know what might take out of that. Speaking of building relationships, you can always reach out and/or follow me on social. I'm at @JordanHarbinger on both Twitter and Instagram.
[01:16:50] The show is created in association with podcast one. This episode is produced by Jen Harbinger and Jason DeFillippo, engineered by Jase Sanderson, show notes and worksheets by Robert Fogarty, music by Evan Viola. I'm your host Jordan Harbinger. Our advice and opinions, and those of our guests are their own. And yes, I'm a lawyer, but I'm not your lawyer. I'm sure as heck not a doctor or a therapist. So do your own research before implementing anything you hear on the show. And remember, we rise by lifting others. The fee for the show is that you share it with friends when you find something useful or interesting.
[01:17:20] So if you know somebody who's worried about being behind the curve or has specialized in something or is telling their kids to go do that, well, share this episode with them and see if they don't change their mind. Hopefully, you find something interesting in every single episode of the show. So please do share the show with those you love. In the meantime, do your best to apply what you hear on the show, so you can live what you listen, and we'll see you next time.
[01:17:44] A lot of folks asked me which podcasts I recommend. Well, Art of Manliness has been -- man, this has been a show as long as I've been podcasting, I think, or almost there bouts. And Brett, thanks for coming on the show.
[01:17:55] Everything you need to know about creating a home gym Episode 595, you must be getting a lot of traffic to that one these days.
Brett McKay: [01:18:02] Yes. And we've written about home gyms before, and those have been getting a lot of traffic because gyms around the country and in the world are shutting down. And this episode, how to build a home gym. I talked to Cooper Mitchell, he's the owner of garagegymreviews.com. We talk about the pros of having a garage gym/home gym, the equipment you need to have just a basic setup and then also how to do this affordably. And he tells you, he lays out specifically in this episode, how do you can build a home gym for less than a thousand dollars. It's about the price you pay for an iPhone. So if your gym's closed down, now's the best time than ever to open up a garage gym, a home gym in your house. Check it out. It's Episode #595.
Jordan Harbinger: [01:18:40] Excellent. Thanks, Brett. We'll link to that in the show notes as well.
Sign up to receive email updates
Enter your name and email address below and I'll send you periodic updates about the podcast.