Reading Time:
4
minutes
Desmond Shum is the former husband of arrested Chinese billionaire "Whitney" Duan Weihong and the author of Red Roulette: An Insider's Story of Wealth, Power, Corruption, and Vengeance in Today's China.
What We Discuss with Desmond Shum:
Why Desmond's intellectual schoolteacher parents were treated as undesirables by the CCP, and how this led to his family's self-exile to then-British Hong Kong when he was 10.
What the CCP does to keep evidence of events like the 1989 Tiananmen Square Massacre out of the public eye — and what Desmond's impression of this particular event was like.
How the economic necessity of corruption to make business sustainable under the watchful eye of the CCP is used as a bargaining chip to keep the operators of these businesses in line.
The path that led Desmond and his wife Whitney to the inner circle of the CCP and allowed them to make billions with the government's blessing — and the amount of work that went into maintaining the network that allowed this to continue.
The circumstances of Whitney's disappearance, and the eerie phone call he received from her four years later urging him not to publish his tell-all book.
And much more…
Like this show? Please leave us a review here — even one sentence helps! Consider including your Twitter handle so we can thank you personally!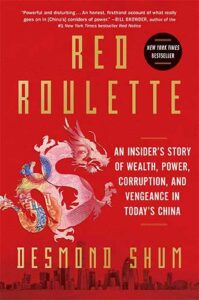 Red Roulette: An Insider's Story of Wealth, Power, Corruption, and Vengeance in Today's China is the book Desmond Shum was warned not to publish in a surprise phone call from his ex-wife, "Whitney" Duan Weihong, who had been abducted by the Chinese government and had disappeared without a trace four years prior. It's the book our recent guest Bill Browder — no stranger to attracting the ire of corrupt, authoritarian regimes — says is: "Powerful and disturbing…The Chinese government will not be happy with this book. Desmond Shum lifts the curtain behind the supposed Chinese economic miracle, portraying government leaders driven by corruption, conflict of interest, and greed. Rarely has anyone in modern China been brave enough to violate its oppressive code of silence and give an honest firsthand account of what really goes on in the corridors of power. Shum breaks all the rules so we can see it for ourselves and it's not pretty."
In this episode, Desmond joins us to share how he emerged from the shadow of his socially low-ranking parents to amass billions with the blessing of the Chinese Communist Party (CCP), and why he decided to turn on the corrupt system that had rewarded him so richly. Here, we'll learn just how far the Chinese government goes to enforce its will, and how far it's willing to go to punish those who transgress against it. Listen, learn, and tremble in terror, peasants enjoy!
Please Scroll Down for Featured Resources and Transcript!
Please note that some of the links on this page (books, movies, music, etc.) lead to affiliate programs for which The Jordan Harbinger Show receives compensation. It's just one of the ways we keep the lights on around here. Thank you for your support!
Missed our conversation with Annie Duke — World Series poker champion and author of Thinking in Bets: Making Smarter Decisions When You Don't Have All the Facts? Catch up by listening to episode 40: Annie Duke | How to Make Decisions Like a Poker Champ here!
Thanks, Desmond Shum!
Click here to let Jordan know about your number one takeaway from this episode!
And if you want us to answer your questions on one of our upcoming weekly Feedback Friday episodes, drop us a line at friday@jordanharbinger.com.
Resources from This Episode: