Reading Time:
3
minutes
Where should we begin examining our problems with relationships, cheating, conflict, and more? Legendary therapist Esther Perel talks us through it here!
What We Discuss with Esther Perel:
People who cheat don't necessarily want to leave their partner — they want to leave what they have become, or to get in touch with another part of themselves that they miss.
Is monogamy a state that mating humans evolved toward naturally, or is it more of a social construct imposed for the sake of control?
Most of us don't argue because we love conflict, but because we're trying to galvanize some kind of change that requires another person's participation. So how can we argue better for the sake of both parties?
What we can learn from conflict — especially with respect to creating connection.
As an expert in intimacy and human connection, where does Esther see us heading as a species when we can all have bespoke AI in our pocket that just exists to make us happy?
And much more…
Like this show? Please leave us a review here — even one sentence helps! Consider including your Twitter handle so we can thank you personally!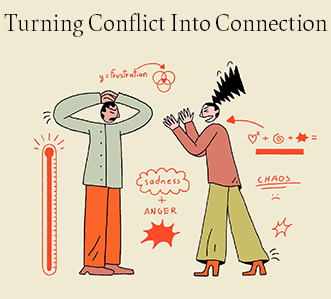 Is monogamy a natural state for humans, or did it artificially arise as an instrument of control? What's usually the core reason behind infidelity? Do men and women cheat for different reasons? Do arguments have to tear us apart, or can they be used to mend us together, stronger than ever? And what chance do tenuous, high-maintenance human connections have against a future in which AI (artificial intelligence) are designed with the sole purpose of making us happy?
We'll explore all of this and more with world-renowned therapist Esther Perel, author of The State of Affairs: Rethinking Infidelity and Mating in Captivity: Unlocking Erotic Intelligence, host of the podcast Where Should We Begin?, creator of Where Should We Begin?: A Game of Stories, and the educator behind the new Turning Conflict Into Connection course. Listen, learn, and enjoy!
Please Scroll Down for Featured Resources and Transcript!
Please note that some links on this page (books, movies, music, etc.) lead to affiliate programs for which The Jordan Harbinger Show receives compensation. It's just one of the ways we keep the lights on around here. We appreciate your support!
Sign up for Six-Minute Networking — our free networking and relationship development mini-course — at jordanharbinger.com/course!
This Episode Is Sponsored By:
If you want to know how to select a good long-term mate (and be a good long-term mate), you'll want to hear episode 758: David Buss | The Evolution of Desire here!
Thanks, Esther Perel!
If you enjoyed this session with Esther Perel, let her know by clicking on the link below and sending her a quick shout out at Twitter:
Click here to thank Esther Perel at Twitter!
Click here to let Jordan know about your number one takeaway from this episode!
And if you want us to answer your questions on one of our upcoming weekly Feedback Friday episodes, drop us a line at friday@jordanharbinger.com.
Resources from This Episode:
911: Esther Perel | Cheating, Argument, and Conflict
This transcript is yet untouched by human hands. Please proceed with caution as we sort through what the robots have given us. We appreciate your patience!
[00:00:00] Jordan Harbinger: Special thanks to U. S. Bank and Nissan for sponsoring this episode of the Jordan Harbinger Show. Coming up next on the Jordan Harbinger Show.
[00:00:08] Esther Perel: Sometimes a person goes looking elsewhere, not because they want to find someone else, but because they want to find another self. When we are in a relationship, we enter a role.
[00:00:22] We become the father, the mother, the provider, the subjugated, the responsible. And there is something about that transgression that often says, It's not that I want to leave you, I wanted to leave what I have become.
[00:00:44] Jordan Harbinger: Welcome to the show. I'm Jordan Harbinger. On the Jordan Harbinger Show, we decode the stories, secrets, and skills of the world's most fascinating people and turn their wisdom into practical advice that you can use to impact your own life and those around you. Our mission is to help you become a better informed, more critical thinker through long form conversations with a variety of amazing folks.
[00:01:03] From spies, to CEOs, athletes, authors, thinkers, and performers, even the occasional mafia enforcer, cold case homicide investigator, investigative journalist, rocket scientist, or Russian chess grandmaster. If you're new to the show, or you want to tell your friends about the show, and I appreciate it when you do, our episode starter packs are a great place to do just that.
[00:01:20] These are collections of our favorite episodes on persuasion and negotiation, psychology, geopolitics, disinformation and cyber warfare, crime and cults, and more. That'll help new listeners get a taste of everything we do here on the show. Just visit jordanharbinger. com slash start or search for us in your Spotify app to get started.
[00:01:37] Now today on the show, legendary therapist, Esther Perel. I'm excited about this one. I really, I've been waiting a while to do it. I've been friends with Esther for a long time, going on, on I think a decade at this point. And since then, she's just taken over the world. You love to see it. In this episode, we'll dive into cheating, argument and conflict, even relationships and AI.
[00:01:58] in that way that only Esther Perel can really do. And before you ask, no, I'm not referring to my own marriage or relationships. Here in some of the anecdotes, but we certainly did collect a bunch of inspiration from you all in the feedback Friday inbox, that is for sure. So if you wrote in and you heard something that might sound like your letter to feedback Friday, your secret safe with me, but we're going to blow it up here on this episode with a stare at Perel.
[00:02:19] Here we go.
[00:02:26] I have some stuff that I think will apply to a lot of folks who write into me for advice, and it's hard to pin you down. With a handful of topics that fit into one show because we've known each other for so long, I've known your work for so long, it's like, if we had 12 hours, fine, but I've got to pick the top 10 percent of the stuff that people write in with.
[00:02:43] So, let's start with cheating because, candidly, it's juicy and you gotta hook them early, is there, with this? So, I've heard you say about cheating, people don't necessarily want to leave their partner, they just want to leave what they have become, and they want to get in touch with another part of themselves that they miss.
[00:03:02] And this I think is really profound and I would like to flesh this out a little bit because I think it might give people the understanding that they might need not to blow up their relationship with cheating or if they're already cheating, at least they better understand why they're doing it and they don't go from one affair to another thinking they're going to find something in someone else.
[00:03:20] Esther Perel: There's three questions in this one and I don't necessarily think that cheating is always the best word. To even frame infidelity, affairs, transgressions, betrayals. It's a very vast experience. Okay. The world of cheating. In that experience, I have said that affairs also happen often in good relationships.
[00:03:44] They're not just symptoms of relationships that have gone completely awry. Then I'm asked, how so? And I say, I think one of the most important sentences I heard over 10 years of doing this research was that sometimes a person goes looking elsewhere, not because they want to find someone else, but because they want to find another self.
[00:04:06] When we are in a relationship, we enter a role. We become the father, the mother, the provider, the subjugated, the responsible. Whichever, duh. And there is something about that transgression that often says, it's not that I want to leave you. I wanted to leave what I have become. That doesn't justify it. That doesn't give it permission.
[00:04:31] That just explains that sometimes it's not about the relationship, but it's about the individual and it's not against you, but it is for me. And that said. That for me can be very hurtful still. If people find themselves in a recidivist positions where it's basically one after the other, then you often know that it is not about the relationship.
[00:04:55] If anytime a person says, look, this has happened to me every time, I end up with somebody else, I check out, I disappear, I lose my sexual interest, I, then you know that you're saying to the person, you need to check what's happening to you and don't make this a story about your partner who may think if I was more of this or more of that.
[00:05:18] That this wouldn't happen. So it's very important what is relational and what is individual and where do you start to make sense of this complicated and often very painful experience. I've got a
[00:05:30] Jordan Harbinger: lot of friends and I know people are like, Oh, friends, huh? But I probably have to disclaim that these are not my relationship questions.
[00:05:37] These are mostly things that people have written in about. No one's going to believe me when I say that, but whatever. I have a lot of friends who will say things like. I love my wife, but I always, I want to do this, or I want to go and live in another country and just do that. And it doesn't sound like they have any issue, to your point, with their relationship.
[00:05:55] It seems like they just miss being young and free. Now they've got two kids, they've got a mortgage, they're a quality control engineer somewhere, and they're like, well, I thought I'd be inventing new kinds of airplanes for the Air Force or whatever. And they just want to like, hit a reset button and go on a vacation from their actual life.
[00:06:12] And the way that they do that is by just pretending they have no responsibility to anyone else or something like
[00:06:17] Esther Perel: that. Yeah. So everybody does he and she, and they, it's not a gender specific thing. You enter a relationship, you become, you enter a family, and what we often do is it becomes security here and adventure there.
[00:06:31] Responsibility here, playfulness there, love here, sex there. And that is often the way people divide it. They're filled with imagination about the adventures they would have. And sometimes you kind of want to say, do you ever bring any of that imagination home? You would feel that home can be quite fun as well, but you, kind of bring a part of you home and this relates to the question you asked me before and then you bring the other parts elsewhere.
[00:06:57] The fact that people long for freedom or lack of responsibility or kind of no boundaries for a moment. Yes. Now, what do they do with their fantasies? Some relationships say. Take a few weeks and go have your thing, you know, take a week and go and, you know, travel alone or go with a friend, go rafting, go, go do you don't, you know, and there is room in the relationship for that.
[00:07:21] In other relationships, that's not the case. And so it remains a fantasy. By definition, the question you want to ask is, to what extent is the security and the stability that you are creating in your life? an anchor for you that allows you to then ride the waves? Or to what extent does it become like a straitjacket and one day you're going to bolt?
[00:07:43] And if you bolt, you do have to ask yourself, what did I do to create a life that felt so constraining that I had no other option but to leave it rather than to sometimes step out of it? That's a pity because that's a responsibility we should carry. We can create our relationships today with options that we never have had, you know, and don't make it.
[00:08:09] I'm the adventurer and my partner is the
[00:08:12] Jordan Harbinger: boar. I see dynamics where. The guy wants to travel a bunch, or the, the woman wants to travel a bunch, and the guy doesn't do that, so it does end up setting up where one person is, it's like this cliche, like, oh, the old ball and chain, right? That's an old expression that a lot of men used to use probably in the 50s or something.
[00:08:30] Like, oh, she will never let me do anything. But I see it with both sides of relationships now. It's great if each person has a way to, like the guy goes rafting, and during that same week or even a different week, depending on childcare, the woman gets to go take her culinary school thing in France or whatever.
[00:08:46] And you get this little vacation that brings you back to your young free self without, I don't know, bringing home an STD or whatever it is, or some dark secret. But yeah, if the other person isn't developing or doing this, you're right, it's really easy to put one person into a bucket, and I think that's dangerous as well.
[00:09:03] My mother in law is very perceptive with this kind of thing. She told my wife, and I don't necessarily agree with this cause I think my wife is doing just fine, but my, my mother in law said, you need to be developing yourself like Jordan is. He's working out, he's learning languages and he goes places. If you don't do that, he's going to outgrow you.
[00:09:18] I don't love that my mother in law is scaring my wife like that, but I think she means well and she's saying something very similar maybe to what you mean with your advice here as well. So
[00:09:27] Esther Perel: it's a fascinating thing that you're asking me because marriage or committed relationships of any sort, hetero or same sex, never had at its core personal development.
[00:09:42] Yeah. You know, it's not why people made families. or married. This in itself has to be seen as a very recent thing. You know, they say the marriage for self development, the one that's going to help me become the best version of myself beyond security, stability, family, children, et cetera. Now we also have, you know, climbing Mount Olympus, from which you have a fantastic view.
[00:10:05] And those of us who climb do get that view, but not everybody gets to climb. So, some couples live very much as overlapping Venn diagrams. We do everything together, we go to sleep together, we wake up together, you know, we see the same movies, etc. Some couples live much more in a differentiated fashion. We have a strong core, we share a few things that are really important to both of us, and we have a rather large zone of, that is personal, be it professional, social, spiritual, any artistic, you know, other interests.
[00:10:37] There's not one model. When you describe the guys who talk about the bowling chain, it always reminds me of the guys in the locker room. Yeah. You know, I have yet to hear a guy in the locker room talk about how his wife wants to jump him and he's not interested, you know? So there is a social value to the idea that the man wants more adventure sex, this, that, and that.
[00:11:03] He's constrained. He's with somebody who is not letting him or giving it to him. This is part of an old, old narrative, you know, and half the time it's lies. It's lies. It's not true. Come into a therapist's office and you'll hear the truth. Yeah. The story is very, very different. Whenever you have a couple where one person talks about the other one won't let you, the let word is problematic.
[00:11:28] You know, what is this? What are we talking about here? It's like, what, do people give each other permission? Do people respect each other's needs? Do they say, when one goes, be it for the night? And I'm not talking sex, I'm talking just go out with a friend. Do they say, have a great time? Or do they say, again, you have to go out?
[00:11:49] If I say have a great time, then I breed freedom in the midst of security. I say to you, go do that thing that you love to do that is not interesting to me or that I'm not a part of, or that you prefer to do alone because it's not the same when we go together and when you go see your buddy on your own.
[00:12:07] And while I say that, when I say have a fantastic time, you have a much more stronger inclination to want to come home. Because we want to come back to the places. that respect our freedom or our needs or our individuality and vice versa, versus the ones that make us feel that every time we do something for ourselves, we're taking something away from someone else, provided that the other pieces that are in the realm of responsibility are attended to.
[00:12:36] So your mother in law, she says to her daughter, don't forget yourself. Whatever it is that he's doing, he pays attention to himself and he takes time for himself. And he doesn't just think that the burden of caretaking is what defines him. It's not just he, he will look good. He will feel good. He feels that he, he invests in himself.
[00:12:58] Don't lose yourself in the relationship, which is a danger primarily for women, also for men, but historically more so for women. How do I stay connected to myself when I'm connected to someone else has always been more of a women's concern. Historically. Today, I don't think there is necessarily a difference.
[00:13:19] But that's the root of what your mother in law is telling to her daughter. Yeah, it's
[00:13:24] Jordan Harbinger: a clash of cultures in some ways, or at least of eras for my wife. And she's always bouncing this off me. And it's hard. What does she answer to her mom? You know, I don't know. I'm not there for this conversation, but I think she's probably like, yeah, okay, I know.
[00:13:39] Or I hope she tells her what she's really doing, which is a lot. It's just a lot of invisible things. You know, maybe she doesn't go a week away with her friends or something like that traveling, but you know, she's working out. She learns all these different skills, whether it's something, cooking new meals or something like that, which she actually enjoys.
[00:13:57] I know it sounds domestic or whatever, but she actually likes doing this. You think she would
[00:14:00] Esther Perel: appreciate you putting her on, on a plane or on a, in a car for a week?
[00:14:04] Jordan Harbinger: I don't think she would want to do that. No, I think she's more like, can you please... Just give the kids a bath so I don't tear their heads off because it's been 12 hours of screaming in my face I think that's what she really that's what she wants.
[00:14:17] I don't know. I should ask her. Maybe that's a good idea What do you think? Maybe I should actually ask her what she wants I
[00:14:23] Esther Perel: absolutely think you can ask her what she wants, but I can also suppose that by now you probably have an idea Yeah of what she wants because she told you so it could be to say I'm handling things today Yeah, you have a day off Yeah.
[00:14:37] You leave with the little ones and leave her to be alone in the house. Because what happens when you're an adult in that situation is that the only time you can be on your own is when you are away from home. And sometimes the biggest pleasure is to have the home empty and just to yourself and for more than a half an hour.
[00:14:55] Yeah. So you want to do her good. That's
[00:14:57] Jordan Harbinger: a good idea. Go ahead. Yeah. I'd like turn on Netflix. I don't even, we gotta, it's been so long since she's watched it. She probably doesn't even know how the remote works anymore. We gotta, gotta, gotta look up the instructions. So
[00:15:07] Esther Perel: you have an assignment right there.
[00:15:09] Jordan Harbinger: A lot of times people write in for advice and they'll ask things like, I've got a crush on somebody at work or I have butterflies for them.
[00:15:17] Like I haven't had for my current partner in a long time or forever. Is this our imagination playing tricks on us? Is it the grass is greener on the other side of the fence? You already sort of answered the other third part of this, which is does it reflect something about our current relationship, which it may not.
[00:15:33] Is this a trick that our mind plays? No,
[00:15:35] Esther Perel: no, it's absolutely not a trick of the mind. The mind is not playing a trick on you when you experience that. The first question, look, this goes back to the question of the affairs that you asked me. I have more than one set. to people who tell me my partner doesn't do this to me anymore, or I don't feel those feelings anymore.
[00:15:52] I said, but you're not the same person coming home than the one who is going to see the other person. If that person came home, maybe your partner would be more interested in you as well. You know, it's so easy to always think it's the other person who lacks, who's a boring, who doesn't do anything, who is not inspiring, et cetera.
[00:16:11] And to think that we are, we call it fundamental attribution error. If we are not available, then we just say it's because I was really busy and I just didn't have much time to pay attention. But if our partner doesn't pay attention, then it's because they're, you know, they don't have the right. energy and they're not in the swing of things.
[00:16:29] And they're characterological and ours is circumstantial. It's very easy to do this. So when you have butterflies for someone else, you just say, first and foremost, wow, it's a nice thing that I can still feel this. I haven't felt this in a long time. Now, how come, where have I been or where have we been?
[00:16:48] What are we doing to maintain a little bit of intensity or energy or erotic spark between the two of us? And I'm not talking sexual spark. I'm talking about aliveness, vibrancy, vitality, playfulness, curiosity. Do I have the same kind of curiosity and I come home with a question to my partner of something that I want to know about them, I show interest or do I sit on the couch and I do this with my phone while I'm watching TV and I make them feel that whatever they tell me it's not worth it for me to even lift my head.
[00:17:19] This is what's going on in a lot of people's homes. You know, you spend the day at your screen, you come home, you take more time at another screen with your phone in hand while you're sitting next to somebody and you're surprised that there is nothing happening and no energy and no butterflies. If people treated their partner like they treat their clients.
[00:17:37] Or their best friends, or these people that they suddenly are meeting, there would be a different energy in the house. It's not just that it, it leaves because of time and big, you know, couples who have an erotic spark, they are deliberate, they're attentive. They make an effort. They create it. They don't just slouch on the couch and with the head down.
[00:17:59] Without an interesting conversation about anything except, you know, did you do this and did you do that?
[00:18:04] Jordan Harbinger: I see this a lot, especially with parents that have little kids. People are asking me, you know, do you have this? Is this something that you're dealing with? Because I think little kids, it's really easy to get distracted by, well, work or family.
[00:18:16] I like the idea of harnessing that feeling in some way that doesn't get us into trouble. I guess before, you can look at this as sort of like an indicator that something is definitely wrong with your relationship or you can look at it as an indicator that you need to change something about your, your own behavior inside the relationship and I think that's probably the best way to look at it.
[00:18:33] It's a good sort of check engine light for your relationship, I suppose. Yes,
[00:18:37] Esther Perel: yes. I mean, you know, imagine that you say, Oh, I, I, uh, it's something is really wrong because my partner is always complaining. The next question then comes, and what do you do then? I mean, nobody started out complaining. They probably asked you nicely at first, then they started to ask you more insistently, then, you know, when you have a nag, always ask yourself, what am I doing to raise the volume of the nag?
[00:19:03] Rather than just, I have a knack. When people feel heard, they don't knack. When people feel attended to, responded to, and they don't have to see a hundred times the same question. The difference between there's something really wrong in my relationship and what am I doing that contributes to that, they are interconnected questions.
[00:19:20] Jordan Harbinger: I think, essentially, a lot of times our partner's behavior is a reflection of our, ourselves. It's not a reflection.
[00:19:26] Esther Perel: It's not a reflection? You're involved in it. It's like, relationships are a figure eight. I asked you, you don't answer. So now I, I asked you louder, but you are now you don't answer again. So then I ask you now, it's like one person is reinforcing the very behavior in the other that they actually don't want.
[00:19:45] If you want the other person to stop talking, then say something. But if you're going to keep quiet until you explode. For example, I mean, I'm just thinking about the couples I've seen yesterday and today. Sure, yeah. But you know, the point is, much of couples life, when things begin to go a little bit awry, is often putting the responsibility on the other person, without paying attention enough to, what can I do to make this better?
[00:20:14] Or in what way am I contributing to my partner feeling the way they do? If I really care, that should be a normal question, rather than stop, you know, busting my chops. You know, I, I, I'm a couple's therapist. People come to me like a drop off center. What do you mean?
[00:20:30] Jordan Harbinger: Meaning, here's my partner. Oh, here's, find out what's wrong with him.
[00:20:33] Esther Perel: Yes, I'll tell you. I'll tell you. I'm an expert. I'll tell you. And you fix it. And I'll help you. Yeah. Yeah. So. You change a relationship. You start by saying, what's the one thing I can control? So yes, you're right. I've experienced butterflies somewhere. No, it doesn't have to become the beginning of a, of a downfall.
[00:20:52] And I'm thinking to myself, I want this in my life. I'm missing this. So can I have a conversation with my partner where I say that, are you missing this too? What's happened to us? Do you feel like we're just gone completely flatlined here? Do you miss something? Does it matter to you? It matters to me.
[00:21:10] What could we do? Cause you don't have to solve it alone, but you basically say, I want these butterflies or I want a certain kind of energy or intensity or engagement. I just don't want to feel like my passion is at work and the best of me goes to work and the leftovers come home. But that's a part of my responsibility
[00:21:28] Jordan Harbinger: too.
[00:21:28] Why do you think we as a society have such completely different ideas about why men and women cheat? I think the stereotype is that men cheat for variety and novelty and women cheat because their emotional needs are not being met. And it doesn't seem like that's accurate given what we've discussed
[00:21:44] Esther Perel: today.
[00:21:45] Monogamy has never been an equal opportunity or fidelity. I mean, men have pretty sickly had a license to cheat throughout history. And all kinds of evolutionary theories came to justify that they have different hormones, which they do, uh, they are more inclined, et cetera, et cetera. But basically monogamy has been an imposition on women forever, all over the world, primarily in order for him to know to whom do the children belong.
[00:22:15] And who will get the cows when I die? It's about patrimony and lineage. It had very little to do with love. It had nothing to do with love. It was an economic arrangement in order to know provenance, which is the one thing that men have never been able to ascertain until very recently with DNA test was provenance.
[00:22:34] Is this my kid? Whereas he can go everywhere and nobody knows, but if she goes somewhere, something may happen. So why do we think that men want sex and women want love? Because every gender gets license given by society about what is supposed to be important for them. And it is acceptable for men to say they want sex, but it is not acceptable for men to say they want love.
[00:23:01] or connection or intimacy or tenderness, which are all forbidden emotions that men often access through sex. And it is not okay for women to say they want sex, but it is okay for women to say they want love. So every gender has been given a license for what are the needs that are acceptable and what are the needs that are not.
[00:23:24] And from that place, We will say men cheat for sex, women cheat because they're lonely. No, it's not necessarily the case, and it also is different in many, many different cultural contexts. But basically, give the woman a car, give her a place where she can be autonomous, and the stats are very clear that the differences are not nearly as innate as we think.
[00:23:48] The differences have been primarily cultural. I'd
[00:23:52] Jordan Harbinger: love to discuss conflict. I know that some of the material you're working on most recently, and I've heard you say, and maybe even on this show, but certainly elsewhere, ask, don't complain when it comes to your partner. Tell me more about
[00:24:04] Esther Perel: that. So two questions, right?
[00:24:06] Why am I interested in conflict? And then how can people diffuse conflict? It's complain or criticize, right? I mean, John Gutman often says, you know, that Behind a criticism, there is a veiled wish. When I say you don't do something, there is actually something that I want. Now I can continue and talk about how you don't do, and you don't pick up and you don't clean and you don't attend and you don't, or I can say, it really matters to me that if I put myself out there and I say what I want, what I need, what I care about, and you don't respond, then I have to deal with the rejection.
[00:24:44] If I go at you and I criticize you. I experience myself as less vulnerable. This is the notion about ask for what you want rather than criticize or complain for the thing you don't get. It's okay to have wishes, make them public. That's first. Now, why conflict? Because I think that we're becoming a conflict avoidant society.
[00:25:06] We are basically experiencing and watching around us massive social atrophy, virtualizing our lives. Basically spending entire days at home. You don't have to go out to work, to exercise, to eat, to see movies, nothing. So where are you going to deal with the friction and the close proximity with other people where you learn to deal with difference and disagreements?
[00:25:28] And so we polarize, we avoid conflict and we polarize. And that's the context in which I said. I need a good one hour, very deliberate, specific, not generic, talk about arguments, fighting, difference, disagreement, conflict. The stuff that exists in every relationship and that people are more and more avoiding.
[00:25:50] You know, people these days tell you, I have a, I talk to this person every day, but it's all on text. They never actually see the person. They never see the effect of what they're doing or saying on the face of the other person. I'm talking to you now and I'm watching every response of yours to, to what I say.
[00:26:07] I'm not just talking to the, in the wind kind of thing. So this conflicting is becoming extremely important on a societal level and on a relational level. Romantic of it.
[00:26:21] Jordan Harbinger: You're listening to the Jordan Harbinger Show with our guest, Esther Perel. We'll be right back. This episode is sponsored in part by BetterHelp. If you ever get a feeling that you're aware of what's good for you, yet there's a block, that's where therapy can be a game changer. It's like getting a roadmap to understanding those blocks, those patterns.
[00:26:37] It's not about finding fault, but about understanding what's holding you back so you can work with your brain, not against it. I've done therapy before, many times it's been transformative, in fact. It's not just helpful during deep traumas or big life crises. It's helped me set boundaries, learn coping skills, whether it's navigating daily stress or the bigger challenges.
[00:26:55] Therapy can be a really solid ally. And if you're even slightly considering therapy, I would say give BetterHelp a shot. The entire platform is online and is super convenient. Fill out a short questionnaire. They'll match you with a licensed therapist. And if you don't like them, switch anytime. No extra cost.
[00:27:09] Make your brain your
[00:27:10] Esther Perel: friend with BetterHelp. Visit betterhelp. com slash jordan to get 10 percent off your first month. That's better h e l p dot com slash jordan.
[00:27:18] Jordan Harbinger: This episode is also sponsored by Nissan. These days, too many people have to settle for the next best thing, especially when it comes to choosing a car, but at Nissan, there's a vehicle type for everyone, for every driver who wants more.
[00:27:28] Whether you want more adventure, more electric, more action, more guts, or more turbocharged excitement, Nissan is here to make sure you get it. Because Nissan is all about giving people a whole spectrum of thrills to choose from. With a diverse lineup of vehicles, from sports cars, to sedans, to EVs, pickups, and crossovers, with Nissan's diverse lineup, anyone can find something to help them reach their more.
[00:27:47] In my life, I'm always looking for more genuine conversations that challenge my perspectives and enrich my understanding. It's these deep, long form conversations and often unexpected discussions that not only fuel the content that I produce here on the show, but also shape my personal growth journey slash life.
[00:28:02] And that's probably more than you asked for, but hey, Nissan wants to help people find their more. More freedom, more adventure, or even just more fun. So thanks again to Nissan for sponsoring this episode of the Jordan Harbinger Show, and for the reminder to find your more. Learn more at NissanUSA. com. If you're wondering how I manage to book all these great authors, thinkers, and creators every single week, it is because of my network.
[00:28:20] And I'm teaching you How to build your network for free. I know network is a gross word, you don't like it. I don't like it either. It's really the circle of people that know, like, and trust you. The liking part is kind of optional. But this course is about improving your relationship building skills and inspiring other people to want to develop a relationship with you in a way that is easy, not cringey.
[00:28:39] Very down to earth, not awkward, and not gonna make you or the other person feel gross. It's just practical exercises that will make you a better connector, a better colleague, a better friend, a better peer. And it only takes a few minutes a day. I scale it way down. I'm talking like five minutes a day or less.
[00:28:53] And many of the guests on the show subscribe and contribute to the course. So come join us. You'll be in smart company where you belong. Once again, that's jordanharbinger. com slash course. Now, back to Astaire Perel. I guess this is maybe not the right question, but I'm going to ask it anyway. How can couples argue well?
[00:29:10] Are there certain rules or vocabulary changes perhaps? Because I, a long time ago, I told my wife, my wife and I agreed, I should say. that we needed to ditch the, you always, or you never, you know, people start a lot of things, a lot of sentences with that when they're, they're fighting or arguing because my lawyer mind just goes to the one time I did or did not do that thing instead of hearing what she actually needs me and wants me to hear.
[00:29:34] I'm like, well, actually yesterday I did do that. And she's like, fine, you almost never. And then I'm like, well, I'm right because I found a hole in your argument, which is not constructive at all.
[00:29:43] Esther Perel: But it's not just your lawyer's mind. Okay. Anybody would react this way because you've just been dumped. a truth about you that you don't relate to.
[00:29:52] Yeah. So the always, never, first, and the you, and the accusation, and the kind of categorical statement, which is meant to express an impression, an experience, a subjective experience, but it's presented as an objective fact and truth. Pseudo factual talk, that's a good one on the list of the, the seven, eight things you should not do if you'd want to fight better.
[00:30:13] So I'm going to give you, since you started with the ones you don't want to do, a list of the ones that you don't want to do. And if you avoid those, you know that you're fighting better. Okay. Yeah. So one of them is this, the categorical absolute character statements that present as truth when they are basically meant to talk about an experience.
[00:30:32] Number two, kitchen sinking. Yesterday I saw a person and you know, the minute they were having a conversation about something, she brought in five years of stuff. So, put all the piling up, all the dirty dishes in the sink, you can't wash any. Talk about the thing you're talking about and stay focused on that.
[00:30:48] And don't start bringing in everything else. And when you've lost here, you bring in the next thing. That's another one. Retaliation. Oh, you hurt me? Let me show you. I'm going to hurt you more. That's another big one. Details. It wasn't Thursday. It was Wednesday. You know, it makes a huge difference in the conversation that we are having.
[00:31:08] Being right rather than wise. I have a one up on you and I disqualify everything you say and I use it and I do, you know, I weaponize your vulnerability at every turn. Whatever you just said, I'm going to just squeeze you with it. I mean, the repertoire of ways that people can have destructive fights. It's a very, very imaginative confirmation bias.
[00:31:31] I only look for evidence that reinforces my belief. I think you don't care and all I do is scan for every time you haven't cared. When in fact, we know that in distressed relationships, there's a lot of good that people no longer see. Because they only emphasize they're looking for the one thing that's going to strengthen their point of view.
[00:31:51] That's another cognitive distortion that goes with bad fighting. So what do you do to fight better? The opposite of all of that. Look, I'm really pissed. This really upsets me. You know, you know how much this matters to me. You stay to the point. You disagree vehemently. You can be vociferous about it. But you don't get into contempt.
[00:32:12] You don't start just blaming. You accept sometimes when the other person says, yes, but when you did this, that really, and you don't twist it around, you just own it. You take responsibility and you just say, yes, that's true. No, I have people, they listen to a list of what the other one is saying, and then they pick the one thing they can disagree with.
[00:32:32] No, acknowledge. Did you not show up? Did you forget? Just say, I forgot. Own it. Don't be ashamed about it. Be responsible about it. That in itself shortens the distance. Yes, you are right. I could have done this better. I should have
[00:32:48] Jordan Harbinger: checked. You're so right though, how we generate stories around our partners, friends, family, for that matter, everybody in our lives, right?
[00:32:55] And then we only look for information that confirms that story. You know, she's always late or she always, she forgets to put the cap back on the toothpaste, whatever it is, could be big or small. And then you see when they do that, but you don't recognize the other 50 times when they don't do that because of confirmation bias.
[00:33:10] And. Then your pet peeves start to grow when they do other things.
[00:33:15] Esther Perel: Yeah, sure. Every time you bitch about the thing that you don't want to do, then just think about all the stuff you don't have to think about. Be gracious. Nuclear family life is a bitch, basically. It's really a stressful situation on people, especially if they have on top of it, young kids, pets and in laws and older parents and all the other responsibilities of life.
[00:33:37] We are, we were not conceived to live like this. So don't take it out on your partner. You may want to criticize the thing itself, but fighting well is fighting in a way that doesn't make it feel like you have nothing to lose when you have everything to lose. Fighting well is when you say, if I say this now, what will this do to my relationship?
[00:33:58] Because I could be right. But I will be right and alone. Or I could be right, but I may not be married to you. You know, I may want to be wise and it doesn't matter if I'm right because it's not going to come across. So protect the relationship is probably one of the big things about how you, you know, go tell a friend who is going to agree with you.
[00:34:17] It's okay. But don't come back home and say my friends all agree with me.
[00:34:22] Jordan Harbinger: I told everybody about all of our personal problems and you're the one that's wrong. There's no universe in which that is a good idea. I will say anything my wife does, anything Jen does to annoy me, I am positive that I'm doing something much worse to annoy her and she just doesn't harass me about it or she's, or she's given up on me fixing some of those things and giving me a lot of grace.
[00:34:40] So I do try to remember. Any little thing where I'm like, gosh, she took my washcloth off again. And I'm like, well, she's probably washing it. And if I mentioned this, she's going to get annoyed because she's going to be like, yes, I did your laundry again. You're welcome. And then I realized that I, you know, am damn lucky.
[00:34:57] I'm damn lucky someone's taken that washcloth or I'd be washing myself with a. three month old washcloth that never gets clean. And do you say that to her? I never bring up any of this, actually. I just avoid talking about it at all because I feel like I don't need to bring up that I don't have a washcloth.
[00:35:12] No, but do you ever say thank you? No, I should say thank you. I don't say thank you. No, I should definitely do that. I'm gonna write, I'm gonna put a note right now to
[00:35:19] Esther Perel: do that. You know, it's one of the best pieces of advice I ever came up with, but I didn't know it. It's people who told it to me afterwards.
[00:35:27] It was a situation where a person comes home late, And they basically apologize and they think they're being nice because they apologize for whatever, missed the game, missed the dinner, didn't show up, et cetera. And I said, don't apologize because if you apologize, what you're really saying is whatever I did was more important than you.
[00:35:48] So you're still all important. It's all grandiose. But if you come home and you say, thank you, I couldn't have stayed. Yeah,
[00:35:56] Jordan Harbinger: that's much better. Oh, I like that. Everybody rewind that and then listen to that
[00:36:00] Esther Perel: again. Then I am here at home thinking I'm part of something and not a mashed potatoes and there is the delicious food somewhere else.
[00:36:08] The other meeting that is more important than me. I've become a part of it and we are interdependent and I know that you rely on me and you acknowledge that yes, you could not have stayed another two hours if I hadn't been manning the fort here. It changes the entire power dynamic. It changes the indeterminance.
[00:36:26] It changes the feeling used and not appreciated. All of it. It actually is one of the most important defenders against conflict. Yeah,
[00:36:35] Jordan Harbinger: that is brilliant. I mean it when I say people hit that back 15 or 30 seconds button on your podcast player and listen to that again. I think that might be one of the most important.
[00:36:44] And easily most practical things that people can use as a result of this. Cause I know you're, you're not a person where I can say, give me three top tips for not pissing off your spouse. I mean, but that, that's a really good practical thing that people can sink their teeth into. And I think it's, it could change.
[00:37:00] a relationship for the better if you just frame things like that because it does frame things as this is my partner cooperating with me tag teaming whatever this life is and I couldn't do it without them so thank you for that versus hey I'm sorry that you had to sit around for two hours while I missed everything and you did it all.
[00:37:18] Correct.
[00:37:19] Esther Perel: You got it. Which is why you thank Jen for doing the
[00:37:22] Jordan Harbinger: laundry. I literally made a recurring task on my computer to do that every day until it becomes a habit that I don't have to remember by looking at my task list again. Um, I also feel like the content of a lot of arguments, not necessarily my own, well actually my own, sure, everybody's that I see and hear about.
[00:37:39] The content of the argument is never the thing that they're really fighting about. Like, it's not about the kids, it's not about whatever swimming lessons, it's about feeling like the person is not acknowledged or appreciated to your earlier point, or vice versa. It's still strange because even though I...
[00:37:53] I feel like I, I know this consciously. My wife and I will start, I say fighting, but I mean, whatever, lighter, having a little arguing. I guess something like that in the car and then it's like, fine, cancel the swimming lessons then. And then it's like an awkward car ride home and it's like, neither of us give a crap about the swimming lessons.
[00:38:10] It's not about the swimming lessons. It's hard to zone in on the thing that the fight is actually about, maybe because that thing is deeper and less comfortable than. The schedule or the swimming lessons or the teacher thing. Is that what's going on here? What's going
[00:38:25] Esther Perel: on is this, there is what people fight about, and then there is what people fight for.
[00:38:30] So you fight about the swimming lesson, but what you fight for is power and control. That's the hidden agendas of most fights. Is it an issue of power and control? Whose decision matters most? Who has priority? Is it about care and closeness? Can I trust you? Do you have my back? Can I rely on you? And respect and recognition.
[00:38:52] Do you value me? Do I matter? So sometimes in this instance with the, you're in the car and say, okay, cancer, what is this for you? What are you fighting for? What's underneath? And yesterday I had a person and you know, it was about care and closeness. Can I trust you? Will you be there? And then I said, and why is that the piece for you that is so important?
[00:39:15] And then you go a layer further, which you do in therapy, but you also can do sometimes in a conversation. It's like, because people get to know each other, you know, Jen. So you're by now, you know, her mom, you know, has context. You have a sense, right? So in this instance, she tells me. pretty much with her by herself, took care of the younger siblings, mother worked alone outside of the house, did the laundry, did the cooking before mom came home, was rather on her own, neglected, neglected by the needs of the family, not that there was an intent to that.
[00:39:49] So when he doesn't show up, it's not just he doesn't show up because he, she can't rely on him. It's, I've always been alone. I've never had anyone I could rely on. People don't come through for me in this way. My whole life will be like this. And I thought when I married this guy or when I have a partner that I will have the support that my mother couldn't give me.
[00:40:10] That's what I am fighting on. And once you get to that level, it evokes empathy in the other person too. Because now, you know, it's freaking swimming lessons are like. And you kind of say, I am here for you. I mean, that's not because I don't want to go pick up the kids at the pool that I'm not here for you.
[00:40:26] So it's not like I'm going to do everything you ask me, but I have a deeper understanding for why this issue is one of our perennial ones. Yeah. 20 years later, we can still have the same argument. in a different form. And that's the what's underneath. It's what you're fighting for. I'm fighting not to feel alone, not to feel like this is the truth of my life.
[00:40:48] With you, I was hoping that I wouldn't live this truth again. Everybody has those. It's three things, power and control, care and closeness. Respect and recognition.
[00:40:59] Jordan Harbinger: Yeah. I hear in your show and in your therapy sessions, you say things like, so what I'm hearing is, and then you kind of reframe it in different words.
[00:41:08] I've heard you say that we should, da da da da, something like that. Is that how you uncover those in that conversation? I mean,
[00:41:15] Esther Perel: you're in the car. Yeah. You can just at some point say, look, we know it's not the swimming lessons. I want to actually understand it. I mean, otherwise we're just going to continue have the same, same old, same old.
[00:41:27] And sometimes people know, and sometimes they don't. She didn't know yesterday. We went and traveled a little bit until we hit the spot, but it's okay to say, what is it? You know, and then sometimes people say it's because I feel sometimes that many times it's an easy one. If I have to ask you five times, you obviously don't care or don't hear what I'm telling you.
[00:41:48] As if you're doing this on purpose, you know, when sometimes people do, and sometimes they don't. And so it's stepping outside of the tiny frame and just saying, and then what's it for me? This is the important piece here. It doesn't really matter so much what the answer is. It's the fact that the question says, I'm care and I'm curious rather than I don't give a, you know, it's like, I'm just here to make my point rather than I actually feel that we matter.
[00:42:18] And I'm not going to say stuff that just makes it feel like no, no, I don't at all. This is the level. You don't go into therapy in your relationship. But you just ask a question that says, what are we doing? Why do you think this thing is every Friday we have the same argument. I
[00:42:34] Jordan Harbinger: noticed on as well on the show, you almost never recommend people.
[00:42:38] I don't even know if I've heard you ever do this recommend that people break up or end their relationship. And I wonder under what circumstances. How do we know if something is actually.
[00:42:48] Esther Perel: So actually there are more than one episodes where I tell people, okay, this is over. I haven't heard those yet. Or I said, you better be friends than partners because as partners, you suck.
[00:42:58] Here's the thing. I am often cautious on the podcast because it's one time episodes. It's a one time session and I don't necessarily have that certainty in one time. In my practice, it's different. I've worked with you over time. And I've seen where it goes and I sometimes really have to say, look, your partner is gone.
[00:43:20] I know you're fighting to maintain this, but they're gone and you need to hear that or listen, people, there is nothing to work with you. It's death upon arrival. Each of you just comes here to basically say you've done a few sessions so that you can go to the lawyer and then screw the other person. No, I'm not participating in this.
[00:43:40] Or, look, you asked your partner to do a bunch of things and they've done all of this, you've done squat. I don't think they deserve you. So I actually have said a lot of things that are all about this without having to say, I think you should leave on occasion. But why don't I say just flippantly, because I don't have to live with the consequences.
[00:44:02] Only the person who makes that decision has to live with the consequences and they have to own it. And I think a therapist can be very powerful and I don't want to be the one to carry your decision. You need to carry it. So I asked, are you asking me what you should do or are you asking me because you've already made your decision?
[00:44:23] And if you made your decision, I'll support you.
[00:44:26] Jordan Harbinger: Yeah. I think probably a lot of people do go to therapy to get cover for something they've already decided to do or not to do. And that's a waste of your time. First of all, I would imagine. Basically,
[00:44:35] Esther Perel: I know when I'm working towards something and I know when I'm people are basically posturing or when one person has one foot out the door or when one person is dropping off the other one, because they're on their way out.
[00:44:47] There's a lot of. You know, why are you here? What are you here to do in the podcast? Because it's one session. I do not feel that I can take that liberty. I'm not a therapist. I'm a podcast host that is doing therapeutic conversations. And at that point, only once or twice did I really say to people. Yeah.
[00:45:07] Jordan Harbinger: So the, the podcast, And to be clear, you really are a therapist, but what you're talking about when you're doing the podcast, you're a podcast host who's doing therapy. Those people have not had a bunch of sessions with you before. They have never
[00:45:19] Esther Perel: been my patients. No, there are 6, 000 applicants to the new season who want to be on the podcast.
[00:45:25] They are not patients and they will never be patients. I keep these things two very separate. That makes sense. Okay. They don't apply with me. They apply with the producers. I show up, they have been chosen. They have a, and then we meet and. It is in my office and it feels like it is. It's a real situation, but that's it.
[00:45:45] I will see them once and nobody else has ever seen them. The other people on the podcast, by the way, I call them spontaneously. They send us voice questions. And then I surprise them with a phone call all over the world. Oh, wow. And we do the sessions like that. So there's different formats now on, on where should we begin.
[00:46:03] Yeah. But all of them exploring dynamics of relationships.
[00:46:07] Jordan Harbinger: You do some pretty interesting stuff on, on the show. I, I think I heard this. There was a particularly intense conflict and you made people lay on the floor. What was that all about? That was interesting, changing their physiology like that. Have you ever tried to
[00:46:21] Esther Perel: have an argument lying flat?
[00:46:23] Yeah,
[00:46:23] Jordan Harbinger: I can't imagine. Much harder. It's probably funny. No, we are
[00:46:25] Esther Perel: mammals. We are mammals. We fight by charging. You know, we stand upright, we lift our shoulders, we lower our neck, we protect ourselves, and then we attack or defend. That you can't do when you lie flat, so I just want, they began having a fight, the usual, same old, same old.
[00:46:42] And I said, let's try do this on the floor, and it indeed instantly changed the physiology, which then made them suddenly completely change affect. The physicality led into the emotionality and it's an extremely effective intervention. And it's something you can do at home very easily if you have a tiny bit of humor.
[00:47:03] Jordan Harbinger: Yeah, well one, add humor because it seems like a really good way to de escalate things as long as it, you don't use humor to avoid the actual issue, which is tempting sometimes. But also, I'm sure there's some science in there like it chills the sympathetic nervous system or, or whatever and is also quite silly trying to have a shouting match while you're staring at the ceiling fan.
[00:47:23] I think
[00:47:24] Esther Perel: that humor is underrated. It's such an important salve in relationships, and I do think sometimes it's meant to avoid, and why not? Sometimes you should avoid going into the same tunnel one more time. No, if you have one person in the relationship who can diffuse it and make everyone laugh, it's not sarcasm, it's not, but it's really saying, oh, seriously, we gotta do this again?
[00:47:48] That it is. A gift to the relationship, humor brings perspective, humor brings lightness and levity. Humor takes you out of your goddamn seriousness of, you know, and I can't value humor and playfulness enough. When people talk about fighting better, they think it's about fighting better. It's actually about relating better.
[00:48:10] And humor in a relationship is such a recognition of the difference of the other two. It's a way of accepting who you're with.
[00:48:19] Jordan Harbinger: I love the idea of being able to have healthy conflict. I know that's probably a buzzword in every sort of relationship circle, healthy conflict, but you just see these little cuts that people have in their relationship turn into these festering wounds over years and years, if you can't do this right.
[00:48:35] And I know I'll link to your upcoming course that I think will be out by the time this episode comes out on conflict so that people can. Really dig into this because there's going to be a lot more like the things we discussed in that course, I assume. Yeah. Yes,
[00:48:47] Esther Perel: plenty. Only
[00:48:49] Jordan Harbinger: only good chock full. Good.
[00:48:51] That's what I like to see. I'd love to talk a little bit about how you grew up because I know you, you grew up around Holocaust survivors. Was it true? Your parents were the only survivors from each of their families.
[00:49:01] Esther Perel: Is that right? Yep. One came from a family of nine. One came from a family of seven. Thank you.
[00:49:07] Both lost everybody and spent each fourth and five years in concentration camps. Oh my gosh. Yeah, I grew up in
[00:49:16] Jordan Harbinger: trauma trauma. Yeah, I guess you have to be a refugee Family,
[00:49:20] Esther Perel: yes My parents were refugees from poland who came to belgium and then they were five years illegal refugees in belgium And only five years later did they become?
[00:49:30] legalized. And then our first passport were UN stateless passports. Oh,
[00:49:35] Jordan Harbinger: wow. And even though they had those, I'd never heard of that. It makes perfect sense for a conflict like that. Are you Jewish or were that your parents just Polish that were pushed out of Poland because of the Nazis were horrible to
[00:49:45] Esther Perel: everyone?
[00:49:46] No, they were not gay, not. Gypsy or Roma and they were Jewish. We're Jewish. Okay. Those were the three main groups that were Annihilated.
[00:49:55] Jordan Harbinger: I think even non Jewish Poles were also put in camps. Were they not? Yeah. Yeah. Yeah. Yeah Did y'all have the couches covered in plastic? That's what the immigrant families back in Michigan where I grew up always had plastic on everything Couch from 1965 looks like it's new, except for it has a butt print in it that goes all the way down to the wood.
[00:50:14] Esther Perel: Beautifully descriptive. So, this is very interesting, this couch metaphor, because I've often used it to describe what I saw as a distinction in the community of Holocaust survivors that I grew up in. But it's a distinction that I've used for all couples. Among survivors, there were those who did not die.
[00:50:33] And those who came back to life, that's what I see in relationships to relationships that are not dead, but they're just surviving and relationships that are living and thriving. It's the same metaphor and the ones that survived that didn't die were the ones who had covered couches and lowered shades and the world was a dangerous place and you didn't really take many chances and you avoided risk and you didn't trust anybody.
[00:50:58] And the ones on the other end of this were often what I call the people who understood the erotic as an antidote to death. They understood vibrancy and aliveness and vitality as a way to just embrace life. They didn't survive for nothing. And those people didn't have any plastic on their couches. The plastic
[00:51:17] Jordan Harbinger: on the couch, it never really made a ton of sense to me, right?
[00:51:19] It's like, you got to use the thing and really enjoy it. But you're right, the plastic on the couch is, we've got to protect this thing. It eventually, you don't end up with a new couch that you take the plastic off of. You end up with an old couch that's still worn and used in a different way that you just didn't fully enjoy because it had that stupid plastic thing on it that when you laid down just made you feel sweaty and icky.
[00:51:40] The key
[00:51:40] Esther Perel: word. Is the enjoy when you are in survival mode, when you are vigilant, when you see danger everywhere, when you don't think of the plastic, you don't allow for joy and pleasure. That's the piece. It's like, because when you are experiencing joy or enjoyment or pleasure, you're not vigilant. You can't be anxious and experience pleasure at the same time.
[00:52:03] Whereas when you are in the side that embraces the danger of life as a fact of life, but you are in the erotic experience of it, you're going to live life at its fullest. Then you experience pleasure. You can't be watchful and experience pleasure at the same time. So that's the essence of the word. When you say the couch is an old couch with that, you never got to enjoy.
[00:52:26] The lack of enjoyment is the key word here.
[00:52:31] Jordan Harbinger: This is the Jordan Harbinger show with our guest Esther Perel. We'll be right back. This episode is brought to you in part by U. S. Bank. Seems like there's a credit card for everything these days, right? Food cards, cards for travel, cards for rare stamp collecting.
[00:52:44] For me, I don't know what I'm going to be spending money on from one minute to the next, but wouldn't you know it, U. S. Bank has a card for people like me. Check out the U. S. Bank Cash Plus Visa signature card. With this card, you get up to 5 percent cash back on two categories that you choose every quarter.
[00:52:59] The great thing is the earning doesn't stop there. Even after you choose your first two earning categories, you also earn 2 percent back on one everyday category you choose each quarter. like gas stations and EV charging stations or grocery stores or restaurants and you still earn one percent on everything else.
[00:53:13] Apply today at usbank. com slash cash plus card. All that already sounds good, but this card just keeps earning with a 200 rewards bonus after spending 1, 000 in eligible purchases within the first 120 days of account opening. If you like choosing how your card earns, apply at usbank. com slash cash plus card.
[00:53:30] Limited time offer. The creditor and issuer of this card is U. S. Bank National Association, pursuant to a license from Visa USA Inc. Some restrictions may apply. This episode is also sponsored by Simply Safe. Can you believe it's October already? Feels like just yesterday we were enjoying some slip and slides in the baking July sun, and now we're just one pumpkin spice latte away from the holiday hustle.
[00:53:48] Before you drown yourself in wrapping paper and carolers, consider locking down your home with Simply Safe. They're practically giving it away with 40 percent off. Simply Safe has been our sponsor for a long time, and 40 percent is, it's one of the biggest discounts that I've heard them offer. Fun story, once we were away from home, SimpliSafe alerted me about activity at my front door.
[00:54:05] Turned out, just a, a possum. But hey, I guess I, I also appreciate knowing when the possum drops by. And speaking of drop bys, super handy to check in on when your kids come home, make sure your online shopping sprees have landed safely on your doorstep. U. S. News and World Report named SimpliSafe the best home security system of 2023.
[00:54:22] So if you're still hemming and hawing, give it a 60 day risk free trial, money back guarantee type thing. If you don't like it, send it back. This holiday, let's toast to less stress and more safety with SimpliSafe.
[00:54:32] Esther Perel: For a limited time, save 40 percent on any new system with a fast protect plan. Visit simplisafe.
[00:54:37] com slash Jordan. There's no safe like
[00:54:40] Jordan Harbinger: SimpliSafe. If you like this episode of the show, and why wouldn't you, I invite you to do what other smart and considerate listeners do, which is take a moment and support our amazing sponsors. All of the deals, discounts, and ways to support the show are at jordanharbinger.
[00:54:53] com slash deals. You can also search for any sponsor using our AI chat bot on the website as well over at jordanharbinger. com slash AI. Thank you so much for supporting those who support the show. Now for the rest of my conversation with Esther Perel. It sounds like you had a lot of cultures blending together around you.
[00:55:11] It explains. Probably why you speak nine languages, and it sounds like a lot of different foods from day to day languages from day to day types of people in the house from one day to the next. I would guess you became pretty adept at not only flipping languages, but flipping cultures or perceptions or the what's the lens that you look at through the world, right?
[00:55:29] Because if you're speaking German, you have that German lens on the world. And then if you speak French the next day or the next. It's probably a very different lens on that conversation or that social interaction or just on everything that's around you in
[00:55:42] Esther Perel: that moment. I love when I tour in Europe to be giving a talk in Flemish or Dutch and then a talk in German and then a talk in Spanish and then a talk in French and then a talk in Hebrew all within three weeks.
[00:55:57] I love it. I think it's like different parts of me wake up. The conversation is different. It's traveling at multiple levels. It's not just traveling other countries. So yes, languages are very important to me. I work in seven of them. And it is a gate to the world, and I am a traveler by nature in, in the way I, not just because I travel, but because I, I like to enter very different worlds of my own.
[00:56:22] Jordan Harbinger: Were you conscious about learning all those languages? Was it kind of like, I want to know what everyone is saying, or was it just exposure to all these languages over time and you learned them through osmosis?
[00:56:32] Esther Perel: So we spoke five at home. Wow. My father was illiterate, by the way. He could not write and he kind of taught himself to read newspapers, but it's not that there was education.
[00:56:42] I'm the first to went to college. Flemish and French are the two main languages in Belgium. My parents spoke Polish, Yiddish and German with each other. So those were floating around. I am schooled in Flemish. I know I have a French accent, but I'm actually from the Flemish part of Belgium, schooled in Flemish.
[00:57:01] Then, I traveled to Italy, then I got involved with South American music, then I was in a Brazilian band, stuff like that. You learn in school, you learn traveling, you learn on the pillow, and you learn at home. Did you
[00:57:14] Jordan Harbinger: ever ask your parents why they survived when other people in their family didn't? Did that sort of define, I know a lot of survivors, they have guilt around that, or they have a story around that.
[00:57:24] I was
[00:57:24] Esther Perel: very, very blessed that I had parents who... They didn't have survival guilt. They wanted to live. They fought tooth and nail to stay alive. Like most survivors, they will tell you that the first reason they were alive is because of luck. Just they didn't get round up. They didn't cold into the triage of the day or things like that, you know, or that day didn't freeze minus 20, you know, so that they kept their feet and stuff like that.
[00:57:53] They could continue work. After that, I think both of them were always hoping that they would be reunited with family at some point, that they would, that somebody was waiting for them somewhere. And they know my whole family of my mother's side went to Auschwitz. My father's family went to Treblinka. And, uh, so that was very, very clear to them, but I think they were the youngest.
[00:58:18] in their families. Grew up in a tiny village with a horse and a carriage and it was freezing weather and he had concrete bags on his back and he said, you know, we were more prepared than the Jews from Paris and from Greece. We were used to the cold and to the hard life. And we had a wish to live. We were fighting to stay human and to stay alive.
[00:58:38] Does
[00:58:38] Jordan Harbinger: growing up in an environment like that contribute to maybe a sense of impermanence or instability at all? I mean, refugees, different cultures, or... Because I guess that could go either way, right? It could be like, wow, look at this mix of everything and we're at the center of it, what a blessing. Or it could be, wow, I don't know who I am or where we're from or anything.
[00:58:56] It's just all a big jumble.
[00:58:58] Esther Perel: No, we are very, very rooted. I mean, my mom's statement was always, Oh, never forget who you are because then you know why you're trying, who you, who you want to be and why you're fighting for, et cetera. But no, I think for me personally, I would say the awareness that at any moment, everything can disappear is something that I live very, very intensely.
[00:59:22] It's a constant sense of awareness and sometimes dread. That comes from their story. You know, you wake up one day and your whole life is gone. That is very present for me. At the same time, I live as if. It's not going to happen. I take risks. I take, you know, I do things. I, so it's a combination of two things.
[00:59:45] You, you, you know that there is danger, but you live as if you're
[00:59:49] Jordan Harbinger: fearless. That's very Jewish, I think, in many ways, or at least Jewish as it seems from my family's culture and, and the, the other Jews that I know, it's very, the whole something bad might happen at any time is very much a. Is that trauma or is that just Judaism?
[01:00:05] I don't know. Yeah. Okay.
[01:00:07] Esther Perel: No, I don't think it's necessarily Jewish or that would put it this way. It's Jewish because it's historically so, because it is part of the collective consciousness of Jews. Jews. This is the history. It has repeated itself all along. So that awareness of the impermanence of things, of the, you know, we don't have buildings.
[01:00:26] We have books for that very reason, you know, no cathedrals. There's books, uh, the stuff you can carry with you. Because you're about to be in exile once again, the Jews are not the only people in exile. There's plenty of other people in exile too. But if you ask specifically about me, yes, that notion of impermanence of the world is at any moment can switch in front of you.
[01:00:52] Don't take anything for granted is very present. And in a good way too. That allows you to thank people so that you don't have to think later. Oof, I wish I had thanked them more.
[01:01:03] Jordan Harbinger: Did the wide exposure you got as a child lead to this deep understanding of human nature and empathy of the kind that you seem to bring into your therapy sessions and the show, or is that something you developed professionally later
[01:01:14] Esther Perel: on?
[01:01:14] No, I think I grew up with it. I had a father specifically, who, while he was illiterate, was an extreme humanist. Mm hmm. He saved 60 kids on his own. Wow. He did a lot of good things for people, and he... was probably one of the least judgmental people. And he really taught me not to be quick to judge and not to just jump on the high horse and not to accuse without knowing.
[01:01:43] And he, in a gentle way, he didn't make a speech about it. I just saw it, you know, he always had a way of saying, well, You don't know, you know, you don't know what may have happened to them before, or you don't know what happened in the morning, or just chill, you know, don't judge. And I think having been judged and having been so discriminated and so persecuted, you can come out to both sides, you can come out, the person who persecutes others and identifies with the aggressor and does to the others what was done to you, or you can come out with a level of.
[01:02:17] Kindness toward people that was really, he was adored for those things. And I really picked that up. I think one of the things people will often say about the work is it's firm, it's direct, but it's not judgmental.
[01:02:31] Jordan Harbinger: How did he
[01:02:32] Esther Perel: save the kids? He created the black market in the camp. And he had a trafficking of potatoes, potato
[01:02:39] Jordan Harbinger: trafficker, my goodness, that's not something you hear every day.
[01:02:42] No, you
[01:02:43] Esther Perel: didn't get much else to eat there, you know, so he created the whole black market and, uh, and was able to feed people. And, you know, one potato more meant another day of life. He didn't make a big deal out of it. Somebody else said to me, I'm one of those 60 kids.
[01:02:57] Jordan Harbinger: Wow. That must have been quite a moment when you found out that your dad saved not only one person but 60 people in a camp where he was fighting for his own life and could easily have justified just not caring about anybody else.
[01:03:09] But
[01:03:10] Esther Perel: you know, it's attached to a story because when I went to the camps with him one day, he described how he fell in love with this woman in the camp. And he had decided he, I'm going to help her. She had arrived late, you know, she was in the, it was 44, but then he got caught sending her notes. Now, I never occurred to me to ask him who wrote for you because you can't write.
[01:03:32] In what language did you communicate with this woman? How did that happen? But anyway, I took the story and he got caught and then, then he, they took him out of the kitchens and back to the factories. And he said, I would have survived 10 days that you didn't last there. But the SS came to him, the German, and said, I eat better when you're in the kitchen.
[01:03:51] And he put him back in the kitchen. Wow. So he didn't just save the kids, he also
[01:03:56] Jordan Harbinger: fed them. Gosh. Good thing he knew how to cook well. That's, I mean, it literally saved his
[01:04:01] Esther Perel: life. No, no cooking. My father didn't know how to make an egg. No, no. He just smuggled potatoes.
[01:04:06] Jordan Harbinger: Wow. So even the SS was starving at this point, I guess, in the war.
[01:04:09] Yes,
[01:04:10] Esther Perel: exactly. Exactly. And my father's best friend was the cook. So he cooked the freaking potato.
[01:04:16] Jordan Harbinger: Jeez. Wow. That's really something. I mean, gosh, it just shows you how traumatic and how hard life was even at that point where the people who are running the camps were like, Hey, we need, we need the extra potato every day.
[01:04:27] That is so awful. All right. podcast that brings everything around to AI and artificial intelligence, but I'd like to bring this around to artificial intelligence. You sort of touched on this at the top of the show, but as an expert in intimacy and human connection, where do you see us heading as a species when everybody can have a soon we'll have a bespoke AI in our pocket or even attached to our brain that just wants to make us happy?
[01:04:52] One of my worries is that as a society we already polarize so easily in part because nobody wants to challenge their beliefs Nobody wants to be uncomfortable I think it's probably gonna get a hell of a lot worse when we don't have to you think leaving the cap off the toothpaste Fine just instead have an AI partner that confirms whatever we want to hear or you know My wife doesn't just tell me Everything I want to hear, as you might imagine, and I'm worried that we're going to go even further down the tubes socially.
[01:05:18] Esther Perel: So I have two associations to this. You know, the first is, I think I'm very interested in the rise of the other AI, and I call it artificial intimacy. Mmm,
[01:05:30] Jordan Harbinger: clever. Hijack that buzzword. I love it.
[01:05:33] Esther Perel: This is where we are going. And interestingly, this thinking started for me when somebody created an AI bot of me.
[01:05:41] Guy broke up with his girlfriend, couldn't get a session with me, and basically decided to create me. And he finds me very useful. He texts me all the time. The AI is there. And it's exactly that what you just said. She's pure. She's always available. She never forgets anything. Her personal life never enters into the picture.
[01:06:01] It's, you know, anything fantastic that has nothing to do with the reality of relationships. So then I began to think, you know, what's going on with this AI piece is that, and this is probably where there's a big distinction between relational issues or problems or challenges and the world of technology altogether.
[01:06:23] which is that most relationship issues are not things that you solve with binaries, zeros and ones. You know, what you should do with your kids. What should you put the grandma in the, in the, in the nursing home? Should that come and live with you? I mean, those are not right and wrong things. Those are complex problems that you have to hold contradictions.
[01:06:46] Technology doesn't like that technology operates on everything is a yes or no. We simplify the problem to the point where we can have a clear answer. And that clear answer leaves you without a single doubt. You have Netflix, you have Waze, you have Spotify, you have, you know, if you're single, you have your dating app.
[01:07:05] I mean, so you have what to watch, where to go, what to wear, what to eat. You are surrounded with predictive technologies that are meant To give you an immediate answer without a single doubt and that are producing people that are more and more anxious because they can't deal with uncertainty, with doubt, with the unpredictabilities of life, you would think that all these predictive technologies will make us more confident, but in fact, they are making us more and more anxious.
[01:07:38] And then we talk about a mental health crisis, and we don't connect the dots. That's what brought me to be interested in, in AI. And I'm in one space after another that talks about AI, but wants one person who talks about the effect of AI on relationships, not our expectations of the machines. But what this will do to our expectations of people, when people go to machine therapy, they are, this guy, by the way, he's very satisfied with me on the AI.
[01:08:09] He thinks she's giving him very good therapy, but what we know from the research is that he thinks it's very good because his expectations from technology are lesser than his expectations from people.
[01:08:21] Jordan Harbinger: Oh, interesting. It probably is also telling him largely what he wants to hear, right? Because isn't that kind of what AI
[01:08:26] Esther Perel: does?
[01:08:27] It regurgitates a summary of everything I've said. My podcast is public knowledge, so you get transcripts. But, you know, a good session is not a regurgitation of everything I've said before. A good session is me picking up on you, Jordan, the specificity of you in that situation, with your kid, Jen, your friend, whoever, you know.
[01:08:48] And I come up with something that is tailored for you. I'm not just summing up, you know, the sum total of what I've said everywhere else. That's what makes it meaningful and relevant to you. And that's what strengthens our relationship. So that doesn't mean that there's not a lot of good use to be done with telehealth and with bots.
[01:09:09] They will help you on symptoms, but the majority of us don't deal with symptoms. The majority of us deal with existential questions.
[01:09:16] Jordan Harbinger: We're joking about never having to unload the dishwasher again or something, but then here's an AI that spends all day telling you how great you are and has absolutely no emotional needs of its own.
[01:09:24] I do expect people to be in sort of weird parasocial relationships with AI eventually, but I also worry that as the curve of technological development goes up. The curve of personal development goes down and I don't mean like self help, but just like being able to have a real social atrophy. Yes,
[01:09:41] Esther Perel: exactly.
[01:09:41] You lose the ability to deal with nuances, with the unpredictability of people, with smell, with the messes of relationships, with real life, what technology does, what, what your machine there, what your clean dishwasher is doing is it's taking out all the wrinkles, all the rough edges, all the frictions.
[01:10:02] You know, which actually are the stuff that we need in order to learn to live with people. You got to have
[01:10:08] Jordan Harbinger: those fights about the swimming lessons in the car. You can't fast forward through those things. And back to your points about conflict, it helps you grow as a couple, but it also helps you learn about yourself doing things like that, having experiences like that with someone else.
[01:10:20] In a relationship, and that's going to be gone with AI unless it just pretends to be annoyed with you about something, but it's not going to be, it's not going to be the same thing as much as it might learn how to mimic human behavior and emotion through text.
[01:10:32] Esther Perel: You know, we are already having these relationships.
[01:10:34] We talk to Siri constantly. We tell her what to do, and we decide what accent we want her to have. It's in Alex. I mean, we're in it, but there is something. On the way to a fundamental change of what it means to be humor.
[01:10:47] Jordan Harbinger: What accent does your Siri have? I'm curious. I, I haven't bothered to choose mine.
[01:10:50] Esther Perel: She's actually a totally American and I never talked to her. But yesterday my husband put his, uh, Google map and I said, why is she speaking with an Australian accent? Yeah, it's kind of fun to do that, but we do have the relationship, but I think that anyone who has kids, And watch us what happens with the enormity of time that people are living with the screen and being completely hijacked.
[01:11:15] notices that something is fundamentally changing and we, we can pretend not because we want to be with the wave of the future and with wherever the next energy on the, in the economy goes, it warrants us to pay attention. It is changing something fundamental in how we relate to each other and it has political
[01:11:37] Jordan Harbinger: consequences.
[01:11:38] I've heard you say And I'm paraphrasing here, modern loneliness, it often manifests itself as hyper connectivity. So those who think, this isn't happening to me, you might have a thousand online friends but you don't have anybody to come and feed your cat while you're away, I think is how you put it. Yep.
[01:11:52] And I worry that it's going to be that on steroids. When everybody is talking to an AI and thinks this isn't hurting me, I'm just using this to make my life easier. And then you realize that you can't relate to other people in the same way, because it's not as easy.
[01:12:07] Esther Perel: That sentence to me was came out when literally sat in my office.
[01:12:12] Then I took the sentence with me and went to check it around the world. You know, how many of you could have somebody that you need to go get a prescription for you at the pharmacy? What is this hyperconnectivity actually? You know, we talk about loneliness. We talk about suicide. We talk about breakdowns of institutions.
[01:12:30] We talk about the fact that the burdens of the self have never been heavier. When you talk about it like that, it feels very abstract. When you actually look at the life of actual people, and especially younger people, as I do, it warrants attention. You know, nobody's turning the clock around, but there are consequences to this that affect the way that we relate.
[01:12:53] And it. And, and any responsible change and progress needs to be taken into
[01:12:59] Jordan Harbinger: account. Esther, I know we're running out of time. It's an honor to know you. It's an honor to be your friend. It's good
[01:13:05] Esther Perel: to be back with you. You should not wait so long.
[01:13:07] Jordan Harbinger: I was just going to say, I'm going to have to try harder for you to come back sooner than, than five or whatever years that have slipped by.
[01:13:13] And I, I'd love to do it in person. I know that's next to impossible, but, uh, I'm determined to figure it out. Keep going. You get there. Thanks
[01:13:20] Esther Perel: so much. Be well. Bye
[01:13:22] Jordan Harbinger: bye. You're about to hear a preview of the Jordan Harbinger show about the evolved strategies of human
[01:13:29] David Buss: mating. So I'm an evolutionary psychologist and I'm very well known in my scientific communities.
[01:13:34] I talk to people about mating all the time. And I learned something practically every day from people. So our predictions of what is going to make us happy are known to be off base. Sometimes people pay a lot of attention to the mate attraction process and not enough attention. To the mate retention process, men and women have overlapping mating psychologies, but in some domains, dramatically different mating psychologies, it's become fashionable to try to argue that men and women are really identical in their mating psychologies and their sexual psychologies, but they're not.
[01:14:11] I think that's, it's one of these. Kind of ideologically driven agendas and we know scientifically that the areas in which they differ, you know I think one of the myths is that somehow we're supposed to meet the one and only when we're at a very young age and Live perfectly happily ever after for the next 50 years with no bumps in the road.
[01:14:33] And I think that's just naive. There's a new body of research that talks about the dark triad. And the dark triad is also more likely to cheat. Dark triad is high narcissism, high Machiavellianism, and high psychopathy. People who are both men and women who are high on these dimensions are much more likely to cheat.
[01:14:54] You want to avoid those in a long term mate for sure. Avoid emotional instability and avoid narcissism in potential mates.
[01:15:02] Jordan Harbinger: To learn more about what people want in a mate, successful tactics of mate attraction, and more with Dr. David Buss, check out episode 758 of the Jordan Harbinger Show. Love, love, love talking with Esther Perel.
[01:15:15] I gotta do that way more often. She's busy, duh, as you might imagine, but she is amazing and this was worth the wait. Many men end up isolated and friendless. We never really touched on this. Women should not only quote unquote let men have social engagements, but encourage it. Us guys, man, we have a real issue with that.
[01:15:31] Next time she wants to do a talk with me on men and friendships, I think we definitely have to have her back for that. I know as an adult male, friendships are tough, man. Even from guys who are like, Okay, I gotta get a handle on this. It's odd. We are awkward with this. We really are. I had one guy say, Hey, I met you a long time ago and you seemed like an interesting guy and I know this sounds really weird, but I kind of want to be friends and guess what?
[01:15:51] We're friends now. It was like kindergarten. He just said, Hey, you want to be friends? And I was like, yeah. And we met up for a beer and lunch and it was great. And I have a friend now and I feel like, holy crap, how did I forget how to do this? I did this the first day of kindergarten and probably never did it since then.
[01:16:05] And it still works, but yeah, it is a little weird if the other person's like, what are you talking about? This did work out and maybe was a little bit of a perfect storm. But still, we gotta get a handle on this, folks. As for the cheating, I didn't have the heart to ask her this, but I was wondering if we could harness the feeling of wanting somebody else in a way that doesn't get us into trouble.
[01:16:22] Or, you know, if we're really tempted with somebody else, what do we do? Do we just imagine that person doing all your pet peeves? Like, they leave the cap off the toothpaste. They leave food out, and they don't put it in the fridge. They leave the kitchen cabinet open. They never unload the dishwasher, or worse, they load it in a way that's really inefficient and weird, and your engineer brain just can't handle it, and then you want to strangle them.
[01:16:40] Asking for a friend, or saying that for a friend. Or they just, like, poop with the door open. And you can't deal with that? I don't know. Is that what you have to do? I feel like that would work, actually. The dishwasher thing, especially. By the way, she's got a card game. That'll be linked in the show notes.
[01:16:55] She's also got a course on conflict. That is going to be amazing. We'll link to that in the show notes as well. I mean, she's an amazing therapist. This conversation was amazing. That course is definitely going to be. Equally slash more amazing. So if you're dealing with conflict in your relationship or you're not dealing with it, as many of us probably are, you should definitely check out that course.
[01:17:13] And don't forget, she has her own podcast as well. Where should we begin? We will link to that in the show notes, along with the transcripts, which are always in the show notes, advertisers, deals, discount codes, and ways to support the show. All at jordanharbinger. com slash deals. Please consider supporting those who support the show.
[01:17:29] We've also got our newsletter where we dig into an older episode every single week, and we dissect the lessons from it. If you want to know what to listen to next, you want some highlights and takeaways from previous episodes, the newsletter is a great place to do that. And we've got giveaways going on there.
[01:17:41] Jordan Harbinger dot com slash news is where you can find it. Don't forget six minute networking also on the website Jordan Harbinger dot com slash course. I'm at Jordan Harbinger on both Twitter and Instagram. You can also connect with me on LinkedIn. This show is created in association with podcast one.
[01:17:57] My team is Jen Harbinger, Jace Sanderson, Robert Fogerty, Emilio Campo, Ian Baird and Gabriel Mizrahi. Remember, we rise by lifting others. The fee for this show is you share it with friends. When you find something useful or interesting, the greatest compliment you can give us is to share the show with those you care about.
[01:18:12] Now, if you know somebody who's interested in therapy, cheating, relationships, or just loves Estera Perel, and who doesn't, definitely share this episode with them. In the meantime, I hope you apply what you hear on the show so you can live what you learn. And we'll see you next time. Thanks again to Nissan for sponsoring this episode.
[01:18:30] Let Nissan help you find your more at NissanUSA. com.
[01:18:36] Esther Perel: Thank you for listening to the Murdoch Murders podcast, the show that started it all. 93 episodes will take you on a journey of twists and turns, ups and downs, tears and belly laughs. We continue this mission with our newest evolution, True Sunlight.
[01:18:53] Luna Shark's True Sunlight podcast is the antithesis of true crime. True Sunlight values accuracy over accessed journalism. True Sunlight is shed with empathy, not exploitation. True Sunlight is the intersection of journalism, true crime, and systemic corruption. We continue to shed light on Stephen Smith's case and Alex Murdoch's co conspirators.
[01:19:17] But also, we like to take deep dives into other cases around the country. True Sunlight empowers listeners to understand their legal and judicial systems with our unique branch of pesky journalism. Listen to True Sunlight wherever you get your podcasts or visit truesunlight. com to learn more.
Sign up to receive email updates
Enter your name and email address below and I'll send you periodic updates about the podcast.