Freeway Rick Ross (@FreewayRicky) managed a billion-dollar drug empire in the age of Iran-Contra, now helps rebuild at-risk communities, and is featured in the Emmy-nominated documentary Freeway: Crack in the System.
What We Discuss with Freeway Rick Ross:
How Rick went from a tennis scholarship track in high school to a young adulthood making cocaine appealing and affordable for a growing urban clientele.
The escalation of Rick's business model thanks to an immensely helpful Nicaraguan connection during the Reagan administration.
Why Rick wished he had more hours a day in prison — a place where most people are just looking to kill time.
The story behind the ex-prison guard rapper who uses Rick's name and why he's legally allowed to do so.
How Rick overcame illiteracy later in life and the must-read books he recommends for anyone with (legal) entrepreneurial ambitions.
And much more…
Like this show? Please leave us a review here — even one sentence helps! Consider including your Twitter handle so we can thank you personally!
(Download Episode Here)
(Subscribe to the Podcast Here)
Worksheet for This Episode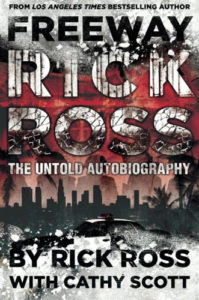 Freeway Rick Ross is one of the most well-known drug traffickers the world has ever seen, and his drug empire in Los Angeles essentially kicked off the crack epidemic in the United States. Our aim is not to glorify the domino effect of tragedy his actions caused, but to get the story from Rick's own perspective.
This episode isn't about selling drugs or organized crime. What follows is an extremely vulnerable and candid interview with a man whose personal potential and business acumen could have taken him to insane levels of success in any area, but the cannon was aimed tragically in the wrong direction. Listen, learn, and enjoy!
Please Scroll down for Full Show Notes and Featured Resources!
Does your business have an Internet presence? Save up to a whopping 62% on new webhosting packages with HostGator at hostgator.com/jordan!
Need custom graphics, logos, or Web design? Access a community of 600,000+ designers by registering at designcrowd.com/jordan and enjoy up to $100 off with The Jordan Harbinger Show bonus offer!
Sign up for Six-Minute Networking — our free networking and relationship development mini course — at jordanharbinger.com/course!
More About This Show
When most people wind up in prison, the long days can't go by quickly enough. But when crack cocaine entrepreneur and Freeway: Crack in the System documentary subject Freeway Rick Ross landed there for 20 years, he ran into the same problem most driven people with big ideas have: there just weren't enough hours in the day to accomplish everything he set out to do.
"I didn't watch television at all," says Rick. "In prison, I didn't have time. I needed more time in the day. I used to say that, and people would think I'm crazy. At first, before I learned how to make prison work for me, there was too much time in the day; I was wishing that the day would go by. But as I started to expand my mind and my thoughts, it became not enough time in the day."
Rick says he spent his hours writing a book, reading movie scripts for film companies, reading books, sharing his business experience and insights with others, and answering "about 7,500 letters a week."
Looking back on Rick's childhood, the planets aligned to keep him out of trouble in spite of growing up in gang-riddled South Central Los Angeles. While he was attracted to the idea of joining the Crips, his strict mother kept him on the straight and narrow. From age 12 through high school, he was playing tennis with enough proficiency that a college scholarship seemed inevitable — until it was discovered that he was illiterate.
"I never learned how to read or write, so that squashed the opportunity of me going to college and playing college tennis. So I found myself back in South Central L.A. But now I'm a grown man; I'm 18 years old; I make my own decisions; my mom doesn't tell me what to do any more. I'm pretty much doing whatever I want to do. I find myself in a place of not knowing what I'm going to do with the rest of my life."
Listen to this episode in its entirety to learn more about why it took so long for Rick's illiteracy to be discovered, what initially motivated him to pursue a life of crime beginning with car theft, the evolution of the drug trade from the time Rick entered to the time he went to prison, how Rick's mother responded when she found $100,000 stashed in his dirty laundry, what he did to avoid drawing attention from authorities for so long, how he overcame illiteracy later in life, the hypocrisy of society's love/hate relationship with drug dealers, and much more.
THANKS, FREEWAY RICK ROSS!
If you enjoyed this session with Freeway Rick Ross, let him know by clicking on the link below and sending him a quick shout out at Twitter:
Click here to thank Freeway Rick Ross at Twitter!
Click here to let Jordan know about your number one takeaway from this episode!
And if you want us to answer your questions on one of our upcoming weekly Feedback Friday episodes, drop us a line at friday@jordanharbinger.com.
Resources from This Episode:
Download Worksheet for Life in the Crack Lane

/wp-content/uploads/2018/11/Worksheet-for-Freeway-Ricky-Ross-Life-in-the-Crack-Lane-Episode-121.pdf