Reading Time:
2
minutes
The Power of Crisis author Ian Bremmer rejoins us to assess the top threats facing our world today and the difficult choices they may force us to make.
What We Discuss with Ian Bremmer:
The effective unified Western response to Ukrainian invasion has transformed Russia from a would-be China into a massive Iran.
China's Xi Jinping has been concentrating his power — which will allow him to make bigger mistakes that affect billions of people even more quickly.
The unchecked proliferation of AI can move markets and effortlessly generate mountains of disinformation on social media to further the agendas of extremists.
The growing partisan polarization of the American electorate continues to erode the legitimacy of core federal institutions and the peaceful transfer of power through free and fair elections.
While the consequences of water scarcity will worsen, unprepared governments' ability to handle them seems unlikely to improve.
And much more…
Like this show? Please leave us a review here — even one sentence helps! Consider including your Twitter handle so we can thank you personally!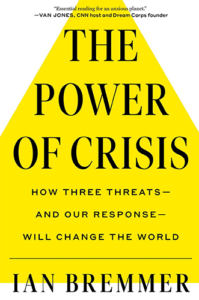 Please Scroll Down for Featured Resources and Transcript!
Please note that some links on this page (books, movies, music, etc.) lead to affiliate programs for which The Jordan Harbinger Show receives compensation. It's just one of the ways we keep the lights on around here. We appreciate your support!
Sign up for Six-Minute Networking — our free networking and relationship development mini-course — at jordanharbinger.com/course!
This Episode Is Sponsored By:
Thanks, Ian Bremmer!
If you enjoyed this session with Ian Bremmer, let him know by clicking on the link below and sending him a quick shout out at Twitter:
Click here to thank Ian Bremmer at Twitter!
Click here to let Jordan know about your number one takeaway from this episode!
And if you want us to answer your questions on one of our upcoming weekly Feedback Friday episodes, drop us a line at friday@jordanharbinger.com.
Resources from This Episode:
880: Ian Bremmer | Dealing with a World In Disarray
This transcript is yet untouched by human hands. Please proceed with caution as we sort through what the robots have given us. We appreciate your patience!
[00:00:00] Jordan Harbinger: Special thanks to Airbnb for sponsoring this episode of the Jordan Harbinger Show. Maybe you've stayed at an Airbnb before and thought to yourself, yeah, this actually seems pretty doable. Maybe my place could be an Airbnb. It could be as simple as starting with a spare room or your whole place. While you're away, find out how much your place is worth at airbnb.com/host.
[00:00:18] Coming up next on the Jordan Harbinger show.
[00:00:21] Ian Bremmer: We need these technology companies and it's not just because of jobs We actually do need the the innovation that they drive We need the algorithms. They're going to make people live longer. They're going to make the world more efficient. They're gonna lead reduce waste They're gonna lead to faster energy transition. They're gonna Improve food production, but they are destroying the social fabric of our communities of our governments and they are not paying for that.
[00:00:55] Jordan Harbinger: Welcome to the show. I'm Jordan Harbinger. On the Jordan Harbinger Show, we decode the stories, secrets, and skills of the world's most fascinating people and turn their wisdom into practical advice that you can use to impact your own life and those around you. Our mission is to help you become a better informed, more critical thinker through long form conversations CEOs, athletes, authors, thinkers, performers. Even the occasional former jihadi, drug trafficker, arms dealer, or astronaut. And if you're new to the show, or you want to tell your friends about the show and I always appreciate it when you do, our episode starter packs are the best way to do that. These are collections of our favorite episodes on persuasion, negotiation, psychology, disinformation, cyber warfare, crime, cults, and more that'll help new listeners get a taste of everything we do here on the show.
[00:01:38] Just visit jordanharbinger. com slash start or search for us in your Spotify app to get started. Today, we'll be talking with my friend Ian Bremmer of Eurasia Group about the top threats facing the world today as of 2023. Unfortunately, it really does seem to be a world in disarray. The risks in his report are the highest he's seen in the last 25 years doing this kind of thing here with Eurasia Group.
[00:02:00] We'll dive into events with Russia, of course, China, naturally, AI, climate change and more. There are a few surprises that you don't already know are going to destroy the world, I promise you that. It's a fascinating conversation for those interested in what is happening on a global scale. And Ian is always insightful and straightforward.
[00:02:16] So I think you'll enjoy this discussion. Here we go with 2023.
[00:02:26] Is it fair to say it's a global risk report? Is that how you refer to
[00:02:29] it?
[00:02:29] Ian Bremmer: Sure. We've got a top
[00:02:30] Jordan Harbinger: 10 risk, but you can call it that either way. And I read the book, our previous episode that we did was about the power of crisis. So, what is happening now with Russia, now with the military, the economy, because we know, look, they invaded Ukraine, that's been a complete disaster, unless you talk to the robots on Twitter, in which case Russia's dominating and winning, and we just don't know
[00:02:51] Ian Bremmer: about it.
[00:02:52] So, Jordan, when the Russians first invaded Ukraine,
[00:02:56] Jordan Harbinger: the United States and its allies in NATO... Really
[00:03:01] Ian Bremmer: focused heavily on economic sanctions as the most effective tools the West had to respond. And was much more cautious about
[00:03:13] Jordan Harbinger: level of military support,
[00:03:16] Ian Bremmer: training, intelligence they provided to the Ukrainians.
[00:03:19] That has now changed, right? The Americans, I would say, would now, I mean, the officials would say, We over egged how much we could get done with sanctions, even though they're really tough sanctions. The Russian economy is still pretty damn resilient. But we actually have been much more effective. With giving the Ukrainians massive amount of military support.
[00:03:44] And what we've seen happen is that the Russian economy was
[00:03:47] Jordan Harbinger: one of the fastest growing in the world.
[00:03:49] Ian Bremmer: It, uh, contracted a little in, uh, 2022, and it's probably going to grow a little in 2023. But, you know, you're not seeing, you know, bread riots in Moscow. People are able to live and they're
[00:04:05] Jordan Harbinger: able to sell. The commodities that the
[00:04:07] Ian Bremmer: world needs on the global market with, with some exceptions like gas to Europe, but generally speaking, you know, the Russia can keep on keeping on economically, but militarily, their training has been poor, their
[00:04:22] Jordan Harbinger: planning
[00:04:23] Ian Bremmer: has been poor, their corruption inside the military leadership has been legion.
[00:04:29] And the Ukrainians have not only fought very courageously, but they've also gotten an enormous amount of support beyond what anyone would have expected from the United States, first and foremost, from the UK, from Poland, from technology companies like SpaceX and Microsoft, and all of that together has allowed the Ukrainians to be in a much better position today.
[00:04:56] Then, uh, certainly anyone in the Pentagon or NATO was expecting in the weeks after the Russians first invaded. Why didn't
[00:05:04] Jordan Harbinger: Microsoft do it? I know Starlink has supplied internet for communications, especially for the mil secure communications for the Ukrainian military. Is that accurate? On
[00:05:13] Ian Bremmer: the front lines, absolutely.
[00:05:14] And with their commanders. I mean, if it wasn't for that, you wouldn't be able to talk to the people that are fighting. So that's, that's really important. Microsoft was standing up all of their cloud. So in other words, providing the cyber defenses, the Russians started invading Ukraine, not on February 24th, but the 23rd,
[00:05:31] Jordan Harbinger: that's when the cyber attacks started and they've largely
[00:05:34] Ian Bremmer: failed.
[00:05:35] And you'll remember it was a number of years ago that there was this not. Petya attack. That was a massive Russian cyber attack against Ukraine that was very successful and shut down
[00:05:45] Jordan Harbinger: hospitals and other critical
[00:05:47] Ian Bremmer: infrastructure and took about 1% off of GDP and then exploded beyond Ukraine and Mirsk, the shipping company was almost forced into bankruptcy, FedEx Europe, I mean a whole bunch of other companies.
[00:05:59] Russian cyber attacks on Ukraine in this war since last February have been almost completely ineffective. In large
[00:06:08] Jordan Harbinger: part, uh, because
[00:06:09] Ian Bremmer: of the support from a U. S. technology company. So, it's kind of interesting that the technology companies have been belligerents, even though they're not part of any treaty.
[00:06:17] It's
[00:06:17] Jordan Harbinger: interesting, especially because Microsoft takes endless amounts of shit for having Windows problems and security holes and the blue screen of death. True. So it's funny that Microsoft is now, like, on the front line of protecting Ukraine against cyber attacks. It's a little bit comical and shows that maybe...
[00:06:35] Maybe their reputation was well earned in the 90s with Windows 3. 1 or something like that, but now they've stepped up to the plate. Or it was just, uh, shit talking, because that's what computer nerds like me do
[00:06:46] Ian Bremmer: routinely. I think that people that really understand, uh, Windows are not necessarily happy, uh, with security around Windows.
[00:06:53] I think that Microsoft has also spent a lot of money around cyber defenses. And they see themselves as increasingly a national champion for the United States and other democracies
[00:07:04] Jordan Harbinger: around the world. They, unlike Apple, for example, they don't have very
[00:07:08] Ian Bremmer: much China exposure at all. They're not a B2C corporation, they're really a B2B, a business to business player.
[00:07:15] So in that regard, they feel like more of a traditional industrial... complex company than a lot of the, you know,
[00:07:22] Jordan Harbinger: the Facebook
[00:07:24] Ian Bremmer: metas, you know, those sort of organizations. Uh, SpaceX, very similar. Uh, most of their money comes from either the Pentagon or NASA. So they are really, for all intents and purposes, a U.
[00:07:36] S. military industrial complex company. I
[00:07:39] Jordan Harbinger: hadn't thought about that, but it makes sense. The use case for getting internet in rural Alabama is nice, but it's obviously more important to have it in Afghanistan or the border of Iran when you're operating or whatever Or in this case Ukraine. The brain drain from Russia has to be something fierce now because everybody I know that has Russian relatives Is getting them out in a lot of those people, you know, who sent their son or daughter to the United States or to Europe and met somebody and got married.
[00:08:10] Those are privileged folks, right there. Their child went to Yale or is an engineer at Google and that person is bringing their family out. So not only did you have brain drain before, but now you have people who are maybe on the fence or didn't have the opportunity or liked their job in Moscow running for the border.
[00:08:27] And getting out of there so they don't get drafted and because they don't necessarily see a future in Russia. And I'm speaking, I realize I'm speaking for a smaller subset of Russians, but I think a lot of people my age and younger, so I'm 43, I think a lot of people age. I don't know, 15 to 40 are probably trying their damnedest to get out.
[00:08:48] And I remember the line of cars that was driving into Georgia, which was what, like 50 miles long or something in the beginning of the conflict? I mean, that was so Yeah,
[00:08:55] Ian Bremmer: that was right after they announced, uh, that second,
[00:08:59] um,
[00:09:00] Jordan Harbinger: you know, the general mobilization.
[00:09:01] Ian Bremmer: So those are people that were just trying to escape getting conscripted,
[00:09:06] Jordan Harbinger: right, uh, and thrown into the meat grinder in the front
[00:09:09] Ian Bremmer: lines, and you've seen how many people have come back dead, how many people have come back injured.
[00:09:12] So understandable, uh, why they would want to leave. Then, you know, you had after, uh, the war started, anyone that, you know, had the wherewithal, had the technical skills, the knowledge to get a job, get out. had connections that could get them to a Georgian, Armenia, a UAE, a Turkey, any place they could get out where they didn't need, you know, sort of a serious visa they got out.
[00:09:35] And so, I mean, I think, you know, between, uh, the Russian citizens that have been drafted and those that have gotten the hell out of Dodge. Long term, this is not a 21st century economy. This is an economy that is, takes stuff out of the ground and sells it. And that stuff matters. Uh, but it was Putin that actually was the first major global leader to say, whoever controls artificial intelligence will control the world.
[00:10:06] And at that point, of course, the Russians. believe that they were able to put a lot of money into a lot of Russian scientists. That is, I mean, Putin's comment was still, it was true, but the Russians are literally nowhere when it comes to advanced technologies
[00:10:20] Jordan Harbinger: right now. Yeah, I can, I can imagine. I mean, I've seen that they're struggling even to keep certain oil wells open and that's really what Drives their entire economy if they can't set the ones that are in areas that were Selling to primarily countries that no longer buy from them I mean those things are just freezing over from what I understand from folks like Peter Zion I don't know if you agree with all of his analysis.
[00:10:41] I like Peter. Yeah, I
[00:10:42] Ian Bremmer: like Peter. Yeah, I mean he's he is over egged on how much he thinks China is going to fail. And you know, this is the principle issue of someone that is, you know, you live in the United States, you spend a lot of your time around people that
[00:10:56] Jordan Harbinger: are very bullish on the United States. You don't spend a lot of time in a place like China and you know, you're, you're going to be more caught up.
[00:11:03] in the Americans do everything
[00:11:04] Ian Bremmer: right, and the Chinese are a bunch of fuckheads. I think that's overstated, but I also think this is a guy who basically, you know, sort of almost self educated in the field of
[00:11:14] Jordan Harbinger: geopolitics, has
[00:11:16] Ian Bremmer: actually, is exceptionally, not just charismatic
[00:11:20] Jordan Harbinger: and engaging, but smart. fellow. And I, I like him personally.
[00:11:22] I speak with him. We did a podcast together with Sam Harris. I don't mean to, you know, advertise the, uh, competition here, but Sam's, you know, pretty soft. It was, it was really good. It was actually a really good hour, hour and a half, whatever we spent. Putin has done something that I think most NATO or world leaders have not been able to do, which has strengthened the NATO Alliance beyond anything.
[00:11:42] I think, was it? Macron said something like NATO's
[00:11:46] Ian Bremmer: brain dead in 2019. I think he said that. Yeah, it sounds like a life support. Yeah. Now he said
[00:11:52] Jordan Harbinger: it's gotten shock therapy. And of course, you know,
[00:11:54] Ian Bremmer: also Trump said that NATO was obsolete. A lot of people felt that way because
[00:12:01] Jordan Harbinger: American allies were not spending particularly the money that they were committing to spend on defense.
[00:12:07] Ian Bremmer: And also because it wasn't clear what purpose NATO was serving. I mean, if, you know, the end of history, and everyone's a democracy, and the Europeans don't need to worry about national security anymore, well then what do you need NATO for? Well, it turns out, um,
[00:12:20] Jordan Harbinger: that actually that was a historical anomaly, and there is massive
[00:12:25] Ian Bremmer: national security concerns.
[00:12:27] on the European continent. Some are directly conventional warfare concerns and some are asymmetrical concerns, whether
[00:12:37] Jordan Harbinger: it's, you know, sort of, uh, cyber warfare or attacks against critical infrastructure, espionage, but
[00:12:44] Ian Bremmer: all of these things with Russia as the most powerful rogue state in history. Suddenly, NATO is indispensable, indispensable, and the Americans, of course, are the driver of that.
[00:12:55] The U. S. is, the U. S. spends more money on defense than the next 10 countries in the world combined, and American allies all over the
[00:13:02] Jordan Harbinger: world rely more on the Americans
[00:13:05] Ian Bremmer: for national security today, in large part because of Putin. in significant part because of Xi Jinping and China's growth of their consolidation of power, their economic influence over diplomatic outcomes, and their military growth in the Asian sphere, all of which is making the Quad, AUKUS, the Indo Pak strategy, all these things that we weren't talking about five years ago, suddenly really, really relevant.
[00:13:32] So yeah. NATO and a broader G7. I mean, the Chinese were just telling the Japanese. Hey, don't you, don't you go to the NATO summit? Mm hmm. I mean, what business of it is China to tell the Japanese that you can or can't be involved in an alliance? I don't see the Americans telling the Chinese that they can't show up at a summit they're putting together, right?
[00:13:52] So it's a, but that's because this is becoming a much more contentious...
[00:13:56] Jordan Harbinger: point. I never thought Finland and Sweden would join NATO. That was one. Nobody thought that was going to happen. And two, I've read this and I don't know how accurate it is. I think Finland, at least, I don't know if both Finland and Sweden, but had essentially told the Soviet union, we won't join NATO because we're on your border.
[00:14:14] And if since in an exchange, just don't invade us, I don't know how that promise was supposed to work out, but it was kind of like, they just didn't want to push. The Soviets. The forced neutrality of Finlandization. Um, yeah. After the, the, the Soviets withdrew at a very bloody fight, the
[00:14:33] Ian Bremmer: Finns and the Swedes were absolutely not on a
[00:14:38] Jordan Harbinger: track of joining NATO until.
[00:14:41] The Russians invaded. My good friend Carl Bildt, the
[00:14:44] Ian Bremmer: former Swedish Prime Minister, would have bet you dollars to donuts back
[00:14:49] Jordan Harbinger: when that
[00:14:50] Ian Bremmer: analogy held some weight before the war, that they were
[00:14:54] Jordan Harbinger: never going to
[00:14:54] Ian Bremmer: have that vote. And they absolutely, I mean, these things passed easily. And then, of course, the Russians warned them that there will be hell to pay.
[00:15:03] There will be military consequences if they do join, and it turned out that that was a red line
[00:15:10] Jordan Harbinger: that had absolutely
[00:15:12] Ian Bremmer: no force behind it, and there have been no consequences for the Finns and the Swedes.
[00:15:16] Jordan Harbinger: As an American, it is a little bit, what's the word I'm looking for, I'm not happy about any of this sort of global conflict, but it is.
[00:15:23] It's almost like we were saying, Hey, we're sort of providing all of your defense. It would be nice if you could contribute since you said you would actually do that, and everyone was like, Ah, we can get away with not doing this. And now they're like, Hey, sorry about the last couple decades. How do we get back in your good graces?
[00:15:38] Well, maybe carry your weight a little bit more. And I understand completely why they didn't. I understand their line of thinking. I agree with why, with their rationale. We don't have to worry about this, this is a relic, it's a, you know, you trying to get us to spend on defense, it doesn't make any sense, you just want us to join pointless wars in Iraq and Afghanistan, no thank you, we'd rather spend on infrastructure, that's worked well for us in the past, nice isn't quite the word because in response to this horrible, horrific thing that's happening that's changing the whole world, but What am I trying to say here, Ian?
[00:16:10] Ian Bremmer: I know what you're trying to say. Let me try to make you feel a little bit better about it, or worse, depending on your perspective, which is what the Europeans were doing in ignoring national security concerns for what they thought were obvious decisions for their economic benefit. Both in terms of not spending on defense as well as, you know, sort of buying all that cheap gas from Russia is exactly what the Americans have been doing for 20 years in hollowing out U.
[00:16:43] S. semiconductor production and saying, well, let's just let the Taiwan East do all that 100 miles off of mainland China because it's cheaper because we don't need to worry about the national security consequences anymore. And these were corporations making these decisions. This was the U. S. government deciding, no biggie.
[00:17:02] And the Europeans were doing the same. Now the consequences for the Europeans are a little more profound and immediate because of the Russian invasion.
[00:17:11] Jordan Harbinger: But, I mean, semiconductors, you know, power everything in the 21st century economy, and you really don't want to be in a position
[00:17:18] Ian Bremmer: where you can't make them anymore.
[00:17:20] So I mean, I guess, I would say, feel a little better in the fact that we all kind of make mistakes like this, and when you get hit in the face, as Mike Tyson says, then you need to create a strategy, and actually, then you respond, and that's, we've been hit in the face a couple times. on the fact that national security needs to be a top priority.
[00:17:39] Unfortunately, we wish it weren't true. I mean, you know, you look at the debt limit. Everybody agrees that U. S. defense spending, highest in the world, is untouchable. Wouldn't we rather spend money on other things? You know, wouldn't we rather spend it on policing at home? Wouldn't we rather spend it on mental health care?
[00:17:58] Wouldn't we rather spend it on education? Of course we would! But it turns out that actually we do need to spend a lot of money, and so do our allies, on national security. And that's an unfortunate thing to have to say in 2023, but my God,
[00:18:12] Jordan Harbinger: it's a reality. To be clear, I'm not saying the U. S. doesn't make these mistakes times ten.
[00:18:16] I'm just, it's just a very... It's almost like the one time we've been really right about something was this. I guess that's part of where I'm going with it, because yeah, we have outsourced a lot of our safety. Uh, we do have ridiculous defense spending. Maybe it helps me rationalize our defense spending a little bit in lack of spending and things that are also important.
[00:18:35] Like you mentioned, infrastructure, mental health, policing, education. It is hard to see how this ends well. You write, Russia will become more confrontational with the West in new ways as well. In essence, the effect of Ukrainian and Western response to the invasion has transformed Russia from a would be China into a large Iran.
[00:18:54] Tell
[00:18:54] Ian Bremmer: me more about that. Yeah. In other words, into a
[00:18:57] Jordan Harbinger: rogue state. So think about what Iran has
[00:18:59] Ian Bremmer: represented over the last 10 years. They've been one of the most sanctioned economies on the planet by the West, by the U. S. and its allies. Their economy has done very badly. They have a very hardline, extremely repressive, theocratic, in their case, government, and they have become the principal security threat for U.
[00:19:21] S. allies in the Middle East through proxy warfare, through drone strikes, through cyber attacks. Through support for radicalism and terrorism. And if you're Israel, if you're the UAE, if you're Saudi Arabia, you've been very, very concerned about that.
[00:19:37] Jordan Harbinger: And remember the biggest foreign policy
[00:19:39] Ian Bremmer: crisis we had under the Trump administration was when, uh, the U S decided to assassinate.
[00:19:46] Qasem Soleimani, the head of the defense forces in Iran, because the Iranians were engaging in all these attacks, including against U. S. troops on the ground, um, in Iraq. So, you know, what we have seen from Iran, which doesn't have nuclear weapons and which has a much smaller economy
[00:20:05] Jordan Harbinger: than Russia and, and much, you know, fewer allies
[00:20:09] Ian Bremmer: tentacles into other countries around the world that matter to the U.
[00:20:12] S., we're now going to see that from Russia. And the we here does include the United States, if you want to talk about disinformation and espionage and cyber attacks. But I would focus more on Europe, I'd focus more on frontline countries. And the very fact that the Russians will engage in the kind of attacks against NATO, who they feel they are at war with, they're not losing to Ukraine.
[00:20:43] They're losing the NATO. They're losing to the Ukrainians that have been trained by, provided, you know, the most important military equipment by, huge amounts of intelligence, all of that. comes from NATO and the Russians are not doing well and they're really angry about it. And I can imagine a situation in the next six months where we get to a freeze of the active military fighting between Russia and Ukraine.
[00:21:10] But I can't see a situation where Russia comes back to the G7 where they start having their assets unfrozen. where they can start selling oil and gas again to the Germans, to the Poles, to these countries. And that means that the level of anger and confrontation That Russia and Putin feels towards NATO is a new normal.
[00:21:34] And that's what I mean when I say that this is like Iran. You know, by the way, Jordan, by far the closest we've come to a Cuban missile crisis in your and my lifetimes was just a few months ago. There was a British reconnaissance aircraft flying in international airspace above the Black Sea. And it was collecting intelligence on the disposition of Russian forces, providing that to NATO and to the Ukrainians.
[00:22:07] A Russian jet fighter in operation in the area locked its weapon systems on that British plane. The fighter pilot misunderstood the order from his superior and fired the missile systems at that point. We found that out through that Massachusetts Air National Guardsman, the cyber guy, the leaked documents.
[00:22:32] That's how we found all of this out. Um, but you have to understand, if the missile had not misfired, 38 British airmen are dead in international airspace at the hands of the Russian armed forces. Yikes. In the middle of a war with Ukraine. I mean, this is going to happen again. I mean, you know, people talk about, oh, are the Russians going to use a tactical nuke against Ukraine?
[00:22:58] I think that's fortunately a quite low risk, though it's higher than you want it to be. But the possibility that we will end up, I mean, in a Cuban missile crisis with the Russians because they see themselves as at war with with NATO. And okay, it's true that the Ukrainians are, you know, not using American weapons, at least we don't think they are, when they're using drone strikes against Moscow and residential neighborhoods in the suburbs and Belgorod and, you know, oil facilities in Krasnodar.
[00:23:33] But if you're Russian, Do you really see that
[00:23:36] Jordan Harbinger: as all that much of a difference? I don't think so. And I saw those drone strikes, or I heard about those drone strikes in Moscow, and that, that seems a little da like, is the juice worth the squeeze here for that? It seems like an escalation that doesn't have a lot of military significance but has a real danger of forcing Putin to respond in a way that nobody wants.
[00:23:57] Ian Bremmer: It's symbolic because it shows the Russians that Ukraine is prepared to do to Russia what Russia is doing to Ukraine. Keep in mind that those strikes have come on the back of, you know, days and weeks and months of Russian drone strikes and missile strikes against residential Towers, hospitals, schools in Kiev and other cities, and a hell of a lot of Ukrainian civilians, an estimated 40, 000 so far, are dead.
[00:24:24] So I have empathy with why the Ukrainians would do this, but the
[00:24:31] United States absolutely does not want Ukraine to engage in military strikes into Russian Federation territory for precisely the reason You just expressed and let's be clear that although the Ukrainians are getting enormous amounts, unprecedented amounts of support from the U. S. first and foremost and from the West, that does not mean that they are following U.
[00:24:58] S. orders or directives in how they fight them. Thank you. this war. Yeah. And there's not an enormous amount of trust at the operational level or even the diplomatic level between NATO countries and the Ukrainian government with Ukrainians fighting an existential battle they feel for the future of their nation.
[00:25:17] They're fighting against what they consider to be true genocide against the Ukrainian people. So this is a tough one, but as a consequence of that, it's also a very dangerous
[00:25:26] Jordan Harbinger: one. You mentioned that the use of tactical nuclear weapons. is low. And can you briefly tell us what a tactical nuke is? Because I know people have heard of nuclear weapons, obviously, but I don't know if people know the difference between tactical and strategic nuclear weapons.
[00:25:40] Ian Bremmer: I mean, it's smaller yield, it's smaller payload, but it is still vastly greater than the size of a nuke that blew up and leveled Hiroshima and Nagasaki. So people need to understand that a tactical nuke will ruin your whole day. And of course, uh, the Russians, Putin himself, the defense minister, former prime minister Medvedev, many others have both obliquely and directly threatened nuclear warfare.
[00:26:10] Against Ukraine and in some cases against the West in response to this war. There are Russian nukes that are being transferred under Russian authority to Belarus, a nominally separate sovereign state. tactical nuclear weapons across the Ukrainian border, a very clear message. Why would you be doing that unless you wanted a more credible threat that, Hey, I'm going to use these against you if you keep behaving the way I don't want you to.
[00:26:40] Right. If
[00:26:41] Jordan Harbinger: you keep winning. Yeah.
[00:26:42] Ian Bremmer: Yeah. I mean, I, now I would say no one, not just the America, the Americans, Biden has directly and his cabinet have directly put the Russians on notice that if a tactical nuke is used in Ukraine, that the Americans will directly get involved in the war. In other words, that the Russians will no longer have the capability to continue to fight against the Ukrainians.
[00:27:04] They have said that directly. And, you know, fortunately, it's not just come from the U. S., it's also come from China. The Chinese government has told Putin, and we know this because of Xi Jinping's conversations with the Germans, with the French, with the Americans and others, have told Putin in no uncertain terms, it is unacceptable for you to use weapons of mass destruction.
[00:27:28] It's unacceptable for you to use nuclear weapons. And so I do think that short of collapse. Of Russia's defenses were short of direct military strikes into tanks rolling into Crimea, rolling into the Russian Federation at scale, a true threat to the Russian homeland that they feel like they could not defend against.
[00:27:53] Otherwise, it is hard for me to imagine. An order to use a tactical nuke. The fact that we're even having a serious conversation about this shows you just how much we have regressed. since the wall came down in 89. You
[00:28:09] Jordan Harbinger: mentioned Crimea. Do you think that that's a real red line? I mean, I know they say it's a red line, but do you think Ukraine can't push Russia out of there without dire consequences or attempt to push Russia out without dire consequences?
[00:28:21] Ian Bremmer: So first, I don't worry much about it because Zelensky has told NATO leaders
[00:28:26] Jordan Harbinger: privately and
[00:28:27] Ian Bremmer: repeatedly that he understands. That Crimea cannot be taken militarily, that it needs to be a matter of negotiations. He is not saying, I accept that this is going to remain Russian annexed territory. But he's saying, I get that this is a negotiated issue.
[00:28:42] And for many reasons, first, because of the military
[00:28:45] Jordan Harbinger: presence that Russia has on the ground there. Secondly,
[00:28:48] Ian Bremmer: the fact that the majority of the
[00:28:49] Jordan Harbinger: territory is
[00:28:50] Ian Bremmer: overwhelmingly Russian, not just Russian speaking, ethnically Russian. Third, the fact that even under independent Ukraine. Crimea was an autonomously governed republic with their own parliament that had a Russian type tricolor that flew over it and, and they elected their own members of parliament and they were in charge of their own domestic policy, not foreign policy, but their own local policy.
[00:29:17] It was quite meaningful. So I do think that when you talk about Crimea, Yes, it was illegal for the Russians to annex it in 2014, but it is a wholly different question
[00:29:31] Jordan Harbinger: than the remainder of
[00:29:32] Ian Bremmer: Ukrainian territory.
[00:29:37] Jordan Harbinger: You're listening to the Jordan Harbinger Show with our guest, Ian Bremmer. We'll be right back. This episode is sponsored in part by Better Biome. Jen and I are thrilled to share our new find, Better Biome's knobs toothpaste tablets, it's a funny name, N O B S, like no BS, get it? They're better for you, they're better for the environment.
[00:29:53] Traditional toothpaste contains preservatives like parabens, which is an endocrine disruptor, and let's not forget about the plastic packaging that leaches phthalates. I talked about how these can adversely affect your health on episode 658 with Dr. Shanna Swan. Nobs, however, is different, created by a dentist and a chemist.
[00:30:09] It boasts of 13 pure and potent ingredients without unnecessary additions, all neatly packed in recyclable glass jars. It's basically tooth powder jammed into a capsule that you chew, and I find them delightful. A bonus? Most fluoride free toothpaste lack a remineralizing agent. Nobs breaks the mold. It has nano hydroxyapatite.
[00:30:28] A component safer than fluoride and naturally present in your teeth and bones, it's proven to curb tooth decay and significantly reduce tooth sensitivity. The use case is simple. You chew a tablet, wet your brush, and get brushing. You'll find it minty and foamy just like your usual paste, easy to adapt, and delivers excellent results.
[00:30:43] Try Knobs and make the switch.
[00:30:45] Ian Bremmer: Check them out at betterbiome. com slash Jordan. That's better B I O M, which is biome without the E, dot com slash Jordan. Listeners can enjoy 15% off one month supply of knobs. Betterbiome. com
[00:30:58] Jordan Harbinger: slash Jordan. This episode is also sponsored by BetterHelp. Making a career change, contemplating whether or not to start a family, maybe you're not sure whether or not to continue or end a relationship, whatever the juncture in life, therapy can help you map out your future and trust yourself to find the way forward.
[00:31:14] A lot of people. Especially, I used to think this as well, therapy, oh, it's for people who have serious traumatic experiences. I just have a decision to make, no big deal. Yes, it's great for that of course, but also quote unquote normies who are just going through some stressful times or big decisions We're all trying to figure this big decision life stuff out all these important little moves Engaging in therapy can be instrumental in mastering effective stress management techniques Establishing personal limits boundaries figuring out which path to go toward It's really really helpful for a lot of that life basic stuff and it's a great tool for unlocking your highest potential as corny as that may sound So if you want to dip your toes in therapy, I recommend BetterHelp.
[00:31:51] It's all online, no driving, no parking. It's easy to make an appointment and find someone to talk to. Answer a short questionnaire, you'll get paired up pretty much right away. And if you don't click, there are over 23, 000 certified therapists. So you can switch, no additional charge. Let
[00:32:06] Ian Bremmer: therapy be your map with better help.
[00:32:08] Visit better help. com slash Jordan to get 10% off your first month. That's better. H E L P.
[00:32:14] Jordan Harbinger: com slash Jordan. If you're wondering how I managed to book all these great authors, thinkers, and creators every single week, it's because of my network. And I'm teaching you how to build your network for free over at Jordan Harbinger.
[00:32:25] com slash. course. This course is about improving your relationship building skills and doing it in a non cringey way, a down to earth way, a way that's not awkward. It's not going to make you feel gross doing it. And many of the guests on the show subscribe and contribute to the course. Come join us.
[00:32:40] You'll be in smart company where you belong. You can find the course at Jordan Harbinger. com slash course. Now back to Ian Bremmer. I went on vacation there like 20 years ago and it was It was totally different than the rest of Ukraine where I was living at the time. I was just like a completely different vibe.
[00:32:59] The people all identified as Russian. I mean, it wasn't, it wasn't like, and I was in Odessa, which is also largely Russian folks living there, Russian speaking slash. And they were really like Jewish Jewish Jewish family there. Yeah. And so Crimea was, yeah, it did seem almost like a different, it was like the Balkans where you go from.
[00:33:17] Serbia to Montenegro, and you can feel it's very, it's different, but it's not so different unless you, if you're not paying attention, you might not notice, but if you're paying attention, stuff starts to stand out. So I, I understand that. Yeah, and
[00:33:28] Ian Bremmer: Crimea, I would even say that Crimea, and I've been there too, I think, uh, you know,
[00:33:32] Jordan Harbinger: the, I
[00:33:33] Ian Bremmer: did a bunch of survey research there when I was a grad student for all purposes, and this was, A lot of them didn't only think of themselves as Russian, they thought of themselves as Soviet.
[00:33:43] This was a group of people that really had nostalgia, were angry that the Soviet Union collapsed. That was absolutely not true anywhere else in Ukraine. That was not true in Donetsk. That was not true in Luhansk, in Dnipro. That was not true in other
[00:33:58] Jordan Harbinger: places where there were majority
[00:34:00] Ian Bremmer: Russian speaking populations on the ground.
[00:34:04] They
[00:34:04] Jordan Harbinger: did not feel that way. Interesting. Yeah, I remember taking a photo there. I dunno if this statue's still there, but there's a Lenin statue and he is got his hand up like this. And then like if you look at the right angle, there's a McDonald's, there's oppo, I think. Yeah, yeah. There's a McDonald's in front of it, which is hilarious in its own way.
[00:34:19] Like Lenin, I, I now give the. McDonald's. Um, I don't know if that Mickey D's is still there.
[00:34:26] Ian Bremmer: Well, it wouldn't, it wouldn't be a McDonald's. They have to, because remember they pulled out, so they had to, they, now they call it something else and I can't remember what they call it, but something, it's some ridiculous rip off
[00:34:35] Jordan Harbinger: of it.
[00:34:35] Is it? I wonder, I wonder if they just call it like Burgerland or if it's like McPootin instead and it's like clearly just a McDonald's without the official gear and even crappier Happy Meal prizes. You mentioned a coming world debt crisis among the global south, global south being, uh, let's define that first, but let's talk about what Ru Russia's war in the price volatility for food.
[00:34:58] What's going on here? Well, the
[00:34:59] Ian Bremmer: global south, uh, is, you know, sort of shorthand for the developing world, writ large. Mm-hmm. ,
[00:35:05] Jordan Harbinger: so it's Latin America, south America, central America, it's Sub-Saharan Africa.
[00:35:11] Ian Bremmer: All of it. It's India, it's Southeast Asia, it's not really Eastern Europe because of the EU, but it's basically all those countries that we sort of consider to be lower and middle income.
[00:35:23] Got it. And China is not really the global South. In fact, China is the largest net creditor to the Global South, which owes a lot of debt that increasingly they can't pay off to China. And you would have considered China a part of the Global South if that had been a term of art 10 years ago.
[00:35:43] Jordan Harbinger: So it shows you how quickly these things actually move.
[00:35:46] Now there's no question that even though a very strong majority of all the countries in the
[00:35:52] Ian Bremmer: world, including the Global South. voted to condemn Russia's invasion of Ukraine, but almost
[00:35:59] Jordan Harbinger: none of the global South countries support the sanctions against Russia. And that's
[00:36:05] Ian Bremmer: because they're taking those sanctions in the teeth.
[00:36:08] Cause it's costing them in terms of food
[00:36:12] Jordan Harbinger: and
[00:36:12] Ian Bremmer: fertilizer and fuel. And that really hurts on the back of two, three years of pandemic, all of the supply chain challenges, higher levels of indebtedness.
[00:36:25] Jordan Harbinger: interest rates
[00:36:26] Ian Bremmer: through the roof and debt they can't service. So, I mean, it should be no surprise. And not only that, but the fact that the West is seen as providing all of this money for Ukraine and yes, illegally invaded by Putin, very, very wrong morally, uh, international law on any circumstance, but how many would the West, would the West have done as much if these weren't white people in Europe?
[00:36:54] And almost no one from the global South believes that's true. Yeah. Interesting. They think this is hypocrisy. They think this is a revealed preference that, you know, they've seen climate change going on and the Americans and the Europeans promising a hundred billion dollars, um, to support the developing world for climate change.
[00:37:12] Uh, you know, 10 years later, only 15 billion is committed, but the Ukrainians get a hundred billion in the
[00:37:17] Jordan Harbinger: first year.
[00:37:18] Ian Bremmer: What's that all about? So if you talk to South Africa, or Brazil, or even Mexico, and I've spoken with the leaders of all these countries in the past months, they will all tell you, this is bullshit.
[00:37:30] And frequently they won't be that polite about it. And they say, why should we support the U.
[00:37:35] Jordan Harbinger: S. on this policy? It seems like the gap between the haves and the have nots globally will increase a lot. Because you mentioned we're going to have a stalemate, most likely in Ukraine, that's going to lead to...
[00:37:46] cyber attacks and asymmetric warfare, whatever. But that means the sanctions are going to stick around those sanctions that are hitting these poor countries. I mean, this could be like 10 years of sanctions. These countries are going to have what less fertilizer, less food, less fuel or higher fuel prices.
[00:38:03] That seems like it could grow into a huge, huge issue, not just for those countries, but for the, I mean, you're talking about, you think immigration is bad now, illegal immigration, I should say, is bad now, wait till they can't feed their families, and it's dangerous, or they can't get food, and it's, it's also completely dangerous and too hot and they can't grow there.
[00:38:25] I mean, it's gonna just get a lot worse. I would imagine. Generally speaking,
[00:38:29] Ian Bremmer: I think it will get worse for the developing world. I do think that gap is growing. On the other hand, the first six months, nine months of this war were a lot worse for the developing countries. then what we see right now. Why is that?
[00:38:44] Well, first, because the president of Turkey, Recep Erdogan,
[00:38:48] Jordan Harbinger: who just
[00:38:49] Ian Bremmer: won a reelection again, and the UN Secretary General, Antonio Guterres, worked very hard with the Ukrainians. and the Russians governments at the highest levels to secure a food and fertilizer deal that removes the sanctions from Russian food and fertilizer export in return for the Russians allowing all of those ships of food and fertilizer to get out of Odessa, Ukraine's major port and through the Black Sea.
[00:39:24] And that has meant that those prices, which were sky high when the Russians first invaded, are now coming down significantly. That's a big deal. Now on oil and gas, it is true that there are significant sanctions that have been put on in place by the Europeans. And if the Europeans aren't buying Russian gas, that gas will be flared because it has nowhere to go.
[00:39:50] The Russians don't have infrastructure to pipe it anywhere else. That means those prices will go up. The Europeans will be able to afford gas from other places. That will price the developing countries out. So Pakistan can no longer afford to buy gas. And they're moving to more coal precisely because of the war and the Europeans can price them out.
[00:40:10] On the other hand, you know, you've got the Indians buying massive amounts of discounted oil from Russia, and they're actually providing more refined product from Russia into India. to Europe. So Europe is getting now significantly more energy through India from Russia. Now they're not buying it directly from Russia.
[00:40:34] And so it is a little more complicated because at the end of the day, so many of the commodities we're talking about. are on global markets, and if it's a global market, and the entire global South is prepared to buy and not put sanctions on and the Americans and the Europeans are not prepared to put secondary sanctions on those countries, then the Russians are going to export, which goes back to what you and I were talking about at the beginning.
[00:41:01] Why is it that the Russian economy has proven more resilient than a lot of people expected? Number one, it's because most countries in the world are still buying stuff from Russia, and they need it. Number two, the West tolerates that because the alternative would be much more painful for the West, too.
[00:41:19] And number three, because it turns out that for all of the incapacity... and incompetence that the Russians have in running their military, the Russians actually have pretty good people running their economy. The central bank governor, the minister of finance, the technocrats underneath them, and that has stood them in reasonably
[00:41:37] Jordan Harbinger: well stead.
[00:41:38] Yeah, the central bank governess, uh, she, she's like a really talented genius.
[00:41:43] Ian Bremmer: She is. Really, really impressive. She's been respected by the West for many, many, many years. Yeah, when
[00:41:48] Jordan Harbinger: I saw what she was doing, I was like, oh my, she knows, this is something she's. This is not her first rodeo with something, gaming this out, and then, yeah, just very, very talented.
[00:41:58] I mean, and I, I always caveat these episodes with, I had to separate the Russian people from the Russian government, because pretty much every Russian that I know, especially, I mean, look, selection bias, they live in the United States or the West, or they talk, they listen to my show and they email me.
[00:42:11] They're extremely talented, and they're very, very capable people, and, but for their crappy ass governments that they've had for, since the dawn of time, They would be in a totally different position. And we wanted them to be in a totally different position with Boris Yeltsin and then now Putin. And it's really a shame because the biggest victims of Russian aggression is always the Russian people.
[00:42:34] Now it's the Ukrainians, sure. But it's, it's like China, which we'll move on to next year. The biggest victims of the CCP, the Chinese Communist Party, it's always Chinese people. So I always caveat when I talk about China that I'm not talking about your Chinese neighbors or the people that you know who live there.
[00:42:48] It's the government officials that are robbing those people blind and throwing them in jail because of the whatever they put on Weibo that morning. So
[00:42:56] Ian Bremmer: let me transition there then because I mean, I would argue if you look at all of the geopolitical headlines
[00:43:03] Jordan Harbinger: that are so disturbing in
[00:43:05] Ian Bremmer: the world today.
[00:43:07] I would argue that they come primarily from three different factors that are structural features today. The first is that after the Soviet Union collapsed, Russia was not integrated into the West. And you and I can debate who is responsible for that because some of it is the West not caring. And some of it is Russia being kleptocratic and incapable.
[00:43:31] But either way, like that didn't happen. And it did happen for a lot of the other badly governed East block countries. And as a consequence, the Russians are really angry. They are in decline and they are mad at the West. They blame the United States and Putin. You know, Uber, Alice, first among everyone.
[00:43:51] Secondly, China was integrated into Western led institutions on the largely unspoken presumption that as they got wealthier and more powerful, they would become
[00:44:02] Jordan Harbinger: Americans. Yeah. Or, or at least democratic or something. And that just did not happen at all. Turns out
[00:44:08] Ian Bremmer: they're still Chinese and the United States is not actually prepared to accept that.
[00:44:12] Right? They're not prepared to accept a really powerful, wealthy China that is still authoritarian and state capitalist. And then third, is the fact that while those two big things were happening, and they're both deeply problematic, the West, the democracies in the wealthy countries, were themselves eroding.
[00:44:30] With, you know, tens of millions of people in their own countries saying, we feel like our governments are kind of illegitimate. They're not really getting it done for us. And you put those three things together and you get well over 90% of the geopolitical challenges in the world today. And these are complex things that do not.
[00:44:50] You know, they don't lend themselves to a quick soundbite response. Oh, we could fix it if we only had leader X. They're deeper than that. It took us decades to get to this situation. And it's probably going to take us decades to dig out of it.
[00:45:04] Jordan Harbinger: I agree. Uh, I wonder how we're going to get out, especially risk number two.
[00:45:08] I don't know how many we're going to get through. We spent a lot of time on Russia, but hey, whatever. Risk number two, Xi Jinping. He concentrated his power. Got rid of a lot of his rivals, there were different factions in government that looked like they were maybe keeping others in check, those are gone now.
[00:45:24] So he's got bigger unchecked power, which makes the regime, the country more flexible, able to make decisions faster, but it also, whenever you have the ability to make a decision without anybody coming and calling it into question or saying, hey, maybe that's a bad idea, you've got worse information coming to the top, which makes your mistakes bigger and faster.
[00:45:44] And we see that all the time with dictators. I mean, this Putin is a classic example. He probably had no idea that his tanks were full of egg crate carton, whatever, instead of armor, and that his missiles from his airplanes weren't going to fire because the guy making the propellant poured vodka in there instead of.
[00:46:02] Whatever was supposed to be in there, right? I mean, and I'm joking, but I'm also not joking. I mean, you're not joking. It's that bad Yeah, it's that
[00:46:08] Ian Bremmer: bad. The Russian military is falling apart. China, of course, has for the last of 40 years Confounded many in the West precisely because they have been able to develop world class technologies and companies and even beat the United States in many core areas Not just from stealing stuff.
[00:46:30] There's been plenty of that, but also from educating people. Also from working really hard. Also from learning from companies that are world class and applying those lessons to Chinese corporations. So it's an authoritarian state, but it also has a fairly robust private sector. And the question is, under Xi Jinping, consolidating all that power, And not with technocrats giving him counter information, will that persist?
[00:47:00] Or will we start to see some of the big mistakes that the Russians have been making? Because of course, when we saw them move from zero COVID to maximum COVID almost overnight, they did not execute well on that plan. Local officials did not know that was coming. The hospitals weren't ready. And that, you know, that, that showed poor execution.
[00:47:23] That historically, the last 10, 20 years, the Chinese Communist Party would have done a better job at sure. And how much of that is directly on Xi's shoulders and who the hell in the Chinese Communist Party is going to have the stones to tell him that?
[00:47:37] Jordan Harbinger: Yeah, it's tough. I do worry that a COVID variant or another type of disease could easily come out of China and surprise the world because they're not going to test for it.
[00:47:44] They're not going to report it if they find it. They're not going into, I mean, they did this with COVID and now they know that the fallout from being blamed for it after the fact was. high enough and that their economy took a big enough ding, it seems like now almost their best strategy, if they don't care about being good team players globally, which they don't, is going to be ignore it and blame someone else.
[00:48:04] I mean,
[00:48:05] Ian Bremmer: certainly we saw a
[00:48:07] Jordan Harbinger: complete unwillingness. to work with the World Health Organization. They treated them as patsies. Mm hmm. That they had influence over because they were writing checks. They refused to allow a free and open investigation, uh,
[00:48:19] Ian Bremmer: by the WHO. They didn't
[00:48:20] Jordan Harbinger: tell their own people, never mind the international community, that there was human to human transfer happening for months.
[00:48:27] Ian Bremmer: And that gave us, you know, uh, it meant that we had one hand and one leg tied behind our back to
[00:48:32] Jordan Harbinger: fight this thing
[00:48:33] Ian Bremmer: when it first came out. And that's, you know, that's not the way you want to fight this thing. a global pandemic. Of course, you also don't want the United States under President Trump at the time to withdraw from the World Health Organization.
[00:48:45] That's, that's not exactly the way you want to fight a pandemic. Look, we, we just didn't coordinate. We've got 8 billion people on this planet. It's a singular disease that does not respect international borders, boundaries, and sovereignties. And we acted as if it did. And we, we ended up losing a lot more money, a lot more people as a consequence
[00:49:05] Jordan Harbinger: of that.
[00:49:06] I think you wrote this, she knocked off something like a trillion dollars from the Chinese market, or the global market, by messing with large Chinese companies, separating them, scaring international investors away through mercurial policy decisions. That's a huge, huge amount of money. It's hard to overstate that.
[00:49:25] There's
[00:49:25] Ian Bremmer: definitely now, A charm
[00:49:28] Jordan Harbinger: offensive going
[00:49:29] Ian Bremmer: on post
[00:49:30] Jordan Harbinger: zero
[00:49:31] Ian Bremmer: COVID, where the Chinese, they're not meeting with the U. S. Secretary of Defense, but they are meeting with the Secretary
[00:49:38] Jordan Harbinger: of Commerce. That's a very clear message.
[00:49:40] Ian Bremmer: They're going and they're meeting a lot of CEOs. Jamie Dimon from JP Morgan just went through.
[00:49:46] Elon
[00:49:46] Jordan Harbinger: Musk from Tesla just went through talking to the
[00:49:50] Ian Bremmer: Europeans and, you know, very large numbers saying, we are open for business. And, you know, that is a message that most of the business community still wants to hear. Why? Because the Chinese economy is expected to be the largest in the world by 2030.
[00:50:07] And a lot of people still want to have a lot of exposure to that market. But people are more cautious than they were. Businesses
[00:50:17] Jordan Harbinger: are more cautious.
[00:50:18] Ian Bremmer: They're more cautious in part because the United States is politicizing the relationship Democrats and Republicans export controls on semiconductors, you know, saying we need to near shore and friend shore on critical minerals, for example, and the Inflation Reduction Act, all of these things.
[00:50:37] But also Because Xi Jinping and China are making it harder for people, for companies to understand what kind of risks they're taking by investing on the ground in China and whether those rules and regulations will suddenly change. And, you know, uh, suddenly a group of raids into a consulting firm or Bain Capital or others.
[00:51:03] Taken by the Chinese government that that'll chill your day as a Western corporation. And so definitely that charm offensive, not withstanding, I know a lot of Western CEOs that are saying, I think I want to be more cautious about how much more money I want to put into China. I'm not going to take everything out, but I'm not sure that this is, this is a big safe bet that I want to be making
[00:51:28] Jordan Harbinger: going forward.
[00:51:29] That's an interesting development and possibly a good one because it does put The CCP on note or Xi Jinping, at least on notice that you're not the only game in town. You know, India is a good place to manufacture things. Vietnam's a good place to manufacture things. Maybe we spread it out a little bit, which gives them less leverage, which typically makes dictators.
[00:51:49] At least think a little bit about what they're doing it rather than just strong arming everybody. I guess time will tell behave
[00:51:54] Ian Bremmer: better India is going to grow at seven plus percent this year by
[00:51:59] Jordan Harbinger: far the fastest growing major
[00:52:01] Ian Bremmer: economy in the world After decades of us tech companies paying no attention to india You've got Apple on the ground,
[00:52:07] Jordan Harbinger: Amazon on the ground, Cisco on the ground.
[00:52:09] You've got all these big
[00:52:10] Ian Bremmer: Microsoft, these big, big tech companies that are betting substantially on India, and that is money that would have gone into China five years ago or 10 years ago in the case of most of those corporations. So I think definitely that makes the Chinese want to be more competitive.
[00:52:28] It also makes them want to be more effective for those companies. But at the same time, there is a level of. The term of art now is de risking, where you're taking out some of the critical U. S. and other investments into China that makes the Chinese say, well, we need to invest in all this just for ourselves.
[00:52:49] Right. And if you don't do business with each other, you don't have that level of interdependence. And you don't care about each other as much, you might be more willing to put sanctions on, right? It was so easy for the U. S. to put sanctions on Russia because the U. S. wasn't doing business with Russia.
[00:53:03] China's a lot harder. So interdependence, I mean, you don't want to suddenly get rid of interdependence between the two countries because that also creates
[00:53:11] Jordan Harbinger: danger. Right, yeah, that does make sense. Right now, you, you see stability, well, at least, I mean, we'll talk about Taiwan, I guess, in a bit, but you see stability here because As much as the rhetoric says we're gonna militarily retake Taiwan and they're launching missiles into the sea and killing a bunch of fish at the end of the day, it's like, how bad do I want this?
[00:53:30] Do I want the entire economy of China to go into the toilet? Maybe not yet. Maybe I'll just bluster more on national TV instead of actually invading. And that might be why we don't see a war or conflict over Taiwan yet, because he doesn't want the economy to immediately implode. But as the de risking happens on both sides, that becomes a little bit less of a danger.
[00:53:54] Let's discuss AI in social media. I know AI is trending and people are probably rolling their eyes right now, but it's not just AI. It's actually AI plus other tech that is risk number three. Can you speak to that a little bit? Yeah,
[00:54:06] Ian Bremmer: it's the first time that we used AI to write
[00:54:09] Jordan Harbinger: the title of the risk. Uh, we use chat GPT,
[00:54:12] Ian Bremmer: weapons of mass disruption.
[00:54:14] And, you know, this, this, the idea that there are these significant risks that were not on the geopolitical stage before because of the role that advanced disruptive technologies led by AI create. There are four of those. Four areas of risk, specifically that I would focus on. The first is disinformation, where increasingly human beings cannot distinguish between a bot and another person.
[00:54:49] That's already largely true with texts and conversations. It will soon be true for videos and audio recordings. And, you know, you can just imagine, we already saw. You know, this, um, fake photograph of AI generated an explosion outside the Pentagon that took 500 billion off of the, uh, the S and P in 30 minutes.
[00:55:12] I didn't even hear
[00:55:13] Jordan Harbinger: about that at all.
[00:55:14] Ian Bremmer: Oh, that's recently happened and it was a, it is a big deal, right? And it was it. would have known it was a fake that wouldn't be true in another six months. Wow. Um, but that didn't stop it from going viral and making people panic. And a lot of, a lot of establishment media actually running with the story.
[00:55:34] Um, and same thing is true with, you know, faking, uh, information around elections, faking information around market movers, all these sorts of things. Secondly, is proliferation. The fact that increasingly these tools are in the hands of just about anybody. It's not just a couple big governments. It's not just a few large technology companies.
[00:55:59] It's anyone That has access to a laptop with a little bit of coding savvy So hundreds of thousands soon millions of people that will be able to tinker or destroy Using these tools, and some of these tools are about disinformation, some of these tools are about releasing really bad malware through coding that you can have AI do, or through, you know, constructing your own smallpox virus, which today, over a hundred people have the technology And the knowledge to do and through AI, that's going to expand exponentially.
[00:56:33] A third is the displacement risk. It's just how quickly people will see their jobs go away because of AI tools that are replacing their talent space. Now. I am certain that many, many, many other jobs will be created from working with AI and the productivity that comes, but you still need to retool those people.
[00:56:54] And if you don't, they become very angry. We saw that happening with free trade and we saw that happening with robotics and automation. This is much bigger, much faster. And then finally, and the one that people don't talk about, and the one that I really am very concerned about is replacement. Replacement of human to human interaction with human to bot interaction, taking social animals and making them into anti social animals, which I see happening very quickly.
[00:57:22] It's deeply addictive. It's something that is very aligned with the business models of these social media companies. And the governments have shown no inclination so far to try to constrain or contain. And I think that's how you lose your democracy. And I, I, I don't yet see, uh, anyone really trying to do anything
[00:57:42] Jordan Harbinger: about it.
[00:57:42] That does lead to risk number eight, and we'll get back to Iran if we have time, the divided United States, because I remember having mild political disagreements when I was younger. I mean, younger people maybe didn't talk about this stuff as much. And now I can't tell if it's just online, but I know people that some of my real life friends just have crazy extreme views on the left and the right.
[00:58:06] And it's exacerbated by online conversation, which now seems completely pointless. I mean, you can talk to somebody who you think I'm not even sure of what I'm talking to about online to your earlier point, some of the stuff where you'll be talking and on Twitter and then somebody comes on and they're like USA, Patriot, Eagle Claw, number 74.
[00:58:25] Whatever. And their verified account on Twitter. Right, now they've got a blue checkmark, which makes no sense. Well,
[00:58:30] Ian Bremmer: no, it makes a lot of sense. Well, yeah. Depending on what you're trying to do. Sure. I mean, if you're trying to defeat and destroy mainstream media with something that is more that you are in control of and own, it makes a lot of sense.
[00:58:44] Jordan Harbinger: This is the Jordan Harbinger show with our guest Ian Bremmer. We'll be right back. This episode is sponsored in part by Rocket Money. You know those sneaky subscriptions? 80% of people have subscriptions that they've forgotten about and it infuriates me when I find one like a year later and I'm like, I've paid these guys 180 for this crap.
[00:59:01] I'm so pissed. If you don't know how much you're spending each month, it's time to rock it into financial clarity with Rocket Money. It's a handy app that tracks your expenses, ensuring you know precisely where your hard earned money is flowing. Rocket Money is a personal finance app that finds and cancels your unwanted subscriptions.
[00:59:17] It monitors your spending. It helps you lower your bills all in one place. Forget about soul crushing hold times. Customer service, email, tennis, you know they do that crap on purpose. With a mere tap, you can cancel unwanted subscriptions. RocketMoney can also help you negotiate your bills down by up to 20%.
[00:59:33] Snap a photo of your bill, let RocketMoney do its thing, join over 3 million savvy users who, thanks to RocketMoney, are on average saving 720 every single year. Stop wasting
[00:59:43] Ian Bremmer: money on things you don't use. Cancel your unwanted subscriptions and manage your money the easy way by going to rocketmoney. com slash jordan.
[00:59:51] That's RocketMoney.
[00:59:52] Jordan Harbinger: com slash Jordan. RocketMoney. com slash Jordan. This episode is sponsored in part by Airbnb. Whenever we travel, we enjoy staying at Airbnbs. I love that many properties come with amenities like a kitchen, laundry machines, free parking that's not frickin 60 bucks a night, having a backyard is nice, especially when we bring the kids around.
[01:00:12] We've stayed at an Airbnb in Kauai that had like an outdoor shower, so we built one at our own house as well. And we find that Airbnb hosts often go the extra mile to make our stay special. They provide local tips, personalized recommendations, sometimes a welcome basket. I know you guys are sick of my banana bread story, so I'll spare you on this one.
[01:00:30] There are a lot of benefits to hosting as well. You might have set up a home office. Now you're back in the real office. You could Airbnb it, make some extra money on the side. Maybe your kid's heading off to college in the fall. You're going to have that empty bedroom. You could Airbnb it. Make a little cash while they're away.
[01:00:44] Whether you could use a little extra money to cover some bills, or for something a little more fun, your home might be worth more than you think. Find out how much at airbnb. com slash host. This episode is also sponsored in part by GiveDirectly, kinda sponsored, if you haven't heard yet, we're doing a special partnership with GiveDirectly, it's an amazing charity, they are rated highly on Charity Navigator for using their funds efficiently and effectively, it's not like where half your money goes to some dude who has a boat.
[01:01:10] Thanks to your incredible generosity, within 72 hours of our initial fundraiser, after our Rory Stewart episode, we successfully raised our initial goal of 20, 000, which was matched. to 40, 000. So awesome. We decided to increase the goal and lift another village in Kenya, this time in Cap Cun, Kenya, out of extreme poverty by delivering cash donations with no strings attached.
[01:01:32] They are going to build businesses with this. I know people are like, wow, don't they waste the money? If you haven't heard episode eight 67 with Rory Stewart, go back, check it out. He explains why giving cash works, why the regular aid model doesn't work, what extreme poverty is really like. We have poor people in the U.
[01:01:48] S. Why not help those people out instead? Really eye opening stuff in episode 867. But I encourage you, I implore you to be generous with those over in Kenya who don't have running water or electricity and sometimes not even houses and just want to send their kids to school. Three dollars a semester, folks!
[01:02:04] Go to givedirectly. com slash Jordan to donate donations are 100% tax deductible in the U. S. for those listeners not in the U. S. Here's your chance to support the show. Givedirectly. com slash Jordan. If you like this episode of the show, I invite you to do what other smart and considerate listeners do.
[01:02:21] Which is take a moment and support our amazing sponsors. All of the deals, discount codes, and ways to support the show are at jordanharbinger. com slash deals. You can also search for most sponsors using the AI chatbot on the website at jordanharbinger. com slash AI. And if you're really lazy, just email me.
[01:02:37] I'll send you the code because it's that important that you support those who support us. Now, for the rest of my conversation with Ian Bremmer. You'll talk to somebody there and they'll parrot Chinese. or even just Russian propaganda. Hey, we need to, they'll say something like, Oh, here's a quote from, and it's like South China Morning Post, which is now owned by the Chinese Communist Party, or at least China in general.
[01:03:00] And it'll say, Oh, the Pentagon is funding bio labs in Ukraine. And this is just a general thing that everyone now knows. And it's like, well, okay. So I looked that up because I thought, Oh, okay. This is something that I've heard about. Let me look at this. And it turns out it's just not. Okay. Oh, well, the, the Chinese are just telling us stuff.
[01:03:18] The Pentagon won't. And I'm like, so wait, let me get this straight. Patriot Eagle claw, the most American guy on Twitter is now parroting Chinese propaganda to tell me that the U S government is hiding stuff from us. And the Chinese are telling us the truth. This just does not check out at all. I
[01:03:34] Ian Bremmer: got the same thing from when Seymour Hirsch.
[01:03:37] Who used to be a respected journalist put out this, uh, very poorly sourced story on how, uh, the Americans with a secret, you know, sort of special forces group and the Norwegians were responsible for blowing
[01:03:54] Jordan Harbinger: up
[01:03:54] Ian Bremmer: the Nord Stream 2 pipeline. And I would tell you that, first of all, you were getting the same eagle claw.
[01:04:01] People that were parroting, you know, pro Russian,
[01:04:04] Jordan Harbinger: anti U. S. stuff online, and a lot of that
[01:04:07] Ian Bremmer: was surely bought in troll farms being paid for by the
[01:04:10] Jordan Harbinger: Kremlin or those that are aligned
[01:04:12] Ian Bremmer: with them. But I would say that this also became, it was accepted basically as truth by almost the entire literati in the global South.
[01:04:25] Because it went, went against the American narrative and it was being promoted by someone that was seen to be a legitimate journalist, who's kind of lost his shit in the last 10 years, but nonetheless, right? And so, this is something I care about, and so I did a fair amount of actual primary research to debunk this story, which was abundantly and 100% debunkable.
[01:04:47] And I put it out. And I think it made a difference because I'm known in this field and I've got, you know, 7 million total followers or whatever, but still, overall, overall, I was pissing in the wind. You know, the, the reality is that, you know, you can get 10 15% of the population that's really interested in understanding, like, what's actually happening out there, but it's a lot of work, they won't bother in many cases, and most other people that are online, are just more comfortable and driven algorithmically by just accepting as true stuff that they already aligns with what they believe and the people that they like.
[01:05:26] And that is something that social media amplifies in a particularly inhuman way, productizing citizens for their own profit. And at the expense of our democracy, and I, I'm deeply concerned. I don't, in other words, I, Jordan, I think that everything you just said is completely true. It is absolutely new. It is so much worse than it used to be, and it is driven by algorithm.
[01:05:51] And
[01:05:51] Jordan Harbinger: it's not just the United States. That's probably a whole separate show, but it's not just the United States. Canada. Also becoming way more polarized. And this, I kind of didn't expect this. The Ottawa trucker riot. Same thing. When I saw the trucker riot, I had Canadian friends of mine be like, this is the beginning of the revolution.
[01:06:05] And I'm like, what the hell are you talking about? And then, you know, this is, we don't have freedom here. We're turning into North Korea. And I was like, wait a minute. Just, can you take a breath and calm down? But when the U. S. sneezes, Canada
[01:06:17] Ian Bremmer: catches a cold. Brazil, insurrection, January 8th, same
[01:06:21] Jordan Harbinger: thing. It's scary because...
[01:06:23] It's almost like we're setting this example for really crap behavior in a democracy and other places are going, well, if it's happening over there, why don't we do it? No, no, no, no, no. I
[01:06:31] Ian Bremmer: wish that's all we were doing. We're actually exporting it. The United States is the principal exporter in the world of tools that destroy democracy.
[01:06:40] It is not the intention of the U. S. government. It's not even the intention of the corporations. It just happens to be a secondary effect of the business model. And they, these companies, are not paying for the externalities.
[01:06:54] Jordan Harbinger: That's a really good point, right? It doesn't really matter. They need more cliques.
[01:06:57] It doesn't matter if it turns out that those cliques came at the expense of two factions shooting each other at some protest somewhere. They don't... Really? It's like
[01:07:08] Ian Bremmer: climate change. Yeah. I mean, you know, we had oil and gas companies that we needed. We needed those companies. We didn't want to destroy those companies.
[01:07:13] They were driving incredible wealth, cheap energy, allowed like humanity to flourish as never before, but they were not paying for the cost of dumping all of this crap into the atmosphere. We paid for that. You and I paid for that, Jordan, and citizens all over the world. And until. We recognized what was happening and forced them to bear some of those costs they were not going to.
[01:07:38] And that's what's happening in social media today. We need these technology companies, and it's not just because of jobs. We actually do need the, the innovation that they drive. We need the algorithms. They're going to make people live longer. They're going to make the world more efficient. They're going to lead, reduce waste.
[01:07:57] Um, they're going to lead to faster energy transition. They're going to improve food production, but they are destroying the social fabric. Of our communities, of our governments, and they are not paying for that. These
[01:08:11] Jordan Harbinger: tools used to be, well, I guess sometimes they still are, they used to weaken authoritarian regimes, right?
[01:08:17] You could get information to Iranians via Twitter or whatever, and now it kind of seems like there's a flippening. Where now they're weakening democracy and being controlled by authoritarian regimes. Just one recent example was Turkey said, Hey, can you get rid of all the bad information about us on there?
[01:08:35] We have an election coming up. And it was like, okay. A week before
[01:08:38] Ian Bremmer: the election, Twitter said
[01:08:39] Jordan Harbinger: fine.
[01:08:39] Ian Bremmer: It's insane to me. And Elon's perspective was, well, hey, I want to still do business there. That's a business decision. In the same way that like, you know, Tesla's going to do a lot of business. We talked about, uh, uh, SpaceX.
[01:08:51] You know, if Taiwan. Had cyber attacks against them, Starlink will not be made available to soldiers on the front lines in Taiwan, to the sailors and the rest, because, because Tesla would be shut down by the Chinese government, which means that the United States government now has to consider, well, would we need to take that technology by force majeure?
[01:09:14] Do we have to develop competing technology because we can't afford? I mean, these are, these are real questions that need to be asked. When the companies cannot make these decisions. That
[01:09:24] Jordan Harbinger: reminds me of, and you'll know this example better than me, during World War II, wasn't it Standard Oil that was selling petroleum to Hitler?
[01:09:31] And he's like, well, I got a contract. And he just, I think the president had asked the, of the United States, had asked the CEO of Standard Oil to stop doing that. And he said, no. I gotta keep selling to Hitler, I got an agreement with him. And
[01:09:41] Ian Bremmer: Alcoa, they wanted to keep prices up, so they artificially depressed, um, the production of aluminum, which meant that the United States did not have the production they needed for Lend Lease, and the Germans almost won as a consequence of that.
[01:09:57] The Americans had to break them up. Look, in times of crisis, the U. S. can get this right. But this does not feel like World War II. And to be fair, it's not. It's not, yeah. And that means that it's going to get a lot worse before anyone really does anything
[01:10:10] Jordan Harbinger: about it. That's not great news. All right. In the last few minutes we have, let's talk about Iran because, look, there's massive protests there.
[01:10:18] But, the nuclear deal's off the table, they're enriching uranium, the protests are unlikely, at least in my crappy amateur opinion, to really overthrow a regime, because they don't have a leader, they're not coordinated, the government there is really oppressive and really strong and really dug in. I, what do you think?
[01:10:37] Yeah,
[01:10:37] Ian Bremmer: I agree with that. Um,
[01:10:38] Jordan Harbinger: though, um,
[01:10:39] Ian Bremmer: you didn't mention... The Chinese recently brokered, and I use that term advisedly because I think the deal would have happened anyway, an agreement to normalize diplomatic relations and a bunch of other things between Iran and Saudi Arabia. Yeah, I saw that. That's incredible.
[01:10:55] And it's a big deal. And by the way, the Chinese do not want the Iranians to develop nuclear weapons. The Saudis don't either. It looks like we're moving closer to a lasting ceasefire in Yemen, where the Iranians and Saudi Arabia might be able to finally put that horrible humanitarian crisis and devastating conflict to bed.
[01:11:18] And, uh, you know, if the Saudis normalize with Israel, and we're getting close there too, you might have a situation where the, like, the fact that the Americans don't want to be the policemen in the Middle East. And the countries in the Middle East are like, we got to get our shit together. And they're actually like becoming a little more pragmatic on both sides, on both sides.
[01:11:39] And that's, that's not a horrible thing. So I do think that, you know, as much as the Iranians have been developing more highly enriched uranium and stockpiling it, there are structural reasons why they are. unlikely to go past
[01:11:55] Jordan Harbinger: two week, whatever breakout zone into actually developing and deploying
[01:12:00] Ian Bremmer: nuclear weapons.
[01:12:01] Jordan Harbinger: Why is that something you can explain in a couple of minutes? Because I have no idea. Because they're in better
[01:12:05] Ian Bremmer: geopolitical position now because they, that, that agreement they have with the Saudis goes away. If they suddenly go nuclear, I see they want. the economic development. They want the stability.
[01:12:18] They've been paying for the fighting in Yemen. They don't need that proxy war anymore. So in other words, as much and also because the Iranians have enough problems at home and it's expensive and their economy is crap, do they really want to have to spend bad money? After good or good money after bad is the term on this proxy warfare, or would they rather actually have some more cash to throw at supporters on the ground in Iran, which allows them to have a better shot of
[01:12:46] Jordan Harbinger: maintaining their repressive theocratic regime?
[01:12:49] I do wonder if I mean, Ayatollah Khamenei is what, like 83 years old or something? 80 plus. Yeah, I
[01:12:57] Ian Bremmer: think he's like, he's not looking good right
[01:12:58] Jordan Harbinger: now. Yeah. Yeah, he's been he's in a high stress position. He probably grew up. Without the greatest of healthcare, I would imagine, for a guy his age living in Iran, right, he's lived through a couple revolutions, like any day now is what I'm getting at.
[01:13:10] What happens, because he hasn't named a successor, so, the Revolutionary Guard Council, I mean, they're... I always worry whenever there's a military subgroup that's really powerful and has their stuff together and is full of middle aged or young guys that hold a lot of guns. And then there's some old leader who's just waiting to kick the bucket the next time he goes to the bathroom.
[01:13:30] I mean, that could, we could end up with a worse Iran that's controlled by the military, or am I overreacting? The
[01:13:36] Ian Bremmer: IRGC,
[01:13:37] Jordan Harbinger: you know, the, the Revolution Guards Corps, um, have a lot of influence and
[01:13:41] Ian Bremmer: power. They do act, not just as a backstop, but also as a constraint. on theocracy.
[01:13:50] Jordan Harbinger: And I agree with you
[01:13:52] Ian Bremmer: that, for example, if it looked like the demonstrations were continuing to grow and become out of control, and not just in Kurdish areas, but even in Tehran, right?
[01:14:05] I think it's quite possible that Khomeini would have been sidelined and the IRGC would have taken over. I'm not sure that, you know, from a geopolitical
[01:14:16] Jordan Harbinger: perspective, in other words, looking at people outside
[01:14:18] Ian Bremmer: Iran, you would have viewed that government as all that different. It would have been, you know, differently repressive on the ground.
[01:14:28] They wouldn't have had the same problems in terms of, um, you know, having to wear a veil. Um, but they would have had, you know, sort of absolutely no nonsense on
[01:14:39] Jordan Harbinger: curfews and, you know, sort of, there'd be plenty of executions for political reasons,
[01:14:44] Ian Bremmer: for other reasons. So I, you know, you and I would not want to live in a country like that.
[01:14:49] This is not moving towards reformist Iran. And, you know, you mentioned before, um, Jordan, that, you know, the, the Russians, you're talking about the Russian regime, not what Russian people, China's regime, not Chinese people. So, my God, when you talk about Iran. You know, these people, not just outside of Iran, but inside Iran, they have, they still have such a vibrant desire to have civil society, these young women and men that were protesting and are so literate in pop culture, um, high culture and low culture around the world, and yet they are suffering so much at the hands of this country.
[01:15:25] It's a horribly repressive regime. It's just very, very painful to watch. It is. And it's kind of sad that you sit here in the West and you say, well, what can we do? What should we do? Because, uh, because the, frankly, you know, you get involved and you'll be blamed. Sure. Right. And you'll be blamed by the regime and you don't necessarily help the people you want to help.
[01:15:43] Not to mention the track record of us and promoting and exporting democracy has not been
[01:15:47] Jordan Harbinger: great. Yeah. Iran is at the top of my list. One of my regrets is not going on a trip there in 2010 when I had a speaking gig because now it's like, Oh, I don't. No one I can ever go, not just because of what we talk about on the show, but because of what's going on there and what I talk about on the show for is not doing me any favors.
[01:16:04] Yeah, it's a, it's a tough situation, but I mean, yeah, like amazing food. Uh, if you, when I go to LA, it's always like, uh, we got to hit these Persian places and just the, it's just an amazing, listenership in Iran, and I would imagine it's not a bunch of old dudes. who are, uh, theocratic regime capos. I would imagine it's younger people who are interested in global affairs and science.
[01:16:28] Absolutely. Which is a good sign. You know, I didn't expect there to be a large listenership in Iran for an English speaking podcast, and here we are. Yeah.
[01:16:36] Ian Bremmer: It also means that, you know, the funding that the United States had done historically for Voice of America around the world is really important. And it's taken a hit.
[01:16:47] You know, the Americans, we have this incredibly robust economy. We have the best technology companies in the world. You know, we've got all of this food and oil and gas and all these other things that we produce. And yet we really haven't invested in our democracy. We haven't invested in civil society, we haven't invested in that around the world, and we haven't invested at home.
[01:17:09] And that, that's I think the thing that hurts. Like, I miss schoolhouse rock. You know, why don't we have that in the 21st century? Like, wouldn't that be great for American kids and for kids all over the world? I mean, that's how you and I learned the Declaration of Independence, the preamble, right? Yeah, that's for sure.
[01:17:22] So that's how we learned how a bill becomes a law. We need that stuff. We really do. And I don't like it when Elon goes after NPR. in a fit of pique because he's decided that they're a bunch of wokesters. And I accept that they, they, you know, lean, uh, center left. Yeah. You know, I do accept that, but I also accept that most of their coverage is just coverage.
[01:17:46] And it's not driving hate or anxiety, it's actually just trying to inform people. We need more of that, not less.
[01:17:54] Jordan Harbinger: Yeah, I agree. I, I do, I think a lot of, well, I don't want to go on a whole Elon rant because I think a lot of what he does is really amazing. I just also think he, he loves stirring the pot and sometimes it's like, oh, there's consequences for that?
[01:18:08] Oh, well, shoot, next thing. I don't love that mentality in this
[01:18:11] Ian Bremmer: media. He doesn't understand democracy. That's not his expertise. I mean, he's one of the most extraordinary entrepreneurs that the world has seen. It is thanks to the American system, political and economic system, that we would attract Someone like that from South Africa, or someone like Satya Nadella, right?
[01:18:31] I mean, all of these people who, like, really are world changing, and they're making a difference first and foremost in the United States. And they inspire people all over the world. And I want to listen to him on electric vehicles. And I want to listen to him on reusable rockets. I do not want to listen to him on geopolitics and the state of democracy.
[01:18:52] And he needs to stop doing that. He needs to stop. Because he's hurting people and he does
[01:18:57] Jordan Harbinger: not care. In the last few minutes here, I'd love to hear about water. It's a risk on the list. Not many people are thinking about it. It's probably, again, it's probably a whole show for us, but we're talking about Middle East, North Africa, and we just have not planned.
[01:19:11] For this water stuff. And you even see it in the United States at the Colorado river. And people were like, wait a minute, water, that's a thing. And in California, we're like, yes, water. Hey, hello. We're over here drying up and then giving our water to almond farmers because you know, the billionaires are able to lobby for it.
[01:19:25] It's way worse. that don't have a bunch of rivers and aquifers and things like that. I mean, tell me about this because this seems like something that there's going to be wars over or at least regional conflicts and just no, but we're sleeping on
[01:19:38] Ian Bremmer: this. Yeah. And I mean, we got really lucky in the United States because we've just had absolutely record snowfall in the West.
[01:19:47] And that has meant that the Colorado. River deal could be a lot less painful for the states and the farmers in the U. S. to voluntarily, voluntarily, uh, reduce their, their uptake. Now, having said that, um, the U. S. also has a longstanding treaty with the Mexicans that we've basically abrogated and reduced what they get because we can, um, and, uh, they're the last man that gets water.
[01:20:15] Uh, and that has really hurt their agriculture as a consequence, and their economy is taking it on the chin, just like so much of the global south. And that is what this amounts to. I mean, what we see playing out in micro between U. S. states and Mexico, we will see play out in other parts of the world, uh, whether it is, uh, Nile River Delta.
[01:20:37] Or whether it is, you know,
[01:20:38] Jordan Harbinger: the Himalayas
[01:20:39] Ian Bremmer: first flooding because there's no more glaciers and then no more water available. And you know, tens, hundreds of millions of people are going to suffer and they're going to move. And when they move, they're going to be
[01:20:51] Jordan Harbinger: angry and they're going to create instability.
[01:20:53] Ian Bremmer: And unlike climate change and 1. 2 degrees of warming that we have now all gotten to understand And are devoting resources on water. We haven't quite gotten there yet. We've just had, you know, the first oceans protection agreement, uh, through the COP process just now, just this year. Um, and it is really, really early days, but it's not in terms of what's happening in the water.
[01:21:19] So it's, it's one of the, it's one of the big new risks that's kind of coming up. That shouldn't be new, but that we're going to be paying a lot more structural attention to. I would
[01:21:27] Jordan Harbinger: also imagine it's such a massive problem that if you're a. Eritrea or Ethiopia or on the horn of Africa or, you know, Qatar, even if you're wealthy, what are you going to do today?
[01:21:37] I mean, this is like a trillion dollar, multi trillion dollar problem. So these governments that can barely get electricity to half their population. Their ability to handle this problem is not going to improve anytime soon. I
[01:21:49] Ian Bremmer: mean, if you're Qatari, you know, you've got, you're super wealthy, it's like
[01:21:53] Jordan Harbinger: per capita incomes over 100, 000, and you're gonna have
[01:21:56] Ian Bremmer: desalinization in the same way that when the Saudis
[01:21:59] Jordan Harbinger: cut them off, you know, they were like importing milk cows, and said, okay, like, we'll just produce it in Qatar, we don't
[01:22:06] Ian Bremmer: care.
[01:22:07] They can do that, but Ethiopia cannot. Right. Eritrea. Sure as hell cannot Yemen cannot and you know, what happens as a consequence people starve and die and you have that combined with the food stress with the fertilizer stress that came on the back of the pandemic, the supply chain challenges and the Russian invasion of Ukraine, two of the largest breadbasket countries in the world.
[01:22:31] You cannot afford these water challenges on top of that. So if you're yeah. You know, a barely developing country with lots of potential human capital, but these huge resources constraints, this is hitting you and it's hitting you first, second, and
[01:22:45] Jordan Harbinger: third. Ian Premer, always full of good news. Is there any good news you can leave us?
[01:22:49] What do you think? I feel like we should end on a positive.
[01:22:52] Ian Bremmer: There's all sorts of good news. I mean, well, I mean, one piece of good news is the fact that, um, we now actually have an understanding that climate change is happening. We all agree, almost 8 billion people on the planet. And that means even if we're not coordinating on it, all the resources that are being spent are being spent to do something about it.
[01:23:13] Uh, and that is moving us faster to cheaper renewables. Some are doing nuclear. Some are doing wind. Some are doing solar. Some is doing everybody, everything, the bridge technologies. But it's moving much faster than anyone would have expected 10 years ago. At speed, at scale, I mean, the United States is moving towards actually hitting their, you know, sort of, uh, net zero goals of 2050.
[01:23:34] China is about to have its carbon, total carbon emissions are probably going to go down going forward. They might be hitting peak carbon emissions. China, you know, a middle income country, uh, India is still not close to that. That's a big deal. And, you know, the downside is that, well, if it's not climate change and a whole bunch of areas where it doesn't feel like that much of a crisis, we're not getting our act together.
[01:23:59] Well, the reason we're not getting our act together is because those systems still work. So you've got a debt limit crisis that everyone thinks is going to be disaster. Turns out Biden, Democrat. McCarthy, Republican, have a more functional working relationship when push comes to shove than we've seen from a president and a house speaker from different parties in decades.
[01:24:19] Because, you know, the system is resilient. So it's either it becomes a really big crisis and then you get your shit together, or it's not a big crisis and you don't get your shit together and everyone's angry about it, but it turns out the system's more resilient than you think. So always keeping in mind.
[01:24:36] Those two different types of challenges, I think, is helpful to
[01:24:40] Jordan Harbinger: keep people's heads screwed on straight and not jumping, you know, for the, the remote, uh, because, you know, you've got to listen to the person who's going to just make you angry. Yeah, and we try not to do that here on the show. I really appreciate the balanced perspective.
[01:24:54] And, once again, thank you so much for doing the show.
[01:24:56] Ian Bremmer: I love what you did, Jordan. Thanks so much. Good to see you,
[01:24:58] Jordan Harbinger: man. You're about to hear a preview of the Jordan Harbinger Show with geopolitics analyst Peter Zion.
[01:25:06] Peter Zeihan: We're kind of in this soft moment in history where everyone's holding their breath and wondering if the next time there's an incident, the U.
[01:25:12] S. is going to intervene or not. And I would argue we are not. Safety on the waves is what allows us to have the East Asian manufacturing model. Less than 1% of that shipping happens on land. And that is a recipe for 1910s and 1930s style conflict and competition. Countries are increasingly finding it in their best interest to kind of hoard what consumption they do have and not allow trade access to it, and then producing more locally.
[01:25:40] We were moving this way before the Ukraine War, before the Chinese started to break down, and before the German industrial model started to implode. This has just sped everything up. So we'll probably see significant drops in agricultural output next year, especially in the second half of next year, which should suggest that we're going to have significant problems with food supply on a global scale in the months that follow.
[01:26:03] I mean, the food issue is the issue that gives me nightmares because I don't see a way to fix it. The biggest loser by far is China. Everything about China's functionality is dependent on a globalization and a demographic moment that has passed. I think we're in the final decade of the European Union.
[01:26:19] Because without that Russian energy, there is no German manufacturing model. And without the German manufacturing model, you don't have the money that is used to keep the EU in existence. The pace of the disintegration here is really difficult to wrap your mind around. We've had a really good run the last 75 years.
[01:26:34] It was never going to last. It's, it's going to be a rough ride. So anyone who thinks that this is going to be easy is wrong in every possible way.
[01:26:44] Jordan Harbinger: For more about how globalization and our way of life will change dramatically in the coming decade, check out episode 781 of the Jordan Harbinger Show. Look, I know it's not very cheerful and rosy.
[01:26:57] And a more decoupled world is not only a less wealthy and efficient world, it's also a world of greater impunity where rogue actors have more space to pursue their own interests. Without fear of punishment. That's a bad thing in case you're not sure about that. I mean, we don't want dictators to be able to run amok.
[01:27:13] That's kind of what we're trying to avoid here in Ukraine. It might seem like a regional thing. But that shows a lack of understanding of what this conflict is really about. And this is one of the most important messages in the book. We are the first generation in human history to recognize these crises.
[01:27:29] And we're probably the last generation that can actually overcome them. We've had Ian Bremmer on the show before, by the way, episode 736. A lot of you are gonna email me and say, Hey, what about nuclear brinkmanship? You didn't mention that. Nuclear signaling, it's easier said than done and the potential for mutually assured destruction because of accidents and miscalculations, that's just going to be higher here in 2023 than at any time since the Cuban Missile Crisis in 1962.
[01:27:55] It seems like Putin has no way to step down, unlike Brezhnev. We talked a little bit about this kind of thing during the show. I think, really, this problem might get worse. I hope that we're wrong about that. Later in this conflict, we're going to see pipelines, fiber optic cables, all those things are going to get threatened, just as we're seeing food and grain shipments and international shipping as a whole being threatened by this conflict right now.
[01:28:18] Russia is, of course, going to continue to pound infrastructure and civilian targets in Ukraine. Because they can't seem to do much else militarily. And I think they're going to stall grain exports, blame the West. We already see them making moves doing this. That's going to be persuasive to the global South countries who are now lacking food and fertilizer.
[01:28:35] The question is, are they going to blame the right parties for this food crisis? Or are they just going to say, ah, it's all about NATO expansion or whatever else. As for AI, AI also offers incredible productivity gains. We're not really even appreciating any of those yet, right? This is just one of those things that is going to be.
[01:28:53] Off the charts important for the next 5 10 years. That's the thing with revolutionary technologies, from the printing press to nuclear fission and the internet. Their power to drive human progress is also matched by their ability to amplify humanity's most destructive tendencies. So that's kind of a problem.
[01:29:11] And usually we downplay those things until there's a massive crisis. Of course, I also wanted to ask Ian what he thought about the Taiwan conflict and he came through with basically explaining that he thinks it's a red herring. He writes in his report, in short, neither China nor the United States is willing to test the other's readiness in 2023.
[01:29:29] In fact, Biden and Xi have told each other clearly and repeatedly that they are not looking for a crisis. And there are good reasons why a confrontation over Taiwan would pose intolerable risks for both countries. The U. S. and China both remain consumed with domestic challenges, inflation in the U. S.,
[01:29:46] slowing economic growth in China, a possible global recession. I think we may be through the worst of that. Bear in mind, Ian probably wrote this in late 2022. I'm reading it in middle of 2023. Challenges that would grow exponentially in the event of a military conflict. Second, China can't invade Taiwan without incurring significant U.
[01:30:03] S. led sanctions and losing access to the critical semiconductors that Taiwan's Semiconductor Manufacturing Company, or TSMC, produces. I'm gonna do a whole show about semiconductors. Don't you worry about that! Third, despite sustained tension and efforts by both China and the U. S. to reduce their interdependence, The two economies are deeply entangled and will remain so for the foreseeable future.
[01:30:23] A near term military conflict would guarantee mutually assured economic destruction. Especially after witnessing Russia's abrupt isolation by the West, China will defer moves that could possibly provoke military conflict until the balance of power is decisively in its favor. Or until the U. S. is ruled by a president who is clearly unwilling to defend Taiwan.
[01:30:44] None of this is remotely possible in 2023. Great! Except it's almost 2024. So stay tuned for that mess, possibly coming soon. All things Ian Bremmer will be in the show notes at jordanharbinger. com or ask the AI chatbot on the website. Transcripts in the show notes as well. Advertisers, deals, discount codes, and ways to support this show.
[01:31:02] All at jordanharbinger. com slash deals. Please consider supporting those who support the show. We've also got a newsletter, and every week my team and I dig into an older episode of the show and dissect the lessons from it. So if you're a fan of the show, you want a recap of important highlights and takeaways, or you just want to know what to listen to next, the newsletter is a great place to do that.
[01:31:20] JordanHarbinger. com slash news is where you can find it. Six minute networking, I'd be remiss if I didn't tell you again where to find it, at JordanHarbinger. com slash course. Basically, the website has a lot of useful links on it. Who would have thought? I'm at Jordan Harbinger on both Twitter and Instagram, or just hit me on LinkedIn.
[01:31:36] The show is created in association with Podcast One. My team is Jen Harbinger, Jace Sanderson, Robert Fogarty, Millie Ocampo, Ian Baird, and Gabriel Mizrahi. Remember, we rise by lifting others. The fee for the show is you share it with friends when you find something useful or interesting. The greatest compliment you can give us is to share the show with those you care about.
[01:31:54] If you know somebody who is interested in these sort of geopolitical topics, has an opinion one way or another on one of the things we talked about today, I think they'll be interested. This is a good one to share with them. In the meantime, I hope you apply what you hear on the show so you can live what you learn.
[01:32:07] And we'll see you next time. Hey y'all, quick favor here. We pour our heart and soul into finding the best sponsors for the show. I hear feedback from you all the time about the sponsors. It is quite challenging behind the scenes and your support means the world to us and helps keep us going. We need your help completing a survey at jordanharbinger.
[01:32:26] com slash survey. For the first 150 participants, we're offering a 10 digital Amazon gift card. It's our small way of thanking you for your time. Your feedback about our sponsors is really crucial to the show. It only takes a few minutes to help us and it won't cost you a thing. After finishing the survey, you drop your email into the little box there.
[01:32:44] The first hundred and fifty people are gonna get ten bucks from Amazon delivered straight to their inbox. Just head over to jordanharbinger. com slash survey. Your support for our show and our sponsors is truly appreciated and we can't thank you enough, but we'll sure try with ten bucks. This episode is sponsored in part by Potterama.
[01:33:00] Listen to podcasts everywhere you go with Potterama's seamless sync across web, mobile, and desktop. If you don't know where to start, Potterama's AI can make recommendations for your unique taste or ask the AI chat bot for hidden gems. You can also listen to 30 second trailers for a sneak peek into an episode.
[01:33:15] What's great is if something caught your attention during an episode, you can bookmark the timestamp and take notes within the app. That's kind of neat. Create multiple playlists, whether you're looking to elevate your finances, progress your career, or make your daily commute a bit more enlightening. I curated a public playlist featuring my favorite episodes, while some of my favorite episodes from the Jordan Harbinger show.
[01:33:35] It's a little starter pack there for you. Check out the link in the show notes. You can curate a public playlist of your favorite episodes as well and share your audio gems on social media. Download the Potorama app spelled P O D U R A M A.
Sign up to receive email updates
Enter your name and email address below and I'll send you periodic updates about the podcast.