Reading Time:
3
minutes
Kevin Dutton (@therealdrkev) is a psychologist and author known for his research on the psychology of evil and the science of charisma. His latest book is The Wisdom of Psychopaths: What Saints, Spies, and Serial Killers Can Teach Us About Success. [This is part two of a two-part episode. Make sure to catch up with part one here!]
What We Discuss with Kevin Dutton:
How having a con artist father who never lost his cool sparked Kevin's interest in understanding the mindset of the psychopath.
What Kevin means when he says that psychopaths understand the "words but not the music" of emotion.
Contrary to popular belief, psychopaths aren't necessarily violent. They could be a surgeon or a killer, a firefighter or an arsonist. (Or even a professor or an ax murderer.)
Why psychopaths are often excellent at persuasion and identifying weakness in others.
What percentage of the population exhibits psychopathy, and how psychopaths can actually be useful for society.
And much more…
Like this show? Please leave us a review here — even one sentence helps! Consider including your Twitter handle so we can thank you personally!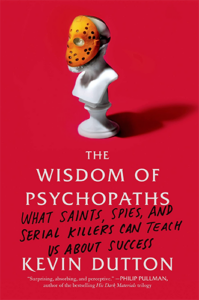 Why do psychopaths exist? Are they dangerous relics of a more savage, bygone era, or do they possess skills that can actually be of benefit to modern society?
On this episode, we're joined by psychologist Kevin Dutton, author of The Wisdom of Psychopaths: What Saints, Spies, and Serial Killers Can Teach Us About Success. Here, we delve into the lives of psychopaths and their famously manipulative behaviors, exploring the scale of "madness" on which we all sit. Through the use of the latest advances in brain scanning and neuroscience, as well as on-the-ground reporting and original research, Kevin demonstrates that functional psychopaths, or those who use their detached and charismatic personalities to excel in mainstream society, do exist.
Kevin also asserts that society as a whole is becoming more psychopathic, as the qualities of fearlessness, confidence, and ruthlessness are increasingly valued in the modern world. Join us as we challenge traditional beliefs about psychopathy and explore how it can sometimes lead to success. Listen, learn, and enjoy! [This is part two of a two-part episode. Make sure to catch up with part one here!]
Please Scroll Down for Featured Resources and Transcript!
Please note that some of the links on this page (books, movies, music, etc.) lead to affiliate programs for which The Jordan Harbinger Show receives compensation. It's just one of the ways we keep the lights on around here. Thank you for your support!
Sign up for Six-Minute Networking — our free networking and relationship development mini course — at jordanharbinger.com/course!
This Episode Is Sponsored By:
Miss our conversation with behavioral expert Thomas Erikson? Catch up with episode 465: Thomas Erikson | How to Protect Yourself from Psychopaths here!
Miss the show we did with James Fallon — the psychiatry professor who can teach you how to spot a psychopath because he is a psychopath? Catch up here with episode 28: James Fallon | How to Spot a Psychopath!
Thanks, Kevin Dutton!
If you enjoyed this session with Kevin Dutton, let him know by clicking on the link below and sending him a quick shout out at Twitter:
Click here to thank Kevin Dutton at Twitter!
Click here to let Jordan know about your number one takeaway from this episode!
And if you want us to answer your questions on one of our upcoming weekly Feedback Friday episodes, drop us a line at friday@jordanharbinger.com.
Resources from This Episode: