Reading Time:
4
minutes
Matthew Campbell (@MattCampbell) is an award-winning reporter and editor for Bloomberg Businessweek magazine and the co-author, with Kit Chellel, of Dead in the Water: A True Story of Hijacking, Murder, and a Global Maritime Conspiracy.
What We Discuss with Matthew Campbell:
The International Chamber of Shipping estimates about 90 percent of world trade is carried by the international shipping industry to the tune of around $14 trillion (about 2/3rds of the US GDP) per year.
Piracy persists in places along these lucrative shipping lines because people who have nothing to lose are willing to risk their lives for potentially big payouts.
Why insurance surveyor David Mockett didn't quite buy the story that Somali pirates had attacked oil tanker Brillante Virtuoso when he investigated the site — and how it led to his murder.
Insurance fraud is one of the world's oldest rackets, with instances documented as far back as ancient Greece.
Why rogue ship owners will fly "flags of convenience" — flags of countries with fewer regulations than the ones from which their ships are actually owned.
And much more…
Like this show? Please leave us a review here — even one sentence helps! Consider including your Twitter handle so we can thank you personally!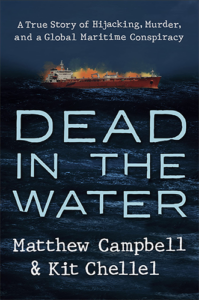 Were Somali pirates really to blame for the 2011 attack on oil tanker Brillante Virtuoso and its $100 million cargo of fuel? An inspection of the burnt, floating wreckage told insurance investigator David Mockett a different story. Unfortunately, he was murdered before he could bring his suspicions of fraud to light.
On this episode, we're joined by Bloomberg Businessweek magazine reporter Matthew Campbell who, with co-author and fellow reporter Kit Chellel, wrote Dead in the Water: A True Story of Hijacking, Murder, and a Global Maritime Conspiracy. Here, we get a glimpse into the high-stakes world of global shipping upon which our supply chains rely, and just how far the owner of a company in this industry might be willing to go when financial difficulties rock the boat (so to speak). Listen, learn, and enjoy!
Please Scroll Down for Featured Resources and Transcript!
Please note that some of the links on this page (books, movies, music, etc.) lead to affiliate programs for which The Jordan Harbinger Show receives compensation. It's just one of the ways we keep the lights on around here. Thank you for your support!
Sign up for Six-Minute Networking — our free networking and relationship development mini course — at jordanharbinger.com/course!
This Episode Is Sponsored By:
Did you hear our conversation with Paul Holes, the former investigator known for his contributions to solving the Golden State Killer case using advanced methods of identification with DNA and genealogy technology? Catch up with episode 725: Paul Holes | Solving America's Cold Cases here!
Thanks, Matthew Campbell!
If you enjoyed this session with Matthew Campbell, let him know by clicking on the link below and sending him a quick shout out at Twitter:
Click here to thank Matthew Campbell at Twitter!
Click here to let Jordan know about your number one takeaway from this episode!
And if you want us to answer your questions on one of our upcoming weekly Feedback Friday episodes, drop us a line at friday@jordanharbinger.com.
Resources from This Episode:
739: Matthew Campbell | Examining Global Shipping's Grim Underbelly
[00:00:00] Jordan Harbinger: Coming up next on The Jordan Harbinger Show.
[00:00:03] Matthew Campbell: Shipping has no real overarching global regulation in the way that say the airline industry does, and in those shadows, all kinds of bad behavior can thrive.
[00:00:18] Jordan Harbinger: Welcome to the show, I'm Jordan Harbinger. On The Jordan Harbinger Show, we decode the stories, secrets, and skills of the world's most fascinating people. We have in-depth conversations with scientists and entrepreneurs, spies and psychologists, even the occasional organized crime figure, Russian spy, or extreme athlete. Each episode turns our guest's wisdom into practical advice that you can use to build a deeper understanding of how the world works and become a better thinker.
[00:00:45] If you're new to the show or you're looking for a handy way to tell your friends about it, our episode starter packs are a great place to begin. These are collections of our favorite episodes organized by topic. That'll help new listeners get a taste of everything that we do here on the show — topics like persuasion and influence, disinformation and cyber warfare, negotiation and communication, crime and cults, and more. Just visit jordanharbinger.com/start or search for us in your Spotify app to get started.
[00:01:11] Today, an interesting look in an industry that plays a major role in our lives, but that most of us never even get a glimpse of. We're talking about shipping, but I'm not just talking about how things are sent in containers from China to the United States. I mean, that might be a show on its own, but I wanted to really get into some of the dark side of things — surprise, surprise. Today, we're going to talk — stolen oil, sanctions busting, crime on the high seas, as well as why ships have what appear to be totally random flags sometimes from landlocked countries on the back of the ship, what those mean. They're called flags of convenience. There's a whole kind of crazy grifty story going on there as well.
[00:01:47] The initial story from the author, who's our guest today, Matthew Campbell, the initial story is about an oil tanker that catches fire on the open sea. Now, it looks like an accident. Turns out it looks more and more like insurance fraud, but they need proof. There's a murder that happens and a mysterious informant comes forward and wants like 10 million bucks to give evidence. But in this conversation, we discuss not only this insurance fraud case. But some types of crime that occur on the high seas and the crazy, crazy characters that are involved in these crimes as well, and the criminal underworld and its overlap with shipping in general.
[00:02:21] So if you are the curious mind sort of person, probably like many of you are who listen to this show, you're interested in learning more about things you just might never even think about, I think this episode is going to scratch that itch for you. And on that note, here we go with Matthew Campbell.
[00:02:40] Well man, this show's going to have everything — pirates, murder, fraud, we got the trifecta today. I'm looking forward to it. You know, ships and shipping, it's kind of in the background, it's like water pipes or power lines or the sewer system. Yet this system is largely responsible for much of, I guess you could say, modern convenience at least because I want my cheap crap and I want it now. And me, being sort of the universal consumer, maybe I don't necessarily want to know about the human cost involved in this.
[00:03:09] Matthew Campbell: Yeah, exactly. Shipping is just part of the infrastructure that we never have to think about anymore, and that's by design. That's how the industry has put itself together over the last 60, 70 years. And part of it is how the nature of the business has changed. So the big innovation after the Second World War was the container. And there's a great book actually called The Box, which is all about the invention and the rollout of the container. And one of the consequences of the container was the ships got massively bigger, and when ships got massively bigger, they could no longer service the old ports.
[00:03:47] So, you know, New York City, Manhattan used to be a huge port. There used to be a huge cargo port in London where Canary Wharf is now but the container ships were way too big. And so the ports got moved way out of town. And one of the results of that was most people never saw ships anymore, never met sailors, never thought about it. And that helped the industry, first of all, made the industry a lot more efficient, but it also made the industry a lot more invisible.
[00:04:11] Jordan Harbinger: Is the South Street Seaport in Manhattan, is that where they used to bring all the goods in? Because that is not even close to, I mean, you can barely fit a large fishing trawler in that thing.
[00:04:21] Matthew Campbell: All of those piers up and down Manhattan used to be, you know, both passenger and goods piers.
[00:04:27] Jordan Harbinger: Wow.
[00:04:28] Matthew Campbell: And that's how small commercial vessels used to be. And actually, in this book, The Box, there's some incredible descriptions of what it used to take to load and unload ships because, you know, a bulk carrier might have like 50 different kinds of cargo on board.
[00:04:44] Jordan Harbinger: Yeah. Like chickens, hay, oranges, frankincense.
[00:04:48] Matthew Campbell: Exactly.
[00:04:49] Jordan Harbinger: Electronic, I guess not electronics, but mechanical things. So weird and all unloaded by hand too, which is just crazy. I assume that that's in there.
[00:04:56] Matthew Campbell: Yeah, no, exactly. And that's actually one of the reasons that the port unions were so powerful. The longshoremen and stevedores, one of longshoremen work onshore, and the other work in the belly of the ships. And I'm going to get wrong, which is, but they were really powerful. And actually one of the consequences of containerization, and this was a very happy consequence for ship owners, not so for workers, was it allowed them to the port unions because the maritime unions weren't necessary anymore because you don't need all these guys.
[00:05:29] Jordan Harbinger: You happen to know the global volume or the amount of trade that's done by ship each year? How many dollars are we talking about here?
[00:05:35] Matthew Campbell: So there are different estimates out there. There are obviously a lot of different ways to calculate it. One stat from the International Chamber of Shipping, which is an industry group, puts it at 14 trillion US dollars per year.
[00:05:47] Jordan Harbinger: Oh wow.
[00:05:48] Matthew Campbell: So that's something like two-thirds of US GDP. So it's a hell of a lot of stuff. And actually, if you think about like what's in any room you are in at any given time, really most of what's in that room came to you on a boat at some stage in its journey. Air freight is for, you know, live lobsters or semiconductors, stuff that's valuable and light. But furniture, electronics, cars, that all goes by sea. And of course, oil, which is the real heart of the shipping industry, oil and gas,
[00:06:20] Jordan Harbinger: I'm looking around and the only thing I can think of that did not come on a ship is this hardwood desk that I used that was made by my friend in a suburb of LA out of a tree. That's the only thing that didn't come by boat, for sure. Everything else I'm reasonably sure is from another country and it came over on a container. Maybe this glass bottle that's supposed to be like hand blown but even then, I'm not sure. That's really an incredible way to look at it. The computer you're using, the device you're listening to this on right now, the microphone I'm talking into every single thing that's on your body probably, anyway, came in by ship.
[00:06:54] Matthew Campbell: Yeah. And the central effect of that is it made possible the industrial booms that we've seen in Asia, you know, China, now, Southeast Asia, places like Vietnam and Thailand, that all would've been impossible if you didn't have very cheap, very reliable, very efficient shipping. The rise in the middle class in Asia and conversely, the consumer bounty you can get at a Target or a Walmart in the US totally a result of advances in long-haul shipping.
[00:07:27] Jordan Harbinger: So my question is — this might be a little outside your wheelhouse here, but when I think pirates or when I used to think pirates, I should say, I'm thinking coarse hairs and, you know, the Lego set pirates, right? Eye patch and peg leg. And that's what? And like the 14—
[00:07:41] Matthew Campbell: Johnny Depp pirates.
[00:07:42] Jordan Harbinger: Yeah. Johnny Depp Pirates to the Caribbean type thing. That's what I'm normally thinking of. How did that go out if shipping is on the rise, right? Then, wouldn't in theory there just be more piracy everywhere as opposed to that having taken a lull and then it would've come back and forth. I know we have it off the coast of Somalia, we'll talk about that in a bit. But why isn't there piracy just about everywhere?
[00:08:02] Matthew Campbell: Well, there are a few reasons why we don't have, you know, Johnny Depp with eyeliner marauding vessels in the Gulf of Mexico and the Caribbean. And the really simple one is pirates need a land base. They can't live at sea forever. When you don't have a place that is hospitable to pirates hanging out between their pirating, then it gets much harder for them. In the kind of golden age of old-school piracy, there were islands in the Caribbean where pirates had kind of strongholds and they could retreat to when they were on the job, so to speak. Obviously, those don't exist anymore, and if they did exist, you know, the US and other governments would have a pretty big problem with them.
[00:08:49] And so the result is that where you do get piracy today, it's in kind lawless spaces. So the reason Somalia has been such a hub for piracy over the last couple of decades is there's very little effect of government in Somalia. And so pirates can operate from land with relative impunity. And similarly another hotspot for piracy, probably right now as big a hotspot as the waters of Somalia is West Africa, where you have a series of fairly weak governments. And as a result, areas of the coastline where pirates can do their thing without getting into too much trouble.
[00:09:26] Jordan Harbinger: The land base idea makes a ton of sense. Anywhere where you can kind of control the coastline or at least a part of the coastline, and you can keep governments from taking over your land base, allows you to go back, refuel, or keep food or grow food or extort people and to giving you food and supplies on land, and lock up and repair your ship and all that other stuff. That actually makes a whole hell of a lot of sense.
[00:09:47] Shout out to Mrs. Parrin who embarrassed me in front of the whole class by telling me that pirates didn't exist anymore and they hadn't for hundreds of years. I still remember the laughter, burns a little. She also told me dwarves were not real because she confused them with elves, so she was not the sharpest knife in the drawer. But anyway, it was shocking. My uncle worked for Chevron for a long time and he used to tell me that there were pirates and that's why I talked about it in fourth grade with Mrs. Parrin. It blew my mind that there were pirates on stolen yachts. They would launch little skiffs and jet skis and stuff like that, and they would climb up the sides of these huge oil tankers, and then they would try and get the money. I guess they used to, in the '80s, at least in the '90s, they would keep cash on board to pay the sailors because they needed to do that for some reason. I don't know if that was a union thing or what. I really have no idea. But also now as I researched this, I learned that they wanted to hijack the boats, take them back to Somalia, and ransom them, right?
[00:10:43] Matthew Campbell: Yeah. That's the game basically. In a kind of classic example of modern piracy, in the waters off Somalia, Gulf of Aden. The goal is you get on warship any way you can — and actually Captains Phillips with great Tom Hanks. I mean, is there any not-great Tom Hanks movie?
[00:11:01] Jordan Harbinger: Yeah.
[00:11:01] Matthew Campbell: I think we can leave the greatest. It's just redundant. Captain Phillips depicts the chase pretty accurately where, you know, pirates turn up in these little speed boats, they want to catch up to these huge vessels, which are hundreds of times their size. Get up onto the haul anyway they can. So they'll use grappling hooks. They'll use these long hooked ladders and try and clamber up the sides. The shipping industry has various ways of dealing with this. A kind of old-school ones was just fire hoses.
[00:11:28] Jordan Harbinger: Yeah, that's what my uncle said. They blast them off the side with fire hoses, which seems incredibly dangerous for everyone involved.
[00:11:34] Matthew Campbell: Oh absolutely.
[00:11:35] Jordan Harbinger: You might get shot or you might get shot from a fire hose into the ocean while your friends leave you there because they want the boat.
[00:11:41] Matthew Campbell: Well, and these guys are taking a lot of risks, these pirates, but they're taking a lot of risks because the financial rewards are significant. And the other thing is once they get on board, it's a different game because then you have the advantage that the commercial ship has during the chase period suddenly disappears when these guys are on board because the pirates have the guns and for the most part of the commercial vessel crews do not.
[00:12:06] The whole goal is to get on board, take control once you are on board, and from there the idea is get the ship to Somalia, hold it for ransom, demand millions of dollars for the release of the vessel, its cargo, its crew from the owners, or actually often the insurers. And generally, they pay. That's why piracy works and did work for a long time, although it's come down dramatically in Somalia over the last several years.
[00:12:32] Jordan Harbinger: Yeah. We did an episode several years ago about a guy Michael Scott Moore. It's episode 115. He was abducted by pirates and they kept him for years. They kept him for years and years on the boat and that eventually on land and I want to say he was eventually ransomed. It's been a while. I think he was eventually ransomed by bankrupting his family and friends and it turned out the FBI kind of knew where he was for a bunch of years and they just couldn't do anything. And we did another episode about the economics of kidnap for ransom, especially piracy and this Lloyd's of London insurance thing.
[00:13:04] Matthew Campbell: That was Anja Shortland, right?
[00:13:05] Jordan Harbinger: Anja Shortland. Yeah, exactly. This was fascinating as well. The Lloyd's of London, kind of old boys drinking, at least the way I visualize it, dudes and bow ties sitting around in a place that smells of rich mahogany drinking at 2:00 p.m. and signing contracts and then leaving for home or for a pub.
[00:13:25] Matthew Campbell: Uh, you're not so far off.
[00:13:26] Jordan Harbinger: I'm not so far off, right? I mean, it really does seem like, from your description, tell me about this place, because we talked about Lloyd's of London with Anja, but we talked about the economics. The way you describe it, it really sounds like The League of Extraordinary Gentlemen type of place, except maybe—
[00:13:39] Matthew Campbell: Yeah.
[00:13:40] Jordan Harbinger: —less extraordinary.
[00:13:41] Matthew Campbell: Well, there's a slight class distinction though, and this is like when you live in the UK these things become very important. Lloyd's is not posh, right? It's wealthy, it's money, but it's not sort of guys who were all at Oxford in the best colleges and come from Aristo families. It's a bit more of a striving place for kind of middle-class and upper-middle-class achievers to do very well. So what Lloyd's is? Most people have a vague sense that it has to do with insurance, which it does, it does not sell insurance. Lloyd's is not an insurer, which is a big misconception that people have.
[00:14:17] What Lloyd's is, it's a market. And the way, Kit, my co-author and I describe it in the book is it's like a stock exchange for risk, which is a kind of slightly elegant metaphor but begets the idea. It is a place where actual insurers, you know, Prudential, AIG, all the brand names we know come to chop up exposure. So if I have a hundred-million-dollar vessel, no one insurer wants to be on the hook for that. The way the Lloyd's market works, it allows dozens of insurers to each take a little piece of that liability so that if my hundred-million-dollar ocean liner goes down, they're each exposed only to maybe a couple of million, which they can easily afford to lose. So that's Lloyd's function.
[00:15:03] Lloyd's history is fascinating. It's over 300 years old which makes it easily one of the oldest existing financial institutions in the world. It actually takes its name from a coffee house. So in 17th and 18th-century London, the area around bank in the city, for those who know London well, was full of these things called coffee houses. Coffee was a new arrival in those days that had just come to Europe from the New World. People were like, "This is awesome." So everyone spent a lot of time drinking coffee and gradually certain coffee houses had a sort of industry identity. So there would be a coffee house for publishers or printers. There'd be a coffee house for traders. And Lloyd's ultimately over time evolved into the coffee house for ship owners. And then, gradually these ship owners who need insurance cause shipping is a dangerous business, would attract investors who were willing to give them that insurance.
[00:15:59] So this coffee house over a long period into the 18th and 19th century became a formal financial institution with a real office. It was no longer a coffee house after a while, and was the hub for initially marine insurance insuring ships and voyages, and then, eventually, insurance of all kinds. So now, it's probably the single most important piece of real estate in the global insurance industry.
[00:16:23] Jordan Harbinger: I know they insure weird stuff because I've actually looked into this. They insure like, is it David Beckham's legs?
[00:16:30] Matthew Campbell: All kinds of stuff like that.
[00:16:31] Jordan Harbinger: Yeah, it was a singer's voice like Mariah Carey, but maybe not her. It was somebody along those lines.
[00:16:36] Matthew Campbell: The well-known one is Bruce Springsteen.
[00:16:38] Jordan Harbinger: Not sure how I confused him with Mariah Carey, but whatever.
[00:16:40] Matthew Campbell: Common mistake.
[00:16:42] Jordan Harbinger: Yeah. And then I was like, well, what about my, what about these sweet dulcet tones? Like what about if I lose this, I'm out of the job, how do I insure this? Turns out there's regular disability insurance that you can get, pretty much anywhere, but if you want a crap load of insurance, like you need a hundred million dollars because your legs are scoring FIFA goals, you can't just go on the regular insurance that you get in America from State Farm or out whatever. They're going to top you off at a reasonable annual income for a normal person. But if you want to still have the money you would've made in professional soccer, baseball, singing, you got to go to Lloyd's because no one's going to put that money down on you. You get hit by a bus and it's just not worth the risk.
[00:17:23] Okay. So they're insuring ships and in your book, this particular ship gets boarded by pirates, except they don't just take it to Somalia and ransom it. They set the thing on fire and they burn it into this husk basically, and it's got like a hundred thousand tons of oil on it, that doesn't burn. It stays in the bottom, I guess. This is not what usually happens when pirates grab a ship, right? Usually, they take it back. It's more valuable with everybody on it in one piece in serviceable condition, right? So this confused everyone. Am I getting this right?
[00:17:54] Matthew Campbell: Right. So the central incident of the book and the event that drives everything that comes after is an attack on this ship called the Brillante Virtuoso, which was a pretty big oil tanker. It's 274 meters long which actually does not make it one of the very largest oil tankers. That's merely a regularly large oil tanker. These ships are huge.
[00:18:14] Jordan Harbinger: Okay.
[00:18:14] Matthew Campbell: And it's carrying about a hundred million dollars of oil, fuel oil, actually. And it's boarded by pirates in the Gulf of Aden, which is the waterway between Somalia and Yemen, which in 2011, when these events occurred, was just about the most dangerous place in the world. There were pirate attacks virtually every day, but in the course of this attack and this hijacking, because the pirates take control of the ship, there is an explosion and a fire. And that guts, the vessel, the oil does not end up going up in flames to everyone's relief, and there's no spill. But the vessel itself is really totaled, and the crew fled in lifeboats, the pirates disappeared. The crew are rescued by a US Navy Cruiser, the Philippines Sea, that was passing nearby.
[00:19:02] And this does make a lot of people in the maritime world, in the insurance world, in the anti-piracy world, a little confused because as we were saying, the whole game in piracy is you're holding a ship and its crew and its cargo for ransom. So the last thing you want is to do anything that would diminish the value. And a fire obviously diminishes the value. And also abandoning the ship as these pirates appear to have done is a very bad idea because once you're on board, you won, the whole goal is to get on board. So once you're on, you don't get off for anything unless that anything is a hell of a lot of money.
[00:19:37] So pretty much from day one when the Brillante was attacked and largely destroyed, there are people in London where it was insured and elsewhere in the maritime industry, kind of scratching their heads, not in a suspicious way, but in a confused way.
[00:19:52] Jordan Harbinger: What happens when a supertanker is on fire like this? I mean, this is a ship that's almost a thousand feet long. It's hard to even wrap your head around this, but if you think of a street, a block you're on that has 10 houses, it's longer than that, right? I mean, it's insane how big this is. It's like the size of a neighborhood where I live, it's just full of oil. You got to be worried about oil spills and of course, the crew and just the sheer value of this multi-million-dollar vessel, right? You said a hundred million-plus dollars, but mostly the potential for what I would assume is a multi-billion-dollar oil spill. This is a very delicate situation when this thing is burning like that.
[00:20:30] Matthew Campbell: One of the things that's really fun about this book, in my view, is it takes us into some hidden worlds, and one of those hidden worlds is what happens when a giant commercial vessel gets into trouble. There's this whole infrastructure of people who certainly before doing this research, I'd never heard of whose job it is to respond in situations like this. So the very first thing that happens is every commercial vessel has something called a ship security reporting system alarm, which is like a silent alarm on the bridge. It's a very high-tech version of like what's behind the counter at 7-Eleven.
[00:21:04] Jordan Harbinger: Mm-hmm.
[00:21:05] Matthew Campbell: That distress signal gets beamed out to various stakeholders in the maritime industry. One of the most important is called UKMTO, United Kingdom Maritime Trade Operations, which is a British government office in Dubai actually, and this is kind of a legacy of when the Royal Navy ruled the waves, that the UK has a lead role in this, and UKMTO coordinates between private sector shipping companies, Navy's Coast Guards, environmental authorities to allow responses to marine incidents.
[00:21:38] So that's what happened in the case, the Brillante attack. This distress call goes to UKMTO. They start coordinating between international naval forces in the area trying to get the Yemeni government. This has happened off the coast of Yemen, trying to get the Yemeni government involved and to make sure that the Yemenis understand they have this big problem, ascertain the damage, make sure there hasn't been a spill or no risk of a spill.
[00:22:01] And then from there, the circle keeps getting wider, going to the ship owners obviously, but also insurers, various third-party service providers, salvage firms who become very important, and we'll talk about later. So, this whole ecosystem swings into action like instantly in the middle of the night, 24/7 because this huge, very valuable piece of asset is suddenly at risk and at risk in a way that could lose a lot of money for a lot of people.
[00:22:29] Jordan Harbinger: My next question is, hey, the oil's still in there, it's not burning. They got to get it out. because the thing could sink, right? The sides could be destroyed. I mean, you can't just leave this thing floating full of oil. It's a ticking time bomb. And not to mention there's still a ton of metal. I mean, there's a huge fire, but there's a ton of me actually quite several tons, maybe even hundreds or thousands of tons of metal still left in this floating trash heap now full of oil. So who goes out there and, one, puts the fire out and, two, is like, "This is mine now, I'm going to do something with this"?
[00:23:01] Matthew Campbell: So when a ship gets in trouble at sea anywhere, these guys called salvors come into the frame. And while we don't have Jack Sparrow-type pirates anymore, salvage crews are kind of their modern heirs, or certainly, Jack Sparrow would recognize salvage crew is kind of his kind of people. The way salvage works is these very, very tough, very experienced sailors are on-call 24/7. Every port in the world has a core of salvage crews and they're just waiting for accidents to happen. And the elite salvors, the guys, and they are all guys. I mean, I'm sorry to use gendered language, but it really is, this is a male, very male business with few exceptions. They swing into action and the good ones can make rockstar money because the way the business model works is salvage crews receive a percentage of the value they protect.
[00:23:57] Jordan Harbinger: Oh, wow.
[00:23:58] Matthew Campbell: Let's stick with the example, of a vessel worth a hundred million dollars, just go with round numbers and if that vessel sinks, its nominal value is zero, right?
[00:24:08] Jordan Harbinger: Right.
[00:24:08] Matthew Campbell: But if a salvage crew succeeds in putting out a fire, stopping an oil spill, keeping it off the rocks, whatever, in a way that, the cargo can be sold, the ship can be scrapped, that value can be extracted. The salvage crew gets a percentage and the percentage varies by job, but it can be 10, 20, 30 percent in some cases.
[00:24:31] Jordan Harbinger: Wow. So you're talking about a ship worth a hundred million full of — how much is a hundred thousand tons of oil worth approximately? Any idea?
[00:24:38] Matthew Campbell: Not a slight. Although it depends on the product and depends — right now that would be worth a hell of a lot. You'd have to convert it to barrels, which depends on what kind of oil we're talking about, the ton to barrel ratio.
[00:24:48] Jordan Harbinger: I'm going to do that right now.
[00:24:50] Matthew Campbell: BP has a chart—
[00:24:51] Jordan Harbinger: A hundred thousand tons, metric tons to US barrels, not even that hard to do. Okay, convert. So 100,000 tons. So 715,000 barrels, approximately. Okay. Yeah, so that oil itself is worth, give or take a few hundred thousand dollars, 73 million dollars. So it's worth about three-quarters of the worth of the vessel. So if you're adding that to the price of the vessel and the vessel price is a hundred million dollars, it's 173 million dollars. So if you're getting 30 percent of that, you're talking about 52 million dollars. And if you're talking about 10 percent of that, you're talking a mere 17.4 or so million dollars. So between 17 and 50 million, that's worth getting out of bed for kind of no matter where you are flying to getting on your jet and then a helicopter and then another boat somewhere in Yemen and going into the danger zone and trying to do what you can do best, right? This is like the marine version of a smoke jumper except you're right, they're literally, they're making rockstar money. But it's like metallic of rockstar money. We're not talking about who Hootie & the Blowfish money. This is real rockstar, rockstar money. You were not kidding.
[00:26:03] Matthew Campbell: That's how these guys live.
[00:26:04] Jordan Harbinger: Yeah.
[00:26:04] Matthew Campbell: So there's a character in the book called Nick Sloane, who's one of three or four really, truly elite salvage professionals. And Nick, he's South African, he lives in a beautiful house in the Cape wine country, and he plays golf and rides horses and does all kinds, has a very pleasant life. But, his phone might ring at three in the morning to tell him, you know, there's an oil tanker that's about to go onto the rocks in Chile. And he has a go bag, and he's straight out the door, straight to the airport onto the next flight. And later that day, he's maybe helicoptering and then climbing down a ladder onto the deck of this foundering vessel in the South Pacific. So yeah, that's the life and it's a good life, although it's a very dangerous one, a lot of these guys get killed, as you can imagine.
[00:26:52] Jordan Harbinger: Sure.
[00:26:53] Matthew Campbell: In the case of the Brillante oil tanker, salvage crews were on the scene very quickly. The goal there, of course, was to put out this huge fire to secure the vessel, make sure it doesn't sink, and ultimately to prepare it to offload healthy the oil, because the oil was intact, and that means it can be sold.
[00:27:11] Jordan Harbinger: It seems like any business with this amount of action taking place in international waters with adrenaline junkies and a crazy, ridiculous amount of money at stake, it seems like there's always a little bit of room in there for some corruption and may maybe some shady shenanigans.
[00:27:29] Matthew Campbell: That is an understatement in the case of shipping, to say the least, I don't think anyone in the shipping industry will be too offended if I say it is at times a pretty dirty business, and that's true at every level. Certainly, among salvage crews, you know, there are, it's long been assumed, for example, that these salvage awards we were talking about, where the salvage crew gets 30 percent of the value. That some salvage crews kick part of that back to ship owners, basically in exchange for being the favorite salvage crew next time. There is all kinds, of course, more pedestrian bribery and kind of standard-level corruption. Yeah, this is a dirty business. It attracts a lot of criminals. There's very little oversight. Shipping has no real overarching global regulation in the way that say the airline industry does. And in those shadows, all kinds of bad behavior can thrive.
[00:28:27] Jordan Harbinger: You're listening to The Jordan Harbinger Show with our guest Matthew Campbell. We'll be right.
[00:28:32] This episode is sponsored in part by KiwiCo. All right, if you have kids or your friends have kids, or you're an uncle or an aunt, so grandma, grandpa, you can quickly run out of ideas on what to gift kids, especially when they have everything already. As my dad says, "He's got all kinds of crap already." I always want to give something that's fun, but I also want to give something that's educational at the same time because unlimited bits of plastic come on. KiwiCo knows a thing or two about delivering fun for all ages. When you gift a KiwiCo subscription, you're giving so much more than a toy. It's literally the gift that keeps on giving a season of discovery and experiences delivered straight to their door. Each box has been vetted by a crew of kid testers, so important, that ensures that they are age appropriate and they're seriously fun gifts. And everything we've gotten from them has been pretty darn cool and also cute. We gifted our friend's 10-year-old the Atlas Crate because they love to travel. They're even going to start learning more about the world. And with each box, you travel to a different part of the world, learning the culture through crafts, illustrations, even food. In each box, there's new projects like discovering the science of magic engineering a domino machine, and more. And it's high quality, real engineering, science, and art projects. Pause or cancel anytime.
[00:29:39] Jen Harbinger: Give awesome this holiday season with KiwiCo. Get your first month of any crate line free at kiwico.com/jordan. That's your first month free at K-I-W-I-C-O.com/jordan.
[00:29:53] Jordan Harbinger: This episode is also sponsored by Better Help. One of the most common questions I used to get asked is how to find a therapist. I often recommend seeking a therapist in Feedback Friday because therapy can help just about anyone. It doesn't mean you're crazy or damaged or whatever. We all deal with the ups and downs in life and there's no doubt that having a licensed professional therapist to speak with will help get you back on track sooner. And working with a therapist will also help you manage future curve balls that life throws at you. Jen's been with Better Help for, what? A few months now, right? And I know that she'll love it. After answering a questionnaire, which only took a couple of minutes, she was matched with a therapist that fits her needs within 15 minutes. So there's no joke, super fast. It's so convenient. You can do video sessions, you can do phone only. She's even done her weekly sessions while grocery shopping. I'm not sure if you need to go that far. Maybe a little privacy, maybe other people don't need to hear about your stuff in the dairy aisle. So if you're thinking of giving therapy a try in the produce section or whatever, Better Help is a great option. It's available worldwide and if you don't like your therapist, get matched with a different one, no additional charge.
[00:30:57] Jen Harbinger: And when you're ready to be a better problem solver, therapy can get you there. Visit betterhelp.com/jordan today to get 10 percent off your first month. That's better-H-E-L-P.com/jordan.
[00:31:09] Jordan Harbinger: If you're wondering how I managed to book all these great authors, thinkers, and creators every single week, that's because of my network and I'm teaching you how to build your network for free over at jordanharbinger.com/course. I just taught this to a bunch of insurance folks, but I've also taught it to MI6, Secret Service. This course is about improving your networking and your connection skills, but also about inspiring others to develop a personal and professional relationship with you. It'll make you a better networker, a better connector, and most importantly, a better thinker. That's all for free over at jordanharbinger.com/course. And many of the guests you hear on our show subscribe and contribute to that course. So come join us, you'll be in smart company where you belong.
[00:31:50] Now back to Matthew Campbell.
[00:31:53] Investigating and frustrating piracy alone has to be really tough because you can't really — first of all, even if you could arrest them, you can't really prosecute them or even file a lawsuit against the Somali pirate or somebody in Yemen. You can't really do anything about it. You can't reach them by law and you can't reach them at all anyway with law enforcement. So what can actually be done about any of this? It seems like somewhere between the guys jumping on the boats and the money, the millions of dollars, whatever, coming from the Greek or US-based shipping company, somewhere in between there, that's where you got to do the enforcement, right? Maybe with the bank involved or the transfer of funds somewhere.
[00:32:30] Matthew Campbell: Well, there were various ideas to tackle this problem over the years. One was the slightly farcical effort by the US and other countries to prosecute individual pirates. And there were a couple of incidents where the US Navy picked up, you know, these sort of tank top Somali guys, you know, with a Kalashnikov and mesh shorts and a tank top arrested them, brought them to New York to go on trial at SDNY, you know, under piracy statutes, dating back probably to the early 19th century. I don't think anyone has ever thought that's a really scalable strategy.
[00:33:05] So there were other ideas. Like, you have to go after the facilitators because piracy is a business. The money has to be laundered. There are investors who are backing piracy enterprises, so you can go after them. And that was tried to some extent, but what ended up working ultimately and what has really largely put a stop to piracy, at least in the Gulf of Aden, or made it much more difficult is putting armed guards on ships.
[00:33:30] Jordan Harbinger: That seems like the most obvious freaking solution. I was like, what am I missing? Where you can't just put a couple of soldiers with the long-range rifles and as soon as this ski pulls up, take out as many of the guys as possible and they will turn around and go the other way, theoretically.
[00:33:44] Matthew Campbell: Yeah, there was a lot of resistance to it, believe it or not, first of all, because it's expensive and shipping is all about cutting costs.
[00:33:51] Jordan Harbinger: Fine.
[00:33:51] Matthew Campbell: Ship owners are nervous about having on ships, probably for good reason. And so that prevented it. There were regulatory obstacles, you know, kind of wondering if you're a big shipping company based in Europe and you think, "Well, can we just start killing Somali pirates? Like, is that allowed? Are we going to be prosecuted?" There were legal questions. So it actually took a while to figure out exactly how to do this. But ultimately, that is the solution the industry arrived at and piracy today has come down quite a bit.
[00:34:21] Jordan Harbinger: It seems so obvious, right? Because yes, it's expensive, but you know what else is expensive? Ransoming an oil tanker or paying out for dead crew after four years of captivity, whatever it is. But I understand the legality of not wanting to roll your ship in from China and then have it land in Taiwan and then have it landed in Spain and then maybe you just broken laws everywhere that you just were with your rifles on board and your soldiers and stuff like that. And it seems like the kind of thing you have to be delicate with the treaty because you don't want it to then result in arms trafficking or all kinds of other knock-on effects that wouldn't work well. But yeah, with this much money at stake, it seems like the most obvious thing to do is say, even insurers should have said, "Hey, put some armed guards on this ship because it's lowering our chances of having to pay out 500 million dollars if you've got three armed guys on there that have reasonable marksmanship.
[00:35:13] Matthew Campbell: Ah, but if you're an insurer and Somali piracy is rife, you can charge higher premiums.
[00:35:20] Jordan Harbinger: Okay. Now, the truth comes out, right?
[00:35:21] Matthew Campbell: So your incentives don't always exclusively run in the direction of wanting safer seats.
[00:35:29] Jordan Harbinger: Tell me more about that, because if I just thought of that solution just now, other people had considered it before and went, "No, I'm making more money doing it this other way," even if it's more dangerous for somebody else.
[00:35:40] Matthew Campbell: I'm certainly not suggesting that the insurance industry, you know, loves piracy or loves ships getting into trouble.
[00:35:46] Jordan Harbinger: We would never do such thing.
[00:35:47] Matthew Campbell: But look, it is a fact, and there's a history of this at Lloyd's, particularly. That dangerous times can up to a point, be good for business because you can charge more for the insurance if people need it more. Now, I say up to a point, because obviously if you have a lot of big payouts, that's a problem.
[00:36:08] And one of the funny things about Lloyd's is — this has changed now — but historically, the people who funded Lloyd's, the investors whose capital underwrote these huge insurance policies were largely wealthy individuals. And actually, if you were a very aristocratic Brit or even just a celebrity who wanted a place to park their money, you would become what was called Lloyd's name. And that would mean you pledged, you didn't actually have to hand it over, but you sort of reserved a certain amount of capital for Lloyd's policies.
[00:36:40] And if the policies that you were invested in ended up having to pay out, there'd be a call on your capital. And this was particularly unusual because they had unlimited liability. So as they would say if things went really bad, you were on the hook down to the last cuffing. That was the expression they used. But the way the market had evolved, that never happened. You know, almost everyone made money. They'd set it up in a very efficient way. And so it was seen as like a safe bet and there were various tax advantages too.
[00:37:07] But in the '80s, there were a number of disasters all at once. And then, Hurricane Andrew also at 1992 compounded it, and suddenly there wasn't enough money in the Lloyd's market. And all these names who thought they'd made this incredibly safe investment in a kind of you know, "come on, old chap" sort of way—
[00:37:26] Jordan Harbinger: Yeah.
[00:37:26] Matthew Campbell: —were like, Holy sh*t, they need all my assets." And there were a lot of lawsuits. It was really ugly. It resulted in a big restructuring of the way Lloyd's operates. And the names kind of died out. Actually, individuals stopped being the main backers of voice policies. It's now, you know, big companies.
[00:37:42] Jordan Harbinger: It sounds like you would want, yeah, you'd want some limit on that liability. Like you could pledge all the assets that Jordan Harbinger LLC has, but you're not taking my house and my kid's college fund. That's a little bit too much, even if you're giving me good returns. It's funny that people were doing that because when I think, insure David Beckham's legs or Bruce Springsteen's voice and then you say individuals can do this, it reminds me of — they sponsored this show, so I got to be careful what I say. But have you heard of this company called Masterworks where you can like buy a share in a Picasso painting? You don't get the painting, but it's like an investment.
[00:38:15] Matthew Campbell: Yeah.
[00:38:15] Jordan Harbinger: It's what it sounds like. It's like, "Have you always wanted to purchase David Beckham's legs but you couldn't afford to? Now is your chance to own a piece of history," right? Athletic history. "You always wanted to meet Springsteen? You can't, but you can own his vocal cords or at least a tiny share thereof by joining the Lloyd's of London marketplace." That's really what this sounds like. And it's really funny that used to work like that. I can imagine the limit on liability generally a good idea, but of course, you know, greed always has a good way. Greed's always a great way to get people to throw caution completely out the window.
[00:38:47] Matthew Campbell: Public service announcements to your listeners, do not sign up to any partnership with unlimited liability. It is a bad idea.
[00:38:54] Jordan Harbinger: Exactly if that even exists anywhere now.
[00:38:57] So how do you get the oil then off a boat that is nothing more than a burned-out husk with tanks full of oil floating someplace off the coast of Yemen?
[00:39:08] Matthew Campbell: Well, in this case, first you have to get it out of Yemen because these are not waters where you want to do what's called a ship-to-ship transfer, which is this very delicate, slow operation to essentially pump the oil from a full tanker to an empty tanker. That's basically what it is.
[00:39:25] So the first thing you have to do is you need to tow the vessel because in this case, the Brillante was not going anywhere on its own power. You need to tow it somewhere safe. And they decided, ultimately, the insurers and owners, that it would go up to the Persian Gulf of the United Arab Emirates, which is a much safer part of the world. But before that, one of the things that need to happen is you need to get what are called surveyors on board who are, essentially, kind of like claims adjusters. Like if you have a tree fall in your garage and you make an insurance claim on your home policy, State Farm or whoever are going to send someone around to take a look and make sure, A, that the tree actually fell in your garage, that the damage is, as you described it, come up with an estimate for what they'll pay out, that kind of thing. The insurance industry employs people just like this, but on sort of elite scale, what are called marine surveyors who go in for these really complicated cases.
[00:40:27] And in the case of Brillante, there was a marine surveyor that happened to live in Yemen, a British guy, David Mockett, who was hired by the insurance companies who covered that vessel and asked to go board and that decision ended up being a very fateful one for David.
[00:40:45] Jordan Harbinger: Yeah. He ended up dying, being targeted, right? He's blown up by a car bomb. And this plot twist is either terrorism or something else more insidious going on as we find out in the book. It turns into this absolutely ridiculous, and I mean that in a positive way kind of tale of these salvage crews and this owner of the ship. And we'll get into this in a second. Before we get there though, I'm still curious about getting the oil off the boat. You mentioned ship-to-ship transfers. I've heard of North Korea, you know, they're under sanction from just about everybody. I've heard that North Korea will take oil from, let's say a tanker that comes from Taiwan, but they can't have the boat from Taiwan, go dock in North Korea, or get picked up by a satellite. So North Korea sends a tanker into international waters. Taiwan sends a tanker, or Singapore or whatever, into international waters, China, whatever it is, and then they do a ship-to-ship transfer, and then the ship does another sort of fake stop. So it looks like it went to Singapore, to Taiwan or whatever, but it really, the whole point of that journey was to give oil to North Korea or other goods.
[00:41:47] Have you heard about this at all? Because it seems like this is a kind of common sanction of evading trick?
[00:41:53] Matthew Campbell: Yeah, I've looked into that issue quite a lot actually, of these ship-to-ship transfers to get around sanctions. North Korea is a very common user of this tactic. The basic idea is oil is movable. You can get it from one tank or to another. You have to find a quiet place to do it, and you have to turn off both vessels' transponders what are called the automatic identification system, which essentially if you go on marine traffic or another who have these ship tracking websites that are at least partly free, you can see the location of just about every commercial vessel in the world, which is because they all have these transponders that are squawking at all times. But you can just switch them off and you certainly would switch them off when you're doing an illegal ship-to-ship transfer of oil destined for North Korea.
[00:42:41] The physical way you do it is quite tricky. So, you know, if you want to start with the real basics, the empty tanker is sitting high in the water and the latent tanker is sitting low in the water. And as the process goes on, those positions will switch. And you have to make sure that that happens without either vessel being destabilized. It gets more complicated still in the cases of Brillante or the tanker that was attacked, one of the ships is heavily damaged. So if these ships are right up next to each other, there could be pressure on the side walls of a haul. You need to make sure that those are not going to be too weak to sustain a bump.
[00:43:20] You know, another thing is you need to inert the oil. I mean, we can keep going if you want.
[00:43:24] Jordan Harbinger: No, this is interesting. I mean, look, maybe I'm the only one who finds it interesting, but it seems like you could — if this oil is sitting in there, it could be off-gassing. Couldn't that explode? What if there's a spill, that could explode, right?
[00:43:35] Matthew Campbell: Well, exactly. So oil in a tanker produces flammable vapors. And so what you need to do to keep it stable, you need to inert it. That's the verb that we use.
[00:43:45] Jordan Harbinger: Okay.
[00:43:46] Matthew Campbell: You need to pump in an inert gas, which is low oxygen content, to make sure that a fire can't get going from these fumes. But in the case of a damaged ship, the inert gas system probably doesn't work. So you then need another source of inert gas from another vessel to pump in and keep pumping it in so that you don't have an explosion, and then on and on and on.
[00:44:08] You know, Nick Sloane, who's this master salvor who appears in the book around the ship-to-ship transfer actually involving the Brillante's oil has done a lot of these, probably hundreds of ship to ships over the years. But even he would say, "Everyone is different. You have to be careful. This is a tricky and potentially dangerous procedure."
[00:44:27] Jordan Harbinger: If he's done hundreds of these, that dude's a billionaire by now. Got to be, right?
[00:44:31] Matthew Campbell: Maybe not a billionaire, but he's done very well.
[00:44:33] Jordan Harbinger: Yeah. Good for him.
[00:44:34] Okay. So the man investigating this fire/piracy is blown up by a car bomb in Yemen. It's not just random terrorism. It looks like he's targeted and he was targeted because he thought something about this ship fire was fishy. No pun intended, right? I'm trying to stay away from nautical puns, but it's not possible here, especially around this poor guy because he was like this incorruptible guy. He wouldn't just lie on the farm. It sounds like he had integrity and in a business that didn't necessarily want him to have integrity around matters like this, especially this one.
[00:45:04] Matthew Campbell: So David Mockett is, yeah, this elite marine surveyor. He's very good at his job. He lives in Yemen. He's British, although he lived in the Middle East, most of his career. He had a reputation for being totally by the book. He's not someone who would ever fudge the numbers a little bit or, you know, give a little on a claim because someone was his friend. That was just not his way at all. And he went on board the Brillante to inspect the vessel after this pirate attack and fire and concluded that the story didn't stack up.
[00:45:38] He didn't really have any idea or none that he articulated that I saw of what had actually occurred, but he was quite confident that there was something more going on here. And he articulated those doubts in emails and phone calls in documents that ended up being circulated around the marine world to all the many people who had a stake in this accident.
[00:46:02] And yeah, on July 20th, 2011, exactly two weeks after the attack on the Brillante, David climbed into his car, outside his office in port of Aden City in southern Yemen, drove maybe 100 or 200 meters and was killed by a car bomb that had been placed directly under the driver's seat, clearly targeted at him. And ultimately, a lot of people involved in this case would conclude that he had been targeted because he had articulated those doubts and was seen to be in the way of something bigger than him.
[00:46:35] Now, you know, I should stress, no one's ever been charged with his murder. There has never been a conclusive legal determination of who killed him and why. But there were certainly suspicions from the start that this was not some random act of terrorism, that he was targeted because of his role in this case.
[00:46:52] Jordan Harbinger: So he gets the idea, or at least it sounds like he gets the idea that this ship was deliberately like you said, the story doesn't stack up, something went wrong, but it wasn't just the piracy, in fact, those guys didn't even stay on the boat. It looks like maybe there's an inside job. Tell me about scuttling, what this is and why people do it.
[00:47:09] Matthew Campbell: So when I first learned about this in the course of researching, first a magazine article about this case, and then, the book, I was like, "What?" The notion of scuttling just completely blew my mind. Scuttling is intentionally sinking a ship. And it's called scuttling because there are these hatches called scuttles on the sides of ships. And if you want to sink a vessel, the easiest way is you open up the scuttles, you let water come in, and down it goes.
[00:47:33] And there are historical examples of military scuttling, for example. So after the First World War, this is probably something a lot of people remember from history class. The German fleet was scuttled at Scapa Flow so that the Royal Navy couldn't take possession of these vessels and convert them into British service. So that's a military reason.
[00:47:54] However, over time, and really this goes back a long way, goes back even to the ancient Greeks, one of the reasons ships have been scuttled is for insurance fraud because there are cases where as my co-author, Kit and I say in the book, some ships are worth more on the bottom than they're afloat. And there can be various reasons for that. You know, sometimes a rust bucket vessel is insured for more than it's actually worth. Maybe it's losing money. You know, the owner needs cash, and a way to get it is to sink the ship. And it turns out this has been going on forever. It is as old as shipping itself just about, and it remains a big problem today.
[00:48:34] And if you talk to anyone in the marine insurance business quietly, this is not something they advertise. They will say, "Yeah, this is a big problem. And it's something that we have to contend with all the time, that not all nautical accidents are really accidents."
[00:48:49] Jordan Harbinger: Did you say that there was insurance fraud even in ancient Greece, or were you talking about military scuttling Even in ancient Greece? Because it would surprise me if there was insurance fraud in ancient Greece. But now I realize it probably could have been.
[00:49:01] Matthew Campbell: Oh, there was, absolutely. This is one of the reasons that insurance fraud is among the oldest white-collar crimes.
[00:49:07] Jordan Harbinger: It's funny, I had no idea.
[00:49:08] Matthew Campbell: The ancient Greeks had something called bottomry, which was a kind of primitive form of insurance and it similarly created opportunities for fraud. So actually, the earliest case of insurance fraud that we know of comes from the ancient Greeks and we know about it because Demosthenes talked about it and that was then recorded. This is something that's been going on really since time immemorial. It's as old as finance, let's say that.
[00:49:32] Jordan Harbinger: That's fascinating. And it makes sense though, right? The rewards are huge. Ships are super expensive, they're expensive to maintain. You can't just sort of like take it out of service, because you still got to keep it in a port and pay the people to keep the thing floating, right? It's not something you can just sort of abandon. It's not a car you can park in a forest and walk away from and just cancel the insurance, right? It's a massive floating factory or palace or whatever it is. The problem I would imagine with scuttling is the crew is on the boat and the owner is sitting somewhere in Athens or New York and he's not necessarily going to have a problem if the thing hits the bottom of the Mediterranean Sea because he's not on it. He's not there.
[00:50:09] Matthew Campbell: Yeah. Crews are an issue. There are ways around that. Ideally, you don't want to kill them because I think most ship owners would have some qualms about that. So the easiest thing is to just pay them off and say you didn't see anything. If anyone asks, you hit that rock by accident or that fire started by accident. And compared to the amounts you can gain by large-scale marine insurance fraud, paying a bit to each sailor is not such a big deal, particularly nowadays because sailors are paid very, very, very little.
[00:50:40] Jordan Harbinger: Yeah, I've heard that most of the crew now are from like India, the Philippines, Sri Lanka, Vietnam, whatever it is. And a lot of times there's almost no western crew on there or maybe there's a couple of Dutch guys in the bridge of the boat or Norwegian guys. So, if you pay those guys a couple of million and they retire and then you pay the rest of the crew a million divided up 20 ways, they're all never going to need to work again. So they're certainly going to be quiet about something that they couldn't stop even if they wanted to, right?
[00:51:07] Matthew Campbell: Yeah. So, even the two Dutch guys on the bridge are probably gone now. Shipping is an industry that is staffed overwhelmingly from the developing world. Overwhelmingly, I mean like 90 percent plus. The exception is there are some Russians and Ukrainians, so sort of less wealthy, semi-developed countries in those cases. But yeah, Philippines is the number one source of sailors, India, Indonesia. And this is part of this huge transformation of the shipping industry that has occurred over the last 60, 70 years where containers meant bigger ships. They also meant you didn't need as many people to load and unload, which means you didn't need big staff in ports like New York and London, so you could fire all those people.
[00:51:49] And then, you had flags of convenience. This is the practice of registering under the flag of Panama or Liberia. And that means you have no rules on minimum wage, for example, that are comparable to those in the West. So you can just pay rock, rock bottom. And that means, you hire Filipinos or Indians who will live away from their homes for 10 months a year, make maybe a thousand or 2000 a month, and not ask too many questions.
[00:52:19] Jordan Harbinger: This is The Jordan Harbinger Show with our guest Matthew Campbell. We'll be right back.
[00:52:24] This episode is sponsored in part by Progressive. Let's face it, sometimes multitasking can be overwhelming. Like when your favorite podcast is playing, the person next to you is talking and your car fan is blasting all while you're trying to find the perfect parking spot. But then again, sometimes multitasking is easy, like quoting with Progressive insurance. They do the hard work of comparing rates so you can find a great rate that works for you, even if it's not with them. Give their nifty comparison tool a try, and you might just find getting the rate and coverage you deserve is easy. All you need to do is visit Progressive's website to get a quote with all the coverages you want, like comprehensive and collision coverage, or a personal injury protection. Then, you'll see Progressive's direct rate and their tool provide options from other companies all lined up and ready to compare. So it's simple to choose the rate and coverages you like. Press play on comparing auto rates, quote at progressive.com to join the over 27 million drivers who trust Progressive.
[00:53:12] Jen Harbinger: Progressive Casualty Insurance Company and affiliates. Comparison rates not available in all states or situations. Prices vary based on how you buy.
[00:53:19] Jordan Harbinger: This episode is sponsored by Harry's. My days are crazy now that I'm back in traveling a ton. The kids are back in school. Holidays are coming up. We're probably all cutting it close to the season, going from one thing to another. And with their incredibly sharp razors and refills that arrive in the nick of time, Harry's is the official sponsor of cutting it close. I love Harry's so much. I keep a set in my shower. I keep a set in my travel kit. I gift them to friends and family, and it's three bucks for a starter set. So it's a pretty practical gift. And let's just say super cost effective and high quality. I've been using Harry's razors for years. I have not come across a better razor, especially the blade. I don't think I've ever accidentally cut myself with this because they don't get that weird dullness so that the cheaper ones get where like part of it's still and part of it's not. They're made in their own factory in Germany. And right now, you can get a Harry Starter set, like I said, three bucks. Plus you'll get a free travel-sized body wash. The set includes five blade razors, weighted handle, feels nice and hefty, foaming shave gel, and a travel cover. It's a $16 value for three bucks. Visit harrys.com/jordan.
[00:54:17] Matthew Campbell: And no matter how busy things get, stay fresh with Harry's. Get your Harry starter set today and you'll get a free travel-sized body wash. Just go to harrys.com/jordan. That's harrys.com/jordan.
[00:54:29] Jordan Harbinger: Thank you so much for listening to and supporting the show. Supporting our advertisers is what keeps us in business. So all of those deals, all those codes, all those sometimes complicated and changing URLs and promos, they're all in one page. The page is searchable. jordanharbinger.com/deals is where you can find it. You can also search for the sponsors using the search box on the website over at jordanharbinger.com as well. So we try to make it as easy as we can. Hell, if you can't find a code, email me, I will give it to you. So please consider supporting those who support this show.
[00:55:01] Now for the rest of my conversation with Matthew Campbell.
[00:55:05] What is going on with the flags of convenience? Is that why ships have these seemingly random flags on the back? I know we talked about this kind of a few weeks ago prior to the show. That always confused me. When I lived in Panama, I would see ships with Panamanian flags and I'm thinking, it's a bunch of Americans on here. Words are in English on the side. Everybody's yelling off at the side of the canal in English. Like, what's, what is going on here? Why does it have a flag from Bermuda or Liberia? And there's not a single, not an African sight. It's so confusing, right? That just drove me nuts. I never could figure it out.
[00:55:36] Matthew Campbell: Flags of convenience are fascinating, and this is another example of where when you learn about the shipping industry, it kind of breaks your brain a little bit because it operates under such different rules from everybody else.
[00:55:48] So time was that if a ship was owned by Americans, it was registered in the United States, it would have an American crew, subject to American law, and so on. And the same for the UK and France, and down the line. In the '20s, some people figured out that if a ship was registered in Panama, flag is Panamanian, it could serve booze even during prohibition. So this was a very obvious application of a flag of convenience in that case. And then, after the war, things really got going.
[00:56:19] One of the reasons was there was some concern by the US government that in the event of a conflict with the Soviet Union, American shipping would be blockaded. And so a solution to this would be to flag broadly Western vessels under some kind of neutral country. So, the results of this thinking was something called the Liberian registry. And the Liberian registry associated, of course, with the very small West African country of Liberia got going in the late '40s. The very first vessel flagged as Liberian was owned by Stavros Niarchos, who was a very rich, very suave Greek shipping tycoon of the postwar era, one of the richest men in the world at that time.
[00:57:04] From there, tons and tons and tons of vessels flagged themselves as Liberian, Panamanian, Bermudan for the simple reason that these countries had very limited rules on things like wages and working conditions. You could save a huge amount of money by flagging with those countries, even when the registries had very little to do with the countries themselves. So one of the fun things to know about the Liberian registry is that it's based in Dallas, Virginia, not Liberia.
[00:57:33] Jordan Harbinger: Okay.
[00:57:33] Matthew Campbell: I think it has an office in Liberia and it kicks some money back to the Liberian government, but it is an America, it is a private American company that has a license to use the flag of Liberia.
[00:57:45] Jordan Harbinger: Wow.
[00:57:46] Matthew Campbell: And to sell registrations to commercial vessels. Again, when I first heard that, I was like, "The Liberian registry is based where?"
[00:57:52] Jordan Harbinger: Yeah.
[00:57:53] Matthew Campbell: Excuse me? Not Liberia is the answer. So Panama is actually in Panama but you get the idea. These are legal fictions that are designed to cut costs, cut regulation, make life easier for ship owners, and they're wildly popular. You would be crazy as a commercial ship owner, not to use a flag of convenience because you can save so much money.
[00:58:14] Jordan Harbinger: I've heard you can even get flags from places like Mongolia, and of course, the first thing I did was say, "Mongolia?" Pretty sure they have no coasts. I had to look at a map to confirm that Mongolia indeed has absolutely no coastline whatsoever, and yet you can flag your ship from Mongolia. And then, I guess what not pay taxes, pay your workers crap, serve booze in countries that don't allow booze, and — I don't know, who knows what else you can get away with?
[00:58:38] Now, that you tell me that the Liberian office is in Virginia, it's probably run by people who aren't even from Liberia. I would imagine the Mongolian thing is just, it's the same thing. Who knows? Maybe that's run out of a suburb of Detroit somewhere with a bunch of French people running it. It just seems completely arbitrary in many ways.
[00:58:55] Matthew Campbell: The Liberian registry, I was like it sounds like a joke. The Liberian registry is based in Virginia and is run by Israelis.
[00:59:02] Jordan Harbinger: There you go because, of course, right?
[00:59:04] Matthew Campbell: Because, of course.
[00:59:05] Jordan Harbinger: Yeah.
[00:59:05] Matthew Campbell: And Mongolians, yeah, landlocked countries have at times sold cheap, hassle-free ship registrations. At one point, this may be apocryphal, but it is, as they say, too good to fact-check. Supposedly someone in Singapore set up a Cambodian registry without telling the government of Cambodia. And all of these ships were suddenly flying Cambodian flags, you know, with no involvement from actual Cambodia. And it was like run out of some office in Singapore. This is a wild, unregulated space.
[00:59:36] Jordan Harbinger: I would imagine Cambodia was at least if they have any sort of maritime presence, which I doubt they do, they would be somewhat alarmed that there's a bunch of giant ships flying their flag off of the back.
[00:59:47] Matthew Campbell: I'm sure they would be irritated by that, yeah.
[00:59:49] Jordan Harbinger: It seems like it would touch a nerve, yeah.
[00:59:51] Matthew Campbell: I think that one eventually got shut down but these things pop up and disappear over time. The flags of convenience, everyone knows Bermuda, Liberia, Panama, Marshall Islands another big one. And then, there's a whole other tier below that, that are even sketchier.
[01:00:09] Jordan Harbinger: Where is there room to be sketchier with this?
[01:00:12] Matthew Campbell: Fewer safety requirements—
[01:00:14] Jordan Harbinger: Ah.
[01:00:14] Matthew Campbell: —fewer inspections, even lower taxes. The ITF has a blacklist of the very worst flags of convenience. You know, the Panamanian, for example, there are certainly some concerns about it, but it is employed by, you know, big, big companies like ______ and so on. So there is a kind of baseline level of probity that has to be followed. But you know, the Samoan registry or something like that, you're just in a whole world.
[01:00:38] Jordan Harbinger: Does North Korea have this because they're under sanction? It's probably not that useful to have your ship flagged North Korea because you probably can't go anywhere or do anything.
[01:00:46] Matthew Campbell: Yeah, I would imagine that there would not be a lot of takers for North Korean registries.
[01:00:50] Jordan Harbinger: It is amazing how this industry touches every even remote region in the world. So even after this Greek-owned, Liberian-flagged, British-insured, Yemen-investigated, Middle-Eastern-salvaged ship was done with service forever. Didn't they send it to like Pakistan to be disassembled and melted down for scrap and recycled as well?
[01:01:12] Matthew Campbell: That's right. So when you have a ship that is truly at the end of its life and needs to be scrapped, you generally do not scrap it anywhere expensive with lots of annoying environmental regulations. So the place to go, there are three places to go actually, there are Pakistan, India, and Bangladesh. And there are these communities in Pakistan, for example. Right on the Arabian Sea Coast, there's one that's probably the most famous called Gadani. And one of the virtues of Gadani, it's near Karachi on the beach is that it has a very soft, sandy sore that rises quickly out of the water, so it's a steep incline out of the deep water. And that means you can bring big vessel right off the beach and just take these, you know, 200 or 300-meter tankers and shove them right up on the sand.
[01:02:04] Jordan Harbinger: I think I've seen this. This is the one where they're blasting the horn and everyone clears out of the way and they just full speed ahead. This massive ship just plows into the beach and comes up there and they just start, after that, I guess, sort of like one-fourth of it is still in the water because, of course, and they just start welding pieces off of it, and taking them down. I think I've seen a video about this because I was like, they're doing this on purpose, but what the hell is going on? I couldn't figure it out. This is what's going on in that video.
[01:02:32] Matthew Campbell: Exactly. So then it's an informal industry. These vessels, once they come up on the beach and this plays out, we're describing Pakistan here, but it's exactly the same in India and in Bangladesh. They'll swarm by workers with blow torches and saws and hammers who start ripping apart everything of value. So, you know, obviously, steel, copper, those are valuable. There's lots of other smaller amounts of material that you want. Even the wood gets taken because they use the wood to build the shacks they live in. So typically, these workers will live right by the beach in kind of shanty town settlements made from wood salvaged from vessels.
[01:03:12] Jordan Harbinger: It's really incredible.
[01:03:13] Matthew Campbell: Yeah. And it's super dangerous. The working conditions are terrible. There is a lot of concern among NGOs about these places and sort of demands that ship owners stop sending ships there and stop encouraging. It's a very dangerous work. On the other hand, you know, there's an argument that it's providing employment for people who wouldn't otherwise have it. And so the Brillante was ultimately sent to Pakistan to Gadani where it was scrapped and disappeared.
[01:03:40] Jordan Harbinger: It seems like if you're buying anything, you're selling anything, you're digging anything out of the ground and moving it around. Or even if you're just destroying the things that you use to do those particular things, you need shipping. It's just unbelievable. It's really incredible and amazing and very cool. On the other hand, it seems like there's no real incentive to clamp down on the fraud involved. Because can't the insurance companies just jack the price up for everybody else if people scuttle a ship? It's like, well, I could investigate this and then not prosecute anyone and then never get any sort of closure on this. Or I can just raise premiums by 10 percent for the amount of people that are defrauding us. And that's just how it's going to be.
[01:04:17] Matthew Campbell: So insurers have historically been pretty hesitant to tackle fraud and to really go after scuttling, and there are a few reasons for that. Yeah, one is they make lots of money, and if you have to pay out an odd dodgy claim here and there, and you maybe also get to raise premiums to the current cost, the impact on your bottom line is not great.
[01:04:40] Another is, it's bad for business to accuse your clients of being criminals. You know, the ship owning, look, this is not like car insurance where you have millions of individual customers. There are only so many large ship owners in the world. And if you say to someone who has a fleet of tankers, "Hey, you know, we think you're a crook. We think you scuttle the ship intentionally defraud us." Well, he's probably going to take his business elsewhere and you don't want that.
[01:05:05] And the third, and this is really where we have to be quite fair to the insurers and, you know, not exactly sympathetic but to understand their position, in the admiralty courts in London, which is where these disputes have to be adjudicated, there is a very high legal bar to proving fraud when comes to shipping. So what you have to do is not only prove that a vessel was scuttled or destroyed intentionally, but that the owner was directly responsible for doing so. And given that an owner can always blame it on the crew or blame it on somebody else, that's really hard. So winning a scuttling case, and of course, if you deny a claim, you will get sued. That's what happens. Winning a scuttling case is really challenging and as a result, insurers have over the years decided to not even try for the most part.
[01:05:55] Jordan Harbinger: It seems like you almost need some recorded phone call or bunch of emails that you get during discovery that say, "So what we're going to do is burn this thing and seaman number one is going to plant a grenade in the engine room and seaman number two is going to open all the fuel valves. There's a lifeboat waiting for them. They're going to go here. We already booked the hotels. Here's your receipts." You really just need an open-and-shut case. And even then, unless there's money that you're going to save by doing this, why prosecute the person? Just tell them you're denying their claim and here's your evidence, and then never bothered to bring them to justice. Because who cares? They're not going to show up in handcuffs or show up for the handcuffs.
[01:06:34] Matthew Campbell: Well, if you deny the claim, they'll sue you, right? There's very little criminal prosecution of this because governments just aren't interested in it. On the civil side, if I am what's called a Lloyd Syndicate, which is a group of insurers who come asset, and I say to the owner of, you know, hypothetical, wrecked vessel, "I'm not going to pay million because I think it's fraudulent." The owner sues me, of course.
[01:06:59] Jordan Harbinger: Yeah.
[01:06:59] Matthew Campbell: Because he has a lot of money on the line. That's not a lawsuit that insurers are confident they can win. And of course, if they lose, they have to pay out. So what may occur instead is I'll say, "Well, we've had some difficulties assessing your claim, Mr. Greek ship owner, but of course, we value our relationship, so why don't we settle for 50 percent of the value." And he walks away with 50 million dollars. And the knowledge that in this case, this kind of crime kind of does pay.
[01:07:28] Jordan Harbinger: Globally, this probably costs billions of dollars a year, but it just means higher prices and business goes on. Higher insurance prices, which means higher shipping and goods prices, but it's all sort of muted out over billions of people. So we don't even really necessarily notice. But yeah, it just seems so easy, or quite easy, I should say if you know what you're doing to perpetrate and get away with it. Because even when you lose, you just lose the money that you've bet on the crime. You rarely see the inside of a jail cell.
[01:07:53] I don't know, man. Maybe we should buy a boat. A boat and a big-ass insurance policy. What do you think?
[01:07:58] Matthew Campbell: Yeah, if I could do it again, I'd be a ship-scuttling maritime tycoon.
[01:08:03] Jordan Harbinger: Well.
[01:08:04] Matthew Campbell: They have it pretty good.
[01:08:05] Jordan Harbinger: It's not too late.
[01:08:05] Matthew Campbell: And if you're Greek, Greek ship owners who are the biggest group of ship owners in the world, Greeks control something like 15 or 20 percent of global shipping, which is incredible if the country with the population of Illinois. Greek shipping concerns pay no corporate income tax.
[01:08:22] Jordan Harbinger: Wow.
[01:08:22] Matthew Campbell: And in fact, they maintained that exemption even during the depths of the Greek financial crisis. When the country was desperate for revenue, the ship owners very magnanimously agreed to make a one-time voluntary contribution. I think it was 90 million euros or something like that to the Greek state. But they did maintain other tax-free status. Even under Tsipras, who was the firebrand, socialist prime minister even he didn't touch it.
[01:08:51] Jordan Harbinger: Those are the people that are really pulling the strings in Greece then. Essentially, I hate to brand someone with this, these are the oligarchs in a way, right? They obviously have all the power. If they're going to be in a country that has a socialist government or had a socialist government and paid no taxes, even when they are making billions and billions of dollars, that's outsized punch. That's an outsized amount of power.
[01:09:11] Matthew Campbell: Well, yeah. The oligarchs in Greece are not the olive oil tycoons, it's the ship owners for sure.
[01:09:17] Jordan Harbinger: Hey, before I let you go, I want to hear about these oligarch yachts, man. We hear about them getting seized in Italy and Spain, Portugal, whatever. And then I started looking these up and I subscribed to Yacht Watch, which I'll link in the show notes because basically this is, I think, a former intelligence agent and she writes all about how big the yachts are, what they have. There are yachts that have like missile, literally missile defense systems are on the yacht, talk about bond villains and they say this one is probably Putin's, but nobody can really prove it because it's owned by other people through three different shell corporations. Can you tell me about that? This seems like the kind of thing that's right in your wheelhouse as well.
[01:09:55] Matthew Campbell: So one of the fun things to know about shipping is it is entirely possible and in fact common for ships to be owned, anonymously. And this is true for yachts and commercial vessels, you know, big oil tankers or containerships alike, where the registered owner is just a shell company, which is just a brass plate in the Cayman Islands or the Marshall Islands or wherever. And that shell company, of course, is owned in turn by other shell companies, and there are many layers between the registered owner vessel and what's called the beneficial owner, the actual human who owns it.
[01:10:29] Yachts are a little easier because, of course, you can see who's getting on and off them, whereas a commercial ship, you know, if I'm a shipping tycoon who owns a big container vessel, it's very possible I'll never set foot on it or maybe just once. Yachts you can generally figure out, who owns something by, you know, whether they're on it all the time, for example. So, when the Ukraine war got started, one of the initial reactions of western governments was, let's start seizing yachts. You know, all these oligarchs have yachts, and in the case of most of them, It's fairly easy to know what their yachts are because they've bragged about it or they've been seen on these yachts in Mustique or wherever they take them.
[01:11:08] But there was one yacht that was a bit of a mystery, it was called the Scheherazade and this is a very opulent yacht, you know, helipad, swimming pool, dance floor, you name it. That was docked at the time in Italy. And actually, Navalny's people who do a lot of research on official corruption in Russia.
[01:11:30] Jordan Harbinger: Alexey Navalny, the opposition leader, who's now in prison/missing, I think, in Russia, for people who don't know.
[01:11:35] Matthew Campbell: Right. Alexey Navalny is the extremely brave Russian opposition leader who's team have exposed a lot of very high-level corruption among senior Kremlin officials and Putin himself. They did some incredible work on the Scheherazade, incredible detective work. So, like every other big yacht, it's just owned by a shell company. I think in that case it is actually in the Marshall Islands. So that doesn't tell you anything but this is where it gets fun. When a ship comes into an international port, it has to submit the names of all the crew because, you know, they need to get their passports checked, customs, whatever. So they got the crew list from this ship.
[01:12:12] And curiously, the crew was entirely Russian, except for the captain who was Brit. And an all-Russian crew on a yacht, even on an oligarch-owned yacht is pretty unusual. And these weren't just any Russians because one of the real gifts to investigative journalism in Russia is that the country has incredibly bad data security and data protection. So you can get leaked data of all kinds in Russia, you can get leaked financial documents, leaked cell phone records of people's cell phone contacts. So you can actually, with these commercially available leaked databases, do things like search names.
[01:12:53] So, the team from Navalny's organization searched the names of all of these innocent Russian deckhands and chefs and the first mates on this huge yacht. And it turns out, they all seem to work for what's called the FSO, which is the Putin's personal bodyguard.
[01:13:12] Jordan Harbinger: Oh, wow.
[01:13:12] Matthew Campbell: So you have this mysterious vessel owned by a shell company whose crew are all elite Russian security personnel. Oh, and by the way, it goes to Sochi on the Black Sea every summer, which is where Putin spends his summers. So, pretty good evidence, this belongs to Putin. It's now been seized by the Italian government, so Vlad will not be enjoying it anytime soon.
[01:13:35] Jordan Harbinger: It's worth like 600 million dollars or something. I mean, they can't really show the exact value, but I think that was the estimate, somewhere around there or maybe 800.
[01:13:42] Matthew Campbell: In that neighborhood, yeah. I mean, although I think with these things, like any kind of unique asset, it's worth when someone will pay for it. And if Russian oligarchs are all out of the yacht market for now, that probably takes a lot of the air out of that part of the boat business. So I'm not sure if they're really sellable.
[01:13:59] Jordan Harbinger: Sure, yeah, I wouldn't say the resell values 800 million or 600 million. I think that they're probably assuming the build value of the boat—
[01:14:06] Matthew Campbell: Sure.
[01:14:06] Jordan Harbinger: Just based on what Yacht Watch said. They didn't really, I didn't really clarify that. I haven't spoken with them, but that's really interesting. Is Sochi where Putin has that giant palace?
[01:14:15] Matthew Campbell: Exactly.
[01:14:15] Jordan Harbinger: Okay. So Navalny did a video that we can link in the show notes where he exposes this palace that has vineyards and a hockey rink, and it's absolutely enormous and it has coastline. You can't fly over it at all. You can't get anywhere near it with boats because it's considered Russian state military waters. But there's this big house there visible on satellite and nobody's claiming ownership of it. So it's pretty damn obvious that it's Vladimir Putin's Summer Palace.
[01:14:41] Matthew Campbell: Yeah, exactly.
[01:14:42] Jordan Harbinger: You can't freaking hide anything like that anymore with satellites and open source. And especially, like you said, all that data, that leaked data, that's what you get when you live in a super corrupt society, I guess. Right? Everything is for sale, even if nothing is allowed. Crazy.
[01:14:56] Matthew Campbell: Although there's still huge secrecy in shipping. So, in the Russian case, these sanctions in the UK early on. The UK said, "We don't want Russian vessels, Russian-owned vessels coming into British ports." Sounds like a nice idea.
[01:15:09] Jordan Harbinger: Yeah.
[01:15:10] Matthew Campbell: How do you know what a Russian own vessel is? Because as I was saying, every commercial vessel basically anywhere, is now owned by an anonymous shell company.
[01:15:20] Jordan Harbinger: Right, with a Liberian flag on the back. So unless it's like I got a huge ass Russian flag and they're saying—
[01:15:25] Matthew Campbell: Please ban us.
[01:15:26] Jordan Harbinger: They're singing the national anthem when they pull in, you have no idea, yeah.
[01:15:29] Matthew Campbell: And the answer from the UK government was, "Oh, well, we expect port authorities to figure it out."
[01:15:33] Jordan Harbinger: Mmm. Sure.
[01:15:34] Matthew Campbell: And the port authorities were like, "Like with Google? Like, how are we supposed to do that?" The standards for KYC, you know, for "know your customer" that, for example, the financial industry has been put under for the last 20-odd years, you know, for reasons of money laundering, counterterrorism, those really just don't exist in the shipping world. There is very little KYC and you do not know who owns a very large number of commercial vessels out there on the oceans.
[01:16:03] Jordan Harbinger: Crazy. So basically, it sounds like what you're telling me is if you have the money, it's easier to get a ship off the books and hide the ownership than it is to get a freaking Coinbase account and put Bitcoin in there under a name that's not yours.
[01:16:16] Matthew Campbell: Oh, completely. Yeah. No, Coinbase would require quite a bit more KYC than a lot of service providers in the maritime industry would. And even at Lloyd's, Lloyd's insurers — and, you know, I keep saying this, but as I learned more about the shipping industry for this book, my head just kept exploding. Lloyd's insurers do not necessarily know the identities of the people they are insuring. They know the name of the shell company, but they do not know the beneficial owner in many, many cases.
[01:16:45] Jordan Harbinger: It's easier that way, probably, right? The less liability, the fewer questions they have to answer on the back end if something ends up shady, crazy black box.
[01:16:53] Matthew Campbell: Well, you don't need a huge compliance staff. You know, banks have whole towers of people who just do compliance all day. Lloyd's insurers don't need that in the same way. It allows the business to move much quicker.
[01:17:06] Jordan Harbinger: Oh, man. Like I said, let me know when you want to buy a ship and an insurance policy. We're in the wrong business, man.
[01:17:10] Matthew Campbell: Exactly.
[01:17:11] Jordan Harbinger: Yeah. Unbelievable. So fascinating, man. Thank you so much for coming on the show. There's a lot more in the book about how Greece and Greek people became the center of shipping, the investigation, and how these are all done. Really appreciate you coming on. Fascinating stuff. I know we sort of talked on a lot of different topics, but I find this stuff so interesting because it's a world that we just absolutely never get to see, and most of us, we don't even know what we'd be thinking about in most people's mind, I order something and it ships here from Amazon and for all I know, that's a warehouse in Ohio.
[01:17:40] Matthew Campbell: Yeah, exactly. But everything comes from somewhere and there's a fun book, which is obviously, everyone should buy my book—
[01:17:47] Jordan Harbinger: Naturally.
[01:17:47] Matthew Campbell: —but another book they should buy if they're interested in shipping is called Ninety Percent of Everything by Rose George, which is a really interesting introduction to the business, and the title kind of says it all, that shipping is responsible for 90 percent of everything you buy, everything you consume, and yet most of us don't think about it, don't know about it, certainly don't know any sailors. You know, that's sailors all from villages in the Philippines. So, this industry has kind of disappeared, even while being more important than ever, which I think is a really weird and fascinating dynamic.
[01:18:21] Jordan Harbinger: Fascinating look inside. Matthew, thank you very much.
[01:18:24] Matthew Campbell: Thank you.
[01:18:26] Jordan Harbinger: You're about to hear a preview of The Jordan Harbinger Show with the investigator who solved a serial killer case that had gone cold for decades.
[01:18:34] Paul Holes: There was a definite spike in serial predator crime in the 1970s. Part of it was the ready victim pools that don't exist today. Houses generally didn't have alarm systems. We don't see women hitchhiking much today.
[01:18:52] Joe DeAngelo was a full-time law enforcement officer. He's breaking into houses in the middle of the night, raping women or girls that are home alone, that he's binding up and sexually assaulting. He ended up committing 50 of these attacks in Northern California between 1976, 1979, and just disappeared.
[01:19:12] I started working that case in 1994. As a cold case investigator, even though the case is 30 years old, it's like, no, you know, this is still a public safety issue. We need to remove this offender from society. And in 2001, 10 people had been killed across six cases. I'm seeing this woman's body laying inside her house in the photos of her alive on the shelf above her body. She battled for her life and I could see this combat go throughout that entire room.
[01:19:44] Jordan Harbinger: After the Golden State Killer raped some of his victims, he would crouch in the corner and cry.
[01:19:49] Paul Holes: They said he was sobbing, you know, it was like genuine. In fact, one victim, he was sobbing while he was raping her. The last thing I did in my career before I retired was I drove up and parked in front of his house. I debated, should I just go knock on his door? I didn't know he was the Golden State Killer, but this was such a brazen, brutal predator. He absolutely had to be caught.
[01:20:15] Jordan Harbinger: To learn more about how Paul Holes puts himself inside the minds of serial killers, check out episode 725 of The Jordan Harbinger Show.
[01:20:26] Like I said, folks, a really interesting look at something that personally, I've never paid attention to. You know, of course, I've seen the Discovery Channel documentaries on how they load container ships, and I've seen how ports work. That stuff's interesting, but what goes on between ports, I just never thought about it. And it totally makes sense how you can commit pretty much any sort of crime out on the seas and get away with it.
[01:20:48] I'm actually going to do another show on this, what goes on in the open seas because it's not just these kinds of crimes. There's slavery and drug and human trafficking and wildlife poaching and all kinds of sort of depressing, but really interesting stuff is going on.
[01:21:03] I also find it quite insightful that Greece and Greek people are just, they're always seemingly at the center of shipping. I'm not saying they're shady. I just mean it's the national industry. It's really, they have an outsized punch in terms of the percentage of the Greek GDP. A lot of that, of course, has to do with geography, the Greek islands and everything, the diaspora around the world, but also the rise of China, no harm done to Greek shipping. The fall of the Soviet Union, no harm to Greek shipping. COVID, nothing to trip their game up in terms of shipping. It's really impressive. I mean, this is a very resilient industry from the look of it.
[01:21:36] If you want more for Matthew Campbell, the book focuses quite a bit on the difficulty at trial of proving the fraud and that the owner had planned it, et cetera. It's quite an interesting little thriller he's got going there, and I applaud him for investigating this murder. I mean, that cannot have been easy, that the idea that this happens in the middle of nowhere on the open seas, nobody wants to talk, and then solving a case like this is really something.
[01:21:56] Links to all things Matthew Campbell, including the book will be linked up in the show notes at jordanharbinger.com. Transcripts in the show notes, videos on YouTube. Advertisers, deals, and discount codes, all at jordanharbinger.com/deals. Please do consider supporting those who support this show. I'm at @JordanHarbinger on both Twitter and Instagram. You can also connect with me on LinkedIn. I like hearing from most of you there.
[01:22:19] I'm teaching you how to connect with great people, manage relationships, using systems, software, tiny habits, the same stuff I use every single day. That's our Six-Minute Networking course. That course is free. It's at jordanharbinger.com/course. Dig that well before you get thirsty, folks. Many of the guests on the show subscribe and contribute to the course. So, hey, come join us, you'll be in smart company where you belong.
[01:22:40] This show is created in association with PodcastOne. My team is Jen Harbinger, Jase Sanderson, Robert Fogarty, Millie Ocampo, Ian Baird, Josh Ballard, and Gabriel Mizrahi. Remember, we rise by lifting others. The fee for this show is you share it with friends when you find something useful or interesting. If you know somebody who's interested in shipping, high seas crime and hijinks insurance fraud, I don't know, somebody who's got a curious mind, share this episode with them. The greatest compliment you can give us is to share the show with those you care about. In the meantime, do your best to apply what you hear on this show, so you can live what you listen, and we'll see you next time.
Sign up to receive email updates
Enter your name and email address below and I'll send you periodic updates about the podcast.