Reading Time:
3
minutes
Anja Shortland is a professor of political economy at King's College, London who specializes in the economics of crime. She is the author of Kidnap: Inside the Ransom Business and Lost Art: The Art Loss Register Casebook Volume One.
What We Discuss with Anja Shortland:
How many people are kidnapped every year for ransom, and how many actually return from the ordeal alive?
What incentives do kidnappers have to treat hostages nonviolently and bargain for their release in good faith?
How do insurers keep vulnerable clients from letting down their guard once a policy has been obtained?
The protection theory that explains how crime organizations (e.g., the mafia) effectively stabilize the kidnap-for-ransom industry.
Why offering a higher ransom than demanded is the worst strategy for ensuring a hostage's safe release.
And much more…
Like this show? Please leave us a review here — even one sentence helps! Consider including your Twitter handle so we can thank you personally!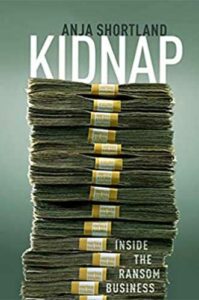 If you or someone you love were kidnapped and held for ransom, how much could the kidnappers hope to get for letting you go? It's a question you hope you'll never have to seriously ponder, but kidnap for ransom is a common enough "business" that a group of insurers at Lloyd's of London offers kidnap insurance to people who are particularly at risk of being abducted. (Not that Jordan "Twice Kidnapped" Harbinger would consider himself among them.)
In this episode, we're joined by Kidnap: Inside the Ransom Business author Anja Shortland, a professor of political economy at King's College, London who specializes in the economics of crime. Here, we discuss how kidnapping is a self-regulating criminal enterprise that operates alongside legitimate insurance companies and professionals who negotiate the safe release of hostages. Prepare yourself for a rare glimpse into the world of kidnap insurance, piracy, hostage negotiation, and the strange system of incentives that keep hostages and property safe — even in the hands of seemingly irrational criminals. Listen, learn, and enjoy!
Please Scroll Down for Featured Resources and Transcript!
Please note that some of the links on this page (books, movies, music, etc.) lead to affiliate programs for which The Jordan Harbinger Show receives compensation. It's just one of the ways we keep the lights on around here. Thank you for your support!

Sign up for Six-Minute Networking — our free networking and relationship development mini course — at jordanharbinger.com/course!
This Episode Is Sponsored By:
On the True Underdog podcast, entrepreneur Jayson Waller and his high-profile guests share motivational tips, inspiring stories, and business-building lessons to help each listener grow in their entrepreneurial journey. Listen here or wherever you enjoy podcasts!
Miss our conversation with Somali pirate hostage Michael Scott Moore? Catch up with episode 115: Michael Scott Moore | What It's Really like to Be a Pirate Hostage here!
The Prosecutors is a true crime podcast with a different point of view. Every week, Alice and Brett bring their unique perspective as prosecutors to the most famous cold case mysteries of all time. Listen here or wherever you enjoy podcasts!
Thanks, Anja Shortland!
Click here to let Jordan know about your number one takeaway from this episode!
And if you want us to answer your questions on one of our upcoming weekly Feedback Friday episodes, drop us a line at friday@jordanharbinger.com.
Resources from This Episode:
651: Anja Shortland | How Kidnap Insurance Works
[00:00:00] Jordan Harbinger: Special thanks to the new Starbucks Baya Energy drink for sponsoring the show. With caffeine naturally found in coffee fruit, it's energy that's good. 
[00:00:07] Coming up next on The Jordan Harbinger Show. 
[00:00:10] Anja Shortland: Yeah, criminal communities talk. And if they think that they've somehow made a mistake with the original ransom level, and that can get a lot more then they will try to get a lot more. A really good example of that is Somali piracy. There's always been Somali piracy. The British Navy went out in the 19th century to deal with Somali pirates.
[00:00:36] Jordan Harbinger: Welcome to the show. I'm Jordan Harbinger. On The Jordan Harbinger Show, we decode the stories, secrets, and skills of the world's most fascinating people. We have in-depth conversations with scientists and entrepreneurs, spies and psychologists, even the occasional organized crime figure, Russian spy, or rocket scientist. And each episode turns our guests' wisdom into practical advice that you can use to build a deeper understanding of how the world works and become a better thinker.
[00:01:01] If you're new to the show, or you're looking for a way to tell your friends about it, I highly suggest our episode starter packs. These are collections of our favorite episodes organized by topic. This helps new listeners get a taste of everything we do here on the show — topics like crime and cults, technology and futurism, China and North Korea, persuasion and influence, and more. Just visit jordanharbinger.com/start or a search for us in your Spotify app to get started.
[00:01:25] Most of us think of kidnapping as a crime and it is for good reason, but it's also a hell of a business with brokers, insurance agents, logistics and financial negotiations, and more. We've spoken about kidnapping before on the show, even having been kidnapped myself, although I can't recommend it. That's episode 443, by the way. While we've done some deep dives into the shady world of kidnap for ransom, we've never done so from an economic perspective, but that's what we'll do today with my guest Anja Shortland, who's done extensive research into kidnap insurance, how kidnapping is a self-regulating business alongside the insurance companies and professionals that negotiate the release of hostages. This episode is a rare glimpse into the world of kidnap insurance, piracy, hostage negotiation, and the strange system of incentives that keep hostages and property safe, even in the hands of seemingly irrational criminals. Here's a quick primer on kidnapped for ransom and kidnap insurance. Here we go with Anja Shortland.
[00:02:23] Kidnapping is a business, but most people think of it as just a crime. I think that's what interested me the most about this kidnap for ransom thing is that it's almost like a self-regulating industry as opposed to a random crime that happens to unlucky people. 
[00:02:36] Anja Shortland: The thing that made me interested me about kidnapping and hijacking for ransom was how well ordered it was. I thought of it as a random thing, a one-off thing, something where you're paired with somebody, not of your choosing, you knew absolutely nothing about them and you're supposed to do a deal over somebody's life. And I thought, well, that's never going to work. And then I found out that hey, yes, actually it works a lot of the time. Interestingly, if you're insured for it, it goes right almost all of the time. And I thought, how can you possibly insure for something that is so random and so criminal, and that got me researching and to the economics of kidnapping. 
[00:03:21] Jordan Harbinger: How many people are kidnapped every year for ransom? Because it doesn't seem like the kind of thing we hear a lot about, but maybe that's by design as well.
[00:03:29] Anja Shortland: That's absolutely right. So there are probably tens of thousands of people who get kidnapped every year. Most of them we don't hear about because it's part of a local economy. You kidnap somebody to get the ear of a local politician. You kidnap somebody to back up an extortion demand. That kind of local and local kidnapping we mostly don't hear about. What I was interested in were the transnational kidnaps and we might hear about a few dozen of them, but there are probably a few hundred every year. 
[00:04:05] Jordan Harbinger: Wow. And that's a little bit scarier too. It makes you rethink your trip to Venezuela or Iran. Actually, where do most of the kidnappings happen? Maybe they're not even in those countries. Maybe they're in places that we think are actually a lot safer. 
[00:04:18] Anja Shortland: Well, it changes over time. In 2008 to 2013, the big place was Somalia. If you look at piracy at the moment, the hot spotters in the Gulf of Guinea. There's lots of kidnapping in Nigeria. There is kidnapping in Mali. Mexico's always been high for kidnapping, but it can be very, very localized. So it's not the entire country, but it's a particular area. Something that I kidnap for ransom insurer would call a complex and hostile territory 
[00:04:56] Jordan Harbinger: logistically it seems like a difficult business because you need to find a live hostage that is also valuable and then bring them somewhere that they don't want to go. You have to keep them there, keep them from escaping, but also keep them from dying in the process of whatever you're doing, wherever you're holding them, and make sure they don't kill themselves by mistake or on purpose. So there's got to be lots of lying and violence. And then, and then you have to get paid and somehow make a handoff also without getting caught or killed.
[00:05:23] Anja Shortland: Yeah, something that I realized very early on that kidnapping is easy and ransoming is extremely difficult and that is also by design. If ransoming was easy, if people offered big ransoms very fast and just paid them a bitcoin, then we'd all be getting kidnapped all of the time. It's about making that transaction difficult enough to put it beyond the scope of an opportunistic kidnapper. But on the other hand, you make it work well enough, the hostages come back alive. And that's a very fine balance here. 
[00:06:01] Jordan Harbinger: How many people do come back alive? You know, it seems like we just have no concept. The big kidnappings you see that get in the news that make waves in their searches for months and things like that, it seems like usually there's not a happy ending to most of those. 
[00:06:15] Anja Shortland: Yes. And that's a bias, reporting bias by the media. So overall, people reckon that 90 percent of people come back alive. However, if you've got kidnapped for ransom insurance, that goes up to 97.5 percent. 
[00:06:32] Jordan Harbinger: Oh, wow. 
[00:06:32] Anja Shortland: So that's a really amazing result. That's one of the reasons why people buy this kind of insurance because it is actually the best way of fulfilling your duty of care towards your employees. If something happens, we have a very good plan on how we're going to extract live and hale and hearty hostages from these terrible scenarios. 
[00:06:56] Jordan Harbinger: How longer are people usually missing? Because again, the ones you see about in the media, the person's gone for months or longer. Is that the usual case with kidnapping or is there a quicker turnaround? Because it doesn't seem super profitable to hold somebody for two years. 
[00:07:08] Anja Shortland: Again, that very much depends on the country context. So different countries develop different kind of equilibrium. So there are some countries where people are given back after five days for $10,000. But then if somebody wants to have a newsworthy, one-million-dollar, two-million-dollar, 10-million-dollar ransom, then they really have to sit on the hostage possibly for years.
[00:07:35] Jordan Harbinger: Oomph. 
[00:07:35] Anja Shortland: And you're saying exactly the right thing, that it doesn't look profitable. That's exactly the point. If you want to have a one-million-dollar ransom, they want you to spend most of that money on keeping that hostage alive and safe in the meantime. You'd have to share that million-dollar ransom with a hundred people, at which point it's kind of not worth it anymore. And that's the plan. 
[00:08:00] Jordan Harbinger: I see. So that's set by those paying the ransom, which is like, okay, if you want a high ransom, we have to drag this out. So that the next time you do this you realize it's not worth it to negotiate for an extra 18 months to get an extra $500,000 because you're just barely breaking even or whatever. And in the meantime, you're worried you're going to die and you have to sleep in a hut next to this guy chained up in the middle of the desert because you got to make sure he doesn't escape. So the idea is to make it cheaper and faster, but mostly at the same time, not cheaper and also expensive because otherwise, like you said, we'd all be getting kidnapped. So you almost have to again self-regulate and we'll talk about how this works a little bit. 
[00:08:40] Anja Shortland: The plan here is to make it unattractive to kidnapper in the first place. 
[00:08:45] Jordan Harbinger: Right. That makes sense. 
[00:08:46] Anja Shortland: So people think twice about is this really the business I want to be in. If you don't have that sophistication, if you don't have the jungle camp already set up, if you don't control the territory where the police never goes, you don't want to be in this business. So, as I said, it's a really fine balance on the one hand you want to bring back live hostages. But on the other hand, you don't want to paint that bullseye target on every white corporate face that shows up in a particular kidnapping hotspot. You want people to think I'd rather drive a taxi. 
[00:09:20] Jordan Harbinger: Right. Yeah. That completely makes sense. You don't want people to get rich off of this quickly. You want the kidnappers to work and take a long time to get the money. So that, like you said, taxi drivers aren't going into kidnapping because it's so lucrative. They just say, "You know what? I make a similar amount ROI driving a taxi for two years, and I'm not going to get shot by the police if this goes wrong." And also the people who are transporting goods are traveling, they don't need armed guards on every boat or in every car that's driving around doing business. So it becomes profitable, but only just a little. Such that really only hardened criminals are doing this, and they're almost better off getting a regular job.
[00:09:59] Anja Shortland: Indeed. If you're dealing with a criminal organization or often a rebel organization and insurgency, then you're in a repeated game. So at that point, you can think about how can you make reputational solutions work. How can you create order in what is a very chaotic and extremely emotional situation? If you're dealing with people who want to do this again, then you can discipline them when you can say, "Well, this is not how we do business and you don't go back on your word and you don't talk to hostages." And it's about training your adversary about what the rules of the game are. 
[00:10:43] Jordan Harbinger: Right. Okay. So if I'm dealing with FARC in Colombia, in the '80s, who's kidnapping, I don't know a dozen people a month or whatever it is, I can regulate their behavior by not rewarding it economically. So if they send me an ear, I say, "Okay. Well, now, we have to do all this paperwork over here and we have to reevaluate and you've changed the game. So we'll talk in 30 days." And we have to make sure that the hostages, okay, so now we have to send some medical supplies and we need to make sure that he gets it. So it's just such a huge pain that they go, "Okay, no more ears guys that blew up in our face. That's not a good idea." 
[00:11:19] What we need to do is make sure these guys are well fed and they're playing solitary or cards in a jungle cell and not bleeding to death. And we don't need blood transfusions in the middle of the jungle. This is like you said, a continual thing. It's like selling donuts. You don't sell somebody, a donut with a rat tail in it if you want them to come back to your donut shop. You have to sell them good donuts at a good price. And so kidnapping becomes one of those, almost like a commodity, like a good that has to be in good shape. You have to have good business practice. You need those five-star Yelp reviews for your jungle prison.
[00:11:51] Anja Shortland: Yeah. Alternatively, you don't necessarily have to go through the entire business of kidnapping because once you've proved that you can kidnap people and that you can keep them for a long period of time, then it might also become interesting for a company that is located in or close to FARC territory to come to some sort of arrangement about the ways in which the local community might tolerate the presence of, let's say, an oil company.
[00:12:23] Jordan Harbinger: Okay. So instead of kidnapping executives, you say, "Every executive needs this special pass that we give you. And the way you get that, as you pay us $2,000 a month for every white face, we see roaming around here in a nice car. And if they don't have it, something might happen to them. They might get pulled over and then we're going to have to deal with it then. But if you pay upfront, we're good." That kind of thing, so extortion, basically. 
[00:12:45] Anja Shortland: Yes. So I see kidnapping as something where a protection contract has gone wrong. So in equilibrium, I rather spare myself the unpleasantness of kidnapping you if you're prepared to pay me not to kidnap you, and if I can collect money from a lot of people that makes me better off actually kidnapping people all the time. It's not going to be quite as easy as sending a check to the headquarters every month because clearly, the national government might have something to say about that. So a lot of these protection contracts are much more implicit. 
[00:13:24] Jordan Harbinger: Sure. 
[00:13:24] Anja Shortland: In the sense, these are the restaurants you go to these other hotels you use, these people will be providing your security. Here are some nice nannies and gardeners. 
[00:13:36] Jordan Harbinger: Really? Oh, I see. So essentially we're hiring their village and their family to work for our company in that respect. This is like Game of Thrones or something, right? Like you're bound by marriage. And so if you're a company that's in these areas, if all your local staff is in these villages that are controlled by FARC, you're generating revenue for them. And maybe those people are kicking up, so you don't have to — yeah, they don't have your Amex on auto-draft or whatever. 
[00:14:02] Anja Shortland: That's right. But you might decide that it would be a really good idea to have very sound corporate social responsibility program in place that creates a constant stream of revenue that can be convenient via interrupted if something should go wrong with protection relationship. 
[00:14:21] Jordan Harbinger: I see. 
[00:14:22] Anja Shortland: Somebody is getting kidnapped and you want to ask questions about whether people are still cool about you being there. 
[00:14:29] Jordan Harbinger: Right. So we might build a hospital and a school staff with all locals, and if somebody gets kidnapped, then we might have to, their paychecks might get frozen until we can straighten this whole big mess out. Right? So then the FARC or whoever we're dealing with insurgent group, they start going, "Hey, who screwed up a pretty good deal we had here with the hospital and the school." You're maybe getting a payoff, but all these other people are getting the short end of the stick and you're making it almost politically painful for them at that point.
[00:14:58] Anja Shortland: Indeed. 
[00:14:58] Jordan Harbinger: Interesting. 
[00:14:59] Anja Shortland: Kidnap insurance is almost all about creating effective protection, making sure that on the one hand, the people who go into these territories don't make themselves vulnerable to the opportunistic kidnap. Because with an opportunist, the taxi driver that just goes rogue, things are likely to go wrong because they don't know the rules. They don't know what they're doing. They're nervous. They might just shoot. 
[00:15:25] Jordan Harbinger: Right. 
[00:15:26] Anja Shortland: And that's not what anybody wants. So if you do go into difficult place as an employee of a company, then you would get quite a lot of training about how do you move, how do you plan your route, how do you plan different rates every day, make sure you're the fourth floor of the hotel and not on the ground floor. Lots of really easy ideas that nonetheless make it very difficult for somebody to just pick you off the street. 
[00:15:53] Jordan Harbinger: Oh, interesting. So if I get kidnap insurance, I actually get some training on keeping amateurs away from me. 
[00:15:59] Anja Shortland: That's right. And then we only have to deal with the top end and with the top end, if something goes wrong, we have a plan, but ideally it doesn't go wrong because they understand that they want us there. 
[00:16:12] Jordan Harbinger: Right. Okay. This is all starting to make sense. A friend of mine got kidnapped in Colombia. He just told me this story yesterday. And it wasn't recent. He got kidnapped by, like you said, a taxi that went rogue, but the problem was these guys were idiots and amateurs. And they were originally taking him on an express kidnapping where they take you to an ATM and they make you dump your money. And then they keep you until past midnight and give you a beer. And then they take you back out because your limits are reset, run your cards again. And then they drop you off somewhere near where you can walk back without getting killed, hopefully, to your hotel. 
[00:16:44] And then somehow his phone or they got wind that he had like an IRA, a retirement account, and here in the United States and had like 50 grand in it. And they were like, "Oh, you have all this money." And he's like, "I can't get all that money to you at once. It's not like something, I can pull out with my card." And they're like, "Well, you have to call your parents." And he's trying to explain to them, you can't just get an IRA to send money to this. And it's going to take several days and blah, blah, blah. And they didn't understand that because this was like an amateur group of drunk idiots, almost like young kids, but a gang nonetheless, that did this professionally. 
[00:17:16] And he got rescued by the Colombian special forces. And the guys were surprised because they say this doesn't really happen anymore. You know, usually you go to an ATM, they dump you off and we just, maybe you file a report. Maybe you don't even bother, you just go back home to Germany or whatever. And this was particularly dangerous because these guys were drunk, high, armed, and they didn't really have a plan. It seemed like every guy that came in to talk to him and said, "You know, we're going to kill you." And the other guy's like, "We're not going to kill you. We're going to wait like three days and get a bunch of money." And the other guy would say, "No, no, no, no. We're waiting for your parents to wire us money." And he's like, "Oh crap, I'm going to die because these guys don't know what the hell they're doing or what they want." 
[00:17:53] Anja Shortland: The express kidnap is exactly the response of a rational opportunist who has done the deed and has kidnapped somebody and then says, "And now what?" They might call somebody. If insurance is involved, the insurance will coach the family and how to deal with this. And the main response is exactly what happened to your friend. You stall. You just stall and say, "Okay, well you can have like $500. You can have a thousand dollars now, but what do you expect us to do? All our money is tied up. We're mortgaged up to here. There's snow on the ground. We're not going to be able to get to the bank before Tuesday." 
[00:18:37] Jordan Harbinger: Yeah. 
[00:18:38] Anja Shortland: All of these things that say, "This is going to be difficult. You can have very small amount of money now, but if you want anything more than that, then you've got to wait for at least a week." And it's all designed around making the opportunist realize that they've bitten off more than they can chew. 
[00:18:56] Jordan Harbinger: You discuss something called protection theory and how this controls the industry. And we just sort of touched on this a little, but it limits violence as well to avoid making people flee, which erodes your tax base. So if I'm an insurgent group, I don't necessarily just want to kill everybody that's doing business in my area and take their money. Can you speak to how the mafia has and organized groups have figured out how to skim without bleeding everybody dry? 
[00:19:21] Anja Shortland: Protection theory says there are a lots of spaces on this planet where the state just does not project power. And yet people have a desperate need for the property rights to be protected for their families to be safe, for their investments to be safe, for trade to be ordered. That there's somebody you can call if something goes wrong and they will adjudicate your disputes. They will make sure that your trade partners come up with either the money or the goods.
[00:19:54] So if there is no state, then people usually come up with grassroots solutions. It could be a religious court, it could be a temple militia. It can be a rebel group. It can be an insurgent group. It could be people who say, "Well, we would do this much better than the local, than the government over in Mogadishu. Here, we're better off just listening to what our elders say." So it can be a tribal system. It can be a clan system. Lots of countries have come up with different ideas of how best to regulate the local economy. 
[00:20:35] So these groups are there. Some of them are armed and some of them are not, all of them have a credible threat of applying violence if people don't keep to the rules. If a foreign company becomes interested in doing something in that area, they will probably have to make some sort of deal, which is effectively a protection deal with the central government. But they will also have to say, "Okay, how are we going to keep the local people on board that they're happy with us?" I mean, there are certain things that you could possibly protect and have really good perimeter security around. 
[00:21:15] But if are you thinking about producing something and exporting it through a pipeline, then you definitely need to have everybody along that pipeline happy with the presence of that pipeline and their territory. And they need to protect it and you need to encourage them to protect it. But you also have to make, as I said, a protection contract that doesn't make your shareholders or investigative journalists sit up and say, "They're paying extortion." 
[00:21:46] Jordan Harbinger: Right, right. So they're the mafia — and we'll just say mafia, even if it's a militia or like you said, another type of group. So the mafia, it's not just violence and theft, they're actually providing services to the market in places with, would you say failed government or failed rule of law? Like either a mafia-controlled or failed state, like Somalia or a wide swath of jungle where the government and authorities don't quite reach into like what the FARC was controlling. They're providing services there that maybe they're just filling a power vacuum almost. 
[00:22:15] Anja Shortland: That's exactly the idea and the original mafia in Sicily was about a place where people were suddenly presented with lots of opportunities in terms of property rights, because church land was most sold off and nobody to protect it. And then they said, "Well, who are the strong people around here who can make sure that nobody gets into my orange grove and et cetera?" So that's where there's a demand for protection comes from. You even need somebody who's trained in violence who's willing to protect instead of producing themselves. So they obviously have to make some money from this. 
[00:22:58] So that's the argument of protection theory that once you start getting into the nitty-gritty details of how trading actually works, you find that there are lots and lots of sandpaper moments where it's good if there is somebody you can call. And if it's not the police, because the entire army of Sicily has got 50 carabinieri on it, then you need a local solution. If you are often ethnic minority that receives no protection and a lot of bias from the central government, then you also need to do your own thing. If a different tribe is in power and they don't like your tribe, you need to find your own solutions. 
[00:23:46] Jordan Harbinger: This is such an interesting aside here, because I lived in Ukraine a long time ago in like 2002, or maybe even earlier, I met an American there who was just kind of like a drunk I'll just put it that way. He was a drunk who hung out with mafia guys and he was an English teacher, but he was kind of like those, a guy whose life probably didn't go super well in the United States. And he's like, "I'm going to move to Ukraine," right? So one thing that he told me was, "Don't ever talk to the police, pretend you don't understand what they're saying, never get in the car. And if they try and force you in the car, just run, they're not going to like shoot you." And I thought, "That is crazy. I would never do that in the United States." And he's like, "Trust me, don't get in the car." 
[00:24:24] So a friend of mine, I tell him the same thing. And he's like, "Dude, I'm not doing that. The police yelled at me the other day because they're outside the place where I'm staying. I'm not doing that. I don't want to get in trouble." So he got into a police car and a couple of days later when I saw him, he goes, "You were totally right about the police. They made me get in the car. I explained that I didn't really understand what was going on. And they just robbed me and took all my money. And then they made me get out of the car and like walk. And now they're always asking me for money and they're always following me around and they know where I'm staying. So I have to move." 
[00:24:55] And I thought, "This is really bad." So I talked to my English teacher friend, the drunk, and he goes, "Oh, you need to meet a few people." And so he introduces me to these other kind of like punk drunk mafia kids. And they're like, "If you have any problems, call the number on your mobile phone that I give you on this card and just pass the phone to the police." And I said, "Uh, okay, you're not messing with me. This isn't going to get me like shot in the back of the car or dumped somewhere." And he's like, "No, trust me." So I gave that card to the friend who kept getting in trouble and he goes, "I didn't even have to call the number. As soon as the policemen looked at the card and saw the handwriting with the number on it, he just immediately left me alone," because probably there's a very limited number of people who write down a phone number on the back of a card of a whatever barbershop or whatever the hell this card was for and say, "Show this to the cops." It's like, if you have the guts to show that to the cop, they don't need to double-check the number or make a call. Like you're talking to the right people. 
[00:25:55] And so I thought that was very interesting because yes, we talked about a power vacuum when the state has failed, but this is where the state, it hasn't failed. And there are police, they're just worse than criminals, or they are a different criminal gang that is on a lower tier. So if you're dealing with the higher tier, mafiosi the lower tier criminals aka the police, they won't mess with you, which was to me kind of backwards and fascinating coming from the United States.
[00:26:19] Anja Shortland: I agree. But clearly, the police have failed in their job of protecting and providing genuine and meaningful protection to people. And what I like again is that nonviolence, often, there are certain things that you don't need to test because the threat is credible. Whatever these guys had done previously, had signaled to the police that it was better for them to back off. Super interesting. 
[00:26:49] Jordan Harbinger: I just assumed it was financial. Like, I don't know if these cops get their butts kicked by these young mafia guys. They probably just know that either that's going to happen or it's like, "Oh yeah," so-and-so who wrote his number down, "his dad pays for everything our whole department does and pays for everyone's," I don't know, "kid's 15th birthday party or something like that." So the cops know that there's easier targets out there than anybody who has this phone number. And it's just like onto the next tourist or onto the next sucker who's walking down the road. And that didn't seem orderly or interesting or fair at the time. But I realized now it might be the only order that that city of Odesa had in 2002. Like maybe that was, who was really in charge, was organized crime in the mafia.
[00:27:34] Anja Shortland: Indeed. We hear similar stories when somebody gets kidnapped, for example, an old story from the Yemen where somebody got kidnapped, that shouldn't have been kidnapped. That was a shake that you called and the shake would have a chat with the kidnappers and that usually did the trick. And sometimes you had to do a little something, maybe a new bus shelter, but largely things could be resolved very, very easily if he knew who to talk to. 
[00:28:07] Jordan Harbinger: You're listening to The Jordan Harbinger Show with our guest Anja Shortland. We'll be right back. 
[00:28:12] This episode is sponsored in part by LMNT. I'm sure you know by now how important it is to drink plenty of water, but did you know that replenishing your electrolytes is just as important? Any kind of sweat-inducing activity, not only makes you lose water but electrolytes as well. When it's too low, you get headaches, muscle cramps, fatigue, weakness. I found that out the hard way several times post-workout. LMNT helps keep me hydrated through rigorous workouts. Also perfectly suited to folks following a keto, low-carb, paleo, whatever hipster diet you're on, but what I like best about LMNTs are the clean ingredients. There's no sugar. There's no weird coloring. There's no artificial stuff in there that will salt your game up. See what I did there? 
[00:28:46] Jen Harbinger: LMNT is so sure you'll love their product and come back for more, they're offering you a free LMNT sample pack. That's eight single-serving packets for free. Just cover the cost of shipping, which is $5 for US customers. Get yours at drinklmnt.com/jordan. This deal is not available on the regular website. You must go to D-R-I-N-K-L-M-N-T.com/jordan. LMNT offers, no-questions-asked refund. Try it, totally risk-free. And if you don't like it, share it with a salty friend and they'll give your money back, no questions asked. You have nothing to lose.
[00:29:16] Jordan Harbinger: This episode is also sponsored by Starbucks. The new Starbucks Baya Energy drink is a beverage that is crafted from caffeine, naturally found in coffee fruit, and includes antioxidant vitamin C. Starbucks Baya Energy drink comes in three delicious fruity flavors, mango guava, raspberry lime, and my personal favorite, pineapple passion fruit. I'm a masculine pineapple passion fruit guy. I like to drink mine with a little umbrella and I stick my pinky out when I drink it. Great to bring to a summer barbecue or to a golf game, the beach, gardening in the backyard, pick a Starbucks Baya Energy drink where you need to take your kids to the park. You drink it, not the kids. They probably have enough energy. It's that perfect pick me up when you need it and you're out and about on a nice sunny day. It'll give you a refreshing fruit flavor boost to feel-good energy in a way that only Starbucks can deliver. Each 12-ounce 90-calorie can contains 160 milligrams of caffeine. 
[00:30:01] Jen Harbinger: Starbucks Baya Energy drink is available online at grocery stores, convenience stores or gas stations nationwide. 
[00:30:07] Jordan Harbinger: If you're wondering how I managed to book all these great authors, thinkers, and creators every single week, it's because of my network. I'm teaching you how to build your network for free over at jordanharbinger.com/course. The course is about improving your networking and your connection skills and inspiring others to develop a personal and professional relationships with you. It'll make you a better networker and a better connector, but most of all, it'll make you a better thinker. That's jordanharbinger.com/course. And by the way, most of the guests on the show, they subscribe and contribute to the course. So come join us, you'll be in smart company where you belong. 
[00:30:39] Now back to Anja Shortland.
[00:30:42] So doesn't the mafia though also create demand for itself by using that same violence and theft? I guess I should probably clarify that if one party uses mafia coercion, the other party has to use mafia support or they're at a major disadvantage. So it's kind of a race to the bottom. And if mafias are corrupting government officials and authorities, who might already be corrupt, I suppose, but you know, if they're already corrupting the police, that limits government rule and expands the mafia rule or the mafia influence in that area.
[00:31:13] So it seems like there's not like a healthy amount of corruption you can let in. It seems like it's an infection that spreads, you know, you wouldn't put it — what's that expression? You wouldn't put like a drop of motor oil in a bucket of water and still think that the water is fresh enough to drink.
[00:31:27] Anja Shortland: You're right there. And of course, if a territory does have a lot of corruption, a lot of trouble, a lot of mafia conversion too much violence, then that's not somewhere where you would locate a t-shirt factory. You'd go somewhere where there is older. You wouldn't want to assemble cars there either. So ultimately the more corruption, the more problems that you have with mafias and extortion, the fewer business opportunities there are. And in the end, the only thing that will work is mining and oil production and maybe natural gas. 
[00:32:05] Jordan Harbinger: Why is that the case? Why is it that commodities like oil and mining and natural gas still succeed in those super corrupt areas and other things just don't.
[00:32:13] Anja Shortland: Because the sector profitable.
[00:32:15] Jordan Harbinger: Okay. Got you. 
[00:32:16] Anja Shortland: Yeah. So we're talking about things with really huge profit margins. So if you were somebody who's thinking about how they want to administer a territory, extra legally, they can limit the amount of violence they can become genuine protectors. So they will attract people into that territory. 
[00:32:40] Some really interesting research that's been done by one of my colleagues in King's College, Christine Cheng who's looking at these extra legally administered from plantations, mines in Liberia, and everyone said, "Don't go there. This is rebel territory. These are criminal. This is organized crime." And she went to these villages and they just looked like thriving businesses. That's because it's in the interest of the people that they're hairdressers, they're bouncers, entertainment, there are shops, et cetera. So they don't want to extort everybody to the bones. They want people to make a profit and then they take some of that profit. But yeah, I mean, you'd rather have five percent of a million dollars, than 50 percent of nothing. 
[00:33:34] Jordan Harbinger: Right. Now, I guess that makes sense. If the government is bad and super efficient or absent altogether, then the mafia might be more efficient than unregulated chaos. And yeah, it's like milking a cow. You don't kill the cow. You just milk it, even if it's a little bit, I suppose, unhealthy at that point. It's like an inefficient externality in the economy. It's less efficient, but it's not so inefficient that everybody's out of business because otherwise, again, that long-term view of business is, "Hey, you should only extort to where the person can still survive." Otherwise, they'll just stop working because there's no reason for them to continue. 
[00:34:08] Anja Shortland: That's right. Yeah, people weren't invest. People won't specialize. There are places where you don't have protection and they make you cry because the only thing that you can grow is something that's called bitter cassava. This is a tuber that lives a long way down on the ground. So even if somebody comes and raises everything to the ground, burns your fields, the tubers are still there. Backbreaking labor to get it out of the ground. Then you spend hours trying to peel it, then grind it down, then you have to water it. Dry it, grind it some more, water it, grind it. It takes like 18 hours to make a meal from it. That's what you eat when you don't have anybody protecting you. 
[00:34:52] Jordan Harbinger: That's horrible. 
[00:34:53] Anja Shortland: It is absolutely hard. And it makes you go blind as well. But that's why people look for someone to protect them. That's why they don't want to be in that roving militia type of scenario. But yeah, if you want goats, if you want fields, if you want coffee trees that take five or 10 years to become productive, you need to be sure that when they are bearing fruit, you still going to be there to benefit from it. It is about these long-run reputational trust relationships. 
[00:35:25] Jordan Harbinger: Going back to kidnapping. Why would a wealthy company that could self-insure still end up buying insurance? You know, why does a $50 billion shipping company buy two million dollars worth of kidnap insurance? Is it because of these other services, the negotiation and what else you get with it? Is that why? 
[00:35:41] Anja Shortland: Yes. So there are two aspects here. There are some things that are just done extremely well by professionals. And if you don't do them by the book, you might fail. And if you fail in retrieving a live hostage, then you're also very likely to be sued by the family of that hostage afterwards for not having done your duty of care properly.
[00:36:09] And what kidnap insurers have done is to create the codebook for best practice. And if you were taken to court about kidnapped gone wrong, and you haven't had kidnap insurance, or you didn't follow the advice of your kidnap insurer or the crisis responder, then you'd likely be hit extremely hard for failing in your duty of care.
[00:36:33] So it's sold very much the duty of care product, rather than you can take it or leave it kind of insurance. 
[00:36:40] Jordan Harbinger: Who sells this? I know that there's a lot of insurance companies that insure things like the fingers of a guitarist or the vocal cords of a singer, the knee of a basketball player, is that the same kind of outfit that would sell those types of insurance, these sort of only one person or 10 people in the world have it kind of thing?
[00:36:58] Anja Shortland: Well, it sort of happens that it is only a very few insurance companies that sell this. And they are closely related to the ones that cover these special risks. It's something that happens relatively ready. But if it happens, even if the ransoms aren't very high, there is a lot of costs associated with doing this properly, but paying for the best possible advice for making sure that every part of the transaction runs smoothly. So resolving a kidnap case is quite expensive. So insurers call it a concentrated risk. So this is not something that lots of insurers want to have a little bit of the market off. And so it's better for all of these risks to be pooled with a smaller number of insurance companies. 
[00:37:53] And that's one of probably the reasons that the market for insurance and that the norms around the resolution protocols and the discipline around ransoms have held so well. These insurance companies, there's 20 of them, but three or four who have the biggest market share. They can discipline each other. You can see how might be quite tempting to jump the gun and say, "I want my husband back now." 
[00:38:27] Jordan Harbinger: Yeah. 
[00:38:28] Anja Shortland: Rather than in three months time, I'm quite happy personally, to spend an extra $50,000 for that. That's fine, except it completely ruins everybody else's chances of having a nice holiday or a safe businessmen venture in that particular location. 
[00:38:45] Jordan Harbinger: Right. Because you're raising the amount that the kidnappers think they can get. So if I'm a rich guy and my wife gets kidnapped, I'm like, "I don't care. I'll pay him a hundred thousand dollars if they sent her back tomorrow, just do it." And then the next person who can't afford that by any stretch gets kidnapped. They're like, "Well, wait, it's not $30,000 to get someone back anymore. It's a hundred thousand dollars because that's what we got last time." So now, I've distorted the market by overpaying because my sort of tolerance for the cost and the level of demand was artificially high for that one instance.
[00:39:17] Anja Shortland: Absolutely right. Yeah. Criminal communities talk. And if they think that they've somehow made a mistake with the original ransom level and that can get a lot more than they will try to get a lot more. A really good example of that is Somali piracy. There's always been Somali piracy. The British Navy went out in the 19th century to deal with Somali pirates.
[00:39:41] Jordan Harbinger: Oh, so the narrative that it's all because of overfishing is nonsense. 
[00:39:45] Anja Shortland: Yeah, pretty much. That's a red herring, I'd say. 
[00:39:48] Jordan Harbinger: Yeah, nice pun. 
[00:39:49] Anja Shortland: But we can talk about that later. 
[00:39:50] Jordan Harbinger: Sure. 
[00:39:51] Anja Shortland: So every year about six, seven, eight, nine ships went missing off the coast of Somalia. And there was went home after three months for a hundred thousand dollars. That was just the way business was done and it was completely stable.
[00:40:07] And then somebody said, "Oh, I'm not sure about three months. I just want my guys back now. Quite happily pay you a million." And then they thought, "Well, what's going on here? Did we just get this wrong? What's the real price for a Spanish fishing vessel? What is the real prize for an oil tank or a chemical tanker? How much did people want their cruise back?" So they started pushing for more and the shipowner said, "Okay, well, you know, you've got a release after three months because the onboard suppliers will run out." And then the Somali said, "No, we don't have to give them back. We can make our own supply lines from the land."
[00:40:49] So you get the standoff between the shipowners and the insurers. They want to push this into the long grass and the Somali said, "We got the long grass covered." So you get bigger ransoms, longer detention periods, more violence because they'll try and push threats with mock executions, et cetera. See if somebody gets nervous, somebody gets nervous. Ransoms go up to two million to three million to five million. Getting that genie back into the bottle just doesn't work. 
[00:41:19] Jordan Harbinger: Right. 
[00:41:20] Anja Shortland: So in the end you had to have that big Naval operation. You have to make sure basically Somali piracy didn't succeed anymore. And then it became insurable again. 
[00:41:31] Jordan Harbinger: I see. A guy that was on this show episode 115, Michael Scott Moore is his name will run the trailer at the end of the show here he was — I don't know if you've heard about this guy. He was kidnapped by Somali pirates and kept on a ship for, I want to say it was like two years and they had executed the Taiwanese captain of the ship. And people had died from like dysentery and they were just skin and bones. And the kidnappers were juiced to the gills on cats, which is like the stimulant cheap stimulant substitute. That's highly addictive. And they got super sick. I mean, they just almost died there because they were not going to give them back. They wanted some insane amount of money. It turned out later that the government actually knew where he was the whole time, but they just can't go in with Navy SEALs and rescue every hostage, especially when they're on a boat like that. So he stayed there. 
[00:42:18] It's kind of a horrible experience and story if you think about it, While we're talking about economics, there's still somebody in a ship who doesn't have their diabetes insulin or their glasses, or both, and is possibly dying because we're dragging this out. So that the next guy who gets kidnapped actually has a better chance at survival. It's a little bit, it's a tough pill to swallow. 
[00:42:41] Anja Shortland: I think I want to unpack that slightly. 
[00:42:44] Jordan Harbinger: Sure. 
[00:42:44] Anja Shortland: The idea that he can make the problem go away by throwing money at it, by just conceding to a huge demand. It might work. But on the other hand, if you just say, "Okay, you only asked for 50,000, I'm quite happy giving you a hundred thousand to give me my treasure back." It's not a price. It's not like you can walk out with a hostage, like out of a supermarket. 
[00:43:13] Jordan Harbinger: Right. 
[00:43:13] Anja Shortland: If you are with an opportunist who's well out of the depths, they might concede. But if you are with professional kidnapping outfit, you've just revealed that a hundred thousand dollars is easy money for you. And they will not say, "Yes, thank you, Mr. Jordan." They will say, "How about 200,000?" And he said, "Yeah, that's fine too." And he said, "Well, how about half a million?" Then you say, "Oh yeah, I can do that." And then they say, "What about a million?" And you say, "Mm-hmm, that will be more difficult." Yeah, but these prices can go the other way. So just by conceding, it doesn't mean that your hostage is safe and is coming back. You might just have reset the game because the price discriminates. 
[00:44:00] Jordan Harbinger: Yeah, I'm not against the method. I'm just saying at the other end, there's a human and it really sucks for them no matter what, because even if they are there for a week and everything runs smoothly. Yeah, that's the best-case scenario, but it is a little bit rough when — I think he got passed around to multiple groups if memory serves. Because maybe the first guys were like, "We don't even know if we can keep this guy alive. It's been a long time. The ship is sinking slowly." And then I think they put them in a land-based thing and it was just totally different gang, who treated them even worse.
[00:44:29] And you're right. So having this done professionally is actually better even if you — I'd rather be in a cell where I'm getting fed than a hut in the middle of nowhere, where I'm chained to the ground and not getting fed, you know, which is like kind of what his situation was. 
[00:44:44] Anja Shortland: In general, the idea is professionalization of ransom negotiation and crisis response is exactly for things not to get out of hand, but for there to be an expectation about this as a five-day thing completely nonviolent and it ends with a $30,000 ransom and everything kind of becomes almost theatrical about the ransom negotiation. 
[00:45:11] So the Somali example is something that shows you how easily an equilibrium like that gets disturbed, but it tells you also how difficult it is to establish a new equilibrium with which everybody can live on a Somalia that didn't happen. The Somali case in this ever extending and ever more violent negotiations and resolutions. Exactly what we're trying to avoid by clamping down on that first opportunity to start to think kidnapping is easy. You tell them, "No, it's not easy. It's going to be really, really difficult." Unless you've got everything in place, you better not do it.
[00:45:56] Jordan Harbinger: So patience and slow negotiations actually ended up lowering the final hostage price, right? Is the insurer trying to drag it out in terms of time or is it more just resistance to negotiation? It seems like time is really what's unfortunately on the side of the negotiator. Like the family wants the guy back quick, but the insurance company wants to stabilize the market, right? So there's a little bit of a, I don't know, would you say competing interests? But actually, it's still in the best interest of the hostage because they're not going to — well, I don't know, is it? Maybe you should answer that. I don't know. I'm going around in circles in my head here. 
[00:46:31] Anja Shortland: It's very easy to go around in circles on that. If you think that you could actually get the hostage back by paying more than obviously, it would be nice for the hostage not to be, not to spend the extra time in captivity, but as I said, by signaling to the captors that you do have money, you probably make things worse for the hostage, because even if the captors are not able to hold the hostage, they often have the chance of selling them on.
[00:47:04] So a negotiation goes wrong when you say, "This is a million-dollar hostage, but we're not million-dollar captors and hostage-takers. We're just a lowly militia. We're going to sell the hostage on," and you find that a lot. So if you've got a million-dollar hostage, somebody probably buy them for 50,000 and then sell them on for a hundred thousand. 
[00:47:29] If you look at the path of various hostages in Syria, they've been traded multiple times. So there's nothing to say that the hostage will do better by saying, "I'm a high-value hostage." 
[00:47:43] Jordan Harbinger: Yeah. 
[00:47:44] Anja Shortland: Quite the opposite. 
[00:47:46] Jordan Harbinger: Daniel Levin was on this show a while ago and he negotiates hostage release in Syria. It's one of the things that he does, I wouldn't say it's his job full-time but he gets called on to do this quite a bit, episode 617. And he said that media will make things a lot harder. The first instinct is to like, "Go to the media, go to your Senator and tell them what's going on." And then they'll pull all the right levers but what that does is it just drives hostage value up big time. And then either, like you said, they get sold off to a different group. It's suddenly Al-Qaeda wants to know where this guy is rather than the two guys who kidnapped him in a fake taxi and they'll go and buy him or steal him from the amateurs. And now, you're in bigger trouble because ISIS or Al-Qaeda has you or something like that. 
[00:48:30] And then also possibly the propaganda value of you as a hostage might outweigh any money they can get. Because if your ransom was 30,000 before and then it becomes a hundred thousand, well, maybe ISIS wants to make a video, unfortunately, of you meeting a disgusting end that they can put on CNN. And that might be worth more than a hundred thousand dollars to them. And so now, you're sitting there until they can ascertain your real value, which might take months or years. And then as soon as they sense that your value is dropping below the propaganda value, then we end up with a horrible video that we can't unsee. 
[00:49:02] And so going to the media will distort this immediately. And it's unfortunate because of course, it's your first instinct, to get all the high-level players you can involve in the release of your husband or your kid. But it's the worst thing you can do. 
[00:49:14] Anja Shortland: Indeed. Yeah. So the story that a crisis responder will tell the kidnapper is, "Bad luck. You got the wrong guy. You thought he was the chief executive. You got chauffeur." So it's all about managing expectations, convincing the kidnapper that they've been unlucky. Yeah, if you blow that cover, then all bets are off. 
[00:49:38] There was an interesting story, again, Somalia with a ship called the Leopard, where there were two Danish sailors who got kidnapped off that ship with a few other crew. The negotiator said the right job. And they said they got into the press. The shipping company was struggling, not really making any profits, really managing the expectations of the Somali pirates that they've been unlucky. And they just got a bad Danish ship. And then some bright investigative journalists came and started taking photographs of the villa of the shipowner and saying, "This nasty demand clearly doesn't care about his employees. And again, this is one of those cases where women knew then suddenly in a completely different scenario where people are arguing about how much money you can possibly give to criminals.
[00:50:33] I mean, that's the other thing that people don't always really think about. If you are giving your money to pirates, if you are giving your money to rebels and especially if you're giving your money to Al-Qaeda or ISIS, that's not going to be going into soup kitchens or not a lot of it is going to go into soup kitchens. It's going to be creating misery and havoc for thousands of other people. And there's some moral issues around that, I'd say too. 
[00:51:02] Jordan Harbinger: Yeah. I can agree with you there. It is really tough though, of course, when it's your loved one that is kidnapped and I'm sure these journalists had the best intentions in mind, but really they need to coordinate this with the negotiator.
[00:51:13] I assume, with a negotiator, with an insurance company that the opening offer or I should say the first reply to the demand has to be high enough to mean that the hostage isn't worth just killing and dumping them, but keeping safe while also meeting a minimum price. You don't want to make it to that, feeding the hostage and keeping them safe becomes a negative return, but you also don't want to make it so high that they think that they've got a lucky winner in their basement.
[00:51:42] Anja Shortland: Absolutely right. And that goes back to what I said earlier on this is about a tight-knit community of not very many insurers who centered Lloyd's, who retained a number of crisis responders. They're all connected. They all know each other. They can exchange information and they can say, "Have you talked to these guys before? Who are they? What are their tactics? What are their strategies? What are their expectations? How much did you pay them last time? How should you pay the five times before? What is the going rate? Is there a shake we can talk to, to resolve this amicably without going down the ransoming radar altogether?" All that information is held within this tightly-knit community. 
[00:52:33] Jordan Harbinger: This is The Jordan Harbinger Show with our guest Anja Shortland. We'll be right back. 
[00:52:37] This episode is sponsored in part by US Bank. What if I told you you could get cash back just for being yourself? The US Bank Cash Plus Visa Signature card lets you customize your rewards to maximize your cash back. Receive up to five percent cash back on the two reward categories that best fit your lifestyle and adjust your cash back selections each quarter as your spending changes. Learn more at usbank.com/cashplus. Whether you're a movie buff or a gym rat, a foodie or a techie, a homebody or a jet setter, you can earn five percent cash back doing the things you love. Just be yourself and get rewarded. Plus you'll get two percent cash back on one everyday category, like gas stations, EV charging stations, groceries or restaurants. Apply now at us bank.com/cashplus and discover how you can get a $200 cash back bonus. The creditor and issuer of this card is US Bank National Association, pursuant to a license from Visa USA, Inc. Some restrictions may apply. 
[00:53:25] This episode is also sponsored in part by True Underdog. Here's another podcast you can check out. True Underdog is aptly named. The host Jayson Waller is the definition of a true underdog. He's the CEO of PowerHome Solar on track to become a billion-dollar company. You'd never guess he was kicked out of — I mean, I would guess, because I know him. He got kicked out of high school, never went to college, grew up in a trailer park, poor, became a teen father. On the True Underdog podcast, you'll hear an uncut and uncensored podcast on entrepreneurship. You can build the mindset of a winner. You'll hear uncut details of the world's most influential people and their upbringings. As Waller will tell you, there is no elevator to success. That climb happens only one step at a time. You'll learn how to turn excuses into results by doing. 
[00:54:04] Jen Harbinger: Subscribe to True Underdog podcast on Apple, Spotify, or your favorite podcast platform to level up your life. That's True Underdog podcast, hosted by Jayson Waller to learn from the best underdog come-up stories. It's right here, right now, bam! 
[00:54:18] Jordan Harbinger: This episode is also sponsored by Progressive. Let's face it. Sometimes multitasking can be a little overwhelming, like when your favorite podcast is playing and the person next to you is talking and your car fan is blasting all while you're trying to find the perfect parking spot. But then again, sometimes multitasking is easy, like getting a quote with Progressive insurance. They do the hard work of comparing rates. So you can find a great rate that works for you, even if it's not with them. Give their comparison tool a try, and you might find getting the rate and coverage you deserve is easy. All you need to do is visit Progressive's website. Get a quote with the coverage you want, like comprehensive and collision insurance or personal injury protection. Then you'll see Progressive's direct rate and their tool will provide options from other companies all lined up and ready to compare. So simple to choose the rate and coverage you like. Press play on comparing auto rates, quote at progressive.com to join over 27 million drivers who trust Progressive. 
[00:55:05] Jen Harbinger: Progressive Casualty Insurance Company and affiliates. Comparison rates not available in all states or situations. Prices vary based on how you buy.
[00:55:12] Jordan Harbinger: Thank you so much for listening to and supporting the show. Your support of those who support us is what keeps things going around here. By the way, all those links, you don't have to memorize those codes. You don't have to memorize those URLs. Just go to jordanharbinger.com/deals and consider supporting those who support us. 
[00:55:27] Now for the rest of my conversation with Anja Shortland.
[00:55:32] So there's a bunch of cubicles at the in Lloyd's of London office or something like that or desks. And someone says, "Who's our Syria guy?" Or, "Oh, hey, don't waste your time with these groups. They always say they have hostages. They're always lying. This is the guy who you need to talk to he's a Hezbollah-connected guy. He's way above all these guys. It'll save you months of time trying to find the right person. This guy won't, he hasn't lied to us before." So you almost get like the speed dial to the right person to get accurate information or get a proof of life or whatever you need to make sure the hostage is alive in the place you think he is. 
[00:56:03] Anja Shortland: Absolutely right. Let's a slight proviso that if a terrorist group is involved, which in Syria will be likely at the moment, all bets are off because then there is international law that says that an insurance company cannot get involved and around some negotiation on facilitating the ransom because it's illegal.
[00:56:24] Jordan Harbinger: Right. What do you do then? Do you just break the laws some way around this? You need plausible deniability, I guess. 
[00:56:31] Anja Shortland: Very pragmatic. Well, one of the reasons we have seen all those horrors around ISIS hostages and Al-Qaeda hostages is exactly because you don't have the disciplining effect of this professional crisis responder, but you push this onto the desk of some bureaucrat who's never run a ransom negotiation before, and he's just told that the Italian Prime Minister wants these two nurses or charity workers back at whatever price is necessary. And that's again, when you see this massive ransom inflation because the bureaucrats just don't know what they're doing. And it's very difficult for them to say, "Oh, the Swiss government can't afford four million francs."
[00:57:21] Jordan Harbinger: Right. 
[00:57:23] Anja Shortland: So all of that management of expectation around you were talking to a family with credit card debt on a higher purchase car. You can't tell that story if you got a government at the end of the line. 
[00:57:40] Jordan Harbinger: Right. This makes sense. So it's better for the kidnappers to think they're dealing with the family. "Hey, look, this is a family. We don't have insurance. The oil company is not going to cover it. They don't care." So that keeps the ransom lower and it's like, "Look, I can take my kids' college education money and give it to you but that's literally all we have. We've already moved in with my mom." But yeah, if you're talking with Senator Carl Levin or something like that, it's going to be harder for him to say, "Look, we just don't have the cash. The United States from inflation, we can't get you that money. Sorry, buddy." That's going to be impossible and not believable. Or even if you're just shell oil, you can't say we don't have the money or that's too expensive. You really have to play the part of, "We have no backing here. I'm just a negotiator doing these guys a favor," or I'm not even, maybe not a negotiator, just doing these guys a favor.
[00:58:25] Anja Shortland: They don't even appear. They don't even appear. Then negotiator sits in the background. 
[00:58:31] Jordan Harbinger: Oh, I see. 
[00:58:31] Anja Shortland: They're on-call to run the negotiation, ideally. And yeah, if you are Shell, then you've got a problem. But if you can say, "Well, yes, they're kind of working for Shell, except they're not quite with Shell, but there are some subsidiaries and the subsidiary is having an absolutely terrible time with Shell because they're not making any profits at all. In fact, they were about to fold anyway." So if you can push it down that line, that, that also sometimes works. Or you say, "Yes, maybe the big company does have insurance for its top-level staff, but certainly not for the local staff." It's always about pushing it down, but that doesn't work if you're in that international terrorism, United Nations embargo against terrorist finance kind of territory, and then government can choose to react or not react.
[00:59:26] And then, we have the scenario that you were describing earlier, where it was more profitable for ISIS to kill Brits and Americans because every time they did so French and the Italians and the Swiss and the Danes doubled their offers. 
[00:59:46] Jordan Harbinger: So you end up being the sacrificial lamb that shows that they mean business, and they know that the US won't negotiate with terrorists. So they just go, "All right, these people are worth nothing alive. So we might as well kill them to get everybody else's attention." So that's the first step, they just kill you. 
[01:00:01] Anja Shortland: Yes. 
[01:00:02] Jordan Harbinger: Yikes. 
[01:00:03] Anja Shortland: That's exactly what happens. Not necessarily, they have no value, but if he says, "Okay, American families, if they wish to rescue their loved ones, we weren't to stop them from doing a private deal. Then they're still in the tens of thousand dollar territory." But if he killed them gruesomely, you might raise somebody else's on some by a million. And then— 
[01:00:27] Jordan Harbinger: Right. And you get a video out of the deal for your website or whatever, if you're ISIS. 
[01:00:31] Anja Shortland: Propaganda purposes. 
[01:00:32] Jordan Harbinger: Right. 
[01:00:32] Anja Shortland: But yeah, that's the context of these propaganda videos and then not negotiating as you would do in this crime scenario or individual hostages. But they're thinking of it, "We have botch-up hostages. How do we maximize the price of the botch-up hostages?" And if you kill some overall profits might rise. That was the problem. But as I said, that's a very specific case because it's outside of that insurance thing, but it shows you how well insurance works.
[01:01:04] Jordan Harbinger: It's very fascinating the idea here, right? Because the insurers are acting in the interest of the market and not necessarily themselves at any given time. They would love to get a speedy resolution for their clients, but they know long-term in a repeated game they have to do this. So it's a fun juxtaposition, right? Because on one hand, we're arguing the kidnap businesses like this healthy free market, even though it's a crime and on the other hand, the insurance, which is legal, you have to regulate it like a cartel for it to work long-term by sort of forcibly pushing prices down. 
[01:01:31] If you are doing that with grain or something, you would probably be in trouble, but it's almost like a loophole where they're like, well, it's criminals on one side and we're dealing with human lives, so we're maybe going to not enforce the rights of the kidnappers to charge as much as they want for human lives. And in this respect to private governance and the free market is better than governments negotiating this, because like you said, governments might want a speedy release, which is super expensive and then ends up funding terrorists and criminals at the end of the day.
[01:01:59] Anja Shortland: Yes, you call it a cartel. I think what's interesting here is it's a club that is set up as a club and it's a club where membership is valuable in the sense that if you're a member of the club, you can sell this insurance and you can do it well, and you can make a profit out of it. You're right. We have a club that regulates the price for hostages. It's driving the price for hostages down, which is exactly what you want. 
[01:02:30] Jordan Harbinger: Right. 
[01:02:31] Anja Shortland: In an ideal world, you'd have enough formal governance for kidnapping to become impossible. 
[01:02:37] Jordan Harbinger: And yet here we are. 
[01:02:38] Anja Shortland: Clearly, we don't. 
[01:02:39] Jordan Harbinger: We don't. Right. 
[01:02:40] Anja Shortland: So what is the second best solution? The second best solution is we regulate the price of ransoms so that we see very little kidnapping without spending any money on police enforcement.
[01:02:58] Jordan Harbinger: Do people who are insured for kidnapping know that they're insured because it might, you know, they say insurance can change their behavior in some ways. 
[01:03:06] Anja Shortland: It's really interesting. It's not something that you can buy, in general, test people on your behalf. If you know that you're insured and you tell your kidnapper your insured, the insurances get invalidated. 
[01:03:18] Jordan Harbinger: Don't make that mistake then.
[01:03:20] Anja Shortland: Oh, absolutely right. That's exactly because we don't want people to sit with that kidnappers and I say, "I'm really valuable. I'm insured for a million." That's the last thing you want to tell them, give them that maybe the local prices at $30,000, you don't want to give them the windfall. So whoever does that immediately loses their insurance, which then makes it easier for the negotiators, the family to say, "Yes, we did have insurance, but unfortunately, well, you were told that there was insurance then no longer is insurance. And therefore we're back to square one." You're talking to a credit-constrained— 
[01:04:00] Jordan Harbinger: Right, okay. 
[01:04:01] Anja Shortland: —family that doesn't actually have any money. 
[01:04:04] Jordan Harbinger: Right. This makes sense. because if they don't know that they're insured, then if the kidnapper says, "I know he's got a $10-million insurance policy," then you go, "Well, I know that you don't know that because even he doesn't know that. So you can't know that this Shell executive has it because he also doesn't have a clue." And by the way, I assume that as soon as you go into a really dangerous place as an executive, from an oil company, with kidnap insurance, they take you off the website, right? Because it would be a real shame if you say, "Listen, man, I'm just an administrative assistant. There's no big bosses in the country," and they Google you and they go, "Isn't that you at the top of this giant pyramid of people? And it says CEO or regional head of business, Venezuela. Is this not you?" And you're just like, "Dammit, dammit About Page. You've done it again." 
[01:04:46] Anja Shortland: Yeah. Suddenly, websites disappear. If they're unhelpful, if you have documented your aspirational lifestyle on Instagram, that might disappear quite quickly because they want to know about all those cars and girls, clubs, yachts, et cetera 
[01:05:00] Jordan Harbinger: Just pictures of you shoveling snow in the freezing winter of Michigan, right?
[01:05:06] Anja Shortland: However, obviously with the CEO, you would create wrapped around security in such a way that it's impossible for anybody to take that person. So you go with close protection and you make sure, as I said before, that there is local support for the CEO to be visiting. As I said, 99.9 percent of kidnap insurance is about making sure that it doesn't happen. That's plan A. We have a very cool plan B if it does happen, but we really don't want to go there, but if it happens. And as I said, it's very, very rare considering that these are the most attractive targets on the planet. People working for financially high-powered institutions, NGOs, Fortune 500 companies, et cetera. You think they will be the ones to get and yet largely they're not. 
[01:06:07] Jordan Harbinger: The insured have to raise the money themselves and then get reimbursed by the insurance company, correct? 
[01:06:13] Anja Shortland: That's correct. 
[01:06:14] Jordan Harbinger: Why is that? 
[01:06:15] Anja Shortland: Again, that makes it more difficult to be generous, so ultimately — I've told you about crisis responders that they help the family do the negotiation, but ultimately the family has to do the negotiation themselves. They make the final decisions. Nobody can take that decision away from you. All negotiators, a professional hostage negotiator can do is give you the best possible advice. And they say, "Okay, this is going to be the phone call where we're going to get the threat with the ear. If you ignore that threat, we're not going to see an ear. If you reward bad behavior, by raising the amount of money that you're offering, then you're going to get a worse threat next time. So you make the decision." 
[01:07:02] Jordan Harbinger: Right. I see. I see. 
[01:07:04] Anja Shortland: So people at any one time, and if you're an alpha male, you might be very well tempted to do your own thing. Anything can go wrong when the people are actually on the phone to the kidnappers, decide that they want to do something different and you just want to make a, put a limit in there and say, "You've got to raise that money." And do you really want to sell your house? Do you really want to sell your car? Do you really want to have a yard sale with all your furniture so you can raise this money? 
[01:07:33] Jordan Harbinger: I don't know how many alpha males there are when you're strapped to a chair in a basement similar. I think that whole thing goes away pretty quick. I would like to think that— 
[01:07:40] It's not the hostage. 
[01:07:41] Anja Shortland: Oh, it's the negotiator, right.
[01:07:43] It's the people doing the negotiation, as I said, I keep coming back to Somali piracy because we talking about a shipowner who's very much used to being in charge. 
[01:07:54] Jordan Harbinger: Sure. 
[01:07:54] Anja Shortland: Now being told by somebody else, it would be a very good idea to do X or Y and they may or may not listen to that.
[01:08:03] Jordan Harbinger: Right. Like, I've run a big company. I don't need advice from some guy who just got out of the military and is half my age, buddy. 
[01:08:09] Anja Shortland: Indeed. 
[01:08:09] Jordan Harbinger: Send as many fingers as you want. I don't care. He's he doesn't do much typing anyway. Right. 
[01:08:14] But what happens when you do actually get a finger or an ear in the mail? I mean, that does happen from time to time, I assume, yeah? 
[01:08:22] Anja Shortland: There are occasionally photos and there are occasionally pieces, body pieces. It's worth doing a genetic test to make sure that actually belong to the person that you are missing, 
[01:08:37] Jordan Harbinger: I suppose. You're right. That's a very, that's sort of a ridiculous, it reminds me of that movie, The Big Lebowski where he says, "I can get you a toe by 3:00 p.m. today with nail polish." That's a reference that you might not get, but a lot of people listening definitely do. It's just such a ridiculous thing that they might send somebody else's finger, but I guess it's possible. 
[01:08:55] Anja Shortland: Yeah. And if you were in this business, you don't want to kill the hostage. Piece of a finger, you probably can manage the trauma and the possible infection, et cetera, but it is a risk. And generally, these threats are only acted upon if a previous threat has been successful. This negotiation strategy is about not rewarding bad behavior. They don't generally start with cutting off. They start off at something less. And if you say, "Oh, please just stop it. I can't take it anymore. I'm going to double my offer." Then you go down that route of escalating the violence, but as we've discussed before, if you say, "If you're threatening this kind of thing, I don't think I can really continue this conversation. You need to stop whatever threatening to do or you're doing." 
[01:09:46] This is a business. "You want money. We want our hostage back. We're willing to give you as much as we possibly can, but we're struggling to raise the money." you can see how that conversation can be dragged back to something that's cooperative and about business and about money rather than about reacting positively to threats. I mean, anyone who has a child knows that bad behavior, if you reward bad behavior, you're going to see more of it.
[01:10:17] Jordan Harbinger: Right. So you, you bring the conversation back to the logical dollars and cents, as opposed to yelling and screaming and violence and react, screaming in reaction to the violence and things like that.
[01:10:27] You give an example in the book where hostage-takers pretend to cut off someone's finger, and then they send the family a photo of this fake defingering. Why send a photo of fake finger mutilation and not actually cut off the finger? Like it seems kind of pointless to fake that if you're not, actually, they went through way more trouble making fake finger mutilation than just simply cutting off the tip of this person's finger. I don't understand the logic there. 
[01:10:53] Anja Shortland: Well, maybe because you're thinking about sanitary hospital conditions, when which somebody might amputate something. If you are sitting in some fettered jungle heart, you don't want to create open wounds if you want to keep a hostage alive. It's difficult enough to do so anyway. The last thing you want is to endanger the operation altogether. And also if insurers know that there is a group that is ultra violent, then the best way of dealing with them is not to pay a ransom, but to say, "Okay, these hostages are mortal danger, anyway." They should no longer be considered as human shields. You might as well try and rescue operation. You're not going back to your friend in Colombia, that was so volatile. The situation that is worth risking the life of the hostage in the rescue mission. 
[01:11:49] Jordan Harbinger: Anja, thank you for your time today. I really hope nobody listening, ever actually needs this information.
[01:11:55] Anja Shortland: Indeed. I sort of hope that too, but if somebody was in that situation and they suddenly feel that they've been deserted by their family and they've been deserted by that company and that the politicians don't care, it's not true. They care. They care deeply. It is about creating a story that will manage the kidnappers' expectations to get them home as fast and as safely as possible without rewarding crime and creating all the moral baggage of buying your life at the expense of other people's safety. 
[01:12:33] Jordan Harbinger: I've got some thoughts on this episode, but before I get into that, here's what you can check out next on The Jordan Harbinger Show. 
[01:12:40] You're in Somalia trying to track down pirate gangs, and I'd love to kind of what this felt like. 
[01:12:46] Michael Scott Moore: We went with the big security team and we paid the security team and a lot of money. And it was this one portion of a clan in Central Somalia that was supposed to protect us. 
[01:12:58] Jordan Harbinger: So how did they get yet? 
[01:12:59] Michael Scott Moore: My partner Ashwin flew off to Mogadishu. I drove him to the airport and then we saw him off. He got on the plane safely. And then on the way back from the airport, back into town, towards our hotel, there was actually a truck waiting for us. It was a truck with a canon welded in the back. This is a very common truck. They're called technicals. At first, we thought it was there to watch over us or protect us or something, but actually it stopped our car. And 12 gunmen from the flatbed came over to my side of the car and they actually fired in the air and then opened the door and tore me out of the car.
[01:13:31] They were waiting for me and they were probably waiting or hoping for both of us. I think they were a little bit disappointed that there was only one journalist. They beat me and they broke my glasses and I was wearing glasses at the time and they had another car waiting and they bundled me into it. And off we drove into the bush for about three hours, something like that, hard to keep track of time.
[01:13:50] But at some point we stopped, they blindfolded me and they took me a few steps over to a mattress. So there was a mattress waiting for me in the middle of nowhere. There were other people there, other guards and other hostages, and I sat down for the next two years and eight months. I was a hostage. 
[01:14:07] Jordan Harbinger: For more on life in captivity under the thumb of Somali pirates and how he made it out, check out episode 115 with Michael Scott Moore here on the Jordan Harbinger Show. 
[01:14:20] Such a fascinating subject. Good for her for studying kidnapping from an economic perspective, it's like the perfect blend of nerdy, but also exciting at the same. I asked her also offline. How do you know when you're dealing with a live hostage? Right? Because you need a proof of life. I discussed this on the show before with Daniel Levin that's episode 617, also about hostage negotiation. They also ask these intimate questions. It used to be like, take a picture of them with a current-day newspaper, but you can't really do that anymore because of Photoshop. So now you need this intimate question that only the hostage knows the answer to like, "Hey, what was your teddy bear's name as a kid? Or what was the dog that bit you, that you were afraid of when you were 14?" that kind of stuff. 
[01:15:01] Ransom discussions are also done through the hijacked ships comms system, if it's piracy. So instead of just having people call and say like, "I have your ship," they have to call from the ship using the ship's satellite phone, which is pretty smart. Also, I wondered why we don't see more rescues. You know, we hear about when the Navy SEALs go and snipe out some people, and then they just bring people home. I'm like, "Why don't you do that? That would put a stop to this kidnapping nonsense once and for all." Well, unfortunately, most rescues don't actually go well. In fact, hostage-takers will usually shoot the hostages at the first sign of a rescue. And what this does is make sure that most people don't even try to rescue the hostages. It dissuades rescues in favor of negotiations in the future. If you get enough dead hostages people to realize, "Eh, it's just better to pay." It's a safer way out of this whole thing for everyone. 
[01:15:48] Also, I wish I'd asked. Does anyone get kidnap insurance and then just fake their own kidnapping? Probably not. Since you can't really buy your own, but I could really see that backfiring if people knew they were insured. I guess it's a rare enough thing and people probably don't want to play with fire. If you're an executive making a few hundred thousand or even a few million dollars a year, and the idea that you'd want to sit in a jungle tent and trust your captors, and then take a little off the top. Not super appealing. 
[01:16:14] Big thank you to Anja Shortland for her time today. Links to all things Anja Shortland and kidnap for ransom will be in the website in our show notes at jordanharbinger.com. Please use our website links if you buy books from any guest on the show. It does help support us. Transcripts are in the show notes. Videos on YouTube. Advertisers, deals, and discount codes, all at jordanharbinger.com/deals. Please do consider supporting those who support this show. I'm at @JordanHarbinger on both Twitter and Instagram. You can also connect with me on LinkedIn. 
[01:16:42] And of course, I'm teaching you how to connect with great people and manage relationships using the same software, systems, and tiny habits that I use every single day. It's our Six-Minute Networking course. The course is free. You've heard me talk about it a bunch. You're going to ignore this one too, but here we go in the hopes that you don't, jordanharbinger.com/course is where I'm teaching you how to dig the well before you get thirsty. And look, a lot of the guests on the show, they subscribe and contribute to the course. What are you too good for us now? Come join us, you'll be in smart company. 
[01:17:10] This show is created in association with PodcastOne. My team is Jen Harbinger, Jase Sanderson, Robert Fogarty, Millie Ocampo, Ian Baird, Josh Ballard, and Gabriel Mizrahi. Remember, we rise by lifting others. The fee for the show is that you share it with friends when you find something useful or interesting. If you know somebody who's in the insurance game, they will love, they'll go gaga over this one, okay. Kidnap insurance, come on, who doesn't want to learn about that? The greatest compliment you can give us is to share the show with those you care about. In the meantime, do your best to apply what you hear on the show, so you can live what you listen, and we'll see you next time. 
[01:17:44] This episode is also sponsored by The Prosecutors podcast. Are you interested in a true crime podcasts with a different point of view with hosts? Who've seen the justice system from the inside. I'd recommend you check out Alice and Brett and their show, The Prosecutors. In every episode, Alice and Brett bring their unique perspective as full-time prosecutors to the most famous and debated true crime mysteries, whether it's JonBenet Ramsey — remember her? Maura Murray, Scott Peterson, or the Delphi murders, they dig deep to bring your details you just won't hear anywhere else. The Prosecutors podcast is about more than just a story. Alice and Brett will walk you through the legal problems lurking behind every case, breaking down the complexities of the criminal justice system with humor and a personal touch. And it's not just true crime, they bring the same training and approach they've learned as prosecutors to classic mysteries, like the Dyatlov Pass incident and the ghost ship Mary Celeste. So if you're looking for a true crime podcast with a different point of view, The Prosecutors is the one for you. Find it wherever you get your podcast.
Sign up to receive email updates
Enter your name and email address below and I'll send you periodic updates about the podcast.