Reading Time:
3
minutes
Michael Santos (@MichaelGSantos) survived 26 years as a federal prisoner, hosts the Prison Professors podcast, and is the author of Earning Freedom!: Conquering a 45-Year Prison Term.
What We Discuss with Michael Santos:
How Michael Santos got sentenced to 45 years in federal prison when he was just 23 years old — not for committing a violent crime, but for establishing himself as a cocaine entrepreneur at the height of the War on Drugs (and committing perjury just made things worse).
What this conviction meant to Michael's relationship with his family — and his wife.
The three-prong plan Michael applied to the sudden wealth of time he had on his hands to find a way to reduce his sentence and hit the ground running when he finally got out.
How the system is designed to trip up attempts inmates make toward self-improvement and rehabilitation.
How Michael made his first million behind bars.
And much more…
Like this show? Please leave us a review here — even one sentence helps! Consider including your Twitter handle so we can thank you personally!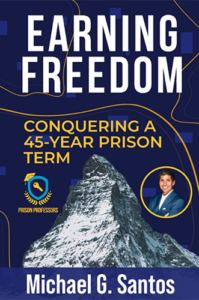 When Michael Santos went to prison in his early twenties, he was sentenced to spend 46 years behind bars — more time than he had been alive. But something unexpected happened: he entered as a self-centered criminal and emerged as an incredible human being who helps other inmates — with his company Prison Professors (and podcast of the same name) — prepare for their stay in prison and gets them on the road to rehabilitation so they're in a position to succeed upon release.
On this episode, we'll hear the story of how Michael radically transformed his mindset in prison, developed himself in ways most of us can only dream of, and actually made more money behind bars than most of us do here on the outside. Listen, learn, and enjoy!
Please Scroll Down for Featured Resources and Transcript!
Please note that some of the links on this page (books, movies, music, etc.) lead to affiliate programs for which The Jordan Harbinger Show receives compensation. It's just one of the ways we keep the lights on around here. Thank you for your support!
Sign up for Six-Minute Networking — our free networking and relationship development mini course — at jordanharbinger.com/course!
This Episode Is Sponsored By:
Miss our conversation with Fyre Festival fiasco fraudster in federal prison? Catch up with episode 422: Billy McFarland | From Fyre Fest Fiasco to Federal Prison here!
Thanks, Michael Santos!
If you enjoyed this session with Michael Santos, let him know by clicking on the link below and sending him a quick shout out at Twitter:
Click here to thank Michael Santos at Twitter!
Click here to let Jordan know about your number one takeaway from this episode!
And if you want us to answer your questions on one of our upcoming weekly Feedback Friday episodes, drop us a line at friday@jordanharbinger.com.
Resources from This Episode: