Reading Time:
3
minutes
Michele Rigby Assad (@michelerigassad) is an international security consultant, trainer, and author of Breaking Cover: My Secret Life in the CIA and What It Taught Me about What's Worth Fighting For.
What We Discuss with Michele Rigby Assad:
Is working undercover for the CIA as exciting as it looks in the movies?
How does an isolated Florida girl grow up to be a CIA operative in the Arab world?
What goes into gathering intelligence from terrorist sources, and what motivates them to cooperate with the CIA?
How did Michele overcome a strong case of imposter syndrome while working at the CIA?
What does it mean to "get off the X," and why is it important to understand even if you think you'll never be ambushed?
And much more…
Like this show? Please leave us a review here — even one sentence helps! Consider including your Twitter handle so we can thank you personally!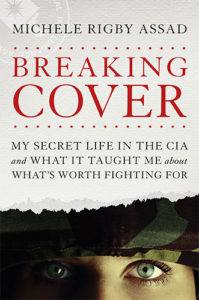 Most of us deal with imposter syndrome at some point in our lives — that feeling we'll be uncovered as a fraud for being unworthy of what we've worked hard to achieve. But most of us don't work undercover for the CIA. (Or do we?)
Michele Rigby Assad, author of Breaking Cover: My Secret Life in the CIA and What It Taught Me about What's Worth Fighting For, tells us how she got over imposter syndrome while working for the CIA and how an isolated farm girl from Florida grew up to get involved in such work in the first place.
Listen to this episode in its entirety to learn more about the difference between real CIA work and reel CIA work, how an agent learns to live with the stress of being in a constant state of readiness, how Michele would talk herself down from being nervous before a debriefing, what turned out to be Michele's best asset for this kind of work, what ambush training is like (and its most important lesson), how a woman from rural Florida connects with militant jihadists who don't tend to see women as equals, and lots more. Listen, learn, and enjoy!
Please Scroll Down for Featured Resources and Transcript!
Please note that some of the links on this page (books, movies, music, etc.) lead to affiliate programs for which The Jordan Harbinger Show receives compensation. It's just one of the ways we keep the lights on around here. Thank you for your support!

Sign up for Six-Minute Networking — our free networking and relationship development mini course — at jordanharbinger.com/course!
This Episode Is Sponsored By:
The Art of Manliness Podcast is a podcast that aims to help men become better men; host Brett McKay explores how to live a life of both contemplation and action while having some fun along the way. Do yourself a favor and check out The Art of Manliness Podcast here!
THANKS, MICHELE RIGBY ASSAD!
If you enjoyed this session with Michele Rigby Assad, let him know by clicking on the link below and sending him a quick shout out at Twitter:
Click here to thank Michele Rigby Assad at Twitter!
Click here to let Jordan know about your number one takeaway from this episode!
And if you want us to answer your questions on one of our upcoming weekly Feedback Friday episodes, drop us a line at friday@jordanharbinger.com.
Resources from This Episode:
Transcript for Michele Rigby Assad | My Secret Life in the CIA (Episode 339)
Jordan Harbinger: [00:00:03] Welcome to the show. I'm Jordan Harbinger. As always, I'm here with my producer Jason DeFillippo. On The Jordan Harbinger Show, we decode the stories, secrets, and skills of the world's most brilliant people, and turn their wisdom into practical advice that you can use to impact your own life and those around you. We want to help you see the Matrix when it comes to how these amazing people think and behave. We want you to become a better thinker. If you're new to the show, we've got episodes with spies and CEOs, athletes and authors, thinkers and performers, as well as toolboxes for skills like negotiation, body language, persuasion, and more. So if you're smart and you'd like to learn and improve, you'll be right at home here with us.
[00:00:40] Today's conversation is one from the vault with my friend Michele Rigby Assad. She's the author of Breaking Cover: My Secret Life in the CIA and What it Taught Me About What's Worth Fighting For. If you liked our Jack Barsky KGB interview, you'll dig this one as well. Michele spent 10 years undercover with the CIA, working alongside her husband. They were counterterrorism and counterintelligence specialists during her time with the agency. Her job was to clandestinely meet with sources to prevent or stop attacks from occurring. So as you might imagine, a lot of rapport, a lot of interrogation, and a lot of investigative work. She's lived in six Middle Eastern countries and traveled to dozens of others. This one is just loaded with a lot of myth-busting about the CIA and CIA officers. We'll also learn how to develop trust with people when they aren't from the same cultural background and with some people who are outright hostile. We'll also discuss verbal and non-verbal communication as used by CIA interrogators in the Middle East -- well, what we're allowed to discuss here anyway. And we'll discover why it's important to get off the X when we're feeling overwhelmed or acute stress.
[00:01:46] If you want to know how I managed to get all these amazing folks on the show, they all come from my network and I'm teaching you how to build and maintain a network using systems and tiny habits. Check out our Six-Minute Networking course, which is free over at jordanharbinger.com/course. And by the way, most of the guests on the show, they do subscribe to the course and the newsletter. So come join us, you'll be in smart company where you belong. Now, here's Michele Rigby Assad.
[00:02:14] I know you spent 10 years working undercover in the CIA along with your husband. Is that the usual thing? Because that seems straight out of Hollywood. You and your husband are both undercover CIA operatives.
Michele Rigby Assad: [00:02:26] That's correct. But no, that was very unusual, as was the type of career that we had within the CIA, where we went from one difficult spot to another, and I think that's because we were both Arab specialists, so they essentially got a two for one deal, which was really great for the CIA, and of course, good for us because we stayed together during all of our assignments.
Jordan Harbinger: [00:02:47] Right. You didn't have that thing where it's like, "Oh, your wife's going to be in Korea and we need you in Tunisia. "
Michele Rigby Assad: [00:02:53] Exactly. Yeah, so we were very lucky in that regard.
Jordan Harbinger: [00:02:56] When I was at State Department, there were probably as many divorcees as there were people in the building, and half the time it was because, "Yeah, my wife works in the Philippines," and I'm like, "We're in Panama, and you just got here. How long is your assignment?" "Three years." "Okay, so you're going to spend three weeks together over the next three years that's going to go well for you."
Michele Rigby Assad: [00:03:15] Exactly. I mean, those government jobs and the military jobs, they often separate families. So it's a very, very difficult lifestyle and it's hard to keep your family intact when you don't see each other very often. So even though we were unusual in the CIA, I'm so glad that I was working alongside my spouse because given how much we dealt with in terms of stress and threat level. I'm not sure I could have done that on my own.
Jordan Harbinger: [00:03:40] Yeah. It seems like something that you -- especially if you can't even share it because, "Well, I can't really tell you what I did today." It's like, "Well, you were there. There's something to that."
Michele Rigby Assad: [00:03:48] Exactly.
Jordan Harbinger: [00:03:49] What does the process look like in function? And you don't have to get into too much detail right now. We can get into that down the road, but we all know the movie version of what we think CIA operatives do. You're sitting in an outdoor bazaar in Tunisia waiting for a source with your husband. You know, he's smoking a hookah shisha. And you're looking through with your headcover, peering over the top of a newspaper. What's the reality though?
Michele Rigby Assad: [00:04:10] So the reality is that you could literally spend weeks trying to prepare for an operation that only takes maybe two or three hours. Very similar to law enforcement, where police spent a lot of time just typing up police reports. The life of intelligence officers have small spurts of really interesting stuff, and then long periods of time, so many hours in front of the computer doing research or preparing for that operation. So most of it's not as sexy as you think of it in your brain.
Jordan Harbinger: [00:04:40] Yeah, I would imagine, and I'd like to think that we're all aware of that, but I know there are people right now that need to be disabused of that notion. I think that makes sense to get that out of the way so people kind of get a clearer picture of what you're doing, which is, I would imagine a lot of sitting in a room, even when you're dealing with the enemy. You're really sitting in a room with a source. You're not dodging them in a bizarre Allah, that show, Homeland.
Michele Rigby Assad: [00:05:05] No, you're not karate-chopping anyone. So it's very low key. And so when finally out there doing your operation or your meeting with your source, you're sitting for hours just going through tons and tons of information. And during that period of time as an intelligence officer, you're going through so much in your head. So what might be three hours actually feels like 30 seconds because you're debriefing that source? You're looking for counterintelligence red flags. You're trying to establish a really strong level of rapport while also collecting like every last detail you need to write this intelligence report and get this information to DOD or policymakers. So you're doing so much in those sessions. You're processing such large amounts of information. It takes a really strong intellect and a lot of emotional intelligence to do that job well.
Jordan Harbinger: [00:05:56] In the book, you say, "The morning routine was always the same. A car bomb went off and my stomach churned as I realized two things. One, dozens of innocent people had just died, and two, I was still stuck in Iraq. It was a Groundhog Day existence, a bad dream that I desperately wanted to wake up from, but never did. There was no respite from the tension, no place to go and unwind. It was just an unrelenting cycle of stress and anxiety." It doesn't sound super low key when you put it like that.
Michele Rigby Assad: [00:06:25] Oh my goodness. Well, fair enough. When you're in a war zone like Iraq or Afghanistan, that tends to be your life kind of explosions and rockets being launched at you. You're sitting at your very exciting desk trying to do research and then you're dodging rockets. So fair enough.
Jordan Harbinger: [00:06:43] Living in that constant state of readiness to run sounds like something that could eventually slowly kill you, but probably -- maybe not that slowly. Actually, it depends on what kills you, I guess, but the stress part might be taking a serious physical and emotional toll. Did that ever affect your performance in the field? Because I don't know if I'd want to wake up to rumble, rumble, rumble -- "Is that an earthquake? Am I in Fresno? Oh, wait a minute. No, a giant bomb just rocked because I overslept by 10 minutes and it's car bomb time in Iraq."
Michele Rigby Assad: [00:07:14] Right, so Jordan, it takes such a physical toll on you because you're exhausted because you hear these things all night long too, so you're never fully and completely asleep. So there's the physical aspect of it and then there's the emotional, spiritual aspect where you realize with each car bomb explosion that rocks your little pod that you're living in, you just realized all these people died. And so you're kind of bombarded with so much negativity for that year that you spend working in the war zone. And yeah, for sure, it does take its toll.
Jordan Harbinger: [00:07:44] So, as we mentioned earlier in the show, you're originally from a rural area of Central Florida, grew up with no knowledge of the outside -- or little knowledge I should say -- of the outside world. This doesn't sound at all like the preconception many of us have who joined the CIA. For example, I've lived in nearly a dozen countries, speak a handful of languages, my friends expect me to have been a spy and people joke about it all the time, especially my friends in places like Serbia, they're like, "We've just accepted that you're a spy and you're never going to tell us."] But not someone who grew up on a freaking farm in Florida or close to farms.
Michele Rigby Assad: [00:08:17] Right, and I think that's why it's so fun to tell my story because when I was growing up, not being exposed to all of these things, I had this notion in my head that in order to do something impactful or cool in the world, you had to have an Ivy League education. You had to have strong family connections, or you had to have financial resources and obviously, my life demonstrates otherwise. So you can come from a place of really being exposed to so little and still have a major impact in the world if you're willing to do things that make you uncomfortable. And so for me, that was saying, I'm really fascinated by this whole Middle East thing. I know nothing at all about it, but I really want to learn and I just kept pushing myself into places where I could learn more about Arab culture and get abroad essentially.
Jordan Harbinger: [00:09:05] And this is because you met your husband in high school. Were you interested in Arabic culture before or was it kind of like, "Oh, I'm falling in love with my husband Joseph; now, I'm suddenly interested in all this stuff"?
Michele Rigby Assad: [00:09:16] Well, I think my interest started when I was very young. I used to see National Geographic magazines and my neighbor's house when I would water her plants over the summer, and I would sit down and I would just plant myself in front of those magazines and I would get lost in them. And it was so fascinating. These colors in these places, in these people that look so different. And so it gave me this hunger to know more. So when he came along and said, "Hey, I'm taking a group of students on a mission trip to Egypt." I was like, "Hey, I want to go." Here's my chance to finally see something so different than what I've grown up with. So it was kind of ripe and ready for that opportunity.
Jordan Harbinger: [00:09:55] Yeah, I can see that. Okay, so you had a natural curiosity that you are predisposed to this type of thing beforehand because not everybody -- I'm married to a Taiwanese gal, Jen. And there's a lot of other white guys in the extended family, and none of them speak Chinese and none of them really -- they don't know how to use chopsticks. And I'm thinking, "Man, you've been married to somebody for 40 years and you kind of picked up not even the bare minimum." And I'm taking Chinese lessons and I've figured out how to do everything that their kids can do and that I should have learned earlier. Do you think that's a certain type of person in general, just has that curiosity and then chases it?
Michele Rigby Assad: [00:10:31] Absolutely. At the core of that is a hunger for knowledge, which you probably have as well.
Jordan Harbinger: [00:10:36] I mean, geek is how it actually comes out normally. But I would say hunger for knowledge is a great way to put it. I wish I'd known that phrase in high school.
Michele Rigby Assad: [00:10:45] Or curiosity, you know, a really deep curiosity about people.
Jordan Harbinger: [00:10:49] Well, that's for sure. That's why we do the show in the first place I suppose. When you really get down to it, the curiosity sticks. It sounds like you grew up with that, or you develop that early on, but moving into your career, did you ever feel like, "Okay, I don't really belong here. All the other people around me are, grew up overseas, extensive international experience," and you're the kid from rural Florida who's trying to fit in.
Michele Rigby Assad: [00:11:11] Yes. I had a serious complex about that and a huge level of intimidation. So I was so surprised when I got hired by the CIA. You know, you walk into this great big building, which is so intimidating, and you think, "How the heck did I get here?" I can't possibly be the kind of person that is an intelligence officer that does this job. And so when I would walk around the building these first few weeks and I would look around, Jordan. I would see that the people who had advanced were generally these older white gentlemen who I seem to have nothing in common with. So even on a personality level, there were a lot of men that were very truculent. It was a very poor leadership or no leadership. There wasn't a sense of like helping each other come along or investing in your employees. So I thought, "Wow, I am so different." And therefore I must not have what it takes to get ahead in the CIA. So those were the leaps that I made in my mind. And I thought, "Well, you know, I'll be lucky enough just to hang in here and do the bare minimum." And so there were a lot of brain blocks that I needed to get past in my career at the CIA.
Jordan Harbinger: [00:12:24] I just got a Google "truculent" real quick. It means quick to argue or fight, aggressively defiant. And I know I'm not the only one who didn't know what that means. Right now people are like, "Crap, I missed the last 10 seconds because I was googling truculent."
[00:12:37] I can understand that. I would imagine that it is kind of a bunch of mid 40s white dudes from Ivy League schools and that's essentially what you're looking at in terms of the people that you're around. And like you said, "I'm fine doing the bare minimum rock and my imposter syndrome. I don't necessarily belong here." Do you think that that imposter syndrome feeling 20-20 hindsight is a common, shared feeling in the CIA among intelligence officers and operatives?
Michele Rigby Assad: [00:13:05] That's such a good question. I think there were probably a lot of people that felt the way that I did but of course, you don't want to tell anyone because we're all trying to be cool and we're all trying to be good enough. For me, I think my intimidation factor and the feeling of this imposter syndrome was probably stronger than most others. I don't know why that is. Why I kind of grew up being so easily intimidated by things, but I think it's important to mention. Because when you look at what I have accomplished in my career, it sounds so impressive and people are like, "Wow, you're so courageous. You're so impressive." And I'm like, "Actually, the truth is that I had to learn how to get over these things, and I had a lot of fear going into it that I had to conquer along the way."
Jordan Harbinger: [00:13:53] How did you learn to get through these things? I mean, it seems like many people self-select out of things that they're naturally going to be very good at because of imposter syndrome. I mean, you're a great intelligence operative from the sound of it, but you almost didn't even try.
Michele Rigby Assad: [00:14:07] Right, that's correct. And you know, sometimes Jordan, the only reason why I stuck in there was because I was too embarrassed to quit. It was just that simple.
Jordan Harbinger: [00:14:16] Wow.
Michele Rigby Assad: [00:14:16] I didn't want to be embarrassed. I didn't want to drop out. I'm like, "If I drop out of here, I don't know what else I'm going to do with my life, so I might as well give it everything I've got and see what happens."
Jordan Harbinger: [00:14:25] Wow. So you were kind of like, "Well, I got no other options." I feel like that too, with this, I mean, I started in law school, but then I was a lawyer for a while and the economy tanked and I thought, "Do I really want to get another law job that I'm not cut out for? I might as well just do this until something else comes along." And here we are 11 years later. But I almost thought, "Well, you can't just become a broadcaster. You have to go to school to learn, to speak into a microphone intelligently." I don't have permission.
Michele Rigby Assad: [00:14:50] And then what you probably did was invest a lot of your time and effort and just doing the job. And as you went along, you developed an expertise. And that's essentially what I did in my career. I just said to myself, "Look, Michele, just hang in there. Just do the best you can with what's in front of you." And so every day for five years, I just had my head down. I wasn't trying to get ahead in my career. I wasn't trying to cultivate ties with the right folks so I could get the plum assignments. I was just trying to learn how to be an intelligence officer.
[00:15:22] And so what that did for me was eventually when I got to Iraq, which was about halfway through my career, I had developed this expertise, this craft to a point that I finally realized like, "Oh wow, somewhere along the way, while not worrying about my career, I became really good at what I was doing."
Jordan Harbinger: [00:15:42] Right. You spend so much time honing your craft thinking, "Well, this is the only option I have. I can't be a part of the old boys club or whatever else is going on, so I might as well just get good at the job." Then you got good at the job and you've got the assignments that you needed. It might've taken longer, or perhaps it was a different way than a lot of folks take, but you ended up with a superior skill set because that was your only competitive advantage or the only one that you thought you would have.
Michele Rigby Assad: [00:16:06] Correct. That's absolutely correct. And it snuck up on me. I remember the day that I realized that I was actually exceptional in terms of my substantive knowledge. And I was like, "Oh wow." I didn't realize because I just had my head down and I was just minding my own business, doing the best I could do with the job in front of me.
Jordan Harbinger: [00:16:24] Let's back up the truck a little bit and loop people in on what the CIA really does. I hope people don't think you're running around in the desert with a prototype, secret weapon offing terrorists every day. I mean, we kind of talked about the reality of your job, but what about the agency as a whole. How they collect and package intelligence and what that's for? Just really briefly.
Michele Rigby Assad: [00:16:41] Sure. So the job of an intelligence officer is to develop sources and recruit them to work for you to give you the intelligence you need. And with regard to the counterterrorism mission, the Intel, you need to stop attacks from occurring. So you meet clandestinely sources and the idea is to find out the plans and intentions of the terrorist groups. So who's involved, what they're up to, which gives us what we need to stop it. You know, we package that information and then we disseminate it to the intelligence community. It goes to the Department of Defense to our military colleagues. It goes obviously to the president and all of the other intelligence consumers that can then use that information to protect the United States.
Jordan Harbinger: [00:17:26] The sources you're meeting with sound pretty dangerous. What type of people are we dealing with here? These don't sound like the type of people you'd have over for Thanksgiving generally.
Michele Rigby Assad: [00:17:34] Exactly. These are not your Boy Scouts of America. These guys, funny enough, people are always surprised when I see these incredibly intelligent, very emotionally intelligent individuals. But they come from a very different place. So the kinds of people you're meeting with, they're penetrations of terrorist groups. So essentially it's someone in the group who's turned against the other members of the group and is snitching on them, or someone who knows somebody in a terrorist group. So you're dealing with people that are very angry. They hold a very radical ideology obviously. They're very violent and they're very difficult to deal with because they're manipulative. Because if you think about something, a place like Iraq, these guys grew up under Saddam Hussein, and in order to survive that kind of an environment, when everybody else was reporting on everybody else, you had to manipulate in order to survive. And so you have some of the world's most intelligent, best manipulators the year now trying to work with as a CIA officer, who if they met you in the street, would prefer to slit your throat than work with you. So it's an interesting dynamic in terms of the kinds of people you're dealing with.
Jordan Harbinger: [00:18:49] Oh wow. Okay, a lot of the picture that we have of terrorists, it sort of ranges, right? We think, okay, there are these dumb kids we see in the ISIS videos who are -- they're doing those burnouts with tanks and stuff, and you just think, "This guy's like a 19-year-old idiot." But then there's got to be people above them who are street-smart deadly. What percentage of people that you're in front of at this point are wanting to be there working with you? Or are these just guys that you said, "Look, we have information that you're almost actual and we have photos, you're going to die and your family is going to be shamed or you can work with us?" I mean, how does this work in practice? I feel like, they're probably not there going, "Can't wait to help the CIA today,"
Michele Rigby Assad: [00:19:30] Right. "The CIA is my best friend. Let's do this thing." So essentially we would never force somebody into a relationship. So that's one of the things that people assume that we do. We do not engage, and that kind of manipulation. So that person needs to be there because they choose to be there. And so they're motivated, why? Some of them need money, so they want to get paid for their information. Some of them just want to take out their competitor. So they think, "Hey, if I go to the CA and I rat out this other group, I'll become this strong boy on the block." Or they're scared and they think that by working with the CIA, they'll find some sort of level of protection. And sometimes Jordan, there's simply, "I'm over this. I hate this group. I have been manipulated. I no longer buy into the ideology. And so I'm willing to risk my life to work with the CIA against these other nasty guys." So there's a variety of motivations why they're willing to do that. And I tell people, "Look, you can work with any motivation. You just have to know what it is."
Jordan Harbinger: [00:20:31] That's interesting. So you have to suss that out. Or do they usually tell you, "Look, I'm just sick of working with these guys. They're not real Muslims. They're just crazy killers. I joined ISIS because I'm pious. Not because I'm a psycho"? Or do you have to say, "Hey, what's going on with you? How come you want to do this?" I mean, do you have to be delicate with that or they're usually coming in and turning in their ISIS card?
Michele Rigby Assad: [00:20:54] All the above. So you get guys to walk in the doors like, "I am over this. I'm not doing it anymore, and here's why I'm here," and they're very clear about it. And there are other sources who come in and tell you a particular motivation, but then you have to find out, "Oh, you know what? That's his stated motivation. But his true motivation is this other thing." So that's where your emotional intelligence comes in trying to figure out why this guy is willing to give you this information. It's not always what they say it is.
Jordan Harbinger: [00:21:21] And I would imagine that motivation has to be, do you have to be very confident about that? Because a lot of these guys, especially in Iraq, you're looking at Ba'ath Party intelligence apparatus and military apparatus, former military and intelligence apparatus under Hussein. Those guys have been government agents, gangsters.  officers for years prior to the current conflict, so they know what you're doing. They know the gig, they know the job. They could be playing you at the same time, perhaps. So if you don't have a solid motivation, you could and should be suspicious of them the entire time, right?
Michele Rigby Assad: [00:21:56] That is exactly correct. You have really well defined the kind of people we were working with in Iraq. So it was very tricky because, "Hey, if you didn't figure them out, the chances are they were playing you."
Jordan Harbinger: [00:22:07] If they're playing you and they're thinking, "I'm going to be interrogated by the CIA agent and I'm the one who's secretly getting information." What are they hoping to get? In theory, you're controlling the interrogation even if they're intelligence agents and they're at work, what are they hoping to get out of you? Because it's not like you're there, "Let me outline the next few weeks of operations for you. Does any of this look familiar?" I mean, you're trying to do a unilateral transfer of information, I would imagine, or unidirectional.
Michele Rigby Assad: [00:22:35] So I found in the debriefing room that authenticity went so far, and I would be really clear about what it was that I needed from them, but I had to talk about it or present it to them in a way that made sense to each particular source. And because every one of them was different, you had to communicate on whatever level they were on and appeal to them. So if I'm dealing with an incredibly intelligent source, then I need to show him I am intelligent and be very upfront with my intellect and speak to him in a certain way. And if I'm dealing with someone who's more of a manipulator than I have to turn up the manipulation as well or my efforts in establishing myself really well with these guys as someone that they can't manipulate.
[00:23:21] All these dynamics are going on and each person is different and you got to be on your toes trying to constantly figure out who is this guy, where is he coming from, and how can I talk to him in a way that makes sense to him and will get us both where we need to go while also remaining cognizant that there's always the potential that you're dealing with a double agent. So you want to be looking out for that as well. Them wanting to collect too much intelligence on you in the process.
Jason DeFillippo: [00:23:54] You're listening to The Jordan Harbinger Show. We'll be right back.
Jordan Harbinger: [00:23:58] This episode is sponsored in part by Ridge. I don't even know how you explain it. These are un-wallets. They're front pocket wallets. They're made out of aluminum or titanium or carbon fiber. They also make badass backpacks, chargers, tools for better living. So the Ridge wallet, which was launched on Kickstarter in 2013, it's a front pocket wallet. So you're not going to have the hip and back damage that you get from sitting on a wallet all day. And this thing looks bulletproof. Now, I'm not saying it can stop a bullet because that might be false advertising and God, you know, some idiot is going to test it and I'm going to get sued. So I'm just going to say it looks like the kind of thing that might, in theory, be bulletproof, so it's kind of badass looking. They have tons of room for all your crap but honestly, it's minimalist, so you're going to want to keep things out of there. That's what I like about having these kinds of wallets. The wallet is really sleek. It's two metal plates bound together by a really durable elastic band. It looks nothing like a traditional wallet. These guys have 30,000 five-star reviews. It's a better way to carry your cash and your cards. It has a lifetime warranty if you love it. Free returns if you don't. Go check it out. Jason, tell him where they can get a deal on the Ridge wallet.
Jason DeFillippo: [00:25:05] They can get 10 percent off today with free worldwide shipping and returns by going to ridge.com/jordan. That's R-I-D-G-E.com/jordan and use code JORDAN for 10 percent off today, ridge.com/jordan.
Jordan Harbinger: [00:25:19] This episode is also sponsored by Better Help. Let's be real here for a second. Life can be super hard. For some of us right now, it is super hard indeed, and sometimes the last thing you want to do when you're feeling down is to add the chore of finding a therapist. "Ugh, you mean talk to somebody about how I don't want to talk to anybody. No, thanks." But actually, yeah, because Better Help online counseling is here to make talking insanely easy for us. Better Help has a huge list of online licensed professionals who are trained to help with every type of issue people have in every state and in many different countries covering depression, stress, anxiety, sleep disorders, relationships, self-esteem -- literally anything from the old Vegas buffet of personal issues here. And you can talk in a private online environment. So just like therapy, of course, everything you share is confidential. It just doesn't get any more convenient than getting help in your own time at your own pace. And now, of course, from your own home, since you can't leave anyway. Here's how Better Help works, within 24 hours, you can either chat online, text, call, or have a private video session with a therapist. It's like delivery, emotional support. Plus. If you're not psyched about the counselor you chose, you can swap for another without any additional cost. And what I love about these guys is they've got 3000-plus counselors. You can find one you love. If you don't click, then you can get a new one. No extra charge. Jason, tell them where they can get a deal on better help and give it a try.
Jason DeFillippo: [00:26:38] Our listeners get 10 percent off the first month with discount code JORDAN. Go to betterhelp.com/jordan. Fill out a questionnaire to help them find the right counselor for you and get started today. That's betterhelp.com/jordan.
[00:26:50] Thanks for listening and supporting the show and to learn more and get links to all the great discounts you just heard from our amazing sponsors, visit jordanharbinger.com/deals. Don't forget we have a worksheet for today's episode so you can make sure you solidify your understanding of the key takeaways. That link is in the show notes at jordanharbinger.com/podcast. If you'd like some tips on how to subscribe to the show, just go to jordanharbinger.com/subscribe. Subscribing to the show is absolutely free. It just means that you get all of the latest episodes downloaded automatically to your podcast player so you don't miss a single thing. And now back to the show.
Jordan Harbinger: [00:27:25] Given that you're a white American female from rural Florida, essentially the furthest thing away from a jihadist, it would seem that you might be at a disadvantage here. I know that you've managed throughout your career to turn that into an advantage -- and I definitely want to hear about that -- but it just seems so unusual. You're doing counterterrorism, work in debriefing, you're female, you're debriefing these jihadists, or at the very least, a very conservative Middle Eastern man.
Michele Rigby Assad: [00:27:50] That's correct. Yes.
Jordan Harbinger: [00:27:51] This had to have caused friction. I can't really imagine that a group of hardcore Islamic jihadists who keep many of their wives and daughters in the home behind painted windows, out of school, would want to sit and have a discussion with you about turning on their cause in exchange for freedom or money.
Michele Rigby Assad: [00:28:08] That is absolutely correct. And so because I had spent so much time studying the Middle East -- going to school and traveling in the Arab world -- I understand that this was the dynamics that I was facing. So as I was preparing myself to go into the debriefing room the first time, I'm thinking about this guy that I was about to debrief. And he was, whew, boy, he was a really tough Mujahideen guy, and I was both super excited and super scared because I knew that as soon as I walked in the door and he saw me, he would make a series of assumptions about me that were completely false because of what you just said.
[00:28:47] And so I was keenly aware that the first thing was that he was going to want to flirt with me. Why is that? Because this is a very sexually repressed culture. And even though they talk about women's honor and we need to keep the women in the house, so they just take care of the family and they're not exposed to dishonor, most of them, not all of them, but most of them would take every opportunity to flirt with someone else if given the chance. So the fact that they were going to be meeting with a female who was not covered and who wasn't a member of their family was about the most exciting thing that had happened to them that month. And I'm like, you know, that kind of sucks because there's nothing I can do about the fact that this is what he's thinking when I walked through the door.
[00:29:28] I have to get him past this roadblock in his mind because we cannot spend the next three hours with him just trying to flirt. So how do I move him from this really weird space into a place where he's willing to work with me? Because on top of this, they also know that he thinks that I could never be intelligent. There's no way as a white, young American female, I would know anything about Iraq, that I would have any understanding of the dynamics going on in terms of the sectarian strife in that country or terrorism. I certainly couldn't know anything about Arabic. And so I had all of this stacked against me and I knew as I was about to walk into that first debriefing session in Baghdad, I have to get over this very quickly. I need to walk through that door and I need to resolve this and the first five minutes of this meeting or I'm not going to get anything accomplished.
Jordan Harbinger: [00:30:21] I got to ask, what kind of game are these guys kicking? I mean, they grew up in rural Iraq, joined ISIS, got married at age 18 to somebody who's probably like arranged. What kind of game do these guys have? They're flirting with you. It must just be so weak.
Michele Rigby Assad: [00:30:37] It's really embarrassing. So like when you're being introduced, then one of the things they would do is, you know, shake my hand. But then hold onto my hand and try to start caressing my hand. I'm like, "Oh no, here we go." So, you know, even something as simple as a handshake had to be dealt with very clearly, release the hand, pull back. So as important as eye contact is in the West, it is even that much more important in the Middle East. And so in terms of the relationship between men and women who are not in the same family. Eye contact is everything. So if you're making direct eye contact with a guy that you're not married to, you were most definitely flirting with him. So something as simple as how long do I spend looking at him directly with my eyes before I break eye contact was incredibly important.
Jordan Harbinger: [00:31:25] Oh my gosh, this is so apropos. All the stuff that's in the news these days, right? Like this is some Harvey Weinstein game. Maybe even worse. Way more amateur, that's for sure.
Michele Rigby Assad: [00:31:36] Right.
Jordan Harbinger: [00:31:36] Like you said, it's just embarrassing and you have to be cognizant of all of this stuff because otherwise it just derails the entire conversation. That must've been extremely frustrating at times. How did you turn this into an advantage?
Michele Rigby Assad: [00:31:50] So essentially, I told myself as I was about to walk in that door, "Michele, you have been preparing this for your whole life. Like everything you've done up until this point has made you capable of taking this on. So you've just got to do it." And so as I would walk in the door and I would shake his hand and pull away at the right moment, and I made sure to sit, not too close to him, but not too far away. And I'm constantly monitoring all the non-verbals going on. At the same time, Jordan, I'm looking to present myself as a very intelligent woman. So I would say things to him that showcased my intelligence. I would speak particular Arabic phrases to him in that moment to show like, "Hey, I didn't just get off the boat. I've really been studying Arabic for a long time," and I could see when you read non-verbals, you could literally see their eyes going, "Wait a minute, wait a minute. This is not what I thought I was dealing with. Hold on. What is this?" Like confusion. I was presenting something that was so opposite of what they thought I was going to be and I could sense it as I was talking to them about their impact and their motivations and their courage to work with the CIA as I'm now building up their ego. I could see them going, "Wait a minute. I think I can trust her," because, at the end of the day, these guys had to trust you with their intelligence because if you mishandled it, they could be killed. So they're trying to judge like, "How much can I trust this person sitting across from me?" And ultimately, I had to move them from the flirting zone into the, "Wow, she's smart," and then, "Wow, I'm willing to trust her" mentality.
Jordan Harbinger: [00:33:27] Do you feel like you held some of the cards because they didn't expect you to be their equal at all?
Michele Rigby Assad: [00:33:33] That's correct, yeah. They were off their game because they were so shocked and that was useful.
Jordan Harbinger: [00:33:39] You mentioned that a lot of those people would prefer to kill you just as much as talk with you. How do you start to develop trust with them? You mentioned going over, I guess, what you would call you're bona fides, right? You're signaling to them without chasing and saying, "Well, I went to Georgetown and I've been in the CIA for 11 years." You just spoke fluent Arabic and a certain dialect where they went, "Oh, wait a second. Okay. This is not her first rodeo. This is not her first interrogation. I need to back up the truck and maybe tuck in my shirt a little," so to speak.
Michele Rigby Assad: [00:34:05] Right, exactly. They would want to belabor the introduction because they're so shocked. So they'd be like, "Wait, how do you know Arabic? You've been in the Middle East?" And so they would ask me some personal questions and some of them I would answer, but then it would very quickly move on like, "Yes, I have done all over the Middle East. Yes, I have studied Arabic. Now let's talk about this incredible thing that you did last week when you shared this information with us and you helped us wrap up like a vehicle bomb before it exploded. That was incredible and I really commend you for your courage to work with us." I've addressed his questions about me and I've quickly then kind of diverted his focus to making him feel good about himself and what he's doing in this relationship.
Jordan Harbinger: [00:34:48] Sounds like the male ego has played a significant role in some of the success that you've had in these interrogations.
Michele Rigby Assad: [00:34:54] Well, you know, everybody wants to be appreciated and it really is a scary prospect to work with the CIA, especially in those conditions. So you really had to make them feel comfortable and you had to make them realize that what they were doing was making a difference. So yeah, we did spend a lot of time giving them that kind of feedback.
Jordan Harbinger: [00:35:12] Were you always good at reading people, reading non-verbal communication, reading emotions. In Breaking Cover, you do talk about your mom and how you were as familiar with her emotions as you were with your own.
Michele Rigby Assad: [00:35:24] Yes, and it's funny because I didn't know growing up that that was a skill and I didn't know that was something that could be used in a job. It just was who I was as a person. I actually thought for a long period of time that maybe I was too sensitive or something. There's a little bit wrong with me and it turns out it was one of my best assets in the CIA.
Jordan Harbinger: [00:35:45] So these guys had their minds in the gutter a lot of the time. I think a lot of us are imagining the guys who are in the equivalent of prison, right? When they're not being debriefed, there are no women walking around they can talk to or associate with outside of their family. They sit all day behind closed doors. They probably never met an American woman. Aside from watching movies, which is not doing you any favors, how does that affect your non-verbal communication? I would imagine you have to sit differently, walk differently. Like you said, your eye contact was different. But you also have to maintain your authority. So how are you moderating what would essentially be increasing sexual tension in interaction with maintaining your authority and doing what you need to do culturally to get them to respond the way you want?
Michele Rigby Assad: [00:36:29] I had to reflect often on something that I wasn't feeling. So if I was not -- I was nervous, which I usually was going into these meetings. I had to say, "Okay, Michele, stop shaking. Take a deep breath, gather yourself. First of all, he cannot see you shaking. Otherwise, he's going to know you're nervous." And so I would lift up my shoulders, square them back. It would be very careful to walk as upright and straight as possible as I walked in the door. Everything I did was meant to reflect being a professional, so shaking the hand and removing it, limited but direct eye contact. Just keeping the conversation moving in the right direction was part of my strategy to keep his head where it needed to be.
[00:37:11] So those non-verbals, even how close you sit to him in the meeting and making sure that you're not slumping in your seat, that you're sitting up straight. And even those little things as you're going through debriefing, you're always looking for the non-verbal feedback to indicate whether they're telling you a lie or potential lie or something that they're saying isn't quite right. So throughout the entire debriefing, you're constantly saying, "Is he telling me the truth? Is he being honest with me?" Or there were times in which I would be like, "That question he's having a reaction to, I need to note that down and then I need to address this either now or later in the debriefing or in another meeting." So it was a constant feedback loop that you're on when you're in those meetings.
Jordan Harbinger: [00:37:56] Were there any times that your reading of non-verbal communication, verbal and nonverbal communication for that matter led you to something that was unexpected? Because it seems like a lot of the time you're going for a specific goal. You're trying to find out something specific about an operation or a person. Was there any time that you picked up on something and went, "Wait a second, this is not what I was looking for," but you had kept yourself perceptive and open enough to discover that.
Michele Rigby Assad: [00:38:20] There was one particular debriefing that was very interesting because it pushed me into some really new places, so he wasn't my source. He was someone else's source that I was meeting with temporarily. So I went in very excited, picked this guy up, put him in my car, brought him back to the debriefing room. And you know, held about a two or three-hour debriefing. And as I mentioned earlier, you're going through so much material, you're trying to cover so much territory that a three-hour meeting feels like 30 seconds. It happened so fast.
[00:38:52] And it was really funny because after we were finished, we dropped him back off and I went back into the office. I had this very strange feeling that I couldn't shake, that something was wrong with the case, and I kept telling myself, "I don't know where this is coming from and just knock it off." But it kept raising itself in my spirit like something's wrong with this guy. "Why do I feel so bad about this debriefing? Everything seemed to have gone right." And instead of ignoring that intuition, I just started entertaining it in my head like, "What is making me feel so bad about this case?" And so over the course of probably the next, I don't know, three or four days, I was putting myself back in the debriefing room saying, "What happened that wasn't right?" And it suddenly dawned on me after wrestling with this for days. That this guy who had claimed to be an Al-Qaeda amir -- amir means leader in Arabic, the head of a terrorist cell wasn't acting like all the other terrorists that I had met with. So he didn't fit the profile and his behavior was off through the entire session. So it wasn't, one thing was almost like the totality of everything felt wrong.
[00:40:03] And I thought about all these other legitimate bad guys who would walk in the room and their ego was so big, Jordan, like they would fill the whole thing up. They were so full of themselves. And then I looked at this other guy and I spent nearly three hours with him. He was shaking like a leaf. When I picked him up, he had a cold and clammy handshake when I shook his hand. He was so terrified in the car when I picked him up that I thought the guy was going to pee his pants. And ultimately what I realized was, I don't think this guy is who he says he is. And was courageous enough to mention that to some of my colleagues who were like, "No, no, no. He's awesome. He's been doing such good work with us for so long. You cannot possibly be right about this."
[00:40:47] And so over a period of several meetings, we were actually able to prove it. This guy was never an Al-Qaeda amir, just as I suspected. That he had given us really good intelligence a year prior, but it wasn't because he was part of the Al-Qaeda cell. It was just that everyone in the village knew who these guys were, and even his five-year-old kid could have told me who Al-Qaeda was and allowed us to wrap this cell up. He was just desperate to put food on the table and to feed his 10 12 family members that relied on him for their basic needs. So he just needed to keep a good thing going, and he pretended like he was a member of a terrorist group and just fabricated loads of information to the CIA to get paid for it.
Jordan Harbinger: [00:41:31] It sounds like something that would normally make me really angry or make you really angry and you think, "Oh, this scumbag, what a sleazeball." On the other hand, though, I have some level of sympathy for a guy who is pretending to be a terrorist to get money and feed his family because one, he's not a terrorist, so there's that, but two, this is a risky proposition for him because you can get mad and you could throw him in Abu Ghraib or whatever and that could be the end of him. You could go after his family. The real terrorist could find out that he's doing this and go after him and his family. I have more sympathy for somebody like this than I did beforehand when I just thought, "Oh, it's some punk kid. Who wants a couple of bucks so you can buy cigarettes." It seems a little bit more sympathetic. Yes, you wasted a ton of time and resources with somebody like that, but I would imagine people don't make those decisions very lightly. Like, "Hey, you know what? I'm going to screw with the CIA." It doesn't sound like a healthy pastime in Iraq.
Michele Rigby Assad: [00:42:27] Right. You know, I think that that's such a great thing to point out, Jordan, because at the core of what we were doing, it required having empathy for the other person, even when they seem to have nothing in common with you. Because if you can't empathize where that person is coming from, terrorist or not, you're never going to be able to appeal to them and connect with them and do your job. Even if he was a terrorist, I had to understand where he was coming from, why he held these assumptions because ultimately they're still human beings. So you had to find a way to understand them. It doesn't mean agree, it just means understand, so that you can do your job.
Jason DeFillippo: [00:43:09] You're listening to The Jordan Harbinger Show. We'll be right back after this.
Jordan Harbinger: [00:43:13] This episode is sponsored in part by DesignCrowd. If you're one of those people who panics whenever you have to come up with a creative design idea, I feel you. If your greatest artistic work happened on an Etch A Sketch, I've got great news. DesignCrowd has your back. DesignCrowd is a site that puts your creative idea in front of three-quarters of a million designers who would love to work on your new project, whether it's a logo, a banner ad, WordPress design, maybe you're making a tattoo. I'm not gonna judge you. Within two to seven days of posting your brief, you'll have 60 maybe even 100-plus design options to choose from, and that's a million times better than going on Craigslist and asking some person who you don't even know is real to come up with ideas and then waiting literally forever for them to get back to you. I've done that. I'm still waiting for someone named Raul from 2007 to get me ideas for a project that I'm not even working on anymore. So you're off the creative hook now and you can get your awesome design options within a week. Jason.
Jason DeFillippo: [00:44:04] For a special $150 VIP offer for our listeners, check out designcrowd.com/jordan to learn more and save up to $150 when you start your next project. That's designcrowd.com/jordan, D-E-S-I-G-N-C-R-O-W-D.com/jordan. Or simply enter the discount code JORDAN when posting a project on DesignCrowd.
Jordan Harbinger: [00:44:26] This episode is also sponsored by NetSuite. What do companies like Ring, Hint, and Tecovas all have in common? Well, they use NetSuite to accelerate their growth. Successful companies know that in order to grow faster, you must have the right tools. If you want to take your company from two million to 10 or 10 million to hundreds of millions, NetSuite by Oracle gives you the tools to turbocharge your growth. So with NetSuite, you get a full picture of your business. You get finance, inventory, HR, customers, and more all-in-one place. You can use it from your phone and an Uber on the way to the airport. Run your whole business from anywhere, even if you are now, of course, working from home. NetSuite will give you the visibility and control you need to make the right decisions and grow with confidence. NetSuite customers grow faster than the S&P 500. And that's why they're the number one cloud business system. They've got 21,000 companies using this thing. It's the last system you'll ever need. Jason.
Jason DeFillippo: [00:45:16] Schedule your free product tour right now and receive your free guide, Six Ways to Run a More Profitable Business at netsuite.com/jordan. That's netsuite.com/jordan.
[00:45:28] Thank you for listening and supporting the show. Your support of our advertisers keeps us on the air. To learn more and get links to all the great discounts you just heard, so you can check out those amazing sponsors, visit jordanharbinger.com/deals. And don't forget the worksheet for today's episode. That link is in the show notes at jordanharbinger.com/podcast. If you're listening to us on the overcast player, please click that little star next to the episode. We really appreciate it. And now back to the show.
Jordan Harbinger: [00:45:55] So this is a dangerous place. There's no bones about it. I know a lot of my friends who are in operations in the Middle East, Afghanistan, Iraq, wherever they were given all kinds of crazy training. You have protective escorts all over the place, and you're in dangerous places. I mean, you're not hanging out at the military base at the local Starbucks, if any. I mean, you have to sometimes go to these people in the first place, and. I would imagine you had some ambush training and things like that, and you talk about this a little bit in Breaking Cover and the concept of Get Off the X. The concept is great, but I would love to hear about ambush training as well.
[Michele Rigby Assad: [00:46:31] Oh, sure. So actually it might even be a little bit easier to be in Baghdad or Afghanistan where you have these entire teams whose job is to protect you when you go out. There are other places, I and others served, which are more hairy because you were on your own. So while I can't specify the exact locations, I served in some places for years at a time that were kidnapping and carjacking capitals of the world. And so the idea that you could potentially find yourself in a situation where you're being ambushed by criminals or by terrorists was very real. And so thankfully the CIA gave us paramilitary training for those of us that are going to particular locations as well as war zones.
[00:47:16] And so they're trying to teach us how to respond in a way that if you can save your life and you can get out of alive, we want to maximize your ability to do so. It sounds really simple and really basic. But when you're under intense stress, you have three potential responses. It's fight, flight, or freeze. And the idea is to teach you to do anything but freeze. And so what we actually did in this exercise, which I completely hated because it felt so real was they piled all of the students into cars and one at a time, the car entered the forest and these were really beat up battered vehicles. And we were all geared up. We had face protection, eye protection, and then we had our Glocks with our simunition, which is not real ammunition, just simulated ammunition. And we were sent, and the driver of the car was told, "Just drive into the forest here on this little tiny dirt road. Go about 25 miles an hour," and you knew at some point instructor's going to launch this attack against you.
[00:48:20] And so here you are all ready for your ambushed attack. And before we set off into the forest, I tried my door and I realized it was sealed shut. And I was like, "Oh crap, there's no way that I'm going to be able to get out of this car." Because the idea, they would say to us, "If you're attacked in your car and the car is still operable, then stay in your car because it's your best protection and do whatever you can to drive away." Even if your tires are blown out, you roll on your rooms as far as possible, but if your vehicle is non-operable, then you have to get out of it. You have to figure out where the attack is being launched from and you have to get out of the vehicle and run in the opposite direction. Again, that sounds so simple, but when under intense stress, people often run directly into the enemy.
Jordan Harbinger: [00:49:07] I can see myself doing that like, "Oh my God, there's gunfire. I'm going to get out the left door and just keep running straight ahead," and you realize, "Wait a minute, they're shooting at me from this direction. Now, I'm the top target."
Michele Rigby Assad: [00:49:18] It sounds so basic, but when you're totally stressed out, people make very strange decisions or they make no decision at all. And we heard very often of people who died in ambushes because they could not move, they just froze in place. And so I thought, "Well, I'm never going to be able to get out of the car out of this door." And the individual is sitting next to me on the other side -- like we were in the back seat. That poor guy was sick and a little bit overweight and he had a hard time moving quickly and I thought, "Oh no, I bet he hates us even more than I do, but there's no way I'm going to get out of his side of the vehicle either once this whole thing goes down. So how am I going to respond? I'm going to have to climb over the seats into the front and get out of one of the front doors." And so the ambush starts -- phew, phew -- and suddenly rounds are hitting the car and flashbang grenades are going off. And we yelled, "Ambush," and suddenly the car came to a stop. It has been stalled on purpose. And so we've got to get out of the vehicle and run and I'm like, "Hey, I'm there. I'm not going to freeze. I'm going to be the person running." One of my colleagues yelled, "Contact left," which indicated that the attack was being launched from the left-hand side of the vehicle, and so everyone was trying to get out of the right-hand side. And as I suspected, my poor colleague next to me in the back seat was frozen and like fumbling and couldn't get the door open. And I was like, "Oh no." So the colleagues in the front of the car got out. I climbed over the console and went out the right-hand door, hoping desperately that our instructors had not crossed over to the right side of the car. Because I don't know -- have you ever been hit with simunitions before, Jordan?
Jordan Harbinger: [00:51:01] Yes. Simunitions hurt like hell. It's like a hard paintball.
Michele Rigby Assad: [00:51:05] Yes. He hurt and they leave these enormous welts all over your body. It was just like, I do not want to get pelted with these simunitions because they're horrible. And so I finally made it out of the car. And we had been taught, if you are in the middle of an attack and your colleague needs help, you need to lay down some fire to help your colleague. And so in that situation, I was supposed to start helping him instead I just ran into the forest. I turned around and my poor colleague had finally gotten the door open, but forgot to unbuckle his seat belt because he just couldn't handle the stress. And he fell out of the car into the mockup below. Still very much tethered to the car with his seatbelt on.
Jordan Harbinger: [00:51:49] Oh my God.
Michele Rigby Assad: [00:51:49] And it really goes to show how difficult it is to get through situations where you're overwhelmed or you're scared, or you're just overcome with fear. I was just running like a hunted prey into the forest and I thought, "I will never allow myself to be in a situation where I'm a sitting duck. I'm going to be the person that runs, that response." So if I have a chance of living through this, I'm going to do it.
Jordan Harbinger: [00:52:15] Yeah. Did he make it out of Iraq? That doesn't sound too promising. I mean, I guess that's what trainings for
Michele Rigby Assad: [00:52:19] His job was very kind of like a support type of job, so luckily he wasn't really out there.
Jordan Harbinger: [00:52:25] Oh yeah. He probably still has nightmares about ambush training. That's scary. If I got into a car during ambush training and the door was sealed, I'd be like, "Hey, switch seats with me. I'm right-handed." "Okay, sure. No problem."
Michele Rigby Assad: [00:52:36] Why didn't I think of that?
Jordan Harbinger: [00:52:37] Yeah, that's the first thing, I was like, check the door and then say, "Hey, actually, you know what? I have to pee real quick. Slide over here and let me out." Do something, any kind of excuses, especially if you think, "Man, you don't look like you can move fast."
Michele Rigby Assad: [00:52:49] Exactly. And so it was interesting, as I was thinking about this exercise that I had to go through every year or two, I thought about it, how it really kind of translates to real life. How often we are overwhelmed in life by uncertainty or fear and intimidation and how this whole Get Off the X idea applies to non-ambush situations. The X is being the place where the attack is launched against you. As long as you sit on that X, you're vulnerable and you're in danger. And sitting on the X, we do that so often because we don't know how to move forward in our lives.
[00:53:27] I mean, I don't know about you, but I can often get very overwhelmed at the possibilities. Should I do this? Should I do that? And I'm not doing anything because you're overwhelmed and you think, "I don't know how to move myself forward." But what that training taught me was. You don't have to make these great leaps in order to get yourself off to X. Sometimes it's as simple as walking off the X or crawling off the X, but it's just making those little decisions in life to move yourself forward, to get off the X so that you don't perish by inactivity.
Jordan Harbinger: [00:54:03] You've got a practical here that I would love to explore a little bit. This is practical about getting off the X. Target the challenge itself. Think of something you've wanted to do for a while, a project or activity. We talk about things like this a lot on the show as well, make a list of activities or classes that you want to learn, skills you want to learn, French, pilates, a blog, whatever. Identify what's holding you back from pursuing that -- overwhelmed, lack of time, don't know where to start, you're intimidated. How do we then finish this exercise, which is listing ways that we can get off the X? Take that first step.
Michele Rigby Assad: [00:54:38] Yeah. So I think there's so much power in understanding what you're doing, just recognizing that you've been doing that first of all, giving it words. "I have been unwilling to do this because of this." There's so much power. And just realizing that number one, and then number two, it's saying, "Okay, what is it I really feel led to do? Or what is this new passion that I'd like to pursue and what are the tiny little things I can do to move this forward? How can I crawl off this X?"
[00:55:07] So for me, this last year, I'm intimidated at the idea of starting my blog and getting this website up. And so I made a little list of what seemed really stupid and small -- but actually contact this person, asked for recommendations for a website developer, start writing articles on A, B, and C --so all these little, tiny things that I did ended up seriously moving me forward, but I had to like force myself to recognize what were the little steps that would push me forward.
Jordan Harbinger: [00:55:41] You had the ambush training, had a little bit of action there. The book has a lot of stuff. We have an early copy of the book, so I assume it's not going to end up published this way. There's a lot of place names that are exed out in the book. I assume that's what the CIA is doing. Because I'm trying to identify challenges you have and it's not just getting off the X. You have to get off the X and then you have to run it by a government bureaucracy and see what's left of it when you get it back.
Michele Rigby Assad: [00:56:05] Oh my goodness, right. One of the challenges -- I mean it's hard enough to publish a book or to write blog pieces. But everything that I write that has to do with my career at the CIA or my time there has to be reviewed by the CIA. So I had this extra added layer, this extra challenge, to get all of my materials through the publication review board. And so at the end of the day, they said, you can acknowledge that you served in Baghdad for a year, but all these other places that you're talking about, you've got to not specify, redact those portions or block them out in your book.
Jordan Harbinger: [00:56:41] And my friends from law school went to law school because he was in Egypt and he ended up getting PNG'ed. So persona non grata. He basically got kicked out. He can never go back to Egypt and he's like, "I never even saw the pyramids and I was there for three years or something like that." He can never go back.
Michele Rigby Assad: [00:56:58] Oh no, poor guy.
Jordan Harbinger: [00:56:59] Yeah, it sucks because he was really interested in Egypt and I don't know what happened, but he was working for the agency and he just can't go back ever now.
Michele Rigby Assad: [00:57:08] Oh goodness. That's hard.
Jordan Harbinger: [00:57:10] Yeah. It kinda sucks cause you learn so much about this place and then suddenly, not only are you banned but if you show up, it seems like maybe there are consequences you just wouldn't want to deal with for doing that or trying that.
Michele Rigby Assad: [00:57:22] Right, right, indeed. And so, you know, the idea of even dropping cover, it's a big deal. And there's risk obviously involved in doing so. But for me, life has been always about weighing the risk, risk versus gain. And so I felt so called to use my story to inspire other people that I said, "Okay, the risk is worth it." And so you just got to push past your fear and obviously follow the law, follow all of the restrictions as a former CIA officer, and I was really lucky that the CIA said, "Yes, we're going to permit you to drop cover." Because I didn't even get that permission until after the book was written. I kind of wrote that book in faith that they would be amenable to that.
Jordan Harbinger: [00:58:06] Yeah, of course. That's probably all that you can do and I definitely want to talk to you more about dropping cover. I have a lot of questions about that, but I want to hear about this SUV stop stories. Speaking of following the law persona non grata, ambush training, you got stopped in your SUV on the way to the CIA compound. Let's hear that because that's not something that most of us deal with every day on our commute.
Michele Rigby Assad: [00:58:30] Oh my gosh. So you know, here I was praying to never have to use this ambush training in real life and I did, in fact, have to use it. But it was presented to me in a way that I could have never anticipated. So here I am in this kidnapping and carjacking one of the capitals of the world. I had found out that one of my colleagues who had my position about a year or two before me had actually been kidnapped in the capital city. And at that time, other people being kidnapped out of the capital city, they were usually targets of opportunity, meaning people saw them, saw that they were valuable as a westerner and that they could be sold to Al-Qaeda for money. So I was very aware of this and we would tell each other at work, just don't ever get taken. If you get taken, you'll never come back. All of the kidnapees that we were aware of had been killed.
Jordan Harbinger: [00:59:25] We did an episode with Gavin de Becker who wrote The Gift of Fear, and one of the things that he taught me in the 90s that he writes about in some of his books is never go to the secondary location, which as you know, is the place where they're going to take you because your best chance to stand and fight is right there, and we'll link to that Gavin de Becker episode in the show notes. But that's essentially the concept that you're talking about is do not get taken. If you get killed at the point at which they're trying to take you, so be it. It's probably better than the way you're going to get killed later after they take you.
Michele Rigby Assad: [00:59:56] That's absolutely correct. And I always referenced this book, The Gift of Fear. It is absolutely one of the best books that I've ever read, and he is spot-on in terms of telling you how to handle these situations. And so it was like, don't ever get taken. Absolutely not.
[01:00:13] So I'm driving alone from my compound at the southern edge of the city. My husband was traveling, so I was by myself. And this is a country where all the women are completely covered. As Western diplomats, we did not have to cover but obviously, I would dress it very respectfully, you know, long sleeves. But when you're driving to work, how much can somebody see through the windshield? Really? It's just your head and your neck area. But I stopped at a stoplight in the middle of the city and a car pulled up behind me. And then a man was crossing the street in front of me. And when he got in front of my SUV, he looked up and he saw me through the windshield. And again, I had mentioned earlier about these places being extremely sexually repressed cultures and these places where you can't even see another woman's face outside of your family. It turns out that that was just too much of a turn-on for this guy, and so he planted his feet in front of my car and he started carrying out a particular activity.
Jordan Harbinger: [01:01:13] Wow. Harvey Weinstein style right in the middle of the road.
Michele Rigby Assad: [01:01:17] Yes. That's a good way to put it. That's exactly what was happening and yeah. I had been in the Middle East for years. I've traveled all over the place and Jordan, I have never seen anything like it.
Jordan Harbinger: [01:01:28] You can't walk around with no headscarf, but if you want to whip it out in an intersection, go ahead, buddy.
Michele Rigby Assad: [01:01:33] Right, exactly. And I'm thinking to myself, "This cannot be happening. This is so horrible. This is so stupid. Is he really doing this?" And so my mind is racing and I'm totally annoyed. I'm embarrassed. I'm turning red. And then suddenly I'm realizing that he's doing his business and that other men on the street are taking note and are getting very curious. Strangely enough, they weren't curious about what he was doing, but what was eliciting this in him. So they wanted to see what was inside the vehicle that was ultimately like, "What is in there?" They started gathering it from the street, from the shops. And I'm seeing out of the corner of my eyes and through my rearview mirror that I literally have all of these men coming towards the car.
[01:02:18] And then suddenly it was like that ambush training kicked in and was like, "Oh my God, I'm sitting on the X." I've got a car behind me because otherwise I would have just backed up and gone around this guy. This guy planted right in front of my car and I can't go anywhere. I'm stuck. And I'm like, "Oh crap, I'm on the X." And I started sweating and I started shaking and I'm like yelling at this guy in Arabic, and I'm like, "Oh, for God's sake, get it over with." And we're talking now, Jordan, like dozens and dozens of men are now coming towards my vehicle. And I thought, okay, if they surround my car, then it is entirely likely I could become a target of opportunity and get kidnapped or carjacked and taken.
Jordan Harbinger: [01:03:00] Oh, yeah.
Michele Rigby Assad: [01:03:01] And obviously, as we've said, that cannot happen. And so almost without thinking I took my foot off of the brake and I pressed the gas and I hit the guy with my car.
Jordan Harbinger: [01:03:15] Wow. He got run over while masturbating -- that's rare. That's got to be a single-digit number of occurrences in the world at any given time.
Michele Rigby Assad: [01:03:23] And I didn't, you know, run him over, like hit him and it threw him and he was completely as shocked as I was that I had just done this. I wasn't even fully thinking through it. I was just like, "I have to get out of here." You know, surprisingly, he gets back up again, plants his feet, and continues and I'm like, "You are a stubborn son of a gun."
Jordan Harbinger: [01:03:45] I mean, that drive is pretty strong, obviously if you're pulling it out in an intersection. I'm just imagining though, like, "How did Mohammad die?" "Well, he was masturbating in an intersection and the woman that he was doing that  ran random over with her SUV." "Okay. That's not weird at all."
Michele Rigby Assad: [01:04:00] Yeah. And so I had to hit him a second time and thank God the second time I was like, "You know, next time I will completely run you over because it's either you or me at this point and it's not going to be me." And so he finally, after the second time, got up off the pavement and moved out of the way. And I can tell you for sure that I did not stop for any more red lights or stop signs all the way to the work compound. I was shaking. the adrenaline was surging through my body. And I realized I could have just gotten taken. And so it was probably one of the scariest things I've gone through while serving abroad.
Jordan Harbinger: [01:04:37] Geez. Yeah. I thought you were going to say, "I didn't stop for a red light or a stop sign for the next three years," because I feel that's where I'd be at that point. Just like, "Okay, no longer worried about the traffic signals here. I'm worried about peckers on my hood."
Michele Rigby Assad: [01:04:53] Boy, I had never imagined that I would ever be in a situation like that. That's for sure.
Jordan Harbinger: [01:04:57] That's pretty ridiculous. And the fact that you had to hit him twice before he put it away was also really strange. I mean, that whole thing is just completely outside my reality, and I would imagine they're like, "Hey, Michele, you're a little bit late today. What happened on the way here?"
Michele Rigby Assad: [01:05:13] Yeah. They're like, "What happened to you?"
Jordan Harbinger: [01:05:18] "Oh, that's Baghdad traffic. It's always --" "Well, actually what happened was --" Do you have to file a report when things like that happen? I would imagine you can't just show up and go, "You'll never believe this."
Michele Rigby Assad: [01:05:29] Right, I did. I had to file a report with the embassy security officer. So that they were aware that this kind of thing was happening and they could also alert other drivers to the fact that this happened and they could keep an eye out for their own self-protection.
Jordan Harbinger: [01:05:44] Holy cow. That's unbelievable. All right, well, now you've been back in the States. Did you have to keep up appearances for a while? I mean, do you have to stay as your cover for a few months, years while you're back?
Michele Rigby Assad: [01:05:56] Well, you have to maintain your cover forever unless you get special dispensation to drop cover.
Jordan Harbinger: [01:06:02] Oh wow. So as far as anybody knows, and this isn't your case because you did break or you are able to drop cover, as far as anybody knows over there, you're not Michele Rigby Assad, you're whatever name you used in Egypt or Baghdad or Afghanistan or wherever.
Michele Rigby Assad: [01:06:17] Yeah. So obviously we wouldn't use your real name, your true name with your sources. And you know, I looked a little bit different when I was over there as well. So that's helpful. It's like being a different person.
Jordan Harbinger: [01:06:29] You looked a little bit different, meaning, I mean, you didn't get taller, you didn't get shorter. What do you mean?
Michele Rigby Assad: [01:06:34] I wore my hair differently? You know, I dress differently. So it would make it a little bit harder to know exactly who I was. And at that point in time too, of course, we didn't have social media. We were doing everything we could to maintain a very low profile. I mean, we would do regularly search ourselves on Google to make sure we didn't come up, which makes people laugh because it was the world was going in one direction and we were going in another.
Jordan Harbinger: [01:06:58] Yeah. Usually, when you see a Google alert for your name, you get excited. Whereas in your case, you're thinking, "Oh my God, I hope there's not a photo attached to this."
Michele Rigby Assad: [01:07:05] Right, exactly.
Jordan Harbinger: [01:07:06] So did you have to move once you dropped cover to get a fresh start? I can kind of imagine. It would be weird to go, "Hey," at the neighborhood association meeting or the picnic, "By the way, my name is not Jordan Harbinger. It's actually." And you just tell everybody that you've lied to them for the last couple of years, living in this apartment complex, or your neighborhood and your kids' school, and you've got to change everything. And they're just kind of like, "That's weird." So did you just move and unplug and plug everything back in again?
Michele Rigby Assad: [01:07:36] We were so unplugged for so long, and our lives were so limited in terms of our circles abroad. It wasn't like we were so well known by all kinds of people when we were doing our job. Again, kind of flying under the radar most of the time.
Jordan Harbinger: [01:07:49] Is there anything that you'd be worried about now that you're sort of out of the CIA closet? Is there anything you have to pay attention to at all?
Michele Rigby Assad: [01:07:56] Sure. I mean, always personal security will be an issue and something that I have to be very careful with.
Jordan Harbinger: [01:08:01] Well, you didn't have social media. Like you said, "The world's moving in one direction, you're moving in another." You've missed so much as you can see. What's your favorite part of being able to rejoin kind of the public world at large here?
Michele Rigby Assad: [01:08:15] Well, I don't know. It's become my favorite thing yet. It's still very scary. Every time I post things I do is so much trepidation. It's very unnatural for me. So of course, as you know, in order to publish a book, you have to have a platform and you have to do all this self-branding. And so these things for me take a great deal of energy to do them, and it's not natural. On the plus side, obviously sharing your story and being able to see that it's resonating with other people and it's having an impact. That's the plus side for me. So that's the part that kind of keeps me plugged in and engaged in arenas that make me feel very uncomfortable like social media.
Jordan Harbinger: [01:08:53] I can imagine that that's the case for sure. What do you think you were better off not having while you were undercover? Do you think you were healthier or had less FOMO or maybe just more free time when you were undercover as opposed to now with all of the other technology and things that you are using?
Michele Rigby Assad: [01:09:08] Right. In fact, these days you have to really make a conscious decision to unplug. So for me, it's like, "Oh, just get off that social media and read your book. You used to do that all the time, get to do more of that." I think just like everybody else.
] Jordan Harbinger: [01:09:21] Michele, thank you so much for coming on the show here. There's a lot. I know you're sort of new to presenting a lot of this to people that aren't in the CIA, so thank you so much for joining us here on the show and being so open about a lot of crazy stories, including some stuff that might be a little bit, yeah, embarrassing, I suppose.
Michele Rigby Assad: [01:09:38] Yes. Thanks, Jordan, for having me and giving me an opportunity to share a little bit about my background and the hopes that it can inspire other people to do things that scare them a little bit because I have found my place of purpose in the locations and the activities that scared me the most.
Jordan Harbinger: [01:09:58] Big thanks to Michele for joining us on the show today. Her book is called Breaking Cover: My Secret Life in the CIA and What it Taught Me About What's Worth Fighting For. Links to all her stuff will be in the website in the show notes -- our brand new website, I might add. If you do buy books, please do use our website links if you buy the book because it helps support the show. And of course, if you find any bugs on the brand new website, please let us know. This thing is kind of a beast and I really appreciate your support and finding both typos and things that just don't work or don't look right.
[01:10:28] Also in the show notes, there are worksheets for each episode, so you can review what you've learned here from Michele Rigby Assad. We also now have transcripts for each episode, and those can be found in the show notes as well. I'm teaching you how to connect with great people and manage relationships using systems and tiny habits over at our Six-Minute Networking course. That's free. It's always free. It's over at jordanharbinger.com/course. You got to dig the well before you get thirsty. If you learn anything from the episode today, it's about how connections can save your life and about developing rapport, keeping those relationships going. Some people, it's a make or break for them, and I would argue that it's make or break for everyone, even if you're not getting shot at over in the Middle East. Build your network before you need it, even if it means starting from scratch. These drills are designed to take just a few minutes per day. This is the stuff I wish I knew 20 years ago. You can find it all for free at jordanharbinger.com/course.
[01:11:20] By the way, most of the guests on the show, they actually subscribe to the course and the newsletter. So come join us, you'll be in smart company. In fact, why not reach out to Michele and tell her you enjoyed this episode of the show? Show guests do love hearing from you. You never know what might shake out of that. Speaking of building relationships, you can always reach out and follow me on social. I'm at @JordanHarbinger on both Twitter and Instagram.
[01:11:41] The show is created in association with PodcastOne. This episode is produced by Jen Harbinger and Jason DeFillippo, engineered by Jase Sanderson, show notes and worksheets by Robert Fogarty, music by Evan Viola. I'm your host Jordan Harbinger. Our advice and opinions, and those of our guests are their own and yeah, I'm a lawyer, but not your lawyer. So do your own research before implementing anything you hear on the show. And remember, we rise by lifting others. The fee for this show is that you share it with friends when you find something useful or interesting. So if you know somebody who likes espionage and spy stories or is interested in cross-cultural communication, non-verbal communication, body language, share this episode with him. Hopefully, you find something great in every episode, so please do share the show with those you love. In the meantime, do your best to apply what you hear on the show, so you can live what you listen, and we'll see you next time.
Sign up to receive email updates
Enter your name and email address below and I'll send you periodic updates about the podcast.