Michelle Tillis Lederman is a former finance executive, NYU professor, and author of The 11 Laws of Likability and The Connector's Advantage: 7 Mindsets to Grow Your Influence and Impact.
What We Discuss with Michelle Tillis Lederman:
Understanding where you fall on the connector spectrum when it comes to developing relationships and building a network.
How to increase your own self-trust to recognize what you do well and bring it to the surface where it can be useful.
How to make strong connections and effectively manage your network even if you're an introvert.
How to magnify the power of connection you're probably already leveraging in your personal life if you're an extrovert.
The seven mindsets of a connector who can make things happen faster, easier, and better.
And much more…
Like this show? Please leave us a review here — even one sentence helps! Consider including your Twitter handle so we can thank you personally!
(Download Episode Here)
(Subscribe to the Podcast Here)
Worksheet for This Episode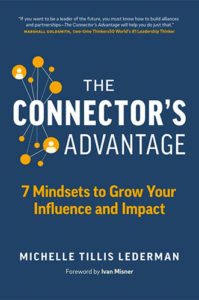 One of the most common recurring themes on this show is networking and relationship development. The reason for this is because no single skill set in my entire life has yielded nearly the number of business results or amount of wealth, happiness, fulfillment, and well-being as has the skill and practice of building and maintaining strong relationships in my personal and professional life.
Today on the show, The Connector's Advantage: 7 Mindsets to Grow Your Influence and Impact author Michelle Tillis Lederman and I discuss the idea that people who connect with one another do so on a spectrum. We'll find out where you are on that spectrum, as well as give you the tools to move upwards. We'll also explore the types of connectors and outline a few practical ways that you can learn to become one of these super connected, successful archetypes yourself. Listen, learn, and enjoy!
Please Scroll down for Full Show Notes and Featured Resources!
Sign up for Six-Minute Networking — our free networking and relationship development mini course — at jordanharbinger.com/course!
Does your business have an Internet presence? Save up to a whopping 62% on new webhosting packages with HostGator at hostgator.com/jordan!
Tommy John has tailored, fit, and fashionable undershirts, camis, wedgie-free underwear, and more for him and her. Visit tommyjohn.com/jordan for 20 percent off your first order!
TurboTax, QuickBooks, and Mint are giant solutions that give you the power to prosper! Learn how to optimize your finances before tax time at intuit.com!
Brother INKvestment Tank all-in-one inkjet printers keep your business running by delivering up to one year of printing without the need to replace ink cartridges! Find out more by visiting ChangeTheWayYouInk.com!
One's a comedian, one's a radio/TV host. Together they bring you The SDR Show — a no-apologies, not politically correct, not for the faint of heart show that somehow blends the classic energy of a morning radio show into the new era of digital entertainment. Listen to The SDR Show here or where your ears enjoy podcasts most!
More About This Show
In her last book, The 11 Laws of Likability, Michelle Tillis Lederman laid out the foundation for building meaningful relationships that transcend manipulative transaction and focus on creating authentic bonds between people.
Michelle's latest book, The Connector's Advantage: 7 Mindsets to Grow Your Influence and Impact, digs deeper to help you discover why your networking efforts may be falling shorter than expected and what you can do to ramp them up to better effect.
It's no secret that some of us are extroverted and find connecting with others to be as natural as breathing and as invigorating as an Acapulco cliff dive. Others of us are so introverted that we struggle to make conversation with a neighbor at the mailbox or small talk with an Uber driver on a ride across the neighborhood. But most of us wind up on the Connector Spectrum somewhere between both extremes:
Non Connector
Emerging Connector
Responsive Connector
Acting Connector
Niche / Regional Connector
Super Connector
Global Super Connector
"The first four are the levels," says Michelle. "Once you reach Acting Connector, you have the potential to reach a Connector type: Niche, Super, or Global."
Michelle makes it clear that not everyone should strive to be a Super Connector, but most of us can move at least a few steps closer from where we are now.
What are the benefits of becoming a Connector? Here are a few:
Connectors make things happen faster, easier, and better.
Connectors are healthier. Research shows that the mortality impact of social isolation is the same as smoking 15 cigarettes a day for 10 years!
Connectors are happier. Close work relationships boost job satisfaction by 50% and predict happiness on the job.
Connectors get the job. 85% of jobs come through networking.
Connectors get the promotion. You are 70% more likely to get a promotion if you have an active mentor relationship.
Connectors get the business. People are four times more likely to buy when referred by a friend.
Great! So if you're not already, maybe you do endeavor to become a Connector. Here are the seven mindsets of a Connector, according to Michelle. Connectors:
Are open and accepting.
Have a clear vision.
Believe in abundance.
Trust.
Are social and curious.
Are conscientious.
Have a spirit of generosity.
This seems pretty straightforward. So what prevents people from adopting these mindsets?
"Some people think that they're being nosy," says Michelle. "You see this a little more with introverts. They don't want to ask questions because they think they're prying or being nosy or being too forward."
Listen to this podcast in its entirety to hear Michelle break down each of these mindsets with clear examples, and don't forget to download the worksheet so you can start moving up the Connector Spectrum sooner rather than later.
THANKS, MICHELLE TILLIS LEDERMAN!
If you enjoyed this session with Michelle Tillis Lederman, let her know by clicking on the link below and sending her a quick shout out at Twitter and connecting with her at LinkedIn:
Click here to thank Michelle Tillis Lederman at Twitter!
Click here to connect with Michelle Tillis Lederman on LinkedIn!
Click here to let Jordan know about your number one takeaway from this episode!
And if you want us to answer your questions on one of our upcoming weekly Feedback Friday episodes, drop us a line at friday@jordanharbinger.com.
Resources from This Episode:
Download Worksheet for Why Relationships Are Our Greatest Assets

/wp-content/uploads/2019/03/Worksheet-for-Michelle-Lederman-Why-Relationships-Are-Our-Greatest-Assets-Episode-178-v2.pdf