Reading Time:
3
minutes
Mosab Hassan Yousef grew up as the son of a Hamas co-founder, then worked undercover with Israel security service Shin Bet to root out terrorist plots. He is the author of Son of Hamas: A Gripping Account of Terror, Betrayal, Political Unthinkable Choices and is featured in the documentary The Green Prince.
What We Discuss with Mosab Hassan Yousef:
What it was like growing up in one of the first families of Palestinian terrorist group Hamas — and why Mosab considers it "the greatest school of [his] life."
The turning point when Mosab no longer saw Hamas as the "good" guys.
How Mosab dealt with the loneliness of working undercover for Israeli intelligence against his former friends and family.
What Mosab feels about the well-meaning but — he believes to be misguided — "free Palestine" movement.
What prompted Mosab to get out of undercover work and chronicle his story for others to read (and watch on television).
And much more…
Like this show? Please leave us a review here — even one sentence helps! Consider including your Twitter handle so we can thank you personally!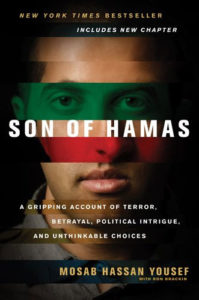 A lot of us have grown up in the midst of a family business. If it was a restaurant, we probably washed a lot of dishes and bussed a lot of tables as a kid. If it was a garage, we probably learned how to turn a wrench and change a tire before we attended kindergarten. If it was Hamas, we probably threw a lot of rocks at Israeli settlers and watched the family patriarch get hauled off by the police regularly without many options for going to school at all.
On this episode, we talk to Mosab Hassan Yousef, A Palestinian who spent a lot of his youth in the latter situation. Mosab was the son of a Hamas co-founder before a change of heart had him working undercover for Israeli intelligence to thwart terrorist plots and save lives. Now he's settled down and sharing the details from his book Son of Hamas: A Gripping Account of Terror, Betrayal, Political Unthinkable Choices and in the documentary The Green Prince. Listen, learn, and enjoy!
Please Scroll Down for Featured Resources and Transcript!
Please note that some of the links on this page (books, movies, music, etc.) lead to affiliate programs for which The Jordan Harbinger Show receives compensation. It's just one of the ways we keep the lights on around here. Thank you for your support!
Sign up for Six-Minute Networking — our free networking and relationship development mini course — at jordanharbinger.com/course!
Vuori is built to move and sweat and yet designed with a West Coast aesthetic that transitions effortlessly into everyday life. Go to vuoriclothing.com/jordan and use code JORDAN-APR20 at checkout for 20% off your first purchase, free shipping on US orders over $75, and free returns!
HostGator has been around almost as long as the Internet. Does your business have an Internet presence? Save up to a whopping 62% on new webhosting packages with HostGator at hostgator.com/jordan!
On The Passion Economy podcast, New Yorker writer and NPR's Planet Money creator Adam Davidson unearths stories from regular people. People who have cracked the code to success in our new economic reality. Catch The Passion Economy here or wherever you listen to fine podcasts!
PayPal is the secure, easy way to pay and get paid that we've all been using for the past 20 years. But what can PayPal do for you now that it couldn't do in the past? Download the PayPal app here and find out more!
Miss the interview we did with sleep doctor Matthew Walker? Catch up with episode 126: Matthew Walker | Unlocking the Power of Sleep and Dreams here!
Like true crime tales? The Court Junkie podcast shines a light on the injustices of the judicial system by delving into court documents, attending trials, and interviewing those close to these trials to root out the whole truth. Check out the Court Junkie podcast on PodcastOne here!
THANKS, MOSAB HASSAN YOUSEF!
Click here to let Jordan know about your number one takeaway from this episode!
And if you want us to answer your questions on one of our upcoming weekly Feedback Friday episodes, drop us a line at friday@jordanharbinger.com.
Resources from This Episode:
Transcript for Mosab Hassan Yousef | The Green Prince of Hamas (Episode 407)
Jordan Harbinger: [00:00:00] Coming up on The Jordan Harbinger Show. 
Mosab Hassan: [00:00:02] The special forces on the ground got the green light from the intelligence that I am inside the house still. They were like a bunch of Merkava tanks. 10 of them stormed into the city. It's like an earthquake happening. It became like a war zone right now. So my family right now is caught up in the fire. So when I don't surrender, they evacuated my family first, they launched a missile into the house and they sprayed bullets like all over the world. Like in my room, I had about like 150 bullets just in the wall.
Jordan Harbinger: [00:00:39] Welcome to the show. I'm Jordan Harbinger. On The Jordan Harbinger Show, we decode the stories, secrets, and skills of the world's most fascinating people. If you're new to the show, we have in-depth conversations with people at the top of their game, astronauts, entrepreneurs, spies, psychologists, even the occasional farmer Jihadi. Each show turns our guests' wisdom into practical advice that you can use to build a deeper understanding of how the world works and become a better critical thinker.
[00:01:04] Today, my friend, Mosab Hassan, this is — it's a heavy one, first of all, so much so they've made a movie about it called The Green Prince. We'll link that in the show notes. From Mosab, growing up Hamas was the family business. If you're not familiar with Hamas, this is a group that is on the US terrorist watch list and operates primarily in Israel, Palestine, elsewhere in the area, of course, including the United States, Europe, Africa. These things do tend to spread. In that area of the world, collaborating with Israel is the worst thing anyone can do. It's literally seen as worse than raping someone in your own family. His dad was a very respected Islamic leader with a major following and a lot of respect all over the country. And his father was essentially the leader of Hamas in Palestine and spent over 25 years in Israeli prison. Just think about that 25 years locked up in Israeli prison. So he gets out of here and takes Mosab as his assistant, essentially the gatekeeper to all these folks. Thus Mosab becomes the closest son to the leader of Hamas. This made him the single, the most important asset of the Israeli Security Service once he was recruited.
[00:02:06] So today, I want to go over Mosab's story of Hamas, getting recruited by Israel, and eventually escaping that entire situation. You'll have to forgive the audio quality on this one. It's a little bit rougher than usual. This was recorded in an undisclosed location for obvious reasons. We didn't have our usual stuff. And there were a little bit of issues there. That's just what happens when you're recording something with somebody who is essentially on the run. Many groups, including Al-Qaeda, still have a death sentence hanging over Mosab's head. So I do hope you enjoy this.
[00:02:37] If you're wondering how I managed to get these amazing guests, it's because of my network and persistence. I'm teaching you how to create your own network, whether it's for business reasons, personal reasons. Check out our course, Six-Minute Networking at jordanharbinger.com/course. Most of the guests on the show, they subscribe to the course. They contribute to the course. Come join us, you'll be in smart company.
[00:02:57] Now, here's my Mosab Hassan, The Green Prince.
[00:03:03] By the way, initially, this was like one of the — I've known you for a while and I feel like we go way back but this is one of the hardest shows to book. Initially, you didn't even want to do it, right? Your manager couldn't reach you or the book publisher — I should say — couldn't reach you. Can we talk about that a little bit?
Mosab Hassan: [00:03:17] You know, I said what I had to say. I don't like repetition, you know, just keep repeating myself again and again, through media outlets. My publisher from their point of view, they want me to promote the book, which is a product. For me, if I said something, even to one person, it's already contributing to consciousness to the world, I don't need to repeat it a thousand times. I take a break. I take a step back. I evaluate my actions. I evaluate my movement. I learned from my mistakes. You know, I'm not like a blogger, or a politician, or a religious leader, you know stuff like that who wants to control a bunch of sheep. I mean, I'm an individual and I respect my individuality. Sometimes, I feel bankrupted. There is nothing else to say and I just dwell into silence. I'm not afraid to say I have nothing to say that was the truth. I hope that you did not take it personally.
Jordan Harbinger: [00:04:12] No, no.
Mosab Hassan: [00:04:12] I think your show is great and I think you're a great person. Then when the time came and they saw that you were like insisting — I was like, "Okay, let's see. Maybe there's something."
Jordan Harbinger: [00:04:25] Well, I appreciate that. I mean, you do have very strong beliefs and your story is really impressive because of that. Because you basically were put in a place where you had to — and correct me if I'm wrong here — you almost had to trade your home to do what you thought was right. You had to trade your home and your family to do what you thought was right in the end.
Mosab Hassan: [00:04:44] Not only home. In fact, I had to die to the old self. I have to die, to everything that I knew, to my friends, to my family, to my culture, my society, my securities, all of them. Everything I knew all the knowledge that I had. All of a sudden, I had to choose between all the things that I knew were useless and I walked into the unknown, not knowing what's going to be next — what's going to be tomorrow. And that's all for the sake of my freedom, not to be in slavery, to the expectations of a certain society or a certain group of people, including my own parents.
[00:05:24] I don't want to say that this is the ultimate price, but I had to go through a lot, you know, from torture, literally death. You know, my heart stopped. The level of pressure that they had to go through, my heart stopped for approximately 30 seconds. Most human beings cannot make it back. This is the level of stress that I was going through to lose family, to lose a home, to lose my sense of security — my sense of being which practically now I know that it was just a false sense of being.
Jordan Harbinger: [00:05:58] Let's start from the beginning because a lot of people don't really know your story, of course, but they also don't necessarily know what Hamas is. Can you explain what it is for people who've maybe never heard of it or only heard of it on the news?
Mosab Hassan: [00:06:11] Hamas is an Islamic movement, like Al-Qaeda, Las Bela, Salafi-jihadist, and those groups. Of course, it has a cause. It has a national cause. it has a religious cause. Now, the United States of America, and the rest of the free world actually, consider Hamas as a terrorist organization. My father is one of the founding members of Hamas, the seven original founders. Hamas at some point was my project also. Hamas for us was everything. You know, for me as a person who was born in the heart of Hamas leadership and witnessed Hamas evolution from the moment that establishment to the point where it became an army, and the main player in the stability of the Middle East region. It fascinates me.
[00:07:03] You know, I cannot even say what Hamas is. Is it Hamas 1987, the first it was born? Or is it 2003, killing thousands of people, sending dozens of suicide bombers? Is it Hamas, the political movement or is Hamas the religious movement? Is Hamas, it's a monster?
Jordan Harbinger: [00:07:23] When you say that it's a monster. I mean, I want to get into the evolution of this. I actually — of course, I read the book. I watched the movie. We'll link to those things in the show notes as well. You grew up with Hamas throwing rocks at convoys, Israeli convoys, and things like that. Your dad was in Hamas. Your grandfather was in Hamas. What was your turning point where you realized like, "Oh, I'm in the middle of this organization"? I mean, I know when you were young, the police — the Israeli soldiers, I should say — came to your house to talk to your dad for five minutes. Was that story the beginning of your experience? It almost seems as you tell it in the book that that's the beginning of when you realize like, "Oh, this is a real thing that I'm in here. This is like a family legacy that's pretty serious."
Mosab Hassan: [00:08:07] First of all, my father was arrested by the Israeli forces many times. He was just released a few weeks ago. He spent more than 25 years in Israeli prisons. And as a child, you know, I grew up where a bunch of uniform soldiers considered by the Palestinian society, my society then as the enemy, the occupier. We did not like them. Actually, we hated them and we want them dead. And for that, they would come, they arrested my father and his other Hamas friends and other Palestinian factions. It was a war zone, you know. Not only arresting my father, we're also not talking about the police coming into some protesters' house and arresting them in California. We're talking about the army coming into the house with their rifles pointing out to everybody. And sometimes there was shooting and sometimes there were clashes outside. Sometimes children got shot. Sometimes elders got shot. Thousands of people died during the First Palestinian Intifada.
[00:09:17] And I was living just right next to the cemetery of the town, which as a child at the age of 10, I witnessed the burial of dozens, hundreds of people on a daily basis. The body's just kept coming and coming and coming. Of course, talking about it right now, it sounds exaggerated but like, even for me right now, it's very hard actually to believe that I had to go through that to see human brutality.
[00:09:40] It's not as simple as just like they took my daddy away and the child now has some prejudices. We're talking about hardcore human agony side as ugly as it can get where everybody's living in fear, where everybody wants to shoot everybody, where everybody's trapping everybody. So in this chaos human chaos, where the truth is lost, where a child honestly, doesn't know a better truth. My father was the truth and what to do with those uniformed soldiers coming into the house who just arrested my father. Of course, any child, if you were in my position, you would hate them but that was not only a personal thing.
[00:10:27] It was an ideological thing. It was a national thing. All the groups, religious groups — if you go to the mosque, the mullahs or the imams are inciting against those occupiers. Graffiti on the wall is inciting against the occupation. The media, the family, the parents, many external forces are pushing you to believe in one thing. This is a very, very dangerous, a conditioning process. 
Jordan Harbinger: [00:10:58] When did you change the view or did you change the view of your father from — you know, like a lot of us, we look at our dads, we see this hero. When did you change your view from my dad is a hero to my dad is a complicated man that could rationalize the deaths of a lot of people?
Mosab Hassan: [00:11:14] Of course, this is an evolution. If I tell you that there was like a moment to just figure it out everything, then I would like for everybody in the Middle East to go through that moment to realize but this is an evolution. And I tell you something, you know, my father and his likes, and I don't mean to disrespect my father by any means. I love him but I don't respect him that much. At some point, he was an inspiration. He was the freedom fighter. He was the one who sacrificed in his life in Israeli prisons and all that. But today, I understand he's just wearing a mask by the name of the cause, the Palestinian cause, which everybody's cause, and by the name of God or by the name of Allah, that's their God, or by the name of a certain ideology or liberating the people, freeing the people. Every individual can have their own version of truth and they hide behind it, all the desires and the lust and the hatred and the human delusion.
[00:12:19] And my father is not different. I wish that he was of a higher understanding to just see that he's just only driven by hate, lust, anger, and delusion. And when an individual is blinded to that degree, they will cause harm. They will cause damage. And the mind will always find a way to justify its actions. On one hand, he would kill and blow people up. On the other hand, he's just like, "Okay, you know, we're defending our children. We're not killing others. We're defending our children." And the same mind that tells him the truth. The same mind, that gives him the light as well.
Jordan Harbinger: [00:12:58] Tell me about — I don't mean to chuckle at this story, but when I think about it, it's almost a little bit funny. Because it's like your teenage moment here, you're 18 years old and you decide to buy a load of guns. First of all, what was that all about? That was like the worst plan ever, right?
Mosab Hassan: [00:13:18] Well, you know, I grew up in a jungle full of just hate, not only by the way, from a Palestinian-Israeli hatred, also that the rivalry of Palestinian factions within the Palestinian society. The PA versus Hamas versus Fatah versus public front and 10 other factions. If you don't have guns, nobody respects you in that culture. If you don't have power, they will crush you. There was no government. There were a bunch of corrupt politicians. Basically, criminals committing crimes against humanity. So to grow up in this type of environment, you should not be very surprised that a child of that environment decided to go buy guns.
[00:14:07] It's not like if I grew up in California, let's say in San Diego, then all of a sudden I decided to become a gangster and go buy guns, it's just idiotic. But for that region, it's normal. Today, looking back, of course, it was idiotic because I could have been killed easily. The guns got me in trouble. They got me in prison and I spent 16 months in Israeli prisons. I was tortured. I was beaten up by soldiers. I was deprived from sleeping for months. I was tortured mentally and physically that I still have marks on my face from that torture. When I look back, it's really scary to just remember the minefield that I was walking in. But sometimes it's a blessing to go through a minefield, not knowing it's a minefield. And when you get out, then you realize it was a minefield. Otherwise, probably, you would have not survived 
Jordan Harbinger: [00:15:00] In the prison, what's going through your mind in there. Like, do you think you're going to be locked up in there forever? They're not being nice to you. Like you said, they're beating you up, they're torturing you. They're not letting you sleep. Like, what are you thinking at age 18 when you're locked up like that? I just can't imagine it 
Mosab Hassan: [00:15:15] know it's very hard for any human language, actually to convey a human feeling and the human experience at this depth to really express pain and frustration and anger, confusion of why all this is happening. On one hand, I was hurt a lot by my own society. As a child, I was abused as a child. I was hurt badly. Then I was beaten up by the parents, by the teacher, and by the other kids in the streets. I was bullied. It was amazing, you know, to know that there's like an external enemy, that I could blame everything on that enemy, which happened to be Israel. Then you go on blaming Israel and now you buy guns and you want to kill Israelis to just express your anger and your hatred on one thing. 
[00:16:06] For me, it's really like — of course, I can get emotional about it right now. And it's like, "Oh, it's an unjust world. It's unfair." But today I see it differently. I see it as the greatest school in my life. The brutality of human society and human society is, by the way, it just showed me something about my own nature. And I had to choose do I want to be like this image or do I want to transform into a more refined, higher consciousness that can handle pressure, that can handle pain.
[00:16:43] So today, really hard for me to go back and recreate the blaming mentality, you know, what they did to me in prison, what they did to me as a child, what they did to me at school. It's very hard for me to recreate it, honestly, because, without those events, I would have not been able to transcend the limitations of human conditioning.
Jordan Harbinger: [00:17:13] I know you had to choose a faction, right? Hamas, PFLP, Palestinian Authority or PA, or something else. And you initially — I guess agreed — how did it come to be that you agreed to collaborate with the Shin Bet, the Israeli intelligence service because that seems like a really hard choice to make after growing up in one place. And it's like, "Okay, I guess I'll be the worst thing that everyone considers, you know, a collaborator." How do you make that choice? 
Mosab Hassan: [00:17:40] So back in the 1990s, a couple of Hamas members succeeded in infiltrating the Israeli intelligence. They were double agents. They were heroes among the Hamas movement, the most sophisticated because Hamas does not have intelligence, like strong intelligence, like the Israeli intelligence. And to be actually able to fool the Israeli intelligence and double play them was like a really badass in the Palestinian streets. So everybody wants somehow to do it. And I was just another idiot who thought that I could actually afford the Israeli Intelligence. So this is why I agreed to work with Israel with a hidden agenda. Hidden intention is simply to be a double agent.
Jordan Harbinger: [00:18:32] Sure. Okay. 
Mosab Hassan: [00:18:33] That makes sense. But what happened later, thousands of Hamas members were in prison and now Hamas didn't know how their members and their sales and their secret operation were exposed by Israel. So they wanted to know who was actually — who were the rats. So they started torturing their own people, anybody, any suspect. And they would torture them brutally and the peak of their torture was during the time when I was in prison, that was back in 1996, '97. Hundreds of prisoners were tortured, dozens were killed, and the level of brutality of what they did to human beings exceeds anybody's imagination.
[00:19:23] I don't exaggerate when I say imagine putting needles under someone's fingernail and just like let them experience pain slowly for months to squeeze information from them as they scream. I remember they would just put the soap bar in a prisoner's mouth, then tie it with a towel on the outside blindfolded as they burn plastic on their bare skin. So basically this is what Hamas was doing in prison to any suspect who had any relationship with the Israeli Intelligence. And here I am, I'm coming to prison with actually a relationship with Israeli Intelligence but with no intention to spy on my own people or commit treason or betraying them. I would never betray my father for example. So I told Hamas, "Hey guys, this is a situation. I had agreed to work for Israel. And I have some agendas." He said, "Okay. Write it down." So I write down the story to the Hamas Security Wing.
[00:20:33] And then they came back with more questions but I said, "I don't have answers for those questions." Like for example, "Who is your network? Did they give you a special device? What's your mission?" And I told them simply, "The Israeli intelligence said, 'Go to prison, spend your time. It's like a cover. And after you're released, we will be in touch with you.' They did not give me a mission. They did not give me a device. They did not give me a network. They did not connect me to a handler." And that was the truth. So simply Hamas did not believe my narrative and it did not fit their imagination. So they start questioning. And this is where I fell, Hamas, my own father's organization, that we, as a family, sacrificed everything so it can live.
[00:21:23] Here, I am face to face with this monster. I'm even telling them the simple truth that I'm not a traitor. I stepped forward. They did not discover. I just came forward and I said, "Hey, I have a relationship — I established a relationship in principle. I never did any mission for Israel. And I have a national agenda. I want to take revenge from those enemies of our society." But Hamas did not believe it. And they started interrogating me. Of course, my father was not there to protect me in prison. And I became all of a sudden accused of nothing I did.
[00:22:02] And that was the moment where I saw Hamas' true face that they truly don't see Israel as the enemy. Also, I can be their enemy. Anybody else can be there. If you just disagree with them. Tell them a truth that isn't their truth and they will hate you. They will interrogate you. They will torture. And this is what basically they were doing for many other prisoners. This is when I started having my doubts about other prisoners being tortured and killed. I know that I was innocent. And what if all these prisoners also were innocent people. 
[00:22:42] So basically, as you see, I don't have a simple answer to say yes or no. I go to work with Israel to take revenge from them but somehow I ended up working for them. To the Muslims, I posed as a Christian. To the Christians, I posed as a Muslim, to the Israelis as a Palestinian, to the Palestinians as an Israeli agent. All the opposite extremes of life exist within my journey. For me, I learned how to swim against the current. Some people tell me, "Okay, so you cross the river to the other side. And was it greener on the other side?" And I say, "The truth is it wasn't green when I swam. I got to the other side, it was not the greener." But they say, "Then what was the point? What was the point of departing ?" I say simply, "I learned how to swim against the current." And in order for us to see our higher potential, it doesn't matter where we came from.
Jordan Harbinger: [00:23:48] You're listening to The Jordan Harbinger Show with our guest, The Green Prince, Mosab Hassan. We'll be right back. 
[00:23:55] This episode is sponsored in part by Vuori Clothing. I love this stuff. I'm wearing it literally right now. I mean, let's admit it. It's kind of sweatpants week, month, year, I guess, year, in sweat tops. It's not really a thing but it kind of is and Vuori has these button-downs that feel like sweats, but look like really good button-up tops, you know, like you would wear if you had a job or you were allowed to leave the house. Anyway, Jen can't stop wearing her daily leggings. We got an exercise bike recently. She's decked out head to toe. Vuori is her go-to uniform as well. They got shorts, they got sweats. They got button-downs. They got stuff that looks like you're supposed to work out in it. They got stuff that doesn't look like you're supposed to work out in it but you totally can work out in it. So do yourself a favor, try them out. Join the Vuori family. 
Jen Harbinger: [00:24:37] Head over to vuoriclothing.com/jordan for 20 percent off your entire order. You don't need to mess with any coupon codes. Our exclusive discount will automatically be applied at checkout. Invest in happiness is Vuori's product guarantee. So simply love the product or send it back. There's always free returns. Give it a go and head over to vuoriclothing.com/jordan for 20 percent off your entire order. V-U-O-R-I-clothing.com/jordan. 
Jordan Harbinger: [00:25:04] This episode is also sponsored by HostGator. Sure, I used to be just like you, a drift without a website to call my own on a merciless Internet that didn't care. If I came across the world, like some kind of schmuck in a Google search, but then somebody introduced me to HostGator and I wised up real quick. See, I came in from the cold, I took control over my Internet presence. And best of all, it was super simple and it didn't cost me an arm and a leg or even a secret family recipe. Thanks to HostGator's ludicrous generosity, every plan provides you with limitless bandwidth, disk space, and email addresses. And if you're like 30 percent of the web, you're going to want to use WordPress to power your site. And HostGator has the tools to make it as easy as spreading butter on your breakfast toast. Additionally, you're guaranteed 99 percent uptime with 24/7, 365 support, and a 45-day money-back guarantee if you aren't completely satisfied. Visit hostgator.com/jordan to get up to 62 percent off. That's hostgator.com/jordan.
[00:25:56] And now back to Mosab Hassan, The Green Prince, on The Jordan Harbinger Show.
[00:26:02] You'd said, "The world I knew was relentlessly eroding, beginning to reveal another world I was just beginning to understand. What the Israelis were teaching me was more logical and more real than anything I had ever heard from my own people." This is, I guess, how you felt when you were first released or while maybe you were still in prison with the Shin Bet officer explaining that Hamas destroys itself more from the inside than anything Israel could do from the outside. But it sounds like you see that happening everywhere.
Mosab Hassan: [00:26:31] It is happening everywhere. Yes, I experienced slavery. Yes, the Israelis wanted to provoke intelligence within me because they wanted me to be effective. So, you know, they invested in me as a human being. I'm grateful to that. When talking about intelligence services, this has been actually or had been one of the biggest schools of my life because somehow also we created reality. And I saw the creation of reality, what really creates public opinion and what really manipulates the public's perception of a certain thing. We do something on the ground. Then you see something on the media that is completely opposite of what we did on the ground. Then you start seeing the gap between truth and perception. Of course, they invested in me as an individual and they wanted me to go to school and finish university. And that was the first thing. And now I understand why because I was much more effective that way.
[00:27:38] But also when we talk about Israeli Intelligence, it is a prisoner of its own. This type of organization — forget about it, you go in and your chances to get up only as a corpse, you know? So they invest in you counting that you would never find your way out. The truth at that level and the power that is experienced within Israeli Intelligence or any other intelligence service, we're talking about power and we're talking about real intelligence. We're talking about real creation, you know, like a huge orchestration that deceives politicians and media and average people. You can create any scenario to anybody and make them believe in it, and they would believe in it.
[00:28:25] So when I was playing at a very, and the start having a taste of that powerful game, this is what everybody is fighting for or thirsty for, to experience power. But for me, it was another form of slavery. And I did not like the fact that all that power that I was experiencing was just basically serving the agendas of politicians in a certain state, which I'm not against. I love Israel. I love Israel very much, you know, and it's very, it will continue to be an inspiring model for me. Such a beautiful nation, such a beautiful people, and they inspire me, but I don't want to be for the rest of my life or I did not want to be as part of Israeli intelligence and secret operation on daily basis — in the morning, something in the afternoon, something and the evening, something else.
[00:29:25] The game of deception and the reverse psychology and all that the intelligence services do it's effective and it works, but it's limited. I want to just try to convey the truth as is to my people — what I have learned, what I have learned as a child, what I have learned growing up, what I have learned from all the hardships that I had. And also I did not want to cut the part which was the part that would condemn me to execution, to the death penalty, which was my affiliation with Israel Intelligence. And that was the hardest part but I needed to be honest with my people. They did not recognize my work with Israel. They did not reveal or expose me. I revealed myself and I stepped forward and I told them, "This is the honest truth. I know now you're going to see me as a traitor. I know that you're going to crucify me for this, but you do it."
[00:30:22] But for me, I'm going to tell you the truth. If I fought 10 years to save human lives on a daily basis why should I be ashamed of it, why should I be ashamed of it? But back to the point, I did not want to stay in the intelligence game, into the deception game for eternity. And I wanted to find my freedom, so I got out. I got out to a higher truth, but also that was not fun. 
Jordan Harbinger: [00:30:48] Why wouldn't they let you have relationships with women? I thought that was weird when you're talking a lot about like, they're sort of going through some of the rules — first of all, it doesn't seem like they trained you at all. Like they just kind of like throwing you out there and they basically only had a few rules. One of which was no relationships with women. What's up? 
Mosab Hassan: [00:31:09] It's very strange to hear that the Israeli Intelligence did not want an agent to have a relationship with a woman.
Jordan Harbinger: [00:31:16] Yeah.
Mosab Hassan: [00:31:17] For them, they wanted me to always be and continue to be the Hamas member. The one who goes to the mosque, the one who follows the code of conduct of my society, respect God, respect the parents. Don't cross the red lines. Don't do something that is morally offensive through the eyes of that society. Even the very ones, you know, who are telling me the stories disagree with that. But right now they wanted me to be the perfect fit. They don't want me to hang out with women which is not acceptable to the Arab and Muslim culture. It's a very conservative society. So the Israeli Intelligence understands the situation and they don't want me to go and do something that is abnormal. Something that is not acceptable by my own onset. Then if I lose my reputation, nobody would respect me. Then I would not have access to all the religious leaders, which basically were the very terrorists that we needed to establish relations with them and to know what they are up to.
[00:32:23] I had a relationship, like a secret relationship, with a woman that I was in love with, but we really had to hide and go to a different town to just go out for lunch. It was like a long journey, an impossible one, I even jumped some fences. I had risked my life to just go and meet with her. 
Jordan Harbinger: [00:32:43] This is a Palestinian woman, or were you dating Israeli woman? 
Mosab Hassan: [00:32:47] No, she was actually a Palestinian woman and this is why actually what made the Israeli Intelligence actually go against. They in fact asked me not to hang out with this woman anymore. And I think they were right. You know, because it was dangerous for the woman and it was dangerous for me. She was very important to me and that I would not even — in that culture, it's very, very hard for women. If a woman hangs out with a man and let's say for example loses her virginity or something like that, she wouldn't ever be able to marry again. And that's it — it's like in that culture, unfortunately, and please forgive me for the comparison, but it's like a second-hand car and it would always be like a second-hand car.
[00:33:29] Not like in the United States, you know, it's like a divorced woman or a single — it's just a single woman, you know, single or in a relationship, there are much more definitions of like, "Okay, this is virgin. This is not virgin," you know the 72 virgins — you know, it's a big thing in that culture.
Jordan Harbinger: [00:33:46] Yeah.
Mosab Hassan: [00:33:46] It's so ridiculous but again, this is the human delusion. But anyway, my personal life was not easy, but I managed somehow against the odds to enjoy moments of my early life as a youth, as a young man. And it was a very nice adventure. Today, looking back, it's like, okay, there was love there, to go meet a woman, to jump the fence and risk your life and hide somewhere and change your look. Do all the impossible just to spend with her in half an hour and that's it. There was something but here we are. And I learned what I learned.
Jordan Harbinger: [00:34:30] You did uncover a lot of suicide bomber cells, terror cells, and I assume you had to be pretty careful because the Palestinian Authority, so the government of the Palestinian territories at that time, they had eavesdropping gear that they could easily have used to both against terrorists and against people who are collaborators. Right? I mean, you must have really been kind of between a rock and a hard place because Hamas now might be the authority in Gaza and the West Bank but back then, it was not. So you were being hunted by Israel, by the Palestinian Police, by Hamas, by everybody. That must have been a lot of pressure. 
Mosab Hassan: [00:35:08] Look, all you have to do — everybody's looking for you and simply just look with them. Everybody is like, "Who is this motherfucker? Who is passing the information?" You just ask the same questions. And if people are looking, just go with them and look for that person and they will never figure it out. I had a very good cover. And as I told you before, it was like walking in a minefield, truly a minefield. I was not only a target for the Israeli intelligence. It was also the CIA. It was also all types of intelligence services in the region.
[00:35:46] And when you are in the spotlight as a son of a top leader of the revolution of all the chaos that's happening, very close to decision making. And yes, there are Fatah meetings and other top Fatah leaders and very close to Hamas Military Wing, and understand the culture and hanging out with basically top wanted, top terrorists in the region from the bomb to the suicide bomber to the mastermind behind them, you become just a target for everybody. And of course, everybody's looking for you. Only a handful of people know who you are even within the Israeli intelligence. A handful of people knew about my existence even when I had, let's say, solid intelligence.
[00:36:32] For example, I had information about Hamas taking over the Gaza strip one year before Hamas took over. And I told the Israeli Intelligence, "Hamas is going to take over Gaza. They are planning for this. They are building an underground army." It did not make sense to them. They were like, "No, they won't be able to put this together, even if they had the intention to do so. They cannot do it. It's impossible. The Palestinian Authority is 10 times the size of Hamas in the Gaza strip. They've got much more guns. They've got much more members and they have the support of the whole world. Hamas wouldn't be able to take over the Gaza strip and throw the Fatah out." And I told them, "Okay, if you say so." They could have stopped it. They could have stopped it and look now at what happened and how many wars are happening in the Gaza strip today.
[00:37:20] So sometimes, you just don't take it seriously, a piece of information. There is — I said, at this level of intelligence, when you have solid information, it goes to the prime minister for example. Now, the prime minister does not say my name on the report. He would only see symbols. And if there was any piece of information that would lead to me, they would take it out or they would cross it out. So basically, even the report that goes to the head of the state, I would be totally coded. And so they don't recognize why it was. This is how much the game was very serious and my life was in danger.
And it was like if I get caught, I am done. Matter of seconds, that's it. I would be with a crowd with a mob, a bunch of militia, armed men waving with rifles, with rage, angry, "Who the fuck give the information?" It would be me, just right next door. And you just need to trust, anything could happen, anything.
Jordan Harbinger: [00:38:24] Were you lonely doing this? Like you couldn't share life with a woman. You couldn't tell any of your friends. You definitely couldn't tell your family. Nobody other than your handlers and Shin Bet, so Israeli Intelligence, and even then, I mean, they're not your friends. They're people that you're working with. You can't just call them on Friday because you're feeling bored or alone or isolated, right? Was it lonely?
Mosab Hassan: [00:38:44] You know, this term lonely, it would be in a case if I now came to recruit you, Jordan. It is like, "Hey, I want to send you on a mission. Leave your wife. Leave everything behind and just go behind the enemy lines." And it would be a totally strange culture. Then maybe you would experience that. I was alone for sure, but I was still within my own culture playing the same role that actually the majority of my society wanted me to play. I just needed to be careful. So they didn't know the other roles that I had. When you do things like this, you need to understand the drive. If I was doing it for money, if I was doing it for revenge, if I was doing it for like any other human thing, then I would have greater fear, but if you keep your compass. That the more I'm doing this we are stopping suicide bombing attacks. Suicide bombing attacks lead to death. Then they lead to retaliation from the state. Then they lead to more chaos. And those people, by the way, the victims are suicide bombing attacks, not only Israelis, Arab, Israeli, Muslims, Americans.
[00:40:00] Like the Hebrew University, for example, six Americans were killed. Students at the cafeteria, on campus. And I knew the people actually who sent those suicide bombers to carry the attack. One of them is Ibrahim Hamed and I helped to locate him, which was wanted for about eight years.
Jordan Harbinger: [00:40:20] Wow.
Mosab Hassan: [00:40:21] Now, he's spending life terms in Israeli prison. So we're talking about high profile terrorists that did not only kill Israelis. They killed the Americans, they killed all types of people. So now when you have your eyes in this very dangerous game — okay, all the money in the world is not going to give you security or give you comfort in that situation. Actually, if you were paid, let's say, millions, what are you going to do with that money? You live in a small town where all the eyes are on you and even if you have all that money, you cannot spend it because you will be exposed immediately.
[00:40:54] In fact, the Israeli Intelligence did not like the fact that they have access to money from other sources, like the US Aid or my father. They were very careful to tell me, "Careful how you spend the money that you take from your father because people might think that we are the one it's given you the money." And it was basically Hamas who gave me the money. So practically, it's a very dangerous thing. And what can keep one alive in such a situation is your moral compass. What are you fighting? And now, I'm such a smaller player in that game, but this small role that I'm having can save a human life. And this meant the world to me. This is why I was alone, but I was not lonely.
Jordan Harbinger: [00:41:42] You know that bombing at the Hebrew University cafeteria — I ate at that cafeteria every single day and the bomb was probably about three feet away from where I used to sit every time. I had left Israel already but I was a few months away from not being able to have this conversation. That's for sure. Because it was right there — in the French Hill, right?
Mosab Hassan: [00:42:03] Yes, yes. Yes. Wow. Brother, I'm so glad that you are here and we are talking to them. I'm so glad that — 
Jordan Harbinger: [00:42:11] Me too.
Mosab Hassan: [00:42:11] That eventually Hamas Military Wing in the West Bank, the head of the Hamas Military Wing, which was Ibrahim Hamed — that was a very sophisticated operation. I brought him back to justice and I say it proudly. Of course, it's a team effort, but without the intelligence that somehow existence gave me, we would have not arrested him in time. So now, you're telling me, it's like, "Thank God." You know, I'm alive also. And it's like thank God, it's like many others are alive because this man was brought to justice and was put in prison. 
Jordan Harbinger: [00:42:48] This is The Jordan Harbinger Show with our guest Mosab Hassan, The Green Prince. We'll be right back.
[00:42:53] This episode is sponsored in part by The Passion Economy Podcast. This show is hosted by the fantastic business reporter Adam Davidson. He created the show Planet Money, writes for the New Yorker, spent a lot of time covering dark sad stories about the economy. And this time, this is a little bit more optimistic. We're living in a time where the economy is more confusing, unpredictable, and frankly scarier than ever before. But this same economy just might offer us an unprecedented opportunity to do some really cool stuff. On The Passion Economy Podcast, host Adam Davidson, he speaks to people who have done just that by channeling their unique passions and interests into successful businesses. Every week, he sits down with real people who figured out a way to thrive in the economy. And then unpacks their stories for the valuable lessons that we can apply to our own lives. So you too can learn how to turn your passion into your most valuable asset. And this copy certainly sounds like a show that I'm familiar with. I don't know about you, listeners, but it sounds like it's right up my alley. So check out The Passion Economy today, wherever you get your podcasts.
[00:43:51] This episode is also sponsored by PayPal. You know PayPal. People come on, you probably use it all the time. I think we practically ran our business. We still run half our business on PayPal. You can send gift money to friends and family. You can split a check. You can send money overseas. We actually use it a lot to pay vendors and contractors. It's basically how banking should have been for the last 20, 30 years, but PayPal, of course, taking us into the 21st century here with electronic transfers. Our normal has changed. We all have to find new ways to connect, continue supporting one another. We've started social distancing when we spend time with family and friends and explore things — obviously, now we got to use apps to make up some of the distance. You can quickly and securely send money to friends and family just about anywhere in the world, except for North Korea. I tried that. It didn't work. Don't worry. No app does. You can start a money pool to split the bill and go in on a gift fundraise for a good cause. And they get QR codes in there. So, you know, it's future-y. You can even donate to a local nonprofit or support a cause from across the country. 
Jen Harbinger: [00:44:48] PayPal is making it easy to pay safely, quickly, and easily. Download the PayPal app today. Terms and conditions apply. 
Jordan Harbinger: [00:44:55] Thank you for listening and supporting the show. Your support of our advertisers keeps us going. To learn more and get links to all the great discounts you've just heard, so you can check out those amazing sponsors for yourself and support us along the way, visit jordanharbinger.com/deals. Don't forget we've got worksheets for today's episode. That link is also in the show notes at jordanharbinger.com/podcast. And now for the conclusion of our episode with Mosab Hassan, The Green Prince.
[00:45:23] You knew you were pushing your luck and would eventually get caught, right? So the Shin Bet, the IDF, if they launched this massive, I guess, fake, but also totally real operation to arrest you. And the way you tell it in the book is they set up this operation to pretend to try and catch you. And it was like this massive special forces operation. Can you tell us a little bit about that? This is like the wildest thing that must've — I mean, you have a lot of wild stories, but this is up there for sure. 
Mosab Hassan: [00:45:49] Gosh, man, you're opening those files from many years ago. I don't realize sometimes how old I am, you know? 
Jordan Harbinger: [00:45:56] Yeah. Well, you and me both, man. You and me, both.
Mosab Hassan: [00:46:00] So basically, there was an operation. And I had access to five suicide bombers, potential suicide bombers. I knew their location. It was a trick that I played on them somehow, to just suspend their operation for about 48 hours. And they somehow listened to me and I put them in a safe house. And the Israeli Prime Minister decided within 30 minutes to bomb the entire building and just kill everybody in it. I did not want to be part of killing or assassinations because my motive was not revenge.
[00:46:42] So I told my handler, "Listen, I don't want them that." But he said, "If you don't want them dead, they will mention your name during the interrogation. And truly like assassinating them is the best way to keep your cover. If they mention your name, you're done. Because you have to go to prison for a long period of time. And we cannot put you in prison for a long period of time. And if you don't go to prison, how can you explain this to your parents and to the other movement. They would know that you are the one who gave them permission." So, this is why it was very difficult and they had to orchestrate one of the biggest plays to get me out of the situation, but also respect my request that I don't want them to be killed.
[00:47:26] And they were just, by the way, 19 to 21-year-old, young teenagers basically. They didn't know what they were doing. So they decided to arrest them instead of assassinating. And what they were afraid of happened. One of them during the interrogation in the first couple of days in the interrogation, he mentioned my name. That I was the one who helped them and gave them the house and gave them the gun, which was basically one of the tricks that I use to get into their world.
Jordan Harbinger: [00:47:59] You gave them guns. That was the trick. 
Mosab Hassan: [00:48:01] It's funny. I gave them a handgun and I took a car full of explosives in return.
Jordan Harbinger: [00:48:08] It's a good trade, I think, I don't know.
Mosab Hassan: [00:49:11] It was a crazy trade because, on one hand, I told them you cannot move around in a city full of intelligence services, full of army, full of IDF, Palestinian Authority with a stolen car, full of explosives. So I made it about their safety and I made it about the plan and what's the right thing to do. So I told them, "Listen, I keep the car. I'll put it in a safe place and here's my gun." So I just hand them my handgun. And I say, "You just use this in case you need something. To defend yourself, you need a gun. You don't need a car full of explosives." And they kind of like the idea. And now I keep them on a leash because if they go with a car, they might find someone else to help them or just decide suddenly to just blow it up and it's over. You just hear about it in the news. But if I have their explosives, they have to come back to them.
[00:49:06] And this is how we got in trouble. I received a phone call from my handler and say, "You know, we have a situation and you need to go under the ground, like right away." I was like, "What's going on?" He said, "They mentioned your name." And he said, "We prevent them from visiting any attorney or any family member or anybody. So the people don't know that your name has been mentioned." This is what usually prisoners do. If they mentioned some member of the movement — named during an interrogation. They would tell the lawyer that we mentioned the name of this activist. So the lawyer would go to their family and say, "Hey, your son's name has been mentioned." It's just a matter of time before they are arrested.
[00:49:50] So now they don't want Hamas or the outside world to know that my name was mentioned. First thing, they deported one of them, which was a Jordanian national back to Jordan, immediately. This type of terrorist, a potential suicide bomber with explosives on them, they would spend at least 15 years in Israeli prison. So now, they send one of them immediately back to Jordan deported, no trial, nothing. So his friends were like immediately, "How come he's just free two days later. Back with his family," and the kid was just celebrating with his family, you know, not knowing the trap that he's in. So everybody in his own group thought that he was the traitor. So that was the first step, but that's not enough that we framed someone else.
[00:50:44] The second one, basically we totally framed an innocent person. The second step was to make me into a wanted person. So I could not go to prison at that time because I was part of so many operations and the relationships that we worked so hard to establish them with other terrorists, with other groups, with other dangerous people. To put me in prison, this means that we will lose all the leads that we have established over two years or so. So I had to be still in the field. They said the best way is to make you into a wanted person, but they wanted that to be as real as it can get. So again, as I told you only a handful of people in the Israeli Intelligence knew about my existence. So the army, the special forces — you know, something similar to the Navy SEALs in the United States, they don't know about my existence. So now those people have to act like they are going after an enemy.
[00:51:45] So the Israeli Intelligence gave their own army and the special forces the most one man's whereabouts, in that case, me. "We want him alive or dead. Shoot him. Don't hesitate. He is a very dangerous man. He has a video with a suicide bomber," and that's like the truth that they wanted the army to know. So when the army came in, they come with, first of all, undercover agents, 50 of them, or more dressed like a civilian Palestinians in civilian cars, Palestinian plates, surrounded the area. Before they got the okay to attack the house where I was supposed to be — you know, I'm at his house — I got 30 second seconds to get out of the house and make it look like an escape. So I got out of the house. The special forces on the ground got the green light from the intelligence that I am inside the house still. So the special forces come. About five minutes out of that circle, they were a bunch of Merkava tanks. The Merkava tank is like, I think 40 or 50 tons of steel and when this thing turns on, the engine is much higher than the airplane's engine. And when you have 10 of them storming into the city, it's like an earthquake happening. So those were about like five minutes away and they started driving towards the city to my family's house. So it's like all this orchestration, It became like a war zone right now.
Jordan Harbinger: [00:53:17] Yeah.
Mosab Hassan: [00:53:17] So my family right now is caught up in the fire, my family inside the house. And of course, my handler said, "Don't worry. We'll do everything within our ability that your family wouldn't be hurt, but we want this to be real. We want you to look like a real wanted; otherwise, Hamas will kill you." They came into the house. In the speakers, they called for my name. And of course, I'm not at the house, but the special forces have reliable intelligence that I'm inside the house. They don't know that they are also manipulated by their own intelligence.
[00:53:52] So when I don't surrender, they evacuate my family first. Then they get the green light from my handlers to shoot the house. They launched a missile into the house and they sprayed bullets like all over the world. Like in my room, I had about 150 bullets just on the wall. And the militia groups right now, they start gathering and surrounding the special forces. Creating like another ring of fire and shooting at the forces and the forces shooting back at them. This is what brought the choppers. It became a war zone. Everybody in the city knew that I'm a dead man. And my father, the Hamas leadership, even the suicide bombers that I was helping, everybody knew that I was in deep trouble and Israel is not tolerating. And that gave me actually a very good cover in the city, but I had to act like a wanted man.
[00:54:49] I could not just become a wanted man and just live a normal life, so I had to actually become a wanted man. So Hamas was — actually, my father was very afraid for my life. And through his connections with the movement, he arranged with the Hamas people to give me some of their safe houses and hang out with other wanted people that we were looking for a long time. So I ended up hanging out at all the safe houses and knowing the locations of the most wanted people that we wanted. And this is how we cracked down, the entire Hamas Military Wing in the West Bank responsible for 90 percent of the suicide bombing attacks during the Second Palestinian Intifada. So that was the play.
Jordan Harbinger: [00:55:33] Wow. Wow. That's a dangerous play though, right? Like you're almost getting a missile shot at you or at least almost hit you. It did get shot at you. There are bullets all over the place. But then you get this street cred as like a badass terrorist, and then they're schlepping you around to all of the safe houses to hobnob with all the most wanted, I mean, it's absolutely wild. I wonder though — you were already disillusioned with Hamas, but there's this one instance in the book or one incident in the book where it really looks like things went south. Hamas blew up a bunch of their own people at a rally and then blamed Israel. They were showing off with a rocket launcher or something like that. What happened there? I mean, this whole thing is just the cluster. 
Mosab Hassan: [00:56:17] Look, Hamas, other terrorist movements, Palestinian movements, Palestinian leadership throughout this conflict. They never take responsibility for any of their actions. They want Israel to be responsible for all the problems in the Middle East. And this is to have a common external enemy that you export your internal crisis on has been the method. This is the mechanism, and this is how they have survived so far. Hamas people use the Gaza children as human shields. Then they blame their blood on Israel. When they had even an incident where their own explosives blow up and kill Palestinian people.
[00:57:02] Of course, they couldn't be brave and honest enough to say we did it. They want Israel to take responsibility for it, but how can we expect from such a dark organization without morality. And it's beyond just nationalism that says like, okay, you know, many people in the United States, especially like my friends in the Liberal camp. Also, it's like, you know, they want like, okay, justice for Palestinians. And let me say define Palestine, define Palestinian. You know, there is no such thing. We're talking about rival parties, layer upon layer of darkness of confusion, of ignorance. And, you know, who's crushed in between the children and all the Palestinian factions with no exception, the religious or secular, conservative or liberal. All of them put nationalism ahead of the children.
[00:58:01] And as long as they're thinking this way, they should be held accountable. They should be countered by any means, and this is what Hamas is doing. You know, we cannot say it's like, "Okay, Palestinians." No, the children of Gaza are helpless. Hamas stored missiles at schools, at hospitals, at mosques, and launched rallies with their homemade, kitchen made missiles, among thousands, hundreds of thousands of civilians. What's that? And when a mistake happens, they rush to blame Israel. That was like really taking it too far. just man up for one time in your history, just take responsibility and say, "It was us," but they come up, they come up, 
Jordan Harbinger: [00:58:52] I know you ended up leaving the Shin Bet, the Israeli intelligence service. What happened? When was enough, enough? You just decided one day, "Hey, look, I've had it with this crap. I mean, how did that thought process come about? 
Mosab Hassan: [00:59:03] As I told you, this world of intelligence, the world of deception also is not an easy world, anybody — whether you work for FBI or CIA or KGB for whatever it is, It's a very dangerous world. They call it the intelligence world and yes there is intelligence to it but it's human intelligence at the end of the day. I think intelligent people eventually will find higher intelligence and higher intelligence means leave, get out. But when you try to get out, they have something to lose. Because if you're still an asset, if you still have juice in you, they want to squeeze you to the last drop. Excuse me for the expression but this is what they want. I wanted to be the person I wanted to be, and that was not possible by just living a secret life with many secret identities and so many masks and hoods and all that. 
[01:00:01] And this is when I felt the necessity for me to get out. Because honestly, I cannot stop human madness. I cannot go in the head of every Palestinian or every terrorist and make them see the truth that I see. I cannot. If I see the truth, I needed to work on myself. I needed to transform myself. I needed to actually emancipate myself from all the things that I had witnessed, from all the experiences that I had, and that requires more freedom. That requires honesty. That requires me to be truthful to who I am. Many people, of course, you know, they tell me, "Why don't you just look more about your adventure and about life. You save many human lives." But then I was like, "What's the point if you save so many human lives and you lose yourself in the process?" First, we need to be able to actually help ourselves, then we can help others. Even if we had an impact, only on one person, we already have contributed a great deal towards humanity and towards consciousness. 
Jordan Harbinger: [01:01:03] Tell me about the last conversation you had with your father when you told him about working for Israel? 
Mosab Hassan: [01:01:10] I wanted him to hear from me and again, in my silence in San Diego, California, back in 2007 and 2008, I decided that I wanted to document my journey. At that time, I didn't know that I could write a book. I didn't know that you could actually profit from a book. Or you could make money from a book, which many people accuse me of creating a controversy. And I was like, for the sake of profit. For me, it was like, I have to document this story in case an accident happens to me. In case, I die. In case, I get assassinated. You know, I don't know, maybe the Israelis come after me. I have lots of government and state secrets. Maybe terrorist groups would come after me. Maybe just simply an accident will happen, you know? And I don't want all this experience to just go in a vain. I wanted it to be documented somehow for maybe the next generation to read. I didn't think it would be published.
[01:02:10] But I wanted my father to hear from me from my mouth, not from my book, not from others. And I wanted him to know the truth, so I told them. I told him — you know, I didn't know how I managed actually to tell him. It's just crazy and what a shock. I was his right hand. I was his oldest son. I was his friend. The most trusted person that he had in his circle. I basically betrayed him, I betrayed him in order to save him. There was no way around it. There was no way around him to save him from himself. He would have been assassinated a hundred times now. All his friends at the same level of the organization, all of them are gone. All of them are assassinated. None of them survived it. The Israeli politician wanted him dead and the army wanted him dead. The only thing that was stopping him from dying was me, whether he knows it or not, whether he would recognize it, ever. It really doesn't matter. For me, he was my father and I did not want him to die. I wanted him to know, on one hand, I betrayed you, but on the other hand, I saved you and this is what makes it very, very hard for him. In fact, this is what makes it very hard for the Palestinian people. First of all, I was not against the Palestinian people, and I'm still not against the Palestinian people. I'm against stupid ideas and national ambitions and sick beliefs. I am against all that and I have no regrets to go against it. And I wanted to tell him personally, and that happened.
[01:03:48] And a few months later, the book came out. It had more details in it, of how things happened. It was a great disappointment for him. But the truth is, by the way, I gave him the option to disown me. Because I understood, even though he's a great leader of the society, if he kept giving me cover in that culture, he would be participating. So I thought he would disown me and he told me this is not an option. He told me, "You will always be my son, no matter what. You're part of me, you're my liver, you're my kidney, you're my heart, you're my soul, your everything. I cannot disown you." The eve of publishing the book, I hear it from the news, his statement, he made a statement and he disowned me from his prison.
[01:04:34] So this gives you just another idea of where his heart is and where his mind is, the vast ocean in between. But our greed and our political ambition continue to divide us. If it was able to divide my father and me, and we really loved each other and I'm sure that we still do love each other. The bond between us cannot be broken but still for the public image, he has to go and tell the whole public, "This is not my son anymore. I don't know him. Kill him if you want." How could you say that? And if you were forced to say this, what does that tell you about the nature of this entire conflict? What about unity? What about love? What about understanding? Will ever there be peace in the Middle East, if this what happens, you know, for a father-son relationship?
Jordan Harbinger: [01:05:25] Mosab, thank you so much. This has been really an amazing conversation. You're really opened forthright, and I'm glad we're friends. I have one final question for you though.  They blasted Leonard Cohen all the time, very loud when you were in prison. Now, you tell me your favorite artist was Leonard Cohen. How is that possible? 24/7 Leonard Cohen blasting in prison, they're torturing you. Now, you listen to it in your car while you're driving around. I don't understand this. Of all the things you've told me, this is the hardest for me to get through my head. 
Mosab Hassan: [01:05:58] Well, many of my friends criticize me and I was like, okay. Oh, very depressing to listen to Leonard Cohen. It's actually not my favorite artist, but because you know how he was introduced to me — it's like his thick voice in loudspeakers and I was sitting on a small chair being tortured in Al-Moskobiya. This is like the slaughterhouse in West Jerusalem and Leonard Cohen's playing again, and again, and again, "First we take Manhattan then we take Berlin." You know, but I had no idea what he was saying because I did not understand English at the time and I didn't even know who was the artist. So after I was released from prison, I kept looking and I could not find him. How would I know? Who to ask? I'm not going to go back to Al-Moskobiya and say like, "What was the tortured song that we were listening to?" 
Jordan Harbinger: [01:06:49] Yeah. Can I borrow that CD?
Mosab Hassan: [01:06:50] And then one day I was listening to the radio and Leonard Cohen's song came up and I started shouting out loud like, "Anybody knows who the singer is? Who is the singer?" A friend of mine mentioned, he said, "This is Leonard Cohen." "Leonard Cohen, okay." And I took the name, I wrote it down. I was afraid that I would forget it and I go and buy all his work, trying to find that song and this is how I got introduced to Leonard Cohen.
Jordan Harbinger: [01:07:21] You know, you think you would have been staying away from that music, but I guess if you've got an itch, you know, a mental itch, you got to scratch it, right?
Mosab Hassan: [01:07:28] Yes, absolutely. Absolutely. 
Jordan Harbinger: [01:07:30] Mosab, thank you once again, man. This has been really, really an interesting conversation. Again thanks for being so open. Thanks for taking the time. I know you're in the middle of nowhere and you know, it was hard to track it down, but again, I'm glad we're friends now, and I'm glad I got this story on tape.
Mosab Hassan: [01:07:45] Thank you, Jordan. I really appreciate it. Thank you very much and best of luck. 
Jordan Harbinger: [01:07:51] I've got some thoughts on this episode, but before we get into that, here's a preview of my conversation with Dr. Matthew Walker, one of the top experts on sleep. We're talking about why we dream, what happens when we sleep, why chronic lack of sleep, and driving while tired is more dangerous than driving under the influence of alcohol. This is one of our most popular episodes when it aired. And I think you're going to love it. If you haven't heard it already, here's a quick listen. 
Matthew Walker: [01:08:17] Sleep is not an optional lifestyle luxury. Sleep is a non-negotiable biological necessity. Sleep is a life support system. It is mother nature's best effort yet at immortality. And the decimation of sleep throughout industrialized nations is now having a catastrophic impact on our health, our wellness, as well as the safety and the education of our children. It is a silent sleep loss epidemic and I would contend that it is fast becoming the greatest public health challenge that we now face in the 21st century. The evidence is very clear that when we delay school start times, academic grades increase, behavioral problems decrease, truancy rates decrease, psychological and psychiatric issues decrease. But what we also found, which we didn't expect in their studies, is the life expectancy of students increased. So if our goal as educators truly is to educate and not risk lives in the process, then we are failing our children in the most spectacular manner with this incessant model of early school start times. And by the way, 7:30 a.m. for a teenager is the equivalent for an adult waking up at 4:30 or 3:30 in the morning. If you're trying to survive or regularly getting five hours of sleep or less, you have a 65 percent risk of dying at any moment in time. When you wake up the next day, you have a revised mind wide web of associations, a new associative network, a rebooted iOS that is capable of defining remarkable insights into previously impenetrable problems. And it is the reason that you have never been told to stay awake on a problem instead  you're told to sleep on a problem.
Jordan Harbinger: [01:10:04] For more on sleep, including why we dream and how we can increase the quality of our sleep, check out episode one 26 with Dr. Matthew Walker here on The Jordan Harbinger Show.
[01:10:16] Thanks to Mosab for coming on the show. This is a tough one for him to do in just so many ways. Just the memories are tough. The logistics were tough. The time commitment was tough. I really thank him for coming and helping here today.
[01:10:28] Israeli soldiers came to his house when he was a kid to talk to his dad for five minutes, but he was gone for years at a time. It's so unfair, so terrible for a kid. And when his dad was in prison, his uncles wouldn't help financially. He had to sell pastries to construction workers that his mom made and then his uncles made him go home and stop doing that because it brought shame to the family. So this is a kid that has had a rough life, rough upbringing, just from the get-go. He does have some really interesting stories in the book and the movie as well. He told me offline about a story when he was in prison himself. That there's a TV in there and you have to hold this rope that slams a board over the TV when women, without headscarves are on the TV. So basically more than half the TV shows, commercials, everything. They slammed this board over the television, so the guys in this prison who are hardcore Islamic, a lot of the time, don't see a woman without a headscarf. And of course, the way he tells it has a lot of humor to it. He told me also how the Hamas leaders communicate in prison. They take bread, they wad it up, and they jam messages into these bread balls and throw them over the fence because the prison is divided into different zones for security reasons, and to keep information compartmentalized among other reasons.
[01:11:41] I can vouch for this, that entity runs so high between Israelis and Palestinians. Once I was at a restaurant in Egypt in a popular location for Israelis to go on vacation. This is about 20 years ago now, before the second uprising. The waiter came to our table and said that he was sorry he made us wait, but he wanted to go buy some medicine to put in the food of the Israelis at the table behind us. Something that would make them sick. So we immediately got up and we warned them. And then the waiter, he got so pissed at us. He chased us outside. The Israelis were a couple and the guy was some kind of soldier and he also spoke Arabic and just de-escalated the whole situation. It was scary, but I just couldn't let a couple on vacation get poisoned at the table next to us. I don't know. Maybe I'm the weirdo. 
[01:12:27] Also the bombings that Mosab had talked about are in the book, that are in the movie, French Hill. I used to live on the French Hill. That bombing was where I live. The Dolphinarium was a club I went to multiple times with friends, so I could have been there. Hebrew University cafeteria bomb that I mentioned during the show was right next to the counter, where I used to sit every single day. So this Is just very close to home for me as well. 
[01:12:49] And some of you are inevitably going to ask, why is he called the Green Prince? This was his Israeli security code name, Shin Bet is the name of that service. They called him the Green Prince, of course, because green, the colors of Hamas and the Prince, because he is the son of the leader. So it's pretty obvious. I kind of hope that wasn't actually his code name in any documents because it seems so obvious that you could put that together and find out who that actually was. We didn't really get into why he left and how, but for those curious. He was getting stuck with the fighting and the factions and the bickering over the dead and who belonged to which faction. And also Saddam Hussein when he was still around paid 35-million some dollars to encourage people to become suicide bombers. He just got tired of the corruption, tired of the violence. And he decided to escape. He originally wasn't even going to be allowed to leave, but Israel let him leave to Europe. He fled to the United States, ended up getting deported, thanks to the security services, trying to poison his asylum application. And now he lives in an undisclosed location.
[01:13:52] but we have a lot to be thankful for with Mosab. He helped capture him as the leader that was responsible for upwards of 80 deaths. He foiled a lot of terrorist plots inside and outside of Israel. And I'm telling you, Mosab's story is even crazier. If you're interested, the book is good, we'll link it in the show notes. The movie is even more insane and covers a lot that's not in the book. We'll link to that in the show notes as well. If you like spy stories, if you're interested in this kind of terrorism stuff, this is at the top of the heap in many, many ways. And again, I'm very thankful to my friend Mosab Hassan for coming on the show here today. This was a little very long in the making, people. You have no idea the things I do for you.
[01:14:30] Links to everything in the show notes, worksheets in the show notes, transcripts in the show notes. There's a video of this interview going on up on our YouTube channel. You can find our YouTube channel at jordanharbinger.com/youtube. Let me know what you think of this one. I worked a lot on this one. This was a huge pain in the butt. I would never normally do this for any show, but I had to get this story out there. No one else has. I'm at @JordanHarbinger on both Twitter and Instagram. You can also hit me on LinkedIn.
[01:14:55] Now, I'm teaching you how to connect with great people and manage relationships, using systems, using tiny habits, using some stuff from some of those espionage and spy networks that have been hanging around lately. That stuff is all in the Six-Minute Networking course, which is free over at jordanharbinger.com/course. Dig the well before you get thirsty, people.
[01:15:15] This show is created in association with PodcastOne and of course, my amazing team. That's Jen harbinger, Jase Sanderson, Robert Fogarty, Ian Baird, Millie Ocampo, Josh Ballard, and Gabriel Mizrahi. Remember, we rise by lifting others. The fee for the show is that you share it with friends when you find something useful or interesting. If you know someone interested in these types of stories or you think this is just going to wow them, definitely share this episode with them. Hopefully, you find something great and every episode of the show. So please share the show with those you care about. In the meantime, do your best to apply what you hear on the show, so you can live what you listen, and we'll see you next time.
Sign up to receive email updates
Enter your name and email address below and I'll send you periodic updates about the podcast.