Richard Clarke (@richardclarke) served for 30 years in national security policy roles in the US Government and worked directly for three presidents. He is the host of the Future State Podcast and co-author of The Fifth Domain: Defending Our Country, Our Companies, and Ourselves in the Age of Cyber Threats.
What We Discuss with Richard Clarke:
How we're in constant low-grade cyber conflict with Russia, China, Iran, and other adversarial nation states — and the forms this can take.
Cyber crime was a $600 billion industry (one percent of global GDP) in 2018, much of it perpetrated by rogue nations like North Korea.
How cyberattacks can be (and have been) used to wreak physical damage on infrastructure, and why we should take them as seriously as traditional weaponry.
Is it the government's job to protect private companies against cyberattacks from foreign powers, or is it up to private companies to be responsible for their own safety?
Why there's a crisis-level shortage of cybersecurity expertise coming out of our country's most serious tech schools, and where it's being found instead.
And much more…
Like this show? Please leave us a review here — even one sentence helps! Consider including your Twitter handle so we can thank you personally!
(Download Episode Here)
(Subscribe to the Podcast Here)
Worksheet for this Episode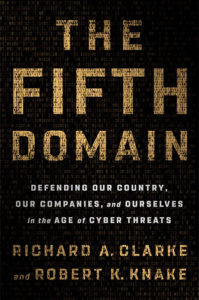 Far from being a quaint, insulated contest between subterranean hackers trying hard to prove their l337ness to one another, cyberattacks are now being employed by nations (our own included) to pummel other nations with infrastructure-crippling precision more potent than our most devastating traditional weapons. In some ways it's a leveler — after all, who needs a nuclear missile program when you can attack your enemy anonymously from the other side of the world via a scruples-devoid mercenary working from a laptop?
In this episode we talk to Richard Clarke, who served for thirty years in national security policy roles in the US government, and finally for an unprecedented decade of continuous service for three presidents in the White House. He's the host of the Future State Podcast and co-author of The Fifth Domain: Defending Our Country, Our Companies, and Ourselves in the Age of Cyber Threats, and his message should give you a realistic overview of how 21st century warfare is evolving in unexpected ways. Listen, learn, and enjoy!
Please Scroll down for Full Show Notes and Featured Resources!
Sign up for Six-Minute Networking — our free networking and relationship development mini course — at jordanharbinger.com/course!
Does your business have an Internet presence? Save up to a whopping 62% on new webhosting packages with HostGator at hostgator.com/jordan!
KiwiCo delivers monthly STEAM (Science, Technology, Engineering, Art, Math) crates that inspire kids to see themselves as scientists, artists, creators, and makers. Get your first month free at kiwico.com/jordan!
Live your best life online with Dashlane — the safe, simple way to store and fill passwords and personal information. Find out how Dashlane keeps you secure where others fail and get 10 percent off for being one of the first 200 to try it at dashlane.com/jordan!
Saving money on your car insurance is easy with Progressive. It's an average savings of $699 a year for customers who switch and save! Get your quote online at Progressive.com and see how much you could be saving today!
The National Highway Traffic Safety Administration (NHTSA) reminds us that in the United States, one person dies every 50 minutes as a consequence of drunk driving. Drive sober or get pulled over!
Smart Passive Income with Pat Flynn is the podcast where it's all about working hard now so you can sit back and reap the benefits later. Give it a listen here!
THANKS, RICHARD CLARKE!
If you enjoyed this session with Richard Clarke, let him know by clicking on the link below and sending him a quick shout out at Twitter:
Click here to thank Richard Clarke at Twitter!
Click here to let Jordan know about your number one takeaway from this episode!
And if you want us to answer your questions on one of our upcoming weekly Feedback Friday episodes, drop us a line at friday@jordanharbinger.com.
Resources from This Episode: