Reading Time:
3
minutes
Stephen Schwarzman is the chairman and CEO of The Blackstone Group, an investor, a philanthropist, and the author of What It Takes: Lessons in the Pursuit of Excellence.
What We Discuss with Stephen Schwarzman:
How did Stephen turn being paired with a Nazi roommate at Yale into a learning experience?
Why it's as hard to achieve small goals as bigger ones — except larger goals have more significant consequences (and what entrepreneurs can gain from this perspective).
What Stephen learned from working a summer wiping down grease in a Scandanavian ship's 120-degree engine room.
Why Stephen considers candor fundamental to the operation of a healthy organization.
How Stephen assesses talent when hiring.
And much more…
Like this show? Please leave us a review here — even one sentence helps! Consider including your Twitter handle so we can thank you personally!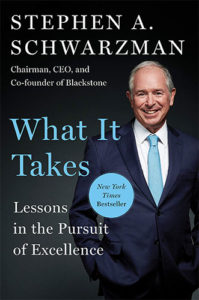 It's true: there's no guarantee that studying a billionaire's life story is going to get you any closer to becoming a billionaire yourself. But it may just give you some fresh perspective on the attitudes, decisions, lessons, and experiences that make such a journey possible.
On this episode, we talk to Blackstone Group CEO and What It Takes: Lessons in the Pursuit of Excellence author Stephen Schwarzman about everything from learning to co-exist with a college roommate who was a literal Nazi to what wiping down grease in a Scandanavian ship's 120-degree engine room over one summer taught him about the value of earning a quick promotion. We'll also get into what he looks for when he's hiring, why he considers an atmosphere that encourages candor fundamental to a company's well-being, forecasts about the economy's future and American relations with China, and much more. Listen, learn, and enjoy!
Please Scroll Down for Featured Resources and Transcript!
Please note that some of the links on this page (books, movies, music, etc.) lead to affiliate programs for which The Jordan Harbinger Show receives compensation. It's just one of the ways we keep the lights on around here. Thank you for your support!
Sign up for Six-Minute Networking — our free networking and relationship development mini course — at jordanharbinger.com/course!
Bambee gives you a dedicated HR manager who helps you craft HR policy and understand compliance for your small business for just $99 a month! Go to bambee.com/jordan to schedule your free HR audit.
With the Ember temperature control mug, you can enjoy your coffee or tea at the perfect temperature all the time! Go to ember.com and use code JORDAN for 10 percent off of your own Ember mug!
Need custom graphics, logos, or Web design? Access a community of 600,000+ designers by registering at designcrowd.com/jordan and enjoy up to $150 off with The Jordan Harbinger Show bonus offer!
Explore the best-selling TASER Pulse+, TASER Pulse, and StrikeLight, which are packed with the same power as law-enforcement models. Go to taser.com and enter promo code JORDAN to save 15 percent!
Miss the show we did with Adam Carolla — best-selling author, comedian, actor, and host of The Adam Carolla Show? Catch up with episode 69: Adam Carolla | Why You Should Stop Trading Time for Money!
THANKS, STEPHEN SCHWARZMAN!
Click here to let Jordan know about your number one takeaway from this episode!
And if you want us to answer your questions on one of our upcoming weekly Feedback Friday episodes, drop us a line at friday@jordanharbinger.com.
Resources from This Episode:
Transcript for Stephen Schwarzman | Lessons in the Pursuit of Excellence (Episode 447)
Jordan Harbinger: Coming up on The Jordan Harbinger Show. 
[00:00:02] Stephen Schwarzman: This kind of overall environment to some degree is encouraged by people being restricted to their homes and not being able to assemble in a normal human way. It has thrown the global system off. It's affected almost every human being around the world and into this kind of environment, looking at something as big and consequential as US-China relations. It makes it a tiny bit difficult to say exactly where we're going and going when.
[00:00:39] Jordan Harbinger: Welcome to the show. I'm Jordan Harbinger. On The Jordan Harbinger Show, we decode the stories, secrets, and skills of the world's most fascinating people. If you're new to the show, we have in-depth conversations with people at the top of their game, astronauts and entrepreneurs, spies and psychologists, even the occasional a four-star general, journalists' turned poker champion, billionaire investor — and that's what we've got for you today. Each episode turns our guests — well, the billionaire investor thing, to be clear — each episode turns our guests' wisdom into practical advice that you can use to build a deeper understanding of how the world works and become a better critical thinker.
[00:01:13] Today on the show, Stephen Schwarzman of Blackstone. He is one of the wealthiest men in the world, of course, but he is also the chairman and CEO of the Blackstone Group. This is a global private equity firm established in the '80s. And he is one of the masters of leveraged buyouts, a business genius to understate things — a fabulous interview — and a deep thinker and a very, very insightful guy who spends a lot of time thinking, researching, reading. And part of that is the reason for his success. There's a lot of lessons in here, in this one. 
[00:01:42] And if you're wondering how I managed to book all of these great thinkers authors every single week, well, it's because of my network. I'm teaching you how to build your network for free over at jordanharbinger.com/course, and most of the guests on the show — they either subscribe to the course, contribute to the course, or both. So come join us, you'll be in smart company. Now, here's Stephen Schwarzman. 
[00:02:04] By the way, I read the book, I loved it. And I thought it was really interesting. And I thought that your memory for detail is great. I had to laugh cringe when you said your roommate at Yale had a Nazi flag and kept Nazi metals. That guy sounds like a real winner. What was going on there? That's so bizarre. 
[00:02:20] Stephen Schwarzman: I have no idea what was going on. His last name was German. That was pretty shocking. He put up a big Nazi flag in the living room and basically tacked it to the wall and every night, he would play a record called Hitler's marching army. And the first time that happened — you know, I didn't go to private school or I never went away for school, so I didn't know really what to expect and roommates were assigned. So I just sort of said, "This is unbelievably strange."
[00:03:06] Jordan Harbinger: Yeah.
[00:03:07] Stephen Schwarzman: But I figured, I guess this is part of some kind of odd learning experience. And I got used to it after a while. One day my mother and my grandmother—
[00:03:21] Jordan Harbinger: Oh my gosh. 
[00:03:21] Stephen Schwarzman: —decided to come up to the school to surprise me. And they walked into my room. And they saw the flag up — they missed the music, I must say — and the metals of all the iron crosses and the other types of things. And my grandmother really almost fainted because she had been alive during the Holocaust, of course. And they both looked at me and walked right out and said, "What is going on here?" I actually didn't have a completely lucid response. Sometimes in life, we get handed very awkward, difficult situations. I was 18 and I really didn't know what to do about it because I felt that all three of us in the room, each one had rights—
[00:04:13] Jordan Harbinger: Yeah. 
[00:04:14] Stephen Schwarzman: And that's how one of the people decided to assert their freedom of expression. And so it wasn't to my taste, obviously. 
[00:04:25] Jordan Harbinger: Yeah, no kidding. Did your parents and grandma think that it was your flag or did they know it was your roommates? I guess that's the question. 
[00:04:31] Stephen Schwarzman: There was no doubt about that one. 
[00:04:34] Jordan Harbinger: I can imagine. Jeez, what a weird way to start school there. You say in the book that, "It's as hard to achieve small goals as bigger ones, except larger goals have more significant consequences." That seems kind of — it's very obvious but most people don't think of that. You see people toiling their whole life at something quite small. I mean, I've put heart, soul, tons of effort into this podcast and I think a lot about it. If I'd put the same amount of effort into something that's scaled bigger or was a larger company, it wouldn't have taken me more time necessarily or more effort. It would have been the same, the impact and the reward could have been a bit greater. 
[00:05:14] Stephen Schwarzman: I've always believed in that. What's the best you can do with your energy or your talent or your time? And it works out that it's probably, maybe even easier than doing something that's smaller. Because what happens when you have something that's a pretty big vision or something that you can articulate that's a very big scale, then it's easier to recruit other people to do it with you because things that don't get too crowded. There's a lot of opportunities for others to grow and do well financially, as well as psychologically. There isn't the same kind of artificial ceiling, whether it's a glass ceiling or some other type. And if you have something that's really a very large scale. There's usually some part of that vision. That will work if you're wrong on the whole vision. So it gives you more options to be successful. 
[00:06:17] I always look at everything and try and figure out what is the scale of what we're trying to do. How consequential would this be? How big can you make it to gauge whether it's worth all the effort? Because the problem in life is if you're dedicating yourself to achieving something in an area it usually takes about 110, 120 percent of your effort. Not everybody is rooting for your success. So doing three things at once, like that is not possible. So the selection of what you're doing becomes ineffective. it becomes your life and you better be right. And so you're better off not going into battle unless you know for sure that it's going to work. 
[00:07:12] And so entrepreneurship is a bit overrated as a concept. Entrepreneurs don't like risk. They hate risk. It's only people who write about them who think they like risk. No one likes to fail. And so finding something you think is pretty much of a sure success at a large scale is where you spend your time and you will avoid these other types of things. And that way you're open for significant success. If you close yourself off, you're only hurting yourself. You're not helping yourself. 
[00:07:46] Jordan Harbinger: I think what looks like risk or intense love of risk from an entrepreneurship perspective is a lot of times people who are just well-educated or really got obsessed with a specific niche. Like you with, let's say, leveraged buyouts or something like that, it looks risky because maybe it hasn't been done before that much, or it looks new or it looks large-scale and like the consequences could ruin you, which is probably, possibly true. Other people see that as, "Oh, well, Stephen Schwarzman, he must love risk. Look at him, throw money into that." But you've done more work to figure out that it isn't as risky as people think from what it sounds like you're telling me. 
[00:08:22] Stephen Schwarzman: Yeah. Or you've seen elements of this occurring and you've thought about it and you say, "Well, I let's figure out all the things that can go wrong." And if you can control those types of aspects, then it only leaves the success if you can control the downside. And I've always thought that the most important part of being successful is going through all of those types of evaluations. Most people think success is about doing something. The actual doing of things isn't as hard, even though it's very hard as coming up with something. That feels like it's going to be pretty much a guaranteed success. And so people usually like to start doing stuff because that is involved with accomplishing something. But the issue is what are you accomplishing? Not what are you doing?
[00:09:21] Because there were a lot of different ways, I like to think, to get to an airport. So when I ask people, even though no one's going to airports anymore in the old days, you know, somebody who gives you like 18 steps in a direction, you got to remember those steps. The way I like to get directions is to point me in the direction as to where the airport is, try and give me some directions. If I forget, I know where. I have to go and I will get there. 
[00:09:53] Jordan Harbinger: First job was, or one of your first jobs was an engine wiper. It doesn't sound super glamorous. It sounds like a great adventure though. 
[00:10:00] Stephen Schwarzman: Well, I wasn't interested in being promoted in the Merchant Marine. I was interested in the adventure and so I spent a summer between my freshman and sophomore year in college. I just wanted an adventure. So I signed on a Jewish ship with the Scandinavian seamen's union. I had to join that said destination unknown. And I thought this would be really fun because I had no skills whatsoever. They put me at the lowest category of labor, which was taking a rag and being in an engine room that was about somewhere between 110 and 120 degrees, and wiping the grease that gets manufactured, if you will, created in the engine room. I'd never been in that kind of heat for sustained periods of time. I really didn't like drinking beer. I didn't like the taste, but that's what they had. So it was a Norwegian tanker and they were serving Ringnes beer. And I would drink the beers and as fast as I would drink them, you can see the moisture coming out on your arm. I mean, that's heat, but I did that for one cruise. And then I got promoted to being a third cook, which is much better. I could bake bread. It was still hot, but I didn't have to be down with the noise of the engine room. 
[00:11:30] Jordan Harbinger: What did you learn from that job that you can use — that you even use today? I mean, you're not wiping a lot of grease these days, or even probably not drinking a lot of beer to stave off the heat, but I assume you got some lessons from it.
[00:11:41] Stephen Schwarzman: Yeah. Well, what I learned is starting someplace, you'd take the grief that they give you and you look as quickly as possible to get out of that job and get into something that's better. What I also learned is being on a ship is a fascinating thing. You get the world's best sunsets and sunrises. You meet a group of people you'd never have met in your life if you were raised in the suburbs of Philadelphia, the way I was. 
[00:12:11] Jordan Harbinger: Strongly in candor in an organization, regardless of rank in that organization. And we hear that a lot about Blackstone and other financial organizations, especially at the high level or high-performance level, like where you are. Why is this so important in finance or any organization? This seems to be almost cannon now. 
[00:12:31] Stephen Schwarzman: I think it's important to be able to express what you think. We're all trying to figure out what we think is going to happen in the future. That's a tough job, regardless of what level you are at an organization if you are a smart person. The only difference between senior people and people lower in an organization is experience. That's all it is. And so sometimes you learn a lot from people at every level if they tell you what they're thinking because they're intelligent. It also makes them feel. Like they're equal because they are, they're just not as old. That's all, you can't do anything about that. You'll eventually get older. So what? It really helps build a very positive culture when you're deeply respected, authentically respected as a person 
[00:13:23] Jordan Harbinger: Now, how do you cultivate that in your subordinates? Because there are a lot of organizations that say, "Just knock on the door, it's an open-door policy.' And then when you do, people go, "Ugh, this kid keeps bothering me." Or, "You know, I'm in the middle of something," and you learn quickly that it's not really an open-door policy.
[00:13:41] Stephen Schwarzman: Well, we basically have meetings with people and we asked them to speak. They don't have a choice. They don't have to walk into some senior person's office. They have adequate and frequent opportunities to be heard. It's like being younger and being in a class where the teacher calls on you. There is for a different reason. The reason we call on people is because we really want to know what they think. It also makes them responsible as members of the organization. I am not a believer in guests at meetings, nobody needs to be a paid guest. They're contributors, and they have to view themselves in that light. They have to think things through and they have to be able to share. That's the culture.
[00:14:34] So once you have that all over, if there's really something that you see, and we tell people this if you see something ever that you think is not right, doesn't feel right, you know, we don't ever want to be in trouble. Nobody wants to be in trouble. Just, you know, let somebody know who's senior. And so this interactive open sort of approach to treat everyone as if they're a senior person gets you the kind of inclusiveness and performance that you would want. 
[00:15:12] Jordan Harbinger: Well, if everyone must have an opinion and debate, then it removes the pressure to be right. 
[00:15:17] Stephen Schwarzman: Exactly. And what happens is you get — in our investment committees, for example, if you had eight people and everybody was speaking. And you're assessing risks because you don't want to lose money for anyone. Nobody gives you money for the experience of losing it. And so you designed a system to evaluate risk to make sure you don't have bad outcomes. And the idea that everybody participates in that, you go around the table. That's great training for no matter what level you are at an organization. And so we have structures that sort of require that. 
[00:15:57] Jordan Harbinger: It's about discussion and discovery, not about getting approval from senior management. 
[00:16:02] Stephen Schwarzman: It's not about that. Because we all want the same outcome, not an approval for something that's going to be a disaster. That's not viewed as a success. In some places getting an approval is by definition, what you're trying to do. I would hope, and I believe it's true, at Blackstone what we're trying to do is get the right answer and we're all struggling with that. And it's an open inquiry and there is no sanction for your view. It's meant to be honest and open and helpful.
[00:16:36] Jordan Harbinger: You mention that you were recruiting somebody just before this. In fact, that's why we started a few minutes late. I wonder how you assess talent. In the book, you mentioned verbal and nonverbal cues. And that's my bread and butter. So I'm wondering what you're looking for. 
[00:16:50] Stephen Schwarzman: I'm typically looking for somebody who's very smart, curious, who has insight on issues, who can deal with stress, who's creative, who likes to follow different parts of a conversation. If they don't know an area, they don't freak out about it. They either will tell you, "Jeez, I don't know much about that." Or they'll ask questions to learn more. I like people who have a certain ability to deal with stress and interview situations have inherent stress in them. And somebody who's comfortable in a setting like that, it tells you that they'll probably be able to handle other kinds of stress. 
[00:17:33] Jordan Harbinger: What about somebody who's not very nice, but as super talented, that's got to be a tough decision to make. 
[00:17:38] Stephen Schwarzman: No, that's an easy decision. And the reason why it's easy is if you've ever hired those, not nice people who are very bright, you realize they basically have to be managed around. They're dysfunctional in the context of an organization that has certain core values. 
[00:17:56] Jordan Harbinger: There were many interview tips in the book and one that stood out that I loved was, "Only drop names of people that, you know, if you like and respect them because you're always being judged on your taste and friends and people." I think that's brilliant because I think we've all sort of had that experience where we go, "I know somebody there," and we mentioned them and the interviewers look at each other, either during the interview or later, and go, "We're never hiring this guy because everyone hates Jim." 
[00:18:21] Stephen Schwarzman: Well, maybe they hate Jim for a reason, not because they hate him because he's really a detestable person. And if he's your friend or your reference point, or you don't say I've met him once at a party or some other setting, then people think that your values and his values are somewhat overlapping and you have to make clear how you know someone. 
[00:18:47] Jordan Harbinger: Yeah, I think that that's important. How do you do that without sounding name-droppy? Or does it not matter? 
[00:18:53] Stephen Schwarzman: Well, it doesn't matter. I mean, let's pretend that you were interviewing someplace and you say, "You know, I've read a lot about the firm. I've been following you for years. I really don't know anybody here. I've met so-and-so once, but you know, I'm really anxious to learn what you're doing." So they know you've met someone. If you say you met them once, it's not a big deal. If you see that person every weekend, that's a big deal. So you just have to — it's an informing moment for people who are interviewing you. You're basically using another person to validate something either your values, their values, their engagement with the organization. You should just be clear about what the relationship is. They may say, "He's like one of our superstars." And then you would say, "I really like them. I don't know exactly what he was doing because he's discreet about what he does, but he's super smart. You know, he's easy to be with. We've had lunch three times or something," or whatever it is. It's just information.
[00:19:58] Jordan Harbinger: Deals come down to just a few important points on each side. You mentioned that when you're talking about negotiating deals, especially some of the ultra-large deals that you've done. It comes down to just a few important points for each side. The rest just usually falls away. How do you find out which of those points are for each side? What those important key crux takeaways are for each side. Is it just a matter of asking? That seems like the obvious solution, but what happens if people are hiding their cards a little? 
[00:20:25] Stephen Schwarzman: Well, when in doubt, always ask. On your own side, you should know what's important. That's not a hard one. You know, why are you doing this? How much do you like it? How important is it to do something at this time? What kind of price makes sense? And so if you're worried about the risk of something, then there are usually two or three key drivers of that risk. And those are the things you spend your time debating, you don't debate all 10 things that might go wrong because if some of them go wrong, it may not have much impact anyhow. To me, it's pretty easy to figure out what can damage you the most or on the other side, make things work the best. And if you pick off the top few you can make your life a lot simpler than thoroughly. 
[00:21:23] There are certain cultures in the world where we'll get a memo from them. That would be three times as long as an American will write. They will have every possible risk. They will have a discussion of it. And by the time, you've finished that memo, you don't even remember what's really important anymore. That's the way certain cultures approach thoroughness. I'm not as interested in thoroughness per se. I don't mind seeing all 10 of those listed, but jeez, the top three will probably take care of 70 or 80 percent of the risks. That's enough.
[00:22:01] Jordan Harbinger: You're listening to The Jordan Harbinger Show with our guest Stephen Schwarzman. We'll be right back. 
[00:22:05] This episode is sponsored in part by Ember. I love this device. As soon as I saw it, I knew I had to have it. This is a mug that keeps your tea or coffee at the perfect temperature for hours and hours and hours. It is so nice to drink an entire mug of whatever at the perfect temperature. My attention gets pulled to something else for half an hour, which happens all the time as you might imagine. No problem. I'm still at the perfect temperature when I come back 30, 45 minutes later. You can scald the crap out of your mouth all you want, which is what I was doing in years past. I had to buy a thermometer that I would stick in my drinks and then forget that it was there. And that it's too cold — you know, the drill. Ember has an app, which is really customizable, easy to use. You can save target temperatures for different beverages and it will shut off, of course, when the mug is empty. Turn on again, once you pick it up. The app even has a built-in tea timer, and it's got a battery that you can recharge on this charging coaster. And I think it's a great gift. I've been gifting this for a while here. Don't pay full retail. Jen, tell them where they can get a little deal on Ember.
[00:23:05] Jen Harbinger: Ember is the must-have gift of the season. Use our code Jordan for 10 percent off at ember.com. Order early for holiday delivery. 
[00:23:12] Jordan Harbinger: This episode is also sponsored by Design Crowd. If you are anything like me, you have no idea how to come up with a quality logo, any kind of creative design, or anything. That's where the Design Crowd comes in. They are a website with more than half a million designers around the world. They'll help you solve your creative problem. Why go with one designer? You can tap into a community of over 750,000-plus designers with a money-back guarantee. You post a brief describing what you need, whether it's a t-shirt or a business card or anything like that. 750,000 designers submit their spec. And within hours, you receive your first design. You might over a week get like 60, 100 different designs from designers around the world. Select the ones like rate. You can have your friends vote on which ones you like the best. And then you approve the designer. You get sent all the design files, easy peasy. 
[00:24:00] Jen Harbinger: Check out designcrowd.com/jordan. That's D-E-S-I-G-N-C-R-O-W-D.com/jordan to save $150 on your next project or enter code JORDAN when posting a project. 
[00:24:12] Jordan Harbinger: Now back to Stephen Schwarzman on The Jordan Harbinger Show. 
[00:24:18] Yeah. Yeah, of course, you said the best way to get what you want from someone is to figure out what's going on in the mind of the person who has it. That's sort of maybe inverse of that, I guess. I think that's brilliant in a way, of course. Again, the simple way to do that is to just ask. What would I do? Or what would I want if I were in their shoes? Are there ways that you test those assumptions because you could be wrong and then you're running headlong into something that's not really that important to them?
[00:24:44] Stephen Schwarzman: That's true. And first, you have to imagine being them, in their position — if you're in a negotiation, what are they doing there and why aren't they at home doing something else? They're there for a reason they want to either sell something or have a partnership with someone and what else is important to them, if it's simple, then the question is what's the price. You know, establish that in two ways, either you can ask them what price they want or you can offer something. And if you offer something, they will respond. They'll either say, "That's interesting." Or, they'll say, "That's much too low." And then you'll say something inspired like, "Well, what's on your mind?" And they'll give you an idea. Now, you don't know if that's sincere or insincere in terms of what they're asking for.
[00:25:42] But when you go into any discussion, you have to have an idea of what you think is fair for both sides. In other words, what's the range of where you might be a buyer and you have to really ask them what their view is. If they come in and double what you think is fair. Then you say, "Are you really serious about that?" And if they say, "Yes," and you say, "Well, thank goodness, this is a really short meeting. Goodbye." There's no overlap. You're looking to be in what I call the zone of fairness, where they would transact. They might not be so happy and you might transact. You won't be so happy. It may be a little higher than what you were hoping, but your objective is to get to that overlap.
[00:26:30] If there is never going to be an overlap, then you should just like, say, "I don't think we're ever going to get in this same zone," and they'll say, "What do you mean? I'm here. What's on your mind?" And then you might go halfway to where your top price is. And if they say, "That's just not even vaguely close." Then, you both know this is sort of going to fail and you say, "Well, is there any way you could get near this?" And they'll say, "No," or, they'll say, "Look, I might be able to go down to X." And if it's still really far away, you say, "Look, I'm just about out. I might be able to do a little more." And the other guys say, "Well, a little more doesn't do anything for me." And you say, "It's nice to meet you." 
[00:27:18] Because the objective is to figure out my view always where you are compared to what they want as soon as practically possible so that people aren't wasting their time. Usually, the other side end of the discussion has a pretty good idea of what they want. And they'll mostly tell you, sometimes you have to go back a few times. Sometimes there's a little bit of drama and somebody walks out. You let them walk and then somebody will call somebody in a few days and say, "Are you happy you walked away?" And if they say, "Yes, I'm totally happy." You say, "Well, it was a pleasure meeting you." If they say, "Well, you know, we're thinking about it. You guys were just too hard." And you said, "Well, we thought we're okay. Is there some place where you think we could transact?" And they'll say, "Well, if you can get to X, we could do something." And you say, "I can't. It just doesn't work." And they'll say, "Okay." And that's the end. Otherwise, they'll tell you something different. 
[00:28:26] I've never found this to be a very challenging thing. I have a friend of mine, who's a professor at Harvard and he wrote me a note and he's a professor whose specialty is negotiation. And he said, "I've written books on this." I said, "Really? This is pretty easy stuff." He said, "Well, it's easy for you." I said, "Well, why is it easy for me?" He said, "Well, you know all these rules." I said, "That's because you're just trying to be sensible. You have to know what your side wants and you have to find out what the other side wants." Don't tell you eventually, because they're there to do something if there's something that can be done. I don't view this as stressful. And it doesn't much matter who goes first. People spend all their time saying, "Should we go first? Should they go first?' You know, you sort of look at them and you figure it out.
[00:29:22] You know, if they're just sitting there like a bunch of wooden soldiers, you say, "Jeez, you guys seem a little tense. What's up over there. We're here to try and figure out if we can do something. Do you have something on your mind?" At which point then, of course, they actually have to start talking. 
[00:29:44] Jordan Harbinger: I think that might come from your thoughts around being candid and transparent. Because I think a lot of people go into negotiations going, "Okay, they go first. And then that anchors the price. And then we come in 20 percent higher and then we pretend like we're not interested and we back up and then they chase us, which causes them to go down 10 percent." And you're thinking, "This is what I can afford to pay for CSX and anything outside of this window doesn't really make sense for us." And then somebody who's game is hiding the ball and using psychological manipulation just goes, "Shoot. Well, there goes all of our little tricks. Doing them now doesn't make a lot of sense. We already know what he wants, and he's just asking if we can pay for it or vice versa." 
[00:30:20] Stephen Schwarzman: Right. And you don't have to go to your maximum price in four minutes because you're an impatient person, but you have to recognize that there's only so high you can go. And if they're really way away from it, say yourself, the agony, both sides. And, you know, eventually, they'll get to where you are. You, you have to sense them as people. Do they look like they're open, transparent people? Or are they sort of difficult? And so, you know, they're difficult and you look at them and you go, "Boy, these are disagreeable, difficult people. I think I shouldn't go as high as I might have because they look like they want to do this. Just because they want to try and torture me. So let's torture them." So you go up in smaller increments and it's really a function of how they sound and how they look and how they conduct themselves. They determine what you're going to do by being disagreeable, nasty pieces of work.
[00:31:26] Jordan Harbinger: What about salary negotiations, for example, inside Blackstone — I mean, do people come and say, "Here's what I want. This is the number I want." Or is it a little bit more — I want to say gamified, but are you as transparent when it comes to internal negotiations as external? 
[00:31:40] Stephen Schwarzman: Well, I think with compensation — fortunately, I don't do that anymore. I've sort of placed out of that, which I guess is what happens if you do this for 50 years, somebody else does that. But basically, we have certain arrangements for compensation for different functions. And we also grade everyone in the organization. We have what's called 360-degree reviews. And what that means is you usually have about 30 people grading you, people who are subordinates, people who are peers, and people to whom you report. And you get graded on a scale of either one to five or one to 10 on about 30 different characteristics. So what happens is by the time we tabulate all this stuff, we know how good you actually are. Your view of who you are — if it's a great variance with 30 other people, that's a problem because you haven't made your sale to anyone. And that's a big problem. 
[00:32:48] We want everybody to be successful and we hire very good people. So the idea that somebody can come in and say, "I'm worth X." When you have this — not personal attitude towards the individual, the way most organizations work — if you have 30 people saying, "This person is pretty good at this, but they're not so good at that," basically, you're going to give the person feedback on how they can get better. That's the purpose of this. If they come in and say, "Well, half of the people I work with disagree with me, but only I'm right. And they're all wrong." This is usually not a good conversation because it's hard to imagine all these people who are right about everybody else are wrong in just this one case.
[00:33:39] Occasionally, we get somebody who doesn't like somebody and they write something negative. It's all anonymous anyhow. And you disregard that because, you know, they've had some run-in with them. So the objective is to be fair and to help people improve. If they say, "Well, you know, what you're paying the organization is completely off-market." Then you go and you check to see whether that person was correct and whether we are off-market or if we are, and then we will adjust because that would be unfair.
[00:34:14] Jordan Harbinger: I've read that you've paid banks back when deals went bad, even though you didn't have to. I assume you're not just being nice. Right? What's going on there? 
[00:34:21] Stephen Schwarzman: Well, Blackstone, we're the biggest fee payer in the world to the financial community. We're very big. And so we like people who work with us and in effect favor us because we do a lot of business, we want to be fair and generous to them. We don't want to punish somebody. If we make a decision that turns out to be wrong. That's our fault, not their fault, 
[00:34:48] Jordan Harbinger: So essentially making sure that they're made whole because well — is it cheaper to take the hit short term and that versus trying to rebuild the trust with a bank or another institution after saying, "Hey, we can't pay you because this has," and leaving them hanging. In other words, is access to credit and cash — is that equal to speed in the industry, which equals opportunity, which equals profit? And so you don't want to have your lenders go, "Well, maybe we shouldn't give Blackstone as much as before, because they didn't pay us for 90 days because they ran into trouble last time. Or they stiffed us last time." 
[00:35:20] Stephen Schwarzman: This is sort of an alien discussion to me because that's not what we do. That's not the way things work. If we say we're going to do something, we always do it. These are very long-term relationships. Every once in a while, there is some kind of screw up, very infrequent, but it happens. And then you have to realize something went wrong. And what you invariably do is you have to deal with somebody higher in the organization on their side and explain what happened. They will go and then check it and say, "You're right. We dropped a ball here or whatever. And you know, we're going to settle it out like this. Does that make you happy? It either makes you happy or it doesn't." So that's the way you usually deal with, we're not a one-time visitor. We're a very frequent user of a relatively small number of institutions in the world. And so every once in a while, if there's a drop ball or we can drop a ball ourselves. You know, you have to be open and honest about that. 
[00:36:31] Jordan Harbinger: I think that's admirable. I mean, a lot of people would not do that. They would say, "Well, this is what, this, what it says on the paper, so this is the way we're going to handle it." But in the book, you mentioned that sometimes contracts deals need to be modified despite what's on the paper to keep everyone whole and to keep things fair. And that's the long game that you're talking about playing, correct? 
[00:36:51] Stephen Schwarzman: Yeah. Well, you got to play the long game if you want to be around for a long time. If you want to be around for a short time to play a short game, part of playing the long game is selecting people or institutions you want to be with for the long term and make that very clear that that's your objective. And people will deal with you that way, or if they decide not to, you remind them — you know, this has happened once or twice in my career, or usually it's because they're scared or they're under pressure, they treat you wrong. And then what you do with that, you say, "You know, you realize you're basically violating the trust that we have." And this only happens a few times in your career and they say, "Yeah, that's right. We don't care." And you say, "Okay." And at which point you shift business away from them, which they know is going to happen, they don't care. There's something going on there. Sometimes it's a personnel issue. Sometimes it's a regulatory issue. Something that they are not disclosing to you. They'll declare, "Yes, we're doing you wrong, and you go, "Wow, that's pretty breathtaking. We would never think of doing that to you. And they say, "Well, get over it."
[00:38:12] Jordan Harbinger: And that's the end of that, right? 
[00:38:14] Stephen Schwarzman: That's a very painful discussion for them to have because they know there will be consequences to that. Not because you're like an evildoer, it's because who would tell you that when you don't behave that way to them. You know as long as you're always open as to what's going on, you can usually work things out, unless something's wrong with them or the person you're dealing with. And then you often go over that person to make sure it's the institution's speaking, not an individual. 
[00:38:47] Jordan Harbinger: After the economic crash, we recapitalized the banks. After that, you gave a talk and I think it was in Munich where you said, "Hey, the crash is over. We're not worried about it. Decisions have been made, we're going to recover properly." It's October 2020 right now, depending on when you're listening, but this is one we're recording it — how do you feel about our economy and our recession and our recovery right now? 
[00:39:07] Stephen Schwarzman: Well, this is much different than the financial crisis. Financial crisis has very much affected financial institutions and the problems with financial institutions then rolled into the real economy. This is a completely unique set of circumstances where the governments around the world have basically told their businesses to more or less stop functioning. That's never happened. And so it had nothing to do with financial institutions. In fact, the financial institutions, globally, are in a quite good shape, unlike in 2008, when you have the financial institutions in real danger. And so this crisis is about the real economy and it's about health issues and the health issues are not solved even though the treatment of COVID 19 has improved dramatically. The number of deaths per case is much, much lower. We're in the process of learning how to treat patients better, which has gone quite far. We're in the process of developing a vaccine. We're in the process of developing antivirals. And we're in the process of developing plasma with antigens. All of which can be marshaled along with steroids to treat patients much quicker, with much greater efficacy.
[00:40:33] And these improvements will continue. We will probably have a whole variety of different vaccines in 2021. And by the end of 2021, we will have a much, much different global attitude towards the virus and many, many more people going back to work. In the interim, however, you want to look at it, given where we are that day, that week, that month, we'll have volatility, we'll have a slow improvement in the economy until the health issues really snap into a much greater solution. 
[00:41:17] Jordan Harbinger: This is The Jordan Harbinger Show with our guest Stephen Schwarzman. We'll be right back. 
[00:41:22] This episode is sponsored in part by Axon. You all might remember the Gavin de Becker episode of The Jordan Harbinger Show. Never go to the secondary location. If you heard the kidnap stories, you know, that is definitely the way to stay safe. Ideally, you don't get kidnapped in the first place. But as a parent, of course, we worry about our family every time they walk out the front door, you want to give people the tools they need to protect themselves and give them safer self-defense with Taser. Now, these are — you've all heard of Tasers, right? There's a line of non-lethal self-protection devices. They're small. They're lightweight enough to carry with you in the glove box, your purse. They're powerful enough to incapacitate an attacker and they use an electrical charge to immobilize attackers for up to 30 seconds, allowing you time to escape. And it's pretty cool. The one they sent me here, it sends an emergency dispatch to your GPS location when you pull the trigger. So people know — the police anyway — know where you are and that you need help. More than 237,000 lives have been saved with the Taser network of devices, apps, and personnel. And now you can own a Taser. The number one choice of law enforcement agencies. Jen. 
[00:42:27] Jen Harbinger: Taser is available without a permit in most US States. Get the Taser Pulse+ or Taser StrikeLight at taser.com with promo code JORDAN. Save 15 percent now at taser.com code JORDAN, T-A-S-E-R.com, promo code JORDAN. Restrictions apply. See site for details. 
[00:42:46] Jordan Harbinger: This episode is also sponsored by Bambee. When running a business, HR issues can kill you. I actually know a few people that have been just sunk by wrongful termination suits, minimum wage, requirements gone wrong. Labor regulations gone wrong. And HR manager salaries are not cheap. They average about $70,000 a year. Bambee spelled B-A-M-B-E-E. I know what you were thinking of before, but no — was created specifically for small businesses. You can get a dedicated HR manager, craft HR policy, maintain your compliance for $99 a month to save you from — trust me, lawsuits, they're going to be more than 99 bucks a month. That's more like 99 bucks a month for the entire rest of your life if you get sued. With Bambee, you can change HR from your biggest liability to one of your strengths. Your manager is available by phone, email, real-time chat. And again, it's dedicated, not some rando at a call center. It's the same person who knows your business. It's month to month. No hidden fees. Cancel anytime. 
[00:43:41] Jen Harbinger: Go to bambee.com/jordan right now to schedule your free HR audit. That's bambee.com/jordan, B-A-M-B-E-E.com/jordan 
[00:43:51] Jordan Harbinger: Thanks so much for listening to the show and for supporting the show. You know, if you buy things from the sponsors, that's what keeps the lights on around here. All of those links, by the way, all those discount codes and everything you hear in the sponsor breaks for the show, they can be found at jordanharbinger.com/deals. Please do consider supporting those who support us. Everything's listed there. If you have a problem with it, reach out to me. I want to fix it because I need those things to work that, you know, we can keep feeding the kids. And don't forget, we've got worksheets for today's episode. That link is in the show notes at jordanharbinger.com/podcast. Now for the conclusion of our episode with Stephen Schwarzman.
[00:44:29] You've got a front-row seat for economic conflict, trade war with China. I'm wondering what you think we would expect or should expect to play out here. I know you're very involved with China and work a lot in China, so I'm very, very curious what you think given your — you've got courtside seats.
[00:44:46] Stephen Schwarzman: Oh, we've got courtside seats. It's unclear whether there's a lid, somebody put on the baskets, whether you have five players on the field for each team and it's a time of uncertainty between China and the US there are a lot of reasons for that. The pandemic, which started in China, has created all kinds of complex attitudes in the West towards China and how it handled the virus initially. And the fact that the virus has infected almost the entire world and changed economies and people's lives. It has made individuals rather than governments extremely unhappy. And to some degree, China has been a target as a result of that. And we're also seeing, particularly in the United States, all kinds of odd behavior going on, on the run-up to the US elections, issues of social justice and demonstrations and violence and looting and arson and attitudes that are highly emotional. Certain conclusions that get reached, that don't make a lot of sense, but people or committed to them on different sides of an issue. And this kind of overall environment, which was, I think to some degree, encouraged by people being restricted to their homes and not being able to assemble in a normal human way. That has a strong global system off. 
[00:46:28] It's affected almost every human being around the world and into this kind of environment, looking at something as big and consequential as US-China relations makes it a tiny bit difficult to say exactly where we're going and going when. It's pretty clear that these two countries dominate the global economy. They comprise somewhere between, depending upon which numbers you use, 35 and 40 percent of the entire world's economy, two countries. There are over 200 countries and these two are so big and they have different political systems. They have different types of economic systems. And so their overlap isn't political. It's on individual types of issues, whether it's economic, whether it's climate, whether it's military, whether it's computer science. How did these things fit between these two different countries? 
[00:47:31] And we're going through an evolution on those because some of those areas are changing very rapidly themselves. And you have the internal politics of both US and China, which are becoming very contested. Not just between the US and China, but within each country. And so I think not to avoid your question in any way, but I think we're going to have to wait a bit for the world to normalize before we come to a conclusion of how US-China relations are going to be right now. Almost every country still has locked borders. Imagine this! It's incomprehensible. And so trying to say, "Well, how's this all going to work out?" The answer is it will. It will take some time. It will take the opening of borders. It will take resumption of some type of normal interaction, whatever normal means. And for the short term, none of that is going to happen. And so we will remain in a contested kind of unsettled situation. But if you look out two years, economies will be much more back to normal. 
[00:48:52] China already, this year, is going to grow two percent, the only big country in the world. That's going to have positive growth. It'll probably have its growth up to five to six percent again in 2021. You know, they're ahead of us because of their form of government and how they can force compliance with pandemic restrictions. In a democracy, everybody apparently makes their own law, each person. And you can't make them do much of anything, which also makes it difficult to recover as fast. So I think we have to put your question a bit on suspension for at least the next year to two years. And then we will start seeing how these two giant countries find a way to better live with each other.  
[00:49:49] Jordan Harbinger: This is a complicated question. There's probably no answer, but I'm going to ask anyway. Do you think that given China's ability to force pandemic restrictions for economic policy control, things like currency and markets, do you find that in some ways superior to what we have here in our democracy and free markets? Or is that just a coincidence and a unique case that we see with China? 
[00:50:12] Stephen Schwarzman: Well, it works in uncertain times where you need unified approaches. I mean, some element of this happened in South Korea and Taiwan, where they dealt exceptionally well with the pandemic because their people responded when their governments told them you will do this. They had tracing and other types of things, everybody didn't have the option of not paying attention. And then, they mastered it too. Their forms of government are different than China, but overall, you know, a command control country politically is well suited for certain types of mandatory compliance in a medical pandemic. Those are good characteristics, not necessarily for all things in life. 
[00:51:05] And if you notice, the total population of the US and Europe is probably about 700 million half the size of China. If you look at the number of vaccines that are going to be developed in the US and Europe, China will have a few, but the countries that are half the size of China will have many, many, many more. And so when you say, how do you measure what's a better system in terms of this, the idea that the smaller countries, US and Europe together, will come up with many, many more medical innovations is a sign that the democratic forum innovation isn't so bad. 
[00:51:47] Jordan Harbinger: Yeah. I would agree with you there. I know you talk a lot about China and Thucydides trap, essentially will these two great powers start to increase friction and possibly end up in a conflict, whether that's economic or actual war. It does seem like China wants to actually collaborate and they want a safe and prosperous future. But on the other hand, people like Trump, Biden, General Spalding, Lieutenant General H.R. McMaster, all seem to agree that China maybe wants to collaborate a little bit less and maybe wants to export their influence and even authoritarianism to the rest of the world. I'm wondering what you, 
[00:52:22] Stephen Schwarzman: I think it's complicated. China believes it's a poor country. Their income per person is around $10,500. In the US, for example, the average per person is around $64,000. So we're like six times richer per person. And they look at that and they say, they're poor. We look at the fact that the Chinese economy is growing almost to the size of ours. And we say, they're rich. So when you start out from the perspective that one group thinks they're poor and we think they're rich, you can see if they're going to be a lot of subsequent sort of logical disagreements. Now, some of the things that China does are not congruent with our values. They don't much care about that. They think they're doing the right thing. We think that's not true. And so that's the source of a lot of these issues, whether they involve cyber or espionage or things of that type. We don't know in the United States what we do anywhere in the world, in those areas. Actually, I don't, I don't have classification. We do see elements of China. We don't like it. And that creates a sort of response from our leaders. In trade, they have not been as open as we have been. US has been the most open in the world historically since World War II at any rate, not historically, just since World War II. And China, like a developing country, has hidden behind normal restrictions and terror falls to develop their own country.
[00:54:09] Part of what's going on is our conclusion. In the United States, you've had enough of that. You don't need to be protected anymore. Come on, open up, let's treat each other as equals. So that debate is handled differently in each country. And so there's some genuine disagreements. There are also areas of commonality, which are mostly not being paid attention to now because of where the two countries have evolved. I'm convinced longer term China wants to integrate into the world. That doesn't mean that China wants to be an American or European style democracy. They don't. And you know, wishing that that was the case is not going to make it the case. For a productive longer term relationship, I think we're going to have to find the areas that are in common that help the world like climate and some other areas. And over time, most countries will accommodate to each other's systems. Both will change, I believe. I can't tell you exactly what date that will start to happen.
[00:55:26] Jordan Harbinger: On a different note here, you predicted that online shopping would increase demand for warehouses. So you bought loads of warehouses. Now the most valuable arm of the business in Blackstone is, I believe, at least according to the book at the time, warehousing. How do you think about these opportunities? Do you look where demand is going and then maybe work backwards to find the necessary ingredients of a future industry? I'm trying to figure out how you plot this on a storyboard and then go, "Aha, they're going to need lots of places to store these goods," or am I overthinking it here? 
[00:55:57] Stephen Schwarzman: Well, no, you're exactly right. I don't know about overthinking. Basically, you see a trend of some type and there are a lot of different ways that you could play that. If you were a computer scientist, you would play one way. If you were in the real estate business, you're not a computer scientist, you would play it in another way. It's the same trend. So for example, if you have a firm belief that online shopping is going to grow, which we had started around 2011. One way to play it if you were in the real estate business, which is one of our four major businesses, you'd realize you shouldn't go long-term real estate shopping malls, you should be on the side of online shopping unless there were some exceptions to physical space. So we bought a billion square feet of warehouses and you don't have to know whether that's a lot or a little, it sounds like a lot.
[00:56:59] And the answer is, it's huge. I think we're like the second biggest in the world in some markets, the biggest. So the value of those warehouses kept going up and up and the value of shopping malls kept going down and down and down. When we looked at the life science stuff, biology, drugs, healthcare, you could see that with the population getting older, that was going to be a good business along with the percentage advancing the total knowledge of biological science, just like exploding with growth. So we went and started buying medical laboratories, life science research laboratories. And even though office buildings now are going down in value. The ones we own are rapidly going up, everybody pays the rent. We were in a pandemic, but it was happening before the pandemic. Because we're in the right place. We also went into the business of doing medical trials and we made that decision two years ago. Now, of course, all you see on television or stage three trials by you name the company looking for a vaccine, so we're perfectly positioned for that. 
[00:58:19] When you look at an area and you say a simple way to describe this for people watching the podcast. We call them good neighborhoods. Good things are going to happen to you in a good neighborhood. You can have a lot of different houses in that good neighborhood. There is no one house that has to be the only house, but you want to be in that neighborhood if you can. And so we spend time doing that and things tend to work extremely well for you if you stick to that kind of approach. And if you're willing to be in any neighborhood sometimes by accident, you can find yourself in a bad neighborhood and things don't necessarily work out. 
[00:59:02] Jordan Harbinger: Like shopping malls, bad neighborhood 
[00:59:04] Stephen Schwarzman: Like shopping malls, yes, like shopping malls or almost any retail. Physical retailers now are struggling. Not all but most and if you don't adapt to online, you will have an extremely difficult future. 
[00:59:21] Jordan Harbinger: In closing here, because I know your time is precious and I'm very thankful that you've put up, not only with my questioning but also the tech glitches here and there. I know that you've donated well over a billion dollars and that was a time of publishing. It could be twice that by now. What do I know? You're still young in my opinion, but I wonder if you've given any thought to those pledges where you donate the majority of your wealth or you put it all in a fund and it sort of lives on after you do. What's in the cards for you?
[00:59:49] Stephen Schwarzman: Yeah, I did one of those actually with Bill Gates and Warren Buffet. I've pledged to give away at least half of what I have for philanthropic things. I think there'll be a bunch higher than that. And, you know, that's a good thing. I started as just like a middle-class person and I was getting paid 10 cents an hour by my grandfather. And I asked him for a raise and he said, "Steve, you're not worth that 10 cents. I'm just doing it because you're my grandson." So that's where I started and it's worked out well for me. I reached the point where — actually, it's hard to imagine because I'm not much different than anyone else except financially. So I have a lot of income. And so when that happens, you sort of look and say, "Okay, my family will be provided for and so forth. Well, what do you do with this?" And if you create a really remarkable business, whether you create an Amazon or Microsoft or Apple or somebody creates these things. So you own a bunch and so it becomes worth a bunch. Basically, it's not about you. You have to in effect, recycle this for the benefit of society. And that's part of what you do. That's part of being a moral person. It's part of being part of society. 
[01:01:17] And so the only issue was, how do you do it? What interests you? What would be good for the world? Everybody has their own judgments on that. And you go about doing it. And after you pass away, the money doesn't all disappear. Some of it does for taxes. And so you, you leave that interesting debate. Some people say, "I want to live that forever." Other people like Mike Bloomberg, for example, "I want all this stuff to go away in 10 years, just give it all away." So Mike's probably got the better part of that argument because as he says, nobody will remember who I was and even my trustees they'll start dying or leaving. And, you know, there'll be strangers giving money away, who knows who they are. And so there are a number of different ways to handle that. But we all have an endpoint as human beings physically. And we have to be thoughtful about making sure that the things that happen to us, which were favorable financially benefit others in society. That's at least my view. I don't think they're thoughtful and, at least, in my case appropriate. 
[01:02:34] Jordan Harbinger: Well, this has been in a very thoughtful interview and I really appreciate your time as does everyone listening and watching. Thank you very much. I really, really appreciate it. Very, very enlightening. 
[01:02:46] We've got a trailer of our interview with the one and only Adam Corolla like you've never heard him before. Check out episode 69 right here on The Jordan Harbinger Show. 
[01:02:55] Adam Carolla: There's a kind of sad reality of the blue-collar world and mentality, which is you get paid to physically do things. There's a very straight line on how to make money. That world never pauses and goes, "Who are you? And what are your ideas?" And what about all these other people that are composing songs or writing the theme song to The Tonight Show, and going to the mailbox and getting a royalty check. Or this guy wrote a movie. At some point, you just buy into that program. "Shut your mouth, pick up that shovel, and get going." 
[01:03:35] Jordan Harbinger: What sort of triggered that for you? What sort of went, "You know what? Screw this. I'm not trading time for money. I have to figure something else out." 
[01:03:42] Adam Carolla: I sat around, and I've sat around and I went, "What are you good at?" And the answer was common. 
[01:03:50] Jordan Harbinger: Podcasting is obviously on the way up. How did you spot an opportunity there and go, "You know what? This is safer or better or more liquidity bet"? 
[01:03:58] Adam Carolla: When I was doing morning radio, the program director would go, "We need to get our ratings up in LA. We're fifth in LA, "or whatever. And then some other guy would come in and he'd go, "You guys had 16 million minutes of streaming last month." Then the program director comes back in and goes, "You guys got to get your shit together." And I'd go. "Hey, we have 16 million minutes of streaming," and he'd go like, "So who cares? You're fifth in LA." And he just walked out of the studio. And I remember just sort of looking around going, "I don't know."
[01:04:33] Jordan Harbinger: That seems good.
[01:04:34] Adam Carolla: It seems good. Then I got fired and my buddy said, "Do a podcast," and I was like, "Let's just do it." 
[01:04:44] Jordan Harbinger: For more with Adam Corolla, including why the trading time for money as a losing proposition and how we can break the cycle and how to tell if we're doing something for ourselves or doing something based on pressure from others, check out episode 69 right here on The Jordan Harbinger Show.
Sign up to receive email updates
Enter your name and email address below and I'll send you periodic updates about the podcast.