Reading Time:
4
minutes
Srdja Popovic (@SrdjaPopovic) is the author of Blueprint for Revolution: How to Use Rice Pudding, Lego Men, and Other Nonviolent Techniques to Galvanize Communities, Overthrow Dictators, or Simply Change the World.
What We Discuss with Srdja Popovic:
What do revolutions and businesses have in common?
Why nonviolence is more popular — and more effective — than violence.
Why there are no charismatic leaders in the most successful revolutions.
How to make a revolution cool by using comedy.
How was '90s Serbia like Middle Earth in the Third Age of The Lord of The Rings (Hobbits and all)?
And much more…
Like this show? Please leave us a review here — even one sentence helps! Consider including your Twitter handle so we can thank you personally!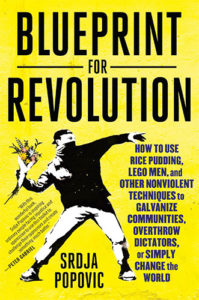 Revolution is a lot like business. The only real difference is that, instead of trying to get people to flock en masse to your product or service, you're rallying them to support your political stance — or at least upset the intolerable status quo. There are techniques that work, and techniques that don't.
Today's guest is Srdja Popovic, author of Blueprint for Revolution: How to Use Rice Pudding, Lego Men, and Other Nonviolent Techniques to Galvanize Communities, Overthrow Dictators, or Simply Change the World. On this episode, he'll tell us about the psychology behind successful nonviolent activism — used to great effect in the ousting of Serbian dictator Slobodan Milosevic in 2000 — and what Occupy Wall Street could have done differently.
Listen to this episode of The Jordan Harbinger Show to learn more about why the Hobbits of Otpor! chose nonviolent resistance against a very violent regime, the three principles of a successful revolution, why nonviolent ways of protesting are twice as effective as violent protest, how to get people involved in resistance, how to make revolution fun (protestival), what Srdja learned from Harvey Milk about beating the odds, how Otpor! used branding instead of figureheads to make revolution not only cool, but unstoppable, the place of humor in revolution (laughtivism), how revolution in the 21st century differs from revolution in the 20th century, and lots more. Listen, learn, and enjoy!
Please Scroll Down for Featured Resources and Transcript!
Please note that some of the links on this page (books, movies, music, etc.) lead to affiliate programs for which The Jordan Harbinger Show receives compensation. It's just one of the ways we keep the lights on around here. Thank you for your support!
Sign up for Six-Minute Networking — our free networking and relationship development mini course — at jordanharbinger.com/course!
BiOptimizers Magnesium Breakthrough will help you beat stress, get fit, sleep better, and recover faster. Go to magbreakthrough.com/jordan and use code JORDAN10 to try it for 10% off the regular price — it comes with a 100% money back guarantee if you're not satisfied!
Better Help offers affordable, online counseling at your convenience. If you're coping with depression, stress, anxiety, addiction, or any number of issues, you're not alone. Talk with a licensed professional therapist for 10 percent off your first month at betterhelp.com/jordan!
Vuori is built to move and sweat and yet designed with a West Coast aesthetic that transitions effortlessly into everyday life. Go to vuoriclothing.com/jordan and use code JORDAN-APR20 at checkout for 20% off your first purchase, free shipping on US orders over $75, and free returns!
Blue Moon Belgian White is refreshing for the palate of the sophisticated beer aficionado without succumbing to snobbery. Not sure if it's available in your area? get.bluemoonbeer.com allows you to find local stores that carry Blue Moon or have it delivered in under three hours!
Missed our conversation with Daniel Pink in which we discussed the psychology, biology, and economics behind scheduling for optimal effect (including sleep) — and why your ideal time to get something done may widely differ from someone else's? Catch up with episode 63: Daniel Pink | When Is the Best Time to Get Things Done?
Microsoft Teams lets you bring everyone together in one space, collaborate, draw live, share, and build ideas with everyone on the same page and makes sure more of your team is seen and heard with up to 49 people on screen at once. Check out microsoft.com/teams for more info!
THANKS, SRDJA POPOVIC!
If you enjoyed this session with Srdja Popovic, let him know by clicking on the link below and sending him a quick shout out at Twitter:
Click here to thank Srdja Popovic at Twitter!
Click here to let Jordan know about your number one takeaway from this episode!
And if you want us to answer your questions on one of our upcoming weekly Feedback Friday episodes, drop us a line at friday@jordanharbinger.com.
Resources from This Episode:
Transcript for Srdja Popovic | Blueprint for Revolution (Episode 448)
Jordan Harbinger: Coming up on The Jordan Harbinger Show.
[00:00:02] Srdja Popovic: My grandma would go in. She was in her 70s. She could never go on the street and demonstrate because if the police hits in, she will break an ankle. She was on her window. She was hitting her pot. That she was cooking soup for me a day before. So everybody was involved. So you will look at the tactics which are low risk, dispersive. Everybody can participate and very, very important — everybody can get away with it. Because if people get away with it and feel fun and feel good about doing something for their purpose, they're very likely to participate in your movement in the future.
[00:00:40] Jordan Harbinger: Welcome to the show. I'm Jordan Harbinger. On The Jordan Harbinger Show, we decode the stories, secrets, and skills of the world's most fascinating people. If you're new to this show, we have in-depth conversations with people at the top of their game, astronauts, entrepreneurs, spies, psychologists, even the occasional national security advisor, legendary Hollywood director, Russian spy — lots of variety here. And each episode turns our guests' wisdom into practical advice that you can use to build a deeper understanding of how the world works and become a better critical thinker.
[00:01:09] Today, we're talking with my friend, Srdja Popovic, author of Blueprint for Revolution. This is one from the vault, but it's especially pertinent right now. Srdja was actually one of the organizers of the Resistance to Slobodan Milosevic in Serbia in the '90s. So this is an interesting conversation. Maybe seems a little off-topic, but I think psychology, human performance, revolutions actually have a lot more in common than we think. We're going to talk about, first of all, how revolutions in business have a lot of things, common like branding, logos, why non-violence is more popular and more effective in so many ways, why there are more charismatic leaders in the most successful revolutions, and how to make a revolution cool by using comedy and other techniques. Enjoy this one here was Srdja Popovic.
[00:01:54] And by the way, if you're wondering how I managed to book all of these authors, thinkers, and revolutionaries every single week, it is because of my network. And I'm teaching you how to build your network for free over at jordanharbinger.com/course. Dig the well before you get thirsty, folks. Build those relationships before you need them. And you should know that most of the guests on the show, they subscribed to the course and the newsletter. Come join us, you'll be in smart company. Now, here's Srdja Popovic.
[00:02:22] Srdja, tell us what you do in one sentence.
[00:02:24] Srdja Popovic: My name is Srdja Popovic, and I'm super passionate about educating people on how to empower themselves, to change the world,
[00:02:32] Jordan Harbinger: To put a little romantic spin on it. Do you consider yourself a professional revolutionary because that's kind of what you do for a living?
[00:02:39] Srdja Popovic: I do a lot of different things for living. I teach. I write books. I produce videos. I travel. I give speeches. And yes, we work with the groups who are involved in the revolution. I don't feel like I'm a professional revolutionary. I mostly feel like I'm there to share my experiences with people who are doing the revolutions because the only successful revolutions are those revolutions and changes that are coming from within. So there can't be somebody from the outside who tells you what to do it, whether the skills and knowledge, and this could be shared, which is the reason I wrote this book.
[00:03:10] Jordan Harbinger: Now I remember watching the Serbian Revolution, the latest one on television, and watching a bulldozer go into a parliament building. And I thought everybody was pretty brave when I was watching that on TV. I thought that was really cool. And that did influence my decision later to move to Serbia for over a year and teach English. And I'll tell you. One thing that we have in common is that we've both been taken into custody and beat up by Serbian police. I think you and I have that in common. I'm not sure how many people share that outside Serbia.
[00:03:40] Srdja Popovic: Several foreigners share that, but in Serbia, it was pretty common.  2.5 thousand people were arrested during the time of Milosevic for opposing him. Some of them were badly beaten. Some of them were even killed, including the editor-in-chief of the biggest Serbian opposition newspaper.
[00:03:56] First of all, I didn't know this part of your history. I'll be super happy to have a beer with you and talk about your Serbian experience because I think this is an amazing country that people should visit. And, you know, the Serbs are not very well known for being non-violent, and having such an international brand as a Serbian non-violent revolution in 2000 was basically the main reason that it's still driving me doing this job.
[00:04:18] The fact that there are people across the world who watched that movie, Bringing Down a Dictator. They get inspired. They come to us, they speak to us. They say, "Oh, the Serbs did something really cool against the really bad guy who was convicted, who are criminals, and did so many different things. And I think the bravery is something you mentioned — and I don't think we were particularly brave. And I think very often in our life, we find ourselves in a situation where the situation dictates the rules.
[00:04:44] So, if you would be a young Serb, if you were born between '69 and maybe '80, if you will be entering '90s from a very convenient middle-class life, very cool rock music. And then the nasty guy comes in and then immediately everything turns around and people are becoming more nationalistic. And you started being fed up with this crazy propaganda that you need to hate people and get war with them because of their ethnicity. The whole world falls apart. And this is exactly the situation my generation found itself in the '90s. From a very convenient world, we ended up in a very nasty world. We ended up running into the five wars. We ended up running into what used to be at the time, the second biggest world hyperinflation — so complete crash of values, complete crash of economy, complete crash of perspective.
[00:05:31] You will be a person in the 20s in that type of environment, You will have only two choices to fight or to flee. And some of our friends, of course, ended up living in a place like Chicago. We just commented off the record that this is the second biggest Serbian City after my hometown of Belgrade. But most of us just stayed back and fight back and said to Milosevic, "No, we're not going to leave." So it was more a necessity. I'm very proud if this inspires people.
[00:05:58] Jordan Harbinger: My Serbian friends who are of my age or slightly older, everybody knows about the group that you started — and I kind of want to give a little bit of history here. So Serbia, part of the former Yugoslavia, you had this leader, not a very charismatic leader, Slobodan Milosevic. He came into power, like you said, you were in your, I guess, teens, early 20s and basically turned what was a relatively prosperous socialist state Yugoslavia to a nationalist, almost fascist type of regime. Serbs are stubborn and you and your friends and tens of thousands of others kind of got sick of his crap pretty quickly. How do you start thinking? "Look, we are the people who can do something about this," because when I look around myself here in the States, I look at my friends and people complain about politics all the time. It seems like we're even as Americans often afraid to vote because it doesn't count. So I'm wondering, what's telling you as Serbs, as young Serbs, "Hey, look, we can actually overthrow the entire government." It just seems like such a massive undertaking and it's so dangerous. What gave you both the courage and even the thought that you might succeed?
[00:07:06] Srdja Popovic: Well, I mean, there's so many different levels of this question. I think the first of all, the historic context was very similar to that ugly thing we are seeing in Europe and lately in the United States that the national populace are taking over and they're spilling their poison. And they're very effective in building on the hatred. I think the real problem we had is that we were living in a relatively happy, though a little bit outdated socialist state in the '80s. And then the nasty guys came in and started selling hatred. And when we were talking about Serbia, Croatia, or Bosnia, because this is the ugly amalgam of three nasty nationalism that tore my country — the country I was born in was called Yugoslavia — apart.
[00:07:49] And I think that, once again, only two chances to fight or to flee. There was this wider question that probably appeals to a lot of people in the United States and the other were friends and other people in Europe. And this is why this book is so much related to my favorite personal Bible, which is the Lord of the Rings. So the hobbits, they are the least usual suspects to change the world. They are not tall. They are not wearing shiny armor. They don't know magic, and they're just lazy and love to eat and sit at home and smoke pot. And I think what made us think that or wish that we can change the world was the same force that was driving Frodo Baggins. And I think this is because there was nobody else to do the job.
[00:08:30] And there was this attempt to do it '92 to fight against the war, the large student protest outbreak. And of course, he died. '96, '97, Milosevic lost the presidential elections. We demonstrated and then he died because the opposition fell apart. In '98, we felt like you were hitting the bottom after the five wars. We're getting war in Kosovo, we were getting involved with the war in NATO, and regime was increasingly autocratic. The people were arrested for demonstrating in the streets. The newspapers were banned. The professors were just fired from the university because they were not affiliated with the regime. And out of this desperation growth, not only the hope but that marvelous idea which I assume is in the back of each world changer — and I will speak about this later — "If not us, who else?" And I think that's the reason why we named the chapter of the book, It has to Be You. Because you don't take responsibility in your hands, if you don't fight back the things you don't like, if you don't believe in yourself, then who else will.
[00:09:33] And we understood in 1998 when the movement called Otpor, which is the backbone of the book and used to be our launching pad to do activism was formed. That there'll be nobody else to take this rank to Mordor. It has to be us. Yes, we are hobbits. Yes, we are lazy. Yes, we have big feet. Yes, we like laid-back lives. But if we don't do this, the whole future of our country is going to be swelled in the darkness. And we didn't want that to happen. We love our country too much. And I think that was the main driving force.
[00:10:04] And there's this marvelous scene in Lord of the Rings where everybody else is arguing for who will take the decision to take the ring to Mordor and says, "Yes, I'm going to take the ring to Mordo, but I don't know the way." Well, this is the decision we made, and fortunately, we have found a way. So Milosevic or Sauron was ousted back there in 2000.
[00:10:23] Jordan Harbinger: Well, I love the Lord of the Rings analogy. I feel like you put a lot of thought into that. You are not winging that one at all, as you describe it. And I love that. I got to ask though why non-violence because when a regime is so violent, like I said, I've had run-ins with Serbian police. I've been on both ends of fighting with Serbian police for various reasons, once which landed me in a slammer. And the other time, let's just say, I got away with it. But why non-violence? Why was non-violence the cornerstone of Otpor? By the way, the word itself means resistance. Why was the resistance — why was the cornerstone of the resistance non-violent?
[00:10:59] Srdja Popovic: Well, I think when you look at the principles of every single successful movement across the world from Gandhi through Lech Wałęsa and Serbia, and then everywhere else, you can see that there are only three principles. And we write about this in the book that is keeping these movements together. If you want to be successful, you need to be united. If you want to be successful, you need to be strategic. And then the third principle is a non-violent discipline. So for us, it was a little bit different than for Gandhi. And I think non-violent discipline is a skill. And working with movements across the world, we very often face this question, how do we face violence with non-violence?
[00:11:36] And first of all, we preached it. We taught that the non-violent way is more successful. It wasn't really cool being violent in the country, which was driven through the rounds of the Civil War. So it was also a cool factor. We also were teaching people to stand non-violent. So the second level of non-violent discipline and we spend years training movements across the world, how to maintain non-violent discipline is that you can teach your people not to attack the police, but you don't address them with flowers and not really yell, but really chant the supportive slogans, and not to really run into the police force, but sit in front of the police and show your indexes, which are your students' IDs.
[00:12:14] And the third level, the very important one, is that in every struggle, there is a small group of people who can share your goals, but may not share your commitment to non-violence. Everywhere in the world is the same. You want to look at Black Lives Matter, or you want to look at Serbia. In the Serbian case, these were soccer fans. So the soccer fans in the '90s were very, very effectively against Milosevic. But their idea of being against Milosevic was attacking the police and spreading the violence. One single act of violence can destroy the credibility of the non-violent movement because imagine the crowd of the 10,000 people peacefully demonstrating in a Time Square or whatever equivalent of this exists in Chicago. And then, three drunk idiots start throwing stones and attacking the police. So it's like there was this media thirst for violence, and you need to understand this.
[00:13:03] And different movements across the world have discovered very different tactics to deal with not getting affiliated with volunteer groups. So preach non-violence, number one. Second, train your troops, not to be violent. And number three, take a look at the battlefield, take a look at specifically the groups that are sharing your values, but they are not sharing your commitment to non-violence because these guys can end up being the biggest threat to your movement.
[00:13:29] Jordan Harbinger: Now one point of wisdom that I saw in the book, and I thought it was a pretty astute observation that you're able to recruit more people for a non-violent movement because there's lower risks. You don't have to be a combat-age male to enlist, right? You can enlist literally old ladies to be non-violent and stick flowers in the barrel of a gun or you can recruit 18-year-old college females. You guys had the strategy — a very Serbian strategy of putting very beautiful women in the front of the protest lines because nobody wants to smack a lady with the butt of a rifle in the front of the line. And you have this protest line of just like really good looking women. And the cops are standing there pretty impotent to do anything about it without looking just absolutely horrible to everyone involved.
[00:14:10] Srdja Popovic: Well, I think there are like several levels of this. One thing, it's scientific — and to warn your ears — this is not an academic book. It's not boring. It doesn't have some footnotes. So if you're explaining the academic book along with this one. But there is academic research on it. And the two great American scholars, Maria Stephan and Erica Chenoweth were looking at the different aspects of non-violent struggle.  They found out that non-violence struggle is twice more likely to succeed over the last 100 years than the violent struggle. They were looking at the figures and they were looking at the participation and they found out that, of course, the more people participate, the better the possibility of positive success. And the non-violent struggle. It's all about the numbers.
[00:14:50] And of course, if you're running a very cool, nice street demonstration, which we can call a protestival because it's a combination of a protest and a festival, the cool people will come in. People will feel well. The people will appear with their kids, for their girlfriends. You know, it's like, everybody's going to have fun. What if you're running a violent demonstration, stones are thrown and somebody shoots that tear gas, then less people will participate.
[00:15:14] That brings us to the second point in our teaching, where we are talking about the workshop for university courses, we're always looking at the level of participation. So what would make me participate in this protest? If I share the values, of course, B, if the tactic is cool, and if the risk is low. Not too many people would risk losing jobs or getting beaten up or getting arrested. Okay, that makes two of us, you and me, a little bit of the crazy people, but we are a very small proportion of society.
[00:15:43] So when you're looking at the method of successful non-violent struggle, you will be looking at the things which are low-risk tactics. And it's like, you can go to Iran and understand that. If people demonstrate in the street in a society like Iran, everybody gets killed. But then if we get to the social media, if you get the ringtone, if you get on YouTube, then, you know, say if you wear a symbol,  which was our trick in Serbia, or just wearing a little small badge on your jacket showing the symbol the movement, you're not really likely to be arrested because even in the oppressive societies, it's very difficult for us people for wearing pins on their jacket. So we'll be looking at the low-risk tactics that we are advising to the world that will make participation bigger, but they will also make people feel that they did something important. One of the things that the successful movement from just the random protest is that our people are feeling part of it and they will feel part of it if they can do something and get away with it.
[00:16:41] So '96, '97, we had a stray of street demonstrations. The police were beating us and immediately somebody came out with the idea that instead of marching in the street and risking being beaten, we'll go on our windows and hitting pots and pans. So immediately this thing from, you know, several tens of thousand people protests, turning into national things — so grannies and kids and teenagers and daddies would come on the windows at the time of the state TV news, which was the symbol of the state propaganda protesting by making noise. So immediately I would see my neighbor coming out with his baseball bat, hitting a big petrol can, making a noise.
[00:17:19] Of course, as a musician, I was having a very loudspeaker — so that was a combination of Rammstein and Red Hot Chili Peppers. And then, you know, my grandma would go and she was in her 70s. She could never go on the street and demonstrate because if police hits in, she will break an ankle. She was on her window. She was hitting her pot. That she was cooking soup for me a day before. So everybody was involved. So you will look at the tactics, which are low-risk, dispersive, everybody can participate and very, very important everybody can get away with it. Because if people get away with it and feel fun and feel good about doing something for their purpose, they're very likely to participate in our movement in the future.
[00:18:03] Jordan Harbinger: You're listening to The Jordan Harbinger Show with our guest Srdja Popovic. We'll be right back.
[00:18:08] This episode is sponsored in part by BiOptimizers. According to the American Psychological Association, chronic stress is linked to the six leading causes of death. Stress has been implicated in heart issues, inflammation, obesity, mental illness, and more. And most people think of stress as things caused by work or traffic or tense relationships. And we tend to focus on solutions like meditation, going to the spa, and so on. One of the minerals that help with stress is magnesium. A lot of this is influenced by nutrition. Magnesium is one of the body's master minerals that power over 300 critical reactions, including things like fat metabolism, energy, stress. Even digestion is influenced by the presence of magnesium. Jen, tell them where they can try Magnesium Breakthrough.
[00:18:50] Jen Harbinger: With volume discounts combined with our custom 10 percent coupon code JORDAN10, you can save up to 40 percent off select packages of Magnesium Breakthrough. And I promise that deal is only available on this specific website bioptimizers.com/jordan. You won't find that deal on Amazon or even the company's own website. Go to bioptimizers.com/jordan and use coupon code JORDAN10 to save up to 40 percent off select packages.
[00:19:14] Jordan Harbinger: This episode is also sponsored by Better Help online counseling. I love the idea of therapy. I love therapists in general. They've been super helpful for me personally. What I haven't loved in the past is driving across town, trying to find parking, trying to schedule, but if you're feeling depressed or you're overwhelmed or you're anxious in any way, I highly recommend grabbing a therapist from Better Help. They can help with pretty much anything you're dealing with right now. You simply fill out a questionnaire to help assess your specific needs. You get matched with a counselor in under 48 hours. Easily schedule a secure video or phone session. You can chat or text with your therapist at your convenience. Everything is, of course, confidential. No driving, no parking. If you're unhappy with your counselor, request a new one at any time for no additional charge. That's helpful because sometimes you just don't click, right? And you got to click with your therapist. Join the one million-plus people who have taken charge of their mental health with the help of an experienced Better Help counselor. Jen—
[00:20:08] Jen Harbinger: Better Help is an affordable option and our listeners get 10 percent off your first month with the discount code JORDAN. Get started today at betterhelp.com/jordan. Talk to a therapist online and get help.
[00:20:20] Jordan Harbinger: Now back to Srdja Popovic on The Jordan Harbinger Show.
[00:20:26] If you do dive into violence, people get scared sometimes. And they look for strong leaders and authoritarians to protect them. They rule by fear. So if you keep everybody kind of having fun, participating, and making it a wide swath of people, it doesn't look like a fringe group. It looks like everybody. And you're getting away with it and the risk is low. So basically the regime, which gets an A-plus in violence and not much more can't use their best weapon that effectively. And so you're kind of taking that away from them.
[00:20:53] Srdja Popovic: Absolutely. And when you look at the groups that were the most successful, these were exactly the groups that operate in a very violent area. I'm running a small non-profit called CANVAS, and this organization deals with the groups that are operating in a very, very violent environment. And, you know, if you read a book, you will discover how inventive these groups are. And which are the great ways they are putting their opponents in a dilemma and how they're using humor and mocking, and whether they're using very low-risk tactics, you know, even in Assad, Syria, which you can imagine the most violent place in the world, there are people who are protesting non-violently.
[00:21:28] Then, of course, the first thought will be, if you go on the street, you get shot, but they were super successful. They were, A, painting the fountains in Damascus, which is the capital of Syria in red, reminding everybody in Damascus that the blood of the rebels has spilled elsewhere. And then B, they were capable of painting thousands of little ping-pong balls. And you can imagine the green market on a Sunday, everybody's there, everybody's buying. Immediately thousands of the ping-pong balls carrying the messages of freedom and anti-Assad messages have been released. And people who do this are hitting this thing and they're running away. So nobody gets arrested. Everybody gets a message. And I think making these tactics as available to the people and as participative as they can be is the key to this. The fact that you are non-violent doesn't guarantee that your opponent, one gets violent and violence is no cure for anything. And the less violence you experienced the better.
[00:22:25] Jordan Harbinger: And of course, being non-violent doesn't mean you're not fighting a war. It just means you're fighting that war with different weapons. Why is it important to realize that this is still a war, even though it's non-violent?
[00:22:36] Srdja Popovic: Because every conflict is a war. The struggle against the Soviet Union was a war. The struggle for gay rights around by Harvey Milk in San Francisco was the exactly wage as a war. And if your listeners are really wanting to spend their weekend well, they would watch the Harvey Milk, this amazing movie by Sean Penn, where we can look at the development of the movement and you can look at almost all the rules.
[00:22:59] So first of all, who was for Harvey Milk? He was a hobbit. He was one of us. He was not a Harvard graduate guy. He was the guy who was running a small camera shop in Castro Street in San Francisco. So he cried from the French and he was advocating strongly for what he was passionate about because the gay rights situation at the time was terrible. Being LGBT was considered to be a mental disease in America these days. And he was running against this. He was trying to make an issue. Then he decided to run for the parliament of City of San Francisco or City Council, whatever is that name. And he runs on a platform that gay rights should be protected and he loses miserably. Because people in the mainstream don't see this as an issue. So he evolved a little bit. He changes his methods. He's not making it a case. He's not turning himself into a victim. And then he starts campaigning and he ends up — he tries putting together the liberal communities of San Francisco. And he still ends up being third, not winning.
[00:23:56] And then one day he wakes up and he understands that the majority of the people are those people who — they need to listen and he goes to the people. He figures out immediately as a revelation that for people in San Francisco at that age, it was the dogs' poop. That was the top thing, number one. The people in neighborhoods were super obsessed with the fact that that was the dogs' poop capital, which later turned to Paris, which later to Belgrade. And then he changes the tune.
[00:24:26] So he runs his third and victorious campaign based on a sentence that, "Whether gay or straight I'm the guy who's going to curtail you of dogs' poop." Guess what? He wins. He becomes the first openly LGBT person to be elected in any state institution in the US. The rest is history. In the next 10 years, even the right-wing candidates are going to support gay marriage in the US. But that was made one to one big ship, you understand that the numbers are always in the mainstream. B, you understand that you need to listen, not preach to the people or the social change that people will mobilize and sacrifice for the things that they find personally important, even if they are so trivial as streets covered with dogs' poop and you end up being victorious. And being in the position to implement your great ideas and your great values as Harvey Milk was.
[00:25:21] Jordan Harbinger: I would like to talk a little bit about how Otpor uses essentially business principles to create the brand of cruelness. You mentioned earlier, you created things, you made them cool, right? You avoided charismatic leaders because you didn't want the movement to be able to be stopped by the police just by a simple arrest, but you had to brand it in a certain way that made the whole group cool. And I thought that was a really interesting theory in a really interesting way that you did this in practice. Because you actually made it cool to join the group and cool to get arrested. Can you tell us about that?
[00:25:52] Srdja Popovic: You know one of the reasons that I'm getting letters from readers, we're coming from a marketing sector and they read Blueprint for Revolution is that they find this fascinating. It was also a necessity rather than the conscious business model thinking. What connects Serbs and Americans is that we have this great individualism and there is always a lone cowboy who solves the thing as opposed to the great leaders and great institutions in our social narrative.
[00:26:19] So in the '90s, we understood that the political leaders lost contact with the people on the ground, whether we are talking about the government or the opposition, there is no representativeness of the people on the ground, and we just filled this vacuum. So what we basically did was develop a movement, which was ideally related to the situation in Serbia. It was leaderless. So there were no leaders that can be corrupted, that can be killed, that can be arrested. So the movement gets his head cuts off.
[00:26:51] On the other hand, we were looking at the very individualism of the Serbian people. So the basic idea was that we were uniting around the vision and that was the joint vision of Serbia and Europe, peace and freedom, that we lacked in the '90s. That, B, we are communicating through the symbol and the symbol, the clenched fist that was used in Serbian 2000 was later used in eight different countries from very different parts of the world to Venezuela to Egypt to Georgia. Behind this program or the political vision and the logo, there were people who were taught to be leaders, not the members, not the followers. So our general idea was to develop so many different layers of leadership that, A, people feel the movement belongs to them. Because if people feel the movement belongs to them, they give their best. And then on another level, we want to be sure if Milosevic arrests the 10, 15 people who were logistically running the movement or 50 people who were running the top 50 branches, the show will go on. And we were super afraid of the fact that the secret service was ready to pick us up. And we made a system which was based on individual leadership, a lot of local autonomy, and the brand — I mean, you guys just put branding in Serbia, we'll get a great 11 minutes video on YouTube about this on our website.
[00:28:11] What basically happened was that this thing exploded and there were so many people feeling like they wanted to contribute to this and they came in with ideas and then we ended up in the situation. We're one of our local branches. We'll compete with another one on who would be doing the crazier things that will get the more media attention that will promote the regime to the level that you get more people arrested, that was a nightmare for any simplistic regime. Because ideally they will surveil up to 30 people and then we know exactly what the thing will do. So by listening to my phone, they can't even predict what is happening in one of the Serbian municipalities because, in that municipality, it was the own creativeness of the moment people that was driving things on.
[00:28:54] Jordan Harbinger: You did a great job though with the t-shirts. Tell us about the t-shirts. Every time you get arrested, you end up with a shirt. What was that all about?
[00:29:01] Srdja Popovic: Well, this means that because the movement's logo was the clenched fist and because the way to express it was to carry a t-shirt with it. And then later these t-shirts were super popular from Kenya to Georgia or wherever. What really happened was that we tried to reward our people and we like to carry on the arrest as a badge of honor. And, you know, if you look at the American media, you will understand how much the purple hearts and silver stars are appreciated. So being arrested was a kind of purple star. You got wounded in the battle because you were great and you came out alive and you came back to the battle which raises the recognition.
[00:29:37] So every time you get arrested and get a release, you get a new t-shirt. It was like the ranks in the army or the ranks of honor, whatever it is. And you know, the more time you were arrested, you will be sharing the more rare t-shirt because the movement actually didn't have local branches with leaders. So the real show of how important you are for movement is how active you were. And I think that's a great lesson for every movement across the world. You want to reward activism and energy and investments of the people's time. So what really happened was that we ended up with people competing to get the high t-shirts.
[00:30:13] But during their own social life — we were talking about the movement, which average age was 21, in making the school and in factor both with a great strategy and this branding strategy, but also with this feeling of belonging to the group and also this great feeling of being non-violent and funny and party animals and humorous. And I think what it really made — it's like imagining being reversing the world. Political activism is considered to be boring. And what about, if you are not arrested, you can date. You're not going to get laid and you're 22. So the ugliest nerd that was arrested seven times has more chances with beautiful Serbian girls than you're studying at the top and you're not participating in the protest, thinking about peer pressure. What will that make you do? You will join the protest. You will give up trying to be the good guys. You'll probably be bringing up problems.
[00:31:09] Jordan Harbinger: Amazing. So if I hypothetically have been arrested or been to jail twice in Serbia, what color t-shirt do I get?
[00:31:15] Srdja Popovic: Probably you're going to get the black one with a white face, with nothing in scripted on it, because these inscriptions were just printed and tens of thousands. But without inscription, they were related to the fact that people were arrested several times. And then when we got to the red t-shirt, that would mean that you will be arrested five times or more.
[00:31:35] Jordan Harbinger: Oh man, I got work to do before my red t-shirt in Serbia. Although I think maybe the deadline has passed for getting arrested and getting a t-shirt.
[00:31:42] Srdja Popovic: But then man, there are so many different places in the world where this thing is happening. And I think looking at the world amazingly how this stupid violence, and especially in later, that last several years, this terrorism threat has wiped out this brave activity from the people from across the world. And if you dig it a little bit, and that's the advantage of the digital era, you will see people doing amazing things in Zimbabwe this week, opposing one of the longest-lasting dictatorships in the world. You'll see people in Cambodia doing amazing things this year. You'll see people in Venezuela who are starving, trying to start the impeachment referendum against the government. So don't lose hope. There are so many places where you go there and get arrested enough time. There are plenty of good days waiting for you, my friend.
[00:32:27] Jordan Harbinger: Great, good to know. One of the things you note in the book is that if you want to get a mass movement going within a very short span of time, especially in the age of the Internet and other distractions, you need to use humor. Tell us about how you used comedy. Not only to get rid of Milosevic but the people that you're training in Syria and these other places, you're using comedy. It's one of the main weapons that you use.
[00:32:50] Srdja Popovic: One of the chapters of the book was named Laugh You Way to Victory. And that is the intention. First of all, you need to understand the background of it. It was not scientific. It's just because the Serbs are not serious. And, you know, it's like doing the things against Milosevic, which was the classic dilemma action. We would come out with a big, bad petrol barrel. We will paint Milosevic on it. And then the people can put the money, a little coins in it and get a baseball bat, and hit the face of the president on the barrel. The way you are playing a pinball game or Pacman video game for those who are my generation. The people felt relieved about it, and they were doing a little thing and it was a low risk. And, you know, we came out with this idea and we brought this big barrel to the Serbia version of the Five Avenue. And downtown shoppers came in with the bags and with kids. And they were curious about this big barrel. And there was a cartoon of Mr. President on it.
[00:33:42] At first, the kids start playing it. The people started playing and for 15 minutes passed, the people were standing in line. They were like 150 people standing in line and they wanted to hit the face of Mr. President. They want to express how deeply they respect him. And that was funny, but the funniest part was when the police arrived. Because if you will be a policeman in that situation, what would you do? Arrest people who organized the event were nowhere to be seen. We pulled back to the nearby cafe and having an espresso. They arrest downtown shoppers, take them to the police station. Do what? You will accuse them of hitting the barrel with the president's face while they were shopping. They will be out in 15 seconds and you will get sued. And then, of course, they made the most stupid choice out of all, they arrested the barrel. So the picture of the policeman dragging the petrol barrel with the face of Mr. President to the police car ended up being the most popular photo shared on Serbian independent media outlets.
[00:34:39] So when you're looking at this humor and when you're looking at this power of the thing, we call laughtivism that it is everywhere. And they're like three reasons, in my opinion, why humor is so powerful. First of all, it breaks fear. It comes from our human nature. If you are preparing for major surgery, the last thing you want to hear about is that somebody puts these beautiful metal objects in, and then they will take these things out and, "Aahh," you get scared. And instead of that, your friend cracks a joke while you're waiting for a surgery room, you laugh and the fear goes away. It's our human nature. The humor breaks fear. And very often fear is the power of the status quo. The second very important reason is that humor makes things cool and in. Just think about your personal life, who is the most likable person to be around. Look at your cell phone. Is it the tallest one, strongest one, richest one, the one in the best car, or the person who can always make you laugh? Everybody wants to be around the pranksters. That works for moments. If the movements are funny, if they're mocking the authority, the people would love to join in because they feel good and it's human nature to join things that make us feel good. And then last but not least important, take a look at the guys in power and whether democratically elect or authoritarians. they're just too fed with themselves. You're looking they're pages of newspapers. They're looking their face in TV, billboards, and things of that kind. And they start figuring themselves too seriously. So sometimes when somebody mocks them, they know how to react.
[00:36:14] And one of the case studies or the anecdotes in the book is a story from Barnaul, Siberia. And Siberia is not Serbia just for the record. It's as far from Serbia as California. And it is in another part of Russia. So what happened there? 2012, Putin would win presidential elections anyhow, but some of his guys were super enthusiastic. So they were caught stealing stuffing ballot boxes. So the people went on the street, they went on protests. And these protests were banned in provincials. So the people from a very small city of Barnaul in the middle of Siberia, that's a very cold place. 4,000 people live there — which makes the size of Grinnell, Iowa, which I know, well, it's a very small place. Yes. I teach them. And so the size of the Grinnell and the people are coming to the Main Square and they can protest, but they decided that their toys can, so they're building a little Lego city. And they're bringing little Lego toys and Kinder toys and the things they collected from their kids. And if you're running a two-year-old kid, like I do, you will know the three of us can build a Lego city and build a Lego protest. So they build a little protest and they make little protest signs quoting for free and fair elections claiming that 146 percent votes were Putin things of that kind. And they built it downtown.
[00:37:32] And the first day, everything is nice. There are people building their toy protests. The police are there. Everybody's laughing. It's a small place. People know their policemen and you know, everybody's taping it. Then tomorrow, this goes viral on YouTube and somebody sees this and Kremlin. And they understand the ingenuity behind this and they understand that this is a very effective way to mock Putin. So the phone rings to the chief police in Barnaul. Somebody calls him from Kremlin and of course, he stands up in front of the cameras, making the most stupid statement in the history of the police probably quoting that the protest of the 100 Lego soldiers, 50 toy cars, and 20 Lego toys is banned because the toys are not citizens of Russia and only citizen of Russia can protest.
[00:38:18] So here we are in the situation where a bunch of very creative people are making low-risk tactics, using resources, which they have at their homes. So there are no funding needs and they end up on the cover page of the Guardian and the New York Times — and more importantly, what does it tell you about the thing? Number three, you remember humor breaks fear. Humor makes you cool. And humor puts your opponent in a lose-lose situation. So here he is the great strong man of Russia, the guy who likes posing shirtless, wrestling tigers, saving dolphins from drowning, and here he is, and he's afraid of the Lego soldiers.
[00:38:58] So when you're looking at the stupidity with which people in power are responding to humor. You can understand how laughter is actually a super powerful thing, and it can be a very powerful thing in challenging power whether this power is coming from democracy or authoritarianism.
[00:39:18] Jordan Harbinger: This is The Jordan Harbinger Show with our guest Srdja Popovic. We'll be right back.
[00:39:22] This episode is sponsored in part by Vuori Clothing. You've heard me talk about them before. Vuori is — it's perfect if you're sick and tired of traditional old workout gear, okay. Everything is designed to work out, but it doesn't feel like it or look like it. It's so incredibly comfortable. I'm wearing it right now. I wear it most days. In fact, I love button-downs. You wouldn't expect a button-down to be kind of workout-ish, but the product really is incredibly versatile. Used for anything like running, training, yoga — podcasting, for those of you intense podcast athletes like myself. It's soft, it's comfortable. They've got a lot of colder weather stuff as well. Like men's Ponto pants, women's performance jogger. Looks great inside or outside the gym. And it's great for travel. You know, those red-eye flights are those more likely nowadays, long road trips. It stays comfy for a while. It doesn't cause any bunching if you feel me.
[00:40:13] Jen Harbinger: Vuori is an investment in your happiness. For our listeners, Vuori is offering 20 percent off your first purchase. Get yourself some of the most comfortable and most versatile clothing on the planet at vuoriclothing.com/jordan. That's V-U-O-R-I-clothing.com/jordan. Not only will you receive 20 percent off your first purchase, but enjoy free shipping on any US orders over $75 and free returns.
[00:40:37] Jordan Harbinger: This episode is also sponsored by Blue Moon. This is a beer I've been drinking since the college days. It's one of those fancy ones where you put an orange on it, you know, put an orange on the side. Getting together with some friends, you don't see all the time or virtually never these days. You can even be doing a zoom thing or a barbecue outside socially distance, of course, or a relaxing night in. Blue Moon is on a mission to inspire and celebrate more of those moments, which are in short supply here in 2020. Blue Moon, it's a Belgian wit, right? So you can't see straight through the beer, you throw a little Valencia orange peel in there for that subtle sweetness. It's a good beer for somebody who doesn't like that super hoppy stuff, which I'm definitely in that camp. Oats create a smooth and creamy finish. It's got a very bright taste and I feel a little bit like a beer snob saying that, but I really do enjoy this one. Like I said, I've been drinking it for quite some time here when I was introduced to it. And I'm kind of stoked when I see it on tap. Jen—
[00:41:28] Jen Harbinger: You can have Blue Moon delivered by going to get.bluemoonbeer.com and finding delivery options near you. Add a special touch to your holiday season with the brightness of Blue Moon. Brewed with Valencia orange peel for a unique, vibrant taste. Reach for the moon. Celebrate responsibly. Blue Moon Brewing Company Golden Colorado Ale.
[00:41:47] Jordan Harbinger: Thank you for listening and supporting the show. Your support of our advertisers keeps us going and all the deals, all the codes, all the discounts, everything — those are all at jordanharbinger.com/deals. And I beg you. Please consider supporting those who support us. And don't forget worksheets for today's episode as well. That link will be in the show notes at jordanharbinger.com/podcast. Worksheets with all of the drills and exercises and takeaways — if you really want to hammer in that knowledge.
[00:42:13] Now for the conclusion of our episode with Srdja Popovic.
[00:42:18] Right, so these leaders are so autocratic and authoritarian, they start believing their own propaganda, taking themselves too seriously, and ruling by fear — fear of your own neighbors, fear of surveillance, fear of the police — and you pop that bubble with comedy. And it starts to gain momentum because it's funny and people share funny things more so than maybe dangerous things. And so you end up with this snowball effect that put the police and the dictator in a lose-lose situation where they have to take action doing what only with things that they can do, which exerts a force. And you're making them exert force over Lego guys, stuffed animals, and generic Soviet-era GI Joe figures that people don't want any more that they found in their basement. So it looks completely ridiculous. Where was it that you'd sent the police chasing after turkeys? Was that also Serbia?
[00:43:04] Srdja Popovic: Yeah. Yeah. That was Kragujevac, the third biggest Serbian city — well, the fourth if you count Chicago in. And there was one of these crazy activities — when you really want to build a successful movement, you want some people to be a part of this movement, and that means that you need to run and operate on their own ideas. And one of the things my organization does is like we are giving the people the format, so they come out with creative ideas where they call the dilemma actions. So one of the things we did in Serbia, his wife was a super bad character. She was into advocating violence. She was into advocating repression. And there are people who hate her. And instead of, you know, throwing things at her, they decided to mock her. So what they did was they were using her signature sign and you can imagine the lady wearing the Chinese plastic flower in her hair. So they were putting this type of flowers on the turkeys.
[00:43:59] Turkey, which is not a very bad animal, was considered to be an offense in Serbia. You would say Turkey to somebody stupid, or like it's not coping or stuff like. That is very far from traditional American political correctness, the Serbs are not politically correct, but they would put little plastic flowers on turkeys and they will just let turkeys loose. So what happened was that police in order to prevent people from connecting the image of turkeys with a plastic flower, with the image of the most beloved Mr. President's wife or the First Lady, they started chasing turkeys. But the game was to understand that it's like you who's dictating the show.
[00:44:38] And one of the things that this book, Blueprint for Revolution, is teaching you is that it really needs to be an offense. You will never win by sitting on defensive possession and agreeing with the things of your neighborhood. If you want to win, you want to take the offense and you need to understand that, you know, it's like what your opponent is and what the pillars of support or the institutions are, and what are your chances. And one of the places you are really strong and your opponent is really weak, is creativity. So if you really want to boost this creativity and decentralization, you want to look at the people of the movement. You want to understand so many people with so great ideas and you want to nurture these ideas into very successful actions. Eventually, your opponent will be ending up doing something stupid, like arresting turkeys or a petrol barrel.
[00:45:26] Jordan Harbinger: Right. I mean, you've got the petrol barrel, the turkey's running around. These fat overweight cops running around and picking up ping-pong balls bouncing downstairs and in the streets in Damascus. There are so many examples in the book, the police in Damascus having to reach into a dog or a horse — I don't even know what it is — poop and fish out these little music players playing revolutionary music that were planted in garbage cans and just in the most disgusting places by people so that they would have to literally get their hands dirty, stopping all of these little affronts to Assad.
[00:45:55] And you definitely have all kinds of social mojo as well. I mean, embarrassing, really strict, and violent police officers' wives by showcasing their husbands' dirty deeds at their favorite cafes and beauty salons and things like that. And essentially taking the wind out of their sails by making them feel the consequences indirectly. Last but not least the Red Hot Chili Peppers stunt that you guys pulled on New Year's Eve. Can you tell us a little bit about that? That was a pretty powerful, I think, pivotal moment for your movement.
[00:46:25] Srdja Popovic: Well, I think, one of the very important things, you mentioned, that strategically, what you want to look at that is that every social movement, whether you're strongly for preventing climate change, LGBT rights, or democracy in places like Zimbabwe operates on a very similar level. You want to look at your opponent. You want to look at yourself. You want to look at the battlefield. You want to identify the groups that you need to make a change because non-violence change, democratic change, comes from numbers. And to pull these numbers on your side, you need to listen to the people and you need to offer to the people, the strategy and tactics that they can participate because it's the participation of the people. The bottom-up change is very different than the elite-driven change.
[00:47:09] And I think that's the main reason I wrote this book was to inspire future hobbits. One of the things we successfully did was looking at these symbols that we want to overtake. And one of the symbols was New Year's Eve and we are talking about the year 2000. We wanted to face hundreds of thousands of people who normally come to the rock concert with the fact that we are living in a country where there is nothing actually to celebrate. Milosevic was still in power. Thousands of people were dying in his wars whether the Serbs or the Bosnians or the Croats — what we did, we made the, actually the biggest prank concert in the history of the region. We invited people to the rock event. And there were rock bands playing, and there was a big rumor that the Red Hot Chili Peppers are coming. And they were big at the time. It was several years after they were top on the charts in the US. And some of the rock bands from abroad also support the Serbian movement.
[00:48:02] So the people are trusting that this is going to be the big event. The crowd was really great. And then instead of Red Hot Chili Peppers, there was a 15-minute documentary naming name after name, after name, the person who died in Milosevic crazy conflicts, different nationalities coming from a civil sector, coming from a military. And there was a strong message that we need to change to put us in places where we are really gathering on the big squares and celebrating the New Year's Eve and everybody here instead of celebrating should go home and think what should I do to make this next new year worth celebrating? And amazingly tens of thousands of people just went home. Tens of thousands of people amazingly went home. They were not throwing things at us. And the message was clear. It's, "You need to be something." And you know, it's like, "Let's get out of our zone of comfort and let's get to the place where I need to do something and you need to do something and your neighbor needs to do something."
[00:49:02] And so we meet on the same place next year. Milosevic is out and we have a future to celebrate and it was amazingly effective. I think it also influenced the common people and it was a kind of a sobering experience for a lot of people who really thought that the protesting is all about rock songs and getting together and having fun are capable of the ice-cold water thrown on the hands of the people, but it went amazingly well. And I think it was the part of the very important campaign of sobering people and it has to be used by you. So there is nobody else who's going to do it for you until you are listening to the rock concert. There won't be a rock concert. It has to be you.
[00:49:43] Jordan Harbinger: How did you reverse engineer the things you learned overthrowing Milosevic and create a curriculum to teach other revolutionaries? How did you think, "Okay, here's what worked and we're going to teach other people from around the world how to wage war against their own government?"
[00:49:57] Srdja Popovic: That was exactly the question asked to me by Adam Grant whom I'm admiring, who wrote this Originals book. And when he was interviewing me, we were talking about this and I think he was disappointed with the answer. And the answer was that we learn it through experience and we get it to the point where something works. And then the real sobering moment was when Zimbabwe and Russians came to Serbs in 2003 and say, "Oh, we need your advice." So it started as a hobby. We were traveling to oppressive countries. We're meeting with the groups who were bringing down the dictator, which is great. Recommending Documentary of the Serbian Struggle, one- hour well-spent, it's shorter than the episode of Game of Thrones and it's equally thrilling and it was translated to many different languages and people were looking at it and getting these ideas from Serbs.
[00:50:47] And from there, we started building the curriculum because it became a little bit more serious. After we worked with the groups from Georgia and Ukraine, 2003, 2004 to great non-violent revolution happened in those places. It went viral. Everybody was talking about this, and then we formed the organization called Center for Applied Non-violent Action and Strategies or CANVAS. Still very small, it's five employees, 12 trainers. And we tried to respond to the people who seek to build movements for non-violent change. Since the last 12 years, we have worked with 47 different countries from very oppressive societies, places like Burma or Egypt, the super-cool groups like Greenpeace. And every time we learn and we try to develop a curriculum, which will basically equip people with tools on how to build a non-violent movement.
[00:51:35] And then in the last nine years, we started building it on universities. We teach this course at Colorado College and we're going to do it this October in NYU. We're going to do it online in Harvard. So there is a growing interest in academic institutions for this type of practical knowledge. Because, you know, it's like when you look at the world, when you understand that 52 percent of non-violent movements were successful — when you look at the great achievements that the non-violent struggle really brought to this world, whether we are talking about universal voting rights, racial rights, LGBT rights, the rights for people to form the labor unions or democracy, the non-violent struggle you would look at.
[00:52:15] And what CANVAS, my organization's trying to do is to figure out how to equip common people like you with the tools, so you can get home. You can look at a problem in your neighborhood, whether there is garbage, the dogs' poop, or an unlikely presidential candidate that will help you organize the people around this topic.
[00:52:33] Jordan Harbinger: Now last, but definitely not least, don't you worry for your safety? I mean, you mentioned in the book that when you were training this Syrian resistance, soon enough, you started to hear about the government grumbling about Serbian agents causing trouble in the Middle East — first of all, how do you find out about that? Where does that word come from? And don't you worry that one day you might wake up dead?
[00:52:53] Srdja Popovic: First of all, it's very important and very interesting how the autocratic regimes are becoming growingly paranoid about their own people meeting with us or learning this wisdom. We want to look at Russia. You want to look at Syria. You want to look at Turkey. You'll see regimes, absolutely being obsessed with the idea of the non-violent struggle and how the activists get this knowledge. And they're super consumed with this idea that somehow it's all the foreign conspiracy and their own people are basically sheep that can't really organize around the issues, so they need foreign help. There is the CIA, MI6, MI5, James Bond 007, or the CANVAS to ignite this revolt. We are very concerned about the safety of our own activists, which is why our next big project is called Whistler.
[00:53:42] It's an online app that we're developing with Wickr Foundation that will enable people to communicate, report on human rights, violations and leaks, and also learn on a completely safe and encrypted online platform. So we are aware that people are in danger. We are aware that there are nasty guys hating us. And we are aware that there is a lot of propaganda spread around how to prevent people to get in touch with this evil Serbian knowledge, which is why I'm super proud that the book has been published in eight different countries and five different languages up to now, including some, I can't even spell-like Turkish or Korean.
[00:54:20] And I think that where we are going right now is that we are very different than the 20th century. 20th century, it was who owns more rockets, who owns more weapons. In 21st century, it's a battle of knowledge. And if we can build the tools and videos and applications and university courses and workshops that empower people to fight for freedom, rights, democracy faster than the bad guys can maintain the status quo then the world is winning. If populism overtakes, even the hatred overtakes this idea that we are all different, as opposed to we are all born equal wins in this world. We were looking at a very unhappy world for our kids. Father of a two-year-old and the father of the one that is coming in November, I'm very concerned about this prospect. And I'm ready to spend the rest of my life working on empowering people on how to build a better free and democratic world.
[00:55:16] Jordan Harbinger: Srdja, thanks so much. I really appreciate you coming on the show and discussing the anatomy of a revolution. Is there anything that I haven't asked you that you want to make sure that you deliver?
[00:55:26] Srdja Popovic: Well, I mean, thank you. It was great talking to you. I know the great reputation of your podcast. I was proud to participate in it. If there will be one thing, people keep writing to me from different parts of the world. And what is really interesting is that somebody from Zimbabwe reads the book or Venezuela or places of that kind, that's usual suspects and these are the people who are involved in democracy struggles. Recently 80 percent of my emails are coming from places like America and Great Britain and France and Germany, and the question is how to stop the right-wing populace from screwing up the values that we grew up with? This is a really amazing development. I was expecting more of climate change, LGBQ rights. It's like this typical activist's profile writes to me and this knowledge can be used to prevent the very values our societies are based upon.
[00:56:22] Jordan Harbinger: It's funny, full circle, right? I watched this on TV when I was a teenager, ended up working in Serbia, and I'm interviewing the guy who orchestrated in part this revolution. I mean, literally, look it up on YouTube. There's a bulldozer driving through the capital building through this line of police officers — I remember imagining being a cop and seeing this bulldozer coming and just going, "Okay, this is the fat lady singing. This is over. I mean, that guy's getting in." Right? So Srdja, thanks so much.
[00:56:51] We've got a preview trailer of our interview with Dan Pink on why some of us are morning people and some of us are evening people, and why science says we're more racist in the afternoon. Check out episode 63 here on The Jordan Harbinger Show.
[00:57:06] Daniel Pink: People were more likely to get parole early in the day and immediately after the judge had her break. If you came before the judge's break, you had a 10 percent chance. If you came right after the judge's break, you had about a 70 percent chance.
[00:57:18] They had two groups of jurors. Every group had the same set of facts. One person had a defendant named Robert Garner. The other person had a defendant named Roberto Garcia, but on the same set of facts. Then they had another group that deliberated in the afternoon, same deal. When jurors deliberated in the morning, they rendered the same verdict for Garner and Garcia because it's the same set of facts. But when they deliberated in the afternoon, they were more likely to exonerate Garner and convict Garcia. Racial bias increases during that time.
[00:57:49] I would love to be the kind of badass who gets up at four o'clock in the morning, works out, reads three newspapers in three different languages, and it's like at the office at 6:15 before the cleaning crew, but you know what? That's not me. So the idea that everybody can just get up earlier, it's easier said than done, it's not very sustainable.
[00:58:08] Jordan Harbinger: I know there's a ton of fellow entrepreneurs and just regular folks out there that have trouble getting up early and think, "Oh, I'm lazy."
[00:58:15] Daniel Pink: About 15 percent of us are very strong morning people, wasps. About 20 percent of us are very strong evening people, owls. Two-thirds of us are in between. We are in some ways walking timepieces. We have time and timing, literally, imbued in our physiology.
[00:58:34] Jordan Harbinger: For more with Dan pink, including how to match your schedule to your body's peak times for rest recovery and optimal focus, check out episode 63 here on The Jordan Harbinger Show.
[00:58:46] Always an interesting chat here with Srdja. He actually just emailed me recently because I asked him about Belarus. You know, they're going through a little revolution right now and he may or may not be working on a little bit of that. I mean, I guess once a revolutionary, always a revolutionary and I especially find this psychology interesting. Right? You don't control the police. You don't control the army. You have absolutely no force or violence to exert against the authorities that are against you. But you do have comedy, you do have psychology, you do have influence. You just have to master it and you have to turn — it's like jujitsu, you have to turn the authority that the government wields against you, the violence, the monopoly on violence that they have. You have to turn that against the regime itself. Tricky, but ingenious.
[00:59:26] Big thank you to Srdja. The book title is Blueprint for Revolution. We'll link that in the show notes. Links to everything we discussed will be in the website in the show notes. We do have website links. If you buy the book, please use those. It helps support the show. Worksheet link is in the show notes. Transcript is in the show notes. I'm at @JordanHarbinger on both Twitter and Instagram or just hit me on LinkedIn.
[00:59:45] I'm teaching you how to connect with great people and manage relationships using the same systems and tiny habits that I use every single day to keep my network fresh. This is a free course. It's called Six-Minute Networking, five-minute networking was taken. It's over at jordanharbinger.com/course. Dig the well before you get thirsty. And most of the guests on the show, they subscribe to the course. They contribute to the course. Come join us, you'll be in smart company.
[01:00:09] This show is created in association with PodcastOne. My amazing team is Jen Harbinger, Jase Sanderson, Robert Fogarty, Ian Baird, Millie Ocampo, Josh Ballard, and Gabriel Mizrahi. Remember, we rise by lifting others. The fee for the show is that you share it with friends when you find something useful or interesting. If you know somebody who's interested in politics, revolutions, psychology, or just history, share this one with them. Hopefully, you find something great in every episode of the show. Please do share the show with those you care about. In the meantime, do your best to apply what you hear on the show, so you can live what you listen, and we'll see you next time.
[01:00:45] Now, there are more ways to be a team with Microsoft Teams. Bring everyone together in one space with a new virtual room, collaborate live, drawing, sharing, and building ideas with everyone on the same page, and make sure more of your team is seen and heard with up to 49 people on screen at once. Learn more about all the newest Teams features at microsoft.com/teams.
Sign up to receive email updates
Enter your name and email address below and I'll send you periodic updates about the podcast.