Reading Time:
4
minutes
Thomas Kostigen (@kostigen) is a New York Times bestselling author and journalist. His latest book is Hacking Planet Earth: How Geoengineering Can Help Us Reimagine the Future.
What We Discuss with Thomas Kostigen:
What is geoengineering, how is it being used today, and what forms will it take with rapidly developing technology?
Why those who stand to be the first victims of climate disenfranchisement certainly won't be the last.
How soon we need to act, and to what degree, if we want to avoid the worst effects of climate change.
How we can use geoengineering to catalyze a solutions-based society that will reduce and eliminate these effects.
In what ways have we geoengineered the world in the past, and what does this tell us about the transformative power of industry and the role Thomas believes it should play in current and future geoengineering efforts?
And much more…
Like this show? Please leave us a review here — even one sentence helps! Consider including your Twitter handle so we can thank you personally!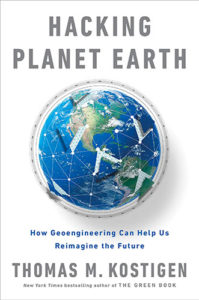 No matter on which side of the political spectrum you hang your hat (whether that hat happens to be a beret, a Kangol, a fedora, or a 10-gallon Stetson), you probably have an opinion about the looming threat of climate change and what we, as the dominant species on the planet, should (or shouldn't) do about it.
On this episode, we explore options that go way beyond recycling with our guest Thomas Kostigen, author of Hacking Planet Earth: How Geoengineering Can Help Us Reimagine the Future. Here, we'll discuss the seeming sci-fi limits of geoengineering — from lasers that blast clouds and create rainfall to floating cloud machines over the ocean to artificial trees that suck carbon out of the atmosphere at a million times the rate of natural trees. Listen, learn, and enjoy!
Please Scroll Down for Featured Resources and Transcript!
Please note that some of the links on this page (books, movies, music, etc.) lead to affiliate programs for which The Jordan Harbinger Show receives compensation. It's just one of the ways we keep the lights on around here. Thank you for your support!
Sign up for Six-Minute Networking — our free networking and relationship development mini course — at jordanharbinger.com/course!
Notion is a new tool that blends your everyday work apps for notes, tasks, wikis, and databases into one. It's the all-in-one workspace for you and your team! Give it a try for free by visiting notion.com/jordan!
Whether you're a lady or a gent, you don't need to know what MicroModal fabric is to enjoy the comfort of MeUndies; you just need to wear them — support this show (and yourself) with MeUndies at meundies.com/jordan for 15% off and free shipping!
Honey is a browser extension that automatically finds and applies coupon codes at checkout with a single click for free — without selling your data to third parties. Stop leaving money on the table! Visit joinhoney.com/jordan and start saving with Honey today!
Better Help offers affordable, online counseling at your convenience. If you're coping with depression, stress, anxiety, addiction, or any number of issues, you're not alone. Talk with a licensed professional therapist for 10 percent off your first month at betterhelp.com/jordan!
Saving money on your car insurance is easy with Progressive. It's an average savings of $699 a year for customers who switch and save! Get your quote online at Progressive.com and see how much you could be saving today!
THANKS, THOMAS KOSTIGEN!
If you enjoyed this session with Thomas Kostigen, let him know by clicking on the link below and sending him a quick shout out at Twitter:
Click here to thank Thomas Kostigen at Twitter!
Click here to let Jordan know about your number one takeaway from this episode!
And if you want us to answer your questions on one of our upcoming weekly Feedback Friday episodes, drop us a line at friday@jordanharbinger.com.
Resources from This Episode:
Transcript for Thomas Kostigen - Hacking Planet Earth (Episode348)
Jordan Harbinger: [00:00:04] Welcome to the show. I'm Jordan Harbinger. As always, I'm here with my producer Jason DeFillippo. On The Jordan Harbinger Show, we decode the stories, secrets, and skills of the world's most brilliant people, and turn their wisdom into practical advice that you can use to impact your own life and those around you. We want to help you see the Matrix when it comes to how these amazing people think and behave. We want you to become a better thinker. If you're new to the show, we've got episodes with spies and CEOs, athletes and authors, thinkers and performers, as well as toolboxes for skills like negotiation, body language, persuasion, and more. So if you're smart and you like to learn and improve, you'll be right at home here with us. 
[00:00:42] Today on the show, climate change is a major threat to the planet. No surprise there. But while most solutions revolve around recycling or government action, Thomas Kostigen has some different ideas. Just as we changed our entire planet and infrastructure to accommodate the automobile and our lives have been taken over by the Internet and mobile phones, our generation and those coming after us can take the reins in partnership with big business to geoengineer our way to a safer world. Today, we'll address some of the admittedly wackier, but still, scientifically sound ideas in geoengineering from lasers that blast clouds to create rainfall to floating cloud machines over the ocean to artificial trees that actually suck carbon out of the atmosphere at a million times. The rate of natural trees. This episode almost sounds like science fiction only some of these ideas could actually make a huge difference in the planet we leave to our children or potentially have devastating consequences that leave us wishing we'd never messed with Mother Nature in the first place.
[00:01:44] If you want to know why my network includes mad science type people like Thomas Kostigen, well, it's all about systems and tiny habits. Check out our Six-Minute Networking course, which is free over at jordanharbinger.com/course. And by the way, most of the guests on the show subscribe to the course and the newsletter. So come join us, you'll be in smart company where you belong. Now here's Thomas Kostigen.
[00:02:08] Thomas, thank you for coming on the show. 
Thomas Kostigen: [00:02:10] Thanks so much for having me, Jordan. 
Jordan Harbinger: [00:02:11] This book is interesting. I've read it and I thought, okay, there's some, maybe there's some kind of quackery in here. I don't know. It's a little, it's different than what you normally hear when it comes to changing the climate. Geoengineering for me is pretty much brand new. Is there any kind of geoengineering that we do now that we just don't think of as geoengineering that maybe makes this less scary? 
Thomas Kostigen: [00:02:31] Yeah, that's a good point. We've started engineering the planet, which I define as us doing nature's job for. We as human species intervene in the climate, intervene in the environment. And so if you think about agriculture. That's geoengineering. We've changed the land so we don't have to move about to get our food. Or irrigation, that's geoengineering. We've changed things, rivers, streams, what have you, so we can have sources of water. So we're already doing it in a very small scale. And then this book gets into what I think are fascinating technologies and innovations of science that will allow us to do even more than that. 
Jordan Harbinger: [00:03:09] So is geoengineering just changing the earth, so that it does what we want -- like how do we define this? Because otherwise, you know, mining. Is that geoengineering or is it just when we divert a river?
Thomas Kostigen: [00:03:21] Well, both really. But if you want to get into the technical definition, it's the deliberate large scale manipulation of an environmental process that affects the Earth's climate in order to counteract the effects of global warming. So in other words, us as human beings intervening decidedly in nature in order to make the climate more amenable to us living on this planet. Very selfish stuff, but that's what we've done. And so geoengineering is a way for us, in my mind, to try and undo a lot of the damage that's been done by pollution, by environmental degradation, by a lot of the things that we've already done without understanding fully what those consequences are, and using technologies and innovations to shift things in a more positive direction. Are there downsides to that? Sure. Are there other sides to that? Sure. Can it get scary? Absolutely, but that's what we're here to talk about. 
Jordan Harbinger: [00:04:26] And why does this start to become more important as time goes on? You mentioned the concept of climate disenfranchisement, so. That's new for me. What is climate disenfranchisement?
Thomas Kostigen: [00:04:37] Well, there's a couple of different aspects to that. If you're a vulnerable community, then you are very much on the front lines of climate change and being subject to a lot of, let's call it, the catastrophic effects that have to do with climate. And then a lot of us just have a disassociation with climate, where we're not really feeling the effects of it so much because the climate is about 40 years out, right? So when you start to see a lot of the effects of these carbon storage or what have you, it takes that amount of time, decades to bring carbon out of the atmosphere to cool it. So when we talk about carbon disenfranchisement or climate disenfranchisement, we're really talking about communities and our relationship with the earth. And when you have statistics such as, what we need to do is reduce the amount of carbon emissions in the atmosphere by about 45 percent within a decade in order to prevent really baked in long-term climate change. Because climate, again, carbon and those things add up to what affects our climate and climate, a long-term proposition. So even if we stopped everything today, we would still have a lot of problems that we would have to deal with over the decades. 
[00:05:55] And that's why it's so important to act now while we still have a chance to lower global temperature rise, because the amount of pollution in the atmosphere and the amount of degradation that's been done is already there, and it's going to be there for decades. So how can we possibly catch up to these types of obstacles if we don't start right now? So that's why there's such urgency around this. According to most sciences, if we don't reduce our carbon emissions by about 50 percent, that 45 percent number is thrown out there, then we're going to have at least a 1.5 to two-degree temperature rise. And when you have that, you start to have effects like Saharan-like heat waves, drying out of the Amazon forest. 
Jordan Harbinger: [00:06:43] Right, the lungs of the earth, as they say, right? 
Thomas Kostigen: [00:06:46] Correct. Correct. So all these flow-on effects are happening all around us and until we start to really feel it, like we're feeling with the current pandemic, and realizing, "Oh my God, these types of invisible threats are there and they do really exist and science is right." Until we start to feel those effects and do something about it, we're in trouble. So we need solutions. And the book is really a solutions-based book and really calls for a solutions-based society.
Jordan Harbinger: [00:07:20] So it almost sounds like with climate disenfranchisement, why is it that people who are impoverished are the most vulnerable to this? Is it because they have to move? What's going on here? 
Thomas Kostigen: [00:07:30] Well, most people who are impoverished live on land, that doesn't have proper infrastructure that's built in places. That is much more subject to weather that might come in. Land that is not so desirable to build a multimillion-dollar house on, but other people may squat on it. Closer to the shore, you know, there are more subject to flooding, those types of things. So obviously less land values and less desirable places for a reason and usually it does not come along with the same type of infrastructure and a lot of the services that are needed as well. So education is lacking. Awareness is lacking. So there's a lot that gets baked into this. 
[00:08:14] So in the developing world, for example, you have a lot of people that just don't have the facilities to look at clean water, clean air, and have the luxury of worrying about climate change quite yet. You know, trying to put food on your table, you may want to use coal or just firewood indoors in some places, and obviously, that's not good for breathing. It's not good for long-term health possibilities. You have a lower birth rate, which means people are dying more at birth. And then you have obviously a corruption of the family unit. You have less of an ability to participate in the local economy. You're not going to be as educated. And what are your chances of participating in the world economy and having that prosperity for yourselves and then building things up again? So it's a really intricately woven system that is to the detriment of people who live in these areas because they just don't have the same facilities available to them as people like myself. I live in the developed world and in a nice neighborhood where I get fresh water, where I have energy that's, that can be clean, or I have the ability to put solar panels on my house. So I can have an alternative source and I happen to have the ability to become more aware of these things. I live on solid ground in short.
Jordan Harbinger: [00:09:38] So those of us who have more means, we're more fortunate. We're on more solid ground when it comes to this. If we need to change the entire world in order to save the planet, so to speak, doesn't that seem like insurmountable odds? Does it seem possible? How can we just retool the whole world. 
Thomas Kostigen: [00:09:54] That's what we've been trying to do for decades. And if you look at the environmental movement, which has largely been based on mitigation efforts. Mitigation efforts, meaning let's lower our environmental footprint by taking canvas bags to the grocery store. So we're not using paper bags and therefore enhancing the possibilities or likelihood for deforestation. By turning down thermostats in our homes, we're not using as much gas or other types of fossil fuels. Or turning off the lights when we leave a room, so your electricity is not relying so much on fossil fuel energy there. All of those things are mitigation efforts. 
[00:10:30] Framing it, much like the public health crisis facing us today, washing our hands, social distancing, all mitigation prevention efforts. But the same type of thinking holds true with climate as it does with the public health crisis. Now we're looking for treatments. Now we're looking for cures, and as you rightly said, "How can we do this at scale?" I mean, if you're looking at the health crisis facing us today, people are still going out of their homes and they are aggregating a lot of the rules and social norms by not wearing masks. A lot of people are getting together. You have a preposition of death, quick death by public health standards, and yet still people aren't willing to do the right thing altogether. A lot of us do, but not everybody's doing it. 
[00:11:17] Take that to the climate where it's not such an immediate threat. How are we possibly going to continue to get people to wake up and continue to do preventative methods that will make a difference at scale? Very difficult. My thinking is, sure, we have to do all of that, of course, but we also need to have a plan B and that plan B is technology that can change things at scale. Much like solar engineering, reflecting the sun so that the Earth's temperature goes down all around the world by using certain technologies or carbon engineering by artificially sucking carbon out of the atmosphere.
[00:11:56] You know, we talk about carbon emissions and it's worth just describing why that's so important. Carbon is dark material. When you put more of it into the atmosphere that stays there, going back to the first point of decadal change, that stays there for decades, that dark material holds in heat for a really long period of time. So the objective is to keep less dark material floating out there in the atmosphere that holds in heat. And thereby, if we lower the amount of dark material, it will in turn lower global temperature rise. So if we start to do things like solar engineering, carbon engineering, and I would even argue soil engineering and ocean engineering, we can then affect things at scale, to come back to your original point.
Jordan Harbinger: [00:12:43] I want to get into how those each work in a minute here. Have we ever retooled the whole world before? Because it sounds impossible. Once again, I know that you're saying we've been trying to do it for decades, but if we haven't done it before, what makes us think we can do it now?
Thomas Kostigen: [00:12:57] Of course, we've done it before. The Internet has done it. Cars have done it. You know, before cars, everybody was riding around in horses. Imagine the possibility or imagine the pitch, right? You go into a business and you say, "Look, I have this idea for a car. Now, there aren't any streets, but we'll build those and there aren't any factories and we'll build that and we don't really have a fuel source that's sustainable right now. So we're going to go and extract that from the earth. And then we're going to have this automobile industry that's going to change transportation and trade in everything as we know it." If you're a venture capitalist, you're probably looking at that person like, "Wow, that's crazy." 
Jordan Harbinger: [00:13:36] Yeah. 
Thomas Kostigen: [00:13:36] How are we going to change all of those things just for this vehicle, but we did it and you know, we can make the same argument with airlines, et cetera, et cetera. So we have done it before, and that's why the industry is so important in this space. The governments haven't done what they needed to do to create policies to facilitate these abilities or to subsidize the abilities to affect climate change. So when you bring the private sector together with a science community, which is what my book proposes, then I think we have a game-changer. Then we have capital, we have resources. We can build a market for the technologies that are being built today, and that I traveled to all around the world to go and investigate. 
Jordan Harbinger: [00:14:21] So your argument is that we need geoengineering now in some of the ideas from the book are no less than fascinating. First, let's start with the most Sci-Fi or arguably -- I mean, I don't even know if this is the most Sci-Fi. Seriously, these are all kinds of crazy sounding and that's what makes this so interesting. What are these lasers that can manipulate the weather? Tell me about those. Because that to me looks like something I would see in James Bond and it falls into the wrong hands.
Thomas Kostigen: [00:14:46] Absolutely. And there's been a lot of discussion about this. The tinfoil hat crowd believes that weather modification is a way that the military industrial complex has for decades been trying to manipulate populations and change the way that we go about getting our food and water and where we live and all these crazy conspiracy theories. But we have been manipulating the weather for some time. We've even used it in war. We've used it to Vietnam War. The UK used it and the British Government used it in World War II. So there are precedents for changing the weather. Today, we're using lasers in order to do that. 
[00:15:26] So I went and visited with the scientist, fascinating guys, Jean-Pierre Wolf in Geneva, and he is a laser scientist. And he took me down to the basement of his laboratory and this, just like you would picture it in a dark, dark area and showed me how these lasers work. And lasers are phenomenally powerful. I mean, the laser that I was exposed to, it was more powerful than all the atomic bombs on earth. It could recreate lightning, which is a phenomenal, phenomenal thing to think about. And he created a cloud right there before my eyes in the lab, which for me was incredible to see that we are reinventing, we are taking the place of what Mother Nature can do. That we're able to do and create the same things that Mother Nature has done, allows us to go in and manipulate it. So think about this, he's a molecular scientist, so he's taken lasers that can blast through water molecules, and what that does is allow a better likelihood of precipitation or conversely, allowing water molecules to cluster. And therefore increasing the amount of likelihood for precipitation. 
[00:16:44] So on either side, you have these manipulations going on, and that can be a game-changer for really arid countries, for countries that experienced extreme weather. Being able to douse superstorms before they had major centers of population. So a real, real interesting possibility using technology that we've only created today. A lot of cloud seeding and things that we've heard about in the past. In wine country and Southern France, for example, they used to shoot cannons into clouds, thinking that they could shake them up and then have rain come down. Obviously, you know, nothing, it just didn't happen. Or you know, people used to do rain dances and things like that, but now we actually have the ability to look at this and say, "Wow, we can change things."
[00:17:31] But what's the flip side of that? If we make it rain, you know, if just the law of physics is if you change something somewhere, it's going to change something somewhere else to create that equalness there. And so if it rains somewhere, that means you're taking it away, that precipitation away from precipitation somewhere else. So how do we govern this? And that's a big, big thing that we have to think about. 
Jordan Harbinger: [00:17:56] Right, of course. Because if all the rain clouds fly over Portugal to get to Spain and the rest of Europe and Portugal's busy blasting all of them with lasers and taking all the rain, it's kind of like if a river runs through my country and then down into yours and I'm just like, "Nah, I'm going to take all this water," and you don't have a river anymore. And then your argument is that that's your water too but we can say, "Well, it's on our land right now, so it's ours." And I think this is a problem they're having in the Middle East, right? It's like whoever controls the water is going to control the wellbeing of the country. You can't just desalinate enough water for the whole place. So there are going to be conflicts over this. How does the laser cloudburst work though? You say it imitates lightning or replicates lightning. What do you do? You just aim this laser cannon up into a cloud. And what does it do? It sort of microwaves all the water until it agitates enough to rain. How does it work?
Thomas Kostigen: [00:18:45] Yeah, I mean, that's a fair description.
Jordan Harbinger: [00:18:47] Really?
Thomas Kostigen: [00:18:47] Yeah, you take it and you bring one of these things that looks like a shipping container, and I sat in it. And there are certain crystals that move the laser to increase its strength and then you aim it just like you might've gone into a cloud and it blasts into that cloud. It either breaks apart those clusters of water molecules, the laser, and therefore decreases the likelihood that it will rain or it does the opposite. And you can then create these clusters of water molecules, and then there's a better chance that it will rain in those cases. The scientist actually brought it here to Arizona, shot it up into a cloud and created a lightning bolt within one of the clouds. And that's, you know, detailed in a lot of science journals. And that's a phenomenal possibility. You know, lightning is hot as the sun. So how do you create these types of elements of nature to better our existence on the planet? Because this is a very selfish proposition. We're talking about the human species here.
[00:19:51] We're talking about how can we make life better for us. You know, if we don't do anything and climate change goes out of control, all of a sudden we have another ice age or we have a heat that just comes in and burns us all up. You know, the planet's still going to be here. We're going to be gone. So everything we're talking about is for our own self-interests. A lot of people take issue with that, but that's a whole another discussion. 
Jordan Harbinger: [00:20:14] Right. That's a whole discussion that I think is -- you and I talked about this before the show where people are sliding into your DMs and being like, "You're a crazy person. You're going to nuke the whole planet." And I think your appropriate rebuttal is "We're doing that already. We're already destroying the planet." This is the chance to fight in the opposite direction. That's not just like, "Hey, make sure you recycle your food containers." 
Thomas Kostigen: [00:20:37] Exactly my point. And you know, we've already screwed up the planet artificially. Now we have to use artificial means to unscrew it and put it in the right direction. And I really want to emphasize that while I talk about some far fetched ideas like sunshades and things like that, that admittedly are way out there. Most of the book, the majority of the book is about technologies that are based in rigorous science. Legitimate scientists, the innovations, and recognized universities who are modeling things out, not doing anything recklessly, not doing anything without having a lot of peer review and not doing anything at a scale that is going to change things. The vast majority of the technologies that are talked about in the book can be made to scale today. And you know, we have to start to look at them like cool roofs and cool roads and cool alleys, you know, somewhat analog and how they're actually put into practice, but could make a big, big difference all around the world. If we just embraced reflecting the sun more, creating lighter surfaces. We looked at things like that that we know can make a difference. 
[00:21:49] And that's what the book tries to explain is that no one's talking about just going out and trying stuff like in a James Bond movie for nefarious purposes. We're talking about doing things in a virtual world. You know, we can create things with 3D printers now. We have entire lives that exist online. Most of what we're talking about can be looked at with artificial intelligence and algorithms in play it out under so many scenarios in a millisecond. It's mind-blowing. So we have the ability to see how these things play out virtually before we put him to practice practically here in the physical world. 
Jason DeFillippo: [00:22:31] You're listening to The Jordan Harbinger Show. We'll be right back. 
Jordan Harbinger: [00:22:34] This episode is sponsored in part by Notion. Notion is an amazing app that replaces a ton of others, I guess, you'd call them little apps. If you're an Evernote user and you also use Google Docs, you can replace them both with Notion. You have notes, tasks, to-do lists, spreadsheets, projects all-in-one place. Highly customizable so you can work the way that you want. It's fun. It looks good too. It's really fast and it's a great place to organize all of your work and work the way that you want to work. It's kind of like an all-in-one workspace for all those notes, task docs, collab stuff, and it works with teams. It works with individuals, and frankly, this is an underrated app that I think a lot of creators are using that they swear by almost in an annoying way. Like all my creative friends, like, "Dude, you don't use Notion. Bro, you go to check Notion." "Of course, man. I did," and I was like, "Ah, I get it now." Try Notion for free. Head over to notion.com/jordan to get started. That's notion.com/jordan. 
[00:23:31] This episode is also sponsored by MeUndies. Hi friends, you may have heard of MeUndies before. They're on every podcast ever, and they were on this podcast a couple of years ago. In fact, Jason, I believe you're still wearing your MeUndies from the last round of sponsorship from this company. You're probably making your own patterns by now. 
Jason DeFillippo: [00:23:49] I am. Well, I'm not making my own patterns, but geez, man --
Jordan Harbinger: [00:23:52] You know what I'm saying. 
Jason DeFillippo: [00:23:52] I am hygienic, please. No. These things last forever. They're amazing. I have MeUndies from ye olde days and they look brand new and they feel brand new.
Jordan Harbinger: [00:24:02] Well, whether, you're out for solid black, which I recommend, if you're going to keep them for three years at a time. You know, they have unicorn prints.
Jason DeFillippo: [00:24:09] I have army men on them right now. 
Jordan Harbinger: [00:24:11] Oh, I do have those too. Yeah, so look, they have unicorn print. They got a little army men. You'll do it all as comfortable as a cuddly kitten if you keep them around. I wear these exclusively. They're the best fit. I like the trunk style. They've got several different styles if you want to show more skin and be a little bit more bold, if you will, adventurous prints. They also have a money-back guarantee. If you don't like it, you can send your used underwear back. No questions asked. It's time to end your toxic relationship with your tattered old undies. There's endless options here. You can match, which is kind of cool. You can match either your partner or your significant other. Or they've also got these, I forget what they're called, but they're like pet bands. So you could tie like Bambam. You could tie like a little kerchief whatever around her neck that matches your underwear. Why would you do that? 
Jason DeFillippo: [00:24:57] Why would I ever do that?
Jordan Harbinger: [00:24:58] I'm not entirely sure. 
Jason DeFillippo: [00:24:59] Because that would mean I'd be out walking her with her kerchief and me and my underwear. I know we're in a pandemic but come on, society has not devolved that far yet. 
Jordan Harbinger: [00:25:08] Come on, man. 
Jason DeFillippo: [00:25:08] Soon.
Jordan Harbinger: [00:25:08] We're working from home. Anything goes. 
Jason DeFillippo: [00:25:12] Anything does go. Yeah. For that next video call, it'll be me and Bambam matching it up. 
Jordan Harbinger: [00:25:17] That's right. Before you know it, they'll have custom Zoom backgrounds that match -- ooh, hold on. I'm going to give them that idea. Anyway tell them where they can get a great offer from MeUndies.
Jason DeFillippo: [00:25:27] MeUndies has a great offer for our listeners. For any first time purchasers, you get 15 percent off and free shipping. It's a no brainer, especially because they have a 100 percent satisfaction guarantee. To get 15 percent off your first order, free shipping, a 100 percent satisfaction  guarantee, go to meundies.com/jordan. That's meundies.com/jordan. Get some for you, your significant other, and your significant pet.
[00:25:53] Thanks for listening and supporting the show. And to learn more and get links to all the great discounts you just heard from our amazing sponsors, visit jordanharbinger.com/deals. Don't forget we have a worksheet for today's episode so you can make sure you solidify your understanding of the key takeaways. That link is in the show notes at jordanharbinger.com/podcast. If you'd like some tips on how to subscribe to the show, just go to jordanharbinger.com/subscribe. Subscribing to the show is absolutely free. It just means that you get all of the latest episodes downloaded automatically to your podcast player so you don't miss a single thing. And now back to the show. 
Jordan Harbinger: [00:26:27] So with that, we're not doing a whole lot for like these Alex Jones types, where they're saying the weather modification is here. What does that project HAARP or something like that that everyone thinks is for weather modification and it just totally isn't?
Thomas Kostigen: [00:26:40] Yeah. That was a project by the government in Alaska and it was a facility that was just examining the ionosphere. You know how ions around the world connect. And, sure, they were looking at that, but a lot of people looked at that and like contrails you'll see from the back of planes and just a lot of the moisture that comes out of planes and you'll see those trails in the sky. A lot of people think that's evidence of weather manipulation, and that's all been proved to be completely false. That's just conspiracy theory nuts.
Jordan Harbinger: [00:27:13] Right. The chemtrails, man.
Thomas Kostigen: [00:27:15] Yeah exactly.
Jordan Harbinger: [00:27:16] The chemtrails, they're trying to control our -- what is it? The explanation for those various, and if you don't know what chemtrails are, well, they don't exist. But if you're never heard the word chemtrails, it's these people that think that the contrail that comes out of an airliner, it's like a chemical that's either going to make us sick so that we can be controlled. It's nanoparticles that change the weather. They're nanomachines that allow people to control our health or that they caused COVID-19 or whatever other scourge happens to be like de rigueur that year, whenever the people who are the crazies who are talking about it are going after it.
[00:27:49] So HAARP is this project, this military -- is it a military project or is it just a science project? 
Thomas Kostigen: [00:27:55] Yeah, it was a military project. They ended a while ago, but it was a military project. 
Jordan Harbinger: [00:28:01] So all these people, these conspiracy tinfoil hat crew think that it's for weather modification, but you're talking about real weather modification. You're saying, "Hey man, this might not be such a bad idea." 
Thomas Kostigen: [00:28:10] Exactly. Done correctly. You know, you have 37,000 scientists in china right now working for the weather modification agency. So people are doing this. People are looking at it. And can we do it in order to create more food? And that's another thing, that's just a big issue that we have to start to look at. We're using about 50 percent of our land on earth right now in order to grow food up from about 10 percent decades ago. So as populations grow all around the world, how are we going to feed everybody and what land are we going to feed people on? And that's why weather becomes so important, because we do need weather. We forget about it today, but way back when people counted on the rain, right? You look at all these movies and you read these books about people just counting on the weather. We don't think about it so much today because of irrigation and we can move things around and get. We get our food from other places. But when you were just relying on your local farms for your food, weather was really important. And it's starting to become really, really important as we start to cluster together because of population growth. So all of these things are coming back into our consciousness as we become a global community. There's no escaping that. And again, we're seeing that play out in front of our eyes today. 
Jordan Harbinger: [00:29:34] So China's already doing this. What? To turn their desert into agricultural land. Is that the idea? 
Thomas Kostigen: [00:29:39] Hundred percent, yeah. So redirecting rivers, as you alluded to before, and then trying to manipulate the weather so that there'll be more precipitation and in a lot of their deserts, turning that into farmland for their increasingly large population. And then obviously trying to make it a little bit more amenable for things like events that they might have or centers of population, so they don't have flooding or are more susceptible to the negative sides of these things as well. And that's what we have to look at. If you just unleash weather modification, say, great, let's just make it rain. What happens when it starts to flood? Because you don't have the infrastructure and it goes back to a lot of the things we were talking about before of thinking through vulnerable populations who may be subject to flooding like they are in Bangladesh serially. 
[00:30:24] So we have to really think this through and start to have an oversight committee, which they have at the United nations. And even at a local level, you're starting to see geoengineering oversight committees being put into place. Because a lot of these technologies are starting to be embraced and a lot of people are starting to use them. We need to look at the effects of not just one, but all of them in case we start to experiment with a number of these types of manipulations. Like Marine cloud brightening that could lower the temperatures of the ocean. What does that mean for Marine clouds and in turn clouds on land and so, now, we have to look at how we're manipulating all of these things together. And that's a big job and we need to start to look at some of these things and put them into practice if we're going to have any chance of changing the climate for the better in the near future.
Jordan Harbinger: [00:31:12] Tell us about these sunshades. These are like giant parasols. How does this work? Because this also sounds crazy and I'm not trying to make you sound crazy. I just think these are the most wild ideas and we've all heard of things like reduce, reuse, recycle, alternative fuels, solar power. So I'm sticking with the stuff that you wrote about that's a little off the wall. So in case, people think this guy's just a quack. That's kind of my fault because I've selected out the most wacky stuff from your book deliberately. 
Thomas Kostigen: [00:31:39] Oh, no problem. I mean, you know, I look at a lot of these far-out possibilities because I wanted to go to the extreme. I wanted to go to the right wall. I wanted to really look at what's the ultimate possibility out there that we possibly, possibly, possibly could do if we wanted to invest trillions of dollars in, just get some mad geniuses to put their brains around this. And then I bring it back home. Obviously two things that you can use in your home in order to, you know, be a little bit more climate-friendly and we can get into that. Just as a quick note, you're not bringing up anything that I haven't thought of before in terms of defining this as crazy. The original title for the book was Franken Planet. So I wanted to look at, you know, that side of "What happens if we do this," you know, this Franken Planet would evolve, but then I realized, not if we do it measure. If we hack the planet, hence the new title, Hacking Planet Earth, in the right way, we can do things more measured. 
[00:32:42] And the sunshades -- to come back to explain what that is -- this has been talked about by several different scientists at several different universities, and it is blasting nanoparticles out into space, which are reflective materials and would act like satellites clustering together and reflecting the sun's energy before it even got to earth. So, redirecting that energy before it even got to us in order to obviously cool the temperatures here. And there are several ways to do that. One would be to create a manufacturing facility here and then using rockets to get this nanomaterial out into space or colonizing the moon. And now, we're in crazy land, right? 
Jordan Harbinger: [00:33:31] Yeah. Get out those tinfoil hats.
Thomas Kostigen: [00:33:34] Colonizing the moon, creating manufacturing facilities on the moon, and then blasting those out to the Lagrange point, which is kind of a steady point between the earth and the sun and having these clusters exist there. So they would reflect the sun's energy there. So that's far out there would cost several trillion dollars in order to affect this. But if you look at the cost of climate change over time which is about 10 percent of GDP. And if that's the case, by 2050, we're into the trillions of dollars anyway. So, you know, a lot of these things have to be looked at a compounded rate. How do we pay for a lot of these technologies and how much would they cost? That comes into play. But sunshade is certainly probably the most out there, literally and figuratively, when we're talking about geoengineering. 
Jordan Harbinger: [00:34:27] So these are like giant parasols or clusters of particles that float in space. They deflect the sun's rays, and we'd have to make them essentially on the moon, so we don't have to blast them off the Earth's atmosphere the entire time, thereby using so much carbon fuel that we heat us ourselves right back up. Would that change the distribution of sunlight around the earth? What would that do for agriculture? What would be the consequences of this? 
Thomas Kostigen: [00:34:50] You know, in some places, yes, for the worst and some places, yes, for the better. And that's what climate change does. A lot of people talk about climate change and they say, "Well, you know, global temperature rise is actually good if you're in Northern Canada, and now we can start to grow our food there," and we're just not set up for that. And you know, they don't talk about the baking of people in the desert communities and things like that. So when you talk about solar radiation, which is the sun's energy, that creates temperature rise to try to keep it at some type of normality. And it sets about 59 degrees today, all around the planet. That's why temperature rises so important to keep in check. You know, the sun's radiation needs to bounce back out. Once it comes to earth, it needs to bounce back out from white surfaces -- that'd be the poles or that be the deserts -- into space. So there's not enough of it left here that will cause immediate temperature rise or a temperature rise to a high degree. And that's what's happening today. 
[00:35:52] So if you can mitigate the amount that's coming in before it even gets here before it has to bounce back out in certain amounts to keep that kind of balance, then you can do it that way. Very difficult to do expensive logistically, a bit nightmarish. And as you pointed out, how do you get those rockets into outer space, to begin with, and how much fuel does that require? And over what period of time do you have to do this? So there's just a lot involved with that type of, that's called space engineering. There were much more easily accomplished missions that we can do within the Earth's atmosphere before we get to that.
Jordan Harbinger: [00:36:34] So this is decidedly less practical than solar power, decarbonization, which we'll talk about in a minute here. I just wanted to get that out there. I mean it's something that people have spent time trying to design and in theory would work. I just think it's wild that our minds even go there. So I think it's worth discussing. 
[00:36:51] You mentioned earlier in the show that cities expand of course, and they make darker colors on the ground, which heats things up. Is this as simple as asphalt roads, roofs? Are these things that are heating up the planet at a certain scale? I mean, I guess a few extra subdivisions here and there probably don't do much, but if you're talking about megacities that then reach across space to other cities and then just blend together because you have huge metropolis at that point, are you then heating up the earth in some significant way due to the changing of the color of the surface itself?
Thomas Kostigen: [00:37:24] Absolutely. That's called the urban heat island effect. And kind of a fun exercise for listeners is to look at what the major cities are going to be, the metropolis as you say, by 2050 and it will be a very interesting eye-opening thing to look at and where those cities are and how many people live and these mega, mega cities by mid-century. But when you look at that urban sprawl, we are talking about black tops and surfaces that do change temperatures. If you look at Chicago, which has more allies than any other city on the planet, which I found was an interesting fact to it. And that dark surface changes the temperature of inner city Chicago versus the suburbs by many, many, many degrees, sometimes as much as 10 degrees on certain days. So when you'll look at this not just at Chicago, but in New York and Los Angeles and all of these major cities that we have, not only in North America, but all around the world, you look at population growth. Sure. That's one dark patch that just keeps like a big blob growing and growing around our urban centers.
[00:38:35] Now, combine that with deforestation because we need more as we go back to talk about, you know, earlier in our discussion, we talked about more land that's needed to feed people, and when you chop down trees, it was nice light green trees and expose darker surfaces that again, exposes more dark surface to hold in heat. And then you have glacial melt again, white surfaces melting away, exposing more dark land and water underneath. More and more dark surfaces are exposed to trap in heat. So when you look at it like that, yes, it's about how do we mitigate this effect of just darkness overshadowing, sorry for the pun there, all of the lighter surfaces there that do just naturally reflect heat up into space and trap it here and add to global temperature rise. So what can we do about that? 
Jordan Harbinger: [00:39:31] Yeah. Can we just paint our roofs with reflective paint? Problem solved. 
Thomas Kostigen: [00:39:34] Sure. 
Jordan Harbinger: [00:39:35] Oh, you can? Wow. 
Thomas Kostigen: [00:39:36] Sure. 
Jordan Harbinger: [00:39:36] You're welcome. Yeah. You're welcome, world. 
Thomas Kostigen: [00:39:39] Yeah. If you look at what they've done for millennia in Mediterranean countries or places in the Caribbean, and places where it's naturally heat. You don't go there and you don't see a lot of really dark buildings. You go and you see these really white stucco types of homes or businesses, and that's why. It just makes sense. It cools the entire building. 
Jordan Harbinger: [00:40:00] Well, I suppose that makes sense. I guess I can't take credit for that one. You think about like Greek buildings or any sort of Mediterranean or middle Eastern building, it's usually going to be. All white, really thick walls made out of stucco is that sort of some kind of stucco situation, and that, I guess, reflects heat and keeps in cool air from the evening. I'm not totally sure. 
Thomas Kostigen: [00:40:23] Yeah, and that's exactly right. I mean, I live in Los Angeles where you have a lot of Mexican architecture. That's what we call it anyway, or Spanish architecture and that has an idea behind it. And I visited a city of the future, built by Norman Foster, famous architect, and this is in Abu Dhabi, in the UAE. And what he has done is he's stolen from history a lot because you have buildings that are clustered closer together, thereby you don't have as much sunlight blasting into those areas. They're darker alleyways and therefore keeping them cooler, but they are clustered enough closer together so the sun doesn't have enough chance to come down and stay there and then uses a lot of natural materials that are lighter. For the surfaces of not only the roofs, but the facades of buildings themselves, and then redirects a lot of the way they are shaped or situated or cited in areas to allow for natural wind currents to come through and, you know, turn away from where the sun actually shines. 
[00:41:26] So when we start to think about citing, just citing alone, you know, as opposed to East-West, where the sun rises and sets doing it North-South. So you have less windows in areas where the sun's going to shine. Really fascinating, just to think through and super logical. But that's very analog combined with a lot of the technology, like you said, solar panels. There are nanoparticles that can be used on these surfaces to really hyper-cool things as well. So there's a lot of possibilities that we can do just by thinking things through, more so than just plopping down development and saying, "Great, go live there." Let's think about things a little bit before we have people start to inhabit more and more of our urban centers and other places that we're building on. 
Jordan Harbinger: [00:42:16] What about artificial trees? You write about artificial trees that can suck vast amounts of carbon dioxide out of the atmosphere. So one tree can take carbon out of the atmosphere at a million times the rate of a natural tree, which a lot of us probably already know that natural trees do take carbon out, and that's one of the reasons the rainforest is considered the lungs of the earth. So there's a lot of devices now that draw carbon. Why is the fake tree more promising? And also, how does this work? How can something just vacuum? Is it like actually vacuuming carbon out of the air? How does it work? 
Thomas Kostigen: [00:42:49] Yeah. So if we all start to, you know, rattle our brains and move the cobwebs out from elementary school and high school, we realized, oh yeah, trees bring carbon out of the atmosphere and they actually transpire things and we get oxygen from them. And as you said, the Amazon's the biggest evidence of that, the lungs of the planet, even though the oceans vacuum out a lot more, for lack of a more scientific term, more carbon out of the atmosphere than anything else.
[00:43:17] So if you take an artificial tree, which uses materials much like a fishnet or something like that to capture carbon as opposed to fish, think about it that way. And it captures the carbon that's automatically flowing through air circulation, and then it traps that carbon. And this is a big business now, Jordan, it's actually a fascinating economy that's sprung up here called carbon technology and it traps that carbon, and then that solid material is then stored. And people are making pens, they're making bricks, they're using it for all sorts of materials that can be put to use back into society. So you basically trap it like you would any other type of filter. And then you use that carbon for other materials and you can use fuel from this. And that's the game-changer here. And this is what, to me is very, very exciting because one tree does this, as you pointed out, at an exponent of a natural tree. You start to create a forest of these artificial trees and then you have a game-changer. 
[00:44:28] People say, "Well, why don't we just plant more trees?" Well, you would need a forest the size of India really to make any difference or dent in taking carbon out of the atmosphere. And again, that's going to take decades by the time these trees become mature enough to store enough carbon. Artificial trees can be built much more quickly and can pretty much create an equal amount of bringing out of the atmosphere as much as we put into it today. If we did this as just, you know, a manufacturing exercise. So if we just concentrated on that, we could kind of balance out the carbon budget, as they like to say with these artificial mechanisms. There are even portable devices. All sorts of entrepreneurs have come up with ideas to create portable devices beyond just the artificial tree, that you can move around like a giant air conditioner. Put them over a freeway, put them next to a coal plant. Things like that where there's an awful lot of carbon being manufactured through artificial means, and then take that carbon and sequester it into places where we've already mined, for example. Or into greenhouses to increase the possibility for growth there, plant growth. We all know we need carbon for plant growth. And so things like that are being experimented with.
[00:45:49] I have to say, I have one of the most fascinating conversations with the guy who invented this artificial tree, Klaus Lackner. He's in Scottsdale, Arizona, and he's just one of these guys that's just one of these mad scientists. 
Jordan Harbinger: [00:46:02] That's a bad scientist name also, Klaus Lackner. Yeah. 
Thomas Kostigen: [00:46:06] Right.
Jordan Harbinger: [00:46:06] Okay. Come on. Come on, Klaus. Right. I'm a little on the nose, Klaus. 
Thomas Kostigen: [00:46:10] And I was like, "Klaus, how did you come up with this idea? Like what was your lightbulb moment to say, 'Hmm, what if we created an artificial tree to suck things out of the atmosphere?'" And he said, "Well, I was looking at," what'd he say, "Robotic simulation and how can robots basically make other robots and take over the earth?"
Jordan Harbinger: [00:46:32] Yeah, right. That's the mad scientist issue right there for sure. 
Thomas Kostigen: [00:46:36] So it's like, how can robots just basically procreate, you know, make each other. And therefore, there wouldn't be a need for human beings. But it turns out that energy extraction still needs a human touch. And he started to go down this path of extracting energy. And then he looked at the flipside of that, which is all the carbon emissions that are coming out of it and ergo, he eventually followed the bouncing ball to how can we create a more balanced carbon budget world. And that's how he came up with it but just a fascinating dude. So interesting discussion there.
Jordan Harbinger: [00:47:10] Fascinating. But should probably keep an eye on that guy.
Thomas Kostigen: [00:47:12] Yeah. 
Jordan Harbinger: [00:47:12] Given this first question was how can robots make each other without humans at all. 
Thomas Kostigen: [00:47:16] Exactly. 
Jason DeFillippo: [00:47:19] You're listening to The Jordan Harbinger Show. We'll be right back after this. 
Jordan Harbinger: [00:47:23] This episode is sponsored in part by Honey. We all shop online a lot, especially right now. Honey is a free online shopping tool that saves you money online. What it does is whenever you're in the checkout cart of any eCommerce site, it'll remind you to run the Honey browser plugin and it finds the best promo codes anywhere online and applies them to your cart. So you save a ton of money from Target, Best Buy, Sephora, eBay, Etsy, Walmart, Macy's, whatever. This little box drops down so you won't forget, runs every promo code that you can find and you almost always save a bunch of dough. Like I think we saved a bunch of money on a vacuum, saved a bunch of money on a baby monitor. Kind of cool that you can just sort of not do anything other than click this and it suddenly works. They've got over 30,000 stores online that they support and they're adding more all the time, and it's a, it's a well-reviewed plugin. There's like a hundred thousand plus five-star reviews on Google. Jason. 
Jason DeFillippo: [00:48:15] Not using Honey as literally passing up free money. It's free to use and installs in just a few seconds. Plus it's backed by PayPal, so you know you can trust it. Get honey for free at joinhoney.com/jordan. That's joinhoney.com/jordan 
Jordan Harbinger: [00:48:32] This episode is sponsored in part by Better Help. If you're listening to this, you're probably home or near your home or you're going home. Thanks to COVID-19, we're all at home. I know Jen and I are practicing social distancing, staying home more than ever, not just because we have a baby. You might be at home a little down. It's depressing for a lot of people out there, maybe you're doing all right. Either way, social distancing is not an excuse to put your self-improvement on the back burner. A lot of people are taking the time to improve during this little lockdown we've got. Better Help makes it easy to connect with a counselor because you can book videos, chat sessions, phone calls, chat and text. It doesn't matter what computer or device you have. They've got you covered. Connect with your counselor in a private and safe online environment. Everything's obviously confidential. If you don't like your counselor, just get a new one. There's no charge for that and we got a little discount code for you so you can get started and venting to a stranger and/or working on yourself. Jason. 
Jason DeFillippo: [00:49:24] It's a truly affordable option for our listeners because you get 10 percent off your first month with a discount code, Jordan. So when I get started today, it's not like you have places to go or people to see. Go to betterhelp.com/jordan. Simply fill out a questionnaire to help them assess your needs and get matched with a counselor you'll love. So stay inside and work on you. That's betterhelp.com/jordan. 
Jordan Harbinger: [00:49:47] This episode is also sponsored in part by Progressive Insurance. Fun fact, progressive customers qualify for an average of six discounts when they sign up for Progressive Auto Insurance. Discounts for things like enrolling in automatic payments, ensuring more than one car, going paperless, and of course, being a safe driver. Plus customers who bundle their auto with home or add renter's insurance save an average of 12 percent on their auto. There are so many ways to save when you switch, and once you're a customer with Progressive, you get unmatched claim service with 24/7 support online or by phone. It's no wonder why more than 20 million drivers trust Progressive and why they've recently climbed to the third-largest auto insurer in the country. Get a quote online at progressive.com in as little as five minutes and see how much you could be saving. 
Jason DeFillippo: [00:50:31] Auto insurance from Progressive Casualty Insurance Company and affiliates, home and renters insurance, not available in all states, provided and serviced by affiliated and third-party insurers. Discounts vary and are not available in all states and situations.
[00:50:44] Thank you for listening and supporting the show. Your support of our advertisers keeps us on the air. To learn more and get links to all the great discounts you just heard, so you can check out those amazing sponsors, visit jordanharbinger.com/deals. And don't forget the worksheet for today's episode. That link is in the show notes at jordanharbinger.com/podcast. If you're listening to us on the Overcast player, please click that little star next to the episode. We really appreciate it. And now back to the show. 
Jordan Harbinger: [00:51:11] So these trees are amazing. They obviously require electricity to run their machinery, right? They don't have some sort of natural physical property that just happens to vacuum up carbon and use it as fuel. Correct? 
Thomas Kostigen: [00:51:22] No, because a lot of it's based on kinetics. So you have wind that kind of goes through it. Some require some degree of energy, but you know, not a lot. And that's kind of the balance there. But a lot of this is just how much air circulation is flowing through these, let's just call them nets to picture that, how come much air circulation is flowing through these nets and where can they be placed so you can get the vast amount of that. And I mean, obviously, you can use solar energy for a lot of this. So between the two of them, you know how much energy you're using. It's very, very minuscule. 
Jordan Harbinger: [00:51:53] Oh, interesting. And how much of these costs. 
Thomas Kostigen: [00:51:55] You know, each unit, I think is about the cost of an entry-level car. So as we build more of them, the costs will come down. So what's that? $20,000 to $30,000 you know, in that range. And obviously, you'll build economies of scale the more these come into practice and get used. 
Jordan Harbinger: [00:52:12] How many do we need to recapture all the fossil fuels that we're dumping in the air right now? Do we know how much it would take to balance the carbon budget, so to speak? 
Thomas Kostigen: [00:52:21] Yeah, about a hundred million, so -- 
Jordan Harbinger: [00:52:22] Okay.
Thomas Kostigen: [00:52:23] Yeah. That's a pretty big forest. 
Jordan Harbinger: [00:52:24] It's a pretty big forest. I actually have no idea how much space that would take up. Do you? 
Thomas Kostigen: [00:52:29] It would take a big chunk of the forests here. It depends on how close you would put them together. You know, I talked to Klaus about this. You don't want to put them all together in one place, by the way.
Jordan Harbinger: [00:52:42] Right, that makes sense. 
Thomas Kostigen: [00:52:43] You want to have it spread out all around the planet. So when you look at how many trees are basically in the boreal forest in Russia, probably about the same amounts. So something like that, it's scale, but again, you wouldn't want to put it all together. But if you look at the amount of cars, you know, he said a more correct analogy is how many cars get built in a year and can we ship them. And you're talking about a similar amount of things. So we do have the ability to manufacture them, and obviously, we want to spread them all around the planet as much as we can. And so it's not so crazy when you start to think about it that way. 
Jordan Harbinger: [00:53:17] No, it's not. I mean, it's actually quite fascinating. Do they make noise? 
Thomas Kostigen: [00:53:21] No. 
Jordan Harbinger: [00:53:22] Really? 
Thomas Kostigen: [00:53:22] No. I saw one. It's very, very silent. 
Jordan Harbinger: [00:53:25] That's crazy. This is like the earth-saving addition of the Sharper Image catalog. Like get this fake tree, it'll purify all the air in your house. And it doesn't make any noise.
Thomas Kostigen: [00:53:36] And they actually are coming out with things like that. When I was in Masdar -- I don't want to name the brand -- but there is a major brand that has something that you could put into your house that much like those kinds of ion machines, you know, to go back to that again, but those iron machines you can put in your house to make the air cleaner and makes you more mellow, whatever to balance that out. They have the same thing to change the air molecules to make it a much cleaner and have a lot of filters for your home as well. So yeah, you'll start to see them in a lot of these catalogs. 
Jordan Harbinger: [00:54:09] Geez.
Thomas Kostigen: [00:54:09] Yeah. You do have home devices water out of air. You know, this is a device for that. So you're starting to see this on a personal level. Of course, we want to see this at the industrial level to make a big shift for climate impact. 
Jordan Harbinger: [00:54:22] Yeah. And just remember if you put one of these in your house, you're letting Klaus Lackner into your living room. 
Thomas Kostigen: [00:54:27] He's your service repairman. Yeah. 
Jordan Harbinger: [00:54:29] Exactly. What about these certain types of rock? This blew my mind that there's a type of rock that just naturally when exposed to the air sucks carbon out of the atmosphere. What is this? And can we manufacture this rock somehow? Or does it happen to come out of the earth and that's kind of it? 
Thomas Kostigen: [00:54:45] It comes out of the earth and that's kind of it.
Jordan Harbinger: [00:54:47] Oh, so not really a solution then. 
Thomas Kostigen: [00:54:49] Right now we're talking about the Rocks of Oman. In Oman, they've discovered that the rocks that they have in certain areas there capture carbon at an exponential rate, like crazy amount and actually can make a difference if you crumble them up and put them over, let's say, you know, farmland. They will make a difference. There's a similar type of rock in Northern California and in different places, and what happens is they've come up from basically Middle Earth, let's call it, overtime, with volcanic eruptions and just it's tectonic plates movement. And they've come up through that means to rise to the surface, but that takes a really long time. So they've figured out a way to manufacture them. There are some people at Columbia University, looking at how they can replicate those, but they haven't come up with anything that I've seen to be able to artificially replicate it to any means or any degree, but they are looking at them as natural solutions that can be crumbled up and put in different places to actually store carbon. We look at that along the same lines, I would say is regenerative farming or regenerative soil production, that type of thing. 
Jordan Harbinger: [00:55:58] Now, marine cloud brightening is something that you discussed earlier in the show and in the book. I've heard of this before. This is where we're essentially blasting seawater into the air, and it turns into clouds or goes into existing clouds and brightens them and deflects the sun and cools the ocean area beneath. So this kind of technology could potentially save the Great Barrier Reef. It can stop hurricanes because as I learned also through reading your book, hurricanes are caused by warm water on the surface. So this is actually quite a useful solution given how destructive hurricanes are and other sea-based storms. 
Thomas Kostigen: [00:56:36] Yeah, yeah. Ocean water temperature rises really, really significant, and the marine environment is very, very sensitive to temperature rise. So to take it back into our James Bond discussion, they've just devised these auto piloted ships or yachts as they call them, that will traverse the oceans and be dispersed to certain areas where they're starting to see the ocean temperature rise and have them do exactly what you say, which is to have these spouts put on top of these catamaran-like marine vehicles, and then shoot ocean water up into the clouds. Marine clouds lie a lot lower in the sky than clouds over land. So they have a higher degree of preponderance for that water to get captured, as you described, into those clouds and therefore, you know, reflect the sun. And if you put them in a place like the Great Barrier Reef, and there was just a report out this week about how bleaching is now kicking off again and being much more severe than what they had thought. They thought they had slowed bleaching on the Great Barrier Reef. And bleaching, this means those organisms, the Great Barrier Reefs is an organism. It's coral as the largest living organism on earth. And when that starts to die off all of the marine life around, it starts to die off too. So just a few degrees temperature difference of rise suffocates a lot of the phytoplankton there and zooplankton there so that they don't have anything to feed on. And then the fish don't have anything to feed on and so on and so forth as we have kind of the pyramid of life. 
[00:58:15] So what they're looking at is how can we cool these temperatures in the sea temperatures, and if you spray water up into the atmosphere and have the clouds above them kind of cool things, then the area below, obviously it gets cooled. There were other means of ocean thermal means where it's taking cool water from the lower parts of the depths of the ocean, of course, where the sun doesn't make it as far down there, the sun's energy, so it gets cooler. If you dive into the bottom of a pool or swim out farther off the beach and go deeper, the waters there, you realize it's cooler, right? You start to bring that cooler water closer to the surface. And that's what ocean thermal means too. And as you pointed out, yeah, you need a certain amount of temperature at the surface to fuel hurricanes. And so if we can cool the surface of areas, then we can kill those hurricanes in their tracks and stop them from hitting land. That could be a big, big savior for a lot of centers of population that are close to the shores. You have  I think a billion people that live within 50 feet of the seashore. So that's a very, very vulnerable population right there that we can then do something about through technology.
Jordan Harbinger: [00:59:34] How do these boats, are they just solar powered boats and they just, they're huge platforms that just skim around for a long time or stay in place and just blast water up in the air 24/7? 
Thomas Kostigen: [00:59:45] They have GPS systems. They're auto piloted so they can be controlled by a remote captain, let's call him or her. And then they can be dispatched to an area where -- people may not realize, but all around the globe, we have different buoys that take temperature rises of the sea. So we know when things are starting to bubble up as a war and get warmer. So that way we could predict hurricanes. And so when you start to use those in combination with weather satellites that are much more exact, we could start to see when things are going to be, you know, starting to have the right recipes starting to form for superstorms. And if we can then dispatch things like these, or you know, Bill Gates has a similar vehicle. It's like an octopus that it looks like, and that actually just sucks water from the depths of the ocean and brings it to the top in order to cool the top of the sea surface temperatures there. So if we could dispatch them at the right time, then we have a better chance of maybe mitigating a lot of the extreme weather that we're seeing derives from climate change. 
Jordan Harbinger: [01:00:54] I know we only have you for a limited time, but I'm curious about geoengineering that slows down the polar ice melts because this is a topic that everyone's talking about lately as well. I didn't realize that the water from the melting glaciers was actually causing these same glaciers to melt even faster. How does this work and what are people doing about this? You actually made a trip out there from what I understand.
Thomas Kostigen: [01:01:15] This was probably my most fascinating journey aesthetically. I mean, I went to Arctic Norway and physically very, very challenging. And then really eye opening to see what scientists or the lengths that scientists are going to, I should say depths, because I'll get into this in a minute, where scientists going into subglacial tunnels and staying for months in order to investigate the depths of ice in these land glaciers and how to stop them from melting. It's really important for people to understand that sea glaciers, the type you see floating around in the oceans already, those don't add to ocean volumes. That's already baked in. It's like melting an ice cube in a glass that's already there. It's not going to add to the volume of that glass. But if you take water or from another source and put it in, then all of a sudden you have a different volume. So land, glaciers, land-based glaciers, add to sea level rise. And that's why we're very keen on looking at like the Greenland glaciers or these glaciers and Norway or places where it's a land-based glacier, like Antarctica. That's why those are so important to keep an eye on and mindful of because that is when an unnatural amount of water starts to flow from these glaciers as they melt into the seas. That adds artificially to existing sea volumes and temperature starts to rise. 
[01:02:49] So I went to Arctic Norway and hiked up this glacier. The weather started to come in and I got stuck on the glacier for hours. I couldn't meet up with my team who was also stuck on a different part of the glacier but had to top rope down to get off the glacier as the weather started to get really gnarly up there. And what I was looking at are these scientists who have created these stanchions to slow the melt. When you look at how much -- you know, flowing water is a force, and what it does is it starts to break up ice faster and faster. The more that, the faster that water flows. When you use a hose, for example, in your garden and you put your thumb on it and you increase the amount of the rate that water's coming out. You can blast suds off your car or you can blast dirt off your driveway, think about it that way. Take your thumb off it again and it slows, it doesn't do as an effective job of moving things around. Now take that same analogy with the ice or snow, and if you can slow that rate of water of melt, you have the better chance of that ice staying on the surface longer. It slows the melt on the top that way, and it allows the thickness of the ice to remain.
[01:04:06] So I went up to see what they were doing there. It was fascinating to see the physical environment that they were in. I had a little difficult time getting back down, so thankfully it stayed light when I was there, well into the evening hours, and I was able to safely make my way back to base camp. But you get stuck in these circumstances and it reminds you just how human we are in the face of nature, especially when faced with the extremes in these circumstances. And then you look around at the beauty, I mean, just the awesome earth beauty that you're exposed to there along the Arctic seas that you're looking out, and some of the coastlines there, which are spectacular. 
[01:04:49] And you realize, wow, we are part of nature. How can we start to work with nature? What can we do to use our faculties and our minds to take innovation, to take technology, to take what we do, which is to stretch the human mind to think of things that can make life for the better for all of us, for society? How can we work with nature in order to do that? And that's what geoengineering really is at the end of the day. It's about saying, how can we take some of the burdens away from Mother Nature who has been straddled with our existence in the detritus of our existence for so long. How can we take and artificially help and assist Mother Nature to do that? What are those means? Solar engineering, carbon engineering, ocean engineering. You know, what can we do in order to make the land a better place to feed off of, to live upon, and have just a better environment for us all. And if we look at it from that perspective, I think we have a chance of really attacking climate with the right attitude.
[01:05:59] And now that we have the means available to us, we can engender, hopefully, the private sector, the venture capital community, the business community, to get together with the science community to get these technologies at scale. Governments traditionally do this. They're the protectors of society, but we haven't seen the policies go in this direction. In fact, we've seen them go backwards of late. So what can we do? What can we do as individuals? What can we do for businesses? How can we create a market? How can we create demand and what type of innovations are going to work at scale in order to roll back the damage we've done to the climate? And that's what I write about in the book, and that's what geoengineering and my mind is all about.
Jordan Harbinger: [01:06:47] And do you think that this is a government project or like a UN thing or is this private sector? Because I think a lot of people are going to be pretty surprised if governments can get off there, you know what, and get this done because it seems highly unlikely. You think the private sector can play a role here. It seems like all these inventions have come from private sector companies. I don't hear anything about government scientists inventing carbon trapping trees. 
Thomas Kostigen: [01:07:15] Yeah. You know, look, we've had a lot of faith and hope and governments, obviously since the Kyoto protocol. We had a big wakeup call after an inconvenient truth came out in 2007 and everybody said, "Oh my God, now we have to start being environmentally friendly." And an entire business rose up and consciousness did rise up about that. But carbon emissions have still continued to rise and governments still haven't been able to do anything about it. So we have to turn to the private sector that can actually work quickly. If you look at the smartphones that we have in our hands, almost all of us today, and all of the things that we can do with it. We could shop with it. We can get a car with it. We can, you know, figure out where people are with it. We could communicate. We could browse the Internet. It's an amazing device that didn't exist 15 years ago, even a decade ago. That's a quick change. That's the type of change that we need for the climate. And that's why the private sector's involvement is so, so important. So I'm laying down my bet and I'm hoping that we get people like Larry Fink at BlackRock, the largest money manager in the world, to continue to talk to businesses and really encouraged them to get more climate friendly and to look to solutions, not just mitigation and prevention efforts, but to technologies that we can all embrace and get behind that will make a difference at scale.
Jordan Harbinger: [01:08:35] Thomas, thank you so much. 
[01:08:39] It's amazing that some of this stuff is real. We really do need to bridge the gap between investment community, big business and science to develop climate solutions that can repair the climate today. Not 40 years from now, but now, now. Thanks to Thomas for coming on the show. The book is called Hacking Planet Earth: How Geoengineering Can Help Us Reimagine the Future. Links to Thomas in his books will be on the website in the show notes. If you do buy anything from the show, books or otherwise, please use our website links. It does help support the show. Also in the show notes, there are worksheets for each episode, including this one. You can review what you've learned here from Thomas Kostigen. We also now have transcripts for every episode and those can be found in the show notes as well. 
[01:09:21] I'm teaching you how to connect with great people and manage relationships using systems and tiny habits over at our Six-Minute Networking course, which is always free over at jordanharbinger.com/course. Don't kick the can down the road. Don't do it later. Build your network before you need it. Even if it means starting from scratch. Dig the well before you get thirsty. The drills take five, six minutes a day. This stuff I wish I knew 20 years ago. This is crucial and it's free. It's at jordanharbinger.com/course. And as I said before, most of the guests on the show do subscribe to the course and the newsletter. So come join us and you'll be in smart company. 
[01:09:57] In fact, why not reach out to Thomas Kostigen? Tell him you enjoyed this episode of the show and all his wacky climate geoengineering theories. Show guests do love hearing from you, and you never know what might shake out of that. If you want to reach out to me, I'm at @JordanHarbinger on both Twitter and Instagram.
[01:10:12] This show is created in association with PodcastOne. The episode was produced by Jen Harbinger and Jason DeFillippo, engineered by Jase Sanderson, show notes and worksheets by Robert Fogarty, music by Evan Viola. And I'm your host Jordan Harbinger. Our advice and opinions, and those of our guests are their own. And yeah, I'm a lawyer, but I'm not your lawyer and I'm not a scientist if you couldn't tell. So do your own research before implementing anything you hear on the show. Remember, we rise by lifting others. The fee for this show is that you share it with friends when you find something useful or interesting. And if you know somebody who's interested in climate change, science, geoengineering, share this episode with them. Hopefully, you find something great in every episode. So please do share the show with those you love. In the meantime, do your best to apply what you hear on the show, so you can live what you listen, and we'll see you next time.
Sign up to receive email updates
Enter your name and email address below and I'll send you periodic updates about the podcast.