Reading Time:
3
minutes
A.J. Jacobs (@ajjacobs) is a New York Times best-selling author who went on a quest to help build the biggest family tree in history, as detailed in his latest book It's All Relative: Adventures Up and Down the World's Family Tree. [Note: This is a previously broadcast episode from the vault that we felt deserved a fresh listen!]
What We Discuss with A.J. Jacobs:
What did A.J. Jacobs learn by following every rule of the Bible literally for one year?
How much do you really know about your heritage?
See how relating to one another on a family tree of millions is a step toward overcoming the ills of modern tribalism and race relations.
Why acknowledging the bad as well as the good revealed by digging into family history is important.
The disciplined daydreaming of A.J.'s brainstorming sessions and how we can cultivate our own big-picture thinking.
And much more…
Like this show? Please leave us a review here — even one sentence helps! Consider including your Twitter handle so we can thank you personally!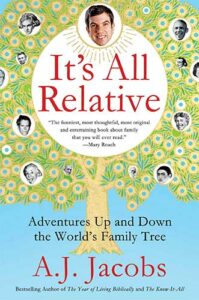 Ever wonder if you're related to anyone famous — or infamous?
New York Times best-selling author A.J. Jacobs wondered, too. His new book, It's All Relative: Adventures Up and Down the World's Family Tree, chronicles his three-year quest to help build the biggest family tree in history. Verdict: he's related to plenty of famous — and infamous — people, and he's probably related to you.
Listen to this episode in its entirety to learn more about why we should pay attention to the black sheep in our family history as well as the heroes, the problems society can focus on solving when people treat each other as relatives rather than members of separate tribes, how A.J.'s opinion of Judge Judy was positively affected when he found out she's his eighth cousin, how the modern-day Hatfield and McCoy families have buried the hatchet on their legendary feud, why "racial purity" is a laughably disprovable concept, what Jordan, Jason, and A.J.'s DNA tests turned up, A.J.'s process for brainstorming, and lots more. Listen, learn, and enjoy! [Note: This is a previously broadcast episode from the vault that we felt deserved a fresh listen!]
Please Scroll Down for Featured Resources and Transcript!
Please note that some of the links on this page (books, movies, music, etc.) lead to affiliate programs for which The Jordan Harbinger Show receives compensation. It's just one of the ways we keep the lights on around here. Thank you for your support!

Sign up for Six-Minute Networking — our free networking and relationship development mini course — at jordanharbinger.com/course!
This Episode Is Sponsored By:
Miss our two-parter with wrongfully imprisoned Erik Aude? Catch up by starting with episode 147: Erik Aude | Imprisoned in Pakistan for a Crime He Didn't Commit Part One here!
Thanks, A.J. Jacobs!
If you enjoyed this session with A.J. Jacobs, let him know by clicking on the link below and sending him a quick shout out at Twitter:
Click here to thank A.J. Jacobs at Twitter!
Click here to let Jordan know about your number one takeaway from this episode!
And if you want us to answer your questions on one of our upcoming weekly Feedback Friday episodes, drop us a line at friday@jordanharbinger.com.
Resources from This Episode:
564: A.J. Jacobs | It's All Relative
[00:00:00] Jordan Harbinger: Coming up next on The Jordan Harbinger Show. 
[00:00:03] A.J. Jacobs: You look around, I mean, tribalism in politics, I just think it is really literally tearing our society apart because we're all obsessed with our differences instead of focusing on the 99 percent of DNA that we share. This idea of one big family is one way to fight it. There's a great study last year, by Harvard, that showed when they told Palestinians and Israelis how closely they were related, they treated each other with kindness and more willingness to negotiate. So it's sort of this, what behavioral economists call the family bias that you are biased naturally to treat your relatives with a little more generosity.
[00:00:49] Jordan Harbinger: Welcome to the show. I'm Jordan Harbinger. On The Jordan Harbinger Show, we decode the stories, secrets, and skills of the world's most fascinating people. We have in-depth conversations with people at the top of their game, astronauts, entrepreneurs, spies, psychologists, even the occasional billionaire investor, mafia enforcer, or money laundering expert, or even a drug trafficker. Each episode turns our guests' wisdom into practical advice that you can use to build a deeper understanding of how the world works and become a better critical thinker. 
[00:01:17] If you're new to the show, or you want to tell your friends about it, and you're not sure where to get them started, I suggest the starter packs. These are collections of top episodes, organized by topic. It'll help new listeners get a taste of everything that we do here on the show. Just visit jordanharbinger.com/start to get started or to help somebody else get started with us. Of course, I always appreciate it when you do that. 
[00:01:37] One from the vault today, on this episode, we'll be talking with my friend A.J. Jacobs. This guy is — he's super interesting. He's quirky. He does these extreme personal experiments. One was a year of living biblically. So he followed the Bible as literally as possible. We'll ask him about that. One of the other ones we focused on in this episode, he researched DNA genetics, family, and he takes it to his usual extreme in a heartfelt quest that's quite fun. He's a funny writer. The way he tells stories is pretty unique. So we're going to explore a little bit of the family of humankind here and today we'll discover how we're all related. Just actually related, like we're all one giant family and why this matters in terms of everything from the structure of society, how we treat one another on a daily basis. And we'll also explore some concrete strategies on how to cultivate deeper, big picture thinking, better brainstorming, and construct some of A.J.'s famous extreme personal experiments if we decide to do that for ourselves as well. So it's a fun conversation with a brilliant and quirky guy. I know you're really going to dig it. He's always fun here on the show. 
[00:02:38] And if you're wondering how I managed to make friends like A.J. Jacobs and book all these great authors, thinkers, and creators every single week, it's because of my network, full of wacky folks. And I'm teaching you how to build your own network for free over at jordanharbinger.com/course. And by the way, most of the guests on our show, they're already in the course, they subscribed to the course, they contribute to the course. Come join us, you'll be in smart company where you belong. 
[00:03:01] Now here's A.J. Jacobs.
[00:03:06] When people look at reality TV shows and things like that and I look at your record here, the year of living biblically, honest face, at first glance, somebody might say, "Look at this attention, seeking punk here." You lived like the Bible for a year. Tell us about what that was. I know we talked about it years ago, but I'm not convinced everybody who's listening to this just listens to our episode from five years ago, right before I end. 
[00:03:31] A.J. Jacobs: This started — this was a few years ago and I grew up with no religion at all. As I say, in the book, I'm Jewish, but I'm Jewish in the same way, the olive garden is Italian. You too, right? 
[00:03:42] Jordan Harbinger: I mean even less so. I didn't even know about it until I was 13.
[00:03:45] A.J. Jacobs: Really. 
[00:03:46] Jordan Harbinger: Here's how I found out that I was of Jewish ancestry. I'd come home one day from school. And I said something like, "Did you hear about this guy named Hitler?" And my mom's like, "Ah, yeah, I think I read something about that." And I said something like, "Yeah, it's so terrible, all the things. And it wouldn't happen to us because we're not Jewish." And she said, "That's funny because you know you look a little bit Jewish." And I said, "Uh-uh." And she showed me pictures of all these people who we were related to. And I said, "Yeah, but these people aren't Jewish." She said, "Yeah, they are." And I said, "Well, wait a second. If grandma's Jewish and her grandma and her mom was Jewish and then yet side of Jewish, and then that would, I don't understand." And she said, "Yeah, you're like one-sixteenth on your mom's side and my mom's side." Since it's maternal technically, you know, I fall into it. So when Hasidic people find out about that, they just go crazy. But for me, I had Christmas growing up because my parents thought it was easier. My mom was non-practicing and my grandma grew up in a Polish neighborhood in Detroit, where you didn't say, "Happy Hanukkah," to your neighbors because they would egg your house or something like that. And everybody was Catholic, so they just went screw it and they just kind of didn't do anything. So I didn't know about it. And then in college I had kind of went to a couple of those like Jewish dinners and stuff, and I was like, "Okay, I'm done with this. I'm good. I'm all set now. We're done exploring this. 
[00:05:00] A.J. Jacobs: So you didn't do a year of looking like Moses because that's the other way to go if you don't know anything about it. 
[00:05:07] Jordan Harbinger: Right. 
[00:05:08] A.J. Jacobs: Yeah, I know nothing about it. So I thought one way to learn about the Bible might be to actually live it and dive in and sort of following the footsteps of our forefathers. I got a board of spiritual advisers. I had rabbis and ministers and scholars, and then I wrote down every single rule in the Bible and there are hundreds and I wanted to follow the famous ones, like the 10 commandments and love your neighbor, but also the weird forgotten rules. Like don't shave the corners of your beard. I didn't know where the corners were so I just let the whole thing grow. And I had this topiary on my chin and I spent a lot of time at airport security. That's what I look at. The Bible says to stone adulterers. So I went ahead and did that. I used pebbles because I didn't want to spend my life in jail. That was the premise. And it was partly to explore, what am I missing by not having any of these rituals? It was partly sort of a way to take on fundamentalism because there are all these millions of people who say, "Oh, we live the Bible literally." And I was like, "Really? You lived the Bible literally, but what about avoiding clothes made of mixed fibers? Do you do that? Do you have a biblical slave?" These are all things that they did in the Bible. So I want it to show that fundamentalists are actually very selective. They're cherry picking. 
[00:06:29] Jordan Harbinger: That's interesting because most people who just want to point out that fundamentalists are being selective, just say, "Hey, you're being pretty selective. Look at all these things you didn't follow." And they write an article about it for Medium and that's the end. They don't spend a year growing out the edges of their beard. I remember one story. You were on a park bench and someone said they were an adulterer, just to see what you would do. And you threw a pebble at them and then like gunned did away from him because he got angry.
[00:06:52] A.J. Jacobs: That's exactly right. You remember correctly. I don't often mention this but he was like 82 years old, so I probably didn't need to gun it quite as fast. I thought this was a very simple way to show that fundamentalism is flawed. I mean, you can write an article, but this is a visual, like you can see the craziness. You can see how crazy I look. 
[00:07:14] Jordan Harbinger: What did your wife and family think about this? Because I assume there were a lots of things that were massively, massively inconvenient for them. 
[00:07:22] A.J. Jacobs: Well, I think it depends. There were pros and cons. My wife actually liked some parts of it because I was trying to be better. You know, the Bible says, "Don't lie, don't covet, don't gossip." And I live in New York City and I'm a journalist. So that was like most of my day. So I think I became a little more compassionate. So I really was working on this moral makeover aspect, but at the same time you had all of these ancient tribal crazy rules. Like the Bible says you cannot touch women during their time a month when they're menstruating. But even more Leviticus says that you cannot sit on a seat where a menstruating woman has sat because that seat becomes impure. And my wife found that offensive. So she sat in every seat in our apartment and I had to stand for most of the year. So in that way — and later I did a book on health and I've learned how unhealthy it is to sit. So she was actually doing me a favor. That's the way I reframe it. 
[00:08:22] Jordan Harbinger: I love that she decided to teach somebody who wrote part of the Bible, you know, thousands of years ago, a lesson by making your life really hard during the hardest year of your life. 
[00:08:33] A.J. Jacobs: You know, I believe there are aspects of religion that I took away and made my life better. And I'm happy to talk about those, but I also believed that the Bible was written by some people and some of them obviously had serious issues. So there's one rule in the Bible that I always think about, which is that if two men are in a fight and the wife of one of those men grabs the testicles of the other man, then her hand shall be cut off. Like that's literally in the Bible. And I'm like, why would anyone write that? My theory is it's got to be that. This guy was in a fight and the opponent's wife grabbed him by the balls. And he's like, "This is never going to happen again. God is going to come down and say, 'You do not grab another guy's balls.'"
[00:09:25] Jordan Harbinger: Yeah. It's like, let the guys handle it. Don't bring your family into it because he's not allowed to strike her. And she's literally got you by the balls. This is totally unfair. This is not how you're supposed to fight, apparently. And so unless you work for Fox News, you cannot break that rule. 
[00:09:42] A.J. Jacobs: That is right. And it's right there in the Bible. 
[00:09:45] Jordan Harbinger: What did you take away from that experiment that improved your life that still sticks with you? I'm curious. Because of course walking around with a crazy beard and probably some sandals that you had to weave yourself or something out of children's hair was really inconvenient. But what was good that you took away from this? Not lying seems very tough. I talked about that with Sam Harris here on the show, not lying anymore. It's extremely hard because white lies count and untruths and omissions. All of that stuff counts. 
[00:10:12] A.J. Jacobs: Yeah. There was a ton of stuff that made my life better and that I still try to practice. I'll just give you a couple examples. One is the idea of gratitude because the Bible has a few lines where it says you have to be thankful for everything. So I took that literally. So I would press an elevator button and I'd be thankful the elevator came. I'd get in the elevator. I'd be thankful it didn't crash and break my collar. So it was a weird way to live because you were doing this hundreds of times a day, but it was also wonderful because you do realize there are hundreds, thousands of things that go right every day that we totally take for granted. And we as humans focus on the three or four that go wrong.
[00:10:53] So it's this radical shift in perspective that I still try to keep. Even something like whenever I'm online at the drug store and it's a short line, really try to make a mental note. So next time I'm in the long line. Just remember that it evens out. I'm still atheist agnostic, but you can still enjoy and find meaning and beauty in the rituals of religion, even if so, I do like getting together with my family and, you know, having Passover, eating this salty and sometimes gross food.
[00:11:25] And also the idea of community. That's a big one in the Bible, because in biblical times, this idea of the individual was very minor. It was really all about the community, all about your neighbors and your tribe. And I do think we swung a little too much towards this idea of the individual and all of our rights. We've got all these rights, but we forget about the responsibility to the community. So I think we need more of a balance in that. 
[00:11:54] Jordan Harbinger: What inspired the newest book, It's All Relative? Why go out and prove that all humanity is one family and kind of do this large family reunion. Tell us what you grabbed from this and why you even started this journey in the first place.
[00:12:09] A.J. Jacobs: Yeah, this was a weird one because I did not expect to pursue this topic, but it turned out to be one of the most fascinating in my life. And it started because this was about three years ago, I got an email from this guy and he said, "You don't know me, but I am your cousin." So I was immediately suspicious. I figure, all right, he's going to ask me to wire $10,000 to Nigeria, but actually he was legitimate. And he's one of these people who is helping to build the biggest family tree in history with literally millions of people in dozens of countries, hundreds of ethnicities, all connected on a single tree. That just blew me away because as I said, I always thought genealogy is a little stodgy, maybe not so sexy. But now with all these technology advances, it is so relevant and it affects everything from politics to race relations and tribalism, which I think is perhaps the biggest problem humans face right now. So I fell in love with the idea and I decided this has to be my next book. 
[00:13:17] Jordan Harbinger: You found out you were related to your wife. That's disserving it. Tell us how this happened, because I can't imagine that news went over really well. 
[00:13:25] A.J. Jacobs: That's right. I took all of the DNA tests. I took like seven of them, but one of them, 23andMe, which we can talk about later, they send you a list of people who share enough DNA that they are your cousin. So I get the list and I'm looking down. I don't recognize, don't recognize. Oh, wait, there's a name I recognized: Julie Jacobs, my wife. I went in to show my wife. Ironically, and I couldn't have scripted this, she was watching the Game of Thrones and I was like, "Hey, look at this, we're cousins." I thought it would spice up our marriage, like the forbidden fruit, but no, she was grossed out. But actually, I have a whole chapter in the book about the history and ethics of cousin marriage, which is crazy. If you do buy this idea that we're all related, you're married to your cousin. 
[00:14:13] Jordan Harbinger: Luckily, my wife is of Chinese origin. So it's a very distant cousin, but still, yeah, if we're all related, then I guess we're all in that boat. Although in It's All Relative in your book, you did have an interaction with a guy who runs a website that is for cousins that are in love. And we're talking like first cousins, right? 
[00:14:30] A.J. Jacobs: Yeah, first and second cousins. I had two reactions. I mean, the first is, this is so great. But that's a gut reaction. A lot of things I find gross, but shouldn't be illegal. So the more I thought about it, and the more I talked to the head of the first cousin marriage, the more I kind of saw his point of view. I mean, I'm not in favor of cousin marriage. I don't want everyone to marry their cousin, but if you do happen to fall in love with your first cousin, I do think you should be allowed to marry. And they actually have their own lingo, like cousbands. They become cousband and wife. 
[00:15:02] Jordan Harbinger: I can see why they need a website to kind of keep that under wraps. You probably looked into this, it's got to be anonymous or something like that. Right? I mean, this is— 
[00:15:09] A.J. Jacobs: Right. But I would say, I always love to think about it. You know, we look back 200 years and we're like, "Oh my God, they had slaves. What horrible people?" And then just the list of all of the horrible things they did. So in 200 years, what are going to be our behaviors that people are going to say, "Man, those guys are assholes." And it won't be high on the list, but I do think this revulsion to first cousins marrying, they'll be like, "Hey, big deal. Why would they care? Why did they find that so disgusting?" 
[00:15:41] Jordan Harbinger: Some of the trends that you discovered in the big human family were even more interesting than some kissing cousins. Genealogy is like this far more exciting field than anyone ever thought. There's people who research, they only look for the black sheep. And I'm going to need an intro to this because I've got some black sheep in the not so distant past in my family. I don't even know how it was related to me directly, but on my mom's side, some guy, he was a mob enforcer, basically. The only photo we have of him is him beating someone up in the street and it was in a newspaper and it's him and a couple other guys in trench coats, like, you know, destroying some guy who's on the ground. And it was because — since he was also Jewish, he couldn't get a job, I think it was Ford or General Motors. They just wouldn't hire Jews. So he went and he worked for the union breakers who were basically just thugs contracted out from the company to the mafia. So in the end he did get a job at Ford. He just wasn't on the assembly line. He got a job beating up people on the assembly line who are trying to unionize.
[00:16:43] A.J. Jacobs: And also it sounds like he's an entrepreneur. 
[00:16:46] Jordan Harbinger: There you go. That's where it comes from. 
[00:16:48] A.J. Jacobs: Yeah. He was a self. There are people. There's one guy who goes to these conventions and he literally puts on black and white striped prison suits to advertise that he'll find the black sheep in your family. I didn't have any mob enforcers. I have to say I'm jealous. I had one guy who stole microscopes. It's a geeky crime, but I'm a fan of science. This guy got interested because his grandfather was in Sing Sing Prison for polygamy. I mean, one thing that I think is interesting is I think it's good to have people confront the black sheep and their family, and realize that we all have good and bad in our family. It sort of democratizes things and makes us realize we are not beholden to our ancestors. We can rise above them. 
[00:17:32] And that's why that whole — I don't know if you remember this mini scandal where Ben Affleck was on one of those ancestry shows. 
[00:17:39] Jordan Harbinger: Oh no. 
[00:17:40] A.J. Jacobs: Oh yeah. It turned out. One of his ancestors was a slave owner and he lobbied the show successfully to get it censored from the show. Then the Sony hack happened and it came out that he had censored this and he got in a lot of trouble, which I think he deserved to get in trouble because why censor it? The fact that he's not racist, I think that's a great educational moment. I think you can teach people, "Listen, we all have horrible ancestors, but we don't have to follow in their footsteps." So that really drove me crazy. 
[00:18:15] Jordan Harbinger: Yeah. I understand a little bit why, but I also think you're right. It is inappropriate because it's kind of like, you're trying to imply that people in your past have never done anything wrong, which is ridiculous. This is also one of the reasons why when people, cookie people, in my opinion, claim things like, you know, "I have an injury from a past life," or, "I'm having memories from a past life." It's never, "Yeah. You know, I was just some run-of-the-mill peyon, I was a farmer and then I got killed in the war. I didn't last five minutes. I died aged 16." It's never, that it's like, "I was a knight of King Arthur's round table." You never sh*t shoveler in the middle of nowhere. 
[00:18:51] A.J. Jacobs: That is such a good point. People are so selective in there and say, "Oh, I'm a descendant of King Charles," but yeah, but you're also a descendant of, as you say sh*t shovelers and stevedores and embezzlers. Own up to it. And actually this, I think, does have profound implications because there's a great study that showed the kids who are taught about their ancestors are better adjusted. This was an Emory University study. But it wasn't just that they knew the dates of their grandparents' birth, because you know, who cares? It's the stories. And not just any stories, the fact that every family has had its ups and downs. Every family struggles and fails, but perseveres and has grit and sticktoitiveness. So I love to tell my kids about all the failures in our family's past and all my failures. I'm like huge about telling him all the terrible ideas I've had over the years and how much I got rejected to give them the idea that it's okay to feel. I may go overboard. I think sometimes they think, "God, dad is such a loser. Like all he does is have these failures." So I've got to adjust a little and tell them I do have occasional successes. But I think that it is important to talk about the farmers and stevedores, as well as the kings and popes. 
[00:20:12] Jordan Harbinger: You're listening to The Jordan Harbinger Show with our guest A.J. Jacobs. We'll be right back. 
[00:20:17] This episode is sponsored in part by Bambee. When running a business, HR issues can kill you. Wrongful termination suits, minimum wage requirements, labor regulations, and HR manager salaries are an average of $70,000 a year. Bambee, spelled B-A-M-B-E-E, was created specifically for small businesses. You can get a dedicated HR manager, craft HR policy, and maintain your compliance all for just $99 a month. With Bambee, you can change HR from your biggest liability to your biggest strength. You're dedicated HR manager is available by phone, email, or real-time chat from onboarding to terminations. They customize your policies to fit your business and help you manage your employees day to day all for just $99 a month, month to month. No hidden fees, cancel anytime. You didn't start your business because you wanted to spend time on HR compliance. Let Bambee help and get your free HR audit today. 
[00:21:06] Jen Harbinger: Go to bambee.com/jordan right now to schedule your free HR audit. That's bambee.com/jordan, spelled bam to the B-E-E.com/jordan. 
[00:21:16] Jordan Harbinger: This episode is also sponsored by Blue Moon. Blue Moon is on a mission to bring some brightness to your life and break up your routine. From its refreshing flavor with Valencia orange peel for a subtle sweetness and hints of coriander, Blue Moon — I don't even know what coriander is — but Blue Moon Belgian White has it. And it's one of a kind beer. Blue Moon is ready for brighter days ahead, including the return of connecting with loved ones over a beer at your favorite bar or restaurant, which is what I'm going to be doing with my mom for a big birthday. And I'm so glad we can be spending it together this year. I also have fond memories of splitting a cold beer with my German host family when they came to visit me in the United States. These once in a blue moon moments should happen more than once in a blue moon. 
[00:21:49] Jen Harbinger: Reach for a Blue Moon when you're in need for some added brightness. Get Blue Moon and Light Sky delivered by visiting get.bluemoonbeer.com/jordan to see your delivery options. That's get.bluemoonbeer.com/jordan. Blue Moon made brighter. Celebrate responsibly. Blue Moon Brewing Company Golden Colorado Ale. 
[00:22:06] Jordan Harbinger: Thanks so much for listening to and supporting the show. My team, and I work a ton to make every single one of these valuable and our sponsors make it all possible, but really you make it all possible. If you want the codes and the URLs that we mentioned for all the deals that we have here on the show, they're all in one place. Just go to jordanharbinger.com/deals. You don't have to write anything down. I know you're jogging. You're driving. Get your bench press on. Jordanharbinger.com/deals, everything's all in one place there. Please do consider supporting those who support us. 
[00:22:35] And don't forget we have worksheets for many of the episodes. If you want some of the drills and exercises talked about during the show, they're all in one easy place. That link is in the show notes at jordanharbinger.com/podcast.
[00:22:48] Now back to A.J. Jacobs. 
[00:22:51] But I would imagine at some point DNA tests will be so ubiquitous and we'll be able to trace lineage so well that we're going to find some crazy stuff. Because all of those popes, all those priests and a lot of these high power people and Egyptian pharaohs, all these people's bodies and DNA is well-preserved underneath the monasteries, churches in pyramids, cemeteries. There's a ton of DNA from people. 
[00:23:13] A.J. Jacobs: That brings up so many issues. I mean, I think as more and more people get their DNA and now there's like five million. There's going to be some great parts to society. And also some really potentially troublesome parts, I mean, first of all, the world is going to be like one huge Maury Povich Show because there is two percent of all offspring are from a father who is different than the one they thought. Two percent of seven billion people, that's a sh*tload of people who have a different father. And I have a chapter in my book on one of the crazier stories where this guy, he had nine siblings, they all got tested as adults and found out they had nine different dads.
[00:23:56] Jordan Harbinger: Oh man. 
[00:23:57] A.J. Jacobs: So it was like a reality show, times a hundred, but actually I found it inspiring interviewing this guy because first of all, the father treated all of the kids as if they were his own, even though he knew the whole time that none of them were. I thought that was nice. This idea that family doesn't just have to be DNA.
[00:24:16] Jordan Harbinger: Yeah, it can be water and it should be water. My mom comes from, as you know, mob enforcer side. There's plenty of other black sheep that are less interesting. So she always says things like friends of the family, you get to choose. You know, it's a cute sort of saying, but also what she means is, "Oh my God, if I couldn't choose at least some part of my family, I'd go crazy," because half of her family is actually crazy. You do have to really pay attention to the idea that tribalism — for better or for worse — does affect us. And you mentioned this earlier in the show, as well as in the book. Tell us why tribalism is something that you feel so strongly about. 
[00:24:49] A.J. Jacobs: Oh, yeah, I think it is possibly the biggest problem because it also affects every other problem. Because if we're all in these little separate warring tribes, then we can never get together and solve the big problems, which are huge and need worldwide cooperation like climate change or these pandemic diseases. I do think a little bit about the AI robots taking over the world as crazy as it is. It worked when we were paleolithic because you were in a small tribe and yeah, you needed to protect that and keep your DNA intact. So your kids and close relatives, but nowadays, it just spun out of control. And you look around, I mean, tribalism in politics, the red states versus blue states and rural versus city, and just this increasing obsession with race and ethnicity and identity politics. I just think it is really literally tearing our society part because we're all obsessed with our differences instead of focusing on the 99 percent of DNA that we should. 
[00:25:54] This idea of one big family is one way to fight it. Actually there's empirical evidence that it kind of works. There's a great study last year by Harvard that showed when they told Palestinians and Israelis how closely they were related, they treated each other with kindness and more willingness to negotiate. So it's sort of this, what behavioral economists call the family bias that you are biased naturally to treat your relatives with a little more generosity. So if we can take this bias and high-tech and apply it to everyone in the whole world, your big family, it might actually help.
[00:26:34] I've seen this on a personal level, Judge Judy. I always found her incredibly real bitch, just obnoxious. Then I found, she's my eighth cousin. And I'm like, "You know what? That Judge Judy is not so bad. She's just doing her stick and underneath I'm sure she's a sweetheart. I'm going to give her the benefit of death. And it's kind of irrational, but it works. It really works for me. You know, when someone cuts me off in the highway, I try to think of that guy, we probably share a 10th grade grandfather. And if we both have offspring, then they'll be related. So let me try to give him the benefit of the doubt and say that his kid is sick at home and he's not a total assh*le. You know, I still get angry and occasionally flip people off, but I think I do it less. 
[00:27:24] Jordan Harbinger: Yeah, I think it would be something that would be hard to shake because there's plenty of people who treat their family poorly. So it probably also depends on what kind of person you are initially as well, of course. 
[00:27:34] A.J. Jacobs: And I do have a chapter on family feuds, including the Hatfield's and McCoy's, you know, the ultimate family. That was really interesting because I interviewed both of them. And a few years ago they actually had like a reunion of both and they signed the peace treaty and their argument is, "Well, if we can do it, anyone can do it." 
[00:27:51] Jordan Harbinger: Wow. So you met the actual Hatfields — so they're real. I didn't even know that was real.
[00:27:56] A.J. Jacobs: Oh yeah. It started with a few different things, but one was the stolen hog. And then also there was a Hatfield woman who married a McCoy man, or the other way around. And yeah, a lot of murders, then they decided, "You know, this is silly." Partly it's like, "We don't want to be known as the ultimate irrational hillbilly feud. Let's try to improve our lot." So they did, they signed this peace treaty and they had a big reunion and instead of killing each other, they played softball and it wasn't perfect because I think Hatfield's accused the McCoy's of cheating and bringing in a ringer. And I think the Hatfield's crushed them by like 15 to one. So, you know, not perfect. 
[00:28:38] Jordan Harbinger: Chili cook-off, softball game, wrestling match, yeah, clay pigeon — what could go wrong at Hatfield-McCoy reunion with a little clay pigeon shooting. It's definitely something that surprised me to read that that was actually real. I just thought that was a part of Huckleberry Finn or something like that.
[00:28:56] A.J. Jacobs: Very much real, yeah. And they have hundreds of descendants. I think some of them have gotten married. So there you go. I mean, because that's another thing I'm hoping this trend towards intermarriage, I think is a good thing. And Jordan, you said your wife is an Asian descent. 
[00:29:12] Jordan Harbinger: Right. Yeah. She's Taiwanese, and her family came over from China in the '50s or something. So if we're related, it's pretty damn distant. 
[00:29:21] A.J. Jacobs: There's this line in the movie Bulworth. You ever see that movie? 
[00:29:25] Jordan Harbinger: No. 
[00:29:25] A.J. Jacobs: It's an old movie. It was with Warren Beatty and he plays a Senator. He was trying to fight racism and he kind of goes crazy. And his platform is, he says, he's interested in procreative racial deconstruction. And someone's like, "What are you talking about?" And he says, "Everybody got to keep f*cking each other till we're all the same color." Kind of a joke but I actually think it is one solution that I am hopeful about because intermarriage has increased dramatically and I think it'll continue to do so. Hopefully, yeah. Everyone will be f*cking each other until they're approximately the same color. And that might be better for us. 
[00:30:04] Jordan Harbinger: Who knows? It may actually be. It is funny how learning of our ancestry changes behavior. I was watching a documentary the other day on Netflix called Keep Quiet. Have you seen this? It's about this Hungarian right-wing politician. His whole platform is antisemitism. He gets elected to the Hungarian. And his whole platform is the Jews have the biggest problem in society. And, you know, he's just shockingly and disappointingly successful in spreading his message. He founded this party with a couple of other people. He's the vice-president of the party. And then somebody who doesn't like him, who's also a right-wing crazy person. He does a bunch of research on his family and says, "You know, these people, they look Jewish and your grandma looks Jewish." And then he finds out this guy's grandma was deported and they go, "Why was she deported from Hungary?" and they look her up and she went to Auschwitz. She's Jewish on his mom's side. The whole family knew the whole time. It turns out he's Jewish. 
[00:31:01] A.J. Jacobs: Amazing. And it worked, right? He kind of changed his point of view. 
[00:31:06] Jordan Harbinger: He got ejected from the party and he became an Orthodox Jew. 
[00:31:10] A.J. Jacobs: That sounds like a crazy story. I mean, I think that that is one of the potential benefits of these DNA studies. I mean, there's tons of interesting stories. I have one in the book about this meteorologist in Texas. He was adopted, but he found his biological mom and she was this evangelical Christian and he's gay. So like, how did she deal with that? She actually became more open minded. 
[00:31:33] Now it's interesting because you also have the opposite reaction. There are a lot of interesting articles about these guys on white supremacist websites who find out they're part Jewish or part African-American from DNA test. They say, "Oh no, these 23andMe is a multicultural conspiracy owned by a Jew. I don't believe it." So I am hopeful that the first will happen more often than the second. That people will be like, "Ooh," and have a little revelation. But it's sort of up in the air on how this will play out. A lot it's up to us, how we interpret this data. 
[00:32:07] Jordan Harbinger: What's their dumb theory? That since this is owned by a Jewish person and that it's a conspiracy to what convinced everybody that we're all sort of related and we're all really one ethnicity, that's sort of been divided by this hair of DNA and they can't handle that because it screws with their identity. 
[00:32:25] A.J. Jacobs: Yeah. They are all about racial purity. Actually I just read a statistic, like 0.03 percent of the people who do the MyHeritage DNA test are from a single ethnicity. So that's 99.97 percent, are not. So, yeah, they refuse to accept it. What I love is to think about the fact it's not just that we're a mix of ethnicities. We're a mix of species because as you probably know, these DNA tests show you what percentage Neanderthal you are. And Neanderthal was a different species that died out. It's like lions and tigers mating and having ligers or tigons. That's what we are. We're mutts. We're a mix of species. We're not even one species. We're like humanderthal. So the fact that people would be obsessed with the purity of race. I just find laughable and that we're not even a pure specie. 
[00:33:22] I have a story in the book about this one woman. She was redheaded and white skin. So she always thought she was Irish. She took the DNA test, it turns out she is part Irish, but she's also part Latina and more than that, she's part native American Latina, Taino, the native Americans of Puerto Rico. And she's like six percent and she always hated her Irish side. So she's now decided she identifies as a Latina and more than that, she identifies as Taino, native American. Because I'm sure people with like 80 percent native American are going to be like, "What the hell? You have six percent and you're co-opting my ethnicity." So it kind of get messy. 
[00:34:04] I am a techno optimist. I still think overall it's going to make the world better when we realize how much of a mix we are. 
[00:34:10] Jordan Harbinger: Well, I got into my 23andMe earlier to see if we were related. I don't have any identical strands of DNA with you, A.J. 
[00:34:16] A.J. Jacobs: I saw that and it broke my heart. 
[00:34:18] Jordan Harbinger: I know. I was like, "Nothing?" 
[00:34:20] A.J. Jacobs: And I don't believe it actually. If you are part Jewish, we are definitely quite closely related. It depends what scientists you ask. But one MIT study showed it was about 70th cousin. So that's not that far off. So you and I are blood cousins. I did notice that you and I have the exact same percentage of Neanderthal DNA.
[00:34:41] Jordan Harbinger: Oh no. 
[00:34:43] A.J. Jacobs: I have a section on the Neanderthals because they get a bad rap, but they weren't so bad. The scientists say that they could talk and that their voices sounded like Julia Child, the chef, which is like raspy and high pitch. So it makes them less intimidating to me. You know, it's like, "Aah." 
[00:35:00] Jordan Harbinger: The ministry of silly voices kind of voice. 
[00:35:02] A.J. Jacobs: Exactly. 
[00:35:04] Jordan Harbinger: Oh my gosh. I can only imagine, I guess we'll never really have to know that our distant relatives are like that. It does not surprise me that I have a healthy Neanderthal percentage. 
[00:35:15] This is the Jordan harbinger show with our guest A.J. Jacobs. We'll be right back. 
[00:35:20] This episode is sponsored in part by Purple Mattress. Doesn't it seem like the world's against us from getting a good night's sleep this time of year. I try not to have the AC on blast all night. But when you have a purple mattress, you can sleep cool and comfy, no matter what the world throws at you. That's because only purple mattresses have the grid. It's a unique ventilated design that allows air to flow through to help you sleep. Even when it feels like a thousand degrees out, like it's been the past few weeks here in California. Unlike memory foam, which remembers everything, the grid bounces back as you move and shift. So you never get that. I'm stuck feeling like you do with memory foam. Every night, I rest my head on the Purple Harmony pillow, which also has the grid technology. No need to fluff it out. Cradles my oh-so-delicate ears and is ultra comfortable. 
[00:35:58] Jen Harbinger: Purple is comfort reinvented. Right now, you'll get 10 percent off, any order of $200 or more. Go to purple.com/jordan10 and use promo code Jordan10. That's purple.com/jordan10 promo code Jordan10 for 10 percent off any order of $200 or more. Purple.com/jordan10 promo code Jordan10. Terms apply. 
[00:36:17] Jordan Harbinger: This episode is also sponsored by LifeLock. Payment apps like Venmo, Cash App, and others. They make payments really easy, but you may want to adjust your privacy settings to prevent them from sharing your personal information. A recent report found that payment apps share user data with third parties like banks, fraud monitoring services. Some even share it with marketing firms, so you get sold a bunch of crap you don't want. It's important to understand how cybercrime and identity theft are affecting our lives. And everyday we put our information at risk on the Internet. In an instant, a cybercriminal could harm what's yours, your finances, your credit, your reputation. Good thing, there's LifeLock. LifeLock helps detect a wide range of identity threats. Like your social security number for sale on the dark web. I've found that once a very fun afternoon. You have access to a dedicated restoration specialist if you do become a victim. In other words, they'll try and help you take care of everything. You don't have to waste a bunch of time doing it yourself. 
[00:37:04] Jen Harbinger: No one can prevent all identity theft or monitor all transactions at all businesses but you can keep what's yours with LifeLock by Norton. Join now and save up to 25 percent off your first year at lifelock.com/jordan. That's lifelock.com/jordan for 25 percent off. 
[00:37:18] Jordan Harbinger: This episode is also sponsored in part by Progressive. What's one thing you'd purchase with a little extra savings, a weighted blanket, a smart speaker, maybe those aligners that straighten your teeth out. That's what I did. Well, Progressive wants to make sure you're getting what you want by helping you save money on car insurance. Drivers who save by switching to Progressive save over $700 on average, and customers can qualify for an average of six discounts when they sign up. Discounts like having multiple vehicles on your policy. Progressive offers outstanding coverage and award-winning claim service. Day or night, they have customer support 24/7, 365 days a year. So when you need them most they're at their best. A little off your rate each month goes a long way. Get a quote today at progressive.com and see why four out of five new auto customers recommend Progressive. 
[00:37:59] Jen Harbinger: Progressive Casualty Insurance Company and affiliates. National Annual Average Insurance Savings by New Customers surveyed in 2020. Potential savings will vary. Discounts vary and are not available in all states and situations.
[00:38:10] Jordan Harbinger: Now for the rest of my conversation with A.J. Jacobs, 
[00:38:15] I also found when I looked at my ethnicities, I'm four percent Yakut and I had to look that up. 
[00:38:20] A.J. Jacobs: Yeah. What is that? 
[00:38:21] Jordan Harbinger: That is a Turkic. People that live somewhere in Central Asia. So if I am distantly related to my wife, it's almost certainly through the Yakut side of people that had come out of Africa up through Europe, went east instead of west or whatever, and then became, I don't even know if they're nomadic or what. They look like the people that you see who have like Falcon hunting and things like that. They have a lot of beads and a lot of colorful stuff like that. And I guess it's just like relatively small people. 
[00:38:50] A.J. Jacobs: Now you can be identified as Yakut and like adapt the Yakut rituals. Maybe you should. 
[00:38:56] Jordan Harbinger: What's really strange is where did that come from? And my mom said that a lot of our older relatives have some Asiany features that everybody used to be mystified about. My mom theorizes/jokes around that some Genghis Kahn type just kind of rated the whole thing. And you know, we've got some of that going on. 
[00:39:14] A.J. Jacobs: So you did marry your cousin. That's exciting.
[00:39:17] Jordan Harbinger: Who knows? Unavoidable really. 
[00:39:18] A.J. Jacobs: Unavoidable. 
[00:39:19] Jordan Harbinger: We have the Neanderthal thing, but you and I were seemingly unrelated, which again, I don't believe if both have Ashkenazi Jewish heritage, even in the family oral history that goes back a couple of generations at most, then that cannot be accurate. 
[00:39:32] A.J. Jacobs: I mean the Ashkenazi Jews or what they call politely in population, which means in breeders. There was serious inbreeding. So the average Ashkenazi Jew the estimates vary, but probably around seventh or eighth cousins. So we definitely are cousins. And by the way, you might've heard about the Icelandic, are also one of the most indogenous societies. They marry each other all the time to the extent which they came out a couple of years ago with an iPhone app. The logo is bump phones before you bump in bed, because it will tell you how closely you are cousins so that you don't inadvertently marry your second cousin. 
[00:40:16] Jordan Harbinger: Oh man, so if you match up on Tinder and it's like, hey, we need that little plugin on Tinder that says, "Hey, you're too close to be related. You probably shouldn't meet up but you can be friends."
[00:40:26] A.J. Jacobs: Exactly. Well, this was interesting. One of my advisors is a brilliant geneticist and he says that from a purely evolutionary point of view, the ideal mate for you is a fourth cousin, because you don't want to close a cousin because then the immune system is too close and you might share weaknesses, but too far away, and your kids become a little less viable like the lions and tigers, their kids are not as viable. So he says the ultimate from an evolutionary point of view is fourth cousin. So I've been talking to him like we should start a dating app where you can find the fourth cousins in your area and they're like, "You are a perfect match for me." 
[00:41:10] Jordan Harbinger: Probably something to be said for that. I don't know who would want to fund that and put their name on it, but it's possible. 
[00:41:17] A.J. Jacobs: And it's not a science yet. I mean, not a perfect science. It is getting better because the more people who join the better, the databases and the more accurate. But for instance, I did another DNA test a few years ago and it showed up that I was mostly Jewish, but 14 percent Scandinavian and I was psyched. I was like, all right, get out the cross country skis, let's have some herring. And then the results kept getting adjusted downward. And now I'm like below one percent Scandinavian on there. That's like all my Swedish ancestors were just tragically killed. But it's because of their database, they had too many Scandinavians in their database and it was throwing things off. So yeah, I would take all of these results with a little bit of a grain of salt, but they're also not completely hokum. They're not just astrology. There is a good amount of science to it. And the big trends, like if they say you're from Northern Europe, you can be relatively sure that's accurate when they try to get down to like you're from Scotland versus Ireland. They don't have that nailed down yet. 
[00:42:21] Jordan Harbinger: Yeah. That might be splitting hairs at that point. I guess once they can really nail down what everything is they can trace your exact relatives all the way up the chain somehow. That'll be interesting. How do you think about getting into these types of extreme experiments? Breaking the world record for a family tree, living biblically for a year. Were you always a big thinker? Were you always thinking about these grandiose experiments? 
[00:42:44] A.J. Jacobs: I mean, I love to brainstorm some people get ideas in the shower. I have some of those, but more often than not any ideas I come up with that are halfway decent. I actually have to carve out 15 minutes of my day, turn off all computers, all cell phones, surround myself with some materials like magazines and books, and just devote myself to brainstorming. One of the techniques I use in brainstorming is pushing everything to the extreme. So like just taking everything to its logical extreme. Because when you do that, I think it reveals some truths in one sense, it's absurd, but at the same time, it clarifies and it produces wisdom.
[00:43:25] So for instance, I remember. 10 years ago, I read The World is Flat by Tom Friedman and it was all about the beginnings of outsourcing. How these big banks would outsource their boring tasks to India? So I was like, how can I take that idea to the extreme? What if I did it and outsourced my entire life? So what if I hired a team of people in Bangalore, India to do everything for me and answer my phone, answer my email, argue with my wife, read my kid's bedtime stories. So I was like, you know what? That could work. So I did it as an experiment and it turned into an article which then got some lovely traction, including it was reprinted in our mutual friend, Tim Ferriss's book. That is one way I like to think, just take things to the extreme because it's very clarifying. 
[00:44:13] And one last caveat on those brainstorming sessions, I would say that 99 percent of the ideas I come up with, if not more are terrible, but I do think creativity is a numbers game and that you really do have to come up with tons of ideas until one of them sort of sticks. And you keep coming back to it and like, "You know, what that could work." So that was a long-winded answer to why I take things to the extreme.
[00:44:40] Jordan Harbinger: I like that. How do we cultivate that type of thinking if we're not used to that, if we're used to thinking too small, or if maybe we've found that we do this, or we've been accused of doing this, how do we cultivate that type of bigger picture thinking in ourselves? 
[00:44:54] A.J. Jacobs: That is a great question. What I do recommend is this idea of cutting off all distractions and just brainstorming for 15 minutes. I like to sort of be very strategic in my brainstorming. So it's not just flow of consciousness. I'll have various ways to come up with ideas and one of them is taking it to the extreme. I was just talking about this recently. I forget where. But if you come up with just any old topic, like snowman, okay. I'll say I'm going to brainstorm for five minutes about snowman and try to approach it from every angle. So like, what if it was instead of a snowman it's as a snow woman? Or what about if it's like a snow, transgender person, like a non-binary snowman? What would that look like? And what about instead of the pipe? He's like vaping. So, again, none of these ideas ever went anywhere, but I think that it trains the brain. It keeps the brain loose. And the cliche is that the brain is a muscle, but I think there's truth in that. So I use that taking things to the extreme, sort of playing with every idea, looking at something very closely. So like close up. So think about the snowflakes. Just to zoom back and think about a world filled with snow people. It's these meta strategies to brainstorming instead of just letting your brain wander, which can work. I'm not disparaging that, but for me, sort of being very disciplined, it's almost disciplined daydreaming, which I know is a paradox, but it really works for me. 
[00:46:28] Jordan Harbinger: I want to wrap with this story — you met some really interesting relatives of your own, including David, who was this older guy, World War II veteran, and kind of a joker. And I love his humor. Tell us his story that he had told you before he passed away about him getting shot down over Germany. 
[00:46:47] A.J. Jacobs: This really was one of the main themes I think of looking at your predecessors is just the sacrifices they made are just astounding. I often complain about stuff, but then when I look at what's come before me, I realize I am just a lucky bastard. So he was in World War II in the Air Force. And his bomber was shot down over Germany. He had to bail out. He was floating down in the parachute and he saw all of these farmers and their wives running towards where he was going to land. He landed and this German farmer had a shotgun and was about to shoot him, but his wife begged for mercy. The farmer's wife was like, "Ooh, he's too young." So they spared him. He was then taken to a Nazi headquarters and put on a train to a prisoner of war camp. 
[00:47:40] What I find so moving is the scene on the train where he's sitting — and he said, "This was the lowest point in my life, of course. I was on a train going to prisoner of war camp. I was a Jew surrounded by Nazis. I was sitting next to this guy who was a Nazi guard, and I looked over at the guy and the guy offered him a cigarette." And David took the cigarette and smoked it. And he was like, "That saved me. Just that one small gesture of humanity proved that even in the most inhumane circumstances, there is still humanity." And he was weeping when he was telling this story. It meant so much. And I tell my kids, "You know, this is not a license to smoke. Smoking is still bad for you, but it shows you that I sorted the theme of the book that deep down we do share far more than what separates us. Even that, the Nazis, they had some humanity gives me a little hope.
[00:48:38] Jordan Harbinger: I love when he's in the prison barracks that some other prisoners says, "Weren't you in New Jersey Seahawk in high school class in 1938?" And David says, "Nope." And then hours go by where they're just sitting in silence in the winter and in the cold. And then he pipes up and goes, "But I was in the class of 1939," and he just lets this joke drag out for like hours in the prison camp.
[00:49:06] A.J. Jacobs: I know it shows that again, same theme, even in the worst circumstances, he was able to play a practical joke in a prisoner of war camp. I don't know if I would have had the ability to do that. I'd be like, "Oh yes, I was in Weehawken. Oh my God, thank God I found you." But instead he's like, "Nope." 
[00:49:27] Jordan Harbinger: Yep. I got to wait for the proper comedic timing. And also he probably figured I might have like five years to execute the punchline of this joke. So we're in no rush. 
[00:49:37] A.J. Jacobs: That would have been brilliant if he waited the full like two years. Yeah, that would have been great. 
[00:49:42] Jordan Harbinger: Well, thank you very much for coming on the show. Thanks so much for your work as well. So funny and just interesting, entertaining and educational at the same time.
[00:49:49] A.J. Jacobs: Well, right back at you. 
[00:49:50] Jordan Harbinger: A.J. Jacobs, the book is called It's All Relative, and it'll be linked up in the show notes as usual. 
[00:49:58] If you're looking for another episode of The Jordan Harbinger Show to sink your teeth into, check out episode 147 with Erik Aude here on The Jordan Harbinger Show. 
[00:50:07]  Erik Aude: Pakistan was just one of many bad things that happened to me in my life. I've had so many things happen and I just learned to get over it. You know, you get knocked down six times, you get up seven. And that's the only way I've ever known how to live. 
[00:50:19] When I got out of the cab with the suitcases to leave Pakistan, the guy who was there was like, "Next time you come back, we'll show you around. We'll hook you up with some girls. We'll have a great time," and I'm humoring this guy. I'm like, "Yeah, sure. Next time I come back." I know for a fact, I'm never coming back to Pakistan, the country sucks. That f*cking country sucks and I'm good at finding like good things on everywhere. 
[00:50:38] So it's early in the morning and I go into international departure and there's this long line curving around the corner. I'm waiting in line and the line goes all the way up this wall to where there's customs tables. And one of the customs officers sees me and flags me because I'm about six inches taller than everyone. And I get brought to another room. Finally, the guy who asked me if there was narcotics in my suitcase comes in and he's holding these two sandwich-sealed things. And his exact words to me is "What is this?" and I said, "I don't f*cking know what." He says, "This is opium." I said, "Why are you showing me this?" "Because it came out of your suitcase." 
[00:51:15] I though, "I'm such a f*cking idiot?" Because I thought that the DEA was going to hook me up, you know, because they're going to see that I'm innocent. I truly thought those guys are going to be there to help me now because I wasn't guilty. This sh*t doesn't happen to innocent people. Three years of my life for a crime I didn't know I was being used to commit. 
[00:51:35] Jordan Harbinger: To hear the rest of one of the most harrowing stories I've ever heard in my time doing this podcast, check out episode 147 with Erik Aude here on The Jordan Harbinger Show. 
[00:51:47] Always love talking to A.J. Jacobs, such as funny due. One thing that didn't make it in the show in the book that I thought was really entertaining. A.J. spent a lot of time trying to chase down celebrities and stuff like that to get this concept of the giant family reunion publicized. So he's literally chasing down Mark Wahlberg and Melissa McCartney at some movie premiere. And he's like, "It's your cousin, it's me. It's cousin A.J. Jacobs." And Mark Walberg comes over like, "Yeah, I don't think so." And I don't know if I'd want to mess with Mark Walberg. One, you know, he seems like a very strong kind of aggressive guy, but he also looks kind of cranky all the time. If you look at Mark Walberg and you look at A.J. Jacobs, you're not going to see a ton of similarity.
[00:52:26] Go ahead and Google A.J. Jacobs. You know what? Mark Walberg looks like, Marky Mark. Right? They don't look related. So I'm sure he just thought, "Oh, great. Another crazy person who thinks we're related." A.J. Jacob's waving around a copy of his DNA report. It's like, "I'm not looking at this. I'm on the red carpet right now. You crazy fool." So you can just tell any kind of experiment that A.J. Jacobs does is — it's going to be similarly ridiculous. And I love the fact that he goes through with all these things. His poor wife must be, must be so annoyed. 
[00:52:56] Big thank you to A.J. Jacobs. The book title for this episode, once again is It's All Relative. Of course, we'll link that up in the show notes as well. Links to all books from all guests, always in the show notes. Please use our website links if you buy books from guests. It does help support the show. Worksheets for the episodes are in the show notes. Transcripts are in the show notes. Videos of our interviews are on our YouTube channel at jordanharbinger.com/youtube. We've also got our clips channel with cuts that don't make it to the show or highlights from the interviews that you can't see anywhere. jordanharbinger.com/clips is where you can find that. I'm at @JordanHarbinger on both Twitter and Instagram, or just hit me on LinkedIn. 
[00:53:33] I'm teaching you how to connect with great people and manage relationships, using systems and tiny habits over at our Six-Minute Networking course, which is free, over at jordanharbinger.com/course. I'm teaching you how to dig that well before you get thirsty. And most of the guests on the show, they actually subscribe to the course and contribute to the course. So come join us, you'll be in smart company where you belong. 
[00:53:53] This show is created in association with PodcastOne. My team is Jen Harbinger, Jase Sanderson, Robert Fogarty, Millie Ocampo. Ian Baird, Josh Ballard, and Gabriel Mizrahi. Remember, we rise by lifting others. The fee for this show is that you share it with friends when you find something useful or interesting. If you know somebody who does weird quirky experiments, or is interested in genetics or DNA or ancestry, share this episode with them. I hope you find something great in every episode of this show. Please share the show with those you care about. In the meantime, do your best to apply what you hear on the show, so you can live what you listen, and we'll see you next time. 
[00:54:29] Male Narrator: Pluto TV is playing the biggest movies every night this summer for free. Watch hit movies like The Matrix, G.I. Joe: Retaliation, Teenage Mutant Ninja Turtles, Scary Movie, Runaway Bride, and more all summer long. Check out the biggest stars like The Rock, Keanu Reeves, Tom Cruise, Julia Roberts, Arnold Schwarzenegger. Plus Pluto TV has hundreds of free TV channels in English and Spanish featuring TV shows, news, sports, comedy, and more all for free. Download the free Pluto TV app on your favorite streaming device, including Android and Apple smartphones. Pluto TV drop in, watch free.
Sign up to receive email updates
Enter your name and email address below and I'll send you periodic updates about the podcast.