Reading Time:
3
minutes
Adam Grant (@AdamMGrant) is Wharton's top-rated professor, the host of podcast WorkLife with Adam Grant, and the author of several New York Times Best Sellers. Here, he joined us to discuss Give and Take: Why Helping Others Drives Our Success. [Note: This is a previously broadcast episode from the vault that we felt deserved a fresh pass through your earholes!]
What We Discuss with Adam Grant:
How to give to someone you don't know without being awkward and transactional.
What stage gates are and how you should use them.
How to avoid committing social capital suicide.
What Abraham Lincoln could teach us about the power of powerless communication.
Why you'll be a better, more effective giver if you practice chunking rather than sprinkling.
And much more…
Like this show? Please leave us a review here — even one sentence helps! Consider including your Twitter handle so we can thank you personally!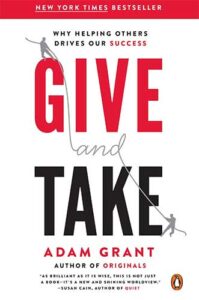 The Beatles knew that the love you take is equal to the love you make. Similarly, the economics of relationships runs on a counterintuitive currency — the more you give, the more you get. But how do you avoid being taken advantage of by those who would happily allow you to give them everything without returning the favor?
On this episode, Wharton's favorite professor Adam Grant rejoins us to discuss one of his NYT best-selling books, Give and Take: Why Helping Others Drives Our Success. Here, we discuss how to spot takers and protect yourself against them, how to use the five-minute favor to expand your social circle in a favorable way and give yourself greater happiness in the process, the power of powerless communication, how to get your network's connections connecting with one another using the double-opt-in introduction, why you'll be a more effective giver if you practice chunking rather than sprinkling, and much more. Listen, learn, and enjoy! [Note: This is a previously broadcast episode from the vault that we felt deserved a fresh pass through your earholes!]
Please Scroll Down for Featured Resources and Transcript!
Please note that some of the links on this page (books, movies, music, etc.) lead to affiliate programs for which The Jordan Harbinger Show receives compensation. It's just one of the ways we keep the lights on around here. Thank you for your support!

Sign up for Six-Minute Networking — our free networking and relationship development mini course — at jordanharbinger.com/course!
This Episode Is Sponsored By:
Miss our conversation with actor, producer, and Scientology survivor Leah Remini? Get caught up with episode 485: Leah Remini | Surviving Hollywood and Scientology here!
Thanks, Adam Grant!
If you enjoyed this session with Adam Grant, let him know by clicking on the link below and sending him a quick shout out at Twitter:
Click here to thank Adam Grant at Twitter!
Click here to let Jordan know about your number one takeaway from this episode!
And if you want us to answer your questions on one of our upcoming weekly Feedback Friday episodes, drop us a line at friday@jordanharbinger.com.
Resources from This Episode:
626: Adam Grant | Why Helping Others Drives Our Success
[00:00:00] Jordan Harbinger: Coming up next on The Jordan Harbinger Show. 
[00:00:02] Adam Grant: It's not a lot of work, right? If you have a reminder in your calendar, on the last day of every month, just to contact one person you used to know, that's 12 rekindle connections every year. Some of those are going to pay off and you don't have to be as strategic about it. It's just one of the things you do to stay in touch with people who once were a part of your life.
[00:00:20] Jordan Harbinger: Welcome to the show. I'm Jordan Harbinger. On The Jordan Harbinger Show, we decode the stories, secrets, and skills of the world's most fascinating people. We have in-depth conversations with astronauts, entrepreneurs, spies, psychologists, even the occasional rocket scientist, extreme athlete, or undercover Jihadi. And each episode turns our guests' wisdom into practical advice. You can use to build a deeper understanding of how the world and become a better critical thinker. 
[00:00:46] If you're new to the show, welcome. We've got a great way for you to dive in and get started. Our episode starter packs available at jordanharbinger.com/start. These are collections of top episodes organized by topic. That'll help new listeners get a taste of everything that we do here on the show. Again, jordanharbinger.com/start. They are also in Spotify. 
[00:01:05] Today, one from the vault, recorded the better part of a decade ago, but still holds up perfectly. We're talking with Adam Grant, author of Give and Take originals and many other books that are sitting on many desks around here. He was also listed by Malcolm Gladwell as one of his favorite social science writers. This guy's a genius. You probably heard of him before. We'll discuss how to be of value when reaching out and connecting with others instead of being a pest. Actually, I relate a lot of personal experiences here in this one. I get a lot of letters from a lot of people and I really kind of discuss some of that very freely in this one. So if y'all are writing in by the way and help me out, I appreciate that, of course. And this episode will give you some clue as to how this appears to busy folks when you reach out to try to expand your network. We'll also explore how we can protect our own time and energy as entrepreneurs or as individuals and something called the five-minute favor and why it's just about magical in terms of getting through to people as well as how to spot selfish takers and protect ourselves from the evil reign of anti-networking terror. So if you're looking to reach out and connect with more people in your company or even your industry, this is a great episode for you. Adam Grant always has great professional skills. There's a good reason why he's one of the most well-known writers in his category. 
[00:02:14] By the way, if you're wondering how I've connected with all these amazing folks, our Six-Minute Networking course is a great place to learn a lot of the skills we teach in episodes like this. The course is free. It's over at jordanharbinger.com/course. The course is not only about networking and connection skills, but also about inspiring others to develop a personal or professional relationship with you. The course will make you a better networker, a better connector, and a better thinker. Again, all free at jordanharbinger.com/course. And most of the guests you hear on the show subscribe and contribute to this course. So come join us, you'll be in smart company where you belong. 
[00:02:47] Now, here's Adam Grant. 
[00:02:52] I'm glad to have you on the show, finally. I noticed you got your PhD from the University of Michigan, where I went for seven years, getting various degrees of various types. 
[00:03:01] Adam Grant: Go blue. What'd you study there? 
[00:03:03] Jordan Harbinger: I made my own concentration in undergrad, which is this weird thing that you can do. I don't even know if you know about this, but you can kind of go, "Hey, Academic Standards Board, I don't like math and accounting, all these dumb prerequisites you stuff people into," but that's what I basically did. And I said, "I really want to study political science, economics, and some other cool stuff, like business German and Spanish." And they went, "Okay, but it's got to be pretty hard and rigorous to match up with any other normal concentration." And you probably know how universities have these things where they're like, "Oh, accounting 271 is going to be like the weeder course. That's so hard that everybody quits and switches majors if they're not cut out for this." Well, I managed to skip all of those things because, in my opinion, the preconceived notion that Americans have that languages are so hard that I said, "Listen, I will take German, Spanish, Serbian. You know, I will pack those into a concentration with econ and political science," and they went, "This guy's crazy. He's going to do multiple languages. Well, that's obviously hard enough to be considered a concentration." So honestly, these were great because throughout your academic career, when you do that, you can actually go into a class like econ, whatever, and you can drop it and go, "Man, this totally sucks." Go back to your academic advisor and go, "You know, the syllabus for this course, actually wasn't, as blah-blah-blah, focused on X, Y, Z, as I thought it was going to be," and they go, "Cool, what do you want to replace it with?"
[00:04:32] Adam Grant: Nice. 
[00:04:32] Jordan Harbinger: If you do that in a regular major, they're like, "Tough crap. That's why we put that in there." And so I made my own concentration in undergrad. And then after that, I went to law school. So getting an undergrad degree to be fair of any type is not a great way to get a job, but especially making one up where they go, "Huh? What's this?" And then you have to explain it while the zone out is not a good selling point. It's great for grad schools though. They love that stuff. '
[00:04:55] Adam Grant: Absolutely. 
[00:04:56] Jordan Harbinger: So I know that you're also one of Malcolm Gladwell's favorite social science writers. That's pretty cool. And I figure he probably didn't just call you and go, "Yo, Adam, I'm going to name you as one of my favorite science writers." Did you just read an article? You just picked up social science daily and there you were. How does that work? 
[00:05:13] Adam Grant: I would love to read that if it existed, but there was a New York Times piece where he was interviewed in the fall that a bunch of people sent me where he was asked to name some of his favorite social science writers and was kind enough to put my name on that list for reasons that are unbeknownst to me. 
[00:05:27] Jordan Harbinger: And also you're one of Wharton's youngest, full professors, really highly rated teacher, et cetera, et cetera. But why don't you tell us what you teach? Because all the accolades in the world really don't mean squat, unless you can convey something to us. No pressure. 
[00:05:41] Adam Grant: All right. I'll do my best. 
[00:05:44] Jordan Harbinger: Yeah. 
[00:05:44] Adam Grant: So I'm an organizational psychologist. Basically, I teach anything that has to do with people in organizations. So one of my courses is on leadership and teamwork. How do you set a vision and motivate people to follow you? And how do you collaborate effectively when you're working with others? I teach another class on negotiations and another one on organizational behavior, which looks at everything from making group decisions to selection and hiring to organizational change and culture, and just about everything people relevant in-between. 
[00:06:14] Jordan Harbinger: Excellent. And you wrote a book called Give and Take, which everybody is like, you know, gushing about. Tell us, I mean, essentially when you're looking at this book, it's not just networking. It's about figuring out how much you can give without sort of getting taken for a ride. 
[00:06:30] Adam Grant: That's a great way of capturing it, absolutely. 
[00:06:32] Jordan Harbinger: Why is it important to give, first of all, and why is it important to think about being taken for a ride? I mean, there's a lot of people that I've encountered that are just, they're takers. And yeah, at some level you go. "Damn that guy's never going to really pay it back in any way. He's just going to kind of continually make me feel bad about it." And yeah, you can cut those people loose, but at some point, it does actually start harming you. And I guess we can get into that in a little bit. First of all, what's up with giving and how come you decided to study it because isn't it so obvious that you just, you know, you give a lot of value to other people and eventually...profit, right? That's like the newest thing in entrepreneurial thinking and networking. 
[00:07:13] Adam Grant: It is, but it turns out to be a lot more complicated than that, man. 
[00:07:16] Jordan Harbinger: Ah, dammit. I thought this was going to be a seven-minute interview. All right. Continue. 
[00:07:20] Adam Grant: I'm sorry to disappoint you, Jordan. But I guess, you know, the place to start for me is to say that in any industry or any culture, you find these three styles of interaction. So on one end, we have the takers and those are the people as you described, who are always trying to get stuff from other people. And they never like to give things back. They're great, social loafers and free riders, and shirkers. They hogged the interesting, visible, important projects that leave the grunt work for everyone else. And then walk away with the lion's share of credit for collective achievements. And I just love working with those people. 
[00:07:50] Jordan Harbinger: I'm sure. Yeah. Don't we all? 
[00:07:52] Adam Grant: Yeah. On the other end of the spectrum, we have the givers and just to be really clear for me, a giver is not a philanthropist or a volunteer necessarily, but just someone who enjoys helping others and often does it with no strings attached. 
[00:08:04] Jordan Harbinger: Interesting. Because here's the problem, right? A lot of people when they talk about things like networking like we're going to get into a little bit. They say things like, "Give value," and it's like, "Oh, that's such a good idea." And then they turn around and they go, "Wait, what does that mean? I don't get it. I don't have a lot of money. I'm just got out of school. Give value? These guys make $10 million a year. What am I going to give him? Where do I even begin?" 
[00:08:28] Adam Grant: Yeah, I think this is a common challenge for most of us. So you can break it down in giving a bunch of categories. One is sharing your knowledge. So if you have expertise that other people would value, providing that, whether it's something as simple as passing along an article or actually giving some more in-depth feedback. Another way would be to provide mentoring to people who are trying to follow in your footsteps. So even if you're just starting out in your career, there are probably people who are considering similar majors. They might be looking at different kinds of career options that are things you've explored in the past. And taking some of those people under your wing is one way of giving value. 
[00:09:01] Another way of thinking about giving is making introductions. So your network obviously is a huge resource and being able to connect people who are currently strangers but could really benefit usually from knowing each other is a powerful way to give. And, you know, a lot of times it's something as simple as showing up early or staying late to support the people around you. I think usually whatever kind of giving you're going to focus on, it starts with asking the question, what do other people need. What are their challenges? What kinds of problems are they trying to solve? And then looking at who you know, and what you know, and trying to figure out if you're able to connect the dots.
[00:09:33] Jordan Harbinger: Okay. This might be a little bit off the reservation here, but is there a way to differentiate — and this is just a problem that I'm kind of running into and I hope I don't scare people away from emailing me or trying to help them out when I say. But there's a class of people that goes, "Hey, Jordan, do you want an introduction to this guy? I think he'd be a good fit for the show." And I'm like, "Oh my gosh. Yes, that's really helpful." Because now I don't have to read 10,000 blogs to keep my finger on the pulse. My audience is doing it for me. It's one of the most helpful things ever, especially when they offer to make the introduction, even if they don't know the person and they're like, "I'll send a contact form email, and I'll let them know how to reach you by putting your email in there and, you know, see if they reply, blah, blah, blah." That's super helpful. 
[00:10:15] But then there's this other class of people that's kind of like, "Hey, let me give you some help on your Internet marketing." And I'm like, "Yuck, no, thanks." And then they list off all these weird critiques that like aren't useful and aren't very helpful, or they're like, "You should have this guy in your show and I've taken the liberty of telling him that you would be interested." And it's like some completely weird dude that I'm not into, and now I've got to like deal with that introduction and blow the guy off nicely or something like that. You know what I mean? 
[00:10:43] And so how do we do it in a calibrated way where we're actually doing the person a favor, not just sort of going through the motions of doing that person a favor while sort of secretly being a little bit annoying?
[00:10:54] Adam Grant: Yeah. I think this is a common challenge that most of us run into and it stems from the fact that most of us give what we like to give, as opposed to what other people want to receive. 
[00:11:02] Jordan Harbinger: Oh, that's interesting. 
[00:11:03] Adam Grant: There are a couple of ways to try to get around that. One is to directly ask, right? So, you know, "Jordan, I really liked the work that you do. I would love to figure out if there are ways that I can be helpful to you. What kinds of challenges are you stuck with right now?" You know, if you were going to reach out to somebody and say, "Hey, you know, it'd be really awesome if somebody did X, what would X be, right? And then you could give me a little bit of direction."
[00:11:23] Another thing though, is I actually think receivers can do a good job with this. So you could broadcast your interests much more clearly. Right? So I've seen a growing number of people who, when you click on the website in their Twitter profile, for instance, it takes you to, "Here are the things that I would love to engage on and here are the things where I'm not that interested." And then, you know, hopefully, people will stop offering you the things that you don't want. 
[00:11:45] Jordan Harbinger: That's a really good idea that I've never thought about. And I feel like that could be a simple line item in someone's bio, because for me it's more useful than I think for like somebody who's not on the Internet, all over the place, all the time. There's a lot of things that people always are trying to critique that make no sense. It's like, "Hey, we're doing this for a reason," but I don't want to explain that in every email. So I get this little sort of auto thing. I think it makes perfect sense, but what if we're looking to give, and we don't know. Like what if somebody is emailing you out of the blue and they're like, "I really want to help Adam Grant because he's awesome." How do I find out what you want? I mean, you wrote a book, so maybe you're not the best example, but if I look in the book, am I going to find out how to reach out to you and help you? Or do I have to guess? 
[00:12:27] Adam Grant: No, actually you'd probably still have to guess because I tried to write the book in a way that was about the evidence and the stories as opposed to about me. So you'd be grasping for straws. Yeah, there are a couple of ways that you could do this. If somebody is not that visible or if they're just a complete stranger, one would be, I would download an app called Refresh, which is a really clever way of preparing for first-time meetings. Have you used it before? 
[00:12:50] Jordan Harbinger: I have not. 
[00:12:51] Adam Grant: I've found it to be quite fascinating and useful. So what Refresh does is it basically aggregates everything you would ever find in a web search. And instead of having to go through all these different hits, what it does is it gives you one sort of consolidated profile of all the information that's out there online about a person. And then you can figure out that, you know, like you may have gone on the same street for years apart, or you might share a common interest in a really obscure minor league sports team. And then you've got a foundation for a conversation which then feeds into the other person being more likely to open up and actually tell you about how you can be helpful. 
[00:13:25] Another thing you could do is you could actually propose several different things that you might be able to offer. So, "Hey, I think the work you're doing is really meaningful. I would love to support it in any way I can. And the three ways that I most enjoy being helpful, Jordan, typically are, you know, one, I really love sharing research. I study all these dynamics about organizations. And if you have a question about that ever, I'm likely to be able to think of a study that might reflect it. Two, I really enjoy making introductions. And these are the kinds of people that are in my network. If you ever want to meet somebody like that. Great. And then three, you know, I also occasionally find it pretty entertaining when I can share something that's not typically in my wheelhouse but has come on my radar." 
[00:14:06] So for example, because I wrote Give and Take, a lot of people have emailed me to tell me about apps that they've created that are facilitating giving or that are helping people who are looking for certain kinds of help to connect with givers who want to provide. I can certainly direct you to those kinds of things. You can almost treat this like you're a server at a restaurant. Present a menu of the different ways that you enjoy being helpful and then see if the person bites on any of them. 
[00:14:28] Jordan Harbinger: Excellent. So if they do bite, then how do we turn that into an efficient process? Because here's what I'm definitely afraid of. And I know I'm not alone on this because I talk with people who run successful businesses every single day, almost all day long, essentially. And one of the big annoyances is you go, "All right, yeah, sure. Send me some feedback on this because yes, you're a blog reader or whatever. You've consumed my product if you're a product guy and I'd love to hear what you think about it." And then it turns into this time-suck, where they're like, "Great. Well, send me these resources and then let me look at this and then let's jump on the phone," and you're going, "How did I just commit myself to like a 10-hour part-time job after accepting help from somebody else?" 
[00:15:14] Adam Grant: Well, I think, you know, there are a lot of ways of dealing with this one is you set up stage gates. So you have people in your organization who feel those initial conversations. And then they tell you who's likely to be most helpful or who seems to actually fit in a category where you think there's mutual benefit to further engagement. I had the misfortune after Give and Take came out last year of getting about 4,000 emails from people in the span of a few weeks who wanted various things or wanted to help in a number of ways. And I ended up hiring someone who basically does a triage. 
[00:15:47] Jordan Harbinger: Nice. 
[00:15:47] Adam Grant: He takes all the initial conversations. He figures out what they're looking to give or ask for. And then he comes back to me with a report on here are the things that I think you should definitely contribute to or engage with. Here are the things that are maybe, and then on these others, let's brainstorm about whether we can direct them toward resources that are up their alley. 
[00:16:05] Jordan Harbinger: Right. The other 3,900 emails, right? 
[00:16:07] Adam Grant: Exactly. The second thing that I would say is I would recommend starting with the initial company. I think that any kind of scheduling app that allows you to book like a 15-minute conversation is a pretty good start. And then, you know, the conversation has a dedicated end time, which most people find awkward to schedule a verbally. But if that's part of the system, it's there. Then you can sort of figure out after that conversation, whether further engagement is useful. Third thing, I would do to go back to this idea of sort of broadcasting what kind of help you do and don't want, is refer people either in your auto-reply or in your actual email response. "Here's my statement about why this kind of help has not been useful to me in the past. If you have a rationale about why I'm wrong or you think you can be helpful in a way that I don't currently understand, give me your best one-sentence or two-sentence explanation of why." And then if they can pull that off, maybe you're interested in having that conversation.
[00:17:02] Jordan Harbinger: You're listening to The Jordan Harbinger Show with our guest Adam Grant. We'll be right back. 
[00:17:06] This episode is sponsored in part by TextExpander. People always think the messages that they get from me, you know, when you DM me or hit me up on LinkedIn, they think it's from a robot, it's not actually me. They're shocked to find out that I am personally responding to thousands of messages. I do have a life, well, kind of, I'm not just sitting here doing emails all day. My secret weapon is actually TextExpander. It's a program that our entire team uses. It's like keyboard shortcuts, but on fire. How many times do you type your name, your email, your mailing address? Instead of typing it out, create a shortcut key, like semi-colon N and TextExpander will replace it with a snippet of text or even an image, or even the result of some code running or an entire paragraph, whatever you want. I know what you're thinking. I can just copy and paste. TextExpander is way more powerful than that. You can customize message templates. You can fill in a name. You can drop down different message options, depending on what message you want to send. This has saved me thousands of hours. I'm not even kidding, or at least the whole team, thousands of hours. Increase your productivity with TextExpander. Our listeners get 20 percent off your first year. Visit textexpander.com/jordan to learn more about TextExpander. 
[00:18:10] This episode is also sponsored by Huel. Want food fast, but also super healthy? Try Huel. Every Huel meal contains the 27 essential vitamins and minerals, proteins, healthy fats, and fiber you need in a single meal. Huel meals, like the Mac & Cheese, Mexican chili, Thai green curry are all nutritionally complete and made in five minutes or less, just add hot water. While regular Mac & Cheese is frankly just devoid of all nutrition, Huel's Mac & Cheese is delicious and creamy, super healthy. You won't be able to tell that it's plant-based. I also love how easy it is to work Huel into my routine, keeping me from being hangry, kind of, and being healthy, no matter how busy I am. 
[00:18:45] Jen Harbinger: We're partnering with Huel to give our listeners a free t-shirt, a free on-the-go pot, and free shipping with your first order. Go to huel.com/jordan to take advantage of this offer. Claim your free t-shirt, free on-the-go pot, and free shipping with your first order at H-U-E-L.com/jordan, huel.com/jordan. 
[00:19:03] Jordan Harbinger: Thank you so much for listening to and supporting the show. I love having these guests on, I love these conversations. And your support of those who support us is what frankly keeps the lights on around here. All the deals and discount codes are all in one place. jordanharbinger.com/deals is where you can find them. It's a newly designed page. You can find it working on your phone. Please consider supporting those who support this show. 
[00:19:25] Now, back to Adam Grant. 
[00:19:28] Just to be super clear. I'm not doing this to be like, "Weh, weh, weh, me and Adam are so important, we get so much email. Everybody loves us and wants help." I'm looking at this from what can you guys learn from listening to people, sort of who do get a lot of this. I did the math recently because somebody got mad at me for recently declining a meetup. I literally counted it up. And if I met with everybody that requested time from me last quarter for one hour on the phone or in person, I would have spent over 700 hours working, which is— 
[00:20:01] Adam Grant: Wow.
[00:20:01] Jordan Harbinger: —more than any reasonable full-time position, every single day of every single week. 
[00:20:07] Adam Grant: Yeah, none of those people who are reaching out have any idea how many other requests are on your plate. So even if plenty of them are not takers, it just adds up. 
[00:20:15] Jordan Harbinger: Well, let me ask you this. Would you agree that it kind of pays to assume that that person is slammed beyond all reasonable opportunities? And so that you really go, "Listen, I'll keep it short. Boom, boom, boom. This is what I can do. If not, no response necessary." You know, just make it as easy for them to reply as easy for them to sift through as possible. 
[00:20:35] Adam Grant: Absolutely. I actually ended up writing two different blog posts on this because I was so stunned when I went through this transition from being sort of like an invisible professor to being an author that was a little bit more in the public eye and findable. So last year I wrote one about six different ways to get me to email you back. I basically went through all the different emails that I had received in the preceding couple of months since the book launch and try to figure out which ones I was most motivated to respond to and why. And then sort of boiled it down to a bunch of really simple pieces of advice that I guess fall in like a knowing-doing gap category. When you read it, like, none of it's surprising except that almost no one follows any of the rules. I'm totally on board with that. And then, actually just this past spring, I wrote one about rude emails, which sort of categorize the nine different things that people do almost every day and emails to me where I think, "Gosh, that was not a good way to make a connection.
[00:21:28] Jordan Harbinger: I would love to also hear about what has worked and what has been one of those completely like, "Wow, this guy's a Yahoo and I'm never going to talk to this person again." In fact, let's start with that because it sounds fun. 
[00:21:40] Adam Grant: Oh, it's fun. So, I guess when Give and Take came out last year, there was a New York Times piece that wrote about the book and talked about, I guess, my wife got quoted as saying that I never say no or something to that effect. It was like putting up a big neon sign to all the takers in the world, "Hey, contact this guy." And I got one email from a guy who wanted me to help him fight his medical malpractice lawsuit. Now, I'm not a doctor or a lawyer, so I don't know how I can help with that, but I felt bad for him. And then there was another one from a guy who said, "My dream is to become a millionaire. I'm not currently one. I'm wondering if you can introduce me to all the millionaires in your network. So I can become one." 
[00:22:22] Jordan Harbinger: That's brutal. Yeah. That's like, take a breath and realize what you're asking. Like, I won't to expend all my social capital, introducing you to people so that you can essentially ask them similarly, ridiculous questions in the hopes that you'll eventually get money.
[00:22:36] Adam Grant: It sounds like a fun experiment in social capital suicide. 
[00:22:40] Jordan Harbinger: Exactly. Yeah. Like, "Hey, I just wanted you to meet this guy. He's probably going to incessantly ask you for things because he wants to be wealthy. He has no other plan on how to get there. Other than asking you for ideas/money/resources to that effect." And people would go, "Remind me to never answer a call or email from Adam Grant ever again." 
[00:23:00] Adam Grant: Exactly. I would be giving to this stranger in order to take from like the busiest most successful people I know. That sounds totally fair. 
[00:23:07] Jordan Harbinger: Yeah, absolutely. And I understand that and I want to just be, again, really clear. I love introductions. I'm sure that you also appreciate introductions when they're fruitful. And even when something doesn't quite work out, it's like, "Eh, it's really 'a thought that counts' type of situation for me anyway." "Oh, wow. This wasn't a good fit, but I can see how you would have thought that." It's worth one in 10 that's really a stinker to kind of go, "Okay, fine." But then after a while, if you notice sometimes those stinkers all come from the same person, you go, "Wait a minute. What's this person's individual track record of wasting my time?" And a lot of times you can zoom in and find one or two culprits that are like, "Oh, this guy actually only sends me about one in three that are any good at all and the rest sucked." So, you know, you got to zoom out or zoom in depending on how you look at it a little bit with the networking stuff. 
[00:23:55] Adam Grant: Yeah. I've had that experience, Jordan. It's funny because when I've sort of traced those introductions back to a few of the common offenders, it seems that either they just have really bad judgment of who I would want to spend my time with or how I can be helpful to other people. Or I somehow am the most important person in their network and they're making introductions to me to gain status with other people. 
[00:24:19] Jordan Harbinger: Yes. 
[00:24:19] Adam Grant: Which like, I don't know, if the most important person in your network is a professor and that's your status move, that's kind of sad. 
[00:24:25] Jordan Harbinger: Yeah. Well, that's an interesting way to look at it too. It makes you wonder, damn, what are actually famous people dealing with on the daily basis, right? Like, "Hey, I run a podcast, not a big deal. If you're sending me this, because you want to look cool to this guy. Damn, I feel for you," you know? There's guys on Twitter that have more clout than I do in pretty much every scenario, but— 
[00:24:49] Adam Grant: Exactly.
[00:24:50] Jordan Harbinger: —but I digressed. So, how do we go and help people efficiently then? What were some of your rules for getting through the defenses built around your time and your network? 
[00:25:00] Adam Grant: Well, I think if it goes to help efficiently, my favorite practice that I've learned about is called the five-minute favor. The backstory on this comes from this incredible serial entrepreneur, Adam Rifkin, who founded his first company at $50 million of funding. He started two other companies that did well and retired in his '30s, basically to become a full-time giver, trying to help entrepreneurs. And Adam said, the biggest mistake that people make is they think they're supposed to be like Gandhi or Mother Teresa, and that's just not sustainable for any of us.
[00:25:30] What you want to do is find ways of adding high value to other people's lives at a low personal cost. And that's what the five-minute favor is all. So he says, no matter whether you're a giver or a taker, we can all do three or four more, five-minute favors in a given week than we probably do. And so Adam actually experienced this personally. About 12 years ago, he was extremely shy and introverted and he said, "All right, I'm going to try to do more of five-minute favors." And what Adam loves most to your point is making introductions. So he decides he's going to start making three intros every day. And he just kind of thinks about who's in his network, how they can help each other. And he wakes up in the morning and makes three introductions. He has done that every day for 12 years. And by my count over five dozen companies have been started because he's connected up. If you're a business person who's found you, you're a tech partner or vice versa. He's also accidentally arranged a few marriages. 
[00:26:20] What's great about it for Adam though, is that it just takes them a few minutes and you often then move on with his day to get his own work done. And it's life-changing for many of the people that he connects. He's really careful though to do a lot of double-opt-in intros where he'll reach out to you and say, "Hey Jordan, I think you should meet this guy, Tim Ferriss. Here's his background. Here's why I think you should connect." And then he'd reach out to Tim and say the same thing about you. And then, if there's mutual interest, so make the intro and all of this connecting actually got Adam named Fortune Best Networker in 2011. And you never would expect that he would be the best networker on earth, according to Fortune. But he got it because he had more powerful connections on LinkedIn than anybody else, basically the founders of every tech company that you've ever heard of. And he did all of that just by being generous with his network and making connections that were mutually beneficial.
[00:27:12] Jordan Harbinger: That is awesome. And yeah, Adam Rifkin is essentially like the man when it comes to that and he's super, super giving. And yeah, it's kind of brilliant, the double opt-in system. Do you want to go over that for a second? Because I think a lot of people don't do that. In fact, I just started doing it a short time ago. I can't remember exactly, but it's brilliant because it does stop you from introducing people that already know each other, or that don't want to deal with each other anymore because either they already know each other or one person looks and says, "Ah, I can't touch this because I have a contract in place. You would never have known that, but thanks for asking." And then you go, "Oh, good thing, I dodged that bullet." It's happened to me quite a few times where I think, "Wow, I've made a lot of intros and never done this. And now that I'm doing this and I'm getting people saying no for various reasons that I couldn't possibly have known, I just wonder how many of my other intros have gone on answered and made me look kind of like a dumb ass.
[00:28:03] Adam Grant: Yeah, I think this is also a relatively new practice for me. I used to just see introductions as uniformly positive, and just think that it's always exciting when new people got to connect and then after receiving a few bad intros and also ending up introducing people who already knew each other, I was like, "Okay, there's got to be a better way to do this."
[00:28:21] So, you know, I think that the basic idea is to reach out to both of the people that you're planning to connect and give each of them just a sentence or two of the rationale for why you think they would hit it off. And that ought to go beyond just, "Oh, you live in the same city. And I happen to know you both." It's, "You're both interested in the same technology," or, "You both happen to love this TV show that no one else watches and I'm sick of the two of you telling me about it." Whatever it is, right? You should have what social scientists call an uncommon commonality. Something that you both really care about or are interested in or good at, but that's relatively unique to each of you. 
[00:28:57] Jordan Harbinger: That's good because my least favorite intro, and please hold that thought is, "Hey, you guys both live in San Francisco, you should get beers together." And I'm like, "Hmm, I like beer. Wait a minute. Why would, who are you? I don't know. No, I can't even spend time with my own parents and girlfriend. Sorry." It's too common of commonality or, "Hey, he lives near you. That's great. But do ike literally millions of other people." 
[00:29:19] Adam Grant: Exactly. So give me a really unique reason for why I should connect with this person or why this person should be enthusiastic about connecting with me. And not only will that increase the likelihood that both people go in sort of ready to make a meaningful connection, but also it signals that you're more of a giver, right? Because you actually sat down and instead of just imposing this introduction on two people, you asked whether it would be something that would benefit both of them. And then when it does, guess what? That means that you actually get to test your judgment and you know moving forward what kinds of people to connect. 
[00:29:51] Jordan Harbinger: The double opt-in is brilliant, it takes a little bit longer, which is, I think, why I was a little bit resistant to doing it. I'm like, "Ah, they'll dig it. But then it was, I definitely had a couple of stinkers where I thought, okay, I need to go ahead and do that anyway." 
[00:30:03] And now in your book, you talk about essentially the power of powerless communication. What does that mean? 
[00:30:08] Adam Grant: It's basically a way of kind of highlighting how people who talk like takers end up projecting confidence and competence, but alienating the other people they're trying to build relationships with and how there's another way of speaking that that tends to work better. The concrete example that always stands out for me is Abraham Lincoln. So Lincoln was in a debate and his opponent called him two-faced. And Lincoln, he was very quick-witted obviously, and actually had a pretty disarming sense of humor. Without even skipping a beat, he says, "You call me two-faced. Well, do you really think if I had another face, I would wear this one?" 
[00:30:47] Jordan Harbinger: Oh nice. 
[00:30:48] Adam Grant: And the audience, of course, loses it. And what's great about this is he is deliberately making himself look bad, right? He's commenting on his own appearance in a negative way. That is conceding some level of power. He's making his attractiveness or lack thereof salient, but he's doing that in such a way that it humanizes him and makes people much more interested in connecting with him as a person.
[00:31:12] And that's what powerless communication is all about. So in a networking context, what it usually means is instead of saying, "Here are the eight reasons that you should want to connect with," instead saying, "Hey, I really admire your work," and giving the other person, some of the power. "And I was wondering if you might be willing to spend five minutes with me talking about this topic, you know, answering this question that I'm grappling with that's uniquely relevant to your background." Even though you're putting yourself in a little bit of a deferential position, you're also allowing the other person to feel intelligent and competent. And that turns out to be a powerful thing, even though it feels powerless. 
[00:31:50] Jordan Harbinger: Yeah, excellent. And you kind of hinted at something else there. You said that spotting takers, they often communicate this sort of arrogance and maybe a little bit of some other qualities. Can you teach us how to spot a selfish taker before we get taken for a ride?
[00:32:04] Adam Grant: Such a critical skill, especially in networking, and a lot of us get fooled because takers actually tend to make more charming first impressions. 
[00:32:11] Jordan Harbinger: Oh-oh. 
[00:32:11] Adam Grant: Yeah, I know. 
[00:32:12] Jordan Harbinger: I don't like where this is going, man. 
[00:32:13] Adam Grant: I'm sorry, Jordan. But if you look at the data, it's the biggest narcissists and the most egotistical people who exude that confidence that just draws us to them. And then they ended up being the same people who stab us in the back, or maybe in the face. So a couple of ways to spot them, one is to look for a pattern of kissing up but kicking down. A lot of takers are really good fakers when dealing with powerful people. 
[00:32:35] Jordan Harbinger: Ah, yeah. 
[00:32:37] Adam Grant: But they find out pretty quickly. It's a lot of work to pretend to care about everyone they interact with and they let their guard down with peers and subordinates. So if you find somebody who's really nice and generous with people above but pretty unpleasant with people below. That's one risk factor. 
[00:32:51] Jordan Harbinger: Sorry. Sorry. Well, how would we find that out? 
[00:32:54] Adam Grant: Oh, you know, I think that a lot of times this is actually gathering gossip. 
[00:32:58] Jordan Harbinger: Okay. 
[00:32:59] Adam Grant: It's positive gossip. 
[00:33:00] Jordan Harbinger: Do a little recon, little recount. 
[00:33:01] Adam Grant: Yeah, you're going around and asking people, "Hey, what do you think of this person?" And if you notice a pattern where people who are in positions of power over them are always positive and everyone else is negative. Then that's something I would want to investigate more closely. 
[00:33:12] Jordan Harbinger: Ah, yeah, that's a good call. Interesting. 
[00:33:14] Adam Grant: Yeah, you can definitely look at their speech patterns. So when talking about success, takers use a lot more I's and me's as opposed to us and we, which is not really surprising, but a lot of us forget it. There's a great finding on social media, which is if you go to Facebook, for example, the narcissistic takers among us, I actually have more self-glorifying and attractive profile photos. That just to be clear, takers are not hotter than the rest of us, but you will find a greater gap between how they look on average and how good they look in their profile picture because they're the ones who put all that time into putting their best foot forward.
[00:33:51] Jordan Harbinger: This is The Jordan Harbinger Show with our guest Adam Grant. We'll be right back. 
[00:33:55] This episode is sponsored in part by adoreme.com. Adoreme.com sells intimates like bras, panties, lingerie, loungewear, and more. Adore means love and deeply respect. So styles are designed to suit every mood, occasion, and personality. They're super inclusive. Their size range spans from XS to 4X. They carry tons of styles for every occasion and personality Adore Me values, high-quality fabrics paired with big attention to detail like playful embroidery trending prince, floral lace, rich colors, and more. And one of the best qualities about Adore Me is their commitment to sustainability. Y'all know, fast fashion is terrible for the environment, but Adore Me has matching bra and panty sets made from recycled materials, sleepwear made from organic cotton, or a swimwear that's been digitally printed to save water and energy. You can do a one-off purchase or sub to their super flexible VIP membership that gets you 10 bucks off each set, access to exclusive buy-one-get-one-free sales and more perks. Set start at 24.95. That's 50 percent off with free shipping and exchanges. Do whatever you want in your Adore Me lingerie. They're here to support all parts of you. Shop now at adoreme.com. 
[00:34:56] This episode is also sponsored by Better Help online therapy. Better Help wants to tackle some of the stigmas around mental health therapy is something we could, frankly, all benefit from at some point in our lives. I'm not ashamed to say that I've gone through some of it myself. It has helped me tremendously. We've been taught that taking care of our mental health shouldn't be a part of everyday life, but we work out regularly to stay fit. Focusing on and investing in the health of our minds is just as important. Don't make the mistake of waiting until things are just freaking unbearable before trying therapy. Therapy is a tool to utilize before things get bad and it can help you avoid those lows. Better Help is customized online therapy that offers video, phone, even live chat sessions with your therapist. You don't have to drive. You don't have to park. You don't have to see anyone on camera if you don't want to. It's more affordable than in-person therapy, and you can start communicating with your therapist in under 48 hours. Why invest in everything else, but not your mind. 
[00:35:48] Jen Harbinger: And our listeners get 10 percent off your first month at betterhelp.com/jordan. That's B-E-T-T-E-R-H-E-L-P.com/jordan.
[00:35:57] Jordan Harbinger: This episode is also sponsored in part by Progressive. Progressive helps you get a great rate on car insurance, even if it's not with them. They have this nifty comparison tool that puts rates side by side. So you choose a rate and coverage that works for you. So let's say you're interested in lowering your rate on your car insurance, visit progressive.com. Get a quote with all the coverage you want. You'll see Progressive's rate and their tool will provide options from other companies, all lined up and easy to compare. All you'd have to do is choose the rate and coverage that you like. Progressive gives you options so you can make the best choice for you. You can be looking forward to saving money in the very near future. More money, for say, a pair of noise-canceling headphones, an Instapot, whatever brings you joy. Get a quote today at progressive.com. It's one small step you can do today that could make a big impact on your budget tomorrow. 
[00:36:40] Progressive Casualty Insurance Company and affiliates. Comparison rates are not available in all states or situations. Prices vary based on how you buy. 
[00:36:47] By the way, you can now rate the show. If you're on Spotify, this is a big help. Just search for us in Spotify and click those three dots on the upper right to rate them. 
[00:36:55] Now for the rest of my conversation with Adam Grant. 
[00:36:59] You know, thinking back, I'm racing through my head for examples, especially with the I and the we, and it's like, "My company, I've built it up to this and this and this," and I'm thinking, "Does no one else work there," or, "You wrote the whole thing by yourself," or, you know what I mean? It's especially when you'll hear somebody who wants to maybe come on the show and give their work some exposure, and then you talk to other people and they're like, "He's really rude." And you go, "Man, but in his phone calls and his emails, he's been so polite. There must be two sides of the story." And the other side of the story might be that once he's done with me, he doesn't give a crap and I've experienced that plenty of times. I have someone on the show and then you go, "Hey, I was interested in this and this and this." And they go, "Yeah, I'm really busy right now." Or they just don't even answer it all and you go, "Oh, I see what you did. You came on, got what you thought you could use from us. And now you don't need us anymore." In large part, it's like talk to me in three years when you write another book and you want to come back and then — it's funny, those things must bite people in the ass all the time, though.
[00:37:53] Adam Grant: They do. A lot of that is because of this third group of people that we haven't talked about yet, but are actually sort of critical in explaining why givers rise and takers fall. So most people actually are right in the middle of this spectrum is what I call matchers. And a matcher is somebody who tries to keep an even balance of give and take. So, "I'll do something for you, if you do something for me." And matchers really believe in fairness and justice. So they hate seeing takers act selfishly and get away with it. And when that happens, they feel like, "All right, it's now my mission in life to punish this person," and become the karma police so that the next person they try to screw over wIll actually see them coming. And since most people kind of follow the principle of matching by default, it makes it really tough for it to take her, to burn one bridge, and then start over fresh with a new person. 
[00:38:35] Jordan Harbinger: Right. Because somebody will come out of the woodwork and go, "By the way, I saw that so-and-so tweeted at you or posted on your Facebook wall, just so you know, the guys are freaking dipstick. Don't deal with him, my two cents." 
[00:38:46] Adam Grant: That is basically the contribution that matchers make to all of our lives by wielding that sort of justice. 
[00:38:52] Jordan Harbinger: Interesting. I do get messages like that all the time from people like, "Hey, I noticed you had this person on your show. Look at this email he sent me a year ago." And usually, it's like, "Uh, you were kind of being annoying. Maybe you didn't get that," but sometimes it's like, "Wow, that was surprising. I didn't see that coming." And often enough later on down the line, I'll get a similar email, like I was saying before, "Ooh, I see what you did there. I had you on, and then I was supposed to go on your thing and you just don't answer my email." And it's like, "Ah, I got burned again. Dammit." And it can be really frustrating, but I think maybe I should ask you this — how do you stay sane when that happens to you? Because for me, I just kind of go, "Eeh, Karma's a bitch, but it's really not my problem. And I get philosophical about it and I just kind of move on with my life because otherwise, I'd go through crazy.
[00:39:38] Adam Grant: Yeah, I think that actually that's a pretty common reaction among givers is just to say, you know, that you must live a pretty tragic life if that's how you're operating. 
[00:39:45] Jordan Harbinger: Yeah. 
[00:39:46] Adam Grant: But I guess, I've become increasingly convinced that paying that kind of reputational information forward is an act of giving in and out of itself. So I feel like, you know, occasionally what I've seen among some really successful givers is when they're on the receiving end of that, they will go out of their way to then say, "All right, you know what? I'm going to try to prevent this kind of behavior in the future. And I'm going to go issue a bunch of these warning." And that way, at least, even if these people don't get converted from the taker end of the spectrum, they learn that the reputations are following them and they might want to be a little bit more caring or cautious. 
[00:40:19] Jordan Harbinger: Interesting. Okay. I can dig that. And you also mentioned in your book doing something called being a chunker, not a sprinkler. What do you mean by that? 
[00:40:27] Adam Grant: Imagine that you were going to do five, five-minute favors next week. If you were a sprinkler, you would basically spread one across each day. So you pick one on Monday, one on Tuesday, one on Wednesday and so on. The chunker would say, instead of sprinkling them across the week, "I'm going to consolidate them into one day and I'm going to do all five of those acts on Wednesday." And there's some pretty cool research on this by Sonja Lyubomirsky and her colleagues who had people do exactly this for 10 weeks. So they were randomly assigned to either sprinkled their helping and giving acts across the week or pick one day each week to chunk them. And only one group got happier and more energized. And it's exact opposite of what most people think. Most people think that sprinklers get better off. It's actually the case that only the chunkers get a boost in their mood and their energy. 
[00:41:14] And this is pretty preliminary but what we think is happening is when you kind of do one act of giving a day, it's a drop in the bucket. You don't feel like you really made a difference and you also get distracted from your own tasks. Whereas when you pick one day as kind of your giving day each week, you feel like, "Wow, what I did today really added up to have an impact. And I'm also able then to take the rest of the week and focus on the stuff that I need to get done." And so I think that, unfortunately, most people end up sprinkling when they should be chunking. 
[00:41:42] Jordan Harbinger: Interesting. And that's not just to get a better net effect for getting a return on our networking or whatever, but it's actually good for us because it gives us a brain chemical. So there's the benefit. 
[00:41:54] Adam Grant: Exactly. And then it just gives you a bunch of energy that can spill over either to help you do more giving if that's your goal, or just to give you a little bit more of a boost in terms of working harder, smarter or longer.
[00:42:04] Jordan Harbinger: Now, some of the other networking tips that you give, or at least some of the other advice that you give includes becoming a better negotiator. And I definitely want to touch on that before I let you go, because I think a lot of people are often wondering they might even be networking for the purpose of maybe getting a better job or getting a better position or getting a different project. How can giving actually help us become better negotiators or can it actually?
[00:42:29] Adam Grant: Well, a lot of it depends on how you give. So the best study I've seen on this was done at Vanderbilt, where essentially you're going to negotiate with somebody else and you get tested on your intelligence before the negotiation, as your counterpart. And then the results get tracked. You add up all the different people who had gone through the negotiation and you look at who does the best, and it turns out the higher, the average intelligence of negotiating pairs, the better they did, but it didn't play out at all in the way that anyone expected. It turns out, so the higher your intelligence, the better the person negotiating with you is going to do. 
[00:43:05] Jordan Harbinger: Really? Why is that? 
[00:43:07] Adam Grant: It just flies in the face of conventional wisdom. We normally are afraid of negotiating with really smart people, because we think they're going to outsmart us, but it turns out the smarter you are the quicker on the fly, you can figure out what can I offer you that costs me nothing but will help you. And the really bright negotiators are constantly analyzing what you need that I can afford to give away and then putting that on the table. And so they ended up turning a lot of what seemed like win-lose negotiations into much more win-win because if I've got something that's huge value to you, but low cost to me, then I want to make sure that I'm offering that up.
[00:43:40] Jordan Harbinger: So one of the big tips that you also given that we talked about prior to the show is reconnecting with dormant ties. And this is an elusive one because a lot of people go, "Yeah, yeah, yeah. I know. I'm supposed to reach out to my college roommate. I'm supposed to call my dad's friend and blah, blah, blah. I'll do that later. Right now, I'm doing X, Y, Z, or yeah, I already know that. Tell me something new," but you really think that it's important. 
[00:44:02] Adam Grant: Yeah, the data on this are shocking to a lot of people. So if you're working on a project right now and you need advice or information, If you reach out to people you used to know, you actually get better knowledge than if you reach out to people you currently know. And the reason is most of the people that we reach out to right now, our strong ties. They're the people we see every day, they know us well, and they tend to know a lot of the same stuff and same people that we do. So when we ask them for help or advice, they basically just give us redundant information. Whereas dormant ties are traveling in different circles and learning different things, meeting different people.
[00:44:35] So that college roommate, the person you grew up across the street from, maybe somebody you worked within a prior job, you can't predict who they know and what they know in the last three, five, seven years since you last connected. And so they can really open up a fresh window of insight for you. 
[00:44:50] Now, when you do this, you'll find out really quickly if you've been a giver, a taker or a matcher in that relationship, because if you've been a taker, basically that dormant tie is going to lock the door to their network and throw away the key. Whereas, if you've been a matcher, it's a little bit easier to reconnect, but matchers because they have this quid pro quo mentality tend to create a transactional vibe. Like, "Jordan, I didn't really care about you. I was just helping you so I could get something in return." Whereas if you've been a giver in that relationship, there's this reservoir of goodwill and that person's super excited to hear from you find out what you're up to, and figure out if it's possible to help you. And so I think that that's one of the powerful ways that giving actually pays off in the long run. But a lot of givers are reluctant to reconnect with their dormant ties because they don't want to be a burden to them. Forgetting, of course, that if your dormant ties are matchers, they want to basically even the score. They want to reciprocate. And so if you reach out, you're actually doing them a favor. 
[00:45:43] Jordan Harbinger: Oh, that's great. That's a good way to look at it because a lot of people, especially, I dare say, people that aren't doing so well in business, they often say like, "Oh, I don't want to connect you to so-and-so because I might need that connection later." you ever hear that? 
[00:45:58] Adam Grant: Yes. And it's like, why is that zero-sum? 
[00:46:00] Jordan Harbinger: Yeah, exactly. 
[00:46:01] Adam Grant: You can have that connection and I can have it too. 
[00:46:03] Jordan Harbinger: People might say, "Oh man, you interviewed Adam Grant. I really want to talk to him too." And obviously, I'll go through the old double-opt-in process. But I think some of the people that I've asked for introductions to other people, they say things like, "Well, I don't want to use it right now, or I don't want to burn that one because I might have to ask him — I need that favor in the bank," and they don't say it necessarily like that, but you can tell they're kind of thinking I can probably only email this guy one time and get something. So I don't want it to be for you.
[00:46:34] Adam Grant: It's like, well, no, if you built a meaningful relationship there, or even if you've fallen out of touch, but you had some significant history when you're reaching out, you can always do it from the standpoint of being a giver rather than a taker. And say, "Look, you know, one of the things that I'm looking to do is add value to the people who matter in my life. I'd really love to catch up and get back in touch." Or, you know, another one that I found to be really compelling is when you reach out to a dormant tie and you say, "You know, I just had this experience recently that reminded me of you. And I was really bummed that we fall out of contact. It would be great to find out what you're up to. And if there are ways that I can be of help to you." And if you make a habit of doing that every so often, the Adam Rifkin recommendation is he reconnects with one dormant tie every single month. It's not a lot of work, right? If you have a reminder in your calendar on the last day of every month, just to contact one person you used to know. That's 12 rekindle connections every year, some of those are going to pay off and you don't have to be strategic about it. It's just one of the things you do to stay in touch with people who once were a part of your life. 
[00:47:36] Jordan Harbinger: How do you recommend people go about that? I mean, do you just write a list of college roommate, buddy from high school, former teacher that I really like. Is there a systematic way to do it? Because thinking about all of my former connections, it's like this massively overwhelming thing happening in my brain.
[00:47:52] Adam Grant: I actually think the less systematic the better, because the research on this also shows that we can't predict which dormant ties are going to be helpful to us. 
[00:47:59] Jordan Harbinger: Aah. 
[00:47:59] Adam Grant: We just don't know enough about what's been going on. So, what I would say is either, you know, when you're going to travel to a given city, you look up who's there, or you literally just log in to LinkedIn or Facebook or whatever social media you use and see who pops up, that gives you the reaction of, "I kind of missed that person." And if you make a habit of doing that once a month, you'll reconnect with some really interesting people. 
[00:48:21] Jordan Harbinger: Excellent. Thanks so much, man. Is there anything you want to leave us with? 
[00:48:24] Adam Grant: The one thing I would say here is a lot of people are really confident that they're already givers. And I would just urge everyone to be cautious with that because we all overestimate our own generosity. So I think that this is a judgment that can only be made by the people you interact with. So it's worth trying to find out through others' eyes how you're seen as opposed to just assuming, "Yeah, of course, because I have access to every act of generosity I've ever done. Everybody else is going to think I'm a giver." 
[00:48:52] If anybody's interested, we have a free tool to facilitate that on the Give and Take site. If you go to giveandtake.com, you can invite anyone to rate you anonymously. And then the site will aggregate all the ratings for free and give you basically a mirror to look at yourself through others' eyes. And I would say, try that one with your own risk. 
[00:49:09] Jordan Harbinger: Yeah. Wow. Because you can get an answer that you really don't like. 
[00:49:13] Adam Grant: Yeah. I think in some ways that's the most valuable feedback anyone could get. 
[00:49:16] Jordan Harbinger: Oh, I would agree. Wow. Thanks so much. Adam Grant, obviously, we'll have your book, giveandtake.com is linked up in the show notes as well. Thank you so much for your time. 
[00:49:26] Adam Grant: Thank you for having me. Pleasure to be here. 
[00:49:29] Jordan Harbinger: You're about to hear a preview of The Jordan Harbinger Show with actress and former Scientologist, Leah Remini. 
[00:49:35] Leah Remini: There's a special department in Scientology organization. Their sole job is to go after those speaking out against Scientology. That's all they do, day in, day out. One of the directors says, by L. Ron Hubbard says, "Find out what the person is seeking to protect and go after it." And I'm quoting now, "If at all possible utterly destroy." 
[00:49:59] When you want to talk about, "Oh, it's like any other religion," you need to get your head out of your f*cking ass and really understand what the difference is between having faith and having an organization that has a price list and has an organization dedicated solely for the utter destruction of people who leave. 
[00:50:18] Scientology's goal is to make 80 percent of the planet Scientologists. Without Scientology, there's no hope for men. And that is the extremist attitude of every Scientologist on the planet.
[00:50:33] Jordan Harbinger: The leader's wife has been missing for like years now. 
[00:50:36] Leah Remini: Sure, yeah. 
[00:50:36] Jordan Harbinger: What do you think happened to her? Where is she? 
[00:50:38] Leah Remini: I don't know that Shelley's alive. I don't know where Shelly is. This is David Miscavige, the leader of Scientology, chairman of the board. This is Tom Cruise's best friend. Jordan, if you had a best friend that you knew had a wife that was with him all the time, wouldn't he say, "Well, I haven't seen wife, look, I need to see her"? 
[00:50:56] Jordan Harbinger: Yeah. 
[00:50:57] Leah Remini: I'm starting to worry that she's in a f*cking freezer somewhere. No one's done that. I have been the only person that has ever inquired about Shelly Miscavige. 
[00:51:04] Jordan Harbinger: To learn more about the dangers of the cult of Scientology from Leah Remini herself, check out episode 485 on The Jordan Harbinger Show.
[00:51:14] Always love a good convo with Adam Grant. I hope relating my personal experience helps people out here because it can be really tricky. And a lot of times we don't put ourselves in the shoes of the people we're reaching out to, we can make a mistake. And I also thought it was very useful to learn how to protect your own bandwidth, whether we're a business owner or anyone else for that matter, as well as how to spot takers and protect ourselves from those folks as well because they are freaking everywhere. And I'm sure that all of us have encountered a few dozen of these people throughout our lives and will continue to do so until we take our last breath here. So be sure to use that five-minute favor and be sure to reach upward with style and grace. And do those double-opt-in introductions. 
[00:51:52] Big thank you to Adam Grant. Links to all things Adam will be in the show notes at jordanharbinger.com. Please do use our website links if you buy books from anyone here on the show, it does help support the show. Transcripts are in the show notes. I'm at @JordanHarbinger on both Twitter and Instagram, or you can hit me up on LinkedIn. Love connecting with you anywhere and everywhere.
[00:52:11] Again, the Six-Minute Networking course. I highly recommended if you are into networking or you're learning to network and reach out to people and you don't want to be gross and annoying and salesy, this course is for you. It's also free. It's at jordanharbinger.com/course. I'm teaching you how to dig the well before you get thirsty. Reach out, reach up in a graceful and classy way. And most of the guests you hear on the show, they subscribe and contribute to the course. So come join us, you'll be in smart company where you belong. 
[00:52:37] This show is created in association with PodcastOne. My team is Jen Harbinger, Jase Sanderson, Robert Fogarty, Millie Ocampo, Ian Baird, Josh Ballard, and Gabriel Mizrahi. Remember, we rise by lifting others. The fee for the show is that you share it with friends when you find something useful or interesting. If you know somebody who loves Adam Grant or is interested in learning how to network a little bit better and not be gross with it, share this episode with them. Hopefully, you find something great in every episode of this show. The greatest compliment you can give us is to share the show with those you care about. In the meantime, do your best to apply what you hear on the show, so you can live what you listen, and we'll see you next time.
Sign up to receive email updates
Enter your name and email address below and I'll send you periodic updates about the podcast.