Adam Savage (@donttrythis) is a special effects designer, educator, actor, former cohost of MythBusters, current host of Savage Builds (both on Discovery Channel), and author of Every Tool's a Hammer: Life Is What You Make It.
What We Discuss with Adam Savage:
What you have to gain by paying heed to your obsessions.
The sublime benefits of real expertise.
How deadlines spur action past the bottleneck of intended perfection.
The universality of imposter syndrome.
How an expanded vocabulary leads to unexplored solutions.
And much more…
Like this show? Please leave us a review here — even one sentence helps! Consider including your Twitter handle so we can thank you personally!
(Download Episode Here)
(Subscribe to the Podcast Here)
Worksheet for this Episode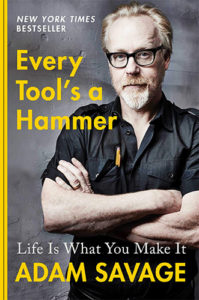 Like a lot of kids in the Midwest, Jordan had three hobbies growing up: building stuff, breaking stuff, and blowing stuff up. In a stroke of genius, Adam Savage — former cohost of the celebrated Discovery Channel's MythBusters series and author of Every Tool's a Hammer: Life Is What You Make It — managed to turn these three things into a wildly successful career.
In this episode, Adam and Jordan discuss why you'll be happier and probably wind up in a career you actually like if you pay heed to your obsessions rather than being bullied out of them, the value of deadlines for everything from assembling costumes to building props to interviewing people for podcasts, why regular and honest introspection is one of the most important duties a human being can take on, the power of an expanded vocabulary, the universality of imposter syndrome, and much more. Listen, learn, and enjoy!
Please Scroll down for Full Show Notes and Featured Resources!
Sign up for Six-Minute Networking — our free networking and relationship development mini course — at jordanharbinger.com/course!
Are you trying to hire the right person for your business, but the best candidates keep slipping away? Let ZipRecruiter — the fastest way to hire great people — help you screen only the best at ziprecruiter.com/jordan!
Get two months of Skillshare — unlimited access to over 18,000 classes in design, business, technology, photography, entrepreneurship, film, writing, and more — for free at skillshare.com/harbinger!
Explore Blue Diamond for all your almond product needs. From delicious almond nut snacks to gift baskets, they've got you covered at a store near you or at bluediamond.com!
Boost your credit score fast and for free. Experian Boost includes your free credit score, score tracking, and the personal factors that affect your score. Find out more at experian.com/jordan!
Build Your Network with Travis Chappell is a podcast for aspiring professionals who want to grow their inner circle and sharpen their relationships. Listen here!
THANKS, ADAM SAVAGE!
If you enjoyed this session with Adam Savage, let him know by clicking on the link below and sending him a quick shout out at Twitter:
Click here to thank Adam Savage at Twitter!
Click here to let Jordan know about your number one takeaway from this episode!
And if you want us to answer your questions on one of our upcoming weekly Feedback Friday episodes, drop us a line at friday@jordanharbinger.com.
Resources from This Episode: