Reading Time:
4
minutes
Novelist and Nobody Should Believe Me podcast host Andrea Dunlop joins us to discuss the prevalence of medical child abuse and what we can do to fight it.
What We Discuss with Andrea Dunlop:
Munchausen syndrome by proxy (aka factitious disorder imposed on another): a form of medical child abuse where parents or caregivers fake or exaggerate their child's health problems for personal gain.
How the widespread availability of medical information online, social media platforms, and crowdfunding has broadened the spectrum of people engaging in medical child abuse beyond professionals in the healthcare field.
What the long-term psychological toll looks like for children who survive such abuse and how they struggle to discern the truth as they grow older.
Why prosecution of medical child abuse cases is difficult when family courts may not thoroughly examine medical records and even accept a guilty parent or caregiver's word as fact.
How we can keep an eye out for signs of medical child abuse, and who we should contact if we suspect the worst.
And much more…
Like this show? Please leave us a review here — even one sentence helps! Consider including your Twitter handle so we can thank you personally!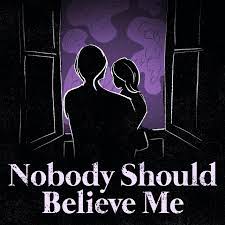 According to child psychologist Thomas A. Roesler and pediatrician Carole Jenny, "Medical child abuse (MCA) refers to a child receiving unnecessary and harmful or potentially harmful medical care due to a caregiver's overt actions including exaggeration of symptoms, lying about the history or simulating physical findings (fabrication), or intentionally inducing illness in their child." This has also been called factitious disorder imposed on another (FDIA) or, as it is more commonly known, Munchausen syndrome by proxy (MSP) — or simply Munchausen by proxy. Perhaps there are so many ways to describe this phenomenon because it's unfathomable to most caregivers and parents that someone would purposely harm a child for personal gain — even if that gain is just sympathy or recognition from the community for being perceived as a hero dedicated to alleviating that child's suffering.
On this episode, we're joined by novelist and Nobody Should Believe Me podcast host Andrea Dunlop to discuss several real-life cases of medical child abuse, how the healthcare and legal systems are currently ill-equipped to act on suspicions of such abuse, the long-term psychological effects on children who survive an abusive ordeal at the hands of someone they trust, and what we can do if we suspect we're witnessing the symptoms of medical child abuse.
Please Scroll Down for Featured Resources and Transcript!
Please note that some links on this page (books, movies, music, etc.) lead to affiliate programs for which The Jordan Harbinger Show receives compensation. It's just one of the ways we keep the lights on around here. We appreciate your support!
Sign up for Six-Minute Networking — our free networking and relationship development mini-course — at jordanharbinger.com/course!
This Episode Is Sponsored By:
Miss our two-parter with former Westboro Baptist Church spokesperson Megan Phelps-Roper? Make sure to catch up starting with episode 302: Megan Phelps-Roper | Unfollowing Westboro Baptist Church Part One here!
Thanks, Andrea Dunlop!
If you enjoyed this session with Andrea Dunlop, let her know by clicking on the link below and sending her a quick shout out at Twitter:
Click here to thank Andrea Dunlop at Twitter!
Click here to let Jordan know about your number one takeaway from this episode!
And if you want us to answer your questions on one of our upcoming weekly Feedback Friday episodes, drop us a line at friday@jordanharbinger.com.
Resources from This Episode:
891: Andrea Dunlop | Exposing Medical Child Abuse
This transcript is yet untouched by human hands. Please proceed with caution as we sort through what the robots have given us. We appreciate your patience!
[00:00:00] Jordan Harbinger: And special thanks to Airbnb for sponsoring this episode of the Jordan Harbinger Show. Maybe you've stayed at an Airbnb before and thought to yourself, yeah, this actually seems pretty doable. Maybe my place could be an Airbnb. It could be as simple as starting with a spare room or your whole place while you're away.
[00:00:14] Find out how much your place is worth at airbnb. com slash host. Coming up next on The Jordan Harbinger Show.
[00:00:21] Andrea Dunlop: People are more likely to be in their 20s when they really realize that what's happened to them, because they have to get some space from that parent. Then it's just a horrible realization to come to that this person that a lot of times they're still really attached to and they still really love has completely betrayed them and, you know, subjected them to this horrible abuse.
[00:00:41] So, and there are survivors who never come out of it.
[00:00:48] Jordan Harbinger: Welcome to the show. I'm Jordan Harbinger. On the Jordan Harbinger Show, we decode the stories, secrets, and skills of the world's most fascinating people and turn their wisdom into practical advice that you can use to impact your own life and those around you. Our mission is to help you become a better informed, more critical thinker.
[00:01:03] Through long form conversations with a variety of amazing folks, from spies to CEOs, athletes to authors, thinkers to performers, even the occasional arms trafficker, former jihadi, rocket scientist, or Emmy nominated comedian. And if you're new to the show or you want to tell your friends about the show, I suggest our episode starter packs.
[00:01:20] These are collections of our favorite episodes on persuasion and negotiation, psychology and geopolitics, disinformation and cyber warfare, crime and cults, and more. That'll help new listeners get a taste of everything we do here on the show. Just visit jordanharbinger. com slash start or search for us in your Spotify app to get started today.
[00:01:37] We're talking with my friend, Andrea Dunlop. She's a writer and novelist, and she started a podcast about Munchausen by proxy, aka medical child abuse. She had a very personal experience with this, and that is what we are going to be discussing today. Now, this episode is not. Terribly graphic, but it still discusses child abuse, medical child abuse.
[00:01:56] Let your imagination run wild with that. We're going to get into what that is on the show. So it could be a bit much, especially for some little kids. And there are some spoilers for the Netflix documentary, Take Care of Maya. If you have seen that, you're going to want to listen to this episode. And if you haven't seen it, well, you're probably going to form an opinion before you watch it.
[00:02:12] All right, here we go with Andrea Dunlop.
[00:02:17] I got to say, this is a hell of a thing to become an expert in. And I know that you're an expert in this and doing a show on this, your own podcast, because of your sister, at least in part because of your sister, and it seems like one of those things where you get to know a lot about it because of some very unfortunate circumstances that bring this kind of thing to your attention, you know, for me, I, I don't want to say gawker because that's not quite it, but I find out about it.
[00:02:42] I think I found out about this through one Eminem rapping about Munchausen by proxy to Eight million people sending me this documentary called Take Care of Maya, which made the rounds, I don't know, a month or two ago, which is essentially about how, and this is in, in very sort of puffy comic sans quotes, how the hospital and doctors can just take someone's kids away from them with nothing to show for it.
[00:03:05] And as a parent, right, that's terrifying, which is sort of the trigger for the popularity of this documentary. But I just, I figured there had to be more to the story. Which led me to you and to Munchausen by Proxy and this absolutely insane disease slash mental illness. So, what is Munchausen? Let's start there.
[00:03:24] Andrea Dunlop: So, Munchausen by Proxy is the term that we use to describe two different things. And they are intertwined, but they are separate. So, one is medical child abuse, and that is when a parent or caregiver exaggerates, induces, or fabricates an illness in a child. And the other thing that we use Munchausen by proxy to describe is an actual disorder.
[00:03:48] called factitious disorder imposed on another, and that is when a caregiver does those things for the purposes of attention and sympathy. So for an intrinsic reward.
[00:03:59] Jordan Harbinger: Yikes. Okay, so this is, it's pretty bad. I mean, it's essentially putting your kid, I'm going to do the layman version here. It's putting your kid through a bunch of medical treatment so that you can get attention.
[00:04:08] And I know there's more to it than that, right? But that seems to be kind of the, what comes out at the end of the day. And some of the treatments these kids get are horrifying. They are put on like chemo, cancer drugs. They get brain shunts for whatever you get brain shunts for medication delivery or for to reduce swelling and inflammation.
[00:04:30] They're on all kinds of other medications that are hard on the body and there's no reason for it or pain meds or opiates. One mother was putting feces in her baby's feeding tube and or another one was the IV line. I forget which or if it was both in different cases. And I mean, imagine what that does to someone's body, a baby body when you're putting poop in their, in their bloodstream and they get surgeries on their body.
[00:04:55] They get surgeries on their brain. I mean, it's life altering stuff that I can't imagine. You wouldn't want your kid to go through it. If it was going to save their life, you'd have a hard time making that decision. And this is completely unnecessary and based on. As you said, fabricated symptoms. So that makes it a million times worse.
[00:05:13] Obviously.
[00:05:14] Andrea Dunlop: Yeah. I mean, and I think the horror of trying to wrap your mind around someone doing this, and especially because, you know, 96% of known offenders are mothers. So I think there is something really particularly difficult and horrifying about the idea of a mother doing this to their own child because we really think of a mother as being the most protective sort of force in a child's life.
[00:05:40] And yeah, you know, as you said, with the disorder, it's considered a, you know, as Dr. Mark Feldman says, a maladaptive coping mechanism, right? So it's a way to get. The parent's emotional needs met and this is how they do it and of course it is extremely damaging to the child and you know, you mentioned some of those things that we've seen in cases where, you know, polymicrobial sepsis, which is, you know, what is caused when people mess with the PICC lines, the IV lines, as you said, which can cause, you know, death, um, can cause respiratory failure, organ failure, uh, There's a higher death rate in this abuse between 6% and 9% than any other form of child abuse.
[00:06:18] So the physical repercussions can obviously be extremely serious, but also the psychological repercussions because these are children who are being told their entire lives that they are sick, that they are going to die young. They're often isolated and separated from their peers by being taken out of school or put in a special school.
[00:06:38] There's a range of behaviors, right, so induction, that part of it is really on the more severe end, where you have parents fabricating symptoms in order to get surgeries, you know, we see a lot of issues around feeding issues with very young children, and Jordan, I know you have little kids as I do, so you know that when you go into the pediatrician, They're relying on your reports for everything when it comes to kids who are not yet verbal, right?
[00:07:04] And so if you are telling, um, I think, you know, one of the questions that comes up the most, right, is, well, how do doctors fall for this, right? Or, or they think that these offenders must be some master manipulators. And some of them are, but some of them are not. And actually, the horrifying reality is that it's pretty easy to pull off because, you know, you go to the pediatrician, you take your child, especially, again, if they're little and they're not directly talking to the doctor themselves, and the doctor says, How are they sleeping?
[00:07:30] How are they eating? Are there any issues coming up? So if you have a parent who's reporting, My child can't eat. They can't keep any food down. They have reflux. Everything they eat comes up. They're not gaining weight. I don't know why I'm feeding them. And all of those reports are false. And really what's going on is that the parent is just not feeding them.
[00:07:47] The doctor would have no way of knowing that during the course of a regular 15 minute appointment. I mean, the feeding tubes are one of the most common things that we see in these cases. And so, I always want to put the caveat that there are obviously many children that have these legitimate issues of, you know, failure to thrive that have nothing to do with having an abusive parent.
[00:08:10] There are children that, you know, need extra help with feeding when they're really little, especially if they were born premature, which we also see a lot in these cases, but I always want to point that out because I always want to make sure people understand that I'm not implying that we should look at children with these issues that we see come up in these cases with any extra suspicion.
[00:08:26] The vast majority of parents who are taking their children for these kind of care legitimately need it. And doctors are very, very trained to listen to parents, you know, in pediatrics, to listen to parents, to trust parents, they have to rely on their reports to do their jobs. And so, you know, you do see obviously a lot of physical impairments that can last for the rest of their life.
[00:08:48] They may have organs taken out, they may be, you know, malnourished when they're young. I mean, it's very upsetting. Again, yes, we've had, I've had a couple of cases that I've researched that involved brain shunts for, um, something called hydrocephalies that is, um, vanishingly rare in children, and, uh, in these two cases was not, they did not actually have this condition, so I mean, some of these cases are very serious in the surgical way, but even if you don't have a parent that's escalating, to those kinds of things, um, that's more keeping it in the realm of, oh, you have this learning disorder, you have, you know, something that comes up a lot is like autism and those kind of things, ADHD and, you know, but really insisting that their child needs to be separated from their peers, needs all this extra help that they don't, that they don't actually need.
[00:09:32] And even that, you know, has a deep psychological effect on a child, because if you just think about, you know, when you're a little kid, your parents are your world and there's no one that's a bigger influence on the way that you see yourself and the way you see the world.
[00:09:44] Jordan Harbinger: Why is it by proxy? Is that because you're doing this to somebody else?
[00:09:49] Is there a such thing as Munchausen that's just not by proxy?
[00:09:51] Yeah,
[00:09:52] Andrea Dunlop: absolutely. So these are both categorized under the umbrella of factitious disorders, and so Munchausen or, and you can probably see there's a lot of, uh, There's quite a bit of, um, vigorous debate over, uh, terminology, and it's one of the things that I think can add to the confusion.
[00:10:11] But so, there is Munchausen, um, which the official DSM term for is factitious disorder imposed on self. It is a similar behavior for similar motivations just on yourself. And so, This is someone who, you know, invents, exaggerate, or induces illness within themselves for, again, that same, those same, you know, emotional intrinsic reasons, right?
[00:10:33] So, to get sympathy, to get attention. And so, these are the cases that you hear about. Um, the first case that we covered on the show, the Hope Ubara case, she had both going on, both Munchausen and Munchausen by proxy. So, she had an eight year long cancer hoax, where she claimed to have Ewing's sarcoma, which is a serious, invasive kind of cancer, and she had, during this eight year period, she had two remissions, where she had huge parties, and then, you know, got to what she was telling, you know, everyone in her family was the end of the road, and she and her husband sat down with their three children and told them that she was gonna die, and they had picked, you know, she had picked out a casket, she'd found a burial plot, I mean, It's very, very deep, and then it turned out, in that case, that a doctor called her mother to try and find some of the names of her previous treating doctors while Hope was in hospice care, and they couldn't find anything because Hope had never had cancer and she had never been treated for it, so.
[00:11:35] Munchausen is related, not every person who commits Munchausen by proxy has a history of Munchausen and not every person who has Munchausen, if they have children, goes on to commit Munchausen by proxy, so there are some sort of different things going on there, but they are obviously interrelated in many of the cases that I have heard about, um, including Hope, including the Mary Welch case, which we also covered on the show, And including, you know, the story with my sister, right, that was part of the reason we were so alarmed when it came to the first investigation was that she had a long history of being deceptive about medical things.
[00:12:08] And I always also like to remind people that these factitious disorders are characterized by intentional deception, right? So it is not hypochondria. It is not someone who is really anxious about their health or their child's health. It's not even someone who's having, you know, delusions about their own health or like.
[00:12:26] You see mothers sometimes over medicating their children or being over anxious because they are having some kind of postpartum psychosis. It is very, very separate from these things. It is a disorder, but it is not a mental illness that makes someone not culpable for a crime. So, they understand right from wrong and they know they are doing
[00:12:47] Jordan Harbinger: it.
[00:12:47] Yeah, okay, that's important. The motto of your show seems to be people believe their eyes, which is kind of what you're saying with the doctors, right? It's just, if you see symptoms and somebody tells you that that's what's going on, you're not like, Hmm, I wonder if you're secretly giving your kid chemo drugs that you stole from your mother in law.
[00:13:02] Like that's just a weird assumption that people are not going to make in anything other than the most extreme circumstances. I was gonna ask why people abuse their kids like this, but it's not like a parent that can't control their emotions and pushes or hits their kids. This is far more planned and sinister, which makes it even more kind of disgusting.
[00:13:20] And do they get a dopamine rush from the attention? Is it an addiction kind of? mechanism or what?
[00:13:26] Andrea Dunlop: It has a lot in common with addiction. And this is, um, you know, what the neurobiology research that's been done on this, which, you know, there hasn't been enough research done on this matter in, in just by and large, because it's just, it's sort of an underfunded, underrecognized research.
[00:13:43] issue. It does function a bit like an addiction, right? Where they are getting, again, that emotional reward for, you know, not only just getting the sympathy and the attention, but also for pulling one over people. Um, and just that, that deceptive behavior is very intrinsic to their personality and What we usually see in these cases, I mean, it's extremely, these are extremely complicated folks to deal with because they often have comorbidities or the coexistence of these other personality disorders, the cluster B personality disorders, so which I know you've had a lot of folks on your show that have talked about.
[00:14:18] So things like borderline personality, narcissistic personality disorder, histrionic personality disorder, which are very difficult to treat and deal with all on their own, let alone when they are in, in combination with factitious disorder imposed on another much as my proxy. It's a very complicated deal, but a lot of times what you also see is just all kinds of other deception in these people's lives.
[00:14:39] So, you know, in the case of Hope Ybarra, she was also lying about work. She was lying about her own health. She was lying about her children's health. You know, there was evidence of multiple affairs. That's another thing I've seen. So you see this sort of, um, there was some financial malfeasance, like, you see, you know, deception just being There's just deception everywhere.
[00:14:55] Right. Yeah. A very pervasive theme in their lives.
[00:14:58] Jordan Harbinger: So, how did things start with your sister?
[00:15:00] Because
[00:15:01] Jordan Harbinger: You mentioned that she eventually became somebody who was, I guess, abusing her own children, and there's no real other way to sort of sugarcoat that. This wasn't like, I can't believe she did that, right? It was sort of, oh, this has turned into that.
[00:15:15] Tell us what this is.
[00:15:17] Andrea Dunlop: Yeah, so, you know, with regards to my sister, I do want to put the caveat that she has not been charged with a crime. Um, there was two investigations into her. One about 13 years ago. One a few years ago that involved a two year long police investigation that was referred to the prosecuting attorney and the prosecuting attorney declined to file charges.
[00:15:38] So that is what happened there and that was largely because I believe, uh, and according to, to what they told me, um, the prosecuting attorney's office, because her children were returned to her during the course of that investigation by a family court. Unfortunately, that is something that happens all the time in these cases.
[00:15:55] So, yes. So, I just did want to put that disclaimer that she has not been charged with
[00:15:59] anything.
[00:15:59] Jordan Harbinger: Sure. It sure sounds to me like she committed one, but you didn't say that, only I did, and I'm entitled to my opinion. How's
[00:16:05] Andrea Dunlop: that? Yes. Um, I will say, you know, we, we did an episode this season where I really went through everything that I found in the public record about that case, and certainly it is my belief that there was, uh, Very compelling evidence, including, you know, a very lengthy report from Dr.
[00:16:23] Carol Jenny who anybody familiar with the child abuse world will know because she's a very well respected, uh, child abuse pediatrician who actually wrote the book on medical child abuse, the book, um, along with her husband, Thomas Roessler. That is a, a pretty fair estimation. Um, so the way that it started, I mean, again, looking back on my history with my sister, it was this sense of there was sort of from, especially from in my memory, from teenage years on, I have a lot of happy memories with my sister.
[00:16:56] I mean, that is one of the hardest things to sort of, uh, reconcile is that in my experience, we had a happy childhood growing up together and, um, you know, we're less than two years apart. We're very close in age. But there was sort of a constant theme of having, you know, medical issues, right? And so it was asthma, or it was an issue with the knee, and now there are certain things that I know for sure were not real.
[00:17:18] There are other things that I just will never know about, but obviously given the context I sort of look back and wonder, you know, some of those things could have been real and some of them could not. I mean, anyone during the course of their life is going to have some medical issues, so it's, it's not that like, you know, it's not that I can say that everything was, was fabricated, but there were certain things that stood out.
[00:17:36] The first big incident that I remember was when we were in high school. She started losing her hair, and of course, for a high school girl, you know, what a nightmare. And she had this bald patch, and she said that she had alopecia, alopecia, excuse me, which is just a sort of medical term for unexplained hair loss, I believe.
[00:17:53] So, she went to a dermatologist with my mother, since she was underage at the time, and the dermatologist pulled my mother aside and said, she's not losing her hair, she's shaving it. So, obviously, that was an alarming behavior. And my mom, I believe, tried to get her to go see a therapist at the time, but hard to compel a teenager that doesn't want to be in therapy.
[00:18:13] To go to therapy, so that didn't end up happening, and of course we didn't really, we didn't have any context for this behavior at the time, right? Right, you're kind of
[00:18:21] Jordan Harbinger: like, oh, whatever, she's a teenager, she does weird shit for attention, the end. Weird thing to do, but like,
[00:18:27] Andrea Dunlop: whatever. Yeah, that's not really like a headline, like, teen does strange self destructive thing for attention.
[00:18:32] Yeah, it's like, she's
[00:18:33] Jordan Harbinger: not smoking cigarettes, right? It's like, who cares? Right,
[00:18:36] Andrea Dunlop: right, exactly. You know, and she always, I mean, to a point in her life, I mean, she always sort of had these other... pretty strong markers of normalcy, of happiness, I mean she did well in school, she was like captain of the swim team, she had, she was in band, she had a ton of friends, um, you know, and, and had close relationships with, you know, there was like a best friend that I sort of considered another sister, like, you know, we were so close growing up, and so it wasn't like she really seemed like this.
[00:19:06] And then as she got into her 20s, you know, so she became a nurse, you know, she was in this relationship with a boyfriend and they got engaged and then she told us that she was pregnant. I mean, I didn't have any reason to doubt her. So, um, she said she was pregnant. There was a whole story about kind of the, the fiancé going to another state for work.
[00:19:27] Um, and then on, uh, New Year's, and this was like in the, I guess I was in New York, so I think it was probably 2005 or 2006, I'd have to check, but, um, so she called all of us. My parents and I were out of town, um, which was a big pattern. We were often out of town when these crises happened. And said that she had gone into premature labor and she was only about six months along and she was, had told us she was pregnant with twins.
[00:19:54] I had seen ultrasound photos. She had looked pregnant, she was wearing maternity clothes. There was an experience I describe on, on the show that, um, is really something that just really sticks with me to this day is when I had seen her just before this phone call, um, at the holidays when I was home from New York.
[00:20:10] I thought I felt a baby kick. I said, the baby's kicking, and I put my hand on her stomach and I was like, oh, I, I, I felt the baby kick, and so she told us she was losing the babies. My parents were like rushing to get a flight home. It was this really dramatic thing, and I couldn't miss any more work because I was very junior at my job, and so I had to go back to New York, and she was, you know, we were talking all the time on the phone, and she was telling me about this whole thing of being in the hospital, and okay, they're putting me upside down to try and get the babies to stay in there, and then, that was a joke, right?
[00:20:38] And then ultimately, I mean, no, I, I, I didn't interpret it as, as one. I, I don't, you know, I don't know enough
[00:20:46] Jordan Harbinger: about obstetrics. I mean, I'm no doctor, but I'm pretty sure that's not how they keep a baby. Yeah. You're like, okay, hold her by her legs. You
[00:20:50] Andrea Dunlop: know, now that I, now that I, uh, yeah, now that I say it out loud, um, yeah, it does.
[00:20:54] But I mean, you know, again, I'm, I'm in my twenties and this goes to, I think people It is easier to be skeptical about these stories in retrospect, right, when you're in the moment and it's someone you love, and that's why we sort of have the, you do believe your eyes, because you just, you don't, that's just not something you think to doubt, someone tells you they're pregnant and you don't go, really, are you, you know, and so, yeah, and so basically, you know, she narrated this whole thing of losing the babies and the babies died and It was this horrible thing, I was so heartbroken, I thought I was gonna be an auntie, you know, we'd had a baby shower, like the babies had names, that I will probably remember until the day I die, and I, you know, was completely convinced that this is how, how it had happened, and I got a call, it was back in New York, and I got a call from my father, I think a couple weeks after this whole thing went down, and he, you know, he just told me, listen, whatever, I'm, I'm, I'm Megan's saying about what happened is just not adding up.
[00:21:56] There's just a lot that's not adding up. And I, I believe my, my parents had found some kind of admission to the hospital paperwork where she'd been admitted for dehydration on the day that she was supposedly in the hospital when this was happening. And... Then we all sort of started talking to each other.
[00:22:11] I talked to the best friend that she grew up with, who I was still close with, and she had heard a completely different version of how this had all happened. So in that version, the fiancé had made it home in time, because that was another part of the story, was the fiancé was coming from, he was trying to get a flight, and then his flight got grounded, and he had to drive, and he was trying to make it to the hospital in time, and um, so in the version I heard, her best friend had taken her to the hospital.
[00:22:34] In the version that her best friend had heard, her fiancé had been there with her at the hospital and she had described, you know, we said goodbye to the babies together, we took pictures, etc. So again, part of what's so disturbing about these things is the level of detail. So it became pretty clear, pretty quickly, as we all started comparing notes, that things had not happened the way that she said they'd happened.
[00:22:55] And I think it was still a while after that that I really accepted that this pregnancy probably had never been real at all. And more recently, you know, within the last couple of years, I actually got a hold of the fiance and spoke to him about it. And he, because we've sort of, um, which is unfortunately something families do in these situations, you know, she sort of said, well, he left me and I was stressed and I didn't know how to tell you guys.
[00:23:21] And it sort of, somehow we blamed him. And I, I still can't really track my own thinking in that except that I just wanted to believe anything except that she had lied and sort of put me into grief for something that wasn't real, which is just a really horrible betrayal. And. You know, and so I, I spoke to this, this man years later, and he told me the whole story, and, you know, what happened was, he had a young son, and he had been uncomfortable with, uh, some things that Megan had, some discipline issues with his son, and that was a hard line for him, and he broke things off with her.
[00:23:54] And then the next day she told him that she was pregnant and presented an ultrasound picture. Now, of course, she works at an OB GYN office at the time, so not hard to get a hold of, presumably. And he discovered that it didn't have her name on it, and so he was extremely skeptical about the pregnancy from the beginning, and then...
[00:24:13] Once she told him that she lost it, he sort of just, it confirmed his conclusion that that had been the plan all along to lose, just to, that this had all been basically a fake story. So he was certainly a lot more skeptical, but I think even for him, you know, he said, like, I couldn't be sure, and so I wasn't going, and I just said, okay, well, if you have these babies, then we'll deal with that when it comes, but I just was never really convinced.
[00:24:39] Right,
[00:24:39] Jordan Harbinger: you don't accuse somebody of a fake pregnancy that's just too weird. And it's mean if you're wrong. It's horrible.
[00:24:46] Andrea Dunlop: Right, exactly. It's just, it's too wild and it feels cruel, right? And so, you know, it took a long time to put the pieces back together and I I always have trouble when I look back on this story of how did we all just kind of move on from this?
[00:25:00] Um, but of course my sister was an adult at the time so we didn't have any sort of way to, you know, intervene in terms of trying to get her some help for what she was obviously going through to do something like that. And then, you know, several years later, she got married, and we, you know, she still had her job, and again, had these outward signs that she was really thriving still, and so I think that, that's very convincing, again, you sort of, I just remember being able to look at her and be like, well, she went through a rough patch, but now she's fine, and she's doing great, and she's still, you know, beloved at work, she's still the same, you know, Megan that I know and love, and it was sort of, she still seemed like her at that point.
[00:25:40] And so then, you know, it was, she became pregnant again, and obviously this time around I was pretty on edge, and I, I remember pretty vividly being in the OB office with her while she was getting an
[00:25:52] Jordan Harbinger: ultrasound. To make damn sure it was hers, like a real one. And to keep her company for emotional support.
[00:25:58] But also, let's make sure there's actually a baby in there. Yeah,
[00:26:00] Andrea Dunlop: I mean, yes, and... I remember standing there and being like, but is there really? And I even, again, and that is kind of what, you know, that's what this does to your brain, right? Where you're just like, well, I really believed it the first time. And so like, you know, just, I remember the entire pregnancy, even though there were all these like, you know, pretty, like, I don't know how she would have pulled off an ultrasound with a technician in the room.
[00:26:22] But you sort of just like, you completely doubt yourself. You doubt your own perception of reality. And that is very disorienting. And so, you know, her son, her eldest son, was born again on New Year's, um, it was the anniversary of when she'd lost the other babies, and we were all, you know, my parents were out of town again, so they came home.
[00:26:41] He was born a couple of months premature, and again, premature births are a huge part of these cases, and some of the, you know, it's impossible to know in my sister's case whether that was. Something that she induced herself, there have been offenders that have, have reported doing that and some of those were covered in Dr.
[00:27:00] Mark Feldman's work. How
[00:27:01] Jordan Harbinger: do you induce your own pregnancy? I don't even want to know. I don't even want to tell people, but it's possible to do that, I guess.
[00:27:06] Andrea Dunlop: Yeah, I think it's probably better not to, uh, put those, I always feel a little, yeah, strange, like I don't want to give anybody a playbook. Right, right.
[00:27:13] Um, but I mean, yeah, certainly if you work in a nurse's office, especially an OB office, there's, Things that would be accessible. Sure, yeah. No, I can figure that out on my own. But again, of course, no, no way to know that, uh, for certain. So she had her baby early and he was in the NICU for a short stay, I believe.
[00:27:29] And so right away, I think I had a bad feeling, right? It was just sort of this continuation of it's always something. It's always some medical thing. It's always the... There's always an issue and now there's a baby and there's issues with the baby. And so I did not have any of this context of like, it could be Munchausen by proxy.
[00:27:50] I had no idea about that. I mean, I probably heard about it to the same level that you had, right? Like the Eminem song and the ghost in the sixth sense was probably my reference points for it. So not, just not something you ever conceive of could be, you know, perpetrated by someone that you love. You know, he came home and he just kept having these issues.
[00:28:09] And, you know, even Premature babies, like, prognosis is usually really good. There's a lot of babies that are born premature. It's not that uncommon of a thing, and most of them do just fine. But he was having, you know, failure to thrive. Just couldn't gain weight, couldn't keep on weight, was having these alleged, you know, these reflux issues, according to my sister.
[00:28:26] And so I think we just had, throughout the first year of his life, just sort of a creeping bad feeling. I was living with
[00:28:38] my parents My mom had actually gone to a couple of visits to the pediatric gastroenterologist, so the person that deals with stomach stuff and feeding stuff specialist at, um, at Children's that my sister was seeing. And my nephew had a, um, he had a nasogastric feeding tube. So that's the feeding tube that goes in through a child's mouth.
[00:28:57] And there was this conversation about whether they needed to put in a gastro feeding tube, which is the surgically implanted one that goes in through the stomach. So an escalation. And there was a conversation back and forth with the pediatrician or the specialist who said that he didn't think it was time for that intervention yet.
[00:29:14] And then my sister reported back to me that the doctors were really pushing her for the surgery. So it was that discrepancy, I think, that really, like, you know, felt very, very alarming. With
[00:29:24] Jordan Harbinger: the Hope Ibarra case that you mentioned in your show, she had also had a lot of things that she had done to herself, right?
[00:29:29] I think she had cancer, like you mentioned. She did, like, a Make A Wish trip to Disney. The thing that I can't get around with, no matter if you're doing it to the child or you're doing it to yourself, is I get that people are addicted to the attention, but how does that addiction override you watching your parents cry because they think you're dying, or your child is dying, their grandchild is dying.
[00:29:51] Like you said, there's gotta be psychopathy just blended in here. Or you said what cluster B, it can't just be the attention it just can't over there's like no amount that you need attention that would override how bad that feels unless you're just not feeling the bad. I
[00:30:06] Andrea Dunlop: mean one of the reasons the hope you bar case was the first one I wanted to cover and why it spoke to me so much was because there were all these parallels with her and my sister and so my sister never had something.
[00:30:15] As serious with her health as a, as a cancer hoax that Hope, you know, perpetrated. But, uh, Hope also had lost, quote, lost a twin girl pregnancy at around the same time. And that also turned out never to be real because she, to have never been real, she told her family that she lost this pregnancy six months long because of her cancer treatments.
[00:30:38] And of course she didn't have cancer, she was never getting treatments and then it just came to find out that she had never been pregnant and she had memorialized these twins in all of these ways. And so yeah, I mean, I think to your point, I don't know enough about psychopathy to sort of opine on that, but certainly someone would have to have Especially when it comes to the children, to abusing your child, a profound lack of empathy to do this, right, because this is just not, you know, something that any of us could imagine doing to our children, and I think where this is set so apart from sort of other forms of child abuse, I You know, you were mentioning sort of this physical abuse where you see someone just can't control their emotions and they're just in a blind rage and that's not something that maybe we can relate to doing, but we sort of understand the progression of, okay, this person has an anger problem and they, you know, but it's the methodical nature of this, the planning, the sort of carrying out of this very elaborate false narrative, um, that I think is so striking.
[00:31:43] It has to be
[00:31:44] Jordan Harbinger: that elaborate, right? Yeah. These people all have medical symptoms. Sure, some of it's relying on your reports, but fake diseases don't present symptoms in the blood work, and things like that. So, I get that some people are forcing medications on their kids and putting feces in their lines and stuff.
[00:32:00] So is it, it's just, it's too, the whole thing has to be planned. So, yeah, elaborate, but also just. You don't wake up one day and be like, I should not be doing this. Like, you just have to do it for years. You don't have a break where you're like, gosh, what am I doing?
[00:32:15] Andrea Dunlop: Yeah. And certainly while, you know, these kinds of perpetrators do suffer from a lack of impulse control, it's not something where it's an impulsive behavior, right?
[00:32:26] Because it is like, it does require all of this planning and continuing to sort of keep it up day after day. I think what I realized once I was in this, and I mean you do see these more serious things where parents are drugging their children to cause symptoms that really turn out to be side effects of a drug that they're not disclosing to the doctor that they're giving their child.
[00:32:45] Or, you know, actually inducing them, you know, things into their line or poisoning them in some way so that they're showing up with symptoms. But, There's so much in the medical world that is just diagnosed on the basis of symptoms, right? And so if you are, and the child's not necessarily going to show those symptoms during the course of a, a 15 minute Visit.
[00:33:08] So things like, you know, what we see a lot of, the gastro stuff, so again, feeding issues are just a big one. I mean, I don't know that I've seen a case that didn't involve a feeding tube at this point. Um, and Mike Weber, Detective Mike Weber, who's on the show, you know, talks a lot about that. And then again, premature births.
[00:33:23] So, again, some of these things where, well, you know, if a baby's born premature, they're going to have some legitimate issues, and I think one of the biggest misconceptions about this abuse is that if a child is proven to have some legitimate issue, that that rules out abuse, and it does not, right? Because a child can have a legitimate condition, and a parent can be, you know, lying about the severity of the symptoms, lying about the presentation, pushing for more and more invasive treatments, you know, that is abuse too, even if there is an underlying issue.
[00:33:49] If people
[00:33:49] Jordan Harbinger: have multiple kids, do they usually do it to all the kids?
[00:33:52] Andrea Dunlop: You know, I've seen both. There are cases I've seen where one sibling, and in those cases I'm thinking of, it's the oldest sibling that doesn't get that abuse at all. And that is not to say that those siblings do not have their own trauma, because my goodness, they absolutely do.
[00:34:08] It is also traumatic to be the other sibling in these cases. Um, but what we've seen a lot of is a progression. So, there, you know, in Hope's case, Her eldest son, we don't think anything, you know, she ever perpetrated any abuse on him. Her middle child, she started with, you know, her middle child was born premature, and then she claimed that she had, uh, cerebral palsy, and so she had her in these braces, and she had, you know, and then, And it turned out she just didn't have that at all.
[00:34:37] And then as soon as her youngest child was born, she really kind of backed off the middle child and really fixated on the youngest child. And that's definitely a progression that I've seen. Um, and you know, in my sister's case as well, you know, my nephew I mentioned was born premature and had these issues.
[00:34:56] And then she actually had. A child who was born at about 24 weeks and was either stillborn or died shortly after birth. I couldn't determine that from the death certificate. And then her youngest daughter was born at 24 weeks, and so being a person who's just gone through, you know, two pregnancies relatively recently, if people don't know, that's just about the line of viability, so that's just about the line where a baby can possibly survive, and that's certainly a pattern I've seen in other cases as well, where you see babies, not only the premature births, but the increasing prematurity, and that was in Hope Ybarra's case, too.
[00:35:34] Her middle daughter was born a little bit premature, and then Her youngest daughter was born severely premature. I
[00:35:39] Jordan Harbinger: feel terrible for people who actually have sick kids because there's going to be that thing at the hospital where the staff is like, Hmm, call the social worker and verify this person's not insane.
[00:35:48] Andrea Dunlop: Yeah, no, I think that's a real misconception. I mean, I, and unfortunately that is being heavily perpetuated by the media at the moment.
[00:35:57] Jordan Harbinger: Right. That, that, yeah, I guess now I, I realize these people are trained and they're not like they weren't born yesterday, but I mean, with the current climate with this Netflix thing.
[00:36:06] This take care of Maya, like this is just sweeping the nation somehow and disproportionately affecting people who work in this area. You
[00:36:14] Andrea Dunlop: know, it's really important for people to understand that number one, these cases are characterized by intentional deception. So even if you are an anxious mom who takes your kid to the doctor too much in good faith and you are not lying to the doctors, you are not going to be You know, they might think that you need a little extra help and support, but that is a very, very different thing from someone that they suspect is being dishonest with them and putting their child at risk because of it.
[00:36:39] And actually, doctors are so thoroughly trained, particularly pediatricians, they are so thoroughly trained to believe parents. That is how they do their job. And actually, you know, I mentioned that book on medical child abuse by Dr. Carol Jenny and Thomas Rossler. Um, which is when the term medical child abuse was coined, and they actually really identified doctors reticence to see this abuse as one of the barriers to children getting help.
[00:37:07] Because for doctors, they are always going to look at it as, if this is presenting as a medical mystery, there must be something that I have missed. And also, if they find themselves in a situation where they have been. used, where they've been doing their job in good faith, in which case they're not responsible, they're not culpable for this abuse, if, you know, for the mother's abuse, if they have been given a false report and they're doing, you know, procedures or giving treatment based on that report, they're just doing their job, and that's another misconception is some people are like, well, these doctors should be, no, if the doctor is doing things in good faith, the doctor is doing their job.
[00:37:43] But if a doctor realizes that they have been used to harm a child, and if you think about people who go to and go into pediatrics, you know, people go into pediatrics because they love children and want to help children. If they realize that they have been used to harm a child, that is horrific and traumatizing for them.
[00:37:59] And it's also a huge betrayal of the sort of contract that they have with parents, where the parents want the best for their child, and the doctor is helping their child get healthy, and if a parent doesn't want the best for their child, what they want is their child to be sick, that's a huge betrayal of that sort of agreement that pediatricians assume is, is present.
[00:38:18] And then they're in the position of having to report, and I don't know if this is state by state, I know in certain states, like, you're not allowed to report anonymously as a physician, so you have to attach your name to that report. So then they're in the position of having to report, you know, to their child abuse protection team, whatever that's made up of, and then, you know, to, you know, if it gets escalated to CPS and sometimes to the police.
[00:38:39] And then they're in a situation where, especially if a court decides. You know, makes the wrong call even if it is an abusive situation where they can be vilified by the media and their reputations absolutely trashed. And that is what happened to the doctor who reported my sister. This case was covered by a journalist called Mike Hicksenbaugh who's done a whole series.
[00:39:04] called Do No Harm about various child abuse cases and many of the medical child abuse cases, not all, but he did a big piece on my sister and absolutely omitted all of the evidence against her, you know, really just ignored everything of like why these doctors made this report and really just blamed it on this one doctor and absolutely hammered on the fact that she was a child, was not a child abuse pediatrician, which Many, many hospitals have child protection teams that do not involve a child abuse pediatrician.
[00:39:35] So it's sort of like they find one doctor and they really go after them. Same thing with the Maya Kowalski case. They're hammering Dr. Sally Smith.
[00:39:41] Jordan Harbinger: That's the Netflix one. Yeah, I saw that. They're like, these doctors conspired and I'm like, correct. I don't know why multiple doctors at a hospital and a social worker would all be in a room being like, let's get this kids, this woman's kids away from her because we're evil and it doesn't benefit us at all.
[00:39:58] And then it's like, The hospital gets paid for something, and I'm like, this is just purely nonsense, like, most people are not that evil in groups to do something, like, it just doesn't make it, it doesn't, that part doesn't add
[00:40:10] Andrea Dunlop: up for me. You know, just as a general rule, if you find yourself having to absolutely do a backbend into a conspiracy theory where no one's motives make any sense, then it's probably not that.
[00:40:25] That is probably not what's going on. Um, and yet I think there is, you know, this, there is a real power to the narrative of an innocent mother with a sick child who has been separated from that child. And I think that is something that is so emotionally powerful, it can absolutely separate people from reason when they're looking at these cases.
[00:40:51] Jordan Harbinger: You are listening to the Jordan Harbinger Show with our guest, Andrea Dunlop. We'll be right back. This episode is sponsored in part by Text Expander. Text Expander is a productivity tool that is a must have if you work on a computer and it's free to try for 30 days save hours of typing out repetitive things such as commonly used phrases.
[00:41:07] The current date, which I use, I use that every day. Email addresses, I use that a million times a day, phone numbers, Zoom, Calendly links, and so much more. Text expander is basically keyboard shortcuts on steroids. I'm probably not supposed to say that, but I, I am. Whatever. You can create drop down menus and fill in the blanks to customize the shortcuts.
[00:41:25] It's a very useful tool if you're doing mass outreach, or networking, or you get a million social media inbound messages, or you want to see if... People are real and not robots or LinkedIn, whatever. You can tell that's obviously how I use it. TextExpander is so smart it'll also suggest snippets you should create based on what you are typing a bunch already.
[00:41:43] It'll even send you a report on how much time you've saved by using TextExpander and our team has saved, we save about 30 hours a month collectively, which is, that's a lot of typing, right? And it works on desktop and mobile. Do the free
[00:41:56] Jen Harbinger: 30 day trial. And when you're ready to sign up, get 20% off your first year at textexpander.
[00:42:02] comslashjordan. Go to textexpander. comslashjordan to try TexExpander.
[00:42:07] Jordan Harbinger: This episode is also sponsored by Land's End. Uniforms aren't just fabric you throw on to get through the workday. They're the first impression of your brand. And with Land's End business, you're not just picking up uniforms, you're investing in, let's call it branded swagger.
[00:42:19] And let's talk quality, because these guys don't mess around. Land's End hooked us up with a few items. Everything's top notch stuff we use daily. Jen's got a tote bag that looks like it's basically bulletproof, it's constructed so well. Now, whatever your hustle is, maybe you install solar panels, you own a landscaping business, you move furniture, you do automotive work.
[00:42:36] Land's End business is like the stylist to your professional life. They've got the uniform game dialed in no matter what your trade. And whether you're running a business with a handful of people or a big timey operation with hundreds on the payroll, Land's End rolls out the red carpet for everyone.
[00:42:49] And you can even build your own personalized online store for your brand so employees can pick and choose what they need. A store built just for your team. Super neat.
[00:42:57] Jen Harbinger: See why thousands of companies count on Land's End Business. Go to business. landsend. com slash Jordan and use promo code Jordan for 20% off your first product.
[00:43:06] That's business. landsend. com slash Jordan. Promo code Jordan for 20% off your first
[00:43:11] Jordan Harbinger: product. If you're wondering how I managed to book all these amazing folks for the show, the authors, the thinkers, the creators, every single week, it is because of my network. And I'm teaching you how to build your network for free over at jordanharbinger.
[00:43:23] com slash course. I know networking is a cringy, gross, annoying word, but the course is about improving your relationship building skills and inspiring other people to develop a relationship with you. If you're retired and you don't think you need this, I get it, but there is a happiness dividend to being well connected and having your friends in a closer circle around you.
[00:43:42] And if you are into networking and business, this will systemize everything for you in a way that I think you're gonna find really easy. And it's not cringy, it's very down to earth, it's not awkward, it's not cheesy, just very practical, and even better, it's very short. It'll take you six minutes a day, the course itself is very short, and many of the guests on the show subscribe and contribute to the course.
[00:44:01] So come join us, you'll be in smart company where you belong. You can find the course at jordanharbinger. com slash course. Now, back to Andrea Dunlop. First, I want to know how social media interacts with this sort of thing because before social media, you had to take your kid to the doctor, your family and friends would give you sympathy, the hospital people would dote on you.
[00:44:21] Okay. Now you can post five times a day, uh, 50 times a day, uh, Instagram story about everything that's going on. I mean, you can like live stream this crap essentially in real time, and the likes pour in, and the comments pour in, and the money pours in for the GoFundMe or whatever, and it's, it seems like this is just throwing gasoline on any fire that would have existed.
[00:44:43] In this arena.
[00:44:45] Andrea Dunlop: 100%. I mean, pre internet days, most of the people who perpetrated this crime were actually people who worked in the medical field, and I would still say it's pretty common to see people that have some, you know, whether they're nurses or, you know, sort of patient care techs or some sort of lower level thing.
[00:45:02] Why is that?
[00:45:03] Jordan Harbinger: That seems weird. Is it because they know what the symptoms are and they can fake those more convincingly or what? Well, so
[00:45:09] Andrea Dunlop: pre internet, right, before we had WebMD, right, the people who would have the knowledge to be able to pull it off are people that had medical knowledge. And if you wanted to pull this off, you had to do research in like medical textbooks about symptoms or you would have to be a professional that had professional training.
[00:45:24] So we saw, you know, a lot of, a lot of nurses as perpetrators. And so now I think that's less of a sort of, Again, it's still something that comes up quite a bit, but it's less of a sort of piece of the profile, if you will, because everyone now has, uh, you know, access to infinite medical things that they can just Google, right?
[00:45:44] What are the symptoms of X? And so, you know, people can find the information to be able to pull off this narrative much, much, much more easily than they could pre internet. And then, as you said, you know, with the social media, yeah, I mean, you know, when our communities were made up of mostly people that we actually knew in real life.
[00:46:02] You would think that there was sort of a, um, there was sort of a cap on how far they could take that, right? Because eventually, if you're doing this to the same people enough times, probably some people are going to catch on and hopefully intervene. But I think what you have now is an infinite reservoir of potential attention, sympathy.
[00:46:20] I think it can be confusing the motivations for people because you do often see fraudulent fundraising going on in these cases, so there will be GoFundMes and there will be, um, you know, those kind of things where they're raising money or they're raising money with a community organization or they're having a 5k for something or those kind of things, so there is financial fraud intertwined But it is not considered to be the main motivation.
[00:46:43] There are parents who pretend their kids are sick and they're not actually interfering with their kids health at all. They're just pulling off a financial scheme, but that is called malingering and that's or malingering or malingering by proxy and that is a totally separate thing. So if you have a cancer hoax just because you wanted 100, 000, that's a very different category of behavior.
[00:47:01] Still bad, but very different category of behavior. So yeah, for
[00:47:05] Jordan Harbinger: the bad actor here, yeah, there's essentially a training course online for what to look for, what the symptoms might be, what your lifestyle is like, because they can look in a support group and be like, Oh, another afternoon again in the whatever social work, NICU medical unit thing, here's a photo of something that is what this would look like, but it's zoomed in so far could very well be the child's actual bed.
[00:47:27] And like, I don't know, there's just a lot of ways to fake things because you can see A real example of that thing taken by someone's phone to their actual shot with the real problem,
[00:47:36] Andrea Dunlop: right? And there is actually, um, you know, Dr Mark Feldman, who I know really well, you know, coined the term. This is a while, probably 15 years ago, Munchausen by Internet, which is describing this behavior when it's only taking place online.
[00:47:49] So sometimes people will pretend their kids are sick, but they're only doing it online. Um, they're sort of, you know, enacting a sort of persona. Sometimes their kids are, they don't even have kids. They're using where. Pictures of other people's families, which is obviously extremely creepy and damaging, but obviously a relief to know that a child is not actually being harmed.
[00:48:08] You know, just as you said, for the perpetrators in these cases, you know, especially the ones who really are taking their kids to the hospital all the time because they are inducing illness in their kids, you know, what you see is just these absolutely prolific social media posts and they are posting these pictures of their kids in the hospital.
[00:48:26] With tubes up their nose and IVs in and just all of this medical paraphernalia, and you see a lot of that, and so social media has become, um, you know, a huge, again, reservoir for attention, but also actually a huge part of these criminal investigations, that is one of the things that Detective Mike Weber always does, is he just, you know, he subpoenas all of the records from Facebook and Instagram, and, you know, in the, in the Mykwalski case, which we're going to get into, um, you know, that detective had, had subpoenaed At the point she was in her investigation, when it stopped, she had subpoenaed records from nine different social media accounts.
[00:48:59] So, the coverage is sort of prolific, right? And I always, again, want to put the caveat that there are parents that do this. In a way where, you know, that is respectful to their kids and where they are just trying to get legitimate support, right, it's also a blessing that parents, especially if you have a child that has something that's rare, you know, where you can connect online and get support and share resources and there's, there's obviously there's a very Thank you.
[00:49:22] benevolent sort of side to that, to all of those resources, and also people that just want to use social media to keep people informed so they don't have to call everyone to tell them, you know, the latest of what's going on with a child's illness. So it's not that, again, that behavior in and of itself is suspect, but certainly these perpetrators do infiltrate those group.
[00:49:42] And then there's sort of, that's a sort of another group of people that can feel a lot of betrayal when they realize that that person was abusing their child and did not have a legitimately sick child. It seems
[00:49:51] Jordan Harbinger: like a lot of these people, like your sister, they abuse themselves first. So maybe is the key getting those people help at that time?
[00:49:58] Psychiatric help before they have kids, so that they, this doesn't evolve into The by proxy
[00:50:03] Andrea Dunlop: part, I certainly think that that is an intervention that I would really like to see. And I think as hard as Munchausen by itself is to treat because it's still very hard, even if you are not in the position where you're abusing a child, it's still, you know, as Dr Mary Sanders from Stanford says, it's a very shame based behavior.
[00:50:22] It's a very hard thing to get people to acknowledge and really take accountability for. And that's really the first step in treatment for anything like this. And so, um, It is very difficult to treat, but I would like to see more resources put into that and sort of, yeah, that sort of prevention piece, right, of catching it before that person has children and, you know, and before they really hurt themselves and certainly Munchausen behavior is less serious because there isn't a child involved, but it's still very harmful to the people around and the people who end up donating money, donating resources, becoming very involved with these people.
[00:50:54] There was a, um, there's a great podcast podcast. called Sympathy Pains, which is the Sarah DeLachemet story, and they, which is, she's a woman who perpetrated a whole bunch of sort of different inner, and I can't even remember all the diseases that she said she had. She was an adult, and she went to like a special camp for people that had an, you know, and raised money and all these things, and they talked to all the people in her life, and it's clear how much these people were really victimized by her, right?
[00:51:18] That it was just sort of, they'd had their trust, they had this betrayal trauma and had their trust broken in a way that they could just sort of never get back. And especially if you see those behaviors in someone really young, you know, a lot of the stories I've heard and including my sisters, these behaviors really popped up, you know, and even there's some things my, my parents remember from childhood, you know, if you can see these behaviors really early on, you certainly have a better hope of helping that person really develop better, healthier coping mechanisms and not going on to, to harm themselves and others.
[00:51:47] Jordan Harbinger: What are some red flags for Munchausen? Is it, is it just, yeah. I mean, doctor shopping is one, right? You go to a doctor and you're like, my kid has this. And they're like, no. And then you move on three or four times until you find somebody at the other one was having faked conditions for themselves in the past.
[00:52:04] Like we just talked about what
[00:52:05] Andrea Dunlop: else? Yeah. I mean, I certainly think, and in terms of. red flags that people can sort of actually be aware of because most of the time you wouldn't know if someone had had that history of behavior. It's not something they would tell you. That's true. Um, and I always like to point out about doctor shopping that it is very distinct from getting a second opinion.
[00:52:22] Yeah, getting a second opinion or, you know, just switching providers because you don't like the care that you're getting. I mean, you know, I would never claim that there's no biases in the medical field, that doctors are never jerks to patients, that doctors are never dismissive of patients. You know, that is certainly true.
[00:52:38] Like there is, you know, medical misogyny is a real thing. Medical racism is a real thing. I mean, these are all really well documented phenomenon. So I'm not saying, you know, doctors are perfect, they never mess up. But, you know, there's a difference between going to see a different provider that's just right for you or, you know, getting a second opinion, um, and doctor shopping, which doctor shopping in this case is, again, it's characterized by that intentional deception.
[00:52:59] So what these perpetrators will do is they will take their child to a doctor and they will say, I think they have asthma and they're doing this, this, this, this, this, and the doctor does some tests and the doctor figures out and they said, no, I don't think it's asthma. And then they take them to the next doctor and they say, my child has a diagnosis of asthma.
[00:53:16] So again, intentional deception. Or, you know, the doctor has said, well, it meets these two criteria, but not these other four that we look for. And then the next doctor they see, they give them all six criteria, right? So it's sort of building on a case for their child having these things. And again, the other thing that, that we sort of look for, and I think this is something that anybody can look for, so anyone is around children, right?
[00:53:41] If the mother, you know, and I say mother, but I guess if the parent is always portraying their child as sicker than they are, then that is a red flag. And again, red flags are not, you know, like a condemnation all in and of itself, right? These are things to look for. So I think if it's a story of, you know, one of the things that comes up a lot is like this, you know, in the Brittany Phillips case or in the Mary Welch case is you had all of these people who are around these children.
[00:54:10] And their mother was saying they can't eat properly, they have this, they have that, they have this breathing problem, they have, um, you know, sort of X, Y, Z thing going on. And then everyone observed the opposite, right? So with... There
[00:54:23] Jordan Harbinger: was that one case where... Oh, she's allergic to this. She can't eat that. She throws this up.
[00:54:27] And then when she wasn't looking, the kid was like eating other people's food because she was starving and she was totally fine. Then she's running around and running around playing. And it's like, oh, she can't do that. She has vertigo or whatever. And she's like jumping around with the kids on the play structure.
[00:54:40] And they're like, what are you talking about? She's starving and definitely does not have. Cerebral palsy. She's like running. What do you mean? She can't walk. Right. Just weird
[00:54:50] Andrea Dunlop: stuff like that. Right. So yeah, so those kind of things where it does tend to be, you know, it's not these little things where it's like, Oh man, this mom is just like freaks out every time her kid has a cold.
[00:54:59] And she says, you know, her kid is sicker than he appears to be. It's not, you know, it's sort of there. There is a by degrees thing here. It's like it's the line
[00:55:07] Jordan Harbinger: between exaggeration and complete bullshit. Is what I think you're trying to say. Yeah,
[00:55:11] Andrea Dunlop: or like exaggeration to the point of this is a lie, right?
[00:55:16] And so, you know, where it's like, oh, that person has a cold and that person is saying, like, she has pneumonia and she's about to die, right? So I think, yeah, it's like if you notice, and usually friends and family do, and teachers are another huge, you know, piece of this picture because they spend so much time with children.
[00:55:31] So if they're noticing, That child is out of school all the time, but we never see any health issues. When they're here, their mom is telling us, you know, watch out for this. He can't do this, he can't do that. Um, yeah, he has to eat the special kind of food, and then they see the kid wolfing down pizza and he's just fine.
[00:55:45] You know? Or in the case you were mentioning, which is the Alyssa Phillips case, every single person in Brittany Phillips's life, who's the mom, you know, said, She talks and talks and talks about how Alyssa can't eat and then we see her eat just fine and she has none of those symptoms and it's, you know, if in the minute the mom turns the back, you know, this child who's allegedly confined to a wheelchair walks across the room, you know, it's those kinds of things, right?
[00:56:08] So just really noticing those disparities. And again, that pattern of like, This parent is talking about this all the time. I mean, it is a... It's their identity, basically. Right. It's their identity. And it's such a pervasive obsession. I mean, it's not going to be a thing, you know, that is another sort of characterization of this.
[00:56:25] It's like, it's all they can talk about. It's all they, you know, they become completely consumed. By that project of having a sick child and their identity becomes completely consumed by it, you know, they leave their job to take care of their child and, you know, they just really become, and I think that's what is so sort of extra, it's not just that they are presenting, in a lot of cases they're presenting as like the super mom, you know, they're the person who joins the parents council at the hospital, they're the person who's fundraising for the disease that their child allegedly has, they're the person who's going the extra mile and they're helping all these other parents find the right doctor And you know, they get really, really involved in these things.
[00:57:04] And so it's sort of almost the last person that you would suspect unless you were sort of looking for it. And it's one of those things that I think once you recognize the pattern, you sort of can't
[00:57:15] Jordan Harbinger: unsee it. It completely makes sense. It's almost some form of narcissism, like a requirement that everything and all attention be completely focused on them at all times.
[00:57:24] And one interesting anecdote was I think it was these women who had reported another woman to CPS were saying that in a Facebook group, they all had sick kids. And the perpetrator, this mother with Munchausen, somebody would be like, Oh, no, darn it, we're relapsing. Like she went to the hospital. And then that mother would be like, Oh, well, look at how sick my kid is.
[00:57:42] And it's like, okay. And then it just keeps happening that way. And eventually people in the support group were like, that's weird. Every time anyone posts. anything negative, this woman comes in with something that's way worse, and like, posts a bunch of photos of it. It was a contest, it was one upsmanship, because the attention and sympathy given to any mother who's dealing with a tough time, she was like, Oh, I actually, I want that for myself.
[00:58:06] And it really is this weird, narcissistic, I don't want to say delusion, because that's not what it is. In the season one finale of your show, you talk to this woman who, she spent like a decade in prison for abusing her kids. And here I am, warmed up for that episode, thinking I'm going to get all these insights from somebody who can see things clearly in retrospect and maybe has reformed themselves.
[00:58:25] And the first thing that you notice is that she's pretending to be deaf now, and it's just all an act. And, in a way, I have like this shred of sympathy, right, because they have a pathology that they are just completely controlled by, that guides every action in their lives, and you just think, how pathetic is this character, who's pretending to be deaf now, after being in prison for a decade for abusing her kids, and being like, oh, feel bad for me, I'm deaf, it's like, Oh my god, you can't
[00:58:55] Andrea Dunlop: stop.
[00:58:55] You can't stop, yeah. And you do, you see how compulsive the behavior
[00:58:59] Jordan Harbinger: is, yeah. Yeah, it's just horrifyingly compulsive. It's like, it's like watching a heroin addict just ruin their life in front of your eyes.
[00:59:08] Andrea Dunlop: It is like that. And I think I found a lot of common ground, you know, part of the reason that I made the show and part of what was really...
[00:59:16] healing for me about making, especially season one, where I got to know the putchers so well. So this is Hopi Barra's family, her siblings and her dad. I interviewed all of them. I spent a lot of time with them. They are amazing, loving, wonderful people. And, you know, it was just to have that shared experience, you know, of watching someone that you love really go down this path and Really coming to this moment where you're like, you are not the person that I love anymore.
[00:59:43] And where I've come to now is, is almost wondering if she ever was that person to begin with. Which is sad and disorienting. And when I talk to, you know, people who have had siblings die of addiction, there's a very strong sort of corollary there of this, this sense of like, you grew up with this person, you loved this person, and then they just became this different person.
[01:00:05] And all of their behaviors were consumed by this addiction. And I think it is, I think that is a good analogy. And I think it was very interesting to see people's reactions to that episode with Hope Ybarra because I think some people felt like I sort of went too easy on her. I did not think I was going to get the truth from Hope Ybarra.
[01:00:23] You know, I, I know enough about her. I'd seen the other interviews that she'd done with prison, from prison where she also pretended to be deaf. And so I, I knew. That, you know, it was, I was open to the possibility that she'd done some further reflections. She did tell me some things that I, I found really interesting about sort of her emotional experience of it.
[01:00:41] And that was more what I was hoping to get. But um, I do feel empathy for the perpetrators in these cases, not in a way that excuses anything that they've done. Of course not. But I think. It is a sad. I mean, it's not. It is a pitiful way to spend one's life. It's a really sad. Um, that's not what people want out of life.
[01:01:02] And so I think it's we can hopefully, you know, with people who commit any kind of crimes, right? Hold both the space for someone's humanity and also recognition that they need to take accountability for their actions. And Always, always put the safety of others, and especially children, at the top of the
[01:01:20] Jordan Harbinger: priority list.
[01:01:21] Is there a part of you that thinks about the place your sister must have been in? I mean, the amount of pain or whatever that she must have held in order to do all of these destructive things to herself, her family, her own children, obviously her relationship with you, I don't know what her relationship is like with your parents.
[01:01:38] I can't imagine that it's withstood all of this, and I would just wonder, like, what happened to you? What caused this? You ever think about that? I mean, I'm sure you do.
[01:01:47] Andrea Dunlop: Yeah, yeah, I do. Um, we were talking a little bit earlier about the, where we came to in the first investigation into her son. And so, you know, my parents had this conversation with their family doctor, with our like long time family doctor, just, you know, GP.
[01:02:02] And they told them some of my concerns about what they'd been witnessing with my sister. And she said, it sounds like it could be a case of Munchausen by proxy. And that was the first time that we had had that language for it. And I remember my parents coming home from that appointment and telling me that.
[01:02:16] And I just, it was like my world split in half. You know, I just thought, we'll never recover from this. This is not, you know, like, because I, the minute they said that to me, I was like, they've just given a name to the bad feeling I've been feeling for months and months. And so what happened subsequently was my, my mom, um, had a conversation with one of the doctors that she'd been in the appointment with, and he said, he agreed that he was concerned also, and said, you know, do you think it's time for an intervention, and she interpreted that as, we're going to have some kind of family meeting, we're going to get her some help, um, and of course what, what they meant was that they were going to escalate it to their child abuse team, and then, um, they called CPS, and there was an emergency removal, meaning that CPS showed up at my, sister and brother in law's house and took my nephew, um, and we did not know that was going to happen.
[01:03:03] That was very alarming. Um, my mom's name was all over the paperwork that they gave my sister and so we were sort of enemy number one right away and our relationship devolved pretty fast because we believed that my sister, and at that point, the way that I, The way that I framed it, which I don't know now knowing everything that I know that I would frame it the same way, um, but was that she needs help.
[01:03:26] We need to get her help. We need to help her. And of course, according to her, she did not need help. And, um, there was nothing wrong and nothing was happening. So that first case was dismissed. It was not, the state did not file for dependency, meaning the state did not make an attempt to remove her child.
[01:03:43] And after that, there was like a bit of back and forth between my father and her and her husband and then she just cut us out of her lives and that was about 13 years ago, so we have all been estranged from her and, you know, the communications that I've had with her have been through lawyers, so not an ideal place to end up with your sibling for sure, but I do, I mean, I guess I, I think about her, I wonder, What happened to her?
[01:04:11] I wonder, you know, I do, I feel, especially when I think of us as younger, as like, younger kids, I, I just, I feel so sad for her that that was what she felt she needed to do to feel loved. And I think that is really sad. This is not what anyone would want for their lives, I don't think. It's
[01:04:27] Jordan Harbinger: strange, I would almost be thinking, like, was she...
[01:04:29] Abused by somebody else, like did she get attacked by somebody in high school or like, I just would be replaying every possible scenario or event. Oh,
[01:04:38] Andrea Dunlop: yes, and I, I have. And you know, one of the things that we talk about in, in season two, when I go into the documentation that I found about the case, again, yeah, I think you're always looking for, there's sort of two things, you know, you, you always think like, And I think that's a, that's a natural thing to sort of think like, oh, this person, if you feel a person has grown up to be abusive, then you sort of look for like, well, where do they get that from?
[01:04:58] Right? And one of the really nice things about meeting Hope Ybarra's family, and again, not that I know every single thing that ever happened to her, but I really came away with the impression of like, this is a nice, loving family and they didn't deserve any of this and they didn't cause any of this. And that allowed me to also look at my family in that same way.
[01:05:16] And, you know, there certainly isn't anything that I know about, which doesn't mean that nothing ever happened, because how could I know? But also it's very hard to ever know, because if she had said anything, you know, she has lied about very, very serious things. Normally you would never take... You would always believe someone about that, but it's, it, it makes it very complicated when someone has, has told all these mysteries.
[01:05:41] So she has never said anything that I, that I know of about being abused. There was something that when I was reading through the um, court judge's decision that returned her children to her. One of the things that jumped out at me and that absolutely sent me into a death spiral for about five minutes before I decided there was no way this could possibly be true is that the judge in her order claimed that two of the doctors who had testified, so, um, Dr.
[01:06:07] Elizabeth Woods who was the, um, head of the child abuse team that made the report to CPS and Dr. Jenny who is that doctor that I mentioned who's just like one of the best experts in the world and she was, she's a child abuse pediatrician, was doing the medical record review. So, the judge's order said that both of them claimed that my sister herself had been a victim of medical child abuse.
[01:06:30] Mm, interesting. And that just about made my head explode because I, I was like, what? Where did they get that? How could someone have said that? You know, my sister wasn't sickly as a kid, like, nothing, nothing about that adds up, right? There's never been any suspicion of abuse. There was never, you know, um, that just wouldn't, that it's not possible.
[01:06:49] And so I, I thought, well, why would the doctors say that? Like, where did they get that? And I just thought, They couldn't have said that, there's no way. And then so in fact we interviewed Dr. Jenny on the podcast and there was only sort of limited things she could answer about the case obviously because of HIPAA and family court stuff.
[01:07:04] But I asked her, I read that piece of testimony to her and she said, I never said that. I absolutely did not say that. And so that was one of the things that they used to undermine those doctor's opinions was that they had allegedly told this lie that my sister had been a victim of medical child abuse and didn't support that accusation.
[01:07:23] And the judge used that to undermine their credibility about whether or not abuse was happening in this case. So, I mean, it just, I know that's like such a brain twister, that sort of laying it out like that, but it just sort of, um, but yeah, I mean, so you, certainly like, my brain for a moment went, Is there this thing that I don't know about?
[01:07:42] Because I've always wondered. You just wonder, like, how does someone become this way? And I think, um, I don't know that there's always satisfying answers to how someone becomes. Sometimes there's some, you know, really neat narrative of, um, neat in the sense of being a sort of cleanly drawn line, not The other kind of neat, but where someone was, you know, suffered horrific abuse as a child and then grew up to be a serial killer and then I can sort of draw that straight line and I think that's comforting in a way.
[01:08:07] It is, yeah.
[01:08:07] Jordan Harbinger: It's comforting because you go, oh, Jeffrey Dahmer didn't appear in a vacuum, look how horrible his childhood was, and you're like, oh, thank God, okay, so we know. That that's just not, it's scarier to be like, no, you can have completely great parents or you can be completely great parents and your son can grow up to be a person who cuts people, you know, drills holes in people's skulls and keeps them in a barrel in their apartment.
[01:08:28] Like,
[01:08:29] Andrea Dunlop: that can happen. I think that's why, and you know, often times when Munch has my proxy is portrayed in the media. In, you know, these properties, like the Act, which was about the Gypsy Roads Blanchard case, which was a huge Oh, I watched that. And Sharp Objects
[01:08:42] Jordan Harbinger: and stuff. People might be like, wait, where have I heard that?
[01:08:43] That's the girl who was in the wheelchair and had all these medical issues, and it was like this big thing, and you just felt so bad for her, and she had all these make a wish trips to whatever, Disney World, and then it's like And now she's in a prison uniform. What happened? Oh, she killed her mother because the whole thing was fake and the mom was abusing her the whole time.
[01:09:00] And she like, met a dude online who was like, you're not sick. And she's like, I know. And they killed the mom. And you're like, whoa, this was fake? Holy smokes, man. Like, I can't believe anybody would ever do this to their kid. And what a twist. Yeah. I mean,
[01:09:16] Andrea Dunlop: and that is obviously a wildly sensational case because of the conspiring with the boyfriend, with the murder and all of that.
[01:09:23] But, yeah, it's... You know, I think a lot of times when this is portrayed in the media, it is portrayed in this like very sort of heavily gothic way of like, you know, and especially with sort of the Gypsy Rose case because they're from the South and it's sort of like, you know, it's kind of portrayed in a like, look at these people strange people and like this would never happen in your neighborhood and it's like that is not true you know it can like that is a strange case and there were a lot of strange characters in that case but you know it can also just like if you think this could not be your daughter your sister your auntie you are wrong this could be anyone and that is why it is so And because we would like to think that people who are capable of depraved things.
[01:10:13] would seem depraved when you meet them, that you would meet them and be like, something is off with that person. And that is not the case at all. So many of these people, I mean, Hopi Bara, even when I was sitting with her, even, I knew all of the things she had done. I knew this woman had poisoned her daughter, had taken blood out of her daughter, had put her daughter's life at significant risk, and very easily could have killed her daughter.
[01:10:38] And sitting with her, you're just like, she just seems like a nice, harmless, sweet person. And I know she's not, but it's like the cognitive dissonance of that, I think especially with women, right? Because we're just not used to seeing women as threatening. And I remember Detective Weber told me, you know, Detective Weber, who was the person who put Hopi Bar in prison, told me before Tina, my producer, and I went to meet with her, He's like, don't meet with her in a private place.
[01:11:06] And I was like, no, of course not, Mike. And you know, and it kind of like, maybe laughed it off a little bit and he was like, Andrea, I'm serious. Um, you know, do not be alone with her and, um, because, you know, she also like poisoned a coworker of hers and, um, and that person fortunately recovered. But yeah, I mean, it's just like, they, they are, they are incredibly dangerous because if you think about, you know, to your point about sort of the empathy piece.
[01:11:30] If you are a person who is willing to put your own child's life at risk. Yeah. Nothing is off the table. There is nothing that you are not capable of.
[01:11:39] Jordan Harbinger: I 100% agree with that. I asked a friend of mine who worked in a prison a long time ago. I said, hey, who's the scariest person you met at prison? And I'm thinking he's gonna be like, yeah, this badass gang guy who like beats people up and then orders hits.
[01:11:52] No, it's this guy who was, I think, a nurse at a hospital. They caught him killing just lots of people with poison and medication. And he was so nice. Everyone loved him. The prisoners loved him. The guards thought he was really charming. They had to remember that he was there for being a serial murderer.
[01:12:12] And he said the scariest thing was, once you knew that, they would watch him on the closed circuit cameras. And they said that he was so nice. And then you would just almost see him just turn into an absolute monster on the camera. Like he would get weird looks on his face, he would have really depraved movements, and he would just turn into this complete monster.
[01:12:33] And then you think about all the things that he did, and you're like, that's the mode that he's in when he was killing this old lady who was in the hospital for like a lung infection, and he put whatever poisonous thing in her IV line or added too many drugs. Like, that's the real version of him, is this depraved psycho demon.
[01:12:49] And then he puts this mask on. That's so effective that even when you know he's a murderer, you're like, Oh, but he can't be that bad, but he's a
[01:12:58] Andrea Dunlop: nice one. Yeah.
[01:12:59] Jordan Harbinger: Yeah. Like, Oh, I almost feel bad that he's in here. And you're like, Oh, my God, this guy would 100% kill more people if he was outside given any opportunity.
[01:13:07] Andrea Dunlop: Yeah, because it's just that that I mean, that actually does sound like the rare case of a male Munchausen by proxy. Because if you're talking about someone who's in a caregiver role, that is also Munchausen by proxy and can be Munchausen. Um, so yeah, I mean, it is, it is completely terrifying and I, I will say, and you know, and this is, this is obviously my anecdotal experience, but when we were sitting with Hope for the most part, it was easy to connect to her.
[01:13:31] She was very warm. She was very like, and you know, I also. It was a strange emotional space for me to be in, right, I sort of considered this, like, this is my chance to have the conversation that I am never going to get to have with my sister. So part of me wanted to see what insights she had and hear what she had to say and part of me just needed to say the things that I was going to say.
[01:13:52] You know, but she was very warm and, and charming and there was a moment, easily the strangest moment in the interview, because as, as, you know, you mentioned, she was, Keeping up this ruse that she was deaf and when she first arrived, she was sort of speaking with this speech affectation and using this kind of intermittent sign language that I, I don't know if that was real sign language or not, and she brought her boyfriend with her and, um, for the interview and mostly he just, you know, sat by and You know, Tina and I, my producer Tina and I, we knew that she was going to pretend to be deaf and we knew that she wasn't, so it was just like, we're like, we're not going to call you on it because I'm not going to start off the interview being like, you're not really deaf.
[01:14:29] I mean, that's, I was going to go downhill from there. It's just, I knew that if I tried to sort of call her on anything, it would just shut her down. Of course. And that was not going to be, and what, what would be the point of that,
[01:14:38] Jordan Harbinger: you know? You just have to go along with this. Nonsense fiction that she's deaf, just it's, it's ridiculous to think
[01:14:44] Andrea Dunlop: about.
[01:14:45] Yeah, and so there was a moment where we were talking about her family and you know, I'd spent a lot of time with and you know, and we were talking about like, cause she, you know, hope it was so interesting. I mean, hope it described herself as she was really this loner when she was younger and always felt like an outsider.
[01:15:00] And that's not how anybody else described her. Everyone said, Oh, she was like, Oh, his life of the party. She always had all these friends and so I, I said that to her, I said, you know, a lot of your family members, people who've talked to you, they said that you were just like, so much fun and you were the life of the party and, and it's, It's obviously like that was not your experience of your life, but that, that's how they perceived about you.
[01:15:15] And they had all these wonderful things to say about you and she appeared really moved by that. And so Tina said, you know, I'm, can I play some of the tape of, you know, your younger brother Nick talking about you? So she gets the tape out to play it and her, Hope's boyfriend intervenes and said, no, no, no, she's deaf.
[01:15:29] She can't hear that. And so Tina goes, okay, I'll, I'll, I'll turn it up really loud. And he goes, well, no, she's deaf. She can't hear anything. And so Tina says, well. I will say what he's saying on the tape so that she can understand it and Hope didn't say a word and we're just in this bizarre charade where it's like, Hope knows she's not deaf, Tina and I know she's not deaf, I think Hope knows Tina and I know she's not deaf.
[01:15:55] I don't know if the boyfriend believes she's deaf or is trying to cover for her. But so we play this tape and I'm kind of watching Hope's face while she watches it. The sort of like look in her eyes changed and you're just like, Oop, that's, that's the real person. She can't keep up the charade 100% of the time.
[01:16:15] It's a hard thing to put your finger on, almost, but it's kind of just like when you get a bad feeling from someone and you can't explain it, it's not anything overt that they've done. But there were a couple of moments where, you know, when I was watching her, I just sort of thought, Ooh, yeah, that person is still there.
[01:16:29] That person that did those things is the real person. This is the
[01:16:32] Jordan Harbinger: part where you can hear, but you're letting it show that you can, and now you're in your anger, you're like... Evil side is poking through, you know, as a dad, I think it would be really easy for a busy dad or a dad is at work all the time or like a dad has deployed the military.
[01:16:47] I think was one of the guys on your series to leave their child in the care of the mother. I mean, they're the mother of the child. It makes perfect sense. And then I would imagine the guilt involved with leaving your child to essentially be tortured by the mother and not knowing for possibly years on end.
[01:17:05] That guilt must be really intense, and if I'm in that situation, I don't even know if I would want to admit to the investigator that I let this go on under my nose because I was tired, because I was out of town a lot and was working, or I am so dense and sitting in front of my Xbox that I didn't notice my wife was abusing our own children.
[01:17:25] Like, I, I think I would almost just not want to admit that at, at some level.
[01:17:30] Andrea Dunlop: Yeah, and I mean, it is, you know, the dads play a huge role in these cases, and, you know, I've asked Mike sort of how many dads sort of see the light and are protective, and how many really just go down with the ship, and he said it's about half and half in his experience.
[01:17:44] Yeah. There are some cases, like the Brittany Phillips case, where the dad's just out of the picture, but no, certainly when the dad is there, um, and you know, as Dr. Mark Feldman always says, this is a crime of opportunity, right? And so, What creates the opportunity is, number one, the societal expectation that women are taking care of kids, regardless of whether the woman works or not.
[01:18:01] You know, that a lot of those taking the kid to the doctor sort of duties, um, fall on the mom. And so, especially if a mom is saying that they want to do that, oh, don't you worry about it, you're busy with work, I'll take the kid to the doctor. I think, you know, a lot of, that's not an abnormal thing at all, right?
[01:18:18] And then, yes. And then on top of that, it is often that they, you know, and I, I tend to think they sort of choose people where this will be the situation where the dad either travels a lot for work or like you said about George Honeycutt, you know, was deployed and, you know, or even Fabian Ybarra, you know, he was just, it was, they had three kids, he was working, he was coaching football.
[01:18:38] I mean, there's all kinds of reasons why you're just busy as parents.
[01:18:41] Jordan Harbinger: No, dad's like, let me see that blood work. I'm going to make sure that it says what you say it says.
[01:18:46] Andrea Dunlop: Right, it's just not because why would you suspect or like why would you, you know, and then in a lot of these cases where you have a mom who is some kind of medical professional, right?
[01:18:56] Then you're like, well, they're the one who knows, you know, medical stuff. So why wouldn't I let my wife who's a nurse or, you know, you know, take the kid to the doctor? Obviously they're going to have a totally different conversation with them. And so, yeah. But I mean, I think when, when dads are confronted, um.
[01:19:09] It's perfectly understandable when it takes them some time to understand what's happening because it is just, it is a horrible thing to have to accept that someone that you love and that you trusted is capable of this. And I think in the case of dads, it especially sort of feels shameful that they chose someone who is capable of this, to have children with.
[01:19:31] And so, you sort of see dads go one of two directions. Either they realize what's happening once they are confronted with compelling abu you know, evidence. They recognize what's happening and they really, you know, try to Do everything they can to save their kids. And that is a hard path. It was very hard for, I have never talked to a dad where they were like, and then the judge saw the light and everything was fine.
[01:19:56] I mean, that's not the way these play out. You know, we talked to a couple of dads in season one, including George Honeycutt and Ryan Crawford, you know, who had to fight for years and years and just bankrupt themselves legally to try and convince. Courts or the police or whomever that this was really happening and so it is very hard Position to be in and so the other thing that you see is a dad just passively Sort of goes along with it and defends the mom no matter what and you know I saw my brother in law there was a short period after the first investigation where he sort of Appeared to come close to accepting that something was wrong Because he had found out a bunch of other, about a bunch of other sort of financial issues that had come up and some other deceptions and the reason I know this is because these emails between him and my father ended up in the public record, which was a sort of surreal experience to be reading them there, but you know, he would never sort of I don't accept that this could escalate to the point of her being a danger to their kids.
[01:20:54] And I am convinced, you know, one of the things I have wondered about him and about his parents who have always, you know, at least from what I could tell, unconditionally supported my sister is like, okay, I can understand one investigation. You think they got it wrong. The state never filed charges. What I can't understand is being a father in that position where you have now seen these increasingly premature births, there was a child that died.
[01:21:19] And then, you know, there's been reports from four different institutions to CPS, there's been a police investigation, you think nothing's wrong? You think all of these people are in a conspiracy with each other? Yeah, there's just so
[01:21:32] Jordan Harbinger: much smoke. Right,
[01:21:32] Andrea Dunlop: it's like, okay, if there's a wisp of smoke, it might be someone smoking a cigarette.
[01:21:36] If the sky is black with ash, then it is a fire, you know, and that's sort of like, it's the level of, of things. It's never just one thing. It's never just one bad doctor. It's never that, you know, in, in the cases that I've
[01:21:49] Jordan Harbinger: seen. That totally makes sense. At some point it's like willful blindness, self delusion, whatever you
[01:21:55] Andrea Dunlop: want to call it.
[01:21:55] Yeah. And just denial because I think, especially if you've been, you know, and this is sort of even how you set up the question, but if you've been, this has been going on for many years. And you've been enabling it, even if you didn't realize initially that you were enabling it. I think the psychological cost at some point of accepting that you have been part of it is so great that it just becomes impossible for someone to admit to themselves what's really happening.
[01:22:22] And I think they just. Burrow further and further into denial.
[01:22:28] Jordan Harbinger: This is the Jordan Harbinger Show with our guest Andrea Dunlop. We'll be right back. This episode is sponsored in part by BetterHelp. Do you ever have an internal chatterbox that decides to keep you awake right when you're trying to wind down at night?
[01:22:39] Happens to all of us. Very frustrating. If you want to get out of those negative thought cycles keeping you up at night, look into better help. If you're thinking, I don't need therapy, I didn't experience some major crisis, it's actually for those everyday mental gymnastics too, gives you a space when you can dig into those thoughts, sort them out, and most importantly, break free from those negative thought loops.
[01:22:58] BetterHelp makes therapy accessible and flexible. It's entirely online. Fill out a brief questionnaire, and you're paired up with one of their thousands of licensed therapists that fit your needs. Do it from the comfort of your home. The couch, that's how I roll, especially at a time when you may be feeling a little vulnerable, opening up, maybe you just don't want to do it, and you gotta be in your own zone to do it.
[01:23:17] And if you don't click with the therapist, switch anytime, no additional charge. Get
[01:23:21] Andrea Dunlop: a break from your thoughts with BetterHelp. Visit BetterHelp. com slash Jordan to get 10% off your first month. That's BetterH E L P. com slash Jordan.
[01:23:30] Jordan Harbinger: This episode is sponsored in part by Airbnb. Whenever we travel, we enjoy staying at Airbnbs.
[01:23:35] I love that many properties come with amenities like a kitchen, laundry machines, free parking that's not frickin 60 bucks a night. Having a backyard is nice, especially when we bring the kids around. We've stayed at an Airbnb in Kauai that had like an outdoor shower, so we built one at our own house as well.
[01:23:51] And we find that Airbnb hosts often go the extra mile to make our stays special. They provide local tips, personalized recommendations, sometimes a welcome basket. I know you guys are sick of my banana bread story, so I'll spare you on this one. There are a lot of benefits to hosting as well. You might have set up a home office.
[01:24:07] Now you're back in the real office. You could Airbnb it, make some extra money on the side. Maybe your kid's heading off to college in the fall. You're going to have that empty bedroom. You could Airbnb it, make a little cash while they're away. Whether you could use a little extra money to cover some bills or for something a little more fun, your home might be worth more than you'd think.
[01:24:23] Find out how much at airbnb. com slash host. This episode is also sponsored in part by NordVPN. I interview a lot of people from all walks of life. Spies, intelligence officers, hackers, you name it. If there's one thing that I've learned, it's the importance of cyber security, especially in our interconnected world.
[01:24:40] And that's where NordVPN comes in. I travel often, thankfully nowadays, not too much, but I use airport Wi Fi. I'm in coffee shops, I'm in hotels. These are hacker hotbeds, especially in big cities like New York. They're a man in the middle attacks. People snooping web traffic for sensitive information. It's just not worth the risk.
[01:24:56] On one recent trip to New York, I didn't even have to think twice before connecting to public Wi Fi because NordVPN's end to end encryption, it's like my personal security detail, ensuring my work and my data were untouchable. Another reason I use NordVPN is they have a strict no logs policy. Nothing gets recorded, plus they have more than 5, 100 servers in 60 countries.
[01:25:15] They can, I know I just sound like I'm doing something shady on the internet. Wouldn't you like to know? None of your business and no one will know because of that strict no logs policy. The connection is so smooth and fast you won't even notice it's on. As somebody who needs to upload heavy duty audio files for the show, that is crucial.
[01:25:28] Andrea Dunlop: Get an exclusive NordVPN deal at nordvpn. com slash jordanharbinger. It's risk free with Nord's 30 day money back guarantee. nordvpn. com slash jordanharbinger.
[01:25:39] Jordan Harbinger: If you'd like this episode of the show, I invite you to do what other smart and considerate listeners do, which is take a moment and support our amazing sponsors.
[01:25:46] All of the deals, discount codes and ways to support the show are at Jordan Harbinger. com slash deals. You can also search for any sponsor using the AI chat bot on the website at Jordan Harbinger. com slash AI. Thank you for supporting those who support the show. Now for the rest of my conversation with Andrea Dunlop.
[01:26:04] Okay. Before we wrap, I want to talk about this documentary specifically take care of Maya. So in brief, this little girl, Maya, she has some sort of pain syndrome. And mom's like, oh no, what's wrong with her? And they go to different doctors and they can't really explain a lot of it. And she, mom, pushes for this ketamine treatment from a doctor.
[01:26:23] It's a medically induced coma. And I'll stop right here for a second because I hate judging a book by its cover. It's not fair. But that doctor gave off a major quack vibe to me, even on Netflix. Yeah, we can talk about
[01:26:34] Andrea Dunlop: him. So
[01:26:35] Jordan Harbinger: the, the Child gets taken away, and then people are like, Jordan! You've gotta see this!
[01:26:40] You have no idea how easy it is for you to get your kids taken away when you take them to the hospital, which is ultimately a massive amount of damage that people are, that is being done by a documentary like this. I take it you're not a fan of the documentary. I would imagine this is doing harm to reporting, because somebody's like, I don't want my kids taken away from me, so I'm not going to take my kid to the hospital until it's really, really, really, really bad.
[01:27:03] Or I shouldn't report this because I don't want something to happen to my sister because they'll just take kids away willy nilly. In the documentary, they're not very specific, right, how this happens. They say, like, CPS or the hospital, they took the kids away. That's not what happens. CPS doesn't remove kids.
[01:27:21] Judges remove kids. And they do that based on evidence that they see in their courtroom. So it's, from what I understand, It's not easy to just lose your kids, it's not some random horror story, there's a preponderance of the evidence, you need evidence, even a psychological evaluation that says, oh, I didn't find the mother credible, you still need evidence that this is going on, you can't, you don't just show up at the hospital for an asthma attack and they're like, you're not getting your kids back, sorry, this is not real.
[01:27:47] Andrea Dunlop: No, it's absolutely not real, and Yes, I, I have watched the film. I was familiar with the story before it was covered by that documentary because there was a big piece in New York Magazine about the, the case which was, I will say, Um, more responsible than the film, um, not altogether responsible in my opinion.
[01:28:08] But yes, I mean, so, we can talk about what, what happens and sort of like debunk some of these things. And then I think, um, I really want to get into why, why these narratives are so damaging because some of the reasons that you mentioned, um, and why I think people need to recognize that this is putting other children at very real risk and very real harm.
[01:28:27] Detective Mike, when we were talking about this movie on my show, I mean, he said basically in no uncertain terms, this pendulum will swing back once a bunch of children die. And I don't think he's overstating that. So yeah, so the story of Mya Kowalski, um, so there's the story that, that the movie tells.
[01:28:44] The movie is leaning very strongly into this narrative that Beata Kowalski, this mother, and her husband Jack, who is a big part of the documentary and it should be noted, is currently suing Johns Hopkins for 220 million dollars for false accusation and false imprisonment. So, this lawsuit is coming up this fall.
[01:29:07] And so this documentary came out a couple of months ago and it really leans hard into a telling of this case that paints Beata Kowalski, the mom in question, as innocent and blames the hospital directly for her death. Beata Kowalski died by suicide. about two and a half months into the investigation into her.
[01:29:27] So about two and a half months after her daughter was put in shelter care. And so, there's the story the film puts forth and they leave it to, I mean, right away, I was concerned when they left it to the defense attorney of Jack Kowalski to explain what Munchausen by proxy or medical child abuse was. She framed it very much to my mind of, she said, there is this new diagnosis that they can just give any parent that brings in a sick child.
[01:29:51] And I was like. Number one, it's not new. Number one, it's absolutely false. And she said, you know, and she really frames it that like, this is any, any, any parent with a sick child is at risk of this. And I think that is a horrible thing to put in parents heads. Yeah. Because if you don't want to make...
[01:30:08] Parents with legitimately sick children afraid to take them to the doctor, I mean that's horrible and I get messages like that from people. Oh my God, should I be scared to take it? Is this really like this over, you know, this epidemic of false accusations? And so, um, you know, and obviously she has, I think people should be very aware, and I'm not saying this is the entire reason that he's doing this or that, you know, someone shouldn't remuneration if they feel they've been harmed, but that 220 million lawsuit is not a small amount of money.
[01:30:36] And The people driving the narrative are Jack Kowalski and his attorney, and in the film they get a lot of screen time, including Dr. Kirkpatrick. So, the story of Maya that's told in the film is that they brought her into the hospital, to Johns Hopkins, for stomach pain, and that she also had this underlying condition called chronic regional pain syndrome, which is a real condition, um, and can be intensely painful, and that this series of events at the hospital, which they give very little detail on in the film, You know, led to her being removed from her parents custody and put in shelter care in the hospital where she, you know, spent the next couple of months.
[01:31:11] And this is
[01:31:11] Jordan Harbinger: what people are saying is so terrible, right? They wouldn't let Beata, the mother, see or hug Maya at all. It seems very cruel. The documentary hammers that home. There's a social worker that's on the phone call because they don't want the mother to be like, So, how is your medical thing going, and they're worried that she, I guess rightfully in your opinion, worried that she's going to do something to influence the daughter's behavior because one of the sort of tells was that the child, Maya, her behavior around the illness was different when her mother was there, and everybody, she played it up to what mom wanted, she was different otherwise, the hospital staff, doctors, everybody noticed this, and then they were like, no contact with mom, and then she's sort of changing.
[01:31:51] But the documentary is like, they just took her away and wouldn't let the mom say anything, and that's why she killed herself.
[01:31:56] Andrea Dunlop: Sort of for no reason. Right. Yeah, and I mean, they really, they really pull no punches with making that connection. I mean, the, I think it's the defense attorney who's the talking head when she says this is, oh, that, or the judge not letting her hug Maya, that's what killed her.
[01:32:09] Right, I remember that. Um, which is, you know, just, I think that's a, Pretty irresponsible way to talk about suicide, but that completely aside, you know, that is what he's trying to sue them for, right? He's trying to sort of sue them for the pain and harm caused by Beata's death. So, yeah, I mean, I think one of the biggest things is this sort of question about the shelter order and the no contact order, and, you know, there's some differing opinions APSAC guidelines, which that's the umbrella organization that I'm part of this committee, the American Professional Society on the Abuse of Children, um, the Munchausen by Proxy Committee has a set of guidelines.
[01:32:41] that um, for professionals and I believe the actual, you know, recommendation is to have supervised visitation, but that said, and I, we don't know, and I mean I think the really important thing to underscore with this film and with any conversation about this case is that there's so much that we don't know because the criminal investigation.
[01:33:02] was halfway through when Beata died, and they didn't continue it once she had died, and so there is a lot that we will never know about this case that is sort of unlikely to come to light. But, you know, what we don't know is if there was other things that Beata was doing that made them issue a no contact order because certainly we've seen these kind of things and the psychological, you know, if it was indeed a case of an offender, you know, offenders are so psychologically manipulating that they can really impede their child's progress if they're allowed to see them and that that, that's part of what they're trying to separate the child from.
[01:33:38] So I agree that the, you know, the separation order with no supervised visitation, that does seem draconian. What I think we need to keep an open mind about is that there may have been a reason for it that we wouldn't know, right? Because that's a thing that would be in like CPS paperwork that's not going to be available to the public.
[01:33:55] So the big question, you know, the big point that this film makes, I mean, they perpetuate a bunch of the most common misperceptions about medical child abuse. That's number one. Now I will say, again, so I think that it's important to establish what we're not going to be able to know. We're not going to be able to know for sure whether Beata was guilty or not.
[01:34:14] But I don't think it's appropriate to present her as innocent when you don't know, um, when you don't have that information on hand. And we're not going to know whether or not Maya really has CRPS, because I don't have her medical records, obviously. Um, there were certainly some doctors that felt that she did, and there were a lot of doctors that provided affidavits.
[01:34:31] that did not feel that she did. Certainly, I know from having spoken to a doctor at length about this yesterday, that her presentation of it was very atypical. CRPS, in my understanding, is something that usually comes along after an injury. So basically, you know, you break your wrist and then some percentage of the population will develop this, you know, really debilitating pain condition as a result of that.
[01:34:55] The onset of myias was allegedly because of an asthma attack, which is again, extremely atypical and was presenting as an all over body thing. So there are cases of CRPS that have sort of escalated to being all over body things from my understanding. And again, obviously not a doctor, not an expert, but this is from what I, know about it, but certainly atypical and it's pretty rare in Children and the prognosis for Children versus CRPS in adults is actually extremely good.
[01:35:20] And so I think that's important to keep in mind because what the film leaves out, they do talk about the ketamine treatments. They put dr Kirkpatrick On screen, you know, he's the only doctor that's sort of there as a talking head. They, they play a little bit of testimony from the other doctors, um, in, who are involved in the
[01:35:36] Jordan Harbinger: case.
[01:35:36] Right, the other doctors are on depositions being like, we thought she was abusing her daughter. And they're like, dun dun dun, this guy's in on the conspiracy. Right.
[01:35:44] Andrea Dunlop: Right. And, and sort of this thing of like, they don't explain why those things happened and My immediate reaction upon watching this film is like, okay, all right, I want to get to the bottom of like what there is.
[01:35:55] What else can I find out about this case? And indeed, I found a lot. Yeah, they sort of presented as this doctor just decided that this child was an abuse victim and went after it in a way where she was trying to prove it. You know, even the New York Magazine piece, the title of it was, A Doctor Thought It Was Medical Abuse, How Far Would She Go To Prove It?
[01:36:17] And I was like, what kind of question is that? If it's true, then probably pretty far because she's trying to save a child's life. Anyway, um, so they're obviously framing it as like, this is just this one, you know, bad actor, this one bad doctor. And so, in fact, you know, this history of Maya Kowalski's treatment for CRPS, when you look at it, is jaw dropping.
[01:36:37] So one of the things they really obscure in the film is the timeline of events, which is extremely important, because something like ketamine treatment, even at a much smaller dose, which Maya was receiving a massive dose of ketamine, there are affidavits from pediatric pain specialists who said they've never seen anything like it.
[01:36:57] anyone on that level of ketamine. So, you know, something like ketamine, or really any opioid for a pain disorder, is something that's seen as a last result, right? Because these things can have a lot of damage. They can do liver damage, they can do brain damage, they can cause a child to go into respiratory...
[01:37:13] failure. I mean, there are very, very serious consequences to a drug like that, especially when given in really large amounts. Obviously, this is also, ketamine is also a street drug. Um, so it's a dangerous drug to be on, especially if you are a child. And so, I think the timeline is really important and it's very obscured.
[01:37:28] So the timeline of this is that the alleged onset was in July of 2015. They did take her to an inpatient, you know, the regular standard of treatment for something like CRPS is to start with, you know, these lower level medications like Tylenol and then do physical therapy and occupational therapy. So they did do, it appears, some of that, and they had her in this month long inpatient person, and that was actually one of the previous reports to CPS, that this rehabilitation nurse thought something was going on, and she reported them to CPS.
[01:37:56] So that was, that was one of the other reports that happened in that summer of 2015. Um, so the onset was in July. By September, Beata and Maya were in Dr. Kirkpatrick's office, and he diagnosed her with CRPS, and then by October, they were doing these four day ketamine infusions in his office. So in that short of a period of time to escalate to the most extreme possible thing that you can do, that is alarming.
[01:38:23] And then, you know, between then and the, uh, the Johns Hopkins hospitalization, you know, was when she went to Mexico and was put in a five day coma. Crazy. Obviously that is a life threatening thing and CRPS is not a disease that can be fatal. It is a thing that is very serious. You know they mention in the film that it's known as the suicide disease.
[01:38:44] There is, you know, a high risk of suicide because it is, again, these chronic pain conditions are obviously awful. Um, but. You know, according to the doctors I spoke to, when people die who have CRPS, it's either because of some bad mixing of medication that they're taking or because they commit suicide, which is very sad, but it's not something that can be fatal.
[01:39:02] And so one of the other things that stuck out to me looking at this is Beata was pushing to get Maya labeled as terminal. And there's an exchange between her and Dr. Kirkpatrick where he says that that's not in the scope of his practice, but he encourages her to reach out to hospice care. And this stuck out to me because one of the things that's in the film that struck me and I wonder if this sounded equally as strange to you is that Dr.
[01:39:31] Kirkpatrick himself recounts sending this note to Beata and to the doctors that if Maya is not given the ketamine treatment that Beata is demanding she be given, that she will die a slow and painful death. Which doesn't
[01:39:46] Jordan Harbinger: make sense if it's non fatal. Is he just implying that she'll eventually... Take her own life, which is also like, kind of a stretch for a doctor, it's a weird claim for a doctor to make.
[01:39:56] It's a very
[01:39:57] Andrea Dunlop: strange thing to say, and it doesn't medically make any sense, I mean, Right. What it sounds like he's implying is that if she doesn't get this treatment, she's gonna wither away and die. Right. From this disease. So, that really struck me as, as very odd, and um, that made him, pretty questionable, and there's lots of other reasons he's questionable.
[01:40:14] Yeah, there's lots of
[01:40:15] Jordan Harbinger: other, we don't have sort of the bandwidth to get into all of that
[01:40:19] Andrea Dunlop: stuff. I mean, the short version is he runs an all cash practice where this is the only thing that he does. And, you know, I think, like, he's, this is, ketamine treatments, especially for children, are way, way outside the standard of care for this, this treatment.
[01:40:34] So that's enough said about him. Um, but I think, you know, when it came to that hospitalization, and Again, people need to remember that doctors jobs, they are required by law to report suspicions of abuse. They are not required to provide a complete investigation, you know, and a smoking gun, right? And they need to, we want them to do that.
[01:40:56] We do not want doctors to be in a position where they're not. Reporting abuse. So, multiple doctors had heard, you know, were noticing these strange things. You know, they sort of, in the film, characterized Beata's behavior as being pushy and sort of overbearing. But it was much more serious than that. You know, she was interfering with their ability to take vitals.
[01:41:15] She was making all of these comments. You know, she was pushing for was that she was demanding that they put her daughter in a ketamine coma in the hospital. This is something that she had to be sent outside of the country to do, right? So obviously this hospital is not going to go along with
[01:41:33] Jordan Harbinger: that. I noticed that too.
[01:41:34] Like you're arguing with one of the finest hospitals in the United States to do this, and they're like, no. And then she's like, fine, I'm going to go to this random place in Tijuana in that case. It's like, wait a second. Right. That's your
[01:41:46] Andrea Dunlop: fallback? It's strange behavior. And so she, you know, during this hospital, That led to the shelter order.
[01:41:52] She was demanding that they give her an infusion pump, which is what you do when you're putting someone in a, in a coma and, and give, put her in a ketamine coma and said she needs this. And she made many comments. You know, back to this thing about her wanting Maya to be labeled as terminal. She made many comments about Maya's mortality, and this is in front of her daughter.
[01:42:10] And she said, you know, Maya, Is in so much pain, she just wants to go to heaven, um, and she said she, you know, if you're not going to give her the pain medication, then I might as well just try and go get enough from hospice care so that she can finally die because she doesn't want to live this way anymore.
[01:42:27] That's
[01:42:28] Jordan Harbinger: a humongous red flag. If you don't do this, I might just kill my daughter. It's not a good, it's not how you handle something like that. Yeah, and I mean,
[01:42:36] Andrea Dunlop: again, this is not a fatal. Disease, and this is a 10 year old child who is a year and change out from a diagnosis. It's not a child that has terminal cancer that is an excruciating pain that is going to die no matter what.
[01:42:51] You know, that is not what's on the table. This is not an elderly person, you know, who's. who's in horrible pain. I mean, it's just the idea as a parent of talking about your child like that. And the reason that especially that talk about hospice, you know, really came up for me is because that is something that has come up in a bunch of known cases.
[01:43:09] So one of the, um, you know, Hope Ybarra made comments about how her daughter, because she was pretending she was also going to die, about how her daughter would soon join her in heaven. Um, you know, the Dunedin attack case, which is another case out of Texas that Mike Weber was involved in. Um, She had purchased a coffin for her son, she was trying to get him admitted to hospice care.
[01:43:28] Fortunately, he was removed from her, and I believe she did some prison time, and that young man went on to live a healthy life and played college football. Um, I mean, there's, there's numerous other cases. The one that haunts me the most is the case of Olivia Gantt, which is a story of a little girl, a six year old girl in Colorado.
[01:43:45] Whose mother was, you know, it was again, it was one of the progression of the feeding issues that I was talking about and her mother was allowed to take her and put her in home hospice. And she died there and the hospital had suspicions that these issues were not real and that the mother was fabricating and they did not report.
[01:44:05] And her mother was not investigated for her death until she tried to bring another child of hers in for cancer treatment that they did not need and then they went back and investigated this death. And in that case, the grandparents sued the hospital for not reporting. So, you know, the consequences of doctors not reporting, that is the consequences of doctors not reporting, that you have a possible, a child that could die.
[01:44:27] And if a mother is talking about hospice when there is no, you know, reason that she should be talking about hospice, that is extremely terrifying. And so, the idea that a judge issued a shelter order and separated them under those circumstances I don't see where that could be construed as the wrong decision.
[01:44:47] Um, And obviously much of that is left out of the film, right, all of those things are left out of the film. It's really painted as an innocent. It's
[01:44:54] Jordan Harbinger: really like, supposed this film should scare you into never going to, I mean, that's really what the whole thing seems like, but I, okay, look, I'd have to guess outside of the film.
[01:45:04] I'd have to guess that most kids subjected to this type of abuse, if they don't die from it, don't they all eventually grow up and figure out that this is not real? I mean, aren't you, when you're 16 or 18 or even younger, aren't you like, but I'm not paralyzed, right? Don't we all become Gypsy Rose who's like, but you're making me sick.
[01:45:24] I don't have pain throughout all my extremities. I can walk. Isn't the jig almost always up at some point for the parents?
[01:45:32] Andrea Dunlop: You would think so. Um, unfortunately, you know, as we talked about the psychological component of this, and it's, you know, despite what this film would have you believe. It is actually very rare that these children are separated from their abusers, even when the abuse is very severe.
[01:45:50] Most of the time, family courts, you know, and CPS too, I mean, family reunification is the mandate, right? And so most courts are not knowledgeable about this form of abuse and do not take it as seriously as they ought to. And so most of the survivors I've spoken to were maybe separated from their parent for their abuser.
[01:46:12] And I think, you know, the effects of being told you're sick your entire life are so profound. Sure. You know, for instance, Jordan, who is a survivor that, that I work with and they were, they've been on the show a couple of times, you know, they are in their late 20s. And they believed until about two months ago that they had asthma.
[01:46:32] Wow. Because they were told their whole life they had asthma. And there is this, you know, there are these elements of like, your body can have physical responses if you think you're sick. I mean, the brain body connection is very complex. And so, what I've mostly found is that actually, People are more likely to be, you know, further along, like in their 20s when they really realize that what's happened to them because they have to get some space from that parent, you know, they have to go off to college or move to another state or, you know, really get some outside perspective and then they suddenly realize, Oh, wait, this doesn't add up.
[01:47:06] And then they go back and look at their medical records. And oftentimes they see doctors charting suspicions of, you know, Munchausen by proxy or sort of people having made reports or just all of these things that don't add up. Then it's just a horrible realization to come to that this person that a lot of times they're still really attached to and they still really love has completely betrayed them and, you know, subjected them to this horrible abuse so and there are survivors who never come out of it who just stay in the sort of delusion, um, there's a famous case of this girl, Jennifer Bush, another case out of Florida where The mom was convicted and, and spent some time in prison for abuse, and the evidence was very clear, and she, Jennifer Bush, was put in the foster care system, and when she turned, she had a horrible experience in the foster care system, which is really sad.
[01:47:55] And when she turned 18, she reunited with her mother, and she basically says, this never happened. It didn't, I mean, the evidence is. there but she sort of said this would never happen, my mom was falsely accused, and now she's speaking out against it. So I mean, it's, it's really, really complex because of the level, I mean, there is no, there is no easier person on earth to manipulate than your own child, right?
[01:48:18] I mean, the, the psychological power you have over your own children is just profound. What do we
[01:48:23] Jordan Harbinger: do? If we suspect our partner or someone close to us might be doing something, do we go to the police? Do we talk to the doctor? Where do you even begin if you're like, Oh my God, my sister's doing this? Or like, I think my wife is doing this.
[01:48:36] Andrea Dunlop: What do you do? We always recommend that people report it to CPS and the police because you hope that one of those organizations is going to do something. And what I always like to remind people about is that even if there's an investigation that doesn't go anywhere, That process often slows down the abuse, and could be the difference between life and death.
[01:49:01] And so that's really important. And also, you know, most of these cases, like the Brittany Phillips case that we're talking about on season two, there were multiple, multiple, I mean this woman had a CPS history, like you know, the huge CPS history because she'd been reported so many times. All of those collective reports are, are part of it too, so it can seem, I think, very daunting, and I completely understand that, you know, and, and with that said, I know not everyone is, has the same level of comfort with things like talking to the police or child protection agencies.
[01:49:33] Sure. Um, but it's really important because it could be the difference between life and death of a child, and I think it's important for people to remember that it's not their job to collect evidence. Um, they do not, well, I mean, I do, I do think if you have, you know, text messages or, you know, take screenshots of Facebook.
[01:49:49] Posts if you find them suspicious or collecting all of that is a great idea. Um, but, you know, you don't have to come through with some conclusive evidence. You should report if you suspect, because it is those people's jobs to investigate it. And if something else is going on, then they'll discover that.
[01:50:03] And usually in the cases where it looks like something, you know, it looks like it could be medical abuse, and then it doesn't turn out to be medical abuse, that usually comes to light pretty quickly. So
[01:50:12] Jordan Harbinger: if these, if today's discussion seems eerily. Or scarily similar to something going on in your life, definitely get on that CPS and the police and look, Andrea, thank you so much.
[01:50:22] If this episode prevents or puts a stop to even one case of this horrible abuse, I would consider it a massive
[01:50:29] Andrea Dunlop: success. Yeah, me as well. Thank you so much for having me on and being interested in this topic. And, you know, it's really, um, It can feel demoralizing in the current media climate, uh, with the way that this abuse is being talked about.
[01:50:45] And so I really appreciate your curiosity and open mindedness about it. Thank you.
[01:50:52] Jordan Harbinger: I've got some thoughts on this one, but before I get into that, I wanted to give you a preview of one of my favorite stories from an earlier episode of the show. Megan Phelps Roper, she used to belong to one of the most hateful religious cults in America, the Westboro Baptist Church.
[01:51:06] She was born into this church and she later escaped. To hear her tell the story first hand, it's really incredible. I
[01:51:14] Megan Phelps-Roper: started protesting when I was five years old. But even at that first picket, there was a sign that said, Gays are worthy of death. So God hates fags is what Westboro's message that we became known for.
[01:51:23] We were the good guys, and everyone outside the church was evil and going to hell, and we had the only message that would bring the world any hope. We had to go and warn people, these terrible things are happening, and if you want this pain to stop, then you have to change, because God isn't going to change.
[01:51:42] After the September 11 attacks, we had the sign that said, Thank God for September 11. What were we thinking? This massive crowd comes down. We were at this corner of this intersection of these three streets. By the time they actually reached us, we're just enraged. There was no space between us and them.
[01:52:01] It got really dicey. One of my cousins gave his signs to somebody else and like started standing on top of a trash can pretending like he wasn't with us. They were, again, incredibly intense because Obviously, the circumstances are so sobering, it brings me incredible sadness to think about now. I can't do this forever.
[01:52:19] My family, they would refuse to have any contact with me at all once I left. Somebody that we had confided in sent a letter to my parents and told them that we were planning to leave. And then that email came in, and,
[01:52:33] Jordan Harbinger: and we left. For more with Megan, including the details of her harrowing experience and escape, check out episode 302 of The Jordan Harbinger Show.
[01:52:45] Not a feel good episode, right folks? I mean, I like covering this stuff. I don't know if enjoy is quite the right word, but I do. like to cover this kind of thing because not a whole lot of people are talking about it. It is uncomfortable and a lot of this stuff happens right under our nose. A startling statistic, 95% of the perpetrators of medical child abuse are mothers.
[01:53:04] And of course that's not because mothers are bad or don't care about their children, obviously. Medical child abuse, it's just, it's a crime of opportunity. And what we mean by this is parents have ready access to their own children, mothers especially, especially when the kids are young. And fathers, I got small kids, I work from home, we're not as involved a lot of the time.
[01:53:24] And I'm, look, I'm speaking for a lot of people here in an unfair way, but a lot of dads, they're traveling away, they're not maybe involved in the medical care of the children, even if they're very present at home, maybe they leave some of the doctor stuff to mom. So this happens to be... a perfect opportunity for a mother who is going to abuse the child.
[01:53:42] And it's not because dads are bad or neglectful. An abuser is going to set this up in a way that seems innocuous at first. I mean, that's why they're getting away with this kind of thing. By the way, not actually a crime to lie to a doctor about your child's health. That makes this stuff a little bit harder to prosecute.
[01:53:57] Of course, it is a crime to abuse your child. Medical child abuse is child abuse, plain and simple. But the problem is, law enforcement, they gotta go through crazy amounts of records and compare things and interview hospital officials. There's a lot of heavy lifting as far as the investigation. And fathers and family often get in the way.
[01:54:16] Often fathers will simply pretend they were more involved than they actually were out of shame, and that throws investigations off. So you really need to do a lot more work to catch a medical child abuser. And it's just a whole big thing versus catching, I don't know, somebody who broke into somebody's house or somebody who assaulted somebody.
[01:54:32] It's just a harder investigation that requires a lot more resources, a lot more time, and therefore it's just a harder target. Unfortunately, while this stuff is prosecuted, it is definitely under reported. Bear in mind, not only do you have the detective's workload, but you're fighting the perception of motherhood, right?
[01:54:48] Mothers who care about their children. Look at this documentary. Look at what they did, they railroaded this mom and she killed herself. Well, I don't know. That doesn't seem to really be what happened when you look at a lot of the facts. And when you talk to Andrea, of course, her opinion is that this was medical child abuse.
[01:55:02] People are outraged, right? We're fighting a perception of motherhood. We want, as a society, to believe that mothers do what they're supposed to do, which is protect children. And when we are faced with evidence that that's not the case, we don't want to believe it a lot of the time. People also ask, what about family court?
[01:55:16] What about CPS? Well, in family court, I couldn't believe this even as an attorney, judges, they don't and often won't go through medical records themselves, they will rely on expert testimony, okay, fine, but they can also elect not to even hear the expert testimony and not to go through the records, so the judge can choose to just take mom's word for it, and to me, that sounds completely irresponsible, I don't understand why any judge would do this, but we often forget that these are also just people with the same biases as everyone else, and they're often living in their own bubbles, What about CPS, Child Protective Services, here in the United States?
[01:55:49] It's probably a different acronym, depending on where you are. CPS often isn't much help with this stuff. They are overworked, they are under resourced, they have a crazy high burnout rate, for obvious reasons, and often they have no real training on Munchausen by proxy much of the time. So even if they are willing and able and not burned out, they might not even know how to handle this.
[01:56:10] As for the documentary, it's a nightmare scenario, and you just have to keep reminding yourself that the parents, in this case the mother, was very likely, very likely abusing the child. And so it's a nightmare of their own making. And yes, I feel like a terrible human for saying these things after knowing this woman killed herself over this.
[01:56:28] But when you look at the hospital officials and the preponderance of the evidence, at least even what they showed in the documentary itself, let alone everything they left out to further the narrative, it really is somewhat clear to, I would say, a lot of observers, myself included, that she was very likely abusing the child, had a mental breakdown, and took her own life as a result.
[01:56:46] Alright, alright, I gotta lighten this up. The reason that this is called Munchhausen, it's not because some German doctor named Munchhausen, Dr. Munchhausen, found this or wrote about it. It's because there was a guy named Baron Munchhausen, and he told these tall tales, and somebody took a bunch of the tales and a bunch of other stuff and wrote a book and called them Baron Munchhausen's Narrative of His Marvelous Travels and Campaigns in Russia.
[01:57:06] It's a bunch of tall tales. It's essentially satire and the guy lived a long full life and died being ridiculed incessantly as a result of his book bearing his name and I don't even know, I don't even think he got paid for it because it wasn't his book. Poor guy. All things Andrea Dunlop will be in the show notes at jordanharbinger.
[01:57:24] com, or just ask the AI chat bot also on the website. Transcripts are in the show notes. Advertisers, deals, discount codes, and ways to support the show are all at jordanharbinger. com slash deals. Please consider supporting those who support the show. We've also got the newsletter every week. The team and I dig into older episodes of the show and dissect lessons from it.
[01:57:41] So if you are a fan of the show, you want to recap of important highlights and takeaways. Or you just want to know what to listen to next, the newsletter is a great place to do just that. jordanharbinger. com slash news is where you can find it. And don't forget, we've got six minute networking as well, also at jordanharbinger.
[01:57:56] com slash course. I'm at jordanharbinger on Twitter and Instagram. You can also connect with me on LinkedIn. This show is created in association with Podcast One. My team includes Jen Harbinger, Jace Sanderson, Robert Fogarty, Ian Baird, and Gabriel Mizrahi. Remember, we rise by lifting others. The fee for this show is you share it with friends when you find something useful or interesting, and the greatest compliment you can give us is to share the show with those you care about.
[01:58:19] If you know somebody Who might need to hear this episode for any reason, or would just be interested in this kind of thing. Maybe a medical professional, definitely share this episode with them. In the meantime, I hope you apply what you hear on the show, so you can live what you learn and we'll see you next time.
[01:58:36] This episode is sponsored in part by the 10% Happier Podcast. 10% Happier is a podcast hosted by my good friend, Dan Harris, and it operates on one simple principle. Happiness is a learnable skill. So, why not become a pro at it? Dan Harris was previously a restless and skeptical journalist until a panic attack on live TV made him reassess his life.
[01:58:56] The profound transformation he underwent propelled him on a quest to absorb as much knowledge as possible about the human mind. Today, his mission is to assist others in finding their own peace and happiness. Every week, he engages in comprehensive discussions with leading scientists, meditation gurus, even the occasional celebrity, tackling subjects such as productivity, anxiety, enlightenment, psychedelics, relationships.
[01:59:18] His guest list boasts names from Dr. Gabor Mate to Brene Brown to Mike D of the Beastie Boys. Consider tuning in to 10% Happier as a workout for your mind. The 10% Happier podcast is available wherever you listen to podcasts.
Sign up to receive email updates
Enter your name and email address below and I'll send you periodic updates about the podcast.