Reading Time:
4
minutes
Wait But Why's Tim Urban helps us find ways to cope with the chaos of current events in his new book, What's Our Problem?: A Self-Help Book for Societies.
What We Discuss with Tim Urban:
Why we're so polarized and partisan in our political beliefs — seemingly more than ever before.
How low-rung thinking prevails on both sides of the political aisle (and what we can do to ascend to higher-rung thinking).
The perspective we can gain if we imagine the history of humanity as a 1,000-page book.
How the internet went from a unifying force of human connection to a division-sowing outrage generator.
Why we should strive to build our own "idea lab" instead of comfortably hunkering down in a tribally sponsored, anger-generating echo chamber.
And much more…
Like this show? Please leave us a review here — even one sentence helps! Consider including your Twitter handle so we can thank you personally!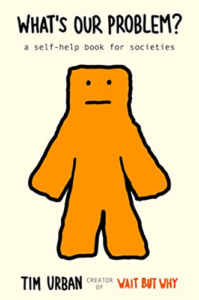 Have you noticed that people seem more on edge lately? Have you noticed that you seem more on edge lately? That everyone you meet when you're walking down the street is either a potential friend or foe depending on what bumper stickers adorn their cars or what kind of hats they like to wear? It's like everybody picked one of two available sports teams to support and decided to treat whoever chose the "wrong" team with disdain (at best) or outright hostility that threatens to erupt into physical violence at the slightest of prompts. But if we were to take a break from the outrage and ask ourselves one question in a rare moment of lucid reason, it might very well be: "What's our problem?"
On this episode, we're joined by Wait But Why's Tim Urban, whose recent book — What's Our Problem?: A Self-Help Book for Societies — aims to answer this. Here, we discuss the factors that have turned life in the modern world into a powder keg of political polarization, who profits from helping us tear our own society apart, why we're all suckered into perpetuating this ugly cycle, and what we can do to cultivate "idea labs" over echo chambers that would help return nuance to our discourse instead of just keeping us hunting down meat for our chosen tribes. Listen, learn, and enjoy!
Please Scroll Down for Featured Resources and Transcript!
Please note that some links on this page (books, movies, music, etc.) lead to affiliate programs for which The Jordan Harbinger Show receives compensation. It's just one of the ways we keep the lights on around here. We appreciate your support!
Sign up for Six-Minute Networking — our free networking and relationship development mini-course — at jordanharbinger.com/course!
This Episode Is Sponsored By:
Miss our conversation with NPR's Guy Raz? Catch up with episode 404: Guy Raz | How I Built This here!
Thanks, Tim Urban!
If you enjoyed this session with Tim Urban, let him know by clicking on the link below and sending him a quick shout out at Twitter:
Click here to thank Tim Urban at Twitter!
Click here to let Jordan know about your number one takeaway from this episode!
And if you want us to answer your questions on one of our upcoming weekly Feedback Friday episodes, drop us a line at friday@jordanharbinger.com.
Resources from This Episode:
892: Tim Urban | What's Our Problem (And How Do We Solve It)?
This transcript is yet untouched by human hands. Please proceed with caution as we sort through what the robots have given us. We appreciate your patience!
[00:00:00] Jordan Harbinger: Special thanks to Airbnb for sponsoring this episode of the Jordan Harbinger Show. Maybe you've stayed at an Airbnb before and thought to yourself, yeah, this actually seems pretty doable, maybe my place could be an Airbnb. It could be as simple as starting with a spare room or your whole place while you're away.
[00:00:14] Find out how much your place is worth at airbnb. com slash host. Coming up next on the Jordan Harbinger Show.
[00:00:21] Tim Urban: Just because human history has gone on normally for so long, you think, oh, it'll, it'll, it'll go on. It's like, actually, this might, you might be around for the apocalypse, or for the time when we stop dying.
[00:00:31] When we die only when we're ready to. You know, when we, we might be living on two planets.
[00:00:40] Jordan Harbinger: Welcome to the show. I'm Jordan Harbinger. On the Jordan Harbinger Show, we decode the stories, secrets, and skills of the world's most fascinating people, and turn their wisdom into practical advice that you can use to impact your own life and those around you. Our mission is to help you become a better informed, more critical thinker through long form conversations with a variety of amazing folks, from spies to CEOs, athletes, authors, thinkers, and performers, even the occasional former jihadi mafia enforcer Fortune 500 CEO or journalist turned poker champion.
[00:01:09] And if you're new to the show or you want to tell your friends about the show, I suggest our episode starter packs. These are collections of our favorite episodes on persuasion, negotiation, psychology, geopolitics, disinformation, cyber warfare, crime, and cults, and more to help new listeners get a taste of everything we do here on this show.
[00:01:26] Just visit Jordan Harbinger. com slash start, or search for us in your Spotify app to get started today on the show. My friend, Tim Urban of wait, but why. com. You may know it as the blog with the stick figures. He is a brilliant thinker. He's really, really good at teaching complex concepts. Would have made an excellent professor.
[00:01:44] Today we're talking about politics, but not what you think, folks. Calm down. We'll attack low rung thinking on both sides of the aisle. So our primitive primal brain, our tribal brain. Why are we so polarized and partisan? Why are we almost essentially in a political cult at a certain level? And it turns out it's not the side of the aisle that we are on.
[00:02:03] It is how we think and our level of intellectual honesty in our conversations, among other factors. So this conversation doesn't only apply to Americans, by the way, anyone who lives in a country with. The, uh, government can probably use a dose of the high rung thinking that we discuss here in today's episode.
[00:02:19] Here we go with Tim Urban.
[00:02:25] I'm excited to have this conversation with you, man, because it's been a long time. I think we did a podcast before where you were walking around your apartment holding the phone. That was the, that was the situation. Professional. Yeah. Very pro. And, uh. It's, yeah, 10 years ago or more, which is about how long it takes you to write a blog post, so.
[00:02:41] Yeah, that's about right. A lot of people are going to be familiar with your work and the little, like, stick figure theme that you got going. I assume you do the art yourself. I do. Yeah.
[00:02:49] Tim Urban: Wow. Very brave. It is. It's high level. Yeah.
[00:02:52] Jordan Harbinger: In the end of the book, which I read and liked, you mentioned that your 97 year old grandmother said that she was sticking around so she could see your book.
[00:02:59] Tim Urban: No, every time I saw her. She basically threatened to die before the book came out. Yeah. And like knowing that that would make me feel awful. 'cause if she's like, all I want is for this book to be done. Yeah. And she was like, I just wanna hold this book. But then I didn't do a print version, so now I have a second book coming out.
[00:03:12] Oh no. That or that I'm working on and now I'm on the clock again. I have to get her. And I told my dad, I was like, just get any book. Yeah. And he was like, nah, you gotta give her a yearbook. And I was like, God damn. So I got her this book that I had done and she listened to all her books on audio. I was like, perfect.
[00:03:27] Yeah. Great. Got her the audio book apparently. 10 minutes in, she switched back to the other fiction book she was reading because she was bored. So after all that, she was like, I don't know what he's talking about. I don't know. He's just very confusing. And then she went back to her fiction. Oh man. That's very anticlimactic.
[00:03:42] Jordan Harbinger: Try not to take that one personally, I guess. Yeah. Wow. Yikes. Let's talk about the technology that is involved in destroying our country. How's that? Or the various factors that work in destroying our country, according to your book. There's
[00:03:55] Tim Urban: a lot of new tech developments. They happen really quickly. You know, I was just reading, uh, Tobias Rose Stockwell's new book called The Outrage Machine.
[00:04:05] Yeah. Great book. And he talks about this concept, the dark valley of hidden harm. And basically, it's after a new paradigm shifting media technology comes out, like the printing press. You tend to see these patterns where first there's like this euphoria, it's like this new magical thing that exists, and then chaos.
[00:04:27] It's always unintended consequences. So after the printing press, there were these wars within Christianity that you can pretty much directly tie to the invention of the printing press. And then we kind of figure out, you know, okay. How to manage this new technology and you know, whether it's regulations or just there's an etiquette that develops around it, um, professional kind of systems for it and we integrate it and now things are better because of it, but there's this valley in between and so, you know, newspapers coming out, you know, that you had really partisan, crazy partisan newspapers in early, the early colonial U.
[00:05:03] S. And it led to crazy factionalism because of the newspaper again. But then Really in the 19th century, journalistic professionalism gets developed, like a journalistic process and a process that would really try to ensure accuracy and it was very kind of, it's a, you know, and journalism got a lot better and people could trust the New York Times by 1930, 1940, you know, it was, these newspapers were a great source of.
[00:05:26] Unity and we have a shared reality and there's truth and it's accurate. And so again, there was that kind of valley of harm before. So now what you've got is all of these new media paradigms launching, except it's not happening once a century. It's like happening every few years. There's a new giant shake up.
[00:05:43] So like... You have cable TV and then you have, um, there's this thing called the Fairness Doctrine which said you had to air multiple political sides at the same time. That was removed. Fairness Doctrine, yeah. People thought it was a violation of free speech and it was too much regulation, too much government.
[00:05:56] And so now you have Rush Limbaugh and then cable, you have Fox News, you've got MSNBC, you've got Drudge Report and Breitbart and HuffPost and, and basically just an explosion of tribal media. Does not have journalistic ethics and professional standards, and suddenly you have reputable places, and not reputable, uh, just tribal chaos, not necessarily valuing accuracy, valuing clicks first, and it's not anyone's fault, no one's a bad person here, it's just the incentive system changed.
[00:06:26] And social media, of course, just bang, just drops into our world there. Same thing. It was this kind of euphoria phase when it was like, this is so cool. You know, everyone around the world's connected. This is just positive. The internet in general was like, this is going to be amazing. And then, of course, you know, then you start realizing that there's all this, like, showboating for status, and then there's outrage that seems to get more, you know, attention, engagement, yeah, and then the headlines get more outragey, and then the, the big accounts on Twitter, and, and, and you see, you know, and Facebook, and all of this, of course, now you're influencing elections, and it's bad, and so basically, if you zoom out, like, we're in, you know, A dark valley of hidden horror in one of these valleys of chaos following completely new capabilities in media.
[00:07:07] Once we're out of it, I think we'll look back and be like, those were some dark times. And we are currently, uh, we're in the middle of it, and there's a million other paradigm shifts happening at
[00:07:15] Jordan Harbinger: the same time. Well, I wanna, I wanna zoom out a little bit because you talk in the book, which we'll link in the show notes, you use this book analogy of human history, where we're, we have to get it right because as things progress, As times get better, the risk gets higher, and the bad gets worse, I think is how you
[00:07:31] Tim Urban: phrased it.
[00:07:31] I like this book analogy because the spans of time are really hard for us to wrap our heads around. So we're just like, we're born into a world, and it seems normal to us. And the question is, is it normal? What about this is, has been going on for thousands of years, and what about this is completely anomalous?
[00:07:48] To put the time in perspective, I think using a book is, like, metaphor is useful. So, and the way this one works is, If humanity has been around for about 250, 000 years, long time, like we think A. D. is long, Jesus, was a long time ago, that's 2, 000 years, we're talking 2, 000 centuries, humans like us have been here, crazy amount of time, so I said okay.
[00:08:11] Kind of it seems like the median estimate for how long humans have been around, it's hazy, but 250, 000 years. So let's say if we had a book of human history that's 1, 000 pages long, each page would have 250 years covered. So, you realize when you think about it like that, that if you're reading this book, 950 pages in, nothing has happened.
[00:08:31] It's just hunter gatherers. Hunter gatherers for 95% of human history so far. Only in the last 5%, in the last 50 pages. Has that started to change and maybe it was the end of the ice age or you know, the beginning of this interglacial, this temperate period, you know, I don't know what it was, but agriculture started picking up around the world.
[00:08:49] People started congregating and settling, which still took a while, but started to lead to cities. And when you have more people together, things start to happen. And then you have a really big advance around page 975, like 5, 000 years ago, which is writing. Now if you think about like, how does knowledge build?
[00:09:07] If you have a small tribe. You build from experience. You have oral histories. You have, we learned something about how to use this berry for medicinal purposes. And now that's passed along. And so, the tribe, through each individual's kind of life experience and a bunch of trial and error, you collect the wisdom over time and you have this little tower of wisdom that builds in the tribe.
[00:09:28] You have cities. That tower gets really tall. But still, it's all people remembering what other people said. Writing is the first time you start to be able to say, I can take this info in my head and etch it on a thing. I can put it on a rock. It's just crazy technology. You can put information on a rock that will be there after you die.
[00:09:49] You know, like the game of telephone is not gonna get, it's not lossy, this is, the original person who had this idea or whatever, this is exactly what they said years later, and so you can keep that, and you can have these books that are very valuable, and that's why burning libraries was such a thing that, you know, new rulers would do, you get rid of them, but the point is, things start to pick up, these new giant shifts in how we acquire knowledge start to pick up, so anyway, This goes on and on.
[00:10:14] I grew up thinking B. C. was ancient, and A. D. is like, you know, is like, so long, right, 2, 000 years, you know, the Roman Empire, Cleopatra, this stuff is 2, 000 years ago. That is page 993 of the book, out of 1, 000. Buddha was on page 990. Everything we think of is like unbelievably ancient, Confucius, this is all the last 10 pages of the book.
[00:10:33] So, anyway, the reason that I think this is interesting, that's especially interesting, is because our page, so we, in this metaphor, are, the last 250 years is page 1000, taking us to the end of page 1000, which is where we live right now. And when you look at that page, which is right, starts with the Industrial Revolution, and you look at that last 1770s to the 2020s, compared to all the other pages, you realize that we live in a complete anomaly, which feels naive to say our time is special.
[00:11:00] Everyone thinks at the end of the day it's time to specials, you know, you know, no, it's not. Actually, this time really seems to be because page 1, 000 compared to all the other pages, you only had horses and sailboats and walking to get around for 999 pages. And then on this page, you have cars and planes and submarines, spaceships.
[00:11:17] Yeah. So you can do this for anything. You can do it for communication. You have writing and you have, um, you know, you write a letter or you. print a book or you talk to someone. But now we have FaceTime and telephones and the internet and TV and all of this. So, and I still made you come here from Brooklyn.
[00:11:35] Huge dick move. Yeah. It's like, you know, 17 minutes. Um, and then you've got like, uh, the fossil fuels era when page 1000 started, we weren't really using fossil fuels, barely. You know, there are some people burning coal here and there, I'm sure, but mostly you're burning wood, you're, you know, in oil, and the whole fossil fuels era just blows up on page 1, 000.
[00:11:56] So, you know, the population was under a billion for 999 pages, and suddenly we're at eight on this one page? Like, something is up.
[00:12:03] Jordan Harbinger: Yeah, something is up. Wow, that's, when you put it that way, right, and everything's happening on one page.
[00:12:07] Tim Urban: And so it's important because, again, it is our instinct to think that this is normal, but it's not.
[00:12:12] It's weird. Just because human history has gone on normally for so long, you think, oh, it'll, it'll, it'll go on. It's like, actually, this might, you might be around for the apocalypse, or for the time when we stop dying. When we die only when we're ready to. You know, when we, we might be living on two planets.
[00:12:29] In our lifetimes, you know, Mars is probably going to have people on it. That's crazy. Like, you go for four billion years of life on one planet and we might be alive when that becomes two planet? I mean, it's, so it's so exciting, but like, it's also really scary. And it's like, if I'm reading this book, if I'm an alien anthropologist and I'm reading this book about this primitive species and I get to page 1000, I'm like, oh, shit's going down.
[00:12:52] Okay. What's about to happen? So what is about to happen? We turn it to page 1001, the next page. And I think. It's not going to be just okay. It's going to be probably either unbelievably great, or, like, incredibly awful. Yeah. And it's hard to imagine it being just okay. Like, incredibly awful could range from, obviously, the full apocalypse, to just the civilizations all collapse and we're kind of back in the Stone Age and there's warlords and, you know, your people are, you know, you gotta learn to fend for yourself on the street.
[00:13:19] Or it could be if we can somehow keep our civilizations intact. Could just get to a place where, you know, every problem we think we have, and disease, and poverty, and, you know, an involuntary death, and climate change, these big things we're scared of, you know, existential risk, just like, we got it covered.
[00:13:34] You know, we have AI or overlords that are key members. So anyway, I think that's just a good like starting point of any thought about our current time is like, let's just back up and remind ourselves of this situation. Now we can zoom back in and be like, okay. Well, the
[00:13:47] Jordan Harbinger: caveat in the book is that technology lessons.
[00:13:50] They stick, right? We're not going to go back to a horse and buggy. We're not going to start burning wood because we forgot how to generate power another way, but wisdom and learned lessons from history, they often end up needing to repeat themselves, which is, you know, despite all the writing we have and all the zoom calls that are recorded in the cloud, we're still looking at global conflict or international conflict, wars, regional stuff, imperialism, famine, weapons of mass destruction.
[00:14:17] Like, if we get one page one thousand and one wrong, we're in, we're in really big
[00:14:21] Tim Urban: trouble. Yeah. Really big trouble. It's disturbing how many philosophers throughout history have said the same thing, which is some version of, those who don't remember history are doomed to repeat it. And I'm like, why do we keep saying that?
[00:14:34] And why does that stay relevant? And it's because we keep forgetting history, and you don't forget it because the history books disappear. You forget it because you get cocky. You forget the important things that made the society good in the first place. You take it for granted. You start to take everything for granted.
[00:14:48] You know, times are good for a long time. Just, you grew up in this kind of nice, civilized, safe society, but so did your parents and your grandparents. And the person way down in your ancestral chain that remembered, No, this is precious. This is incredible. We have to, you know, teach kids civics. And everyone has to, you know, really uphold these norms.
[00:15:06] It's just too many generations away, and we just get cocky, and this is, you know, look at so many civilizations of the past, so wisdom, it's cyclical, you know, it's not, you know, technology, you know, technology in the big, big scheme of a civilization collapses, then technology is forgotten, you know, it comes back, but wisdom seems to cycle much quicker within the civilizational cycle, you know, like I grew up reading about like, I don't know, Salem witch trials, or just like mobs in general, or like the Maoists, or the Nazis, or You McCarthyism pretty recently in the U.
[00:15:38] S. and thinking like, Oh, primitive, how do these people even do this? You know, and it still felt like a long time ago. And I'm like, so many of those things we're doing right now. We're just repeating these and like all the things you listed. They're the same species. We're not any better than those people who did all those
[00:15:51] Jordan Harbinger: things.
[00:15:52] That's the terrifying thing that people should, in my opinion, be kind of nervous about. And you break down thinking into the sort of high rung, low rung. You use a ladder analogy. We don't have the visual here. But I think we can define the high rung and low rung thinking because This tends to be, at least the thesis of the book makes it sound like, that's kind of the root of all the problems we're facing right now, or many of the problems we're facing right now.
[00:16:13] Tim Urban: Well, so I was like, I looked around at like, the political culture going on in the US, and I realized like, everything is on this one dimensional axis, left right center, where do you stand? What do you believe? What camp are you in, right? And that's all what you think. And I was like, okay, well, how about a how you think axis?
[00:16:27] And then I realized, like, we can, you know, and I made this a ladder. You can apply this ladder to like, not just thinking, but like how we interact with others, how we see people who disagree with us, and how does each person, when we don't really know what's going on, how do we help put our efforts towards building towards 1001?
[00:16:44] Versus I don't think anyone's trying to make things worse, but a lot of people are inadvertently I think pushing things in towards the more kind of chaotic and unstable and kind of primitive direction, which is how exactly how we'll end up with a catastrophic page 1001. So I was like, what's a compass we can use to know how I can check myself and make sure at least I'm pushing in the right direction.
[00:17:07] And I was like, okay, so this ladder, if you're up on the high rungs of the ladder, we all, you know, oscillate on this. When it comes to thinking. You're geared towards truth and you're not attached to your ideas, which goes together. If you're attached to your ideas. And you identify with them and you say, I am a Democrat or I am a Libertarian or whatever it is.
[00:17:24] You're going to really hate the people who disagree with you. And you're going to think that they're the other kind of person. So you, you end up searching for, you know, headlines and studies that confirm your belief. You just do it naturally. It's confirmation bias creeps in and starts completely taking over your process where you become a loyal disciple to these ideas.
[00:17:42] Now you're not in charge. You're trying to just confirm those ideas. If you're not willing to change your mind, it means those ideas are your, essentially your boss. So that's low rung, you know, thinking is you're attached to your ideas, and the high rungs, you know, you can search for truth and you can change your mind because you're the boss of your ideas, you're not attached to any idea, your identity is just I'm a human, I'm a searching for truth human.
[00:18:00] Then I was like, that same exact mindset, when you're up in the high rungs searching for truth, you're not attached to your ideas, you're not usually gonna get into a tribal zone with other people. You're gonna think people who disagree with you are, either they might be right and I should listen, or if you're pretty sure of yourself, you're thinking they're wrong, but that's it, you know, they have a misconception in their head.
[00:18:16] But once you're in the low rungs... And you're in that mode where you're attached to your ideas, it becomes very tribal, and you also are very much in the us versus them mindset, which is pretty dark, and that's when, you know, all those things I mentioned, you know, Rwanda, or the Nazis, or the witch burnings, you know, it's very quickly that really dark stuff we do emerges from this mindset of, this tribal mindset, which flips on kind of a psychopathic switch in the human head, and makes us dehumanize other people, like those people, not just are they stupid, they're evil.
[00:18:46] Transcribed And if they die, you know what, the world's better for it. And everything is their fault and they're, they're, these are the, you know, the scourge of the earth. They're demons. And so I was like, okay, I think that those go together as truth seeking goes with, you know, kind of a much more universal humane mindset and confirmation bias and identifying with your ideas tends to go with kind of a dehumanizing tribal mindset.
[00:19:06] And then I was like, I think there's a third thing here. And I think when you're, when you're on the high rungs and you're trying to achieve something You're going to try to do it via persuasion. You're going to get out there and try to change minds. Which in the history of the U. S. is how things have changed.
[00:19:18] You're searching for truth, you know, you're not dehumanizing anybody, and you are going to use persuasion to try to change things for the better. And when I think you're doing those three things, I think regardless of what you actually believe, you're pushing things in the right direction. That's the kind of mindset that is going to yield wisdom.
[00:19:39] It's going to yield like problem solving and wisdom and unity and cooperation. Now on the bottom, you have this attachment to your ideas and this tribal mindset about other people who disagree with you. The third thing that comes along with that is instead of persuasion, You're going to be using coercion, usually those are the if you look at the movements that think this way, they don't play by kind of classic liberal rules that tend to make real change in a country like the U.
[00:20:04] S. They're thinking in very old school kind of rules, which is if we have the power to bully or in some countries use violence to get we want. That's what we'll do. And that exact kind of mindset to me is mhm. The precise thing that can take over the whole society if you're not careful and it will that is what will drive us to an awful future if that mindset takes over again, regardless of which of these kind of power tribes wins that the cumulative efforts of those are pulled the entire country in the wrong direction,
[00:20:33] Jordan Harbinger: right?
[00:20:34] I'm thinking of worst case scenarios like the Khmer Rouge, for example, right in the killing fields, it was just sort of arbitrarily. Well, this guy. Probably thinks a different way because he worked at a university. So we should just kill that person. Oh, and their family. It's
[00:20:49] Tim Urban: a psychopathic behavior. I mean, it's, it's, and the people who are killing those people.
[00:20:53] I truly believe that there's a lot of people in our current society who are totally fine people who are wired exactly the same way. For sure. If the circumstances presented themselves, they would be doing that. By the time you're killing someone, that's, there's a long lead up to that. And it starts with this mindset of our movement.
[00:21:12] There's a lot of conformity. We all agree on this, this ideology. This ideology is who we are. It is our identity as a group and as each individual. The people who disagree with us are evil and they're the cause of all these problems. They're subhuman. And the way to get what we want is we have to overpower them, in this case, kill them or imprison them or whatever it is.
[00:21:33] No one is killing people in the U. S. for their ideas right now, or not many, it's not the main thing going on. But traces of that, when you see hints of that, it's like, gotta catch that, you gotta stop that. Yeah,
[00:21:42] Jordan Harbinger: it's terrifying, especially when you look at, you have the Idea Lab versus Echo Chamber, and this podcast strives to be an Idea Lab.
[00:21:50] I don't platform everybody because some ideas are just crappy, um, honestly, well, whatever, that's a whole, probably different conversation, but some ideas are not my bag. But I, in general, I want the best ideas to win. I want to put people on who make us think differently. But there's lots of money, going back to the media topic we talked about at the top of the show, there's lots of money in the echo chamber, man.
[00:22:12] And the most money in podcasting or media, legacy media, is in an echo chamber. It's in not only reinforcing the same ideas and tribalizing people, but advancing those ideas in more extreme ways. If you're the person who can say, not only is this bad, but also, breaking news, these guys are even worse than you thought.
[00:22:34] Because they're all pedophiles now and they're murderers and look at the whatever and then we're so much better because we're the only people fighting for virtue and we can't, you even hear messages that are strikingly similar to these people are all criminals, it's all a big grift, we're the last bastion of defense and when you look at guys like white nationalist groups or things like that they're often saying things like we're the last line of defense for this country and if we don't stand up and fight Insert the term for whatever the mongrel hordes are going to come and kill all of our children, our women and children.
[00:23:09] And you see that in the media landscape and it's, unfortunately, that's how you make the most money in the media landscape. If you throw your ethics away, you
[00:23:18] Tim Urban: could really cash in. That's the political version of selling cigarettes or selling soda, selling candy. You are catering to the lowest common denominator of humanity.
[00:23:31] You're doing something that doesn't help the people you're selling to. It hurts them and it hurts the society in general. And you, so you're selling political junk food and, uh, you can make a lot of money. Philip Morris made a lot of money, billions of dollars, you know, Mars Inc. You know, Coca Cola, they make a lot of money, you know, there's a reason that most people I know wouldn't want to go and work at Philip Morris and try to sell cigarettes to kids, to teens, you know, like, it's like selling like a snake oil of some kind, like selling a weight loss pill, you know, these things, promises.
[00:24:01] The political junk food, so it's A, it's just catering to our, like, what I call our primitive minds, this really ancient part of our, you know, limbic system that can be tricked, that's easily tricked, you know, that, you know, when you're eating a bag of candy, a Skittles or a Starburst, and that chewy flavor, you know, that dumb part of your brain is tricked into thinking this is a good thing to eat.
[00:24:19] And the same thing, when you're just totally hooked on tribal media and you're convinced that half of your country is evil and you're hooked and you're reading every article, you're, you're consuming junk food. In some ways it's even worse, not just because it can do more damage, you know, than bad food, but Also, because there's a promise here that this is the, the key to righteousness.
[00:24:37] If you're, if you're in our political kind of tribe, you're perfectly righteous. You have meaning. You have purpose. You have a community. You have all these things that are so hard that we want so badly that these holes in human lives. It's like, you know, you can fill these all your opinions. Now you have them.
[00:24:51] You know, you're going to sound smart at every party because you have all the right opinions about everything. And, and it's not true. It's a, it's a weight loss pill that doesn't work. It's
[00:24:59] Jordan Harbinger: yours. The zealots right on the ladder. dressed up as either scientists or better thinkers in some other way, but they're treating anybody who disagrees with them as like some a hole who punched their baby in the face, because I think you put this in the book, that they treat their ideas like a baby that they adore and coddle.
[00:25:15] But the problem is in the media space, they'll dress up like, I'm just asking questions about this, I'm genuinely curious, but that's not, it's
[00:25:22] Tim Urban: not really true. You can come back to this latter. It's like, yeah, um, at the top of the ladder, just to talk about just the thinking part of it, the North Star at the top is truth.
[00:25:32] You just genuinely want to figure out what's true, both if you're media, you're trying to portray what's genuinely true and, and representative of what really happened. But an individual is, is just trying to figure out what's true, and that means they're going to change their mind all the time, because we're going to be wrong a lot, so you're going to, you're going to be changing, you're going to say, I don't know a lot.
[00:25:47] And I think of that as treating your idea like a little machine. So, it's like a experiment you're working on. You're, you're, you're taking, you know, in pieces of information, you're snapping them together in different ways. And you're like, okay, here's a hypothesis. And as you learn more, you're like, okay, something's wrong about this.
[00:26:00] Or you like to argue about it. You know, it's fun to have someone disagree with you. It's so interesting. And they're gonna kick your machine and see if they can break it. Um, and no one's taking it personally. It's just my machine. And if, by the way, if I think my machine's strong, I'd love you to kick it.
[00:26:10] Because I don't think you can break it. And going to embarrass yourself and that's going to show how strong my idea is. And if you can break it, thank God, you just showed me I'm going out here, embarrassing myself with a flawed idea. You just made me smarter. So that's this one mindset. And then I use the baby as the other kind of, once you've slipped down to the low rungs, when someone insults your idea, it doesn't feel like they're kicking your machine.
[00:26:29] It feels like they're hurting you. But or, or in this case, they're kicking a baby, you know, the tribe has their sacred baby and anyone who kicks it, they're an awful person and they need to be punished for it. If your goal is to protect the baby because that's what you should do to a baby, you protect the baby versus your goal is to improve the machine, make it rugged, kick it around regardless of what you say you're doing, you wear your motivation on your sleeve based on your behavior.
[00:26:52] If you're trying to protect your ideas and keep them safe versus test them and get closer to truth, it's so obvious how you behave someone who's going for truth. They're grateful when someone smart disagrees with their ideas. They might argue back. They might even get heated. But like, they're not mad at the person.
[00:27:07] They don't even think the person's bad. And they change their mind all the time. Doesn't feel necessarily good, but it's just the obvious thing to do when you do that. Um, they will regularly seem to conflict with all different tribes. It's the strong opinions
[00:27:20] Jordan Harbinger: weakly held is I think
[00:27:21] Tim Urban: the phrase. Right, well that's at the bottom.
[00:27:23] Clever people. Yeah. At the top, it's gonna be the opposite. It's gonna be a lot of I don't know, but actually they know a lot. But there's still gonna be a lot of humility. And you're going to see them kind of seem to flip flop all the time. They're going to be with this tribe on one thing, with this tribe on another.
[00:27:34] Not, not, not because of some both sides ism. Just because inherently, everything's complicated. If you're truly independent, you're going to end up, you know, kind of siding with one tribe in one area, and another tribe in another, or being seeming to side with this tribe, but you're saying something more nuanced, but, um, doesn't fit into the tribal rubric.
[00:27:49] At the bottom, it's like you said. You're going to have, not only are you a much worse thinker with much less knowledge, because that's, if you're protecting your ideas like a baby, you're not going to learn anything. But you think you know everything, because in that mindset, which, by the way, I've been here, I've been even writing my book about this, I was like finding myself drifting down, I had to remind myself, or, you know, I would have to get feedback on the book and remind myself, I'm, I'm cherry picking evidence too much, I need to go and really seek out dissent more.
[00:28:13] When you're down there, you become very confident in your ideas. You think you know everything, even though you actually couldn't defeat anyone in a debate. And you behave this way. So you cherry pick evidence, you cherry pick kind of the articles you want to read based on who agrees with you, and you get really pissed off when someone disagrees with you.
[00:28:31] You don't handle it well, which is what you would do if you're treating your idea like a baby. So, yeah.
[00:28:35] Jordan Harbinger: Yeah, it's like welcome to podcasting. It of course applies to the whole media landscape as well. It's scary because... It's hard to see how that's not the default, because that's what served humanity for so long.
[00:28:46] It, there was no real benefit, I would imagine, to being an independent thinker who's like, Hey, everybody who lives in our city, state, we're probably wrong about a lot of this stuff. And I'm just going to shout that from the rooftops, not a good survival
[00:29:00] Tim Urban: strategy for most of human history, but you do notice if you look at history, these little moments when kind of a culture of high rung thinking developed, like maybe ancient Greece is one of them in that culture, rather than saying we all have to agree with the singular ideology, it became cool to debate and disagree on the Socratic method.
[00:29:16] I mean, this, this stuff comes out of humility and this idea that like, let's explore. We're still reading Greek literature today because they had a really great few decades of high rung, you know, culture prevailing, intellectual culture prevailing. Few decades though,
[00:29:30] Jordan Harbinger: it's like, talk about a book of a thousand pages man, this is like a
[00:29:34] Tim Urban: sentence.
[00:29:34] I know, because the gravity is always pulling us down out of that, back into this simple zone where it's the people like us believe this stuff, and the people who don't are evil, and you don't need to think any harder than that. You know, that's it. It's, it's a religious attitude towards it. Literally, right?
[00:29:50] Because
[00:29:50] Jordan Harbinger: they'll, and I was going to give the example of Galileo, where they're like, we don't like the thing that you did where you proved that the sun was actually the center of the solar system. So we're at, but didn't he go to prison? I don't remember the whole story. I was arrested. I'm pretty sure they were not super kind to him.
[00:30:03] And now there's whole tenure systems and universities because of that kind of thing. Totally. Literally because of religious thought where they're like, Hey, look, maybe you're right, but we just don't
[00:30:13] Tim Urban: want to know. And also We're deriving a lot of power and stability from a monopoly on what's true, and you're messing with that.
[00:30:23] And it is a lot more unstable and a lot more chaotic. People who are benefiting from the status quo never like independent thinkers. Right? They never like dissent because the status quo is their friend. The status quo always has a fierce survival instinct. Uh, whether it's, you know, businesses and lobbyists or whether it's, you know, intellectuals or religious leaders or government leaders.
[00:30:45] Um, but if you can have like a time like an ancient Greece type moment. These places that have these famous libraries, Baghdad and in its heyday, like we're not searching for if you're searching for truth, you would never burn a library, even if you think it's all wrong, right? Well, we can learn how we were wrong.
[00:30:59] And some stuff isn't there is right. And let's explore. Let's challenge it. So burning the library is saying the search for truth is our enemy. And dissent is our enemy, and this is, we are going to, now, we are dictating the truth. And no humans ever are smart enough to actually have the truth, the entire truth.
[00:31:14] So, Anundu says that because they're in the, it's the low rung mindset, they're not searching for truth. They are searching for conformity. And they're going to enforce conformity. And so you have these, these little moments that spring up throughout human history. Now what makes, again, page 1, 000, our recent times so special.
[00:31:29] Is that not only, you know, was there space with liberal, you know, the advent of the modern liberal democracy is kind of like the U. S. was like the first modern liberal democracy and now there's hundreds, dozens. Yeah. Good point. There's only not hundreds of countries. Good correction. Yeah. But there's, I think it's over a hundred now.
[00:31:44] But anyway, what the, you have these things like the, you know, the scientific revolution and the enlightenment and they, what they did is they actually created these global, well organized systems of professional, official high rung mentality. So the scientific methods scaled up with the scientific revolution where there are all these science academies all over the world, all different languages, different ideas.
[00:32:07] But they all are following the same general scientific method of they're putting out hypotheses. They're writing papers on it They're having, you know, peer review and then they're challenging each other's things from across the world Like, you know, just reading about like, I don't know like trying to understand how we just learned about subatomic particles You're gonna hear a Latin American, you know paper that advanced things here and then a Swiss paper that advanced this thing, and then a thinker in California that came in and discovered this, and it's a global collaboration, not because these people know each other or like each other, but because they're all following this method that is kind of official high rung mindset of like, truth comes first, disagreement is fine and encouraged, and no one's gonna go to war if you disagree with them.
[00:32:45] Like, just complete acceleration of knowledge, like, massive, global scaled, industrial scaled knowledge building, um, which is why we have this incredible civilization we have now.
[00:32:59] Jordan Harbinger: You're listening to The Jordan Harbinger Show with our guest Tim Urban. We'll be right back. This episode is sponsored in part by Momentous.
[00:33:06] Live Momentous is widely trusted by professionals with their products being the go to in most pro and collegiate locker rooms. They're trusted by Olympians, professional athletes, top teams alike, all who vouch for their quality and efficacy. All products are NSF certified. I don't know what that stands for, but it means that what you see on the label is exactly what you get.
[00:33:23] There's no fillers, there's no misleading claims. Basically, somebody's holding them accountable. The Live Momentous Sleep Pack is more than a sleep aid. Well, it's, it's really a sleep aid. I don't know if, can you say it's more than a sleep aid? They're making me say it's more than a sleep aid, but frankly, it's a sleep aid.
[00:33:36] The scientifically backed formulation helps you fall asleep faster, stay asleep longer, ensures that the sleep you get is of the highest quality possible. Convenient single serve pouches make it easy for you to get your daily dose of sleep enhancing nutrients. So you can wake up feeling rejuvenated, filled with energy, and ready to conquer the day.
[00:33:51] It's like the refreshing sleep you get on vacation, but now it's a part of your everyday routine. And look, this isn't proprietary weird stuff. This is like high quality minerals and vitamins that you are going to recognize. It's not going to be some unpronounceable nonsense. And I trust this brand.
[00:34:06] Actually, my friend, a sleep expert, recommended it. And I can see my sleep scores improving when I take this stuff. And frankly, dropping when I don't. And I sleep with two little kids. So that's kind of a big deal. Designed by
[00:34:17] Tim Urban: the world's best experts, used by the world's best teams and athletes and made for all of us.
[00:34:22] Go to live momentous. com and use code Jordan 20 for 20% off your first order. That's live momentous. com code Jordan 20.
[00:34:30] Jordan Harbinger: This episode is also sponsored by zip recruiter. Listen up. If you're the one holding the hiring reins, check out this stat. The average cost per new hire is a whopping 4, 700. That is not pocket change for most of us.
[00:34:41] So if you're dropping that kind of dough, you better make sure you're onboarding the right folks. It's not just a hire, it's a strategic investment in your company's future. So what's the most effective way to find the best people for your roles? ZipRecruiter. See for yourself. Right now you can try it for free at ziprecruiter.
[00:34:56] com slash jordan and experience the value ZipRecruiter brings to hiring. ZipRecruiter's free to try. You can actually post jobs at zero cost. So if you're wondering whether ZipRecruiter can actually be your secret weapon in the hiring game, take it for a little test drive and see how they can supercharge your recruitment process.
[00:35:11] It's simple.
[00:35:12] Tim Urban: ZipRecruiter helps you get hiring, right? Four out of five employers who post on ZipRecruiter. Get a quality candidate within the first day, see for yourself. Go to this exclusive web address to try ZipRecruiter for free before you commit ziprecruiter.com/jordan. Again, that's ziprecruiter.com/j O R D A N.
[00:35:30] ZipRecruiter, the smartest
[00:35:31] Jordan Harbinger: way to hire. If you're wondering how I managed to book all these amazing folks for the show, all these authors, thinkers, and creators every single week. It is because of the circle that I've built around myself, otherwise known as a network, and I know that's a schmoozy, gross word, but I'm teaching you how to build the same thing for yourself, for free, over at jordanharbinger.
[00:35:49] com slash course. This is a course about improving your relationship building skills in a non cringy, very down to earth, non awkward way. Just practical stuff that'll make you a better connector, a better colleague, a better friend, a better peer. Takes a few minutes a day and many of the guests on the show subscribe and contribute to the course.
[00:36:06] Come join us, you'll be in smart company where you belong. You can find the course at jordanharbinger. com slash course. Now, back to Tim Urban. Well, we would like to keep it that way, right? And the book is incredible in that you, you talk about how You discuss how Americans seem to think we're in a Disney movie, a lot of black and white thinking, a lot of binary thinking, the way that headlines and newspapers start to devolve into tribal thinking, the straw man argument.
[00:36:34] By the way, the straw man argument observation that you made, first of all, I'd love to define straw man because I know people have heard it, but the science with that, that shows that it weakens your ability to take in other arguments was, it's interesting, right? Terrifying. Yeah. Yeah.
[00:36:47] Tim Urban: It's a better word, I think.
[00:36:48] Yeah. So if I'm actually arguing with you. I can still strawman you, you know, you can say, I think we should have tighter gun control, you know, laws. And I can strawman that by saying, I don't think the government should take away our guns. Which you didn't say, you didn't say take away our guns. You said stronger laws, like maybe more background checks or something.
[00:37:10] And what I'm doing is, that's a harder thing to refute. It's nuanced and maybe there's some pretty good reasoning behind that. But I can appear to beat you by basically creating an argument that is a, that kind of resembles your argument, but it's weak. I use the example of like a grizzly bear as a strong argument and like a koala bear as a weak argument.
[00:37:27] So you put out a grizzly bear perhaps. And rather than try to punch your grizzly bear, I just say, that doesn't exist. Here's a koala bear that I'm going to pretend you said. And I'm going to punch the koala bear. So I'm going to say, I don't think we should, the government should take away our guns. That's a core American right.
[00:37:41] And I'm going this whole long rant about how you're wrong because then I punched the koala bear. And if someone's watching and they're not thinking that hard about it, they're not that educated. They might think, Oh wow, Tim just wiped the floor with him. And if
[00:37:52] Jordan Harbinger: this sounds like cable news shows, that's
[00:37:54] Tim Urban: because that's what they do on cable news shows.
[00:37:56] Of course. Now, but that's if we're together, that takes a little more skill. And like, you know, you might be, cause you're right there. You might say, that's not what I said. And you have echo chambers. You're not represented there. You know, all the headlines and all the talking heads and the politicians and the Twitter, you know, culture warriors.
[00:38:11] They're just gonna present the strawman of what you said without everyone, no one, you know, there's not even gonna be access to your original quote in there. It's just gonna be, this is what they think. Um, and so, what happens is an echo chamber. You know, in a political echo chamber, which is like, you're surrounded by a bunch of people who agree with you, you're reading all the publications that agree with you, and the things that disagree with you, you're reading the worst versions of them, you're not reading the really smart versions of them, and what you end up with is you're soaked in the weakest version of, manufactured weak version of your opponent's arguments.
[00:38:42] And by the way, sometimes insane things will happen, and the question is just like, just do your actual homework, because things If you're hearing something from someone about what the other tribe is doing, and this person, especially this person, is really political, quite tribal, there's just such a small chance that you're hearing the steel man, which is the opposite of the straw man, the best version, or even just the accurate version of what's going on, the nuanced version.
[00:39:07] You know, the don't say gay bill was full of this. You know, the amount of people who would say this was an evil bill, now there were some problems in it, right? And that's why it got struck down. Poll 10 people who are fired up about this evil, homophobic, you know, transphobic bill. And ask them about what's in the bill and almost no one will know because they're just getting the strawman even just that don't say gay is a strawman that it's not what the bill is called.
[00:39:32] That is a strawman so there's so many examples of this and you it's it's almost impossible not to find example if you name any political issue and like you can tell exactly what the straight no any policy you know push there's a strawman that's already very well developed. Um. So we're like an evolutionary process that the snappiest straw man on Twitter that really gets going becomes the, the, the known.
[00:39:51] So back to what you were mentioning earlier, this, the inoculation effect. Yes. Go back to gun control. If I am in the right wing echo chamber in the US, and I'm hearing, this is not actually what's happening as far as I know, but maybe some version of it, but just as a hypothetical, if all I'm hearing in the right wing echo chamber during a push for background checks, guns, is that they want to take our guns away, and I'm hearing that again and again and again, or maybe I'm hearing some, um, maybe a little bit more nuanced version of that, um, but like, I don't know, they're going to make, A certain level of gun illegal, which is not true, maybe they're, you know, whatever, but you're just hearing false versions of this again and again and again and again.
[00:40:32] In fact, I think a better example here is climate change on both sides here. If you're in the left echo chamber, first of all, there's a term, there's a director, a climate denier. There are plenty of people who don't believe in climate change. They think it's a hoax and they're truly uneducated about it.
[00:40:49] They're ridiculous, and their arguments are ridiculous. And so that's true. But that's not representative of what everyone who thinks that we know the climate change policies or the, you know, the Green New Deal type things are not good for one reason or another. And so you're hearing just the stupidest arguments again and again and again.
[00:41:04] The craziest things. What happens is that it's like getting exposed to a light version of a virus, which is, you know, the flu shot. Which then prevents you from being hurt by a stronger version of the virus. So you're exposed to this weak version of the argument again and again and again. And you end up immune against strong versions.
[00:41:25] So now when someone, you know, you see a speaker or someone is on TV and they're saying that they're skeptical about climate change, about the latest science in climate change. You're not even going to listen to what they say. You're immune to be having your mind changed on this topic now, because you've heard so many dumb arguments.
[00:41:40] You're, you have this new prior in your head, this rule that anyone who disagrees with the current science on climate change is an idiot and not worth listening to. Right, or a grifter. That rule now is in your head, has made you immune to changing your mind on the topic. So when anyone comes in now, someone, you know, actually presents a strong argument that maybe these regulations are not productive or maybe they don't achieve what they want or maybe we don't know as much about some of the science as we think we do.
[00:42:02] You won't hear it. It doesn't matter how strong the air, like the flu. Now the real flu comes along, you're immune to it. And that's not, in this case, it's not good. You don't want to be immune to changing your mind. Now you could say in the other way, same thing. The people who are skeptical of climate change, they're not going to hear the really nuanced and interesting and scary, you know, potential versions of what can happen with climate change.
[00:42:21] They're hearing, The dumbest versions, they're hearing the most extreme policy positions possible, and they're being, you know, the time when a study was wrong, or when someone, you know, a famous person, you know, when Rachel Maddow said something about climate change that's proven wrong, that's going to be broadcast again and again and again and again as proof that those people are false.
[00:42:39] Who are so scared about climate change proof that they're all full of shit. And so now you're immune. And this is really
[00:42:43] Jordan Harbinger: scary, right? Because if media is getting clicks from strawmanning and blasting those tribal messages out on both sides to everybody as much as humanly possible, then we're all getting those inoculations.
[00:42:56] 24 7 without the ability to really do anything about it unless we turn off our media sources, which is harder for a lot of people to do. So basically every single week that the news cycle goes by and gives us a new bit of nonsense that we get a new straw man to get inoculated with, it becomes harder and harder and harder for us to change our minds.
[00:43:15] On anything.
[00:43:16] Tim Urban: Right, because, because when you add them all, you know, I just give an example of how you could tune out climate change deniers. Sure. One issue, but what happens is, because also in political Disney world, this metaphor I use, which is, you know, the low rung political world where everyone thinks that they're on the perfectly good, righteous, smart team and that everyone else, that's the perfectly bad, awful, evil, stupid, wrong team.
[00:43:36] And when you have this crazy, childish binary in your head. When you actually become a, you know, hear how stupid the climate denying arguments are, then you also say that those people, because it's a checklist, you believe every issue down the checklist with your tribe. So, on abortion, on guns, on climate change, on racism, on public school and education, on, you know, elections, whatever it is.
[00:44:01] It's that my tribe's version of every single one of these is correct and proof that they're stupid in one issue is just also just more proof that they're stupid and also when you start adding all this drama together, it becomes that like my, I, we are just perfectly right about everything and that team is perfectly wrong about everything and all advancement of knowledge and any, you know, hope for nuance, which is where all the actual truth lives in these issues.
[00:44:26] And any hope to actually get smarter and change your mind or solve problems, solve complex problems that require lots of vari have lots of variables that require a ton of compromise and, you know, kind of nuance, give and take, gone. I think the
[00:44:38] Jordan Harbinger: other problem with that, and this is something I'm just sort of toying with here in real time, it seems like if you have a checklist and you know you're, you quote unquote know you're right about these things with your tribe, and the other tribe is wrong, And they're all straw men.
[00:44:51] So it's like, look at what they're trying to do. They're trying to take away the guns and legalize pedophilia and they want to make it so we can't use electricity because of climate change instead of going, Hmm, I'm wrong about some of these. We're way past that, right? We can't accept that. Now you're thinking they must be doing this deliberately for another reason.
[00:45:09] You end up with all this conspiracy theory stuff. Because, otherwise, how could some group be so wrong? It's not that they think differently. No, no, no, that couldn't be it. This is so wrong, it has to be a plan. And that worries me
[00:45:22] Tim Urban: a lot. Conspiracy theories are interesting because, once in a while, they're true.
[00:45:26] Most of the time, they're not. So someone who's a rampant conspiracy theorist, and everything is conspiracy, they're almost always full of shit. Because not everything is a conspiracy. Same way that someone who's saying, this thing that's happening in politics is really bad and we're actually in danger.
[00:45:40] It's this kind of catastrophizing, the sensationalizing of every issue. It's the same concept where sometimes there is a grave danger and most of the time there's not, sometimes there's a conspiracy that's really happening and actually there's some shady shit that went on. You know, the thing about history, the Pentagon Papers and Watergate, you know, these do happen.
[00:45:58] Or even the COVID
[00:45:59] Jordan Harbinger: thing. Remember the Chinese scientists? They arrested him and they're like, oh, stop spraying rumors. Then he dies of COVID, dot, dot, dot, pandemic.
[00:46:04] Tim Urban: Yeah, exactly. So like, what you want is, and again, in like a high rung political environment, you have this filter where you don't immediately reject conspiracy theories.
[00:46:14] You're skeptical of them, but you put them to the filter, you listen and you explore. And most of the time you say this doesn't seem to have any real backing. But when one is true, it's gonna start to get more compelling and more compelling. People are gonna, more people are gonna try to poke holes in it until some point you say, I think there's something to this, we need to keep exploring this.
[00:46:30] So this is the ideal situation. Same with, you know, you don't just sensationalize everything. So when something is sensationalized in that kind of community, it actually means something. I have friends, um, you know, uh, Livbury, Igor Kirganov, poker players, good friends of mine. And these are very rational people.
[00:46:46] And I remember they told me in January, early January of 2020, they're like, COVID's for real. It's like, this is a big deal. This is scary. And I remember thinking like, this is just another media hype cycle. But when they said it, I was like, they don't say this often. Right, yeah. They have cred. I took it seriously.
[00:47:03] They were like, get yourself some masks. Like, read about this. This is important, you know. My bigger point here is that when everything's sensationalized and everything's the end of days and everything is a conspiracy. Wolf, wolf, wolf, wolf, wolf. And guess who the winner is in The Boy Who Cried Wolf? Yeah, the wolf.
[00:47:17] The wolf. Because now when something bad actually is happening, actually thing, or there is a conspiracy, the best friend of the conspirator. is the crazy conspiracy theorists out there that say everything's a conspiracy because now when they say you're a conspiracy people say yeah yeah I'm sure and now when something is actually a big threat like COVID people say uh huh yeah it's just a media hype cycle.
[00:47:36] We lose our ability to take real threats seriously because it's just impossible to tell what's from what. So it's really dangerous. We again, we become inoculated in a way to taking things seriously because, or if you're totally crazed, you're taking every one of these things seriously. And then you're just in a constant state of fear, which is what a lot of this media wants you in.
[00:47:53] Yeah, that's
[00:47:54] Jordan Harbinger: true. The narrow cast media, as you label it in the book, right? Cable news shows, podcasts of a lot of types. Now give us it's this political junk food that gives us media diabetes.
[00:48:05] Tim Urban: Yeah. We all have political diabetes or yeah. Political
[00:48:07] Jordan Harbinger: diabetes. Yeah. And that is, it becomes more of a problem with the algorithms, right?
[00:48:12] Like if you listen to a certain political show, it's going to say, you might also like this, but those algorithms aren't like, Hey, you probably like to think about things in different ways. Here's the opposite perspective. It just goes, Oh, you listened to. This guy, you're going to love this guy and you're going to love this guy.
[00:48:27] And so I'm always kind of happy when I see that it recommends, you know, Sam Harris when it, in the Jordan Harbinger, I'm like, okay, cool. But other times I'll look at another political show and I'm like, Oh wow. It's only recommending shows on the right on this one app where I listened to like a couple of right leaning political podcasts and I'll use another app to listen to some more left leaning stuff.
[00:48:47] And it only recommends shows on the left. And I'm thinking if I weren't in the space, listening to both sides on different apps randomly because of convenience. I would only be seeing the ones that lean right or left.
[00:49:01] Tim Urban: You can test this so easily. You can. I did it by accident. Just open an incognito window in Chrome and go to youtube.
[00:49:08] com. And now it doesn't know who you are. But I've done this and it does seem blank slatey in that there's like a, some pop star music stuff. There's movie review. There's some like, you know, Mr. Beast something. And then there's political junk food of both varieties. So I'll see, you know, watch this person totally embarrassed Ted Cruz.
[00:49:27] And then I'll see, you know, Trump embarrass someone, right? So it's kind of serving you both and then. If you go and click on the Ted Cruz Gets Embarrassed one, you'll start seeing why AOC was right all along. You'll start to see Matt Gaetz, why he's a criminal. It'll also always be the really bombastic politicians.
[00:49:48] They're the characters on the reality show that everyone's addicted to. It's not real politics, it's a political reality show that the media has weaved together, using careful editing of reality. And certain characters are cast on the show, which is why everyone knows Matt Gaetz or AOC, Ted Cruz, these people are on the show versus, you know, I, uh, in my book, I give the example of Derek Kilmer, who is a Congressman.
[00:50:15] He's the head of the moderate Democrat caucus. He's a very important high level politician, super smart, nuanced guy, full of really good ideas. No one has heard of him because his entire thing is we need to compromise. We need to be nuanced. We need to have a long term view. The kind of politician that you hope is running the show and that he's not on the show.
[00:50:34] The reality producers, reality TV producers at CNN and MSNBC and Fox News, they say, Uh, no, he's incredibly boring. We're not casting him. It's the
[00:50:42] Jordan Harbinger: dating show where the couple that's not fighting is like, Well, we're not coming back for season two.
[00:50:47] Tim Urban: Exactly. The real politicians of Roshani, the real housewives of, it's a political version of that, right.
[00:50:52] So anyway, first of all, that's what YouTube's gonna show you, is those people. Maybe if I start, search for Derek Kilmer and I start clicking, I might start to see nuance stuff, but that's not what they show you right at first. And I start clicking on the bombastic thing, and the entire sidebar, after one click, all stuff for hardcore tribal left people.
[00:51:10] And then you click more and you click more, and it's just a long line of it, and it's endless. And then of course these things talk to each other. I'm sure if I did this and I was on Facebook and then Twitter and it's just, it's just all the same stuff. And then, of course, I tried the same thing for the other side, right?
[00:51:22] And it's the same exact thing. So you can test this really easily, even if you're trying not to. It's hard. That's why you have to make an active attempt not to, because you're not going to just get served up a nice, balanced plate. Now, there are some sites that are doing this, that are better at it, that are starting to try to be like, here's, uh, the news and here is...
[00:51:42] This story seems to be broadcast mostly on the left news, so this might be left biased. And this, I think we have some hope here with the same technology, algorithmic stuff, you know, smart AI that has been used to do the opposite of what we want can actually start to be used to give us like a trustworthy take on A, what seems to be accurate, and B, You know, with a confidence monitor of, you know, this seems to be accurate with 30% confidence for 60, based on just what the 10, 000 news, you know, that we've scanned, say, and what their track record is.
[00:52:11] And also, this seems to be a left biased story. This seems to be a right biased story. I have hope there, actually.
[00:52:17] Jordan Harbinger: How amazing would it be if you looked at an article in the New York Times and you read it and then you were like, hey, I want to counterpoint to this article that's credible, not just says the opposite thing based on nothing, but I want to counterpoint to this article.
[00:52:31] And then the AI will either tell you where to find it, or just tell you the counterpoints to poke holes in that particular piece. It's
[00:52:38] Tim Urban: just interesting too. It's so interesting. So, you ever heard of Intelligence Squared? Yeah. Okay. It's a podcast. Yeah, it's a podcast. It's now, it is now a podcast. It's also just originally just like a, an Oxford style debate.
[00:52:48] NYU, they host it, um, and it's just two on two, you know, almost always reasonable thinkers and they are locked into a high rung format where it's going to be civil and they're going to be, each have their time to talk thoroughly about what they believe and then they're going to debate for a while and then they're going to do their closing and I don't always know what I think at the end of this, but I always know a lot more than I did and I, I just feel like you round out the edges and when I'm hearing someone really strong opinion that sound really convincing.
[00:53:13] I'm dying to just for fun. I'm like, I want to hear someone go against them. It's just like watching, you know, imagine if you're just watching LeBron James, just dribble alone on the court and do tricks and, you know, and do cool dunks. That'd be a thing. Great. But I want to see him go against the best defender.
[00:53:26] Now that is entertaining, right? The best hitter. I want to put him against the best pitcher. Now we're, we're excited. Same thing. I, what I really want when I hear, you know, someone like Ben Shapiro is really cogent, has really good, but he's quite biased. A lot of the time it's like, give me someone else. You know, I saw, um, Cenk Uygur, I'm not sure I'm pronouncing his name right, the Young Turks guy.
[00:53:45] Oh, yeah. You know, really smart, really like well informed guy. So was Ben Shapiro. But both of them, I think, have a reputation for, you know, having an agenda. I'm being a bit biased, right? I just found some debate with the two of them going at it on, uh, on a stage on healthcare. And it was like, this is so much more valuable and more interesting than I ever would get from either one of these two people alone.
[00:54:06] I was like, give me more of this. Yeah. If one of them is saying something that's full of shit or straw money, the other one is going to definitely call him out and embarrass him so he keeps them honest. So anyway, I'm wondering if what AI can do one day, maybe soon, is manufacture a debate where it's like, the smartest and most proven, you know, accurate, but maybe biased sources on the right and left are saying about this, and now tell me what, how they'd respond to each other.
[00:54:29] You know, obviously we'd like to get real debates together, but in the absence of that, you know. Show me what the retort would be. I do this in my writing sometimes. If I want to, if I'm trying to make the case for something, I'll say, you know, so the, you know, I don't know, the Federalists said this and this and this, or, you know, the Capitalists say this and this, and then, and then the, but the Communists would say that actually, you know, you're misunderstanding this and this and this, but the Capitalists would say, well, you're not looking at history, and the Communists would say, well, that's not, blah, blah, blah.
[00:54:53] It's just, I just feel like, but I, I, yeah, I hope that we can have, like, something that does a really good job of it. I would love that. I
[00:54:59] Jordan Harbinger: think that you, you mentioned, can we get more real debates? The problem is those two guys, there's not that much in it for them to get up there with each other and debate in a civil fashion because they don't recruit new people to their camp that way, really.
[00:55:15] And even if they do, it's a small number. The money for them is in just blasting their particular agenda to the people that are already receptive to it. That's the problem. So for every guy like you and me who's like, Hey, I would love to see those guys talk on stage and I'll change my mind about some stuff.
[00:55:30] They're like, yeah, cool, but what I want to do is talk to the million people who already agree with me and then write a book about how the other side is a bunch of idiots and sell that for two million bucks. Yeah,
[00:55:38] Tim Urban: and like... You know, acknowledging all the nuance in the topic, which you have to do if you're going to have a, be a strong debater, is not actually helpful to what you're doing.
[00:55:46] You're trying to present a simpler story that this is, that these issues, they might have a lot of layers, but it's clearly that they are wrong about
[00:55:54] Jordan Harbinger: this, these issues. And here's, I can say this in a way that rhymes, that you remember, it sounds good on Twitter, and it's like, why would I frickin flesh that out to three paragraphs?
[00:56:03] I know,
[00:56:03] Tim Urban: and I think the ultimate effect of it is, you know, to use the cliche example, Fox News and MSNBC. They are ultimately on the same team in that they need each other. Fox News and kind of tribal right wing ness disappeared. MSNBC is out of business. That's right. And likewise. My
[00:56:19] Jordan Harbinger: notes, right? Like the grifters on the right and the left, they're
[00:56:22] Tim Urban: the greatest.
[00:56:23] They love each other. You know how much Donald Trump loves the woke mob? Do you know how much hardcore radical leftists love? Maybe they might not actually love Donald Trump themselves, but it is massively, it gives them so much clout and power and builds their army. And makes their extreme world view seem justified.
[00:56:42] Jordan Harbinger: But yeah, you can't have Antifa without the F. A. R. Exactly. You gotta have the
[00:56:45] Tim Urban: F. A. R. Exactly. And so these things are ultimately on the same team. And what I think that their battle royale that they're doing, that they're both making money off of or, or, or status or whatever, is like this, if the, a country like the U.
[00:56:57] S. is an organism trying to trudge its way up a hill towards a better nation. The city on the a more perfect union, right? And towards a better future. This kind of, you know, vigorous debate and compromise and, and science and, and, and the actual scientific method and these things kind of slowly push the country up the hill.
[00:57:15] It's like a ball and chain coming from the other side and the really tribal war that goes on isn't two sides fighting each other. It's a, it's like, or it is, and then you can zoom out and you see that it's wrapped in this thing, which is a big ball that is pulling the country down. So that battle as it escalates is just this weight that pulls the whole country down.
[00:57:34] And that if you care about the country and you want to go up the hill, you have to realize that like, there's not one of these that is like, it doesn't, maybe, you know, people are like, Oh, don't do both sides and they're not, they're not equal. It doesn't matter if they're exactly equal. It's the vibe. It's the concept of the culture war is the antithesis of progress, uh, and, and it will undermine all progress on any side you are on.
[00:57:57] Jordan Harbinger: This is the Jordan Harbinger show with our guest, Tim Urban. We'll be right back. This episode is sponsored in part by BetterHelp. You ever find yourself lying in bed staring at the ceiling while your brain decides it's the perfect time for a mental sprint about that thing that happened that you can't get over and maybe that thing was five years ago?
[00:58:13] Yeah, it's a little annoying. If you want to get out of those negative thought cycles and keeping you up at night, try BetterHelp. It's entirely online. The last thing you need is another place to physically be at a specific time. And maybe that's something you should talk about with your therapist if you can't handle that.
[00:58:26] But with BetterHelp, your therapy room, eh, it's wherever you are. Especially if you're having a hard time just getting out of bed, which... That happens to the best of us. You can do therapy in your pajamas, in the comfort of your home, no driving, no parking, and one of the greatest features is the matching process.
[00:58:39] You fill out a brief questionnaire, they'll do their best to pair you up with a licensed therapist that fits your needs. If for any reason you feel like your therapist isn't a good match, you can switch. No questions asked, no extra charge.
[00:58:50] Tim Urban: Get a break from your thoughts with better help. Visit better help.com/jordan to get 10% off your first month.
[00:58:56] That's better, H E l p.com/jordan.
[00:59:00] Jordan Harbinger: This episode is sponsored in part by Airbnb. Whenever we travel, we enjoy staying at Airbnbs. I love that many properties come with amenities like a kitchen, laundry machines, free parking that's not freaking 60 bucks a night. Having a backyard is nice, especially when we bring the kids around.
[00:59:14] We've stayed at an Airbnb in Kauai that had like an outdoor shower, so we built one at our own house as well. And we find that Airbnb hosts often go the extra mile to make our stay special. They provide local tips, personalized recommendations, sometimes a welcome basket. I know you guys are sick of my banana bread story, so I'll spare you on this one.
[00:59:32] There are a lot of benefits to hosting as well. You might have set up a home office. Now you're back in the real office. You could Airbnb it, make some extra money on the side. Maybe your kid's heading off to college in the fall. You're going to have that empty bedroom. You could Airbnb it. Make a little cash while they're away.
[00:59:47] Whether you could use a little extra money to cover some bills, or for something a little more fun, your home might be worth more than you think. Find out how much at airbnb. com slash host. This episode is sponsored in part by NetSuite. We've been doing this show for 16 freaking years, and along the way we're continually refining how we get things done here.
[01:00:04] It seems like there's always a major project every year to ramp things up and make sure that we're doing the most efficient work. The Daily Grind isn't just creating what I hope is great content, there's nitty gritty stuff like accounting, managing a production calendar, managing the team, payroll, all that stuff that I, you know, don't really want to do.
[01:00:21] You don't want that to get lost in the manual labor maze, trust me. And when everyone on your team is using a hodgepodge of tools and services, it is like a rusty old thing and more like trying to herd cats, digital cats. But you know who's got your back? NetSuite. If what I'm saying has you nodding along, then etch these three numbers into your brain.
[01:00:37] 36, 000, 25, and 1. Well, at least you don't have to etch them in there, really, because it's going to be like a few seconds until I tell you what they're all about. Why 36, 000? That's how many businesses just like yours are already using NetSuite to completely revamp their operations. Now you can forget that number.
[01:00:51] 25? NetSuite has been in the trenches for a quarter century, always iterating to meet evolving business demands. Now you don't need that number either. And the big numero uno, that's one in Spanish, because your business is singular, unique, unlike any other. And that's why you need a tailored solution, all wrapped up in one neat package.
[01:01:06] And that is NetSuite. Right now, download
[01:01:08] Tim Urban: NetSuite's popular KPI checklist, designed to give you consistently excellent performance, absolutely free, at netsuite. com slash jordan. That's netsuite. com slash jordan to get your own KPI checklist. netsuite. com slash
[01:01:21] Jordan Harbinger: jordan. If you like this episode of the show, I invite you to do what other smart and considerate listeners do, which is take a moment and support our amazing sponsors.
[01:01:29] All of the deals, discount codes, and ways to support the show are at jordanharbinger. com slash deals. You can also always search for any sponsor using the AI chat bot on the website at jordanharbinger. com slash AI. Thank you for supporting those who support the show. Now for the rest of my conversation with Tim Urban.
[01:01:48] It's scary because I don't see how, I really don't see how it gets better. I want to take a little bit of this. I'm going to do a blue box like you do on your blog. I want to ask what your thinking process is like, because I'm basically trying to ask what you do all day without sounding rude, uh, and I don't know how to do that, however you want, but I, I know you write a lot, but do you write as you think, or do you outline everything and you're, and, and think as you write, or is there a lot of, like, Staring at the ceiling and you're like, yes, that, and then you write it into a little thing and then you eventually flesh it out.
[01:02:18] What does it look like? So
[01:02:19] Tim Urban: for a blog post, which is what I did a hundred of before I was got into this book, it's short enough and bite sized enough that I can read and read and read and research and just soak in an idea. I don't even like, it's not even that methodical. I'm just gonna go on rabbit holes and take nuggets from those rabbit holes and save them into a doc or highlight them in Kindle or whatever.
[01:02:40] And as I'm doing that, I'm percolating, I'm thinking, and I'm, I'm starting to come up with a story, some, the things that gave me the dopamine, like, oh, that's an interesting parallel, I never thought about, okay, that, that's a good thing to keep. And then I'll sit there and look at everything after a week of that, or maybe it's a month of that, depending on how big the project is.
[01:02:55] And I will be like, what's the story here? What's the game? What's the, how do I want to present this now? Because I took me X amount of hours to learn it. Now let's like, how would I present that to someone so they can spend way less time and get the same thing? Because now that I know all the things I want to say, let's, how can I efficiently get it across and, and fun, make it fun to, to, so then I'll do an outline.
[01:03:14] You know, it's like, what's a clever outline here that's going to rope people in, that's going to be sticky and they'll remember the key things. And then I'll write and then I'll draw and then I'll revise and whatever. So that, that's what I thought. Okay. My process was for also, I started doing a book and I tried to, okay, I'm just going to read and run and make this big grand outline and then I'm going to write the whole thing and it just doesn't, it's not the right process for a book, you can, you have to do it in like back and forth, you can do some general reading, have an idea, make a very kind of general outline, I think Steven Pressfield says, Something about how, um, your first outline for a book should be something you can write on a single page of a yellow pad.
[01:03:51] You know, just like you can just write on if it's longer than that. Like it's, that's a very good piece of advice. Mm-hmm. , because my outline for this book was as long as a book, honestly, almost. It was just because, and, and it was long and it had, it had, it's terrible. It had all these thoughts and caveats and then I, and you get to the end and you feel, I'm feeling, I'm writing it and I'm now, now that I'm writing, I'm realizing, ah, now, now, now that I'm, there's a more fun way to do this and I have to, so, I'm doing in a book now, another book, and I'm, I'm, I learn from my mistakes.
[01:04:16] And so my process for a book is make a big, broad outline, something you could tell someone about in a minute. And if there's questions about what actually is going to go in each section or how is this going to work, that's fine. You'll figure them out later. And then chapter one or whatever you want to start with.
[01:04:33] Also, you can't also research everything because that'll take six months and by the time you're done you forget what you researched at the beginning. Research for me is not just collecting the info. It's like I'm learning something and I'm very fresh on it, right? When that's the time when I want to write, I'm really fresh on it.
[01:04:45] It's in my head. A few months later, if I'm coming back to that research I did, I forget the things I learned. And yeah, and even if I have it written down, it's like I forget all the insight that was really fresh in my head right when I did that. So we research each chapter, even each part of each chapter as you go and just try to like pump out a few pages.
[01:05:02] Research a little bit, pump out a few pages, research a little, and then the out, and then, okay, now I need to go back to the outline, and this next subsection, I think, is just a list of things, let me, let me actually outline, but that's a little manageable thing, that's like a blog post, so you can outline that more thoroughly, now you go write it, you can do some research as you go, so that, that to me, it's more of a dance between the research, the outlining, the writing, and the writing.
[01:05:20] The revising, you know, all of that, and then, uh, so, that, that's, yeah, that's the
[01:05:23] Jordan Harbinger: difference. It seems, cause the, you do a good job with the blog, especially of making it seem like you're just talking. If you told me, I just typed that and then I checked for spelling, I would believe you. Which is, I think, a good style, an interesting style to have, but there, I thought, there's no way that that's really what's going on.
[01:05:41] It's too complicated.
[01:05:42] Tim Urban: Yeah, I mean, that, that's a separate thing, which is just the style I prefer to communicate in. I hated writing in college, you know, I hated writing those papers. It just had, it's not fun. And in 2005, I started a blog on blogger. com, a blog spot, you know, sure. There was no rules, there was no pressure, it wasn't my main thing, I wasn't, I think it was actually helpful that I wasn't, I'm like, I'm a writer, I'm a great writer, I'm gonna go and be a writer publicly, or this isn't gonna, I'm starting my career as a writer now, I think that would have been much harder, more daunting, and I was like, I'm not a writer, uh, I'm blogging as a side procrastination project.
[01:06:23] And I'm basically doing it for my friends, who are the only people that were reading it at the beginning. It was just like, I have an idea and I'm gonna go like, write it in a funny way. And I was like, this is so fun. And so it was the ultimate casual tone. You could be totally creative because there were no rules, no preconceptions.
[01:06:36] And I think that was a nice, that's a good creative zone, actually, to be in. You end up like, uh, exploring and experimenting and. Being weird because you're not, you don't care about whatever the rules are, how a writer's supposed to, you're not even a writer, you're just having fun, so that blog got a little bit bigger, and then Wait But Why started and that got bigger.
[01:06:53] And sometimes I forget, you know, actually my wife, one of the things she's really helpful for, because she thinks the old blog is still my best writing. She's the equivalent of like, someone who has, you know, a band that has their, you know, bigger albums, and then she goes back and likes, like, the first album.
[01:07:05] So, but she, but she's like, she's like, a hipster. She thinks it's my, yeah, she's like a hipster. She's like a, a, a me hipster. She thinks, um, that's like my funniest and most original writing, which might be true.
[01:07:14] Jordan Harbinger: It kind of like, Oh, see, your best work is behind you, son.
[01:07:17] Tim Urban: Yeah. She's, she's me. Yeah. You know? So she also thinks that the best moments on Waypoint Wire when I'm really in that certain kind of tone.
[01:07:23] And so one of the things she'll do is remind me like, you're not sound if I say like, you know, but you know, however, calm up. She's like, however, Yeah, what is this? That's not your writing tone and she's right and so it's really helpful to like have someone point that out and I'm realizing I'm like, yeah, you could, it's easy to lose that vibe, that zone you're in and I, uh, you know, this would go for like a public speaker or for a lot of different kinds of people who do certain things where there's a tone.
[01:07:45] The tone can be fragile and like, it's easy to drift away from it without realizing and stop having fun without realizing and then you have to remind yourself and get back into it. Maybe have a few drinks and like, lighten up. I was gonna say, whiskey
[01:07:54] Jordan Harbinger: helps with this all the time. People will, I notice the same thing.
[01:07:58] I get a lot of feedback on the show and if I'm sick or something people will notice, or if I'm struggling with a certain topic, people will notice. But yeah, sometimes the answer is like... To go for a walk or have a frickin old fashioned or something like that. The problem is, you know, you don't want to do that every, you don't want, this show is four
[01:08:16] Tim Urban: times a week.
[01:08:17] But sometimes just, sometimes, sometimes like a little can snap you back into it and then you can stay in it. Another example I would use is like, when I do do public speaking, like the first time I do a certain new talk, it's often the best one or at least it's the funniest one because, or sometimes I'm just in a funny mood and I'm just kind of off the cuff and having fun with the audience.
[01:08:37] And I'll like... Make a side comment after a certain slide and they get the biggest laugh of the thing. So then what I wanna do is I wanna, oh, I'm gonna now put that in there. Yeah. It's, it's worked into every talk. And what do I find is it's not getting the same laughs and some point, and I kind of hate saying it.
[01:08:50] I'm realizing like, I don't even remember why that was so funny that time because I'm not in that zone anymore. So cut that, stop that, and loosen up and tear some stuff apart and change the order and, and all of this freshness comes out again. And I think it's the same, same idea. Sometimes you have to just.
[01:09:07] I don't know, you can get really stuck in a rut, uh, and you're not really being your best
[01:09:10] Jordan Harbinger: creative self. That's so interesting. Alright, so end blue box, uh, to steal a little crib from you. I'd love to talk about concept creep. How definitions have changed and shifted over time to encompass things that aren't, that are not bigotry or racism or Nazism.
[01:09:23] And Ryan Holiday and I were talking about this a while ago. I can't remember the exact example, but it was like, these people are Nazis. And Ryan was, I said like, what do you think when people say that? And he goes, I don't like it because then what word do you use for actual
[01:09:38] Tim Urban: Nazis? Boy, you cry wolf. You know, like if you're a Nazi, your best friend is that suddenly everyone's a Nazi.
[01:09:43] You blend right in. Right. Racism is the ultimate example right now. I mean, it had, that word has no meaning anymore. Mm-hmm. , I mean, it has, has very specific meaning to different groups. So I grew up in a progressive suburb, and the worst thing you could possibly be called was racist. It was like if, if you were called a racist, like it was like the most damning possible thing.
[01:10:03] So then that word has a lot of power, the weight, the gravity, that, that word carried as a child. And then, what happens is, whether it's a radical ideology, uses the word to mean something very specific, but it, it's a different thing. In kind of woke ideology, racism is unequal outcomes, is a racist system, because it's producing unequal outcomes.
[01:10:26] It's not about individuals. It's a systemic thing, like it's in the water, and it's producing bad things. Which is a totally fair concept, like I'm sure in a society with norms and history. There's all kinds of subconscious things going on, and there's systems, and there's historical things that go on that produce, that hurt certain groups, and help certain groups, so that's fair, but to use the word racism for it specifically, to me that's a little bit sneaky, because it's saying, We want people to take this thing so seriously, what we're saying and to make it so taboo, to not agree with us about this, that we're going to use the most powerful word in the eng in, in the American English language, uh, the most powerful taboo.
[01:11:05] And basically, if you don't fix this system, you know, if you're upholding the system or participating in it, you are racist. If you disagree with these things, it's because of your racism. What it does is it cheapens the word. It takes that power, that gravity, and it, for a while, that gravity's still there, but it's being applied to lesser and lesser things, so throwing like a heavy ball, and it's knocking people over, and it's working, and it's really, you can use it as a weapon.
[01:11:30] But when you use it so much as a weapon and, and abuse it, what happens is the ball gets lighter and it carries less power and getting called a racist doesn't mean that much because, you know, we saw that guy over there get called a racist last week for saying, you know, something that is, that basically would have agreed with Martin Luther King would agree with it, you know, and, and this person saying this and they're saying that, you know, that Hispanic people who voted for Trump are actually, you know, white supremacy adjacent.
[01:11:53] So now white supremacy is losing its meaning. There are white supremacists and there is a white supremacy see. Mindset and it's parts of the country and it's dangerous and bad and who knows where that is anymore because it's been used on anything if you, you know, the flag itself is a symbol of white supremacy.
[01:12:10] So it doesn't mean anything, right? So that's a classic recent example. There's a million examples like this trauma. You know, PTSD, people saying, you know, in trauma, I was traumatized from this. And, you know, that teaches people to be actually feel more traumatized by small things that happened to them because you're using this trauma is an extreme, you know, PTSD was, you know, a term that came up after World War One, you know, it's like shell shock and like people who saw their friend's head blown off.
[01:12:33] I mean, it's a really intense concept and to use that because you were groped at a frat once, it's like that sucks and that's bad. But to tell that person, no, you were traumatized by that. They're going to start to feel trauma, they're going to feel troubled, they're going to feel, you know. So it's not that to invalidate these things, it's that when you go to the most extreme word, Nazi, racist, white supremacist, traumatized, violence.
[01:12:56] This is an actual thing, you know, that disagreeing with someone is. is invalidating their identity. It's violence against them. It's erasing them. These really intense concepts for simple disagreement. It is Boy Who Cried Wolf. It totally is the best friend of actual white supremacists and Nazis and things like that.
[01:13:13] Um, and violence, actual violence now seems like it blends in because there's violence everywhere, apparently.
[01:13:18] Jordan Harbinger: Words can be violence now, according to, well, depending on who you're
[01:13:22] Tim Urban: asking. Absolutely fascist. So I'm giving all these examples on the left. There's a million of these examples on the right too, you know, and Trump called the election, the insurrection.
[01:13:31] He said the insurrection, you know, the January 6th was the protest. You know, he's calling what has very little evidence for any foul play. And I really looked into it. I was open minded. I was like, let me look at all of his claims. And every one of his claims, it's like, nope, because you said that there's more votes here than there was, but that was the state vote, not the county vote.
[01:13:49] That was just using the wrong number for it. There's everything like this, just full bullshit. And to call that, you know, an insurrection, you know, it's one of the most intense words in American political, you know, language you could use as an insurrection. So, yeah, and of course, you know, you've got, there's a lot of very complicated things going on with trans movements.
[01:14:08] You know, the normalization of transgender and then whether, you know, treatments should apply to kids. It's complicated, super messy, complicated issues. But, on the right, you're going to hear anyone who's making an argument that doesn't fit with kind of the right wing view is going to be a groomer. And on the left, anyone who doesn't make an argument, doesn't agree with it, is going to be a transphobe.
[01:14:26] And so, groomer is a nasty thing to be called. I mean, who wants to be a groomer? It's essentially, it's being a pedophile in a way. It's not quite, but it's really close to that. It's a pre pedophile kind of thing. Yeah, it has a sexual undertone, and even if it's just political grooming, you are abusing children, you know?
[01:14:42] And transphobe. On the left is again, it's in that category of those words, homophobia, racist, white supremacist. Misogynist, these words that signify you are an awful, abusive person, and it has a lot of history in the U. S. When you're a phobe, when you're a racist, these, in the U. S., the history of that means like, you know, we grew up being trained on, those are the worst kind of people, so, this is concept creep.
[01:15:03] It's the idea that, now, it's not all like, you know, These groups are necessarily all consciously being like, ha ha, we're going to use this word, and that's going to, no, it's not, that's, what happens is, some of the science behind this, um, Nick Hoslam is the, I think he wrote the original paper on concept, coined the term, I think he coined the term, you know, he talks about how it's a natural thing that happens when times get better.
[01:15:23] It's almost like we, in our heads, we want to keep our level of, our perception of how bad things are, and the threats, we want to, almost like we have this instinct to keep it constant, so when times get better, in order to keep that constant, you have to change something else. You have to make, so. What I'm trying to say here is like a
[01:15:42] Jordan Harbinger: threat goes down, but the vigilance has to stay the same.
[01:15:44] So you basically create another threat. Yeah,
[01:15:47] Tim Urban: fill the holes. You don't want to a, I think there's always an urge to have activism of different kinds or an urge to, you know, fear monger. But also I think that genuinely people think that if you get complacent and you start saying, Hey, things are better, there's less racism.
[01:15:58] And then there's your people are going to stop trying to fix the things that do remain and which there are, of course, always are concept creep is a way to. You know, even just like poverty, you know, and, and, and oppression, you know, and these words when, when there's less, there's for sure less oppression than there was 60 years ago in the Jim Crow South.
[01:16:16] And there's definitely less poverty, right? And all these things. Abuse, you know. So what you do is you, if you're a progressive movement that's trying to mitigate injustice, you're going to take these words of injustice and expand their definition vertically to lesser offenses, and horizontally to different kinds of offenses.
[01:16:32] So like I said, racism, to expand it horizontally, you start saying it's not just a person who has prejudice against someone of a different race. It actually is a system that produces unequal outcomes. That's expanding the definition horizontally, but also you could expand it vertically to say not just is it, again, prejudice, but actually colorblind saying that, you know, you believe that you should be colorblind, like microaggressions is the thing that comes up for me.
[01:16:55] So, so, and, and, and even that, what counts as a microaggression gets lesser and lesser saying, you know, saying this is the, one of the classic examples that is, that people say is a microaggression is saying this is the land of opportunity. Because it implies that, you know, uh, there's a quality of opportunity, whatever, saying that, um, you know, there's only one race, the human race, which is what I grew up hearing.
[01:17:12] That's what a good person is supposed to say. I think like
[01:17:14] Jordan Harbinger: Jesse Jackson said that or something
[01:17:16] Tim Urban: like that. That is now considered a microaggression. And so there's kind of two dimensions of concept creep. And what it does is it can have a good. The good can be that you now pay attention to more nuanced things.
[01:17:28] They're microaggression. Again, it is a real concept where. You know, the classic example is, I don't know, saying to, I don't know, just making a stereotype about a black person, an Asian person. It's rude and it also is just, um, it diminishes the individuality of that person, right? So, okay, we don't have maybe the Jim Crow stuff going on, but now let's pay attention to some of these more subtle things that are baked into the norms.
[01:17:51] You know, subtle ways that people judge implicit bias type stuff, you know, okay, good. Let's actually do that. But of course I think the negative is outweighs
[01:18:00] Jordan Harbinger: the positive. It just seems like the definition can expand infinitely. And that's a problem. I think Sam Harris, again, this is all fresh in my head.
[01:18:07] He brought up an example of. I may get this wrong. He had said that this African American woman's hair was really awesome because I guess it was just like really, I don't know. I actually don't know. I think it was, there was a lot of it and it was like very unique and he said that or somebody said that and she was like, that's a microaggression, but it was just like, shit, man, it was just compliment.
[01:18:27] But it turned out to be something that made her feel othered or whatever the rationale was. And it just, it's a little scary that you can get that far when the intention of something was actually
[01:18:36] Tim Urban: good. Yeah, I think. Yeah. If there is baggage there, historical baggage for a reason that would make her feel that way, well, I think the appropriate thing or the productive thing is for her to say, I know you meant well, but let me just tell you about why this rings badly for me and probably for other people too.
[01:18:53] That's like totally reasonable, right? But the term microaggression right there, it's this idea that it's intent doesn't matter. It's impact, right? That's another tenant here, which is like, you know, the impact you made is that doesn't matter if you meant to do or not. You're bad. You did something bad as opposed to being like, no, your intention was good.
[01:19:07] And that's. It's all that matters. Not, you know, your impact still matters, but like, from your point of view, or for how I view you, it's, you intended well, right? So A, I think that, again, the concept of migration and the way people talk about it is not productive. It's that, in some ways, this guy should be punished for it, and this guy is, you know.
[01:19:22] But also, I think that framing things that way trains someone like her to feel more grieved by that than she would have otherwise. Part of the get into this mess is because these topics have such landmines on them. To me, it's like we should be able to talk about this and I would love people to tell me in thorough ways what I'm missing and like we should, I don't know.
[01:19:43] I'm going to get those emails instead. I'll forward them to you. I think, I think that, that there's a self fulfilling prophecy with the victimhood mindset and you encourage that and it makes, it actually makes, creates more pain from there.
[01:19:55] Jordan Harbinger: Yes. You mentioned in the book some other terrifying results of I guess you would call it censorship or at least the, the ideology, the idea, the idea supremacy, not just on college campuses, which I didn't think was as real as it was.
[01:20:09] I went to go interview Jonathan Haidt. This is a couple of years ago now, probably even pre pandemic. And we're talking about, you know, his book that talks about a lot of these issues with censorship and academia. And I go to the bathroom before the show, as I tend to do four or five times, and there's a poster in the bathroom.
[01:20:26] That says, did somebody say something that offended you? Report them anonymously. And I thought it was a, like a fake 1984 propaganda poster that some student group had made, and I was like, oh, I wonder what this is for. So I brought it to him, and he's like, oh yeah, these are everywhere. And I was like, well, what is it?
[01:20:41] And he's like, well, it's, it's what it says. Somebody offends you, report them anonymously. And I, I couldn't believe that that was real. It's such a bad idea to be able to do something like that. I, at least as it occurs to me, and he, that's exactly what he was talking about. And you mentioned in your book that academic journal articles are being retracted with real science are being retracted.
[01:21:05] Because they, they make people uncomfortable, I guess is for
[01:21:09] Tim Urban: lack of a better word. It stems from this mindset that disagreeing with kind of an orthodoxy is violence, is dangerous. No one who's enforcing orthodoxy ever says, we're enforcing an echo chamber because we don't want to hear disagreement. They don't say that.
[01:21:23] They say that. Ideas that disagree with this, uh, you know, this set of ideas are dangerous and violent. They, uh, concept creep, they use this, they take these words that we all know violence is not okay. Everyone agrees with that. These sets of ideas or this kind of offense, if you can equate it with violence now, we should treat it like violence and we should get rid of that professor and actually punish people for doing it, which of course makes everyone get really scared and doesn't make people get most people just stop teaching controversial things and stop saying them in class and and enforces a culture of fear, which is not new.
[01:21:58] Every orthodoxy in history. Every kind of tyrannical, uh, situation has had these rules, and so we're just seeing classic human stuff spring up in a way that, uh, wasn't happening as much 10 years ago, and so it's this idea that, like, instead of saying, you're on a college campus, It's going to be massive ideas here and you're going to definitely feel offended some of the time and that's, you know, that's, I mean, it's, that's part of the growth process.
[01:22:24] Yeah, and it's like, that's the cost of being in a place that's going to make you a better, more rugged, nuanced thinker and you're going to know so much when you leave instead of saying that and saying, you know, offenses, sometimes it happens, you know, it's, it's. If you're in a mess of ideas, you're going to have some ideas that you hate, that you think are just, like, wrong, and you can't believe that person thinks it, but it's a wide open space, so go and, like, tell them why you disagree, or write an article about why it's wrong, and attack the idea.
[01:22:48] Instead, they're saying the exact opposite message, which is, you have a right not to be offended, we have a duty to protect you from that, because offense is harm. And if you feel that way, tell us and we will punish the person who's offending you. It's just crazy that I'm even, like, saying this stuff. Like, this to me is, like, it does seem like a fiction book.
[01:23:06] It's like, it is so obviously not how a college campus should be. That's what's so crazy, is there's so many of these things that I'm like... And I would say the same thing when I was watching, like, Trump in office, like, just spouting out lies. I'm like, this should so obviously disqualify him from, like, winning the election or...
[01:23:20] There's times right now when I'm like, this is so clearly bad and juvenile and, like, ridiculous and counterproductive, and yet, it's happening for years on end. And no one seems to be able to make it stop. And so it's a weird time we live in when it's like, it must have been what it felt like during some of these other times that, you know, you know, things got even more extreme.
[01:23:39] But these times in history when you had witch hunts and mobs and, you know, tyrants take over and you assume that everyone then was just like, that's how things are. But people must have been like, what's going on? This is crazy. Or since everyone's gone nuts and that's, it's just some, that's, it is feel like a little bit like one of those times.
[01:23:52] It's terrifying.
[01:23:53] Jordan Harbinger: I know we're running out of time. Uh, I really want to thank you for coming all, All the way from Brooklyn to do this interview to Manhattan. But what I like about the book is that it skewers both the liberal left social justice side of thing, the classroom indoctrination, the conservative ideology.
[01:24:10] You're basically making, just making friends everywhere. I assume the emails you're getting about this are,
[01:24:16] Tim Urban: but honestly it's like what I'm criticizing is what I think is a movement that wears the uniform of social justice, but is not actually represent social justice and they're not, not the traditional like liberal social justice that created.
[01:24:27] The women's suffrage movement and civil rights and gay marriage. So I'm very pro social justice when it's the liberal version. Regardless of what I think, like, I'm all in favor of, like, what I would consider, like, high minded conservatism. Like, Reagan conservatism. I think it's great for the country to have some of that.
[01:24:43] And what I'm criticized is like, you know, Trumpian kind of, um, non conservative, it's not conservatism, but where's the uniform of conservatism? So, what's interesting is I'm actually, I'm making a lot of enemies from the tribes that I'm criticizing. But I have people that are both Reagan conservatives and Obama Democrats and people who are passionate civil rights people or who are staunch libertarians who are, All saying I get a lot of positive emails from those people from across the spectrum being like, yes, I think we know we need and then I'm getting a lot of, you know, negative emails from people who are very caught up in the tribes that I'm criticizing.
[01:25:14] Yeah, man, I would love
[01:25:15] Jordan Harbinger: to have you come back. I would love to talk about AI, the Fermi paradox, all that stuff. So if you if you were able to do that in a few months after your move. Welcome back anytime. I would love to come back. Yeah. Thank you so much.
[01:25:26] Tim Urban: Thanks. Of course,
[01:25:29] Jordan Harbinger: I've got thoughts on this episode, but before I get into that, here's a sample of my interview with Guy Raz, who hosts NPR's How I Built This.
[01:25:37] He shares his number one secret to getting a great interview, how asking difficult questions during the interview serves both the overall story and the guest being grilled. And it's kind of nice to just riff with somebody else in the business. Here's a quick bite. I came to NPR
[01:25:51] Tim Urban: as a 22 year old intern.
[01:25:52] I was very lucky, you know, I really wanted to be an overseas reporter and the stars were sort of aligned in the right way where, um, I got the job. And I was totally terrified. You know, I was sent to Berlin to be the correspondent for NPR. Don't mess this up. Oh yeah,
[01:26:08] Jordan Harbinger: and by the way, you're going to Bosnia tomorrow.
[01:26:10] And that was how I began,
[01:26:11] Tim Urban: overseas as a foreign correspondent. Bearing witness to historical events, being somewhere where they're unfolding in front of your eyes in real time, is thrilling. It's absolutely extraordinary and fascinating. I mean, imagine if you were standing at the Berlin Wall on November 9th, 1989.
[01:26:30] It's an extraordinary feeling to be in these places. And I was able to witness history unfold in front of my eyes many, many times. If there's really a secret to interviewing people, this is my secret. If you really want to get a good interview from somebody, you need to honor their story. You need to honor them.
[01:26:49] If they're coming to talk to you. And the way you
[01:26:52] Jordan Harbinger: honor them is you learn a lot about them.
[01:26:54] Tim Urban: You spend the time. You do the work. And if you do that, there's a better than 50% chance that they will appreciate that and respect that. I mean, those wow moments, they're real, because what I do in an interview is, I completely leave the world that I'm in.
[01:27:12] I completely leave the surroundings, everything, all the chaos, the noise, you know, Trump and politics. I just leave it. It's out. It's all the noise. COVID, it's gone. It's like when
[01:27:22] Jordan Harbinger: you see a movie. I am just in that person's world. For more, including the one teachable quality all entrepreneurs seem to have in common.
[01:27:31] Check out episode 404 of the Jordan Harbinger Show with Guy Raz. This is going to be one of those where, let me just get this out of the way. Shout out to everyone giving me one star reviews because they don't like what one guest in one episode of this podcast had to say about one thing political.
[01:27:48] Anyway, we want to get to the idea where we are in an idea lab as opposed to an echo chamber. This podcast itself strives to be an idea lab. There's lots of money. In media echo chambers, we've talked about that on the show before, I, I say this all the time, probably too much, I'd be a lot richer if I just argued for one side or one tribe on this podcast, and even more so if I stoked anger against the other side.
[01:28:13] Why Our Primitive Mind Seeks Out Those Echo Chambers is something that Tim covered here on the show and covers even more in depth in the book. It's really disturbing how there are academic journal articles that essentially hurt people's feelings, and those are being retracted. He's got examples in the book.
[01:28:28] But man, there was an experiment where the researchers wrote shoddy papers with questionable methodology that conformed to prevailing social justice narratives. And those papers were approved, even though they were blatantly nonsense in terms of scientific rigor. And this is dangerous. Imagine making science about feelings.
[01:28:47] Science, of course, is not about feelings. Overturning sacred cows and moving human knowledge forward. Not protecting prevailing narratives or protecting people from truth and inquisition. Distrust in our institutions is one of the greatest threats to national security. We just haven't been through hell like World War II survivors have.
[01:29:07] So I think we forget the principles laid down by those people that prevent future hard times. We circumvent them, we think we know better, and we end up reliving history. Not great. The digital cudgel is something that we mentioned as well during the show and I'm very cognizant of this as a podcaster.
[01:29:24] Imagine a podcaster who expresses a point that somebody else who got cancelled also expresses. Even if the point is good, that point is now toxic, which makes that podcaster now toxic. Now that person can't be associated with other folks, then they'll be tempted to stop going on that podcast. So then people stop collaborating with them, it becomes harder for them to get guests, and everybody around that just ends up radioactive.
[01:29:47] A discussion shuts down entirely all because one person was maligned unfairly or, or fairly, but not simply because of how radioactive and contagious this cancellation all is. This is really scary. It's a tiny part of the population reacting to this sort of thing. All the outrage that you see online, it's like a fraction of a percent.
[01:30:07] They just have a crazy loud voice due to social media and when one person gets canceled and then that taints the media that they're on. It's like a bank run on someone's reputation. And that's a nightmare for somebody in my position. It really is. So as important as it is to make sure that we resist this, it can be very difficult to do.
[01:30:27] That's one of the reasons I essentially have opted out of social media entirely. I see people call me out for things on there and I can just ignore it because it doesn't really matter. People can gang up on me. all they want, but if they don't get a reaction, it's not as fun. And so me not really partaking in that environment makes me harder to cancel.
[01:30:45] I think a lot of folks partake in social media because they're like, I got to be able to fight back. I got to be able to say my piece. If you just don't give that nonsense any oxygen, it's actually a better defense in my opinion. The book has a lot of practical exercises where we can find out whether we or those we know are using low rung thinking, caught in low rung thinking or speech.
[01:31:04] Things like being more authentic, discussing more, finding your idea lab among your friends, and refusing to engage in North Korea style, in Mao Zedong style struggle sessions online or at work. And ending up worse than you were before. I think one of the ideas that people are resistant to is apologizing for something when you have done nothing wrong.
[01:31:25] And I understand that. I think a lot of places, they want to sort of make everybody feel better, so they encourage you to apologize. I see this with media figures a lot. Actually, it makes things worse almost universally. Doesn't mean you shouldn't apologize when you do something wrong or crappy or say something terrible.
[01:31:41] But I think there's this sort of idea that we need to fall on the sword all the time, and that's unhealthy as a society, whether you're in the media or not. All things Tim Urban will be in the show notes at jordanharbinger. com or just ask the AI chatbot also on the website. Transcripts are in the show notes.
[01:31:57] Advertisers, deals, discount codes, and ways to support the show are all at jordanharbinger. com slash deals. Please consider supporting those who support the show. Also, our newsletter. Every week the team and I dig into an older episode of the show and dissect the lessons from it. If you're a fan of the show, you like the highlights, the takeaways, or you just want to know what to listen to next, the newsletter is a great place to do just that.
[01:32:17] jordanharbinger. com slash news is where you can find it. And hey, don't forget about six minute networking also on the website at jordanharbinger. com slash course. I'm at jordanharbinger on both Twitter and Instagram. You can also connect with me on LinkedIn. This show is created in association with Podcast One.
[01:32:32] My team is Jen Harbinger, Jace Sanderson, Robert Fogerty, Ian Baird, and Gabriel Mizrahi. Remember, we rise by lifting others. The fee for this show is you share it with friends when you find something useful or interesting. The greatest compliment you can give us is to share the show with those you care about.
[01:32:47] If you know somebody who's engaged in high rung thinking or low rung thinking or complains about either one of those, definitely share this episode with them. I hope you apply what you hear on the show so you can live what you learn. And we'll see you next time. This episode is sponsored in part by The Newsworthy.
[01:33:03] Here's a podcast gem to add to your playlist. It's called The Newsworthy. It's from my friend Erica Mande. She gives a daily digest of world happenings compressed into a convenient 10 minute weekday segment. Every day, The Newsworthy efficiently curates the global pulse. It's not limited to the serious and often overwhelming news we're so accustomed to blasted into your face or ears.
[01:33:23] Alongside the pressing headlines of the day, it's a mix of tech buzz, business trends, Entertaining bits that add color to your knowledge palettes. The magic lies in how Erica condenses the content into a digestible time frame. Also, they're unbiased as much as you can be, so you're guaranteed a factual report alongside balanced perspectives.
[01:33:40] Add The Newsworthy into your morning ritual for a 10 minute enlightenment on the day's events. Just search The Newsworthy in your podcast app or go to thenewsworthy. com to start listening. Again, search for the podcast The Newsworthy, two words, The Newsworthy, to make staying informed easier and more enjoyable every weekday.
Sign up to receive email updates
Enter your name and email address below and I'll send you periodic updates about the podcast.