Reading Time:
4
minutes
Guy Raz (@guyraz) hosts popular podcasts How I Built This and TED Radio Hour, and he's the author of How I Built This: The Unexpected Paths to Success from the World's Most Inspiring Entrepreneurs.
What We Discuss with Guy Raz:
Guy's number one secret to getting a great interview.
What's the one teachable quality all entrepreneurs seem to have in common?
How much truth is there to the American folk tale that opportunity comes to anyone who's just willing to put in the work?
What a guest has to gain by being asked difficult questions during an interview.
Why countries that make a concerted effort to confront the uncomfortable passages from their own history books become stronger and better.
And much more…
Like this show? Please leave us a review here — even one sentence helps! Consider including your Twitter handle so we can thank you personally!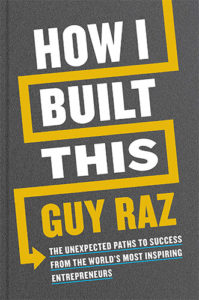 How does someone who aspires to become a print journalist settle for reporting from the trenches of the world's most volatile pressure points and then make the shift to the beloved personality best known for coaxing compelling stories from entrepreneurs far and wide on NPR's How I Built This? This is Guy Raz's journey, and he's here to tell us about every step of the way.
On this episode, Guy — whose book How I Built This: The Unexpected Paths to Success from the World's Most Inspiring Entrepreneurs is out now — shares his number one secret to getting a great interview, the one teachable — not intrinsic — quality all entrepreneurs seem to have in common, how asking difficult questions during an interview serves both the overall story and the guest being grilled, the luck involved in every success story, and much more. Listen, learn, and enjoy!
Please Scroll Down for Featured Resources and Transcript!
Please note that some of the links on this page (books, movies, music, etc.) lead to affiliate programs for which The Jordan Harbinger Show receives compensation. It's just one of the ways we keep the lights on around here. Thank you for your support!
Sign up for Six-Minute Networking — our free networking and relationship development mini course — at jordanharbinger.com/course!
Great protection. Fair prices. Easy to use. SimpliSafe is the right way to protect your home at half the size and double the range — go to SimpliSafe.com/jordan to learn more!
Better Help offers affordable, online counseling at your convenience. If you're coping with depression, stress, anxiety, addiction, or any number of issues, you're not alone. Talk with a licensed professional therapist for 10 percent off your first month at betterhelp.com/jordan!
Want a suit that's tailor-made, high in quality, but not bank account draining? Get $30 off any purchase of $399 or more online at Indochino using code JORDAN at checkout!
HostGator has been around almost as long as the Internet. Does your business have an Internet presence? Save up to a whopping 62% on new webhosting packages with HostGator at hostgator.com/jordan!
OxiClean MaxForce tackles grease, oil, grass, blood, soil, clay, food, and drink stains with five types of stain fighters. To work your magic with OxiClean MaxForce, go to OxiClean.com/MaxForce1 to get a coupon for $1 off!
Miss our episode with Somali pirate hostage Michael Scott Moore? Catch up with episode 115: Michael Scott Moore | What It's Really like to Be a Pirate Hostage here!
THANKS, GUY RAZ!
If you enjoyed this session with Guy Raz, let him know by clicking on the link below and sending him a quick shout out at Twitter:
Click here to thank Guy Raz at Twitter!
Click here to let Jordan know about your number one takeaway from this episode!
And if you want us to answer your questions on one of our upcoming weekly Feedback Friday episodes, drop us a line at friday@jordanharbinger.com.
Resources from This Episode:
Transcript of Guy Raz | How I Built This (Episode 404)
Jordan Harbinger: [00:00:00] Coming up on The Jordan Harbinger Show. 
Guy Raz: [00:00:02] There's something to this idea of exposing yourself to rejection. And it's kind of giving you this shield of armor that steels you to kind of set out on your journey, whatever it might be — whether it's building a business or trying to get a job — because any journey you take is going to be filled with no, no, no. And you've got to just understand that eventually, you will get a yes.
Jordan Harbinger: [00:00:29] Welcome to the show. I'm Jordan Harbinger. On The Jordan Harbinger Show, we decode the stories, secrets, and skills of the world's most fascinating people. And if you're new to the show, we have in-depth conversations with people at the top of their game. That means astronauts, entrepreneurs, spies, psychologists, even the occasional war correspondent. And each show turns our guests' wisdom into practical advice that you can use to build a deeper understanding of how the world works and become a better critical thinker.
[00:00:56] On this episode, I'm talking with Guy Raz, fellow podcaster, creator of How I Built This, and someone who I think could definitely play a fun dad on a TV sitcom. Many of you have probably heard How I Built This before. And the show was one of the most downloaded new shows of 2017. And under that, The Jordan Harbinger Show received the year after in 2018. No big deal. Today, we'll discuss Guy's career path and get some tips and wisdom from others, wanting to get mentorship and make their own way, whether that's up the corporate ladder or in their own business. We'll also explore some of the challenges that our generation is facing, both in business and with respect to our civic duty as citizens. And we'll hear why Guy thinks that Mormons make good entrepreneurs, kind of a little plot twist there.
[00:01:36] Now, if you're wondering how I managed to book all of these personalities, these authors, these thinkers, every single week, it is because of my network. And I'm teaching you how to build your network for free over at jordanharbinger.com/course. And by the way, most of the guests on our show, they've either subscribed to the course, or contributed to the course in some way. Come join us, you'll be in smart company. Now here's Guy Raz. 
[00:02:00] By the way, I heard you make kombucha at home, which is probably the most NPR thing I've ever heard. 
Guy Raz: [00:02:05] Yeah, it's very easy to make.
Jordan Harbinger: [00:02:08] I'm surprised you don't make like hemp milk or something 
Guy Raz: [00:02:13] I've made hemp milk before. It's very grassy, it's very like, sort of — 
Jordan Harbinger: [00:02:16] Disgusting.
Guy Raz: [00:02:17] Yeah, it's very grassy because you take hemp seeds. I do throw hemp seeds in like yogurt because it's super high in protein. 
Jordan Harbinger: [00:02:23] I mean, there's something to that. The hemp milk thing though, that's a trend I can't get into. 
Guy Raz: [00:02:27] Yeah. I mean, I drink dairy milk.
Jordan Harbinger: [00:02:29] Okay.
Guy Raz: [00:02:30] Make no mistakes. So I just love to experiment with different things. 
Jordan Harbinger: [00:02:33] Is that why you had to leave NPR that you drink dairy milk? I know — 
Guy Raz: [00:02:36] They kicked me out. 
Jordan Harbinger: [00:02:38] So at age 25, you become the youngest overseas-based bureau chief for NPR, right? Berlin, London, then the Pentagon, which is that — I don't know why that's considered overseas but it was listed as such. Maybe that's a mistake. And then Jerusalem from 2004 to 2006. I'm wondering, were you aware that this is kind of a special thing back then? Because when I was 25, everything I did was both awesome and also nothing special at the same time somehow. Or were you kind of going through imposter syndrome at all? Like, "Oh my God, I shouldn't be here."
Guy Raz: [00:03:06] Oh, yeah. Oh, majorly. I mean, look, I came to NPR as a 22-year-old intern. And my dream really, before I got there was to be a print reporter. You know, this was what I had hoped to do, but I didn't get a job at any newspaper. At the time, those were the most competitive jobs. If you want it to be a journalist, you would go to the Baltimore Sun or the Dallas Morning News, or the Chicago Tribune. Those were all the best and brightest would go. And I couldn't get a job at any of those places. So I actually started as an intern at NPR. Really my dream was to become a reporter and I started it out kind of just doing freelance articles for whoever would take them. Initially with Washington City Paper, which at that time, this is the late '90s, it was a really important alternative weekly, but it was a free alternative weekly. And that was really where I got my first big break.
[00:03:56] Now, at the time, the editor of that newspaper, this is the late '90s was David Carr, who would go on to become a legendary journalist at the New York Times, who's no longer alive. His senior writers were Jake Tapper, who now is a famous CNN anchor. Ta-Nehisi Coates, probably one of the most famous public intellectuals in America, and several other really, you know, just incredible writers at the time. So it was a really creative place. And that's where I kind of got my first experience as a reporter, but I was very lucky. You know I really wanted to be an overseas reporter and the stars were sort of aligned in the right way where I got the job.
[00:04:33] And I was totally terrified. I was 25. I didn't know what I was doing. I kind of — I was faking it until I became it before that became a thing. Because I'm not naturally one of those people who kind of exudes confidence. It was not part of my DNA. I really have a lot of self-doubts and certainly did in my 20s. So yeah. I mean, it was terrifying, you know, I was sent to Berlin to be the correspondent for NPR.
Jordan Harbinger: [00:04:59] Like, "Don't mess this up. Oh yeah, and by the way, you're going to Bosnia tomorrow," or whatever. Right? 
Guy Raz: [00:05:03] Exactly. Exactly. Yes, yes. 
Jordan Harbinger: [00:05:06] Did you show up and people took you seriously? Or did you show up and people were like, "Wow, NPR sends children here now, what the hell?"
Guy Raz: [00:05:11] Yes. When I was — I mean, I remember when I was in Germany — you know, this is now in like 2000. Like German overseas correspondents were like, in their late 50s, it was like a, something you got at the end of your career, like hosting overseas. There was a lot of sort of puzzlement as to what this NPR thing. And by the way, NPR, of course, is well known in the US at the time, but not as well-known overseas at the time. And so, you know, I would come across people who would sort of — you could tell they were sort of wondering what is this organization. Is this legitimate? 
[00:05:42] But I had to do interviews with major figures — the German foreign minister and the heads of the opposition party and go to a press conference with the Chancellor of Germany. I remember really feeling that when I went to interview the German foreign minister, you could just tell — I mean, I'd come in and they were told it was NPR. He knew what NPR was and here I walked in. I'm 25, barely shaving. And you could just see in his eyes, like, "What is this? What am I doing? Is this real? Is this like a joke?" And that was how I began overseas as a foreign correspondent. 
Jordan Harbinger: [00:06:16] I love that. And I know you got into journalism initially to make a difference. You've covered a lot of stuff. That's frankly kind of depressing, right? Like the epitome of human cruelty in places like the former Yugoslavia. I know that you have in the past — I don't know if griped is quite the right word, but like criticize the — I'm trying to be light because it is light. It's like — you'd said, "I didn't get into journalism to not find solutions," but in journalism they're like, hey, just write about the problem. Never bring us a solution because we don't care about what your ideas might be. 
Guy Raz: [00:06:45] I think it's a little bit of hyperbole when I said a version of that. But really what it is, is that, you know, for the most part — and I think it's changing now — but for the most part, journalism was you were supposed to go call balls and strikes. We were sent somewhere or whether it's in the US or overseas. And you were there to identify a problem or a story, and then just tell it and then move on. And so you would get to a war zone or a conflict area — most journalists would — and something would happen. There'd be an explosion and you'd go and you tell that story. And then there was an explosion somewhere else and then you go tell that story and then you move on and you move on. But the people in these places don't move on, they stay there. And I think that there has traditionally been an inherent — and it's changing now, but there's been an inherent deficiency in traditional journalism, which is that journalists were told to just report on the story. But oftentimes journalists have key insights into potential solutions and key insights that they gain from being observers into how you could actually begin to think about resolving these problems. 
[00:07:49] And look, I went into this profession for reasons that I think a lot of people go into it, which was, I believe that if I could somehow explain one culture to another culture, or if I could go to Kosovo and tell stories about Kosovar Albanians, but also tell stories about Serbs or Macedonians or go to Pakistan and tell stories about people on both sides of Kashmir. And that somehow if other people heard those stories that would develop empathy, they would develop empathy. And that we could actually, gain a better understanding of one another. And that was what motivated me. That's why I wanted to be a foreign correspondent. I want it to cover Israel, Palestine. I wanted to cover these conflicts because I thought if only people heard about the other side in an empathetic and humane way, maybe it will make them more empathetic and humane.
[00:08:39] I think over the course of my career I became frustrated. That what I was doing was not actually having that impact. That was really where I got to. And that's really where I got to this day of how I started to reflect on this deficiency that journalism had the opportunity to offer solutions and we weren't. We were being held back from doing that for fear of being biased or not objective. 
Jordan Harbinger: [00:09:01] It reminds me of a long time ago Larry King told me, "A lot of people teach you when interviewing never to put your personality into the interview. But I say put a lot of your personality into the interview." And I thought at the time I kind of like — like quietly to myself, rolled my eyes, because I thought like, of course, in a podcast you put your personality into the interview and that's a given now. But back when he started interviewing, I don't want to even guess because it's just going to be insulting, but I assume it's like in the '60s or something like that, nobody did that. They were all like they're in their fedoras, leaning into their ribbon microphone saying like the news flat out and their Yonkers accent and that was it. And there was no — you didn't even know the name of the person who was talking to you cause they were just a voice. 
Guy Raz: [00:09:39] You know, in fact, early in my career covering war, one of the first conflicts I covered was a conflict between Macedonia and Kosovar Albanians. And I was in a town on the Macedonian side of the border. And there was gunfire and came very, very close to me. Actually, one of the closest times it's come in my life and I subsequently covered many wars and experienced a lot of gunfire. And when I reported that story on NPR in 2000, I had to say a reporter witnessed gunfire. I wasn't able to say I saw gunfire.
Jordan Harbinger: [00:10:12] Yeah. Yeah. They're shooting at me.
Guy Raz: [00:10:14] It was totally nuts. It was a totally different world. And you know, part of that was the editors at that time came from a different tradition. They did not in any way, want you to be the thing that people were paying attention to. They wanted the news to be the story. And that was the perspective 
Jordan Harbinger: [00:10:31] I miss the war correspondent thing. Like I'm watching, Belarus sort of Live as we go. And I'm like, "I would love to be courtside in a revolution like this." 
Guy Raz: [00:10:39] You know, it's a really interesting point you make, I mean, look, bearing witness to historical events, being somewhere where they're unfolding in front of your eyes in real-time is thrilling. It's absolutely extraordinary and fascinating. I mean, imagine if you were standing at the Berlin Wall on November 9th, 1989.
Jordan Harbinger: [00:10:57] Yeah.
Guy Raz: [00:10:57] It's an extraordinary feeling to [00:11:00] be in these places. And I was able to witness history unfold in front of my eyes many, many times. I would say that now I'm in my 40s. I've got children. I don't — the calculus is different. I think that the risk calculus you make when you're younger is about a lot of different things. I am not an adrenaline junkie. I did not go seek to cover the Iraq war or to cover Afghanistan or Israel, Palestine, and spend time in Gaza and other places because I seek adventure. I really didn't. I kind of accidentally ended up becoming a war correspondent and really, I was never attracted to the bang-bang side of it. I mean, there are lots of reporters as a machismo kind of attitude among men and women reporters in those conflict zones who really kind of thrive on that. And that wasn't me.
[00:11:49] I was much more interested in talking to people and telling their stories and their experiences of what life was like to live where they lived. That was really my strong suit. And that's why I did it. But there's no question. It's fascinating. It's one of the most fascinating experiences you can have as a journalist. Our role really is to bear witness and there you are, you're doing it in real-time. 
Jordan Harbinger: [00:12:13] What do you wish someone had told you when you first started your career, that maybe you didn't hear it? I think for a lot of us, it has to do with the fact that it's not going to be a straight line to where you want to go, but I assume you have some insight into this. Because now you're talking with a lot of people who don't have a straight line to where they are or where they want to go.
Guy Raz: [00:12:29] Yeah. I mean, I think that's exactly right. The thing that I wished I would have heard when I started out my career was that there's no clear path. You have to forge that path yourself. And you will have a lot of setbacks. I mean, part of the journey is there will be moments where you will be at a low point.
[00:12:53] There were times in my career where I thought I was finished as a journalist. I went to CNN for a few years and I was on television. And then I came back to NPR and I had experienced as a foreign correspondent. And then I went to CNN. Then I came back to NPR and it was actually a very difficult time because there was some kind of residual irritation I would say that I had left by certain editors and I was kind of flailing. This was back in like 2006, 2007. There were times in my career where I was told flat out, "You will not be a host of an NPR program. You don't have the personality for it. It's just not your strong suit." And it was said in a slightly less harsh way, but that was the message.
[00:13:35] And those are times in my career that were very hard. I will say that those failures and those moments were extremely pivotal because they also forced me to try and take control as much as I could over my career. And those attempts to take control lead to really interesting opportunities. So I would say there's a twisted path. And by the way, there's no destination. It's a constant journey. I'm in my mid-40s. My career will look very different in my mid-60s if I'm still doing this.
Jordan Harbinger: [00:14:08]Yeah. It's tough to wrap your mind around that in the moment. I mean, it leads to depression and anxiety, right? I mean, you have this uncertainty like, oh, uh, well — you have uncertainty before people tell you you're never going to be the host of an NPR show. Let alone, after it's like — 
Guy Raz: [00:14:20] Right.
Jordan Harbinger: [00:14:21] You've been here for 30 years and you don't think I have what it takes. Who am I to be like, "No, I've got this"? How do you get through that? It's not as simple as just believe in yourself, is it? 
Guy Raz: [00:14:30] No, whenever it is. I mean, I think that all of us at certain points in our lives and in our careers will face obstacles. And by the way, if you don't face obstacles, then — I'm paraphrasing Tim Ferris, who in a TED Talk he gave where he basically said, "Look, easy choices, hard life. Hard choices, difficult choices, easy life. You actually have to have struggle. You have to experience struggle. You have to figure out how to get through obstacles." And I actually really believe that. I mean, I think that it's so fundamentally true. Struggle and obstacles and setbacks suck. Failure sucks. It's really, really hard. It's hard for all of us and in the moment it can be paralyzing. It is an absolutely central part of growing.
[00:15:13] A lot of people who listened to me on How I Built This are stunned when they find out I was a war correspondent. And yet 15 years ago, that was my identity. I would have told you, I'm a war correspondent. I was based in Jerusalem for CNN. You know, 15 years later, people are stunned to learn that I was a foreign correspondent. I've got a completely different audience, you know, and I think that's really kind of awesome to be able to know that you can actually redefine yourself. People will try to define you, but you can actually completely reinvent yourself again and again and again, throughout your life and career. 
Jordan Harbinger: [00:15:50] You've given some career advice in the past, such as seek out mentors by asking more experienced people for advice. And I like that, but also I get these emails now and I'm sure you do too, like, "Can you mentor me?" And it's just the wrong question.
Guy Raz: [00:16:03] Yeah.
Jordan Harbinger: [00:16:03] What's the best way to go about it? 
Guy Raz: [00:16:05] Yeah. I had struggled with this for so long, and then I had this experience where I went to go see Simon Sinek speak. You know, Simon, his book, Start With Why. I actually went to college with Simon. We're really old friends. We've known each other since we were teenagers. It's just so weird. Right?
Jordan Harbinger: [00:16:19] It makes sense somehow.
Guy Raz: [00:16:20] I've known him before he was famous and he's a wonderful, wonderful, empathetic person, wonderful person, a good friend. And somebody said to him in the audience, "Will you be my mentor?" And what he said was, "I'm not going to be a mentor because that's not how it works." It's sort of like going up to somebody and saying, "Will you marry me?" Who doesn't know you? There's a feedback loop. It's not a one-way relationship where mentee to mentor. It's actually a two-way relationship. The mentor gets a lot out of mentoring the mentee. And then he gets a lot out of receiving that information. The mentor gets that gratification, but also you learn from oftentimes mentoring somebody who's less experienced or younger than you. And I think that the way to find mentors is to start with people you kind of know or marginally know. And also somebody who will have a stake in your success, a natural stake in your success because you have a relationship.
[00:17:16] So finding a mentor isn't just about asking someone to be a mentor. It's about doing the hard work of establishing a relationship. It doesn't mean you have to become best friends with the person, but you have to start to begin to know them and to learn from them. And it could be a teacher or professor or a work colleague. It doesn't have to be somebody that much older than you. It can be someone, you know, a couple of years older than you, a couple of years more experienced, but it really requires work. It's not just a matter of saying, "Hey Jordan, I need mentoring and you don't know me. And I'd like to start a mentoring session tomorrow," because that's not going to work. You know you don't have a stake in that person's success because you don't have a relationship. So it has to start with people that are in your immediate universe.
Jordan Harbinger: [00:18:01] The Jordan Harbinger Show with our guest Guy Raz. We'll be right back.
[00:18:05] This episode is sponsored in part by SimpliSafe. Here's the thing about home security companies. They trap you with these high prices. They give you some sweet '90s gear that barely works. And it has to be installed with drills and nails. And you got to paint over it. They have terrible customer support. There's a lot of options out there, of course, but there's only one, no brainer, which is SimpliSafe. This is like the 21st century home security system. They don't charge you extra for every little thing. They've also got everything you need to protect your home with none of the drawbacks of traditional home security. There's a ton of sensors. They blanket every room, window, everything kind of sticks on. It's already paired. You know you don't have to like wire things around. You don't need a landline. And the professional monitoring keeps watched day and night. They'll send the cops, the fire of the medical pros if there's an emergency. You can literally, you set this thing up and under an hour, not like an hour, if you're a professional an hour, an hour, and it's 15 bucks a month. SimpliSafe is awesome. I get frustrated with electronics. Jen will tell you. Stuff might break if I get too upset. This was like stick on and done. It was really, really easy. I can vouch for that. 
Jen Harbinger: [00:19:08] Try SimpliSafe today at simplisafe.com/jordan. You get free shipping and a 60-day risk-free trial. There's nothing to lose. That's simplysife.com/jordan. 
Jordan Harbinger: [00:19:19] This episode is also sponsored by Better Help. If you think you might be depressed or you're feeling anxious, stressed, or overwhelmed due to the apocalyptic state of the world. I mean, we woke up today to a gloomy sky, virtually raining ash, no sunlight, no birds chirping. I haven't seen the sun in a long time. Well, it's kind of like living in a cave. Better help offers licensed professional counselors. One that I should probably talk to given the state of the world. They're trained to listen and help, and you can talk with your counselor and a private online environment at your own convenience from wherever you know, in the cave that you live in right now if you're in the Bay area. It's safe here. It's warm here, unlike outside where bandits roam, Mad Max-style. Better Help counselors have expertise in a broad range of areas. You're having difficulty sleeping. You're having some relationship issues because you haven't been apart from your partner — and I don't know, Jen — what has it been? It's been a long time. Lots of breakups are happening now and we're all cooped up together which is magnifying those underlying issues. A lot of people have lost and family conflicts. Better Help is amazing. You can do it by phone, video, chat, text. If for any reason you're unhappy with your counselor, you just switch it up. In fact, so many people have been using Better Help, they're currently recruiting additional counselors in all 50 states. 
Guy Raz: [00:20:30] Better Help is an affordable option. And our listeners get 10 percent off your first month with the discount code JORDAN. Get started today at betterhelp.com/jordan. That's better-H-E-L-P.com/jordan. Talk to a therapist online and get help.
Jordan Harbinger: [00:20:45] And now back to Guy Raz on The Jordan Harbinger Show.
[00:20:50] People get lost on this and especially because there are all these sorts of like fake gurus on the Internet that are like, "I will mentor you for X thousand dollars. Buy my course."
Guy Raz: [00:20:58] Right.
Jordan Harbinger: [00:20:58] And then there's also this sort of lie possibly told in part by Hollywood where like you become successful when Mr. Miyagi catches you doing something, then you learn all the secrets. And that's like the way that you get your skills and it's kind of like, no, you work for your skills and then you go work for somebody else. And then maybe that person or those people in that organization mentor you, not just like a well-placed email. And there's like a narrative that sounds oversimplified that you can just do that and then…you're a millionaire. And it doesn't work for a war correspondent or whatever you want to be, podcaster. 
Guy Raz: [00:21:30] I think about that a lot because a lot of people will ask me, "Hey, how do I become an interviewer? How do I get to interview people? Tell me what the secret is. And can you just give me some tips so I can do what you do?
Jordan Harbinger: [00:21:41] Right, just some tips. 
Guy Raz: [00:21:42] And the challenge with that is sort of like — and I thought about it this morning. I had a moment of clarity. I try and exercise every morning. I hate exercise. I really do, but I do exercise every day because I have to, there has to be some physically challenging thing I do every day. Otherwise, my mental state is out of whack, right?
Jordan Harbinger: [00:22:00] Yeah.
Guy Raz: [00:22:00] And I am not very flexible in my shoulders. I'm trying to open them up. I've just started making a breakthrough on my hamstrings after like two years. That's the thing I've been working on for two years, on my hamstrings. It's the same thing with any skill you acquire, you have to stand at the free-throw line and shoot free throws again and again. And you will miss most of them in the first few years and eventually you will sink them. And it's like any skill. It's like any skill, you just have to do the work and it's simple as that. There's no secret. It's a matter of doing the work and reflecting on the work and trying to learn from your mistakes and trying to get better each time. And sometimes you get worse and then maybe you take two steps forward. 
Jordan Harbinger: [00:22:47] I do. In fact, you mentioned something key that I want to highlight because I think people overlook it, reflect on the work. People will ask me all the time, "You get so many great questions. How do I learn how to ask questions like that? Or how do I learn how to do what you do?" The same thing that you get asked, I'm sure. And I'll go, "Okay. Well, how often after you record your podcast, are you then listening to it?" And they'll go, "Oh, my editor does that." And I'm like, "Well, let me stop you right there. Why does your editor do it?" "Well, he's editing. And also I hate the sound of my voice," or insert like a million other excuses here. David Letterman used to talk about how he would watch his show the same night it was recorded and stay up till 3:00 a.m. kind of beating himself up about it. You're looking for those missed or lost opportunities in your line of questioning that you could have had. You're listening for those filler words that you throw in there. You're listening for that time you've misused something or whatever it is. Nobody wants to do that. They just want to get in front of as many celebrities as possible and practice that way. And that's like what they have in mind for getting their reps in. It's just not there. 
Guy Raz: [00:23:42] I love that David Letterman did it. I didn't know that about David Letterman, but it makes so much sense because he's such a master at his craft. Right? How good was David Letterman? Like I cannot even imagine David Letterman beating himself up over his show. He was so — 
Jordan Harbinger: [00:23:55] Every night.
Guy Raz: [00:23:56] But it's so funny because my soul is crushed virtually every time I hear how I built this virtually every time because I know that there was something in there that I just could have done better. I know there's a question or something and I didn't do it. The listener would probably have no idea, has no idea. You know, the listener loves the show and it's actually very painful for me when I listen to the show. I listened to it, you know, every episode and carefully, even 25 years of doing this, not How I Built This, but of doing what I do, it's still soul-crushing but I have to do it. 
Jordan Harbinger: [00:24:29] You ever accidentally have an episode from like two or three years ago of something you've done. Come on and you just go, "Oh, who is this person? They are — oh, crap. That's me." You know, like maybe you don't recognize your own voice cause it's playing in an echoey room and you just go, "This person sucks. Oh, Oh no."
Guy Raz: [00:24:44] Yeah.
Jordan Harbinger: [00:24:45] Or I look at my old notes and I go, these are a mess. What is this? Oh, these are my own notes from this episode of this show that I did that are horrendous. 
Guy Raz: [00:24:53] I mean, this is why I think it's really important for people to understand that when you're starting out in whatever career you do, you are going to suck and you have to suck. It's like par for the course — you have to in order to get better. It's like any exercise, anything you do, it's going to be really hard at the beginning. And so yes when I do hear those old things sometimes I cringe, sometimes I will say — I'm pleasantly surprised. I recently heard an interview. I did a couple of years with Eminem actually.
Jordan Harbinger: [00:25:24] Oh wow, nice.
Guy Raz: [00:25:25] It was pretty good. It was when I hosted a news program and it was a different style but, you know, I could hear how I was kind of evolving. So that's also important to check in on yourself and say, "You know, I can see where I started to kind of turn a corner here."
Jordan Harbinger: [00:25:39] How did you prep for that. Are you an Eminem fan? You don't necessarily seem like the type but you never know. 
Guy Raz: [00:25:43] Yeah. I mean — well, first of all, I am. I'm a huge fan of all kinds of music and hip hop and pop music, for sure. You know, I prep pretty much the same way for every interview I do which is a lot of reading and research. I typically spend — I mean, now with How I Built This. Earlier today, I just did a marathon interview for How I Built This. It won't air until November, December, but you know, I probably spent six or seven hours reading, going through reading material to really know the story almost better than the person knows their own story.
[00:26:17] And I do that because it's sort of this — I don't want the listener to know that I know the story. I want to be with the listener in the cockpit and want us to be together, but I have to know the story in order to keep it on track. Of course, we're going to go in different directions. And every interview I do is totally different and I learn totally new things, but in order to learn those things, I feel like I have to know the person or the story so well that I can ask questions that actually trigger answers that haven't been revealed before. Not because I'm looking for secrets, just because the person hasn't thought of them. 
Jordan Harbinger: [00:26:54] but yeah, connecting their work to something that they might not have thought of. Like if you read both of their books back to back, they might not have done that within the last 10 days before their interview, right?
Guy Raz: [00:27:03] Correct.
Jordan Harbinger: [00:27:04] So you can connect things or help them connect things. And this goes to something that I struggle with occasionally as well. So if I'm preparing, I usually do the same thing, 10 to 20 hours. I'm a slow reader. That's usually why I think you're probably a quicker reader than me.
Guy Raz: [00:27:16] No, I'm not.
Jordan Harbinger: [00:27:17] No? Interesting. I spend so much time prepping that at the end. I often go, "Man, I did not need to do that. I have 18 pages of notes. I'm going to get through five of these." Is that you? 
Guy Raz: [00:27:25] Right. Yes. But it's just kind of how I am. I go into every interview I do like a bit of — I wouldn't say a panic but I'm always worried that it's not going to work out for some reason.
Jordan Harbinger: [00:27:39] Yeah, of course, me too. Like every single one.
Guy Raz: [00:27:41] Every year interview, right? And the reason why I'm freaked out is because the last thing I want to do is kill it. And we do kill interviews sometimes.
Jordan Harbinger: [00:27:49] Yeah.
Guy Raz: [00:27:49] For a variety of reasons. Not because the person wasn't nice or just because they weren't able to express their story. Their memories weren't very good. Or they weren't particularly expressive or their answers were very brief or it just didn't work. And it's very rare when that happens. This only happened a handful of times and we do so much research to prevent that but I'm always nervous about that possibility.
[00:28:11] And if there's really a secret to interviewing people. This is my secret. If you really want to get a good interview from somebody, you need to honor their story. You need to honor them if they're coming to talk to you. and the way you honor them is you learn a lot about them. You spend the time. You do the work. And if you do that, there's a better than 50 percent chance that they will appreciate that and respect that. And that's important. And that's really why I probably over-prepare but it's just like encoded in me now. 
Jordan Harbinger: [00:28:44] it's kind of like training for an athletic event. No one goes, "Man, I guess I didn't do all those sprints."
Guy Raz: [00:28:50] Exactly.
Jordan Harbinger: [00:28:50] Right?
Guy Raz: [00:28:51] Exactly. 
Jordan Harbinger: [00:28:52] Reactions during the interview. In fact, a lot of people comment on this, the New York Times' Nellie Bowles piece was like, 18 wows later, Guy, Raz — I mean, I'm sure that makes you kind of blush a little bit or like chuckle yourself. I would too. But the idea here is you're doing all this prep, right? You're doing the 10 hours or eight hours of reading and prep. And then you've got to hear a story like you've never heard it before. So you throw in this reaction and I'm always like, do I say, "What? Really?" even though I knew that was coming. How do I react in a way that takes the audience with me on the journey but isn't totally just fake?
Guy Raz: [00:29:23] I had an interview with these entrepreneurs who have a wine business and their sisters. And they did not know that the other sister existed until well, they were adults because they had different mothers.
Jordan Harbinger: [00:29:39] Wow.
Guy Raz: [00:29:39] And the father was out of the picture. So at age 16, one sister found out. At age 25, the other sister found out. I knew that. And I had known that they met at LaGuardia Airport for the first time. But I didn't know no what they were wearing. I didn't know what they'd Look like. I didn't know what it felt like to walk down the jet bridge. I didn't know those details. So while I knew the basic contours of the story, I didn't know the dramatic, the small dramatic details. And so while they were recounting that story to me just the other day, I was overwhelmed. I was there with them. You know, I was there with them. I was walking down that jetway. And I was seeing her sister and I was watching as they hugged and like wouldn't let go. And I was overwhelmed. So it's real.
[00:30:26] I mean, those wow moments. They're real because what I do in an interview is I completely leave the world that I'm in. I completely leave the surroundings, all the chaos, the noise, you know, Trump and politics. I just leave it. It's out, all the noise, COVID — it's gone. I am just in that person's world, in that story. It's like when you see a movie and you know, probably what's going to happen, but you're still like, "What?" You know, that's what happens. I mean, I have to — I guess it would be a little bit like being a method actor, except I'm not acting. I'm just immersed in this story. That is whatever story we're telling that I feel so connected to because it's someone's story and it's usually really powerful. And that's why I respond that way because I'm really there with them. Unlike, this is crazy. 
Jordan Harbinger: [00:31:19] Do you feel self-conscious about saying wow too much now that umpteen writers have ribbed you about it? 
Guy Raz: [00:31:24] No. 
Jordan Harbinger: [00:31:25] No.
Guy Raz: [00:31:25] And it's funny that that New York Times article you're referring to is just a very generous article and I cannot believe they wrote about. I remember when they contacted me two years ago and wrote this big cover story. And Nellie is a brilliant writer, and I really appreciated that article because at the end of the day, I sit here in this orange studio behind me and I talk into this microphone. And especially during the COVID times, that's pretty much, you know, aside from my wife and my kids, that's the only contact I had with them outside world, you know, Zoom calls with my team. And so to get recognition for what you do is always pretty incredible. It's like that bonus that you don't expect. 
Jordan Harbinger: [00:32:03] I get this a lot. I know what my answer is. I'm so curious though, on How I Built This, TED Radio Hour, you talk with a lot of amazing and brilliant people. Are you ever intimidated or nervous by the guests?
Guy Raz: [00:32:13] No. And I don't say that because I'm overly confident or I guess I'm at a point in my life where I'm starting to really become more comfortable in my skin, which is pretty crazy because I'm in my '40s. I think it took me a long time in my 20s, even into my 30s, even after the birth of my kids to really kind of become comfortable with who I am. And as I've gotten older, that's become easier. And from what I understand, talking to my mother, who's 75, it becomes much, much easier the older you get. And I take people at face value. I want people to come on the show in a spirit of generosity and I'm coming to the interview in a spirit of generosity.
[00:32:52] And so I guess that's sort of this kind of invisible cloak, maybe. It's an approach that maybe shields me from feeling intimidated because if I felt intimidated, which would be so weird, the dynamic, the energy wouldn't be right. And I don't think I could do an honest interview with somebody who intimidated me.
Jordan Harbinger: [00:33:09] I think part of it also — and tell me if this is true for you — I worry far less/zero. I'm not trying to — I love connecting with my guests, but I'm not trying to become friends with them, especially not during the interview. And I think a lot of interviewers actually make the mistake of doing that. And you can hear it, especially in podcasts where the interviewer is just kind of giving somebody a lot of softball questions and leeway, and you're thinking, "Ah, I know what's going on here. You think you're going to hang out with Malcolm Gladwell, or whatever after this, and you guys are going to go have a beer, or whatever."
Guy Raz: [00:33:40] Go for a run, a long run with Malcolm Gladwell.
Jordan Harbinger: [00:33:42] Right. And it's unlikely to happen as a result of the interview and what you're trading for that experience or fantasy that you have in your head of doing that is you're trading the audience's experience of getting a really good interview and you're wasting their time. You're wasting everybody's time by doing that.
Guy Raz: [00:33:58] You know, it's interesting. I mean, one of the things I have learned when I was a news anchor, when I hosted all things considered many years ago, more than a decade ago, it's a different dynamic. You know obviously depending on who you interview, the interview is going to be very different. If you're interviewing a public official and elected the official, it's a different interview because that person has to be held accountable. They are serving the public trust. If you're interviewing a musician who has a new record out, it's different. They're an artist making music and I don't in my view — and again, I'm not mandating or dictating how anybody behaves — my view is like, I kind of want to root for you. You know? Like you just worked on a record and you're going to talk about your record. And it's really awesome that you like got in the studio and you like wrote the songs and like, let's talk about it. And you poured your heart and soul into these lyrics and they probably have a lot of meaning for you. 
[00:34:53] So I understand the impulse to be friendly and polite and kind, I really do. But at the same time, there's a time and a place to really hold people accountable and to be tough. I mean, one of the things that I try to do with How I Built This is I interview on occasion people whose businesses have disrupted things in the world that are challenging but I want to contextualize it. 
[00:35:17] I'm going to ask Jeremy Stoppelman of Yelp about the criticism around Yelp. A lot of small businesses don't like Yelp, and don't like the review system and feel like it's just abuse and easy to manipulate. And I'm going to ask that question and I'm going to ask in many different ways, but I also want it an opportunity to hear him talk about it in a real way. I had a wonderful experience with Jamie Siminoff of Ring and Ring is — I mean, especially at this time we're talking about social injustice9 — Ring is a surveillance device, right?
Jordan Harbinger: [00:35:53] Yeah.
Guy Raz: [00:35:54] And now that can work great and can keep neighborhoods safe, but it can also be dangerous. It can also bring police out to abuse people. I said to him, I said, "Do you ever think about the unintended consequences? Like you made this product because you wanted a convenient way to see your friends are at the door when you're in the garage." 
Jordan Harbinger: [00:36:11] Right.
Guy Raz: [00:36:11] And it's just a cool gee-whiz thing. And he had a really thoughtful answer. He's like, "You know, I didn't at first. Of course not. You know, I would never — I would just want to bring this thing alive." But you can start to see the gears turning in their heads as they start to process those kinds of questions. And what I think it's really important to ask people difficult questions, but also to allow them to process those questions and to offer their perspective on it. You know, there is a time and a place to — especially if it's a politician to keep pressing and holding them, but that's not what I do. And I think obviously it's not what a lot of podcasters do. So it's a delicate act. And I think it all depends on who you're talking to and what you're talking about.
Jordan Harbinger: [00:36:56] This is the Jordan harbinger show with our guest Guy Raz. We'll be right back.
[00:37:01] This episode is sponsored in part by Indochino. I'm one of those guys that's a little bit between sizes. You've heard me talk about this before. I've run into this issue all the time. I used to be kind of S-medium. Now, more of a M-larger, I think, due to coronavirus. I got my quarantine 15 going. But when I went to Indochino, I personalized my clothing. I got a little purple accent because you know, I can wear a little bit of purple, but not too much purple. It's kind of a skin tone thing. I'm going to leave it at that. I don't want to get canceled. But with Indochino you can get custom-fitted suits, coats, casual stuff. Everything's affordable. Everything is customizable from the fabric to the lining, the lapel shape, the monogram. Everything is made to your exact measurements and it always fits you pretty much perfectly. 
Jen Harbinger: [00:37:41] Visit one of the Indochino showrooms across North America or book a virtual appointment and shop online at indochino.com. And right now you'll get $30 off any purchase of 399 or more when you enter code JORDAN at checkout. That's indochino.com. Promo code JORDAN. 
Jordan Harbinger: [00:37:56] This episode is also sponsored by HostGator. In the fast-paced or mystic sounding world of 2020, owning your own website is as crucial as indoor plumbing, especially now that we're all stuck indoors. All right, maybe that's a bit of an exaggeration, but a global market research firm recently concluded that only 25 percent of the people searching for you online are going to do so through social media. 52 percent are going to look for your website first. So unless you're purposely trying to live off the grid while scratching 35,000-word manifestos on a birchbark in a remote Woodland shack, you're going to want, HostGator's help to ensure that your personal or professional presence is known to the outside world. Founded in 2002, HostGator has been around the block a few times and it's old enough to legally drive around that block right now. You don't need any programming. It's a drag-and-drop builder. You can run everything on WordPress. If you've got a tight budget, no worries. If you're a new user, any HostGator package is going to be 62 percent off or approximately thereabouts, just for hearing the sound of my sweet voice. And if you're not completely satisfied with everything HostGator has to offer, you got a 45-day money-back guarantee. They give you a refund if you need one. Check out hostgator.com/jordan to sign up right now. That's hostgator.com/jordan and support the show.
[00:39:03] This episode is also sponsored in part by OxiClean. When Jayden, my son, pooped in our sheets and we just sprayed that OxiClean Max Force on it. We let it sit for a few days. It washed right out. And this was no ordinary baby booty either. This was a cheery poop, pits, and all right. If OxiClean Max Force can get that out, I'll use it on anything. It even works on dried-in stains. Also, it's not just for white clothes or sheets, but on any color that you can stay in which after having a kid I've learned is all colors. So even if you don't have kids and you just got to stay in your clothes — my kid has gotten stains on his clothes. He has gotten stains on my clothes, and I've thrown out a couple of shirts and I know what you're thinking, just get rid of the kids. Well, now you don't have to, because you can try OxiClean Max Force, spray it on there. Get the stain out. You've got to try OxiClean Max Force for yourself. To work your magic with OxiClean, go to oxiclean.com/maxforce to get a coupon for a dollar off. That's O-X-I-C-L-E-A-N.com/maxforce to get a coupon for a buck off.
[00:40:03] Thanks for listening and supporting the show. Your support of our advertisers keeps us going. To learn more and get links to all the great discounts you've just heard, so you can check out the sponsors for yourself, visit jordanharbinger.com/deals. Don't forget we've got a worksheet for today's episode and that link is in the show notes at jordanharbinger.com/podcast.
[00:40:22] Now for the conclusion of our episode with Guy Raz.
[00:40:27] What are the entrepreneurs that you interview on How I Built This have in common that you think is inborn versus developed, right? Like some people just have a little something, a little X factor, you see it when they're young and then other people are just, they work on their stuff over time and it works out. 
Guy Raz: [00:40:41] And I'm going to say something controversial, which is, I don't believe there's anything they have in common that's inborn. I think there's no question that some people are naturally more intelligent. Some people are actually better athletes. Some people are natural — for me, I don't put a high price premium on intelligence. I think curiosity is much more interesting because if you choose to be curious, you can choose to learn about an infinite number of things. You are choosing to be curious about things that you may not naturally be curious about. So it's a choice. I think that what they have all done, what they've all developed is the ability to withstand rejection. 
Jordan Harbinger: [00:41:23] Yeah.
Guy Raz: [00:41:23] Which is key because building a business is basically the story of rejection. Building anything. Building your podcast. Building an idea in business. If you work for a Fortune 500 company and you want to change the systems in the HR department, that's going to create friction. You're going to hear a lot of rejection. People are going to say no. And how do you develop the ability to withstand rejection?
[00:41:47] Well, yes, it's true. Some people just don't care when they hear no a million times they'll keep going. But a lot of the people I've interviewed started out in sales. You know, went door to door, Sarah Blakely sold fax machines, door to door. Tope Awotona who started Calendly, sold ADT alarm systems. And you know, you go to 500 doors and 480 people would say, "Get out of here," but he didn't care. He knew that he wanted to make that commission. I think he'd get one or two or three out of 500. He was good to go for the summer. And that's crucial that experience dealing with rejection and hearing no, really gives you the ability to wait it out and to persist and to keep pushing forward. 
[00:42:29] And all those things we hear about optimism and persistence and perseverance, they come from the ability to withstand rejection. And in most cases, most entrepreneurs develop that ability. 
Jordan Harbinger: [00:42:40] I believe that I think you either get it when you're young by falling into something where you have to push, push, push for what you want, or you started a job early and it happens to be in sales or something along those lines and boom, you've got it. Or you witnessed somebody else doing it. Maybe your dad is in sales. 
Guy Raz: [00:42:54] Exactly. 
Jordan Harbinger: [00:42:54] Yeah. So I can see that. What about Jehovah's Witnesses and Mormons? They must make great entrepreneurs because they are knocking on a lot of doors and they are hearing no and worse all day long.
Guy Raz: [00:43:04] Yeah, this is one of my favorite things that I've really gotten into. I've had a bunch of Mormon entrepreneurs on the show. David Neeleman who founded JetBlue and Joel Clark who founded Kodiak Cakes, David Smith who founded Cotopaxi, Nolan Bushnell of Atari and Chuck E. Cheese and others — and look Mormons make up two percent of the American population. But there is a significantly higher proportion of Mormons who are entrepreneurs and look many young Mormons when they're 19 years old are sent overseas to go — you know, convert people to bring the book of Mormon to them. And you're a 19-year-old — and by the way, they got to do this on their own. They got to pay their own way and you're on a bicycle in a black suit. And, you know, you've got to be very polite and kind. You can knock on a thousand doors a week and 995 of those doors are slamming in your face. After two years of that, you are exposed to a lot of rejection. Those kids, they come back to wherever they are, Utah or wherever they go back to — they're 21, they're in a much better position to take on the world and take on adulthood than most 21-year-olds because they've had that experience.
[00:44:07] Now, I'm not saying we should all go become Mormons or go to a country where you have to join the military.
Jordan Harbinger: [00:44:12] Sure.
Guy Raz: [00:44:12] What I'm saying is that something to this idea of exposing yourself to rejection, right? And kind of giving you this shield of armor, that steels you to kind of set out on your journey, whatever it might be — whether it's building a business or trying to get a job — because any journey you take is going to be filled with no, no, no. And you've got to just understand that eventually, you will get a yes. 
Jordan Harbinger: [00:44:36] Yeah. I mean, it sort of sums up my entire college experience just hearing no all the time. That's another story for another interview, I think. Do you think you can tell a good idea when you hear it in all the interviews? I certainly can't but maybe you have developed that superpower over time.
Guy Raz: [00:44:50] No, I mean, I think that there are definitely ideas that I come across that I would certainly not have thought of were good ideas. I mean, the one that just springs to mind is edible arrangements. I mean — 
Jordan Harbinger: [00:45:01] Yeah.
Guy Raz: [00:45:01] Farid if he came to me and said, "I've got this great idea, I'm going to take cantaloupe and melon ball — 
Jordan Harbinger: [00:45:07] Strawberries.
Guy Raz: [00:45:07] And make them balls and strawberries and pineapple and arrange them into flower bouquets and deliver them to people's doors. I would say, "Tariq, that is the dumbest idea I've ever heard. Who is going to want that? That just sounds stupid." Well, it's a $500-million business, a franchise business. So, there are plenty of dumb ideas out there that are not so dumb. I think I've gotten better at spotting ideas that may have legs. I mean, look, the reality is — and you know, this Jordan — ideas are truly dummy dust. All of us have a million ideas. I'm sure you and everybody watching and listening to this has had some, one or two or 10 ideas for business. Or that they'll be standing in line at a coffee shop, they'll be talking to a friend of theirs, they're like, "You know, really what the world needs? They need a microwave that also plays music like the iPod microwave. Or what the world needs is this or that." 
[00:45:56] And then actually, in a lot of cases, I'm sure that people watching this or listening to this have actually gone to Walmart or Target and seeing a product that they actually dreamt of like 10 years earlier. And they're like, "Oh my God, that was my idea." The difference between that product and your idea is somebody executed it. An execution really is the key to creating enterprise. Of course, you want to come up with a good idea and you really want to come up with an idea that solves a problem for you and other people, but ultimately it's about executing. It's about saying, I am the person to bring this idea into the world.
Jordan Harbinger: [00:46:32] On that same token though, what do you think about the American folklore idea that says opportunity comes to anyone that's willing to work hard? There is something to that, but you know, what about the role of luck, and what about the role of privilege? Not to minimize the success of people on How I Built This or entrepreneurs in general, but I think it's kind of disingenuous not to at least acknowledge that. Right? 
Guy Raz: [00:46:52] A thousand percent. Privilege comes in many, many forms. And most notably in the United States, it comes in race and gender. And I think we're now kind of experiencing a time in our history where that conversation is starting to happen in an honest and open way. Not as honest and open as it should be happening, but I think it's really becoming more honest and open.
[00:47:13] Because the reality is that if you are born into a world where you have two parents and there's a steady income and you go to a safe school and you have a network of people around you who can support you, maybe even give you loans or invest in your business, that's very different than if you, your kid grows up in East St.Louis to a single parent in an insecure environment with food insecurity. Like the deck is stacked against you. So the reality is that it's not so simple. It's not just about working hard because if it was every single construction worker and waitress and waiter in America would be a billionaire because I can tell you they work harder than every billionaire in America.
[00:47:54] I live in, in Northern California. It's grape harvest season. The people picking those grapes work harder than any Silicon Valley billionaire by an order of magnitude. So it's not just about working harder. It is about privileges too. And it is about luck too. And it is about hard work too. And it is about the opportunities that come to certain people in certain times. There are so many factors but I do think it's important that we recognize the factor, not to shame people, not to make people feel bad, but to say, "Hey, let's create opportunities for everybody. Let's actually truly make this a level playing field." You know, let's make this an environment where — and by the way, here's why I'm such a big believer in this idea, entrepreneurship, the real engine for innovation in our country and other countries. And it's a huge opportunity for people to employ other people to generate jobs.
[00:48:46] You know, we talk a lot about entrepreneurship, you know, you do, I do, my whole new book is about this. The reality is we're actually declining in entrepreneurship. We have fewer entrepreneurs in America today than we did in the 1980s. 
Jordan Harbinger: [00:48:58] Because I feel like every person under 40 is like, "I'm starting my own business."
Guy Raz: [00:49:02] My hope is that will change. But no, the reality is, look, in the '80s, there were more — and an entrepreneur isn't the founder of Airbnb. An entrepreneur can have an HVAC company or be an independent contractor or a plumber or an electrician. You know, being an entrepreneur just simply means you have your own business, it's your own enterprise.
[00:49:19] And over the last sort of 30 years that's been in decline as more and more people work for big companies and part of that has to do with things like health insurance and job security and stability. But I really believe that as I say innovation and real change can come from entrepreneurs and can come from an entrepreneurial spirit. And that's where I think opportunity does actually mean something because in the United States there is — I mean, people still do come to this country and want to come to this country for that very reason, to take a crack at building their own thing. And so many people who've been on our show are immigrants or first-generation Americans and have said the very same thing to me.
Jordan Harbinger: [00:50:03] As illustrated by the show, our generation, I guess — I say ours, but like, I don't even know what we label it anymore. I'm about the same age as you. So I'm like we're Gen X, but we're also kind of — depends who you ask. Our generation and those around us have made so much progress, right? Google, Tesla, Apple, a lot of world-changing companies, but not all of these are tech companies. Some, in fact, many of the sorts of generation-defining companies are, but I think our generation hasn't really done some of the seriously hard work, especially here in America about who we are, what kind of society we want to live in. I wonder if you think that sometimes these entrepreneurs that you speak with — as successful and amazing as they all really are — in some ways have some of these people may be missed the plot and maybe the next generation and those in our generation that are willing and able — I feel like they have some serious work to do. I wonder if you agree, 
Guy Raz: [00:50:50] Massive work. I mean, look, our generation has given the world, you know, Google, and as you say, Tesla, and some really innovative things, right? I mean the Internet age has really been driven by Gen-Xers, but I do think that our generation really has not fully begun to do the hard work of making America a more humane and empathetic place. Now, this might sound a little hokey and forgive me, but what I mean by that is we have a lot of work to do in our country when it comes to knowing our history. And the reason why that's important is, again, it's not to shame people or make them ashamed and not proud of American history and values, but it's that most Americans don't really understand the things about our history that connect directly to the present day.
[00:51:46] When we talk about privilege, when we talk about race, when we talk about opportunities, it's so evident to me, that's so much of this is connected to how we were founded, that our country was built on the backs of free labor, of enslaved labor, right? And so these are big questions that I think we have to have as a society. And again, it's not to shame America. It's to make America better. It's to make our country stronger.
[00:52:12] You know, I lived in Germany for three years as a reporter, and it's an imperfect country, an extremely imperfect country, and there's certainly racism and antisemitism there, but there has been and is a very strong national concerted effort to confront their history. And I would argue that it's made them better. It's made the country stronger. It's made their identity stronger. It's made the society stronger. It's made Germans more empathetic. And better global citizens. And I think there's a model there for us too.
Jordan Harbinger: [00:52:39] Guy Raz, thank you very much. I've got some thoughts on this episode, but before we get into that I wanted to give you a preview of one of my favorite stories from an earlier episode of this show. Michael Scott Moore was kidnapped by Somali pirates and held captive for years, mostly on board a ship. It's really one of the craziest stories I've ever heard in my life. And I think you're really going to dig the conversation.
Jordan Harbinger: [00:53:02] You're in Somalia, trying to track down pirate gangs. And I'd love to kind of hear what this felt like.
Michael Moore: [00:53:09] We went with a big security team and we paid the security team a lot of money and it was this one portion of a clan in Central Somalia that was supposed to protect us. 
Jordan Harbinger: [00:53:19] So how did they get you?
Michael Moore: [00:53:21] My partner Ashwin flew off to Mogadishu. I drove him to the airport and then we saw him off. He got on the plane safely. And then on the way back from the airport, back into town towards our hotel, there was actually a truck waiting for us. It was a truck with a canon welded in the back. These are very common trucks that are called technicals. At first, we thought it was there to watch over us or protect us or something, but actually, it stopped our car. And 12 gunmen from the flatbed came over to my side of the car and they actually fired in the air and then opened the door and tore me out of the car. They're waiting for me. And they were probably waiting or hoping for both of us. And I think they were a little bit disappointed that there was only one journalist.
[00:54:00] They beat me. They broke my glasses and I was wearing glasses at the time and they had another car waiting and they bundled me into it and off we drove into the bush for about three hours, something like that, hard to keep track of time. But at some point, we stopped. They blindfolded me and they took me a few steps over to a mattress. So there was a mattress waiting for me in the middle of nowhere. There were other people there, other guards and other hostages. And I sat down and for the next two years and eight months, I was a hostage.
Jordan Harbinger: [00:54:29] For more on life in captivity under the thumb of Somali pirates and how he made it out, check out episode 115 with Michael Scott Moore here on The Jordan Harbinger Show.
[00:54:40] Good one with Guy Raz. Now, one thing we didn't get into was Guy suffered from depression in his 20s, and I think a lot of successful people actually do that. I'm not sure it's a necessary ingredient of entrepreneurship but it sure seems like it's a side effect. I'm on the fence. It's a lot of entrepreneurs, those much more successful than myself, of course, have an outward appearance of success. There's a lot of uncertainty. And we went through this, I went through this, Guy went through this, and a lot of other folks our age went through this before social media was really a thing. So all the FOMO wasn't exacerbated as much as it is now on Instagram or their social media. Not many people these days post-selfies curled up on the bathroom floor. Go figure. I think we do a disservice to young people even more so now because we really don't prepare you for this. It's not good. And I think that social media makes it worse. So if you're feeling definitely talk to somebody about it. We do have a betterhelp.com/jordan is a great way to start with therapy as well. Not sure how I managed to get into this sidetrack, but I always feel the need to recommend therapy whenever we talk about depression.
[00:55:42] I thought it was funny after the show, I was talking with Guy and he said his mom gave him some feedback on the podcast. I think we're all in that club. Everybody's mom's got something to say about their show or their body of work, especially if it's a public body of work. Funny when I was a lawyer, my mom had no feedback. The feedback usually comes right before asking how to print something off the computer, of course. So there's that.t
[00:56:030] Also I wanted to get across, not all entrepreneurs are young, How I Built This does illustrate that, but there's this myth, especially here where I live in Silicon Valley, that you got to be 22 and eat ramen and stay up 17 hours a day, work seven days a week. It's really important to underline that most first time entrepreneurs are 38 or 39. That is the median age. That's the median age. So the idea that you can only start a business when you're 23, sleeping on a futon and eating pizza, cold pizza every day, it's just complete and utter nonsense. So if you are wondering if you're too old, the answer is no.
[00:56:39] Big thank you to Guy Raz. His book is called How I Built This, the podcast with the same name. Links to all that will be in the show notes. Please do use our website links if you buy the book, it does help support the show. Worksheets for the episode are in the show notes, transcripts in the show notes. There's a video of this interview on our YouTube channel at jordanharbinger.com/youtube. I'm at @JordanHarbinger on both Twitter and Instagram or just hit me on LinkedIn.
[00:57:02] I'm teaching you how to connect with great people and manage relationships, using systems and tiny habits over at our Six-Minute Networking course, which is free over at jordanharbinger.com/course. Dig the well before you get thirsty. Like I said, most of the guests on the show, they subscribe to the course. They help contribute to the course. Come join us, you'll be in smart company.
[00:57:21] This show is created in association with PodcastOne and my amazing team, including Jen Harbinger, Jase Sanderson, Robert Fogarty, Ian Baird, Millie Ocampo, Josh Ballard, and Gabriel Mizrahi. Remember, we rise by lifting others. The fee for this show is that you share it with friends when you find something useful or interesting. You know some entrepreneurs, you know some up and coming entrepreneurs, you know some people who love Guy Raz and How I Built This, share this episode with them. Hopefully, you find something great in every episode. Please do share the show with those you care about. In the meantime, do your best to apply what you hear on the show, so you can live what you listen, and we'll see you next time.
Sign up to receive email updates
Enter your name and email address below and I'll send you periodic updates about the podcast.