Reading Time:
3
minutes
Harri Hursti (@HarriHursti) is an ethical hacker and researcher, co-founder of Nordic Innovation Labs, and has been featured in the HBO documentaries Hacking Democracy and Kill Chain: The Cyber War on America's Elections.
What We Discuss with Harri Hursti:
Who's trying to hack our elections and why.
Why all Americans lose if we allow enemies of the state to tamper with our election results — even if our "side" emerges victorious this time around.
Why electronic voting machines are more vulnerable to fraudulent manipulation than mail-in ballots and other forms of voting that leave an auditable paper trail.
What we know about hacking strategies that have worked on other countries — because every single NATO country has had Russian interference in their election.
How fostering the public's eroding trust in our election system is the ultimate goal of our enemies.
And much more…
Like this show? Please leave us a review here — even one sentence helps! Consider including your Twitter handle so we can thank you personally!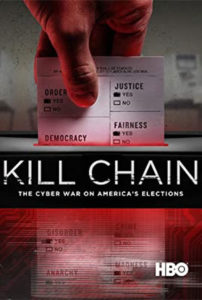 Election years are always a bit stressful on the national psyche. But when that election year happens to also be 2020 — among a pandemic, civil unrest, widespread consequences of global warming, and two political parties vowing to contest the election if it doesn't go their way — multiply that stress by a hundred. Add to that what ethical hacker Harri Hursti (as seen on HBO documentaries Hacking Democracy and Kill Chain: The Cyber War on America's Elections) has to say about how vulnerable our election is to being hacked by enemies of the state, and we should all be concerned — no matter what "team" we're rooting for.
On this episode, Harri takes us through how secure (or insecure) our voting technology really is, and explains how he found the vulnerability, what's been fixed so far (and what hasn't), and what we, as citizens, can do about this to ensure the integrity of our elections, and of our democracy. Listen, learn, and enjoy!
Please Scroll Down for Featured Resources and Transcript!
Sign up for Six-Minute Networking — our free networking and relationship development mini course — at jordanharbinger.com/course!
Grammarly goes beyond spellchecking — it levels up your writing at work, school, and personal projects. Premium features include advanced suggestions on grammar, punctuation, sentence structure, and style, and it works in anything from Outlook to Gmail to Twitter, LinkedIn, Google Docs, WordPress — you name it. Get 20% off Grammarly Premium at Grammarly.com/jordan!
PayPal is the secure, easy way to pay and get paid that we've all been using for the past 20 years. But what can PayPal do for you now that it couldn't do in the past? Download the PayPal app here and find out more!
Are you trying to hire the right person for your business, but the best candidates keep slipping away? Let ZipRecruiter — the fastest way to hire great people — help you screen only the best at ziprecruiter.com/jordan!
Raycon earbuds start at about half the price of any other premium wireless earbuds on the market — and they sound just as amazing. Find out for yourself and get 15% off your order at buyraycon.com/jhs!