Malcolm Gladwell (@gladwell) has written bestsellers that are probably on your shelf right now, including The Tipping Point, Blink, Outliers, and What the Dog Saw. His latest book is Talking to Strangers: What We Should Know about the People We Don't Know.
[Featured photo by Ryan Hartford of Ecliptic Media]
What We Discuss with Malcolm Gladwell:
Why, if we don't know how to talk to strangers, we invite conflict and misunderstanding in ways that have a profound effect on our lives and our world.
Why the information we gather from face-to-face human interaction isn't as uniquely valuable as we think it is.
Why television makes us worse at reading other people.
Why we think we can tell if someone is lying, guilty, or deceptive — and why we're almost always wrong.
What determines the direction of Malcolm's projects, and how he researches and organizes the massive amount of information that goes into them.
And much more…
Like this show? Please leave us a review here — even one sentence helps! Consider including your Twitter handle so we can thank you personally!
(Download Episode Here)
(Subscribe to the Podcast Here)
Worksheet for this Episode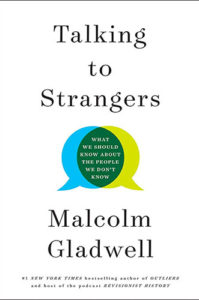 To long-time listeners of this show, Malcolm Gladwell is probably a household name. He's written bestsellers that are likely on your shelf right now — like The Tipping Point, Blink, Outliers, and What the Dog Saw — and he writes and hosts the popular Revisionist History Podcast, which goes back and reinterprets "something from the past: an event, a person, an idea. Something overlooked. Something misunderstood." An interview with him has been on our wish list for more than a decade, so this is especially exciting for all of us at Harbinger HQ.
In this episode we talk to Malcolm about his latest book (which he considers his angriest work to date), Talking to Strangers: What We Should Know about the People We Don't Know. We discuss why the tools we have when we talk to our friends betray us when we talk to strangers — and what we can do about it — as well as delve into Malcolm's intense research, writing, and project selection process. Listen, learn, and enjoy!
Please Scroll down for Full Show Notes and Featured Resources!
Sign up for Six-Minute Networking — our free networking and relationship development mini course — at jordanharbinger.com/course!
Got cats? Breathe easy when maintaining the litter box with Arm & Hammer's Cloud Control dander shield technology. Plus get the confidence of guaranteed seven-day odor control. Find it in a store near you or learn more about it here!
Better Help offers affordable, online counseling at your convenience. If you're coping with depression, stress, anxiety, addiction, or any number of issues, you're not alone. Talk with a licensed professional therapist for 10 percent off your first month at betterhelp.com/jordan!
Highline Wellness offers premium CBD at honest prices, made with all-natural hemp extract and lab tested for consistent results. Get 15 percent off your next order with promo code JORDAN15 at highlinewellness.com!
Borderlands 3 lets you shoot and loot your way through a mayhem-fueled adventure and gives you the chance to save the galaxy from a fanatical threat this September 13th! Pre-order now at Borderlands.com. (Rated M for Mature.)
NetSuite by Oracle allows you to manage sales, finances, accounting, orders, and HR for your business instantly on the cloud from anywhere! Download your free guide — Seven Key Strategies to Grow Your Profits — at netsuite.com/jordan!
THANKS, MALCOLM GLADWELL!
If you enjoyed this session with Malcolm Gladwell, let him know by clicking on the link below and sending him a quick shout out at Twitter:
Click here to thank Malcolm Gladwell at Twitter!
Click here to let Jordan know about your number one takeaway from this episode!
And if you want us to answer your questions on one of our upcoming weekly Feedback Friday episodes, drop us a line at friday@jordanharbinger.com.
Resources from This Episode: