Tommy Caldwell (@tommycaldwell1) has been called "arguably the best all-around rock climber on the planet" by National Geographic, and is the author of The Push: A Climber's Search for the Path.
What We Discuss with Tommy Caldwell:
How the confidence Tommy gained from climbing since age three transformed him from a shy, scrawny kid into a world-class athlete, author, and someone who can be interviewed on podcasts without fear.
Tommy's tried-and-true formula for getting better at coping with scary, potentially life-threatening situations.
How climbing is part endurance, part puzzle, and part chess strategy.
The differences between sport climbing, free climbing, and free soloing.
What it's like to get kidnapped by rebel extremists in the mountains of Kyrgyzstan when you're just trying to do a little climbing with your friends.
And much more…
Like this show? Please leave us a review here — even one sentence helps! Consider including your Twitter handle so we can thank you personally!
(Download Episode Here)
(Subscribe to the Podcast Here)
Worksheet for this Episode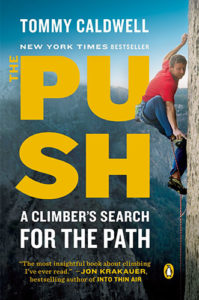 On June 6th, 2018, The Push: A Climber's Search for the Path author Tommy Caldwell and his climbing partner Alex Honnold scaled the sheer granite face of Yosemite's El Capitan in one hour, 58 minutes, and seven seconds. It was a record ascent by way of The Nose, El Capitan's nearly vertical route of 2,900 feet — once considered an impossible climb, typically taking days for most who have succeeded since it was first conquered in 1958. Tommy also ascended El Capitan's Dawn Wall in 2015 with Kevin Jorgeson in a then-record 19 days, and has undertaken numerous solo free climbs and other feats of strength over the years — the majority without the use of his left index finger, which was mostly severed in a table saw accident in 2001.
In this episode we talk to Tommy about how an extreme childhood with a father who also climbed mountains prepared him for this life, what happened when he and three other climbers were kidnapped and held for six days in Central Asian Kyrgyzstan in 2000 before making a daring escape, and how an obsession with a craft and pursuing it to mastery makes Tommy world class (if not the best in the world) at what he does. Listen, learn, and enjoy!
Please Scroll down for Full Show Notes and Featured Resources!
Sign up for Six-Minute Networking — our free networking and relationship development mini course — at jordanharbinger.com/course!
Are you trying to hire the right person for your business, but the best candidates keep slipping away? Let ZipRecruiter — the fastest way to hire great people — help you screen only the best at ziprecruiter.com/jordan!
FIGS knows nurses, doctors, dentists, and other awesome medical professionals deserve to wear scrubs that are antimicrobial and comfortable! Agree? Head to wearFIGS.com and enter code JORDAN at checkout for 15 percent off your first purchase!
BizCounsel provides you with your own business attorney on call and gets you real legal work done for a fraction of what it would normally cost. Get your first month of BizCounsel for free when you go to BizCounsel.com/jordan!
Ship is here to make dating fun again. With Ship, friends can set each other (or themselves) up — because who knows you better than your friends? Check out Ship at getshipped.com/jordan!
Borderlands 3 lets you shoot and loot your way through a mayhem-fueled adventure and gives you the chance to save the galaxy from a fanatical threat this September 13th! Pre-order now at Borderlands.com. (Rated M for Mature.)
Better Help offers affordable, online counseling at your convenience. If you're coping with depression, stress, anxiety, addiction, or any number of issues, you're not alone. Talk with a licensed professional therapist for 10 percent off your first month at betterhelp.com/jordan!
THANKS, TOMMY CALDWELL!
If you enjoyed this session with Tommy Caldwell, let him know by clicking on the link below and sending him a quick shout out at Twitter:
Click here to thank Tommy Caldwell at Twitter!
Click here to let Jordan know about your number one takeaway from this episode!
And if you want us to answer your questions on one of our upcoming weekly Feedback Friday episodes, drop us a line at friday@jordanharbinger.com.
Resources from This Episode: