Reading Time:
5
minutes
David Roeske (@roeske) is a plant-powered portfolio manager, pilot, runner, and the fourth person in the world to summit Mount Everest and another 8,000-meter peak in one trip without supplemental oxygen.
What We Discuss with David Roeske:
How many calories does an Everest climber burn per day on average?
What's the difference between a porter and a sherpa?
How does David live a life balanced between investment, climbing, flying, and running?
Why do people often die trying to ascend Everest — even while surrounded by dozens of fellow climbers — and what are the risks of trying to rescue someone in peril on the slopes of the world's tallest mountain?
Why does David only count the times he's summited Everest without bottled oxygen?
And much more…
Like this show? Please leave us a review here — even one sentence helps! Consider including your Twitter handle so we can thank you personally!
Towering at an ominous 29,029 feet, Mount Everest has been — quite literally — the pinnacle of achievement for thrillseekers from around the globe for decades. The punishing consequences of attempting to summit Everest can range from frostbite to death even under ideal circumstances at such an altitude, and 2019 alone has so far claimed 11 lives. Most who make it to the top do so with the help of bottled oxygen to make up for the elevation's thinner air. And then there are the daring few who insist on getting there by the power of their own lungs. Our guest for this episode is one of these rare maniacs.
As just the fourth person in the world to summit Everest and another 8,000-meter peak in one trip without the assistance of supplemental oxygen, David Roeske might be mistaken for someone whose day job must entail stunt work or superheroism rather than the reality of managing portfolios in Manhattan. So what compels someone whose background wasn't athletic until relatively later in life to confront the world's tallest mountain on his own terms? What makes the difference between someone who risks his life to rescue an ungrateful fellow mountaineer in peril and the majority of summit seekers who leave others to die? And how does someone who lives in New York City even train to pull off such awe-inspiring feats of fortitude? We tackle this and much more here. Listen, learn, and enjoy!
Please Scroll Down for Featured Resources and Transcript!
Please note that some of the links on this page (books, movies, music, etc.) lead to affiliate programs for which The Jordan Harbinger Show receives compensation. It's just one of the ways we keep the lights on around here. Thank you for your support!
Sign up for Six-Minute Networking — our free networking and relationship development mini course — at jordanharbinger.com/course!
Mind Pump is an online radio show/podcast dedicated to providing truthful fitness and health information. It is sometimes raw, sometimes shocking, and is always entertaining and helpful. Jack up your ears with some Mind Pump wisdom here!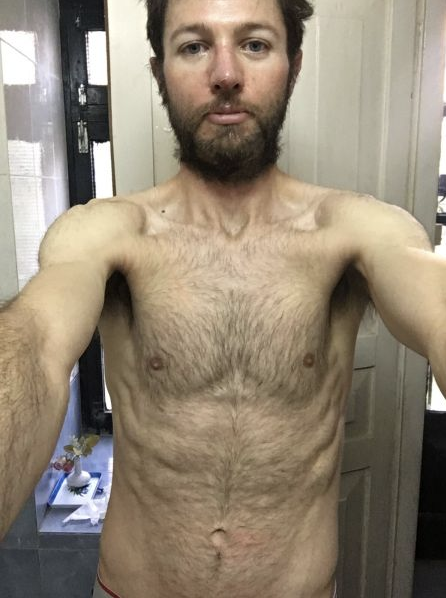 "[This] was the effect of about a month — from 18,000 feet to 29,000 feet — no supplemental oxygen, climbing to 8,000m peaks. No matter how much you try, your body's just going to cannibalize itself." –David Roeske at six feet tall, 134 pounds.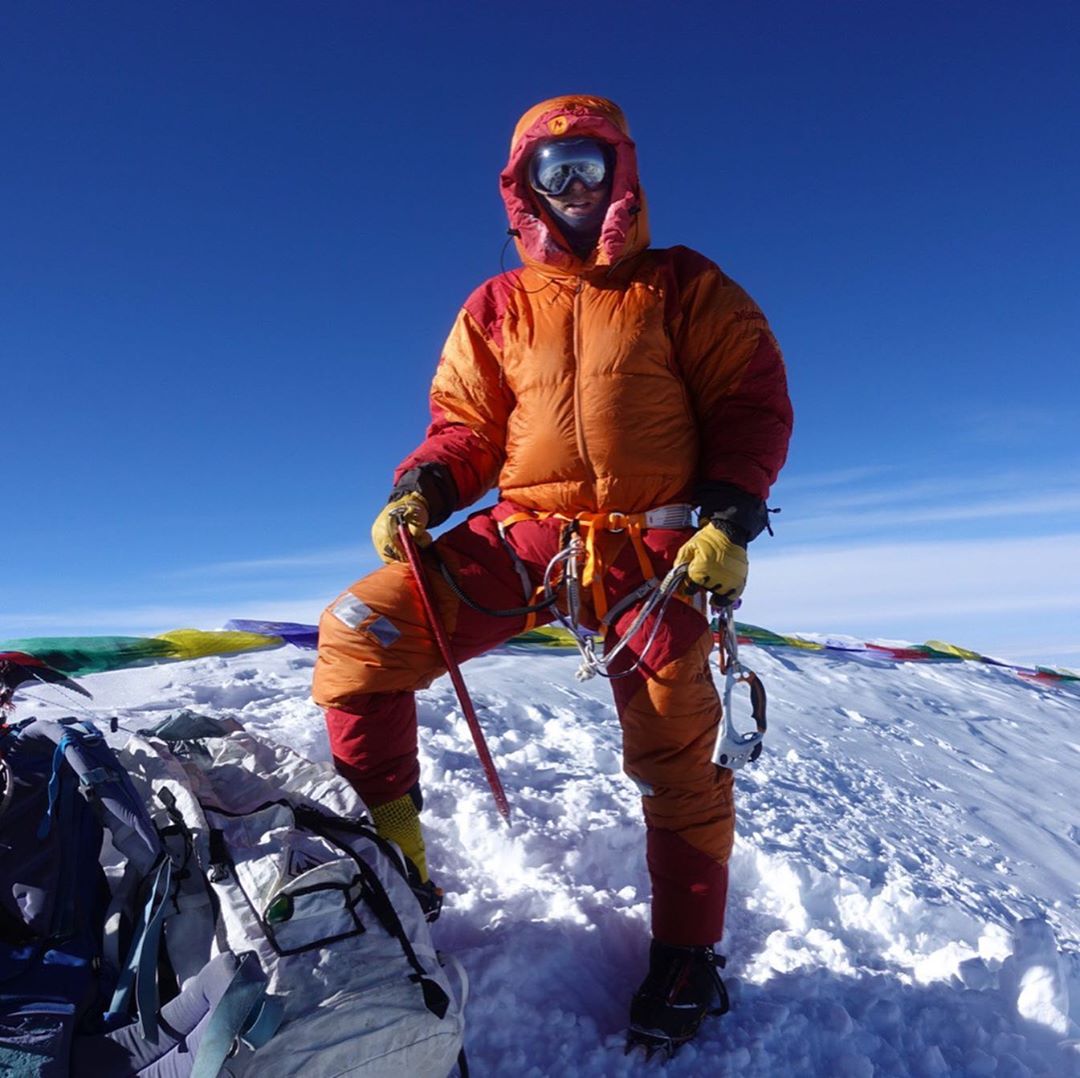 Since the conclusion of this interview, David had another go at K2. He writes: "I am so grateful to have summited K2 on July 25, without using supplemental oxygen. What a full-on experience K2 delivers. I think K2 earns all its nicknames, from The Savage Mountain — with arduous climbing, multiple avalanches, and frequent rockfall, though luckily no fatalities this season — to Siren of the Himalayas — I was among many others drawn to return to its flanks for a second, third, or even fourth time this year, despite (or because of) its difficulty.
"Our first summit attempt on the 17th was blocked by severe avalanche danger, prompting most teams, including mine, to end their expeditions. There was enough time for a second attempt after a few days' rest, so I felt I had to at least try, and I was able to find a spot on a team that chose to remain. We had enormous luck with weather, as a week of sun and wind managed to consolidate the snow and sweep The Traverse clean of the unstable snow that had loaded it before, and provided a narrow summit window. I started my push at 8:45 p.m. on the 24th and summited about 7 a.m. on the 25th in blue skies. By 9 a.m. on the way down I was in a whiteout above The Bottleneck. If I had started a couple hours later I would have seen nothing from the summit (and probably turned around). Over the three days I spent climbing back up to camp 4 for the second attempt, the good weather provided some of the most beautiful views of my life. Truly, the Karakoram Range is one of the most spectacular in the world. The views reminded me of why I climb.
"Thanks for all the encouragement last week to stick with the mountain and give it another try. The mountain said yes this time."
THANKS, DAVID ROESKE!
If you enjoyed this session with David Roeske, let him know by clicking on the link below and sending him a quick shout out at Instagram:
Click here to thank David Roeske at Instagram!
Click here to let Jordan know about your number one takeaway from this episode!
And if you want us to answer your questions on one of our upcoming weekly Feedback Friday episodes, drop us a line at friday@jordanharbinger.com.
Resources from This Episode:
Transcript for David Roeske | The View from the Top Is Breathtaking (Episode 235)
Jordan Harbinger: [00:00:03] Welcome to the show. I'm Jordan Harbinger as always. I'm here with producer Jason DeFillippo. On The Jordan Harbinger Show, we decode the stories, secrets, and skills of the world's most brilliant and interesting people and turn their wisdom into practical advice that you can use to impact your own life and those around you.
[00:00:19] And today, we've got my friend David Roeske, he's the fourth person ever to successfully climb Everest and another 8,000-meter peak without oxygen in the same season. I don't know why, and I asked him on the show why he does this, why climbs without oxygen as if climbing's not hard enough. Basically one day in 2007, he goes, "Oh, I'm going to get my health in order." Now, he's a mountaineer, alpinist, pilot, runner, summited Everest twice and other mountain names, I can't even pronounce Broad peak. No bottled oxygen, no bottled oxygen. Oh, by the way, plant-powered. It's just for me, kind of unbelievable to be doing all that. Like why are you making this stuff even harder than it already is? He's obviously a guy who likes to try things out of his league. He's been attempting things out of his league for a while. There's something about the sting of failure with this guy, and he's got this story about himself that he's doggedly determined. He's just going to put his head down. And I met him because he was at a party and I was in charge of the door and I tell this story at the beginning of the show. I was in charge of the door. He basically sprinted up multiple flights of stairs and in New York walk-up. And I just thought how it seemed impossible to me that he could've gotten up that quickly. He wasn't even sweating or breathing hard.
Jason DeFillippo: [00:01:36] It sounds like meth to me.
Jordan Harbinger: [00:01:38] He looks the mountaineer-part, more so than the meth part.
Jason DeFillippo: [00:01:43] He has teeth then.
Jordan Harbinger: [00:04:44] He does. Yes, and his focus, his hard work. I mean he's also like a hedge fund manager. It's really incredible what this guy does. I mean he is just all-around a high performer. Big goals are a topic here, ambitious goals, jumping out of your comfort zone in a way that's obviously not cliche because this guy puts his nose to the grindstone and actually gets it done. What I liked about this especially was it getting the summit is not the end of the journey. It's actually kind of a new beginning and he just pushes his goal even higher. I'm really impressed with this cat. Proud to be friends with him.
[00:02:15] And if you want to know how I managed to meet all these great people, it's at events, the curated events and I talk about that in our Six-Minute Networking course, which is free over at jordanharbinger.com/course and by the way, most of the guests here on the show actually subscribe to the course and the newsletter. So come join us, you'll be in great company. All right, here's David Roeske.
[00:02:36] I'm looking at this picture of you that my wife threw in the notes and you look like you just got out of like a North Korean re-education camp. So give me a bit of a feel for like your physical makeup like you're always a thin guy, sort of wired for climbing or what?
David Roeske: [00:02:57] No, I don't think so. In fact, I was not an athlete in high school. I was not an athlete in college. I would occasionally go to the gym and it would be very short-lived. I wasn't overweight, but I was not like an athlete at all. And even my first job at a college several years, working in LA, I was just kind of going to work and being a finance guy and not super committed to fitness. I actually had a very critical turning point where I made a decision to make a lifelong commitment to that. I was not always built for climbing. I did like hiking. I grew up in Colorado and so I maybe had a little bit of something in there, but I was actually going to pull up that picture too.
Jordan Harbinger: [00:03:50] Yeah, this is sort of just got out of North Korean prison selfie situation.
David Roeske: [00:03:56] It's pretty scary. That was the effect of about a month from 18,000 feet to 29,000 feet, no supplemental oxygen climbing to 8,000-meter peaks. And no matter how much you try, your body's just going to cannibalize itself and it prefers to eat muscle as opposed to eating food. So you tried to eat as much as you can. Your appetite is suppressed and you come out of the backside, and I think I was 134 pounds.
Jordan Harbinger: [00:04:28] Oh, man, and how tall are you?
David Roeske: [00:04:30] I'm six foot.
Jordan Harbinger: [00:04:32] So that's not even, you're supposed to be 40 pounds heavier or 30.
David Roeske: [00:04:35] Yeah. So I at least lost 20, 25 pounds during that one month stretch and it came back with extremely depleted batteries. I did not I do not normally look like that picture, but after each one of these 8,000-meter expeditions, I lose between 15 and 25 pounds. So, I tend to come back looking like starvation.
Jordan Harbinger: [00:05:02] Yeah. You'd have this beard. So it really does look like a [indiscernible] [00:05:07] kind of situation because of the beard and then your ribs are all showing and everything. And we'll throw the photo in the show notes. It's exactly what you would imagine. This photo looks like. You said your appetite suppressed. Why does that happen?
David Roeske: [00:05:21] There's something about the altitude. I think your body just goes strictly into a survival mode. And I haven't read a ton about the physiology of it but I think that it finds it easier to consume calories that are in the form of your muscle or fat than to digest calories. Now, you are eating as much as possible. But then the other thing is just calorie debt. I think you're easily burning two or three times the calories a day as what you can put in.
Jordan Harbinger: [00:06:00] Wow. Do you have any idea any estimate of how many calories that might…Are you burning 10,000 calories a day or something like that?
David Roeske: [00:06:06] You know, it's actually a great question and I supposed I could go back into it. I did a workout a couple nights ago for three hours which I would say is at the intensity that I am hiking for three to six hours on average on a day, not a summit day, but just an average day, and I have to pull up the picture from my phone, but I think it's like 3,000 3,500 calories right there. And that's a three-hour hike and moving from one camp to another on Everest, for example, is sort of a minimum of three hours usually. And on easy days where you're just moving up to another camp to a climb a little bit and then coming down, it's usually three to four hours up to this next camp. You either sleep there at night or you come back down. So that's another few hours and then it's just your basal metabolism has to be way higher. I think 6,000 to 10,000 calories a day, it could be quite easy to burn. And then those are on the normal days, you have rest days in between, so those are going to be a little lower but still elevated basal metabolism. And then on summit day, you start at midnight after a few hours of sleep and you might be back sometime the next afternoon if you want to keep coming down, which is the safe thing to do. But I've usually been lazy and not come down so that the summit days could be many, many more calories. I think even though your appetite is suppressed, it would be impossible to consume enough food during those days. So, you're just burning.
Jordan Harbinger: [00:07:50] And what do you eat when you're on a mountain? Just bars and like liquid gel stuff.
David Roeske: [00:07:56] You know, not a ton of that. I bring those things as snacks in base camp and an interesting twist on this is I'm actually vegetarian, which changes the food consumption.
Jordan Harbinger: [00:08:09] That to me is like you're just adding that in there to be like. What are you doing? Why?
David Roeske: [00:08:15] That's true. On the other hand, I think it has saved me from many episodes of food poisoning. When you think about the meat that's either carried in on a yak to base camp or the goat that's slaughtered and that walks itself in, and then was slaughtered at base camp, and the hygiene standards in Tibet or Pakistan, they're not the same as down the street here at grade A restaurant in New York City.
Jordan Harbinger: [00:08:45] And a goat walking into a base camp has probably been eating like mountain garbage for a year, for years, for its whole life.
David Roeske: [00:08:53] So I've been extremely fortunate not to have any severe food poisoning on any of the expeditions I've taken. I'm guessing that that's partly because of I'm only eating…I'm not a vegan, but vegetarian only eating vegetarian foods I think has helped. But yeah, so that's an additional challenge. But you're saying, what am I eating? In camp it's very, it's very simple and plain, unfortunately, that contributes to the lack of enough calorie intake, but it might be some cheap cereal that's local, so some weird corn flakes or cocoa puffs.
Jordan Harbinger: [00:09:35] I would not imagine that you're eating like low-quality food.
David Roeske: [00:09:38] it's low-quality. Well, you know, you can go for super expensive Outfitters and they might bring in Western food. I've not gone that path. And so it's like white rice, lentils with what they'll usually call [indiscernible] [00:09:53] there, a bunch of eggs, and maybe some tomatoes and that sort of routine seems to be played over many, many times. So when I come back from a month on that diet, the mere sight of a tomato omelet is just…My stomach turns and its white rice. I'm used to like brown rice. I'm used to wheat bread. I'm used to whole plant foods. That's my normal diet, so it's a struggle. On the mountain, on a summit attempt or something. It's pretty simple, you have some freeze-dried, easily reconstituted, some pasta, backpacking ration, and some instant oatmeal. And those are not high calorie, it's 150 calories a pack.
Jordan Harbinger: [00:10:41] I'm so surprised. I figured you guys were surviving on like really calorie-dense sort of marathon runner food bars. You have a backpack full of just hundreds of these little Quest bars or something, but it's not.
David Roeske: [00:10:55] It actually turns out that relying too much on those simple sugars, which will help you get through a marathon, that's not the optimal approach for an expedition. And what you really want is to develop a fat-burning metabolism up there. You're warmer when you're burning fat. You're less likely debunk sort of hit an energy wall and that energy source can last on those 15 hours a day wherein a marathon two, three hours of running, you run out of glycogen and your body can't process. If you keep on taking gels in, you need water when you do that. I might bring a couple of gels. I don't subsist on them and the bars are just snacks in base camp.
Jordan Harbinger: [00:11:48] So, you got to get nutrition before you even get to the mountain. You got to bring it into your body.
David Roeske: [00:11:54] Right.
Jordan Harbinger: [00:11:55] Wow. I never thought about that, but you can't bring too much. You can't pack like me or you're not going to make it up the mountain. You've got to have that balance. It's got to be like quality. You can't just have a bunch of love handles. You're hoping to bugger off when you get there.
David Roeske: [00:12:08] Ideally, not though I've been really impressed. Most of us don't have the genetic makeup of a Sherpa, but I've met Sherpa who came into the beginning of an expedition with a real belly and because they aren't affected by the altitude as much as most of us, by the end of the expedition, they've just burned all that off. That's actually pretty ideal. That's great. Because they're already able to hike non-stop for hours. So it's no problem for them.
Jordan Harbinger: [00:12:38] Tell us who the Sherpas are because I think a lot of people have heard that, but they think it's the guy that carries your luggage.
David Roeske: [00:12:43] Yeah. That would be just simply a porter, but a Sherpa is an ethnicity, strictly from Nepal. They've grown up for many generations in high mountains, and I believe they do have a genetic gift for performing at altitude.
Jordan Harbinger: [00:13:07] Even if they didn't, they're born there, they're going to develop lung capacity over 20, 30 years or whatever.
David Roeske: [00:13:14] Exactly, I think that's correct. If you're born in Leadville, Colorado at 10,000 feet and all the time you're going between 10 and climbing the 14ers around there, you're probably going do a lot better at altitude, than other people, even if you aren't really an athlete. So, you actually see a lot of Sherpas who aren't really athletes, but you don't have to be an athlete if you can just keep hiking with a heavy pack for hours and hours. If you can do that, you can be very effective on the mountain.
Jordan Harbinger: [00:13:45] Yeah, that's interesting. I think even if you spent a summer in Breckenridge or something like that, you're going start to adapt pretty quick because once you get past the initial headaches or whatever it is from altitude, I experienced that for the first time. I think it was in Breckenridge and I just went, "Oh, this is miserable." On the first day, I was fine, all my friends are sick and I was like, "Ah, you wimps." And then I had a couple of drinks and then the next day I was like, "I am miserable. This is awful. This is the worst feeling ever." It's like a combination of a hangover and a headache that you would have with fever without being hot and you're tired, and it just doesn't end.
David Roeske: [00:14:00] Well, alcohol is definitely the worst thing on there.
Jordan Harbinger: [00:14:23] I was like, I can drink, I'm fine.
David Roeske: [00:14:25] It goes to your head a lot faster when you're at altitude. But dehydration is one of the principle compounding factors in altitude sickness. And if you're drinking alcohol, you're getting even more dehydrated. The one interesting aspect of the climatization phases, you have to drink excessive amounts of water. So when I'm moving up in the initial part of an expedition, going to the first base camps and I've been at sea level all the time before I'm drinking six to eight liters of water a day.
Jordan Harbinger: [00:14:59] Oh, that's, that's a ton because I drink probably two or three and I'm going to the bathroom all the time. My friends are like, you drink more than anyone I know. So if you're drinking two to three times that--
David Roeske: [00:15:11] It's the only way.
Jordan Harbinger: [00:15:12] You got to force yourself to do that. There's no human that's thirsty that often, who doesn't have diabetes or like a kidney issue.
David Roeske: [00:15:20] Yeah. You're just slamming that water. There's no other way to get yourself acclimated.
Jordan Harbinger: [00:15:26] Wow.
Jason DeFillippo: [00:15:28] You're listening to The Jordan Harbinger Show with our guest, David Roeske. We'll be right back.
Jordan Harbinger: [00:15:33] This episode is sponsored in part by HostGator.
Jason DeFillippo:[00:15:37] Who are you? What's your story? Where are you telling that story? Relying on the free options offered by social media is like writing the chapters of your life in the sand. When the tide turns, as it did when My Space recently last 12 years of user data, these chapters will wash away. Gone forever. Wouldn't it be nice if you were in complete control of your own archive of memories safely away from the fickle tides of someone else's incompetence? Get your own website with a guiding hand of HostGator and you can be. HostGator has outlasted your favorite social media sites of yesteryear and is likely to outlast the ones you consider unstoppable today, but even if HostGator were to go extinct tomorrow, your website's data remains yours to transfer forever as you see fit. This is why we recommend HostGator for creating and maintaining your best possible online presence. You don't have to know the first thing about programming or design in order to custom craft your own mobile-friendly website. Thanks to HostGator's simple drag and drop builder. Choose from hundreds of themes to effortlessly switch up your presentation as you see fit or run it all on WordPress with one-easy click. Gauge your site's performance with analytics that don't take a cryptographer to decode. Stay engaged with your audience across the entire social media landscape, accept payments directly from customers and trumpet your presence to the world's most used search engines with HostGator's arsenal of tools at your disposal. HostGator's 99.9 percent uptime guarantee and around-the-clock support ensure your website is available to the eyes of the world every day and night of the year. Got a tight budget. No worries. As long as you're a new user you get to try any HostGator package for up to 62 percent off the normal price, just for hearing the sound of my voice. And if you're not completely satisfied with everything HostGator has to offer, you've got 45 days to cancel for a refund of every last penny. Check out hostgator.com/jordan right now to sign up. That's hostgator.com/jordan.
Jordan Harbinger: [00:17:24] this episode is also sponsored by SimpliSafe. Okay, so a while ago, Jen and I wanted a security system and we called all the usual suspects because I thought, "Oh, there's got to be a bunch of new stuff out there." There wasn't, and so we had these hills guys come to our house and I mean they were showing me stuff that we had installed in my house in Michigan in the 90s when I was a teenager. They had the same, I could not believe it. Of course, they had an app that was like 20 or 30 bucks extra per month and looked like somebody coded it in about seven minutes in 2007 so I was not impressed. Then we found out about SimpliSafe and this is the 21st century home security system. It's crazy that only one in five homes have home security. A lot of people only have like a camera out at the front door. People break windows. Hello. SimpliSafe is a top choice. Hands down. They've got door sensors, window sensors. They protect every door, every window with 24/7 professional monitoring. It's not just going to beep and then you've got to get a little push notification on your phone and calls their monitoring center. They make it easy for you. There's no contract, there are no hidden fees. They won a ton of awards and it's around the clock monitoring 15 bucks a month. One thing, that they have that is amazing, they've got video verification technologies, so a lot of security systems ring and it's a false alarm. Police generally assume a home security system alarm is a false alarm. What SimpliSafe does is they are able to visually confirm that the breaking is happening. Then they say, "Hey cops, there is someone in the house. It's not supposed to be there." They'll get to the scene three and a half times faster than other security systems. That is kind of worth its weight in gold. If you're sitting upstairs with your wife and kid and there's somebody downstairs with the crowbar. Jason.
Jason DeFillippo: [00:19:15] Visit SimpliSafe.com/jordan. You'll get free shipping in a 60-day risk-free trial. You've got nothing to lose. Go now and be sure you go to SimpliSafe.com/Jordan, so they know our show sent you. That's S-I-M-P-L-I SimpliSafe.com/jordan.
[00:19:32] Thanks for listening and supporting the show and to learn more and get links to all the great discounts you just heard from our amazing sponsors, visit jordanharbinger.com/deals. And don't forget we have a worksheet for today's episode so you can make sure you solidify your understanding of all the key takeaways from David Roeske. That link is in the show notes at jordanharbinger.com/podcast. If you'd like some tips on how to subscribe to the show, just go to jordanharbinger.com/subscribe. Subscribing to the show is absolutely free. It just means that you get all the latest episodes in your podcast player when they're released, so you don't miss a single thing from the show. And now back to our episode with David Roeske.
Jordan Harbinger: [00:20:11] How long does it take to climb some of these mountains? Like I think people don't really get that these are really long expeditions because everybody else has done maybe they think, "Oh, it's a four-day weekend, we're going to go up the K2 and come back down. See you guys on Tuesday."
David Roeske: [00:20:27] Right. I actually do get that reaction when I tell people. They're like, "How long are you going?" I'll say, "I'm going on this next expedition." I'm like, "Well, I'm going to be gone for the end of the month of July." And they're like, "What?"
Jordan Harbinger: [00:20:39] Are you throwing a vacation in there?
David Roeske: [00:20:41] But that's actually pretty short. Most people going on an Everest expedition, that's like a six- to eight-week thing. I just can't take that much time off. I guess I've been lucky that my body has been able to handle, but I've done all my expeditions on basically a five-week timeline, four- to five-week. And that's, I think, pushing the edge of the limits of human acclimatization right up to the limit.
Jordan Harbinger: [00:21:11] And the reason you can't take that time off is --because what's even more kind of insane, we were talking about this before the show-- is that you're an investment manager in New York City. So, it's not like you are training all day and sleeping all day and going there and getting used to the food and the water and the altitude and the air or the whatever, you are just getting off a plane and kind of like, "Okay, I got to do this."
David Roeske: [00:21:36] Yeah, that's, that's totally true. I'm not a professional climber. I'm an amateur with big goals essentially that I've pursued. And I really enjoy actually having a balance between going out…I absolutely love the mountains. I love climbing them, but that's not all that I want to do in life. I have a finance job in New York City and try to pick stocks by day and manage money for endowments and pension funds and make good long-term decisions for our investors. And then every once in a while I'm super fortunate that I've been able to go off and try to push my own physical limits as hard as I can.
Jordan Harbinger: [00:22:23] You say you're not a professional climber, but I think people go, "Oh, well, that's why not." You're the fourth person ever to successfully climb Everest and another 8,000-meter peak, also by the way, without oxygen in the same season. Saying you're not professional, I don't want people to get the idea that like, "Oh, there are so many people, like you couldn't, you can't cut it in the climbing world." It's just that, that you also do other things. Because I think if someone says, "Oh, I'm not a professional football player, it's like, okay, well you're just not good enough to play professional football." This is kind of a different scenario.
David Roeske: [00:22:57] Yeah. Now after I was that fourth person then a true mountain god Kilian Jornet came in and did the same thing. He actually had the same combination of peaks Cho Oyu which is the sixth highest mountain and then Everest. And he is a true professional. Yeah, I have a regular job, so to speak. Then I have had really big goals that have developed over time in the mountains, but I don't make any money off of the climbs. And in a way I think really, I'm really fortunate. I think people who want to spend their whole life in the mountains, they need to make a career of it. But I like not having the pressure of climbing for the sake of my sustenance. So getting to the top of a peak or making it up on a new route is not a motivation for me being out there. It's simply for the love of the mountains and the love of this entire experience that goes into it. And it's extremely dangerous that it's hard enough to face the danger without the pressure of performing in order to get money.
Jordan Harbinger: [00:24:15] Yeah, it keeps you a little bit safer because you're not like, "Oh, well, if Alex Honnold is going to free-solo El Cap, I got to do something even more dangerous to get the limelight so I can get sponsorship."
David Roeske: [00:24:24] Exactly. Yeah. So I haven't had to push to do things that I might not be purely motivated to do on my own just for the sake of sponsorship.
Jordan Harbinger: [00:24:35] Yeah. That's possibly a lifesaving thing in an industry where you're constantly cutting…Not cutting corners, doing something a little bit more dangerous than last time, which is not always a good idea.
David Roeske: [00:24:48] Or there are just certain unavoidable risks to the sport of mountaineering and you're always running along the line of something that's much more dangerous than most activities.
Jordan Harbinger: [00:25:03] How do you train with a nine to five…We're in Manhattan so it's never nine to five, but how are you training with a day job? Because you can't just like take off at 4:30 and go to the mountain. There's no mountain.
David Roeske: [00:25:15] No. Yeah, I think that's, it's kind of one of the cool things about the balance of goals that I have is just having to figure out how to pursue them with the tools I have right here and right now. I certainly can't say that New York City's the ideal place to train for mountains.
Jordan Harbinger: [00:25:34] Probably not.
David Roeske: [00:25:35] By a long shot, but I think a little bit of a lesson in it is anyone going after big goals, you can always just start with what you have here. And what I happen to have here is I live in a building as 40 stories, so I hike the stairs with a backpack on and I do that four hours at a time. I also go to the gym and just turn up the incline to the steepest it will go, and I did this just two nights ago. I spent three hours on a treadmill. Most treadmills go to 15 percent. This one I found it went to 30 percent incline and I put a 30-pound barbell in my backpack and hiked that for three hours. And this was after a full day of work. Now, I have to cut out a lot of other things. I think some of the other guests that you've had on and some of the other books that you recommend, talk a lot about paring non-essential things from your life. That's certainly been absolutely a requirement for me to perform well at a demanding job and trying to pursue athletic goals that are also very demanding that require your best performance where your life is on the line. That required cutting out other things. But if I don't have too much else going on, I can have a full day at work and be focused and productive and then I can go to the gym and I think I was on the treadmill until 10 or 10 30. Be home, got some food then went to sleep. The other great thing is while I'm on that treadmill, I'm listening to books and podcasts. So I'm feeding my brain, which is also useful for my job. So I don't feel like I'm even taking away from my work. I'm able to educate my brain while I'm doing this work. I've found a way with just the very simple tools I have here at sea level to train for big mountains.
Jordan Harbinger: [00:27:36] I think one of the reasons that we met --well we met at our friend Jon Levy's party-- I was doing something with the door at this party and it was like Jon said, "Hey, when they buzz, just sort of pay attention because like five minutes later they're going to be up the stairs in this walkout or four minutes later or three minutes later or whatever it was. And so it would be like buzz and I'd go like, all right, I'm going to go make a drink. And then go to the door and then buzz, then I'd finished my conversation and go to the door. And then when I met you, it was like buzz and then it was like thump, thump, thump, and I was like, "Wait a minute. Did I just have a brain fart where I lost three minutes of my life? Like what happened?" So I opened the door and I thought, oh, maybe someone else buzzed and you happen to already be on the stairs. So I was waiting, waiting, waiting. Nobody else came in. And then finally I went, "Hey, how did you get up here so fast?" And you're like, "Oh I just ran." But you're not breathing heavy. You're wearing a white shirt. You're not sweating. How the hell did you do that? Because it was like six flights of stairs, and then that's how we get to talking that you just run upstairs.
David Roeske: [00:28:33] Now I remember this. I had actually forgotten that but--
Jordan Harbinger: [00:28:38] Yeah, because you probably do it everywhere.
David Roeske: [00:28:39] It is. You know, I am kind of lazy. In fact, most of the time I go home to my building and I take that elevator to the 12th floor--
Jordan Harbinger: [00:28:47] After a three-hour treadmill.
David Roeske: [00:28:48] I'm like, you know, I could add on another 12 floors, but I'm like, man, I'll just go.
Jordan Harbinger: [00:28:53] It's 11:00 p.m. I'm hungry and I just got off a treadmill, so I'm going to take the elevator. I think that's forgivable.
David Roeske: [00:28:58] Thank you. I know some people that have built more dedication than I do, but I have enough. I actually have found in this whole process, I sort of backing up to the, that story about getting a fit and choosing to get into fitness, which was not until I was 26 years old did I make this conscious decision, "All right, I'm going to invest in my body on a near-daily basis because I want that for the rest of my life." And that really led to all of the other things I've done since then. I first was just working out weightlifting and then I ended up entering a race here with the New York Road Runners and I found, "Oh that four-mile race was really fun and let me try that again." And then I got a little bit better and I was like, "Wow, that growth, that improvement from whatever place to that next place, that was really fun. I want to keep that going." Then that became a passion. So, it wasn't until I was actually 32 that I got the inspiration to pick up high altitude mountaineering, but by then I had been running for six years and I run the marathon in New York a few times, so I had this base of fitness.
Jordan Harbinger: [00:30:19] You finish the marathon in like 2:38 though, right? I mean, you're doing it pretty quick now.
David Roeske: [00:30:23] Now I've gotten it down to 2:34, 2:35. I will say I probably had some natural ability, but it was not--
Jordan Harbinger: [00:30:39] To make a runners build type situation.
David Roeske: [00:30:41] My first races were probably faster than average, but it was all a development thing. So, I had that base of fitness, than as I started getting into mountain climbing, then I realized, "Oh, the stairs are kind of interesting." And I'd heard about the Empire State Building Run-Up, which is a race upstairs. After five or six years of running, I decided to enter that. When we met, I had already been doing those for a while. Now, I do the run-up on the World Trade Center and Empire State Building and a few others. They're taking that six flight hike that you met me on to 88 or more.
Jordan Harbinger: [00:31:28] There can't be that many people on a set of stairs though. So, is it like if you're slow, go to the right and if you're running up, go to the left kind of situation.
David Roeske: [00:31:34] So what they do is they figure out where you should essentially start based on prior experience. If it's your first stair race, they'll start you in the back and then it's chip timed and they only meet release like one person every five to 10 seconds. So a stair race can take all morning, three or four hours because they can't let everyone start at once. But then your timing is just the net timing for when you crossed the mat at the beginning to the top.
Jordan Harbinger: [00:32:02] That seems like a better and safer because I'm imagining people running up and bumping into each other. Like somebody slows down and it's like, now, I'm stuck.
David Roeske: [00:32:11] You know True Jam like you do overtake people if you got placed a little bit behind them and you're actually on the rail, so a huge benefit is pulling on the rail with your arms. You want both arms and legs and so you end up kind of sliding up underneath the person. If they are polite, they'll hop to the left, they'll get off the rail and let you pull through.
Jordan Harbinger: [00:32:33] Yeah, that makes sense.
David Roeske: [00:32:34] In a pretty competitive race and if you're kind of neck and neck, they might try to make you actually go out around and let go.
Jordan Harbinger: [00:32:42] That's got to be so irritating. Move.
David Roeske: [00:32:47] But you don't even want to waste a breath to tell them to move. Like you do say something like coming through and I often like my hands are like slipping up underneath, but eventually, people will let you--
Jordan Harbinger: [00:33:00] You need like a belt with a button that you can push that says move or they have a little horn and air horn belt. That has to exist. If not, you know, feel free to run with that.
David Roeske: [00:33:12] For that huge market. This is a pretty niche, a somewhat dorky sport I'd say.
Jordan Harbinger: [00:33:18] It's very New York. Like you probably, maybe in any big city, you can find a skyscraper, but you can't really do this in Troy, Michigan or whatever.
David Roeske: [00:33:26] Probably not.
Jordan Harbinger: [00:33:27] So you're taking five weeks off work, but everybody else who's doing this is doing these mountains in seven, eight weeks. So, you're doing it in a month and change maybe, they're doing it in two full months. So you get there and they're already like, "Yeah, I'm acclimated, I'm warmed up. I've already started eating yak butter or whatever the hell.
David Roeske: [00:33:45] That is true. I've always come in a little later. I'm actually preparing to go on a second attempt on K2 in a couple of weeks here and I'm watching on Instagram and I'm seeing all these people who have just begun arriving in base camp. And so that makes me antsy on the one hand. But, I know I wouldn't get the opportunity to go at all if I was taking more time off and I'm actually trying to keep it under a month this year because I tried last year and it's kind of hard to ask for a big trip like this two years in a row from my work. If I can just go and give it a shot, I will, and I'm going to turn around if it's unsafe, but I also think there is some benefit to coming a little bit later and spending less time. So you have two curves you're trying to optimize for. You have acclimatization which is improving when you're there, but you also have your fitness, which is rapidly declining. And so just when you're up there at altitude, you're not doing this great a workouts every day. You're climbing to new camp one day you come back down and you rest a couple of days and you have no interest in doing pushups and sprints around your camp. That's not happening.
Jordan Harbinger: [00:35:02] And you wouldn't even want to because you're just burning the storage that you brought with you.
David Roeske: [00:35:06] So you just sit around, you've talked to people and you play some cards, whatever, but you're not exercising except when you're moving to those camps. So during that period of time, you're getting out of shape. And so what you ideally want is by the time you're just to climb the mountain, you haven't lost enough, too much fitness to no longer have the fitness.
Jordan Harbinger: [00:35:28] So there's definitely a window, not even, not even to mention the seasonal window because you can't just go, "Hey, I got Christmas off, let me go climb a mountain." No, there's 20 feet of snow.
David Roeske: [00:35:39] Yeah, there's a few, there's literally a few days. That's one of the things we saw this year on Everest with all the tragedies that people who died there, the weather window was very narrow and everybody was trying to jam up into that and that caused those crazy traffic lines.
Jordan Harbinger: [00:35:54] Yeah. Explain what that was because I think I probably saw it on your Instagram or maybe I was just researching you for this and I saw this and it was like a huge line. I mean it looked like black Friday on a mountain. There was just people are touching each other and just sitting down on a mountain that you're probably not supposed to hang out on for too long.
David Roeske: [00:36:14] No. Definitely not. I mean it's kind of depressing really to look at those pictures. One for the safety aspect, two for it feels like it cheapens the mountain but also people up there when you're, when you're in that position like you are gradually dying essentially. Those pictures were taken in the death zone and--
Jordan Harbinger: [00:36:39] I want to hear about what that is in a second but continue.
David Roeske: [00:36:42] The longer you spend there, the more a danger you're in.
Jordan Harbinger: [00:36:45] Because of the altitude?
David Roeske: [00:36:46] Because of the altitude. Even the people that are on oxygen, which a lot of the people there just probably shouldn't have been there. So regardless of how much oxygen they were on, but it becomes this compounding like one little thing goes wrong, somebody's sick, they're tied into the line, the people behind aren't skilled enough to walk around them. So then there's held up and somebody else who isn't sick just because of exposure gets sick, altitude sick. All of that combined to create some of those tragic deaths that happened this year.
Jordan Harbinger: [00:37:23] Tied into the line. So is there, is there like a rope keeping you from falling off essentially? Is that what that is?
David Roeske: [00:37:28] So for most of the climbers doing Everest these days, they're going up a fixed rope that's put in by an advanced team of usually a mix of Sherpa and some a Western climbing guides. And so at the beginning of the season, they put a new rope up and then everybody goes simply hikes along that with an ascender. So it's not real mountaineering, it's not climbing a really, Everest isn't that much to do with climbing. It is mostly just hiking. But there is a lot of exposure and so you're at great risk if you do take your ascender, this jumar thing, that slides up the rope and it's attached your harness so you keep walking and you slide that up a little bit each time you take a step. It's dangerous when you unclip that because now there's nothing there if you were to trip.
Jordan Harbinger: [00:38:19] Oh, God.
David Roeske: [00:38:20] And so nobody wants to let go. No one wants to let you pass either and so just--
Jordan Harbinger: [00:38:26] Why don't they want to let you pass. Like a competitive kind of thing or they think you're going to hold that up later, maybe.
David Roeske: [00:38:35] There is a bit of, when you're up at that level, I think the intensity of the situation pushes everyone to a little bit of a survival mentality of I have to protect myself first and all costs. And whether that's your ability to get to the mountain, a minute before the next person, or anything else. That's why you do see a lot of what seems like inhumane behavior up there where people become very apparently selfish amount. That's a whole other thing that we should probably talk about. Keep going.
Jordan Harbinger: [00:39:13] I was curious because there's, on that note, that's this David Sharp controversy and I guess he was freezing to death or maybe he's just dying of exposure, altitude, whatever, and like 40 people, literally 40 people passed him and then he ended up dying and people were like, "Whoa, what are you, what are we doing here? This guy died. Easily could have been helped by dozens of people and wasn't."
David Roeske: [00:39:37] It's not quite a moral dilemma, but I think it's a challenging situation for a lot of people when they get there because one--they know that if they expend any extra energy, their own life is partly at risk. Whether they think of that way, it's just instinctual. Two--they've put a lot of work into getting there and money and so they're just pure selfishness. They're like this guy --he shouldn't have been there-- that's his fault. And so you see what appears to be incredibly distasteful human behavior up there. And I think the only way you don't act in that manner is if you've made a decision ahead of time about how you're going to act when someone is in need around you. And then the other complicating factors are those psychological studies we've seen where if there's a group, there's a dilution of your feeling of responsibility--
Jordan Harbinger: [00:40:37] Like the bystander effect.
David Roeske: [00:40:38] The bystander effect.
Jordan Harbinger: [00:40:39] You see that in New York City all the time. Someone passed out on the sidewalk and people are stepping over him and it's like--
David Roeske: [00:40:42] Somebody else's going to help that. I don't need to do it. And so I think that probably adds to all of those other factors. And so if you're the only person there, then maybe, at least a higher percentage of those people walking over the sick body would've helped you put them already in their oxygen addled brain state. The fact that a lot of them have sunk their entire life savings into being there and they don't want this guy's life to get in the way of their summit. I think that you have to decide ahead of time and the only way to react in an ethical way is to decide ahead of time. Like before you get to the mountain and throughout your life. It has to be a practice like a famous quotation, you don't rise to the level of expectations, you fall to the level of your training or you fall to the level of the values that you've lived for the rest of your life. Those values have to be at the core of your identity. Otherwise, in that extreme of a situation, you're going to be like all those other people. So, a lot of people look at those pictures and think, "Oh my God, how could all these people walk by?" And those are those same people. Like, if they were on the mountain, they would be that person.
Jordan Harbinger: [00:42:04] Because at the moment you go, "I'm so close. There are people behind me, they'll help."
David Roeske: [00:42:10] And these guys were what can I do? How can I help him? Maybe he's already gone.
Jordan Harbinger: [00:42:15] Oh, I think, oh, he's fine. He's just taking a break. There are all these rationalizations.
David Roeske: [00:42:20] Absolutely.
Jordan Harbinger: [00:42:21] He's not that sick. He'll be fine in a few minutes after I can't see him anymore. Right?
David Roeske: [00:042:26] Yeah.
Jordan Harbinger: [00:42:28] But you must have made that decision before because you mentioned you're making a second attempt at K2. I remember talking with you, I guess, last year or the year before or something like that. What happened on the first attempt because you had already made that decision and then you kind of had to, you had to put your money where your mouth is literally, I guess at that point.
David Roeske: [00:42:43] Which is very interesting because I had been talking about the lessons that I had hoped I had learned from climbing other mountains and one of the big lessons that I had said I wanted to learn was to put people first. And I'd actually been a beneficiary where someone let me squeeze into their tent. I'm at 25,000 feet on Everest when the wind was too strong to pitch a tent for myself and it wasn't a survival situation, but it was an urgent situation. I could have hiked back down. I'm in the dark, but a bunch of people in their tents said, "No, you can't. You can't stay with us. Figure it out yourself."
Jordan Harbinger: [00:43:28] Oh, they said no.
David Roeske: [00:43:29] They said no.
Jordan Harbinger: [00:43:30] Oh, I feel like I could not live with myself being like, "Get out of here." I just couldn't do it.
David Roeske: [00:43:36] So they said no. And then this one guy said, "Yeah, there's two of us in here, but you can squeeze in," even though it is a real inconvenience. And that was incredibly kind of him. And so I saw that and when I got done with that trip, I thought, wow, that's the way to live. You want to put people first above all else. And I kept telling people that, but what good is it if I didn't live it out myself?
Jordan Harbinger: [00:44:05] People first, as long as it's me, but if somebody else, sorry, buddy.
David Roeske: [00:44:09] So last year, I was trying to do another doubleheader, Broad Peak, which is the 12th highest mountain and then K2 there in Pakistan, both without oxygen and my first run up the mountain for summit attempt my partner and I, we're at the highest camp and it was really interesting, we had slept the night before, we were planning to rest a day and then go for it. We woke up in the morning and there were some other people coming into camp and are packing up their tent site. So we got out and started talking to them and said, "Hey, what's up?" They're like, "Yeah, we had come up here, we were going to try and make a summit attempt. One of our partners went off on his own to go for the summit. We decided not to. He didn't come back. We'd been waiting for him. We saw him at one point, but then he disappeared on the mountain and we think he fell into a crevasse or he fell off and we've been waiting here for 24, 36 hours." And they thought he's done. And so they were packing up and going to go down.
Jordan Harbinger: [00:45:17] They were just going to leave.
David Roeske: [00:45:18] They did.
Jordan Harbinger: [00:45:19] They left.
David Roeske: [00:45:20] They left.
Jordan Harbinger: [00:45:20] Oh, those are some friends. Well, I guess I don't know what, what do you do?
David Roeske: [00:45:23] I don't know. I mean it's a rough situation to be in and clearly very sobering. So, my climbing partner and I were just like, "Wow, well, you know, that's intense," and we're still there. Like there's nothing else to do. But later in that evening that that was in the morning, later that evening, we got a radio call and the radio call said, "Well someone at base camp was just randomly looking through a telescope and saw someone moving up on the, on the mountain slope and then they sent a drone up and they found the guy that had been presumed lost.
Jordan Harbinger: [00:46:00] Oh, man, he's just wandering around, lost.
David Roeske: [00:46:03] And he was out on a glacier and not tied in anything by himself and there are crevasses and he's alive. That was moving.
Jordan Harbinger: [00:46:12] If you're in that situation, is that one of those, like it's not a matter of if, but when you just fall to your death, because if you're not roped in, you kind of don't know where you are. That's got to be about the most dangerous situation.
David Roeske: [00:46:23] It's highly dangerous. I personally think he made a very bad decision to go off by himself.
Jordan Harbinger: [00:46:28] Yeah. I don't know. I can't follow that logic.
David Roeske: [00:46:31] I fully disagree with that decision on his part. But it was a dangerous place for him. There was a decent chance he could have made his way back without falling in. But there's a video that I don't know if you saw it, but there's a YouTube video that was taken by the drone pilot, which shows both me and my partner…The drone ended up going up and down the mountain. They had to wait to recharge it, but it helped guide us to this climber. He is a 63-year-old guy who had a lot of experience about mountaineering, pretty old school, didn't carry a radio or a communicator.
Jordan Harbinger: [00:47:12] That's really dumb. I get it. You're older, you didn't grow up doing that, but--
David Roeske: [00:47:19] It's like new responsibilities for new times.
Jordan Harbinger: [00:47:21] And you're alone. I get it. You're with a group, your friend has the radio. You should probably still carry one, but if you're alone, just humor me on this one and take a radio.
David Roeske: [00:47:30] Exactly.
Jordan Harbinger: [00:47:30] Yeah.
David Roeske: [00:47:31] Totally.
Jordan Harbinger: [00:47:31] Ugh, irritating.
David Roeske: [00:47:33] So, they ended up using the drone to lead us to him. And my partner and I took a while. We went down, the directions were wrong, had to hike back up to the Camp Three on Broad Peak and then we went up a little higher and tied in and went across this glacier and found him. And with now we're roped together, which now if somebody falls into a crevasse. The other people can fall in their ice axes and save them.
Jordan Harbinger: [00:48:05] So, that's like the movie scene where you whip your ice hammer out and--
David Roeske: [00:48:10] Fall on the head. If the person on the other end of the road falls into something, you fall to the ground in a self-arrest position and--
Jordan Harbinger: [00:48:21] I'm getting jittery thinking about, I mean, it could be the coffee, but I'm getting like a full-body kind of cringe feeling where I just can't…It's the same feeling I get when I hear about people drowning in a cave underwater. I'm like I just can't think about it.
David Roeske: [00:48:35] Well, that gave me a bad feeling.
Jordan Harbinger: [00:48:37] Okay, so you shouldn't go caving underwater. You can stick to glaciers and mountains.
Jason DeFillippo: [00:48:43] You're listening to The Jordan Harbinger Show with our guest, David Roeske. We'll be right back after this.
Jordan Harbinger: [00:48:48] This episode is sponsored in part by BiOptimizers. These guys are the Navy Seal of probiotics. As Jason says, it's Jocko Willink for your butt. They're giving away a free trial bottle of their patented probiotic supplement, and I know patented sounds fancy, but I'll tell you I tried this a bunch. It definitely does what it's supposed to do without getting into too many details. You probably heard me say by now that 99 percent of those over the counter probiotics that everyone's like, they colonize your gut. They don't do that. Most studies now have proven that most probiotics pass through your system. They don't do anything. You still do need good bacteria to fight the bad guys. It's just not going to colonize your gut. And the solution that I've found is P3-OM. I've been using this for, oh man, a year at least now, and you can, let's just say, you can see the results in action as it were. It's proteolytic, which means it digests protein. It's antiviral, antiretroviral, eliminates pathogens, maintainable in the digestive system. It's not meant to colonizer. There's a difference there and the strain doubles every 20 minutes and then you eliminate it in three to four days. This is not…Jason, have you heard a fecal transplant? Isn't that crazy?
Jason DeFillippo: [00:49:55] Oh yeah, when you, when you swap poop with someone, ugh, yeah.
Jordan Harbinger: [00:49:59] See that's gut colonization that you're not going to get that from a supplement, but what this does better than any other strain is fight the bad guys--parasites, viruses, that kind of stuff in your gut. You get a free bottle. Now obviously you pay the shipping, there's no cancel. It's not forced continuity BS. They offer a 365-day money-back guarantee. My friend runs this company, so it's, you know, it's not, it's not like shady fly by night Internet stuff. p3om.com/jordan free, p3om.com/jordan free. You'll get the unique coupon code to get the free bottle. Limit one per household valid while supplies last. You're going to love it. Let me know what, well actually don't let me know what comes out of this.
[00:50:40] This episode is also sponsored by NetSuite. If you don't know your numbers and your business, you don't know your business. In my case, if your wife doesn't know your numbers, you don't know your business a because she manages all that, but the problem that we had early on with all of my businesses that I've run is there's always this hodgepodge of business systems, There are 17 different dashboards. There's an accounting dashboard, a sales dashboard, an inventory dashboard, a lot of things that are run on spreadsheets because we don't have the software for that. And then you got to make sure those are reconciled. It's just a huge pain. NetSuite by Oracle is a business management software that handles every aspect of the business in a cloud platform. So, it gives you visibility, gives you control that you need to grow. And with NetSuite you save time, you save money, a lot of headaches are skipped/managed with sales, finance, accounting, orders, HR instantly from your desktop. They've got a great phone app that helps you as well. Because if you're anything like me, you want to check those numbers, kind of obsessively all the time. They've got really a spectacular cloud business system and a lot of these top brands that you know of use NetSuite and now it's available to small and midsize businesses, aka you. So right now they've got an insights guide. Jason, tell them how to grab that.
Jason DeFillippo: [00:51:54] Yeah, right now NetSuite is offering you valuable insights with a free guide Seven Key Strategies to grow your profits at netsuite.com/jordan. That's netsuite.com/jordan to download your free guide Seven Key Strategies to grow your profits, netsuite.com/jordan. Get it today.
Jordan Harbinger: [00:52:11] This episode is also sponsored in part by Progressive
Jason DeFillippo: [00:52:14] Saving money on your car insurance is easy with Progressive. It's an average savings of $699 a year for customers who switch and save. In fact, customers can qualify for an average of six discounts on their auto policy when they switch to Progressive. Discounts for just starting a quote online or owning multiple vehicles. Get your quote online at progressive.com and see how much you could be saving. Discounts not available in all states and situations.
[00:52:39] Thank you for listening and supporting the show. Your support of our advertisers keeps us on the air. To learn more and get links to all the great discounts you just heard so you can check out those amazing sponsors, visit jordanharbinger.com/deals. Don't forget that worksheet for today's episode. That link is in the show notes at jordanharbinger.com/podcast. If you're listening to us in the Overcast player, please click that little star next to the episode. It really helps us out. And now for the conclusion of our episode with David Roeske.
Jordan Harbinger: [00:53:11] Okay, so you're up there, roped into this stubborn guy.
David Roeske: [00:53:15] Yeah, he was actually pretty stubborn. He didn't really want our help. He had been without water for, I don't know, 36 hours and he was half-dreaming, half-confusing. He was telling us, he would close his eyes and falls like kind of micro dream, and he would see helicopters there to pick him up or Range Rover there to pick him up and then he'd open his eyes and wake up and realize, "Oh, there's nothing here."
Jordan Harbinger: [00:53:41] That's got to be the worst feeling.
David Roeske: [00:53:44] It's insane. But you're so loopy at that point with the oxygen deprivation that I don't think it's even that scary, which is really, which is really weird.
Jordan Harbinger: [00:53:52] That's bad for you. That's even worse for you. Because then you think I'm fine.
David Roeske: [00:53:57] So, we got him back. Now, we had spent a lot of energy and we brought him back to the high camp. Another team had come up by then and they took over from there in terms of melting snow and making him food and water. And they actually brought him all the way down from there the next day. But we had spent our energy and so we gave up that particular summit attempt and we came back down and rest a few other days, went back up and successfully got Broad Peak. But by now, we were cutting right to the good weather window that was coming up for K2. You need a little bit of time to recover between the mountains. My partner and I were looking at the weather forecasts and we thought we're going to wait a little bit and we should be fine to go a little bit later. Then as we kept seeing these forecasts come in, we realized this, this window that's coming up right now is the only window for K2, and we tried to make it up the mountain, but we got halfway and then it starts snowing and we gave it up.
Jordan Harbinger: [00:55:01] So that's got to be an exercise in mitigating cognitive bias because you want it so bad. But that optimism bias is what kills so many people.
David Roeske: [00:55:12] Sure. Yeah. Or summit fever or just a lack of--
Jordan Harbinger: [00:55:15] What's summit fever?
David Roeske: [00:55:16] Summit fever is when you see the summit or you're close enough to it where you can really taste it and you end up, it's like that Everest movie where they kept pushing through their agreed-upon turnaround time. They're like, "Okay, it's 2:00 p.m." "Oh you know, the weather, it's only there, it's another hour." It's really probably another two or three hours to the top but you feel so close and you've put so much. It's that sunk cost mentality. And so summit fever is when you keep going against all rational reason to turn around because you feel it so close.
Jordan Harbinger: [00:55:51] And it's got to be the worst, especially for someone in your position.  because it's not like, "All right, I'm coming back in a month or I can for sure do this next year." You have to get time off. Make sure you're in the state like there's a year of opportunity costs to save someone's life. And then on top of that, if memory serves, he was not nice to you as a result. He was like pretty thankless.
David Roeske: [00:56:13] He was. I think it's pretty tough on the ego to accept assistance that anyone could call a rescue. I hope I'm never in the position where I have to accept that because it means that you kind of screwed up. You made bad decisions.
Jordan Harbinger: [00:56:30] Better than dying.
David Roeske: [00:56:32] In this case, I would say bad decisions. If you're caught in an avalanche and you didn't get yourself there because of a stupid decision, rescue me. But if you're a trained mountaineer, you don't want to be in a position where you endangered other people's lives. I can imagine how difficult it was for him to accept the idea that we were there to help him.
Jordan Harbinger: [00:56:48] Well, especially being Mister I don't need the rest of my group and I don't need a radio. I mean, he's already, that ego was already out of control, which is what got him there in the first place. So, the fact that a bunch of like young guys had to come and rescue him and then bring them down the mountain. That must just like the final kick in the guts.
David Roeske: [00:57:15] And we didn't love it. My partner Fredrik Strang and I, we thought, "Man, like we'd just spent hours trying to help you and you don't even want to take our chocolate, take the warm water we brought, and you're saying you don't need help." That certainly rubbed us the wrong way, but it really was about knowing that whatever his reaction, we did the right thing. And you can sleep at any night of your life if you know you've done the right thing, even if that person is sort of throwing it back in your face. So, we left him with that other team. We came down the next day, we didn't know that this would end up delaying us on our next attempt. It was just that we were the only ones in at that camp that could help, and that was the right decision to make.
Jordan Harbinger: [00:58:10] It's kind of like when you're drunk friend wants to fight the police, you're just like, "Oh, I really want to let you get arrested, but I don't want you to get arrested." Do you have a really good life insurance? Do they make life insurance?
David Roeske: [00:58:23] I have tried. That's a separate topic, but for these mountains, the risk is so great. It's very sobering to have to write up your will for your parents, and list where they're going to find stuff. I go through that every year. You do not want them to be in that position.
Jordan Harbinger: [00:58:46] It's under the mattress in the guest room now. That's not under my mattress.
David Roeske: [00:58:50] You have to be responsible though.
Jordan Harbinger: [00:58:16] I was asking if you got really good life insurance. But I'm wondering also you call them and they go, "Oh yeah, sure. Tell us what you're going to be doing." And then there's just like, "You're an idiot." Click. What are you doing?
David Roeske: [00:59:07] I've tried to get, so like to that point making the wills, et cetera, I've thought, you know, if something was bad to happen, I want big donations to be made to my favorite charities and my parents to get something. I haven't been able to find any life insurance policies that will accept, they all have the exclusion, like high altitude mountaineering. And they're like, "Oh, why are you calling right now? Do you have any foreign travel planned?" Like also, I do a bunch of things that are on the exclusion lists, like flying airplanes and stuff, so,
Jordan Harbinger: [00:59:46] Oh yeah. You're also a pilot flying your own airplane. You're uninsurable, man. You're asking for it. We're not going to roll the dice on you.
David Roeske: [00:59:53] I have to make good decisions up there and, and hope the mountain gods smile on me.
Jordan Harbinger: [01:00:03] Honestly, though the most dangerous thing, and maybe this is incorrect, but I think the most dangerous thing you do is probably jogging around Manhattan because the odds of you getting hit by a car jogging. I'm not, I say this like tongue in cheek, but I'm not obviously hoping for them to happen. That's so much more dangerous than highly trained, highly-controlled, regulated flight.
David Roeske: [01:00:25] Flying, I think, is pretty safe. These mountains are dangerous. They are very dangerous.
Jordan Harbinger: [01:00:32] Jogging in a city like Manhattan is also statistically not that safe.
David Roeske: [01:00:37] Right? Yeah. I've been hit by a biker in Central Park where I thought it would be safe. It was definitely half of my fault for turning too quickly. So I've experienced being hit here.
Jordan Harbinger:  [01:00:49] That's interesting. I think, yeah, the mountains, there's just no "Oh yeah, mountaineering." And then you're like, 'Yeah, and also I'm not bringing the thing that everyone else needs to survive."
David Roeske: [01:01:02] So, I did climb Everest once and I used oxygen at the end. I didn't want to, it was my first time at that high of an altitude and I'd only been there a couple of weeks. I got to the top, but I don't really count that as a real summit and I don't want to diminish the climbs of other people who choose to use oxygen. But to me, using it is a performance-enhancing drug. It's bringing the mountain lower. Essentially you're challenging your body to climb something. That would be the equivalent of a 6,000-meter peak or 7,000-meter peak, not an 8,800-meter peak. And so I went back a second time because I wanted, and also not to diminish the accomplishment, but I was surprised how almost anybody with average fitness can climb Everest with oxygen.
Jordan Harbinger: [01:02:00] I was wondering about that because you see a lot of people up there now.
David Roeske: [01:02:04] I thought going the first time I'd meet all these insane athletes and then I'm like, I think I'm more fit than most of these people just because I'm a decent runner. A lot of people that it was just their life passion and they were not that impressive as athletes. I knew that doing it without oxygen was totally different. So summit 8,000 people have summited total and just about 200 have done it without oxygen. So that I knew I was going to challenge myself to a whole another level. And I really, uh, one of the big aspects of climbing that I love is testing my own limits. And so that was kind of, "Hey, this is an ultimate test. I don't know if I can do it, but I'd like to try."
Jordan Harbinger: [01:02:53] There's a huge rise in like a guy who just sold a startup paying to go to Everest and then framing a photo of him doing it. I get that. That's pretty awesome. But it's not the same thing as doing it 50 years ago or something, which is kind of, you're kind of reenacting that challenge in a way.
David Roeske: [01:03:14] I look at the technology today. It's nothing like the old Trex, you know, a month just to get to base camp on the Tibetan side, which is how I climbed Everest. You drive to base camp. People in Nepal are taking helicopters, which that's even more, and then the equipment we have today is so much lighter and warmer. There's this idea in alpinism called fair means, and to climb a mountain by fair means is generally considered climbing without oxygen. It also includes a bunch of other things usually not using those fixed lines, not using Sherpa support. On a mountain like Everest that's so commercialized, it's very hard to do it in the most purest way. But doing it without oxygen was the step that kind of one of the lines that I thought I want to challenge myself to that level.
Jordan Harbinger: [01:04:13] How much does it cost? Like 50, 70, or 100 grand.
David Roeske: [01:04:19] I never paid that much because I didn't go with the expensive, like full amenity sort of Western expedition.
Jordan Harbinger: [01:04:27] So you're carrying your own crap, not having someone carry it for you. You don't have a chef or whatever with you.
David Roeske: [01:04:32] I mean, there was a cook in advanced base camp still and still had yaks carrying stuff up.
Jordan Harbinger: [01:04:39] You have to have that though. You can't have that.
David Roeske: [01:04:41] You could do it by yourself. It's very hard. So there's such a range. I ended up paying about 30 grand and I was able to do a for 30 grand. I was able to, uh, do two mountains, Cho Oyu and Everest in my last expedition to that part of the world.
Jordan Harbinger: [01:05:00] Are you just paying for it or do you, do you get like North Face or some sponsored?
David Roeske: [01:05:04] I don't have any sponsors on that, but you could go as cheap as $10,000 or so for the most basic of permits, and the logistics operators get you the permit and they'll get you transportation to base camp and then you're on your own. You can get something somewhat in the middle where you, you get services up to advanced base camp, but you're on your own above that and then, then you have just this range and so a lot of the numbers quoted in the press 82,120, these expeditions do have great Western food. I've gone into their tents and drooled at that, and they even have like sauna tents at base camp and like a plasma TV that they truck in.
Jordan Harbinger: [01:05:50] Dang! Playing Xbox at base camp.
David Roeske: [01:05:52] It's a whole different kind of experience. And that's suits some people now, Pakistan, the care quorum ranges a lot more wild than the Everest area. For Pakistan, you end up needing to hike in for 60 miles. It's about a five-day trek just to hike yourself to base camp. So they're not carrying some of those amenities to base camp. It's a little more wild.
Jordan Harbinger: [01:06:20] They're leaving bodies and stuff up there. Right? I meant to ask you that before, but it seems like if you die on the mountain there, in fact, there's like a landmark guy. He's sorry, he's a guy. Well, he died and now he's like a milestone. Like, "Oh, we're passing old Jimmy or whatever."
David Roeske: [01:06:35] Green boots.
Jordan Harbinger: [01:06:36] Green boots. That's crazy to me. It's crazy to non-climbers.
David Roeske: [01:06:40] It is crazy, but because it feels like you're on the moon when you're up there. It's such a harsh and alien environment that someone that's frozen inside this cave and you don't really see their face, but you see, it's, it's weird but it's not as weird when like on the street here, that would be absolutely--
Jordan Harbinger: [01:07:06] Like, imagine there's just a guy at Rockefeller center that's been dead for 20 years.
David Roeske: [01:07:08] No way. But when you, when you think about, okay, you're going to the moon and someone was there, you almost feel bad about moving them because they're a part of that ecosystem. Their story lives on because of that. So, it was actually very sad to hear that this famous climber, that's called Green Boots. He was in a cave, they call it Green Boots Cave on the North East Ridge of Everest, which is the traditional route from the Chinese Tibetan side. He had been a fixture there for many years. So you pay homage almost as you go by. You think about that person and you think, [indiscernible] [01:07:47] but for the grace as well, so it's a good reminder to be grateful and to be cautious up there. They moved to his body I think last year a little bit off the trail so you no longer can see it. And if I ever were to climb Everest again, I would be a little bit sad going by there.
Jordan Harbinger:  [01:08:10] Yeah. I think it's also probably a good warning. Like, Hey, this guy was really experienced and he died here.
David Roeske: [01:08:14] It happens to anyone.
Jordan Harbinger: [01:08:16] Maybe don't take off without your group and bring a radio when you do that kind of thing. I know even the Sherpas, those guys, there are avalanches. Those guys die all the time. They don't make a ton of money. You can live on that mountain and still just as easily have the mountain gods decide to take you that day. Is there anything that can keep you warm up there? Is it the cold that's getting to you or is it just mostly altitude and dehydration?
David Roeske: [01:08:41] So the thing is I never was a terribly cold. I got maybe minor frostnip in my fingers and toes. I'm not full frostbite. When you're doing it without oxygen, your blood gets a lot thicker than with it and you're a lot colder. So what feels warm to someone on it is going to feel a lot colder to someone without it. I was warm enough and it's really, I think, that the altitude compounds the effect of the cold. I mean it's very cold, but you're also wearing these one-piece down suits that are like you're walking around in a sleeping bag.
Jordan Harbinger: [01:09:22] I've seen the photos on your Instagram and it looks almost hard to move on suits. It's a bunny suit. It seems like still though, you're up so high it, there's so much when there's snow, I don't know if it rains, probably not. It's too high, but like there's just no way that your warm, every inch of skin that out has to just be burning.
David Roeske: [01:09:43] You have to cover. You wear like liner gloves so that when you pull your hands out of your mittens to try to take a picture, you don't want them to get flash-frozen by the wind. There's like a rule of thumb for summit day. It's something like no worse than 30 kilometers of wind and no worse than minus 30 centigrade. So I don't know what that is like 15 miles an hour, maybe minus five or minus 10. If it's colder and winder than that, which wouldn't be that cold for Michigan. I mean it'd be cold, but you could survive. But you add the altitude and that becomes and all the clothes you're wearing. Why it's not wise and I just have no interest in climbing on all, like through conditions worse than that. I'll wait.
Jordan Harbinger: [01:10:41] It's hard enough and you're not using oxygen. You don't have that. You're not trying to punish yourself. I feel like a lot of these guys that do extreme sports, they're actually trying to punish themselves, almost.
David Roeske: [01:10:55] Maybe particularly in some of the ultramarathon.
Jordan Harbinger: [01:11:00] You know who Dean Karnazes is, for example. He's such a nice guy. Really interesting dude. I interviewed him a long time ago. There's an element where I think he just likes feeling horrible.
David Roeske: [01:11:11] Right. I think there's an addiction to that. One thing I think mountaineering teaches is the ability to suffer well but I don't want to take it to the point where I'm doing it strictly for the endorphin release of that suffering, which I think that you can get there. I think you've made a good observation. Some people do actually sort of get off on, let me actually put myself in this place that those places can bring a level of introspection and meditation and learning that I think are valuable. So, it's a bit of a fine line. And so I would say there is an aspect of this high altitude mountaineering that is where you're putting yourself in a tough situation to learn more about yourself. For me, I don't do those 100-mile races or 140-mile races--
Jordan Harbinger: [01:12:00] The desert, the Nevada Desert. I remember Dean literally telling me that he would like shit himself multiple times and they say it with like that kind of like, yeah, you know, you shoot yourself twice, and I don't ever want to do that.
David Roeske: [01:12:27] Like there's pride in that.
Jordan Harbinger: [01:12:28] Like, he's like, "Yeah, you know, if you haven't shit yourself twice while running 50 miles and not sleeping for three days or 150 miles while not sleeping for three days like you're not up there with like me and Rich Roll." And I'm like, "Okay, I don't need to be out there with you and Rich Roll. He is crazy."
David Roeske: [01:12:43] So, it's interesting because I would say I'm sort of on the borderline of that. I do want to learn about myself when I'm pushing my limits. But I don't, you know, I'm probably biased or blinded, so I don't know, maybe I am crazy too, just at a different degree than some of those ultramarathon guys, but I think there is some level of transcendence or something that can come from finding those edges. And so I would say at the end of like a summit day on Everest, walking back into camp, finding out, feeling my batteries as depleted personal like body energy sources depleted as ever, there was some probably euphoria at coming back to camp at that. I actually have an interesting quote that what you, what you say reminds me of a famous climber named Mark Twight. He talked about what are you seeking personal revelation in climbing. And he wrote, "We value duration over intensity because the long route insists on introspection and self-analysis. For ourselves, success on the short intense route left too much downtime to start believing our own bullshit. So we went long. When 24 hours non-stop wasn't enough, we went longer. When 40 hours non-stop only hinted at lessons available to those who would invest more, we went longer again. Finally, after 63 hours on the go, we realized that we had found what we were looking for." That's intense. That's taking it to a really, really, um, create wild level. But when I read that quote, uh, I was just like, "Wow, there's something there."
Jordan Harbinger: [01:14:34] Hey man, I know we've so much more we could talk about again, definitely have to have you back. But thank you so much for coming on the show today.
David Roeske: [01:14:39] My pleasure. It's been really enjoyable and I agree, there's a lot more, the mountains have a lot of beautiful lessons to impart. So, I hope I can share some of those.
Jordan Harbinger: [01:14:52] There was so much more. I wish we could have gone even longer. This guy is just madness. He is really, really good at what he does. He wanted me to note that no one ever needs to do Everest or K2 or any mountain without oxygen if that's not the idea that consumes them and it consumed him. So if you're not obsessed with it, don't do it. That's his advice. You didn't really need to convince me, David. I wasn't aiming at it but thank you. And he did manage to summit K2 this time. He just got back by the time we were listening to it. He's been back for just a day or two and so he managed to make it to the top. Very incredible. It was awesome to see the photos almost live as it was happening and it's just incredible. I want to see what's next with him. We got to have him back on the show. Let me know what you think of this one because this was a little bit outside of our normal fare, but I just had to wrap my mind around this guy's work ethic, fitness level, so much going on with him and a good dude to boot. So thanks to David Roeske for that. We'll link to him in the show notes, his Instagram if you want to follow his adventures.
[01:15:51] I'm teaching you how to connect with great people like David Roeske, to manage relationships using systems and tiny habits. That's in our Six-Minute Networking course, which is free at jordanharbinger.com/course. A lot of people go, "Oh, well, what's the price later?" It's just free. I literally don't even have my stuff together enough to sell you anything right now with the baby and everything. There's no upsell. The course is complete. You don't get halfway through and have to put in your credit card. It's just free. The world's a better place for you knowing this stuff, jordanharbinger.com/course. And don't say you're going to do it later. You got to dig the well before you're thirsty. Once you need relationships, it's too late to leverage them. This is the stuff I wish I knew 20 years ago and it takes six minutes a day. All right. it takes like five, but that name was already taken. jordanharbinger.com/course. And by the way, most of the guests on the show actually subscribed to the course and the newsletter, so come join us. Speaking of building relationships, tell me your number one takeaway here from David Roeske. I'm at @JordanHarbinger on both Twitter and Instagram. There's a video of this interview on our YouTube channel at jordanharbinger.com/youtube and I read everything, especially the reviews, so review us on Apple Podcasts please, so others can find the show. Instructions for that, jordanharbinger.com/subscribe/
[01:17:03] This show is produced in association with PodcastOne. This episode was co-produced by Jason DeFillippo and Jen Harbinger, show notes and worksheets by Robert Fogarty, music by Evan Viola, and I'm your host Jordan Harbinger. Our advice and opinions and those of our guests are their own and yes, I'm a lawyer, but I'm not your lawyer. Otherwise, I'd probably have better advice that was more well-researched but do your own research before implementing anything you hear on the show. And remember, we rise by lifting others. The fee for the show is that you share it with friends when you find something useful, which should be in every episode, so please share the show with those you love and even those you don't. In the meantime, do your best to apply what you hear on the show, so you can live what you listen, and we'll see you next time.
[01:17:44] A lot of folks ask me which podcasts I listened to and recommend. You've heard me recommend Mind Pump over and over. I'm good friends with those guys and for good reason, their contents good, they're good people. I've got Sal here from Mind Pump as well. Episode 1027, three steps to speeding up your metabolism. Everybody wants to do that, man. Where do I begin?
Sal Di Stefano: [01:18:02] Well, so it's important to understand how to actually speed up your metabolism because, in the context of modern life, a faster metabolism is very beneficial. Now, it might not be beneficial if you're a Hunter-gatherer and food is hard to find. You don't necessarily want to have a fast metabolism. But in modern, the context of modern life, we don't move much and food is everywhere and we can have whatever flavor and texture. And I mean you can eat, I could eat Mexican food and Chinese food within five minutes of each other.
Jordan Harbinger: [01:18:31] I have done that.
Sal Di Stefano: [01:18:31] Sometimes at the same time. So getting a fast metabolism, it just makes getting lean and staying lean easier. And there, there are steps you can take to making significant increases in your metabolic rate. Of course, one of them is lifting weights, but there is a way to lift weights that does this most effectively. In that episode, we break down the way to lift weights to specifically speed up your metabolism. We also talk about something called reverse dieting. Believe it or not, when you reduce your calories or increase your calories, you get a metabolic adaptation where your body will start to slow itself down or speed itself up. And if you combine reverse dieting and you do it properly, which we break it all down with lifting weights properly, then you get this nice boost of metabolic rate that you can maintain afterwards. And then finally, we talk about sleep and its importance in hormone balance and in your metabolic functioning. So that episode we break all that down.
Jordan Harbinger: [01:19:27] So here's how long does it take to adapt? I'm so curious. Do you have any idea of the range of time it takes to change them?
Sal Di Stefano: [01:19:33] Your metabolism adapts daily. Now, it depends on what type of adaptation looking for. If you want to get your metabolism to burn 300 more calories a day on your own, that can be quite individual. I've trained some men who I can do that with a matter of months, like a month and a half, 300 calories a day is a significant amount, and I've worked with some people where it could take a very, very long time, especially people who've repeatedly crashed dieted in the past or who maybe have had lots of stress and their body is just in that kind of fight-or-flight state where it wants to hold on to calories. Sometimes it can take a very, very long time, but once you get a fast metabolism man, it makes things a lot easier.
Jordan Harbinger: [01:20:14] I always wondered, so this probably isn't why this happens, but whenever I go home to Michigan and my parents buy like ginger ale, Cheetos, like all the junkiest crap that I used to eat as a kid, I will eat like a bag of Cheetos like every day. And I'm like, "Oh, I'm going to be so fat when I go home," and I fly back to California, lost five pounds.
Sal Di Stefano: [01:20:32] Wow. That's interesting.
Jordan Harbinger: [01:20:34] I'm like, "Oh, maybe it's a metabolism thing," but it can't be, I'm only there for like a week.
Sal Di Stefano: [01:20:38] I wonder if your activity levels go up. If you're not counting the other calories that are thrown on top.
Jordan Harbinger: [01:20:43] It's got to be, it's got to be something like that because I will go to Michigan and eat absolute garbage for a whole week and I come back. I'm like, yeah, I lost four pounds. This is amazing.
Sal Di Stefano: [01:20:53] Well, there is, science has shown, there are some studies that show that Cheetos combined with ginger ale…Not true at all.
Jordan Harbinger: [01:21:00] What is it called? It's a catabolic, you know, reaction.
Sal Di Stefano: [01:21:04] It's got thermogenic.
Jordan Harbinger: [01:21:05] Yeah, thermogenic effect.
Sal Di Stefano: [01:21:08] No, it doesn't do that.
Jordan Harbinger: [01:21:09] That's Episode 1027 on Mind Pump.  We'll link to that in the show notes.
Sign up to receive email updates
Enter your name and email address below and I'll send you periodic updates about the podcast.