Seth Godin (@thisissethsblog) is an entrepreneur, a teacher, a Marketing Hall of Fame inductee, a daily blogger, the host of the Akimbo podcast, and the author of 19 international bestsellers. His latest is This Is Marketing: You Can't Be Seen Until You Learn to See.
What We Discuss with Seth Godin:
Why it's possible to suffer from imposter syndrome simultaneously with entitlement.
Why the market for media is so fragmented today, and what it means for content creators, advertisers, and consumers.
Why you can trade for attention, but you can't trade for trust.
The simple sentence you can use to remind yourself that you're not going to do better work by heeding your one-star reviewers.
Why Seth considers the idea of hustling selfish and akin to bullying.
And much more…
Like this show? Please leave us a review here — even one sentence helps! Consider including your Twitter handle so we can thank you personally!
(Download Episode Here)
(Subscribe to the Podcast Here)
Worksheet for this Episode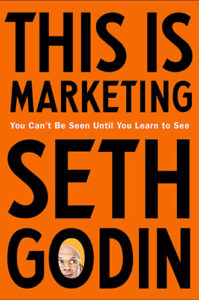 Seth Godin is a living tsunami of productivity. He blogs every single day. He hosts a podcast. He's an entrepreneur who's been inducted into both the Marketing Hall of Fame and the Direct Marketing Hall of Fame. He's a teacher who's trying to change the way we learn. Oh, and he's also found the time to write 19 international bestsellers — his latest is This Is Marketing: You Can't Be Seen Until You Learn to See.
So many of you requested that we interview Seth, so Jordan and Jen flew out to his office in New York to capture him candidly in his native habitat. If you find this episode more off-the-cuff than our usual fare, perhaps the talk of wabi-sabi, Harper Lee's one-star reviews, craftsmanship versus quality, and Miles Davis conceiving of and recording perhaps the greatest jazz album of all time made us eager to present it in unvarnished glory. Or maybe it's the best damn podcast you've ever heard in your life and it deserves a five-star review on iTunes! But, you know. Whatever you think is right. Listen, learn, and enjoy!
Please Scroll down for Full Show Notes and Featured Resources!
Sign up for Six-Minute Networking — our free networking and relationship development mini course — at jordanharbinger.com/course!
Get two months of Skillshare — unlimited access to over 18,000 classes in design, business, technology, photography, entrepreneurship, film, writing, and more — for free at skillshare.com/harbinger!
Need custom graphics, logos, or Web design? Access a community of 600,000+ designers by registering at designcrowd.com/jordan and enjoy up to $100 off with The Jordan Harbinger Show bonus offer!
Don't let a botched below-the-belt trim snag your summer plans — Manscaped has precision tools for your family jewels! Go to Manscaped.com and get 20 percent off with free shipping by using code JORDAN20 at checkout!
Better Help offers affordable, online counseling at your convenience. If you're coping with depression, stress, anxiety, addiction, or any number of issues, you're not alone. Talk with a licensed professional therapist for 10 percent off your first month at betterhelp.com/jordan!
Saving money on your car insurance is easy with Progressive. It's an average savings of $699 a year for customers who switch and save! Get your quote online at Progressive.com and see how much you could be saving today!
Smart Passive Income with Pat Flynn is the podcast where it's all about working hard now so you can sit back and reap the benefits later. Give it a listen here!
THANKS, SETH GODIN!
If you enjoyed this session with Seth Godin, let him know by clicking on the link below and sending him a quick shout out at Twitter:
Click here to thank Seth Godin at Twitter!
Click here to let Jordan know about your number one takeaway from this episode!
And if you want us to answer your questions on one of our upcoming weekly Feedback Friday episodes, drop us a line at friday@jordanharbinger.com.
Resources from This Episode: