Reading Time:
3
minutes
Angela Duckworth (@angeladuckw) is a professor of psychology at the University of Pennsylvania, founder of the non-profit Character Lab, co-host of the No Stupid Questions podcast, and author of NYT bestseller Grit: The Power of Passion and Perseverance. [Note: This is a previously broadcast episode from the vault that we felt deserved a fresh pass through your earholes!]
What We Discuss with Angela Duckworth:
What grit is and how it overrides the myth of innate "talent."
How to quantify your own level of grit.
How to grow your grit and achieve what once seemed impossible.
Why, when you're a lifelong learner, you're always going to see in hindsight how you might have done something better in the past — and this is a sign of improvement.
How to know the difference between a lost cause to abandon and a challenge worthy of pursuit.
And much more…
Like this show? Please leave us a review here — even one sentence helps! Consider including your Twitter handle so we can thank you personally!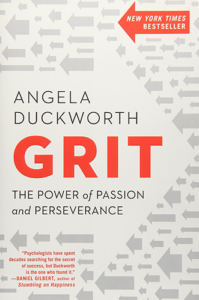 When Angela Duckworth, author of NYT bestseller Grit: The Power of Passion and Perseverance uses the word talent, she means the relative quickness or ease with which someone can learn something new. If someone is talented at basketball, for instance, it just means they have a seemingly natural ability to learn more quickly and with relative ease compared to someone who's not talented. (Admittedly, being seven feet tall may give this "talent" a huge boost!)
But effort, on the other hand, "isn't how quickly or easily you get better at something," says Angela. "It's the quality and the quantity of your engagement. In a way, you can think of talent and effort being the two things that, in combination, create skill."
What Angela refers to as grit is the ability of someone dedicated to learning a skill or chasing a goal to keep at it over the long haul and not give up before realizing its fulfillment. It's this combination of passion and perseverance for long-term goals that determines the quality and quantity of the effort spent — more so than the ease and quickness of so-called talent.
Listen to this conversation with Angela in its entirety to learn more about making greatness doable, growing our grit, the importance of consistency in effort, the hierarchy of goals, articulating top-level goals, adaptation and prioritizing of goals, the gratification gained from living a life of grit, when to give up on goals and when to dig in, why — depending on your age — you may not be familiar with the word Polaroid, the four psychological assets (interest, practice, purpose, and hope), and more. Listen, learn, and enjoy! [Note: This is a previously broadcast episode from the vault that we felt deserved a fresh pass through your earholes!]
Please Scroll Down for Featured Resources and Transcript!
Please note that some of the links on this page (books, movies, music, etc.) lead to affiliate programs for which The Jordan Harbinger Show receives compensation. It's just one of the ways we keep the lights on around here. Thank you for your support!
Sign up for Six-Minute Networking — our free networking and relationship development mini course — at jordanharbinger.com/course!
This Episode Is Sponsored By:
Miss the conversation we had with Habits Academy's James Clear? Catch up by listening to episode 108: James Clear | Forming Atomic Habits for Astronomic Results!
Thanks, Angela Duckworth!
If you enjoyed this session with Angela Duckworth, let her know by clicking on the link below and sending her a quick shout out at Twitter:
Click here to thank Angela Duckworth at Twitter!
Click here to let Jordan know about your number one takeaway from this episode!
And if you want us to answer your questions on one of our upcoming weekly Feedback Friday episodes, drop us a line at friday@jordanharbinger.com.
Resources from This Episode: