Reading Time:
4
minutes
Bill Nye (@billnye) is a lifelong champion of science who is determined to teach you something today that you didn't know yesterday — whether it's from a television screen, the pages of a book, or next to you at a dinner party. He can be found hosting his new series, The End Is Nye, on Peacock TV.
What We Discuss with Bill Nye:
The environmental changes that currently threaten humanity and much of life on Earth.
How to maintain childlike curiosity as an adult.
If you believe everything happens for a reason, what if that reason is just physics?
What can just one individual do to make the big changes necessary for properly addressing climate change?
The promising renewable energy source Bill would put his money behind.
And much more…
Like this show? Please leave us a review here — even one sentence helps! Consider including your Twitter handle so we can thank you personally!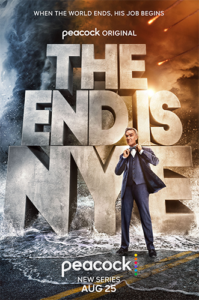 The science is clear: human beings have accelerated the rate of climate change over the past few centuries to the point that cataclysmic consequences are inescapable without appropriate countermeasures. And more bad news: not all potentially civilization-halting catastrophes are manmade. Supervolcanoes, solar flares, and doomsday comets are just a few apocalyptic scenarios that could hasten the demise of humanity — and most life on Earth. So what's the good news? We've got science on our side to help mitigate and survive these disasters should we choose to use it.
On this episode, we're rejoined by science champion Bill Nye, whose new Peacock TV series — The End Is Nye — takes us through these unfathomably grim doomsdays and demonstrates how we could use science to find our way to the other side of them. Listen, learn, and enjoy!
Please Scroll Down for Featured Resources and Transcript!
Please note that some of the links on this page (books, movies, music, etc.) lead to affiliate programs for which The Jordan Harbinger Show receives compensation. It's just one of the ways we keep the lights on around here. Thank you for your support!
The James Altucher Show brings you into the lives of peak-performers: billionaires, best-selling authors, rappers, astronauts, athletes, comedians, actors, and world champions! Check it out here or wherever you prefer listening to podcasts!
Miss the conversation we had with science champion and astrophysicist Neil deGrasse Tyson? Make sure to catch up with episode 327: Neil deGrasse Tyson | Astrophysics for People in a Hurry!
Thanks, Bill Nye!
If you enjoyed this session with Bill Nye, let him know by clicking on the link below and sending him a quick shout out at Twitter:
Click here to thank Bill Nye at Twitter!
Click here to let Jordan know about your number one takeaway from this episode!
And if you want us to answer your questions on one of our upcoming weekly Feedback Friday episodes, drop us a line at friday@jordanharbinger.com.
Resources from This Episode: