Brian Scudamore (@BrianScudamore) pioneered the industry of professional junk removal with 1-800-GOT-JUNK? at age 18, scaled that success into three more home-service brands, and is the author of WTF?! (Willing to Fail): How Failure Can Be Your Key to Success.
What We Discuss with Brian Scudamore:
How Brian turned a trash removal business that began with a $700 investment into an international, multimillion dollar service franchise.
The $29 gimmick Brian used to prove to his franchise partners they didn't need to spend big bucks on traditional marketing tactics to get their small business known.
Why high school dropout Brian didn't sell his business and retire in his 20s — even when competitors offered him millions of dollars.
Brian's WTF (willing to fail) philosophy that has allowed him to harness the smaller failures along the way to avoid ultimate catastrophe in the long run (with examples).
Practical exercises you can use — for entrepreneurship as well as personal enrichment — to similarly WTF your way forward.
And much more…
Like this show? Please leave us a review here — even one sentence helps! Consider including your Twitter handle so we can thank you personally!
(Download Episode Here)
(Subscribe to the Podcast Here)
Worksheet for This Episode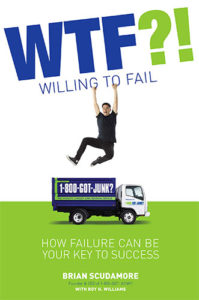 We live in the hypercritical age of social media, where everyone shares their highlight reel — and no one shares the pitfalls. Everyone's afraid to make (or to share) their missteps. But what if mistakes were normalized as part of growing and achieving even more than you believed was possible? Wouldn't it be amazing if you could turn your internal critic around?
On this episode, we talk to Brian Scudamore, author of WTF?! (Willing to Fail): How Failure Can Be Your Key to Success. He tells us how he founded founded 1-800-GOT-JUNK with a beat-up $700 pickup truck at the tender age of 18. The WTF (Willing to Fail) philosophy that we discuss can help you live more courageously, be more resilient, and ultimately drive you toward your own success. It's what has enabled Brian to bounce back from failure and even find a little gratitude in his biggest flops. Listen, learn, and enjoy!
Please Scroll down for Full Show Notes and Featured Resources!
Sign up for Six-Minute Networking — our free networking and relationship development mini course — at jordanharbinger.com/course!
Hunt a Killer is a puzzle-style game that poses this tantalizing question: what if a serial killer delivered a package to your doorstep each month? Go to huntakiller.com/jordan for 20 percent off your first box and find out!
Are you using the best software for your situation? Capterra knows and makes it easy to discover your best solution fast — and for free. Visit capterra.com/jordan to find out what you're missing today!
Does your business have an Internet presence? Save up to a whopping 62% on new webhosting packages with HostGator at hostgator.com/jordan!
Do you want fancy designer jeans that look pretty at the club or good-looking but functional jeans that adventurers, go-getters, and rodeo riders have relied on for over 70 years? Try Wrangler — denim made for the modern world. Check 'em out here!
Brother INKvestment Tank all-in-one inkjet printers keep your business running by delivering up to one year of printing without the need to replace ink cartridges! Find out more by visiting ChangeTheWayYouInk.com!
More About This Show
Taking inspiration from the memorable Got Milk? ad campaign, Brian Scudamore decided to re-brand his Rubbish Boys Disposal Service — started with a $700 pickup truck as a way to make money for college — to the punchier (and harder to forget) 1-800-GOT-JUNK. He didn't see the fact that the phone number was being used by the Department of Transportation in Idaho as much of a deterrence, and in a stroke of luck, he was able to convince an outbound government employee to hand over the number for free.
"It's counterintuitive, but it's always worked for me: start with the end in mind," says Brian. "I actually spent $2,000 hiring a company called Drive Design to design the logo. So the logo that we have for 1-800-GOT-JUNK today, the blue and the green exactly as it looks, I had that logo before I actually had the phone number — because I was determined! 'I am going to get this phone number, and I'm going to find a way!' And 59 phone calls later, boom! It's mine."
Of course not everything in Brian's life or business has always gone so perfectly. Plenty of missteps and mistakes — including throwing in his lot with incompatible business partners and coming perilously close to bankruptcy — have instilled him with a WTF (willing to fail) philosophy that has served him well so far.
"Life is a bunch of storms," says Brian. "And just like a real storm, you often don't know…when that storm will end. But every storm has a beginning, a middle, and an end. The same thing with the failures in our life. Sit with them, be introspective and reflect and say, 'What can I learn from this?'
"So when I'm in a failure, I always sit there and I go, 'What's the one good thing that could come from this seemingly tough day or seemingly tough decision?' And I'll take out a sheet of paper and sometimes I'll write one thing; sometimes I'll write five things."
Brian says this allows him to be grateful for the lessons learned from the mistake and reminds him that even though the situation may seem dire now, everything will be okay.
Listen to this episode in its entirety to learn more about Brian's $29 gimmick that beat the expensive marketing tactics his franchise partners wanted to use, why this high school dropout didn't sell his business for millions of dollars to his competitors when he had an easy chance, big failures Brian endured and overcame using his WTF (willing to fail) philosophy, why no help is ultimately better than the wrong help, how Brian shifted his company's culture from a sinkhole of toxicity to a wellspring of abundant enthusiasm, and much more.
THANKS, BRIAN SCUDAMORE!
If you enjoyed this session with Brian Scudamore, let him know by clicking on the link below and sending him a quick shout out at Twitter:
Click here to thank Brian Scudamore at Twitter!
Click here to let Jordan know about your number one takeaway from this episode!
And if you want us to answer your questions on one of our upcoming weekly Feedback Friday episodes, drop us a line at friday@jordanharbinger.com.
Resources from This Episode:
Download Worksheet for How Failure Can Be Your Key to Success

/wp-content/uploads/2019/03/Worksheet-for-Brian-Scudamore-How-Failure-Can-Be-Your-Key-to-Success-Episode-175.pdf