Reading Time:
6
minutes
Chase Hughes (@thechasehughes) is the top behavior profiler in the United States and the author of The Ellipsis Manual: Analysis and Engineering of Human Behavior.
What We Discuss with Chase Hughes:
Why authority is a weightier force for influence than any social skill in the book.
What you can do to bolster your own authority — and resist manipulation by the authority of others.
The five factors that measure your ability to persuade and influence on a level that surpasses mere inspiration.
Why your patterns of behavior that happen even when no one is looking can make or break your life's outcomes.
Top authority killers and how to avoid them.
And much more…
Have Alexa and want flash briefings from The Jordan Harbinger Show? Go to jordanharbinger.com/alexa and enable the skill you'll find there!
Like this show? Please leave us a review here — even one sentence helps! Consider including your Twitter handle so we can thank you personally!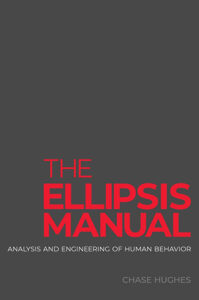 While a rebellious John Mellencamp once bragged openly about his Sisyphean conflict with an authority that was always winning, research suggests that most of us are wired to obey those we consider to be authoritative even when doing so goes against everything for which we think we stand.
In other words, you can learn and master all the social skills you can fit in your own personal psychological arsenal, but being perceived as an authority figure is ultimately the most powerful force for influence there is. Joining us to explain how we can use this knowledge to our advantage is The Ellipsis Manual: Analysis and Engineering of Human Behavior author Chase Hughes. Listen, learn, and enjoy!
Please Scroll Down for Featured Resources and Transcript!
Please note that some of the links on this page (books, movies, music, etc.) lead to affiliate programs for which The Jordan Harbinger Show receives compensation. It's just one of the ways we keep the lights on around here. Thank you for your support!
Sign up for Six-Minute Networking — our free networking and relationship development mini course — at jordanharbinger.com/course!
More About This Show
In the 1960s, Yale psychologist Stanley Milgram famously conducted a series of experiments that measured just how far participants would go when instructed by an authority figure to inflict a test subject with gradually increasing electric shocks.
The test subject was an actor and the electric shocks weren't real, but the participants didn't know this. On an alarmingly consistent basis, participants would eventually administer what they believed to be a fatal dose of electricity to these subjects when the authority figure present — usually just some guy in a lab coat — ordered them to do so.
"What persuasion skill — what influence skill — has that kind of power?" asks Chase Hughes, author of The Ellipsis Manual: Analysis and Engineering of Human Behavior. "Everybody talks about, 'Oh, you need to be better at persuasion; you'd be better at learning influence skills,' but there's no persuasion skill that can allow you to just talk a stranger into committing murder in half an hour!"
From the outside, it's easy to self-righteously insist we'd be among the very tiny minority of people who wouldn't be coerced into zapping an unfortunate unknown into oblivion on the orders of another — albeit authoritatively dressed — stranger. But it seems human beings are evolutionarily hard-wired to obey authority.
The price for defying a prehistoric despot in the tiny tribal communities that eventually coalesced into civilizations was likely death or exile, so our ancestors were the ones who fell in line. Simply put, we're the direct descendants of people who were good at following orders; we're genetically predisposed to do what we're told. And while this may have served us well as a survival mechanism in the past, it can be used by those in the know to manipulate us into operating counter to our best intentions. But the good news is that once you listen to this episode, you'll be in the know and better able to resist such manipulation.
Five Factors That Activate Followership
When we want to assess our own handle on authority, Chase gives us these five factors that comprise the Hughes Authority Self-Assessment Matrix — give yourself a grade from one to five for each item (five being the best) using this PDF as a guideline.
Confidence: "Action without reservation is the best definition I've ever heard," says Chase. "This takes time to develop, but in the end, it's only a matter of trusting yourself.
Discipline: "Discipline is a visible quality," Chase says. "Make small deprivations and build the muscle."
Leadership: "This is the trait that's most important," Chase says. "Leadership means your behavior alone creates followership."
Gratitude: "Not only is this contagious, it's visible," says Chase.
Enjoyment: "Just being in a good mood is contagious and magnetic," says Chase.
Five Zones of Life Mastery for Authority Development
These five zones were developed by Chase and his team over 17 years of training thousands of high-level people in developing authority as rapidly as possible. Chase stresses that they should be done in order.
Environment: "Mastering your environment first is the gateway to the rest of the zones," says Chase. "Keep your life, car, house, and everything organized for a month. Develop the habits that get your environment under your complete control.
Time: "Become the master of your time," Chase says. "I'm not a self-help speaker, and I'm not a time management guru, but if there's one critical point I could impart to your listeners right now, it would be this: the single failure point of almost everyone when it comes to mastering your time is assigning equal weight to the tasks that come up in your life. Plan ahead, however you do it. Don't become obsessed with perfection, or what system you need to use to manage your time. Find something and use it."
Appearance: "The way you look and carry yourself is so vitally important," says Chase. "It's one of the critical tripwires we just talked about. In a tenth of a second, people will decide whether or not you are someone they need to listen to or not; a large majority of this unconscious decision will be based on how you look. Not only your appearance, but your carriage and demeanor."
Social: "Get training on social skills," Chase says. "Learn the art of small talk, talk to strangers, learn how to turn on the chemicals in people. Rapport is just a matter of whether you can create serotonin and dopamine."
Financial: "Take control of your finances," says Chase. "Go see a counselor or financial advisor. Bad news doesn't get better with time. Get it handled and the small unconscious signals your body was sending out will disappear. You'll have more fluid behavior just knowing your finances are at least heading in the right direction."
The 34 Things That Kill Your Authority
Negativity
Putting others down
Anger
Lack of self-control
Poor hygiene
Appearing rushed or overwhelmed
Rapid bodily movements
Rapid speech
Hurried pace
Poor posture
Short-fused personality
Rapid blink rate
Frequent adjustments in clothing or posture
Hand-to-face gestures
Lack of genuine interest in others
Speaking loudly
Aggressive behavior
Behavior intended to attract attention
Loud or obnoxious clothing
Scattered attention span
Discomfort or aggression when confronted or complimented
Excessive jewelry
Over-apologizing
Social anxiety
Fear of being interrupted
Fear of confrontation
Complaining or seeking pity
Excess criticism of environment or others
Bragging
Bullying
Blaming
Selfishness
Dishonesty
Conformity of behavior or opinion
Listen to this episode in its entirety to learn more about how Chase went from being a teenager with social anxiety to the top behavior profiler in the United States, numerous studies supporting the very human desire to appease authority (even at the expense of other survival mechanisms), the tripwires in our brains that trigger obedient behavior and identify someone as an authority, how the way we behave even when we're not being watched has an effect on everything we do, how we can assess and increase where we stand authoritatively, why most of us could go for a surgical removal of our filler vocabulary to be seen as authorities, and much more.
THANKS, CHASE HUGHES!
If you enjoyed this session with Chase Hughes, let him know by clicking on the link below and sending him a quick shout out at Twitter:
Click here to thank Chase Hughes at Twitter!
Click here to let Jordan know about your number one takeaway from this episode!
And if you want us to answer your questions on one of our upcoming weekly Feedback Friday episodes, drop us a line at friday@jordanharbinger.com.
Resources from This Episode:
Transcript for Chase Hughes | Why Authority Is More Influential Than Skill (Episode 102)
Jordan Harbinger: [00:00:00] Welcome to the show. I'm Jordan Harbinger as always, I'm here with my producer, Jason DeFillippo. Today, we're talking with my good friend, Chase Hughes. He is the author of the number one bestselling book on behavior and influence, The Ellipsis Manual. The elite units and companies he works with rely heavily on his expertise and research into persuasion, influence, human behavior. We work together on some stuff. I'm going to have to leave it there for now, but you've heard from Chase before from us. He's really innovating in this area which not many people are doing and that's what makes it so fascinating. He just crushed it whenever, when this guy presents people, listen. He's been in the military doing this and now he's entering the civilian world. Well, one foot in, one foot out, we might say. Today, we'll discover why authority matters more than influence and how we can create authority, whether that be for a job, interview, dating relationships, leading a team. We'll also learn why with so many companies and websites selling external tactics and techniques, your behavior while no one is looking can make or break what outcomes you have in life, and we'll explore how we unconsciously scan for an authority figures all day long and how we can use a few simple behavioral changes to leverage this.
[00:01:12] Of course, we'll also uncover some top authority killers and how we can avoid them as well. There's so much in this episode. Of course, we've got worksheets for today's episode so you can make sure you solidify everything what I'm talking about here with Chase. That link is in the show notes at jordanharbinger.com/podcast, and if you want to know how I meet and managed to book all these great people and manage my relationships with these people using systems and tiny habits, instead of just spending hours and hours a day on the phone, check out our Six-Minute Networking course, which is free over at jordanharbinger.com/course. That's jordanharbinger.com/course. Now here's Chase Hughes. Chase, welcome back to the show, man. I appreciate you coming on.
Chase Hughes: [00:01:56] Thanks Jordan. Good to be here.
Jordan Harbinger: [00:01:57] There's so much fascinating content that you've got your training law enforcement, your training special operations, you're training people that we can't talk about on the show. And one of the main concepts that you've got is that there's sort of like this authority scale that our brains go through. We look at certain factors to decide whether or not we want to follow someone's lead. And this is something that can really influence the way that we sell. It can influence the way that we lead a team. It can influence the way that we guide our own behavior or even raise kids. And so I want to talk about this authority management or these things that trigger an obedience response in humans. So let's dive into that stuff. Shall we?
Chase Hughes: [00:02:42] Absolutely. So one thing I think I saw in the very beginning in college, they talk about this thing called the Milgram experiment. Are you guys familiar with that?
Jordan Harbinger: [00:02:52] Yeah. Is that the shock? The one where they shock the guy and he supposedly dies, but he's just an actor.
Chase Hughes: [00:02:58] Yeah, just to put it in a nutshell. This guy walks into a room, he says he's part of an experiment. He volunteered for this, this is at Yale University in 1962. So he goes in there and he sits in a room and he's supposed to shock somebody when they get a question wrong. And the shock machine in front of him goes from zero volts to 450. And right about 450 is, it just says XXX. So all it is, is a guy in a lab coat telling these people to keep shocking, so they would protest. And this guy just had a few standard phrases such aces, such as it's important that you continue or the experiment requires that you continue or please continue. That's it. So she said, "Dude, in a lab coat." And what happens is these people would progressively have to increase the voltage every time there was a wrong answer.
So before the experiment was done, all of these psychologists got together and they hypothesized that it would be 0.01 percent that would go all the way to killing the person in the other room. And keep in mind like while they're increasing these shocks, the guy on the other side of the wall is like screaming and banging on the wall saying, "I have a heart condition. I don't want to do this anymore." And these people are, you know, they looking extremely increasingly uncomfortable as the experiment continues.
And 65 percent of the people went all the way to killing a stranger just because a guy in a lab coat told them to.
[00:04:30] So this experiment's been redone hundreds of times, but it may be think like what? What persuasion skill, what influence skill has that kind of power? Because everybody talks about, "Oh, you need to be better at persuasion. You'd be better at learning influence skills," but there's no persuasion skill that can allow you to just talk a stranger into committing murder and like half an hour.
Jordan Harbinger: [00:04:51] Is it that though? Or is it that this is already hardwired into us? So we can't talk somebody into -- we can't talk someone into flying because it's not within our abilities as a human. So clearly this persuasion pathway is already in the brain. We're not really, we're not really programming anyone to do this. It's already there, we're just kind of removing obstacles to that activation of that pathway, right?
Chase Hughes: [00:05:16] Yeah. Very, very well said. And we're hardwired for obedience. I mean, if you just go back like 10,000 years that people who didn't obey the tribal leaders, the people who didn't kind of socially conform to the expected behavior were either killed off or turned into some kind of an outcast. And these nomadic tribes that we used to live in as humans,
Jordan Harbinger: [00:05:36] Right. So it's in there and it serves a survival and replication benefit for us as humans. It just doesn't have as much of a place in modern society unless we're talking about warfare, in which case it's basically mandatory. So when we're looking at a college experiment or something in the everyday world, we don't want this obedience response to be triggered in a way and yet we see it all the time. Well, usually it makes news, right? Something like a cult killing or gang warfare and stuff like that. I mean it's out there. It's just that in polite company and the educated professionals that are listening to this show, we typically don't struggle with, "Gee, how do I not kill anyone today?" Right? It's buried somewhere in the subconscious. And I don't think we want to do a show on how to program, or I should say, open up the programming of violent behavior, but I would love to learn how we know authority plays such a vital role and then how humans look for authority cues to guide their own behavior. But first, why did you start learning this stuff? Were you just naturally outgoing and charismatic and you decided, I'm going to learn to hone this down to a fine point, where does your story begin?
Chase Hughes: [00:06:46] Well, I went from being 19 year old with social anxiety to be in the top behavior profiler in the United States. And it started when I was 19, I was at a bar in Hawaii called Kelley O'Neil's, some girl there at this bar had turned me down. I vowed, I was driving home that night and I was like, "This is never going to happen again." So I got on the computer and not knowing anything about the world, I just went onto Google and I literally typed in how to tell when girls like you. And I think I printed out like, I don't know, several hundred articles. I just locked myself in my bedroom for several weeks, every day after work and just got obsessed with reading people, and a couple of years down the road, just being able to read people and see body language, it humanizes people. So it's like you're seeing people's fears and insecurities and conversations. But I think for most of us, I think most people are good, and I think it just takes away that that social threat to where that you can see that person as a human and like, "Wow! That guy's just as screwed up as I am." And that is what kind of got me addicted to it is how comfortable it made me talking to people.
Jordan Harbinger: [00:08:03] Nobody told you that locking yourself in your room for three weeks and reading Internet articles was not the way that you meet women? I mean, I feel like we have a lot in common, Chase. I think it's fascinating that you also started off as a wallflower, got into the weeds on the nuances of human behavior and now we're both teaching everyone from doctors and lawyers to special ops and intelligence agents how to master these same skills. I think that's kind of a funny dual pathway there. And I want to get into some of these weeds. I mean, how do we know what already plays such a vital role? We talked about the Milgram experiment where people will dial in enough electricity, or at least do think that they're dialing in enough electricity to kill someone. But what else? How do we know that that's not just some sort of weird outlier because the guy was in a lab coat in an academic setting and they screened for the right people? What other types of science are we seeing that shows the amount of conformity, or I don't even know what you'd call this, compliance that shows that this authority, this idea of authority or perceived authority plays such a crucial.
Chase Hughes: [00:09:06] Yeah, and that's one of the questions they asked. Like is there an inherent sense of safety in these people? They know they're at a university, they know they're in an experiment. Deep down they're going to think, well, yeah, something's set up here, I'm not actually shocking somebody. So they even moved the Milgram experiment, all of the -- everything into like the lower income parts of neighborhoods and did this in motels, and it got the exact same results or similar results.
Jordan Harbinger: [00:09:37] Yikes, so people are sitting at some motel off the side of the highway and they're like, "Yeah, it seems legit." Turn up the voltage. No problem. Yeah, what could go wrong here? This is a Motel Six after all, it's a Holiday Inn Express, everything's going to be fine.
Chase Hughes: [00:09:49] Yes. And some of the other ones, there's one that's called the power of a uniform experiment, where a guy standing at a crosswalk in Manhattan just wearing t-shirt and jeans would break the cross walk and just walking when it says don't cross, and a couple of people would go after him and follow, and the same guy would go and take a shower and go get his hair done, put on a suit. And when he broke the crosswalk, it increased the people who followed him by 88 percent, and that was just a change of clothing. And there's also social authority where we kind of get into an agreement with a crowd of strangers that we don't even know. There's one thing called the bystander effect that if you were, let's say you got stabbed in the stomach in the streets of Manhattan, the more people that are around you, that the less likely you are to get help. It is exact proportional to that, so the higher number of people in the crowd, the less likely they are to help you. And there's some tremendous videos on YouTube about this that were done by Dr. Philip Zimbardo, who was the author of the Stanford Prison Experiment. But in the bystander effect, this guy would lay on the ground, grabbing his stomach, screaming for help, screaming bloody murder. And people would not even make eye contact with them, and some people stepped over him. And it wasn't until one person broke is a very rare instance, that one person broke from this social contract of not helping this guy out that other people would do so. So once one person started, then all the other strangers would also come over there to help, so we get into that social authority. So that's the authority of a crowd instead of the authority of one person. So this response to authority is something that's just hardwired in all of us.
Jordan Harbinger: [00:11:47] Yeah. We see this all the time, and not just with the people getting stabbed in the stomach in Manhattan. You don't have to wait for that happen to see this. You really can just look at the crosswalk type situation. What else? I mean, I feel like this happens all the time. Somebody starts talking in an elevator, therefore other people feel like it's fine or on a train. There's all kinds of -- there's all kinds of reactions that crowds have. I mean, even the wave, right? It's not exactly the same thing because it has nothing to do with help in a crisis, but you see like, "Oh well, they're doing it." I mean it's really just social conformity and social proof applied to crisis situations in groups and mass groups.
Chase Hughes: [00:12:25] It absolutely is, and that first person to talk in the elevator or that guy who starts to wave is sort of like that automatically gains that social authority and automatically gains more obedience. So if a guy is the one who starts talking in a crowded elevator and then ask somebody for a favor, he's 10 times more likely to receive the favor from the other person, just because he instantly became an authority figure by breaking a social norm and doing it with confidence.
Jordan Harbinger: [00:12:52] Right. This is that follow on effect. We've talked about this on the show before where the guys dancing on the hill and he's all crazy at some concert, and then a couple of other people go dance with them and they're kind of making fun of him because he's just a zany dude who's obviously super high and then the whole hill starts dancing. Have you seen this?
Chase Hughes: [00:13:10] Yeah, that's one of the best videos online, and that was actually in a -- I had a professor who showed that I think maybe that week it came out and when we were talking about social conformity in college.
Jordan Harbinger: [00:13:22] Yeah, I mean that's probably one of the best examples ever caught on a crappy camera phone at this point because it really does illustrate this sort of conformity. And there are tons of experiments that actually show this. Like people choosing the wrong answers on tests if they see other people do it. Man, there's tons of these like, "Hey, did you see this?" "Well, yeah, I saw the person running away with this," and the whole group is like, "I didn't see anything." So the person's like, "Well, I guess maybe I didn't see it." Right?
Chase Hughes: [00:13:49] Yeah.
Jordan Harbinger: [00:13:50] Or maybe I did see this thing happen that I actually didn't see because other people are telling me that I did, and these are our own senses. We know what we saw and did not see, but we can really fall into this trap where we sort of rewrite the past or rewrite our own memories based on the perception of other people, even if those other people are full of crap.
Chase Hughes: [00:14:08] Yeah, for sure. And we're running these social conformity scripts in our heads all the time. I'm not going to keep quoting experiments, but one more that's really interesting I think, it's called the smoke filled room. Where this guy, some guy would show up for a job interview and they do it in this waiting room, like a hotel ballroom that's just kind of been cleared out and there's a couple of chairs in the corner, so there's already 10 people in there and they say, "All right, go in here and sit down in this empty chair. Go ahead and fill this out and we'll be back in a few minutes." So these guys are all sitting there or they're all co-conspirators except for this one guy, and then the room starts filling up with smoke and the smoke detector starts going off. All in all, towards the end of the experiment, the overall result was that it took an average of 18 minutes for that guy to leave the room and these co-conspirators would just kind of stare at the smoke and then look back and then the guy would get up and say, "Hey, is anybody else seeing this?" Then the people would remind him like, "Well, she told us to stay here," and he did, and they would all do it. It was like a 99 percent of participants in the study stayed in the room to the point where they would have been killed by the smoke.
Jordan Harbinger: [00:15:17] So people are -- this is surprising to me because you would think, okay, at some point the survival mechanism would trump the social proof mechanism or the programming mechanism or the influence mechanism, but that's not actually what's happening at all?
Chase Hughes: [00:15:32] Yes. And I think our social proof mechanisms are tied into survival. So it's hard for the brain to negotiate which one is more important.
Jordan Harbinger: [00:15:41] Yeah, that is just unbelievable. Why do you think that is? I mean, I don't want to speculate too much on the science here, but what sort of function could that possibly serve where it's like, "Hey look, it's totally fine if you die, as long as you do the same thing as everyone else." It really does turn that whole well if your friends all jumped off a bridge, would you do it? It's like actually you would statistically, yes, you would do that. You would actually do that and you would die.
Chase Hughes: [00:16:05] I think one of the most interesting pieces of that is an early quote from Charles Darwin and he says "The most critical thing for any organism is its ability to adapt to its environment," and that's that social environment that we're adapting to and us adapting to environments has typically been more important than doing our own thing in a crowd because we usually just trust the wisdom of the group.
Jordan Harbinger: [00:16:29] So this is great but also scary, but I guess we can use this to our advantage. Clearly we're scanning for behavior or other cues on which to pick up so that we know how to guide our own behavior.
Jason DeFillippo: [00:16:44] You're listening to the Jordan Harbinger Show with our guests, Chase Hughes. We'll be right back after this. Support for the Jordan Harbinger Show comes from our friends at Rocket Mortgage by Quicken Loans, America's premier home purchase lender.
Jordan Harbinger: [00:16:55] So let's talk about buying a home. It can be one of the most important purchases you'll ever make, but today's fluctuating interest rates can leave you with unexpected higher payments, which can turn a great experience into an anxious one, and that's why Quicken Loans created their exclusive power buying process. Here's how it works. They check your income, they check your assets and credit to give you a verified approval. This gives you the strength of a cash buyer making your offer more attractive to sellers. Once verified, you qualify for their exclusive rate shield approval. They'll lock in your interest rate for up to 90 days while you shop for your new home. Then once you've found the one, if rates have gone up, your rate stays the same, but if rates have gone down, you get to keep that new lower rate. Either way you win. It's the kind of thinking you'd expect from America's largest mortgage lender.
Jason DeFillippo: [00:17:41] To get started, go to rocketmortgage.com/jordan. Rate shield approval only valid on certain 30 year purchase transactions. Additional conditions or exclusions may apply based on Quicken Loan data in comparison to public data records. Equal housing lender licensed in all 50 States, NMLSConsumerAccess.Org number 3030.
Jordan Harbinger: [00:17:57] This episode is sponsored in part by BrandCrowd. BrandCrowd is a website that offers an awesome logo maker tool that can help you make an amazing logo design online or even on your phone. BrandCrowd takes your business name and generates thousands of logos just for you within seconds. The logos are based on tens of thousands of high quality handcrafted designs created by designers from around the world. BrandCrowd uses these designs to generate thousands of custom logos just for you based on your business name and industry. Once BrandCrowd generates a logo you like, you can edit and tweak the logo on the BrandCrowd website instantly, you can change the fonts, you can change the colors until you've got the perfect custom logo just for you. Whether you're a fitness trainer, you're some sort of startup founder, BrandCrowd is fantastic, easy way to get a logo, even if you don't want to use something like DesignCrowd, and one of the best things about BrandCrowd is it's free to get started and begin screwing around generating logos. It's super easy to use and once you're happy with your logo, you can buy it, download all the files you need to start your business. If you don't like any of the designs, no problem. You don't have to pay. If you still need a logo, just head on over to designcrowd.com/jordan, they've got thousands of logo designers ready to make a new logo. If BrandCrowd doesn't generate a logo you love, but check out brandcrowd.com/maker to learn more. It's free to try it. And if you don't like the logo, no problem. Brandcrowd.com/maker. B-R-A-N-D-C-R-O-W-D.com/maker.
Jason DeFillippo: [00:19:22] Thanks for listening and supporting the show. To learn more about our sponsors and get links to all the great discounts you just heard, visit jordanharbinger.com/advertisers. And if you'd be so kind, please drop us a nice rating and review in iTunes or your podcast player of choice, it really helps us out and builds the show family. If you want some tips on how to do that, head on over to jordanharbinger.com/subscribe. Now back to our show with Chase Hughes.
Jordan Harbinger: [00:19:47] So let's talk about that. What are we doing unconsciously or subconsciously to guide our behavior? What are we looking for?
Chase Hughes: [00:19:56] So it's a 24 hour process like you just said that our brains are just kind of tuned in to scan for authority figures or people that we're supposed to follow or in a crowd like that, the people that we're going to follow, and analyzing all of these thousands of experiments that have been done, I came up with five traits or five things that the brain is looking for in order, in order to fully be compliant with another person or a crowd. And those are movement, appearance, confidence, connection, and an internalized feeling. So the movement would be like, let's just take a bystander effect example here for your listeners.
[00:20:36] So let's say that guy got stabbed in the stomach in Manhattan. So the first thing, if you're obeying the crowd, the first thing you're going to see is someone breaking away from that normal social movement and walking towards this guy. Second, you're going to look at the appearance, which is could be his clothing or his gate, how he walks. Next, this is confidence. What his posture is and whether or not he looks like he's confident in what he's doing. If he's walking really slowly and uncertain towards this guy, that's a low confidence which will set off a red flag for non-obedience in our brains. After that is connection, so him having connection with this guy on the ground in this instance just means that he's making solid eye contact when most people who are not really confident would be looking for confirmation from others as they make the approach to help this guy. Does that make sense?
Jordan Harbinger: [00:21:29] Yeah. So let me sort of go through the first few that you mentioned. So movement, we're looking for somebody who stands out a little bit in terms of the way they move. So are we talking about like walking with purpose or something like this?
Chase Hughes: [00:21:40] I would say walking with purpose and walking in a relaxed way with head above your heart and your head is over your pelvis as well. So your posture is good and just moving with purpose.
Jordan Harbinger: [00:21:53] Okay. And then appearance, once we talk about the movement, once we noticed that then in some short amount of time, and I think you and I've talked about this before offline or I've read it somewhere, it's like less than a 10th of a second. We look for that person's appearance. So like what are the appearance factors actually, are we looking at like how tall they are or are we looking at are they wearing a uniform? What are kind of the components of appearance?
Chase Hughes: [00:22:15] Those are two of them. Height does play a role. I know it's not something you can really hack, but definitely appearance. We're looking for social status at that point. So what the kind of clothes they're wearing or a different type of social status which would be like someone in a uniform, a military uniform or a police uniform or even something really as simple as a train conductors outfit actually creates obedience, which Philip Zimbardo also approved on another great YouTube video.
Jordan Harbinger: [00:22:44] Ah, okay. Okay, so we're looking for height, uniform. We're looking for, I mean what about weight? If someone's, this is interesting and controversial, but if somebody is like overweight, do we downgrade that? Because I kind of, my gut says that somebody who is looking like they really can get it done. Like if I'm looking at Jocko versus looking at like that guy, that comedian whose calls himself Fluffy. I'm probably going to follow Jocko Willink instead of somebody like that just because I'm like, "All right, well this person seems like not more dominant, but there's a competence involved with building your body and physique up to that level that you don't get with somebody who looks like they don't take care of themselves.
Chase Hughes: [00:23:26] Yeah. And it also goes back to social status and somebody that looks handsome or a woman that's pretty, is more likely to have higher social status and we automatically assume that they do just because they look better.
Jordan Harbinger: [00:23:39] So those are sort of subcomponents of social status. Okay, that makes sense. So somebody who's dressed really well, uniform or not and has a nice suit on, that goes back to your crosswalk example. All right, this person is dressed well, they look more affluent, therefore their social status is higher, therefore their appearance gets a higher grade, arbitrary or not, which means people are more likely to follow. Is that accurate?
Chase Hughes: [00:24:04] Yes.
Jordan Harbinger: [0:24:05] Okay.
Chase Hughes: [00:24:05] So then like let's use the crosswalk example. What if we broke it after appearance? So the guys moving across the crosswalk, he looks sharp, he looks really super successful, he's got that social authority, but he has no confidence in what he's doing, is completely slumped over and he's looking for cars. He's walking really apprehensively. Boom, you're going to automatically decrease the amount of people following him. And if he does have the confidence, then you can break it at connection. If he walks really confidently while looking directly straight down at his phone and he's not sure of what he's doing. So he's not connected to the outside environment that breaks obedience.
Jordan Harbinger: [00:24:44] Okay. And connection is a little bit nebulous. So to clarify this, we have to focus on, or we're looking at the amount of attention that this person is paying to the event. So let's say somebody gets stabbed in the stomach in Manhattan, we're looking at is this person moving with purpose and standing up straight? The other sort of factors that we discussed there, are they dressed well? Are they also in good shape? Are they tall-ish? If that applies. And are they looking at the incident that just happened or are they sort of strolling in that general direction while also chit chatting on their cell phone with their wife and going, "Oh my God, somebody just got stabbed?"
Chase Hughes: [00:25:25] Yes.
Jordan Harbinger: [00:25:25] Right. Okay.
Chase Hughes: [00:25:26] So once someone has like, it's triggered some of these trip wires. So they've triggered movement, appearance, and confidence. The next would be that we start to see them as an obedience figure. We start to see them as an authority, and authority is what governs our behavior. Their attention starts to direct our attention. Once we start seeing them as an authority, then we care about where their attention is.
Jordan Harbinger: [00:25:51] Okay, that's great. So their attention direct our attention. That makes a lot of sense, because of course, if they're paying attention to it and we give their status, their movement, their appearance, their confidence, weight, then we're kind of thinking, "Well, if they're paying attention to it, I should be paying attention to it." And again, this is all happening subconsciously. So this is all happening within moments.
Chase Hughes: [00:26:12] Oh yes. This could be in just a one or two seconds that we move through all of these. And the final authority tripwire is internalized feelings. And these are the feelings that get produced in us, just kind of on an unconscious level. We talked about how we are unconsciously looking for all these things every day. So a lot of times when you're like, if you taught a guy all the right postures to make, the right body language to make, all the way down to how often to blink. And he's a really handsome guy, he might be able to go and have a conversation with someone, but if he doesn't, if he's not a true authority, he's not exuding real authority, that woman or that guy in that one on one conversation especially is going to get that feeling that something's off, something is not right about this. They won't be able to put their finger on it, but they will know that something isn't right here. So that's the final step to whether or not we agree to be a agentic or to become an agent under this person and let them direct us.
Jordan Harbinger: [00:27:13] So that's set of factors that kind of reminds me of a Malcolm Gladwell blink kind of situation where the experts all go, "This statute is real, the statute is real." And then this one person is just like, "It's not, but I don't know why." And then after 10 years they're like, "Oh, it's the fingernails," or whatever, and ended up being, spoiler alert, I think it was the fingernails, but it was something along the lines of that with the particular item and I think we get this. We see this lack of authenticity show up where maybe the person's agenda doesn't quite match what they're doing or saying, and we see this with con artists that are maybe not as good at what they do or with somebody who's particularly observant, and I see this with scams and things like that, or people on the streets or even people who are bad, or I should say good salespeople, but not great salespeople where they're telling me something and it's just a little bit too rehearse, and it's just a little bit too energetic for the context, and it's just their eye movements aren't quite right or like little things that I'm trying to figure out in real time because I'm obsessed with this stuff just like you are. But an average person just goes and I don't really know or the general phrase, if you're talking about this in a dating context, you'll hear someone go, I don't know. He was just kind of like creepy somehow, I don't really know. And creepy, people always go, "Why does that happen? What does that mean? I'm not doing anything. I'm just having a conversation," and I'm thinking, all right, whenever I have to diagnose this, which I used to have to do all the time back when I was doing a lot of consulting with that, was people would go, "I don't know." Women will say, "I'm creepy or this person says that I'm creepy." I'm going, "Okay, well what are you having a conversation about?" "Nothing. I'm just talking about jobs and work and normal stuff just like anyone else," and I'm thinking, "Okay, what are you thinking about in your head when you're having this?" And they go, "Well, I'm doing what every other guy does. I'm trying not to think about sleeping with her. I'm trying to think about what I'm going to say next or I'm trying to think about how I can make a good impression," and I'm like, "Bingo." That's why, because there's some part of you that is just detached enough where your vocal tonality or your eye movements or the way that you're looking or where you're looking at that person is just not quite on par with where somebody who's actually trying to be a friend of theirs or interested in the conversation is looking. And the most blatant example is of course the guys who can't stop undressing women with their eyes and are looking more or less at their chest and it's like "He's creepy. He was staring at my boobs the whole time." But guys who learned how to fake it really well, there's still that subconscious chatter in their brain where they're like, "Don't about sex." Don't think I mean the story of my entire 20s, right?
Chase Hughes: [00:29:44] Oh, yeah.
Jordan Harbinger: [00:29:44] And every other guy. But like you're just like be normal, be normal. It doesn't work because the woman's like, "I can't put my finger on it, but something's not quite right here." Or something is ending up being creepy. And you see that when the agenda doesn't match the communication, there's a subtext or a sub communication that you can't turn off that raises red flags. Whether that's dating, whether it's a sale, whether it's some sort of maybe even an interrogations, you'd know more about that than I do. There's just something that doesn't match, and no matter how skilled you are, you can't act your way out of it. Because if you could, you'd have a mantle full of Academy awards.
Chase Hughes: [00:30:24] That is so true and so well put. I think especially when you ask those guys, like when girls say that they're creepy or that something's off in the conversation. You say, "Dude, do you make your bed? Do you have a three foot pile of dishes in your sink?" Like do you have laundry that you're just like putting on an old stuff, like the cleanest thing instead of the clean thing? And if you don't master different parts of your life, just think about. So for anyone who's listening right now, think about in the last time you went out and do it, a social gathering, a party or something like that and you are spending money you know you shouldn't be spending, or you left a ton of laundry out on the bed that you know you should have done because you've got finals coming up, or you've got a huge interview the next day, or something's going on, you left something undone. There's a part of your brain dedicated to reminding you how irresponsible you are. It's kind of built into everybody, and that sends off a vibe to everyone, and that's part of this internalized feeling.
[00:31:27] And the best way I've ever heard this is described is like if you go into a huge piano store and jam your finger down on the middle key of that piano, which is like a C, the C string on every other piano will start to vibrate in the whole store. And that's how it is with humans, like if I'm hitting, no matter how my piano looks, I'm plucking strings that are setting off strings at that other person. So in the end, your behavior off the clock so to speak, plays a vital role in how you come off to other people, and that's what we talked about like to get this authority to become an authority. There's five zones or five things that you've really got to get a handle on in your life in order to connect that internalized feeling, which is the final trip wire of authority.
Jordan Harbinger: [00:32:18] There's a lot there I want to unpack as well. So going back to again the dating example, because it is so apt for this. You know when you finally started dating someone for a while and you had like a three, four, six, one year long relationship, then you go, "Why the hell is it so easy for me to talk to women now? What the heck is going on here?" What's going on is your agenda isn't try to find a girlfriend. "Gosh, I'm so lonely. Don't want another Friday night like this." Your agenda is just, I'm having a normal conversation with somebody and you don't have that sense of need, therefore your agenda is completely different. Your agenda is, "Look, I don't have one. I'm just chatting." Versus before where you're like, "Don't signal how much you want to make out with this person" or "How much you want her to like you." That kind of thing goes away because you've already got yourself in a relationship, or at least you know, with in general that should go away. And so you don't have that and you think, "I'm not doing anything different." And true, consciously you're not but your body, your hormones, your eyeballs, your pulse, all these things that are detectable by a subconscious brain and not really something that we monitor consciously, especially in other people, those are all detectable and they're all different at that point in time.
Chase Hughes: [00:33:34] That is so true. And that's a great example too, I've never really considered and I've been there.
Jordan Harbinger: [00:33:41] Yeah, I mean that's I think why this is so apt is because everybody's been dating at some point or another. Almost everybody who's listening to this understands like, "Oh, okay." And so the way to fix that is just like what we talk about with any sort of body language, which is you can't just do what a lot of these like pickup guys are doing, which is like, "Oh, take up space," and they're like, "Great, I'm going to put my leg on one chair, my arm on another chair, and I'm not going to let anyone sit down." It's overcompensating and they go, "Oh, I need to learn how to appropriately take up space." No, you need to learn how to get your stuff together because then those other things, they fall into place on their own. You can't fake, and we've seen from body language experiments, you can't fake all of the right little tiny tweaks in your body. You have to have your mindset right because your external body language is a reflection of your internal state. So it's actually just easier to get your mind right than it is to fake everything with your body 24/7, and try to maintain it all.
Chase Hughes: [00:34:40] That's so absolutely true. That's especially applicable to the pickup scene and that the tactics that they teach are just ways to fake like you have your stuff together.
Jordan Harbinger: [00:34:52] Right. So it works well with people that are either completely unobservant like they're drunk or they're unaware of context, like they just got off a flight from another country.
They've never been to America, and they don't quite get that you're completely full of it. That's why that sort of dating instruction stuff I've left long in my past because it really does only filter in generally low quality people because you're really just faking it, which means the lowest common denominator of person or in their worst state, AKA six shots in. Those are the people that are going to respond to this. It's just easier to build your life up. Make your bed, get your finances in order, and make sure that your life is together because then people want to be a part of your world and they don't go, "Well, I don't know. He's a little slouched. That must signal low social status. Maybe I'm going to make a decision based on this." You don't have to worry about faking that anymore because you are evolved to communicate your status when you actually have that status.
Chase Hughes: [00:35:51] So, so true.
Jason DeFillippo: [00:35:55] You're listening to the Jordan Harbinger Show with our guests, Chase Hughes. We'll be right back after this.
Jordan Harbinger: [00:36:00] This episode is also sponsored by Express. When your billable hours start running into your happy hours, there's no time for trying to find the right work clothes for you. We write the rules of dressing for the job with style for work at Express. These performance pieces are designed to work with you throughout the day. So shop style for work at Express, and go from your first meeting, the last call without compromising your personal style. All right, so Express, I've been using for a long time. Grabbing dress pants, chinos, dress shirts, blazers, suits, whatever. When I was a lawyer I wore this, when I wasn't a lawyer I wore this. So whether you need a suit for that upcoming job interview or you want to rock a blazer, some jeans you can refresh your closet and you can dress for the job that you want and they've got some great suiting, Express performance suiting. They design it with a stretch fabric that moves with you and keeps its shape, which is perfect for short commutes, great for cross country flights and everywhere in between. Express performance dress shirts also have your back during long days at the office or nights out on the town and they've got some great solid colors, sharp tailoring, moisture wicking, stretch fabric. You know, if you're a moist, keep you cool and confident there and even better, you can shop more sizes and more styles than ever. Shop men's sizes up to XXL and 42 waist and 36 length at express.com, and in select stores.
Jason DeFillippo: [00:37:13] Shop style for work now at your nearest Express Store or on expressed.com, and get 25 dollars off when you spend 100 dollars on anything and Express using code JORDAN at express.com or 4842 in store. That's promo code JORDAN at express.com or 4842 in store, some exclusions apply.
[00:37:32] Thanks for listening and supporting the show. Your support of our advertisers is what keeps us on the air. To learn more and get links to all the great discounts you just heard, visit jordanharbinger.com/advertisers. We also have an Alexa Skills so you can get inspirational and educational clips from the show in your daily briefing. Go to jordanharbinger.com/alexa, or search for Jordan Harbinger in the Alexa App. Now for the conclusion of our show with Chase Hughes.
Jordan Harbinger: [00:37:58] All right, so I want to steer things back on track here and talk about these five factors that activate, I don't know, I don't know if we want to keep using the term obedience because speaking of sounding creepy, but it really does activate maybe followership in some way. Confidence being the first thing. Let's describe these five factors that we talked about pre-show and really break them down so that we can get to some practicals for people listening.
Chase Hughes: [00:38:22] Yeah. So there are five factors, we'll kind of dig into them just a little bit. And there's a five factors. It's called the Authority Assessment Checklist. Each one of these is rated on a one to five scale and each one of them has an individual description where you can rate yourself and see where you land on each one of these, and I'll give that to you. The first time I'll ever be released is in your show notes.
Jordan Harbinger: [00:38:46] Great.
Chase Hughes: [00:38:47] So the five traits are confidence, discipline, leadership, gratitude and enjoyment.
Jordan Harbinger: [00:38:54] All right, so confidence, discipline, leadership, gratitude and enjoyment. Got it.
Chase Hughes: [00:38:58] Yes. So if you were at a level five on each one of these, the most that you could hope for is that your behavior is not just inspirational to others, it's contagious. And contagious is the key word to think about when you're trying to rate yourself on where you are on all these. Is my confidence contagious to others? Or does my confidence make other people feel small? Is my discipline so kind of honed to the point where I don't need to talk about it, and that's just kind of contagious. Other people want to hang around me when they feel like they need more discipline. So that's what I mean by contagious.
Jordan Harbinger: [00:39:33] Is any personality trait contagious? Is it just like when I have this dialed in, it rubs off on other people or is it mostly confidence and discipline?
Chase Hughes: [00:39:41] I would say they are all contagious, especially gratitude and helping to steer other people not because you told them to become grateful just because you are naturally such a grateful person and your confidence is so high which is also contagious, that they become grateful as well.
Jordan Harbinger: [00:39:56] Okay, so confidence. How do we train this? And I know that's a subject of an entire week long podcast that we can't really do that right here, but how do we define this? Because again, it's really easy to go, "Confidence. Okay, I'm going to stand up straight, treat people poorly and walk around like my poop don't stink because that's what confident people do. Got it next."
Chase Hughes: [00:40:17] Right.
Jordan Harbinger: [00:40:18] Right. We know that that's not right.
Chase Hughes: [00:40:20] That's a level one of confidence on the Authority Assessment Checklist. So confidence is just taking action without reservation, and that's the best definition I've ever heard. And probably the second best definition I've ever heard is that confidence means you have that stellar reputation with yourself, and that you just kind of believe that even if I don't get the exact outcome I want, I pretty much firmly believe in my soul that this is going to work out for the best.
Jordan Harbinger: [00:40:49] Okay. And we can get into this in a probably in a different show, but again, I think training confidence is one of those things that requires, I mean, you and I run this kind of thing in our classes for military and intelligence. It's not something that can be taught before the lunch break generally.
Chase Hughes: [00:41:06] Absolutely.
Jordan Harbinger: [00:41:07] So we'll break that down in a little bit. What about discipline? I mean, yes, discipline is a visible quality. We kind of touched on that when we talked about the example of the person who's in better shape being a better trigger of obedience generally, how do we train the discipline in us? Is there a way that you suggest people do that? I know you said clean your room, get your finances in order. That's more the result of discipline instead of pathway to it.
Chase Hughes: [00:41:34] That can be the pathway too. Exercising, discipline means that you'll build the discipline in the future. And the best explanation for building self-discipline comes from the book called The One Thing which I picked up in an airport. They talk about when you see people that go to the gym every day, we naturally assume, "Oh, that guy's got a lot of discipline." When it took no discipline for him to go to that gym that day. It took discipline for him to start going to the gym and develop a habit. So you only need like a little tablespoon of discipline to start building new habits. You get the discipline, you get a habit, and then that discipline, which is a finite resource, it gets more plentiful. So you can use the discipline on something else next.
Jordan Harbinger: [00:42:14] Okay.
Chase Hughes: [00:42:15] So I would say building discipline, all you would need to do is make small deprivations on yourself. So I usually put three sugars in my coffee. I'm going to start doing two next week. That's it. So just small and just building that muscle over time. And I know everyone who is on here especially me, when I started learning all of this stuff, like I wanted to learn it overnight. What's the hack? What's the quick way to do it? And there isn't one. I mean as far as we've advanced in technology, we still haven't come up with a way to make humans better overnight and making small deprivations of yourself and building habits, just one at time. Take your time because you're not only are you going to get overwhelmed, but you'll probably fall back on your goals or give up on them if you're not building them all at one time. So I would just take your time.
Jordan Harbinger: [00:43:04] Yeah, it's easy to overwhelm ourselves and be like, I remember that back in the day I was like, all right, I'm not going to drink anymore. I'm going to stop eating pizza. I mean, this is probably 10 years ago when I was just doing whatever I wanted because I was 28, and I'm not going to go out on weekdays and I'm going to go to the gym every day and I'm going to get up at six and I'm not going to go to bed late. And let me give you one guess on how well that worked out for me.
Chase Hughes: [00:43:28] I did the exact same thing.
Jordan Harbinger: [00:43:30] Of course, right? Because radical actions sound so awesome because it sounds like the results are going to come quicker. But what was better for me was how about I just start getting up early and getting my work done and then after a while it was like, "All right, maybe I'll go to the gym three times a week." "Oh my God, I'm so sore. I don't want to go to the gym tomorrow." That's fine. I only have to go three times a week. Not every single day. And so you build these over time and then eventually, yeah, you can get up at 5:30, and go to the gym and get everything done and not spend money to get a dopamine hit in your brain. But if you try to do it all at once, you feel so awful that you give up on everything because you don't care anymore. Your brain just wants that dopamine hit or just wants that extra hour of sleep and hard to keep your eye on the prize when it's so painful to get there. So you have to build this and it's like building a muscle, you don't go and do a set of curls and then come away and you're like, "Look at all these veins, bro." I'll get these guns. It requires time, but our brains don't like that. We like the magic pill instead.
Chase Hughes: [00:44:30] Right. We want the muscle implants.
Jordan Harbinger: [00:44:32] Yeah, theoretically, yeah, still sounds quite as -- that sounds more painful than actually just go into the gym. But yeah, so training the discipline. We've talked about this with guys like Jocko before, so I won't get into it too much. But yeah, doing one thing at a time, I think is the way to do this. So eat that elephant one bite at a time, getting up early and making small deprivations is something that you mentioned. When you say deprivation though, what are you talking about? Because getting up early, going to the gym, that doesn't necessarily sound like deprivation to me. What are you referring to when you talk about deprivations?
Chase Hughes: [00:45:03] Well, those deprivations would be, I'm going to deprive myself of extra 25 minutes of sleep and I'm going to go to the gym. I'm going to deprive myself of those seven Netflix episodes I would've watched in a row and I'm going to go get something else done.
Jordan Harbinger: [00:45:17] Okay. So we start with small pieces where basically where we know we're already, we're already indulging ourselves. My alarm went off, but theoretically if I skip the gym and I go after work, I can sleep in for 45 minutes. Wait a minute. No, we know how this ends. I'm getting up. I'm getting up, fine.
Chase Hughes: [00:45:35] Yeah. I used to have to go to bed in the gym clothes. I would put them on before bed just to take away that extra bit of mental energy resistance the next morning.
Jordan Harbinger: [00:45:46] I gave myself permission when I started running, which I don't do anymore because of joint stuff. I remember going, "All right, I don't have to run, but I do have to put on my running stuff and stand on my front porch." Even if it's winter and this is Michigan back in the day, so I would get up, put my running stuff on and go stand on the front porch and then after that, if I was like "F this! I'm going back to sleep." I would, and I remember doing that a couple of times, but mostly I was like, "I'm already outside with my gym stuff. I'm going to run. This is happening." This is what's going on right now. The initial blast of cold sucked, but I'm over it. Let's go get these three miles in and that's how that works for me. You can't just say, "I'm going to run a half marathon. Ready, set, go." And this is common sense for a lot of people, but I don't think that a lot of us realize that this will then rub off on our ability to influence others. I think that's the new piece of connection here. The new piece of information here is that confidence in discipline actually result in us becoming more able to lead ourselves and in turn lead others and influence others. So if you're a salesman and you think you don't need this because you're just fine the way you are and you have a sales skill set, you'll be better for having done this, which I think is fascinating.
Chase Hughes: [00:46:59] Absolutely.
Jordan Harbinger: [00:47:00] All right. What other pillars do we have that activate followership or obedience in humans?
Chase Hughes: [00:47:07] We've got a leadership, gratitude and enjoyment.
Jordan Harbinger: [00:47:11] Okay. Leadership. Let's talk about this. That sounds pretty, pretty vague. Pretty standard. What are we talking about when we're talking about leadership?
Chase Hughes: [00:47:21] Just by my definition in the authority book that'll be coming out in December. This trait means that your behavior alone creates followership. Whether or not this is your ability to inspire people with a vision, that your behavior is so good that people will just follow you naturally or that you just firmly believe in the mantra that I do, that we rise by lifting others. That's I think what leadership is. And there are so many books on leadership that I did not want to rebuild the something that's already been built. So I would just say that once you have all these other qualities, you've got your life together and you can start working on yourself in a social way, you'll start developing leadership automatically without ever reading a book on leadership.
Jordan Harbinger: [00:48:12] Great. Okay. And gratitude, we've talked about a lot on the show, but this is something that I didn't see influencing obedience or influence and others. What's going on here with gratitude?
Chase Hughes: [00:48:23] I think for people that are comfortable expressing gratitude to a stranger, that it's powerful. Not just, "Hey, what do you think about your taco? Are you being grateful for the cow that died to make the beef for your taco?" I'm talking about talking about social situations like, "Hey, I met a guy a few weeks ago and he helped me out. I was just so grateful that there's so many wonderful people in this world that lift other people up. Just being comfortable, expressing gratitude to strangers. And what would you do if someone told you that you had to express gratitude with just your eyes during a conversation.
Jordan Harbinger: [00:49:04] Of course.
Chase Hughes: [00:49:05] What would that look like?
Jordan Harbinger: [00:49:05] Yeah, so you'd take on some of those subconscious traits of somebody who's positive, happy, et cetera, which seems to bleed a little bit into enjoyment. Because of course you're going to smile with your eyes, you're going to feel positive feelings are just going to change your nonverbal communication towards that stranger. Therefore, making them more likely to open up to you. I suppose.
Chase Hughes: [00:49:25] So much. And one key thing here that we just accidentally talked about the other day, a friend and I were driving through this neighborhood. The houses are upward of one and a half to two and a half million dollars, and everyone that was just kind of walking on the street for exercise or walking their dog, everyone we drove past waved and smiled, then you go do that in a middle class or lower middle class neighborhood, that's not going to happen. And my friend was like, "Wow! Look how everyone here is happy." And then you know, we've kind of got into a conversation about it and we came up that a lot of people believe that they're happy because they have money instead of thinking that it's probably the other way around. They started enjoying themselves and being okay with where they're at long ago. This is a habit they've developed, just happiness, expressing gratitude, waving at other people, just being nice, that probably and usually happens first.
Jordan Harbinger: [00:50:25] Huh? I mean, that's debatable and there's going to be a lot of people who are like, "No, it's easier for people who have money to be happier." And I to an extent agree with this. However, it doesn't really impact the ability to leverage. What it does say is that people who have money may actually have an advantage, surprise, over other people when it comes to influencing other people's behavior. Is that accurate?
Chase Hughes: [00:50:48] 100 percent, absolutely. And I'm saying it's not all that way, but I'd say it's a good way to see it and it's a healthy way to start looking at it. And they may be privileged and I mean the suicide rates of people that own over a million dollars in assets are just the same as the people who make minimum wage. So I wouldn't say that that money is the equator of happiness.
Jordan Harbinger: [00:51:14] Right. It's not the determining factor, but it may influence the situation. Good. Luckily for you, the military pays you the big bucks, Chase. So you're all set.
Chase Hughes: [00:51:22] I wish they did.
Jordan Harbinger: [00:51:25] Enjoyment. Now this one surprised me. How the heck can be in a good mood? Allow me to influence other people's behavior better. I guess it makes sense now that you say it, but why? What's going on here?
Chase Hughes: [00:51:38] So anytime, anyone in a social situation, of course, it's going to vary depending on this, but I'll give you this example. Like if you're in a social situation and most people don't know each other, the person that's in a good mood in the room is contagious and magnetic in social situations. So the more contagious and magnetic you are, the more people are going to open up to you and the more people open up to you, the more they're going to see that you have confidence, discipline, leadership and gratitude. And then those authority trip wires are already hit from across a room just because you're enjoying yourself.
Jordan Harbinger: [00:52:12] This is surprising to me. Now I guess it shouldn't be because, yeah, of course, you know, people who are happy, we want to be happy, so we want to emulate them. But I didn't realize it really went beyond that. I didn't realize that people would want to emulate, therefore be influenced by that person. But I suppose it makes sense in a certain way because anybody we want to emulate, we tend to follow their advice or at least their behavior because we think that's how they got to where they are now. And happiness seems to be this, especially now, this sort of nebulous end goal of every millennial/gen whatever I am in life. I want to be happy. I want to be fulfilled. This person looks happy and fulfilled, let me just do what they're doing. Whether that's following them on Instagram and buying the crap that they're selling or just being influenced by them in person, subconsciously that seems to make sense. But how do we train this, Chase? Like how do I just decide, "All right, I'm going to be in a good mood because that's contagious and magnetic. Ready, set, go." Where's the practice here? Gratitude, we have practice for. Discipline, we have a practice for. Confidence, we talked about some of the subcomponents of that. Enjoyment, what do we do with this?
Chase Hughes: [00:53:23] I think enjoyment. There's so much on how to be happy that I didn't want to write another book on that, but if you start developing your confidence, you're working on yourself discipline, you're working on your leadership, you're experiencing more gratitude, it's going to be really difficult not to have enjoyment every day. So that enjoyment is kind of a byproduct of getting your stuff together, becoming more social and being more grateful throughout your life, and living that mantra that we rise by lifting others and have just expressing that genuine real interest in other people when you have conversation, that leads to enjoyment almost by itself.
Jordan Harbinger: [00:54:03] All right, I like this. I love the fact that this stuff is being taught in the military to law enforcement and psychological operations research as well. I know you also have the five zones or I guess areas of life mastery for authority development and this is what a lot of PSYOPs people are using. Let's dive into these because this seems to be, as much as the other stuff is tangible and practical, it's hard to train that stuff. However, this stuff is more nuts and bolts.
Chase Hughes: [ 00:54:33] Yeah. So the five zones are things that over the past, probably I think 17 years that we've been training and kind of honing the way to develop your own behavior and your own authority, the fastest way that you possibly can is to manage these five zones or areas, whatever you want to call them, in order, and after thousands of students. These are the five areas that we've come up, with that once you kind of get a handle on these five, then other things like confidence might be a byproduct of that, discipline might be a private product of this. So there's so much that just interrelates to each other that mastering these five areas of your life or just kind of getting a grip on them at least produces automatic social results. Even though they're not all social zones, but they have impact, just like when we talked about you're the kind of guy that's late on your taxes or you're being audited, you're not going to have a great conversation.
Jordan Harbinger: [00:55:33] Gotcha. All right, so just to be clear, that wasn't me who's laid on my taxes. That is a hypothetical person in an example, just so everybody knows I pay my taxes as should you. But the five zones of life mastery, if you want to call it that for authority development. So what are these areas specifically?
Chase Hughes: [00:55:51] So these are just different parts in real life that you need to kind of get a grip on and we can go through these five real quick.
Jordan Harbinger: [00:55:58] Yeah.
Chase Hughes: [00:55:58] So they are environment, time, appearance, social, and financial. So they almost lead into each other. So one kind of fits as a key into the next one. So like if you tried to master your time before you mastered your environment, you get up early for work, but your environments still messed up, your bedroom screwed up, your clothes aren't ready for the next day, you didn't prepare, and so things aren't set up, so you can get to your environment first. This goes into like making your bed every day, keep your car clean, keep your house clean, keep everything organized in your house. Just make it a challenge to do it for 20 days, and then get these habits, that get your environment under control and develop these habits and then worked at a time.
[00:56:46] And this is just mastering your time. And I'm definitely not like a self-help speaker. I'm not a time management guru, but if there's one critical part that I could say, it would be like the single point of failure for almost everyone when it comes to mastering your time is that people assign equal weight to the tasks that come up every day. So I would say plan ahead and prioritize and make sure that priorities are set. So if it doesn't feed your goal and then don't do it, and just get a little more comfortable saying no.
Jordan Harbinger: [00:57:20] Okay. And people who listen to the Jordan Harbinger Show regularly know plenty of places here to get tips, tricks and practices on productivity. Things like using a calendar and certain way, making sure you prioritize in a certain way. So I don't want to beat that too much in depth because the key here is that these are going to signal things non-verbally that are going to help people influence. So definitely, all right, so environment, time. What's next? Appearance.
Chase Hughes: [00:57:46] Appearance is next. So once you've got your houses in order, then you start using your calendar, you've got your time kind of managed. Next is the appearance. So all of these, everything feeds into creating a social authority in other people. And like you, I don't like to use the word obedience too much, and these five zones or five areas, I don't want to come up with some cutesy name for them just because it's a system for developing a persuasion mindset and it was designed for intelligence operatives. So all of these do feed into other people's ability to follow you or obey what's going on, or to pay attention to you in a conversation. So with the appearance, the way that you look, the way that you carry yourself is extremely important. So movement and appearance are the first two authority tripwires. So appearances here because of that, and what we talked about a 10th of a second, people are going to decide whether or not you're someone they need to listen to or ignore. And a large majority of this is just these unconscious decisions. So not only your physical appearance like your skin or your hair or your eyes or your clothing, but the way you carry yourself and your demeanor, which also comes from having more discipline and knowing just that kind of the internal thought that knowing like, "Hey, I got up at 4:30. I was probably earlier than any way that was here at this meeting," gives you that little bit of confidence to boost your appearance. So discipline feeds into appearance, confidence feeds into appearance. It's all so much a kind of an interwoven thing.
[00:59:22] And next after appearance is social. And this is where the Jordan Harbinger Show comes in. This is getting training on social skills, learning small talk, and just kind of developing that by talking to strangers every chance you get and showing a genuine interest in people and learning how to turn on the chemicals and people. So the first day when I'm teaching police, military or government people, the first slide of all of my presentations is a picture of a brain, a lightning bolt, and three molecules. One's serotonin, one's dopamine, and one's cortisol. And I tell them that this is the only thing I'm teaching you how to do. I'm teaching you how to control chemicals and electricity. Those are the only things that we're really talking about when we talk about human obedience, when we talk about social interactions, it's electricity and chemicals. That's it. So during the social interactions, what you're trying to build when you're learning how to do small talk, you're learning how to just start conversations with strangers you're basically learn how to manufacture dopamine and serotonin in another human being with your voice.
Jordan Harbinger: [01:00:31] Ah, okay. So we're talking about -- are you actually visualizing people's brains as a mass of electricity when you're talking with them?
Chase Hughes: [01:00:41] I thought it was helpful for me to do it and I still do it on occasion and I suggest this to every one of the students that we teach is that you spend some time visualizing the brain, not just because it helps you, but it also helps you make eye contact without getting too self-conscious about how long you're making prolonged eye contact because you're visualizing the brain there. It helps you to realize that you're not really communicating to that giant human being in front of you. You're communicating to it just a brain.
Jordan Harbinger: [01:01:11] Perfect. Okay, I think that makes it easier because then you're not thinking this person is my boss or this person has some sort of effect on the future of my career or this person can make me embarrassed in front of my friends. You're just looking at it almost like a computer system.
Chase Hughes: [01:01:27] Yeah, absolutely.
Jordan Harbinger: [01:01:28] And last but not least, financial, and we talked about this a little bit about how if your house isn't in order, you have all kinds of subconscious communication that you don't really have your stuff together and that's going to kill you.
Chase Hughes: [01:01:39] Absolutely. I think just go see a counselor, go see a financial advisor, just get your stuff together, and all of those stuff that you're -- all those tiny little nonverbal signals that are just disappear once you have that stuff handled.
Jordan Harbinger: [01:01:51] I liked this because I think it's a little counterintuitive. People think, "Oh, how do I say the right words? What do I do?" And it's like, look, that's all fine and important, but really we're looking at environment, time, appearance, social and financial stuff all is a backdrop and if that's not in order, all of these magic combinations and tips and tricks are going to have zero effect because the rest of the scene is not set. You have no foundation for it. And further, you've got a great list and we'll include this in the show notes of the 34 things that kill your authority and just by way of a sample here, negativity, anger, lack of self-control, poor hygiene, excessive jewelry I thought was interesting. Is that because you're overcompensating for something else, is that the signal here?
Chase Hughes: [01:02:33] So basically any behavior that a person can do that's specifically designed to kind of attract attention or say, "Hey, look at me," is an authority killer in most instances.
Jordan Harbinger: [01:02:44] That's interesting. Why is that? Because we know people are overcompensating and so we say, "All right, this is ridiculous." You obviously aren't walking the walk.
Chase Hughes: [01:02:53] Yeah. I think anybody who, and this is unconscious, but on a conscious level, anybody who's showing almost a desperate need for attention and validation is obviously not getting it elsewhere.
Jordan Harbinger: [01:03:05] I know what people are thinking, which is Lady Gaga has a meat dress on. This doesn't apply to her, and so let me just float this. If you have the status to match, then this is nullified, right? If you actually already have the status and other areas to imagine as nullified, but if you're trying to gain status by doing this, it doesn't work. Is that accurate?
Chase Hughes: [01:03:25] If your face is automatically and authority stumble, I think you can kind of do whatever you want.
Jordan Harbinger: [01:03:30] Okay. That makes sense. Because people aren't going, "Ah, she wore a meat dress. Talk about desperate for attention. She's never going to succeed in this world."
Chase Hughes: [01:03:37]Oh, yeah.
Jordan Harbinger: [1:03:37] Oh, wait a second. Multi-platinum recording artist. So this stuff when it's designed to replace the foundations doesn't work. Things like rapid blink rate of course, aren't things you do consciously, scattered attention span, excessive criticism of environment or have other people bragging and bullying. It's funny how these things lower status when they're actually strategies that most people put into effect in order to gain status in the first place.
Chase Hughes: [01:04:04] Yeah. I always thought that was fascinating to me and the small dogs bark the most.
Jordan Harbinger: [01:04:12] Now hedges, this is something that by way of practicals I think people can get rid of. Filler words and hedges in your example that we discussed pre-show where things like words like maybe, should, I think, and the ubiquitously like, you know, right. Those kinds of hedges that people use, they're invisible question marks, right? And there was one right there. But they're appropriate in certain circumstances and tell us first where they're not appropriate and why you recommend people get rid of them.
Chase Hughes: [01:04:47] I'd recommend that if you do them a lot and you find yourself doing them in social situations that you should be just focusing on, it will help you to eliminate some of them. And I wouldn't say they're all bad in some situations and I wouldn't say they're all great in other situations, but I think that the lower you can get this, the better you want your speech to sound as if you have conviction. And in the book, we call this a how to speak like a surgeon because when a surgeon is communicating to a family about a surgery or a death or an illness or something that's wrong, they have to speak with conviction and they have to use certainty. They can't use words like maybe, they can't put invisible question marks on their sentences. So that really I think it's just one small thing that kind of detracts from your authority during a in a social situation.
Jordan Harbinger: [01:05:45] I will caveat this, first of all, I totally agree that we should get rid of hedges as much as possible. And one way that I do this, and I've talked about this on the show before, is recording your side of a conversation. Sometimes hard when doing it in person. Get people's permission to do this. You can just record it on your phone, you'll be able to hear yourself hedging and that will bring a strong awareness to what you are doing. And we do this a lot at Advanced Human Dynamics as well, which is coach people on hedging because you'll find you will literally find Navy seals and special forces guys who are hedging like crazy and it just has to do with the way that they were raised, the company that they keep, the company that they're in now, are they in the context, are they in a new job. And I sometimes hedge deliberately especially in interviews where I'm dominating the conversation and can come off as too domineering, whether it's someone else's show or my own, and it also helps in social groups where maybe I'm in someone else's office at their meeting and I'm trying to do a corporate training and the CEO is in there. I realize I just took over the entire situation. I will say something like, "So does that make sense to all you guys? Do you understand that? Is that clear to everyone?" And it's not just checking to see if it's clear. I might've said something like lunch is 45 minutes long, come back and 45 minutes. That's obviously crystal clear to everybody who just heard it, but I have to hedge because I want the other person to not feel like I'm usurping their status. So this is something that you can actually use as a tool consciously, but when it uses you and you're hedging all the time, you just fall to the bottom of the totem pole.
Chase Hughes: [01:07:15] That is so true. So true. That's very well said.
Jordan Harbinger: [01:07:19] I like the surgeon speak practical as well. You don't get a whole lot of surgeons that go, "Hey, look, you might kind of like have diabetes because you don't really take care of yourself, maybe, I don't know, and probably there's a good chance you like might die." Nobody wants to hear that, right? Tell me what's going on. I'm waiting with bated breath. What do I have to do to save my own life here? What is exactly wrong with my pancreas or whatever? Nobody wants the surgeon to hedge. We all want it crystal clear whether we're on the phone or in person and eliminating these filler words, whether we're just reminding ourselves of the sticky note or using the call recorder conversation trick that I mentioned earlier will help you get rid of this. There's so much more here, Chase, posture and slowness reminders, drills. I've talked about this a lot on the show. Things like the doorway drill to get our body language right.
[01:08:13] Actually let's put the posture and slowness reminder trick that drill into the worksheets for people that go grab the worksheets. Those, of course, are always linked up in the show notes and we'll have our writer Caleb Bacon take care of that. Chase, thank you so much for coming on. The Ellipsis Manual will be linked up in the show notes, as well as well as your website ellipsesbehavior.com. I'm looking forward to taking some of your law enforcement and military courses because obviously you and I are two peas in a pod when it comes to this sort of stuff.
Chase Hughes: [01:08:39] Absolutely, man, and I'd love to have you of course. We'll see you out there soon, I hope.
Jordan Harbinger: [01:08:44] You got it.
[01:08:47] I always love doing shows with Chase, because he's only teaching practical stuff and it's not the sort of like in an academic random study where we profiled three college students. This thing happened that I decided to write a book about so I can make some money. It's all like the military, the cops, the three letter agencies. They're using this stuff because it actually works.
Jason DeFillippo: [01:09:07] No, Chase brings the thunder. He is no joke. You know, top guy in his field and The Ellipsis Manual, one of the books that you just have to have on your bookshelf. No doubt about it.
Jordan Harbinger: [01:09:17] Yeah. He mentioned that some of his charts and things that are in the book have been printed out, blown up huge and are on the wall like FBI headquarters and stuff like that because this stuff works. It's not super simplistic but it is easy enough to learn if you apply it, which I think is really cool and he'll just get a great understanding of human behavior and it's from gestures all the way to mindsets when you check out what he's got. I mean he just really -- he really knows what he's talking about. So great big thank you to Chase, the book title is The Ellipsis Manual. We'll link to that in the show notes, and if you want to know how I managed to book all these great people, manage my relationships using systems and tiny habits, people like Chase use for example, check out our Six-Minute Networking course which is free over at jordanharbinger.com/course, and a lot of people say, "I'm going to do that, but later, this week I'm busy, or this month I'm busy." The problem with kicking the can down the road, you just can't make up for lost time when it comes to relationships and networking, that's the whole idea. The number one mistake I see people make is postponing this, not digging the well before they get thirsty. Trying to leverage those relationships when you need them. You're too late, so the drills are designed to take a few minutes per day. This is really the stuff I wish I knew a decade ago. It's not fluff. It is actually crucial and you can find it all for free. Of course at jordanharbinger.com/course.
[01:10:35] Speaking of building relationships, tell me your number one takeaway here from Chase Hughes. I'm @jordanharbinger on Twitter, on Instagram. I'm doing a lot more on Instagram these days. I love engaging with you all there, and don't forget, if you want to learn how to apply everything you heard here from Chase Hughes, make sure you go grab the worksheets also in the show notes at jordanharbinger.com/podcast.
[01:10:56] This show is produced in association with PodcastOne and this episode was co-produced by Jason "The Wallflower" DeFillippo and Jen Harbinger. Show notes by Robert Fogarty. Worksheets by Caleb Bacon, and I'm your host, Jordan Harbinger. The fee for this show is that you share it with friends when you find something useful, which should be in every episode. So please share the show with those you love and even those you don't. We've got lots more in the pipeline, so excited for some of the upcoming stuff here. You have no idea. In the meantime, do your best to apply what you hear on the show so you can live what you listen, and we'll see you next time.
Sign up to receive email updates
Enter your name and email address below and I'll send you periodic updates about the podcast.