Chelsea Handler (@chelseahandler) is a writer, comedian, producer, TV host, activist, and the author of five consecutive New York Times bestsellers — her latest is Life Will Be the Death of Me…And You Too!
[Featured photo by Ryan Hartford of Ecliptic Media]
What We Discuss with Chelsea Handler:
Finding the line between mood enhancement and paranoia-generating abuse when it comes to cannabis.
How a DUI at age 21 led to Chelsea's entry into the world of standup comedy, and what she was really trying to get from her search for attention.
As someone who's never been afraid to quit a job she's grown tired of doing, what really matters to Chelsea?
What's the difference between authentic generosity and generosity that just feeds the giver's ego?
Why is Chelsea writing books, doing standup comedy, and working on television projects when she was sure she'd burned out on doing all of these things not long ago?
And much more…
Like this show? Please leave us a review here — even one sentence helps! Consider including your Twitter handle so we can thank you personally!
(Download Episode Here)
(Subscribe to the Podcast Here)
Worksheet for this Episode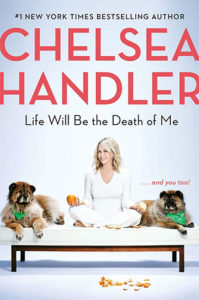 Love her or hate her, Life Will Be the Death of Me…And You Too! author Chelsea Handler is a force in the entertainment industry. She's been highly successful from her 20s onward through today, and is a consistent hit-maker when it comes to her books, late night talk shows, and live comedy.
On this episode we enjoy a very rare chance to spend time with someone who also interviews others for a living, and discuss her very unorthodox entry into comedy — which almost ended with a one-way ticket to jail. We'll also talk about chasing fame and money and, at the end of that dirty rainbow, just trying to fix our childhoods by getting love from strangers on the Internet or the other end of a cable television talk show. Listen, learn, and enjoy!
Please Scroll down for Full Show Notes and Featured Resources!
Sign up for Six-Minute Networking — our free networking and relationship development mini course — at jordanharbinger.com/course!
Calm is the number one app for meditation and sleep! Want to explore its many benefits? Enjoy an exclusive discount of 25% off a Calm premium subscription by going to calm.com/jordan!
Boost your credit score fast and for free. Experian Boost includes your free credit score, score tracking, and the personal factors that affect your score. Find out more at experian.com/jordan!
Have you ever thought about the fact that where you choose to live directly affects the "you" you become? Apartments.com has the most listings, which means you have the most apartments, townhomes, condos, and houses to choose from. Change your apartment, change the world at Apartments.com here!
KiwiCo delivers monthly STEAM (Science, Technology, Engineering, Art, Math) crates that inspire kids to see themselves as scientists, artists, creators, and makers. Get your first month free at kiwico.com/jordan!
Got cats? Breathe easy when maintaining the litter box with Arm & Hammer's Cloud Control dander shield technology. Plus get the confidence of guaranteed seven-day odor control. Find it in a store near you or learn more about it here!
By listening to the Dexter Guff Is Smarter Than You podcast, you have made the decision to change your life by listening to an under-qualified, over-confident lifestyle entrepreneur. Celebrate self-proclaimed thought leadership here!
More About This Show
If you've followed her career as a writer, comedian, talk show host — even from the periphery — it might surprise you to learn that Life Will Be the Death of Me…And You Too! author Chelsea Handler was once petrified at the thought of speaking in public. And then, at the tender age of 21, she got a DUI. This would change everything.
"I had to go to DUI school," recalls Chelsea. "In DUI class, you go for 15 weeks and everybody gets up and tells their story — and I had such a fear of public speaking. I had an opinion and I've always had an attitude, and I was always kind of in-your-face about it, but I never thought of myself as a public speaker.
"Every night I would hide in an area where I wouldn't get called on. And then at the very last class, I thought I'd gotten away with it, and then [the instructor] was like, 'Chelsea, come up here.' And I was so nervous. And then I started telling my story — and all I did was tell what happened, and it was ridiculous. I called the cop a racist — we were both white. Everything that didn't make sense I did. And the audience was just laughing and I was on stage for 14-15 minutes until the guy was like, 'This is not standup. Get off the stage! You're enjoying this a little bit too much.'
"And that's when I was like, 'Wait a second. I like this!'"
Chelsea loved the feeling of making people laugh. It seemed to be the thrill of attention that appealed to her, but in retrospect, it may have really been a need for human connection.
"I lost my brother when I was young; I lost my father — because of losing my brother, he kind of got lost — so we were all kind of lost and out to sea and that is a misconnection," says Chelsea.
"I just wanted everyone to pay attention to me, and really what I wanted was just somebody to say, 'Where are you going and where have you been today?'"
Listen to this episode in its entirety to learn more about how far therapy has brought Chelsea since the results of the 2016 election spiralled her anger beyond control, how the death of her brother when she was only nine became a blueprint for the way relationships end in her life, how she went from taking Hollywood's rewards for bad behavior to taking a closer look at the luck of her countless advantages, what she particularly enjoys about touring in support of her new book, how she went from scoffing at the idea of mindfulness to being grateful for it in every moment, and much more.
THANKS, CHELSEA HANDLER!
If you enjoyed this session with Chelsea Handler, let her know by clicking on the link below and sending her a quick shout out at Twitter:
Click here to thank Chelsea Handler at Twitter!
Click here to let Jordan know about your number one takeaway from this episode!
And if you want us to answer your questions on one of our upcoming weekly Feedback Friday episodes, drop us a line at friday@jordanharbinger.com.
Resources from This Episode:
Download Worksheet for Life Will Be the Death of Me

/wp-content/uploads/2019/06/Worksheet-for-Chelsea-Handler-Life-Will-Be-the-Death-of-Me-Episode-216.pdf