Reading Time:
3
minutes
The Plastics Paradox author Chris DeArmitt joins us to separate fact from fiction around plastic's impact on our health and the environment.
What We Discuss with Chris DeArmitt:
Misconceptions about plastic degradation.
Misconceptions about endocrine-disrupting chemicals in plastics.
The energy efficiency of plastics.
The role of recycling in plastic waste management.
The future of plastics: biodegradability and compostability.
And much more…
Like this show? Please leave us a review here — even one sentence helps! Consider including your Twitter handle so we can thank you personally!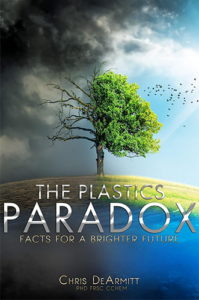 Popular sentiment tells us that plastic is a disaster that clutters our waterways, litters our beaches, kills wildlife, and breaks down into microplastics that poison our environment and disrupt our hormones. But how much of this narrative is scientifically verifiable, and how much of it is just hyperbolic fright fuel designed to keep us glued to the news cycle and finance special interest groups who benefit from vilifying plastic without considering the potential backlash of its alternatives?
On this episode, we're joined by plastic scientist and The Plastics Paradox author Chris DeArmitt to separate fact from fiction around plastic's impact on our health and the environment. Here, we discuss the inadvertent effects of greenwashing, how long it really takes for plastic to degrade, what science says about the ubiquitousness of microplastics that result from this degradation, the relatively small carbon footprint of plastic production compared to alternative materials like concrete and ceramics, the benefits of reduced plastic usage over its complete abandonment, what the future of biodegradable and compostable plastics looks like, and much more. Listen, learn, and enjoy!
Please Scroll Down for Featured Resources and Transcript!
Please note that some links on this page (books, movies, music, etc.) lead to affiliate programs for which The Jordan Harbinger Show receives compensation. It's just one of the ways we keep the lights on around here. We appreciate your support!
Sign up for Six-Minute Networking — our free networking and relationship development mini-course — at jordanharbinger.com/course!
This Episode Is Sponsored By:
Miss the show we did with Vince Beiser — author of The World in a Grain: The Story of Sand and How It Transformed Civilization? Make sure to check out episode 97: Vince Beiser | Why Sand Is More Important Than You Think It Is!
Thanks, Chris DeArmitt!
Click here to let Jordan know about your number one takeaway from this episode!
And if you want us to answer your questions on one of our upcoming weekly Feedback Friday episodes, drop us a line at friday@jordanharbinger.com.
Resources from This Episode:
924: Chris DeArmitt | Rethinking Plastic's Environmental Impact
This transcript is yet untouched by human hands. Please proceed with caution as we sort through what the robots have given us. We appreciate your patience!
[00:00:00] Jordan Harbinger: Special thanks to Nissan for sponsoring this episode of the Jordan Harbinger Show. Coming up next on the Jordan Harbinger Show.
[00:00:07] Chris DeArmitt: If you look at 50 life cycle analyses, I've found that plastic wins over paper, over cotton, over metal or, uh, glass every single time. If you can make something out of a hunk of wood, it's probably greener than plastic, but it's always greener than paper, always greener than cotton, always greener than metal and glass by a vast amount.
[00:00:29] Jordan Harbinger: Welcome to the show. I'm Jordan Harbinger. On the Jordan Harbinger show, we decode the stories, secrets, and skills of the world's most fascinating people and turn their wisdom into practical advice that you can use to impact your own life and those around you. Our mission is to help you become a better informed, more critical thinker through long form conversations with a variety of amazing folks from spies to CEOs, athletes, authors, thinkers, performers, even the occasional money laundering expert, astronaut, neuroscientist, Russian chess grandmaster.
[00:00:57] If you're new to the show or you want to tell your friends about the show, I suggest our episode starter packs. These are collections of our favorite episodes on persuasion and negotiation, psychology, geopolitics, disinformation and cyber warfare, crime and cults, and more. They'll help new listeners get a taste of everything we do here on the show.
[00:01:12] Just visit jordanharbinger. com slash start. Or search for us in your Spotify app to get started. Today, plastics. We've covered this a lot on the show. They're in our oceans, they're in our food, they're in our bodies. We've covered the harm and potential for harm, but our guest today, Chris DeArmit, is a scientist with a decidedly different and science based perspective on the plastics problem.
[00:01:34] Lots of good news about plastics for the health of our bodies and the health of the planet. In today's episode, a lot of this stuff, most of this stuff surprised me. I think it'll surprise you too, and it is quite reassuring. And let's just hope that it's all accurate and holds up and stands the test of time.
[00:01:49] Here we go with Chris D'Armit.
[00:01:56] I've never been so excited to be so incredibly wrong about something, probably in the history of this show. And I know that sounds like hyperbole, but I think people will see where I'm going. I'm actually embarrassed about how much I panicked, worried, got upset about all this stuff with plastics. But I'm not so embarrassed that I wanted to sweep this under the rug because I want everybody else to know what we're talking about today regarding plastics.
[00:02:21] And I know I sound like one of those people who knock on your door and are like, Have you heard the good news about plastics? You know, it's uh, almost like a religious conversion here. But I've done numerous shows on plastics. I've done shows on bioplastics. I've done shows on microplastics, and it's like people write in and go this is so depressing.
[00:02:37] The whole world is ending. We're just full of plastic. We're eating plastic. The fish have plastic, and the whole world is plasticized, and we're all gonna be living in the equivalent of a landfill. In a generation. So, tell us why that's just kind of a bunch of BS.
[00:02:52] Chris DeArmitt: Well, I'm a professional problem solver, right?
[00:02:54] And the thing you learn as a scientist, as an independent scientist and problem solver, is that the only way to really solve a problem is to start with the facts. And that's what people aren't doing, right? All you hear about is plastics, and they haven't taken a step back and really looked at the science.
[00:03:06] So that's what I've done. I read over 3, 000 peer reviewed papers, which apparently no one else has done, and they're really boring, right? I mean, who wants to read about litter and waste and degradation? It's all incredibly dry. Yeah, how
[00:03:16] Jordan Harbinger: long did that take, though? That
[00:03:17] Chris DeArmitt: took thousands of hours, and I did it all unpaid, and I've shared the book as a free download, the videos are free, everything's for free.
[00:03:23] Wow. Because I'm a real scientist and I care about truth. So, uh, we'll get on, on to more about that later. So, basically, the only way to really know what is true is that, and also it's about perspective. If you've, I think you know Thomas Sowell, he's a very famous guy, and he said, if you hear something that sounds like a good idea, ask yourself three questions.
[00:03:39] Compared to what? How much will it cost? And where's the evidence? And those are the questions people are forgetting to ask. So that's what I'm doing here today. Not to glorify plastics, but to give a little bit of perspective and to say what the science is telling
[00:03:50] Jordan Harbinger: us. We've been programmed from a pretty early age, at least my generation, and I would imagine generations younger than me, right, to blame plastics and be just very concerned with plastics.
[00:04:02] And that's how I grew up. I mean, in kindergarten, it was like, Make sure you put things in the garbage. And then later on in elementary school, the recycling thing started. I'm 43. If you see somebody your age litter, you're just like, this person is human garbage. And I actually believe that regardless of what we say about plastics.
[00:04:20] Cause you can throw trash in the trash can for God's sake. Previous generations, they didn't really worry a whole lot about that, and we sort of take the idea that if you're using something that's plastic and you should be using something that's metal or wood or whatever else, you're a bad person. You know, we've extended the idea that somebody who throws a candy wrapper on the ground is the same as somebody who's using a straw.
[00:04:42] Yeah,
[00:04:42] Chris DeArmitt: that's exactly right. There's a lot of things to talk about there, but you said, you know, you're a bad person for using plastic. So how would you know that? Bad is a relative term, right? So everything's got to be compared, as Thomas Sowell said, to something else, right? And the only way to really know what's green and what isn't green is something called a life cycle analysis.
[00:04:58] And this is something that's been used for decades, right? It's codified, it's, uh, it's, there's, uh, norms, there's, uh, peer review, so that you can't pull a fast one when you do a life cycle analysis. What that does is it takes every single input into a cup or a bag or a straw or whatever, like, and we're talking about every raw material, all the transportation, all the, all the energy used to make it, even the waste disposal, any repairs that you need to do on this thing, driving around your car could be one component of it.
[00:05:22] So it takes every single environmental impact, including fossil fuel use and greenhouse gas and everything else, trees and everything you can imagine. And it puts it all into these different categories. And that gives you a sensible scientific way of comparing, okay, this has got an impact, everything has an impact, but is it more or less impact than the other options that we've got?
[00:05:39] And that's what people are forgetting to do. And these life cycle analyses are online. You can literally right now type in LCA, for life cycle analysis, B A G, into Google. And you will find many peer reviewed studies on BAGS, life cycle analysis. There are 28 in the world. So that's not cherry picking, right?
[00:05:56] There's every one that there is. And they all agree that the plastic bag is the least harmful solution.
[00:06:01] Jordan Harbinger: For the environment, like the least amount of greenhouse gases or whatever?
[00:06:05] Chris DeArmitt: Under every category it's the least harmful. Every category, okay. Less water, less greenhouse gas, less fossil fuel, less waste, less material used, less impact on the humans and life and lakes and rivers and all the rest of it.
[00:06:16] So there's 28 studies in the world. We're talking Canada, New Zealand, we're talking America, there's one from Clemson. I've got several of them up on my website. So it boggles my mind that people are saying that these plastic bags are the bad solution when every single study ever done shows that they're the actual least harmful choice.
[00:06:31] So people are picking paper, which is much, much worse, and it's just anti scientific. And a lot of the bans that come in, first of all, you end up selling more plastics when you ban plastic bags. That's ironic, and I can explain it. But what these politicians end up doing is having egg on their face because they have to reverse this ban when they, after the fact.
[00:06:47] Check the science and find out that they did the wrong
[00:06:48] Jordan Harbinger: thing. Yeah, well, look, if you talked to me, like, yesterday, and you said, should we ban plastic bags? I'd be like, absolutely. And the reason is because, well, one, I've been sort of brainwashed to see that they're bad. We've all seen photos with a turtle in a plastic around its neck, and we've all gone to a beach and there's a bag there, and you're like, what kind of crap is this?
[00:07:08] You've seen flip flops washed up on beaches in Thailand, or trash and bottles floating in rivers. We've all seen that, but, you know, that's confirmation bias. Icy plastics everywhere is just... Okay, I don't see paper everywhere. Well, actually I kind of do, but some of it maybe I don't notice. I mean, I guess a lot of that is just really maybe the paper broke down, but maybe it required a ton, literally more CO2 to produce that thing out of paper.
[00:07:32] And I don't, I don't see that. So that doesn't figure into my calculation.
[00:07:37] Chris DeArmitt: You're right. There is a lot of confirmation bias. So the scientists have studied that they looked at this litter on the beach and they literally analyzed where it came from and it came from the people on the beach. And so there is a confirmation bias.
[00:07:46] What they find out is that. Beaches where people are, are full of the stuff from the people. If you go to a remote beach that people can't reach, there's nothing on the beach, right? Because there's no people there. But people never see, by definition, those remote beaches, right? They're beaches you can't get to.
[00:08:00] That's why there's no people there, right? So, you go to a beach full of people, because those are the beaches people like to be on, and people can reach them, and see all this junk, and assume it's coming in from the water, which it isn't. That is an example of confirmation bias. And even if you do find stuff on the beach, it's litter, as you said, right?
[00:08:15] That's not a material problem. I saw a thing the other day, Coca Cola is the number one creator of pollution in the world. That's not true. I mean, their customers are dropping these bottles. They're not making a billion bottles and dropping them in the ocean, right? You can't blame a manufacturer for what their customer decides to do.
[00:08:28] This litter thing is very regional. As you said, in prior generations, people would litter. People in the Western world have learned not to do that anymore. So the mismanaged waste you find in the oceans on the beaches is not usually coming from America or Europe or those countries. But there are other countries where that's not in their culture yet and they haven't caught
[00:08:44] Jordan Harbinger: up.
[00:08:44] I feel like I have seen plastic on remote beaches. But then again, I don't know if that plastic came from the last person who went to that remote beach or if it floated five miles.
[00:08:54] Chris DeArmitt: What you find on a remote beach is 75 to 85 percent of fishing nets and stuff like that are discarded by the fishing industry and then you find a couple of odd bottles and things like that.
[00:09:01] Yeah. But yeah, litter is a human created problem. We know how to solve it. The way to solve that is education, deposit schemes, and fines. And, um, there's a way to prove that hu that's literally caused by human beings and that's in my book. There are 8 billion banknotes made of plastic printed every year and there have been for decades.
[00:09:18] Polypropylene banknotes. How many do you see when you go on holiday? I would love to go to the beach and have these banknotes just washing up on me on the beach. It would be tremendous. I'd love to go for a walk around the village with my wife and find these banknotes everywhere. Or credit cards for that matter, right?
[00:09:31] They're also small, easily lost pieces of plastic, which miraculously nobody loses because it has a value. So that's a way of proving that literary is 100 percent down to people and blaming the plastics or the credit card manufacturer or the banknote people is just nonsensical. But somehow these green groups
[00:09:45] Jordan Harbinger: get away with it.
[00:09:46] That is interesting, right? You see flip flops, you see a phone case, you see a bag, you see some food waste, wrappers, whatever. But you're right, I don't see a bunch of cash, and that's also in many countries made out of plastic. I don't see a lot of the more valuable items. And in fact... I can't even keep aluminum cans, for example, in my own recycling bin, because somebody comes by at 4 o'clock in the morning and takes them out.
[00:10:13] And I welcome that, as long as he's quiet. It's 4 o'clock in the freaking morning. He can't always be, because it's aluminum cans. But that's how he makes his money. He's got a giant bag of cans. That's why
[00:10:22] Chris DeArmitt: deposit systems work. As soon as something has a value, it cleans itself. That's exactly right. People are going
[00:10:26] Jordan Harbinger: to say, aren't you a shill for plastic?
[00:10:28] In the plastic industry. Should we just cover that now? Yeah, yeah,
[00:10:31] Chris DeArmitt: we should cover that now. That's a great point. I'm glad you brought it up. That's what every shill says. The reason I started this quest, which has been a waste of thousands of hours of my time, as I said, unpaid, and all of the findings are shared unpaid, was that my daughters were being taught lies at school, and I know that there's just no good future for us if we teach kids things which are untrue at school.
[00:10:48] So specifically they were taught that plastics don't degrade, and that's just not true. So I spent thousands of hours, I'd disclose all of my sources of income on my website, this is not my job, I'm just somebody who cares about truth, and I'm somebody who wants a better future, and the only way to get there is to start by think looking at things which are true, which are backed by evidence.
[00:11:03] And the other thing is, my credibility doesn't even come into this, so for example, if I say there's 28 studies on BAGS and I provide the studies, you know, those are not my studies, these are all, this is thousands and thousands of peer reviewed studies from every country in the world, from tens of thousands of scientists, millions and millions of data points, right?
[00:11:21] It's the same with the ocean for example. We're told by the green groups that there's tons of plastic in the ocean and it's going up exponentially. Scientists, there's like 10 studies that say the amounts are very low, so low as to be negligible, that's their exact word, and it's been constant for decades.
[00:11:35] That's what study after study after study shows. And you can look up these studies. Every single thing I say in the book or, uh, on, in my videos, if you've seen them, or on my websites, every single thing is cited back to the science where you can go and check it yourself. And not only that, I literally copy and paste what they say verbatim, right?
[00:11:51] So there's no spin on it. It's literally the words of the scientists with no changes made in every case.
[00:11:56] Jordan Harbinger: Pardon me if I'm putting words in your mouth. I'm not hearing you say, Eh, it's fine. Just use single use plastics for everything and throw them away. Who cares? We're still on the same page in that maybe reducing a lot of that stuff makes sense, or are we?
[00:12:09] Yes,
[00:12:10] Chris DeArmitt: that's exactly right. So my attitude is this. As a scientist, as a logical person, start off with the facts and make the choices which cause the least harm. The other alternative is to kill yourself and not exist or to live in a cave, right? Nobody's choosing that. Nobody's really choosing to throw away their cell phones or to do without a defibrillator.
[00:12:27] or medical equipment or not driving. I mean, no plastics would mean no electricity to your home, right? Because every wire is insulated with plastic. You'd have no electricity in your home. You'd have no phone, no internet. You'd have nothing, right? It would be awful. And I have yet to see a single one of these tree hugging environmentalists volunteer to do that.
[00:12:43] So they're not actually genuine about wanting to get rid of plastics. They're just trying to look like good people and, you know, have people pander to them online. My attitude is this pick whatever causes least impact and that's proven, right? These studies are out there and I share them. You can find them yourself, as I said.
[00:12:57] And then the other thing to do is have some perspective. So I was reading a book and it showed the global usage of materials. 80 percent of materials is concrete. And ceramics, right? So if we're worried about using too much materials, we will be really concerned about concrete and ceramics because 80 percent of the problem, right?
[00:13:13] You'd have to address the biggest part. If you were looking at funding or legislation or where can I make an impact, you wouldn't start with the smallest piece of the pie chart. You'd start with. concrete and ceramics, which is 80%. And wood is like, um, from memory about 6 percent and metal is like 10%. And plastics are 0.
[00:13:29] 5 percent of materials we use. So no logical person in the world would say, Hey, let's ignore 99. 5 percent of our materials addiction. And obsess over plastics and think we can make an impact, because we never will make an impact that way, right? You can't solve a problem by ignoring 99. 5 percent of it, you'd have to be clinically insane to believe that.
[00:13:46] Right, so
[00:13:46] Jordan Harbinger: even if we used zero plastics, we've cleaned up half of a percent of the actual materials used. So ceramics, mainly concrete, 84%, wood, slash natural, whatever that means, wood, and... Wood, 9%. Uh, metals, mainly steel, 6%. Yeah. So, if you want to never build a skyscraper again, fine. That's gonna clean up a lot of materials used, or maybe just like, don't pave your roads anymore.
[00:14:11] Yeah. You can do a lot with that, or stop building cars. There's a lot of things like that, but it, plastics is not, it's a drop in the bucket, really. And that's a lot of concrete, right? I mean, if we're talking about 84 percent of materials we use on earth are mostly concrete, we did an episode about sand episode 97 with Vince Beiser, who's really interesting because it turns out we're actually running low on sand.
[00:14:32] If you think of running, imagine running low on sand, something that you see all the time, and we just are running out of it because we're making so much concrete. And fracking, fracking uses
[00:14:42] Chris DeArmitt: a lot of sound too. Oh, yeah, that makes sense. So that's my point. If you were a logical person, you'd look at this pie chart and say, hey, if I've got a billion dollars to spend or a trillion dollars or an hour of my time, which one of these things would I focus on?
[00:14:52] And it probably wouldn't be half a percent, right? You'd probably be spending some of your time at least on the other 99%, which we're not doing right now. So that's why I call it the great plastics distraction. People are obsessing over plastics, feeling like they're making an impact, and they're really not.
[00:15:05] I mean, for one thing, they did a study on what makes an impact, and everyone believes it's plastic bags, and that actually turns out to be absolutely insignificant. The things that actually make an impact are taking one less flight, Driving your car less and not eating as much meat. Right, those things make a thousand times more impact.
[00:15:22] But nobody wants to do those things. No, I don't want to do that. Nobody wants to do any of that stuff. So that's why they obsess over these bags, which make zero impact. In fact, replacing plastic bag just creates four times more impact than having the bag. So, not only are you not making an impact, you're going in the wrong direction.
[00:15:34] Yeah,
[00:15:35] Jordan Harbinger: I want to talk about that because the counter argument to this is, Okay, fine, guys. If plastics are half a percent... Then why not just get rid of that half a percent, and then we don't have to see plastic bags flying and getting stuck in trees, I don't have to see bottles everywhere, I don't have to see single use plastic blowing into the edge of the parking lot, I don't have to see any of that, and, you know, by your own admission, it's only half a percent, so what's the big deal?
[00:15:59] And the big deal is what you just said, which is that if you replace that plastic, you're now talking about three to four hundred percent more material of a different kind. And there's, of course, going to be counters to that. Well, fine, four hundred percent more paper, that's still more environmentally friendly than plastic.
[00:16:16] Or is it?
[00:16:17] Chris DeArmitt: Right, that's the thing. If you look at fifty life cycle analyses, I've found that plastic wins over paper, over cotton, over metal or, uh, or glass every single time. Thank you. The only time plastic ever turns out as being not green as something else is when you compare it to a lump of wood. So I don't mean some highly processed wood, I mean, like, literally a block of wood.
[00:16:35] So, if you look at a wine cork, the natural cork, you know, that's why it's called cork, it's cork wood, that is greener than the plastic cork, according to life cycle studies. If you look at decking, wood comes out ahead of plastic decking. And that's in my book, right? I'm not trying to cherry pick things, I don't hide things, I disclose everything that I find.
[00:16:53] If you can make something out of a hunk of wood, it's probably greener than plastic. But it's always greener than paper, always greener than cotton, always greener than metal and glass, by a vast amount. You can prove this in your kitchen when it comes to the waste you mentioned, materials use. Just go to your kitchen and weigh a plastic straw, and weigh a paper straw, and weigh a glass straw, and weigh a metal straw, right?
[00:17:10] And the same with a Kroger bag. Go to Kroger and get the paper bag, it's 60 grams. Get their paper bag, it's less than 6 grams. So who's voluntarily chopping down millions more trees to create 10 times more materials used, 10 times more waste? And then you'll say, well, the plastic bag doesn't degrade. And that's not true.
[00:17:25] The plastic bag degrades as fast as the paper one. There's loads of studies on degradation of plastics. I mean, thousands and thousands of studies. There's a whole journal that's been going for 50 years, just about degradation of plastics and how to stop it. So that's another misconception that people have spread.
[00:17:39] Jordan Harbinger: Yeah, I've got some figures here, like you mentioned. A plastic bag, 6 grams. Paper bag, 60 grams. Plastic straw, 1 gram. Paper, 2 grams. Metal, 11 grams. Whoops, because I got a metal straw. And glass, 22 grams. Glass straw sounds dangerous, but whatever. And bottles, plastic 30 grams, aluminum bottle 90 grams, a glass bottle, of course, 325 grams, but don't we recycle that stuff?
[00:18:04] So doesn't that throw a monkey wrench into this, because I throw away the plastic straw, but I might use that metal straw a bunch of times. Or is it still more environmentally friendly to use a plastic straw because it's so much, it just takes so much CO2 and resources to get that metal out of the ground and processed into a straw?
[00:18:21] Chris DeArmitt: Yeah, great question. So you do have to reuse things a bunch of times before they be plastic. So let's say you had a ceramic cup, you might have to reuse it 100 or 200 times. You've got a cotton bag, you might have to reuse that 200 times to break even. But what people always miss is that you can reuse the plastic, this single use thing.
[00:18:35] That's a choice we make. My daughter reused a plastic straw 50 or a hundred times, right? It's not a problem, right? You just stick it in the dishwasher and it's reusable. So we're choosing to make that single use. Nobody's holding a gun to our head. So the greenest straw, I tell people, is no straw. It amazes me that it never occurs to anyone to just say, no, thanks.
[00:18:52] I don't want a straw, right? I'm not trying to sell more plastic. Just say no to the straw. You don't need to be a genius to work that out. But if you do have to take a straw because you're disabled or you just can't, you know, you're addicted to straws, take a plastic one and reuse it as many times as you can.
[00:19:05] And you get the same argument with reusable bottles. People talk about these metal, uh, drink bottles, and again, and they say that that's better than a single use plastic bottle, and it would be if you reused it 500 times or something, right? But people forget, like, what about just reusing the plastic bottle?
[00:19:19] That's greener again, right? Or use a slightly thicker plastic bottle, which is more durable. So, um, these questions come up again and again, and the answers are known. They've been known for years and nobody's paying attention because, um, I don't know, it's turned into a cult rather than a logical thing where people are trying to genuinely make progress.
[00:19:35] Green groups are spreading lies and making hundreds of millions of dollars. Even the former president of Greenpeace, Dr. Patrick Moore, he left in disgust and he wrote this book and he literally says their business model is to tell lies to get your donations. And that's why they come out with this outlandish stuff that's just not true.
[00:19:51] He specifically says that about plastics in here. He says that they just made all the plastic stuff
[00:19:55] Jordan Harbinger: up. So, for those listening and not watching, which is like 99 percent of the audience, the book is called Confessions of a Greenpeace Dropout. We'll link to it in the show notes. It's very, it is something when the former president of Greenpeace says, Oh, um, they're just full of BS now and it's a grift.
[00:20:09] Like, that's kind of horrible. It seems very odd that somebody in that position would do that just because he's salty about something. So it's probably, there's maybe an element of truth to that stuff. I mean, there's a whole book worth. It's not a tweet,
[00:20:21] Chris DeArmitt: it's a book. He was the only scientist left and he got annoyed that they just went off on this crusade to get money and were doing more and more stupid things.
[00:20:27] Including being against chlorine, you know, they're like, oh, we want to ban chlorine. Well, first of all, you'd have to ban the ocean, right? Because the ocean's full of sodium chloride. You'd have to ban table salt, and even worse, you'd have to ban 35 percent of medicines which have got chlorine in them. So, um, he was just saying, look, let's be sensible, let's make a difference, but let's start off with the facts, and that didn't fit their agenda anymore, so he left.
[00:20:45] Jordan Harbinger: So, to put a bow on this, it takes about three to four pounds of other materials to replace a pound of plastic. On
[00:20:50] Chris DeArmitt: average, yes. On average. You can choose that, prove that to yourself in your kitchen. That's the
[00:20:53] Jordan Harbinger: average of the thing, the stats I just mentioned about bags, straws, bottles made out of aluminum, glass, metal, paper, plastic, whatever.
[00:21:00] So, The other element here is, and you mentioned it's turning into a cult, I acknowledge that, but I also think it's just really, a lot of it is cognitive bias. If I get a metal bottle and I'm like, this is my gym bottle, and I use it every day, that's great. And I use these mugs, these metal mugs, I use this every day.
[00:21:18] But you know what? I have like seven or maybe ten of these. I really actually need one. I have to use each one of those, like you said, let's say 500 times to make up for the amount of plastic. That's a lot of years and years and years and years, and that's if I don't use, or reuse, the plastic bottle that, let's say, this soda came in.
[00:21:40] But you know what the soda came in? Came in this. This can. This aluminum can. So, actually, I'm just using a crap ton of resources, and the other, the other problem here is, I feel good using this metal mug. Because I'm not throwing it away, but what I don't see is the production process that got this metal mug to my table.
[00:21:58] So all of that is just at zero. Just like with plastic, we're assuming, or I should say, I'm assuming, both of these things arrived to me having cost the same amount of CO2 resources, whatever, but they, but that's not true. I think, oh, look, I'm doing something that's good for the environment, but what I don't realize is I'm digging out of a hole that's 500 times deeper than the hole required that got that plastic bottle to the top of my desk, right?
[00:22:22] I'm digging it out of that invisible
[00:22:24] Chris DeArmitt: hole. It's an interesting point. I love those metal cans as well. I've got those, what are they called, the... Those, you know, the same thing. Yeti. Yeah, those Yetis. I've got a whole closet full of 'em too. I'm not against metal. I think it's, it's fantastic. I love gadgets, I love all that stuff.
[00:22:35] So I, I'm not against them, but as you said, this doesn't make it green just because it's, uh, the nicer product and feels better in the hand. Yeah. One thing that people are overlooking a lot is A, to check the facts, but then they get onto this thing about degradation and blah, blah, blah, microplastics. So we have to cover that topic 'cause people will ask about it.
[00:22:50] This has been the most incredible marketing job by these green groups, because when you think they're like plastics are bad, right? Because they degrade. Well, first of all, they tell you they don't degrade, right? Which is not true. Plastics degrade really rapidly. They even biodegrade. There's hundreds and hundreds of articles about plastic degradation.
[00:23:05] The global market for plastic stabilizers is 5 billion a year. Nobody's going to be spending 5 billion a year to stabilize something that's stable, right? That's business suicide. Right? So there's whole teams of scientists and they have been for 50 years trying to find better stabilizers to stop plastics from degrading too quickly.
[00:23:23] Plastic bag degrades in less than one year outdoors, according to peer reviewed science. So these green groups that tell you 400 years, they're just lying.
[00:23:32] Jordan Harbinger: You're listening to the Jordan Harbinger show with our guest, Chris DeArmit. We'll be right back. This episode is sponsored in part by Heat Holders. I guess the name is very apt.
[00:23:41] When the chill sets in, it's crucial to have a line of defense for your feet. Heat Holders. Their socks are a toasty sanctuary for your toes. The secret sauce is a three stage process that weaves together a cashmere like yarn that is luxuriously soft, keeping your feet snug. And dry. I like them. They feel great.
[00:23:56] Heat Holders also brings the same snuggle up warmth to their hats, gloves, and more. They've got a great lineup. The originals are seven times warmer than regular socks. For those who prefer less bulk, go for the lights or the ultralights. Keep things sleek without skimping on warmth. No matter where your winter adventures take you, or if you're just kicking back at home, which is how I roll with these, wrap yourself in the comfort of Heat Holders.
[00:24:15] We really enjoy these. We've decked out the parents in them. They moved to California from Michigan, so you'd think they'd be used to freezing weather. But no, they're always complaining about being too cold. So, these have been great. For those on your holiday list order, treat yourself to heat holders.
[00:24:26] Visit
[00:24:27] Chris DeArmitt: heat holders.com and use code Jordan to receive a 15% discount on your order. Plus free shipping on purchases over $25. Embrace the colder months with confidence and
[00:24:36] Jordan Harbinger: comfort courtesy of heat holders. This episode is also sponsored by Shopify. Steve Jobs and Steve Wozniak in Tech Jobs provided the vision, Wozniak the expertise.
[00:24:45] Together they transformed Apple from a garage startup to a global titan. In the playbook of business success, there's a standout duo waiting in the wings. You and Shopify. Shopify's checkout boasts a conversion rate of up to 36 percent higher than many leading platforms. That means more sales with the same traffic.
[00:25:00] Plus, with Shopify Magic, their AI assistant, your store's optimization is always in top gear. Did you know that Shopify fuels 10 percent of all US e commerce? If you shop online, there's almost a sure chance you're buying from a Shopify powered seller. Big names like Allbirds and Brooklyn entrust Shopify, and so do millions globally in 175 countries.
[00:25:18] As a business owner, I love that Shopify's got your back with their vast resources if your business ever hits a snag. Plus, Shopify is not just a platform, it's a growth catalyst. Whether you're huge or a garage startup, Shopify offers the tools and convenience to elevate your game. Sign up for a 1 per month trial period at Shopify.
[00:25:34] com slash Jordan, in all lowercase. Go to Shopify. com slash Jordan now to grow your business no matter what stage you're in. Shopify. com slash Jordan. If you're wondering how I managed to book all these great authors, thinkers, and creators, and scientists every single week, it's because of the circle of people that I know, like, and trust.
[00:25:51] My network, which is a dirty word these days. I'm teaching you how to build a good one for yourself over at jordanharbinger. com slash course. It's not cringey, it's not gross, it's not gonna make you or the other people in your network or your, your real networking life feel awkward or gross. It takes a few minutes a day, and many of the guests on the show subscribe and contribute to the course.
[00:26:10] So come join us. You'll be in smart company where you belong. You can find the course at jordanharbinger. com slash course. Now, back to Chris DeArmit.
[00:26:28] In the ground after three years, but the problem is those are bioplastics that were supposed to be biodegradable or at least made out of bio. So the big problem, and that's what we found in our episode about bioplastics, was a lot of those bioplastics are way worse than synthetic plastic made out of petroleum in terms of degradation.
[00:26:46] But they're supposed to be like, Oh, look, this fork that's not recyclable. Is something I can throw and it just vanishes into the earth and it's actually worse than just a plastic freaking fork. That's right. Because of different factors involved in the chemistry of these things and they take like way more resources to create and more expensive.
[00:27:05] Bioplastics, if you haven't heard that episode of Skeptical Sunday, they're just a big red herring. It's a big distraction. It's a plastic distraction inside the plastic distraction. That's right, that's right. It's kind of like plastic.
[00:27:17] Chris DeArmitt: You're right, most of the bioplastic stuff doesn't make sense, especially the degradables, and if you look at the life cycle analysis, they're usually worse, much worse for the environment than regular plastics.
[00:27:26] And plus, regular plastics degrade anyway. I call it the Harry Potter solution, this is a solution, we take bad people who are litterers, right, and we expect them to be able to drop whatever they want on the floor and it's gonna vanish by magic. And that's not a green solution, the green solution is stop people from littering, and we know how to do that, that's already proven.
[00:27:41] And use the greenest options, so um. Yeah, cane
[00:27:44] Jordan Harbinger: them if they litter, like Singapore.
[00:27:45] Chris DeArmitt: Yeah, that's right. I know. The only, the only bioplastics that make sense is sometimes when you make the regular plastics like polyethylene and polypropylene, you don't have to make those from fossil fuel. Those are the two biggest plastics.
[00:27:56] You could make those and other ones from plant based oils. That's a type of bioplastic that does make sense and it is green. We
[00:28:02] Jordan Harbinger: talked about those and of course the quote unquote problem with those is they're chemically the same as regular plastics, which we thought was alarming. But now this episode, which is debunking a lot of the things that we've, a lot of sacred cows.
[00:28:15] are killing sacred cows, to keep the metaphor consistent. That's a good thing. Like, wow, you can use something that normally would use petroleum, and you can use something else, and it's the same exact thing? That's amazing.
[00:28:26] Chris DeArmitt: And that's not just proven, that recycles with the regular stuff, and it's been on the market for years, right?
[00:28:30] So people can go and buy this stuff now. It's not a hypothetical thing.
[00:28:32] Jordan Harbinger: Well, the problem is, a lot of the other bioplastics... They don't recycle. So you literally have to throw them into the landfill, which is even worse than just using the regular ass plastic that they were supposed to replace in the first place.
[00:28:43] So that's what's
[00:28:43] Chris DeArmitt: frustrating. And if you mix those in the recycle stream with regular plastics, they ruin the recycling of those plastics. So it's, it's a, it's a mess. The problem
[00:28:50] Jordan Harbinger: with the recycling thing is, and again, we'd talked about this on Skeptical Sunday is yeah, if you throw in, let's say a fork, that's a biodegradable plastic with the recycled forks, they'll just take all of those and go, you know what, we can't sift through this and they throw them away.
[00:29:04] Because it's kind of like throwing a full can of tomato sauce in all the empty cans of tomato sauce that you're recycling, it ruins the batch, and they're not gonna hire somebody to shake each one and make sure it's real, so they just chuck it out. And it results in facilities that would normally recycle plastic saying, Hey, we don't take silverware, because some, one in a thousand is one of these things, and it just destroys our machinery or doesn't work.
[00:29:26] And so now we just are going to throw away anything that's in this category because this bioplastic that's in there. So it's very disheartening to see that those even
[00:29:36] Chris DeArmitt: exist. Yeah, let's go with this recycling thing that you're um, talking about because there's a lot more to say on that too. So a couple of main, main points about recycling is about 90 percent of plastics can easily be recycled.
[00:29:45] You just melt them and make a new product, right? So people who says that black plastic's not recyclable, that's a lie. If they say PET's not recyclable, PVC or PE or polypropylene or... They're all recycled. PET. Easily recyclable. You just have to separate it, melt it, make a new piece. And that's proven. It's done.
[00:30:02] And we know it's green, right? It's vastly less. So we're taking something which is already the greenest solution, according to life cycle analysis, and we're making it 70 to 90 percent greener by recycling it and not having to go and get new fossil fuels and all of that, right? It's so much less energy to just take the material you already made and recycle it.
[00:30:18] So not only is it the greenest solution, it's easily recyclable, and when you do that, it becomes even greener than it was before by a huge margin. So those things all make sense, and they should all be done. And here is something which is a misconception from the public. They think there's some conspiracy, the plastics industry has got a low recycling rate, and there's some conspiracy that they never really wanted to recycle.
[00:30:37] And if you follow the news headlines, that's not what you see. You see... Hundreds of millions of dollars being invested and then the company's going out of business fairly regularly because it's not that easy to make money recycling plastics and here's something will blow your mind. I talked about perspective.
[00:30:51] I read books, not just about plastics, but about all materials and what I found out was that the worst materials in the world for the environment are platinum, palladium and gold. They're horrific for the environment. I mean, you, you mine, you know, 100 tons of dirt to get a tiny scrap of gold and you throw the rest away.
[00:31:05] You got cyanide, which is used to process it. It's just horrific in terms of CO2 and fossil fuel, the energy used, the pollution. Terrible. Right? What else do we know about platinum and palladium and gold? They're some of the most expensive things in the world. And on the other end of that seesaw, we have the greenest things like polyethylene and polypropylene.
[00:31:22] And they're green and they're also really, really cheap. So there's actually... For many materials, almost a linear correlation between how expensive something is and how bad it is for the environment. And if you think about it, it makes sense, right? What goes into a life cycle analysis and what goes into cost?
[00:31:36] It's transportation, it's energy use, it's how much pollution you have to clean up and how much waste. Many of the same things that make something expensive make them bad for the environment. And so that's what we find with plastics. They're very green and they're very cheap and it's not that economical to recycle them.
[00:31:51] And on the other end, people are not throwing away gold and platinum and palladium. They always magically managed to find those and recycle them and never throw them
[00:31:58] Jordan Harbinger: away. People are in parking lots sawing off catalytic converters to get palladium. Pulling copper pipes
[00:32:03] Chris DeArmitt: out and lead off of roofs and everything, right?
[00:32:05] So that is a, that is a misunderstanding. You can make money recycling plastic. There are companies doing it successfully on a huge scale. There's a company in Germany, there's a hundred, you know, they tell you can't recycle plastic bags. There's a company called Papier Mettler who have a process in Germany and they've been doing 110, 000 tons of plastic bags a year, right, profitably, so it can be done and it is done.
[00:32:25] Jordan Harbinger: This is a PSA that I put on a few shows and it's a great time to do one now. You can recycle plastic bags and plastic packing material in the United States and almost nobody knows this. You can go to a place like Target. And you can bring all of that stuff in, I think Home Depot has it too, you can shove that stuff in there and there's companies that buy it and I think they turned it into building materials or roofing materials and you know, that stuff's already made and I, somebody had wrote in when we did another episode on plastics and they work for that company and they're like, we are desperately in need.
[00:32:59] We are buying up. All of this, because it's, it's cost next to nothing because it's otherwise discarded, there's actually a shortage of materials. So they, they end up making and they make new plastic to make this product that they use that would actually be better having just been made out of recycled plastic bags.
[00:33:16] So make sure you don't throw those away. You can't put them in the recycling bin. We talked about that in our recycling episode because they gum up the machines, but you can recycle this stuff. And in fact, companies need it and it's profitable. To do so, which is great news, right? Because that means all the stuff we feel bad about, almost all, can actually be turned into something that gets used for decades.
[00:33:35] That's exactly
[00:33:36] Chris DeArmitt: right. And they can be recycled multiple times, more than paper, for example. Paper can only be recycled a few times, but some of these plastics can be recycled 20 or 30 times, which is tremendous. And there's another thing going on with the plastics thing. People use this word recyclable.
[00:33:47] They try to sue old Walmart for saying things were recyclable when they weren't. If you look at that word recyclable, it means literally able to be recycled, right? It doesn't promise that somebody's going to recycle it when you drop it in your local bin, right? It's still recyclable. It's like if I have a soccer ball, right?
[00:34:02] It's kickable. If I decide not to kick it, it's still kickable whether I kick it or not, right? And people have got some sort of mental block when it comes to recyclable, that this closed loop symbol means that it's definitely going to be recycled in your area. I mean, no, no manufacturer could guarantee that you might buy it here and throw it away in Antigua, right?
[00:34:18] On holiday, right? Who knows where you're going to dispose of this thing. So this symbol means it can be recycled. And if you're like you said, they take these plastic bags, which are very recyclable. And some areas don't like them because it gums up their machines, right? That's not the same thing as being unrecyclable.
[00:34:33] That just means your machine doesn't like it, and you couldn't be bothered to invest in a machine that would work. People need to draw that line. So I think we need a new word like recycle likely, and a new symbol that goes with it that tells people, like, more or less, how likely is this to actually be recycled.
[00:34:46] People need to stop hijacking this word recycleable, which is defined in the dictionary, and inventing a new meaning for it, which is how reas how likely it is to be recycled, and then complaining it doesn't meet their new definition. That's an interesting
[00:34:58] Jordan Harbinger: point. I, I also want to say that you talked about the degradation of plastics.
[00:35:03] The stabilizer market, which is, I guess, things that stop plastic from degrading, is between two billion and eight billion dollars. So if plastic didn't degrade, Who's spending 8 billion dollars and what are they spending it on, right? So these Yes! We're trying des like it's a You will get rich beyond your wildest dreams if you can stop plastic from degrading in contact with water, dirt, or the other elements while it's being used, which is incredible.
[00:35:27] So if you're trying to make plastic that does degrade, all you have to do is not Buy something that's really expensive and add it to the plastic. That's exactly right. So
[00:35:34] Chris DeArmitt: the easiest thing to do in the beginning, they didn't know that they needed stabilizers and they found out these plastics were just degrading in front of them, right?
[00:35:40] They literally had a pile of polypropylene plastic sitting in the sun and it got so hot from degrading so quickly that it melted under its own heat of degradation, right? And then they were like, whoa, holy moly, this stuff, and that's one of the, that's the second most common plastic in the world. You can't even use it without stabilizers.
[00:35:55] Same with PVC, same with polyethylene. If they even took a polypropylene film, a thin film, like a trash bag type of thing, and they left it in a dark desk drawer for a year, and it lost all of its strength from degrading, just from being attacked by oxygen. So, um, these stabilizers are very important. And another important point to make is, We do have plastic pipes which are certified to last for decades in the ground.
[00:36:14] And why are they certified, right? Because they're much thicker than a bag or a piece of packaging. That helps, so you can put more stabili and they put a lot more stabilizer in there, and much better kinds of stabilizers. Whereas when you're making a bag, you don't expect it to have a long lifetime, and there's just enough stabilizer to use it, you know, a couple times.
[00:36:29] And then, as I said, if you left it just outside on the ground, it would disappear in less than a year, according to science. Where is the pipe my last 50 or 100
[00:36:36] Jordan Harbinger: years? I'm going back to an earlier point Removing just 1 percent of materials and waste by stopping the use of plastics would just significantly increase the total amount of materials and waste Yeah and the EPA data actually Shows that plastics have massively massively reduced the total waste going into landfills over the last few decades I just kind of want to hammer that home because we talk about landfills and like oh my gosh these things they're getting huge Plastics are a huge amount of what we see in there, or when we think of what goes into a landfill, but it would be even more if we didn't use plastics, which is a little disturbing.
[00:37:08] I don't expect you to opine on this, but plastics, we've talked on this show about endocrine disrupting chemicals and things like that from plastics. That's a factor of not wanting to drink or eat out of a plastic container, that I think is kind of important, right? You know, oh, the metal's not as good for the environment.
[00:37:23] Yeah, but I'm putting my baby's milk in here. I don't know if I want these chemicals that leach from plastic. In there that don't leach from metal. Do you know much about that? I do.
[00:37:33] Chris DeArmitt: I've read hundreds of articles on that. So, I mean, the first thing to know is that we're not living in the wild west, right? I mean, the FDA has literally certified these things for food contact, right?
[00:37:42] You can't put a piece of plastic as a drink container unless it's... FDA food contact approved, right? And they've measured, like, there are almost no chemicals. PET might have zero chemicals in it. Polyethylene or polypropylene has, like, hardly anything in it. Just the stabilizer to make it, you know, stable enough to do its job.
[00:37:59] So there's not, like, a ton of chemicals in there. In some cases, zero chemicals. As I said, it's all certified, it's all tested, there's whole books on it, there's been measurements on migration of stuff from plastics for decades, and it's just not even a thing. The only plastic that really, um, is in food contact that leaches BPA, for example, you hear a lot about BPA as being the main endocrine disrupting chemical.
[00:38:18] That's only polycarbonate, and that's not even used for drinking bottles and stuff anymore. So that's 1 percent of all plastics leaches a tiny amount of something which is below the level, way, way below the level that would ever cause any harm. And that's what people are freaking out about. BPA, it's in less than 1 percent of plastics, and it's at levels that have been measured for decades, and it's not even a problem.
[00:38:38] I mean, BPA is 10, 000 times weaker than estrogen as a, as a hormone, and the amounts there are just nothing. We're talking a couple of molecules, which doesn't affect anything. What about those
[00:38:47] Jordan Harbinger: water bottles you and I used to use when we were a kid that tasted funny? You remember those? Yeah, yeah. You the chemicals in your, in your water?
[00:38:54] It's banned now. I can't was that BPA.
[00:38:56] Chris DeArmitt: I would imagine those were PVC bottles. I would imagine. I do remember having some funny tasting plastic film when I was like in my university days that was kind of weird had something in it. But as I said, we've had like plastics have been around for decades. All of that was regulated to death, you know, so they're they're just nothing there.
[00:39:12] And the other thing is, When you look at these other materials, let's think about lead poisoning, right? We had lead, lead in a gasoline, we had people drinking out of lead, we've still got 15 billion dollars to replace lead pipes, which are everywhere poisoning people, right? We've got heavy metals in classrooms, so it's very strange to think that people think plastics are dangerous.
[00:39:28] There was a big thing recently, uh, An organization called Beyond Plastics decided to mysteriously attack plastics and glorify copper, right? Because Congress has given 15 billion dollars for the replacement of lead pipes. So they issued a report just demonizing plastics and they completely forgot to say that copper pipes fail the safety tests at high and low pH because they, they give out dangerous levels of copper, right?
[00:39:51] So anybody who was genuinely interested in safety and genuinely interested in informing the public would not just. demonize one material and completely omit serious problems with other materials. You would give a balanced perspective and then make a choice on what really makes sense. They did the same thing when it came to dioxins.
[00:40:05] They said plastics give out dioxins, but it turns out the metals industry is giving out far more dangerous dioxins. You can literally type in dioxin EPA and you'll see a pie chart that shows the metals industry is the main problem when it comes to toxic dioxins. People making copper pipes have lost tens of millions of dollars in lawsuits for poisoning their own workers with dioxin.
[00:40:24] So again, they're just making stuff up, presumably to get this giant amount of money that's floating out there and misrepresenting the truth.
[00:40:31] Jordan Harbinger: This reminds me of when people say, like, Be careful! Bananas are radioactive! Which is technically true, right? There's like this small trace amount of radiation in a banana and probably in everything else.
[00:40:41] Yeah. But then they're saying, eat this uranium coated piece of fruit instead. And you're like, oh, okay, yeah, because bananas are radioactive. You say, as you chomp through this yellow cake coated apple. It's intellectually dishonest, I guess, is where we're going with this. Speaking of intellectual honesty, is there not a point at which the benefit of recycling, let's say an aluminum can, catches up to the expediency and resource use of plastic?
[00:41:08] Chris DeArmitt: No, it never does. Never? No, because the energy use is huge, and what people will say is, oh, look how much more energy you, you save by recycling an aluminum can, right? And that's true, because you used vastly more to make it, and so you save vastly more when you recycle it, right? You don't have to, but every time you do it, you have to re melt it, and alu aluminum Melted 660 degrees Celsius glass, thousands of degrees, and plastic melted a couple of hundred, right?
[00:41:32] So it's obvious even to the lay person, it's melted at much lower temperatures, processed at lower temperatures, uses much less energy, and it's always far,
[00:41:39] Jordan Harbinger: far greener. That just means, and this I suppose, is obvious to many as well, the amount of energy that you need to extract those resources from the earth versus to to create that plastic bottle.
[00:41:49] It's just so much more energy that's required to do that. And until we have nuclear fusion, plastic is going to be more energy. Well, I guess it won't. Until energy efficiency literally does not matter anymore.
[00:42:02] Chris DeArmitt: Right. That's exactly the point. If you have unlimited free energy at some days, then maybe things will change.
[00:42:07] Another misconception is people say plastics are bad because fossil fuel is used to make them. But if you look at the total fossil fuel used to make all materials, and I put a post on LinkedIn about this because I found the data in a book, And it compared the fossil fuel used to make metal, like magnesium and other materials, and plastics were lower than all of them.
[00:42:25] Because although fossil fuel goes into the plastic and it doesn't go into the metal, the amount of energy that you need to make those materials, the amount of fossil fuel you have to burn to make that energy is so much higher than all the other ones. So this actually went viral on LinkedIn. It got 280, 000 views.
[00:42:40] Finally, people saw that although fossil fuel goes into plastic, the overall fossil fuel usage is way, way lower than all the other materials. I've been just
[00:42:47] Jordan Harbinger: so wrong about this for so long, and I've done so many shows about this. I mean, not that everything we said in every show about plastics was incorrect.
[00:42:56] A lot of stuff we said about recycling was correct. A lot of stuff we said about bioplastics was correct. But we got sort of the base premise wrong, which is that plastic is bad.
[00:43:06] Chris DeArmitt: Yeah. They did a study, not, they started in Germany and then they went to France and some other countries in Europe and they said, what do you think is important for the environment?
[00:43:12] And they all said plastic bags is the number one cause. And then they compare that to what actually makes an impact and what actually makes an impact is driving less, taking one less flight, eating, eating less meat. And so this is a problem. People are going around waving their cotton bags, feeling like saints and actually increasing harm.
[00:43:28] Some people are faking it, right? They're just virtue signaling. They want to look like good people and they can't find three minutes to look at the evidence and actually do something that's green because it's turned into a cult and it's being fed by not just these NGOs who are telling lies to get millions of dollars, but also the media.
[00:43:43] So there was a recent study on microplastics and they took all the scientific articles and said, okay, of all these articles, about 20%, the scientists say that there's probably an issue here, right? There could be some danger. 20 percent of the scientific articles, but of the media articles, it was 93%. So that there was a definite danger.
[00:43:59] I mean, I think you
[00:44:00] Jordan Harbinger: emailed me because somebody had sent you our show on microplastics and was like, it was so scary. And that was a journalist from Wired who I don't think he's not like a bad person who has an agenda. He's just scared of everything that he was reading about microplastics and put them all into one place.
[00:44:19] And it was terrifying. It was one of the most depressing episodes of this show that I have ever done. It was episode 818, How Microplastics Poison the Planet. I mean, there were things in there like, You're eating a credit card worth of plastic every single week. There's going to be more plastic than fish in the ocean.
[00:44:37] I mean, that type of statistic, or whatever you want to call it, is so disgusting and horrifying. It's so powerful,
[00:44:44] Chris DeArmitt: but also it's 100 percent wrong. So if we look at the, uh, the credit card of plastic up to a credit card of plastic a week, that was funded by the World Wildlife Fund. So that's what they wanted to see, right?
[00:44:53] They want scary numbers so they can get you angry enough to donate, presumably. If you look at the latest scientific article, which is not funded by any interested party, they said it would take 20, 000 years to eat a credit card worth of plastic, not a week, 20, 000 years, right? So these people are very professional.
[00:45:09] They've got huge marketing budgets. They've got teams of professionals. I'm a lone scientist doing this in my spare time, right, just trying to correct this misinformation. But these people are just making stuff up. And even when you debunk it, nobody's interested in the truth, because, you know, the truth isn't as exciting as the lie.
[00:45:24] And if you look at the, the turtle with a bag around its neck, I actually busted the BBC a few weeks ago. I said, hey, that's a photoshopped image. Here's the original with no bag. Please update it. You're misleading the public. And they did update the article. They published a new one. They said the previous picture was misleading.
[00:45:38] And I said, your data's wrong too. So they updated that. And then the USA Today people, they cover that plastic pipe thing we just mentioned, and I contacted that journalist. She was mortified that she'd been misled into publishing misinformation. She published an update on it, uh, showing the facts because I showed her the evidence.
[00:45:53] But unfortunately, only about 1 in 20 journalists seems to actually care about the evidence. So that guy from WIRED didn't. I've written to them many times. Ars Technica. I paid my own money, hundreds of dollars, to get a list of journalists at Bloomberg, Washington Post, New York Times, BBC. The Telegraph, USA Today, everywhere.
[00:46:11] I wrote to all of them, 30 of them, hundreds of dollars of my own money, working email addresses. Not one bounced, but not one reply. Not one professional journalist who wanted to see the evidence, even though it's condensed onto one page. I didn't ask them to read a book. I just asked them to read one page and see some of these facts, and no, no one was interested.
[00:46:28] Jordan Harbinger: That is not encouraging because it makes me think that either they're not receptive to information that goes against something, I mean, they're not doing what I'm doing, which is saying, Oh, crap, I've been wrong. Let me hear why, which is scary because you're a journalist. It's like literally your freaking job.
[00:46:45] Or, they just go, yeah, but look how many clicks we're getting on these articles about plastic. Why do we want to stop doing that? Because those are my most popular pieces, which is also not really how you should be doing journalism.
[00:46:57] Chris DeArmitt: That's right. That's right. But you're right. They follow the money. That's the best way to find out what's going on, which is why I disclosed my sources.
[00:47:03] And there was an amazing study. It said that if you were to lose 10, I would have to give you 20 to make up for the negative feeling you got from losing 10. So bad news is twice as powerful as good news and that explains why they only cover the bad news because, or make it up, because, um, you know, that's what gets the advertising dollars and the clicks.
[00:47:22] Jordan Harbinger: This is the Jordan Harbinger Show with our guest Christy Armit. We'll be right back. This episode is sponsored in part by Nissan. These days, too many people have to settle for the next best thing, especially when it comes to choosing a car. But at Nissan, there's a vehicle type for everyone, for every driver who wants more.
[00:47:35] Whether you want more adventure, more electric, more action, more guts, or more turbocharged excitement, Nissan is here to make sure you get it. Because Nissan is all about giving people a whole spectrum of thrills to choose from, with a diverse lineup of vehicles. From sports cars to sedans, to EVs, pickups and crossovers.
[00:47:50] With Nissan's diverse lineup, anyone can find something to help them reach their more. In my life, I'm always looking for more stories that resonate. People who defy odds and lessons that provoke thought and ignite change for the better. And that's why I love that Nissan wants to help people find their more, more freedom, more adventurer, or even just more fun.
[00:48:05] So thanks again to Nissan for sponsoring this episode of the Jordan Harbinger Show and for the reminder to find your more. Learn more@nissanusa.com. This episode is also sponsored by BetterHelp. Amidst the tinsel and carols, let's face it, the holiday hoopla can sometimes drown out the cheer. One minute you're in a winter wonderland, and the next you're half tempted to gift wrap some of that family cheer and ship it off.
[00:48:26] That's where BetterHelp comes in. Think of it as your secret hideout when you need a break from too much merrymaking. With BetterHelp, you're just a few clicks away from a therapist who is all ears, Ready to listen and understand. And the best part it's all online. You can spill your guts or share a win while kicking back in your Santa socks.
[00:48:40] No reindeer necessary. It's the digital age of therapy. No fuss, no rush. Tailor made to fit into your holly jolly schedule. Just a quick questionnaire stands between you and a licensed therapist. And if it's not the right fit, switch it up at any time. No extra charge. Find your bright spot this season with
[00:48:55] Chris DeArmitt: better help visit better help.
[00:48:57] com slash Jordan to get 10 percent off your first month. That's better. H
[00:49:00] Jordan Harbinger: E L P. com slash Jordan. This episode is also sponsored by Progressive. Most of you listening right now are probably multitasking. Yeah, while you're listening to me talk, you're probably driving, cleaning, exercising, maybe doing a little grocery shopping.
[00:49:12] But if you're not in some kind of moving vehicle, there's something else you could be doing right now. Getting an auto quote from Progressive Insurance. It's easy and you could save money by doing it right from your phone. Drivers who save by switching to Progressive save nearly 750 on average. And auto customers qualify for an average of seven discounts.
[00:49:28] Discounts for having multiple vehicles on your policy, being a homeowner, and more. So, just like your favorite podcast, Progressive will be with you 24 7, 365 days a year, so you're protected no matter what. Multitask right now. Quote your car insurance at progressive. com to join the over 28 million drivers who trust Progressive.
[00:49:44] Progressive Casualty Insurance Company Affiliates National Average 12 Month Savings of 744 by new customers surveyed who saved with Progressive between June 2022 and May 2023. Potential savings will vary. Discounts not available in all states and situations. If you liked this episode of the show, I invite you to do what other smart and considerate listeners do, which is take a moment and support our amazing sponsors.
[00:50:03] All the deals, discount codes, and ways to support the show are at jordanharbinger. com slash deals. You can email me. You can even use the AI chat bot to surface promo codes. It's important that you support those who support the show. Now for the rest of my conversation with Chris DeArmit. People are going to worry about this.
[00:50:21] Did we just cherry pick the container example? They're going to say, hey, look, okay, the bottle thing, the aluminum can thing, fine. But what about you're missing the biggest thing, which is building materials or automobiles have tons of plastic in them. I'm worried people are going to say we cherry picked that particular category, because that's the one that makes plastic look the
[00:50:37] Chris DeArmitt: best.
[00:50:38] So I've looked at 50 life cycle studies, and that covers containers and mailers and plastic pipes. There's 14 on that. They agree. There's actually 13 that agree, and there's one where they cheated, which doesn't agree. And I've looked at the bags, 28. I've looked at straws, two. So basically, you know, just type in LCA plastic, do it yourself, and see which ones come up.
[00:50:58] And you'll see that plastic is the greenest solution in almost every case you can imagine. The people who accuse me of cherry picking literally come with no data. I come with 28 studies on bags, everyone ever published. And then I go to a, an expert to have them reviewed, you know, to make sure that it's all above board in their professional studies and they agree.
[00:51:14] And then they literally accuse you of cherry picking. I'm like, well, where's your evidence? I'm like, you never even went to the orchard. Forget about cherry picking. You didn't even grab the basket and get near a cherry tree, right? So I literally present every single study and, uh, including the ones that present harm, for example, and then explain, you know, why the science isn't good.
[00:51:30] I thought,
[00:51:31] Jordan Harbinger: okay, I'm gonna find a counter example. What about cars? Well, as it turns out, cars use much less fuel energy now because they weigh a lot less. Yes. You know why they weigh less? Because they're using plastic and rubber instead of metal. Yes. Old cars weighed a freaking ton, literally. I mean, they were just, there was just tons of metal in those things.
[00:51:50] I'm glad you
[00:51:50] Chris DeArmitt: mentioned that because, um, if you look at those numbers and so, There are numbers you can look up, like how much gasoline do you save per pound of weight you save in a car? And the number is huge. So the life cycle of a car, about 80 percent of it or 90 percent is driving around the car and burning gasoline, right?
[00:52:04] So if you look at those numbers of how much plastic is in the car and how much weight you saved, you end up working out that the entire plastics industry is net CO2 and net fossil fuel negative because you save so much fossil fuel from making cars lighter and making planes lighter, as well as preserving food and insulating homes from heat.
[00:52:22] If you add up those savings you get from using plastic, it's more than the CO2 and the fossil fuel used to make the plastic in the first place.
[00:52:29] Jordan Harbinger: That's a little confusing. How can we be saving more fossil fuel than we're using? I obviously misunderstood you because I think it sounds like you're saying we're saving more fossil fuel than we would be if we weren't doing the thing at all, which can't be right.
[00:52:42] Can you explain that? So if
[00:52:43] Chris DeArmitt: you took a car and you've saved, let's say you put a pound of plastic into it, right? All right. And then you save five pounds of fuel, fossil fuel, you know, oil. Because you've saved that wage driving the car around over 20 years, you're net negative on fossil fuel. You spend one and you save four, right?
[00:52:57] So you're three in credit. It's the same thing as people say to me, Oh, well, these green groups are always talking about all the fossil fuel impact or the CO2 impact of plastics, right? So of course everything has an impact. And the CO2 impact of plastics is 0. 5 percent of CO2. And they only tell you the debit side.
[00:53:13] Imagine I asked you, Jordan, and I said, how wealthy are you? And I only looked at your debits, right? So I didn't count your house. I didn't count anything you actually own. I didn't count your income. All I said is, Hey, you, you owe 3, 000 on your credit card. That's a negative thing. I'm going to dismiss all the positives and only look at that.
[00:53:28] And that's what these green groups are doing. They're saying plastics are bad for CO2 when the actual number is half of 1 percent of CO2 emissions comes from making plastics. But when you look at the CO2 saved by using plastics, because of the weight savings in cars and planes, and preventing food usage, spoilage, and uh, from insulating homes so you don't burn as much fossil fuel to keep your home warm, you save more CO2 and fossil fuel than you used to make the plastic in the first place.
[00:53:52] And no one's talking about that. It's a complete lie. As I said too, if I said to you, what is your net worth? You can't count any money you own or any assets. All we can do is look at your credit card debt. That would be criminal, right? That would just be a gross misrepresentation of the facts, and yeah, that's exactly what these green groups are doing right now.
[00:54:09] Still, the
[00:54:09] Jordan Harbinger: element of plastic having endocrine disruptors or being toxic bothered me, and then I started to look up actually toxic things and how toxic plastic was, and there are lots of little toxic rubbers and plastics that are generally not used in things that you are touching all day, like polyethylene, polypropylene, polyester, the stuff that's all over your house.
[00:54:30] Most of that is actually... Quite non toxic. Yes. But what is carcinogenic is soot, obviously from burning anything like even cooking Quartz dust, wood, leather dust, all the stuff we wear that looks like environmentally friendly or yeah This is a wooden desk. If you saw this thing up, you got sawdust carcinogenic.
[00:54:50] I mean, it's probably very low coffee dust And metal dust and cement dust. If cement is 84 percent of what we are using and building, I mean, that stuff, that stuff's really bad for you. That's very
[00:55:02] Chris DeArmitt: horrible. And that's my point. If you look at particles we ingest, which is called dust, right? So they've done a great job marketing this thing, right?
[00:55:08] We call all other small particles, like you just mentioned, coffee or wood or metal, we call it dust, right? Dead skin cells. It's all part of dust. But they don't call plastic dust that, right? They don't call it dust. They call it microplastics because they can make more money scaring people with it. If you look at the.
[00:55:22] Of the dust we ingest, 0. 001 percent of it is plastic, right? And as you just said, the other 99. 999 percent includes things which are proven to cause cancer. And in giant amounts, right? Like quartz is proven to cause cancer. So is wood dust. So is leather dust. There's arsenic there. There's, uh, you know, uh, heavy metals like, um, lead and mercury.
[00:55:42] And, and, you know, even in there's been reports of school rooms, which have got dangerous amounts of toxic metals coming from the dust. There's dead skin cells. There's spores. There's all kinds of actual dangers. And people are obsessing over 0. 001 percent of safe polyethylene and polypropylene. I mean, it's been tested and found to be as safe as clay or cellulose, which is what trees are made of, right?
[00:56:02] And they're obsessing over that. So it's just distracting everyone from actual proven threats. And that's what's so frustrating.
[00:56:08] Jordan Harbinger: Another thing that's concerning me about this is I see restaurants and things like that switching from plastic to other materials. And some of that's probably okay. I don't know.
[00:56:18] I do wonder if companies are switching to using materials that are worse for the environment because of consumer pressure and I don't have an example of that. I wonder if you, do you happen to have one by chance? Cause it seems like this has got to be
[00:56:30] Chris DeArmitt: happening. It did amaze me. I thought how dumb are these supermarket executives who are replacing plastic bags with paper, right?
[00:56:36] Because there's 28 studies and literally LCA space BAG return. That's eight buttons. It takes you three seconds to find it on Google. You're telling me that no green group and no supermarket executive ever thought to check the science which is out there for everyone to read? So they interviewed these people, these supermarket executives, and they said, We know that replacing plastic increases harm, but we do it anyway because that's what our customers want.
[00:56:57] Yeah, it's
[00:56:57] Jordan Harbinger: a virtue signal, right? You don't go to Whole Foods and they're like, Look, we're using a crap load of plastic bags. Everyone's like, Why? Well, here's all this data that you're definitely not gonna read. Okay, no thanks. I'll just do what the customer wants, even though it's worse. That sucks. That's it.
[00:57:10] So
[00:57:10] Chris DeArmitt: they're stuck, they're trapped in a way that the misled customer, because they've got the dollars right, the misled customers are driving misled decisions, people are pandering to them, they're doing all this greenwashing, they're proposing... I know companies that sell the paper and the plastic product and they've got customers begging them for the paper one for environmental reasons.
[00:57:26] And the salesperson literally has to tell them, look, we sell both. We may make more on the paper one, but if you're looking for environmental benefit, please buy the plastic one because it's every study shows that it's greener. And
[00:57:35] Jordan Harbinger: they're like, ugh. No. Because no one's going to believe me when I tell them that, which is what I'm worried about with this
[00:57:41] Chris DeArmitt: episode.
[00:57:42] That's the danger of life. One thing I will say, Jordan, is I had a lot of backlash when I started with this. Oh, you don't say. Yeah. I can't imagine why. In that case, who's the shill? But the book's been out 20, uh, since 2020. And thousands of people have read it, I mean tens of thousands of people have read it, and there's not one error in it.
[00:57:56] I have not found anyone come back to me and find any error in it. And everything I said, as I said, is backed with citations to the science. So, there basically is no argument about what, against what I'm saying. It's, it's all just, you know, overwhelming evidence, and there's not much more to say about it.
[00:58:09] So, people might not want to agree. I'm
[00:58:11] Jordan Harbinger: curious if there's an angle that we're forgetting. I know I'll get emails about it, and I'm, I'm genuinely, I welcome those, right? I want to find out if... We're just avoiding something or we haven't said something here because this makes me feel so much better, but I'm always very wary of like, Oh, hey, don't worry about this big problem because it's a bunch of nonsense that that feeling is always there's always a little alarm bell.
[00:58:34] That's like, maybe it's not true. You know, I'm not used to feeling better. We're not
[00:58:38] Chris DeArmitt: used to good news. Yeah. And nobody covers it because people are making hundreds of millions from the lies. So nobody wants to cover it. I just put up a post today or yesterday that the amounts of plastic in the ocean is a hundred to a thousand times less than previously thought.
[00:58:51] So there was this huge number, everyone quotes, there's 10 million tons going per year. And that was a guess. Literally, a scientist said, 2 percent of all plastic anywhere near the shore anywhere in the world is going to leap into the ocean. That was like a back of an envelope total BS guess, right? Which they never should have done.
[00:59:06] And that's the number these environmental groups have persistently used for decades since then. And in the intervening time, there's been study after study after study with millions of measurements spanning 50 years showing no increase. And very, very low amounts. They're so low that they call them negligible.
[00:59:21] Right? But that doesn't make you money, right? You can't scare people with that. And these environmental groups, even when confronted with study after study, spanning 50 years and millions of measurements against their guess and their wrong number, which is old, they never update their website. It sits, this BS sits right next to the donate now button.
[00:59:37] And I call them on it, on my website, I say, look at all the people who are saying things which are untrue. Categorically disproven again and again, like more plastic than fish in the sea has been debunked many times and it's still up there on their website next to donate now, and that tells you where the, where the real motives
[00:59:52] Jordan Harbinger: are.
[00:59:53] I know what people are, at least some people are going to say is, hey, but we still see plastic in the stomach of all these sea turtles and animals. You know what kills animals in the sea? Fishing. Yeah. And I thought, well, maybe small animals. What about big animals? Whales? Fishing. Right. Because of the nets and stuff especially.
[01:00:10] Yes. And then, um, birds is buildings, power lines, and then way down the list is like pesticides and cars and animals and stuff. Like plastics don't even make the list for any of those things. Yeah.
[01:00:20] Chris DeArmitt: Hundreds of millions of birds are killed every year by cats. So if anyone was really worried about their birds, it's nothing to do with plastics.
[01:00:27] It doesn't even show up on the statistics. There's not a single mention of the word plastic or bag in any bird mortality study I've ever read. But what does kill them, hundreds of millions, is cats. So if you're really worried about birds, you put a bell on your cat. But people aren't really worried about birds.
[01:00:39] They're just looking for a way to demonize plastic.
[01:00:41] Jordan Harbinger: What about algae based plastics? That's one thing we were talking about in our bioplastics episode. Yeah. It seemed like that was not ready for prime time, but that it might become a thing. And algae grows everywhere. I mean, it's almost like... You're trying to get rid of it in many cases.
[01:00:54] Chris DeArmitt: Yeah, well, in every case, I would say, um, look at the life cycle analysis, show me evidence. I see a lot of these companies, um, promoting things and I say to them, well, show me the proof that you've got a whole company based on making this polymer. You claim it's green. Show me a report that shows it being greener than polyethylene or polypropylene, and it never comes.
[01:01:10] And the easy way to know if you're a lay person, because they're going to say, I don't have a life cycle study with me when I go shopping. We mentioned earlier that greener things tend to be cheaper. So if you're in a supermarket. Okay. And you don't know what to buy, buy the cheapest one. The cheapest material is usually the greenest because it's using less resources and less fossil fuel and less transportation and all the rest of it.
[01:01:27] And the other thing to do is buy the lightest one. Just put it on the balance and buy the one that's the the least material. And you'll find out that the plastic straw is the lightest option and of course no straw weighs nothing, right? That's the very lightest option. So, they're not 100 percent accurate, but if you're in a supermarket and you don't know what to do, pick the cheapest or the lightest of the choices.
[01:01:44] Yeah, I suppose
[01:01:45] Jordan Harbinger: that doesn't factor in the human labor cost, right? I'm thinking like... free trade coffee versus like, I don't know, slave labor coffee or chocolate or whatever. That's another
[01:01:53] Chris DeArmitt: factor. That's another factor. Yeah, that's beyond my pay grade. Yeah,
[01:01:56] Jordan Harbinger: indeed. Well, it sounds like, as you say, you can be for the environment or you can be against plastics, but not both.
[01:02:03] Chris DeArmitt: That's right. I would just encourage people. I'm not saying plastics don't cause impact, but what I am saying is we can't keep ignoring 99 percent of our problem and think that we're going to make a difference because we're not. So we need to start having policies and spending money and spending our time and our, and our worry.
[01:02:18] You know, you can't worry about everything. Let's worry about stuff that actually makes an impact and make the world better, a better place based on things that are true and stop listening to these environmental groups who apparently abandoned the environment decades ago and are just, you know, shilling it out there and, uh, ripping us off.
[01:02:32] Jordan Harbinger: Well, there's a lot of egg, I guess, on my face for other podcasts that I've done about plastics, but I guess the comforting thing is maybe I'm not the only one or not. Maybe I'm not the only one. I'm definitely not the only one because everything you read about plastic is. Catastrophic. Yes. Yes. Well, a
[01:02:45] Chris DeArmitt: couple of things to say on that Jordan.
[01:02:46] One is you have my tremendous respect because as I said, if you go to a bunch of journalists, most of them are just spewing parroting internet myths for, you know, advertising dollars. So respect that you're one of the very, very few ones who looks at evidence and, and shows a story if it has merit. And I know you checked into the data, so I'm not just making this stuff up.
[01:03:04] So that's one thing to say. And the other thing is you have a get out clause because there's a thing called the illusory truth effect. And they proven that. If you tell a lie enough times to a person, even IQ doesn't defend them. So even being smart doesn't defend you against somebody just repeating a lie.
[01:03:17] And after a while, it sounds reasonable. And that's, what's happened to most of us. We've all been brainwashed with things, which are simply untrue.
[01:03:23] Jordan Harbinger: Well, I really appreciate you coming on the show and talking about this. I. R. I. P. your inbox and Twitter from people who are, well, you're probably already dealing with the blowback from this.
[01:03:33] I mean, I would imagine you're, in many circles, just not very popular with this
[01:03:37] Chris DeArmitt: information. I am now. I wasn't in the beginning. I got tons of pushback. But now, I've got a huge following and, as I said, even the BBC and USA Today correct things when I pointed out to them and, uh, I've spoken to Senator Rob Portman, who was unaware that plastics have reduced material to landfill and so forth.
[01:03:51] So it's making a real impact. I'm being asked to give keynote speeches all around the world because it seems I'm the only scientist who's read about microplastics and litter and waste and ocean plastics and marine animals and degradation. No one else has read all of that science. And so, um, Seem to be the only person who's able to present the evidence.
[01:04:07] Jordan Harbinger: Well, good for you, man. Thanks again for coming on the show. And to the audience at large, I welcome your feedback. I should say plastics at jordanharbinger. com, but it's just jordan at jordanharbinger. com. And people know how to reach me. Tell us where we're wrong. I'm genuinely curious if somebody can come up with a real kind of counter argument to this stuff.
[01:04:27] Chris DeArmitt: If you go to phantomplastics. com, you can click on the plastics in the environment tab at the top and you can see all of this condensed again with a video and backed by all the science. So please don't lay into what we've said until you've actually looked at the evidence. That's what people tend to do.
[01:04:40] They're so busy trying to cling to the lies they believe now because it's less work for their brain than considering new evidence. And that's where I respect you again, Jordan. So great job.
[01:04:47] Jordan Harbinger: Yeah, thank you very much. And again, thank you for your time and expertise. Really appreciate this. Thank you. We've got a preview trailer of our interview with Vince Beiser.
[01:04:57] It's all about sand. You heard me. Sand. It's actually quite fascinating. There are even sand mafias killing people over sand. So stay tuned for that after the close of the show. If anybody had told me three, four years ago that I was going to be spending my every waking hour thinking and talking about sand, I would have just laughed.
[01:05:14] It's actually the most important solid substance on earth. We use about 50 billion tons of sand every year. That's enough to cover the entire state of California every single year. Every year we use enough concrete. to build a wall 90 feet high and 90 feet across right the way around the planet at the equator.
[01:05:38] A bunch of sand might get broken off of a mountaintop, washed down into a plain somewhere, and then that sand gets buried under subsequent geological layers and pushed down under the earth and compressed and turned into sandstone. And then that sandstone may get pushed up again by geologic forces over hundreds of thousands of years and worn away again and again broken down back into grains.
[01:06:04] So an individual grain of sand can be millions of years old. We're fully eclipsing the rate of creation here. You're probably sitting in a building made of just a huge pile of sand and all the roads connecting all those buildings also made out of sand. The glass It's the windows in all those buildings also made of sand.
[01:06:25] The microchips that power our computers, our cell phones, all of our other digital goodies also made from sand. So without sand, there's no modern civilization and the craziest thing about it is we are starting to run out. For more on why sand is the next petroleum like resource and some crazy stories about sand pirates and the black market for sand.
[01:06:47] Check out episode 97 with Vince Beiser right here on the Jordan Harbinger show. Like I said at the top of the show, I love this message. I am, of course, hoping it's accurate and that we didn't just get played. I don't think Chris did that. I don't get that vibe from Chris at all. I did extensive research and screening for this episode.
[01:07:05] That said, I'm not a scientist, so I can only do so much here. And science changes, right? We might find out that something that tested fine is actually adding up in the environment over time. I really don't know. Chris does know. I mean, he's read every scientific article on plastics, which is no small feat.
[01:07:22] Absolutely incredible. So while this might mean we don't need to put a ban on plastic, it doesn't mean we don't have to recycle things or reduce, especially reduce our use of single use items. While we might not have a toxic plastic issue. We still have a garbage problem if we keep throwing stuff in the ocean or the ground.
[01:07:41] I want to be very clear on all that. The idea here is not plastics are harmless, let's just keep doing it. The idea here is throwing anything away after a single use is wasteful. And that's a big takeaway. It's not that the boogeymen are plastics. It's the single use part of single use plastics that's bad.
[01:07:56] Plastics in the body. As far as the science on plastics in the body, we're going to link something in the show notes with a list of citations and references that refutes a lot of that whole, there's plastics in your brain, type of stuff. Um, as for his credibility, there's a whole section of his website on that, we're going to link to that in the show notes.
[01:08:11] I asked him about this, I said, look, people are going to say, well you're a plastic scientist, of course you say all this stuff, come on man. Chris replied, My job is to help companies select the correct plastic and improve plastic materials for a given application. That's where my income is from. I'm also an expert witness, so for example, I helped over 9, 000 women get settlements for plastic mesh that was implanted in them and later caused problems.
[01:08:33] There are many examples at phantomplastics. com where I also provide a breakdown of my income. That's very transparent, by the way. I love that about him. He goes on, The plastics and the environment work, which meant thousands of hours reading thousands of scientific articles was all done unpaid and the findings shared for free via the Plastics Paradox book, videos, the website's radio and TV interviews, and so on.
[01:08:53] And by the way, he does give his book away for free on the website, all about plastic. So if you really want to do a deep dive into this stuff, it's quite interesting. I read a bunch of it. Crucially, Every statement is backed by citations to solid, peer reviewed evidence, and none of the work shown is mine.
[01:09:06] That's, of course, him saying that. He didn't commission any of these studies. He didn't get commissioned to run any of these studies. He says, so, although I am one of the world's top scientists, fellow of the Royal Society of Chemistry, fellow of the Institute for Materials, Minerals, and Mining, and chartered chemist, none of what I say depends on my credibility anyway.
[01:09:23] Which is true. I mean, science stands up for itself. That's how it works. And then one last pot shot at some of the environmental groups who said, now consider the funding of the so called environmental groups who tell lies for donations and contrast that with an independent scientist telling the truth for free.
[01:09:36] I mentioned the report by the former president of Greenpeace, Dr. Patrick Moore, who left in disgust as their business model is to make up fiction for money. I've attached that report and you can see more in his books, Confessions of a Greenpeace Dropout. He specifically says that the attacks on plastics are unjustified.
[01:09:51] He told me that my work on this is the best he has ever seen. Now. Of course, he's not talking about all environmental groups here. He's talking about the ones that exaggerate or make up claims in order to get donations. He's pointing the finger at Greenpeace because the president or former president of Greenpeace is the one who exposed a lot of this stuff.
[01:10:06] I didn't look into that. So if somebody can say, hey, this is a bunch of crap, cool. I'm here for it. But it seems pretty credible. I mean, the book is indeed by the former president of Greenpeace, and it indeed says what he claims to have said here in that. That's as far as I get from that book, because I don't have that guest on the show.
[01:10:21] Maybe I will one day. Also, from a listener this morning, in fact, quite the timing, Tyler says, I was mentioning in the original email that all the plastic, et cetera, they're trying to make from renewable sources are the same molecules with the same environmental impacts as petroleum based plastics. He's talking about bioplastics because we did an earlier episode on that, if you recall.
[01:10:40] He goes on, so essentially all that renewable based plastic does is increase the carbon footprint and agricultural demands of a resource we currently just pump out of the ground. There's no meaningful difference between the two products on the back end, and petroleum is actually more environmentally friendly on the production side, go figure.
[01:10:57] And for the people who are concerned about plastic being a persistent environmental pollutant, that's very misguided for one simple reason. Plastic burns. That means it's exothermic when it's broken down. That means eventually a fungus or bacteria or other microorganism will eventually either evolve to eat it or we will engineer one.
[01:11:14] There are also several already that eat PET in salt water. At one point in the planet's history, every novel stable polymer, think cellulose or lignin, was not biodegradable because no organism had evolved the enzymes to digest it. This is one of the competing hypotheses for why all the coal on earth comes from one single time period.
[01:11:33] That lignin bearing plants piled up for millions of years because nothing could decompose them, that's the Carboniferous Period. Today's biodiversity and scientific research makes the likelihood of plastic remaining a persistent pollutant for more than another decade or two very unlikely. The most likely scenario is that it's going to be just as compostable as paper and leaves soon, and that will have positives and negatives.
[01:11:52] Imagine your plastic lawn furniture degrading the same way wooden pieces do, etc. I could go on, but it's already a long email. Needless to say, I don't hear anyone talking about what is most probable, only catastrophic and nihilistic environmental BS and denialism on the opposite side. Now, this is a plastic scientist who listens to the show, not just a random listener with an opinion.
[01:12:10] And one last PSA, you can and should recycle plastic bags and packaging. I don't mean throwing it in the recycle bin. I mean, you can do that at any Home Depot, Lowe's, Target. I'm sure many other grocery stores do this. They repurpose this stuff. into building materials. A show fan actually works in this industry and they need materials.
[01:12:27] That's the bottleneck here. So you're doing everyone a favor, especially the planet, if you recycle unneeded plastic bags and plastic packaging materials. Head on over to Home Depot, Lowe's, Target, or your local grocery store. And do that. And if everyone does that, we're making a dent in the garbage problem, folks.
[01:12:42] All things Chris DeArmit will be in the show notes at jordanharbinger. com or ask the AI chatbot on the website. Transcripts in the show notes, advertisers, deals, discount codes, ways to support the show, all at jordanharbinger. com slash deals. Please consider supporting those who support the show. We've also got our newsletter every week.
[01:12:59] The team and I dig into an older episode of the show, dissect the lessons from it. So if you're a fan of the show, you want to recap of important highlights and takeaways, or you just want to know what to listen to next. The newsletter is a great place to do just that. Jordan Harbinger. com slash news is where you can find it.
[01:13:13] Don't forget six minute networking as well. It's over at jordanharbinger. com slash course. I'm at Jordan Harbinger on Twitter and Instagram. You can also connect with me on LinkedIn. This show is created in association with podcast one. My team is Jen Harbinger, Jace Sanderson, Robert Fogarty, Milio Campo, Ian Baird, and Gabriel Mizrahi.
[01:13:31] Remember we rise by lifting others. The fee for this show is you share it with friends. When you find something useful or interesting. The greatest compliment you can give us is to share the show with those you care about. If you know somebody who's really interested in material science, plastics, the environment, and maybe this would be news to them, definitely share this episode with them.
[01:13:47] In the meantime, I hope you apply what you hear on the show so you can live what you learn. And we'll see you next time. Special thanks to Nissan for sponsoring this episode of the Jordan Harbinger Show.
[01:14:02] This episode is sponsored in part by the Conspiratuality Podcast. We're living in a world absolutely saturated with information. Some real, a lot total nonsense. But there are folks out there doing the hard work to cut through the noise, like the folks on the Conspiratuality Podcast. This is not a casual chat.
[01:14:17] You've got a journalist who knows the ins and outs of fact checking, a cult researcher who's going down rabbit holes you didn't even know existed, A philosophical skeptic to keep everybody in check. They're taking on everything from RFK Jr. 's anti vax talking points, which I mentioned on the show and many of you, uh, had strong feelings about that, to the downright murky ideology followed by Yevgeny Prigozhin and members of the Wagner Group, uh, the guy who just died in a very mysterious plane crash over in Russia.
[01:14:41] And they're not just throwing opinions at you. They're providing insights that make you go, huh, okay. I've never thought about it that way. And the best part is they're guided by one principle. We should all get behind, which is good proven science. You know, like skeptical Sunday, for example, tons of interesting episodes, like the one about the wellness industry or the episode on EMF at 5g and chem trails, it is similar to skeptical Sunday in a different format.
[01:15:03] From exploring cults to analyzing our cultural and political landscape, the Conspiratuality Podcast will help you stay informed against misinformation and resist fear tactics. Find Conspiratuality on Apple Podcasts, Spotify, or wherever you get your podcasts.
Sign up to receive email updates
Enter your name and email address below and I'll send you periodic updates about the podcast.