Reading Time:
3
minutes
Dacher Keltner is a professor of psychology at University of California in Berkeley, one of the world's foremost scientists specializing in the study of power, and author of The Power Paradox: How We Gain and Lose Influence. [Note: this is a rebroadcast from the vault.]
What We Discuss with Dacher Keltner:
You don't have to be Machiavellian to appreciate that Niccolo Machiavelli was the OG power scientist.
What is The Power Paradox, and how does it affect us and society at large?
The imbalance of power is the greatest threat to society (just after climate change).
Powerlessness can literally be lethal.
Learn how we can increase our power relative to others in a healthy way.
And much more…
Like this show? Please leave us a review here — even one sentence helps! Consider including your Twitter handle so we can thank you personally!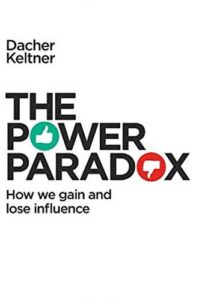 As human beings, most of us understand to some degree that power — that is, the control, authority, or influence we have over others — is a part of every relationship and interaction. Some of us naturally exude this power, while others get stuck in patterns of powerlessness.
In this episode, we sit down with UC Berkeley psychology professor Dacher Keltner, author of The Power Paradox: How We Gain and Lose Influence. He's been studying the effects of power since the '80s, and believes that imbalance of power is the greatest threat to society — just after climate change.
Listen to this episode in its entirety to learn more about how we can promote a healthier balance of power in our social interactions; problematic forms of power; the importance of journalism, art, and satire for balancing power in a free society; how reputation and gossip influence the rise and fall of power; how powerlessness activates sensitivity to threat, causes anxiety and violence, increases cortisol, and can literally be lethal; how to reclaim power from bullies and dominators; how status, control, and power differ; the usual motivations behind altruism and philanthropy; the concept of competitive altruism; the empathy behind the unlikely power of Abraham Lincoln; why wealthy and powerful white people constitute the demographic most likely to shoplift, and more. Listen, learn, and enjoy! [Note: this is a rebroadcast from the vault.]
Please Scroll Down for Featured Resources and Transcript!
Sign up for Six-Minute Networking — our free networking and relationship development mini course — at jordanharbinger.com/course!
The all-new 2022 Tuscon is the defining answer after Hyundai's engineers and designers asked how they could make a great SUV even greater. They added game-changing technology and safety, and now, for the first time, it comes in hybrid and plug-in hybrid models. Learn all about the 2022 Tuscon at hyundai.com!
Better Help offers affordable, online counseling at your convenience. If you're coping with depression, stress, anxiety, addiction, or any number of issues, you're not alone. Talk with a licensed professional therapist for 10 percent off your first month at betterhelp.com/jordan!
Klaviyo is the marketing platform for brands that are focused on growth from day one. Start growing your brand with personalized email, mobile, and web experiences that scale with you with a free trial at klaviyo.com/jordan!
PrettyLitter changes color to tell you when your cat has a potential health issue, so you can get them help before it becomes an urgent medical situation. Try it out by going to prettylitter.com and using promo code JORDAN for 20 percent off!
Quip was created by dentists and designers to guide habits that matter, starting with a better electric toothbrush and refillable floss to make your teeth the best and brightest they've ever been. Go to getquip.com/jordan for a free plastic dispenser with any refill plan!
Miss our two-part conversation with Jack Garcia, the undercover FBI agent who infiltrated the Gambino crime family of Cosa Nostra in New York for nearly three years? Catch up by starting with episode 392: Joaquin "Jack" Garcia | Undercover in the Mafia Part One here!
Thanks, Dacher Keltner!
Click here to let Jordan know about your number one takeaway from this episode!
And if you want us to answer your questions on one of our upcoming weekly Feedback Friday episodes, drop us a line at friday@jordanharbinger.com.
Resources from This Episode: