Reading Time:
4
minutes
David Eagleman (@davideagleman) is a neuroscientist at Stanford, CSO of sensory substitution technology company NeoSensory, host of Emmy-nominated PBS/BBC series The Brain, and author of Livewired: The Inside Story of the Ever-Changing Brain.
What We Discuss with David Eagleman:
Like organisms in a forest, the multicellular components of your brain are as much in competition with one another as they are in cooperation.
How your sensory landscape adapts to utilize what's useful and discard what's not as you learn new skills.
Why David believes the nature vs. nurture debate is dead (and that Darwin might owe Lamarck a bit of an apology).
How neglect can irreparably shape the brain of a child, and what this can teach us about the way different generations learn about, process, and behave in the world.
How senses like sight and hearing can be translated by technology for people without a native ability to process them, and why we'll be able to invent entirely new senses with the help of technology.
And much more…
Like this show? Please leave us a review here — even one sentence helps! Consider including your Twitter handle so we can thank you personally!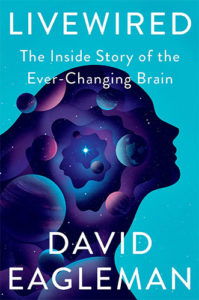 Like the flora and fauna of an Amazonian rainforest, the neurons in your brain are constantly evolving, constantly changing, and constantly competing with one another in a microcosm of exquisite complexity that we're only beginning to explore. As you move through the world and process new experiences and sensations, the microcosm of your mind adapts to utilize what's useful for surviving in this world and discards what's not. And the more we understand how this happens, the better we can build technology that maximizes the way we process these experiences and sensations.
On this episode, we're revisited by David Eagleman, Stanford neuroscientist, documentary host, CSO of sensory substitution technology company NeoSensory, and author of Livewired: The Inside Story of the Ever-Changing Brain. Here, we discuss some truly wild brain phenomena and breakthroughs that will change the way you think about the hardware that we use to think, and try to envision what a future in which we have more understanding and control over our brains might look like. Listen, learn, and enjoy!
Please Scroll Down for Featured Resources and Transcript!
Please note that some of the links on this page (books, movies, music, etc.) lead to affiliate programs for which The Jordan Harbinger Show receives compensation. It's just one of the ways we keep the lights on around here. Thank you for your support!
Sign up for Six-Minute Networking — our free networking and relationship development mini course — at jordanharbinger.com/course!
This Episode Is Sponsored By:
Babbel turns language learning into language using with a comprehensive system that combines effective education methods with state-of-the-art technology. Go to babbel.com and use promo code JORDAN for an additional three months!
MVMT believes style shouldn't break the bank. Shop premium watches for men and women, bluelight glasses, and more. Free shipping and free returns. Join the MVMT and go to mvmt.com/jordan to get 15 percent off today!
LifeLock gives you all-in-one protection for your identity, devices, and online privacy; there's a victim every three seconds, so don't become one of them. Save up to 25% off your first year of LifeLock at lifelock.com/jordan!
Better Help offers affordable, online counseling at your convenience. If you're coping with depression, stress, anxiety, addiction, or any number of issues, you're not alone. Talk with a licensed professional therapist for 10 percent off your first month at betterhelp.com/jordan!
1-800 CONTACTS beats any price on contact lenses, plus offers free, fast shipping and convenient online ordering. Order online at 1800contacts.com, download its free app, or call 1-800-CONTACTS!
Miss our conversation with true crime exoneree Amanda Knox? Catch up with episode 386: Amanda Knox | The Truth About True Crime here!
THANKS, DAVID EAGLEMAN!
If you enjoyed this session with David Eagleman, let him know by clicking on the link below and sending him a quick shout out at Twitter:
Click here to thank David Eagleman at Twitter!
Click here to let Jordan know about your number one takeaway from this episode!
And if you want us to answer your questions on one of our upcoming weekly Feedback Friday episodes, drop us a line at friday@jordanharbinger.com.
Resources from This Episode:
Transcript for David Eagleman | The Inside Story of the Ever-Changing Brain (Episode 474)
Jordan Harbinger: Coming up on The Jordan Harbinger Show. 
[00:00:02] David Eagleman: Just imagine if you could have a building where the building senses that more people than normal are using the bathrooms. And so it just grows more toilets in the plumbing and so on. I mean, this sounds weird, right? Except that when nature — for example, if you form a tumor or something, you grow all kinds of new blood vessels in there. You know, nature just has these simple ways of saying, "Hey, I need more blood over here," and you get things. Or, you know, what if you could build a building that just stands up and, you know, walk somewhere else and it goes north, but there's actually a million ways to think about machines that we could build that would actually change themselves physically.
[00:00:35] Jordan Harbinger: Welcome to the show. I'm Jordan Harbinger. On The Jordan Harbinger Show, we decode the stories, secrets, and skills of the world's most fascinating people. We have in-depth conversations with people at the top of their game. That's astronauts, entrepreneurs, spies, psychologists, even the occasional organized crime figure, billionaire investor, or rocket scientist. Each episode turns our guests' wisdom into practical advice that you can use to build a deeper understanding of how the world works and become a better critical thinker. 
[00:01:06] If you're new to the show or you're looking for a handy way to tell your friends about it, we now have episodes starter packs. These are collections of your favorite episodes, organized by popular topics to help new listeners get a taste of everything that we do here on this show. Just visit jordanharbinger.com/start to get started or to help somebody else get started with us which of course, we always, always, always appreciate. That's how we grow and that's how we make sure that I don't have to become a greeter at Walmart to pay the bills. 
[00:01:32] Today on the show, returning guest, my friend, Dr. David Eagleman. He is a brilliant neuroscientist author of many books. The latest is entitled Livewired. It's about how our brain wires and rewires itself. So you've heard that neurons, that fire together, wire together. We've talked about how this works with habits, especially bad habits. We get into a little bit of that on the show. Today, we get deeper into some truly wild brain phenomena and breakthroughs that will change the way you think about the hardware that you use to think. There's actually some pretty interesting and intense Black Mirror stuff in this episode, as well about adding senses to our bodies and controlling robots and bionic hardware with our minds. So if you're interested in what humanity has in store for the future and how Sci-Fi might become reality. And I mean that in the most non-cliche way possible people and how we might actually upgrade our own bodies and our own physical hardware with robotics and cybernetics, then this episode is for you. This is real science-based stuff. This is not a cyberpunk 2077, but it sure sounds like it. And that's, what's really incredible about this one. 
[00:02:33] And if you're wondering, by the way, how I managed to book all these great authors, thinkers, and creators every week, it's because of the network. I'm teaching you how to build your network for free. It's a course on reaching out to old connections, revitalizing your network. It's all free. I don't need your credit card. I'm not trying to sell you anything. This is because selfishly, when your network grows, you're an extension of mine. At least, that's the way I like to think about it. So go check it out at Jordanharbinger.com/course. And most of the guests on the show that you hear every week, every couple of days here, they subscribe to the course. They're in the course, they contribute to the course. Come join us, you'll be in smart company where you belong. Now, here's Dr. David Eagleman. 
[00:03:11] I love the new book, by the way. It is super interesting. And it kind of reminds me of some of the stuff that we talked about in one of our previous shows. I was going to say the last time we talked, but now I don't know because you've been on the show two or three or four times. So, which is a good sign. 
[00:03:26] David Eagleman: Oh good. Thank you. I'm glad. I'm so glad to be here and that you read the book. Thanks. 
[00:03:31] Jordan Harbinger: Yeah, I like it. It's essentially what we've learned about the brain in past episodes that we've done with you only kind of turned up to 11, right? And the, and the first concept that I wanted to get into here was that our brains are constantly evolving. And I know that's probably not news to anyone, but most of the time when we think our brains are evolving, we're talking about children. And then when we're adults, when we talk about our brain evolving, we're usually talking about how we can't remember things or how we've gotten worse at things, or now we can't catch as well as we used to something like that. So, but it's kind of a mix of both, right? Children are also losing abilities. If you want to look at it that way with this whole concept of neurons pruning and adults are also gaining abilities. It's just that we tend to be more pessimistic as we get older. 
[00:04:15] David Eagleman: On this issue about whether it is new news or not, what's so interesting about this is that, you know, when anybody takes a neuroscience course, they learn about the brain. Here's the brain, this part is vision, this part is hearing, touch, and so on. And it seems like it's a fixed thing. And that's the way that we continue to teach neuroscience even now in 2021. And the fact is, I think there's a much deeper and better way to understand what's going on in the brain, which is that it is constantly moving. Just take the fact that you have 86 billion neurons. Each has about 10,000 connections to their neighbors and each one of these connections is constantly changing its strength. It's unplugging, it's re-plugging, it's seeking. You know, I mean, neurons are like little animals and. I don't think this part is widely appreciated. 
[00:05:00] When we talk about this issue of, you know, how the brain changes. I mean, these are like 86 billion animals that are seeking around and sending out little feelers and saying, "Oh yeah, this is a good place to plug in. I'm going to plug in here, and so on." As you know, one of the things that I really emphasize in the book is that we have no idea how to build machinery like that. I live in Silicon Valley and everything around here is hardware and software and everything, but no one is even thinking in this way that we absolutely know the brain is functioning. And this is part of what inspired me to write this book was to really get at this issue of how can we, first of all, crack the secrets and then build technology that impersonates this. Take some of the lessons of this. 
[00:05:41] Jordan Harbinger: Before we get into technology, starting to mimic the brain or men taking lessons from how the brain works and putting it into our technology, tell me a little bit about how neurons — I don't know is this is right metaphor here, but did they fight for territory? I mean, we know that our environment, our experiences, our careers, whatever, change our brain. But are these neurons kind of competing or is it just the brain trimming what it doesn't use when we're kids? 
[00:06:07] David Eagleman: So you know what, it's both. And this is a big part of the theoretical framework that I forward in the book is that — the right way to understand neurons is that they're all competing all the time, and it's a Darwinian competition that's happening in there. So for example, when you're outside and you look at a forest, you say, "Oh, this forest is so beautiful and pretty, and there's trees and flowers," whatever, but every single tree and plants and shrubs is competing with every other one to catch the sunlight. And so some trees put a lot of effort into building up their trunk really tall, and then spreading out at the top with their leaves, others spread widely down below, different leaf shapes, different ways of orienting around others. And really the way to understand what you see in a forest is as a matter of competition.
[00:06:49] And it's the same thing in the brain. We're used to looking at these 86 billion things like, "Oh, they're just jelly beans in a jar." But in fact, you know, when you look at single-celled organisms, they have a whole bunch of defensive attacks that they do. Like they'll spit out chemicals at another cell to get it away from it. And I think that is the origin of neurotransmission. Neurotransmission is where cells communicate with each other by spitting chemicals at each other. And we all look at that and say, "Oh, isn't that lovely? They're all talking." But I think actually the origin of that was as all this defensive machinery and what happened is, as it evolved into this multicellular organism over billions of years to end up where we are now.
[00:07:29] Now, it's something that's sort of a system that's somewhere in between cooperative, but also competitive. And it turns out that not only do brain cells die — by the way, I don't mean die, like you hit your head and you have some swelling and some of them died. But I mean, during the course of normal development, neurons are reaching out and trying to find their place, trying to find where they belong. And for those neurons that can't find the appropriate fit, they fold up in a process called apoptosis. They fold up and they actually commit suicide and go away. And not only that but — and this relates to this earlier thing that you flagged, which is the child grows by the time they're two years old, they have an incredible density of connections. And they reach a peak at age two, and from there, it's all about pruning the garden. It's all about taking away things, pathways that were once there. 
[00:08:17] And so the general story is we end up with, I should say, we start with the brain that has all this possibility. You could do this. You could do that. You could speak whatever language is anywhere on the earth or alien languages, whatever. You could live in any kind of situation where people wear different costumes, perform different professions and so on. But as you experienced the world, you absorb it and that carves and shapes your brain and shapes what is left. 
[00:08:42] Jordan Harbinger: So it's like a bonsai tree scenario where this baby brain has all kinds of abilities or potential abilities, I suppose. And then it says, "Hey, you're not using the sounds that are used in Greek. We don't need these." Greek sounds fold up and die and leave the — I don't know the energy that's leftover for the brain cells that need to learn how to put Legos together. Is that kind of what we're talking about?
[00:09:05] David Eagleman:  Yeah, exactly. There are good studies on this. One that I mentioned in the book is a study that was done by Patricia Kuhl and her colleagues where they looked at Japanese babies and American babies growing up in Japan or America. And when they are infants, they can both hear the same sounds. And the way you can test that with the baby is you do a sound. Let's say, "url," you change the sound and they'll start sucking at the nipple faster because they've detected some change that's going on. But by the time they're six months old, the Japanese babies have been exposed only to Japanese. The American babies have exposed only the English. When they're six months old, the Japanese babies stopped being able to hear the difference between the R sound and the L sound, because that happens to be important in English. That distinction is not important in Japanese. And so you can see the carving of the landscapes in their brain, just based on what they're even able to hear. 
[00:09:55] Jordan, I know you've been around the world, many different places. And for anyone, who's tried to learn other languages, you know that often — you say this out and the person says, "No, no, no, you're not doing that right. You got to say it like this." And you just can't hear the difference of what they're saying. And it's because the landscape in your brain has been changed. And by the landscape, what I mean is there's often a lot of variability in the way. Let's say, I say the E sound or you say the E sound or the A sound or the T sound or whatever.
[00:10:19] And so your brain essentially makes a valley and it says, "Okay, look, if anything landed in there that was even roughly like E I'm going to assume that's what the person meant. And if it's roughly like T I'm going to assume that's what the person meant. So what you get are these hills and valleys where it's like, "Oh no, that was more like an A sound. Okay. So I'm going to make it there." But if you're growing up in Japan, you've got a different sort of thing. If you're growing up in Nigeria, you've got a different sort of thing. If you're going to put Australia, you have a different landscape. 
[00:10:44] Jordan Harbinger: Okay. So it's almost like we're painting a rough diagram on our brain or our brains creating a rough diagram of language in itself and says, "Look, we're looking for approximations here." because when I learned German, for example, or Chinese, I can definitely hear it. I don't know if I can hear all the sounds because if I can't hear him, I don't know. But I do know there are plenty of sounds even in languages that I know, well, like German, where I go, "I hear that, but I can't get my mouth to make that sound." No matter how hard I try or in Serbian, there's like an L and a J sound that's put together. And I'm like, "I just can't. I just can't do that sound." And I can get really, really, really close, but I can't do it. 
[00:11:23] David Eagleman: It's not true that you can't do it. It's that as an adult, you typically don't have enough motivation, but if you were a Serbian movie star, if they said, "Jordan, you are just who we've been looking for to make this new Serbian movie." And you had to learn accent training. To do this, then you, then you could figure it out. Just in the same way — I mean, look, here's a general truism, which you've probably noticed before, which is that people that move, let's say to America before the age of 13 can speak English without accent. And if they move here after 13, they typically have an accent that stays with them their whole life.
[00:11:56] So for an example, I use in the book, Mila Kunis. The actress who was born in the Ukraine came here as a little kid, six years old. She has no detectable accent. Arnold Schwarzenegger born in Austria, came here at about 19, has a really thick accent. He just can't get rid of it. But for people who really care to get rid of accents, like actors in Hollywood, you know, they can, they can go and do special training and get rid of it. It just takes a lot of work and motivation and most adults don't have that. 
[00:12:23] Jordan Harbinger: So our genes aren't necessarily a blueprint. This is an argument that you make in the book. The genes aren't necessarily a blueprint. They're just the first domino that kicks things off. So does this mean that our environment at childhood and our experiences are more important than our genes?
[00:12:38] Or is it kind of like they all kind of have to play? I mean, genes obviously play a role. I'm just wondering if it's an equally important role or if it's kind of like, look, these genes are sort of a nudge in the right direction, but everything else is far more important. 
[00:12:50] David Eagleman: I'll tell you the truth. The nature-nurture debate is dead. And the reason is that it's always both in ways that are untangleable. So the genes that you drop into the world with, determined, I think sort of where you can go. Let's say, think of it like a cone of space-time and so terms. Okay, Jordan, you can go anywhere in this direction, but David, because he has slightly different genes go anywhere in this direction. And what happens is then — here's what I think about it — your experiences are the things that give you a trajectory through that cone. And your cone goes like this and takes a different trajectory based on your experiences. So they're both massively important.
[00:13:25] And by the way, they feed back into one another. So the experiences that you have in the world will actually feed back all the way down to the nuclei of your neurons and change the expressions of your genes. This is a field called epigenetics, which is about, about 20 years old now, it's really been running. 
[00:13:41] Jordan Harbinger: Oh, yeah. 
[00:13:42] David Eagleman: And epigenetics is this issue of based on my experiences in the world, that'll actually change the proteins that bind to the DNA, which changes the conformation of the DNA causes some genes to get expressed more, some express less, but ingenious ways that we're just scratching the surface of.
[00:13:59] So for example, if somebody grows up in a famine, the stress and anxiety of that actually gets passed on to the next generation. And the children will act differently in measurable ways based on that. And this is now known with children of Holocaust survivors and so on all the way down, these things get passed along. And what's interesting about this, as you may remember from high school learning about Lamarck and Darwin, and Lamarck said, "Hey, maybe what happens is the animals have needs in each generation and that could pass down to the next generation." And then Darwin came along and everyone laughed at Lamarck out of the room about this idea, but it turns out he's back because of epigenetics. We now know that there's some amount of that that does happen, that gets passed down from your experiences. 
[00:14:44] Jordan Harbinger: So Lamarck was the guy who was like, "Hey, giraffes, have long necks because their parents' generations were reaching up to the trees. Therefore, basketball players are tall and have tall kids because they're reaching up for the basket," but it's like, no, "But kind of with epigenetics, we sort of maybe kind of do have that—
[00:15:01] David Eagleman: Exactly. 
[00:15:01] Jordan Harbinger: —but in your brain or in your genes, I mean. I know that the brains do prune itself and I talked a little bit about this with Lisa Feldman Barrett, who I'm sure you know.
[00:15:08] David Eagleman: I do.
[00:15:09] Jordan Harbinger: But the idea of like feral children or isolated monkeys, not being able to do certain things because their brains prune themselves in a certain way. Can you speak to this a little bit? Because this sort of is a little bit — it's a little scary, just seeing kids using screens all the time or kids growing up in these parentless environments and things like that and maybe it's an overreaction. But it seems like it could negatively affect your brain and isn't just, "Hey, my kid watches too much YouTube."
[00:15:36] David Eagleman: Yeah. Okay. So the general story is we know a lot from these tragic natural experiments of children growing up without the right kind of input. So for example, in Romania, in '89 at the fall of Ceaușescu, there were, you know, tens of thousands of orphan children. And so they all ended up in these state orphanages and the staff, although they were well-meaning, there wasn't enough staff to take care of all these kids. And what they noticed is that, you know, if you talk to a kid and hold the kid and so on, they become, they love you. They, they want to be with you.
[00:16:07] And so the staff said, "We don't have time in order for the kids not to get clingy, don't talk to them and don't hold them." And so this is one of the real tragic experiments that happened, because what happened is thousands of these children and these Romanian orphanages ended up with real cognitive deficits. They ended up with much lower IQs. They had real problems developing the right sort of brain. Why? Because the way we drop into the world half-baked is a real gamble on mother nature's part. Mother nature is essentially, she's realized that there's this huge advantage to having a brain that absorbs society around it because you can then just springboard off of wherever society is. But the gamble is that you might not get the right input under some circumstances. 
[00:16:46] And this happens once in a while with a child who's been severely neglected. I told the story of one girl, Danielle in the book. There's another girl Genie who was found in 1970 in Los Angeles, suffered this horrible abuse, worse than abuse, it was total neglect where she was locked in a room and she was actually tied still. So she wouldn't move around. Just a horrible scenario. But she was found at the age of 13. Didn't have any language. Couldn't see past about 10 feet. Couldn't chew solid food. Didn't understand the structure of language.
[00:17:19] Once she was rescued from this family, tons of psychologists — you know, the rest of her life, she got tons of love, tons of attention, but it was too late. And that Danielle was never able to understand language because she missed this critical period. And by the way, they did all kinds of tests on her. There's nothing inherently wrong with Danielle. It's just that she grew up in a world where she wasn't getting spoken to and had no communication with others. And as a result, her brain just missed that window to learn what language is about. 
[00:17:46] Jordan Harbinger: Have they looked at her brain at all and found like, "Oh, this area isn't lighting up or anything." 
[00:17:50] David Eagleman: Yeah, they have and it's of course what you'd expect, which is if I speak to you in English, you'll have all kinds of areas in your left hemisphere, especially lighting up because you're understanding, what's getting said. But if I speak to you in a language that you do not speak, there's very little, there's no understanding of it's just random noise to you. Yeah, so that's what we know about the development of the brain. 
[00:18:10] Now, your question about kids on screens and so on, this is a tough one because there's no good way to do a comparison. So if we take our kids and try to compare — like, who do you compare them against? If you compare them to a generation ago, like who knows there are, there are a hundred other differences, politically chemically, everything, culturally, there's just a hundred other differences. And you can't find kids who are not growing up with the internet, you know, unless you go to the most impoverished places in the world. And again, there are a hundred other differences there between your kids and the kids growing up there. 
[00:18:43] Jordan Harbinger: Right. 
[00:18:43] David Eagleman: And so it's very difficult to do an experiment. I think the key thing is to think about compared to what are we worried about their brains getting worse, because I mean, look if you really think about what we did during our childhoods, we wasted an enormous amount of time doing really stupid stuff. And it's not like playing stickball or walking around or laying on your back and looking at the clouds. It's not like that is somehow so magically wonderful for the brain. 
[00:19:07] The truth is — this is just one man's opinion. I feel like a lot of the games that my kids play online are unbelievably good education in one way or another in some small way or another. They're actually quite amazing. And certainly the educational games that they play are unlike anything that was available to us. I have a strong suspicion and a prediction that. This generation is going to grow up to be much smarter than we are because of their immediate access to answers where they say, "Hey, Google, what's the answer to that? Hey, Alexa, what's the answer to that?" You know, they get the answer right away in the context of their curiosity, and that makes all the difference in terms of brain plasticity. 
[00:19:42] Jordan Harbinger: That makes sense. You know, a lot of people say things now like, well, you know, they can just Google it. They don't have to figure anything out. And I always want to pause and go, "Dude, did you sit down and have a question and then go, 'Gee, I'm going to ride my bike over to the library, check out a book, read about this and figure out the answer.'" No, you just never freaking bothered to find out what the answer was. Now, they can get an answer. They get more interested in that they go down. I don't know, whatever the kid equivalent of a Wikipedia rabbit hole is like a YouTube rabbit hole. And they learn something or they start thinking that 9/11 was an inside job betting on which rabbit hole you're going down. But like you can figure out these different things that would have taken us months slash let's be honest, we know never would have bothered to do it because we weren't done by dinner time. And it wasn't that interesting. And you know, the library was closed or it didn't have the book we wanted, or we couldn't remember the Dewey Decimal System to find the damn thing in the first place. So I'm with you, I think like this, this idea of easy access to information can really make kids incredibly smart, incredibly fast, especially because they can learn at their own pace, which is something that you and I go into school as kids really couldn't do. We didn't really have that option. 
[00:20:47] David Eagleman: Exactly right. And by the way, I found this television interview with Isaac Asimov talking to — what was the guy's name? Bill Lehrer, I think his name was on PBS in something like 1983. So this is before the internet was invented, but Asimov was such essentially predicting the invention of something like that. Now, the way he thought about it was there'll be a central computer and everyone has cables to this computer coming into their house. But the idea he completely nailed, which is you could find out the answers to things when you're curious about it. And the differences would make on technology because he noted that, you know, people like you and I, we all grew up in whatever classroom we grew up in and it's going too fast for half the kids and two slow for the other half of the kids. And now, the advantage of adaptive learning is that you get the answer that's right at your level, where in between frustrating and achievable, and you can get that and then move up to the next level, so on.
[00:21:38] Jordan Harbinger: One thing that was fascinating from the book was the idea that brain matter — it's not like hardware. It dynamically reallocates. Maybe it's more like, like RAM in a computer, which is not a great analogy because a lot of people don't necessarily know how that works, myself included, right? But the idea that our brain can allocate resources to another area. And I think the most obvious example that maybe we know of is if somebody loses their sight, their hearing gets better, and things like that. I know that's oversimplification. Can you, can you speak to this? Because this is kind of a fascinating element or ability of our brain where we sort of lose one thing and our brain kind of automatically says, "Hey, if these eyes aren't going to work, I'm going to allocate this to something else." And then people can read braille with their fingers. 
[00:22:19] David Eagleman: Yeah. By the way, this is not an oversimplification. You got it exactly right. Which is to say one of the things that the genes do is they take care of all the wiring. So fibers from your eye, go back to a place in what's called your visual thalamus, but then go to the back of your head here whereas fibers coming from your ears, take a root, and then they go to this other part of the brain here and from your body goes to here and so on. But the point is, those parts of the cortex, the outer wrinkly become what they are because of what is plugged into it. They wrap around the data that comes into it.
[00:22:53] But if you are born blind and you're not seeing anything, it's not inherently visual cortex, it says, "Oh, okay, I'm not getting any info. I'm going to take info from other things." And so you actually devote more real estate to touch, to hearing things like that. And this is why blind people are provably better at these sorts of tasks because they're motivated to learn them. And they've got all this extra real estate. And so for the last 20 years, people have been doing brain imaging studies where you take, let's say blind people and you give them the sounds, you see activity in what we would normally think of as the visual cortex that gets taken over. And it's the same. If you are born deaf. The brain doesn't want any territory to life fallow because this is the really valuable stuff, the cortex. And so the brain makes sure that it is all getting used. 
[00:23:42] Jordan Harbinger: You're listening to The Jordan Harbinger Show with our guest David Eagleman. We'll be right back. 
[00:23:46] This episode is sponsored in part by Babbel. [Foreign Language] which if you don't speak German essentially means the opposite of homesickness. It means I can't wait to go somewhere pretty much anywhere. And when I'm on my trip, I can use Babbel. The number one, selling language learning app. One of Jen's goals for the new year was to brush up on a little Spanish. She's been using Babbel. It's made the whole process addictively fun. She's using Spanish around the house, which is pretty funny actually and a lot of fun to hear her speak Spanish because she's never actually gotten around to learning it. Babbel is great because it's got bite-sized lessons that you'll actually use in the real world. Babbel's got 15 minute lessons that make it the perfect way to learn a new language. They also have like five-minute little segments you can use when you're waiting for something. Unlike the infamous language classes we all took in high school, Babbel designs their courses with practical, real world conversations in mind. Things you'll use in everyday life. You can choose 14 different languages, including Spanish, French, Italian, German, and it's got this cool speech recognition thing where you can say something and it will help you improve your pronunciation and accent, which I thought was very unique, very novel.
[00:24:48] Jen Harbinger: Right now when you purchase a three-month Babbel subscription, you get an additional three months for free. That's six months for the price of three. Just go to babbel.com and use code JORDAN. That's B-A-B-B-E-L.com code JORDAN for an extra three months free. Babbel, language for life. 
[00:25:06] Jordan Harbinger: This episode is also sponsored by MVMT watches. In a tiny apartment in Southern California, two college dropouts teamed up to create a watch company that broke all the rules — fair prices, unexpected colors, and clean original designs. MVMT grew into one of the fastest growing watch brands shipping to over 160 countries across the globe. Now, they've into blue light glasses that protect your eyes from screens, minimalist jewelries, and more stylist essentials that don't break the bank. All designed out of their California headquarters. MVMT watches have the look and quality of a $400 to $500 watch that you're paying for at a department store but the cost is a fraction of the price because they were built online and own their process from start to finish. You get a beautiful watch, shipped right to your door for free. And if you don't love it, you can ship it right back also for free. If you want to elevate your look with style that doesn't break the bank, then join the MVMT and get 15 percent off today with free shipping and free returns. Go to M-V-M-T.com/jordan. Again, that's M as in Michael, V as in Victor, M as in Michael-T.com/jordan.
[00:26:05] Now back to David Eagleman on The Jordan Harbinger Show. 
[00:26:10] You mentioned a little bit about savantisms. So people become amazing at the piano or memorizing the entire phone book. There were kids in my school, there was a special ed program. And I remember one kid he had somehow memorized a map of our town and probably the whole surrounding area. And he could tell you how to get from any place to any other place. It was like almost like a London cabbie now that I think about it. You know, he could say, "Oh, Benbrook connects to Hayvenhurst. Hayvenhurst connects to beach. Beach connects to waddles. Waddles connects to—" And you'd go like, "Whoa." You know, you're retracing this path from your own house to the school and you'd miss the street and he'd go, "No, no, no, no. This goes to this." And you'd go, "Oh yeah, that's right. There's like a hundred foot stretch of such-and-such that I have to go down," and he didn't live in that area necessarily, right? 
[00:26:50] So this phenomenon was mind blowing really. And I'm wondering, is this because his brain wasn't specializing in other areas? Because he was essentially, I mean, he was autistic or something along those lines and you know, if someone can play the piano super well, but let's say can't talk — is that over specialization by the brain? Or is that just something else entirely? 
[00:27:10] David Eagleman: That is the simplest hypothesis is that it's about the distribution of the real estate. So it turns out that as amazing as that seems about having those skills with a map, you could have that if you devoted a bunch of your real estate to maps, but exactly as you flag, it comes at a cost. There's only a fixed amount of real estate. And so you get less than let's say the social domain. So that's exactly right. The cortex generally can be — it's generally allocated the same in everyone, but because of genetic tweaks, it ended up being different. 
[00:27:41] Jordan Harbinger: So is there a limited amount of bandwidth? Like I assume there's a limited amount of — if I'm a London cabbie, could I then do the same thing for New York City and then do the same thing for Mumbai and then do it, or is there a point at which your brain says, "Look, man, you got 20,000 streets in here. We can't fit anything else in here"? 
[00:27:59] David Eagleman: There almost certainly is the limit to that kind of information. What's interesting about the education that one gets at school or reading good books is that most of our education that's meaningful has to do with sort of building a scaffolding upon which, you know, you learn a new fact, you think, "Oh, that's like this other thing, and that plugs in. Oh, and that answers why this is true." So most of our learning is like that. And that as far as no, you can fit essentially an infinite amount of that. We have no idea what the limits would be. 
[00:28:25] The kind of thing about if I remember amazing streets and street names, there's probably a limit to that because it's essentially a different kind of just straight memorization without any logic to it. There's no way to compress that data would be another way, if I think about it. 
[00:28:38] Jordan Harbinger: Right. Yeah, it doesn't stack. Right. It's not like I'm learning more and more and more about frogs or animals. That makes sense. 
[00:28:45] David Eagleman: You're just learning in an increasing number of arbitrary things. Exactly. 
[00:28:48] Jordan Harbinger: If the brain is so flexible, can we put any sort of input into the brain and have it do something with these inputs? I think you called it the Mr. Potato head model of the brain, right? And the example that I remember from the show, there was a guy who used some kind of grid on his tongue so that he could see things. And I thought like, "Oh, that's funny, you call that vision." And then the person who was explaining this to me said, "No, no, no, it's literally vision." And I thought, "Well, that's impossible. Your tongue is not an eye." And that's what sort of blew my mind wide open about the fact that you don't actually need eyes to see. It's just that eyes currently are the peripheral that we use to see things. Am I on the right track here? I know that I kind of butchered this, but it's confusing. 
[00:29:28] David Eagleman: That's exactly right. No, in a sense, it's very simple. Your brain is locked in silence and darkness. All it ever sees are these electrical spikes. And then there's these chemical transmission between neurons, but that's all it ever has is these electrochemical signals and nothing more. And so even though we're so used to vision, "Oh, I open my eyes, I look at something," and so. You can get that same information to the brain via other channels. So the example you used was the brainport which is an electric tactile grid that sits on the tongue. You have a camera, that's looking at things and it's translating what it sees to this tongue grid. And people can get really good at this. They can throw balls into baskets at a distance. They can navigate complex obstacle courses, and it turns out that it doesn't matter how the information gets to the brain, as long as it gets there. 
[00:30:14] As you know, Jordan, I started a company, NeoSensory. I spun this out of my lab about five years ago, where we build a wristband that has vibratory motors on it. So the wristband sits here and it's got these vibratory motors. And it, for example, for people who are deaf, that captures sound turns into patterns of vibration on the skin, turns the ongoing sound in real time into these patterns on the skin. And that information, of course climbs up your spinal cord and into your brain and people who are deaf can understand what's happening in the auditory world that way. And you know, there are about 220 reasons you can go deaf, but we don't care which one that is. We just circumvent that system entirely and it works.
[00:30:51] People starting right away. Or the first few days can start saying like, "Oh wait. There's a door slamming," or, "My microwave is beeping," or, "There's someone calling me," or something. By about a month, they're pretty nuanced in what they can distinguish. By about three months, they're having what appears to be an internal subjective experience of sound. As in, I say, "Hey, when the dog is barking, do you feel like there's a buzz on your wrist and you figure out what it is and they think, 'Oh, there must be a dog barking somewhere.'" And they say, "No, no, I just hear the dog barking." That's how they describe it. And you know, it's funny because we can't ever know what it is like to be inside someone else's head, but it certainly appears that they're having a direct perceptual experience of the sound.
[00:31:33] Jordan Harbinger: The brain is able to use information coming from other places as if it were coming from say the eyes or the ears, right? So the, the brain is plug and play, I think is how you phrased it in the book. If people remember that from back in the day, from like Windows, you had to reboot, if you plugged in a new mouse and you know, save all your work and everything. And the brain sort of matches the input somehow, which is great because we don't have to worry about Apple removing the freaking USB port to the headphone jack. We can just make another one. 
[00:32:01] David Eagleman: Right. By the way, just a quick correction. Back in the day, things weren't plug and play. So what would happen, is you'd buy a new software device and you'd have a floppy disc that came with it and you'd have to load the software for the computer to understand what it's looking at. And eventually, plug and play is what came along where they said, "Oh, look, it's got a USB. Bang." Sticking in and it figures itself out. It figures out what to do with that information. That's the key. 
[00:32:24] Jordan Harbinger: Right. Like all the drivers were kind of in some central area of windows and it would say, "Hey, it looks like you plugged in some kind of saving data device, flash drive, disc drive." We're not really sure, but we can kind of use it, because it wants to send data back and forth. So we're just going to go ahead and do that and it'll tell us how much it can save for when it's full. And that was amazing back then, but we were kind of able to do that with our brain. So nature can design one type of brain and a bunch of different — what would you call it? Peripherals or sensors or something like that. 
[00:32:52] David Eagleman: That's exactly right. And so when you look across the animal kingdom, you find all these different peripheral devices for detecting infrared or detecting the magnetic field of the earth or electrical fields, or anything like that. And it turns out that my hypothesis on this is that mother nature does not need to reinvent the brain each time. But instead, the principles of brain operation are fixed where they say, "Look, I'm a general-purpose compute device." And then you plug in whatever you want. And it says, "Oh, I'm getting infrared light. That's cool. I'm getting ultra violet. Got it. I know what to do with it. Oh, I'm getting 360- degree vision cause my eyeballs are over here, like a cow. Okay. That's cool. I know what to do with it." And we see this all across the animal kingdom. 
[00:33:32] And so that's what led me to propose this model. What I call the Potato Head model of, you know, just sticking, whatever sensors you want to come up with, and the brain says, "Oh, okay. I'll figure it out." How does it figure it out? It does it by correlation with other senses or correlation with your motor actions. Like I notice every time I do this, that changes in a certain way. Or I noticed that when I cocked my head, I can hear the thing better. Or I noticed that when I — you know, whatever. And so that's how the brain figures it out just by experiencing the world, by touching it and kicking it and tapping it and sniffing it. And that's how it figures out the correlation between these things. 
[00:34:05] Jordan Harbinger: So I know I've asked this last time and probably the time before, and I will ask again, next time you're on the show, but does this mean eventually that we can add superpower senses to our bodies, right? Supervision, night vision, thermal vision through Bionics and our brain will just figure out like, "Oh, I can see in the dark now because the peripheral I'm using is no longer my natural God-given eyeball, but I instead, when I lost this eye and the battle of 2040, they popped in one that just doesn't need the light from the sun. It just has thermal vision and night vision built into it and FLIR, or whatever that's called. And my brain knows how to use that information because it learned that that was the input coming from that eye. And it didn't require as many photons or whatever to use.
[00:34:49] David Eagleman: That's exactly right. So that's exactly where we are now, by the way. We're doing this with NeoSensory, with the wristband, we also have a vest, but the wrist band is mostly what we're concentrating on for ease of form factor. We just had our second developer contest and we had 190 something entries and people are building things like just off the top of my head, automatically detecting the CO2 in a room so that you have a proxy for how good the ventilation is in the room. So, you know what your chances of getting COVID are while you're in that room. Or it immediately detecting electrical fields. Like if you're a linesman, working with the company, you can feel exactly where the electrical fields are. Or detecting infrared if you're a fireman. You know, firemen have these sort of IR guns where they look to see if they can find a person somewhere in the smoke, but you don't need to hold the thing and look at the screen. You just feel it and know that there's somebody there. What else detecting? Snoring, detecting the emotion in a conversation for kids with autism so that they can tell the person's angry or happy or sad or whatever. 
[00:35:42] Jordan Harbinger: Yeah. 
[00:35:42] David Eagleman: You know we have so many entries, but it's really terrific because all of these, what they have in common is building new senses. Things we don't normally have access to and having a direct perceptual experience of it.
[00:35:54] Jordan Harbinger: The emotions detection is interesting. I always wonder how accurate that stuff is, but if they can make that for somebody who let's say suffers from autism and can't necessarily tell between happy, sad, angry, jubilant, whatever, that means that they could simply have a robot that doesn't necessarily need the wristband. It just uses whatever else, sort of software, the same software to detect emotions. And then your robot doctor, or your robot therapist, or your Amazon device in your house — actually that's the scary part, right? Because then your Amazon device could say, like, "Jordan's sad. You know what he does when he's sad? He buys leather jackets. Show him an ad for a leather jacket. He's going to love that. Oh, he's happy. Great. He's in a good mood. Sell him some popcorn or chips, or whatever." You know, like that's kind of dangerous. I don't want my smart home, knowing when I'm vulnerable. It already does actually. 
[00:36:40] David Eagleman: Yeah, that's quite right. 
[00:36:41] Jordan Harbinger: Somehow. 
[00:36:42] David Eagleman: Quite right. I mean, this already, of course, is a, you know, a bit long been implemented in terms of the time of day and night, just based on your surfing habits and so on. When they're going to advertise the chocolate chip cookies to you and so on. Yeah, but happily, this is about helping a child with autism. Understand what's going on in the conversation like, "Oh, the person is getting angry and I need to just clock that I just memorize. Oh, when I'm getting this buzz, that means the person's sad. So I need to change my behavior in some way." 
[00:37:07] Jordan Harbinger: I guess we could also have police officers who could smell the drugs or the bomb components using this wristband. Instead of a dog, right? It's like the sensory enhancement electromagnetic field sensing — you say the fireman could use the wristband to see if there's a person in the house, but at some point in the future, they might not even need to feel it, right? Wouldn't the brain just say, "Hey, there's a person 10 meters in front of you." It'd be like Terminator vision.
[00:37:28] David Eagleman: Yeah. 
[00:37:29] Jordan Harbinger: We wouldn't even necessarily need the — because the skin almost sounds like an intermediate, like a middleman in this equation, right? You're just saying, "Oh, there's pressure vibrations in a certain area." But couldn't we actually create vision? 
[00:37:41] David Eagleman: Good question. The answer is vision and hearing are totally overtaxed in our modern world. So if you are a fireman going into a thing and there's beams falling or whatever, you need to be using your vision to see what's up. So there's obviously been a lot of interest in AR glasses where it's superimposed suddenly, and maybe with the firemen that would work actually. But in lots of cases, you don't want — do you remember the Terminator movies where he sees text going and so on?
[00:38:05] Jordan Harbinger: Yeah. 
[00:38:06] David Eagleman: A million companies around here are building AR glasses that do this stuff, but there's already so much to look at. And you're so overtaxed. If I had a watch while I was talking to you, how can I read text and see alerts and so on? It would be really killing. But it turns out that your body is covered with this incredible computational device of your skin. Your skin is actually the largest organ in your body, and we don't use it for much of anything in modern life. And so it's a terrific channel for pushing data. 
[00:38:31] What you might've been wondering about also is, you know, what, if you could just do a direct plugin as in, you know, plug straight into the visual cortex. That's cool. The problem is that it requires an open head surgery. And as much as I would like to be a fireman who instead of feels it here, sees it here, it's not worth getting up in surgery because there's always risk of infection and death on the operating table.  
[00:38:51] Jordan Harbinger: Yeah, that makes sense. I know the example in the book that you give, which is like the last thing I would use this for is you say like you could have weather data and stock data put into your brain because the brain is the supercomputer. So the brain may be able to model the markets or the weather better than we can right now. So essentially, your brain would become the massive supercomputer at the center of this system. So instead of me reading a bunch of stuff and getting kind of a feeling of how markets behave when certain things happen, my brain would directly model that. And my subconscious mind would essentially say like, "Buy this brand of mints now. And you'd be like, "What? Why? Oh, well I trust the system." You'd buy it and then the price of that mint goes through the roof and in the stock of that company goes through the roof and it's like, "Why?" "Oh, yeah, there was an oil spill in the Philippines, which made this ingredient more rare, which is the primary ingredient used in this. So the price of that ingredient in the mints goes up. So now the price is higher." Like all this crazy stuff that you would never put together directly, at least not in that short of a period of time. So that's fascinating and I guess make sense. That's why we wouldn't look at the visual data of the stock market because then the visual data is the intermediary just like we talked about before, kind of an unnecessary middleman. It's fascinating that we could use the skin to do that. And I'm glad you didn't say the tongue because Twitter already has a cesspool of gross opinions and people. I don't think I really need to like taste it.
[00:40:09] David Eagleman: Right, exactly. Right. Yeah. It turns out what the stock market — I mean, somebody might say, "Look, don't we have artificial that are bigger than the brain and could actually do incredible stuff." Yes, absolutely, for sure. 
[00:40:20] Jordan Harbinger: Yeah. 
[00:40:20] David Eagleman: The difference with putting the information into a human, is that not only am I feeling all this information about the stock market, but I'm walking around the world — at least not during COVID time — I'm walking around the world, I'm seeing things like, wow, I'm seeing a lot of those shoes. Everyone seems to be wearing those shoes now. And oh, you know, um, I just saw a headline that GE is going to lay off 30,000 of its members. And I noticed that this kind of food is really popular. I'm seeing it in all the supermarkets now. It's that I'm able to combine real world experience about what matters for humans at the same time that I'm putting together the data. And the first part is the part that artificial neural networks cannot do. They have no idea what's important to humans. They have no idea what's — that I see a pair of shoes, I think those are actually really awesome shoes. They can't do that. 
[00:41:04] Jordan Harbinger: That makes sense, right? Yeah, that actually makes a lot of sense where it's only getting one kind of input, right. It's plowing through the top headlines of every major news service or something like that, but it's not interacting with your niece and nephew who tell you all about trending things. Even if you look at trending things on social media, there's just a missing ingredient that maybe we haven't quite put our finger on, but that our brains know subconsciously and can calculate just in an instant.
[00:41:29] David Eagleman: Exactly right. We're just combining lots of data. 
[00:41:32] Jordan Harbinger: I wonder, is there a limit to this, or am I going to get, let's say like blurry vision because I have super magnetic field sense now through my skin, or I've got this tongue grid that lets me see behind me. So now, like I can't see in front of me as well, or I can only see 20 yards ahead of me instead of a hundred, or whatever it is. 
[00:41:48] David Eagleman: Yeah, probably we don't know for sure. But what we know is that all of this stuff, all of these tasks have to be shared among the brain territory. And so it is likely that if you really develop a whole new super skill, it'll probably diminish the function of the rest of the areas just a little bit. And the way that that is saved or helped is if there's some overlap. If there's some way that it's like, okay, this is kind of like vision or kind of like movement or whatever it is, then areas can be shared. But if it's really fundamentally different, you might get blurry vision.
[00:42:20] Jordan Harbinger: Okay, so we can add new senses or will soon be able to, or sort of can already add new senses, right? So I can take it in night vision. I can get the stocks in my subconscious mind. I can find out if there's too much carbon dioxide in the room...if I'm going to get COVID by walking in through the wristband. But you mentioned in the book — and this is fascinating — I want to know, can we make outputs, right? Like, can I give myself a prehensile tail? That's probably not a great example, but it's the only thing that comes to mind right now. But like, can I drive using only my thoughts? I guess that's probably — you know, can I become part of my car or the tank that I'm in the military?
[00:42:59] David Eagleman: Yeah.
[00:42:59] Jordan Harbinger: I assume this is kind of the next step, right? 
[00:43:02] David Eagleman: Exactly right. You know, there's a sense of what you already are a part of your car. Your car is represented to your brain as, as an extension of your body. When you get into this context, you can go fast, you can control things, whatever. I don't know if you've ever, you know, for example, hit an animal accidentally like a rabbit or something with the right front tire of your car, but you feel it. It's like you've just done something to the rabbit. While you're in the car, that is your body. And it's the same when you're on a bicycle, when you're on a pogo stick, when on roller rollerblades. Your brain did not evolve to deal with wheels or springs, and whatever's going on. But you learn how to operate, he'd say, "Oh, okay. I got it. This is my new body now, okay, fine." 
[00:43:40] And so we are incredibly flexible for taking on new kinds of body plans. And I would say, you know, this is what I write about in the book where we're just exploring the next steps of that. So for example, people who are totally paralyzed from the neck down, there've been many good experiments now where electrodes are inserted into their motor cortex and they learn how to operate a robotic arm, a very smooth, beautiful robotic arm. They can feed themselves with it and so on, but also it turns out that even if you have two good arms, you can learn how to operate a third robotic arm. So that you can figure out how to operate all three. And there are experiments on this sort of thing, but the really easy way to do it is to just do it in VR.
[00:44:20] So my colleague, Jeremy Bailenson of Stanford does this, where he set up this game a while ago, where you put on the VR glasses and you see your own two arms and you have a third arm coming out of your chest and you control the third arm by the rotation of your wrists. And so, you're moving your arms. You're rotating your wrist to control this other arm. And you're trying to pick as many of these colored boxes as you can, as quickly as you can. People take some like three, four minutes before they say, "Okay, good, I'm really good at controlling this third arm. It's very fast."
[00:44:48] Jordan Harbinger: This is The Jordan Harbinger Show with our guest David Eagleman. We'll be right back. 
[00:44:56] This episode is sponsored in part by LifeLock. It's important to only use official and trusted sources with anything related to your health. Cybercriminals are taking advantage of the COVID-19 vaccine rollout with schemes to deceive the public. Some common scams include websites selling fake vaccines, fraudulent phishing emails, fake online ads, and text messages that push malware to your devices. Lately, I've been getting the whole, "You have an unclaimed package, click here and log in with your Instagram or your UPS login or your Amazon login." It's important to understand how cybercrime and identity theft are affecting our lives. Your information is at risk. You put it online, they can take your money, your credit, your reputation. LifeLock is here to protect you against that. LifeLock can detect a wide range of identity threats. Like your social security number for sale on the dark web. If they find it, they'll let you know. They've also got a team of restoration specialists that will help you repair your identity if you are a victim. 
[00:45:49] Jen Harbinger: No one can prevent all identity theft or monitor all transactions at all businesses. But you can keep what's yours with LifeLock identity theft protection. Join now and save up to 25 percent off your first year by going to lifelock.com/jordan. That's lifelock.com/jordan to save 25 percent off. 
[00:46:06] Jordan Harbinger: This episode is also sponsored by Better Help online counseling. "I don't need therapy. My friends are my therapists." If you're saying this, if you hear other people saying this, I get it. Good friends with a natural sounding board for our anxieties. And while it's true that talking with a friend can be therapeutic, these kinds of chats, they damage your relationships. And rather than burden friends who are not trained to handle the complexities of your past, even if they know all your dirt, why not work with an expert instead? Therapists can provide many of the same benefits of a great chat with a friend does, but their experience and education and their training can deepen the conversation. Help you make connections between your current choices and ones that would better serve you in the future. In other words, they can help you get past your own BS. If you've been avoiding therapy, because you think your friends can be your therapist, please consider this your sign to make an appointment with Better Help today. I love these guys. Many of you have written in about how helpful Better Help actually is and has been for you. The Jordan Harbinger Show listeners get 10 percent off their first month at betterhelp.com/jordan. Visit better-H-E-L-P.com/jordan. Join over one million people who have taken charge of their mental health with the help of an experienced Better Help professional, betterhelp.com/jordan.
[00:47:17] Thanks so much for listening to the show, supporting the show, your support of the advertisers, you know, those codes and everything you hear, that's what keeps us going and what makes this show possible. To learn more and get links to all of the great discounts you've heard, I put them all in one place, you can check out those sponsors for yourself. Visit jordanharbinger.com/deals. Please consider supporting those who support us. 
[00:47:38] The reason we have sponsors and the reason that they're so important is so that I don't have to say like, "Buy this crappy thing that I'm selling," where I get money. And I don't have to be like, "Let me mail you a sticker with my face on it for $20 a month." I don't want to do that. If I have a good reason to do premium content in the future, I will do something like that. But it sure as heck is not going to be a tote bag or a sticker with my face on it or any of that garbage. It's because you support these sponsors that I don't have to resort to those tactics. So please do support those who support us. Jordanharbinger.com/deals is where you can find all those codes. 
[00:48:11] And don't forget, we've got worksheets for today's episode. If you want the drills, exercises, practical takeaways that we talked about during the show, those are all in one easy place. That link is in the show notes at jordanharbinger.com/podcast. All right, now for the conclusion of our episode with David Eagleman.
[00:48:29] VR is fascinating. I'm sure you're paying attention to this. It's fun. You can play these really cool unique games, and I'm sure you've seen some of these like TikTok, Instagram videos where someone's playing it and can't — these are grown people that somehow forget that they're in VR and they jumped through their TV screen or they like fall under their coffee table and smash it or something like that. Because our brain is adapting so well or possibly not so well, but we're obviously losing ourselves in that VR. Somebody's moving, even though they know they can't walk and they know they're in their living room, they still try to jump from one pretend building to the next and end up going through the drywall.
[00:49:04] David Eagleman: Yeah. 
[00:49:05] Jordan Harbinger: But that's not a bug, right? It's a feature. That's your brain doing its job too well. And the technology is actually the limiting factor or the fact that you have a wall in front of you.
[00:49:14] David Eagleman: That's an interesting question about whether to call that a bug or a feature. What it illustrates is how completely dependent we are on our senses to tell us what reality is.  Yeah, for everyone in the audience, who's done VR, you know, that it can be — I mean, one of the first things I did in VR was this — I don't know if you guys have seen this recent tournament. You go up to one of these window washer platforms all the way up the side of a building in VR, and you're hovering way above the city and then the railing falls off. And then you hear this voice that says, "Go ahead and step off the platform." And it happened that I was waiting in line to try this. And I watched several people sort of get frozen and I thought, how can we bounce stuff off this. This will be easy for me to succeed at this but I couldn't do it. Because even though I knew cognitively rationally a hundred percent, that I am standing at a convention and I'm on a flat surface, we are compelled by what our senses tell us. And if your eyes tell you that you're hovering 300 feet above a city, you just can't do it. And in some sense, we know this because when we have dreams every night, you've got all this random activity, all this stuff going on, you have these bizarre situations and yet you buy it hook, line, and sinker, whatever your brain is, cooking up for you. We're slaves to whatever reality is presented to us. 
[00:50:26] Jordan Harbinger: How far are we from being able to control things like a car or a robot with just our thoughts? You know, not moving my arms around, just thinking — you know, like sitting in a chair and sort of concentrating and being like, "All right. You got to open this, do this," because theoretically, it would save a ton of energy. And also, you know, I'm pretty sure I'm not alone in wanting to play Candy Crush using only the power of it my mind. 
[00:50:49] David Eagleman: The answer is we already know that's possible and we can do all this stuff crudely. A lot of this study has come from patients who are quadriplegic and so you put an EEG on them for example, a headset that measures electrical activity on the outside of the brain, and they can do things. The problem is it's crude and slow, it's a little imperfect so on. And the reason is because when you're moving your arm around with all of its grace and so on, you've got 86 billion neurons that are involved in such intricate detail making this gorgeous movement. But it's very hard to think of, okay, I'm going to think this thought. And I'm going to hope that these lousy EEG signals all the way on the outside of my skull are going to reflect something. So it's just a matter of technology as we get better and better at measuring what's going on inside the brain, like measuring the activity is 86 billion neurons, or maybe just a subset of them will only get better at operating external devices. 
[00:51:41] Jordan Harbinger: You mentioned dreaming before — and I read in the book and this is super fascinating — that dreaming might be a defense mechanism for the visual cortex somehow. Can you speak to this? This was something I'd never thought of and as much as it makes sense, it's also like just mind blowing how complex this system is. And I just found this fascinating. I don't know. I'm building it up and it's weird. 
[00:52:04] David Eagleman: Well, the truth is that, so this is a brand new hypothesis that my student and I have been working on for years. We actually just published this in Time Magazine last week, and we published it scientifically before that. But I'm very happy to see this moving around because the issue of dreams is something where we do this every night of our lives. And we have no idea what this is about. And what happened is, as I was writing this book about brain plasticity, how flexible or malleable the system is, I realized something which is that when the planet rotates into darkness, you can still hear and touch and smell and taste and so on, but you can't see anymore.
[00:52:40] Obviously I'm talking about our evolutionary time. I'm not talking about current electricity blessed times, which are the last nanosecond of the year for us. So traditionally, when the planet goes to darkness, you can't see anymore. And what we talked about earlier was the fact that, if you go blind or something, your visual cortex gets taken over because your brain doesn't want anything to just lie around. And so I realized that the visual cortex is at this major disadvantage compared to the other senses every night. And so it turns out, I hypothesized, this is what dreaming is about. Every 90 minutes you've got this very specialized circuitry that just jams activity into the visual cortex, into the occipital lobe back here. And that's all it's doing every 90 minutes, it's just stuffing activity back there to keep it going. 
[00:53:23] And so I call this the defensive activation theory and the idea is that it's fighting to keep itself alive in competition with the other senses. And so what we did our scientific paper, which isn't in the book, but what we did is — my student, Don Vaughn, and I looked across 25 different species of primates. So, you know, monkeys and apes and us, and it turns out that there are different levels of plasticity across these 25 species. In other words, some get born, pretty soon they're walking, they weaned from their mothers. They reach adolescence at a certain time. And all the way at the other end, the spectrum is Homo sapiens, which were extraordinarily slow. And it's because we're so plastic. We have these incredibly long infancies, take a long time to wean, a long time to reach adolescence. 
[00:54:05] So from that, we could then make predictions about how much dream time each of these animal species have. And it turns out that it correlates perfectly. We can make a significant prediction across 25 species of primates. Exactly how much time they're spending in REM sleep, rapid eye movement sleep, each night based on how plastic they are. And the idea is that if you're a really plastic animal, you have to spend a lot of time defending your visual system. If you're not so plastic, you don't have to do that. And by the way, infants spend a ton of time in REM sleep because their whole system is so plastic. But as you become older and older as an adult and things get more and more locked down, then you don't need as much from REM sleep. And that's exactly what we see. It falls off as you become older. 
[00:54:46] Jordan Harbinger: Interesting. So older people dream less, so less REM sleep. And to be clear, the reason this is a defense mechanism is because of what we talked about earlier in the show, which is if it's not getting used, it gets—
[00:54:58] David Eagleman:  Taken over.
[00:54:59] Jordan Harbinger: The neurons commit suicide — I forget apoptosis. Was that the word that you use? 
[00:55:02] David Eagleman: In this case, it's not that they commit suicide. It's that they get taken over by the functions of touch and hearing for example. So just like blind person, in a blind person, it's these other areas say, "Oh, look at all this territory that's available. Nothing coming in here." 
[00:55:15] So, by the way, what made me think of this originally was I saw this study that came out of some colleagues at Harvard, where it was, they took people and they blindfolded them and put them in a fMRI, brain imaging. And they found that when they were blindfolded within about an hour, you start to see activity in the visual cortex when you touch somebody or when you make a sound in their ear, you start seeing that activity. And that was totally unexpected. The speed at which that can happen. And so that's when I started thinking, "Oh my gosh, the takeover can start happening very soon where touching, hearing, or moving into unused territory." And that's why you need to defend it.
[00:55:52] Jordan Harbinger: So this is the visual cortex sort of like elbowing left and right, and saying like, "Hey, this is my seat. You guys don't and push me off this chair. The brain still needs me. The body still needs me, mind your business." And so it's doing that by flexing, right? And that flexing is you dreaming and you seeing things that look real, but are not. 
[00:56:11] David Eagleman: Exactly right. Because the occipital lobe is visual. And most people, when you throw a lot of activity in there, you see things. And it's often related to what you experienced during the day. Mostly because those are the synopses that are hot from the day and so those get tickled again. And then the brain's a great storyteller and narrator, and so you ended up coming up with some bizarre plot to explain all this.
[00:56:35] But in a blind person, a blind person has the same fundamental circuitry from the midbrain that's driving dreaming. But of course, their occipital lobe is no longer visual. It's about hearing and touch. And so the dreams of a blind person are about hearing and touch. They say, "Oh yeah, I was feeling my way around the house and all the furniture was rearranged. And then, there was a bear in the corner." It has the same level of bizarreness to it but it's, but it's all about touching and feeling and hearing. 
[00:57:01] Jordan Harbinger: That's interesting. That was my next question. Like what if you're blind and you can't actually see. So let me throw this curveball at you. All right. So if all this defense mechanism is all because the planet is dark for some multi hour portion of the day, what happens if we are on another planet or there's just, you know, human-ish life, let's say human life on another planet, where — actually, I don't even know if we needed to go that far. What if we're just really, really far north and we're not sleeping that much, do we not dream? Actually, you know, the other planet examples, actually, it's a little more interesting. What if we're on another planet that experiences daylight all the time, because it's fixed and its orbit around the sun or another star, then we just not need dreams at all we never know do it?
[00:57:43] David Eagleman:  Yeah, that's exactly right. So I address this in the book and I suggested that we dreamers might be a galactic minority because a lot of planets are tightly locked to their sun, which means the same phases, always facing the sun. And you just simply wouldn't need dreaming in those scenarios. It's only if you're in the situation where it's like, "Oh, this sense is working. Oh, it's not working anymore. Oh, it's working. Oh, it's not working." Then you need to have some defensive mechanism. And by the way, as far as people going up north and so on, it turns out that this is a very ancient sort of piece of the architecture and all animals do it. All animals have dreaming. And so, you know, even if you moved to the north and south, it doesn't matter because this is a very fundamental thing that's built into how humans operate for those of us who are earthlings.
[00:58:28] Jordan Harbinger: Is this what hallucinations are? Like, you know, those people who that do silence retreats, and they start having auditory hallucinations? Or they're in dark room for like five days because they loved torturing themselves. You know, we've had people on the show that do these like darkness retreats, where they're literally locked in some place, drinking smoothies only, you know, three times a day for seven days. They're like, "Man, you start having these visions." And I always wondered what those were. And it sounds like it's just your brain saying, "Hey, don't kill your vision. Don't encroach on my territory just because it's not being used. We don't know this might end and we might have to go out in the world again. So don't take over."
[00:59:01] David Eagleman: That's exactly right. So the general version of the defensive activation theory, includes exactly this stuff. So for example, there's something called Charles Bonnet Syndrome, where your eyes start getting worse and worse. You have less vision going through and people start having formed hallucinations. You know, they see a person, they see a dog, they see things. And it's exactly because of this fight back. When people go on solitary confinement and they start having auditory hallucinations it's because that part of the brain is saying, "Hey, what's going on? What's going on?" And it starts generating activity.
[00:59:29] There was just a paper that came out, showing that if you put somebody in a cast for two weeks and measure very carefully, what's happening in their brain. They can't use their arms at all. So that part of the brain says, "Oh, the arms aren't getting use, let's use get rid of that." But that area has these spontaneous waves of activity in it where it's like, it's saying, "Hey, I'm still here. Hey, I still want to defend myself in case I come back." 
[00:59:52] Jordan Harbinger: Is that what's happening when you have an amputated limb and it itches? 
[00:59:57] David Eagleman: Yeah. 
[00:59:57] Jordan Harbinger: I've heard this happens. 
[00:59:58] David Eagleman: You know, that's right. That's Phantom limb syndrome. There's actually a second thing that happens with it. There's a second reason for that. But yes, when people lose a limb, they often feel like they can still feel it. They feel sometimes like it's painful. Like the fist is clenched, even though it doesn't even exist anymore. It's both for reasons of spontaneous activity in that area. But also through time, it's because some parts of the brain, like the brain that coded for this hand says, "Okay, well here's the hand is not there anymore." But more downstream areas that change more slowly say, "Well, we used to think there was a hand there." And so that those areas, when they get activity still say, "Well, it might be the hand that we're getting it from," because they don't know that it's no longer there.  
[01:00:39] Jordan Harbinger: It's fascinating. There's so many interesting things about the brain that seem almost straight out of science fiction. And so, on that note with science fiction, I'm wondering, what do you think, will we ever be able to look at a brain using some kind of scanner and find out what a person was like, even if they're not with us anymore or get their memories out of somebody who's just passed away, provided their brain is preserved, obviously. I guess what I'm asking is does our personality and memory physically manifest itself on or in the brain in a physical way? 
[01:01:09] David Eagleman: It does. I mean, essentially everything about who you are and all of your memories are stored in the structure of the forest of your neurons. And so we don't know how to read that script currently, but if we figured out how to do that, which we certainly will, maybe it will be 200 years from now, well past our lifetimes, but at some point we'll figure out how to do that. And then yes, it certainly seems plausible that when somebody dies, you can keep them alive. You essentially keep them alive in a simulation. 
[01:01:35] One of the people I admired the most, a mentor of mine, Francis Crick, when I was a postdoc, you know, when he died, he got cremated and that was the end of it. That was the end of Crick. I thought, God, what a shame? I mean, he was one of the smartest biologists of the 20th century. And I thought, what a shame to just have to throw that thing out because it's all right there. We just don't know how to read stuff back out of there. Wouldn't it be great if you could have a Crick simulator where you say, " "Hey, Hey Francis, what do you think of this?" And he tells you an answer and you have a debate and so on. 
[01:02:01] Jordan Harbinger: Yeah. I guess you'd need some sort of, I guess you could like super flash freeze the brain or put it in — because if you put a brain in a liquid, right, it looks preserved to the human eye. But I would imagine, you know, those things in jars are not really exactly well-preserved on the inside. 
[01:02:17] David Eagleman: Well, exactly. The truth is in 2021, we have no idea what the important thing is to preserve. What most people think is like, "Oh, if you could just get the neurons and the connections between them, so you have what's called the connectome. Like maybe that's sufficient." We actually have no idea if that is sufficient, because maybe you need the structure on the inside of every neuron where the proteins are, where the barriers are that keep different functions apart, all the way down to the genome that I mentioned at the beginning, and the proteins on the genes themselves. And this seems at this moment in history an impossibly difficult problem but give it 300 years or something, of course, we'll be there. 
[01:02:53] Jordan Harbinger: Right. You literally need an atomic or subatomic map of the brain or at the least a molecular map of the brain, if not more. 
[01:03:02] David Eagleman: Yeah. Spatial molecular map. 
[01:03:04] Jordan Harbinger: Yeah. I don't, I guess I don't even know. Obviously, I'm out of my depth here on this one, but something that it shows all the little pieces and where they go and what direction they're aiming is what I'm trying to say, I suppose. What type of cues — we touched on this at the top of the show, but what type of cues is man taking from nature here? How has live wiring the future of computer as possibly buildings? You give some examples in the book and I think that's worth touching on. 
[01:03:26] David Eagleman: Yeah. I mean, my big interest is in how we can start building machines like this. So, you know, currently I have two companies that have spun out of my lab, but the main one that I'm working with is this company, NeoSensory, where we're working on how we can pass information to the brain. 
[01:03:40] But my next company will be about how given everything we understand about brain plasticity, how we can actually build hardware devices that change, that move and change themselves. I give examples in the book. Like, just imagine if you could have a building where, you know, the building senses that more people than normal are using the bathrooms. And so it just grows more toilets in the plumbing and so on. I mean, this sounds weird, right? Except that when nature — for example, if you form a tumor or something, you grow all kinds of new blood vessels in there. You know, nature just has these simple ways of saying, "Hey, I need more blood over here." Then you get things. Or, you know, what if you could build a building that just stands up and walk somewhere else and it goes north, but there's actually a million ways to think about machines that we could build that would actually change themselves physically. One of the examples I gave was that, when I was a kid, I grew up in New Mexico and I would always see these wolves that would get a leg caught trap. And what they would do is it would chew off their leg and then, you know, find their way back home and learn how to walk with three legs. 
[01:04:42] But if you look at something like the Mars rover Curiosity or Spirit, now it doesn't matter. But one of them got its right front wheel, stuck in the Martian soil and it died. And I thought, wouldn't it be great if it could just chew off its right front wheel and keep going and figure out how to operate with fewer wheels. But of course, it can't because NASA programmed it where, "You were going to have this many wheels always. And if you don't have that many wheels, that's totally out. We don't know what to do." But wouldn't it be great if they didn't have to do something? If it could just figure it out by changing its own hardware. 
[01:05:13] Jordan Harbinger: Yeah, that kind of problem solving is truly next level, right? I mean, I suppose — I'm trying to think of anything that does that right now, and that is not a living thing. And you're right. It's kind of hard to come up with an example. I mean, there's got to be something. Now I'm trying to think of an example. I just can't even think of anything. There's got to be something that does things along those lines, but no, really the only examples that come to mind are like squid, salamander, octopus, all of which are of course alive. So you're right. These are sort of fascinating problems that could be solved. 
[01:05:43] All right, well, riddle me, this let's leave on this note. Why does my cell phone vibrate in my pocket, even when my cell phone is on the kitchen table downstairs, what is going on here? 
[01:05:53] David Eagleman: Yeah. It's because we don't have a perfect view of what's going on in the outside world, instead we make lots of assumptions. And those assumptions have a lot to do with relevance. And so it turns out that because the ringing of your cell phone is so important to you and it's normally in your pocket, when you feel anything on your leg, that's an itch or scratch or a movement or whatever you think, "Oh, that's my cell phone vibrating," because it is relevant.
[01:06:15] So I mentioned earlier about these landscapes in the brain where, for example, you know, different sounds, he said, "Oh, that was an E sound or an A sound," or whatever. It's exactly the same thing where anything that seems even vaguely associated with the cell phone vibration becomes that. That is your interpretation because it matters. Now, if in the future we invented a second thing that you carried in your pocket that vibrated a little bit differently, then that landscape would change. And you could say, "Oh no, that was that thing. Whereas that was my phone." It all has to do with how relevance carves the landscape. And that's why you feel phantom phone vibrations.
[01:06:51] Jordan Harbinger: David Eagleman, thank you very much. Always a fascinating conversation. I really appreciate it. 
[01:06:55] David Eagleman: Great to see you, Jordan. Thank you. 
[01:06:58] Jordan Harbinger: I've got some thoughts on this one, but before I get into that, here's a sample of my interview with Amanda Knox, who was coerced into wrongfully confessing that she was at the scene of her roommate's grisly murder, without being made aware of her rights or being given access to a lawyer. Here's a quick look inside. 
[01:07:15] Amanda Knox: I was 20 years old. I was studying abroad in Italy. The day after Halloween, I came home to find a murder scene. The cops arrived. They break down my roommate's door and find her body there. And for the next five days, I was at the disposal and mercy of the police officers who unbeknownst to me. Had targeted me as a person of interest. My thought was to just take direction. I did what I was told and what I was told was by the police to come in every day for questioning. And I sat for hours and hours and hours and hours. 
[01:08:02] I often worried that maybe the reason that they were upset or short with me was because I just wasn't speaking Italian well enough. I thought that was the reason why they kept asking me questions over and over and over again. No matter how many ways I answered the same question, they never seemed happy with it. I just sort of submitted myself to what was ultimately a very coercive interrogation technique that culminated with an overnight interrogation and broke me.
[01:08:36] I was made to believe that the reason they were upset with me was because I didn't remember correctly. I realized that the truth didn't matter and that I couldn't count on the truth to save me. People believed that. I was convicted. I spent four years in prison. 
[01:09:01] Jordan Harbinger: Amanda Knox joins us to discuss how she put her life back together and how she lives with the residue of tabloid infamy even after being acquitted of this terrible crime. For more including why it's not uncommon for an innocent person to give a false confession to a skilled interrogator, check out episode 386 on The Jordan Harbinger Show. 
[01:09:22] Fascinating as always. I love talking with David Eagleman. The dude is just a freaking genius. The future is being built in that laboratory that he works in. 
[01:09:30] Brain matter is just not like hardware, right? It dynamically reallocates. Phantom pain in the amputated limbs. That stuff is interesting, right? You always hear about how people who lose a leg or an arm, that limb will itch, or it will feel numb, or it will feel pain, which is kind of awful because you can't really do anything about it. This phenomenon has always just fascinated me. The older the brain, the less flexible the reallocation and the redeployment of resources is. So it is true, that kids learn things better and possibly that is true because of their brain allocation or neuroplasticity. I'm sure you keep hearing that kids learn languages better, but then we hear that they don't. I'm not necessarily sure now, but it makes sense with the neuroplasticity and the brain relocation of resources.
[01:10:12] It also makes sense why a lot of blind people are really good at music and have perfect pitch and can use echolocation to ride a bike. You've seen that, right? If not, I'll throw a video in the show notes. There is a video of a blind man who rides a bike and he makes little like clicking sounds with his tongue and he can hear when there's a garbage can or a van on the left or the right. It just seems incredibly dangerous, frankly, but it is amazing to say the least. Also I learned that blind people can read lips and actually sense an accent, which is amazing to me. I mean, imagine reading lips and being able to say, "Oh yeah, that person looks like they're from New Zealand." I mean, I can barely tell if someone's from Australia or the UK half the time, unless I get a good sample size and this person who can't even hear can do it better than me. It's just incredible. 
[01:10:55] If we can add senses, right? Like night vision or sound vision, it seems like we'd be able to control avatars in virtual reality and have them become just as real as us. It'll be like the movie Avatar, except instead of being in a giant blue guy on another planet, we'll actually just be living in virtual reality. And that's a prediction, I've had for years and years and years. I predict that eventually we're just going to be floating in freaking tanks, controlling our avatars because you know why worry about our polluted horrible planet and the fact that you're not making nearly enough money and you're uncomfortable and not well fed, when there's literally unlimited digital resources to go around and everyone can live in a giant palace at that rate. It's a wild future. We're not there yet, obviously, but the hardware exists. 
[01:11:38] Also a little factoid I found interesting. The Clean Air Act reduced the amount of lead in the air and every country that has enacted this type of legislation has seen a drop in crime a couple of decades later, thus — and it's still sort of up for debate here, right? But the clean air act may have done more to reduce crime than just about anything in history. And the reason behind this is because lead poisons infant brain development and can result in them being lower functioning and having to resort to crime. This is the type of effect that toxins have on our brains, which take in everything from the environment, which is kind of terrifying, right? 
[01:12:14] Thanks again to David Eagleman. The book is called Livewired. We'll link to it in the show notes. Links to everything, always in the show notes here, but please use our website links. If you buy books from the guest, it does help support the show. All of that adds up. Worksheets for the episode are in the show notes. Transcripts for the episode are in the show notes. There's a video of this interview going up on our YouTube channel at jordanharbinger.com/youtube. I'm at @JordanHarbinger on both Twitter or Instagram or you can hit me on LinkedIn. 
[01:12:41] I'm teaching you how to connect with great people and manage relationships, using systems, tiny habits, the same software that I use, which by the way, is connectionfox.com. I'm teaching you all that over in our Six-Minute Networking course, the course is free. There's no upsell. You don't have to put in payment information or credit card or anything. Go to jordanharbinger.com/course. And start digging the well before you get thirsty. Build those relationships before you need them. The guests you hear on the show are also in the course, almost all of them. So come join us, you'll be in smart company where you belong. 
[01:13:11] This show is created in association with PodcastOne. My team is Jen Harbinger, Jase Sanderson, Robert Fogarty, Millie Ocampo, Ian Baird, Josh Ballard, and Gabriel Mizrahi. Remember, we rise by lifting others. The fee for the show is that you share it with friends when you find something useful or interesting. If you know somebody who's into neuroscience, the brain, superheroes and senses, and that kind of Sci-Fi stuff, definitely share this episode with them. I hope you find something that you enjoy in every episode of this show. So please do share the show with those you care about. And hell, share it with people you don't even like. In the meantime, do your best to apply what you hear on this show, so that you can live what you listen, and we'll see you next time.
Sign up to receive email updates
Enter your name and email address below and I'll send you periodic updates about the podcast.