Reading Time:
4
minutes
Scott Galloway (@profgalloway) cohosts Pivot with Kara Swisher, publishes the No Mercy/No Malice newsletter, is a professor at NYU Stern School of Business, and is the author of Post Corona: From Crisis to Opportunity.
What We Discuss with Scott Galloway:
How the pandemic has accelerated changes already in the making: it only took 40 weeks to lose the jobs that it took 20 years to create, and only eight weeks for e-commerce to experience a decade's worth of growth.
The industries most poised to thrive in the post-pandemic world.
Why it's never been easier to become a billionaire, and it's never been harder to become a millionaire.
How education will change as a result of pandemic upheaval and the technology created to match its demand — likely for the better.
How to make sure these dramatic changes work for you instead of against you.
And much more…
Like this show? Please leave us a review here — even one sentence helps! Consider including your Twitter handle so we can thank you personally!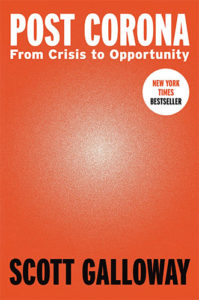 The COVID-19 pandemic has changed the world in ways we're only beginning to understand, and accelerated changes that were already in the making. In eight weeks, e-commerce grew to a point it would have otherwise taken a decade to reach. Brick and mortar retail and restaurant spaces have modified their layouts to accommodate the demand for delivery over in-person shopping and dining. Offices once loath to allow their employees the freedom of working from home discovered benefits to budgets and productivity that may have eluded them for a couple of decades had they not been forced to adapt.
Even when we achieve the goal of herd immunity from the virus and can declare the pandemic officially over, there's not going to be a return to doing things the way we did them prior to 2020 — these changes are here to stay. Our collective concept of normal has forever shifted, and those of us who want to thrive in the aftermath of the pandemic will need to heed the words of our guest Scott Galloway, author of Post Corona: From Crisis to Opportunity. Listen, learn, and enjoy!
Please Scroll Down for Featured Resources and Transcript!
Please note that some of the links on this page (books, movies, music, etc.) lead to affiliate programs for which The Jordan Harbinger Show receives compensation. It's just one of the ways we keep the lights on around here. Thank you for your support!

Sign up for Six-Minute Networking — our free networking and relationship development mini course — at jordanharbinger.com/course!
This Episode Is Sponsored By:
Paint Your Life creates custom handmade portraits from your photographs with online proofs and unlimited revisions! Right now, get 20 percent off and free shipping by texting the word JORDAN to 64000! For more info, go to paintyourlife.com.
The folks at BiOptimizers understand why you're skeptical about probiotics as a way to increase your digestive and gut health. But without sharing TMI, we can confirm its patented P3-OM superstrain actually does what it's supposed to do! Curious? Go to bioptimizers.com/jordan and enter code JORDAN10 for 10 percent off your order!
LifeLock gives you all-in-one protection for your identity, devices, and online privacy; there's a victim every three seconds, so don't become one of them. Save up to 25% off your first year of LifeLock at lifelock.com/jordan!
Great protection. Fair prices. Easy to use. SimpliSafe is the right way to protect your home at half the size and double the range — go to SimpliSafe.com/jordan to learn more!
Miss our two-part conversation with ex-Al-Qaeda spy Aimen Dean? Catch up by starting with episode 383: Aimen Dean | Nine Lives of a Spy Inside Al-Qaeda Part One here!
THANKS, SCOTT GALLOWAY!
If you enjoyed this session with Scott Galloway, let him know by clicking on the link below and sending him a quick shout out at Twitter:
Click here to thank Scott Galloway at Twitter!
Click here to let Jordan know about your number one takeaway from this episode!
And if you want us to answer your questions on one of our upcoming weekly Feedback Friday episodes, drop us a line at friday@jordanharbinger.com.
Resources from This Episode:
Transcript for Scott Galloway | From Crisis to Opportunity Post Corona (Episode 473)
Jordan Harbinger: Coming up on The Jordan Harbinger Show. 
[00:00:02] Scott Galloway: I think a decent exercise for any company in any individual is look at the three biggest trends in your industry, look at the three biggest trends in your life, and take them out 10 years. If you're struggling with mental illness or you have signs of early mental illness, I think the pandemic has accelerated that trend 10 years. I think if you're in bad shape and you're not eating well, or you're drinking a little bit more, or you started drinking a little bit more, becoming a little bit more, you know, that one glass of wine has turned into two glasses of wine. I think if your relationship is unhealthy, take everything out 10 years and say, "Sh*t, am I here right now?" The accelerant component of this pandemic is remarkable. Just remarkable what it's done. And almost every trend in every industry, the slope, whether it's up or down, has just increased dramatically.
[00:00:47] Jordan Harbinger: Welcome to the show. I'm Jordan Harbinger. On The Jordan Harbinger Show, we decode the stories, secrets, and skills of the world's most fascinating people. We have in-depth conversations with people at the top of their game, astronauts and entrepreneurs, spies and psychologists, even the occasional journalist turned poker champion, former cult member, or rocket scientist. Each episode turns our guests' wisdom into practical advice that you can use to build a deeper understanding of how the world works and become a better critical thinker. 
[00:01:15] If you're new to the show or you're looking for a handy way to tell your friends about it, we now have the episodes starter packs. These are collections of your favorite episodes, organized by popular topics to help new listeners get a taste of everything we do here on this show. Just visit jordanharbinger.com/start to get started or to help somebody else get started. That's always appreciated. That's how we grow. So I'm counting on you. Spread the word here, folks. 
[00:01:39] Today, Professor Scott Galloway returns to the show, by popular demand. He was on the show a few years back, laying down some real talk about job skills, career moves, and what it takes to become a part of the one percent here in the United States, as well as stay a happy/sane person while doing it. Or at least the top 10 percent, they don't quite get to the one percent, we get to the top 10. Are we all right with that? Today, we're still bringing that timely yet timeless wisdom and focusing on what the world and the workplace will look like post COVID, post pandemic here. 
[00:02:10] During the pandemic, lower earners got laid off at huge rates. Only 13 percent of earners over a hundred thousand dollars a year got laid off. So really, as Scott says on the show, if you're in that top 10 percent, that one percent, you're living your best life right now. It took 20 years to create the jobs we lost in 40 weeks in 2020, and many folks in Gen Z are moved back in with their parents. Lower income folks, fighting our wars. They are more likely to get COVID because they're in service jobs, et cetera. And now whether the United States is headed for a Hunger Games future or something brighter depends on the path we take now. It's never been easier to become a billionaire and it's never been harder to become a millionaire. There's something wrong with that, right? 
[00:02:50] Today's a sobering discussion about the wealth gap, the education gap, and what it's going to take for our country and for you as listeners to make sure you are on the winning side of this thing. You will enjoy this episode as Scott Galloway is consistently popular here on the show. I had a blast with this one. 
[00:03:06] And if you're wondering how I managed to book all of these great thinkers and creators, authors every single week, it's all about the network. I'm teaching you how to build your network for free over at jordanharbinger.com/course. I'll get you in that top one percent of networkers, at least. And by the way, most of the guests on the show, they subscribe to the course, they contribute to the course. Come join us, you'll be in smart company where you belong now. Here's Scott Galloway.
[00:03:32] So we did our previous couple of shows or previous show back in 2019. And back then, you and I were talking about the future of work and do you need to move in order to get to the right place to do work. And the pandemic, Coronavirus — I want to be specific Coronavirus because who knows by the time people are listening to this, they'll be like, "Which pandemic?" Hopefully not. But the Coronavirus pandemic changed a hell of a lot since you wrote The Algebra of Happiness, which was early 2019, I think, if memory serves. 
[00:04:02] Scott Galloway: Yeah, that's about right. 
[00:04:03] Jordan Harbinger: You mentioned that the pandemic will accelerate changes already in the making.
[00:04:07] Scott Galloway: Yeah. 
[00:04:08] Jordan Harbinger: And the first example in the book is that e-commerce has grown a decade in eight weeks and it won't go backwards. That is believable, but also interesting that you don't think people are just going to jump back to shopping. And I'm curious why — because I personally hate shopping, so I'm like the worst data point for this. You know, I I've been buying things online since they were selling things online and I plan to do only that, but I don't know if everyone's like that.
[00:04:32] Scott Galloway: Yeah. So first off, COVID-19 is kind of enduring feature will be as an accelerant, not a change agent. Not a whole lot has changed, it's just dramatically accelerated. So you mentioned e-commerce, but there's others home delivery of grocery was accelerating. It leapt six years. The number of people between the age of 18 and 30, living at home with their parents has been increasing. It's leapt forward a decade. Work from home leapt for 20 years. Government spending has increased 24 years and hopefully it'll come back. We won't need the kind of stimulus and we can't afford the kind of stimulus. We've been pumping into the economy. 
[00:05:07] It's an interesting exercise. Take the three biggest trends in your business. I think it's an awesome thing, it's interesting to take the three biggest trends in your personal life and look at the slope of the trajectory of the change. And then take that the same slope in that line out a decade and ask yourself, "Are we here now? And are we, am I personally and professionally prepared for this?"
[00:05:27] There's also some really unfortunate things. Our economy has gone from a dysfunctional economy to a dystopian economy. We knew there was an income inequality. It has massively accelerated. If Tesla was doing well and stock was performing. Now, it's up 800 percent. Companies that were seen as winners are now Uber winners. Companies that were struggling have been kicked in the gut repeatedly.
[00:05:48] So this thing is really, it really is an accelerant. As it relates to e-commerce, I think you might see a sugar high surge once we get to herd immunity back to physical stores. But stores are totally reconfiguring. I'm going on the board at Panera Bread. Do you know Panera? 
[00:06:03] Jordan Harbinger: I do. Yeah, I usually never order anything with bread there, but yeah, I know the place.
[00:06:07] Scott Galloway: Yeah. So they're reconfiguring through the pandemic. 85 percent of their business now is off premise. I mean, click and collect or delivery or catering or people who ordered online, whatever it might be. And they are reconfiguring their store footprint, reconfiguring their supply chain, their competencies, their capital investments. And sure, it'll go back. More people will be in the cafes once it's safe to be back in the cafes. It really is a tectonic shift and people have adopted new consumer behaviors. 
[00:06:35] You're going to see — think about this Jordan. 99 percent of the people who contracted, endured, and developed antibodies to the novel Coronavirus likely, never stepped into a doctor's office, much less a hospital. So you have potentially a life-threatening illness or something that can evolve into a life-threatening illness. And the vast majority of people never went to the doctor's office. And so what has this done? It's gotten us used to the notion that healthcare can be delivered to a certain extent over our smartphone, over speaker, over a phone, through a remote pulse oxygenate or whatever. It's the thing that you put on your finger. 
[00:07:07] Jordan Harbinger: Yeah, the blood oxygen meter, the little finger laser. I don't really know exactly. Yeah. 
[00:07:12] Scott Galloway: Whatever it is, that thing you put on your finger. And so that has changed. Consumer behaviors has changed so dramatically and our business — do you speak, do you get paid to speak?
[00:07:21] Jordan Harbinger: Yeah, I do. I don't market myself that much as such, but yeah, like once a month I'll do some sort of paid speaking gig — well, actually, no, sorry, every week, but usually they're smaller engagements and then a big engagement maybe every month. But I'm digging the Zoom, the paid Zoom talk. I'll tell you that. 
[00:07:37] Scott Galloway: Well, that's exactly right, so what's changed there. So I do a lot of that and I either charge a crazy amount of money or I charge zero. It's a nonprofit and I try and keep an equivalent amount. Anyways, it was enough virtue signaling. But basically, you write books in it and the way you monetize books is through speaking. And a year ago, I used to get paid X and I get on a plane to go to the Radisson, Phoenician in Scottsdale, Arizona. And it would take me two days. I get there the night before. In the morning, the CEO of the company, or somebody would want to have breakfast. You go get miced, you do your thing. You'd go back to the airport. Your flight is canceled. It's a day and a half tour if you will. Nobody would pay you to do a remote speaking engagement. They just wouldn't. Or I didn't have any of the market.
[00:08:19] Now, I only get 0.5X. The cost you can charge has come way down. But I literally go into my studio. I have a tech guy and it's about an hour and a half total. So my total revenue and because the costs have come down 50 percent, the elasticity has kicked in and there's much greater demand to a certain extent as a metaphor for what's going on in the economy. There's been a dispersion of the value. People have realized, okay, let's go find who we think is the appropriate speaker of our event. And if he or she lives in Delray, Florida, and we're having an event in Sydney, it's the friction and the costs there are no longer as prohibited. And it used to cost us three or four X if he or she would do it. Now, it costs a fraction of that in terms of friction, economic costs. 
[00:08:59] And so the best speakers or the people who are in the most demand, their revenues have gone up two or three fold because their demand has gone up six to eight fold, because they're charging half as much. Whereas the tier 2 players are getting crushed. So there's kind of a flight to quality and increased consolidation, a dispersion of value, but you're seeing HQ be dispersed. Work from home was a big trend and it was growing four to six percent a year. It's accelerated a decade. 
[00:09:25] The building I used to work in and then later shut, the 1251 Avenue of America was my first job, 51st and 6th Avenue. 
[00:09:31] Jordan Harbinger: Oh wait, I used to work in there. Wait, is that the McGraw-Hill building or is that—? 
[00:09:35] Scott Galloway: That's exactly right.
[00:09:35] Jordan Harbinger: Yeah. I used to work in there. 
[00:09:37] Scott Galloway: It used to be the Exxon building, but anyways, that just tells you what's happened to the world. Pretty soon, it will be the Google building. But anyways, they track how many people are in the building for security purposes. And on an average weekday, there's 8,500 people in the building. It's now averaging 500. And that's going to come back, but it's not coming back to 8,500 and people tend to talk in binary terms as from either going to work traditionally or all from home. And know it's going to be in between. They're going to be a lot more comfortable with somebody saying, "You know what? I can't afford to live close to headquarters in Manhattan. I have to commute an hour and a half each way. Is it cool if I work from home Thursday and Friday." Or, "I have my kid on Fridays, my kid gets out of school early on noon. Is it okay if I work from home on Friday?" And your superiors, your colleagues, your boss, and yourself are going to be much more comfortable with spending a lot more time at home. 
[00:10:22] So what are you going to see? You're going to see the $12 trillion-dollar asset class, which is commercial real estate, basically office buildings, leak a ton of value to residential. So you're going to see office rates decline in value, and you're going to see everything from lumber prices to residential housing prices, to Sonos, to Sub-Zero, to Williams-Sonoma, to restoration hardware, absolutely skyrocket. So we're seeing just an acceleration of current trends in what I'd call a re-shuffling of stakeholder value. 
[00:10:47] Jordan Harbinger: When we talked about The Algebra of Happiness, we were talking about income and salaries. And you'd said one of the most important things people can do is move to cities. And I'm assuming, or I'm wondering, I guess I should say, has that opinion changed?
[00:11:00] Scott Galloway: Okay. So broad brush, no. The depth of cities has been greatly exaggerated and that is cities are still a fantastic place to bump off of people to make connections, to meet the most creative people in the world, to find a mate. It's the place where the most talented people spend their youth typically, typically not always, but typically. And I always say to young people, get to a city before you have dogs and a spouse, because that stuff gets very expensive and it's hard to stay in a city. But if you look at some of the most forward leaning companies in the world, whether it's Amazon or Google or Facebook, they're actually increasing the amount of space they're leasing in New York, because I think the secret sauce for most what I'll call information economy firms is their ability to attract the best and brightest, young people.
[00:11:43] The dirty secret, I think of companies is that the highest ROI asset in the company isn't an investment in organic intelligence or even lobbying or technology. The highest ROI you get on any investment is if you can attract a really talented 25-year-old, because you can pay them 80 grand, they work around the clock. They're super smart and they're 80 percent is good is the 40-year-old VP, you're paying a quarter of a million dollars. So show me your six, an average, half dozen people under the age of 30 in your company. And I'll tell you how the company is doing. So the key is to attract that best human capital or that best asset class.
[00:12:18] And 25-year-olds, if you can build what Google and Facebook are building, which is effectively Xanadu in New York, London, Sydney, the best cities in the world. And you say to a 24-year-old doubly from MIT, "Hey, would you like to come hang out in New York for two or three years? And we'll get you an apartment, concierge service. You can bring your dog to work. We have beer blasts at noon. We have free lunch, and you get to see Malcolm Gladwell speak. They just don't say no. And also just the efficiency of being in a city. So bottom line is I'm very, very bullish on cities. 
[00:12:47] Now, there are some situations. Cities are like a product. San Francisco is a product that is expensive, but bad. It's just priced itself. It's a poorly run city. You see homeless veterans on the street that are severely, mentally ill, it is really rattling and the taxes are incredibly high. I mean, it's expensive but bad would be the way to categorize it. There's a huge migration more generally that can be just described as sunshine and low taxes. Texas and Florida are just sucking the wealth, if you will, or people who are mobile out of California and the Northeast. So San Francisco's going to suffer, but they're not leaving San Francisco to move to Modesto or to move to Bend, Oregon. They're moving to Austin or they're moving to Miami. So I always say to young people, get certified and get to a city. Because certification is the way you communicate, that you have skills. It's a LinkedIn world, and people want to evaluate you digitally before you even have an opportunity to prove yourself in 3D and organically. And unfortunately, certification is still incredibly important in our society. And the second thing is, get to a city because when you're in a city, you're playing tennis against the best players in the world. And when you play against someone better than you, your game just naturally rises. 
[00:13:55] Jordan Harbinger: You know, I find that to be true in business as well. Someone said like, "Jordan, you've really improved in the last few years to what do you attribute this?" Or they'll say, "Hey, the show's really grown or the topics have really evolved," whatever it is, whether it's a compliment or something along those lines, I can never say, "Well, I've worked a lot on my XYZ." It's always, "Well, you know, I noticed that the podcast's base was getting really crowded and some really good people are coming in. You got Scott Galloway with his 10 different podcasts."
[00:14:21] Scott Galloway:  Go on! 
[00:14:22] Jordan Harbinger: I have to compete with that. I didn't think before that I was resting on it, any laurels or being lazy or anything like that. And I still don't think I was, but there's just something about looking at somebody who's either nipping at your heels — not that you're doing that, or is just ahead of you or is farther ahead of you than you could ever be like Joe Rogan and you go, "Well, hell if that's the potential of this niche, I might not get to Joe Rogan, cash me out for $200 million on Spotify, but I should be doing a little bit more than I am now. And if I don't then this 25-year-old, who's kind of just behind me, but has the right idea. He's going to lap me and I'm going to wake up one day and be like, what happened to my spot?" So I can see that happening. If that's happening digitally, it's definitely happening when the guys in the office next to you, or the girls a floor below you and is working on a project and she's the boss, right? That's a wake-up call that you can't get by just sort of imagining that it exists. You kind of have to be faced with it. 
[00:15:15] Scott Galloway: Yeah, look, competition is the basis of evolutionary progress and it's the basis or one of the keys to capitalism. And unfortunately I think, and this is bridging into a different topic, but I think a lot of companies get to a point where they spend the majority of their innovation or kind of senior leadership focusing on maintaining their monopoly, so they don't have to compete, instead of the marketplace coming in or regulars coming in, forcing them to compete such that they innovate. 
[00:15:39] The competition, whether its lions fighting over a certain region of the plains — I just came back from Safari, so I'm thinking about animals — but competition is an incredible unlock for value, pretty basic. And now cities are competing. It'll be interesting to see what happens to different states. I think there's going to be a budget crisis in California, New York, Illinois. I can personally name, gosh, tens of millions of dollars in tax revenue that New York has lost to Florida. So it's going to be super interesting what happens. 
[00:16:11] Jordan Harbinger: Yeah, I do worry about that as somebody who lives in California and is building a house. You know we have so many people that come and rent from us or rent from our family, neighbors, whatever, because they work at, I don't even know, Hewlett-Packard or whatever it is or Oracle, maybe Oracle's up in the city, but companies like that, Apple, especially around here in San Jose. And I'm like, "Oh geez, if all of these people are leaving, who's going to come and replace them. Is it going to affect the property values?" It's kind of hard to tell because you still do have tons of people coming into work in Silicon Valley. But if there's enough of a drain and a bunch of these companies end up moving to Austin or Miami, it's definitely going to take a toll. I don't think the place is going to die or anything because you'll just end up with younger people, but younger people don't have $8,000 a month to spend on rent. They just don't. That's what Hewlett-Packard employees have to spend. 
[00:16:59] Scott Galloway: So I'm bearish over kind of what I'll call the medium term for San Francisco, but San Francisco still has this incredible culture. It's arguably the most beautiful city in the United States, and there's some very big prosperous companies that are still going to stay there. Apple is not moving. Google is not moving. Facebook is not moving. Salesforce as far as I know doesn't have any plans to move. What I do think you'll see though, I think a city like New York and I'm biased — I went to graduate school in San Francisco and lived there for a decade, but I lived in New York for a decade. I think New York is going to bounce back faster because I think the city is better run, even though our mayor right now is a bit of a disaster, but it is an incredible place and exceptionally efficient.
[00:17:39] But what this kind of creative destruction, if you will, is good for people, your generation, because if all of a sudden New York real estate in Brooklyn, quote, unquote crashes from 1500 bucks, a square foot, 800. That's not the worst thing in the world. Sure, the people that own Brooklyn real estate get hurt right now. But the collective approach to this, and it's a dangerous mentality, and I feel this is kind of the motive behind everything we do, including the stimulus, the media. Everybody talks about the tragedy of capital destruction and the reality is — the reason I'm financially secure is because in 2008, the markets crashed and I was able to buy Apple at 120 bucks a share instead of 500. And now it's at 3000. So market correction or market crashes are obviously damaging to the people who own the assets, specifically older people, but they're also a huge opportunity for younger people. 
[00:18:28] So when that restaurant goes out of business, that for some reason we've fallen in love with, and have issued $750 billion in PPE to keep the restaurants open. If that restaurant goes out of business, that means that the space goes down in value. And then a 26-year-old graduate of the Culinary Academy from Sonoma can pursue her dream of opening a restaurant. So capitalism and a transfer of wealth or an evolution of wealth or opportunity for young people, one of the keys to that is you have to let the winds of creative destruction blow. And America right now is really all about economically, fiscally the media — it's all about one thing. It used to be about helping younger people get rich. Now, it's about keeping older, rich people, rich or richer. 
[00:19:12] And if you look at people under the age of 40, their total percentage of the wealth in the United States has fallen from 19 percent to nine percent in the last 40 years or 30 years. It's no wonder the young people are just pissed off. For the first time in our nation's history, a 30-year-old isn't doing as well as his or her parents were at 30. And when that breaks down, that's kind of the basis of the compact in our society. If I play by the rules, if I work hard, if I'm a good citizen, if I'm a good person, then I'm going to do better than my parents. That's just sort of the basic deal you have with a society. And when that breaks down, there's just a ton of shame. The parents are ashamed and embarrassed. The kid is ashamed and embarrassed, and that is happening all across America. And it's manifesting itself or that rage and that shame is manifesting in very strange ways.
[00:20:05] Jordan Harbinger: You're listening to The Jordan Harbinger Show with our guest Scott Galloway. We'll be right back. 
[00:20:10] This episode is sponsored in part by Paint Your Life. I saw this paintyourlife.com and I thought this is a great idea. They can make an oil painting hand-painted out of any photo. I thought this was going to be super expensive. The paintings are really affordable. The quality is really amazing. They really can nail any photo that you send them. They can paint your pets. They can paint you. They can paint your family. You can choose the artists that you want. The size of the canvas. Oil, it doesn't have to be an oil painting. It's just that I got an oil painting. It's charcoal, watercolor, anything you want, and they can send you a progress video so you can watch them. What's that like fast motion video of them painting it, and you can have them do revisions. I had them add a little stubble because I looked like I was airbrushed and I wanted to, they look more like my normal unshaven self. So if you want to give a truly me meaningful gift, try paintyourlife.com. It's really easy. You get a hand painted portrait in about three weeks. I got my proof two days after the order and it took us only a couple of weeks to receive it. There's a world-class artist team. Every detail is perfect. It's really amazing watching the video of them painting this. So do it for yourself, your kids, your family, a place, a pet. You can combine photos into one painting. It makes a really cool gift. 
[00:21:19] Jen Harbinger: At paintyourlife.com, there is no risk. If you don't love the final painting, your money is refunded, guaranteed. And right now, as a limited time offer, get 20 percent off your painting. That's right. 20 percent off and free shipping. To get the special offer, text the word JORDAN to 64-000. That's JORDAN to 64-000. Text J-O-R-D-A-N to 64-000. Paint Your Life, celebrate the moments that matter most. 
[00:21:45] Jordan Harbinger: This episode is also sponsored by BiOptimizers. Have you had bad gas lately? I know it's an awkward topic, but the only reason I bring it up is because bad gas is a sign that you have undigested food fermenting in your gut. This is occasionally a problem for all of us. You can ask, ask your significant other. I'm sure they'll confirm this. So I wanted to tell you about P3-OM. You've heard me talk about this before. It's a patented probiotic that eats up excess sugar, eliminates bad bacteria in your gut, helps protect your gut from inflammation viruses. So you have less gas and you're on your way to a stronger immune system. I've mentioned this before and how you can see the results and that's all the detail I'm going to get into there. But P3-OM is different from other probiotics because it survives the gastrointestinal tract goes through your whole body, well, your whole GI to support both your gut and your immune response.
[00:22:32] Jen Harbinger: You can get 10 percent off P3-OM right now, by going to bioptimizers.com/jordan and typing the coupon code JORDAN10. And if you order it and it's not everything you hope for, their support team will give you all your money back. No questions asked. Just visit B-I-O-P-T-I-M-I-Z-E-R-S.com/jordan to get a 10 percent discount with coupon code JORDAN10.
[00:22:54] Jordan Harbinger: Now, back to Scott Galloway on The Jordan Harbinger Show. 
[00:22:59] I get letters all the time from people that say like, "Hey, what am I doing wrong? How can I get ahead? I'm a doctor and I have two roommates and I drive a Prius, but I have, you know, $300,000 in debt from medical school because I'm," I don't know, you know, "Some kind of specialty that required that amount of education. And it's going to take me another 11 years to pay it at the current rate." But the guy is like 37—
[00:23:22] Scott Galloway: Right. 
[00:23:23] Jordan Harbinger: You know, he's not going to really be making that much money and be in the black until he's pushing 50. And he's like, "Then what I got to work and then I'm going to start saving for retirement. Like I'm screwed. What do I do?" And it's kind of depressing because that's a doctor. It's not somebody who just got out of prison and lost 10 years of their life. It's not somebody who had a career jaunt that was unsuccessful. And the concentration doesn't exist anymore, or isn't a value anymore or got automated away. He's a freaking doctor. That scares me to see things like that. 
[00:23:57] Scott Galloway: So he'll be fine. But I generally find with doctors is they anchor off the high point, usually a lot of times something like 50 percent of dentists, their dads are dentists. So I think a lot of doctors, their parents are doctors. And everybody in their profession anchors off to the salad days. So doctors remember in the 1980s, doctors got to work three or four days a week and had the biggest house on the block. That's no longer the case. But your buddy, your friend is going to be just fine. Those skills are still really in demand. Always going to make a good living if not a great living.
[00:24:26] The person I'm most worried about is the 25-year-old, that maybe didn't get accepted into a great school because great schools are now drunk on luxury and brag about turning away 80, 85, 90 percent of their applicants, which in my mind is just totally morally corrupt. That's tantamount to the head of a housing shelter, bragging that he or she turned away 90 percent of the people that showed up last night. They end up at a second- tier school. We've exploded tuition. We have a cartel, cartel pricing. So you're paying for a Mercedes. You're paying a Mercedes price for a Hyundai. They had to put a lot of student debt, not the same prestige or certification they would have gotten at the school that I was able to get into. When I applied to UCLA, the administrator was 60 percent. Now, it's 12 percent. 
[00:25:05] So that means someone much better than me cannot get into UCLA today. They end up with a lot of debt. They end up in a pandemic where they don't have the opportunity to pursue job opportunities. Their rent, as a percentage of their income is higher. Their taxes, as a percentage of their income is higher. Their education has exploded. To put it simply, our nation has said to everyone under the age of 40, "F*ck you. I want mine. I'm rich. I want to stay rich." 
[00:25:32] And if you look at tax policy, why do I get to write off the interest on the loan against my house? Who owns houses? Old rich people. Who rents? Young people. Oh, but we've decided my payment on my house is tax deductible. Capital gains is 20 percent versus 38 percent for the top income group. So if some 28-year-old is killing it and making a hundred grand a year working his or her ass off selling homes or selling cars, he or she pays a 37 percent tax rate. But when I sell stocks, I pay 20 or 23 percent. Who owns assets? Older, rich people.
[00:26:07] Jordan Harbinger: Yeah. 
[00:26:07] Scott Galloway: Who makes money through sweat? Younger people. Everything we do is nothing but a subtle transfer of wealth from young people to old people. The biggest social programs in America, social security, trillion dollars. Who is the wealthiest cohort in America? Seniors. And social security is a fantastic program. It took senior poverty from 38 percent down to 11 percent. But shouldn't it be targeted, for God's sake? And you want to talk about a cohort that has been set back by the pandemic. The number of women in the workplace has regressed 30 years. We've taken women back to the 80s because when you have remote learning — we've essentially dispersed learning to the home with remote learning because a lot of schools are closed. And it's sexist to say, but it's true, it falls on the mom. It's the mom sitting next to the eight-year-old trying to get him or her through their math class on a goddamn iPad, and keep them—
[00:26:57] Jordan Harbinger: Yeah. 
[00:26:58] Scott Galloway: Keep them engaged and make sure they don't come off the rails. So the mom stays at home. And what if you're a single mom, you got to leave the workforce and what happens when you need to go back to the workforce? So there's actually this wonderful movement called Marshall Plan for Moms being run by the woman who started a girls who code. And I think it's a fantastic idea, but everything we didn't like about our society — income inequality, systemic racism, poor health of the poor — all of these things have gone from rashes to full blown, flesh, eating diseases. There's huge opportunities coming out of this. But we really have to take a hard look in the mirror. And unfortunately, because we're all segregating into our homes, we're all dispersing into our homes and the cousin of dispersion is segregation. And when we're not commuting to work, Jordan, we don't see the homeless bed on the off ramp. When we're not going into restaurants, we don't see the single mom bringing us our food, working her ass off. Yeah. When we're not at movie theaters or malls, we don't see people from different ethnicities and demographic groups. 
[00:27:58] And the research shows when you don't interact with people from other demographic backgrounds, when that population starts growing, you resent them. Whereas when you go to school with them, when you're interact with them, when you're at the water cooler with them at work, you empathize with them. And so I worry, we're headed to a very dark place in this society. There's so much rage, so much divisiveness and as a society and as an economy, we've decided that collectively — our job isn't to give everyone a shot at being in the top one percent, it feels like our collective job has become, how do we turn the one percent into billionaires? How do we take the children of rich people — and freakishly remarkable people and they're out there and turn them into billionaires? 
[00:28:38] And I feel as if just in general, we need to fall back in love with the unremarkable. So I don't know about you. I was unremarkable growing up. 
[00:28:46] Jordan Harbinger: Tell me about it. 
[00:28:47] Scott Galloway: I don't say that as a humble brag. I didn't have good grades, but I didn't test well either. But the University of California said, "You're a native son of California, single immigrant mother, lived and died as secretary, we're going to give you a shot." And I rewarded them with a GPA at a UCLA of 2.27. That's how I said, thank you. And then, you know what happened? Berkeley led me into graduate school. Can you believe that? And then I got my sh*t together at about the age of 27 and I've done okay. But I wasn't some freakishly remarkable kid at 17 that had built wells in Africa and had a pharmaceutical patent and was the captain of the lacrosse team because that's what you got to be right now—
[00:29:20] Jordan Harbinger: I know.  
[00:29:21] Scott Galloway: —to get into UCLA.
[00:29:22] Jordan Harbinger: It's crazy. I remember I got wait-listed at Michigan. I ended up sort of finagling my way almost into law school. I was under-qualified and back then, that was kind of a miracle. And now, it just doesn't even seem to happen. I looked at the scores when I applied in 2004 to law school, I should say, they were insanely high for the University of Michigan. I got into a bunch of different law schools, not that one. And like I said, I ended up going to Michigan after all, but now I look at it and I go, "Holy—" You really do have to be like the president of the young Republicans and a foreign exchange student and the captain of the, like you said, the lacrosse team, and you also have to have your own non-profit that you registered some point in middle school funded by the sticker company that you founded in third grade, or you just have no chance in hell of even being remotely considered for something like this, which is a shame because, again like you, I look back at myself as a late bloomer, maybe you could call it and not knowing that I was cut out to run my own business and just thinking I was this unemployable kind of turd and not being totally convinced that today that's not necessarily the case. But like there's so many people out there who are never even going to get a chance because the only school they got into is like Dunkin' Donuts university in rural Michigan. And they either don't want to, or can't get there or something along those lines. And it still costs $20,000 a year. 
[00:30:48] Scott Galloway: Yeah. So people brag. How many times do you hear, "I could never get into the school I went to, if I applied now"? And they say that with a little—
[00:30:54] Jordan Harbinger: All the time. 
[00:30:54] Scott Galloway: —twinkle in their eye and they're kind of proud of it. And guess what? That means your kid isn't getting in. 
[00:30:58] Jordan Harbinger: Yeah. 
[00:30:58] Scott Galloway: And decreasing admissions rates are again, nothing but a transfer of wealth from the poor to the rich and the young to the old. Because in our society, education is still a fantastic upward lubricant. And right now, because admissions rates have gone from 60 percent down to 12 percent at UCLA and had a subsequent decline at almost every prestigious university, we take in two cohorts. One, the children of rich people who can access the industrial test complex, have fantastic resources to get them through school. Maybe know somebody who can nudge somebody. I see it happening to me. Most of my friends do really well. I can write them letters of rec. You see how it happens one nudge at a time. When I was applying to school, my mom didn't know anybody — anyways, and then two, the other cohort that helps us smear Vaseline over the lens of what is turned from a meritocracy to a caste system is we let in these freakishly remarkable kids from middle- and lower-income schools. And there's some good stories here.
[00:31:54] If you're an amazing kid from the inner city, Harvard will find you and you can find Harvard, but most of us aren't remarkable. And I feel as if in general, we need schools and I'm part of the problem. The head of the Harvard admissions says we could have doubled our freshmen class and not sacrifice any quality. And the question is, well, when you have an endowment, that's the GDP of El Salvador. Why aren't you, boss? So I believe that universities who are growing their endowment faster than they're growing their admissions or growing their freshmen seats, I think they should be taxed as private enterprises. They're no longer educators, they're hedge funds, educating the children of their investors. 
[00:32:30] So we've lost the script and education, I believe. I think our tax policy is totally bass-ackwards and is asking up and coming middle-class kids to support the already rich. This stimulus package, I think, was cloud cover to basically transfer more wealth from the poor to the rich. We throw some loaves and some circuses at the poor. Unemployment insurance, it's really important. Food banks, really important. But four out of five people say, they're not going to spend their stimulus check, which means— 
[00:32:58] Jordan Harbinger: They don't need it. 
[00:32:59] Scott Galloway: They don't need it. So what do they do with that money? They put it in the bank or they put it in the market. So we have record low interest rates. We have money going into the market. So the stock market has skyrocketed record highs, residential real estate, because interest rates are so low has skyrocketed, record highs. And Jordan, who owns 90 percent, by gross dollar volume, of the residential real estate and stocks in the US?
[00:33:21] Jordan Harbinger: Yeah, it's going to be the one percent. 
[00:33:22] Scott Galloway: The top one percent. 
[00:33:23] Jordan Harbinger: Yeah. 
[00:33:24] Scott Galloway: So we have just created this upward spiral of income inequality, and basically said — and by the way, even worse, it's financed with debt. So we basically said to the young and the unborn, "You know what, we're going to max out your credit card so we can have not only just a champagne party, but we want a champagne and cocaine party." This is not sustainable. And you're seeing it manifest itself in all sorts of ways whenever we reach these levels of income inequality. The good news is they self-correct. The bad news is the mechanisms for self-correction are war revolution or famine.
[00:33:55] Jordan Harbinger: Sure. 
[00:33:56] Scott Galloway: Pestilence is a form of famine. We have that. I think we're in the Mister evolution. I can't get over. I've been fascinated by this GameStop phenomena. And I've been talking to a lot of young people, most of them pissed off at me on the comments I made around it, and I just can't get over the rage. And I'm like, your rage is justified but you're being heavy handed with the wrong people. There isn't a conspiracy in the markets. It's worse than that. There's a conspiracy across our entire country. The average billionaire speaks to his or her senator every month. 
[00:34:23] Jordan Harbinger: That's crazy. 
[00:34:23] Scott Galloway: Every month, once a month. There are something like 17 billionaires in Maine or something. And on average, they speak to their two senators in Maine once a month. So what do you know? They're not bad people but basically, the only 400 families were responsible for 50 percent of the political contributions in the presidential campaign. And then they speedball their influence with PACS, think tanks. A small number of families, very wealthy families basically own the biggest media properties. So slowly but surely, we've ended up with a series of policies that really help the rich, whether it's lower estate taxes, lower taxes on capital gains, everything. I mean, people say, well, the game is rigged. It's actually, it's not rigged. It's tilted. And the opportunities I had were much greater than the opportunities you have and the opportunities you have are even greater still than the 22 or the 25-year-old, trying to get their piece of the action. And I can literally hear these kids or young adults, you can hear them screaming out, saying like, "Boss, I want my chance too." 
[00:35:23] The economy in the US has rocketed forward in the last 30 years. Incredible prosperity? No progress, no progress. Corporate profits at all-time highs. Stocks at all-time highs, really strong or decent GDP growth. The billionaires in the United States in the last 10 years have gone from 1.9 trillion to 4 trillion. Federal minimum wage in that same period has gone from $7.25 an hour to $7.25 an hour. This didn't happen by accident. We have weaponized our government, the shareholder class and old people, older people control the government. And quite frankly, it's now getting to a point of self-preservation. When Jamie Dimon and Jeff Bezos talk about things like UBI, maybe they're being thoughtful and generous. I think it's self-preservation. At some point, at some point, the guillotines are coming out. I mean, this is getting — I knew there was rage out there. I didn't understand how much rage there is. And as I listened to these young men and women, there's just no getting around it. It's justified. 
[00:36:23] Jordan Harbinger: Well, yeah, we're having our cocaine and champagne party, right? It's a lot of fun and they're out shopping for pitchforks or sharpening their existing pitchforks and rightfully so — my connection now, that I've never had a commute here is looking in my Feedback Friday, the advice shows, the inbox and there are people that are younger than me, you know, by quite a bit they're in their 20s. They're way more talented than I was in my 20s. They're much more responsible at the very least. And they're trying to get jobs that don't necessarily even guarantee that they're not going to have to hit the food bank during the summer months.
[00:36:58] If you're a public-school teacher right now, you're making enough money to maybe not have to go and get free food. And I know this, I'm not exaggerating, right? I'm sure you've noticed there are public school teachers that have to supplement their income by essentially going for donations from places like food banks and things like that in order to feed their kids and family, which is absolutely ridiculous. These are people with full-time jobs in college education. They should not have to do that now. No, it's not everywhere, but it just doesn't make any sense for somebody, for someone like me to make 10 times or 15 times as much as a teacher, right? It just doesn't make any sense. 
[00:37:34] And I think a lot of people in your shoes and my shoes, we think, "Well, this is great. It's kind of working out for me," but I never cared about being wealthy at all, growing up. I didn't care. But as I got older, it became really clear and this sets a dangerous sort of precedent, that the best thing you can do in the United States to ensure that you aren't totally screwed is to actually become part of, let's say the one percent. You shouldn't have to do that. Being a part of the top one to 10 percent or even the top five percent of income earners in this country, shouldn't be like an insurance policy against dying young, not being able to afford healthcare, not being able to have any opportunities for my kids. That shouldn't be the bar. Does that make sense? 
[00:38:16] Scott Galloway: Yeah. In this pandemic, when we don't like to say this out loud, but if you're in the top 10 percent, much less, the top one percent and you're blessed with good health, you're living your best life. The pandemic has meant more time at home, more time with Netflix, and your stock market portfolio has exploded. If you make over a hundred thousand dollars a year, less, and no change in unemployment whatsoever. And 60 percent can work from home. If you make less than $40,000 a year, 40 percent have incurred some sort of job interruption and less than 10 percent can work from home.
[00:38:45] So this pandemic has just taken a bad situation and made it worse. And what's really upsetting about all of this is that I wonder what would have happened, Jordan. Say Amazon stock, which is up 70 percent on the year, was down 70 percent. I believe that if Amazon had crashed as opposed to accelerated — when the Amazon van showed up in my driveway tomorrow with my Nespresso pods, two people would've got out. The delivery person with my box of Nespresso pods, and another person in a white coat who would've stuck a vaccination in my arm. The TA-125, which is the NASDAQ in Israel is down in 2020. And they are vaccinating people at seven times the rate. We have not had a full-throated capitalist response to the pandemic because the capitalists are doing just fine, specifically the shareholder class. And I'm not saying that wealthy people want people to get sick. I'm not saying they're not empathetic. 
[00:39:34] But within seven days of World War II, breaking out seven days after Pearl Harbor, Chrysler converted its biggest factory in Michigan to a factory punching out M1 Bradley tanks. And that one factory produced more tanks than the entire third right for the duration of the war. What company here has totally pivoted to — what would happen if Amazon, Apple, Facebook, Google, Salesforce, Tesla all said, "Until we have herd immunity, we're just full-time focused on this pandemic." And unless there's a profit incentive around this, it hasn't happened. And our government has had an incompetent response. What if Amazon's stock had gone down 70 percent? And what if this were killing thin white people? I think we would have made the response in Singapore or South Korea look amateurish. I think we would have gotten all over this thing.
[00:40:23] I worry that the people who at the end of the day are responsible or have just outsized influence. Because they haven't had the same sort of incentive or incurred or registered the real devastation as communities of color, low-income communities that we just haven't seen, this virus really hasn't seen what America is capable of because it hasn't inspired the type of response that we're capable of.
[00:40:47] Jordan Harbinger: I assume people must call you a socialist all the time now for saying things like that, right? Like, how many minutes has it been since you've gotten a message in your inbox about being socialists? 
[00:40:55] Scott Galloway: I get called a lot of names on Reddit, on Wall Street beats, I'm being called mostly a clown or a boomer, crying boomer is what I'm getting. Capitalism, I'm a full-throated capitalist. Capitalism has been great for me. 
[00:41:06] Jordan Harbinger: Yeah, I'm just saying people call people like that, people like you, a socialist, when you say something like, "Hey, this one it'd be unfair," right? 
[00:41:13] Scott Galloway: Well, here's the thing, what we have now, isn't socialism or capitalism. When you capture the gains on the way up, and then you socialize the losses, and that is the — CEOs of airlines pay themselves $150 million over the last five years. And talk about rugged individualism when they're talking in the free market economy, when they pay themselves 10 to $30 million a year. And then when they get hit with a pandemic and their business is no longer sustainable because they've taken all their free cash flow and bought back stock, which chooses the stock price, which again, juices their compensation as 98 percent of it comes from stock options at that level. Then when they don't have a buffer and the pandemic hits, all of a sudden, their narrative shifts to, "We're in this together, we're in this together," and they want bail out. 
[00:41:53] So when you have capitalism on the way up and socialism on the way down, that's not capitalism or socialism, it's cronyism, and we've got full cronyism. Why are we bailing out Delta? Burn, baby, burn. And then a younger group of employees will come in to buy those planes, buy those gates rides for less, for less, and they'll have a shot at the American dream instead, it's like, "Oh no, we got to keep these companies in business." We shouldn't be protecting businesses. We should be protecting people. $750 billion to small businesses, we romanticize small businesses. I've been a small business person. I love small business. I've had small businesses go out of business and it's tragic, but it's not profound. With $750 billion that we bailed out, the wealthiest cohort in America. I use small business owners. You could have taken the bottom third at my income earning households. So the bottom 35 million or 40 million, and you could have given them each $20,000. 
[00:42:46] And now what happens when you give a small-business person a bailout? Some spend it most don't. Because the reality is most didn't need it. What happens when you give $20,000 to a low-income household, they spend it. We need stimulus in the economy. That's truly stimulating, not something that ends up back in the market and people's bank accounts. 
[00:43:02] So anyways, I really think this pandemic has brought on, has pulled back some really uncomfortable truths that we have to deal with. And the first is that we have fallen out of love with the unremarkable. And the second is everything is tilted one way. That is towards the old and the already rich. And that's not what America is about. America is about putting in place policies that can get people rich, not keep them rich.
[00:43:30] Jordan Harbinger: This is The Jordan Harbinger Show with our guest Scott Galloway. We'll be right back. 
[00:43:35] This episode is sponsored in part by LifeLock. When I transitioned from my previous company, I was worried that my personal information was in the hands of plenty of people. I mean, I've been online for 20-plus years. It's important to understand how cybercrime and identity theft can affect your life, really just kind of overnight. Every day, we put our information at risk on the Internet in an instant, a cybercriminal can take what's yours, which is your money, your credit, your reputation, your name and address. I mean, all that stuff can get misused. LifeLock helps detect a wide range of identity threats, like your social security number for sale on the dark web. If they detect your information has potentially been compromised, they'll send you an alert. They also have a team of restoration specialists. So if you do become a victim, they'll help you out. They've got, it's almost like an insurance policy when it comes to identity theft here. 
[00:44:22] Jen Harbinger: No one can prevent all identity theft or monitor all transactions at all businesses. But you can keep what's yours with LifeLock identity theft protection. Join now and save up to 25 percent off your first year, by going to lifelock.com/jordan. That's lifelock.com/jordan to save 25 percent off.
[00:44:39] Jordan Harbinger: This episode is also sponsored by SimpliSafe. If you have 30 free minutes, you can boost up your home security. That's how quick and easy it is to set up a security system from SimpliSafe. It's the kind of thing that's so easy to do. You can do it during a half an episode of this podcast. SimpliSafe uses a Base Station that communicates to up to a hundred sensors and devices. When you set up the SimpliSafe system, you take the Base Station out of the box, plug it in. It's so easy. If someone cracks a window, creeps into your living room at 3:00 a.m., your alarm is going to blast. And I know what you're thinking. What if my Internet goes out? What if the power goes out? What if an intruder destroys the Base Station? What if the Base Station lose power? What if they cut our landline? Stop watching so many damn movies, but even if they do all of them, that simultaneous cellular and Wi-Fi connections will keep you connected. So if your Internet goes out, you lose cell signal, the system still works. They also have SmashSafe backup, which smashed safe sounds like — well, I'm not going to go there, but if an intruder destroys your wireless keypad or Base Station, your system will send out an alarm to the monitoring center. So you're covered, baby. Base Station got 24 hours of juice as a battery backup. They've pretty much thought of everything. 
[00:45:43] Jen Harbinger: SimpliSafe is a small, easy step to make sure everyone feels safe at home. Go to simplisafe.com/jordan today to customize your system and get a free security camera. That's simplisafe.com/jordan.
[00:45:55] Jordan Harbinger: Thanks so much for listening to the show for supporting the show. It's your support that keeps us going. And I don't just mean your kind words on social media and email. Those are appreciated. But when you support our sponsors, that's what keeps the gears turning around here and lights on in my office. So please do consider supporting those who support us. And all of those codes, all of those discount deals, whatever you want to call them, they're all on one page in one place in alphabetical order at jordanharbinger.com/deals. Please consider supporting those who support this show. 
[00:46:25] And don't forget, we've got worksheets for this episode here today. If you want some of the drills, takeaways, exercises that we talked about here with Scott Galloway, those are also in one easy place. The link to the worksheets is always in the show notes at jordanharbinger.com/podcast. Now for the conclusion of our episode with Scott Galloway.
[00:46:45] It's interesting. You are saying the same thing in almost as many words as Mark Cuban and Charles Koch. So when all three of you agree on something, it is kind of remarkable because you wouldn't— 
[00:46:54] Scott Galloway: That's scary. 
[00:46:54] Jordan Harbinger: —normally expect that. Yeah, exactly. Charles Koch on the show said something similar. With Mark Cuban on the show said something very similar. That leads me to believe that it's very, very likely accurate, because you have people with that normally, let's just say, don't always see eye to eye on every, in most things saying that same thing. Now, you said something at the top of the show and I'm going to try and remember it because it was like 40 minutes ago or something along those lines. You said something that sounded like, look at a curve of where your current skills would be in 10 years and see if you're not there right now. Does that sound familiar? I'm probably butchering this. Does that ring a bell? 
[00:47:26] Scott Galloway: I think a decent exercise for any company in any individual is look at the three biggest trends in your industry, look at the three biggest trends in your life, and take them out 10 years. If you're struggling with mental illness or you have signs of early mental illness, I think the pandemic has accelerated that trend 10 years. I think if you're in bad shape and you're not eating well, or you're drinking a little bit more, or you started drinking a little bit more, becoming a little bit more, you know, that one glass of wine is turned into two glasses of wine. I think if your relationship is unhealthy, take everything out 10 years and say, "Sh*t, am I here right now?" And then in companies, okay, if it's a move from stores to digital, or if it's a move to automation, whatever it might be, see yourself with that trend line, that trend line went out 10 years. Are we here right now?
[00:48:07] Because the accelerant component of this pandemic is remarkable, just remarkable what it's done. In almost every trend in every industry, the slope, whether it's up or down has just increased dramatically. So I think it's a really useful exercise to go through both personally and professionally. Is your relationship with your sister coming off the tracks, right? Is it just gotten worse? This only makes it really bad. So it's an opportunity to — nothing is predetermined. You can step back. And I encourage people to take an audit of their relationships during the pandemic. Because I think it presents an incredible opportunity for repair and to say what relationships, what really important relationships in my life we're headed in the wrong direction.
[00:48:46] Because I bet the pandemic really sent it on a downhill trajectory and then to step back and say, "Do I need a step change, re-transformation around my behavior, their behavior to reset the trajectory and the slope of this relationship?" I'm going back to my book, Algebra of Happiness, all the studies kind of pointed to the same thing, the happiest people, loosely speaking, roughly speaking, it's all about the number of deep and meaningful relationships you have. And the opportunity and the pandemic, quite frankly, we're in a crisis is for the cementing of repair of key relationships. A lot of people are struggling. Lots of people are struggling. 
[00:49:20] Anyone with a lot of kids who are at home right now, they're struggling. A lot of people who are economically, who always kind of dancing between the raindrops, but getting by, they are really struggling right now. Anyone with mental illness, older people who are sequestered from their kids and their grandkids. There's just so many people having a tough time. If you're in a position to get off your heels and onto your toes, if you're economically blessed, if you're blessed with good health care, quite frankly, if you just have your sh*t together and you're able to work through this, it's such a great opportunity to think, "Okay, who in my life, you know, is there someone older in my life that I can pivot to a caretaker? Do I have the relationship with my siblings that I want? Is my relationship with my partner, my spouse — is this an opportunity for me to reaffirm that and be more generous?
[00:50:05] This is a tremendous opportunity, because if you do show grace, if you do show love, if you do show empathy, you can accomplish in months, what otherwise might take years. Because I think people are really, really a cohort of people right now are really struggling. Anyways, I got a little bit preachy there. 
[00:50:20] Jordan Harbinger: No, it's all good. That's why we like having you on the show because I can sort of wind you up and then you know, you go— 
[00:50:25] Scott Galloway: Just let him go. 
[00:50:25] Jordan Harbinger: Right. Just let him go. And then—
[00:50:27] Scott Galloway: Where's the off switch, where's the off switch?
[00:50:29] Jordan Harbinger: I'll come back to another topic and then it's just like, great, more gold. I wonder why we shouldn't do free college. You know, I read of course your newest book, and we link to that in the show notes. It's excellent. It's mostly full of, I would say pre not really necessarily predictions more so as a recitation of what is so right now and where we may be going, but you said no free college. And I thought that's interesting because you and I were just talking about opportunity and how difficult it is to get into a good school. Why shouldn't we do free university? It's actually your argument essentially that it's good for rich kids, even though it sounds like it's for poor kid. 
[00:51:02] Scott Galloway: Yeah. So I don't believe in free college nor do I believe in a Marshall Plan or to pay off student debt. And for the following reasons, the majority free college from the Bernie Sanders, Senator Warren or Senators Warren and Sanders call for free college is again, and Democrats are just as guilty of this as Republicans and other transfers of money from the poor to the rich. Who's in college? The vast majority, or call it 50 to 70 percent of people in college are either upper middle income or wealthy. They don't need free college. And quite frankly, college shouldn't be free. There should be some costs because you're going to make more money and you can afford a certain level of student debt. 
[00:51:38] What we need to do is two things. One, make sure that people, anyone who's qualified can afford it. Sure. They have to take on student loans. I had to work my ass off at UCLA as cheap as it was. I would go into the summer months and if I did make $3,000 to pay for my fraternity house, bill and tuition, I wasn't coming back from my junior year at UCLA. And quite frankly, some of that fear and hustle and grit was good for me. But today, I just couldn't afford to go. We have to give people the opportunity to go even if it means a little bit of debt. 
[00:52:07] The bigger issue is we need to dramatically increase enrollment in acceptance rates. And we talk about the Ivy league. The Ivy league see themselves as luxury brands. They have lost the script. They're going to double down on exclusivity. They're sort of unimportant. Florida State will graduate more people this year than the entire Ivy league combined as well as Ohio State. Where we move the needle in America is with our great public universities. You mentioned Michigan, the University of Texas system, University of California, quarter of a million students, Cal State 450,000 students. We need, through a combination of federal funding and technology, to double admissions rates while decreasing costs, but we don't have free college. And then you can do that with technology, the embrace of small and big tech.
[00:52:50] If we took 50 percent of our courses online and the dirty secret, and I teach about half of the sessions could be online with no real erosion and quality. There are lectures where you're basically lecturing. There's no interaction, it's fairly dry material. You could communicate it with better technology and better production values remotely. If you took 50 percent of courses online at a college, you effectively overnight double the supply and maybe an incremental increase of 10 percent in cost. 
[00:53:15] And then the social stuff, the leadership, the interaction, the socialization, kids do that. They scale that really well. They will figure out a way to find extracurricular activities, to meet each other, to drink beer, to go to football. They do that stuff at scale really well. The inhibiting factor has been again, another transfer of wealth from poor to rich people, if I make it harder and harder and harder to get into UCLA, my certification, the tattoo on my forehead that says UCLA and Berkeley just makes me more qualified and me richer.
[00:53:45] Meanwhile, the people haven't gotten in yet, specifically people who aren't rich or remarkable don't get in. So we need to, one, no free college. That's ridiculous. It should cost something and rich people should pay full freight and get no financial aid because quite frankly, they can afford it. That's fine. We need to make it more affordable for kids who can't afford it. But even more importantly, we need to dramatically expand our capacity, our supply. UCLA shouldn't have 8,000 people entering its freshman class. They should have 18,000. Stanford hasn't increased its freshmen seats by one goddamn seat despite the fact that triple the number of applicants. They get triple the number of applicants, they did 30 years ago and their endowment has exploded. I mean, are you public servants? We're not luxury brands. We're public f*cking servants. Let's start acting like it. Let's start acting like it. Let's take kids who are just mostly remarkable and give them remarkable opportunities. The kind of opportunities that you and I had.
[00:54:42] The whole point of higher education isn't to turn the top one percent of the billionaires. It's to take the unremarkable and turn them into the remarkable. So I think university is the higher ed, which used to be the upper lubricant of mobility in our society has become the agent of casting. It said, "Okay, okay, fine, you're remarkable. You get in, you get into the Hunger Games. You're Russell Crowe. You get to be in the fighting pits. And if you're a markable, it's the Hunger Games, you go on to live a great life, but the majority of you are going to die a violent death. Unless you're born into royalty, unless your parents are rich.
[00:55:16] I think that higher ed has become the agents of the caste system. I speak a lot about this. I've gotten enormous amounts of sh*t and grief from my colleagues. 
[00:55:24] Jordan Harbinger: Yeah, of course. 
[00:55:25] Scott Galloway: But basically, tuition has exploded 1400 percent in the US. The total number of kids we're educating, the total number of seats has not increased dramatically. The salaries they're getting relative to inflation has not increased dramatically. So wait, what's going on? If tuition has increased that much, what also has increased? Administrative costs, specifically compensation for college administrators has also exploded. So every decision or near every decision that these very thoughtful, very woke people make every day on university campuses is with one objective. How do I reduce my accountability and increase my compensation? 97 of the hundred highest paid civil servants in Massachusetts work for the University of Massachusetts. And these people make between 600,000 and a million dollars a year. A principal at a public high school makes between 80 and $140,000 a year.
[00:56:14] Colleges have become pigs at the trough, especially administrators. The reckoning is overdue. The fists of stone of COVID should come from them. But universities have totally lost the script. Higher ed in America has become totally obsessed with scarcity and luxury, and it's no longer — it needs to go back or return to its rightful place in our economy. And that is as being the upward lubricant that it was for you and me.  
[00:56:39] Jordan Harbinger: What about a national service program? You mentioned this in the book and I've been a fan of this idea for 20 plus years since coming back from my exchange in Germany, where they have this. You can either go to the army. I want to say for two or three years, or you can work. I think generally in hospitals or nursing homes or both and everyone who goes through something like that comes out more mature. I think you get paid. So it's kind of like training wheels for living on your own, except you're working with a bunch of young people, so it's also fun, but it's not necessarily university. And then you go to university or you realize that you're capable of doing a job that isn't like raking your parents' lawn. And in theory, you become a functional member of society after that. 
[00:57:19] Scott Galloway: Well, when you think of it everyone agrees, the nation is divided. So then you quickly go to, well, what do we do about it? And I think you start with, what is a nation? We have to be able to rally around a set of values. We have to rally around a truth. It feels like we no longer have a truth. I was brought up to think that once there was double-blind scientific research that said that vaccinations on the haul are safe and good for you that we accepted that as a truth. And we began working from that truth. That's no longer the case. 
[00:57:47] The other thing is that we have divided or disarticulated or splintered into so many special interest groups that don't seem to have a common connection. And one of the reasons I think we passed so much great legislation in the '50s and '60s is that a lot of our leaders had served in the same uniform and they saw themselves as Americans first, before they saw themselves as Republicans and Democrats. You have a lot of young people at home without a ton of great prospects professionally. You have a huge demand for testing and tracing. So my thought was we should have a Corona core and that is a half a million to a million young people paid $30,000 to $50,000 a year that were trained in handheld technology.
[00:58:25] They're not immune to bullets in this war, but they're much less susceptible to the damage from if they catch the virus and they should be out. I thought coaching, counseling, testing, and now vaccinating, and then a two-year stint. And then they get money towards education may be a low interest loan for a business they want to start. Subsidize vocational training if they don't see themselves as the type of person who wants to get a traditional four-year college degree. And more than putting young people to work more than giving them skills more than helping put a stake through the heart of this f*cking virus, we need to have a shared experience among the next generation of leaders here. We need something where they look at each other and they say, "I see you as an American. I don't see you as left. I don't see you as right. I see you as an American." 
[00:59:09] I think national service does that. There's a lot of studies that show the nations that have had national service, whether it's Israel or I think they have it in Norway. There's a greater sense of the collective that we're in this together. Yeah, we have our differences. Yeah. We might fight. The army has been a fantastic place for integration of people from different races. I think if you talk to people on the Peace Corps, they have an incredible bond. I think this is an idea that's time has come. And I don't know if it's the armed services. There's something, there's AmeriCorps, there's quite a few organizations that are doing something wonderful. That's very similar, a facsimile of this, but I thought that the novel Coronavirus presented an opportunity. And the way I mapped it out, you were talking about $60 billion to take about 500,000 of these kids, total costs of 120,000, 2 years plus subsidized some of their future training, 60 billion. My God, we're spending that every four and a half days on stimulus on these total-bail-out packages. 
[01:00:07] So I think we need to unite as a nation. I think there's a bunch of things. We need to punish the companies that have these algorithms of amplification that are dividing us. We need a collective goal around national service. And I think we need to reunite again, around something called a truth. We have to decide there is a truth. And then once that truth is there that people who destroy that truth or question it or try and poison it, uncensured, expelled from the Senate under legal liability, if they're a media company.
[01:00:37] But I worry that we're not no longer a United States of America. I think I just can't get over when I go on Twitter, which is poisonous. So I should probably get off it for a while. Just how differently people perceive what I would argue. I thought that was a truth. I thought that there were science showing 80 percent of day traders lose money. And we can't agree on that. You see it as a movement against a generation of people who you think are stealing from you. I'm like, no, there's a truth here. Day trading is bad for you. There's a truth here. There aren't space lasers that choose starting the fires. You know, there's a truth here. That elections should be certified.
[01:01:14] So I think Corona Corps, I got off on a tangent as I always do, I think some sort of national service would be a key component or one of the legs of the stool of kind of reuniting or making our States of America more united. 
[01:01:25] Jordan Harbinger: I agree. And I think it's kind of a shame. It's a missed opportunity, right? Because we have kids that like me who go from high school and then go to college and it's just too much, too fast. We don't know what we're doing. We screw around for the first two or three years until someone says you have to pick a major or you're not going to graduate or whatever, you know, you're going to default to general studies. And then you kind of go like, "Okay, German," or whatever, or in my case, you make one. But what I really needed was two years of not having my handheld by my own parents and having to do something on my own and actually achieving something that wasn't just like reading a textbook and regurgitating the information in an essay. I needed to get a job that wasn't going to fire me for being the useless slob that I was, but it was going to do a little bit of professional hand holding.
[01:02:06] Scott Galloway: Yeah. I got to UCLA. I was 17 years old and I abused alcohol. I was very immature, got terrible grades. And it just wasn't a productive year for me. And the research is that when kids take a gap year, one or two years, 88 percent return to college. So that's the fear in parents. Oh no, if they don't go right to college, they're going to end up on meth and on the streets. No. 88 percent of the kids who take a gap year, go back to college.
[01:02:31] And then after their gap year, they're much more likely to graduate if they take a gap year. So in other words, kids who take gap years are more likely to end up with a diploma because they get some growth. I don't think it should be mandatory because it's easy for my generation to start conscripting other people, but I think we make it lucrative enough and attractive enough that an 18-year-old can contribute to society. I think there's a lot of ways to contribute. I think our society has no shortage of needs. 
[01:02:59] But I'm a big fan of this idea of Corona Corps and I even got some attention or it got some attention, I should say, from some of the leadership in Washington. I don't know if it will go anywhere and there are some great — AmeriCorps is doing it. Obviously, the Peace Corps, there are some great organizations trying to do something very similar. 
[01:03:15] Jordan Harbinger: Well, thank you very much, crying boomer, socialist, Scott Galloway, everybody. I thank you— 
[01:03:19] Scott Galloway: Clown, you forgot clowns. 
[01:03:21] Jordan Harbinger: Sorry. I'll add it. I'll put it in post. Thank you very much for your advice, your time. People can hear you on multitude— 
[01:03:28] Scott Galloway: Everywhere.
[01:03:28] Jordan Harbinger: — of podcasts that you have.
[01:03:29] Scott Galloway: To resist this futile, Jordan, to resist is futile. 
[01:03:33] Jordan Harbinger: We'll link to those in the show notes as well. I'm a fan. I'm so glad that you are able to come on and share. It really is great. And I like to call you a friend, because I think you're one of the smartest guys around that's sharing your thinking right now, especially. 
[01:03:44] Scott Galloway: I appreciate that.  Thank you for that. Thanks, Jordan. Congrats on all your success.
[01:03:48] Thank you. 
[01:03:51] Jordan Harbinger: I've got some thoughts on this episode, but before I get into that, here's a preview of my conversation with one of Al-Qaeda's most respected bomb and poison makers who swore allegiance to Osama bin Laden himself. Here's a quick listen. 
[01:04:04] Aimen Dean: We took so many prisoners, 80 of them were taken to a clearing and it was decided there and then that these people will have to pay for the crimes, what they did. Seeing the bloodthirsty nature of people who just until a year ago, I used to see them as sweet, tender, decent, good people, suddenly, basically became people who would use chainsaws to dismember these people alive. How could one year on Bosnia, one year of ugly conflict turned these wonderful souls into ugly bloodthirsty individuals? When I went to sleep that night, all I could think about was, "How could I unsee what I've seen?" 
[01:04:48] None other than the mastermind of 9/11, Khalid Sheikh Mohammed, he said to us, "You should go to Afghanistan where the training camps are reopening to become good at bomb-making, to become good at urban warfare, to become good at assassinations, at kidnapping. A new kind of for that will never be fought in the mountains anymore, but it will be fought in every urban center from the pole to the pole." Suddenly, you know, I thought that the nature of the war is changing from, you know, fighting in the mountains of Bosnia. I mean, basically we are talking about gassing people in cinema nightclubs and trains. Of course, that was unsettling, but I thought this is just the ranting of one insane individual. 
[01:05:28] Al-Qaeda carried out its first serious attack against American interests. Everyone must jubilant in the camps they were firing bullets into the air in celebration and shouting, "Allahu Akbar." We are no longer just a bunch of freedom fighters. We are now bonafide terrorists 
[01:05:50] Jordan Harbinger: To hear why and how Aimen Dean eventually switched sides from being a Jihadi to spending eight years as spy, trying to take Al-Qaeda down from the inside, check out episode 383 on The Jordan Harbinger Show. 
[01:06:04] Thanks to Scott for coming back on the show. His book was really interesting, the latest book. It's called Post Corona. He talks about what disruption is in an industry. We hear that term a lot, but in the book, he focuses on what's going to happen with advertising, what's going to happen with college and education, healthcare. There's also some info on privacy and surveillance capitalism in the book. That's interesting. 
[01:06:24] Our previous episode with Scott, incredibly popular, we will link to that in the show notes as well. So if you like Scott on this episode, definitely check out our previous episode, which focused on things like relationships, why you should invest early and invest often. That's true for money and relationships. He talks about living a good, healthy, sane, happy life in many ways. The book he wrote for that episode is called The Algebra of Happiness, highly recommended, really easy read. And some simple advice that really could and probably will change your life. That is if you apply it. We'll link to that previous episode and the book in the show notes.
[01:06:56] And if you do buy books from our guests, please do use the website links that help support the show. Worksheets for this episode in the show notes. Transcripts for this episode in the show notes. A video of this interview, going up on the YouTube channel at jordanharbinger.com/youtube. I'm at @JordanHarbinger on both Twitter and Instagram or just hit me on LinkedIn.
[01:07:15] I'm teaching you how to connect with great people and manage relationships, using systems and tiny habits over at our Six-Minute Networking course. That course is free. It's over at jordanharbinger.com/course. Dig the well before you get thirsty. Most of the guests on the show subscribe to the course, contribute to the course. Come join us, you'll be in smart company where you belong.
[01:07:35] This show is created in association with PodcastOne. My amazing team is Jen Harbinger, Jase Sanderson, Robert Fogarty, Millie Ocampo, Ian Baird, Josh Ballard, and Gabriel Mizrahi. Remember, we rise by lifting others. The fee for this show is that you share it with friends when you find something useful or interesting. If you know anybody who's interested in the future of work, what this place is going to look like after Corona, or is just a fan of good advice, definitely share this episode with them. I hope you find something great in every episode of this show. Please do share the show with those you care about. In the meantime, do your best to apply what you hear on this show, so you can live what you listen, and we'll see you next time.
Sign up to receive email updates
Enter your name and email address below and I'll send you periodic updates about the podcast.