Reading Time:
4
minutes
Aimen Dean (@AimenDean) was once one of al-Qaeda's most respected bomb-makers who swore allegiance to Osama bin Laden himself. He eventually switched sides and spent eight years as an MI6 spy trying to take al-Qaeda down from the inside. He is the author of Nine Lives: My Time as the MI6's Top Spy Inside Al-Qaeda and co-host of podcast Conflicted. This is part one of a two-part episode. Check out part two here!
What We Discuss with Aimen Dean:
The radicalizing circumstances that contributed to Aimen's recruitment by Islamic extremists after memorizing the Quran by age 12.
Early misgivings about the cause brought about by witnessing a brutal revenge massacre instigated by his own side during the Bosnian War when he was only 17.
What Aimen learned about "logistical back-office jihad" and financing terrorism on a global scale while creatively accounting for a now-infamous charity front.
Aimen's trip to Afghanistan at the behest of 9/11 mastermind Khalid Sheikh Mohammed that led him to swear allegiance to Osama bin Laden and Al-Qaeda.
What Aimen learned — and taught — about ingenious and terrible methods of torture that would extract confessions from victims without leaving permanent marks.
And much more…
Like this show? Please leave us a review here — even one sentence helps! Consider including your Twitter handle so we can thank you personally!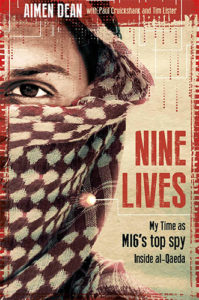 Hey, we all do crazy things when we're young. Sometimes we toilet paper the principal's house on Halloween. Sometimes we superglue the entire football team's lockers shut the night of homecoming. Sometimes we abuse the district phone tree to cancel school and get a three-day weekend in honor of Groundhog Day. Sometimes we draw a wang in Sharpie on some dude's forehead when he passes out at the party. And sometimes, when you're  Aimen Dean, author of Nine Lives: My Time as the MI6's Top Spy Inside Al-Qaeda and co-host of podcast Conflicted, you memorize the Quran at age 12, get radicalized into fighting (or using your creative accounting skills) for jihadists around the world, swear allegiance to Osama bin Laden, and then look for an exit strategy because you realize you don't want the blood of innocents on your hands — you really just want to go to university and pursue a career teaching history.
Then the British offer to recruit you into MI6 in order to spy on your former terrorist colleagues when it's clear they're trying to start the war to end all wars at all costs based on faulty scriptural translations and manipulations. On this episode, we talk to Aimen about how this unbelievable-but-true series of events transpired. Listen, learn, and enjoy! This is part one of a two-part episode. Check out part two here!
Please Scroll Down for Featured Resources and Transcript!
Please note that some of the links on this page (books, movies, music, etc.) lead to affiliate programs for which The Jordan Harbinger Show receives compensation. It's just one of the ways we keep the lights on around here. Thank you for your support!
Sign up for Six-Minute Networking — our free networking and relationship development mini course — at jordanharbinger.com/course!
The Unagi is an incredible stand-up electric scooter that's only 26 pounds, folds in one click, and goes 20 mph. Go to UnagiScooters.com and use promo code JORDAN at checkout for $150 off your own Unagi E500 while supplies last!
HostGator has been around almost as long as the Internet. Does your business have an Internet presence? Save up to a whopping 62% on new webhosting packages with HostGator at hostgator.com/jordan!
Thrive Market delivers the highest quality organic and sustainable essentials for 25-50% off retail prices. Try Thrive Market risk-free by going to thrivemarket.com/jhs and getting up to $20 in shopping credit toward your first order!
Need custom graphics, logos, or Web design? Access a community of 600,000+ designers by registering at designcrowd.com/jordan and enjoy up to $150 off with The Jordan Harbinger Show bonus offer!
Miss the last time we had Navy SEAL leadership authority and Extreme Ownership co-author Jocko Willink on the show? Make sure to check out episode 93: Jocko Willink | Leading on the Line Between Extreme and Reckless!
THANKS, AIMEN DEAN!
If you enjoyed this session with Aimen Dean, let him know by clicking on the link below and sending him a quick shout out at Twitter:
Click here to thank Aimen Dean at Twitter!
Click here to let Jordan know about your number one takeaway from this episode!
And if you want us to answer your questions on one of our upcoming weekly Feedback Friday episodes, drop us a line at friday@jordanharbinger.com.
Resources from This Episode:
Transcript for Aimen Dean | Nine Lives of a Spy Inside Al-Qaeda Part One (Episode 383)
Jordan Harbinger: [00:00:00] Coming up on The Jordan Harbinger Show. 
Aimen Dean: [00:00:02] You know, Smurfette, this is a symbol of sexual freedom. They want to corrupt your mind into thinking that it's okay to mix with the other sex. It is normal, basically, to have a crush on girls. So, of course, it was extremely puritanical. Smurfette became synonymous with sexual freedom. You will get AIDS, basically, if you watch Smurfette.
Jordan Harbinger: [00:00:34] Welcome to the show. I'm Jordan Harbinger. On The Jordan Harbinger Show, we decode the stories, secrets, and skills of the world's sharpest minds and most fascinating people and turn their wisdom into practical advice that you can use to impact your own life and those around you. We want to help you see the Matrix when it comes to how amazing people think and behave. And our mission is to help you become a better informed, more critical thinker. So you can get a much deeper understanding of how the world works and make sense of what's really happening. If you're new to the show, we've got episodes with spies and CEOs, athletes and authors, thinkers and performers, as well as toolboxes for skills like negotiation, body language, persuasion, and more. So if you're smart and you'd like to learn and improve, you're going to be right at home here with us.
[00:01:17] Today on the show, Aimen Dean — man, where do I begin with this guy? He was a top informant for MI6 in Al-Qaeda. So in other words, he joined Al-Qaeda, got radicalized, turned into a double agent from MI6 informing on Al-Qaeda. Now, he works with banks and finance. So I'm not sure if there was an improvement here because you know, he went from terrorist to banker. And I've been in finance. I'd never joined Al-Qaeda, but I got to say, there's got to be similarities. Now, he's investigating terror finance among other things. His cover was blown by an intelligence leak in the United States. You're welcome. Sorry about that. This episode went very long. It was fascinating. I wanted to get more time with Aimen. Poor guy had COVID-19 but still did the show. So he's a tough guy. What can I say? In part one, we'll find out how Aimen becomes radicalized in the first place, joins Al-Qaeda, and learns to make explosives and novel deadly poisons. He finally gets arrested — I don't even want to ruin it for you. Let's get right to it.
[00:02:14] If you want to know how I book people like this, it's because of my network now is bananas. I spent a decade and change making it. I'm teaching you how to do this in a free course called Six-Minute Networking. The idea is to break this down into small chunks, so you can build a network business or personal reasons, and it's not going to take you freaking hours every week. The course is at jordanharbinger.com/course. And by the way, most of the guests here on the show subscribed to the course and the newsletter. So come join us, you'll be in smart company where you belong. Without further ado, here's Aimen Dean.
[00:02:46] Aimen, you're an interesting guy. Thanks for coming on the show here. 
Aimen Dean: [00:02:49] Thank you for inviting me. 
Jordan Harbinger: [00:02:50] I didn't quite know where to start with somebody who has this prolific of his story, but I'm curious. You started your book with this story of missing your nephew's wedding. And that to me really put your whole life kind of in the spotlight here, because tell us why you miss the wedding. Tell us about the wedding. 
Aimen Dean: [00:03:09] It was September 2016. My wife was pregnant with our first child, our daughter. And so I was supposed to go from Dubai to Bahrain to attend the wedding of my nephew. For some reason, three days before the wedding, my wife was beginning to have this bad vibe. She was telling me, "Don't go, don't go, don't go." And I was telling her, "Come on. I mean, my nephew came to our wedding. He gave us gifts, all of these things, so why shouldn't I?" And she said, "Somehow, I'm not having a good feeling about this." My advice is really to follow your wife's intuition. They do have really good intuition. And then the next day I received a phone call from the authorities in Bahrain telling me that they have uncovered the plot — well, basically to kill me because those who were plotting to kill me were former members of Al-Qaeda who were still active, funny enough. And they were aware of my arrival. In fact, they were aware of six weeks in advance that I am coming and they were planning something 
Jordan Harbinger: [00:04:14] That's like before you knew you could go. That's crazy. 
Aimen Dean: [00:04:17] Exactly. Because what happened is they relied on some female members to know from the female members of the family that — you know, of course, it's the wedding of my nephew and I'm supposed to come. All the uncles are coming. So that's how they knew I was coming and they realize, "Okay, fine. You know, what just before time, we need to know when he's landing. And once he is in the wedding, we will know his inside. Once he is making his way back to the airport to go back to Dubai, we're going to intercept him," and, of course, do the rest. 
Jordan Harbinger: [00:04:53] Right. And the rest was what you don't really know. But they were going to kidnap you or something?
Aimen Dean: [00:04:58] It was supposed to be a kidnapping and a filmed beheading. 
Jordan Harbinger: [00:05:02] Oh, wow.
Aimen Dean: [00:05:03] Yes.
Jordan Harbinger: [00:05:03] Do people still want to kill you and film it, you think? 
Aimen Dean: [00:05:06] I hope not. I hope they are too busy now with their own problems. One of the things why always people ask me, why am I so relaxed even though there were two attempts on my life in 2009, and then in 2016. And I say, "Because I'm not the biggest problem they have." There is a big difference between jihadist groups and the mafia. The mafia, you know, basically don't forgive, don't forget. While the Al-Qaeda and jihadist groups basically, while they don't forgive them, don't forget, but they believe basically that if there is an opportunity, do it, but don't pursue. Why? Because they say that my bigger punishment awaits me in the afterlife because they believe I'm a traitor — 
Jordan Harbinger: [00:05:56] Right.
Aimen Dean: [00:05:46] And therefore, basically, I will burn in hell. So that's in a way you don't see a lot of assassination attempts against, well, former members of Al Qaeda or ISIS. If they catch them during the time they are actually spying on the groups, then of course, basically there will be an execution party where you will be a head shorter and six feet under. But if you get away with it, then you end up basically going somewhere else and living somewhere else in that city going on with your life. They tend not to spend so much resources on trying to find you because they will fear that in the process of trying to find you, they will end up themselves being caught. And a jihadist fears the idea of being incarcerated. They love to be either dead or in the field, but not to be in prison. 
Jordan Harbinger: [00:06:47] Right. Which makes sense, especially given the way that they're treated in prison and also the belief in the afterlife, right?
Aimen Dean: [00:06:54] Indeed.
Jordan Harbinger: [00:06:54] Let's go back to the beginning before all of this happened. I start with that because I wanted to highlight the idea that your life is still fairly complicated. I mean, you can't even go to a stinking wedding without attempted abduction, beheading, kidnapping happening. It's just the life you've made for yourself is anything but simple. 
Aimen Dean: [00:07:13] No, it doesn't. But at the same time, I don't live my life in the open. I'm not reckless. While at the same time I do give TV interviews and I do appear on some documentaries and all of that but at the same time, I do not announce my address to everyone. I don't tell them where I live. At the same time, I have a very private social media presence. I don't have a Twitter account. I do my best basically to stay below the radar — that's the first thing in terms of antagonizing my former associate but, nonetheless, for them, the fatwa of head state clearly that I'm not targeted pursuit, I'm a target of opportunity. "If you encounter him, then finish them off," because they have bigger problems than me. Let's put it this way, if someone starts trying to locate me, that will alert several authorities.
Jordan Harbinger: [00:08:05] Right.
Aimen Dean: [00:08:06] Yeah.
Jordan Harbinger: [00:08:07] So don't google Aimen Dean's home address. 
Aimen Dean: [00:08:09] Yeah, don't 
Jordan Harbinger: [00:08:12] When you were younger, you were steeped in Islamic study. You'd memorize the Quran by age 12. Did I read that right?
Aimen Dean: [00:08:17] Yes.
Jordan Harbinger: [00:08:18] That's impressive. I mean, that shows you are kind of like a prodigy when it comes to this or just that you had a photographic memory, which one do you think it is? 
Aimen Dean: [00:08:23] A photographic memory I would say. Yeah, which served me a lot later. 
Jordan Harbinger: [00:08:28] I was doing a lot of research on you as you do for most guests and I found some really interesting and kind of funny anecdotes about your Islamic study. And I don't want it to come across as offensive so hopefully, it won't. But what's with the no Smurfs, no Pepsi, no Coca-Cola thing. What are these like silly militant conspiracy theories? 
Aimen Dean: [00:08:45] There was a teacher of mine when I was young and later he became the leader of Al-Qaeda in Saudi Arabia. But when I was nine and 10, he used to be the head of our Islamic Awareness Circle as we used to call it. He was telling us about all the corrupting Western influences. At that time, one of the most popular cartoons we were watching as young kids were the Smurfs. It was, of course, dubbed in Arabic, so it was quite accessible. And you just liked it, the blue things walking around, the language which was funny and funky, but he thought, "No, no, no, no, no. There is something sinister. There is an agenda here for Western powers to corrupt you." You know, Smurfette, this is a symbol of sexual freedom. They want to corrupt your mind into thinking that it's okay to mix with the other sex. It is normal, basically, to have a crush on girls. So, of course, he was extremely puritanical. And this conspiracy that if you take a Coca-Cola logo and you actually put it in a mirror, while it has an English written, but the way it's written in English, if you put it in the mirror and you read it backward, it says, "No Mohammed No Mecca". Well, of course, it might say that if you squint your eyes and you actually tilt your head, you might finally reach that conclusion. So, yeah, it was an extremely paranoid way of thinking because there was always the belief that they — of course, when they say they, they mean by they, the West and the American globalization, cultural influence, and the hegemony. They believe it was out there to get them. It was out there to corrupt the young impressionable minds like ours. So that's why suddenly Smurfette became synonymous with sexual freedom. You will get AIDS, basically, if you watch Smurfette.
Jordan Harbinger: [00:10:59] I mean, it's so beyond ridiculous, but that's kind of what we're dealing with. I thought this anecdote was not only funny but the Coca-Cola anecdote, where if you look at it backwards and then turn your head to the side where it says " No Mohammed No Mecca," that to me, like the idea that there would be this global conspiracy that's Western, and then it would get printed on a drink labels so that like, "Who can read this?" "Oh, only people that read Arabic, but also backwards and upside down." Like there's no logic to some of the paranoia that these Al-Qaeda guys, these Islamic extremists have really. It's not like this well-thought out, like, "Okay, we have all this set of reasons," and I'm sure some people do, and we'll get into that in a bit. But at the base level, when you're talking about like the young foot soldier level guys between 10 and 20 years old, a lot of these guys are just like, "Oh, the leader of my thought group says Smurfette is too sexual and that Coca-Cola is anti-Muslim because of this dumb non-reason, and so now we are starting to get radicalized."
Aimen Dean: [00:11:56] Well, of course, when you tell people — you know, that there are people who are out there to get you and you ask why because we possess the truth. You see when you try to tell people that we monopolize the truth, that we are — well, let's put it in inverted commas — God's chosen people, we are the ones who possess the truth and the only truth, and the only version of the truth is ours. And the only path to God is through our own faith. Therefore, Western policymakers spend their days in a 24/7 at devising plots to undermine Islam. The only reason basically why we are ruled by tyrants is because of the West. The only reason why we are backward, scientifically speaking, is because of the West. The only reason why we are held back from development is by the West. Of course, I believe this when I was young because I was not knowing any better. But in later years, when I became to some extent part of the decision-making process of some of the Western intelligence agencies in later life, I realized that these fears were so unfounded because they are so incompetent even to have any success in holding anyone back. I think we give the West too much credit. 
Jordan Harbinger: [00:13:21] I can't really disagree. Like, I've seen some bungles. We've read about them. Yeah, there's no need to kind of pile on that. But yeah, it's like, look, guys, there's no secret cabal here. We missed some pretty obvious crap. 
Aimen Dean: [00:13:33] indeed. In later years, of course, I realized that the only people who are holding us back on ourselves, really.
Jordan Harbinger: [00:13:41] Absolutely. And of course, like deeper philosophical stuff has its place as well — and we'll probably get to that a little later — but what was your process of radicalization? Sure, you learned that Smurfette is trying to corrupt your mind and that Coke's trying to corrupt your body, Coke and Pepsi, but what beyond that, when did it start to get serious for you? You know, when did you start thinking like, "Oh, there's a reason I'm doing this and it's not just because some guy I trust said so." There's got to be more to the story that made you start to think, "Look, I need to destroy the West and be murdered," or whatever. 
Aimen Dean: [00:14:11] Well, at the beginning there was the fact that I grew up in a region that was extremely politicized. I mean, unlike young American school kids, they grow up in a law-abiding, ordered society where the nearest, real conflict to them is an ocean away from either side of the US coast. I mean, if you are in the West Coast, then the nearest conflict you might be aware of, Philippines, Indonesia, or something like that. If you are on the East Coast, the nearest conflict, you basically will be aware [of], the Congo or the Western Sahara. So really any conflict is an ocean away. But where I was born, I was born in the city of Khobar in Saudi Arabia, which is in the Eastern Province. First of all, it's famous for being the home of the largest company in the whole world, Aramco, which is a lot of oil companies and the largest company by market valuation of any kind. That's the first thing, the second thing I was born and raised during the time when the Iraq-Iran war was taking place, eight years of the biggest trench war carnage that took place after World War II. Eight years where 1.2 million people died and it was ethnic and sectarian in its nature in the Persians against Arabs, Shia against Sunni, which is for listeners, this is the equivalent of Protestants and Catholics fighting each other. And so, you know, I grew up in a world where — I was born in Saudi to a Mashhadi father, but to a Lebanese mother. And Lebanon itself was going through its own ethnic and sectarian civil war, which was a microcosm of the entire region.
[00:16:00] So, it's enough to politicize any child while an American child wouldn't feel the need to follow the news to understand what's going on just 200 miles away. Basically, Iraqi and the Iranian airplanes were fighting each other and you know, the air forces and the navies were fighting each other. And we hear about civilian aircraft falling and all of that only within a really two, three-hour drive. So for me, all of these events politicized me in a way that was religious because the whole conflict was about the historical and sectarian nature of our faith and our region. And therefore, I was — you know I've always been an annoyingly, inquisitive child. To this day, actually, I am an annoyingly inquisitive adult, but that's another story. I was bombarding my mother, my older brothers, my teachers with questions about what is Shia, what is Sunni? What is this? What does that? I like to know why we're having this war? Why does Saddam have a party called the Ba'ath Party? What does the word Ba'ath mean? So it was enough to politicize me also because my mother was always worried about her family back in Lebanon, experiencing the vicious, Civil War there and wondering basically whether she will never see them, ever. And so I ended up basically gulping two things, gulping religion but in a sectarian form and I was gulping politics in its militant form from a very young age.
[00:17:44] And my mother always wanted, as the youngest child, to turn towards religion because she was saying — well, my other five brothers specializing either in chemical engineering or an oil engineering and all of these things, basically I am supposed to do something, you know, more in the pursuit of intellectual and religious education. So, I joined the Islamic Awareness Circle at the age of nine, as I said. Then I started memorizing the Quran. In 33 months, I ended up memorizing the Quran and my mother was so happy, but then months later she passed away. So I think the passing away of my mother when I was only 12 years and seven months was an incredibly painful moment. That pushed me towards no longer just looking at religion from the point of view of either politics or sectarianism, I was looking at it from the point of how it is a tool to help you deal with your grief and to understand how religion and faith can help you cope with pain.
[00:18:46] At that moment, one of my teachers told me that if you want to read a book that could help you understand grief and pain and how to internalize it in, from a religious and a spiritual, in particular, a spiritual-religious point of view, then read the interpretation of the Quran by Sayyid Qutb. Sayyid Qutb, of course, is a famous religious Egypt thinker who lived in the 1950s and '60s in Egypt and was executed actually by the socialist President Gamal Abdel Nasser in 1966. However, he wrote this book over a nine-year period. It's a 6,000, sorry, 4,000-page book and six volumes. And you know, so basically, of course, writing this over nine years when he was in prison and he was, of course, awfully mistreated there, he wrote it through the prism of pain and reading his eloquent words which were not only revolutionary in their nature but also dealing with the pain of isolation, incarceration, suffering, and how to deal with that from a religious and spiritual point of view, I finished it then almost two years, from 12 to 14. And by that time, his ideas about the idols of capitalism and communism and socialism, how all of these are idols, all of these are — how can I say — heretical ideologies — that doesn't have any place in Muslim societies and that therefore we need to rebel against such systems. Whether it is a feudal system, if it is a capitalist system, it's a socialist or communist, we have to overthrow all of these to restore what he called the Kingdom of God on earth. He meant the caliphate.
[00:20:48] So Sayyid Qutb's ideas were the first foundation block of the movements of the Muslim brotherhood of the jihadism after that, including Al-Qaeda, including ISIS and also ironically of the opposite side of the Sunni divide, of the Shia side, because the books of Sayyid Qutb were translated in prison in Iran, by the current Ayatollah of Iran, the Supreme Leader, Ali Khamenei. So he influenced the political Islam and the militant Islam on both sides of the Islamic divide, the Shia and the Sunnis. So this is my first experience with radicalization.
Jordan Harbinger: [00:21:30] Oh, wow. So you're reading these books from these influential authors. You're suffering the loss of your mother. So you're diving headfirst into religion or further into religion as a method to cope with the grief. So you're sort of young, vulnerable, precocious, and self-educated, and being influenced by people who don't really have your best interest and are radical themselves.
Aimen Dean: [00:21:50] Indeed. And also don't forget that while I grew up, there were many people who were traveling from Saudi Arabia to Afghanistan in the 1980s to fight the jihad against the communist Soviets. But at that time, America was on their side.
Jordan Harbinger: [00:22:06] Right.
Aimen Dean: [00:22:07] And therefore, basically, America of the West generally was not viewed as the enemy. The enemy was those so-called godless communists. But another conflict was brewing in the heart of Europe and the Balkans, which caught my attention. It was the Bosnian conflict. You see, when I was 14, I was attending a middle school. It was late 1992 and the Bosnian conflict was raging by then for several months. And as you know basically, in Bosnia, they voted for independence from Yugoslavia. The Serbian minority within Bosnia aided by — you know, the Serbian Republic launched a campaign of ethnic cleansing against the Bosnian Muslims. And therefore the news and the footage that used to come from there were so vicious and so shocking in their nature.
[00:22:59] I remember I had a math teacher in Saudi Arabia in middle school when I was 14 and he was such a wonderful young man, only 26. He came from a quite affluent family. His father was a brigadier general in the security forces. His uncle was the minister of transportation, so an affluent family, his name, ironically, it was Osama Mansouri. When we arrived back to school — when we came back to school after the summer vacation, a teacher came to our class to tell us that our math teacher was killed in Bosnia, fighting a jihad there. And he had a member of the Bahrain Royal Family — Bahrain is just next door to us. It's a small country but it's a small kingdom. So one member of the Bahrain Royal Family was there. So I remember wondering why a Bahrain Prince and our teacher, who come from a very affluent family, would go and sacrifice their lives for people who we hardly knew about until months ago that they existed even. And I remember that teacher who was trying his best to attempt some sort of grief counseling with us but ended up giving an exhilarating lecture about jihad. He said to us, "That sacrifice does not taste so sweet unless if you have it all and you give it all away."
[00:24:24] And it was the first time I heard the three words of jihad, sacrifice, and martyrdom all in the same breath. And it got me thinking so much as to how fascinating that what I was reading in Sayyid Qutb's interpretation of the Quran, on the verses related to martyrdom and how he talked about it passionately. It related these to modern-day struggles of the Islamic movements against the Arab nationalists and the communists and before that, the French and British colonial rule of the Arab world, as well as the Italian rule in Libya. So the way he related all of these suddenly all came together, realized in my mind. Therefore, for the next two years, I was always following what was coming out of Bosnia in terms of footage and news about the atrocities and the massacres there.
[00:25:26] One day, I remember it was just four days after my 16th birthday, I was meeting the brother of a friend of mine. That friend from the Awareness Circle was three years my senior but by that time, I had the tendency to mix with people sometimes even six or seven years my senior, but because they were members of my Awareness Circle and I was more or less mixing with older people because of my, rather — I'm not trying to praise myself.
Jordan Harbinger: [00:25:56] You had the Quran memorized. You were like not at the same level as the other fifth graders or whatever, right?
Aimen Dean: [00:26:00] Yeah.
Jordan Harbinger: [00:26:01] So it was an Awareness Circle. Is this like a men's club? Like, is this like an Islamic men's club? Like a boys club or like a church group? 
Aimen Dean: [00:26:09] It was more like the Sunday church school except it was every day almost.
Jordan Harbinger: [00:26:13] Yeah, except it was every single day. 
Aimen Dean: [00:26:15] Exactly, yeah. So I was meeting this friend's brother and we were having dinner together. He told me — my friend's name was Khalid. He said to me, "Did you go on and say goodbye to Khalid?" And I said, "No. And why, where is he going in order for me to say goodbye." So he looked a little bit surprised. He thought I knew. He said, "Didn't he tell you that he is going to Bosnia?" "Really?" I said. "Yeah, he's going to Bosnia for the jihad." So I said to him, "No, I didn't." Somehow I finished it in a rush and I said, "Okay, fine. I will just go and say goodbye to him." And in the 10 minutes it took me to walk to his home, I made up my mind. So when I knocked on his door, I said to him, "Your brother Mohammed just told me, basically, you're leaving to Bosnia." And he looked a little bit surprised. He was thinking that his brother shouldn't have blabbed about it to anyone. I said to him, "Look, when are you going?" He said, "Within a week." I said, "You know what, how many of you are going?" He said, "We are three." I said, "You will be four." He said, "Why do you know anyone else going?" And I said, "Well, you dumb idiot, it's me. I'm going to join you." Of course, basically, he was protesting, you know, my young age. And he said to me that jihad is not a picnic. People die, people lose limbs. I said, "Yeah, I know I'm aware of the risks." I mean, basically, I've been seeing these videos of the massacres basically coming out of Bosnia for the past two and a half years, so I think I'm aware.
[00:27:35] But he asked a question, which the way I answered changed my life completely. He said to me, "Do you really think that you as a nerdy bookish boy, basically — do you think that jihad needs you?" So I said to him, "No, of course not, don't be silly. I know that jihad doesn't need me, but I need it." I think basically that he looked at me rather with a surprising look and he said, "Basically, I didn't expect this answer. And this answer shows that your motive is different from what I expected. You're not looking at it as an adventure. You're really looking at it as a journey." Then he said to me, "Well, okay, let's talk logistics basically. How do we include you and what are the next steps?" And then, of course, basically, there were so many other next steps, like getting my passport ready, getting my money ready and everything. And there were quite a few hoops to jump through, but I don't want to bore the listeners with it.
Jordan Harbinger: [00:28:30] Yeah, of course, of course. But, I mean, I've been to Bosnia. It's a beautiful place. I lived in a former Yugoslavia for a while. I've really enjoyed it. And Bosnia is really beautiful and sort of scenic and so to — I was there after the war, obviously, but to see the destruction brought by that, and I can understand why going there would have been kind of magical. Because also its early days of any sort of jihad stuff but other than Afghanistan which was in a different part of the world and didn't concern a lot of the same types of people. This must have been like, Oh, it's on now. Like, this is the real sort of jihad thing going on, not like learning about it from the men's group, not reading about it anywhere else. And this is sort of early days of people having the internet. So you weren't online watching YouTube videos about this. You went from hearing about it from some guy to like being in it.
Aimen Dean: [00:29:20] Indeed. And in fact, basically, I was surprised, extremely surprised by the low number of people who joined. I mean, the total number of volunteers who came to join from all across the Muslim world did not exceed 900. And the total number of those who died were 340, I think. So basically we lost about slightly over a third of our number, like in 35 percent. So in fact, when people talk about it, many people think that there were thousands of people who went to join. I was just shocked by how few join actually. 
Jordan Harbinger: [00:29:52] Hmm. Now you started to engage in battle, right? With the Serbian Army. Is that how this went? I mean, I guess you were fighting the Serbian Army, the Croats, and probably like Bosnian Serbs.
Aimen Dean: [00:30:04] Well, actually it was all the Bosnian Serbs. By the time I arrived, it was October of 1994, the Alliance between the Croats or the HVO as we used to call them, the HVO forces — with Muslims was restored, the Alliance was restored. Although basically, it was an uneasy Alliance, we were fighting on the same side, you know, so arrival there, we were not a separate group to say per se. We were part of something called the Mujahideen Battalion, which then later became part of the Mujahideen Brigade, which is part of the third Muslim core of the Bosnian Armed Forces. So we used to carry, actually, Bosnian Army's IDs. Our enemy was the Chetniks Militias, who were the Serbian Militias, but they were supported of course by the Serbian Army proper — but we hardly encountered the Serbian Army proper. They used to cross as volunteers because they were not supposed to be the aggressors in this war. The Serbs of Bosnia are supposed to be separate. Technically speaking from the Serbs of Serbia, the Serbian Army was not involved directly, but indirectly, of course, there were sending volunteers. They were sending equipment. They were supporting the Chetnik Militias with everything they got.
Jordan Harbinger: [00:31:21] You're listening to The Jordan Harbinger Show with our guest Aimen Dean. We'll be right back.
[00:31:25] This episode is sponsored in part by Unagi Scooters. This thing is the iPhone, the Tesla of electric scooters. This thing goes 20 miles per hour, which on a scooter feels like 50 miles per hour. It's also 26 pounds. So you can fold it up with a click. Bring it into wherever you're going. You don't ever have to park anywhere. It really accelerates fast too. It's light. It's got a really powerful torque. It's a great build. It's won a bunch of awards. I think this is a commute fix. It's kind of like having your own magic carpet and what's fun about this as it has a light on it. So if you're coming home at night, the lights are built-in. You don't have something attached to it that you got to recharge. And speaking of recharging, I've been using this thing for weeks now. I've never had to recharge it. The battery lasts forever. On this thing. So grab this and stop commuting with your car and park in and everything, especially if you live in a city, this thing's going to be a lifesaver for you. Jen. 
Jen Harbinger: [00:32:17] Get yours today at unagiscooters.com. That's U-N-A-G-I-scooters.com. Make sure to use the promo code JORDAN for $150 off of your own Unagi E500 while supplies last. 
Jordan Harbinger: [00:32:31] This episode is also sponsored by HostGator. Your dream, it's an idea until you take action and the best action you can take for you or your business, start a website, use HostGator. HostGator makes starting a website simple. It's affordable. It legitimizes you to your customers and to yourself, sometimes. A business without a website. It's like having a single lemonade stand on the side of the road, but a business with a website it's like having a lemonade stand in everyone's pocket. So who's going to sell more lemonade? A website offers longevity, Social media apps, they come and go. You have tried to reach her freaking Facebook page likes? Yeah, no thanks. It's also important to get this set up as soon as possible. Your domain is not going to sit around, neither should you. Build a website. It's easy. It's affordable. It's secure. HostGator hosts over 2 million of these things. They got tech support, 24/7, 365, 45-day money-back guarantee. Jen. 
Jen Harbinger: [00:33:21] The Jordan Harbinger Show listeners can save up to 62 percent off they're hosting plan on their first term by going to hostgator.com/jordan. Why not take the first step toward the business of your dreams? Go to hostgator.com/jordan, select a plan, and start building your website right away.
Jordan Harbinger: [00:33:40] And now back to Aimen Dean on The Jordan Harbinger Show. 
[00:33:45] It's a little bit like maybe what's going on in Ukraine, right? Like, "Okay. We're not sending in the Russian army," even though they totally are, "But we're just sort of arming and causing trouble using Russians that happened to live in this area. And, oh gee, maybe we're shipping a few thousand or a few hundred guys over and giving them equipment, but we're not going to talk that." 
Aimen Dean: [00:34:02] Oh yeah, especially those who are Ramzan Kadyrov's men from Chechnya and other places.
Jordan Harbinger: [00:34:09] Yeah, exactly. So the stories you tell on both Conflicted, the podcast, as well as in your book, which we'll link in the show notes, you started to even change your mind about jihad even this early. Because I think there was an incident where you'd taken some prisoners, right? Or your unit had taken some prisoners? 
Aimen Dean: [00:34:26] Yeah. Almost a year after I arrived. That was my third large military engagement, which was in September of 1995. And we took so many prisoners after I acquired decisive military engagement at the time near the town of Zavidovici. And I think some listeners from the Balkans will understand that particular reference. There was, I think, roughly 250 prisoners. 80 of them were taken to a clearing just south of Zavidovici and where we were in camp. And it was decided there and then that these people will have to pay for the crimes of what they did — raping, killing, pillaging, murdering Bosnian civilians. But, of course, the manner of how this so-called justice was administered was extremely repulsive. I remember I had my doubt, basically, that this behavior was right. I was thinking if the Prophet Muhammad was here, would he have sanctioned this? I told you I'm a very annoyingly inquisitive person and that even occurred to me, in that autumn of 95, whether this was right or wrong.
[00:35:39] And seeing the bloodthirsty nature of people who just until a year ago, I used to see them as sweet, tender, decent, good people, middle-class people, bespectacled bookish, nerdy, suddenly basically became people who would use chainsaws to dismember these people alive. How could one year in Bosnia, basically, one year of ugly conflict turn these wonderful souls into ugly, bloodthirsty individuals? And at that time, basically, of course, I was caught in the moment. You know, just like the podcast name, Conflicted, I was myself conflicted. I was looking at how my friends are becoming ugly and the way that they are becoming more bloodthirsty. But I was looking at those who were being killed themselves, being, basically, guilty of everything that they've done themselves. I was only 17. It was just five days or six days before I became 17.
Jordan Harbinger: [00:36:37] Oh my gosh.
Aimen Dean: [00:36:37] And I was looking at all of this and I'm thinking, "I don't know what to think like whether this side is wrong or the other side is wrong." But I thought basically that when I went to sleep that night, all I could think about basically was how could I unsee what I've seen?
Jordan Harbinger: [00:36:55] Yeah, sure. Like a lot of other kids are getting their driver's licenses and you're watching your friends cut people, civilians or not civilians, but either way other people apart with a chainsaw. 
Aimen Dean: [00:37:06] Indeed, they were all military. Those prisoners were all, basically, in their uniform, caught in their uniform, but it doesn't matter. I was, in fact, commenting to Khalid, my friend, the one who came with me to Bosnia. I said, "What a waste?" He looked at me and he said, "What do you mean what a waste?" I said, "We could have exchanged each and every one of them for 20 civilians who are held in the camps in the Serbian side," because there are thousands — and this is well documented. I mean, just from Srebrenica alone, basically, there were estimated 16,000 prisoners. I said, "There are 16,000 prisoners from Srebrenica alone. We could have exchanged these," I am sorry to have used this word pigs. I said, "You know, we could have exchanged these useless pigs for the civilians, one military for each 20 civilians." And they do it, they used to do this exchange and the Serbs were willing to trade 20 civilians for eight of their own military personnel. And I said, "Isn't saving a life far more important than exacting revenge in this way?"
Because I had witnessed exchanges before of prisoners and I used to see the kinds of prisoners. They used to walk either an elderly woman or young woman, women from the ages of eight until the age of 80. I was thinking of them when I saw that massacre took place in front of me, I was thinking exchange would have been far better. 
Jordan Harbinger: [00:38:24] Yeah, that's awful. I feel like that's just nightmare fuel having witnessed something like that, of course. And then also knowing that it was completely senseless, which it always would be. After this, I know, you went to Azerbaijan after sort of the Bosnia conflict came to a slow grinding halt, I'm not sure.
Aimen Dean: [00:38:42] You know it wasn't a halt. It was a ceasefire followed by the data in accord, which was signed on 14 December of 1995, because that day I left Bosnia also, so I still remember. 
Jordan Harbinger: [00:38:55] Oh, I was going to say you do have a photographic memory. Like, how are you remembering all these specific dates? Well, okay, fine. 
Aimen Dean: [00:39:00] You'd be surprised to know that in many of my flights at the time, I still remember even which seat and which — I sat on the airplanes. I don't know why it just, it sticks in my memory because I remember seeing the seat number and seeing the row and. It's just strange. 
Jordan Harbinger: [00:39:16] Yeah. That is probably useful sometimes. And other times it's completely not a good use of brain power but hey, it sounds like you've got plenty more. In Azerbaijan, this story interested me because I know you were doing some sort of financial work with charity money and this is kind of — unfortunately, what we read about in the news a lot is, "Oh, this Islamic charity is a front for terrorism." And, you know, on the left hand, I'm like, "This is a bunch of BS. You're just trying to smear this poor charity." And then, on the other hand, it's like, "Well, that's kind of what you were doing for some charities in Azerbaijan." Can you take us through this? 
Aimen Dean: [00:39:51] Well, I mean, basically what you said right now, both statements are true. I know it's strange and counterintuitive but both statements are true. These charities do not — their headquarters, whether in Saudi Arabia or in the West or in Kuwait or in the UAE, their headquarters did not know better because they give total delegation to the regional offices in places like Afghanistan, like Azerbaijan, like Georgia, and the Caucasus, like the Philippines and Somalia. So what happened is after the disbandment of the jihadist contingent in Afghanistan and in Bosnia in the mid-1990s. What happened is that many of this charitable fieldwork require a significant amount of bravery because, basically, you're going into war zones where lots of risk and danger could happen.
[00:40:44] Now, many of the ex-jihadist decided, "You know, what? Like, I'm up for this work. I will volunteer." So until then, their motive was not questioned. "Oh, okay, fine." Like, I mean, we killed two birds with one stone. These former jihadists need employment, not many people will employ them in their back home countries and the Arab world or elsewhere. They have the stigma of being militants. So, however, they are willing to do charitable work at great risk of their own lives because that's what they know best. They know how to go to the field and risk their own lives. Perfect. So the idea was we use them, we benefit them and benefit from them. And that's how the infiltration of charitable organizations took place slowly but effectively by the jihadists including Al-Qaeda and others. So, yeah, that's how it happened.
Jordan Harbinger: [00:41:43] So it's kind of you're divvying up money and — what are you doing? You're saying like, "Oh, we need $10,000 for bandages and medical equipment," but then it just goes to an arms dealer and ships AK-47 to Dagestan.
Aimen Dean: [00:41:56] Well, yes, basically, and more than that, I mean, so I remember when I arrived in Baku in Azerbaijan and I talked about lots of some funny incidents at the airport there, but I leave it to the listener to read it in the book, but when I arrived there, I remember, I was told by the leader of the Arab jihadist contingent in Chechnya that "The mountain passes are not safe right now, but you know what? Basically you are very good at math, you're a young student, so how about you help us, basically? You stay in the office of a charity there in Baku and you help us with everything that we need in terms of diverting funds, calculating the cost of 5,000 tents for refugees?" In fact, basically, there are only 2,000, but they just inflated the numbers and creative accounting, really, in order to divert as much money, food, tents, medical supplies, and the cash, of course, for weapons, as well as cash for bribes. We were bribing as Azerbaijani officials as if there was no tomorrow to make everything look legitimate.
[00:43:06] So there it was my first brush ever with what I call the financial jihad. Because I realized there and then how much food is needed, how much bandages, how much antibiotics, morphine, first aid kits, medical supplies, walkie talkies, video cameras — for the purpose, not only of propaganda but also for the purpose of reconnaissance — night vision goggles. All of these things, which I never thought about before. Because when you are in the front line, all of these things are given. I never thought about logistics ever there. I've learned all about logistics, financial diversion of funds, how to infiltrate charities, how to lie to headquarters effectively — even when they sent delegations to visit and inspect, we used to do lots of tricks to make them believe or to amplify what we are doing to make sure that they even give more funds. It was steep learning for me. Four months I was involved in that kind of thing which, you know, served me well in later life, which we will discuss later. 
Jordan Harbinger: [00:44:16] Sure. Of course. Yeah. So you kind of do a little tour of duty, so you're in Bosnia and it's kind of like an intro. Then you go to Azerbaijan. You're doing a little bit of, I don't know, money laundering or whatever you want to call it, money laundering light. And now you want to go to Afghanistan for frontline duty. I assume, was this like, "I want to die in Afghanistan," or, "Is this kind of like, I want to go there cause I want to be on the front lines because that's real jihad," enough with this sort of calculator, Microsoft Excel crap? 
Aimen Dean: [00:44:40] Neither. And I'll tell you why.
Jordan Harbinger: [00:44:41] Neither.
Aimen Dean: [00:44:42] I've learned that the real reason apart from me being, basically, helping with what I call the logistical back-office jihad was that, "Okay, this is a new guy. He is coming. Does he know how to make IEDs?" "No." "Does he have good sniper capability?" "No." "Is he like good in urban warfare?" "No." "Okay. So then his entry is no priority to us, so basically let's keep him there where he could be more useful." I felt a little bit humiliated, a little bit. Even though I spent 14 months in the war in Bosnia and you know, I'm not as militarily experienced enough to join the ranks in Chechnya. So how do I remedy that? And I remember the words said to me by none other than Khalid Sheikh Mohammed, the mastermind of 9/11 when he met me in Bosnia in October of '95. He was sitting with us. We were a group of six people and he was talking to us directly. He said to us that, "The war in Bosnia is about to end because of the ceasefire, which will be followed by peace talks. So most likely it will end. Where will you go after that? Are you going to go from one war to another, on the fringes of the Muslim world? Because the fringes are weak, because the center is weak, because the center is invaded, occupied, and controlled by the Americans who installed puppet regimes to guarantee the flow of cheap oil. You know what? You should go to Afghanistan where the training camps are reopening. Bring your military experience, shape to study a new modern world, to become good at bomb-making, to become good at urban warfare, to become good at assassinations, at kidnapping, basically a new kind of war that will never be fought in the mountains anymore, but it will be fought in every urban center from the pole to the pole."
[00:46:42] So I thought, "Wow, that was a very good pep talk." I remember him giving me a piece of paper with a phone number in it, and he said, "Call this number, tell them it was me, Khalid Sheikh." That's how we used to know him. "Tell them Khalid Sheikh sent you. And that's it. That's all they need to know, and they will take you into a good training camp in Afghanistan where you will be trained." Now, I ignored that because I wanted to go and die in Chechnya but then, of course, four months of doing boring office work, sending jars of mayonnaise to the Chechen fighters weren't exactly what I expect the job to be. 
Jordan Harbinger: [00:47:22] Where are you literally sending jars of mayonnaise to them? Why? What's that about?
Aimen Dean: [00:47:26] Yes. Hundreds of kgs of this stuff, man, because mayonnaise basically in the cool weather stays longer. That's the first thing. Second thing, basically, they mix it with bread, with rice, with everything because it's full of protein, full of fat. So it can sustain them in the mountains, in the cold mountains of the Caucasus. So yes, mayonnaise was one of the main staples.
Jordan Harbinger: [00:47:51] Jeez. I like mayonnaise. And that still sounds freaking disgusting to eat like a jar of Mayo with rice jammed in it. And then it's like, it's breakfast, lunch, and dinner. Dude, no way.
Aimen Dean: [00:48:01] But someone said to me basically, "Oh my God, did you find the Russians in Chechnya." I said, "Yeah, with jars of mayonnaise." So I remember, I just pulled that piece of paper out of my luggage, looked at it, gave them a call, and said, "Khalid Sheikh gave me this number six months ago. Can I come?" And the answer on the other phone said, "Yes to me." And that man was a current Guantanamo, infamous Guantanamo inmate called Abu Zubaydah. So it was Abu Zubaydah at the other end of the phone, and then it was Abu Zubaydah a week later who received me in Peshawar airport, landing there, and sending me to a training camp in Afghanistan because I've got sick and tired of being militarily useless 
Jordan Harbinger: [00:48:47] When you get to Afghanistan, though, that conflict is pretty complicated. There's a lot of different parties here. Did you go there thinking, "All right, I'm going to fight the on the front lines," and then you just ended up killing other Muslims? 
Aimen Dean: [00:48:58] It doesn't go to the front lines exactly because of the issue of killing other Muslims. I mean, I just decided to stick to the military camps and that's it. Training, training, training, and training, nothing else. So I devoted basically my time there in Afghanistan for training. And I remember I arrived there in early May of '96 and in late July of '96, just roughly three and a half months later, bin Laden arrived back from Sudan. And, of course, by that time I regretted not arriving to Afghanistan earlier because the training there was serious. I mean, I thought, basically what more could you learn? But, of course, basically, there was so much to learn. So I ended up in the training camp and many of my fellow trainees would later go on to become not only members of Al-Qaeda but many of them, senior members of Al-Qaeda. In fact, one of the fellow trainees there would go on, two years later to be the van driver of the van that blew up the American Embassy in Nairobi in Kenya in 1998. 
Jordan Harbinger: [00:50:05] So you have unmasked quite a Rolodex of bastards. 
Aimen Dean: [00:50:08] Yes, indeed. So when Osama bin Laden arrived, he was asking if there were any people from Saudi Arabia in the vicinity. He was only about a 45-minute drive from where we were. So 14 of us, all of us went into one car, yes, into one pickup car, all of us. At the time I really felt what the crammed cattle would feel basically in the back of a pickup.
Jordan Harbinger: [00:50:32] It's like a clown car. You have 14 people in a van. 
Aimen Dean: [00:50:35] Well, it wasn't a van, it was a pickup car.
Jordan Harbinger: [00:50:38] Oh, pickup truck.
Aimen Dean: [00:50:40] Yeah, a pickup truck.
Jordan Harbinger: [00:50:40] Oh, so you're like all in the payload of this pickup truck and there's like five people in the cab. 
Aimen Dean: [00:50:45] Indeed, yeah. So I remember, basically, we were childless saying, "Baa," and whatever pretending to be lambs or whatever. So we went to see Osama bin Laden. Now, many people — I remember that day was, I think, either the fourth or the fifth of August of '96, I remember many people were always asking me, "What was your first impression when you saw Osama bin Laden?" And I know that all of them expect me to say that I saw something great, something magnificent, something overwhelming, you know all of that. And I say, "Ah, well," it was a little bit underwhelming actually the first time I met him because when he arrived back from Sudan, he was a guest of one of Taliban warlords. And they were all in a compound that belonged to him. He and the rest of the people who fled from Sudan and arrived in Afghanistan, they looked like refugees. You know suitcases and boxes everywhere, unopened. Usually, when you see Osama bin Laden, the first thing that comes to your mind is a nicely dressed individual in a neat turban, neat robes, well-ironed, no crease, nothing. What I saw in front of me that day, basically, it was a very creased Arabic headscarf, an Arabic robe, and looked disheveled and unkempt. And all of them looked like that. They looked like refugees and they were actually a bunch of refugees who just escaped with their lives from Sudan just two weeks earlier 
Jordan Harbinger: [00:52:15] What year was this that you met Osama bin Laden? 
Aimen Dean: [00:52:18] As I said, basically, it was either the fourth or the fifth of August of 1996. 
Jordan Harbinger: [00:52:24] Okay. So we're still in the '90s. I'm just making sure like what year we're at because I think a lot of people — this is such a weird question because it's not exactly — there's no good way to phrase this. Was Osama bin Laden kind of a big deal in the jihad scene at that point? It's such a weird way to phrase it, but you know what I mean.
Aimen Dean: [00:52:40] Yeah, he was. No question. He was. The prestige was built up from 1989, 1990, 1991, '92. And of course, his time in Sudan and his opposition to the Saudi Royal Family. The fact that he was planning a jihad against the Americans in Somalia in 1993. So of course, basically, there was already that prestigious aura around him, but seeing him and seeing the other members of Al-Qaeda looking like refugees, disheveled, and looking as if they just escaped with their lives, it was a bit of an underwhelming moment. But you see, that moment was very pivotal because when we sat in front of him and his other lieutenants and he was talking to us and asking us questions, of course, basically some of us, told him that we were in Bosnia. And, of course, basically, he asked about some of the people who were killed there and he knew them personally. And then he went on to talk about why he is back in Afghanistan. So, of course, he doesn't want to say basically that, al-Bashir and a Turabi of Sudan, those two duos who ran Sudan stole his money and kicked him out to please the Americans. Of course, he couldn't say that. What he was saying is that it was the invisible hand of destiny and prophecy that brought him all the way from Sudan to Afghanistan.
[00:53:55] So, of course, basically, it was rather, "Huh?" I mean, "What do you mean by prophecy?" And he launched into talking about the prophecies of the Black Banners, The army of the Black Banners. These are texts, hadith texts, basically, in a narrative from the prophet Mohammed that an Army of Black Banners will be hosting their flags from Khorasan, which is interpreted to be Western Afghanistan and Eastern Iran, where they will be marching all the way towards Jerusalem, Arabia, Damascus, whatever, basically liberating the Muslim world. And among them will be the Mahdi, the messiah figure of the Muslim world 
Jordan Harbinger: [00:54:37] So to clarify because I think a lot of people don't know this. So what this essentially means is there is something in the hadith which is what, like the B sides of the Quran. I'm not trying to be disrespectful, but it's like the other stuff that's included, but not directly in the Quran, right? Like, how would you explain that in one sentence? 
Aimen Dean: [00:54:56] Well, I mean, basically the Quran is the Holy Book of the word of God, the hadith is just collections of the statements and the deeds of the Prophet Mohammed scattered in many different books. They don't hold the same holiness or authority as the Quran for sure.
Jordan Harbinger: [00:55:14] Got it. Okay. And then, so in that set of books, There's a prediction that there's going to be some sort of like fake Islamic BS that turns out like ISIS, where they're pretending to be speaking Holy, but they're really just preaching violent crap that you should ignore. 
Aimen Dean: [00:55:31] Yeah. But actually what he is trying to say is that we are the army of the Black Banners. That will actually be the army of the truth, the army of the jihad of liberation that the Mahdi, the messiah figure for both Sunni and Shia Muslims, will rise with us, and we will be paving the way for his return. Of course, in later years when I devoted much of my spare time, as much as I can to the research of these prophecies. And I wrote basically a small research paper, which only I gave to certain intelligence agencies around the world but it's a 90,000-word research paper concluded that these were without doubt fabrications, basically written just 90 years after the death of the Prophet Mohammed, for the sake of political expediency to pave the way for a rebellion by one dynasty against another, because all the narrators of those prophecies then got handsome jobs and rewards in a new dynastic empire in a basically that was built upon the rebel of the previous city.
[00:56:43] So all of this basically was just a load of crap. It's the con, it's the biggest con being perpetrated because already 1,300 years ago, an army of Black Banners came out of Khorasan, hoisting black flags and marched all the way to exactly the same directions these armies were supposed to go. And they did all the conquering and all of that. And they even had a leader among them called Mahdi. And then after that, these narrators who poison the minds of the people at the time with these prophecies, basically, got all these handsome rewards. That's it. Done. Dusted, but nonetheless, the damage is done.
[00:57:25] These prophecies seeped into the Books of Hadith shaping the messiah or the messianic narrative within Shia and Sunni Islam together, promising conflicts in Iraq, in Yemen, in the Levant, in Syria, in the Maghreb, in North Africa, and in Khorasan, which is of Afganistan and Western Iran. So in reality, things became self-fulfilled prophecies by the fanatics from both sides or are trying to fulfill prophecies that actually are fabrications for political expediency. 
Jordan Harbinger: [00:58:04] This is The Jordan Harbinger Show with our guest Aimen Dean. We'll be right back.
[00:58:11] This episode is sponsored in part by Thrive Market. A few weeks back, we became members of Thrive Market. It's like a wholesale club, but on all the gluten-free organic, healthy stuff that I am sometimes now eating. We buy avocado, oil spray — we used to cook eggs for breakfast. There are seaweed snacks. I never thought I'd be shoving seaweed in my face as an adult, but it is delicious. There's also baby food grab-and-go pouches with bison, kabocha. I don't even know what that is, but my kid is eating it better than me — spinach, baking flour. We are full-on Silicon Valley hipsters over here and what I like is my paid membership provides a free one for someone in need, like a low-income family, a teacher, a veteran, or a first-responder. Thrive Market tailors to over 70 different diets and values. So if you are a picky ass eater, like paleo, keto, plant-based whatever. High quality, organic and sustainable essentials from groceries, healthy snacks, meat, seafood, cleaning, wines, cleaning stuff, bath and body stuff, and shipping is free over $49. Jen.
Jen Harbinger: [00:59:09] We love Thrive Market, and you will too. Try it risk-free, go to thrivemarket.com/JHS. Join today, and you'll get up to $20 in shopping credit toward your first order. That's T-H-R-I-V-E-market.com/JHS. Start your risk-free membership and get up to $20 toward your first order. Thrivemarket.com/JHS. 
Jordan Harbinger: [00:59:34] This episode is sponsored in part by DesignCrowd. Building a business from the ground up might be second nature to some of you. Unfortunately, your company logo looks like it was scribbled in crayon on the side of a cereal box by a sugar-fueled kindergarten and not in a good way. DesignCrowd is on the scene to save the day. Go to designcrowd.com/jordan, D-E-S-I-G-N-C-R-O-W-D.com/jordan. Tell him what you want. You might say, I need a bold company logo, including a silhouette of a rocket ship that would look oppressive on the side of our skyline defining office building, whatever. Then DesignCrowd invited 750,000 plus designers to respond. You get a few designs in the first hour. Over the next week, you're going to get 60 to a hundred more designs from designers around the world. And if you don't like any of them in that unlikely event, They will give you your money back. Whatever your purpose, just about any creative project can be crowdsourced on DesignCrowd — t-shirts, book jackets, raisin bread boxes, a menu for your gourmet lemonade stand. The possibilities are limitless. Jen. 
Jen Harbinger: [01:00:34] Right now listeners of The Jordan Harbinger Show will receive up to $150 off their design project by going to designcrowd.com/jordan, D-E-S-I-G-N-C-R-O-W-D.com/jordan, or just under promo code JORDAN when posting a project.
Jordan Harbinger: [01:00:52] After the show, we've got a preview trailer of our interview with Navy seal and veteran Jocko Willink, like you've never heard him before. So stay tuned for that after the close of the show.
[01:01:02] Thanks for listening and supporting the show. You supporting our advertisers, keeps this show going. If you want to see all the deals in one place, go to jordanharbinger.com/deals. We've also got worksheets for today's episode. The link to that is in the show notes at jordanharbinger.com/podcast. Now for the rest of part one with Aimen Dean.
[01:01:23] Sort to clarify here, there are predictions that there'd be like fake Islamic armies that rose a black flag and fake jihad — and even that turned out to be a big forgery just for political expediency. So the text that we're looking at here has been manipulated a lot to get people to believe certain things, including that, you know, jihad means violent war against everybody who the current sort of teacher wants it to be. When you're in Afghanistan, you said you got surveillance training. What kind of stuff are you learning? First of all, when you're there isn't anyone like, "Hey, who are these random foreign fighters?" Or were you pretending to be something else? 
Aimen Dean: [01:01:58] Well, we always were dressed like the locals and we never looked different from the locals once we were dressed like them. You know, because we were always in Pashtun areas. This is one of the biggest ethnicities in Afghanistan. So we deliberately learned the language of the other ethnicity in Afghanistan, which is the Tajiks, which is Farsi or as we call it there in Afghanistan, Dari is a form of Persian. The idea is, so if we are asked questions by the local Pashtuns, we just reply in Dari. So they think, basically, that we are from the north and at the time — remember the Afghan population is where the most simple-minded people you will ever encounter on the planet at the time. I'm talking about the Afghans who were there, not the Afghans who traveled abroad and became well-learned and educated in western or far east universities, no. So when we tell them we are who we are, basically, they accept. We are from the north or we are basically from Iran or we are from Pakistan and so they just accepted. However, those who are educated among them, especially those who go to religious seminaries and learn Arabic. They catch the Arabic accent in our Dari and tell us, "No, you're Arabic." But then we don't fear these people because they're already supposed to be sympathetic towards us.
Jordan Harbinger: [01:03:19] Right. Okay. I thought maybe you were saying to the locals, like, "Oh, we're studying in an Islamic school. We're just scholars. You can ignore us," that kind of thing. 
Aimen Dean: [01:03:29] No, they knew what we were up to. And, of course, basically a year after I arrived, the Taliban took over almost off Afghanistan. And so we became part of the dominion. All of our camps, all of our training facilities were now under their control. So the locals more or less viewed us as the foreign Taliban.
Jordan Harbinger: [01:03:48] You got some weird torture training. And one that I remember was taping people's penis shut and forcing them to drink a bunch of water. I got to admit that would definitely work on me. Like that would be the most uncomfortable thing. 
Aimen Dean: [01:04:00] Well, we never practiced it, but we were told that — okay, so there is a course called security, in which you are dealing with counter interrogation, interrogation, surveillance, and intelligence gathering, all these kinds of things. So one of the things we were told, "Okay. How to extract information from people in a way that doesn't leave a mark?" because we were told that you can't torture people in a way that leaves mark or break a bone. So we were told — but what tickle them until basically, like they tell you what we want to know? And of course, the answer was no. We came up with an ingenious idea that doesn't leave a mark or break a bone but it will make anyone talk. So we went all curious, they said, "Okay, tell us." So if you have the suspect, make sure basically that you make them a little bit hungry, skip a few meals. So they would ask you for food, then ask them, what is it that they want? So whatever they want to give them. If you are somewhere where they serve burgers and pizza give them that they. So give them as much as they can eat. So once they eat, they will become thirsty. Don't give them anything to drink for a while. But then once they really become thirsty, then you bring a big bottle of water, cold, sweating from the outside. It looks so appealing. Let them drink to their heart's delight. Once they fully drink the water, of course, basically they will soon need the toilet. So what you do tie their hands to the back, and then pull the clothes down, basically take a sellotape or duct tape or whatever, basically add block the urinal track basically and make sure they can't pass. And that's it. Just watch them tell you exactly everything that is in their heart and their mind. That's the only way you can extract a confession. And then they told us, "Well, this is very humane because you are not leaving a lasting mark, you're not breaking any bone. You are not basically not even leaving any bruise." 
Jordan Harbinger: [01:06:03] Yeah. You're leaving a mental scar though, man. I think we all have one of those stories. Yeah. Like I had to pee on this plane and the bathroom was broken and it was six more hours in the flight. And that was just like, what happens if I stabbed myself, we have to make a landing, right?
Aimen Dean: [01:06:16] Well, you see, of course, basically, they used to give us lots of useful tips about how to gather information. They used to tell us the taxi drivers are the best place to start with if you're landing in a new city because they are eager to talk. They are eager to please, and they drive all over the place and they meet all sorts of people, rich and poor, foreign and domestic, everyone. So if you ask them, "Where do American tourists go for fun? Where do British businessmen go to congregate? Where do they Australian team players go to a party?" They will tell you everything. So your starting point is always the taxi drivers. I still remember this piece of training from my time with Al-Qaeda.
Jordan Harbinger: [01:07:11] How did you get into bomb-making and poison-making? I mean, this is like a jump and you've got tons of stories. I'll go over some of these in the close. We don't even have time to get to everything like you went to the Philippines and you were fighting in the jungle. You just got around but eventually, you get to bomb and poison making, like, what's this all about? How did that happen? It's a weird major. 
Aimen Dean: [01:07:32] Well, I did it after encountering Osama bin Laden. I didn't join him immediately. It took me a year to join Al-Qaeda. So in August of '97, I joined them. In September '97, I swore allegiance to him. And I remember basically he told me that, "You have an aptitude for math and science which shows. And so, therefore, basically, we want to train with the famous master bomb-maker and Afghanistan. His name is Abu Khabab and a former Egyptian army officer specialist in explosives. So I went to join him and then, of course, I spent 11 months with him. And the course was like this — how to make bombs from scratch, from scratch from the beginning, and then you progress into poisons then into chemical weapons then into biological weapons. So it's a course that lasts roughly 11 months. I remember my first day on the course — the course is only attended by four. That's it. No more than four to make sure — to limit the number of mistakes, because why? 
Jordan Harbinger: [01:08:36] Yeah. You don't want the fifth guy who doesn't listen well in the back, like, "No, no, no. You just mix it all together at the same time, right?" And that's how everybody goes. 
Aimen Dean: [01:08:43] Yeah. I remember him telling us this very ominous and the warning he said, "The art of bomb-making is extremely fine and delicate. Your first mistake is going to be your last. Remember that." 
Jordan Harbinger: [01:08:57] Like, "Sorry. I was checking my phone. I think this one goes first, right?"
Aimen Dean: [01:09:01] Yes. And then boom, that's it. So I was, of course, fascinated. I was telling him. I was telling my instructor. I was saying, "I was studying chemistry just until I was 16. I was studying chemistry in school. Why didn't they teach this? This is exactly what chemistry should be." You know, blowing up things. You know I got my taste. I remember just five days after I joined our instructor was experimenting with how to build a mega bomb. So he was experimenting with 1.2 tons of explosives and he set it off and the windows in four kilometers away shattered and the village near, you know, four kilometers away and just to show you basically — and they thought some power somewhere dropped a mini-nuclear bomb. So this is the first experience of a massive bomb. And then after that, we went on to build even bigger ones. So for me, basically, it was something that fascinated me, the theory of it, the making of it, and then, of course, progressing into poisons. So you learn more about the human anatomy and metabolism and how poisons are either ingested, injected, or basically simply by touch. This is when I understood how heroin and nicotine are extremely poisonous. This is when I understood that, "Don't smoke. Don't take drugs," seriously. These things really, we can make poisons out of them that are extremely lethal. And, you know, then we moved into, of course, chemical gases, chemical weapons. And, of course, basically, we had an understanding of their uses during it only first World War, but even during the Iraq-Iran War and how Saddam used them against the Kurds in the North of Iraq, understanding the application, even coming up with a delivery mechanism that is easy for individuals even, basically, to do once they master basic chemistry and basic engineering. And then we moved into biological weapons and how it is difficult to produce and control and preserve and deliver and the difficulties and the challenges all around that.
[01:11:12] So while it's all theory but it was there when I started hearing from my fellow trainees. And one of them is quite famous actually, his name is Moez Fezzani. He is the mastermind of the Bardo Museum attack in Tunisia in, I think, 2017 or 2016, and also the Sousse beach attack, which also killed 38 British holidaymakers in Tunisia and because he became a senior leader for ISIS in North Africa. So I heard them at the time talking about how we will use these chemical devices in cinemas and trains you and the subway of New York or anywhere else, basically, like anywhere we could have people in confined spaces. So all of these intentions basically unsettled me. I mean, I thought basically we're going to fight against military, not against civilians. 
Jordan Harbinger: [01:12:05] Right. Like you're in your 20s, right? How old are you at this point?
Aimen Dean: [01:12:09] 19.
Jordan Harbinger: [01:12:09] 19. You're not even 20 years old. You go to this sort of holy cause, this higher power. Meanwhile, you're gassing jackrabbits to test chemical weapons and making poison. And you're trying to figure out how to kill people on their way to work or kids watching Disney movies. Like there must have been some point where you're just like, "What the hell is going on here? Like, none of this is what I signed up for it." You know, terrorists just want to create chaos because I guess people will crave law and order. Is that the idea behind this at this point? 
Aimen Dean: [01:12:37] Well, of course, I've been because suddenly, I thought that the nature of the world is changing from fighting in the mountains of Bosnia, I mean, basically we are talking about gassing people in cinemas, theaters, and nightclubs and trains. Of course, that was unsettling but I thought, basically, this is just the ranting of one insane individual. So, I thought, "I will continue with the course. He's one insane individual." Then the news came, of course, basically after 11 months of spending there at the camp that the Al-Qaeda carried out its first attack, a serious attack against American interests around the world. It was the attack against the American embassies in Nairobi in Kenya and Dar es Salaam in Tanzania. At the beginning, everyone was jubilant in the camps. They were firing bullets into the air in celebration and shouting, "Allahu Akbar," and feeling elated and exhilarated. And so I asked, basically, "What is it about these two locations that were so important?" And they said, "Oh, they were the largest CIA stations in East Africa." Of course, you know, basically, I had their idea with me. I was always listening to Kuwait radio. As you know, Kuwait radio is quite sympathetic to Americans in general because, of course, they were liberated by the Americans just a few years earlier from Saddam Hussein in the Gulf War.
[01:13:58] But I listened to them and they were saying, no, that it was American embassies, 12 American diplomats were killed, but alongside them to 220-plus Africans, innocent Africans were killed, who were at the wrong time at the wrong place and 5,000 were wounded. 150 of them were blinded for life because the devices were full of shrapnel. And then when I learned it was a close friend of mine, Abu Abdullah al-Maki, the one who went with me to see Osama bin Laden two years earlier. He was the one who drove the van. I started to have doubts. It's different when you hear about the theory and the plan, and then see it happening, being executed. And that's when you start to think, "Is that what I signed up for?"
Jordan Harbinger: [01:14:44] Right. Like, because you'd killed a bunch of Serbs for doing pretty much the exact same thing to civilians and now — and you're on the wrong continent. Like Africa, what the hell you do it — like, what are you guys doing? 
Aimen Dean: [01:14:56] Many, many questions came to my mind, including the justification. Was it justified or not? And I was told it was justified, but then the religious justification that they came up with was extremely bogus because it's based on a fatwa religious edict that was issued 800 years earlier in regard to the Mongol invasions of the Muslim world. Because they were saying, "Look, if the enemy is hiding within civilian areas, we have the right to attack, but the fatwah was concerning in the Mongols using Muslim prisoners to push the Mongol siege towers towards the walls of the next Muslim city they want to sack. So the urgent question from the Muslim defenders against the Mongols was, "Are we allowed to kill these Muslim prisoners being coerced by the Mongols to push the siege towers?" And the answer was yes. If you don't kill them, the Mongols will kill them. Anyway, they are dead anyway. Because if you don't kill them, you would be killed. So it was a matter of life and death. It was a matter of desperate situation. Yet I can't recall the American embassies in Nairobi or Tanzania pushing siege towers towards Mecca or Medina.
Jordan Harbinger: [01:16:09] Right. They're like waiting to get a visa to go visit their grandmother or something like that. 
Aimen Dean: [01:16:13] Exactly. Exactly. There was no life and death situation. There was no imminent danger, imminent attack that justified what Al-Qaeda did. So I felt that the twisting of the religious principles was ugly in order to justify this act. And so I started to have in my mind that one, I don't want to be part of a group that is on the wrong side of history. I started to see that. I started to see that there will be massive consequences for what happened. We are no longer just a bunch of freedom fighters, an Islamic version of that, like roaming around trying to defend people. We are now bonafide terrorists and I don't want to be part of that. I felt that maybe I stayed in the end because I didn't have any choice, but now I have a choice. I don't want to stay. I'm going. So it took me four months. It's not like I woke up one day and I decided all that said, "I'm going to leave Al-Qaeda and become a spy." Of course, it wasn't like that. Basically, I wanted to go back to the Gulf, go back to Qatar because it was nearby where I used to live. Go to university, continue my education, become a history teacher because that was my naive idea. Well, much to the relief of my would-be students, it never happened. I was arrested the second day after I arrived in Qatar.
[01:17:41] Of course, I told Al-Qaeda that it was a medical issue and I had actually, you know, previous year, had a serious medical condition that necessitated going to Qatar for treatment. It was both malaria and typhoid coming at the same time. I was bedridden for nearly a month. I lost half of my weight. I nearly died. So I remember the doctors there in Qatar telling me you have to come back a year later to make sure we run tests that your liver is not damaged forever, basically, because my liver was almost 50% to 60% its normal size. 
Jordan Harbinger: [01:18:16] Why did happen? Do you think it was from any of those poisons you were making?
Aimen Dean: [01:18:19] No, it was the onset of typhoid and malaria at the same time. 
Jordan Harbinger: [01:18:22] Oh, typhoid and malaria at the same time. Okay. Yeah. I can see that causing a little liver stress. 
Aimen Dean: [01:18:27] Yeah. So I told them basically that I was just to go back to Qatar for the medical checkups, everything out. Of course, basically, they already have — from Al-Qaeda we have our own doctors, so basically they have the reports and everything, and they said, "Of course, you can go." There is no question. So the idea is I'm going but not coming back. So once I land in Qatar, that's it, goodbye. I will send them a message saying, "Oh, the Qatari authorities confiscated my passport. I'm not allowed to leave the country. I don't know what to do." So, gradually disengage. 
Jordan Harbinger: [01:18:59] That was your exit strategy. "Okay. I got to go back for medical treatment," and then you're just going to peace out. 
Aimen Dean: [01:19:04] Yeah, so it will be a gradual disengagement, but of course, basically it wasn't anything, but I was arrested the next day. And I remember when I was at the airport before leaving Pakistan, I was in the prayer room in the airport and it was praying something called the Guidance Prayer. You know, I was, of course, deeply religious at the time. I said to the Lord that, "I put my destiny and my life in Your hand, whatever You take me, I'll follow. I don't know where I'm going. Therefore, basically, your guidance is what will shine the light ahead." And so when I was arrested and taken to the state security building, I remember, basically, at the beginning of the atmosphere was so intimidating because, of course, they knew how I was, they had information that was coming. They knew about my association with people like Abu Zubaydah and many other members of Al-Qaeda. And, of course, when they started asking the questions in this very brisk and intimidating manner, you know, "Do you deny that you are an Abu Zubaydah?" "No." I remember that several of them looking at each other thinking, "Huh? Okay, that's the answer we expected. We expected denial or no. Who are you talking about? Who is Abu Zubaydah?" But, of course, I wasn't in the mood to deny anything. So they said, "Do you deny that you're a member of Al-Qaeda?" "Nope." "Do you deny that you met Osama bin Laden?" "Oh yeah. I did meet him." "Okay." And then they asked more questions and then said, "Wait a minute, why are you so candid?"
Jordan Harbinger: [01:20:33] Yeah, "What's going on here? Like we were asking you if you deny it because we expected you to deny it. And then we were going to beat you up. Like you're taking all the fun out of us, man." 
Aimen Dean: [01:20:40] Exactly. You know, they look a little bit flabbergasted and disappointed at the same time. And so I told them exactly the story I told them, "In all honesty, this is exactly what it is." I remember it was dark at their side, light on my side. So I can't see them exactly properly. I see just basically the expressions on their faces, but it was dark at their side, they all whispered to each other or something. And then they all left the room. Then when they came back, they switched off the intense light. They switched off the normal lights and they all came to me, shook my hands and some of them hugged and they were saying basically, "Well done. We truly believe you. Well done." For the next nine days, I was their guest. They brought a proper bed. The Sheraton Hotel was just next door. So they used to bring all the three meals from the Sheraton Hotel. And of course, what followed basically was just discussions about everything and debriefings. I was forthcoming and honest about everything, basically, giving them the valuable intelligence that they wanted from the beginning about Abu Zubaydah and his role in the Paris Metro bombings of 1995 and his picture — because I knew where to find his picture. I knew where to find his bank account. I knew what to find the photocopy of his passport, the passport he was using. So, there were valuable intel, basically, that I was able to give them, and these questions were on behalf of the French intelligence because the Qataris and the French were very close as a time in terms of defense and security. So by the end of it, they said to me, they told me, the Qataris were very candid. They said, "Look, we were talking to you, everything was recorded. And it was streaming live to a room here within the building where there are.  There are French intelligence officers there. They are extremely keen in recruiting you, but we are blocking them at the moment because we want to give you the choice. What is your choice?" I immediately said, "I want to stay here. I want to stay in Doha in Qatar. I want to go to university, become a teacher in the future." They said, "There is a problem." And I said, "What?" They said, "The entire country is 250,000 people." 
Jordan Harbinger: [01:22:56] Oh yeah. So like, if you're in this small country and you come out and leave out — like you're going to run into your old homies, for sure. 
Aimen Dean: [01:23:03] They said every day, "You will encounter them every day. There are a handful of mosques only, there are a handful of shopping places. You'll end up meeting them regularly. You need to think bigger here. We could facilitate you being protected by a bigger agency than ours." And I said, "Who?" They said, "Well, there is a French, there are the Americans. And of course, basically, there is a British." So the French, I said, no, I'm not going to learn another language entirely. So it's going to be a very uphill struggle for me to really absorb French, learn French culture, and just take it. Like it isn't easy for me. 
Jordan Harbinger: [01:23:45] Still a lazy 20-something. You might've gone around the world fighting for Al-Qaeda, but you're kind of like, "Man, learn French. Ugh, nah." 
Aimen Dean: [01:23:53] Indeed. So, for me, to be honest, basically, I find the French and the French language unpalatable but please — no offense, no offense. And I said, "As for the Americans, last August, I survived their retaliatory attack by cruise missiles against our camps. I find that extremely difficult to work with someone who just a few months ago, pressed the button to kill me. So it's still raw, still recent."
Jordan Harbinger: [01:24:25] Yeah. "I'm still a little sore about that cruise missile attack guys. Sorry." 
Aimen Dean: [01:24:28] Indeed. 
Jordan Harbinger: [01:24:29] So the Brits by process of elimination, then.
Aimen Dean: [01:24:32] Indeed, it was a process of elimination. And because for me, I was told, "Look, you need to be protected by a bigger agency." And I said, "Yeah, but I don't want to be a spy." They said, "No, no, no, no, no. It's going to be a debriefing and that's it. Then you can go to university." So of course, even then, I didn't imagine I would become a spy. I was thinking it's all just debriefing and I will be giving them, of course, valuable intelligence about the Al-Qaeda's WMD program, the poison — 
Jordan Harbinger: [01:24:59] The poison and bombs.
Aimen Dean: [01:25:00] Yeah, exactly. I will give them the entire thing. Plus I'm aware of most of the camp locations. I can point them in the map. I have a photographic memory. He knows. So I thought basically that will, basically, first of all, ease my guilt about being part of that awful organization. That's one. So I can atone for being part of it. And the second thing is this will give me a passage to a normal life. Oh, how naïve I was, but I was still clinging to the idea that I'm going back to normal life. And once I boarded that plane from Doha to London Heathrow, yeah, I was going into anything but a normal life. 
Jordan Harbinger: [01:25:43] Well, I want to talk about your life as a spy in the next part, but thank you for coming on the show. I'm excited for part two. 
Aimen Dean: [01:25:49] Definitely. 
Jordan Harbinger: [01:25:52] Okay. There's so much more to this, so don't forget to tune into part two next time. That will be up in a couple of days for you all. Man, I'm telling you, this is just the beginning. Great big thank you to Aimen Dean. His podcast is called Conflicted. We're going to link to that in the show notes. His podcast is less story-based and more analysis. Also in the show notes, there are worksheets for each episode, so you can review what you've learned here from Aimen Dean. We've got transcripts for each episode, just in case you all want to read a podcast. Those can be found in the show notes as well.
[01:26:21] I'm teaching you how to connect with great people in our Six-Minute Networking course, it's free. It's always going to be free. That's at jordanharbinger.com/course. Dig the well before you're thirsty, people. Build that network before you think you're going to need it. That's what spies do and look at how glamorous their lives are, right? Doing a show in their underwear with a kid knocking on the door. These drills are designed to take just a few minutes a day. I wish I knew this stuff 20 years ago. I got to tell you, compound returns, folks. Find it all for free at jordanharbinger.com/course. By the way, most of the time you're hearing on the show, they're on the course. Join us, you'll be in smart company. Reach out to Aimen Dean. He's going to love hearing from you. And if you're into building relationships, I'm on Twitter and Instagram at @JordanHarbinger, but more importantly, let's be real, we're all adults here. I'm on LinkedIn. I post more there than anywhere else right now.
[01:27:08] This show is created in association with PodcastOne. This episode was produced by Jen Harbinger, engineered by Jase Sanderson, show notes and worksheets by Robert Fogarty, music by Evan Viola. I'm your host Jordan Harbinger. Our advice and opinions and those of our guests are their own. And yes, I'm a lawyer, but I'm not your lawyer. I'm not a doctor. I'm not a therapist. I'm not a spy and if I was, I wouldn't be able to tell you. So do your own research before implementing anything you hear on the show. And remember, we rise by lifting others. The fee for this show is that you share it with friends when you find something useful or interesting. If you know somebody who's interested in espionage, terrorism, terror finance, global affairs, share this thing, man. I hope you find something great in every episode, but please do share the show with those you love. In the meantime, do your best to apply what you hear on the show, so you can live what you listen, and we'll see you next time. Remember part two coming up in a few days, tune in. 
[01:28:04] As promised here's a preview of our interview trailer with Jocko Willink leadership is the most 
Jocko Willink: [01:28:09] Leadership is the most important on the battlefield. Every characteristic that you can have for a leader can be taken to an extreme, even the most important characteristic that I talk about all the time, which is humility. You've got to be humble as a leader. You've got to always look, "Okay, how can I improve? I need to listen to other people." Well, as a leader, you can actually be too humble where you don't stand up when somebody is telling you to do something that you don't think is right but you're like, "Hey, I'm humble. So I'm going to do it anyways." Well, if you don't think it's right, you actually shouldn't do it. Every positive characteristic can be taken to the extreme that it becomes a negative. And that is why as a leader, you have to be balanced.
Jordan Harbinger: [01:28:44] Be humble or get humbled is a term that I love. Can you tell us what this means?
Jocko Willink : [01:28:49] The nature of the world is if you're not humble, you are going to get humbled. So that's a good attitude to have, and it's a good attitude to always think, you know, "I need to stay humble," but that is the dichotomy. This doesn't mean that you're completely passive and there are times as humble as you should be, there are times you need to stand up and say, no. You know, Leif and I joked about it sometimes the most we'd get to sleep is when we were in the field. There's a funny picture of myself and Dave Burke on a rooftop. It's probably, it looks like it's about 11 o'clock in the morning and we're both sitting there. We're both asleep.
Jordan Harbinger: [01:29:25] 110 degrees.
Jocko Willink : [01:29:27] It's 110 degrees and we're both asleep and clearly, this was the first time we had to rest in 24 or 48 hours. And you're learned to sleep anywhere, on concrete and floors and stairwells and whatever else 
Jordan Harbinger: [01:29:40] For more with Jocko, including why we should stop being the easy button for those we manage and lead, and the concept of leadership capital, how to build when to use it, and when not to use it, check out episode 93 right here on The Jordan Harbinger Show.
Sign up to receive email updates
Enter your name and email address below and I'll send you periodic updates about the podcast.