Reading Time:
4
minutes
Aimen Dean (@AimenDean) was once one of al-Qaeda's most respected bomb-makers who swore allegiance to Osama bin Laden himself. He eventually switched sides and spent eight years as an MI6 spy trying to take al-Qaeda down from the inside. He is the author of Nine Lives: My Time as the MI6's Top Spy Inside Al-Qaeda and co-host of podcast Conflicted. This is part one of a two-part episode. Check out part two here!
What We Discuss with Aimen Dean:
The radicalizing circumstances that contributed to Aimen's recruitment by Islamic extremists after memorizing the Quran by age 12.
Early misgivings about the cause brought about by witnessing a brutal revenge massacre instigated by his own side during the Bosnian War when he was only 17.
What Aimen learned about "logistical back-office jihad" and financing terrorism on a global scale while creatively accounting for a now-infamous charity front.
Aimen's trip to Afghanistan at the behest of 9/11 mastermind Khalid Sheikh Mohammed that led him to swear allegiance to Osama bin Laden and Al-Qaeda.
What Aimen learned — and taught — about ingenious and terrible methods of torture that would extract confessions from victims without leaving permanent marks.
And much more…
Like this show? Please leave us a review here — even one sentence helps! Consider including your Twitter handle so we can thank you personally!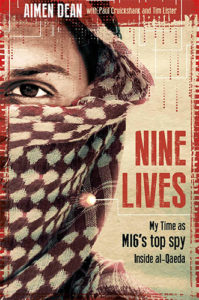 Hey, we all do crazy things when we're young. Sometimes we toilet paper the principal's house on Halloween. Sometimes we superglue the entire football team's lockers shut the night of homecoming. Sometimes we abuse the district phone tree to cancel school and get a three-day weekend in honor of Groundhog Day. Sometimes we draw a wang in Sharpie on some dude's forehead when he passes out at the party. And sometimes, when you're  Aimen Dean, author of Nine Lives: My Time as the MI6's Top Spy Inside Al-Qaeda and co-host of podcast Conflicted, you memorize the Quran at age 12, get radicalized into fighting (or using your creative accounting skills) for jihadists around the world, swear allegiance to Osama bin Laden, and then look for an exit strategy because you realize you don't want the blood of innocents on your hands — you really just want to go to university and pursue a career teaching history.
Then the British offer to recruit you into MI6 in order to spy on your former terrorist colleagues when it's clear they're trying to start the war to end all wars at all costs based on faulty scriptural translations and manipulations. On this episode, we talk to Aimen about how this unbelievable-but-true series of events transpired. Listen, learn, and enjoy! This is part one of a two-part episode. Check out part two here!
Please Scroll Down for Featured Resources and Transcript!
Sign up for Six-Minute Networking — our free networking and relationship development mini course — at jordanharbinger.com/course!
The Unagi is an incredible stand-up electric scooter that's only 26 pounds, folds in one click, and goes 20 mph. Go to UnagiScooters.com and use promo code JORDAN at checkout for $150 off your own Unagi E500 while supplies last!
HostGator has been around almost as long as the Internet. Does your business have an Internet presence? Save up to a whopping 62% on new webhosting packages with HostGator at hostgator.com/jordan!
Thrive Market delivers the highest quality organic and sustainable essentials for 25-50% off retail prices. Try Thrive Market risk-free by going to thrivemarket.com/jhs and getting up to $20 in shopping credit toward your first order!
Need custom graphics, logos, or Web design? Access a community of 600,000+ designers by registering at designcrowd.com/jordan and enjoy up to $150 off with The Jordan Harbinger Show bonus offer!
Miss the last time we had Navy SEAL leadership authority and Extreme Ownership co-author Jocko Willink on the show? Make sure to check out episode 93: Jocko Willink | Leading on the Line Between Extreme and Reckless!
THANKS, AIMEN DEAN!
If you enjoyed this session with Aimen Dean, let him know by clicking on the link below and sending him a quick shout out at Twitter:
Click here to thank Aimen Dean at Twitter!
Click here to let Jordan know about your number one takeaway from this episode!
And if you want us to answer your questions on one of our upcoming weekly Feedback Friday episodes, drop us a line at friday@jordanharbinger.com.
Resources from This Episode: