Reading Time:
5
minutes
Aimen Dean (@AimenDean) was once one of al-Qaeda's most respected bomb-makers who swore allegiance to Osama bin Laden himself. He eventually switched sides and spent eight years as an MI6 spy trying to take al-Qaeda down from the inside. He is the author of Nine Lives: My Time as the MI6's Top Spy Inside Al-Qaeda. and co-host of podcast Conflicted. This is part two of a two-part episode. Check out part one here!
What We Discuss with Aimen Dean:
How Aimen became one of the West's top assets in the War on Terror after he had already resolved to leave a life of intrigue behind.
What it took for Aimen to go from relatively safe debriefing asset living in London to a thrill-seeking, active spy on the front lines of a warzone.
The three methods of espionage: human intelligence, signal intelligence, electronic surveillance.
How Aimen averted Al-Qaeda's suspicions for 33 months while maintaining frequent contact with his Western handlers (even as five fellow spies were discovered and beheaded during this time).
What eventually blew Aimen's cover, and why he's not overly concerned about his former terrorist colleagues seeking revenge in spite of there being a fatwa calling for his death.
And much more…
Like this show? Please leave us a review here — even one sentence helps! Consider including your Twitter handle so we can thank you personally!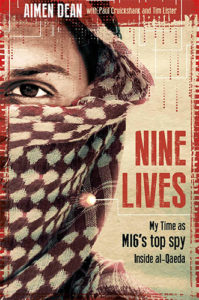 Hey, we all do crazy things when we're young. Sometimes we toilet paper the principal's house on Halloween. Sometimes we superglue the entire football team's lockers shut the night of homecoming. Sometimes we abuse the district phone tree to cancel school and get a three-day weekend in honor of Groundhog Day. Sometimes we draw a wang in Sharpie on some dude's forehead when he passes out at the party. And sometimes, when you're  Aimen Dean, author of Nine Lives: My Time as the MI6's Top Spy Inside Al-Qaeda and co-host of podcast Conflicted, you memorize the Quran at age 12, get radicalized into fighting (or using your creative accounting skills) for jihadists around the world, swear allegiance to Osama bin Laden, and then look for an exit strategy because you realize you don't want the blood of innocents on your hands — you really just want to go to university and pursue a career teaching history.
Then the British offer to recruit you into MI6 in order to spy on your former terrorist colleagues when it's clear they're trying to start the war to end all wars at all costs based on faulty scriptural translations and manipulations. On this episode, we talk to Aimen about how this unbelievable-but-true series of events transpired. This is part two of a two-part episode. Check out part one here. Listen, learn, and enjoy!
Please Scroll Down for Featured Resources and Transcript!
Please note that some of the links on this page (books, movies, music, etc.) lead to affiliate programs for which The Jordan Harbinger Show receives compensation. It's just one of the ways we keep the lights on around here. Thank you for your support!
Sign up for Six-Minute Networking — our free networking and relationship development mini course — at jordanharbinger.com/course!
BiOptimizers Magnesium Breakthrough will help you beat stress, get fit, sleep better, and recover faster. Go to magbreakthrough.com/jordan and use code JORDAN10 to try it for 10% off the regular price — it comes with a 100% money back guarantee if you're not satisfied!
HostGator has been around almost as long as the Internet. Does your business have an Internet presence? Save up to a whopping 62% on new webhosting packages with HostGator at hostgator.com/jordan!
Mercari is the fast and easy way to sell or buy almost anything. List your item in minutes. Got something you don't use, never used, or just outgrew? Sell it by going to mercari.com and downloading the app!
Better Help offers affordable, online counseling at your convenience. If you're coping with depression, stress, anxiety, addiction, or any number of issues, you're not alone. Talk with a licensed professional therapist for 10 percent off your first month at betterhelp.com/jordan!
Miss the episode we did with Vince Beiser — author of The World in a Grain: The Story of Sand and How It Transformed Civilization? Make sure to check out episode 97: Vince Beiser | Why Sand Is More Important Than You Think It Is!
THANKS, AIMEN DEAN!
If you enjoyed this session with Aimen Dean, let him know by clicking on the link below and sending him a quick shout out at Twitter:
Click here to thank Aimen Dean at Twitter!
Click here to let Jordan know about your number one takeaway from this episode!
And if you want us to answer your questions on one of our upcoming weekly Feedback Friday episodes, drop us a line at friday@jordanharbinger.com.
Resources from This Episode:
Transcript for Aimen Dean | Nine Lives of a Spy Inside Al-Qaeda Part Two (Episode 384)
Jordan Harbinger: [00:00:00] Coming up on The Jordan Harbinger Show.
Aimen Dean: [00:00:03] The joke kept continuing. "Where does he get it?" "Well, you know it's available everywhere." "Yeah. But you know, why don't you stop him? Will it affect his health?" "Well, it's his health, but what can we do? We can't force him not to get the stuff." "Yeah, but does he inject?" "Well, he would if he could." "What do you mean? How does he take it?" "Well, he drinks it." And then it became apparent that, "No, it is Coca-Cola," but you know in the UK they keep calling it Coke, Coke, Coke — you know, the wrong sort of Coke.
Jordan Harbinger: [00:00:40] Welcome to the show. I'm Jordan Harbinger. On The Jordan Harbinger Show, we decode the stories, secrets, and skills of the world's sharpest minds and most fascinating people. We turn their wisdom into practical advice that you can use to impact your own life and those around you. We want to help you see the Matrix when it comes to how these amazing people think and behave. Our mission is to help you become a better informed, more critical thinker. So you can get a much deeper understanding of how the world works and make sense of what's really happening. If you're new to the show, we've got episodes with spies and CEOs, athletes and authors, thinkers and performers, as well as toolboxes for skills like negotiation, body language, persuasion, and more. So if you're smart and you like to learn and improve, you're going to be right at home here with us.
[00:01:22] This is part two of two with former Al-Qaeda bomb-maker turned MI6 informant Aimen Dean. If you haven't heard part one yet, go back to the previous episode and check that out right now, you're going to need that as background for this and trust me, it's worth it. Last time we left off Aimen had innovated inside Al-Qaeda's bomb and poison-making programs and was arrested by secret police in Qatar. Today, how Aimen became one of the West's top assets in the war on terror. This whole story is nuts. I don't want to delay it because this whole story is just beyond bonkers. So here we go, Aimen Dean.
[00:01:58] By the way, I'd be remiss, everyone's going, "How do you get these guests?" It's always about the network. Check out our free course. It's on networking, not-enter-your-credit-card free, just free-free, jordanharbinger.com/course is where you can find that. I'm teaching you how to create a badass network. And just — I hate that word. Why did I ever use that? I'm teaching you how to create a network in just a few minutes per day, jordanharbinger.com/course. Check it out. Most of the guests on the show subscribe to the course and the newsletter. So come join us, you'll be in smart company where you belong. All right. Here's the rest with Aimen Dean.
[00:02:30] Where we left off, you had been given the choice to work with an intelligence agency because you went to Qatar and basically they said, "Do deny that you're an Al-Qaeda?" And you're like, "No, I am and I want to spill the beans because I'm sick of these crazy people around me all the time. I don't know what the deal is." So you had the choice to work with either the French, the Brits, or the Americans. And I assume you had just gotten sick of working with Al-Qaeda, right? I mean, were you just sick of being around crazy people all the time? 
Aimen Dean: [00:02:59] Oh, yeah, no question about it. And on top of that, to be honest, they were not telling me that you're going to be a spy that wasn't on the cards. I was told that it will be a period of debriefings in which basically, I more or less tell them all about my experience, all about the people I knew, the places I've visited, the camps, the courses especially the WMD program that Al-Qaeda was working on the bombs, the poisons, the chemical weapons, biological weapons, all of these things. So I thought, "Okay, and then after that what's going to happen?" "Oh, most likely, you will be able to go or choose an academic route and you'll be fine." "And how long do you think the briefings will last?" "Oh, two or three months. That's it." Well, these two or three months, lasted longer than that, but — 
Jordan Harbinger: [00:03:50] How long is this kind of intelligence training? I mean, it seems like there's a lot going on. So two or three months, maybe they get the information out of you in two or three months, but they don't teach you what you need to know in two or three months. Right?
Aimen Dean: [00:04:03] Actually the debriefings lasted almost seven months because it turns out basically I know lots of things. That's the first thing. And the second thing is I've never seen so many photos in a being presented to me, of people, basically, who I knew and worked with. And I was thinking, "Wow. I mean, basically, half the firm — "
Jordan Harbinger: [00:04:29] Half the firm. Is that what you said? So they show you the deck of cards of all the wanted guys and you're like, "Yup, yup, yup, yup. I know all these guys."
Aimen Dean: [00:04:35] Yeah. But the most important thing for them was to build a Matrix of who knows who, who is cooperating with who, and what are their functions. And if there is any other information, updated information, for example, did they shave their beards? Do they have scars? Have they lost an eye? Where did they live? Are they married? Do they have kids? Where are they based right now? And of course, basically, they are scattered all over the world. And so the idea is, "Okay. If they are somewhere in Europe or North America, do you know where they live? Do you have the ability to get their phone number?" for example, or by that time email started to become more of the fashion. I have to remind the listener that it is the year 1999. So when emails just started to become the mode of communication.
[00:05:29] And also at the same time, they wanted to make sure that there is a credible cover story for me being in London. I mean, why am I all of a sudden in London? And of course, there will be members of applied who are already in London who are wondering the same. So they concocted this brilliant cover story, actually with the hospital in Qatar and with the Qatari authorities, that there was something serious, medically speaking, and as a GCC national, who was in Qatar at that time, I'm entitled to be flown to any of the medically advanced countries like the UK or the US for treatment. So that's how they made the transition into being in London, that it was necessary for treatment and the Qataris, of course, provided very tight paperwork for it. So, and then once I'm in London, I'm there for medical treatment. But the question is, should I remain there? How am I going to justify remaining there in four months at an end?
[00:06:34] But the good thing is that the members of Al-Qaeda who were there in London, they knew me from my days in Bosnia, my day is in the Caucasus. And so they asked if I could remain there, basically, and be part of their mission, their circle 
Jordan Harbinger: [00:06:51] Is that what people think are sleeper cells like, "Oh, these guys that are hanging out in cities and towns, just waiting for our orders." Is that kind of what you're talking about? 
Aimen Dean: [00:06:59] Well, remember that the phrase sleeper cell always conjures in the minds of people, basically, who have guns under their beds, and the bombs in the basement. And they are just waiting for the right moment to strike. It's more than that.
Jordan Harbinger: [00:07:14] It's a little bit Xbox, right? It's a little bit PlayStation 5. 
Aimen Dean: [00:07:20] Actually sleeper cells take on different roles. I mean, they are recruiters, they are financiers, they are people basically who collect money for the cause or recruit people to send them. So they are not exactly the typical sleeper where they are waiting for the right moment to strike in a typical cold war fashion. These people, basically multitask, so they could be recruiting people to go to Afghanistan, to enhance the ranks. They could be facilitating the forging of documents or passports in order to facilitate the movement of people. They could be collecting money whether through legitimate or most of the time illegitimate means in order to send more money to enhance the training and the capability of Al-Qaeda in Afghanistan. So these are the circles that I was invited to join because of that time I spent as an office jihad in the Caucasus, in Azerbaijan, in Georgia. That they thought that I could be of value that was much to the delight of my handlers at MI5 and MI6.
[00:08:33] What happened is that when I arrived there, I thought basically I will be working exclusively for MI6. But then I realized basically that there were always two offices for one from each organization present. I can't meet one without the other. And it was always a curious thing for me until I realized that for a strange reason — of course, basically, MI5 is the equivalent of the FBI and MI6 is the equivalent of the  CIA for the American listeners. And of course, MI6 deals with everything that is foreign overseas, and MI5 deals with everything that is domestic. The problem with Islamic terrorism, that it is both domestic and foreign.
Jordan Harbinger: [00:09:14] Right.
Aimen Dean: [00:09:15] It's so interlinked to whatever happens inside the United Kingdom in terms of Al-Qaeda and jihadism, basically, is happening elsewhere, which concerns MI6. And therefore, it concerned both organizations and as a result, basically, I became a jointly run asset for both organizations. And of course, basically, at that time, I knew I was an asset in a debriefing sense, not in a spying sense. So I was just answering questions, highlighting on the maps, basically where are the locations in Afghanistan, in Pakistan, in Azerbaijan, in Chechnya, in Bosnia in the past, and then going into identifying people, identifying their locations, the main most important centers, whether they are mosques or Islamic societies and universities, or basically, businesses. Bookshops, in particular, were something that they like to invest in because it is an easy way for people to congregate in bookshops in order basically to sell literature actually. that is aiding the cause and recruiting more people.
[00:10:28] So, roughly around four or five months into it, I was asked the question. They said, "Well, everything you're telling us is amazing, but the question here is at some point, do you think that you would contemplate," and they were telling me, "Look, this is just a hypothetical question for a future because we need to start sketching your future. Will you be willing at some point in the future to go back to Afghanistan and continue to collect more information in order to plug whatever gaps that we have here? Or if you feel that this is not something that you don't want to do, then we can sketch your future in a way that as you've been promised before to go into an academic route?" Without hesitation, I said, "Oh yeah. I have no problem at all about going back there." And they were rather taken aback, "Really? Are you serious? You can have time to think about it." I said, "I don't need to think about it. I'm happy to go back." And they say, "You know that it is quite risky. What we are asking you to do is extremely risky." I said, "Yeah, I know. My first mistake is my last if they find out. It's not going to be a very pleasant experience. It's going to be short for sure and unpleasant.
Jordan Harbinger: [00:11:47] Yeah.
Aimen Dean: [00:11:48] So they said, "But why?" And I said, "Well, in the past five months, more or less were an eye-opener for me in many ways. The first one is that I got used to danger to the point where I feel that life basically I'd be living here in the UK is extremely boring because it's extremely safe."
Jordan Harbinger: [00:12:15] Right. Especially after your previous stint dodging guided missiles or whatever the hell. Right?
Aimen Dean: [00:12:20] Indeed. So that's the first thing. The second thing is — since I went to Bosnia when I was 16, I always thought of myself not to be just a spectator, watching the caravan of history passing by. And I would rather be in that caravan of history, I would rather be part of history being made rather than myself seeing others make it. So I thought basically, I don't want to be among the spectators I want to do in the game and basically be one of the players. And they said, "Okay, but before we have to go, there are lots of things we have to talk about. You have to enhance your training on counter interrogation, counter-surveillance. We have to tell you more about the common mistakes that spies make. 
Jordan Harbinger: [00:13:10] So there's still more exciting stuff for you to learn, right? Like, "Oh, hey, this is a little boring. It's too safe." And they're like, "Whoa, whoa, whoa. We're going to teach you how to dodge surveillance and make sure that you don't get killed by all your former friends for working with us now." It's funny. I know you loved or maybe you still do love Coca-Cola and there was a background checker at MI5 and she said, "Is there anything I need to know about this guy?" And somebody said, "Yeah, he's addicted to Coke. He loves Coke." And you still got the job, even though she thought it was cocaine.
Aimen Dean: [00:13:48] I mean, it was one of the funniest episodes. Actually, the joke kept continuing. "Well, where does he get it?" "Well, you know it's available everywhere." "Yeah. But why don't you stop him? Will it affect his health?" "Well, it's his health, but what can we do? We can't force him not to get the stuff." "Yeah. But does he inject it?" And this is when my former handler said, "Well, he would if he could." And then, "What do you mean? How does he take it?" "Well, he drinks it." And then it became apparent that, "No, it is Coca-Cola," but you know, in the UK, they keep calling it Coke, Coke, Coke," which is confused with the other coke.
Jordan Harbinger: [00:14:33] Yeah. We do that here in the States. 
Aimen Dean: [00:14:34] Yeah. So when someone mentions the word addicted and Coke at the same time, people naturally actually go towards the wrong sort of Coke.
Jordan Harbinger: [00:14:44] Yeah. Oh God. I just think it's funny that she was like, "Well, okay," then you still got the job. Like, "All right. Well, I guess we really needed this guy. Oh, Coca-Cola. Well, hold on. I got to go shred some paperwork."
Aimen Dean: [00:14:55] Yeah. So basically the training was amazing. I have to say basically that it really could have saved my life on several occasions because it all focused on the human nature. Remember that there are three methods of espionage. There is the human intelligence, there is the signal intelligence, and then there is the electronic surveillance, basically by cameras or by eavesdropping or other means. So basically, the human intelligence is the most risky one because basically, you are in — a machine can basically listen to a phone call or intercept an email. A drone can basically circulate and film things in there. So there are no emotions there and the level of risk is low, but for the human here, humans are good at making mistakes. In fact, basically, a human life is full of moral mistakes and correcting them. And so therefore you have to make sure that the human in question is not going to make unnecessary mistakes because they are under pressure.
[00:16:00] So the most important thing you are told from day one is, do not be under pressure to gather. You are there just to observe and see. If you go spend a month or two or three and come back and tell us, "Well, sorry, I didn't find anything useful." That in itself is fine because one, we know that there isn't a major thing happening. Otherwise, we would have had the budget. And the second thing is that you arrived back safely. That is the most important thing you are the asset, not the information that you bring. That is the added value, but the most important thing is that you remain alive. You do not take unnecessary reckless risks in order to find that information. Because if you spend years in the organization gathering important information, that's fine. You don't want it to be there for a month or two, you might bust, basically, a plot, but then you end up burned and possibly even worse killed as an asset. And so, therefore, they keep telling you, "You are under no pressure, no pressure."
Jordan Harbinger: [00:17:16] Sure. That's great. And speaking of staying alive, I mean, you had some close calls. Tell us the time you were sitting in the kitchen cooking and someone told you they knew who you were. 
Aimen Dean: [00:17:25] Oh yeah. That was really, really a nerve-wracking experience. What happened is I was in the kitchen. I was — of course, basically, everyone must do their duty. Sometimes, basically, you are on guard duty. Sometimes, you are on cleaning duty. Sometimes, basically, you are on cooking duty and that day, I wasn't the cooking roster and so I was in the kitchen. And then suddenly I realized basically people are leaving the kitchen. I didn't pay attention to it. Maybe they know they heard something or an order or whatever, but then unmistakably, I felt the end of the barrel of a pistol against my spine. And I heard the voice, "It's over. It's absolutely over. We know who you are. We know who you work with. It's over." Now, the lack of specifics in his accusation gave me some very, very quick split-second reassurance. So actually, I just turned back and I looked at him and he's one of my friends anyway. And then I said to him, "Is this a joke? Put down the pistol, put it down. It's absolutely forbidden to raise a weapon against another brother in the camp. It's against the rules. Lower your weapon, lower it now." So the way I insisted in the way I looked at him, basically, is as if I was angry at him for playing a sick joke like this. He faltered, "Well, look, nothing personal. I'm sorry. Nothing personal, but I was told to pick people at random and you are one of the people who come up on the list between now and then. You are a traveler. You travel a lot. So you are one of the higher risks of being turned, to become a spy."
[00:19:17] So I've learned two things, I've learned basically that I'm one of the people who would always be treated with sort of caution because of my travels, not necessarily because I am going to be a spy, but for the fear, I might be arrested at one of the airports or the ports of entry. And therefore, basically, I'm not supposed to be in possession of high-end intelligence. But then the way jihadists keep talking in the camps, they keep blabbing and therefore high-value intelligence can't come into me anyway, but that was eye-opening for me. Because, first of all, they were conducting random checks. They are paranoid. In fact, for the 33 months, I was going and coming out of Afghanistan, spying on Al;-Qaeda and during that time, five people in a way were apprehended within Al-Qaeda and beheaded for being spies. Three of them were accused of working for the Egyptian intelligence and two were accused of working for the Jordanian intelligence.
[00:20:18] So I never attended any of the executions. I thought it's a bad omen. Otherwise, I will be looking at that head hitting the ground thinking it could have been me.
Jordan Harbinger: [00:20:30] Right.
Aimen Dean: [00:20:31] But at the same time, I've learned their mistakes. Their mistake is that — Afghanistan at the time, basically, was a black hole of information. Once you enter, there are no mobile phones. There are no landlines. There are only a few dotted places all across the country that have satellite phones, basically, which you can pay and then make the call. So because there are very few Al-Qaeda placed spies there, Afghans who know Arabic quite well and other languages in order to listen and to see if any people like us basically make a phone call and then reveal information. So all of these five made that silly mistake. And for the British, they told me that even if you learn that there is going to be an attack next week and you can't make it safely to Pakistan with a good pretext for being in Pakistan, to cross the border, to make that in a phone call and for us to meet, then don't.
Jordan Harbinger: [00:21:33] So like, let the attack happen? 
Aimen Dean: [00:21:34] Let the attack happen. Basically, don't take that stupid risk. This has been a British by the way. 
Jordan Harbinger: [00:21:43] Are you supposed to decide, "Hey, look, this is a pretty big attack. They have bombs on London bridge. Like this is going to be a huge mess. It's worth blowing my cover"? Or is it just like, "Hey, look, this is a little tiny attack against Air Force Base in Iraq. Like I'm just not going to say anything"?
Aimen Dean: [00:22:01] Well, generally, you never get information like this. I mean, what happened is basically you get information that someone will come to you and say, "Oh, dear brother, I'm going to go on a mission. I might never see you again. So basically if I ever offended you, please forgive me," and all of that. So, you know, basically, that this person who is from this country is leaving, leaving on a mission. You know, basically, that it will result in their death. So you start to build what we call, basically, in the game as speculated-informed guess as to where the attack might be, but you already know the person, you already know their name, most likely you already know their description, and that they will be leaving from Pakistan. So at least there will be a thread on this. So you give the, what you call, basically, the first building block of this puzzle. Then it is up to the authorities that you inform to actually follow the individual and then to see where they land, who they — so you never basically have the entire plot in your hand, although it did happen at later stages, that I have the entire plot in my hand in later years. But at the beginning because of the nature of Al-Qaeda and how they were very careful about their own operation security, they did not reveal everything, even to the operatives. All they know basically is that pack your bags, you're going to Yemen, and that's it. So I have a description, I have an idea where the person is going, and then that's it.
[00:23:34] So I could have gone broke the cover and revealed this information, but then I would have signed my own death. I would have signed my own death judgment by Al-Qaeda tribunal because I will have gone to a satellite phone booth in order to talk and it's never secure. So that's why I was never caught, but the five people who were always under pressure even though they were sometimes twice my age, they should have more experience and wisdom, but instead, because of the fact that they are under pressure to perform, even if they have to put their own security at risk, got them killed. This is why I always appreciated that I was working for a professional organization that put my life ahead of any intelligence success. And that actually led to future intelligence successes. 
Jordan Harbinger: [00:24:28] Many of your former friends from Al-Qaeda are dead. And I heard an interview with you where you said that you were actually quite glad about that. That's unusual but I guess I understand that, of course. 
Aimen Dean: [00:24:40] I mean, I don't celebrate death in any way, shape, or form. I remember, basically, they were — to give an example of how broad I view everything. When I was told of the death of Khalid al-Hajj, my friend, the one who took me with him to Bosnia after I knocked on his door and told him, "I'm going to join you." In later years, he became the leader of Al-Qaeda in Saudi Arabia. And do you remember the teacher who was telling us that Smurfette is the symbol of—? 
Jordan Harbinger: [00:25:10] Yes.
Aimen Dean: [00:25:11] He was the leader before him also, of Al-Qaeda in Saudi Arabia. And in fact, he plotted to attack New York City, the subway system, with chemical weapons — a plot, basically, which I was part in revealing the outline of this plot, basically, to the UK intelligence, which then, of course, landed in the lap of the CIA. When I heard that he was killed in Saudi Arabia, when I heard about the teacher dying, of course, basically I wasn't happy. When I heard about Khalid dying and he was a childhood friend, even though basically he was on the wrong side of history, on the wrong side of where he was supposed to be, I cried. I mean, I really had tears in my eyes because no matter — if you have a childhood friend who turned out to be a serial killer and then he dies in a shootout with the police, basically, no matter what you always remember the good things, you always remember the companionship, that comradery between you two, even though you condemn totally the path that he took, but nonetheless, you cannot separate that human feeling from it. You can't suppress that humanity. So when I heard that, I was extremely sad. 
[00:26:21] When I heard about Osama bin Laden dying, I felt more like a relief, a relief for him, and a relief for the world. I mean, thank God he's dead. Now, whether his resting or not, God knows, basically, but at least he's resting somewhere deep in the ocean. But nonetheless, I felt a sense of relief. That, okay, it's over. I mean, this symbol, this legend basically status is over. Let him just go into the pages of the history and let's get rid of him. It's over. I felt relief. But then in 2017, there was another jihadist who I have encountered earlier, his name is Ahmad al-Binali and he was the Mufti of ISIS in later years. He became the Supreme Religious Authority for ISIS. He is the man who in 2009 put the fatwa on my head.
Jordan Harbinger: [00:27:13] So there's a fatwa on your head. Can you explain kind of what that means? I don't think a lot of people know what that means. 
Aimen Dean: [00:27:17] It means basically that, you know, he decreed that I have. I abandoned Islam by spying for the British. And therefore, basically that my life is forfeit. Anyone who has an opportunity to kill me, kill me, it's fine. He issued that fatwa that religious edict that I don't deserve to live in. This is basically the crux of it. So when a well-aimed US bomb found him in the deserts between Syria and Iraq and killed him in 2017, I took my wife to a nice dinner to celebrate. So you see the difference of emotions between, how I mourned my former teacher, and also my former childhood friends, how I was relieved about Osama bin Laden, but then basically how I was extremely happy about this Mufti of ISIS who put a fatwa in my head. And, of course, basically, I was even more happy about Abu Bakr al-Baghdadi, but the differences the three individuals I described or the four individuals, my former teacher, Khalid, Osama bin Laden, and Ahmad al-Binali, the Mufti of ISIS — all these four individuals I met in person, but one's death was a happy occasion and the other ones, death was a sad waste. It all depends basically on our relationship with these people.
Jordan Harbinger: [00:28:41] Sure. Has anyone ever come close to killing you that you know of? Like, have you had any close calls with that? 
Aimen Dean: [00:28:46] Well, yeah, I mean, basically what we talked about earlier.
Jordan Harbinger: [00:28:49] Oh, I just mean as a result of the fatwa or like in retaliation.
Aimen Dean: [00:28:52] Yeah, exactly, it is the result of the fatwa. And the two individuals who wanted to kill me are people basically who once were part of a cell that wanted to kill American sailors in Bahrain in the past. 
Jordan Harbinger: [00:29:07] You're listening to The Jordan Harbinger Show with our guest Aimen Dean. We'll be right back.
[00:29:12] This episode is sponsored in part by BiOptimizers. If there's one mineral many of us are not getting enough of, it's magnesium. Magnesium is one of the body's master minerals, powering over 300 critical reactions including fat metabolism, even digestion is influenced by the presence of magnesium. And there's a lot of research on this, a lot of clinical studies about magnesium. Magnesium along with most other minerals has been largely missing from the soil since 1950 because we're ruining this planet. And most supplements only contain one or two forms of magnesium. There are at least seven, your body needs and benefits from. Enter BiOptimizers Magnesium Breakthrough. Jen took this while pregnant to get rid of leg pains and muscle cramps. They're running a special promotion at magbreakthrough.com/jordan. That's M-A-G-breakthrough.com/jordan. I've known these guys for a while. They're going to give you all your money back if you don't like it, but I bet you will. Magnesium Breakthrough available while quantities last at magbreakthrough.com/jordan. That's M-A-G-breakthrough.com/jordan.
[00:30:11] This episode is also sponsored by HostGator. In the fast-paced, futuristic-sounding world of 2020, owning your own website is as crucial as indoor plumbing. Well, maybe not quite, but unless you're purposely trying to live off-grid while scratching 35,000-word manifestos on birchbark in a remote wooden shack, probably going to want HostGator to help you ensure your personal or professional presence is known to the outside world. Founded in 2002, HostGator has been around the block a few times. It's old enough to legally drive around that block now. That's why we trust HostGator to get you where you need to go with seasoned expertise and service that is unsurpassed. So you don't have to know anything about programming, get that mobile-friendly website going, drag-and-drop builder, hundreds of themes. You can make it look how you want. You can take payments. You can run it on WordPress if you want to. Got a tight budget, no worries. If you're a new user, try any HostGator package for 62 percent off just for hearing the sound of my voice. And if you don't like what you got, 45 days to cancel for a refund of every penny. Check out hostgator.com/jordan to sign up. That's hostgator.com/jordan.
[00:31:13] And now back to Aimen Dean on The Jordan Harbinger Show.
[00:31:19] Is it possible for people to come after your family or is that like off-limits? Is the fatwa just solely limited to you? 
Aimen Dean: [00:31:24] Oh, no, it's limited to me.
Jordan Harbinger: [00:31:26] Okay.
Aimen Dean: [00:31:26] So basically it's very different from the world of organized crime.
Jordan Harbinger: [00:31:32] Yeah. 
Aimen Dean: [00:31:33] It's very different. That's why many people basically asked me, "Do you look over your shoulder? Is it like the mafia? Is it like the Mexican cartel?" And I say, "No." It's not like that. It's not like organized crime. It's not the Chinese triad or anything like that. They have different priorities as to what to do. I am a target of opportunity, not the target of pursuit. 
Jordan Harbinger: [00:31:56] Oh, interesting. So it's like, if they come across you, then they'll do it, but there's no unit following you around the world to try and get you 
Aimen Dean: [00:32:02] Well, because you see organized crime is not as much of priority for the world security forces as terrorism.
Jordan Harbinger: [00:32:10] Sure.
Aimen Dean: [00:32:10] And therefore, when these people — for example, let's say there is a former mafia individual who crossed a few people in the past. So searching for him, looking for him, you know, basically because the mafia always has an interaction with law enforcement, organized crime always have an interaction with law enforcement and other civil service apparatus. So you can track people. You can find people. And if you put in the money and effort into it in order to send a message and get your revenge. With Al-Qaeda people, with ISIS people, the world — I don't know, 120 different intelligence agencies are looking at them and putting them under the microscope. So they can't breathe without, basically, that breath is registering on the microphones that are being planted everywhere. So for them to put, let's say Aimen Dean and searching and looking just that little fingerprint will alert my former employers that there is danger. And they know that, they themselves, ISIS and Al-Qaeda. They know that at the moment they look for me, the moment I go into hiding and I will know about it before even I know they figure it out, which city I'm alone, basically, which street or which house I am in. So that is the difference between organized crime revenge and Al-Qaeda revenge is that they would love to do it, but they know that because of the massive — you know, how can I say? Scrutiny, they are under, it's difficult.
Jordan Harbinger: [00:33:49] Exactly. Yeah. It becomes very tricky for them to move around. It's not worth the risk for them to try and come after you because then they have to throw out a bunch of people that they've got planted in the country already. Or they've got to move people from an area where they're fighting to take care of somebody that's that just pissed them off several years ago. It's not really worth it. The juice ain't worth the squeeze. 
Aimen Dean: [00:34:09] Of course, this is why I always tell people I'm not worth it. And they say, "Oh yeah, but Aimen, come on. You betrayed them." I said, "Yeah, but so did many other people," but they know it's for them — they would rather use the resources to achieve a political and economic aim rather than just basically simple revenge. They have very limited resources. Something like only two percent of their plan operation succeeds. So why risk it, basically, to kill one person when a big attack that could basically have an impact on the daily politics and the economic situation of a country. That is what their desire is. Why go after one person when you can direct those resources to achieve your aim, which is to terrorize.
Jordan Harbinger: [00:34:58] You mentioned there are three types of people vulnerable to Al-Qaeda — criminals, working-class, and wealthy, educated people. Can you take us through that actually? 
Aimen Dean: [00:35:05] Yeah. I mean, the vulnerabilities are there and it's spread all over the board because of one reality here, which Muslims generally don't like to highlight because they feel basically it's some sort of an embarrassment, but I'm trying to be unobjective here. Islam is a guilt-based religion, just like Catholicism. Let's put it this way. You feel guilty about so many things, basically, sleeping around, smoking pot, taking drugs, lying, cheating, stealing, whatever. 
Jordan Harbinger: [00:35:44] Yeah. Anything fun. 
Aimen Dean: [00:35:46] Exactly. I mean, you know, that's why — there is this a joke about a Salafist, you know, the Wahhabist, the most extremist of the jihadist. They say basically that their biggest worry is that someone somewhere is having fun. In Catholicism, if you sin, if you feel, basically, that you have offended the Lord, what you do then is that you go to a priest. There is the mechanism to basically confess your sins. You gain absolution from the priest. The priest tells you basically to say Hail Mary 10 times, and then that's it, you're forgiven. But in Islam, there is no intermediary between you and the Lord. Therefore, basically, the only mechanism for that is repentance. But the problem with repentance is that you don't know whether God accepted it or not. And therefore, you have always a generation walking around feeling guilty, but this was always the case in the throughout 1,400 years of Islam history, why didn't we find many guilty minds before? The reason is because in Islam — unlike Christianity, Christianity basically is based on love that the relationship between the creator and the creature. Is defined by love. So the human and the creator relationship is really defined by love. God loves you, and you love the Lord and that's it.
[00:37:13] In Islam, there are three elements here. There are three pillars that are the foundations of the relationship between the creator and the individual. These are love, hope, and fear. Of course, we love the Lord, but you fear his eternal damnation, but you hope for his eternal reward, the heavenly abode that you're looking for with that and the afterlife. So in Islam, your preaching as a preacher — and I was trained in young age to become a preacher in the future — you have to divide your preaching equally between these three elements, fear, hope, and love. That you do not make it all about the hope that people basically feel that there is nothing to fear. You do not make it only about love. So it doesn't become mushy faith without any rules or regulations to make it work. But you do not make it all about fear, so people basically become guilty and hopeless.
[00:38:15] The problem is that in the past 30 to 40 years, with the advent of globalization and the cultural encroachments in from the West and the rest of the world, not only the Muslim world but the rest of the world in a with TV shows and music and lifestyle and everything that comes with its sexual freedom. The Muslim clerics all across the Muslim world, especially in Muslim migrant communities in North America and Europe resorted to fear, to preach fear more than love and hope in order to literally put the fear of God into the hearts of their congregations, especially the young ones, to persuade them not to engage in what they see as immoral practices, vices, whether they are drugs or sleeping around or sexual freedom or any other things, basically, they feel that there's not compatible with Islam. So If you tell people that if you steal, you're going to hell. If you are sleeping around, you're going to help. Take drugs, you're going to hell. There is a different message here. If you tell people that, "If you drink this in a glass of wine, you will end up in the day of judgment drinking from a cup of molten lava that will melt your internal organs. And you will be repeating this again and again for eternity." That's one message. But if you reverse it, if you say that, "Look, if you refrain from drinking alcohol, God in the afterlife, in that heavenly paradise have oceans of wine already there." It's mentioned in the Quran, funny enough, basically the ocean of wine — so for those who refrain from drinking it in this world.
[00:40:05] So basically you see the two different approaches here. One is hope and one is fear. Now, putting too much fear into the minds of young people, resulted in many people feeling guilty because human nature compelled us to do the wrong thing all the time. And therefore, this is exactly why you see that people who end up basically joining jihadist groups, they do that because they feel that this is their only way of salvation. You see, jihad is always trying to recruit people by saying that jihad and martyrdom are the shortest paths to forgiveness and to redemption. So if you feel guilty about everything that you've done, The moment, the first drop of blood that you give to God that hits the ground, all of your sins are forgiven, all of them. That's it. You achieve total forgiveness of everything that you have done. So you see why it appeals to people who are in prison. 
Jordan Harbinger: [00:41:08] Yeah, right.
Aimen Dean: [00:41:08] It appeals to people who are rich and basically coming from highly educated backgrounds. It appeals to people who really feel that they went too far into living a life that is far away from what they are thinking as supposed to be an ideal Muslim life. So this is the first thing that you need to take into account.
Jordan Harbinger: [00:41:31] So the guilty mindset, what this does is it makes criminals really susceptible to Al-Qaeda or to jihad because if you're too lazy to be pious, you got to pray, you got to read, you got to learn, but in the past, you've like murdered and raped a bunch of people, you get this instant heaven card by killing a couple of non-believers or a lot of non-believers. And then suddenly, your slate is clean. You don't have to do any of the hard work. It's easier to kill. You've already done it before. And if you've got some repressed sadism or disempowerment or humiliation from your prison term, then you can go ahead and act on that, but you're doing it for God now. So it's like a win, win 
Aimen Dean: [00:42:09] Exactly because you see jihadism liberates the inner sadist within these people, especially those who come from the criminal background. First of all, in prison, you are humiliated, but once you are joining a jihadist group, basically — well, you were under their boots, now they are under yours. This, ain't no sense of purpose, destiny — the prophecies, as we talked about before, comradery, but also a sense of empowerment, even for geeks and nerds empowerment makes sense to them for those basically who feel marginalized, empowerment, again, makes sense to them.
[00:42:49] So what if I come to you and I'll tell you, basically, as if I'm selling drugs basically on the corner, I tell you basically, "Well, there is a preordained plan prophesied by the Lord from 1,400 years ago about the war and you are going to be one of his instruments." So you are going to be one of God's instruments. That's the first one. "Second, God will forgive you everything that you have done before, everything. And third, you will feel empowered. If you feel humiliated, marginalized, you are going to have a gun in your hand. You're going to be basically the author of your destiny. You're going to be empowered against those who try to make you less than them who humiliated you. And all of this will end up basically creating an Islamic society, the semi-Utopian caliphate. That is going to change many things for the Muslim world to the better." So, wow. It's like all of these motives and all of these methods of recruitment are intoxicating for a young impressionable, and sometimes even old know, basically people who were steeped in crime, who are looking for a way out. And I offer them all of these things, a way to redeem themselves, a way to seek revenge, a way to empower themselves, a way to redeem the humiliation they felt. So, you know, what's not to like? 
Jordan Harbinger: [00:44:12] Yeah. Right, exactly. And, of course, if you're wealthy and educated and you've indulged and not really followed the book and just done whatever you want and you got fat and treated people poorly or whatever, then this is your way out. And if you're in the working class and you feel like you've been screwed over by the man or by the West, then you've got your reason there too. So it really kind of hits these different social strata in a way that we haven't necessarily seen with other kinds of conflict. You mentioned that Muslims from the West are far likelier to be radicalized. I think a lot of people don't really realize that UK, United States, France, Germany, these people are more likely to be radicalized than somebody who's living already in Afghanistan, Saudi Arabia, Iraq. Did I understand you correctly? 
Aimen Dean: [00:44:56] Well, there are countries and countries. So for example, one of the biggest contributors to the jihadist's causes in the Muslim world, you have Tunisia and you have Saudi Arabia. So in Saudi Arabia, you know, the number of Saudis who joined ISIS were roughly 145 per million. The number of Tunisians who joined ISIS were 206 per million. And that's interesting because Tunisia always had a very secular education as opposed to Saudi Arabia, which is more religious, but that's an interesting observation. If you look at a country like the UK, It was at 354 per million. So that is more than twice as a Muslim from Saudi Arabia in France, it was closer to 383 per million. That's almost twice as a Muslim from Tunisia. And the most awful statistic is from Belgium where the number is 722 per million. So that is astonishing. But if you look at a country, like the United Arab Emirates. It was at 12 per million. If you look at the country like Oman, the number of Omanis who joined, and this is an austere conservative country in the Middle East, but there are peace-loving ways in one because the number of Omanis who joined ISIS is zero. And the number of Omanis who joined Al-Qaeda was one. I knew him and he had mental issues. That's most likely why he joined. So what is so good about Oman, even though it is not democracy, it's not very fabulously rich. It's less wealthier than the other neighboring oil-rich, but there is something about the fact that the way they lead their lives is about peace. It's about respect. It's about tolerance, and these are values instilled in them basically by the late ruler, the Sultan of Oman who ruled them for more than 50 years. So we come back to the issue of good governance. It doesn't necessarily need to be democratic, but a good governance as opposed to bad governance. That's one aspect. And in the case of the West, it is the question of alienation. And by the way, when I say alienation, I'm not saying that these Muslim societies are alienated from their host countries. Sometimes they alienate themselves from their own host countries. It goes both ways.
[00:47:37] So for example, one of the reasons why I always criticized the Muslim communities in the UK, I used to say basically that the way they cluster together. So for example, the Muslims from Pakistani origin, Muslims from Somali origin, Muslims from Bengali origin — they tend to cluster together in communities. And in fact, I used to say basically that this will not only make them vulnerable to radicalization, extremism, and also to racism from the rest of the society because they become easy targets because they walk differently. They dress differently. They retain so much of their origin Homeland, that it actually inhibits them from melting into the rest of the society so that the society sees them as still foreigners because they don't speak the language or they dress drastically differently from the rest of society. Therefore they alienate themselves really from the rest of society. And as a result, they become vulnerable, not only through radicalization but also now as with the coronavirus, they make themselves even vulnerable to health issues like the pandemic, because they're clustering together, enabled the virus, basically, to read their DNA and behave to infect them more than any other community.
[00:49:01] So that is one of the reasons why they are more likely as a result of their feeling of alienation, even though basically some of it or most of it is self-inflicted they ended up joining groups like Al-Qaeda, ISIS, or any other non-violent extremist groups like Hizb ut-Tahrir or the Muslim Brotherhood in this regard.
Jordan Harbinger: [00:49:23] So, how do we fight online recruiting and propaganda for these groups? I'd heard you mentioned before that a lot of the people that are recruiting are young people. They're relevant sounding, but some of the people that are telling young impressionable kids, "Hey, don't go to Syria. Don't go to Lebanon. Don't go to Iraq." These are like old guys that are their parents' age, their grandparent's age. Do we need kind of anti-ISIS, Islamic influencers, who just are more relatable? Is that something that would help or am I way off here? 
Aimen Dean: [00:49:55] Well, actually, you're right. We need these, first of all, young charismatic, dynamic individuals, basically, who can relay a message in, basically, 90-second soundbite or small video. And the reason is because, basically, we are now in the generation of soundbite. We are in the generation of 280 characters. Keep it simple, man. Because of the fact, that I'm not going to say dumb-down for generation but basically, it is the fact that there is an intellectual gap between the older generation who, if you ask them, "Oh, okay. We need to do something about ISIS. No problem at all. I'm going to write a book." And it's a deep, heavy theological book of 600 pages. Who will read that? I mean, I'm sorry, even I wouldn't.
Jordan Harbinger: [00:50:46] You need somebody on Instagram who is going to be like, "This is why ISIS is kind of BS and they're lying." 
Aimen Dean: [00:50:50] Exactly. And therefore, the most important aspect of all of this is to have three things, relatable message, relatable messenger, and a relatable medium between the two. So the message and the messenger need to be credible and relatable. And the medium needs to be accessible. But the problem is many of the young influencers, basically, are not aware of themselves of what makes ISIS a stick and what makes people basically join ISIS in the first place. I mean, basically prescribing a flu medicine for someone basically who is suffering from thyroid or malaria isn't going to help. And therefore you need to equip these people, train these people with — first of all, diagnosing the illness, the disease, and ISIS ideology, and theology, and to be able to attack it right where it hurts. Comedy also played an important part. Also the importance of exposing the fact that most of these prophecies that ISIS is relying on are, in fact, basically a fabrication from depths of history. 
[00:52:03] And in fact, while I don't agree on everything, basically related to him, but the young crown Prince of Saudi Arabia, he identified a vulnerability or identify the particular problem, which is the fact that many of the Hadith texts are not scrutinized in the modern age against the — how can I say, what we call it? Basically the chains of narration. And since we have far more modern technology that can basically even compare texts against each other, and basically look at the chains of narration and make sure that they are authentic. So the way he is doing it is to weed out these texts that have plagued Muslim imagination for centuries, promising messiah figures who are not going to appear because they are figment of imagination of people, basically, who created them for political reasons in a many, many hundreds of years ago.
[00:53:03] So the need to have these taken out without right now has never been more necessary. So he established a center for this purpose two years ago in the Holy City of Medina in order to look at all of these texts and come up with a new revised version. I applaud that. I think basically this is smart
Jordan Harbinger: [00:53:24] How confident are you that that's going to work? Because as you know, there are people that — we're having trouble convincing people that the world is not flat still. So how are we going to be like, "By the way, this text that you want to believe is fabricated and here are all these complex reasons that it's not based on modern technology, we are still at trying to get people to admit the earth is round.
Aimen Dean: [00:53:46] Remember some things that you don't need to convince them. You really need to confuse them. Because a convinced militant with full certainty, a hundred percent certainty, what he's doing is right, is a very dangerous armed militant. But if you sow the seeds of doubt in their minds, two, three percent doubt is more than enough to stop them from doing the unspeakable thing and killing themselves along with others, for the glory of their cause. So confusing them rather than convincing them should be the strategy. Because my journey started with doubt and took months to manifest. So you can't expect basically someone to become a liberal Democrat. I mean, to this day, basically, I'm never a liberal Democrat. I vote for the conservative party here in the UK. I'm very proud of Boris Johnson. So I voted for him twice when he was the mayor of London. And so I'm a conservative by heart. But nonetheless, you can confuse them enough to stop them from doing stupid things, which then put them on the journey towards the discovery of the truth. This is the one thing that you need to understand.
[00:54:56] The second thing is that do not be under the delusion or the illusion that you will be able to convince most of them or to confuse even most of them. Look at the current generation of ISIS and Al-Qaeda and many other people like them, al-Shabaab or Boko Haram. They are the ideological descendants of the first splinter group in Islam. They are called the Khawarij. These people were the first to rebel against the caliphs of Islam and to accuse them of not being Muslim enough. They are the first people who felt that they are the only true Muslims and everyone else wasn't because they are so good and they are so pious. They are more royals than the Royals themselves if you see the relevance here and, therefore, when they rebelled against Imam Ali, who was the fourth caliph and they told them that sovereignty belongs to God and even they told them the sovereignty belongs to Quran. So he said to them, "What is the Quran but a book between two covers that needs to be interpreted by men." So when they were telling him sovereignty belongs to God. So what he said, "It's a word of truth or a statement of truth but with a false motive." Because these people, when they say we want to restore sovereignty to God, what they mean is that we are using God to obtain sovereignty for ourselves.
[00:56:24] And therefore, when people asked me, "So what to do then?" I say, "There is only one way. The true Islamic way of dealing with these zealots," which is what Imam Ali himself did and he paid with his life dearly because he was killed by them. That approach is simple. First, you debate, you try to make as many of them defect as possible. So when he attempted that before he declared war on them, after the debate, one-third of them defected, two-thirds remained stubborn and wanted to continue the fight. So, of course, he fought them and annihilated them. So I always say that in a war zone, you first debate and then annihilate. In a civil society, you first debate and then incarcerate. There are no half measures to take. You shouldn't be in a squeamish about what needs to be done. Some of these people, only a long solitary confinement could put sense back into them if it ever happens, if they are in the civil society. Or I know what I'm going to say sounds heartless, but if they are in a war zone, just kill them. I mean, basically, annihilate them, just give them what they want. They want basically to die for their cause. Give it to them. If you have already tried to establish debate and to intellectually engage with them, but years and years of engagement did not lead to anything, then the only available method is to eradicate them.
[00:58:02] There was the minister of justice in the UK, Rory Stewart, the former minister of justice, and he himself basically was someone who went to Afghanistan, who was a governor of one of the provinces in Iraq on the half of the British occupation zone in the South of Iraq and someone who speaks Arabic, someone basically who's a scholar on Islam. And he said that the kindest thing to do is just to kill them. Of course, it's caused a storm of condemnation from the left. 
Jordan Harbinger: [00:58:30] It's not politically correct to say that. 
Aimen Dean: [00:58:31] Exactly. But. He was actually quoting one of the great figures of Islam, Imam Ali, the son-in-law of the prophet, his own cousin. I mean, you can't get more authoritative than this. In fact, the Prophet Muhammad foresaw the birth of the zealots and he encouraged, he said, "Fight them, fight them, get rid of them because they will be a blot, a stain on your face."
[00:59:01] So from the beginning, I am a realistic person. I believe basically that you debate, but do not expect great results. But the idea of debating is to establish a pretext, to establish the fact that you have exhausted all of your intellectual options and this war against them. Once you have exhausted all of the intellectual options, then in a civil society, incarceration and definite incarceration until they come back to their senses. And in a war zone, just get rid of them, annihilate them. And I think that strategy was pursued by both President Obama and President Trump. 
Jordan Harbinger: [00:59:43] This is The Jordan Harbinger Show with our guest Aimen Dean. We'll be right back.
[00:59:48] This episode is sponsored in part by Mercari. Everyone's got stuff they don't use, lying around the house, clothes you never wear, an old phone in a drawer. We moved as I mentioned. There's so much stuff we found that is valuable to someone, and we sold a bunch of it. It's not junk. It's like cables and phones and electronics and all this stuff. I'm like, what am I going to do with this? Guess what? People will pay you good money to buy your stuff in the Mercari app. It's really easy to list off. You can make some extra dough. And just minutes you download Mercari, take photos of your stuff, add a description, and it's listed just like that. They email you a shipping label. You stick it on the box, you ship it from your house. You don't have to meet up with any shady characters, dirty characters, whoever is picking up your stuff. No hassles. It's good. I can be even less social than I am now. I mean, that's always a bonus. The app's got a 4.8-star rating. People love Mercari, 700,000 reviews on the app store, which is no small feat. And over 300,000 items get listed every day on Mercari. Jen.
Jen Harbinger: [01:00:46] Try Mercari and make some extra cash. Sell and buy almost anything from home on Mercari. Find it on the app stores or mercari.com. That's M-E-R-C-A-R-I. Mercari, America's no meetup marketplace download today. 
Jordan Harbinger: [01:01:02] This episode is also sponsored by Better Help. We're in extraordinary times and if you're struggling with stress, anxiety, or depression, well join the club. Better Help offers licensed professional counselors who are trained to listen and help. You don't have to suffer in silence like I do. Come on, people. Do you know what doesn't help anxiety? Try to find a freaking therapist. The last thing you need is to go through a list of insane Yelp reviews and drive across town and find somebody who's going to take whatever it is problem and try and flip it on its head. Simply fill out a questionnaire, get your needs assessed. Get matched with a counselor and under 48 hours, secure video or phone sessions. I'm not driving across town. I'm not parking. I'm not laying on the couch with a mask on. I'm staying on my bed. Plus you can exchange unlimited messages with your therapist. You can get professional help when you want, wherever you are. Jen. 
Jen Harbinger: [01:01:48] Better Help is an affordable option. And our listeners get 10 percent off of your first month with the discount code JORDAN. Join over 1 million people taking charge of their mental health with the help of an experienced professional. In fact, so many people have been using Better Help that they're recruiting additional counselors in all 50 states. Get started today at betterhelp.com/jordan. That's better-H-E-L-P.com/jordan. Talk to a therapist online and get help. 
Jordan Harbinger: [01:02:15] This episode is also sponsored in part by OxiClean. Now, this is a pre-treater. It's a five and one pretreated to be exact. I'm not sure what the five things are. But what I do know is that they combine into some sort of superhero with stain-fighting superpowers. So when Jayden, my son, pooped in our sheets and we just sprayed that OxiClean MaxForce One on it. We let it sit for a few days. It washed right out. And this was no ordinary baby booty either. This was a cherry poop pits and all right. If OxiClean MaxForce One can get that out, I'll use it on anything. It even works on dried-in stains. It's not just for white clothes or sheets, but on any color that you can stain which after having a kid I've learned is all colors. So even if you don't have kids and you just got to stay in your clothes — my kid has gotten stains on his clothes. He's gotten stains on my clothes, and I've thrown out a couple of shirts and I know what you're thinking, just get rid of the kids. Well, now you don't have to because you can try OxiClean MaxForce One, spray it on there, get the stain out. You've got to try OxiClean MaxForce for yourself. To work your magic with OxiClean, go to oxiclean.com/maxforceone to get a coupon for a dollar off. That's O-X-I-C-L-E-A-N.com/maxforceone to get a coupon for a buck off.
[01:03:30] After the close of the show, we've got a preview trailer of our interview with Vince Beiser. It's all about sand. You heard me, sand. it's actually quite fascinating. There are even sand mafia killing people over sand. So stay tuned for that after the close of the show.
[01:03:43] Thanks for listening and supporting the show. Your support of our advertisers keeps us going to learn more and get links to all the great deals you just heard, so you can check it out for yourself, visit jordanharbinger.com/deals. And don't forget, we've got worksheets for every episode. The link to those is in the show notes at jordanharbinger.com. And now for the conclusion of our conversation with Aimen Dean. 
[01:04:05] It sounds like you're more of a free-thinker than somebody who I had typically expected to join a totalitarian death cult like Al-Qaeda. Do you think it's because in part you grew up in a totalitarian society? 
Aimen Dean: [01:04:19] Well, I mean, basically I never described the monarchies of the Gulf as authoritarian. I see them as monarchies, rather than autocratic typical in the North Korean style or Syrian or Egyptian or Libyan style in maniacal autocracy. Because the role of a monarch usually comes through some sort of stiff, strict disciplinarian, paternal rule, but still it's not murderous in its nature. If you look at the Arab Spring, there were 10 countries that were affected by the Arab Spring. Five were autocratic republics, dictatorial republics and five were monarchies. So the five autocratic republics were Syria, Yemen, Egypt, Tunisia, and Libya. Of course, basically, there are in a civil war now, raging basically in three of them in Libya, Syria, and Yemen, and the death toll since 2011, since the beginning of the Arab Spring, is more than one and a half million all across these countries, plus the wars, plus the refugees — 25 million displaced all across these countries.
If you look at the five Arab monarchies that affected them, I'm talking about Bahrain, Oman, Saudi Arabia, Jordan, and Morocco, the death toll since 2011, basically does not exceed 200. And there are no displaced people. So why? No Civil Wars or anything. And the reason is because basically, monarchs in the Arab sense, are glorified tribal leaders and tribal leaders are generally — if you watched Lawrence of Arabia, if you watch the character of Auda Abu Tayi, the leader of Howeitat, you see the paternal individuals stiff, but nonetheless in Oman, he lives for the tribe because he believed that every member of the tribe, whether a man or a woman, are his children. And parents don't kill their children. But in the autocratic Arab republics, there is no legitimacy. Monarchy has been there for 7,000 years. So maybe we have come to the end of the trial period. So as it's a tried and tested system, but the autocratic republics, the president came there either by a coup or by falsified elections. And this is where the question of legitimacy, people — rulers who are comfortable in their position, like the Kings, because they inherited that there is a system of allegiance, it's a legitimate form of governance. And those basically who came to power through a legitimate means they are so insecure in their position and therefore basically, as soon as there is a sign of rebellion against them, just like what happened in Syria and Yemen and Libya, they launched the wrath of hell against their own people because they don't see their people as their children. They see their people as siblings and as therefore as competitors. 
[01:07:16] So that's why when I grew up there, it was a monarchy. Yes. It was autocratic. Yes. Totalitarian, yes, but in a different style, in a different way. It wasn't a police state. There were still rules and regulations that are still right. People won't kill you. You might get a boxed ear for being a free thinker, but that's it. Of course, basically, there are exceptions. Unfortunately in Saudi Arabia, these days, basically, you end up hearing about human rights abuses on a scale that I never witnessed before, but in comparison to other systems in the Middle East, that's nothing, that's a walk in the park.
Jordan Harbinger: [01:07:52] I know that the CIA/the White House/Dick Cheney blew your cover by telling a journalist. Can you bring us through just briefly how you ended up getting kind of forcibly ejected from the spy world or the world of espionage by accident? 
Aimen Dean: [01:08:07] Well, to tell the story, basically, it was a very nice Sunday in June of 2006. By then, I have already spent roughly seven and a half years in the service of the British intelligence agencies. And it was my first ever holiday as a human being. And I decided to go to Paris. It's just next door to London. I can go there by train and as a reward for all the good works basically, to have done, I already by then uncovered the plot against the US Sailors of the Fifth Fleet in Bahrain, another London to use poison against bankers and high-net-worth individuals. Then I discovered the plot against the New York Subway System using chemical weapons. And so I felt that if the time is right, basically, to just have a holiday, like a human being. So on a Sunday, it was a very nice Sunday and I was taking the riverboat tour, and I received a text message from an associate of mine who is an Al-Qaeda and he was in the Gulf. He sent me a text. He said, "Brother, there is a spy among us go and read the Time Magazine website." And so I thought, "Oh dear, what is happening here?" So I left the boats when the tour ended, then I went to — 
Jordan Harbinger: [01:09:30] You didn't swim to shore? 
Aimen Dean: [01:09:32] No, I didn't feel the need to, but I was so curious. And you know, at the time, I had an Ericsson phone. There was no internet on the phone or anything. There was no smartphone. 
Jordan Harbinger: [01:09:43] Yeah. You must've been pretty stressed out the rest of that boat tour.
Aimen Dean: [01:09:46] Exactly. Yeah. So I went to an Internet cafe in the Hotel de Ville area in Paris and just went to the Time Magazine website. And then I read the headline, only the headline. And that alone was enough to sink my heart all the way to my feet. The headline said a brilliant spy inside Al-Qaeda alerted the West to a chemical weapons attack against the New York Subway in 2003. Now, that was a secret. And the fact that there was a plot like this remained secret for three years and three months until the journalist decided to write a book about it and to give the Time Magazine, a preview of the book, and then, basically, he was talking about this brilliant spy inside Al-Qaeda how he sought an attack also against the US Sailors in Bahrain, the Fifth Fleet. And this is one of the things in it — remember I told you about the Smurfette teacher, basically, who told me that, you know, he was the first leader of Al-Qaeda in Arabia. However, not many people knew this. In fact, it was one of the best-kept secrets by Al-Qaeda that he was the leader. He had an alias, he was a shadowy figure. No one knew it was him, but because of the fact that I was very close to Al-Qaeda in Arabia at that time, as you know, it was populated by people — you know the leadership where all my comrades. So I ended up knowing that it was him and it was my information that led to the attempt to capture him. But of course, you know, he resisted, so he was killed. So this is one of the things I live with that my own teacher was killed based on my own information. But then he was the leader of a terror group that killed the Americans as well as Saudis and other nationalities in Saudi Arabia. So he mentioned that the journalists in question, Ron Suskind, who mentioned that I was responsible for uncovering the identity of the first leader of Al-Qaeda in Arabia. I was reading this. And, of course, basically, I knew it was about me. And then basically, he said, "Let's give the spy a name." And then out of 4,000 possible Arabic names, he decided to give me my birth name. 
Jordan Harbinger: [01:12:02] Oh man. Just out of coincidence. He named you. 
Aimen Dean: [01:12:06] He named me. He said, basically, "Let's call him Ali." Now, Ali is my birth name. And it's like, thank you, not only basically you have mentioned four facts — all of these four factors, four denominations, a plot New York, a plot in Bahrain, basically me uncovering an identity, all of these things if you put them together, these are common denominators — sorry, I am the common denominator among them all. And then you decide to give me a name that was actually my birth name, which means that whoever reads the book and knows my name basically will bring me into sharp focus in their mind. So thank you, dumb idiot, for doing this. And, of course, the first thing I did pull up my mobile phone and even though it was Sunday, I called the emergency number to MI6. Of course, usually on Sunday, no one responds. My handlers want to respond. Basically, it will be going to the central emergency line. And so I said, it's an emergency, you know, tell Simon to call me basically. And of course, it's his alias, of course. So basically he gave me a call and he said, "What is it? Are you okay? Anything happened in Paris?" I said, "Well, go to the Time Magazine website or read the first headline article there, please. And then come back to me and tell me what to do." Five minutes later, he called me and he said, "You go to Gare du Nord station in Paris. On the first train to London immediately, just take the first train."
[01:13:38] So of course, like basically I went to my hotel immediately. I checked out, I went to a train station and all the two and a half hours basically journey back to London. All I was thinking about what's going to happen to me. How am I ready to explain things? It's only a matter of time before they put two and two together. And why a US journalist got hold of such sensitive information. So I arrived back in London and I met my two handlers from both organizations and they told me, "Look, already in, there is a team at your apartment, taking care of everything. They are collecting your clothes. They are collecting your stuff. You know, you will never go back to your apartment because some people know where you live. And of course, I went to the City of Oxford. I spent some time there in a hotel near the Ashmolean Museum, and then the beginning — first of all, what happened? And within days they, it became clear that it was a leak from a high level. The journalist basically is close to the office of the vice president because the CIA denied that they ever leaked it but, of course, basically the CIA, just like any other intelligence agency, is obliged, you know, basically to provide the executive. And in that case, the president and the vice president with intelligence, and the question is then what is the reason for leaking it?
[01:14:58] And the answer was that the Americans felt that there is a lot of criticism that they are relying on signal intelligence and electronic surveillance. And they don't have enough human intelligence assets inside their organization. So they wanted to say, "Well, look," first of all, of course, they wanted to highlight the danger of Al-Qaeda, "That they almost used chemical weapons in New York and we have a spy and he uncovered this and he even basically provided the design of the device that was going to be used." So, of course, all of this made it then later for Al-Qaeda to identify me as the source of all of this and, of course, issued the fatwa. But then the debate was — well, what to do with me now? I stayed on for a few months to visit training sites for the organizations where I met the new cadets, the new people, basically who are coming into fill in the officer core positions and to provide them with — we don't call it training basically but the benefit of the seven and a half years, basically I spent spying on the organization and my thoughts about the future and all of that. And but it so happened that a senior official from MI6 was leaving, was retiring and he was going to join an international global bank as the head of their security and counter-fraud function. And he said, "I'm going to take him with me." And that was, "What? I'm going to become a banker. Is that exchanging one form of terrorism to another?" So I ended up being a banker for eight years. It was really funny, like how it all is.
[01:16:45] First, I was a trainee for Imam. Then I became a foreign fighter, a volunteer in the Bosnian army. Then I became, well, a terrorist, then a bomb-maker, then a spy, and then a banker. I don't know how this happened. I mean, I don't know what career trajectory was that, but it was so weird. But I went into banking for eight years. It was eye-opening in itself. And then I left banking to become more, some sort of a consultant for certain governments around the world on these issues that we discussed and many others because of the fact that, I understand the movement of money and movement of finances and logistics for the jihadists. So that was one of the things basically I was doing to this day. And that's it basically. In 2015, I met two journalists from CNN who were very persuasive in trying to talk me into writing a biography. I did write it. I have to ask my wife permission and she granted it. 
Jordan Harbinger: [01:17:48] To write a book, you had to ask permission to write a book because it would be such a pain and so much time?
Aimen Dean: [01:17:53] Well, I mean, basically, I'm one of those people who learned to deal with the traumas and the atrocities that I have witnessed throughout my life in a strange way. I don't go to sleep unless I'm listening to an audiobook or a lecture basically to control, you know, what I dream about. So I don't end up basically dreaming about things they're not supposed to think about. And so basically I told my wife, "Look, I'm going to recall so many episodes. I'm going to recall basically the atrocities I've witnessed, the war crimes that I've seen. I'm going to retell of people who I befriended, people I betrayed, people I buried in the ground myself. So therefore it's not going to be a very pleasant experience.
[01:18:42] Ironically, I found the entire writing of the book to be therapeutic. It was not as bad as I expected. I thought basically I will end up really having bad dreams or regrets and episodes of depression but in fact, basically, it brought them to sharp focus that what I did was the right thing. And I remember my wife, basically, in particular, like the last chapter of the book, which is called Reflections. And then, of course, basically I went into podcasting. I joined a very good friend of mine who I met six years ago, an American who grew up in suburban California, who grew up in an evangelical Christian family, decided to become a Greek Orthodox monk who then, basically, decided that he wants to study about Islam and the Arab world and who lived in many different countries in the Arab world and then he got a master degree in Islamic studies and Arabic language, become a documentary maker, a filmmaker. He toyed with the idea of converting to Islam, but he remained a steadfast Greek Orthodox Christian at heart, but he and I basically, became intellectual soulmates.
[01:19:54] So we decided to do this podcast series called Conflicted in which we talk about the conflicts of the Middle East and beyond from the prism of his deep Christian faith and my deep Muslim faith and how we all came into this point. And so, yeah, yeah, this is my life right now. 
Jordan Harbinger: [01:20:12] Yeah. Do you worry that your explosive or chemical weapons plans will ever be implemented by Al-Qaeda or somebody else? You know, what keeps you up at night? 
Aimen Dean: [01:20:22] It's only a matter of time. It's only a matter of time. In fact, there were several plots in 2015, the exact device, basically, that was supposed to be used against the American New York Subway System was attempted to be used in Cairo in Egypt and the trial uncovered an exact copy of the plans, that was submitted to the intelligence services in the past. Then in 2017, in Australia, there was an attempt to smuggle it into an aircraft. It was an ISIS plot. And actually, there was another plot in Germany. So there are three confirmed plots, basically, where the device with the exact design was to be used. So I always say to myself, basically, three documented verified attempts mean basically that it's going to happen again and they will try to do it once more. 
Jordan Harbinger: [01:21:14] Aimen, thank you so much. This has been fascinating. 
Aimen Dean: [01:21:17] Oh, thank you. Thank you for having me. 
Jordan Harbinger: [01:21:21] I told you this story is nuts. This is after we edited it. And by the way, we didn't even have time to get to the stuff we got to with him after the show, and before, in between the other shows. He got surveillance training. He was like getting followed around by people and losing them. And he had all this interrogation resistance training. I mean, so many things — by the way, one of his tips was new trainees, what do they do when they go undercover? One of the mistakes they make is they ask too many questions. When he mentioned before, you just have to go about your business. Don't try and get something. Don't get too overzealous asking questions, trying to figure stuff out, getting information. That's like the pitfall that a lot of new trainees make. They ask too many questions and it outs them as a spy. Another thing he brought up was when people are asking you police or secret police, whatever, someone interrogating you, if someone's bringing up the same issue over and over again, or they insist on eye contact, they're looking for inconsistencies often because they think you are lying. And man, Aimen's story is crazy. Go listen to Conflicted. Go read his book. We'll link to it in the show notes.
[01:22:26] He went to the Philippines after that because he wasn't — gotten enough punishment. He goes to the Philippines. He's in jungle warfare against the Philippine government. He's getting leeches in his eyes. He's fighting a group called the MILF. I'm just going to leave that there. I guess they thought that sounded really tough, M-I-L-F. That was a terrorist group. Just let that sink in. I guess they didn't google that first or they would eventually, they would have ended up on some different websites. They would have realized SEO was impossible. He got a piece of shrapnel in his leg when something blew up. They cauterized it with a rod. I mean, it's just —this guy has such life experience on the wrong side of everything. Terrorists want to create chaos because then people will crave law and order. And desperate people craving security, they're the only people who are going to tolerate strict Sharia law. So that's the idea behind this. 
[01:23:17] He was a serious spy. His Intel made it all the way to 10 Downing Street, the White House. That's where his cover was eventually blown. How ironic he went through all this, his cover was never blown, and then the White House blows his cover. Just such a mess. Chinese intelligence was calling him up. Pakistan was calling him up. I just want, like you ever have any qualms working for China, Chinese intelligence, their rounding up fellow Muslims and putting them in concentration camps. Al-Qaeda, by the way, when he started off was 400 people at 9/11, there were 400 people in Al-Qaeda. So 4,000 weaker fighters, that's disproportionately dangerous. And that's what China is worried about. He helps MI6 find triggers — which is something else that I thought was quite fascinating. You can't just use Osama bin Laden when you're doing data mining. Because everyone's texting that. Everyone's writing that in emails, you have to use other names only. So jihadis were using these certain book titles. That only jihadis read and the intelligence agencies are going through and trying to find those. 
[01:24:16] I actually asked him post-show, "Hey, you know, when you're running spy networks in Syria, how does that work? How do you freelance teams of spies?" So he broke this down a little bit offline. I can only sort of repeat the gist of the conversation here now, but the same teams are hired in the USA. These are the guys that tracked Soleimani for assassination out of Iran. These networks exist already. These are like either intelligence gathering gangs, criminal gangs, locals on the ground. We don't have to build these networks. Anyone can be found, anyone can be tracked, and he will hire these networks in Syria, Iraq, Lebanon. These teams already existed. You can literally freelance these people. It's crazy. So this whole intelligence world is just — I'm pulling back the curtain on this stuff. And there is just more and more and more that I find absolutely fascinating.
[01:25:07] And, of course, later he becomes a banker doing counter-terrorism finance, making sure banks and individuals are not financing terrorism out of these big London financial institutions. Funny he used to be on the other side of this equation. Now, he's using data mining software to find credit card transactions that are potentially linked to terrorism. This guy and I talked for hours and hours. What can I tell you? End to end encryption, you know, WhatsApp, this lets terrorists talk freely. And, of course, we knew that when we're trying to talk about what psychedelics or you're buying your weed on Telegram, talking about crypto. Who do you think is using that spies, terrorists, intelligence agencies are all using this?
[01:25:48] Don't forget to check out the Conflicted podcast. We'll link to it in the show notes. He goes over some of this stuff in there as well. What a fascinating, fascinating guy. Also in the show notes, there's going to be worksheets for these episodes that you can review everything you learned. Transcripts for these episodes in the show notes. I'm teaching you how to connect with great people. In fact, Aimen — speaking of intelligence work, Aimen is a great networker. That's what spies do.  What I've noticed is that these intelligence guys, they are great at rapport, replying, systemizing. That's what these guys are great at. I've learned a lot of this and I put this into the course, not necessarily all the intelligence-gathering stuff, but a lot of the stuff I learned from intelligence agencies in terms of networking. That's in the Six-Minute Networking course, which is free over at jordanharbinger.com/course. So if you, if you're better at networking than an MI6 agent, go ahead and skip it. But everybody else goes to jordanharbinger.com/course. Most of the guests on the show, they're in this course as well. Reach out to Aimen Dean, tell him what you thought. And if you want to follow me, add me on LinkedIn. I'm also at @JordanHarbinger on both Twitter and Instagram.
[01:26:52] This show is created in association with PodcastOne. This episode is produced by Jen Harbinger, engineered by Jase Sanderson. Show notes and worksheets by Robert Fogarty, music by Evan Viola. I'm your host Jordan Harbinger. Our advice and opinions, and those of our guests are their own, and I'm a lawyer, but I'm not your lawyer. I'm obviously not a spy. And if I was, I couldn't tell you, so do your own research before implementing anything you hear on this show. And remember, we rise by lifting others. The fee for this show is that you share it with friends when you find something useful or interesting. If you know, somebody's interested in Intel, networking, the Middle East, terrorism, anything you heard today, share it with them, share this with somebody, I challenge you, and share the show with those you love, regardless. In the meantime, do your best to apply what you hear on the show, so you can live what you listen, and we'll see you next time.
[01:27:45] As promised here's a trailer of our interview with Vince Beiser.
Vince Beiser: [01:27:48] If anybody had told me three, four years ago that I was going to be spending my every waking hour thinking and talking about sand, I would have just laughed. It's actually the most important, solid substance on earth. We use about 50 billion tons of sand every year. That's enough to cover the entire state of California every single year. Every year, we use them enough concrete to build a wall 90-feet high and 90-feet across right the way around the planet at the equator. A bunch of sand might get broken off of a mountain, top, washed down into a plain somewhere, and then that sand gets buried under subsequent geological layers and pushed down under the earth and compressed and turned into sandstone. And then that sandstone may get pushed up again by geologic forces over hundreds of thousands of years and worn away again and again broken down back into grains. So an individual grain of sand can be millions of years old. 
Jordan Harbinger: [01:28:51] We're fully eclipsing the rate of creation here.
Vince Beiser: [01:28:54] You're probably sitting in a building made of just a huge pile of sand. All the roads connecting all those buildings were also made out of sand. The glass, the windows in all those buildings were also made out of sand. The microchips, the power, our computers, our cell phones, all of our other digital goodies are also made from sand. So without sand, there's no modern civilization. And the craziest thing about it as we are starting to run out.
Jordan Harbinger: [01:29:22] For more on why sand is the next petroleum-like resource and some crazy stories about sand pirates and the black market for sand, check out episode 97 with Vince Beiser right here on The Jordan Harbinger Show.
Sign up to receive email updates
Enter your name and email address below and I'll send you periodic updates about the podcast.