Reading Time:
4
minutes
Aimen Dean (@AimenDean) was once one of al-Qaeda's most respected bomb-makers who swore allegiance to Osama bin Laden himself. He eventually switched sides and spent eight years as an MI6 spy trying to take al-Qaeda down from the inside. He is the author of Nine Lives: My Time as the MI6's Top Spy Inside Al-Qaeda. and co-host of podcast Conflicted. This is part two of a two-part episode. Check out part one here!
What We Discuss with Aimen Dean:
How Aimen became one of the West's top assets in the War on Terror after he had already resolved to leave a life of intrigue behind.
What it took for Aimen to go from relatively safe debriefing asset living in London to a thrill-seeking, active spy on the front lines of a warzone.
The three methods of espionage: human intelligence, signal intelligence, electronic surveillance.
How Aimen averted Al-Qaeda's suspicions for 33 months while maintaining frequent contact with his Western handlers (even as five fellow spies were discovered and beheaded during this time).
What eventually blew Aimen's cover, and why he's not overly concerned about his former terrorist colleagues seeking revenge in spite of there being a fatwa calling for his death.
And much more…
Like this show? Please leave us a review here — even one sentence helps! Consider including your Twitter handle so we can thank you personally!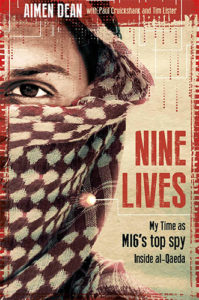 Hey, we all do crazy things when we're young. Sometimes we toilet paper the principal's house on Halloween. Sometimes we superglue the entire football team's lockers shut the night of homecoming. Sometimes we abuse the district phone tree to cancel school and get a three-day weekend in honor of Groundhog Day. Sometimes we draw a wang in Sharpie on some dude's forehead when he passes out at the party. And sometimes, when you're  Aimen Dean, author of Nine Lives: My Time as the MI6's Top Spy Inside Al-Qaeda and co-host of podcast Conflicted, you memorize the Quran at age 12, get radicalized into fighting (or using your creative accounting skills) for jihadists around the world, swear allegiance to Osama bin Laden, and then look for an exit strategy because you realize you don't want the blood of innocents on your hands — you really just want to go to university and pursue a career teaching history.
Then the British offer to recruit you into MI6 in order to spy on your former terrorist colleagues when it's clear they're trying to start the war to end all wars at all costs based on faulty scriptural translations and manipulations. On this episode, we talk to Aimen about how this unbelievable-but-true series of events transpired. This is part two of a two-part episode. Check out part one here. Listen, learn, and enjoy!
Please Scroll Down for Featured Resources and Transcript!
Sign up for Six-Minute Networking — our free networking and relationship development mini course — at jordanharbinger.com/course!
BiOptimizers Magnesium Breakthrough will help you beat stress, get fit, sleep better, and recover faster. Go to magbreakthrough.com/jordan and use code JORDAN10 to try it for 10% off the regular price — it comes with a 100% money back guarantee if you're not satisfied!
HostGator has been around almost as long as the Internet. Does your business have an Internet presence? Save up to a whopping 62% on new webhosting packages with HostGator at hostgator.com/jordan!
Mercari is the fast and easy way to sell or buy almost anything. List your item in minutes. Got something you don't use, never used, or just outgrew? Sell it by going to mercari.com and downloading the app!
Better Help offers affordable, online counseling at your convenience. If you're coping with depression, stress, anxiety, addiction, or any number of issues, you're not alone. Talk with a licensed professional therapist for 10 percent off your first month at betterhelp.com/jordan!
Miss the episode we did with Vince Beiser — author of The World in a Grain: The Story of Sand and How It Transformed Civilization? Make sure to check out episode 97: Vince Beiser | Why Sand Is More Important Than You Think It Is!
THANKS, AIMEN DEAN!
If you enjoyed this session with Aimen Dean, let him know by clicking on the link below and sending him a quick shout out at Twitter:
Click here to thank Aimen Dean at Twitter!
Click here to let Jordan know about your number one takeaway from this episode!
And if you want us to answer your questions on one of our upcoming weekly Feedback Friday episodes, drop us a line at friday@jordanharbinger.com.
Resources from This Episode: