Reading Time:
5
minutes
Scott Galloway (@profgalloway) cohosts Pivot with Kara Swisher, publishes the No Mercy/No Malice newsletter, is a professor at NYU Stern School of Business, and is the author of The Algebra of Happiness: Notes on the Pursuit of Success, Love, and Meaning.
What We Discuss with Scott Galloway:
How American priorities have shifted from a society that creates millions of millionaires to one that idolizes individuals worth the GDP of Norway.
Why the opportunities Scott and earlier generations enjoyed are no longer available to the majority of the population today.
How Scott can predict if a young person will be successful by the time he or she is 30 (and what you can do to give yourself an edge if you're not on the path).
Why striving for work/life balance and following your passion aren't ideal strategies if you aspire toward great wealth.
The good news: why you don't have to have great wealth in order to live a rich and happy life.
And much more…
Like this show? Please leave us a review here — even one sentence helps! Consider including your Twitter handle so we can thank you personally!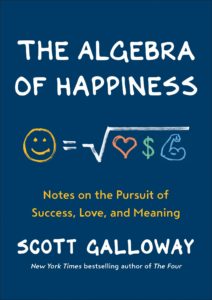 What's the formula for a life well lived? How can you have a meaningful career, not just a lucrative one? Is work/life balance possible? What are the elements of a successful relationship? Why is following your passion bad advice (unless you're already rich)?
The Algebra of Happiness: Notes on the Pursuit of Success, Love, and Meaning author Scott Galloway joins us to answer these questions and more in this episode. Listen, learn, and enjoy!
Please Scroll Down for Featured Resources and Transcript!
Please note that some of the links on this page (books, movies, music, etc.) lead to affiliate programs for which The Jordan Harbinger Show receives compensation. It's just one of the ways we keep the lights on around here. Thank you for your support!
Sign up for Six-Minute Networking — our free networking and relationship development mini course — at jordanharbinger.com/course!
Disgraceland is a true crime podcast about musicians getting away with murder. If you love true crime and you love music, get ready to love Disgraceland here!
More About This Show
The Algebra of Happiness: Notes on the Pursuit of Success, Love, and Meaning author Scott Galloway harbors no illusions about how lucky he is that the world was a certain way when he — a talented, but unremarkable and undisciplined young man — needed the college education that would keep him from living out his days as an unskilled laborer.
"I was faced with two choices: I was either going to find a way into UCLA after being rejected, or I was going to be installing shelving," says Scott. "I decided to write a letter, and the truth has a nice ring to it. I said, 'I'm the son of a single mother who's a secretary, and if you don't let me in, I'm going to be installing shelving the rest of my life.' They called me in in what was probably the seminal moment in my life. They said, 'You're a native son of California, and you're our son, and we're going to let you in. You need to be enrolled in seven days.'"
Nowadays, this tactic would never fly. Colleges have shifted from a self-perception of serving the public good to a luxury commodity only affordable to a select few. Scott says that exceptional kids from any income bracket in the United States will always find their way into the country's top schools, but there's no longer room for the average and the underachieving who make up the majority of the population.
Scott went on to become what most would consider to be a high-achiever, but if UCLA hadn't given him a second chance during his slacker years, he'd probably be retired today on disability with a bad back.
"The thing that frightens me is the primary reasons I am successful are no longer here. I'm a talented person — I'm not a modest person. I put myself in the top one percent…I have a lifestyle, income, opportunities, healthcare, opportunities to impact others in a positive way that is well ahead of the top 75 million people, and it's because of two reasons: one, being born in America, and two, an education system that loved the unremarkables.
"What we've decided in the '70s and '80s and I would argue through most of the 20th century, America's collective goal was to make millions of millionaires. There was a general feeling, even if you worked for General Motors or Procter and Gamble, if you were a good citizen, you played by the rules, and you saved some money, 401k, by the time you retired, you could be a millionaire. And we created millions of houses that were millionaires.
"And it feels like through tax policy, through education of only the best and brightest…we've decided collectively our new goal is to crown the first trillionaire. We're obsessed and we have this idolatry of billionaires and innovators, and we've decided it's okay and even great to have people worth the GDP of Norway, but at the same time, household income and wages haven't budged in 30 years. I would argue that we've lost the script. We need billionaires, but our tax policy is, in my opinion, one giant transfer of wealth from the poor and middle class to the wealthy, and I think it's very dangerous."
Listen to this episode in its entirety to learn more about the two primary inputs Scott can use to predict whether or not a young person will be successful from a modern perspective by the time he or she is 30, what you can do to get a leg up even if you don't have the benefit of these inputs, why most people's idea of what it means to be in the one percent today is a lot more extravagant than the reality, the upsides of competition from an evolutionary standpoint that don't serve us in a world where everyone's "howling in the money storm," and much more.
THANKS, SCOTT GALLOWAY!
If you enjoyed this session with Scott Galloway, let him know by clicking on the link below and sending him a quick shout out at Twitter:
Click here to thank Scott Galloway at Twitter!
Click here to let Jordan know about your number one takeaway from this episode!
And if you want us to answer your questions on one of our upcoming weekly Feedback Friday episodes, drop us a line at friday@jordanharbinger.com.
Resources from This Episode:
Transcript for Scott Galloway | Solving the Algebra of Happiness (Episode 204)
Jordan Harbinger: [00:00:03] Welcome to the show. I'm Jordan Harbinger. As always, I'm here with my producer Jason DeFillippo. Today's guest, Scott Galloway is a professor at Stern Business School in New York. He's also a successful serial entrepreneur and the author of The Algebra of Happiness -- so what? Well, his resume actually reads like a what not to do according to his own book. This is a guy who didn't care at all about school and almost didn't even go and then ended up talking his way into undergrad and business school and had a heck of a ride since then, of course. Today, Scott is sharing some very real wisdom gained through his experience such as why you should forget about work-life balance early in your career if you want economic success, why the advice to follow your passion is actually terrible -- you know, I love that topic. We'll also discuss why talent is a mere table stakes these days and what to cultivate instead. There's a lot of gold in this episode and I really hope you enjoy it and you might even get your bell rung by some of the truth in this episode as well. And one thing that Scott recommended, spoiler alert is focusing on your relationships. That's what we're teaching you how to do in Six-Minute Networking, which is our networking course, which is free at jordanharbinger.com/course. All right, here's Scott Galloway.
[00:01:17] First of all, your, your bio almost reads like a what not to do according to your own book because it was like, "I'm not trying in school. I'm going to lie to get an interview and get ahead, and then I'll get divorced and change relationships because I want to try and upgrade my life," and then I read The Algebra of Happiness and it's like, "Don't do all of these things that I did."
Scott Galloway: [00:01:38] We'll do as I say, not as I do. The bottom line is we learn more from your failures and I've had a lot of them.
Jordan Harbinger: [00:01:46] Yeah. That makes sense. I think failure teaches us more generally. It's kind of a truism that we see from entrepreneurs that are on the show, especially. It's the victories are great. They're the ones that maybe make you rich but all the work is done in flopping and falling on your face.
Scott Galloway: [00:02:02] I think that's right.
Jordan Harbinger: [00:02:05] There's a lot of things actually that you tried or that you did in the book that I feel like don't work now and I want to get those out of the way. Because what I don't want people to do is hear your advice and go, "Well, this is a different world. It's not like that anymore."  You went to UCLA and the way you got in was a little unorthodox. You want to tell us how that happened? Because I fear that people will read this and decide that you don't know what you're talking about because it's a different world.
Scott Galloway: [00:02:29] Yeah. It is a different world. I was faced with two choices. I was either going to get find a way into UCLA after being rejected or I was going to be installing shelving. I got a job in shelving for $18 an hour, which seemed like a lot of money and I was ready to do that. And I decided to write a letter and the truth has a nice ring to it. I said, "I'm the son of a single mother who's a secretary, and if you don't let me in, I'm going to be installing shelving the rest of my life." Then they called me and what was probably the seminal moment in my life. They said, "You're a native son of California and you're our son and we're going to let you in and you need to be enrolled in seven days." And I was neither a good student nor a good test taker. I was unremarkable in everywhere. I was remarkably unremarkable. And one of the things that scares me about our society today is that we've sort of fallen out of love with the unremarkable. There's never been a better time to be remarkable. Kids from inner cities who are remarkable, can find the way to Harvard and Harvard will find them, but sort of what I'll call the middle of the road, good but not great people but might have a great future ahead of them. It's harder and harder to get into great schools. And I feel that as an academic, we academics have lost the script that we think of ourselves as a luxury good, not as public servants. And we brag about how many people we turn away. We're not expanding our seats as fast as the population. So yeah, I worry that things have changed dramatically and the opportunities aren't nearly as great for an unremarkable kid such as myself now as they were then.
Jordan Harbinger: [00:03:58] This is terrifying for society in general. I read The Algebra of Happiness from cover to cover because it's a really great easy read. And of course, we'll link to it in the show notes as we do with every book and we'll throw your sort of synopsis video embedded in the show notes as well. But one thing that really stands out that you're certainly not trying to hide in the book is you showed up to school, smoked a lot of pot as college students do, got a 2.27 GPA, went to business school, and then started a bunch of companies and it had a lot of great success. And now you're a professor at Stern Business in New York. So this is a big shift from somebody that literally -- you'd have been lucky to install shelves, maybe you'd be the supervisor of the shelving company by now if you didn't get a back injury. Right?
Scott Galloway: [00:04:43] Yeah. It's like it's human nature to credit your character and your talent with your success and then credit or blame the markets for your failures. And I have no such delusions. The generosity of California taxpayers and the vision of the Regents of the University of California are why I'm sitting here speaking to you. And I'm not saying, "Oh, explore yourself. It'll all work out." You know, I was immature. I had, I smoked too much pot. I drank too much. I didn't have the discipline. I didn't have the rigor that kids need to get ahead and what is a much more competitive economy. So I'm very honest or I try to be honest about what I think the realities are that are facing our young people. You know, whether it's a problem or not, I acknowledge it is a different world.
[00:05:31] But you know, people have a tendency to rub Vaseline over the lens when they look back at their life and again, the things that frightened me are the primary reasons I am successful are no longer here. And I'm a talented person. I'm not a modest person. I put myself on the top one percent which puts me in a room, the population of Germany, so 75 million people, is the top one percent of our planet. And I have a lifestyle, income, opportunities, healthcare opportunities to impact others in a positive way that is well ahead of the top 75 million people. And it's because of two reasons -- one is being born in America and two, an education system that loved the unremarkable. And it's a huge issue now that we've seemed to have fallen out of love the unremarkable. And what we've decided in the kind of the '70s and '80s and I would argue through most of the 20th century, America's collective goal was to make millions of millionaires. There was a general feeling, even if you went to work for General Motors or Procter & Gamble if you're a good citizen, you played by the rules and you've saved some money, 401k, by the time you retired, you could be a millionaire. And we created millions of houses that were millionaires. And it feels like through tax policy, through education of only the best and brightest from around the world get in and most people can't afford to go to these schools now. We've decided that collectively our new goal is to crown the first trillionaire. That we are obsessed and we have this kind of idolatry of billionaires and innovators and we have decided that it's okay and even great to have people worth the GDP of Norway. But at the same time, household income and wages have not budged in 30 years. And I would say, I would argue we've lost the script. We need billionaires, but our tax policy is basically, in my opinion, one giant transfer of wealth from the poor and the middle-class to the wealthy. And I think it's very dangerous.
Jordan Harbinger: [00:07:23] It seems like talent is table stakes now just gets you in the door. You phrase it really well in the book. It's like a diamond medallion on Delta Airlines. You think you're special, but then you get to LaGuardia Airport and you realize there's just a whole lot of you, and that's a brilliant analogy because I think everybody who flies a lot and has some sort of even lower level of medallion status. I was like, "But I'm silver." And it's like, "You're lucky to get a seat on this freaking plane, dude."
Scott Galloway: [00:07:48] Yeah. "Here's some peanuts. Well done." So when I go through a series of equations in a book around predicting success, the two primary inputs I need to tell if a kid is going to make a lot of money by the time he or she was 30 is only two things. One, they're pedigree where they went to college. And two, there's zip code. So the two primary drivers of income trajectory, and unfortunately your income trajectory from 22 to 30 kind of sets the slope for the rest of your life. Unfortunately, there are late bloomers, there are people that start-up fast and then slow down. But for the most part, your trajectory like coming off an aircraft carrier and a jet is largely set by that first kind of thousand feet. And the two things that drive that trajectory are, one, we live in a caste system except our caste system as universities. And two, if you're in a city, a third of all economic growth among the, uh, despite the fact we have 450 metros in the US. It's just crowded into five cities. So show me a kid who went to Dartmouth, who's managed to figure out a way to get to New York or Shanghai or San Francisco. And I'll show you a kid who's going to make a 150 grand by the time they're 30 years old, a year, if not more. Show me someone who has a junior college degree and is living in Little Rock, Arkansas and I'll show you that they'd be lucky if they're making 50 grand by the time the 30.
Scott Galloway: [00:09:01] So the lesson is simple when you're young, get credentials and I realize not everyone's cut out for college, so I don't care if it's a class D driver's license and aesthetician license, anything that you can put on your LinkedIn profile that separates you from the other seven and a half billion people and get to a city while you're young. Because the majority of economic growth, two-thirds of the economic growth over the next 30 years is going to take place in a handful of super cities globally. Just as when you're rallying with someone better than you on the tennis court, your game elevates. When you are in a big city, you are playing against Roger Federer across everything you do and your game will be better and it gets harder as you get older. It gets harder to go back to school. You start collecting dogs and kids and it gets harder to move to Manhattan or San Francisco. So if you want to be in the top 10 percent much less the top one percent economically, and not everyone does. I want to be clear, I'm not saying that everyone is howling in the money storm, but most of the people, young people I deal with, envision themselves in kind of the top economic class or at least aspire to it, two basic rules, get certified and get to a city.
Jordan Harbinger: [00:10:07] I know, of course, most people want to be in the one percent. You know what? Actually, I take it back. I think now most people want to be in the 0.1 percent they just think that's what the one percent is.
Scott Galloway: [00:10:18] Hundred percent, hundred percent. Jordan, you ask people what their expectations are on income. They don't realize how difficult it is to make that kind of money in our economy because we have so many well-publicized billionaires and everybody knows somebody who's making a ton of money, but it is hard to get there.
Jordan Harbinger: [00:10:35] I live in Silicon Valley and so I'm running this game and we'll get to this a little bit later where it's really hard not to compare yourself, which as you mentioned is a very easy way to make yourself miserable, but you'll be around people who go, "Hey, why don't you come to my friend Sakhile's house," and you're like, "Great, cool. We'll go over and play some poker." And you drive up Sand Hill Road, which is where all the venture capitalists are and you go to somebody's house and he works for Andreessen Horowitz, which is a big VC firm -- for those who are listening who might not be familiar and you're just looking at like 270-degree views of all forests and the house is 8,000 square feet and he's got two kids and you're just thinking, "Wow," you know I'm pushing 40 so I get, I get what that looks like. But if you're 22 and you go there, you think, "So all I have to do is just work hard and this is what might be in store for me." And you don't realize this is somebody who, like you said, got credentialed, got to a city, found out where the money is and this is a real example. The guy's name isn't Sakhile. It's something very similar, but I think he's like a PhD in biotech, invested really early in certain biotech firms. Got put on the VC train of Andreessen Horowitz, made some great investments and probably got paid a lot of dough because that's a six or eight-million-dollar house or whatever it was that I was in. And people go, "The one percent," and then they try to do this math in their head, "One percent of this is this and I can hit that number," and it's like, "Look, that's not one percent. One percent is the guy that you know that drives a Tesla and has two kids. That's the one percent. The 0.1 percent is the person that you, that looks wealthy to you when you're watching something like on television that's not 90210.
Scott Galloway: [00:12:17] Well, you put some numbers around at the top one percent means you're making around $780,000 a year. And if you live in New York or San Francisco, you're paying an effective tax rate if that's current income of 45 percent so on 400,000 of net income, if you have two kids, you can't afford to live in San Francisco or in New York. So the top one percent can no longer afford really to live in Manhattan or in San Francisco. And the thing you didn't mention about your buddy Sakhile, he did everything right, super smart, super hardworking, super credentialed, also just super fucking lucky. And one of the things that you find in research around happiness is key to our species in terms of the evolution as a competitiveness chain where we anchor off the strongest caveman, the most talented, the most talented person in our clan, the most interesting person, the most successful. And we say, "Okay, that's what we should be. That's the benchmark." And we all know somebody in our circle who is incredibly talented and has done really well. And then typically what happens is you realize, and you're kind of mid-20s or 30s, that you're probably not going to be a Senator or have a fragrance named after you. And it's really a bummer because you will always meet people more successful than you who have more money, who have more power, who have more kind of currency in the marketplace.
[00:13:34] Especially in this age, when every day you have Instagram basically telling you, "Yeah, this is what a normal life looks like. This is about jets and fragrances and partying at St. Barts." And the reality is, okay, you're, you're not seeing a real picture of what real life is like. And it creates tremendous ambition. There are some good things about it, but I think especially among young people, it can create, set a lot of people up for extreme disappointment. And I think it's important around the luck piece to realize that when you're really successful and you're killing it, and most people have those moments in life, it's not entirely your fault. A lot of it is luck. And it's also important to recognize when you've been being in the face and really screwed up, that it's also not entirely your fault. When they survey seniors and they say, "What one piece of advice would you have for your younger self?" Universally, the thing that comes back, number one or number two, is that they've wished they'd been less hard on themselves. They wished they'd been not only more forgiving of other people but more forgiving of themselves, that they hadn't been as disappointed or hard on themselves when they didn't achieve the expectations they'd set up in themselves, that they weren't as hard, that they shouldn't have been as hard on themselves when they came up a little bit short.
[00:14:49] So the key to capitalism, obviously competition. The key to evolutionary biology is this incredible competitiveness gene. But you have to modulate it and recognize that being in the 98th percent and maybe that means you can't afford to live in San Francisco or in New York, but you're in the 98th goddamn percent -- you know, think about, think about 98 don't think about the two you aren't. And it's very hard to do in a society where everyone is sort of what I call howling and the money storm
Jordan Harbinger: [00:15:16] Howling in the money storm. Well, that hits very close to home for me because I do anchor off the most successful people that I know and I get disappointed when I don't match those people's achievements. And that was great when I was in high school because it made me get better grades because I had smart friends. But it's really tough when you meet a buddy and he founded Braintree and has $850 million or whatever. You then are dropping out of high school straight into the pros and wondering why you're not LeBron James while you're still junior varsity in a way. I know I'm mixing metaphors here, but I'm guilty of this. It is sort of a formula for unhappiness and your advice to forgive yourself so you can get on with the important business of life is not lost on me. It's just easier said than done I think
Jason DeFillippo: [00:16:07] You're listening to The Jordan Harbinger Show with our guest Scott Galloway. We'll be right back.
Jordan Harbinger: [00:16:11] This episode is sponsored in part by DesignCrowd. Crowdsourcing is how busy people get stuff done in the 21st century and thanks to DesignCrowd you can focus on running your business while you hand over the reins for your company's logo, web design, t-shirt, you name it to a pool of over 670,000 designers from around the world. DesignCrowd crowdsources custom work based on your specifications. You pick the design you like best and it's that simple. Here are the details. Go to designcrowd.com/jordan, post a brief describing what you want from the art that you need. DesignCrowd then invites 670,000 designers from Sydney to San Francisco to respond. Within a few hours, your first designs will start rolling in and over the course of three to 10 days, a typical project will get 60 to 100. I think we got like 600 different pieces from designers around the world. You pick the one you like best, you approve payment to the designer, and if you don't like any of them, DesignCrowd offers a money-back guarantee. Jason.
Jason DeFillippo: [00:17:06] Check out designcrowd.com/jordan. That's D-E-S-I-G-N-C-R-O-W-D.com/jordan for a special $100 VIP offer for our listeners or simply enter the discount code JORDAN when posting a project on DesignCrowd.
Jordan Harbinger: [00:17:19] This episode is also sponsored by Omigo. Remember what it seemed crazy to rideshare with strangers or book a vacation and someone else's house. Yes, I remember those days. It was like five years ago at most. The future always seems weird at first and then it seems weird to have lived without it and that's kind of where I'm going with this whole Omigo thing. A lot of us, we wipe our bottoms with toilet paper as we've been taught to do our whole lives. Have you ever thought about that? It's kind of like, I've said this before, but if you dropped peanut butter on your arm, do you take a dry tissue and just sort of smeared around and then think, my arms clean now? No, you don't. Wiping with TP is kind of like memorizing a phone number or rewinding a videotape. When it comes to cleanliness, you've got to kick the new school, you got to wash yourself properly. I can't believe I'm doing a read for this, but I do love this product and it has been a game-changer for me. So look, toilet paper is bad for the environment. It's bad for your bottom. That bathroom fixture is also the one that we need most. So if you're into that, go grab an Omigo. This is a -- I hate the word bidet just sounds overly precious, doesn't it Jason? It's essentially a toilet seat that, well, this is going to sound worse. It's a heated toilet seat, so that's always nice and it washes your bottom. It's sanitary. I don't really want to get into the detail, but it's deodorizing. It's got sterile nozzles, stuff going on. It's remote controls. It's got a nightlight. Like I said, the seat is heated. That's huge. You can save a ton of TP, literally depending on how much your house is using overtime and you don't need a plumber to install it. I love this thing. It is, it was an absolute game-changer when I go and stay at hotels or Airbnbs or whatever. I don't have this. And I'm like, I miss my Omigo.
Jason DeFillippo: [00:19:03] What you don't take it with you. Stick it in your backpack.
Jordan Harbinger: [00:19:06] No, I don't have a backpack for my butt washer.
Jason DeFillippo: [00:19:11] Yet, yet.
Jordan Harbinger: [00:19:12] Not yet. Go to myomigo.com/jordan. O-M-I-G-O is what that is myomigo.com/jordan and get 20 percent off your order. I know it sounds weird. I am telling you this will change the game for you. This is such an awesome piece of hardware. So for better health and hygiene, stop wiping, start washing. You'll be glad you switched myomigo.com/jordan to get 20 percent off the toilet seat, the toilet seat of your dreams.
Jason DeFillippo: [00:19:41] Don't forget. We have a worksheet for today's episode so you can make sure you solidify your understanding of the key takeaways from Scott Galloway. That link is in the show notes at jordanharbinger.com/podcast. And thanks for listening and supporting the show. To learn more about our sponsors and get links to all the great discounts you just heard, visit jordanharbinger.com/deals. If you'd like some tips on how to subscribe to the show, just go to Jordan harbinger.com/subscribe. Subscribing to the show is absolutely free. It just means that you get all the latest episodes in your podcast players as they're released so you don't miss a single thing. Now back to our show with Scott Galloway
Scott Galloway: [00:20:16] There's some advice here. The first is what is the definition of rich and I think the definition of rich is passive income that is greater than your burn. Most of us until the age of 40 or 50 focus on the top line and that is our income. We want a bigger and bigger number. I have a close friend here who is a partner in an investment bank running a large group of 200 investment bankers. And this individual makes somewhere between five and seven million dollars a year. After taxes on all that current in Manhattan city, state and federal taxes, take some about three and a half million. By the time he's done paying alimony and child support for his previous marriage and children, taking care of his current household, having a townhouse, a house in the Hamptons of that three and a half million dollars, he spends about three and a half. He literally spends his entire paycheck because he has increased his standard of living as he's increase. And I know this specifically that he's literally having trouble sleeping because he's like, "What happens if -- when the structural reallocation of capital out of MNA or active investing to passive investing, what happens when the grim reaper shows up in my door?" And this guy's in his early 40s was still a young man, but he's held by investment banking standards. On the flip side, my father, between his pension from the Royal Navy and social security from him and his wife, they get about $48,000 a year in passive income and they spend 40. My father is rich, he's getting more passive income than as burn, and he is happy and secure and literally giddy that he doesn't have to work and he makes more money then he's spending.
[00:21:56] So I would say young people focus on their income. Adults start to focus on their burn, and that is how do I chart a path that I can get to investments, whether it's rental income from housing, dividends on stock, forced savings, such that I have a path to get to a point where realistically I might have enough passive income that's greater than my burn. And that burn at some point might be moving to a place that's less expensive. It might be tempering your expectations around the lifestyle, your lead, but there is a real piece in a real dignity to being rich. And rich can happen at $48,000 a year.
Jordan Harbinger: [00:22:33] Most people wanting to be in the one percent led me to another point that you made that I love, which is talent alone doesn't get you within spitting distance of the one percent especially the 0.1 percent and the chaser that takes talent over the top as you put it as hunger and understanding where hunger comes from can be the difference between success and fulfillment. Can you get into that then? Where does hunger come from in that case?
Scott Galloway: [00:22:57] I think it comes from different places and it's difficult or I don't have the skillset or the domain expertise to identify specific sources. I know where it came from me. People are often very complimentary, impressed by the fact that I came from what I call an upper, lower-middle-class household. I was raised by a single mother. She was a secretary. Our household income peaked when I was in college at $46,000 a year. I think that was the most money she ever made and people are so impressed by that. I'm one of the 11 percent that's gone from one of the lower two quintiles to the upper quintile and that's great. I feel good about myself. People impressed. I am equally impressed by kids who are born into money and find a way to work hard, be responsible, get their ass out of bed at seven in the morning and work their butt off and do what's required to really add value in this competitive, you know, full-body contact economy.
[00:23:52] If I were born into money and I mean this sincerely if I were born into money, the only two things I know would be president of my life are a Range Rover and cocaine. I would not be hungry. I would not be, in my opinion, I would likely not be a responsible citizen until I got probably older because I just wouldn't have had the hunger. The hunger for me came from two places and they both involve women. The first is my mother got very sick. She was diagnosed with terminal breast cancer. When I was in graduate school. I remember going to the surgeon with her and thinking we weren't getting good care, we couldn't get a second opinion. I had trouble even getting my questions answered. And I remember thinking, I wish I had more money. I wish I had more contacts. We have neither. And I felt very emasculated and humiliated that I couldn't take care of my mother at a level I wanted to. And I decided there and then I connected healthcare with money and I decided there and then I was going to be rich. And the second is more based. And that is I noticed that having power and having money was a great way to expand your selection set of mates. And for me, it was about, about having the opportunity to feel stronger and quite frankly attract a broader set of potential mates. So to me, it was very motivating, both a terminal illness in my family and also just wanting more experiences to be wealthy. If I had started out with money, I just don't think I would've hauled my ass out of bed every morning the way I did and been thinking about work 24 by seven and by the way, I'm not advocating that's the right path. It costs me a lot. In my 20s and 30s, I barely remember anything but work. It cost me my first marriage. I had some health issues right out of college, although I'm not sure that was stress-related or related to work, but it comes at a cost.
[00:25:49] And one of the things I tell kids is that the myth of balance is a myth that even if you know somebody who works at the donates time at the ASPCA, has a food blog, makes a ton of money as a good relationship with their parents, assume you are not that person and recognize that there is a trade-off between aspirations around income and the balance in your life. And I decided early on I was going to make that trade-off. The other great analogy around money is to think of money as not the story. If you just have a number in your mind, how much am I worth? You're always gonna have people who are worth a lot more and numbers go really high. You never hit. It's like Hans Solo said to Mark Hamill when he said, "You're going to get more money than you ever imagined." Hans Solo said, "I don't know. I can imagine a lot of money." Our imagination will always outpace the reality in terms of what kind of money we would like, and you're always going to be a little bit unsatisfied. Think of money as the ink in the pen for your story. It can help make the story burn brighter. It can write new chapters. You might not be able to write without it, but it's not the story. It's not the story and it's hard to get off the hamster wheel of money and economic success when you're on it and you should be on it for the first 10, 20 years of your career. Because we live in a capitalist society and eco economic security is not only important. I think it's your obligation as a head of household, but it's hard to have the perspective to know when to step off and say, "Okay, I need to start investing in and developing other things that create an arc of happiness and satisfaction. Other than that, just that number."
Jordan Harbinger: [00:27:21] So the advice here is to work it while you're young because the slope trajectory of your career is essentially fair or not set in the first five years or so. Would you say post-graduation, what sort of time frame are we looking at?
Scott Galloway: [00:27:35] Yeah, this isn't what the world should be. This is what the world is and by the way, it's not for everybody. Some people are like, I'm not on the money train. I'm going to move to a smaller town. I'm going to make a good living and I'm going to be happy. And there's nothing wrong with that. I'm basically saying this through the lens of the kids I work with, which is mostly second-year MBAs, which is obviously a bias selection set. Who are all, when I ask them how much money they expect to be making in 10 years, just as you referenced Jordan, they don't expect to be in the one percent, they expect to be in the 0.1 percent. And you just have to have an honest conversation around the sacrifices and what you're really willing to sacrifice and then adjust your expectations. Otherwise, you're setting yourself up for failure. And the reality is that it's very difficult to devote the kind of grit and commitment and time commitment to really make a ton of progress professionally when you have kids or sick parents and that stuff all happens and they're both the ability to take care of your, your parents, the ability to raise kids is super important. But from 22 to 35 if you want to be in that top 10 or one percent, you know the bottom line is -- I don't know anyone who didn't primarily focus, not even primarily kind of focused on 100 percent to 97 percent on their career. And I'm not advocating that that's the right strategy. I'm just saying if your expectations economically are to enter into the Thunderdome and be one of the one percent then-boss.
[00:29:08] The myth of balance is a myth and the other big myth is this notion that you should follow your passion. The speakers at NYU always end our conversations are always a billionaire and they always end their speech with "Follow your passion." And this is usually from a guy that made his billions of dollars in iron or smelting.
Jordan Harbinger: [00:29:28] Oh yeah. Let me attack that in a second because that's a whole rabbit hole that I want to go down because I hate "Follow your Passion." It's a pet peeve of mine that that gets me kind of riled up. I know people are going to ask, what about from 45 to 65, though? If you didn't start strong, what happens now? I mean, are you just screwed or what?
Scott Galloway: [00:29:48] I don't think you're screwed. I think realistically it's a lot more difficult for you because it's more difficult for you to take the risks. You're probably going to have more familiar obligations in terms of aging parents, in terms of kids. A lot of people are late bloomers, so by no means are you're screwed. But again, the reality is in the parts of the economy that are growing the fastest, specifically tech and finance. What you have is in biotech you have tremendous ageism and that is that there's a general sense, if you're 45 and you walk into a conference room at big tech, you're either pretty senior or were tens of millions of dollars, or the general assumption is you fucked up or just aren't that good. You know, there's always an sexism and 60s and 70s, 80s, I would argue that the thing holding back the economy wasn't racism. It was sexism. It was very hard for women to get ahead because they needed, they needed to raise children. And we were in a society that saw that as the burden of women. I think that the thing that held our economy back was sexism. I would argue now that the most dangerous unlock, if you will, that we need to unlock and figure out is ageism. And I think there's a general assumption that we have this idolatry of innovators and youth such that anyone over the age of 40 is kind of immediately, there's a bias against them. And I think it's starting to pop up and the most, show me the fastest-growing parts of our economy. And I'll show you a shot where people assume there's a bias towards backing 25-year-olds. There's a bias towards finding that young, hungry person as opposed to looking at someone and saying, "Wow, this person has experienced, this person has balanced, this person has a little bit more maturity. Those things seem to have been diminished as qualities. So no, you're not screwed. But realistically, if again, you're planning to get there, you know, it's the prime earning years, they always say it's your 50s and 60s that's the prime monetization years. The prime earning years in terms of creating currency and momentum are absolutely in your 20s, in your 30s
Jason DeFillippo: [00:31:55] As someone who worked in the tech industry for a very long time and did not get the golden ring as it were. The ageism is so true because as soon as I hit 40 and I would walk into a big tech company, zero interest in hiring you, if you're not 25 and you're willing to break things and move fast, then nobody cares about all of that experience you have, all of that domain experience. And I think you're right with ageism is it's a huge problem right now and it definitely needs to be addressed.
Scott Galloway: [00:32:27] Yeah. Hopefully, you know, there'll be illegal irregular regulatory remedies, but I think a lot of it is opportunistic. I think there's a ton of opportunity with people in their 40s and fifties who are looking for a second act and bring a different skill set but just as important a skill set. I mean, it's weird that we're apologizing for being old. I used to be, I don't know about you, but I used to be the youngest guy in the room. I used to be the most successful person from my age in the room, and then there was about a week I was the same age, and now I'm the oldest person in the room. And fortunately, because I have some success under my belt, I'm treated with respect. But if there are other people my age in the room that haven't sort of killed it or haven't sold a company or something, there's a general assumption that, "Okay dude, what went wrong? What went wrong?" "Well, nothing went wrong." So it is an issue. It's also an opportunity. I always tell tech companies that that untapped ROI and human capital is that person who's in their 40s or 60s who's had a good career. But the difference between good and great and crazy a lot of times is timing and luck. And maybe that person had to take a couple of years off, decided to stay at home and raise kids, decided to take care of their parents, dealt with an issue or just bloom later. But I find increasingly whereas 20 years ago I found that finding, hiring young women that they were the untapped resource that everyone wants kind of like older guys, older white guys. And then that opportunity was the underinvested asset of young women. Now I'm finding in the workplace the underinvested opportunity are people in their 50s.
Jason DeFillippo: [00:34:08] You're listening to The Jordan Harbinger Show with our guests, Scott Galloway. We'll be right back after this.
Jordan Harbinger: [00:34:13] This episode is sponsored in part by Experian Boost. You know, the better your credit score, the easier it is to get stuff you want or the less you have to pay, you know like houses and cars. So the question is why is it so hard to raise your score? Now, It won't be thanks to Experian. They've launched Experian Boost, which is a brand new way to instantly increase your credit scores for free. And Experian, as you know, is a credit bureau. So one of the things that they've done and a lot of people you've reported that you've used this and it's actually worked really well. Credit scores are important because they help you establish and get access to credit and preferred rates, interest rates for things you want and need in your life. So having good credit as is clutch and Experian wants to help you raise your credit score because that's good for them because -- I won't get into the macro of it, but it's good for them too. For the first time ever paying your utilities and your cell phone can instantly improve your credit score. So Experian Boost works by giving you credit for the bills you're already paying through your bank account, water, gas, electric, cable and cell phone. Usually, they would ignore that stuff and just go for like your cards. And this can be a really game-changing type of score boost because it used to take months to see your credit score rise a point or two. And with Boost, you can really just do it immediately and it's free to use and available only from Experian. I can't believe it's taken so long for a company to do this. Frankly, I remember 10 years ago trying to get our credit score boosted, reporting things voluntarily, and I had to apply for numbers and all. It was a huge pain and it didn't even work. So Experian Boost will potentially help you establish or increase your access to credit and boost your FICO score instantly for free. Boost is only available at experian.com/jordan. That's E-X-P-E-R-I-A-N.com/jordan.
Jason DeFillippo: [00:35:58] Support for The Jordan Harbinger Show comes from our friends at Rocket Mortgage by Quicken Loans. Home is so much more than a house. It's your own little slice of heaven. That's why when you find the perfect place for you and your family getting a mortgage shouldn't get in the way. Finding the right house isn't easy but finding the right mortgage can be. Rocket Mortgage is doing more to help you understand the home buying process so you can get exactly what you need because it's not just a mortgage, it's your mortgage and they found a better way. Their team of mortgage experts is obsessed with finding a better way, which means that their number one goal is to make the home buying process smoother for you. They make the home buying process work for you. In fact, Rocket Mortgage is there with award-winning client service and support every step of the way. Quicken Loans has helped millions of Americans achieve their dream of homeownership. And when you're ready to purchase the home of your dreams, they can help you too. When you work with them you get more than just a loan because Rocket Mortgage is more than just a lender. Visit RocketMortgage.com/JORDAN and take the first step towards the home of your dreams. Equal Housing Lender. Licensed in all 50 states. NMLSConsumerAccess.Org #3030. Rocket Mortgage by Quicken Loans. Push the button, get mortgage.
Jordan Harbinger: [00:37:06] This episode is also sponsored in part by KiwiCo. We all love a good subscription box, right from food boxes to wellness boxes. They're all the rage. What about a subscription box for your kids that's actually fun, educational, and helps them develop creative confidence to change the world. Sounds like it's right up my alley. I actually kind of want that for myself, but whatever. Our kids are the future and it's our job to prepare them for that. And that's sort of at the forefront of my thinking right now. We've got to empower them to be creative, confident, and fearless in all their endeavors. And KiwiCo is a really fun, innovative project here. So what these are KiwiCo it just like it sounds, creates these super cool hands-on projects for kids to make learning about STEAM fun. I was like, what's that a typo? No, it's STEAM is science, technology, engineering, art and math. So they include a little art in here. It's designed by experts and tested by kids. So you're not going to get like Jason, it reminds me of that movie Big where he's working at the toy company and the adult comes up with that house that doesn't do anything and he's like, "This is boring. It's so boring." And the guy gets all pissed off at him. So these are not boring. You don't have to research, you don't have to worry about gathering all the supplies and they have seven lines for zero to 16 years old or even older. They've got different sorts of tadpole koala, tinker, eureka crates, and you get a new one each month. So if you're pressed for time, the kid in your life basically just gets this new engaging project with all the supplies they need to challenge themselves creatively. It comes with all the supplies needed for that month's project. So you're not going to open it up and be like, "Oh crap, I need button cell batteries and it's 11:00 p.m." Or like, "It's 7:00 a.m. on a Saturday and I got to go to freaking n Walmart and grab the battery." It's all in there. They have detailed, easy-to-follow instructions that are written for kids. So, I hate to say it, but you can kind of like let them rip on this and you don't have to sit there and walk them through the whole thing, which is great. I know you probably should, but let's be real. Daddy had some wine last night, right? So like we want to give this to the kid and you know, cartoons are over. Make your little robot. There's also an educational magazine to learn even more about the crates' theme and you can, of course, do it together. That's kind of the point. Look, we know you're super busy, you're always on the go. It can be tough to go do grocery shopping, work, feed your family, go to that soccer practice, get in quality time, but you can work together on this project. That's fun and exciting. And I look at these and I would have loved this as a kid. I was always disassembling things. There were science kits at radio shack, but there were like two. One was a radio and the other one was a robot and once you built it, it was just not that fun anymore. Jason, do you remember those?
Jason DeFillippo: [00:39:40] Oh definitely. Yeah.
Jordan Harbinger: [00:39:42] It was like a radio with springs wires and a piece of cardboard and plastic. It was really simple as an am radio wasn't that exciting? The other one I think was a robot, but then when you were done, you were done and then you, they had no replay value. This is monthly. It, it's so much better. I really would have loved these when I was a kid and I think your kids will like them too if they're in sort of, you know, learning and building stuff. Jason.
Jason DeFillippo: [00:40:04] KiwiCo is a convenient, affordable way to encourage your children to be anything they want to be. For our listeners, go to kiwico.com/jordan to get your first month free every day counts when it comes to making a difference, so don't miss out on this amazing opportunity. Again, go to kiwico, that is K-I-W-I-C-O.com/jordan and get your first month free. kiwico.com/jordan.
[00:40:37] Thanks for listening and supporting the show. Your support of our advertisers keeps us on the air and to learn more and get links to all the great discounts you just heard, visit jordanharbinger.com/deals. And don't forget the worksheet for today's episode. That link is in the show notes at jordanharbinger.com/podcast. And if you're listening to us on the overcast player, please click that little star next to the episode. We really appreciate it. And now for the conclusion of our episode with Scott Galloway.
Jordan Harbinger: [00:40:54] I liked the point that you make that if balance is a priority in your youth, you might just have to accept not definitely, but you might just have to accept that you may not make it to the upper rungs of the socioeconomic ladder. And that's a cold truth that a lot of people don't want to accept. They're like, "No, I'm going to be making so much more later," or, "My business is going to pop up," because of all this sort of struggle porn and influencer money, billionaire porn on Instagram that you'd like to see where it's like, "No, I started my own thing and now I make seven figures surfing." It's a bad message.
Scott Galloway: [00:41:30] There's an unhealthy notion around meritocracy and the stuff that's thrown in our face and that is this notion that if you work hard enough, anyone can make it. And first off, I 100 percent think you should work hard. I also believe you have to take care of yourself from a health perspective. I think you do have to find some time to be physically fit, find some time to maintain a certain level of connection with the relationships. There's a struggle porn industry that's emerged. It's going to work for free work a hundred hours a week, no fucking excuses. You are your own future. There are no excuses. Well, actually there are excuses. Some people have to take care of a parent, some people don't have a college degree and don't get to go to work for Jeff Bezos for free. So the notion that our meritocracy has created this notion that anyone can be successful. The dark side to that is that anyone who isn't successful, it's their fucking fault. And that's not true either. There are situations where people just don't have the same opportunities. The majority of people don't have parents who can put them through fashion. The majority of people aren't in a position to go do an internship. The majority of people have other people in their lives they have to take care of and they can't work 16 hours a day. So I think the struggle porn thing, I think there's a balance there. I think that's a little bit, a little bit dangerous. And this notion that you know, "Okay, if you don't make it, it's your own fault." That's not true either. One of the absolutes for my success was that I had the resilience and I lived in an economy. Everyone says America, the US embraces failure. That's bullshit. It is embraced failure. But it tolerates it. And I've started nine businesses and realistically I'm sort of like three, four and two. I don't think any other society would put up with me. And I've let me start businesses two, three, four, much less nine. And the ability to get beaned in the face, stand up, dust off your pants, get up to the plate and swing harder until you finally connect is really the most wonderful thing. Or one of the most wonderful things about the business environment in the US but the notion that no matter what, if you work that hard, you'll figure it out and success is solely a function of how hard you work.
[00:43:49] It's definitely a requisite for being successful, but it doesn't guarantee Jack shit and all this stuff around never give up -- "Oh yeah, you should give up." If you work your ass off at something for three years and it's not working, move on, give up, do something else. We romanticize entrepreneurship and this notion that in a meritocratic society, that if you put in the work hours, you're right, it's table stakes, but it's not a guarantee. The infant mortality rate on businesses is 80 percent we also romanticize entrepreneurs and the reality is most entrepreneurs, and you were saying this, the beginning of the show, Jordan, we're entrepreneurs because we don't have the skill set to work in big companies. There's nothing wrong with working in a big company. They're great platforms, but most of us or most entrepreneurs just don't have the skills to be successful in a big company answer. II rambled on and got off script there.
Jordan Harbinger: [00:44:40] It's okay. I mean it's very true. I didn't, I used to be a Wall Street attorney and one of the reasons I started learning things about networking and psychology, which were the foundation of this show is because I was convinced that I was going to get fired because I wasn't as smart and organized, and didn't get it quickly like everyone else. And then I had partners saying things like, "Hey, I'm, you need to work on your communication skills. You need to work on your management of expectations." The other people I've worked with, they just got it. They seem to get it. They seem to understand how to send a quick check-in on an assignment and then hand it in and it looked good and I'd be like, yeah, I'm done. I left it on the guy's chair and I'm leaving. I just did everything wrong. So when I started my own business and figure things out in my own, it worked out really well because all my weird quirks kind of didn't matter and all my divergent thinking turned out to be an advantage. But all other things being equal, I would have been better off in terms of finance financially for sure at least in the short term and most likely I would have had less stress. It would have been big stress, but it would have been consistent versus like the up and down roller coaster of entrepreneurship had I just stayed an attorney on Wall Street or elsewhere.
Scott Galloway: [00:45:55] That's exactly right. And I've had a similar experience. My first job out of UCLA was at Morgan Stanley and I caught up with a friend of mine who stayed at Morgan Stanley and we both kind of ended up in the same place economically. We both ended up in a good place, but mine looked like, you know, just a shit show path of ups and downs in crevices and peaks, and the amount of stress and whereas he was just a slow steady climb. People romanticize entrepreneurs but the bottom line is, I don't have the skills this guy had. I actually think he could have been an entrepreneur. Entrepreneur just means that you have a greater risk tolerance and you're great at sales. Entrepreneurship is Latin for sales, selling clients, selling people to join you, selling people to finance you, you're constantly selling. But this guy ended up at the same place with -- I agree with you -- a lot less stress, a lot less. I think sleepless nights, probably not the highs. You know there's a certain celebrity status with becoming a successful entrepreneur and I think people assign more value to your skills.
[00:46:58] But what you were talking about at that firm, it is not easy to survive at a big firm. You have to be secure. When I was at Morgan Stanley and they'd go into a conference room, but I think, "Oh, they're talking about me," when they probably weren't. I couldn't handle working for people I didn't think were that smart. I couldn't handle the administrative bullshit. And the reality is big companies are great platforms and I always tell the kids who come into my office. If you have an offer from Google or Amazon, take it. This notion that entrepreneurship is always going to work out. It's a difficult way to make a living. So yeah, the highs are high, the lows are lows, but people constantly overestimate entrepreneurship and romanticize it and underestimate how powerful it is to go to work for a platform.
Jordan Harbinger: [00:47:41] I think now, of course, there's, there's a whole cottage industry of, of victimizing people who believe that too. There's a lot of entrepreneurs, there are sole business is teaching other people how to be entrepreneurs and it's this sort of vague -- teach you how to hustle, teach you how to generate income and none of it is an original idea, which makes the whole space crowded and, and further sort of propagandizes the idea that you should do it. I would love to skewer the whole "follow your passion" thing because this I talked about with Mike Rowe from Dirty Jobs in the past. This is like the go-to button bumper sticker of commencement speeches and it's the number one piece of advice you'll get from some super successful personality on Instagram or if you catch them at an airport lounge because it's easy and like you said, "It's a sexy thing to say." It's very unsexy to find out how most people made their money. "Yes, I sell, I sell fasteners." "What are those?" "Oh, you know, like bolts and brackets for cars and trains and planes." Those people are billionaires because everybody needs brackets or iron or copper wiring. That's where the money is
Scott Galloway: [00:48:52] 100 percent. There are some very well-publicized examples, you know, Jay Z, Steve Jobs, Tom Cruise, people who follow their passions and became hugely successful. And my advice is to assume that you are not that person. And that is the majority of people, your charge, your job as a young person is not to follow your passion. It's to find out what you're good at and then invest the time, the grit and the energy to become great at it. And being great at something and the accouterments of follow being great at something -- status, respect your colleagues, money, access to better healthcare, the ability to take care of your parents and your kids -- you will become passionate about whatever it is that lets you do those things. And the notion that you should "follow your passion" is dangerous. Because what happens, you get to a job and it gets hard and that's called work. It gets frustrating, it gets hard, and you immediately assume, Oh, it must not be my passion because I don't love this. And you move on. And the reality is its work, you know? So follow your passions on weekends. Find out what your grit. I would have liked to have made my living as a professional athlete. You know, I thought, you know I, I'm a decent athlete. I thought this is my passion. Guess what? I got to UCLA and I found out really fast, really fast that I was a decent athlete in high school, a great athlete in junior high school, and I was barely an athlete. I rode crew at UCLA, which is where all the rejects that got cut from every other ended up, but that was a blessing in disguise because my friends who were more talented than me, who went to the Seoul Olympics or played AAA baseball, they ended up starting their lives at 30 because most passion sectors are over-invested.
[00:50:41] If you want to open a nightclub, go to work for Vogue or play professional sports or music, just recognize you better get a great deal of psychic income from those things because the monetary income relative to your effort will be dramatically lower than other asset classes. And I followed the same strategy when I invest. If it sounds cool, I don't invest in it. A friend of mine is opening a members-only club downtown focused on music and art. Sounds amazing. I won't get near it. Another friend of mine was starting a software as a service platform for health care maintenance workers. If I work there, I want to put a gun in my mouth, I will write that guy a check because the areas that sound awful are underinvested and that's where the return on investment is. Just as Florida housing in 2007 no one wanted to get near it. If you bought houses, you had a huge return and just as now everyone's going into, I don't know, what's the hottest thing that you know, social something or ride-hailing or the share economy, that means the returns are going to get really bad really fast. So your job, don't follow your passion, find out something you're good at, collect the rewards for it, and then you'll become passionate about it.
Jordan Harbinger: [00:51:52] People who tell you to follow your passion are already rich. It's a survivor bias of people that are already rolling in money. And even then they, that might not even be their real advice. They just don't want to tell you first sleep on the floor of where your sewing machines are for 10 years and just hope that your brand pops off, and maybe get lucky by being friends with a couple of really big names in hip hop who get platinum records that then wear your stuff everywhere.
Scott Galloway: [00:52:17] 100 percent but look at Beyonce. I mean, what's been a common thing in her career? She works so hard. I mean she's, this is an individual who's literally a perfectionist and my gosh, the amount of time and energy she puts into everything. She's an inspiration. I just use that. Going back to the notion that some people are so talented, if you're talented, you find your passion just comes to you. No, it doesn't. A ton of grit and heartache.
Jordan Harbinger: [00:52:47] When you said psychic income, by the way, I'm worried some people might not have heard that before. That essentially means what satisfaction? Income that's not money.
Scott Galloway: [00:52:55] Some people just decide. There's a wonderful cohort of people that decide, my return on investment is I want to do good things in the world. I'm a huge fan of a guy named Scott Harrison who started a company called Charity Water.
Jordan Harbinger: [00:53:07] Yeah. Good friend of mine. He's been on the show as well.
Scott Galloway: [00:53:09] So where Scott gets a return on investment is he wants to bring water to the rest of the world. He's decided he was making a lot of money as a club promoter and he decided he wasn't getting any return on that. And the way he gets returned is he wants to change the world and make the world a better place for millions of people. And that's where he gets his income, his return. He's never going to be a millionaire. He's decided, "That's not my goal." So what is your return? And if you decide, you know what, "I'm cursed to be, in fact --" A better example, doctor, being a doctor on a risk-adjusted basis right now is a shitty job. The amount of education you need, the amount of investment you need to make, the amount of student loans, the amount of time, the amount of training such that you can go to work for an HMO and make a good living, but net maybe not a great living. It's not a great career, but some people are just born to be doctors. They're the people taking your heartbeat when they're nine years old. They just have to be doctors. Some people have to be in fashion, they have to be in retail, but if you're selecting a career and you're drawn to the passion fields, just make sure you get tremendous psychic income or reward because the financial return relative to other industries based on your grit and your effort will not be the financial return you'll find in less sexy industries. There is an inverse correlation between return on human capital and the sex appeal of that industry.
Jordan Harbinger: [00:54:37] You have a test to see if people are going to be a good entrepreneur or are just falling prey to the fact that we romanticize this BS all over the place. I meant to bring it up earlier. Do you happen to have that kind of test at your fingertips? I want to throw that in the worksheet for this episode.
Scott Galloway: [00:54:53] Well, just a couple of things. One, are you comfortable with exceptional risk tolerance? Would you be willing to borrow money from your in-laws and then call them and say you lost it all? Because you can be great at what you do. You can be a good person, you're going to have a great idea and they're still probably a six and seven chance that all the money you take from people is going to go to zero -- the infant mortality rate on businesses. So just imagine that moment. You have to be willing to call people you know and trust you and ask them for money. It's very hard to finance a company without or start a company without financing. Most entrepreneurs cannot borrow money from institutional, cannot raise money institutionally, not at the beginning. So they have to go to friends and family. Are you comfortable making that call? Could you handle that? Because if you can and it happens, you don't want it to devastate you. So are you prepared to do that? Because that's a real possibility. And also you got to warn the investors, they could lose it all despite how wonderful a nephew you are. You could lose all their money. Despite how much they believe in you, you could lose it all. Everyone has to be kind of eyes wide open going into this.
[00:55:56] The other thing is, are you comfortable signing the front of checks, not the backup checks. 99 percent of America isn't willing to go to work. When I started L2, I worked my ass off. I didn't have a lot of time with my two kids under the age of three at the time. And every first of every month, I'd have to go home and say to my wife, "Wow, I worked my ass off and I need us to put a hundred thousand dollars into business this month." And that is a weird feeling. Most people will never endure or want to experience that feeling. And as I'm going to work my ass off, create tons of insecurity, don't know if this is working. And my reward for that is on the first day of every month, I get to put in more money. Are you comfortable doing that? Are you comfortable selling like crazy? Are you comfortable calling people that don't want to hear from you? Right? Them telling you to fuck off and then you wait a week and call them back. You have to have incredible risk tolerance and ability and willingness to lose your own and other people's money. The ability to sign the front of checks, not the bag of them, and also you have to be comfortable selling. Most people just aren't willing to call people who don't want to hear from them and sell.
[00:57:12] And without those attributes, you know you're not going to be an entrepreneur. That's not to say you shouldn't start a small company. Greatness is in the agency of others. You need talented people to join your firm. I always say to people who, who kind of don't really realistically past those hurdles go to work for a small company, but you're probably not an entrepreneur yourself, but this notion that you're, it's a function of talent, that aren't you, that that, that entrepreneurship is for the most talented. No, it's not. It's for the most risk-aggressive people who are willing to do very uncomfortable things.
Jordan Harbinger: [00:57:44] I think that's a key point because a lot of people right now go into the idea of self-employed. They're really, they listen to us say we don't have the skills to work in a regular business, and they go, "Oh my gosh, that's me. I don't want a job. So I'm going to do the entrepreneurship thing." And that's not, I wanted to put a finer point on that because that's not what we're saying. The idea that you don't work well in an office isn't the only sort of requirement for starting your own business. It might work out for you or it might just be that you're a crappy employee and you don't deserve or need to be running your own business in any way also. And that you need to figure it out.
Scott Galloway: [00:58:18] Yeah, being bad at one thing doesn't guarantee you're going to be a good entrepreneur.
Jordan Harbinger: [00:58:22] You had an attendance policy that went viral and I know that doesn't make any sense so I'm just going to repeat that year. Your class attendance policy went viral and it led to a really good point, which is getting the easy stuff right. And I see this a lot in my own inbox and what I mentor younger folks or even not so much younger folks. Tell us what this is because I loved this point and I thought to myself, there's a lesson I needed in my 20s/early 30s and that I see a lot of other people falling behind on as well.
Scott Galloway: [00:58:50] So what you're referencing is that a kid in the first night of classes showed  up to my class an hour late and he walked in, he sat down and I asked him to get his stuff and I kicked him out of class and I said, "Nobody is allowed in late show up on time." And he wrote a letter saying how disappointed he was and how rude it was. And I responded to him and I made the memo, I made the room, I sponsor him, I anonymize it, but I've made it our lay policy. I put it in a syllabus, it went viral. And within like three, the Dean was getting an email about 70 percent approving, 30 percent very angry every two minutes from somebody. And it just, you know, got several million views on Deadspin, et cetera. And this is definitely a do what I say not as I do. And this is advice to my younger self and that is to get the easy stuff right. Having respect for institutions, working hard, trying to maintain relationships while working 50, 60 hours a week, finding what you're good at, getting executive-level sponsorship at work, figuring out a way to not only have a decent life but to save some money which will grow. These things are really hard. You want to get the easy stuff right? And I have consistently struggled with this my whole career. Show up on time. When you're 10 minutes late, people immediately just don't want to like you. Put on a tie, show some respect for the environment, respect the institution, follow up, be courteous, be nice, basic manners, basic professionalism. If you're not to a meeting 10 minutes early, then you're late. And by the way, this stuff has held me back my entire career.
[01:00:32] I always assumed that I'm going to get to midtown and it's going to work perfectly. And I ended up being 10 minutes late. And people who are more successful than me have been sitting in a conference room for 10 minutes and it just sets the wrong tone for the meeting. And I've spent a ton of time and a ton of other people spend a ton of time to deliver great data and it goes fine, but it would've gone better if I had just gotten the easy stuff right. So there are some basics, right? Timeliness, professionalism, following up, basic civility, basic manners, a level of humility, thanking people, getting back to them when they send you emails. I constantly have emails in my inbox saying, "Okay, I need to bride a thoughtful response." And then three weeks later I realized I haven't responded to this person. And that's just bad form and it has, it has really cost me professionally. And so I say to the kids like, "Look, getting the easy step, right? You know, check the easy boxes first."
Jordan Harbinger: [01:01:28] I like that idea. I think that it's underrated and there's this sort of cult of irreverence, almost like everyone's too busy to spend time being polite or "Well, I'm self-employed so I don't have to dress for the part," or something along those lines. Or even just the sort of Silicon Valley or entrepreneurs in general, rockstar kind of attitude. The people that are really successful have done so on the back of the strong relationships that they've built with other people and you recommend strongly investing in your relationships and I've got a whole free course called Six-Minute Networking that's, it's all of these things I wish I knew 20 years ago about reaching out to people, staying in touch with them, maintaining relationships. It takes like five or six minutes a day and people don't freaking listen because they don't need to worry about networking yet, or "I don't need networking in my job," or, "I have all the friends that I need," or something along those lines until of course they get laid off, in which case it's an immediate panic mode. "What do I do? I emailed Jordan 68 times to figure out how I'm going to pay the rent this month." And it's really a point that I see successful people have all in common, is they're not doing it on an Island. And that all of these achievements that they have are a result, almost direct result of the relationships that they've invested in overtime.
Scott Galloway: [01:02:53] Yeah, engagement where a cooperative species and immediately -- I'm on the board of a media company and the CEO showed up there with his entire team and I'm like I'll invest behind this guy because he's clearly made a ton of investments and appreciated his team and not only done well, but they're very loyal to this individual. And you know, if you ask people what the singular relationship is in their life, the most definitive relationship, they usually say their spouse, but sometimes that doesn't work out, but a consistent number two across all situations and often the number one is your mom. And the reason why is your mom made these ridiculous little investments in you constantly, and they add up. And Einstein supposedly is credited with saying that the most powerful force in the universe is compound interest. And the notion that you can put 1000 bucks away when you're 22 and it's a 180 by the time you're 65 and it's only 45 if you start at 45 it's the same with relationships. And I'm not suggesting that -- I'm being a little bit hypocritical because I'm saying work your ass off and focus off in your 20s and 30s -- but small investments, a regular call to your stepmom, trying to make sure every Sunday you speak to your parents, text messages, funny text messages to your friends, congratulation notes to people when they achieve something, calls to friends when something bad happens, expressing gratitude or admiration for people, which is really difficult, especially for men I think in their 20s and 30s I was thought that expressing that I was impressed with somebody somehow diminished how impressive I was.
[01:04:28] It was like it was a currency I didn't want to, I didn't want to give away. But yeah, 100 percent the, you know, greatness is achieved in the agency of others. If you aren't willing to engage and start instilling loyalty, and by the way, what is loyalty? Loyalty is solely a function of appreciation. If you appreciate people, if you pay them well, or if you try and grow them or you're trying to show empathy and really treat them well, they become loyal to you because like all of us were focused on, we're focused on our own wellbeing and we want to be around people that are going to take take care of us.
Jordan Harbinger: [01:05:01] I think people are often put off by this. They have the same, they have the same thought, right? If I tell other people that their book was amazing or that they impressed me in some way, it diminishes my standing in some way. And people are often talking about this alpha male BS kind of situation. It's not just guys, but I think it's mostly, or especially men. And interestingly, monkeys and apes had better mating success if they had stronger relationships and were more well-liked versus just being bigger or stronger. And that helps redefine masculinity a little bit because it means now look, masculinity means relevance, good citizenship being a loving father, having friends that can rely on you, not the guy who throws his weight around and drives a Maserati
Scott Galloway: [01:05:45] 100 percent and that's in a book. I talk a lot, a bit about how I think -- we're in an environment right now or the gender you're supposed to embrace is gender neutrality. That's the kind of most aspirational gender that we promote. And I would argue that embracing your gender, regardless of where you are on the spectrum is really important. And I think that masculinity has, you know -- there's an important dialogue taking place right now around toxic masculinity. And there's been way too much of it for way too long. But I do think there's, you know, some of the things you mentioned are also key components of masculinity. When I think of my aspirations around a kind of expressing my manhood when I was younger, it was mostly I want to be ripped. I didn't go to the gym to be healthy. I went to the gym to be big and ripped. I wanted to just be fucking awesome. I wanted to be rich and super cool and be able to party with the best of them. And I wanted to sleep with this many strange women as possible. That's how I identified my masculinity in my 20s and then as I got older, masculinity took on kind of a different form. And that has being, a loving, supportive head of household that makes me feel strong like a bull, being a good citizen, being a good neighbor, voting, I find for some reason it gives me tremendous pleasure now. And what I say to the small cottage industry of advising the sons of some of my friends, "You know, get to where I was as soon as possible. Don't be a boy, be a man. Masculinity is a wonderful thing, but it changes shape as you get older. And you're going to find that that masculinity that people discover in their 30s, 40s, and 50s is much more rewarding and is much more productive." It's something that I think is very rewarding and I would argue we're all still swinging on vines, but the vines change.
Jordan Harbinger: [01:07:40] Scott, this has been great. Is there anything that I haven't asked you that you want to make sure you deliver?
Scott Galloway: [01:07:45] Well, people often ask about the book is what is the key to happiness? And the answer is there is no silver bullet, but there is a best practice and it comes from the Harvard Grant Study, which is the largest study on longitudinal happiness ever undertaken. And they looked at 400 men aged 19 and track them from 1929 until they died. Most of them died about 75 years later. I think the last one died when he was 94 or maybe 104. Anyways, the study survived four principal scientists. They kept having to swap out the principal scientist because they kept dying and they measured everything from their food intake, the job they had, their relationships, where they live, their zip code type of job, and then query them frequently on their levels of satisfaction and happiness, and then trying to correlate what were the drivers of happiness and unhappiness. And what they found was that simply put, that the strength and depth of your relationships were really the key to happiness. At work, do you feel respected and do you feel admired and do you respect and admire other people? With your friends, do you feel a sense of camaraderie and joy? And just as importantly, do you know they feel a sense of joining comradery from you. And then with your family, do you feel a sense of love and support? And again, just as importantly, do you know that they feel a sense of love and support from you? And this academic study has the most wonderful opening line of any academic study in history and they summarize a 400-page report in the first sentence. They say happiness is love, full stop. So the depth and number of relationships across work, family, and friends is really the best practice around happiness.
Jordan Harbinger: [01:09:30] Scott, thank you so much. Really informative. I loved the book. We'll link to it in the show notes and I really appreciate your time today.
Scott Galloway: [01:09:36] Thanks for your time, Jordan. Congratulations on your success.
Jordan Harbinger: [01:09:42] Great big thank you to Scott Galloway. The book title is The Algebra of Happiness. Jason, this guy was just dropping golden nuggets the whole time. I love this one.
Jason DeFillippo: [01:09:50] My jaw was on the floor. I'm like, yes, yes. Take a note, take a note. Yes, yes. I want to give you a hug. Yes, yes. Come on man. Some more, some more, some more and he just kept delivering the whole time. I'd be like texting you on Slack saying, okay, gold, gold, gold.
Jordan Harbinger: [01:10:05] Yeah. What I love is he's not afraid to be like, "Hey, by the way, this thing you saw on Instagram is BS," or like, "You're not going to be able to not bust your ass during your 20s and 30s if you want to be successful later. Like, that's just how this works for 99 percent of people."
Jason DeFillippo: [01:10:19] I wish he was there for me in my 20s. I really do. Because I went to complete opposite. I listened to all the BS and now it's just like, okay, I've got to slog back up that Hill. If I'd have listened to him, I'd be in such a better place. So, oh so good stuff.
Jordan Harbinger: [01:10:34] Well it also gets rid of a lot of the FOMO because a lot of folks are like, "Oh I didn't take vacations. Look at all my friends doing this stuff." And it's like, "Well, you're building a skill set in business and you don't see those rewards until later." And it was nice to get that confirmed and he's just a really good case study with all of this.
[01:10:50] If you want to know how we managed to book all these great people and manage our relationships using systems and tiny habits, check out Six-Minute Networking. It's a free course. It's at Jordan harbinger.com/course. Don't say you'll do it later. Don't kick that can down the road. You got to dig the well before you get thirsty. Once you need relationships, you are too late. The drills take a few minutes a day. I wish I knew 20 years ago. It is not fluff. It is. As you just heard today and you can find all that at jordanharbinger.com/course. Speaking to building relationships. Tell me your number one takeaway here from Scott Galloway. I'm at @JordanHarbinger on both Twitter and Instagram.
[01:11:25] This show is produced in association with PodcastOne and this episode was co-produced by Jason "Deferred Retirement" DeFillippo and Jen Harbinger, show notes and worksheets by Robert Fogarty. I'm your host Jordan Harbinger. Remember, we rise by lifting others. The fee for this show is that you share it with friends when you find something useful, which is definitely in this episode, so share the show with those you love. Share the show with those you don't. In the meantime, do your best to apply what you hear on the show, so you can live what you listen, and we'll see you next time.
 [01:11:55] This podcast today is sponsored by another podcast called Disgraceland. Disgraceland, great title, I am jealous. It's hosted by Jake Brennan. Disgraceland is a true-crime podcast about musicians specifically -- getting away with murder, behaving really badly. Each episode traces the most insane criminal stories surrounding our most interesting and infamous Popstars -- Jerry Lee Lewis' fifth wife dead, Sam Cooke at 3:00 a.m. in city motel dead, Sid and Nancy dead. Why? Because musicians are freaking crazy because crazy things happen to them. We love those things and those people and we let them get away with it. Johnny Cash, Amy Winehouse, Kurt Cobain, the Rolling Stones, the Hells Angels run security -- all that is on Disgraceland. If you love true crime and you love music, I think you'll love Disgraceland so you can listen to that at Apple Podcasts, on the iHeartRadio app or wherever you're listening to this show.
Sign up to receive email updates
Enter your name and email address below and I'll send you periodic updates about the podcast.